Stanford wide receiver JJ Arcega-Whiteside (6-2, 225 pounds) posted some impressive numbers at his pro day last week, running the 40-yard dash in 4.49 seconds. If he posted these numbers at the combine last year, it would have given him the best speed score (or weight-adjusted 40-yard-dash time) at the position. This is significant because we already knew he was one of the most physical receivers in the class, but we were unsure of his speed, as he elected not to participate in the combine. And, in fact, it was significant enough for me to bump him up a full round in my best ball rankings.
Highlighting his physicality at the catch-point, Arcega-Whiteside leads all wide receivers in contested catches over the past two seasons (40), ranking top-three in each season.
Whiteside's speed might have popped in one stat — his production on deep targets (balls traveling 20 or more yards through the air). Among all 80 wide receivers with more than 35 deep targets over the past two seasons, Whiteside ranks sixth in fantasy points and first in catch rate (on deep targets).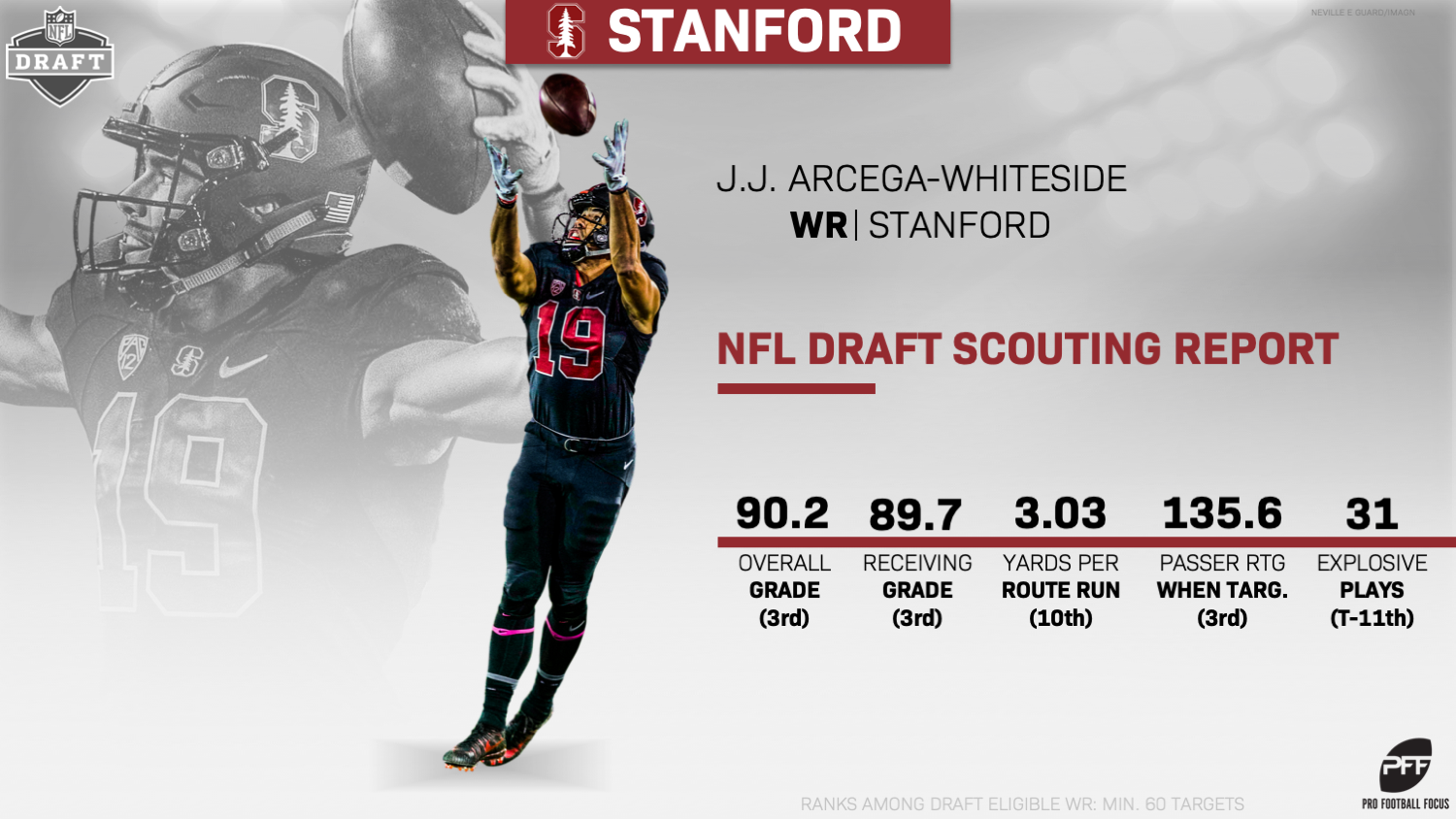 Whiteside also excelled in a few other stats:
He ranked best in the class in PFF grade per target in both 2018 and 2017. On a per-route basis (we tested the predictability of that metric here), he led all draft-eligible Power-5 wide receivers in both seasons.
In 2017, Arcega-Whiteside averaged a 129.6 WR rating (passer rating when targeted). In 2018, that jumped to 135.6. When targeting any other receiver, Stanford's quarterbacks averaged only an 80.9 passer rating in 2017 and an 89.8 passer rating in 2018. Over the past two seasons, his differential between those two numbers leads all combine-invite wide receivers with more than 70 receptions over this span.
Among all combine-invite wide receivers in the Power-5, he holds two of our top-four seasons by dominator rating (40% in 2017, 39% in 2018).
Over the past two seasons he ranks 56th in targets (167) but 22nd in yards (1,840), and third in touchdowns (23). He ranks 15th (of 83 wide receivers) in drops per target (six of 167), fifth in yards per target average (11.0), and second in touchdowns per target.
In conclusion, Arcega-Whiteside is well worth a first-round pick in dynasty rookie drafts. Find out exactly where he ranks here.