Last week, I unveiled my top 12 running backs for the 2021 best ball season as a follow-up to my full 2021 fantasy football rankings. Drafts are already in full swing — trust me when I say there's no better way to spend a March weeknight than glued to a fantasy football draft board. 
Subscribe to
Whether it's your first time participating in best ball or just another day at the office as a seasoned veteran, I'm here to provide guidance through the top tiers of each position, with wide receivers up next. From my preliminary research on last year's successful lineups, I found that teams that drafted more receivers (seven or more in 18-man rosters) had higher win rates. 
(We dove into some of the reasons why during two PFF team best ball drafts you can watch here and here or read about here.)
So, without further ado, here are my top 12 wide receivers for the 2021 best ball season.
No surprise here: Davante Adams is my No. 1-ranked wide receiver entering the 2021 season. Even though I don't anticipate Adams repeating his insane 2020 season — 25.2 fantasy points per game — his league-leading 20.9 expected fantasy points per game suggests that he will be tough to supplant as the No. 1 wideout in fantasy football. 
Adams' 33% target share from 2020 is extremely rare. When Adams was active last season, the next-highest target share for Green Bay was Marquez Valdes-Scantling at 13%. 
Both Aaron Rodgers and Adams are likely to see some sort of touchdown regression in 2021, because 18 receiving touchdowns in 14 games is not sustainable. But double-digit scores are still firmly within Adams' realistic range of outcomes.
He has averaged just under 12 receiving touchdowns per season over the past five years. His 64 receiving touchdowns are the most by any player over that span by a wide margin (Tyreek Hill, 49).
Adams' success scoring touchdowns is greatly tied to his massive role in the red zone. Since 2015, Adams leads all players in red-zone targets (150), red-zone catches (99), red-zone touchdowns (53) and PFF receiving grade (90.0). 
No other receiver with at least 25 red-zone targets in that time has earned a PFF grade higher than 81.0.
Tyreek Hill finished second behind Adams in fantasy points per game in 2020 (21.7) — a return to form for the explosive playmaker. His fantasy points per game total dropped from 19.9 in 2018 to 16.6 in 2019, but it was easy to imagine a bounce-back campaign with Patrick Mahomes II throwing him the ball.
Hill was able to stay healthy all season, scoring a career-high 15 touchdowns in just 15 games. He finished the regular season second in deep-ball yards (475) and played a career-high 59% snap share from the slot.
The speedster's big-play upside was on full display in Week 12 versus the Tampa Bay Buccaneers when he exploded for 57.9 fantasy points on the back of 13 catches, three touchdowns and 269 receiving yards.
Hill's end-of-season target share (24%) finished behind Travis Kelce (26%), but that's not a cause for concern. His production is always going to be more volatile compared to the target hogs of the league, but that's more than acceptable in best ball formats.
Plus, the Kansas City duo's combined 50% target share reveals how concentrated the targets are to the team's top offensive weapons. Unless the Chiefs make a flashy signing in free agency or Mecole Hardman takes a big step forward in Year 3, another 130 targets is well within Hill's projection in 2021. 
Hill also really started cooking during the second half of the season. He averaged over 25 fantasy points per game in his final nine games. 
There was a ton of skepticism about Stefon Diggs in fantasy football after his trade to the Buffalo Bills last offseason. Josh Allen had been extremely inconsistent and inaccurate throughout his first two seasons, but adding Diggs was the key that unlocked both players' true potential. 
Diggs led the league in games with at least 90 receiving yards during the regular season (10) and finished second overall in PFF receiving grade (90.9). The Bills' sixth-year wide receiver also finished fifth in yards per route run (2.5) and third in fantasy points per game (20.6).
Needless to say, neglecting to consider Diggs' upside was a huge oversight on my part last year considering he was readily available in the fifth and sixth rounds of fantasy drafts.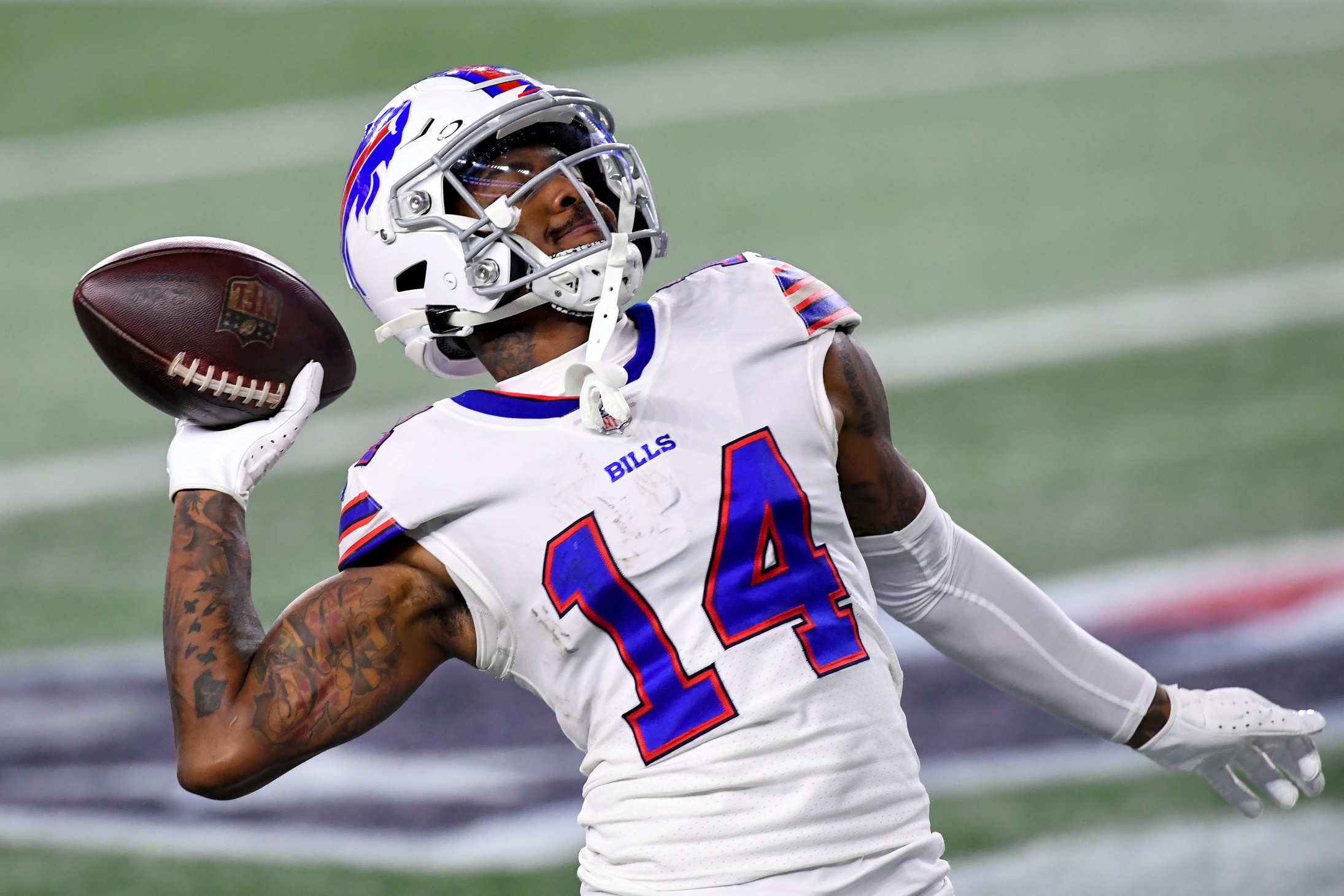 What Diggs and Allen were able to accomplish in their first season together was mind-blowing. It's hard not to be excited about what the duo can achieve in Year 2.
Diggs' massive 29% target share doesn't look to be going anywhere, and I believe there is room for his red-zone role to grow. That was one of my major takeaways when I broke down the league's top QB-WR pairings during the NFL playoffs. 
Diggs was mortal when targeted in the red zone (68.9 PFF grade) — it's the only blemish I could find on Diggs' 2020 season. His grades versus man coverage and when his quarterback was under pressure were elite. 
It was also strange to see Diggs finish the season tied with Gabriel Davis in total end-zone targets (17) considering Diggs is the clear alpha in the offense.
Unless Davis takes a massive leap as the go-to red-zone receiver, I'd expect Diggs and Allen to lock down their connection in the red zone in 2021. 
A.J. Brown is my No.1-ranked wide receiver in dynasty, so naturally he's going to find himself inside the top-five for other formats. 
Next season presents an opportunity for Brown to finally see 120-plus targets with Corey Davis likely on the move. When Davis disappeared from the offense toward the end of the year, Brown commanded a 35% target share in the team's final five games.
With at least one of Davis or Jonnu Smith almost certainly out of the picture next season, A.J. Brown is a no-doubt top-five fantasy receiver in 2021. All he has done through his first two seasons in the NFL is set a new standard of efficiency. Since he entered the NFL in 2019, Brown ranks fifth among all players in yards per route run (2.54)
Despite playing on two knees that required surgery at the end of last season, Brown finished sixth in fantasy points per game (17.6) and third in PFF receiving grade versus man coverage (92.3). He has also managed to thrive while playing in a run-first offense, which shows how special he truly is.  
Being lower than consensus on DeAndre Hopkins last season did not go well. Hopkins opened the season with a monster game versus the San Francisco 49ers, posting 14 receptions for 151 yards on what would be a season-high 16 targets. 
Nuk would go on to finish the year as the league's WR4 in fantasy from Weeks 1-16, averaging 19.4 fantasy points per game. He finished the year with a 31% target share and as PFF's sixth-highest-graded receiver (88.0). 
The Cardinals are likely to acquire another pass-catcher in free agency to aid in Kyler Murray's development, but there's isn't a WR I can imagine putting a dent into Hopkins' insanely consistent target share.
Hopkins posted a career-low 9.0 aDOT but combated the shorter passes with career highs in yards after the catch (521, third) and forced missed tackles (21, tied for first). 
My biggest hit of the 2020 season was going all-in on Calvin Ridley. I made the bold prediction that he would outscore DeAndre Hopkins, and even though he narrowly trailed the Arizona Cardinals' No. 1 wide receiver, it was largely because Nuk didn't fall off a bit. 
Hopkins finished as the WR4 with Ridley one spot behind in total fantasy points from Weeks 1-16. 
Of course, Ridley did play one fewer game than Hopkins and outproduced him on a per-game basis. With Week 17 added to the parameters, Ridley finished second overall in expected fantasy points per game (18.2) ahead of WR1s like Diggs, Hopkins and Hill. 
Regardless of how the 2020 season is spun, Ridley was an awesome selection at WR15 last season. Identifying next year's Calvin Ridley — who was 2019's version of Chris Godwin — needs to be at the forefront of our drafting strategy in 2021.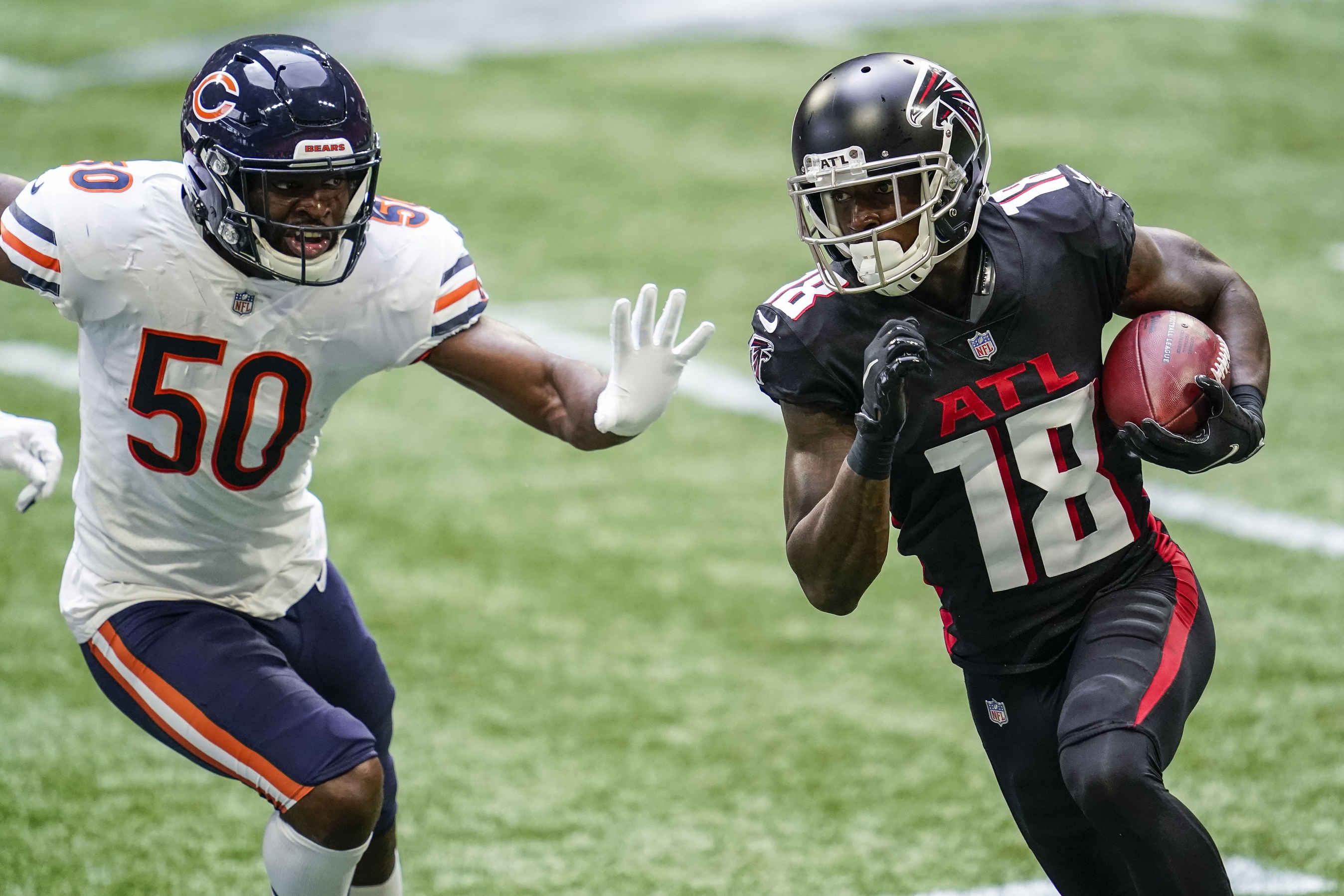 Ridley was an ascending player entering Year 3 last offseason. His fantasy points per game had increased dramatically from his first season, and there was a large opportunity in the form of vacated targets in the Atlanta Falcons' offense after key players like Mohamed Sanu and Austin Hooper were removed from the equation.
The Falcons were also projected to throw a ton, which lessened the impact of playing alongside an alpha wide receiver like Julio Jones. 
That's probably the biggest question mark for anybody drafting Ridley this year: How will the targets and production shake out with a healthy Jones back in the lineup?
In the five-game sample of Ridley playing alongside a healthy Jones, the youngster averaged 23.3 fantasy points per game and nine targets per game. He and Jones' target shares were virtually identical (24% versus 22%). Jones averaged 19.2 fantasy points per game. 
In the eight-game sample when Ridley was playing without Jones (whether he left the game early or was entirely inactive), Ridley averaged 19.8 fantasy points and 11 targets per game, commanding a hefty 30% target share.
Calvin Ridley | 2020
| | | | | | |
| --- | --- | --- | --- | --- | --- |
| | Yards per route pun  | Passer rating | Receiving touchdowns | Target share | Fantasy points per game |
| With Julio Jones | 2.29 | 135.8 | 6 | 24% | 23.3 |
| Without Julio Jones | 2.76 | 91.1 | 3 | 30% | 19.8 |
The data is telling us that while Ridley saw more targets without Jones in the lineup, Jones' active presence was a lift to the entire offense in terms of more scoring opportunities.
Ridley is a WR1 in his own right — no need to worry about Jones' presence either way. 
There's no doubt that D.K. Metcalf looks and plays like a man among boys. The second-year receiver was absolutely on fire to open the 2020 season during the "Let Russ Cook" phase of the Seattle Seahawks' season. 
Through the first 12 weeks, Metcalf averaged 19.6 fantasy points per game (third-most) and led the NFL in receiving yards (1,039). 
Then head coach Pete Carroll took quarterback Russell Wilson out of the kitchen, and things turned for the worse. Over the six remaining games (including the wildcard round), Metcalf put up WR3 numbers (14.0 fantasy points per game).
With reports suggesting a rift between Wilson and Carroll regarding the team's offensive identity, there are certainly concerns about spending high draft capital on Metcalf heading into 2021. If the team trades Wilson, it would obviously be a huge hit to the third-year WR's value. 
Metcalf is still still competing for targets with Tyler Lockett — both players finished the season with a 25% target share, though Metcalf has the greater weekly upside (most yards on 20-plus throws in 2020). There are some similarities to the Chiefs' duo of top pass-catchers — but a big difference in total passing attempts. K.C. finished third in total passing attempts while Seattle finished 18th. 
On the season, Metcalf finished as the WR6 in fantasy points per game (17.6) and 13th in expected fantasy points per game (14.8). While there is clearly a little risk here, the gargantuan playmaker's slow finish in 2020 created a slight discount considering his upside. 
Justin Jefferson's first season in the NFL was truly historic. The 22-year-old rookie compiled 1,400 receiving yards (third among all WRs), earned a 90.5 PFF receiving grade (second) and averaged an absurd 2.66 yards per route run (second). He set the record for most receiving yards by a rookie in the Super Bowl era.
Jefferson didn't start seeing starter snaps until Week 3 and was an immediate fantasy force across all leagues. He averaged 18.4 fantasy points per game, which ranked fifth-best at the position. 
He and teammate Adam Thielen became one of the league's best WR tandems, but by the end of the season Jefferson had emerged as the team's true alpha. From Weeks 13-17, Jefferson commanded a 30% target share — a slight boost from his 25% target share in Weeks 3-11. 
Meanwhile, Thielen's target share plunged from 28% to 19% during the team's final five games. 
Thielen's stranglehold on the Vikings' end-zone target share also waned. It fell from a whopping 62% to 35% while Jefferson's spiked. 
There should be zero concern about who the No. 1 receiver in Minnesota is heading into 2021. Jefferson is the guy, and his fantasy ceiling is sky-high. He was one of just two rookie WRs last season (Darnell Mooney) to catch at least two passes in every game played in 2020. 
The 2020 season was a year to forget for the 2019 overall WR1. Thomas was banged up with injuries, his quarterback's arm fell off and he became a mockery on social media with the nickname "Slant Boy."
But not everything was horrible for Thomas in 2020 — he had a nice stretch from Weeks 10-14 when he commanded a 32% target share and earned an 88.3 PFF receiving grade. 
Thomas also averaged 2.53 yards per route run, which practically matches his career average (2.45). He should be applauded for accomplishing such feats considering the team's lackluster QB play. 
Thomas is a screaming value heading into 2021 with Winston the odds-on favorite to take over in New Orleans. Winston's arm talent alone gives Thomas more upside than he would have with Drew Brees under center for another year.
Brees finished as the league's 23rd-ranked passer, and his average depth of target (6.5) fell to the lowest of his career. Winston holds the league's highest aDOT since 2019. Bombs away. 
Highest average depth of target in last 2 seasons

???? Jameis Winston – 10.8 yards
???? Matthew Stafford – 10.1 yards pic.twitter.com/bYQsFFmYKQ

— PFF Fantasy Football (@PFF_Fantasy) March 6, 2021
My love for Allen Robinson knows zero bounds, and my only hope is that he one day finds a decent quarterback. Since entering the NFL, only 64.0% of Robinson's targets have been deemed "catchable" — that ranks 93rd out of 101 qualifiers.
Still, A-Rob has been a monster producer despite poor quarterback play. He has finished fifth (14.0) and eighth (13.8) among receivers in expected fantasy points per game the past two seasons. That's because he's the only player to command 150-plus targets in each of the past two seasons.
Robinson is an elite wide receiver who never demands the price tag of the top WRs in fantasy football. I've drafted Robinson at the end of the third round in two recent best ball drafts. 
I'll take Robinson's 26% target share from last year in the third round all day every day regardless of who's under center. 
Perennially underrated, Keenan Allen proved the doubters wrong by balling out in 2020. But his fourth consecutive 100-catch season didn't start too hot.
With Tyrod Taylor in at QB in Week 1, Allen caught just four passes for 37 yards, putting his season-long outlook in grave danger. But Justin Herbert arrived in Week 2, and it was wheel's up for Allen for the remainder of the year.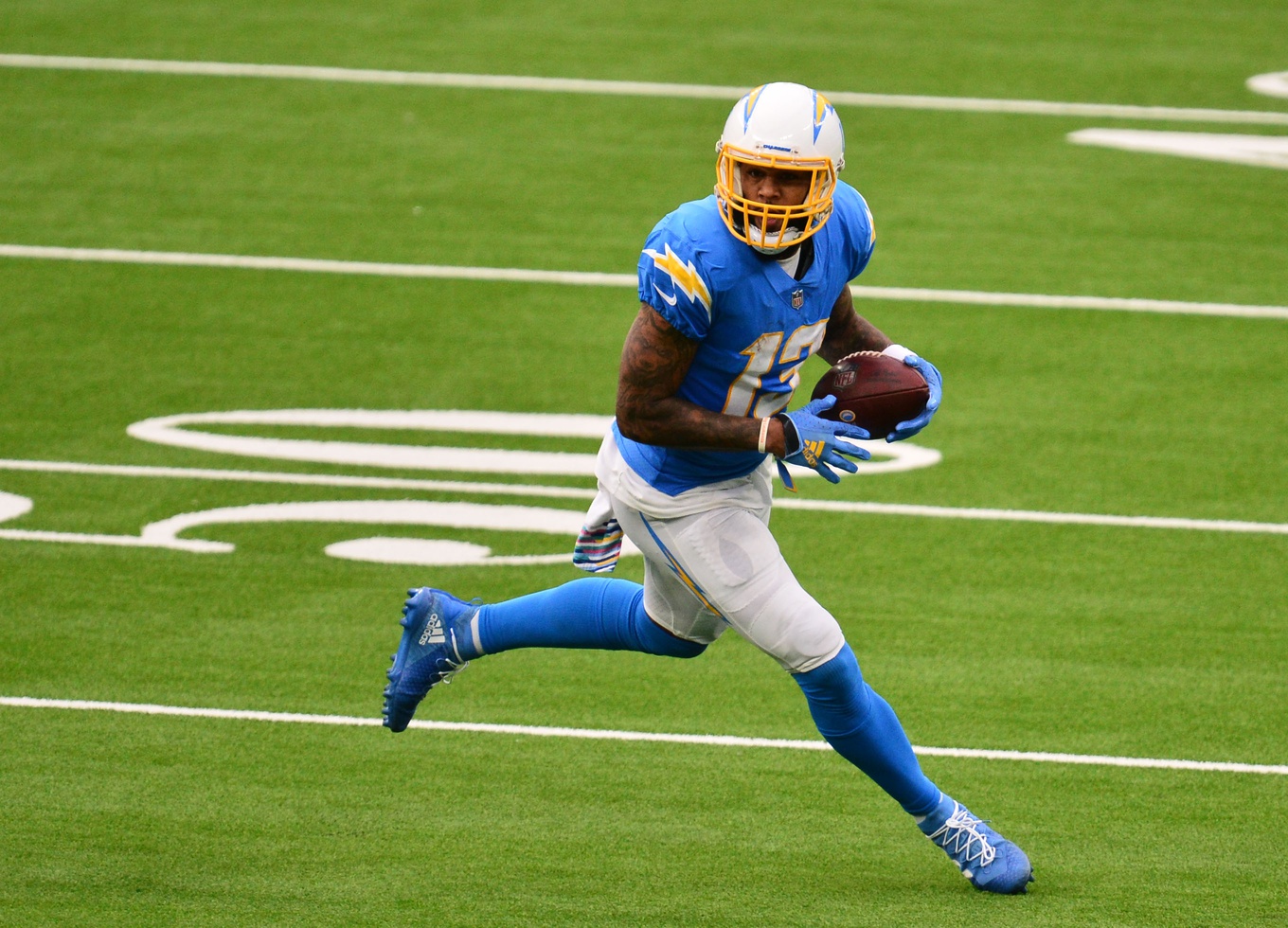 Allen ended up finishing the season as the WR6 overall (tied with Brown and Metcalf), averaging 17.6 fantasy points per game. But if we remove the first week with Taylor at QB and the final three games when Allen was either inactive or on a pitch count due to injury, we get a better perspective of the Allen-Herbert connection.
The crafty wide receiver commanded a 28% target share during this (admittedly cherry-picked) sample, averaging 19.7 fantasy points and 18.6 expected fantasy points per game. With 2020's offensive rookie of the year back under center and more vacated targets available with the impending departure of Hunter Henry, Allen is a slam-dunk fantasy WR1 in 2021. 
In addition to being one of my favorite players to buy in dynasty, D.J. Moore is also a player I am aggressively targeting/ranking in best ball. 
In 2020, he flashed upside as the team's primary vertical threat. Moore finished fourth in the NFL in yards per reception (18.1) and fifth in deep yards. The third-year receiver also finished with career-highs in receiving yards (1,193, ninth), aDOT (13.8, 17th) and yards per route run (2.23, 11th).
He was also one of only five players to eclipse 90 receiving yards in at least eight games. 
It was Moore's lack of touchdowns that hurt him in fantasy, and that's probably why he's not ranked higher by the consensus. He scored only four TDs — the third season in a row he scored four or fewer. This appears to be an aberration, as his expected scores based on usage are closer to 15 over that time as opposed to the 10 currently on his resume.
A deeper dive into his profile reveals that Moore ran extremely cold when targeted in the end zone. He was the only player last year to command double-digit end-zone targets and catch zero of them for touchdowns.
This wasn't just a Moore problem — teammate Robby Anderson also failed to haul in an end-zone touchdown on his eight end-zone targets. Teddy Bridgewater, what is going on? 
Many are concerned about Moore's target share in the offense after Anderson's emergence and the possibility of Curtis Samuel returning, but that wasn't really the issue last season. Moore's target share was identical to 2019 (24%).
His drop-off in targets was related to the offense going from sixth in total passing attempts to 22nd — the third-largest difference in passing attempts year over year. 
A regression to the mean in total team passing attempts — or a new quarterback — will go a long way to helping Moore finish as a top-12 option. 
His 25th-ranked points per game average (14.1) — basically the same as Anderson and Samuel — hardly does him justice. In Moore's last six games, he led the team in targets and ranked sixth in the league in yards per route run (2.65).