Last week, I finalized my 2021 best ball rankings with consideration for how the 2021 NFL Draft affected every position group. There were some big risers and fallers in the overall rankings, so my previously released top-12 wide receivers, top-12 running backs and top-10 tight ends in best ball required adjustments. 
Joe Mixon continues on his upward trajectory in the rankings, while D.J. Moore falls outside the top-12 and T.J. Hockenson enters the top-four at the tight end position. 
Subscribe to
With the big names at RB, WR and TE all accounted for, the time has come to rank the engines behind every NFL offense: quarterbacks.
Patrick Mahomes is PFF's highest-graded quarterback QB over the past three seasons, which shouldn't come as a surprise. The young superstar led the NFL in big-time throws in 2020 (46) — his ability to create highlight reel throws has translated into elite fantasy production.
Mahomes finished last season third in fantasy points per game (25.2), fourth in expected fantasy points per game (22.6) and second in 300-yard passing games (nine). He scores the majority of fantasy points with his arm, as his 16-game pace last season added up to 5,000 passing yards and 40-plus touchdowns. But the juice he adds on the ground is an integral part of his fantasy outlook. Mahomes' 308 rushing yards during the regular season ranked ninth at the QB position and represented a career-high. 
With an entirely revamped and immensely improved offensive line heading into 2021, Mahomes will easily return top-three fantasy quarterback numbers.  
Thanks to Josh Allen, quarterbacks who start their careers with two subpar seasons are going to have a slightly longer leash. Allen finished 2020 as the No. 1 quarterback in fantasy football — he had the league's sixth-highest completion rate (79.1%) after finishing with the 30th-ranked rate (71.1%) in 2019.
Allen's massive leap in Year 3 was definitely shocking for the NFL, but less so for fantasy football gamers. Allen has always been a solid fantasy asset because of his rushing ability, and his passing last season finally vaulted him into the elite tier of fantasy QBs.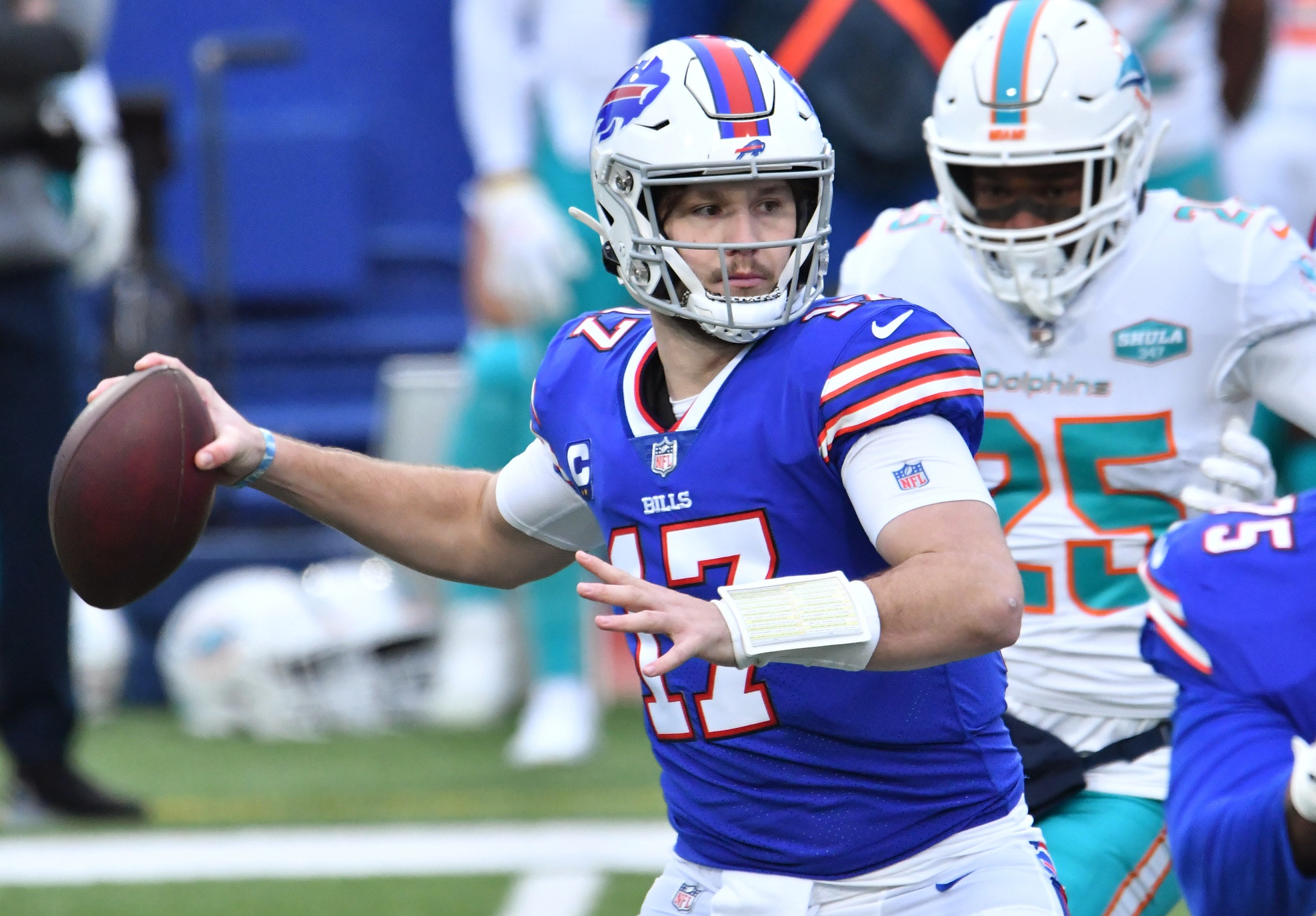 In 2020, Allen finished fourth in rushing attempts (103), seventh in rushing yards (421), third in rushing touchdowns (eight) and second in rushing attempts inside the 5-yard line (11). Since entering the NFL, Allen has compiled at least 400 rushing yards and eight rushing TDs in each of his three seasons. 
Factor in that the Bills have the league's second-easiest strength of schedule for quarterbacks (and the easiest schedule for the first five weeks), and it's wheels up for Allen in 2021. Allen's league-leading 23.3 expected fantasy points per game is a sign that his production should remain stable. 
Kyler Murray was winning people's fantasy matchups during the first half of the 2021 season (Weeks 1-10), averaging north of 30 fantasy points and 67 rushing yards per game. The rushing alone was worth the same amount of fantasy points as an additional 1.5 passing touchdowns per game.
Had it not been for a shoulder injury that lessened his likelihood to scramble, there's no doubt he would have finished as the QB1 overall. From Weeks 11-17, Murray's fantasy production fell dramatically (17.7 fantasy points per game, 16th overall) because of the rushing decline (31 rushing yards per game). 
Murray also saw a dramatic decrease in carries inside the 5-yard line, which fueled a late-season fantasy surge for Kenyan Drake. With Murray presumably back to full strength in 2021, his rushing will put him firmly back in the fantasy QB1 conversation. 
There's also a chance he continues to ascend as a passer with a new weapon in newly drafted second-round wide receiver Rondale Moore. The rookie's ability to create yards after the catch should provide a boost to Murray's passing totals. Murray only passed for 300 yards three times in 2020.
Dak Prescott passed for 300 yards in three of his four full games last season. His passing numbers were bananas to start the season last year: Through five weeks, Prescott ranked fifth in fantasy points per game (25.9), fourth in expected fantasy points per game (22.3) and first in passing yards (371 yards per game).
With weapons like Amari Cooper, CeeDee Lamb and Michael Gallup — not to mention one of the league's worst defenses — Prescott will be one of the few difference-makers at the quarterback position in 2021. 
Prescott is the only quarterback to finish inside the top 10 every season from 2016-19. You can't go wrong with Prescott in any fantasy format.
After returning from COVID-19, Lamar Jackson averaged 27.5 fantasy points per game (second), ranked third in big-time throw rate (8.6%) and eighth in PFF passing grade (82.4) from Weeks 13-17. 
The late run was a return to form for the 2019 NFL MVP after an "underwhelming" start to the season when he ranked as the QB9 — a far cry from his draft day ADP as the QB1 or QB2. 
Jackson's failure to meet lofty expectations last year has created a negative buzz around his fantasy outlook, which is making him more of a value than ever.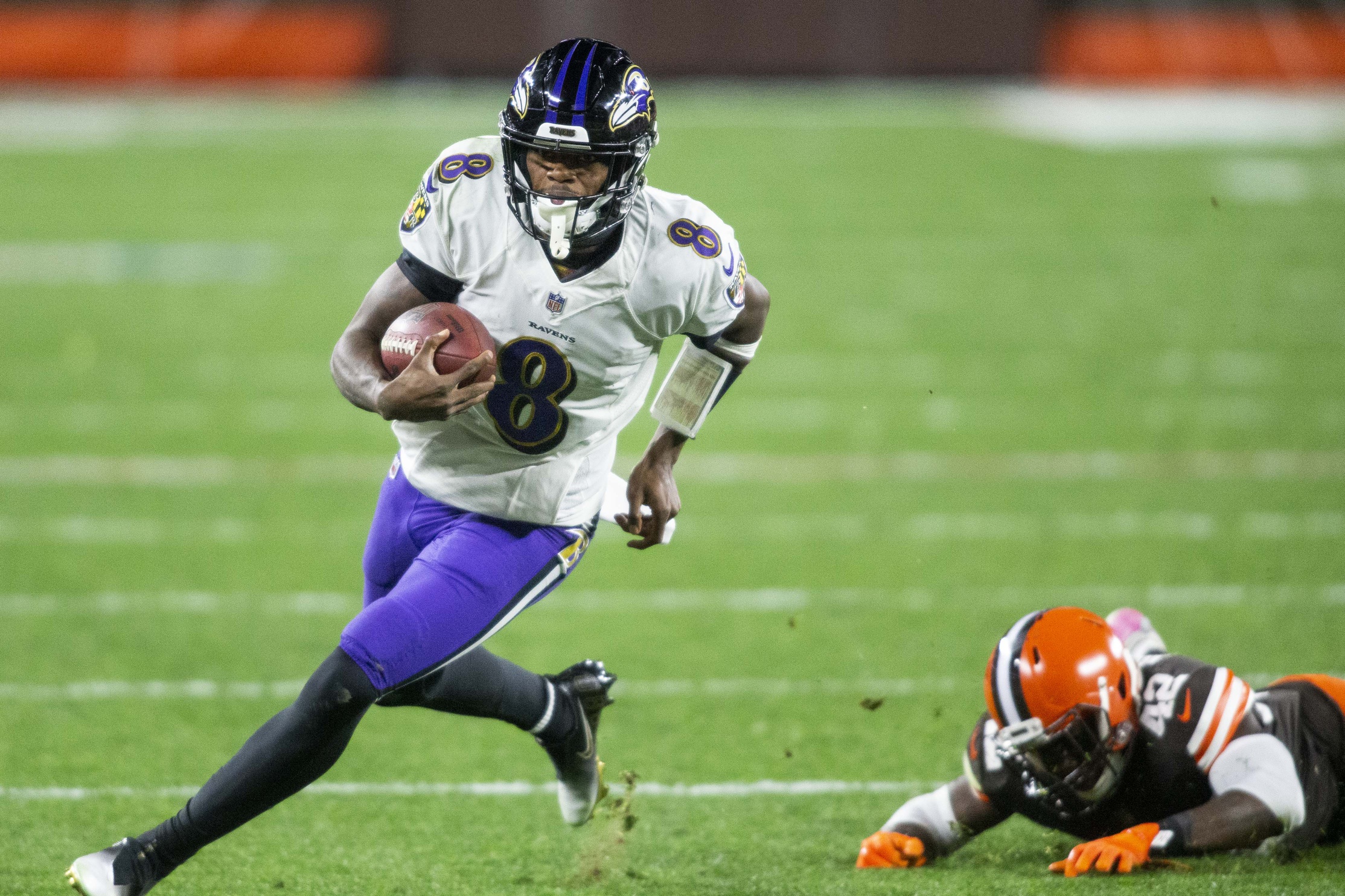 Plus, the Ravens loaded up on pass-catching talent in the draft. Baltimore finally added some dogs on the outside in Rashod Bateman and Tylan Wallace. Jackson was desperate for playmakers on the perimeter, so hats off to the Ravens for satisfying a crucial team need. 
Last season, Ravens wide receivers ranked 31st in contested catch rate (32%). Bateman finished fourth in contested catch rate (62%) in 2019, and Wallace ranks first in total contested catches since 2017. 
Investing a significant amount of draft capital into the WR position — specifically to boundary pass-catchers who can play on the outside — is telling for an offense that has predominantly focused on throwing over the middle of the field. Adding two dynamic receivers will add another wrinkle into the offense that will put Jackson back into the MVP conversation. 
Getting stud tackle Ronnie Staley back and healthy can't hurt, either. 
Justin Herbert's performance last season behind PFF's 30th-ranked pass-blocking unit was truly remarkable. In 15 games, Herbert finished seventh in total fantasy points and led the NFL in PFF passing grade under pressure (75.4). His passer rating under pressure (99.4) was actually better than his passer rating from a clean pocket (97.7). 
These types of metrics are extremely unstable at the quarterback position; labeling Herbert a regression candidate was easy because of his high-end efficiency under pressure. 
I've had a slight change of heart after L.A. made a huge effort to revamp its OL. The additions of center Corey Linsley, guard Matt Feiler and first-round rookie tackle Rashawn Slater are massive upgrades. 
The improvements in protection can only aid Herbert's progress in his second season. He's up to No. 6 in my quarterback rankings, ahead of Russell Wilson.
The only cause for concern regarding Herbert is how he will fare in a new offense run by Joe Lombardi. We don't love seeing our young quarterbacks have to learn new offensive systems; Herbert was great as a rookie under former OC Shane Steichen. 
Herbert will be tasked to work more within the infrastructure of the play call, and he'll have better protection upfront. The hope is that Lombardi's offensive philosophy can match his QB's strengths. 
Through the first nine weeks of the 2020 season, Chef Russell Wilson was cooking up fantasy points, nearly averaging 30 fantasy points per game (second) and 24 expected fantasy points per game (first) in an offense that threw at the highest rate in a neutral game script (74%). 
The Seattle Seahawks were the epitome of fantasy players' dreams: an explosive, pass-heavy offense paired with a horrible defense. But after a few down games, the fantasy-friendly dream turned into a nightmare.
Wilson finished the season averaging just 17.6 fantasy points per game (16th) and ranking 31st in yards per attempt (6.4), as the "Let Russ cook movement" fizzled out. 
The question now becomes: Which Wilson will we see more of in 2021? My guess is that we see more of what we saw toward the end of last season, which is why Wilson isn't ranked higher. 
New offensive coordinator Shane Waldron comes in after former OC Brian Schottenheimer had some different "offensive philosophies" than head coach Pete Carroll. Sounds to me like Schotty wasn't as balanced or run-heavy as Carroll would have liked. 
A more balanced offense doesn't entirely nuke Wilson's fantasy value, but what we saw in the first half of 2020 is probably in his upper percentile of outcomes, not necessarily the most likely. Besides, a large part of the hot start was due to the Seahawks' defense being historically bad, combined with playing top offenses seemingly every week. 
The defense isn't much better than last year, but the schedule early on does not bode well for fantasy-friendly game scenarios. No quarterback faces a more difficult series of opposing pass defenses than Wilson through the first five weeks of the season. The Seattle pass offense might be on preheat until mid-October. 
Jalen Hurts' ADP has skyrocketed during the offseason, throttling the hopes of fantasy gamers who viewed him as a late-round QB option. Still, he's priced appropriately, so he remains firmly in play after the team added first-round WR DeVonta Smith. 
Smith is exactly what Hurts needs. The Heisman winner led all receivers in targets with at least two-plus steps of separation (88) in 2020. Hurts suffered from the lowest percentage of pass attempts delivered to "open" receivers last year (54%).
The Eagles' rookie QB consistently attacked downfield anyway — 46 percent of his passing attempts were thrown 10-plus yards, No. 1 in the NFL. Luckily for him, Smith excels at hauling in targets downfield. Last year, he graded as the best WR on targets of 10-plus yards (97.4).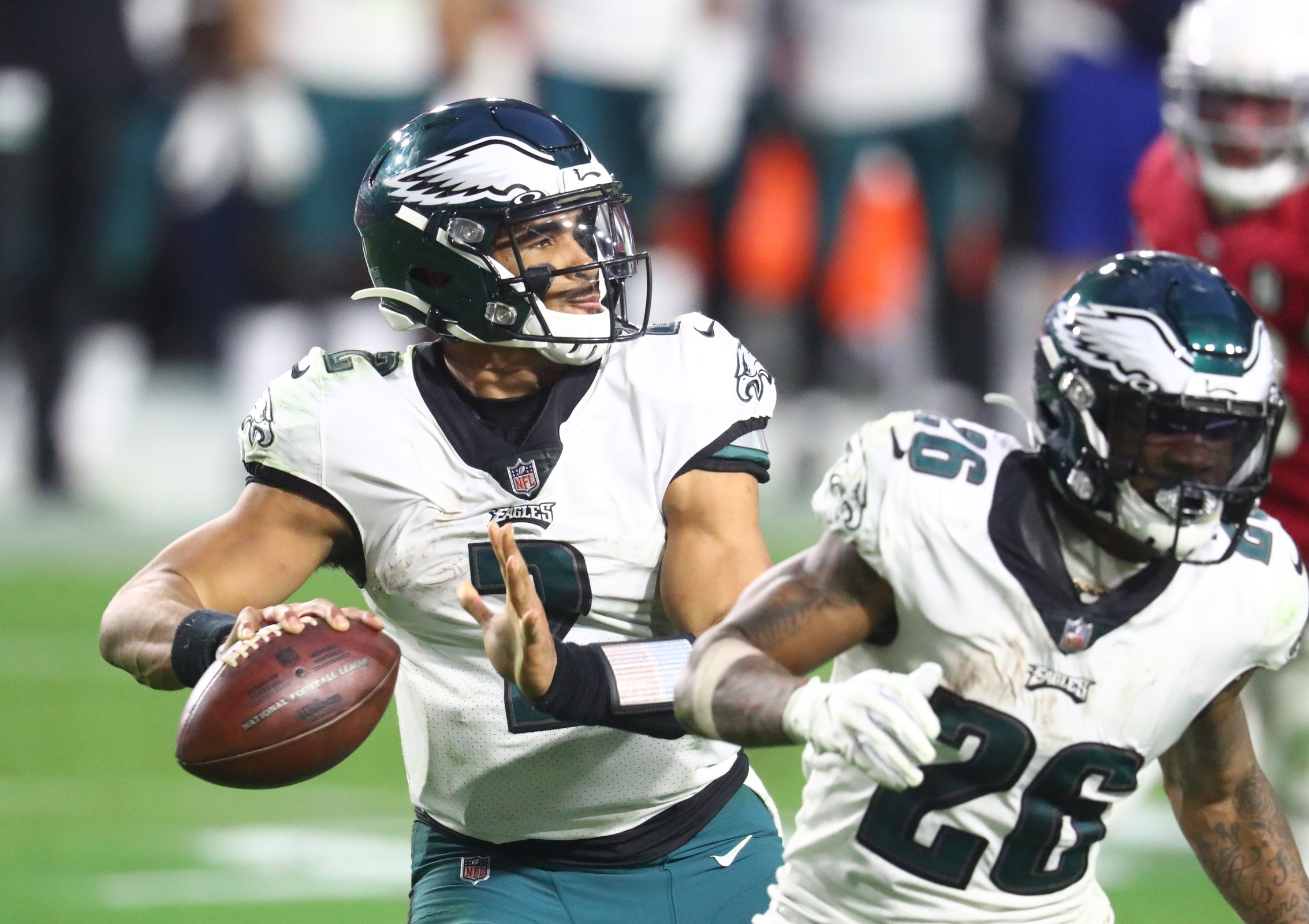 The days of Hurts being a value are long gone, but Smith's insertion into the Eagles offense dramatically increases his chances of hitting expectations. Any increase in passing efficiency combined with Hurts' rushing will make him deadly in fantasy football.
During his time as a starter from Weeks 14-17, Hurts averaged 23.9 fantasy points per game — eighth-best among quarterbacks. If you remove Week 17 when Hurts didn't play the full game, he averaged 26.6 fantasy points per game, which trailed only Josh Allen and Lamar Jackson.
The majority of Hurts' fantasy scoring came from his astounding numbers as a rusher. He averaged 79.3 rushing yards and 12.6 rushes per game. Hurts posted top-eight fantasy numbers last season on rushing alone. With a full offseason as the entrenched starter, Smith added to the WR room and the return of a healthy offensive line, things could progress quickly. 
Hurts is definitely a high-risk, high-reward fantasy commodity; just be wise to not overly pursue him at his expensive ADP. If he doesn't show progress as a thrower, things could unravel quickly. 
Aaron Rodgers ranked first in several passing categories in 2020 (PFF grade, completion percentage, big-time throw rate, touchdowns), but his astonishing 35.5% touchdown percentage in the red zone led to so much of his fantasy success. That rate ranked second in 2020 and was the highest mark for Rodgers since 2017.
He posted a career-high 9.1% overall touchdown rate — the highest rate we've seen since 2004. Still, history has not been kind the following year for players who achieved such a feat.
Just last season, Lamar Jackson saw his 9.0% touchdown rate from 2019 fall to 6.9%. When Rodgers first achieved a 9.0% touchdown rate back in 2011, his TD rate fell to 7.1% the following season. 
Highest Seasonal TD % since 2004
| | |
| --- | --- |
| QB | TD % |
| Peyton Manning (2004) | 9.9% |
| Aaron Rodgers (2020) | 9.1% |
| Lamar Jackson (2019) | 9.0% |
| Aaron Rodgers (2011) | 9.0% |
I hate to be the "touchdown regression is coming" guy, but it's just the reality with Rodgers. I seriously doubt we see a repeat of his 2020 performance as the QB5 in fantasy points per game (24.5). 
The difference between his actual fantasy points scored and expected fantasy points scored (+84.9, No. 1 among all QBs) suggests that low-end QB1 status is a much more likely outcome in 2021. 
Rodgers also only attempted 17 rushes last season — his lowest total since 2015 — which further limits his fantasy ceiling. 
Joe Burrow's advanced metrics paint the picture of a rookie quarterback who showed signs of promise while also revealing areas to his game that he can improve upon. He was excellent in Year 1 throwing up to 20 yards, ranking sixth in PFF passing grade.
If Rodgers' numbers are likely to come crashing down, it's the total opposite for Burrow. In 10 full games as a rookie last season, Burrow finished third in expected fantasy points per game (23.0) behind only Prescott and Allen.
Burrow's fantasy points scored versus expectation (-33.9) was the third-worst mark in the league because of inefficient receivers like A.J. Green vacuuming up targets.
Specifically, the deep ball was a major problem. Burrow's on-target percentage (21%) was second-worst in the league on deep throws, and these plays resulted in a 58.0 passer rating.
It wasn't all Burrow's fault. Targeting Green deep played a big role in tanking his overall numbers. Green generated a 59.8 rating when targeted — drastically different than Tyler Boyd (103.2) and Tee Higgins (116.3).
With Green out of the picture and replaced with college football's best deep-threat, Ja'Marr Chase, don't be surprised to see Burrow's deep-ball improve drastically in Year 2.
This offense as a whole has the chance to take fantasy leagues by storm with an ascending quarterback, great pass-catching weapons, a horrible defense and a coach who isn't afraid to be pass-heavy. Burrow is going to post some gaudy fantasy numbers in 2021.