Free agency and the 2022 NFL Draft have come and gone. Now, it's time to fully embrace the 2022 offseason by breaking down each team's fantasy football aspirations before fantasy-draft season truly gets underway in August.
What follows is a fantasy-focused breakdown of the Indianapolis Colts, focusing on key questions like:
Does Matt Ryan still have a fantasy ceiling worth chasing?
Will Jonathan Taylor repeat as the overall fantasy RB1?
Is Michael Pittman Jr. this season's premier breakout third-year receiver?
We will cover every fantasy-relevant player from the Colts in the following paragraphs. Make sure to check out the PFF Team Preview Landing Page through early July for more all-encompassing fantasy football coverage.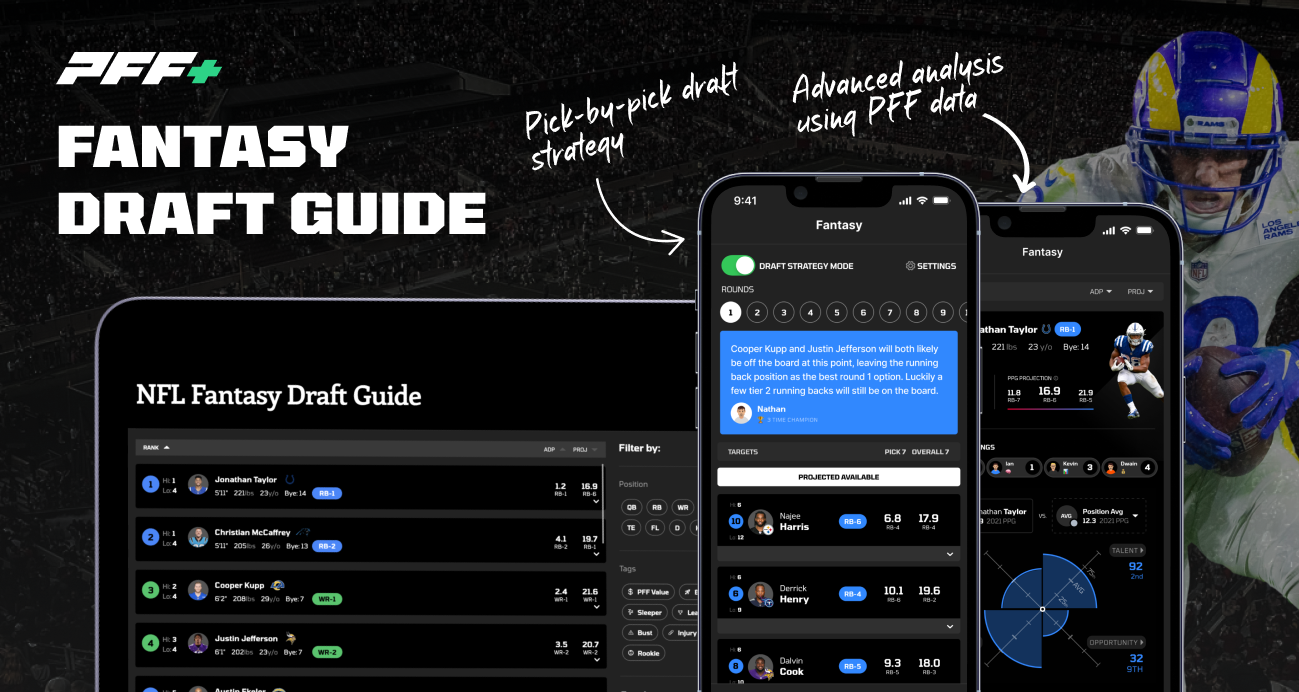 Notable offseason moves
The same key decision-makers on the offensive staff are back for the Colts. Frank Reich will begin his fifth season as the team's head coach after compiling a 37-28 record from 2018 to 2021. Offensive coordinator Marcus Bradley will enter his second year with that title, although he coached quarterbacks in Indy from 2018 to 2020.
Reich is once again expected to call the plays. He's featured a different Week 1 starting quarterback in every season as a head coach, only showing a willingness to feature the passing game during his first season with Andrew Luck under center:
2018: 65.6% pass-play rate in non-garbage time situations (7th)
2019: 57.2% (28th)
2020: 56.6% (26th)
2021: 56.3% (27th)
Their situation-neutral pace (Football Outsiders) has fluctuated from year to year but again trended toward conservative without Luck in 2021 (32nd), 2020 (18th) and 2019 (25th) compared to the more-aggressive mindset in 2018 (2nd).
At the time of his commencement, it's fair to call Matt Ryan better than any of Jacoby Brissett, Philip Rivers or Carson Wentz, so perhaps Reich re-embraces the aerial attack. Still, the Colts' status as a top-eight scoring offense in back-to-back years could understandably lead to more of an "if it's not broke, don't fix it" approach.
Ultimately, the presence of reigning leading rusher Jonathan Taylor, combined with an overall underwhelming and unproven group of pass-catchers, makes it unlikely this offense trends too far back to 2018 levels in terms of throwing the football. Expect a bit more confidence in Ryan than what was shown toward Wentz, but my money would again be on the Colts finishing as a below-average offense in pass-play rate and pace in neutral situations.
Additionally, the Colts have made plenty of changes to their roster. The following quarterbacks, running backs, wide receivers and tight ends have either joined or left the Colts in some way, shape or form this offseason:
• QB Matt Ryan: Traded to the Colts in return for a 2022 third-round pick. Ryan was objectively more accurate than Wentz at nearly every level of the field in 2021 (per Dwain McFarland) and didn't look to lose his fastball. While the best years of the 37-year-old's career might be in the past, PFF's reigning 13th highest-graded passer sure looks a lot like the franchise's best quarterback since Luck.
• QB Carson Wentz: Traded to Washington in a deal consisting of second-round pick swaps and a pair of third-round picks being sent to Indy. Wentz posted middling marks in PFF passing grade (71.9, No. 18), yards per attempt (6.9, No. 28), adjusted completion rate (72.3%, No. 36) and passer rating (94.6, No. 16) in the Colts' Jonathan Taylor-centered offense.
• RB Marlon Mack: Left in free agency for the Texans. Mack posted 195-908-9 and 247-1,091-8 rushing lines in his second and third years while starting 22 games, but he unfortunately tore his Achilles just seven touches into the 2020 season. Mack averaged a career-low 3.6 yards per carry in 2021 and didn't play a snap from Week 9 on.
• RB Phillip Lindsay: Signed a one-year deal with the Colts to seemingly replace Mack as the primary early-down backup for Taylor. Lindsay failed to get much of anything going in either Houston or Miami last season after gaining 3,015 total yards and scoring 18 touchdowns in three seasons with the Broncos.
• WR T.Y. Hilton: Remains an unrestricted free agent. Hilton has played in 35 of a potential 49 games over the past three seasons, with 2020's 15-game campaign still only producing a modest 56-762-5 receiving line. Regardless of where he lands in 2022 and beyond, Hilton's blistering first seven years in the league cement him as one of the best wide receivers in Colts history.
• WR Zach Pascal: Signed a one-year deal with the Eagles. The former undrafted free agent wound up starting 44 games for the Colts from 2018 to 2021, posting career-best 44-629-5 numbers in 2020.
Indianapolis made a pair of key additions to their skill-position rooms during the draft. First, they selected Cincinnati WR Alec Pierce with the 53rd overall pick. While Pierce's overall upside remains to be seen, at a minimum he's a field-stretching threat in an offense currently missing just that.
Next, the Colts drafted absolute athletic-freak TE Jelani Woods in the third round with the 73rd overall pick. Seriously, Woods ranks fourth out of 941 tight ends from 1987 to 2022 in terms of RAS (per Kent Lee Platte).
The Colts also added TE Andrew Ogletree in the sixth round. Don't expect him to have much of a role in 2022 or beyond. The fantasy track record of players selected outside of the draft's first three rounds isn't pretty.
Ryan recorded a PFF passing grade of 80.0 or higher in all but two of his first 11 seasons in the league, but he's finished below 76.0 in two of the last three. This last three-year stretch includes three of his four lowest marks in yards per attempt over the past decade. Ryan posted an adjusted completion rate of at least 75% every year from 2013 to 2018 but hasn't reached that mark once since.
The relatively worse performance over the past three seasons doesn't solely fall on Ryan's shoulders. Injuries and roster turnover sapped the offense of their previous top-tier talent, and the veteran was forced to adjust to an entirely new offense under Arthur Smith in 2021.
Ryan is objectively an upgrade over Wentz as a real-life quarterback in just about every metric you want to look at — except for fantasy points. It's been a few years since Ryan was operating as one of the league's premier counting-stat producers:
2021: QB19 overall, QB25 per game (among all QBs with 8+ games)
2020: QB12, QB14
2019: QB11, QB12
2018: QB2, QB2
2017: QB15, QB18
2016: QB2, QB2
2015: QB19, QB26
2014: QB7, QB8
2013: QB15, QB18
2012: QB7, QB8
There's been plenty of greatness from Ryan over the past decade. With that said, the 2016 NFL MVP demonstrated a low fantasy floor even during the prime of his career. This was primarily due to Ryan's non-existent rushing floor, which won't be getting better anytime soon.
The easiest explainer for Ryan's more middling production since parting ways with Kyle Shanahan following the 2016 season is passing volume. The Falcons didn't make a habit of throwing the ball all over the yard in 2017 (21st in non-garbage time pass-play rate), 2020 (13th) or 2021 (10th), but this was one of the game's most pass-happy offenses in 2018 (5th) and 2019 (2nd).
Last season's drop-off in production can also be attributed to losing Julio Jones and only getting five games out of Calvin Ridley. However, the Colts don't exactly offer anyone's idea of an above-average receiver room. They certainly might be an upgrade over Ryan's primary 2021 pass-catchers, but this isn't a return to prime Julio flanked by still-great, second-contract Mohamed Sanu and up-and-coming Ridley.
Ultimately, Ryan comes in as my QB25 ahead of guys like Jared Goff and Carson Wentz but behind higher-upside youngsters like Zach Wilson, Tua Tagovailoa and Mac Jones. The last three years tell us that Ryan's best days are behind him, and the Colts don't figure to offer 1.) the sort of elite pass-catching corps to bring out a resurgence, and 2.) elite pass-game volume to make up for expected average to above-average passing efficiency.
Taylor was the best running back in the NFL last season. All the man did was average an absurd 5.5 yards per carry, with 3.8 of those yards coming after contact. Nobody forced more total missed tackles as a rusher (66), while his 106 first downs as a rusher were 41 more than any other running back.
The 2021 rushing champion, Taylor's total of 1,272 yards *after contact* was more than any other back in the league could attest to having total.
Seriously, the man was a mutant.
Jonathan Taylor pic.twitter.com/MxkpmCYnRQ

— Ian Hartitz (@Ihartitz) May 25, 2022
Here's the catch: Taylor needed to be this damn good in order to work as fantasy's overall RB1. The following leaderboard denotes the top running backs from 2021 in expected PPR points per game:
Derrick Henry (21 expected PPR points per game)
Najee Harris (20.2)
Alvin Kamara (20)
Leonard Fournette (19.3)
Christian McCaffrey (18.4)
Austin Ekeler (18.3)
Taylor (18.2)
Historically, one target has been equivalent to roughly 2.7 carries in terms of expected fantasy points in full-PPR leagues. This is why Taylor needed to absolutely ball the hell out on an absurd 332 carries to compete with lesser-used rushers who simply get more opportunities in the passing game.
It's not like Taylor is incapable of catching the football; Hines is just better. This is true by just about any measure one wants to look at (data from 2020-2021):
PFF receiving grade: Hines (91.1), Taylor (69.5)
Yards per route run: Hines (1.69), Taylor (1.33)
Drop rate: Hines (3.6%), Taylor (4.9%)
One of the league's most efficient running backs when lined up as a true receiver, Hines has averaged 68 targets per season as Frank Reich's pass-down back over the past four seasons. The Colts gave him a more than solid three-year, $18.6 million contract for a reason and noted this offseason that Hines should have a role more similar to 2020 with Rivers (76 targets) as opposed to 2021 with Wentz (57). Both the Falcons and Colts boasted above-average target shares for the position in 2021.
No running back has repeated as the overall fantasy RB1 since Priest Holmes in 2002 and 2003. Hell, nobody has even registered two-such seasons since Holmes and before him Marshall Faulk. The lifespan of running backs is as short as ever, and combining elite efficiency with similar high-end volume is tough for even the league's best talents to do on multiple occasions.
And yet, Taylor is deserving of the 1.01 fantasy pick thanks to far superior youth and talent compared to our aforementioned crop of running backs who had larger expected point averages. It'd be nice if Taylor had the potential for 60-plus catches, but he's still a candidate to flirt with 400 combined carries and targets while offering far fewer red flags than his main competition at the position:
• Christian McCaffrey: Obvious recent injury problems aside, the Panthers boast arguably the league's worst quarterback room and are far from guaranteed to improve upon last season's finish as the 29th ranked scoring offense.
• Derrick Henry: Very similar workload projection to Taylor with a full season of health. The difference is that history tells us to caution against expecting enhanced efficiency from running backs with 1,500-plus professional carries to their name, like Henry.
• Najee Harris: Simply underwhelmed as a rusher and receiver in terms of just about any efficiency stat one wants to look at. While Harris might present the league's single-largest potential workload, the Steelers' 21st-ranked scoring offense isn't guaranteed to take a step forward with either Mitch Trubisky or Kenny Pickett under center.
• Austin Ekeler: Has openly advocated for himself to be the fantasy 1.01 thanks to his availability. "I'm playing every single damn game. And guess what? I'm also going to score you 20 points a game." While Ekeler isn't wrong about his ability to stay healthy (14-plus games in four of his five career seasons), the reality is that the Chargers have refrained from over-feeding him rush attempts, making him far more reliant on carrying over enhanced scoring efficiency than someone like Taylor.
Consider: Taylor handled 26 carries inside the five-yard line last season; the next-closest running back had 16. Hell, only the Eagles and Cardinals had more rush attempts inside the five-yard line as a team than Taylor.
Even if history tells us Taylor is unlikely to repeat as the overall RB1, his floor might as well be the roof considering his high-touch workload and status as arguably the league's single-best player with the ball in his hands. Draft him with confidence as the fantasy 1.01 in re-draft leagues of all shapes and sizes.
Hines is worthy of later-round consideration in his own right, although it's unlikely he ever gets a true every-down role. The Colts have repeatedly paired up Hines with an early-down complement in Taylor, Mack and even Jordan Wilkins over the years. Overall, Hines has averaged just 70.5 rush attempts per season and has been given double-digit carries in just four of his 68 career games (including playoffs).
It's great that Frank Reich said, "If I was a fantasy owner, I'd consider drafting Nyheim," but merely changing the quarterbacks involved won't help Hines. In Week 18, he played just nine snaps and received two touches despite the Colts playing from behind during their 15-point loss to the Jaguars. Give Hines a well-deserved boost in full-PPR formats, but he'd still only be in the borderline RB2 conversation with an injury to Taylor.
Lindsay isn't someone who needs to be drafted outside of exceptionally deep leagues. Even then, he'd be unlikely to offer more than touchdown-dependent RB3 value with an injury to Taylor.
Pittman doesn't turn 25 until October. His 88-1,082-6 receiving line in 2021 demonstrated quite the floor for the Colts' No. 1 wide receiver of the present and future. A closer look at Pittman's advanced statistics reveals the performance was hardly a fluke, as he posted top-20 marks in yards per route run (1.95, No. 19) and PFF receiving grade (79.9, No. 18) among 91 wide receivers with 50-plus targets last season.
More than anything, Pittman passed the eye test in a major way. There was plenty of bad under center in Indianapolis last season, but that didn't stop the Colts' 2020 first-round pick from putting together one helluva sophomore highlight film.
Michael Pittman pic.twitter.com/8ZV5LQdBCH

— Ian Hartitz (@Ihartitz) May 25, 2022
Pittman continues to project as the offense's undisputed No. 1 passing-game option. It's reasonable to believe that the overall volume involved will go up. Similar finishes in target and air yard share with a larger passing game pie could produce some truly elite volume for Pittman. Last season, Pittman was one of just 11 wide receivers with at least 25% and 30% of their team's targets and air yards:
Cooper Kupp: 32.4% target share, 31.7% air yard share
Davante Adams: 30.1%, 35.7%
Justin Jefferson: 29.9%, 47.5%
D.J. Moore: 28.8%, 40%
D.K. Metcalf: 27.2%, 36.8%
Darnell Mooney: 26.5%, 34.4%
Stefon Diggs: 26.3%, 34.7%
Diontae Johnson: 26.1%, 32.7%
Pittman: 25.8%, 31.3%
Brandin Cooks: 25.7%, 36.9%
Tyreek Hill: 25.4%, 36.6%
To recap: Pittman was a top-20 player on an efficiency basis and top-10 in terms of underlying volume inside of a passing game that has received a major boost under center while losing an underrated amount of targets. Pittman looks a lot like another third-year breakout option at a position that sure has had a lot of them over the years — I'm prioritizing him ahead of most in the muddled WR2 range and agree with his present Underdog Fantasy WR13 ADP.
PFF's 2022 Draft Guide had the following to say about Pierce:
Where he wins: Juice
You'd be hard-pressed to find a receiver in the FBS that stacked corners more consistently on go-balls than Pierce. His combination of size and explosiveness was simply too much for the low-level corners he faced.
What's his role: Vertical specialist
No one stacked corners on go balls more frequently than Pierce in 2021. Some of that is level of competition, but he even did it on multiple occasions against Alabama when he wasn't targeted. His size-explosiveness combo is scary.
Where he can improve: Full route tree
Gos, slants, posts. That was 63.6% of Pierce's receiving yards in 2021. That was by design because he is not the kind of receiver to shake corners at the top of routes.
Pierce figures to replace Hilton as the offense's field-stretching specialist, although the rookie could feasibly split time with Dulin starting out. Still, it's tough not to give the nod to the 53rd overall pick of the 2022 NFL Draft. Pierce looks a lot like a classic better-in-best-ball wide receiver: Talented and explosive enough to hit a handful of big plays throughout the season but could struggle to see the sort of consistent volume to earn weekly starting treatment.
An unfortunate string of injuries has led to Campbell playing just 15 games during his first three years in the league, but the 24-year-old former second-round pick is dynamic with the ball in his hands and even started to show off some advanced downfield route-running in 2021. Now 100% healthy, Campbell projects as a starter in three-WR sets, assuming Hilton refrains from re-signing. GM Chris Ballard may have said he's "not quitting on Parris Campbell," but the decision to draft Pierce soaks up some of Campbell's air yard potential and could leave him as more of a gadgety-type as opposed to a true No. 2 or No. 3 wide receiver in an offense that is more than comfortable featuring plenty of two-RB and two-TE formations.
It's surprising that putting Alie-Cox and Woods in the same offense is legal in the year 2022. These extra-terrestrially large human beings simply ooze athleticism while boasting plenty of pass-catching upside.
The problem: Frank Reich loves to feature multiple tight ends. While Eric Ebron popped off with 108 targets and 13 touchdowns back in 2018, only Jack Doyle (69 targets in 2019) managed to surpass 50 pass-game opportunities among every tight end to suit up for the franchise since. A typical game in 2021 featured each of Doyle, Alie-Cox, and Granson splitting snaps and routes alike.
Colts tight ends rank fifth in targets and 12th in routes under Reich since 2018. Either Alie-Cox, Woods or Granson could probably vie for top-12 status with a full-time role in 2022. Alas, this group once again figures to rotate at least three options on a weekly basis. It's hard enough for players in two-TE committees to see enough volume for high-end fantasy relevance; three or more is essentially a death sentence for their counting numbers.
None of Alie-Cox, Woods or Granson are worthy of fantasy consideration in typical re-draft leagues. Approach cautiously even in TE-premium and best-ball formats. Credit to Alie-Cox for getting #paid, but the decision to use a Day 2 pick on Woods to replace a retired Doyle reflects the likelihood that nothing is changing in terms of weekly playing time.