• Ja'Marr Chase rebounds: After a slow start to the season, the Bengals' star receiver caught seven passes for 132 yards and two touchdowns in Cincinnati's comeback victory.
• Breece Hall wills the Jets to victory: Hall achieved his first 100-yard rushing game of his career and third straight game with a rushing touchdown. His success helped New York to a road victory over the Packers.
• The Miami Dolphins wide receivers dominate: Tyreek Hill and Jaylen Waddle combine for 300 receiving yards despite playing with their backup and third-string quarterbacks.

SF@ATL | NE@CLV | NYJ@GB | JAX@IND | MIN@MIA | CIN@NO | BLT@NYG | TB@PIT | CAR@LAR | ARZ @ SEA | BUF@KC | DAL@PHI |
---
• Brandon Aiyuk: 8 receptions, 83 yards, two touchdowns
• Kyle Pitts: 3 receptions, 19 yards, one touchdown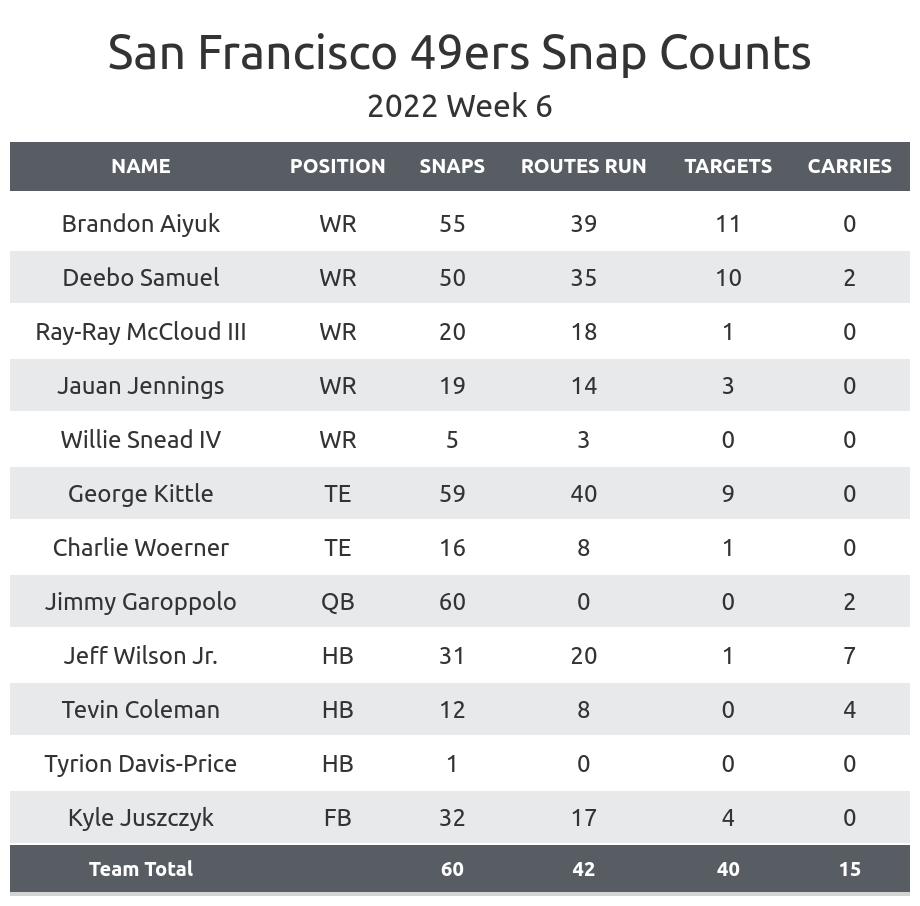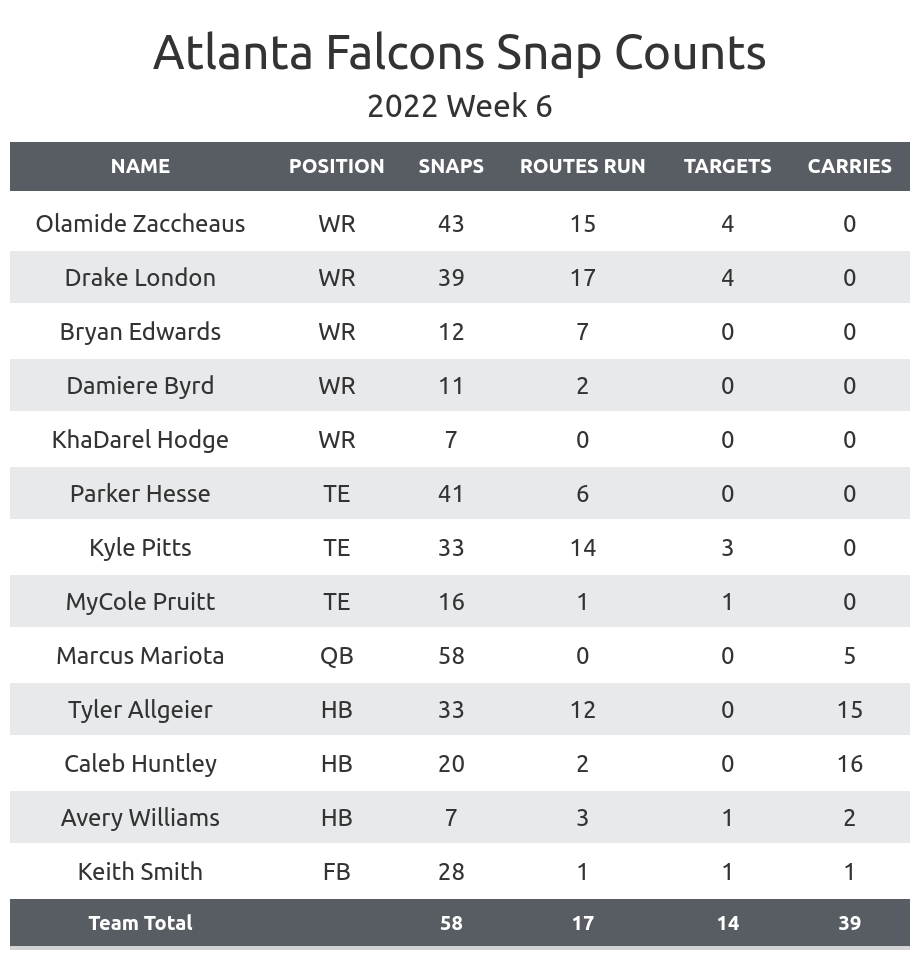 Avoid the Falcons' young backfield: Atlanta's running backs were held under 60 offensive yards each despite the team's emphasis on the run.
Tyler Allgeier

and

Caleb Huntley

ran the ball 15-plus times, but neither player saw a target in the passing game.

Avery Williams

was also involved, tallying two carries and one target. Williams is typically the two-minute-drill back, but that wasn't needed against the 49ers.

In the future, the game script typically won't be as favorable as it was in this game.

Their matchup against the Bengals next week

is not favorable

for the Falcons' backs.

Damien Williams

could come off injured reserve as early as this week and disrupt the rotation.

Cordarrelle Patterson

could return after two more games.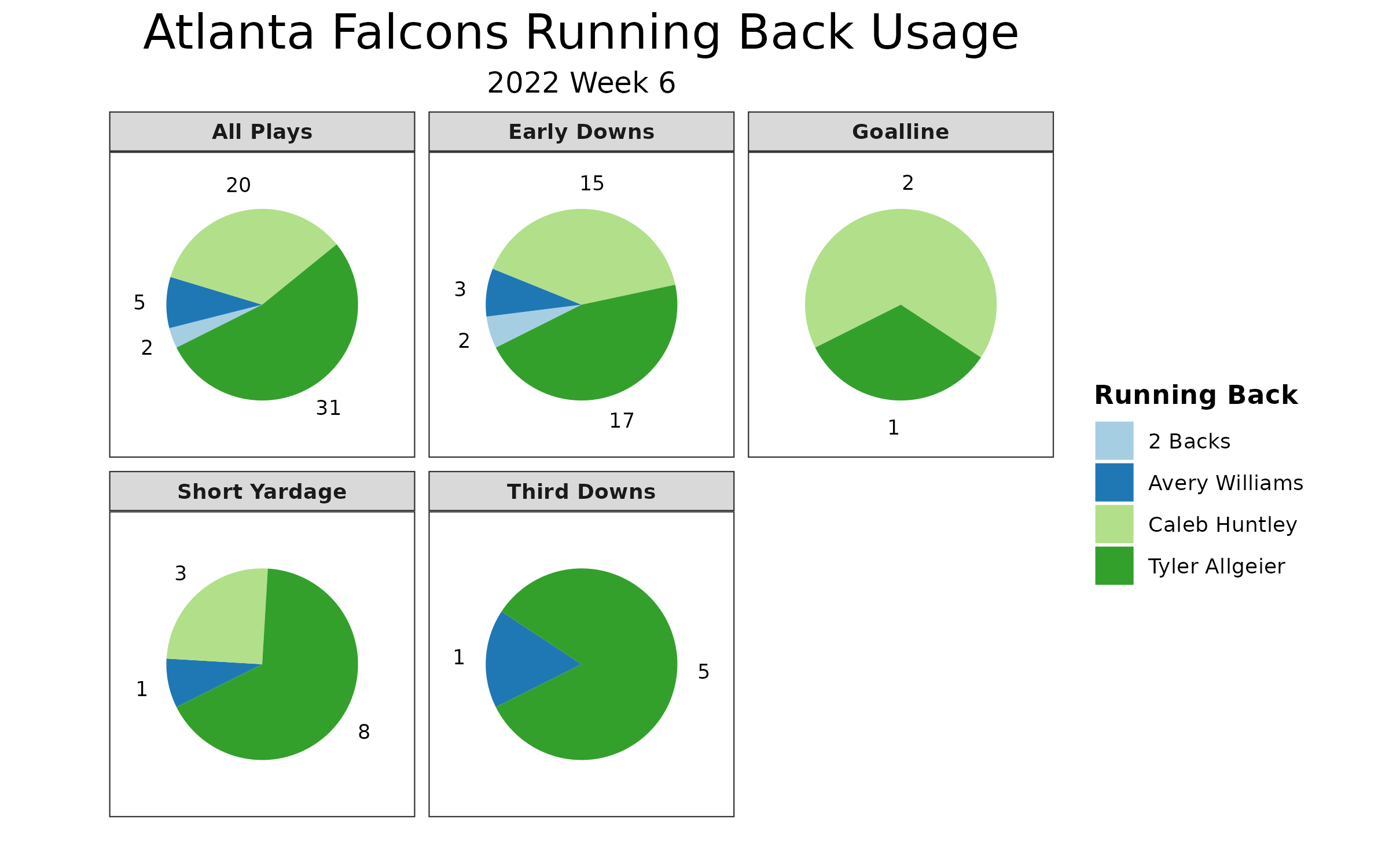 Sell high on Kyle Pitts: The Falcons' star tight end scored a touchdown, but his playing time continues to decline.
He played only 10-of-14 snaps out of 11 personnel. He took a slight majority of snaps in two-tight end sets and rarely played in 21 personnel.

This left him on the field for most of the team's passing plays but based on this usage, there will be more pass plays with him off the field in most games.

The Falcons have the

easiest remaining schedule

 and better running backs getting healthier. We could see more games like this where they are running most of the game.

Pitts' 21.4% target rate and 1.36 yards per route run were the lowest since Week 2.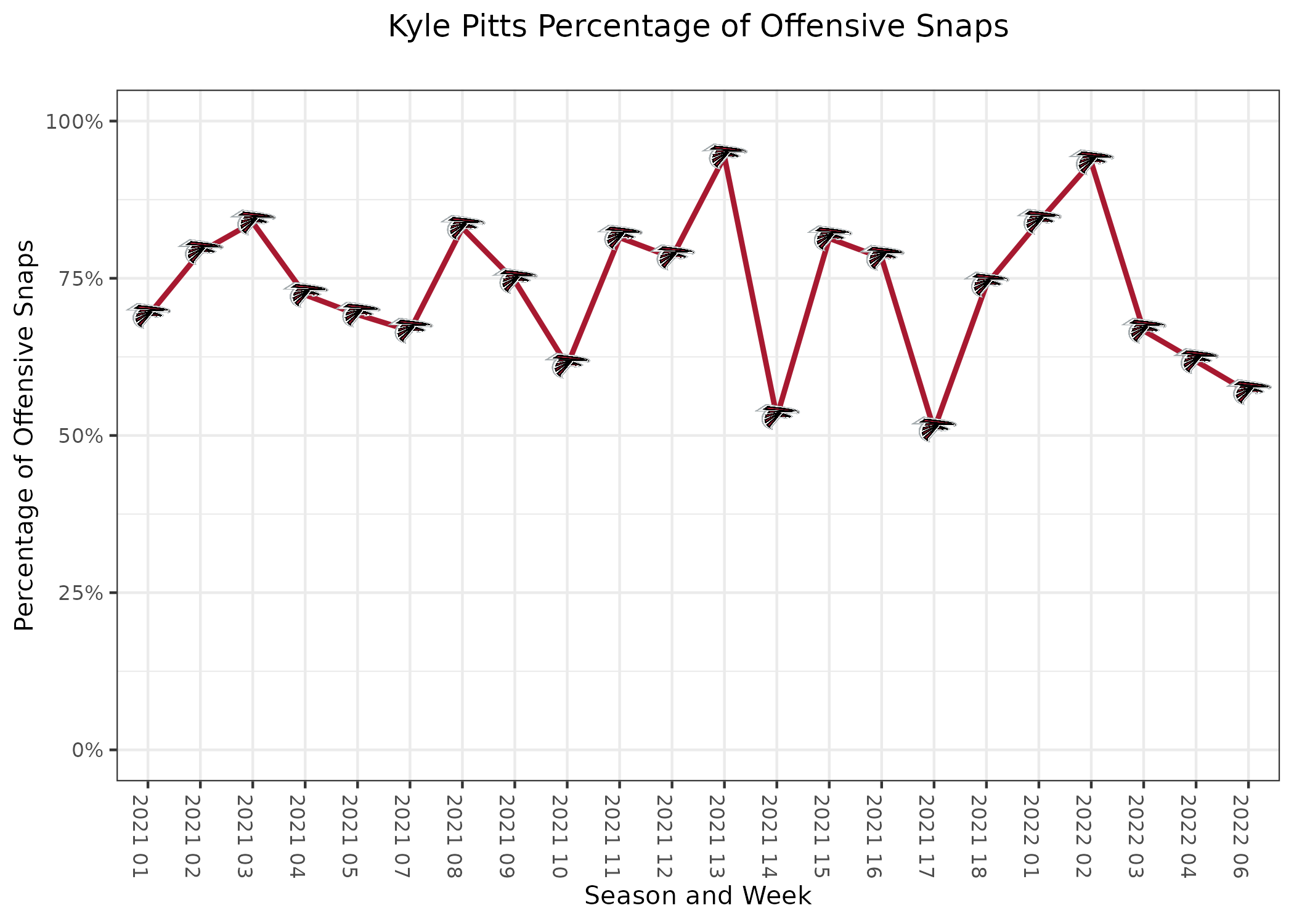 Consider benching Jeff Wilson Jr.: The 49ers starting running back was held to 25 yards on seven carries and didn't catch his only target.
The game script played a role in Wilson's low numbers, as the 49ers were playing from behind since the middle of the first quarter and Wilson is not their receiving back.

Tevin Coleman

received significant playing time last week, but it didn't seem as concerning because Wilson still ran 17 times.

Coleman received four carries today, which was much more concerning because Wilson didn't necessarily need a rest.

Rookie

Tyrion Davis-Price

returned after missing a few weeks with injury. He played one offensive snap, and that number could be on the rise.

Wilson has only two more games as the starter before the 49ers' Week 9 bye. They are expected to get

Elijah Mitchell

back from injury at that point.

They play the Chiefs and Rams in the next two games — games that could have similar scripts as the game today.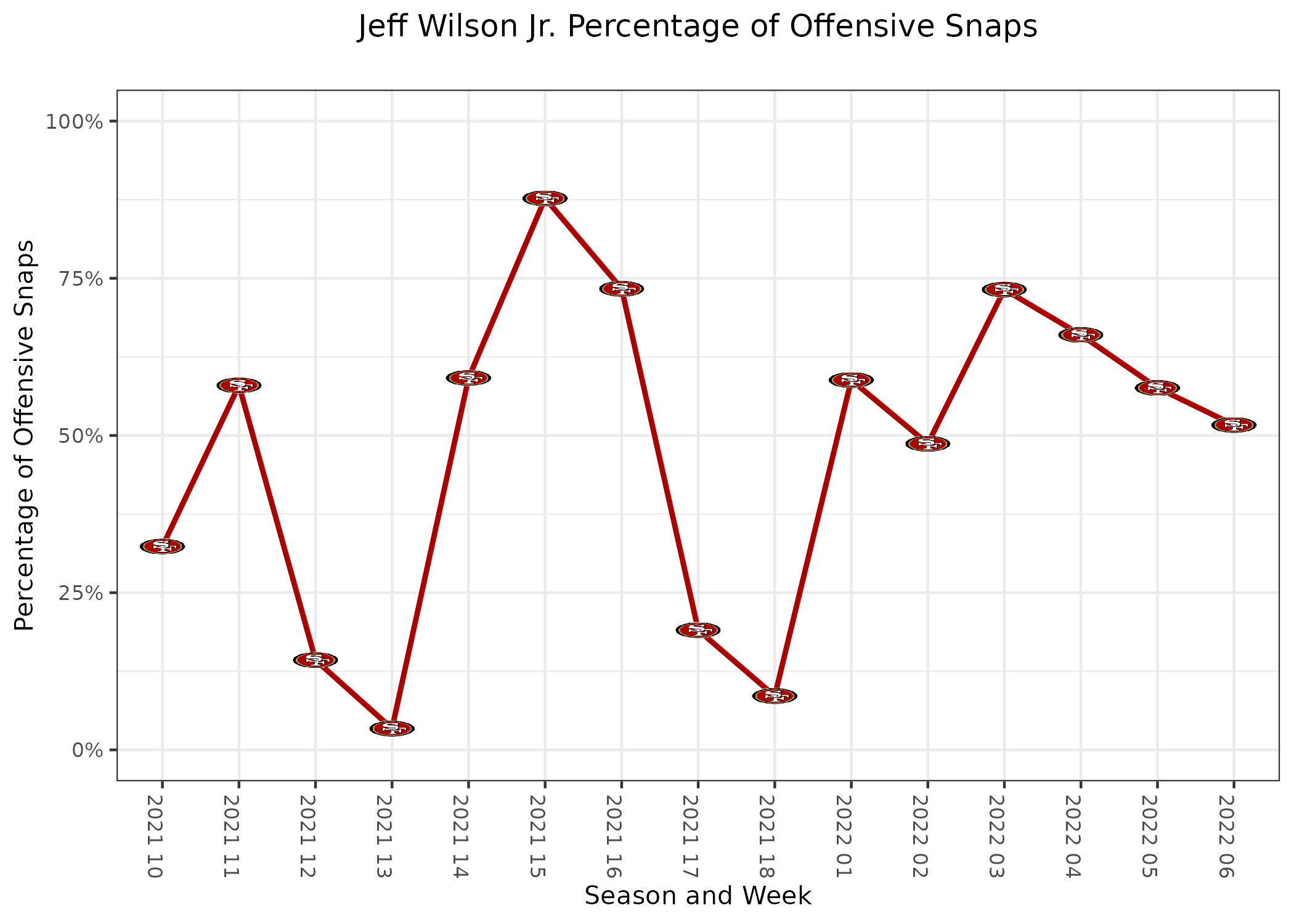 ---
• Rhamondre Stevenson: 19 carries, 76 yards, two touchdowns; 4 receptions, 15 receiving yards
• Tyquan Thornton: 4 receptions, 37 yards, one touchdown; 3 carries, 16onerushing yards, 1 rushing touchdown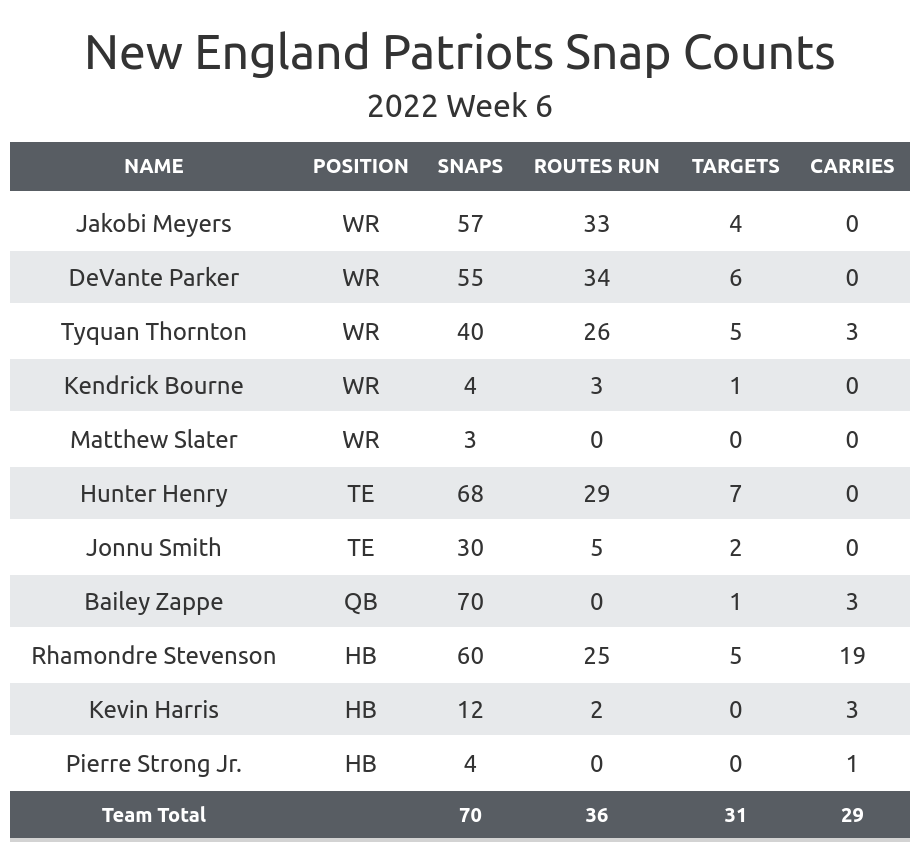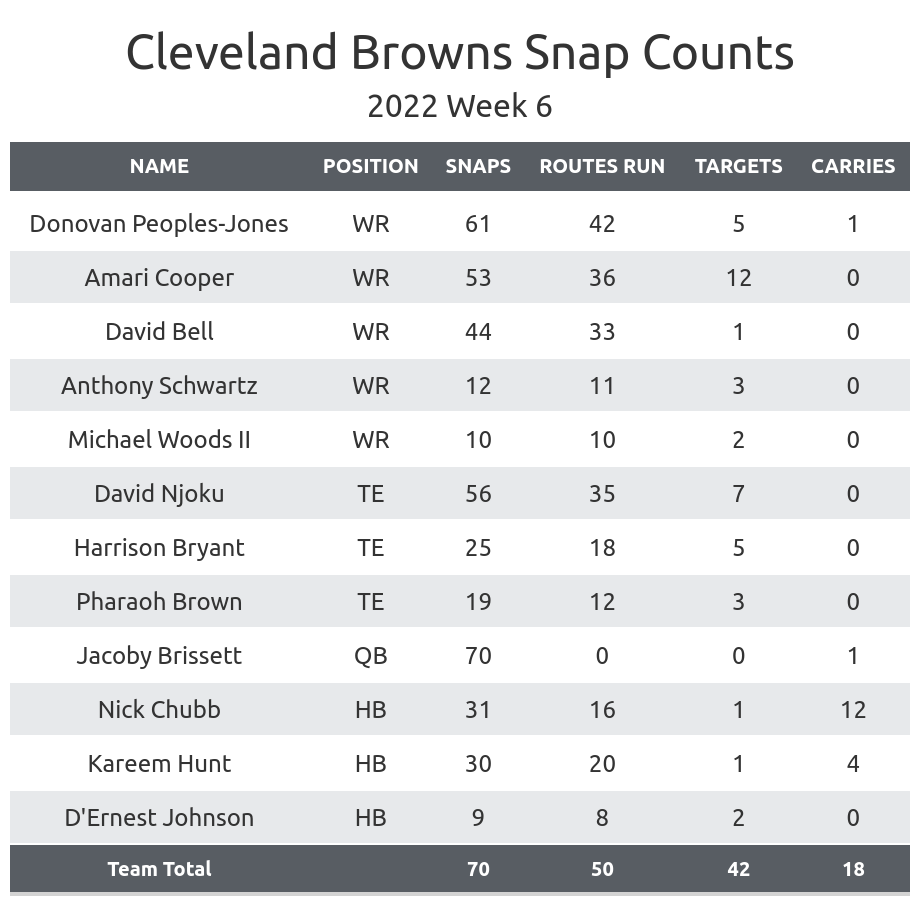 Monitor the health of the Patriots' wide receivers: Kendrick Bourne suffered a toe injury early in the first quarter and didn't return.
Nelson Agholor

was also inactive after being limited in practice all week with a hamstring injury.

Bourne started the game as the Patriots' third wide receiver.

Tyquan Thornton

took the role of third wide receiver over the rest of the game.

The rookie didn't play his first offensive snap until after the injury, but he was likely going to get some playing time in this one, regardless.

Thornton should be left on the waiver wire in most leagues unless the Bourne and Agholor injuries are serious. He will continue to get some playing time, but it will be hard for him to reach a point of being a fantasy starter without injuries or Thornton far outplaying other receivers.
The Patriots without Damien Harris: Rhamondre Stevenson was everything fantasy managers would have hoped for with Harris out with a hamstring injury.
He played 47 of a possible 49 snaps through the first three quarters.

Kevin Harris

' snaps largely came in two-back sets or in the last five minutes of the game.

Pierre Strong Jr.

didn't play an offensive snap until the fourth quarter.

Stevenson will continue to be a borderline top-five fantasy running back as long s Harris is out and can remain a fantasy starter once Harris is back.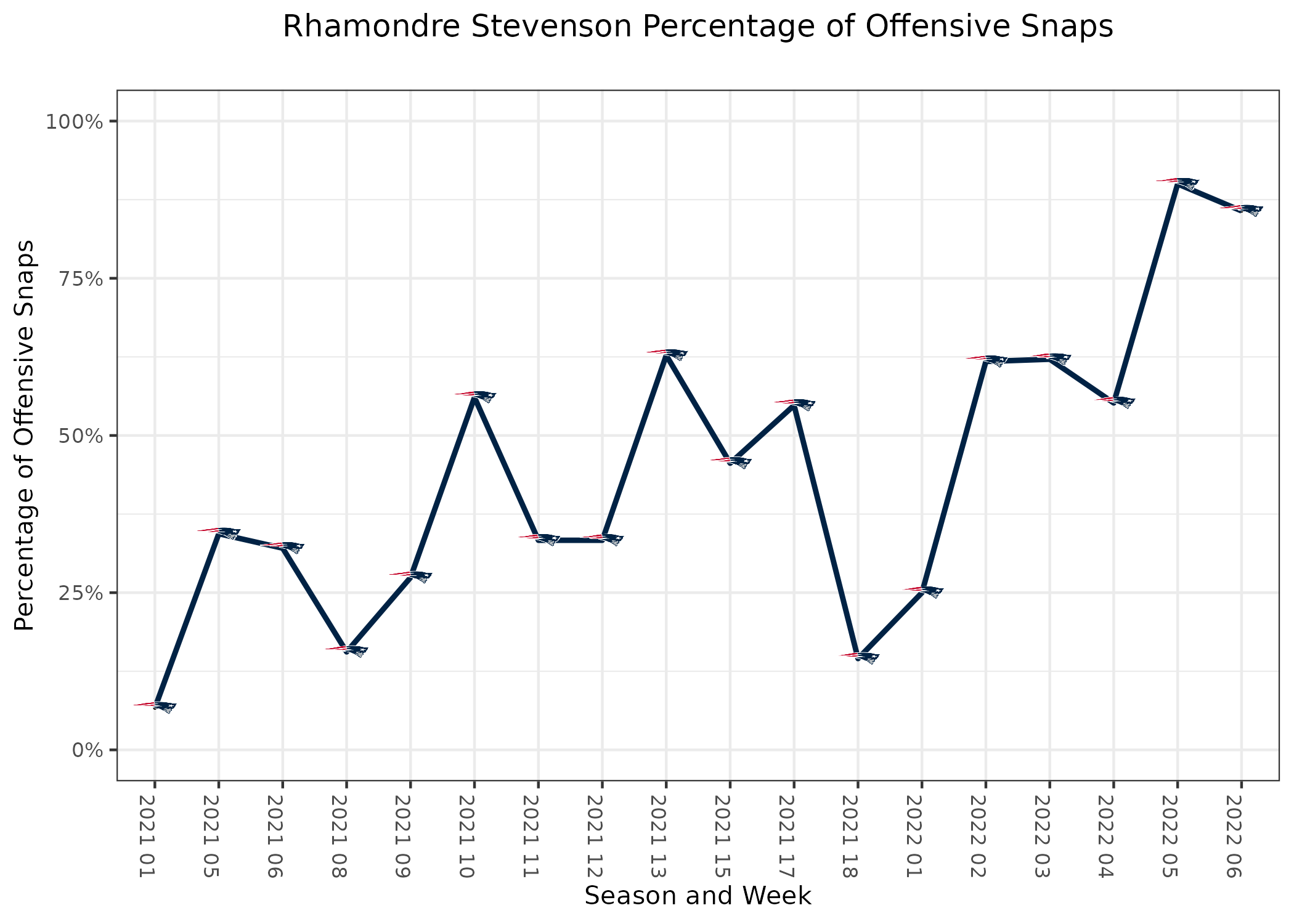 Cautious optimism for Hunter Henry: The Patriots tight end drew eight targets today after seeing just 14 over the first five games. He also scored a touchdown.
His playing time has been much higher the last two weeks while

Jonnu Smith

deals with an ankle injury.

Smith played today but mostly stayed in two-tight end sets.

Henry's playing time will decline again once Smith is closer to 100%, but it was still good to see Henry's target share increase.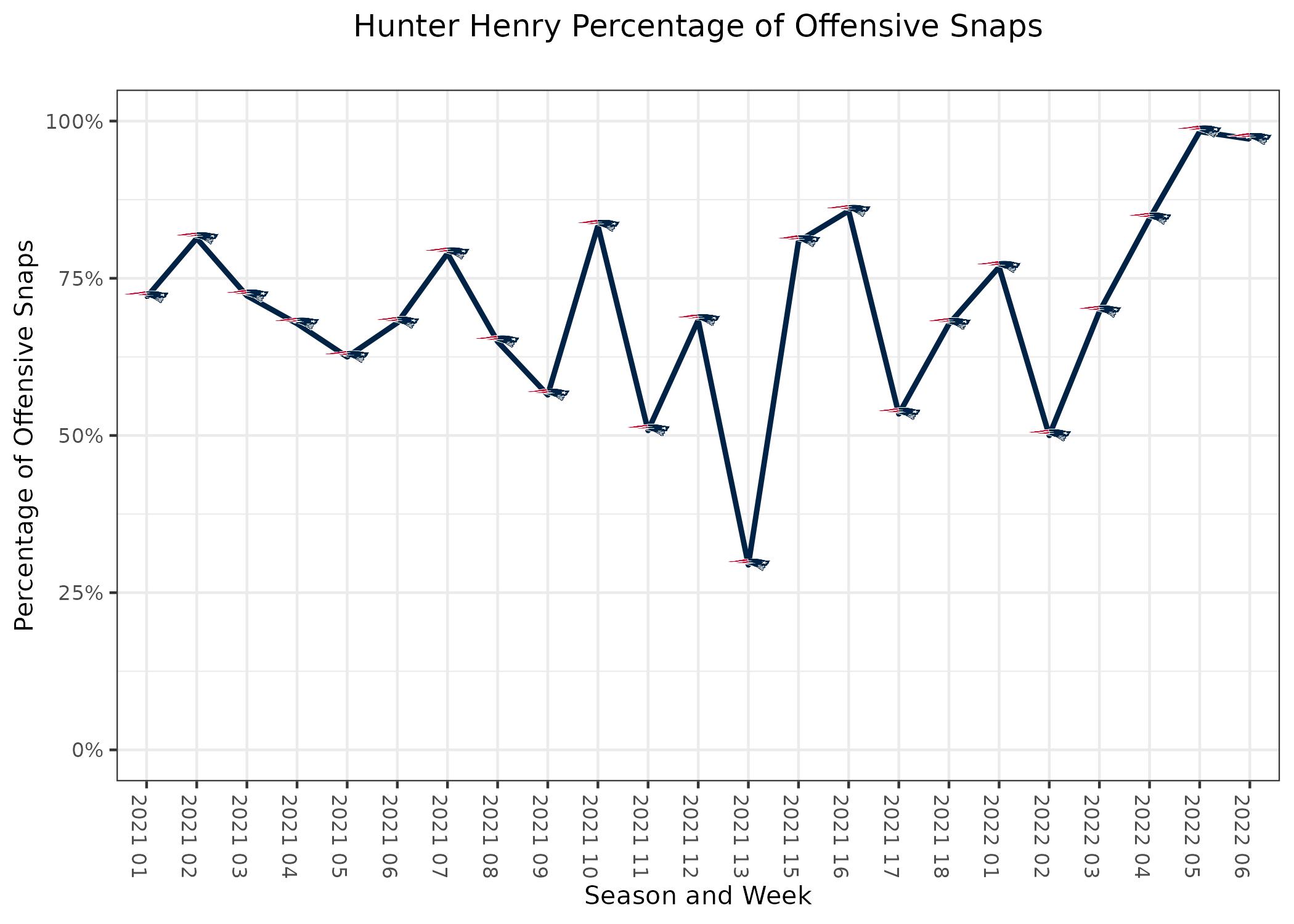 Sell high on David Njoku: The Browns tight end caught a 33-yard pass to save his fantasy value today, but his playing time has been on the decline.
His target rate has stayed consistently below 20% after achieving a 37.0% threat rate in Week 3.

The tight end room has become a three-man rotation after the free-agent addition of

Pharaoh Brown

,

who was cut by the Texans.

Njoku played only 35-of-49 snaps in 11 personnel, with 

Harrison Bryant

and Brown each taking seven snaps from that personnel grouping.

His fantasy value was a combination of a good number of routes, a good target rate and good quality of play when targeted. He's still playing well when the ball heads his way, but the other two metrics are heading in the wrong direction.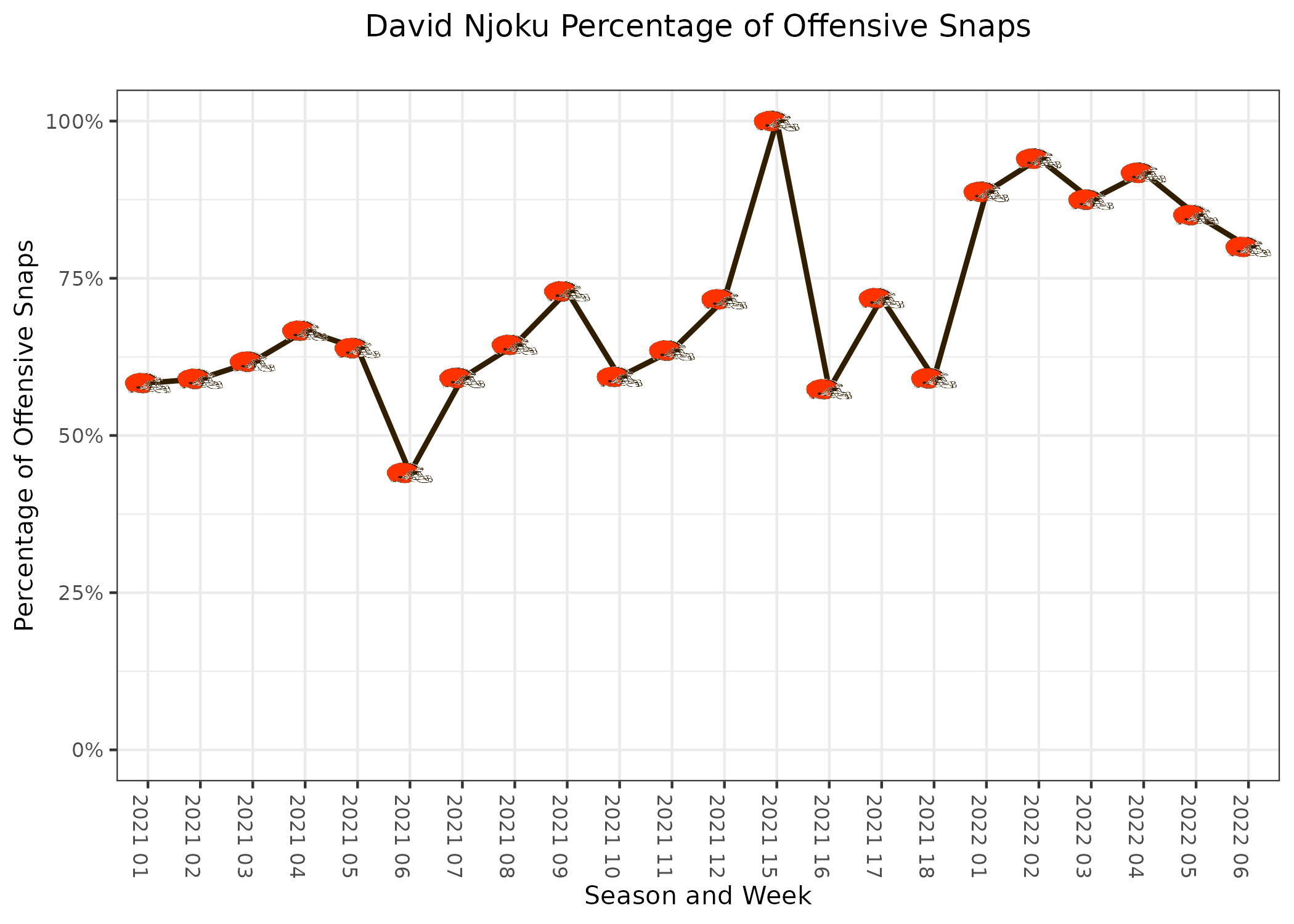 ---
• Breece Hall: 20 carries, 116 yards, one touchdown; 2 receptions, 5 receiving yards
• Allen Lazard: 4 receptions, 76 yards, one touchdown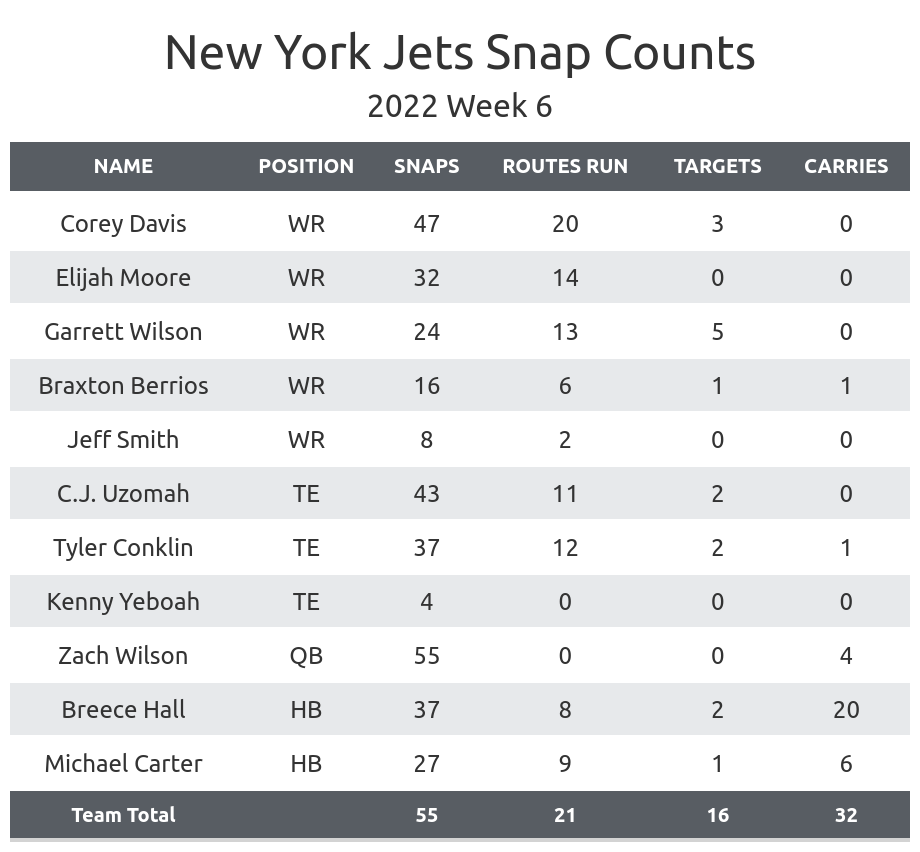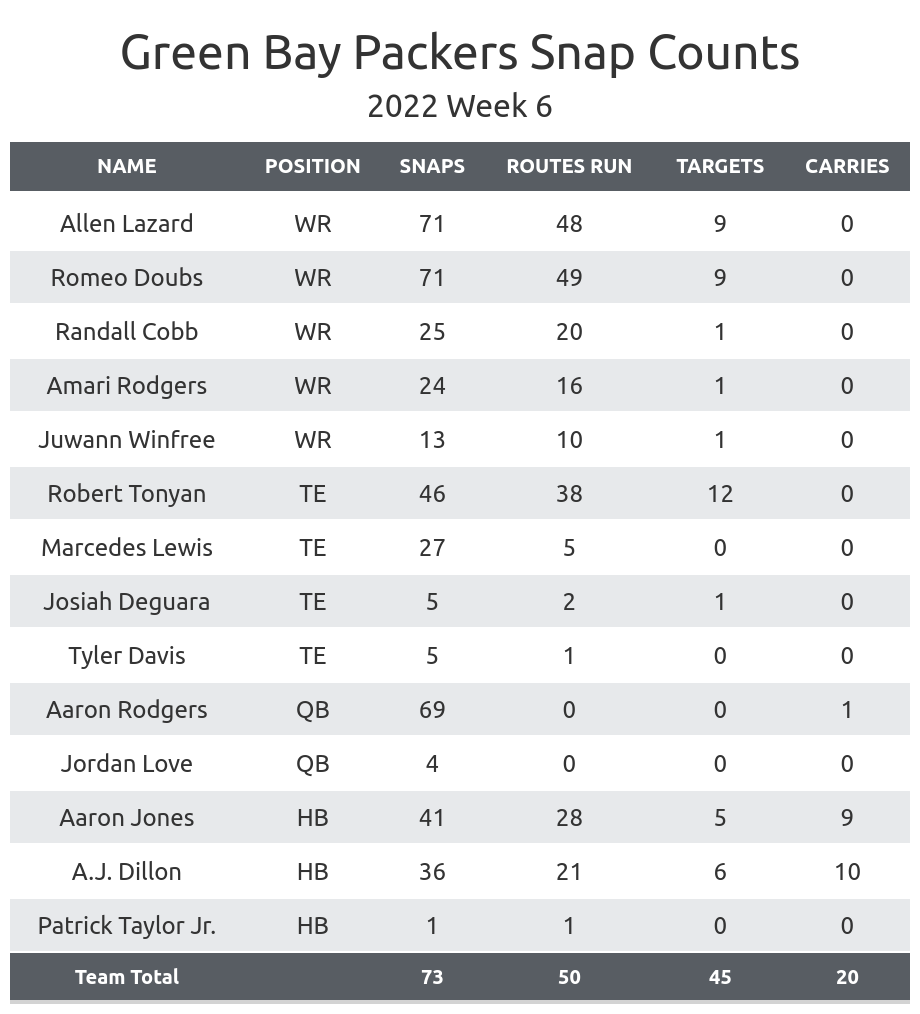 Monitor Randall Cobb's health: The veteran receiver suffered an ankle injury early in the third quarter and didn't return.
Amari Rodgers

took over in the second half, but he likely won't be the long-term replacement if Cobb misses time.

Sammy Watkins

has spent the last four weeks on injured reserve and is eligible to return next week.

Christian Watson

missed this game with a hamstring injury, but he also could be back soon.

Behind Cobb, Watson is second on the team in the percentage of snaps from the slot. He should benefit the most, but every receiver will now play some time in the slot.

The second-round rookie's 21.1% target percentage is the highest among the Packers' top five wide receivers.

Watson is worth a waiver wire add if the Cobb injury is serious.
Sell high on Robert Tonyan: The Packers tight end caught 10 passes for 90 yards in his best game of the season, but a lot went "right" for Tonyan to put up those numbers.
Tonyan plays a lot in 11 personnel and not much in other personnel groupings, which remained true for this game.

The Packers ran a lot more plays in 11 personnel than usual, as they were playing from behind in the second half.

Green Bay was down three of their top five wide receivers by the end of this game, which increased the odds of Tonyan getting targeted.

The Packers didn't get their running backs as involved as many expected, which also meant more targets for the tight end.

He will have a few more games this season as a starting fantasy tight end, but we will also have plenty of games where he is barely involved while the run-blocking tight ends take the snaps.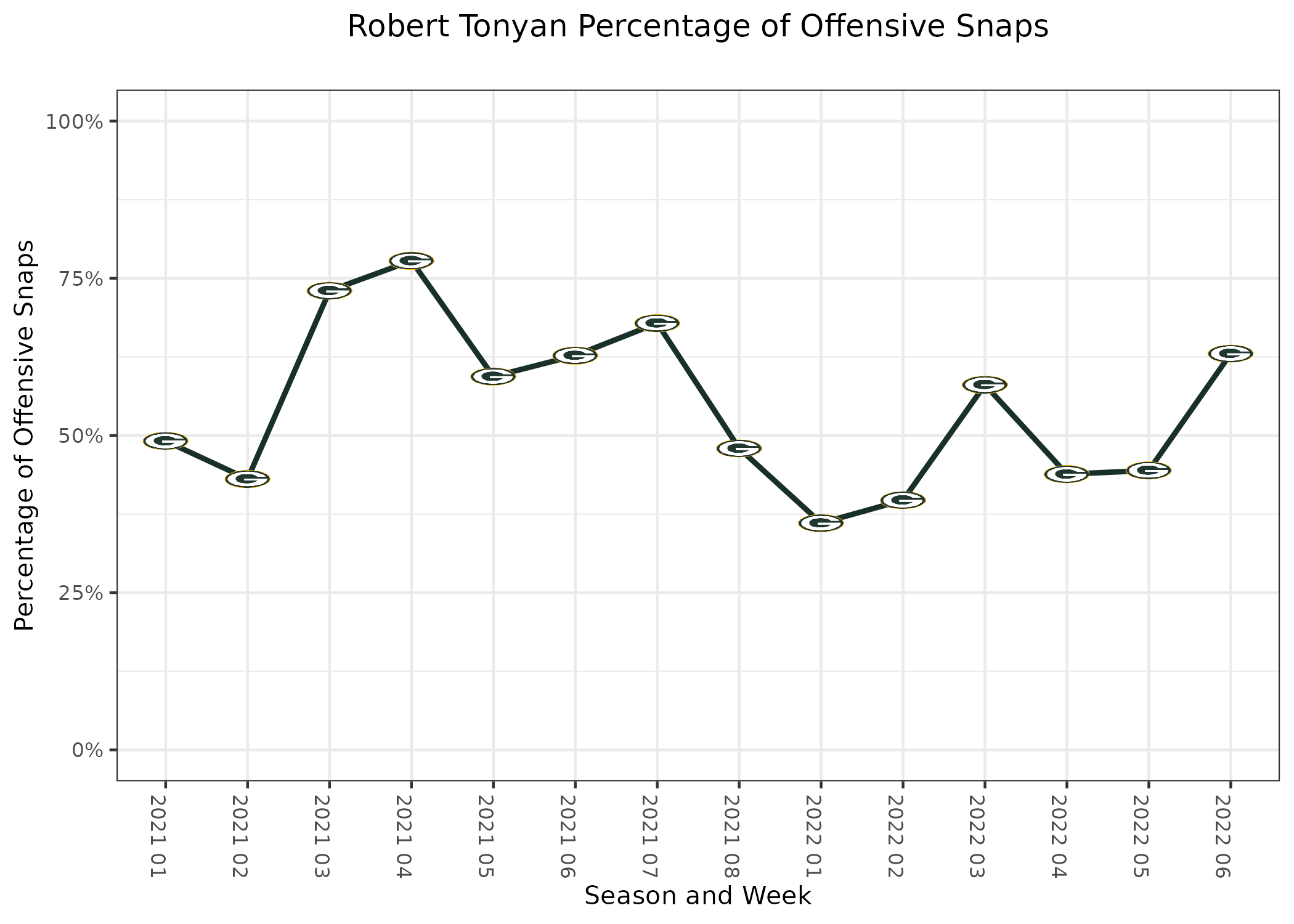 Cut Elijah Moore: The Jets wide receiver wasn't targeted and lost playing time to Braxton Berrios.
Moore played 16-of-22 snaps in 11 personnel, mostly losing snaps to Berrios.

With the team in 11 personnel,

Garrett Wilson

had typically been the player to leave the game in favor of Berrios.

Moore also typically played in 21 personnel, but Berrios took all eight snaps from that personnel group, with

Corey Davis

or Wilson as the other receiver.

This is typically a run formation, but the Jets ran three pass plays from that group today.

His 12.2% target rate is the fourth-lowest among the Jets' top four wide receivers.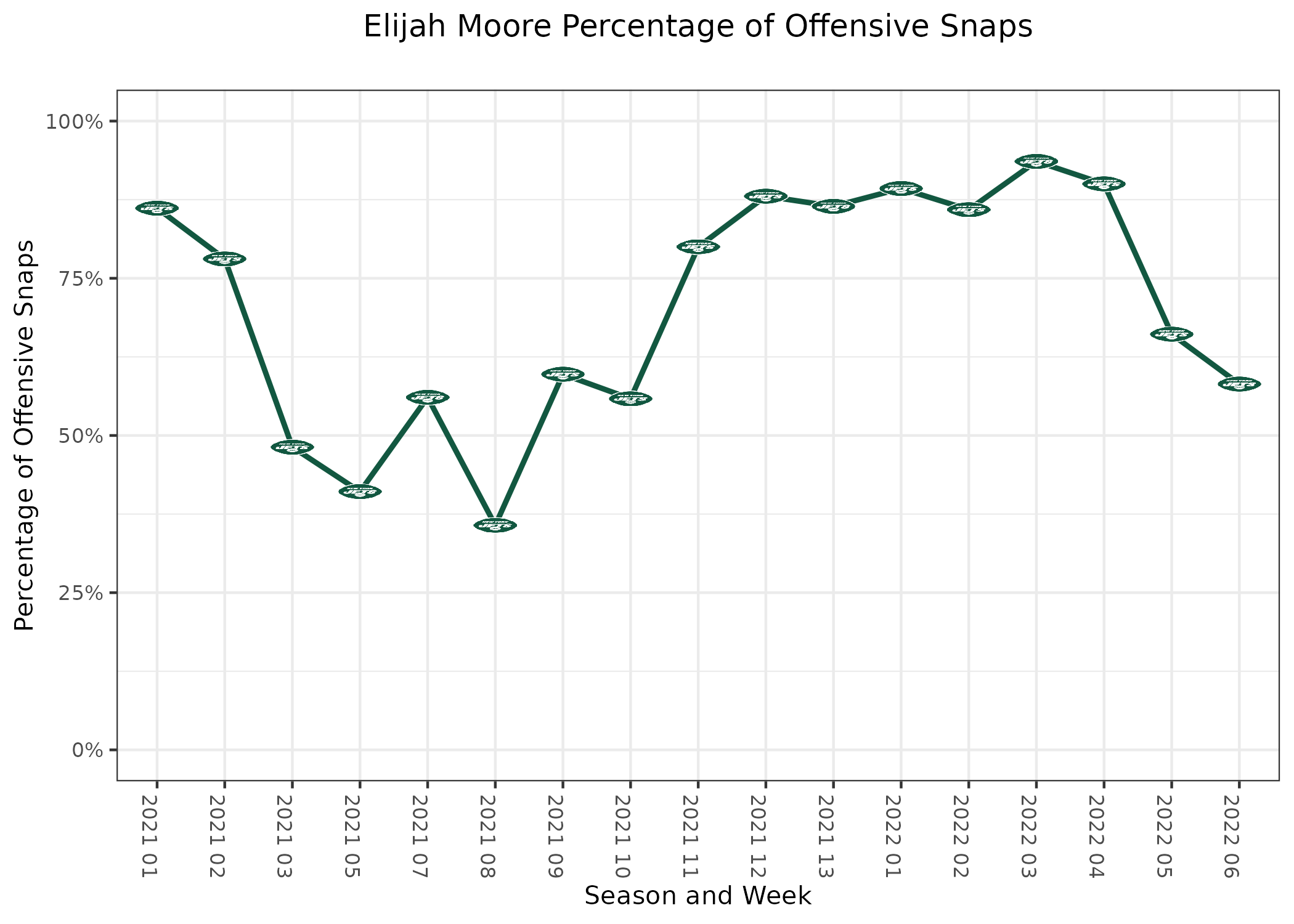 Cut Tyler Conklin: The Jets tight end lost significant playing time to C.J. Uzomah for a second straight week.
He ran a route on only 12 of the Jets' 21 pass plays. 

He's only seen three targets over the last two weeks.

Conklin's value over the first four weeks was entirely volume despite a low efficiency, and now he doesn't have the volume anymore.




---
• Deon Jackson: 12 carries, 42 yards, one touchdown; 10 receptions, 79 receiving yards
• Michael Pittman Jr.: 13 receptions, 134 yards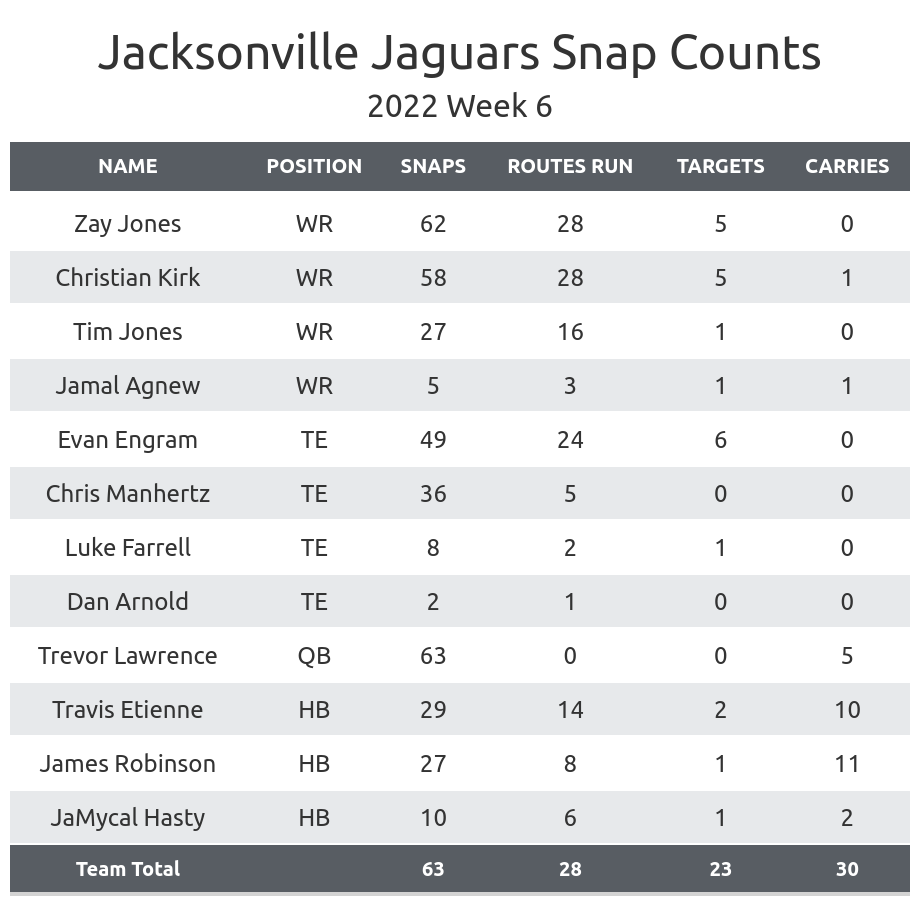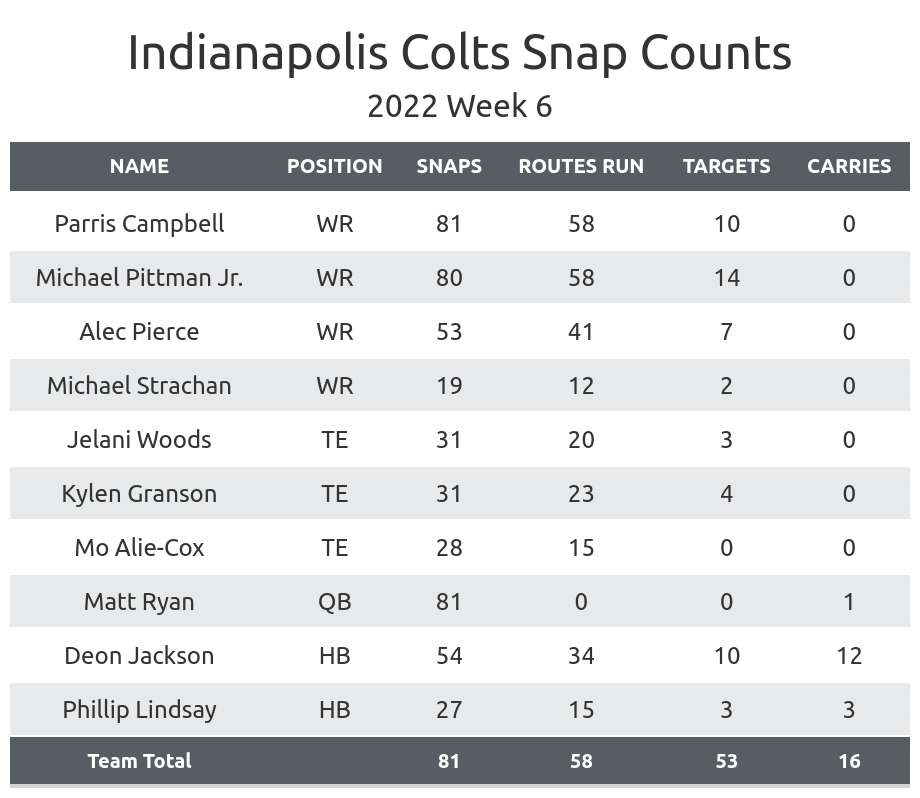 Monitor the health of the Jaguars wide receivers: Jamal Agnew left the game in the second quarter with an ankle injury and didn't return.
Both Agnew and

Tim Jones

were splitting playing time as the Jaguars' third receiver in place of

Marvin Jones

, who was out with a hamstring injury.

The two backups also split time in Week 4 when Zay Jones missed a game, where Agnew caught four passes for 50 yards and two touchdowns.

Tim Jones took all of the snaps in three-receiver sets after Agnew's injury.

Zay Jones

is the player to target off waivers regardless of the health of the other wide receivers. He led the Jaguars in receptions (5) and yards (53) against the Colts and also leads the team in receptions this season.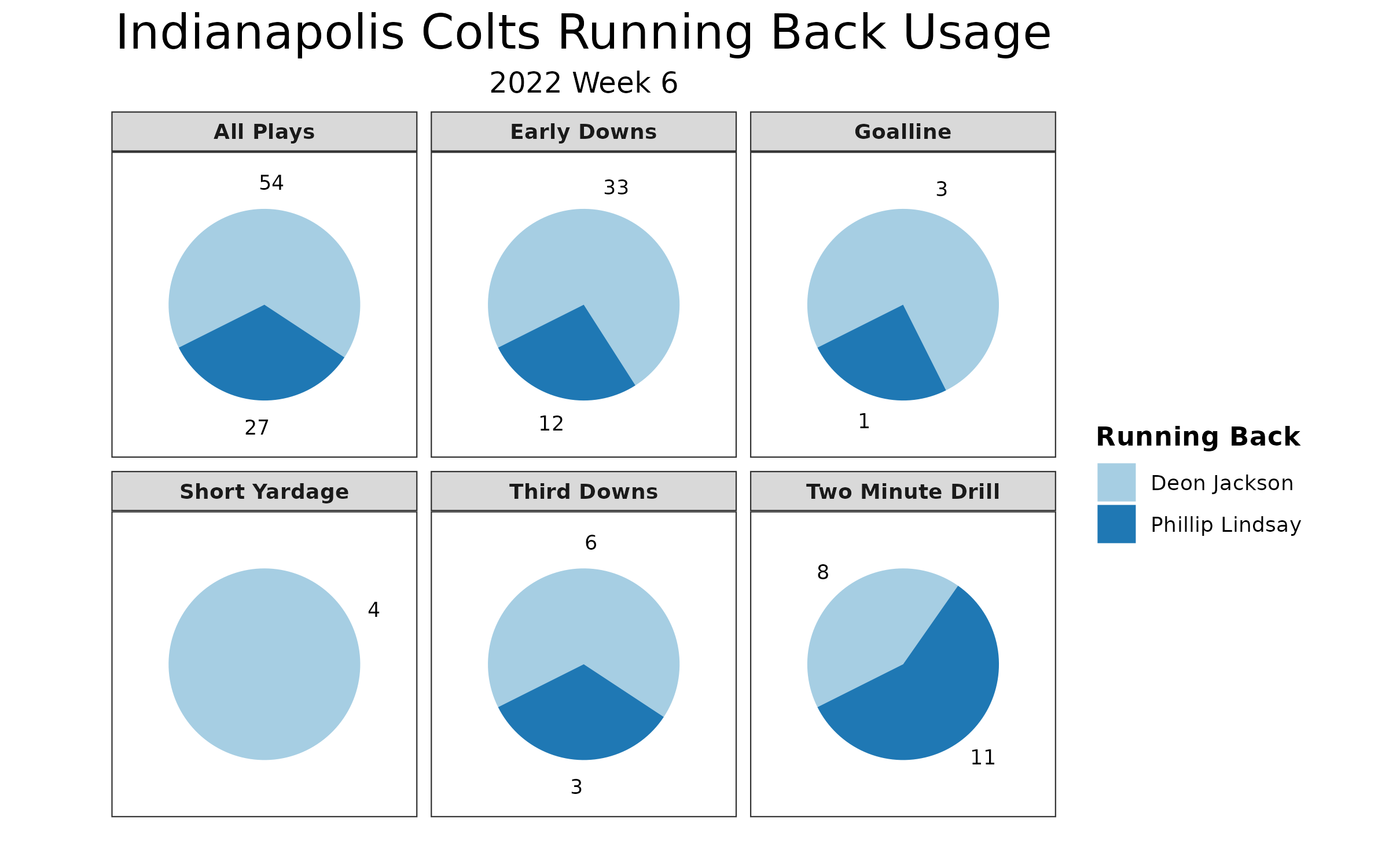 Monitor the health of the Colts running backs: Jonathan Taylor and Nyheim Hines both missed this game, while Deon Jackson left early in the fourth quarter with a quad injury.
Jackson dominated snaps over

Phillip Lindsay

more than last week, playing a clear majority in all situations.

Lindsay saw a slight majority in two-minute drill snaps, only because he received 11 snaps in that situation to end the game after the Jackson injury.

Jackson should have been picked up prior to the game, but if he's available it's worth adding him just in case he is healthy while the other Colts are out.

This puts a big dent in Hines' fantasy value, as he is unlikely to be a clear handcuff after Jackson's good game.




---
• Mike Gesicki: 6 receptions, 69 yards, two touchdowns
• Tyreek Hill: 12 receptions, 177 yards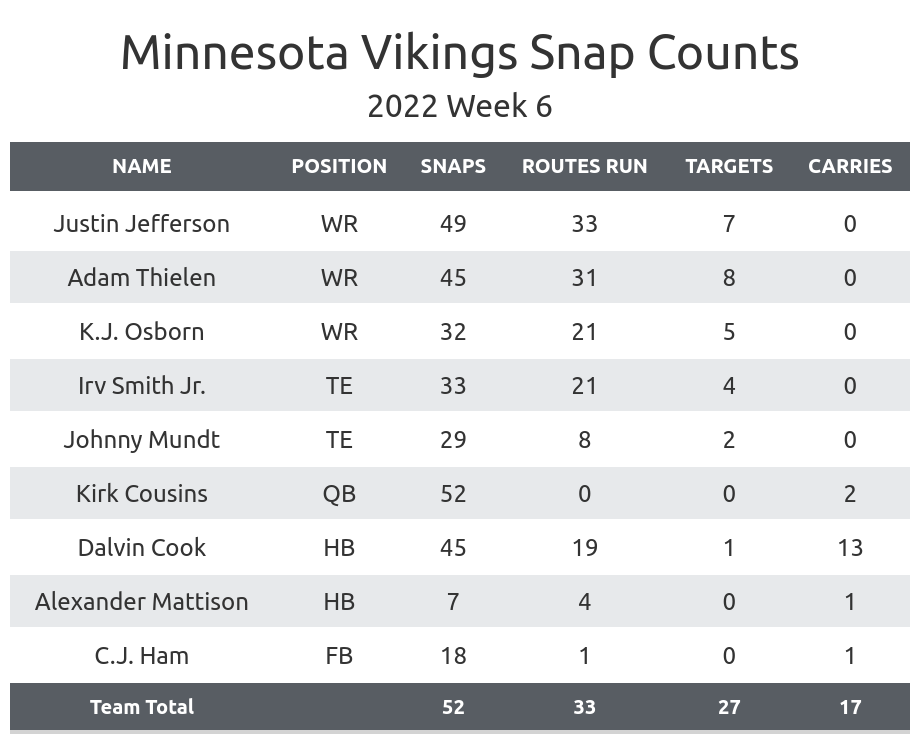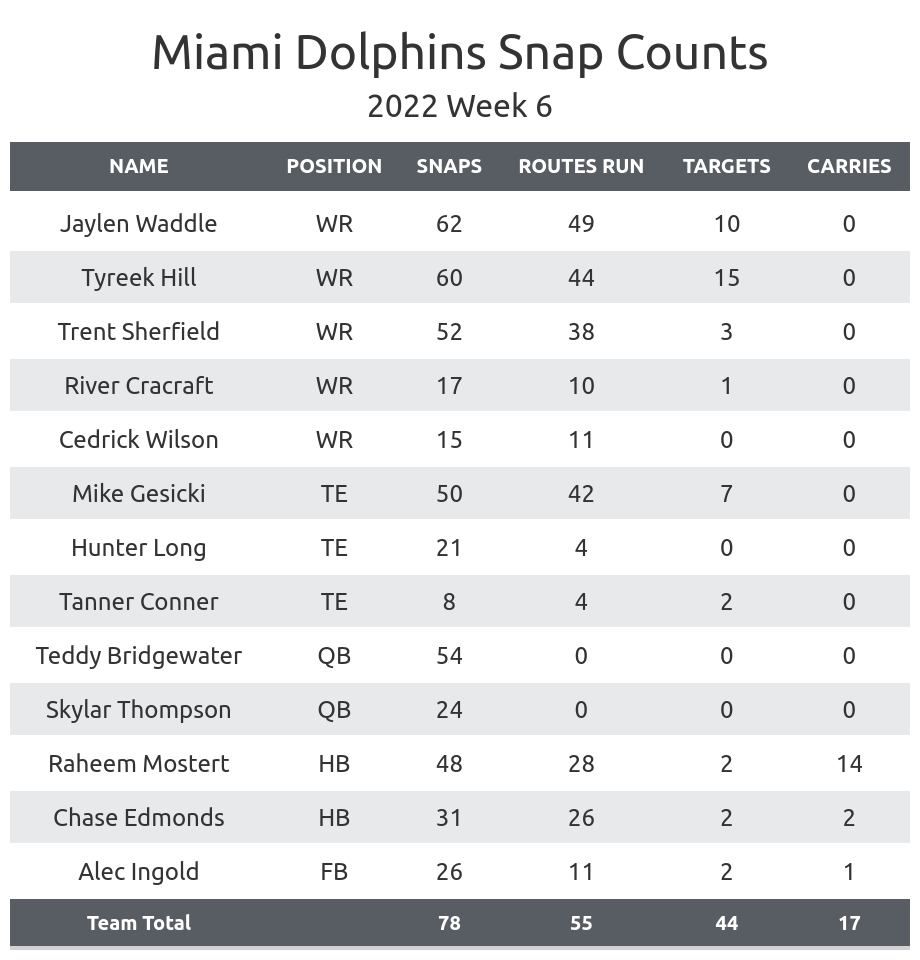 Monitor the health of the Dolphins quarterbacks: Skylar Thompson left the game in the early second quarter with a thumb injury and didn't return.
Tua Tagovailoa

missed his second straight game with a concussion. 

Teddy Bridgewater

passed his concussion protocols late in the week and was active as the backup. He took over when Thompson left the game. 

Tagovailoa is expected to return as the starter next week.

With bye weeks in full swing, Tagovailoa could be a waiver wire target in some leagues. However, the Dolphins offense hasn't found as much success in recent weeks compared to the beginning of the season.
Sell high on Mike Gesicki: The Dolphins tight end scored two touchdowns, but it occurred in a game without Durham Smythe.
Smythe was limited all week with a hamstring injury, but the fact that he was practicing means he will likely return to the lineup sooner rather than later.

Gesicki saw an increase in snaps and pass routes, but it wasn't enough to reach the numbers he put up last season.

He achieved a season-high 16.7% target rate. Of course, that rate isn't anything to get excited about, but he was able to produce those stats as the Dolphins ran 55 pass plays.

His success occurred with backup quarterbacks, but next week he will likely go back to Tagovailoa, who might not throw to him as much.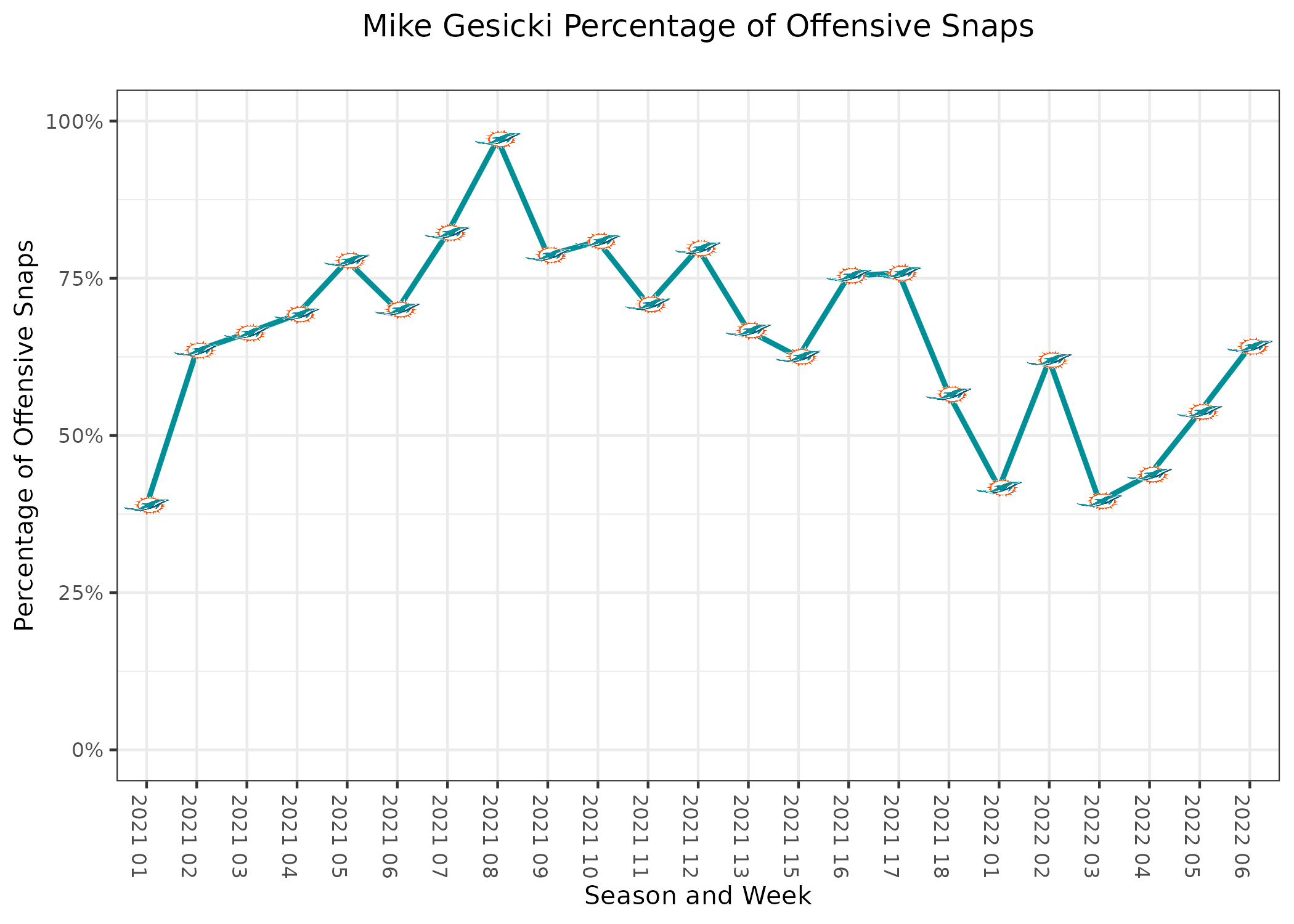 Dolphins backfield back to normal: Chase Edmonds regained the backup job, and the backfield split looked a little more how we would expect compared to recent weeks.
Edmonds had lost snaps to

Myles Gaskin

in the second half last week after dropping two passes.

Gaskin was a healthy inactive this week, while

Salvon Ahmed

was active but didn't play on offense.

Edmonds played most of the snaps in both the two-minute drill and third downs.

Raheem Mostert

still got 14 carries but gained only 49 yards.

The former 49er is a buy-low option, as the Dolphins will get healthy at quarterback with a

much easier schedule

.

Edmonds can be left on the waiver wire in leagues with light benches, but he seems like a safer handcuff than he did a week ago behind a running back with a history of injuries.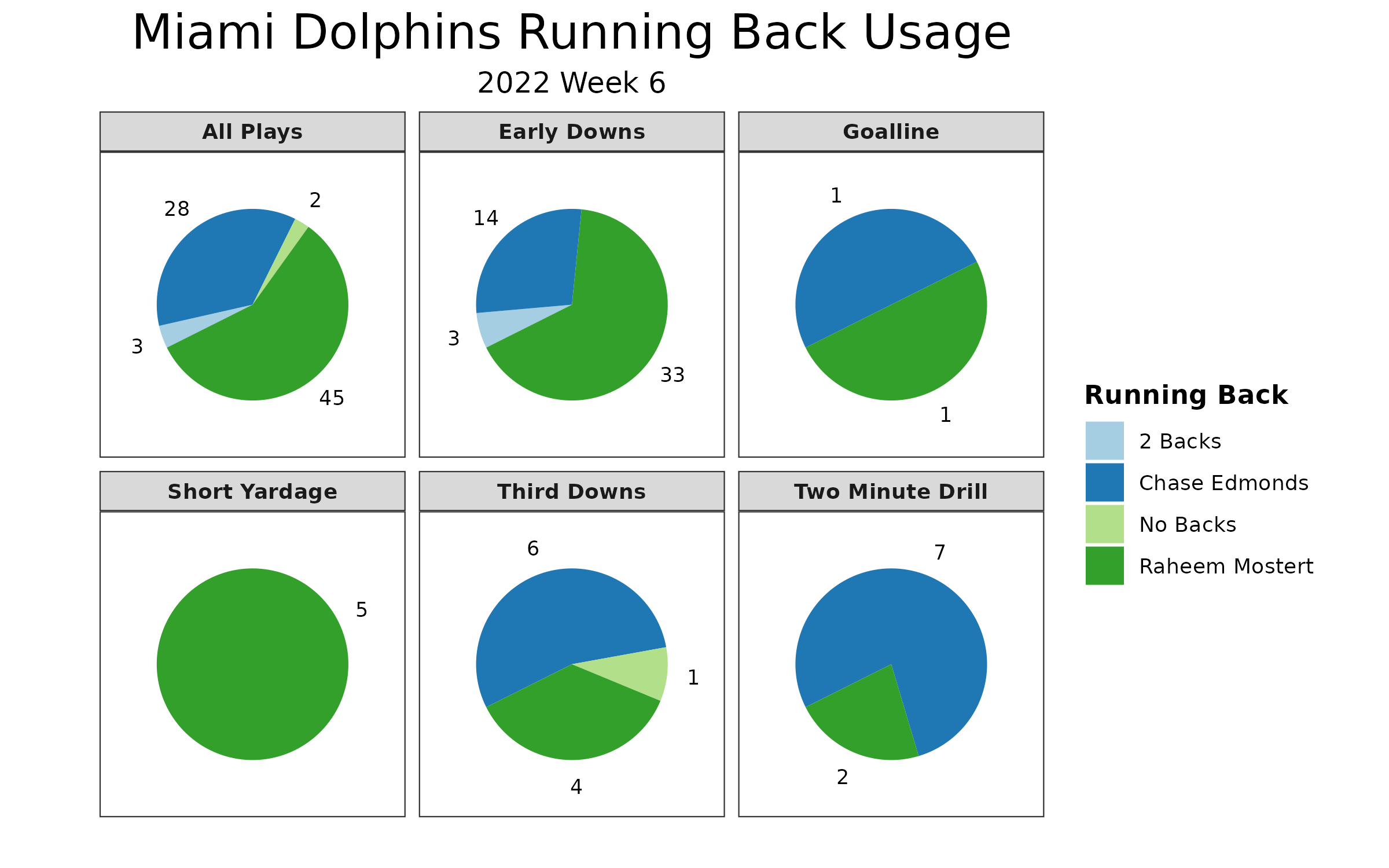 Dalvin Cook dominates snaps: The Vikings backfield had inched closer and closer to a running back by committee, but that changed against the Dolphins.
Cook handled a clear majority of snaps in every situation.

Alexander Mattison

 took only two three-play stretches in the second and third quarters, as well as a two-point conversion attempt.

Cook rarely plays as much as he did in this game and is likely to regress, but it might not be heading as much toward a two-back committee as it had before.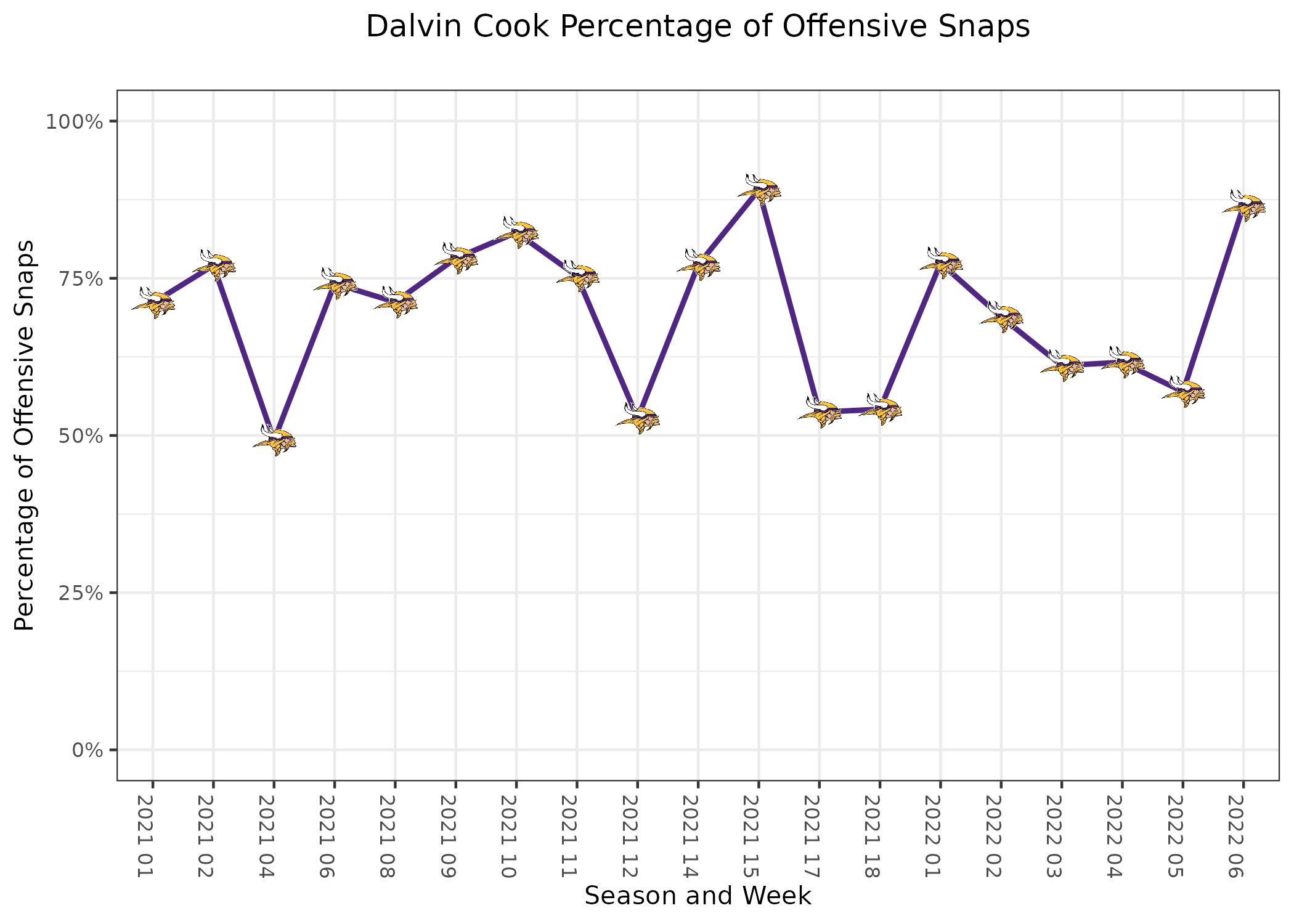 ---
• Ja'Marr Chase: 7 receptions, 132 yards, two touchdowns
• Joe Mixon: 8 carries, 45 yards; 4 receptions, 23 receiving yards, one receiving touchdown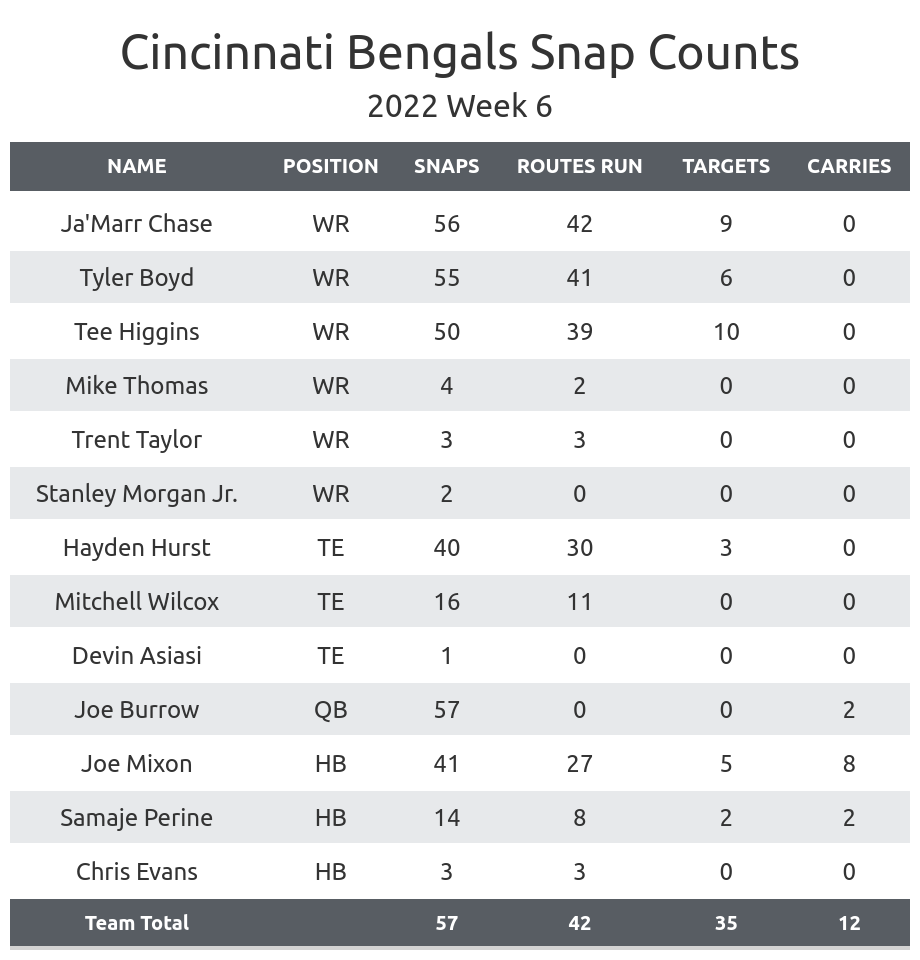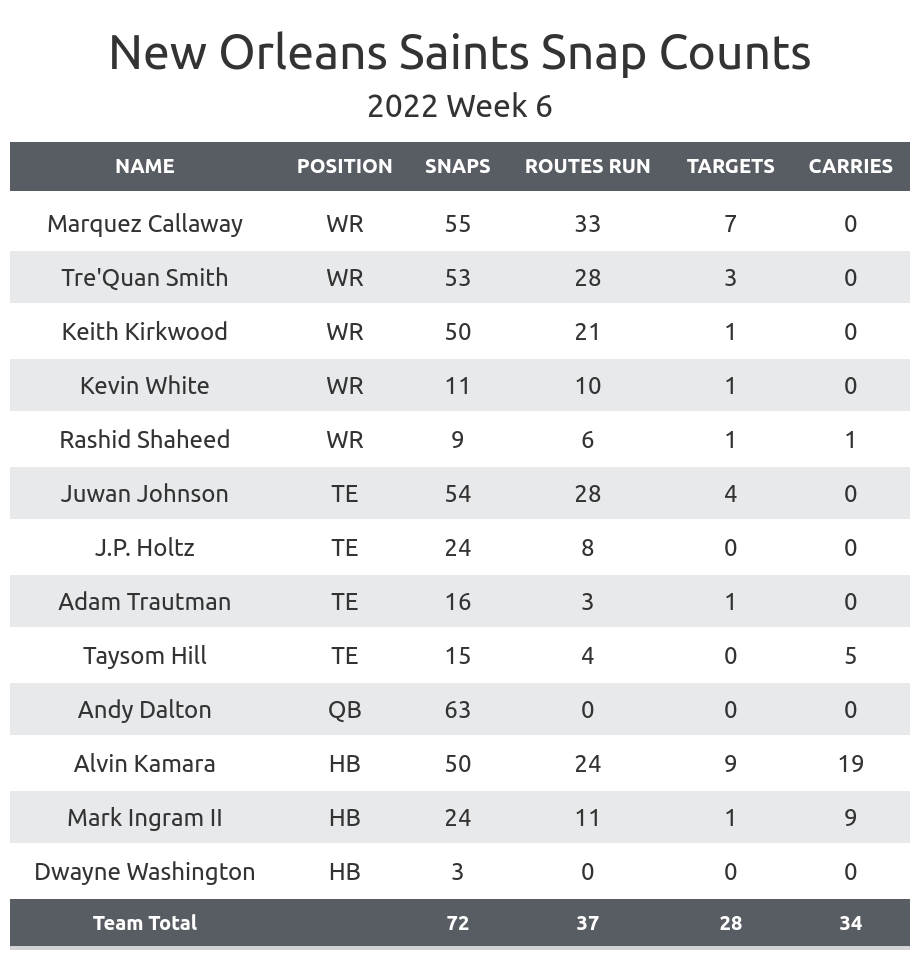 Add Hayden Hurst: The Bengals tight end was held to three catches for 21 yards, but that shouldn't top fantasy managers from adding or starting him.
Only six Bengals skill players touched the ball or were targeted on offense, which is the ideal situation for fantasy managers.

As of the completion of the 1 p.m. games, Hurst was second in the league in routes run among tight ends this season.

He will be somewhat touchdown dependent. However, the Bengals offense has been improving, giving Hurst a higher chance of scoring than most tight ends each week.
Don't worry about Tee Higgins: Higgins' ankle injury meant he barely practiced all week, but that didn't stop him from leading the team in targets.
He was eased in during the first quarter, playing 16-of-21 snaps.

He played 34-of-36 snaps the rest of the way, which is a higher percentage of snaps than he usually plays.

It wouldn't hurt to try and buy him at a decreased cost, as he gained only 47 receiving yards today.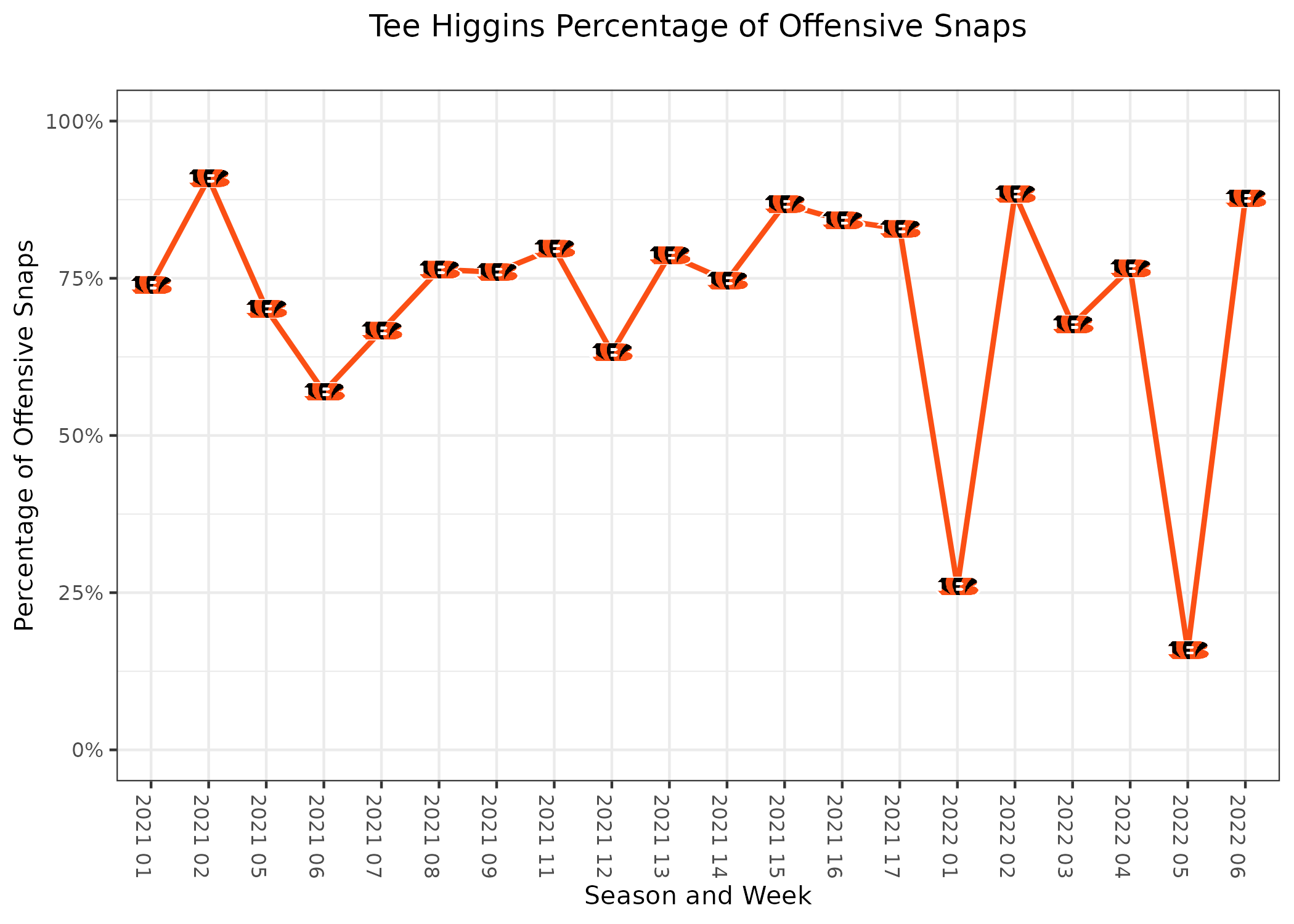 Monitor the health of the Saints receivers: Due to various injuries, all three of the Saints' starting receivers were inactive, while Deonte Harty landed on injured reserve earlier in the week. This led New Orleans to use several backups.
Marquez Callaway

and

Tre'Quan Smith

were at the top of the depth chart, which was no surprise, given that both have played significantly this season as backups and started at points last season.

Keith Kirkwood

emerged as the third wide receiver, although he was limited to one target.

Undrafted rookie

Rashid Shaheed

 ran for a 44-yard touchdown in the second quarter, but that didn't buy him much more playing time. He remained fifth on the depth chart today and likely remains ninth on the depth chart when everyone is healthy.

All of these receivers should be avoided, as none tallied over 45 offensive yards.
Monitor the Saints' quarterback situation: There were reports Andy Dalton could keep the Saints' starting job if he played well.
Jameis Winston

was the starter at the beginning of the season, but he has missed time with back and ankle injuries.

He was limited in practice all week and was active as the backup against the Bengals.

Dalton completed 17-of-32 passes for 162 yards and a touchdown — pretty good, considering the lack of depth at wide receiver.

He's graded notably better than Winston this season, although part of Winston's poor play could have been due to injury.

Dalton could be worth a waiver wire target in deep leagues. Assuming he keeps the job, his stats should improve once the wide receivers are healthy.




---
• Mark Andrews: 7 receptions, 106 yards, one touchdown
• Kenyan Drake: 10 carries, 119 yards, one touchdown; 1 reception, 8 receiving yards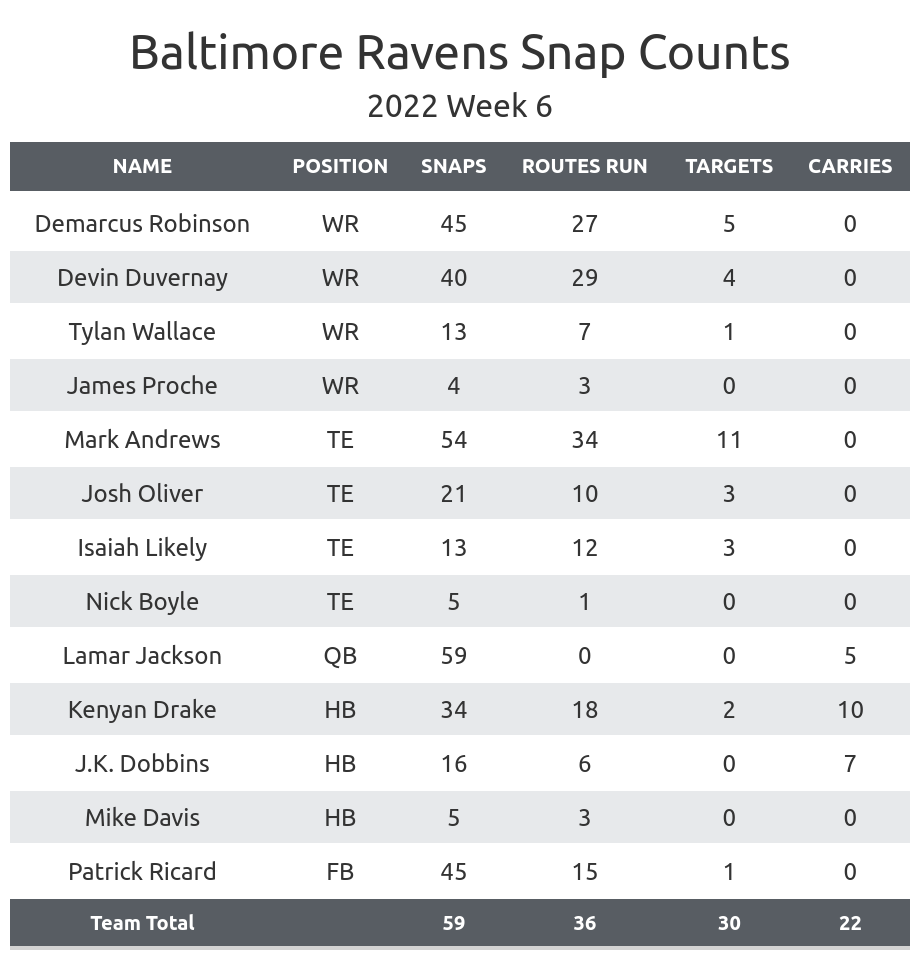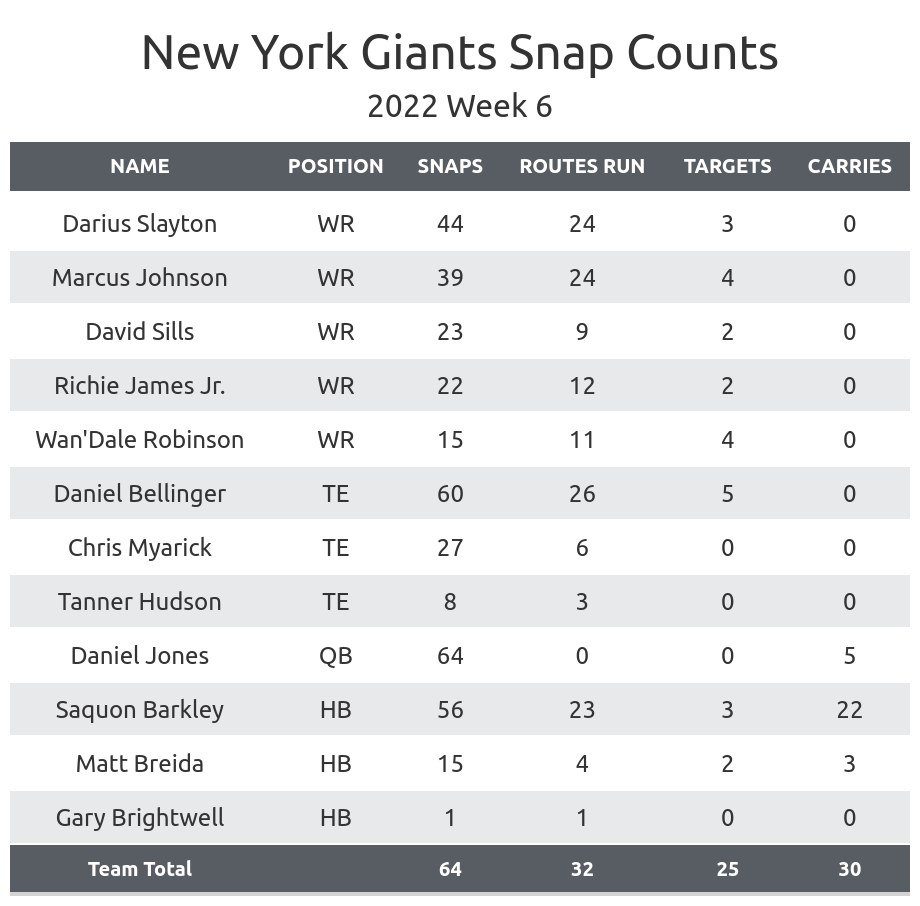 Monitor J.K. Dobbins' health: Dobbins' knee tightened up, and he missed the last 40 minutes of the game.
Dobbins played 16 snaps to 

Kenyan Drake

's seven snaps

over the first three drives.

Drake played all but six offensive snaps the rest of the way.

Mike Davis

served as the third-string back, and he continues to handle significant work at the goal line.

Justice Hill

missed his second straight game with a hamstring injury but could be part of the rotation when he's back.

Gus Edwards

could soon be back and further complicate this running back situation.

It's good to add Edwards and potentially Drake, but it would be hard to trust any of these backs in the short term.

There could be one or two fantasy starters in the group if it can stay a two-man rotation, but we could see three or four backs in some kind of rotation going forward.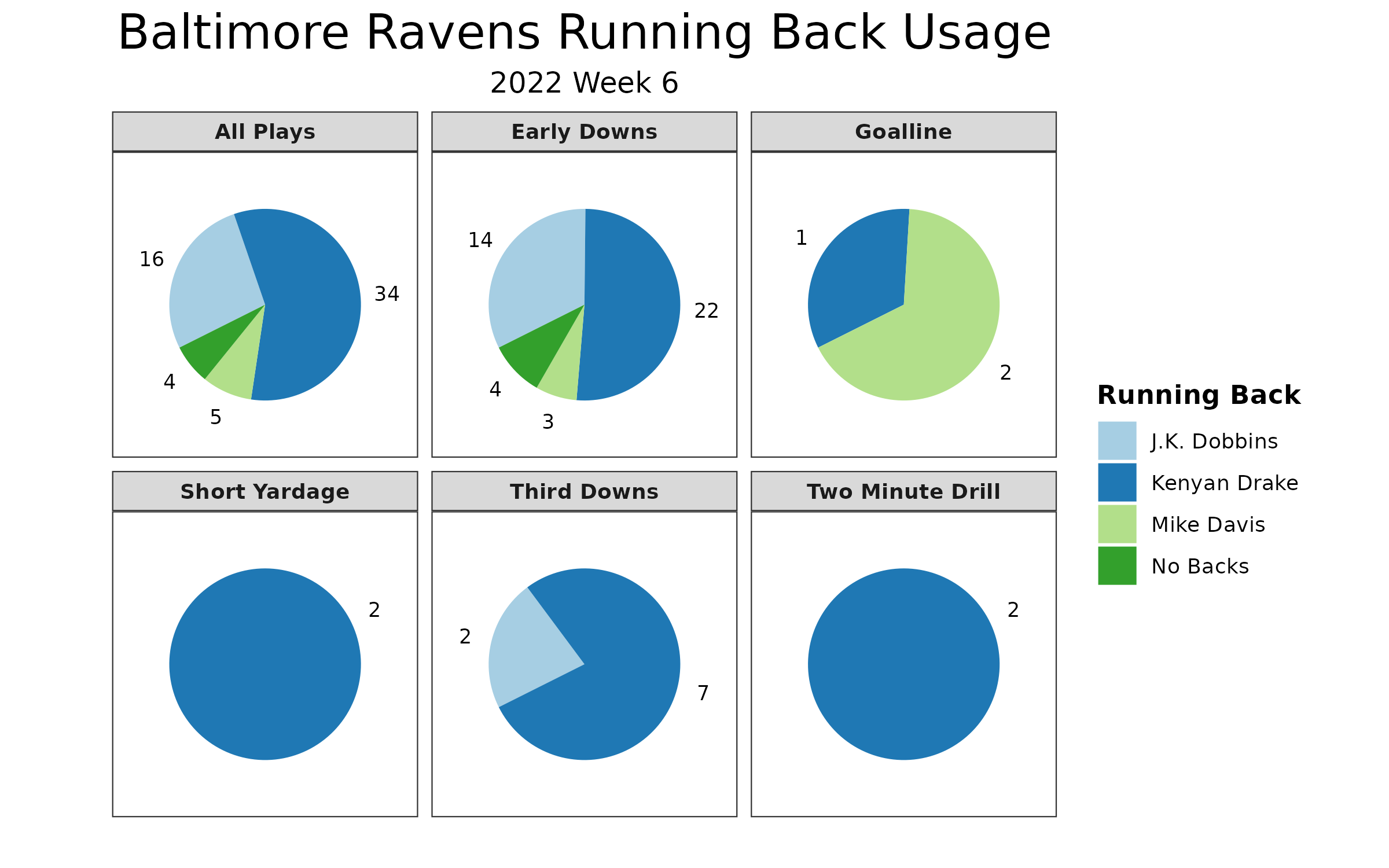 Add Daniel Bellinger: The rookie tight end caught all five passes thrown his way for 38 yards and a touchdown and has gained the much-needed third-down snaps.
The fourth-round pick had been the Giants' primary tight end on early downs this season, but

Tanner Hudson

was taking the third-down snaps.

Bellinger played all 16 third downs this week against the Ravens.

Hudson's only snaps in this game came in three-tight end sets.

Bellinger now has the playing time of a fantasy starter, and he's been the highest-graded Giants receiver on the season.

He now needs only the target share to be a fantasy starter. It's better to pick him up before he reaches that point.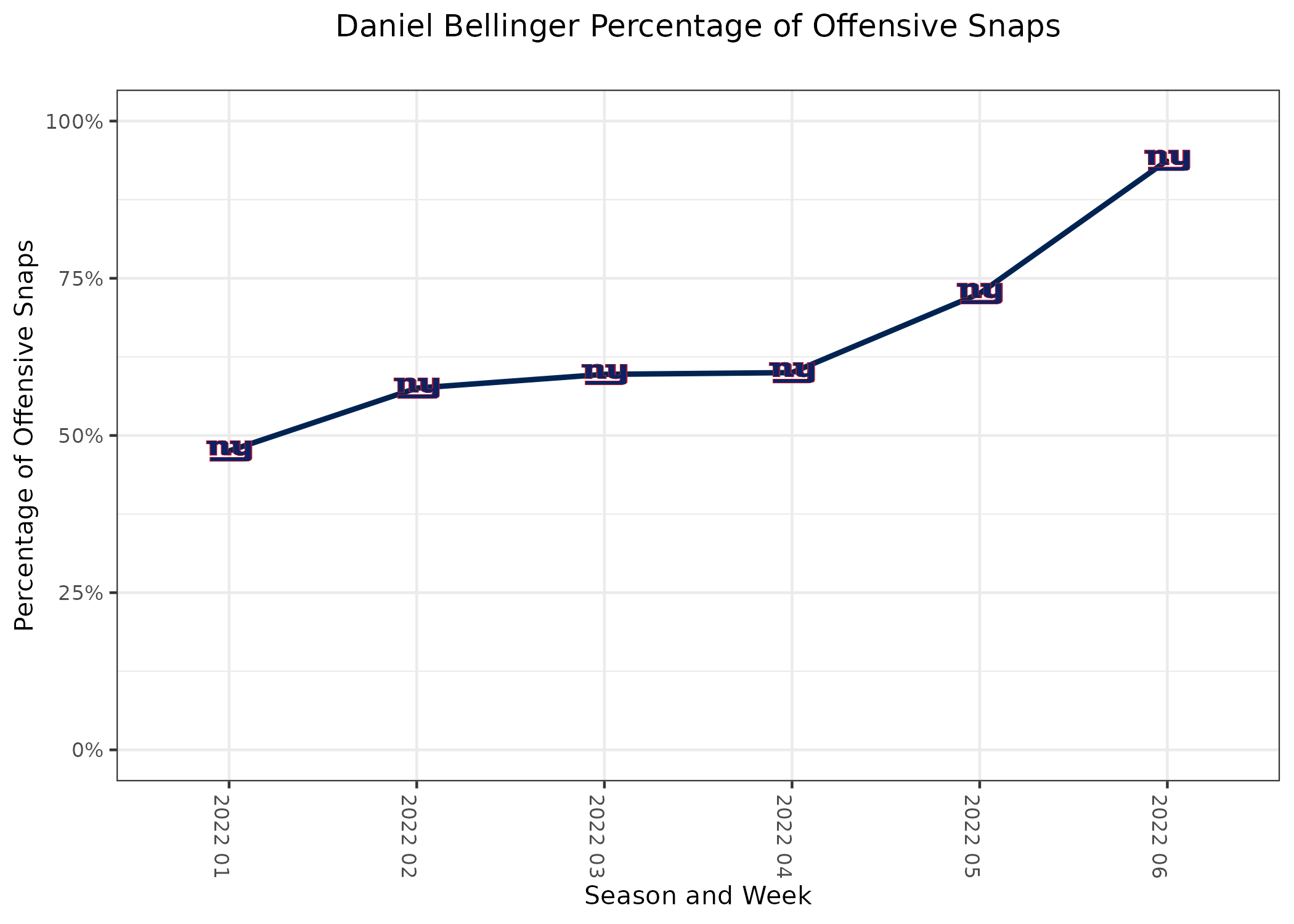 Add Wan'Dale Robinson: The Giants rookie receiver returned to the Giants after a Week 1 injury. He was eased into action but looked good in a limited time.
In total, 13 of his 15 snaps came in 11 personnel, where he rotated in and out with

Richie James Jr.

James had served as the team's slot receiver in recent weeks and had been the one constant among the Giants' receiver rotation over the first third of the season.

Robinson caught three of his four targets for 37 yards and a touchdown.

We can expect Robinson to see more playing time next week and his time continue to rise until he gets all of the slot snaps in 11 personnel.

He could become the new lead target for the Giants going forward with all of the injuries the team has faced.

Darius Slayton

,

Marcus Johnson

and

David Sills

continued to rotate as the outside receivers.
---
• Chase Claypool: 7 receptions, 96 yards, one touchdown; 1 carry, 8 rushing yards
• Leonard Fournette: 21 carries, 63 yards; 6 receptions, 38 receiving yards, one touchdown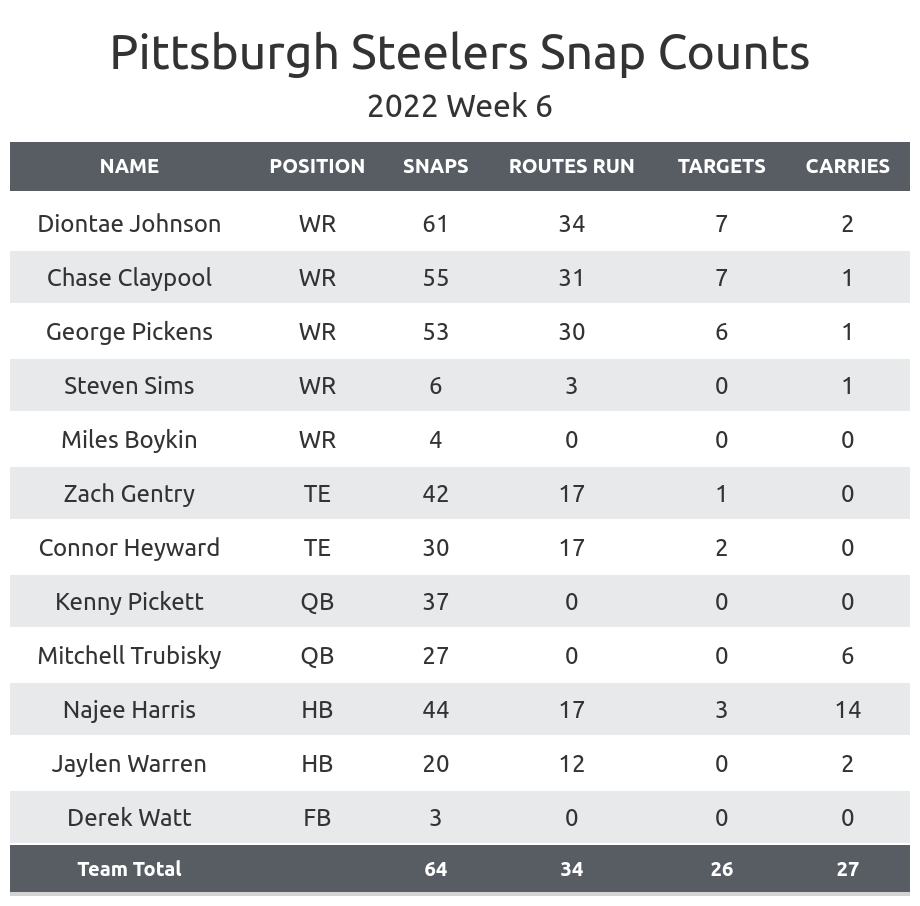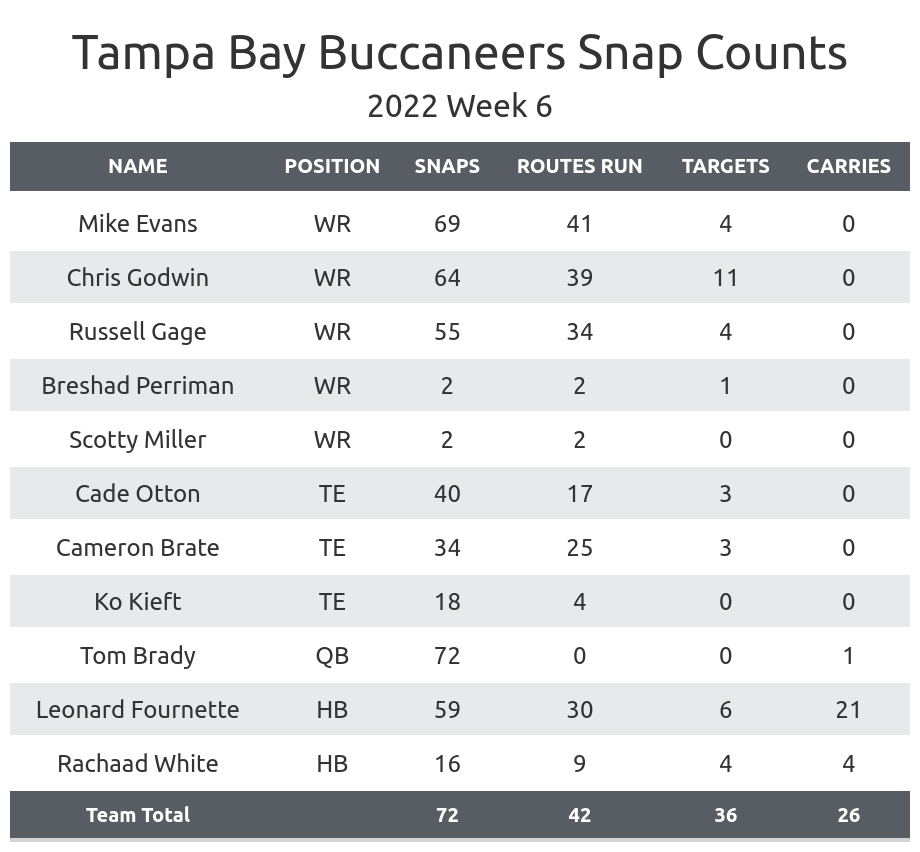 Monitor Kenny Pickett's health: The rookie quarterback took a big hit in the third quarter and is now in the concussion protocol.
He completed 11-of-18 passes for 67 yards and a touchdown.

Mitchell Trubisky

took over as the starting quarterback. He was the starter for the first three and a half games for the Steelers.

George Pickens

saw his target rate increase with Pickett at quarterback, while others saw their targets decline.

This trend should reverse for as long as Trubisky is the quarterback.
Sell high on Chase Claypool: Claypool put up a season-high in fantasy points, but this was partially due to the matchup.
Claypool had the

best matchup among the three Steelers wide receivers

,

according to our wide receiver cornerback matchup chart.

The Steelers have a

below-average schedule

for wide receivers over the rest of the season.

Pat Freiermuth

missed this game with an injury, which also contributed to Claypool's high target share.

He will still garner significant playing time for Pittsburgh throughout the remainder of the season, but it will be hard to trust him unless there are more injuries to receivers in the offense.
Monitor Cameron Brate's health: The Buccaneers' starting tight end was taken off the field on a stretcher after making a catch.
He reportedly has movement in all of his extremities.

Brate missed Week 5 with a concussion he suffered in Week 4, but he made it through the protocol and was a full participant in practice all week.

Rookie

Cade Otton

took over as the primary receiving tight end, a role he maintained last week and in Week 4 after the Brate concussion.

Otton has a relatively low target rate this season due to the talent at wide receiver. 

He would be a waiver wire target regardless of the low targets if the Buccaneers' offense were playing at the level it was the last two seasons.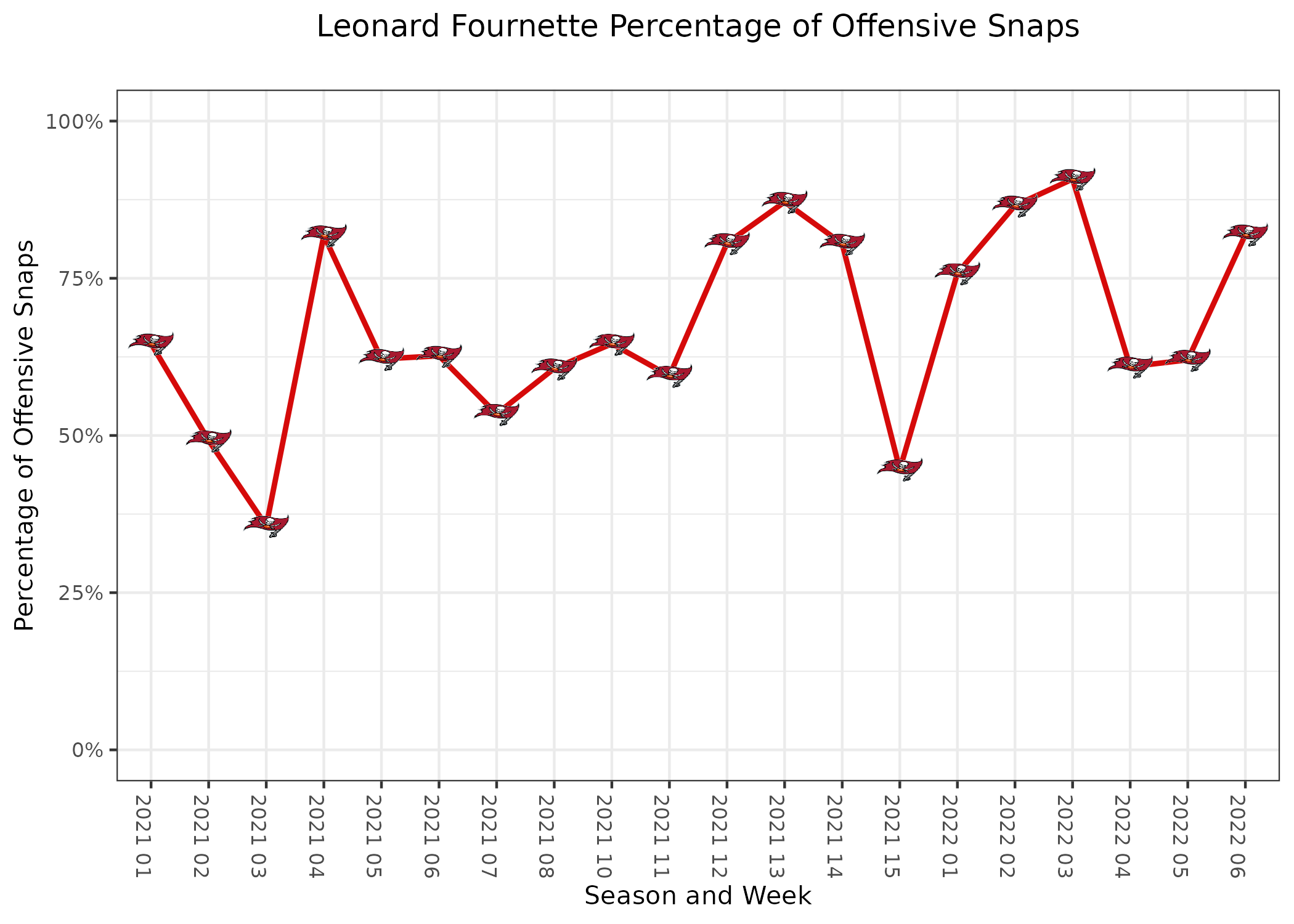 The starting running backs hold off the backups: Leonard Fournette and Najee Harris have seen their playing time decline recently, but both rebounded this week.
Fournette touched the ball 27 times compared to seven touches by

Rachaad White

.

Harris touched the ball 16 times compared to two by

Jaylen Warren

.

Both starters caught a touchdown pass today.

Neither player was all that efficient rushing with the ball today, so these remain situations worth monitoring.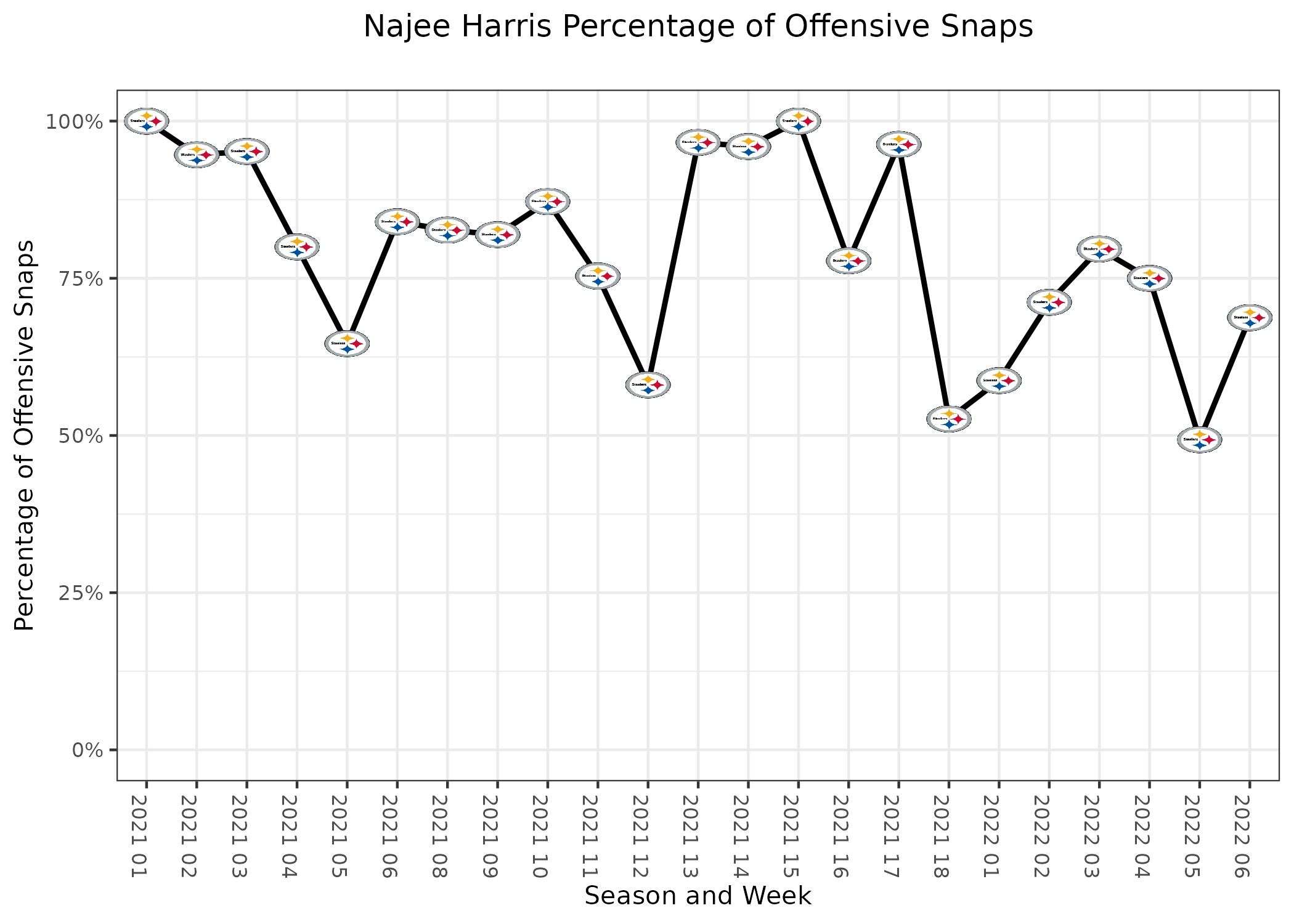 ---
• Christian McCaffrey: 13 carries, 69 yards; 7 receptions, 89 receiving yards
• Allen Robinson: 5 receptions, 63 yards, one touchdown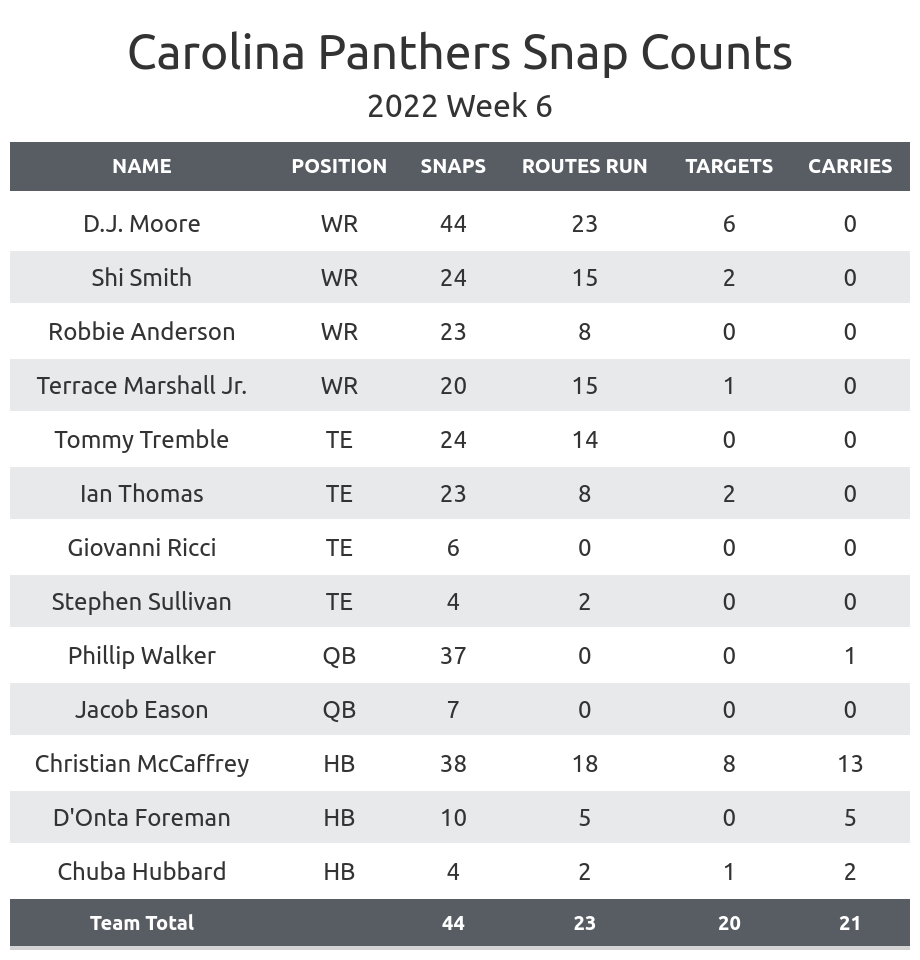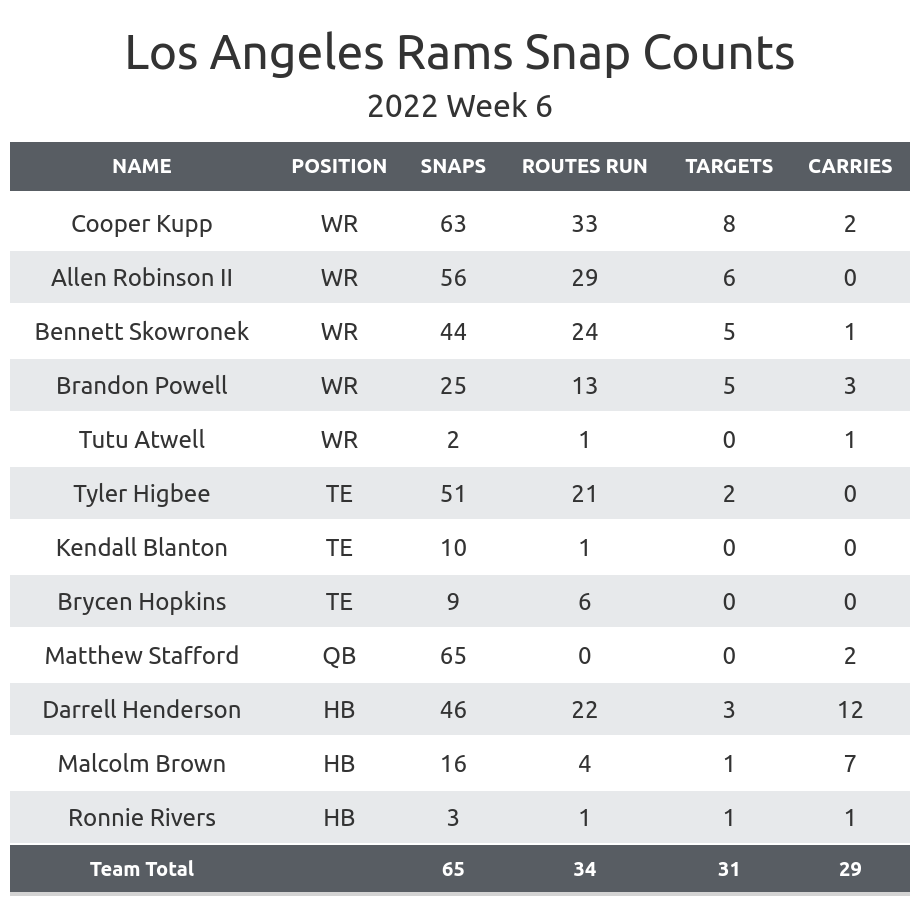 Monitor the Robbie Anderson situation: Anderson was the talk of trade rumors heading into the game. After multiple verbal altercations with coaches, he was benched and taken to the locker room.
Terrace Marshall Jr.

took over as the starting outside receiver in place of Anderson in every personnel group.

Shi Smith's role remained unchanged — he was the team's slot receiver in three-receiver sets.
It wouldn't be surprising if Anderson just played his last down in Carolina. His fantasy value going forward will ultimately depend on the team he lands on. His playing time will likely decline, while his fantasy value will depend on how much it falls and the quality of the quarterback.

Marshall is worth a waiver wire add in deeper leagues. He was a popular sleeper target a year ago and was one of the best rookie wide receivers in the 2021 preseason.

Laviska Shenault

has missed most of the season with an injury, but he could also be in the mix for significant playing time, dampening Marshall's value.
Add D'Onta Foreman: Christian McCaffrey has been the subject of trade rumors and put up a dominant performance today, only increasing his trade value.
Foreman is worth adding just in case McCaffrey is traded, as he would then become the Panthers' lead back.

He more than doubled

Chuba Hubbard

in both routes run and carries.

Both running backs would see significant playing time, but Foreman would likely be the leader.

There is always a chance a trade involving McCaffrey includes a running back joining Carolina, which would destroy any value that Foreman has.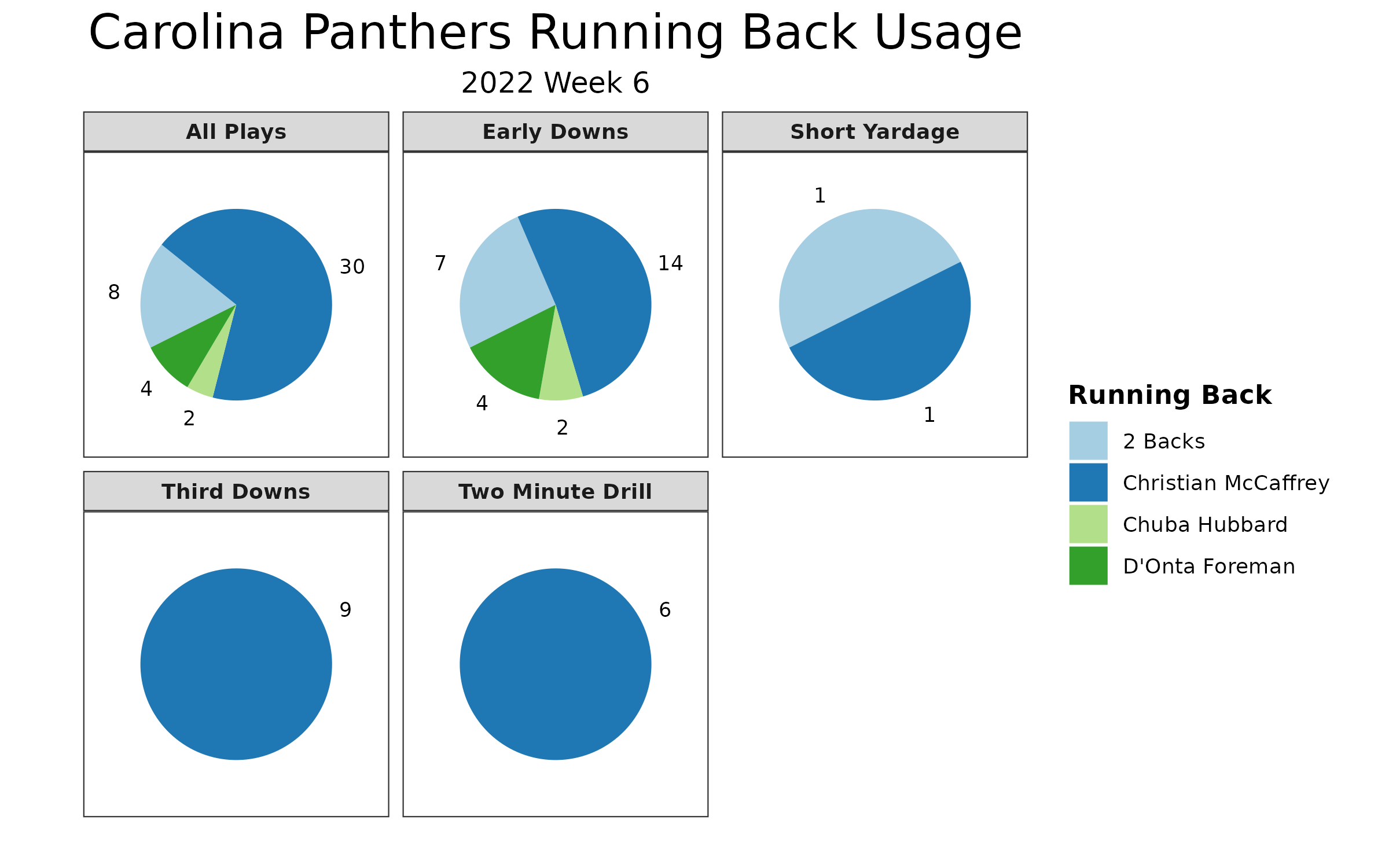 Start Darrell Henderson: Cam Akers was inactive, and there are reports he will not play for the team again. This makes Henderson the clear starter for Los Angeles.
He dominated playing time in every kind of situation.

He ran 12 times for 43 yards and a touchdown while catching two passes for 9 yards.

The Rams ran seven plays where wide receivers ran the football. Los Angeles will continue to sprinkle these plays in, but Henderson should run more in winning situations as we advance.

The situation will change once

Kyren Williams

is healthy again, but Henderson is a relatively safe starter between now and then.

Akers' fantasy value largely depends on his destination and that team's depth chart.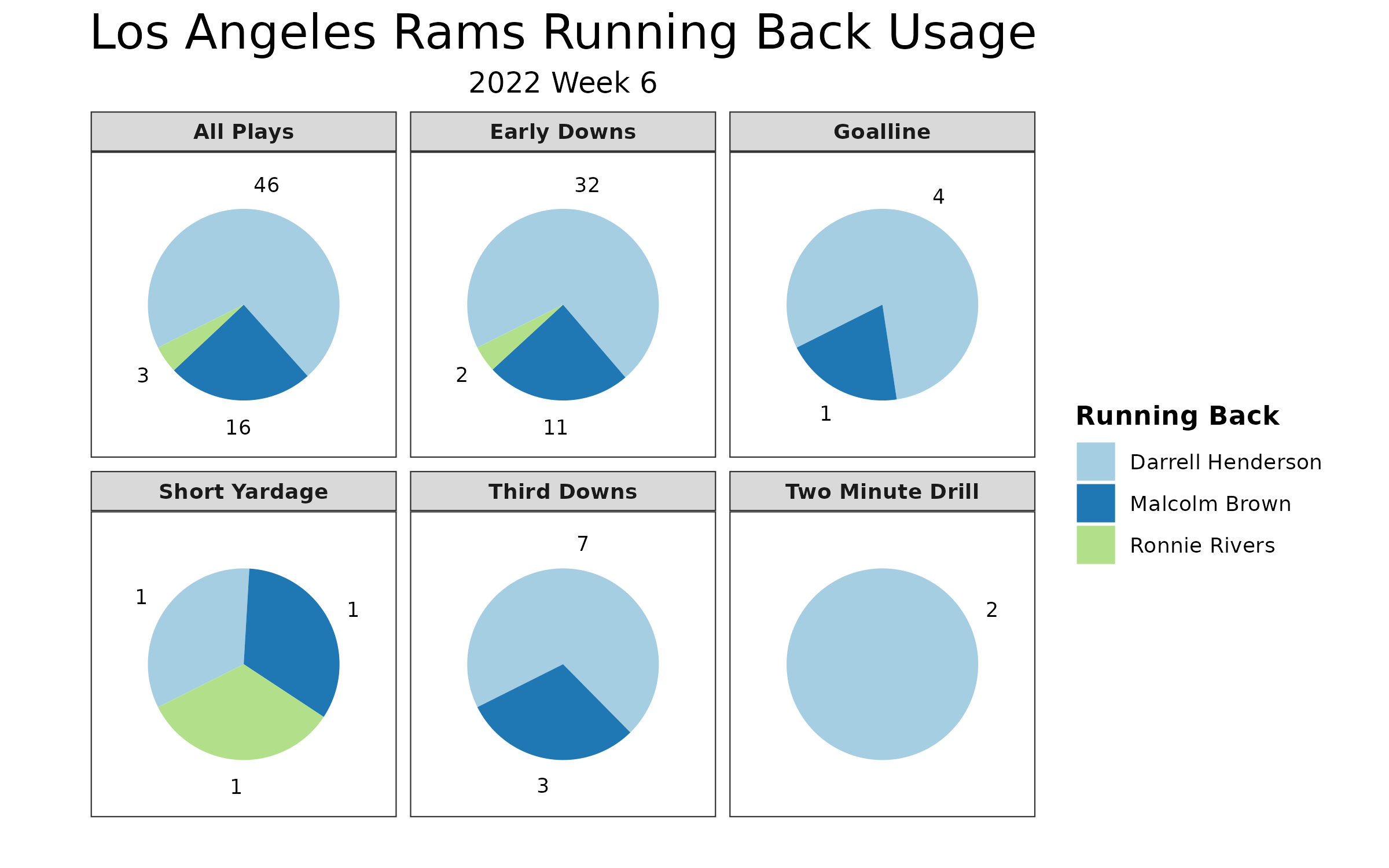 Monitor Tyler Higbee's playing time: Higbee had been one of the most dependable fantasy tight ends this season, but he was restricted to one catch for 7 yards today.
He played much less than usual, as the team substituted backup tight ends a little throughout the game.

He still saw enough playing time to leave him in starting lineups this week, but it's a situation worth monitoring going forward.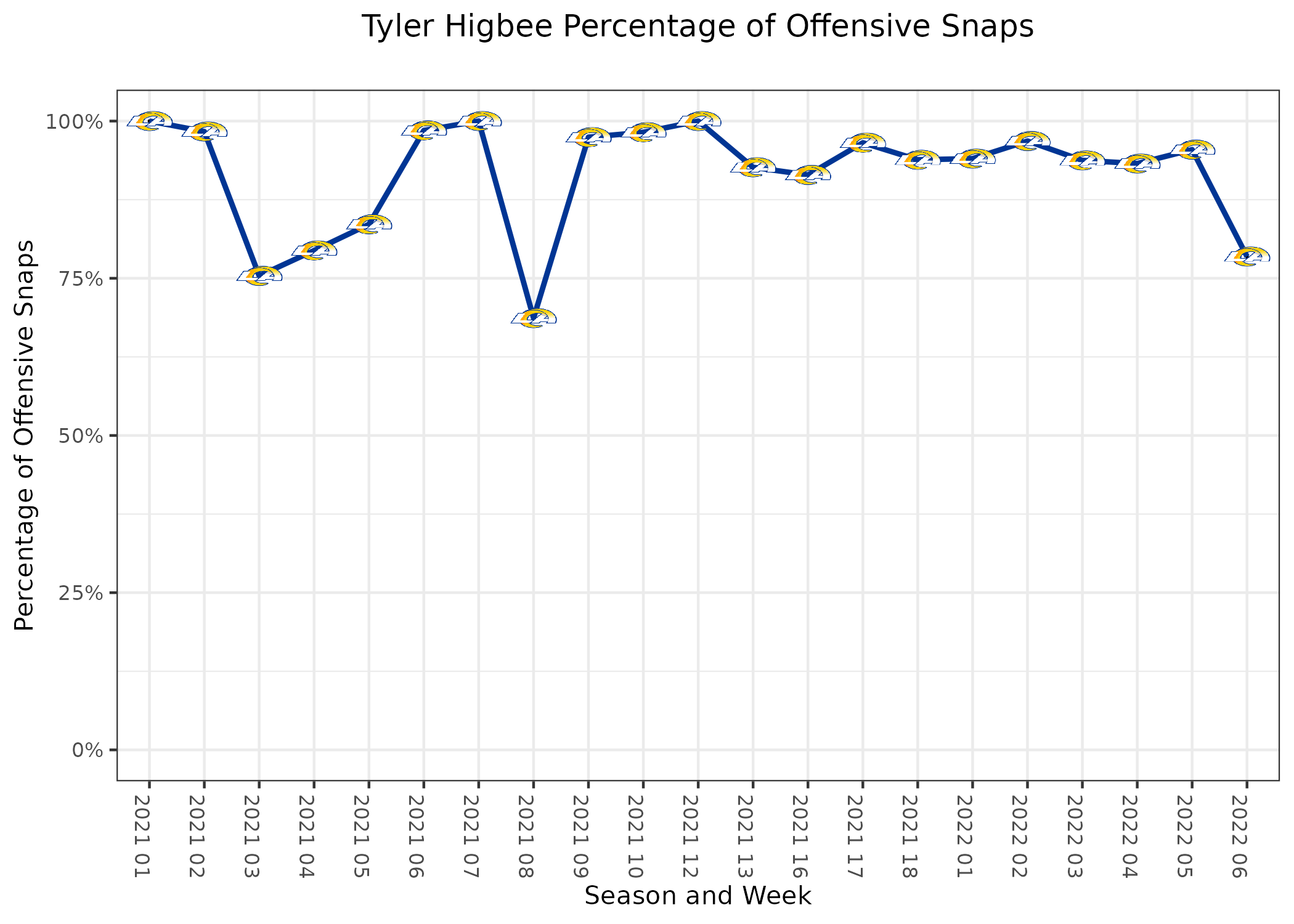 ---
• Ken Walker: 21 carries, 97 yards, one touchdown; 2 receptions, 13 yards
•Zach Ertz: 7 receptions, 70 yards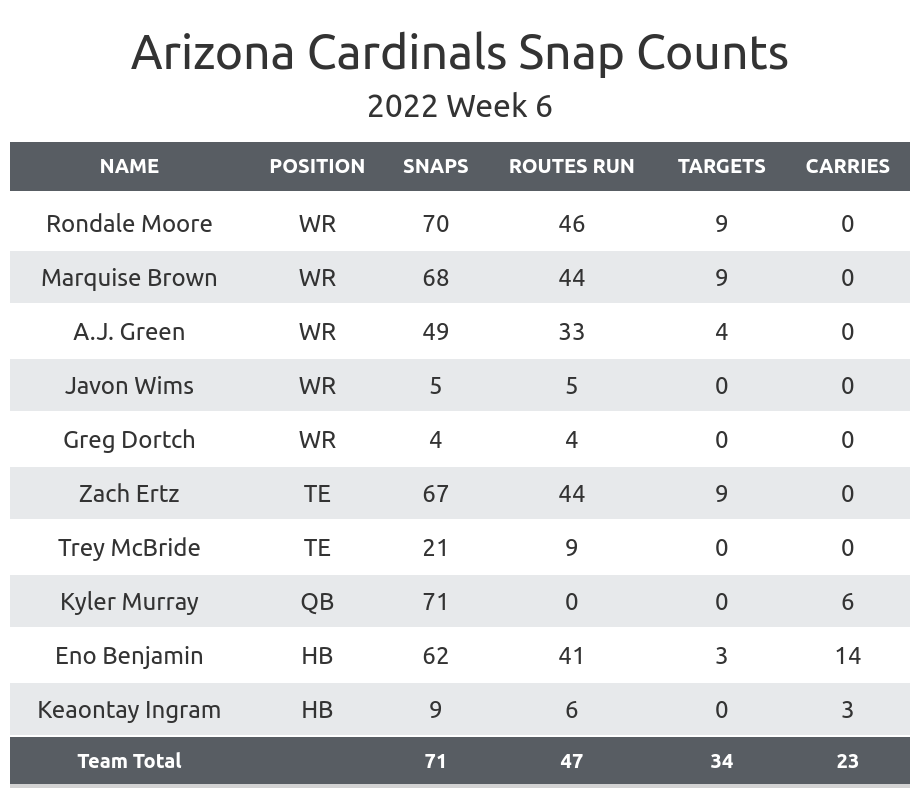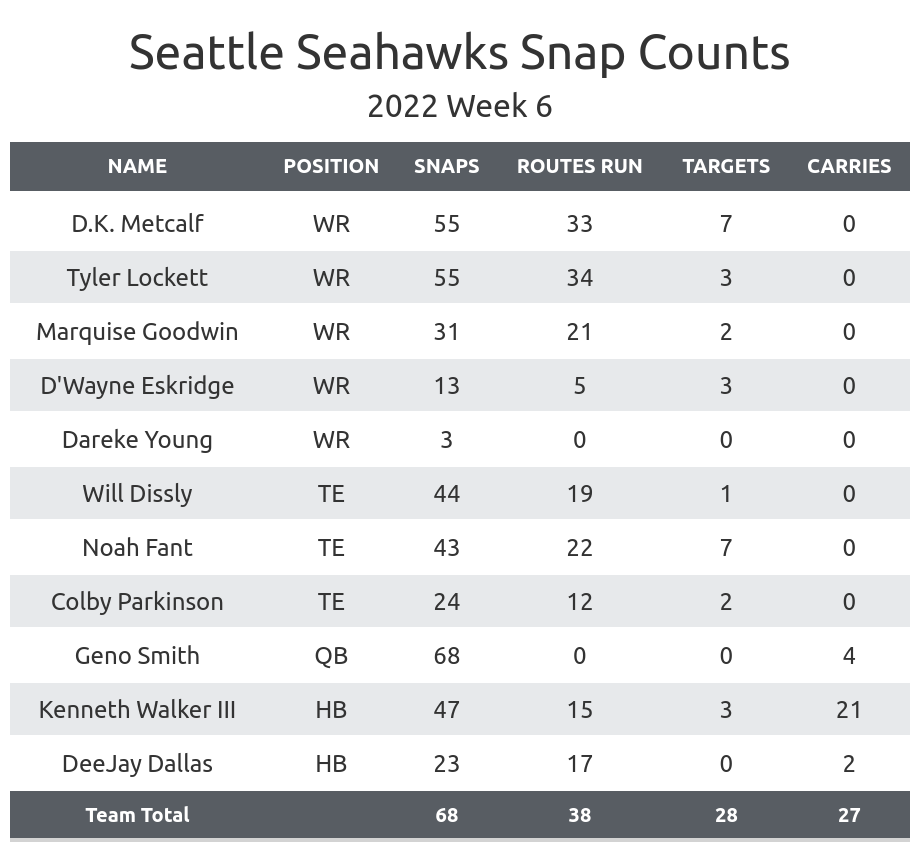 The Seahawks' new starting RB: Fantasy managers were happy with Ken Walker's production in his first game, and there is reason to believe he can have continued success.
He played a clear majority of snaps on early downs, playing an even higher percentage of snaps than 

Rashaad Penny

had in that situation.

He unexpectedly played a slight majority of third-down snaps despite not being known as a receiving back.

While he is a must-start going forward, there are three reasons to be somewhat concerned.

DeeJay Dallas

split short-yardage situations, which could include goal-line situations in the future. That could obviously make it harder for Walker to score touchdowns.

Travis Homer

is on injured reserve but could return as soon as Week 8. Once healthy, he could take a higher percentage of third-down snaps and cut into early-down work.

The Seahawks have the

sixth-most-difficult schedule

going forward, leading to more passing and less rushing for Seattle.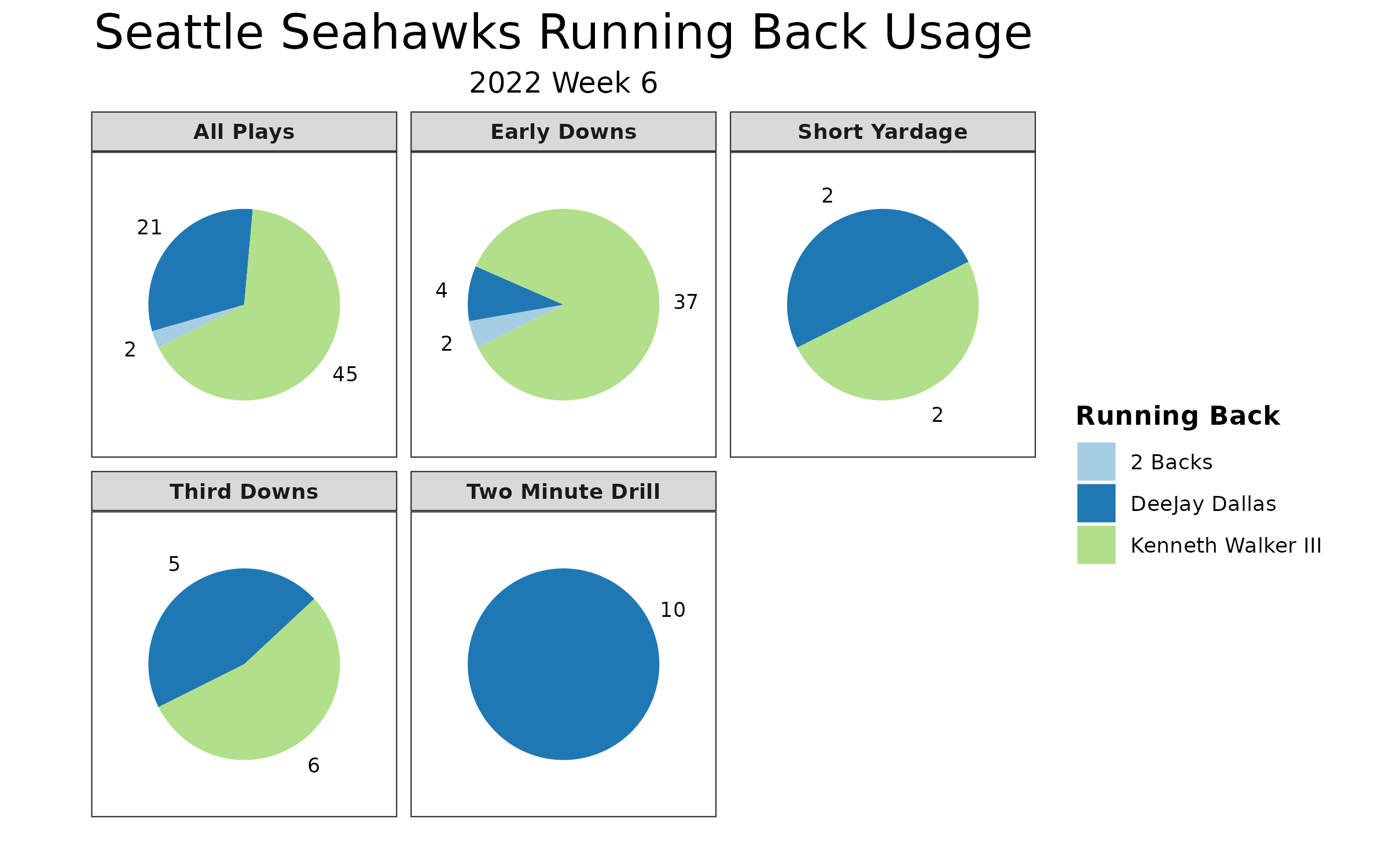 Monitor the Marquise Brown injury: Brown suffered a leg injury late in the fourth quarter after landing awkwardly. He went straight to the locker room and didn't return.
Greg Dortch

took over for the last few snaps of the game.

DeAndre Hopkins

is returning from his suspension this upcoming week.

If Brown misses time, then Hopkins and

Rondale Moore

would play in the base offense, with

A.J. Green

coming in for three-receiver sets.

Moore played ahead of Green in 16-of-17 snaps in two receiver sets this week. Green will fall to fourth on the depth chart and not play much if Brown is healthy.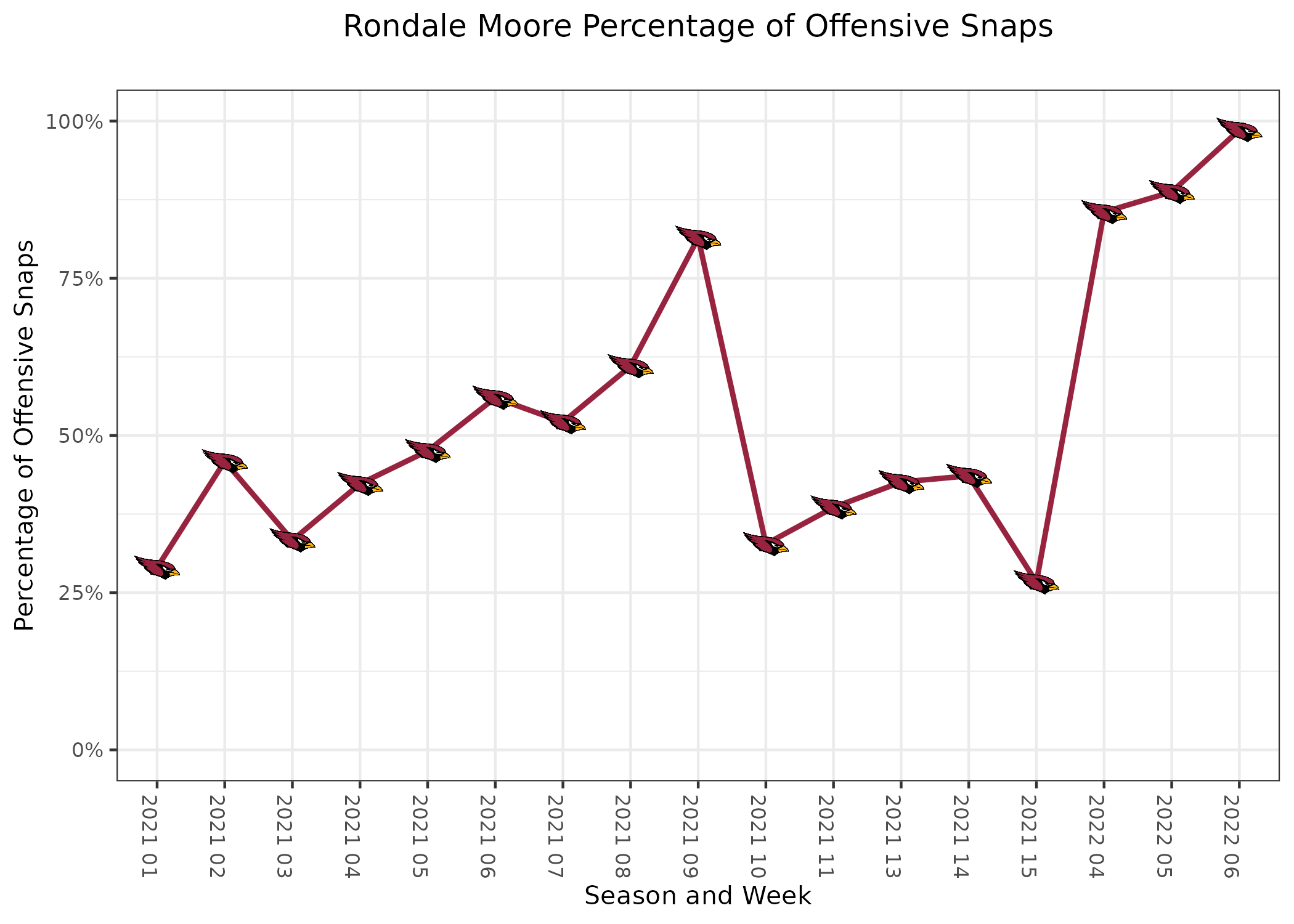 Eno Benjamin's missed opportunity: The Cardinals didn't have two of their top three running backs on the depth chart, but Benjamin made a minimal impact on the offense.
He dominated snaps in all situations but gained only 37 yards on 15 carries. His longest run went for 6 yards.

He caught all three passes thrown his way for 28 yards.

He will remain the starter as long as

James Conner

and

Darrel Williams

are injured, but if anything, he will play less when both backs are healthy rather than more.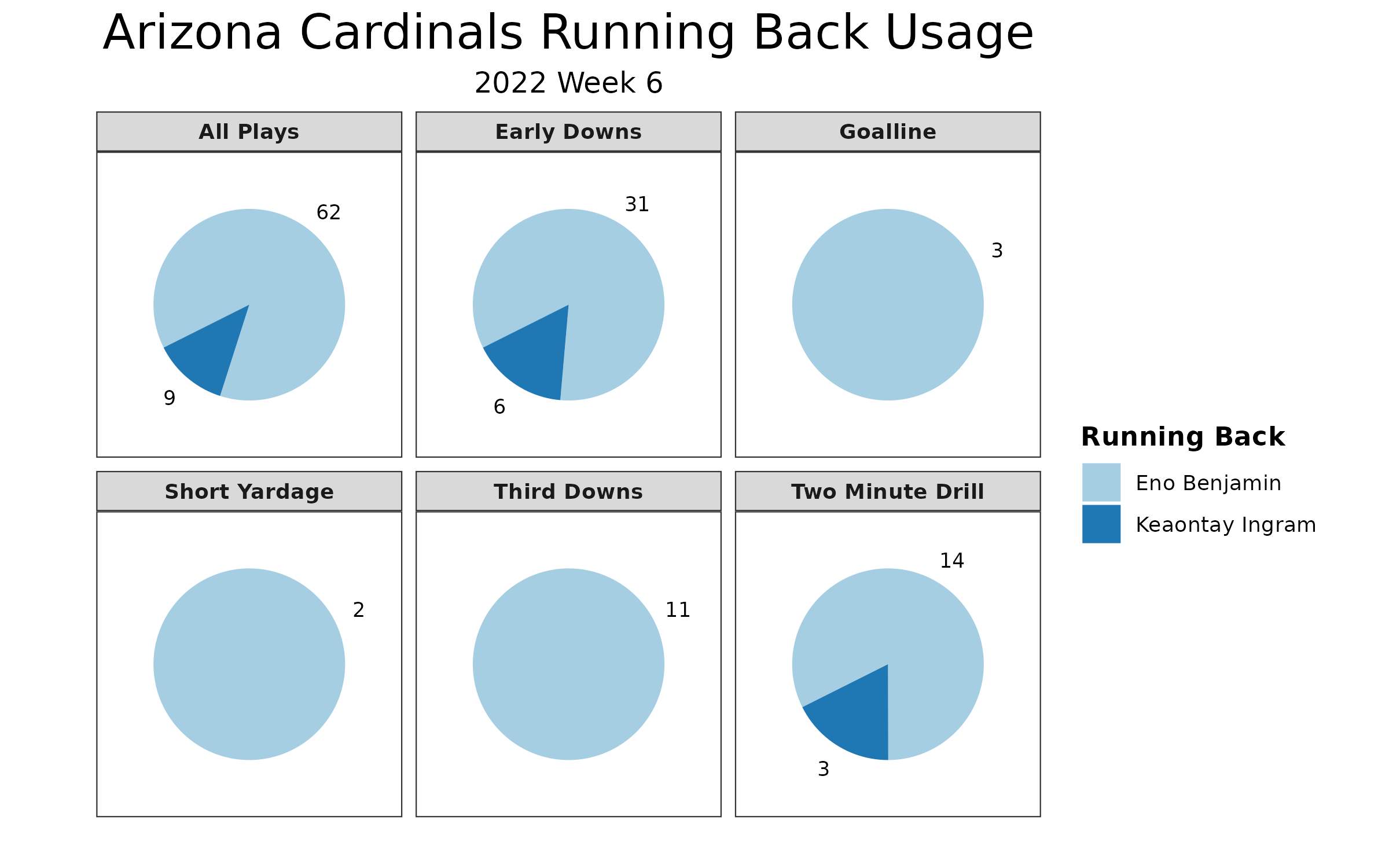 ---
• Stefon Diggs: 10 receptions, 148 yards, one touchdown
• JuJu Smith-Schuster: 5 receptions, 113 yards, one touchdown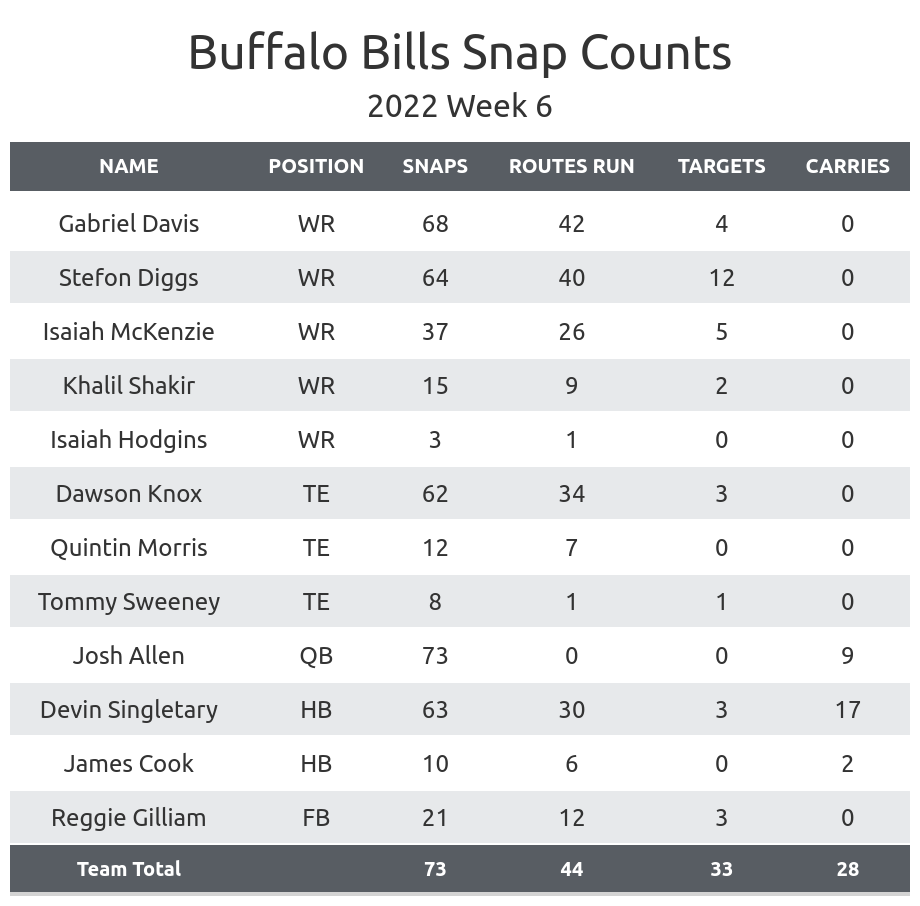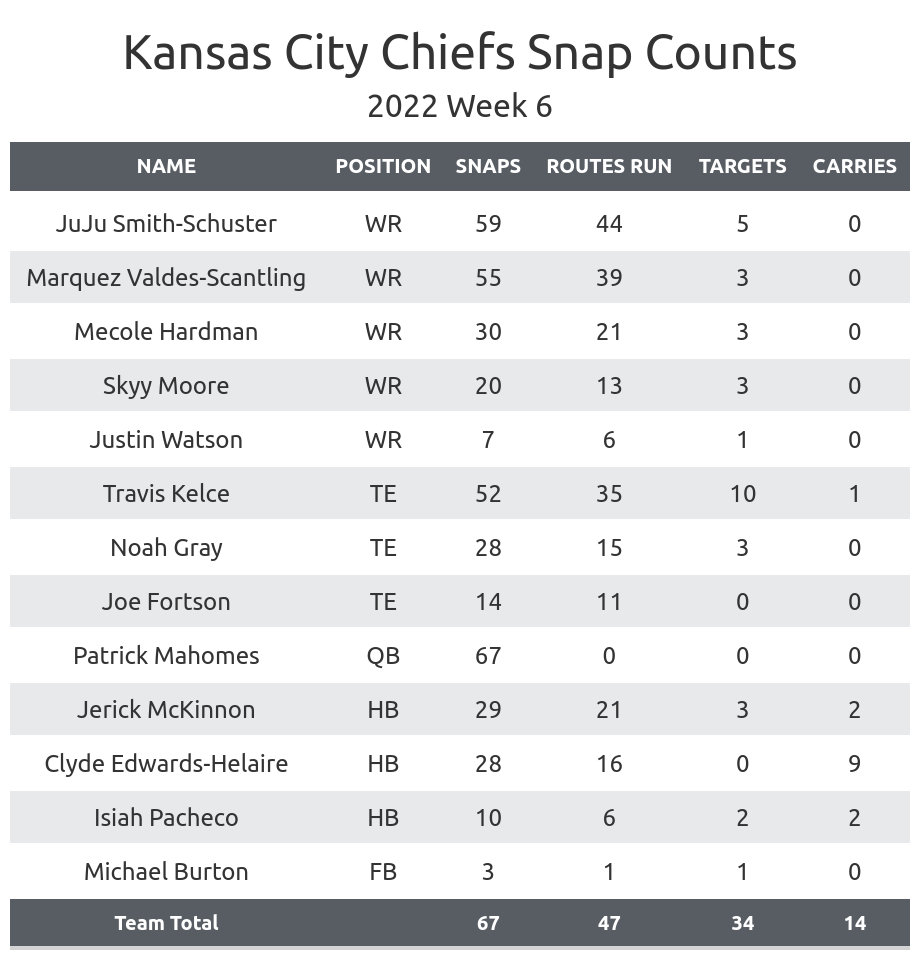 Bills Two-Man Backfield: Zack Moss was a surprise inactive for Buffalo, reducing their three-man backfield into a two-back rotation.
Moss was also inactive in multiple games last season when the Bills felt as though they might not use him as much.

Devin Singletary

has played a higher percentage of snaps when the Bills are losing or if it's a close game.

This game remained close throughout, which meant more Singletary.

James Cook

did not see an increase in usage and should still be considered roughly equal to Moss going forward.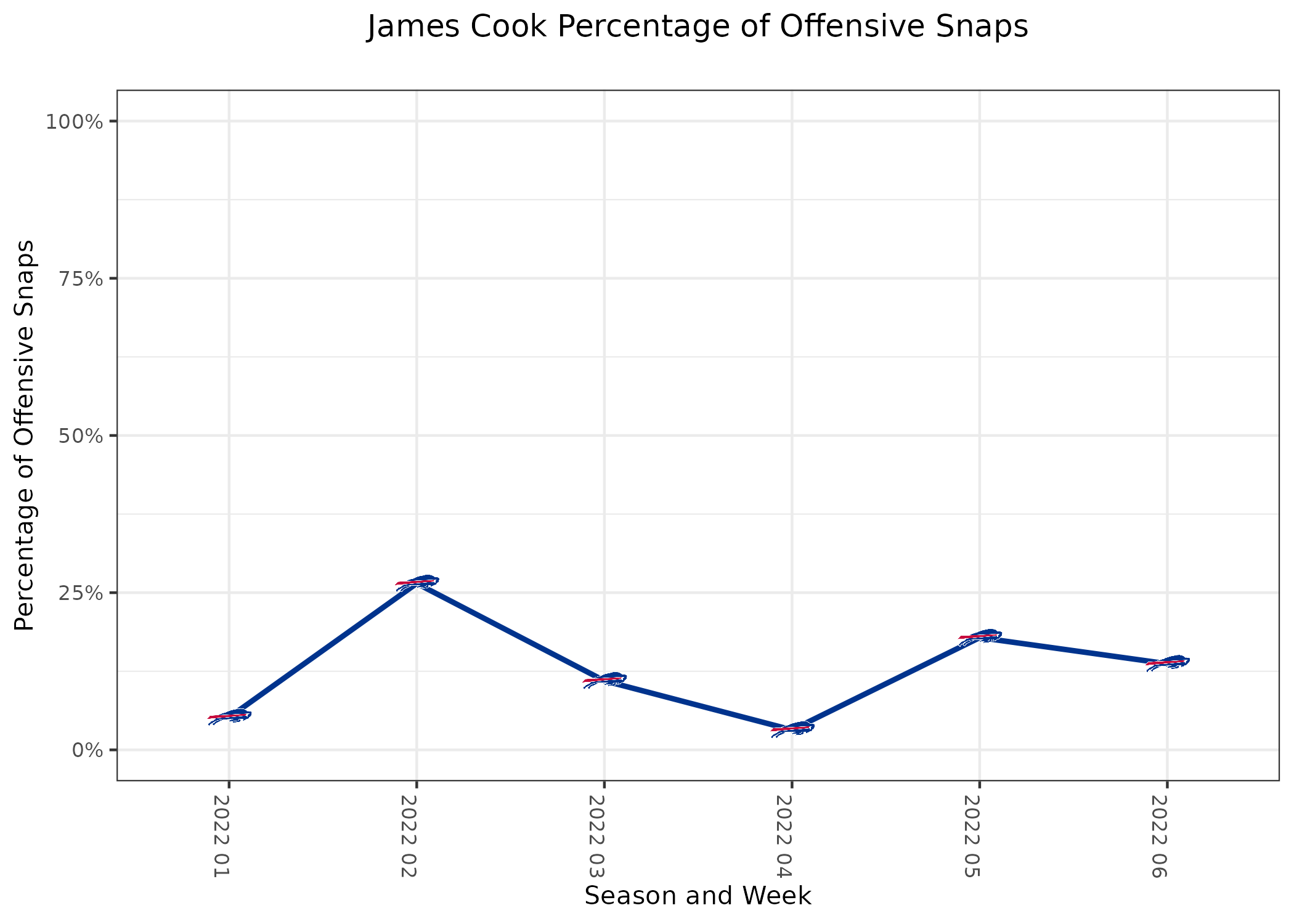 Drop Isaiah McKenzie: McKenzie seemed destined for an increased role with Jamison Crowder on injured reserve, but he still lost playing time to Khalil Shakir.
McKenzie ran a route on only 26 of the Bills' 44 pass plays.

He caught two of his five targets for 9 yards.

Shakir's playing time was also limited, but he did play more snaps as the game progressed. 

If anything, it's possible Shakir will take more of McKenzie's playing time as the season progresses.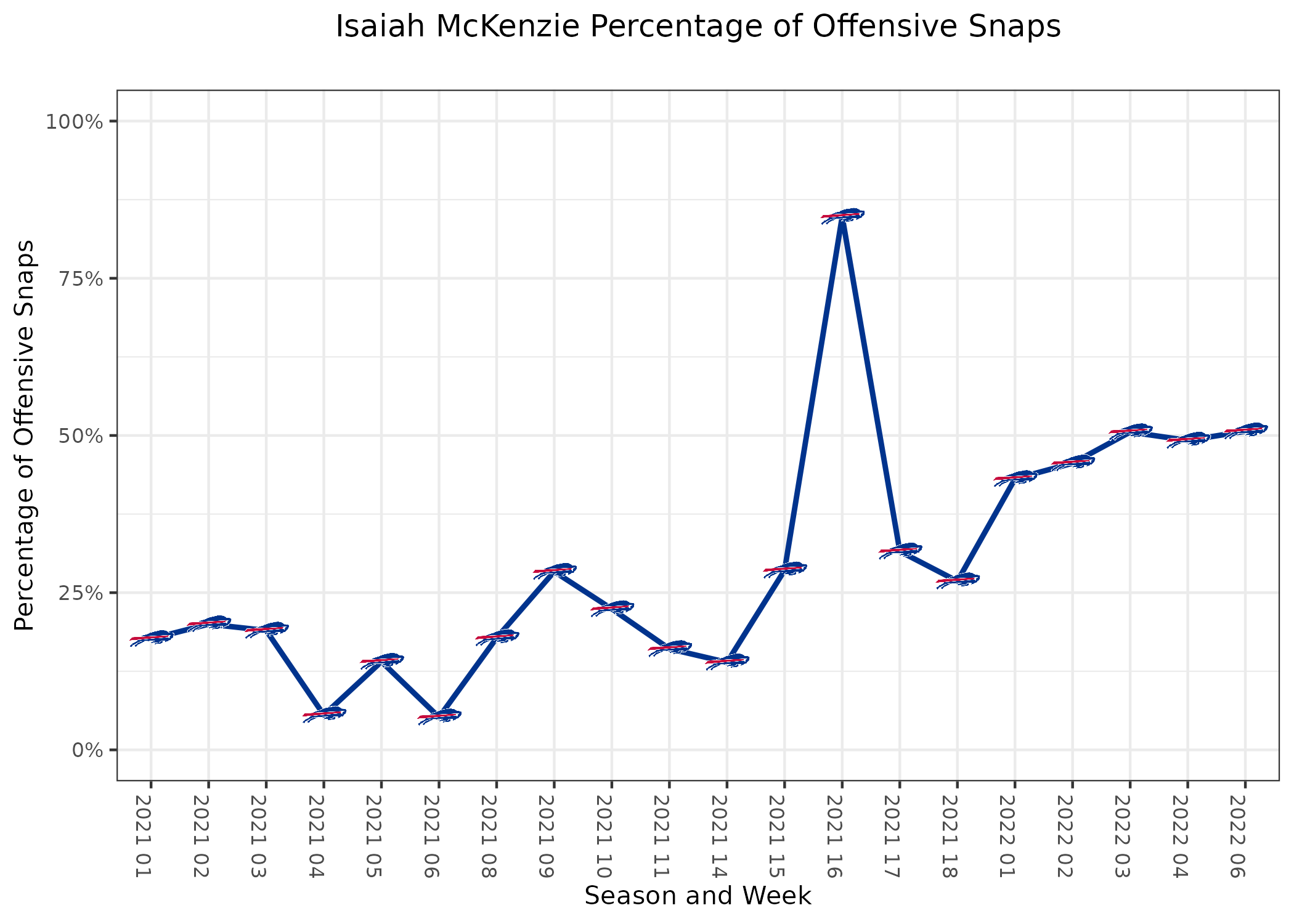 The Chiefs weekly running back battle: Kansas City shifted further toward a three-man backfield, making it harder than ever to trust them in fantasy football.
Isiah Pacheco

had primarily played in blowouts or when another back was hurt in previous weeks, but he handled a significant workload today.

He took his first snaps in two-minute drills all season.

Jerick McKinnon

had played 100% of those snaps in recent weeks.

McKinnon took the goal-line snaps, which is something he's at times split with

Clyde Edwards-Helaire

.

Edwards-Helaire is still handling enough carries that he is probably a starter while several other backs are on bye weeks.

This usage split would destroy each back's fantasy value if they were on another team. The only reason that they are worth considering is that they are a part of the high-powered Kansas City offense.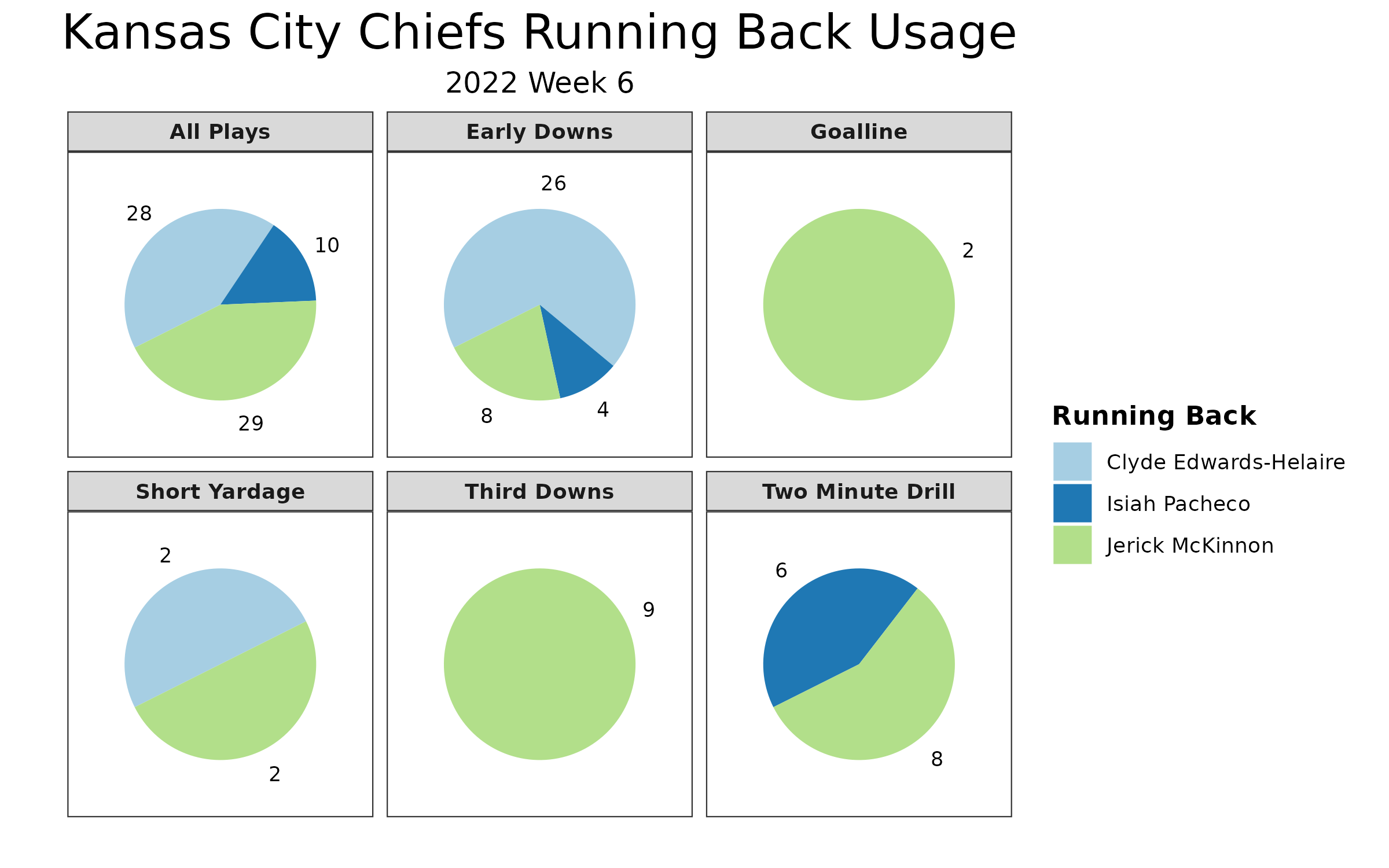 ---
• Ezekiel Elliott: 13 carries, 81 yards, one touchdown; 1 reception, 5 receiving yards
• A.J. Brown: 5 receptions, 67 yards, one touchdown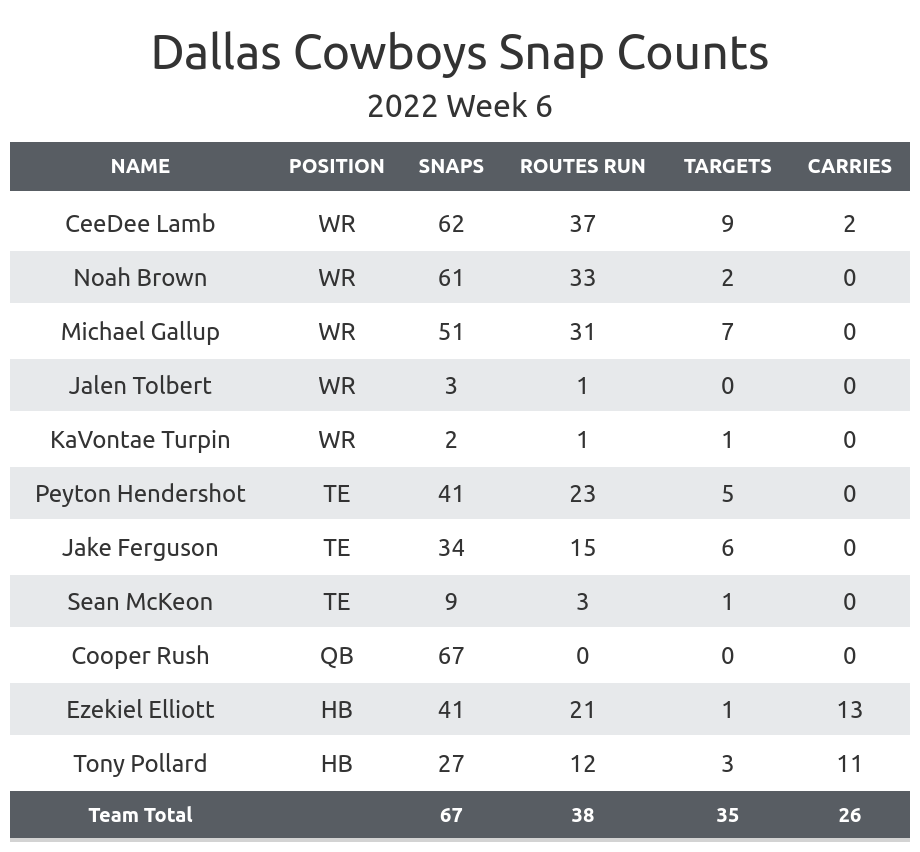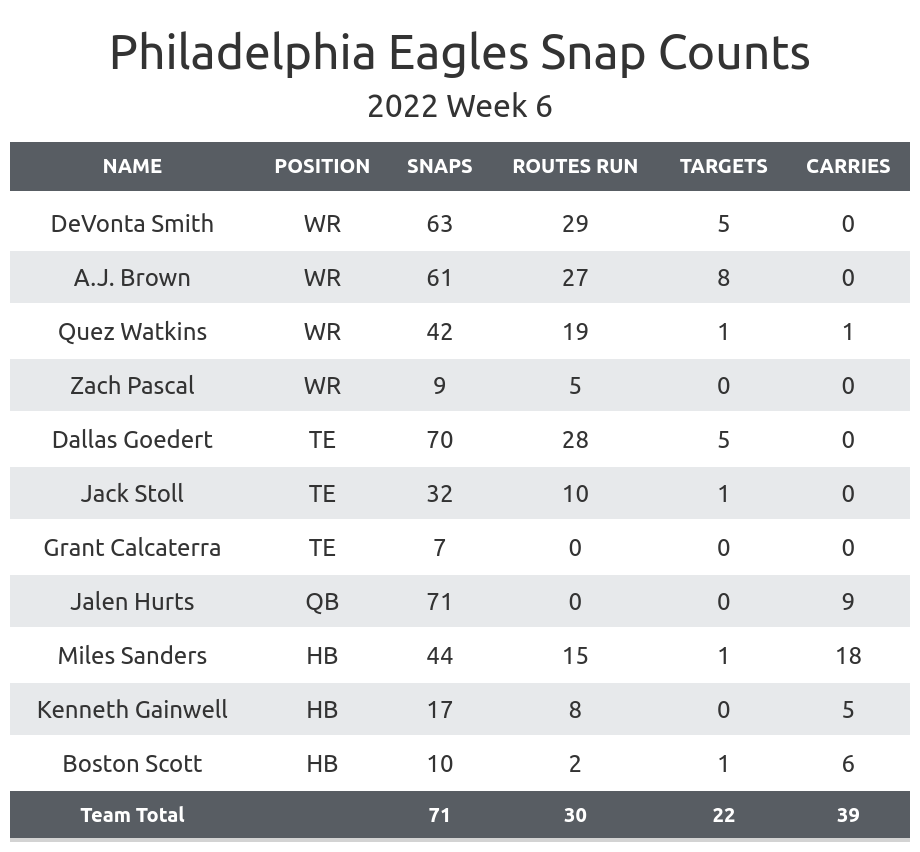 The Cowboys without Dalton Schultz: The starting tight end was a surprise inactive despite having no injury designation and practicing in full on Friday. This left Dallas with their two rookies, Peyton Hendershot and Jake Ferguson.
The Cowboys used

Hendershot

in more passing situations and

Ferguson

in more rushing situations, similar to what they have done in the past with Schultz out hurt.

Hendershot was leading the Cowboys in receiving yards at halftime, with 11.

Ferguson was more involved in the passing game in the second half. His role remained the same, but he caught passes on second downs and caught his touchdown out of a run formation on a first down in the red zone.

Hendershot will still be the better fantasy option in the coming weeks if Schultz misses time.

With the surprise news of him being inactive this week, it would be good to have a backup plan for Schultz, no matter what happens in practice next week. 
Some hope for Jalen Tolbert: Tolbert had been inactive the last two weeks, but he was active and played a limited role tonight.
Tolbert had been fourth on the receiving depth chart but was inactive because other receivers play a larger role on special teams.

Simi Fehoko

was one of the special teams wide receivers, but he landed on injured reserve on Saturday despite his absence from the injury report this week.

Tolbert was then activated and should be active for the next few weeks.

He probably won't play too much, but he should at least take a few snaps a game and have an opportunity to earn even more playing time.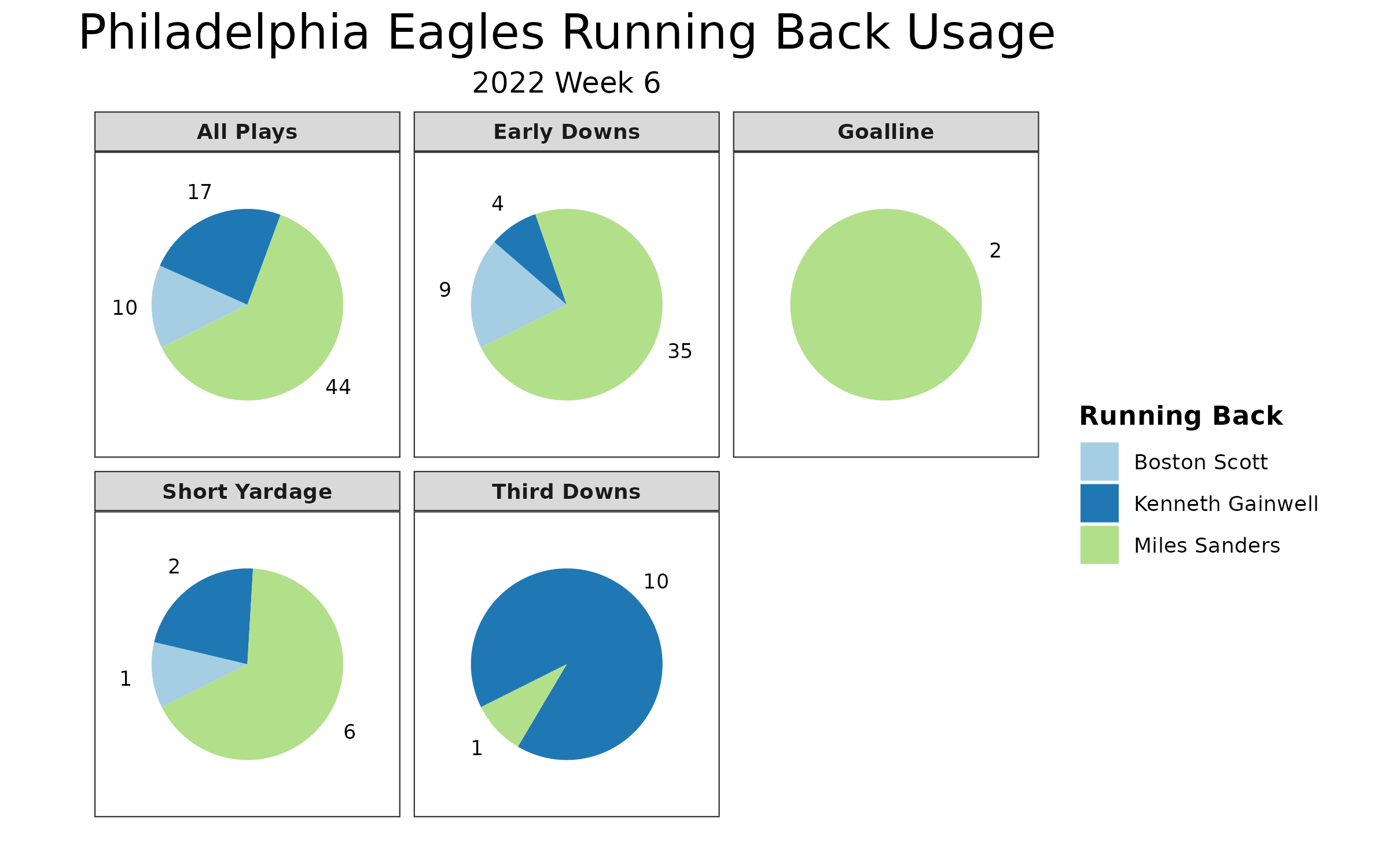 Boston Scott's return: The veteran running back returned to the Eagles' running back rotation after missing the last two games.
He played only a few snaps but was ahead of

Kenneth Gainwell

on early-down work. 

It wouldn't be surprising if Scott gets more playing time going forward, cutting slightly into

Miles Sanders

' playing time.

Scott won't have much fantasy value on his own but would split playing time with Gainwell if Sanders gets hurt this season. Scott would handle the majority of carries, while Gainwell would see most targets.
---