The hype around the NFL's incoming wide receiver class is warranted, thanks to the likes of Ja'Marr Chase, DeVonta Smith and Jaylen Waddle. But the 2020 NFL wide receiver draft class was one for the ages: Justin Jefferson set the record for most receiving yards by a rookie in the Super Bowl era, while CeeDee Lamb, Chase Claypool, Tee Higgins and Brandon Aiyuk all emerged as legitimate fantasy contributors in Year 1. 
Still, the 2020 wide receiver class goes far beyond just the top tier. A plethora of talent is waiting to bust out in Year 2. It will be crucial to fantasy football success in 2021 to hit on these talented second-year receivers. 
Subscribe to
This series of articles will break down the top 20 second-year wide receivers for 2021 fantasy football. (Find the wide receivers ranked No. 20-16 here.)
The next group we'll examine includes plenty of sleepers and breakout candidates — all five players were drafted inside the top three rounds of the 2020 NFL Draft but failed to live up to expectations as rookies. 
The stage was set for Henry Ruggs III to have a monster season — until it wasn't. 
Raiders quarterback Derek Carr finished the season with a top-five on-target rate on throws 20-plus yards downfield (53%) and was fourth in deep ball yards and third in adjusted completion percentage (53.3%) on deep pass attempts. 
Yet the Raiders' offense was unable to utilize its speedy young receiver — Ruggs finished the season as PFF's 98th-graded wide receiver (54.0). Unfortunately, this is extremely telling for his projected outlook.
The following table shows the lowest-graded first-round rookie wide receivers since 2014. It is not encouraging for those hoping Ruggs can turn things around in Year 2.
Lowest-graded first-round WRs since 2014
| | |
| --- | --- |
| Player | Rookie PFF Grade |
| John Ross | 38.1 |
| Nelson Agholor | 48.7 |
| Mike Williams | 52.6 |
| Henry Ruggs III | 54.0 |
| Laquon Treadwell | 56.4 |
| Josh Doctson | 57.7 |
| Phillip Dorsett | 60.5 |
| Will Fuller V | 61.6 |
| Corey Coleman | 61.7 |
| Corey Davis | 63.1 |
| Jalen Reagor | 64.0 |
| N'Keal Harry | 65.1 |
| Jerry Jeudy | 65.2 |
Ruggs had a competent quarterback who thrived as a downfield passer and every opportunity to start in a wide-open depth chart. But he was out-produced by Nelson Agholor, who ironically also graded out as one of the worst first-rounders during his rookie season. 
In 2021, the depth chart is again wide open — the only main difference is newcomer John Brown presumably taking on a portion of Agholor's targets. Ruggs' path to opportunities hasn't changed, but fantasy gamers shouldn't expect a massively different output based on what he did with his opportunities last season.
Targets are an indication of talent because they are earned. Ruggs simply failed to garner them in 2020 — he never surpassed more than five targets in a game, and his target rate per route run (12.5%) ranked dead last among all rookies who saw at least 40 targets. 
Ruggs also struggled mightily against press coverage. He posted a 53.2 PFF receiving grade — a mark that ranked second-to-worst in his draft class. Those kinds of struggles will make life difficult for Ruggs to win one-on-one matchups on the outside.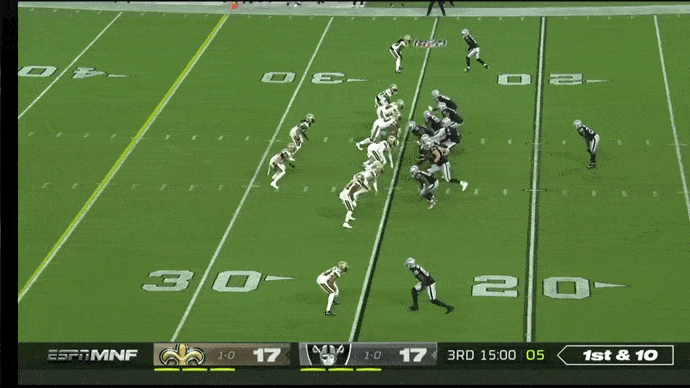 It's hard to be optimistic about Ruggs' future — he's unlikely to become more than a big-play threat. He did finish last season sixth in yards per reception (17.4) and 14th in yards after the catch per reception (5.7), and he was second on the team in deep targets (18) thanks to his blazing 4.27 40-yard dash speed.
Those numbers are indicative of his splash-play potential, but the overall body of work is full of bad signs — even for a former No. 12 overall pick who was the first receiver off the board. 
The inconsistency won't hurt as much for those who target the spike weeks in best ball drafts. And his speed could be beneficial in real life influencing coverages so players like Darren Waller can feast over the middle of the field.  
after re-watching Henry Ruggs and Bryan Edwards from last season, here's my major takeaway

Darren Waller's 27% target share (4th in the NFL) doesn't do him justice.

Derek Carr looks/targets Waller as if his life depends on it

— Andrew Erickson™ (@AndrewErickson_) June 22, 2021
Has Denzel Mims' second-year breakout potential already fizzled out? According to Connor Hughes of The Athletic, Mims has been running with the 2s at minicamp behind newly acquired wide receivers Corey Davis, Keelan Cole and Elijah Moore.
It's a bit of an overreaction to assume this spells disaster for Mims. All of the aforementioned receivers were brought in by the new coaching staff — of course they want to see them get reps with the 1s. 
It's way too early to write off Mims because of padless practice reps in June. At a towering 6-foot-3 and 215 pounds, Mims will be at his best when physicality is incorporated into practice. 
Besides, Mims' rookie season was filled with encouraging data points that go beyond his raw production totals. His PFF receiving grade (70.4) ranked fifth-best in his draft class starting in Week 7 when Mims finally saw the field. He also finished second on the team in air yards share (17%) and deep targets despite playing in only nine games.
The main reason Mims' production doesn't necessarily match some of his peripheral numbers is due to horrible quarterback play. Among wide receivers with at least 40 targets, Mims' catchable target rate (57%) ranked third-worst in the league behind only A.J. Green (53%) and teammate Jeff Smith (50%). 
This shouldn't be an issue in 2021 with rookie first-round quarterback Zach Wilson under center. Only 13.6% of Wilson's throws beyond the line of scrimmage were deemed uncatchable this past college season, the lowest rate in the FBS. 
The BYU gunslinger also ranked first in PFF passing grade on 20-plus-yard throws and compiled the fourth-most yards on those deep pass attempts. No quarterback threw an accurate ball at a higher rate on 20-plus-yard passes in 2020 (73%).
Denzel Mims saw the third-worst catchable target rate (57%) in 2020

His new QB owned the highest accuracy rate on 20-plus-yard passes in 2020 (73%).

We'll see who's WR4 on the Jets depth chart when the pads come on pic.twitter.com/0a3x1pZhlT

— Andrew Erickson™ (@AndrewErickson_) June 22, 2021
Players with Mims' type of size-speed combination — 4.38 40-yard dash at the 2020 NFL Combine — are hard to find, so don't bury the guy after a few reports out of training camp. His ability to post up as the team's "X" receiver with a quarterback who isn't afraid to throw downfield is more than worth his newly suppressed draft cost. 
Van Jefferson had his moments as a rookie despite commanding only 34 targets and totaling just two games with a 50% snap share. The former second-round pick led the Rams wide receivers in total receiving yards (96) over their last two contests and emerged as a reliable deep-threat with a 10.4 aDOT.
Expect Jefferson to operate similarly in 2021 considering former Rams No. 3 wide receiver Josh Reynolds signed with the Tennessee Titans this offseason. Reynolds led the team in air yards share (23%) and deep target share (27%) last season. If Jefferson can fill that "high-value target" role on the perimeter, it will be extremely tantalizing for his fantasy outlook.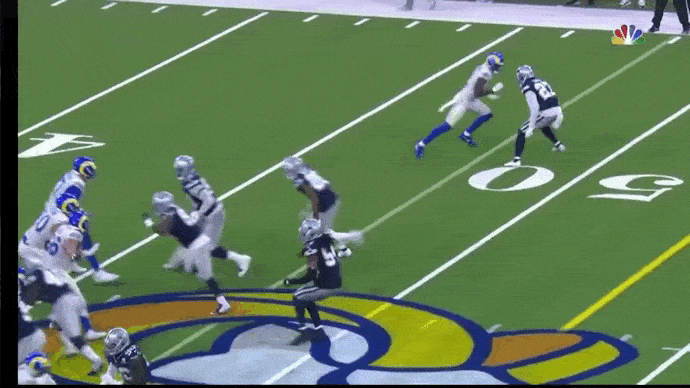 He also gets a massive boost going from Jared Goff to Matthew Stafford.  Since the start of the 2019 season, Stafford ranks second in pass-play percentage over 20 yards (17%) and in aDOT (10.7), while Goff ranks 31st (9%) in pass-play percentage over 20 yards and 52nd out of 60 qualifying quarterbacks in aDOT (7.5).
On those deep throws, Stafford has a 93.0 PFF passing grade (1,869 yards, 13 TD, 6 INT, 13.0 YPA, 98.1 rating). Goff sits at just 77.6 (1,011 yards, 4 TD, 6 INT, 9.3 YPA, 55.0 rating).
The additions of DeSean Jackson and the selection of TuTu Atwell in the second round have soured some on Jefferson's Year 2 potential, but fear not. D-Jax has only 23 catches over the past two years in eight games — several of which he left early due to injuries. And Atwell profiles much more like a gadget/slot-type player, so there won't be much, if any, overlap with Jefferson's opportunities in what is shaping up to be a top-five scoring offense. 
Jefferson is an easy buy-low candidate in dynasty and a great dart-throw in the final round of best ball drafts. 
Bryan Edwards was a big disappointment as a rookie, but there's reason for optimism heading into Year 2. The Las Vegas Raiders rank near the top of the league in vacated end-zone targets, and Edwards has the requisite size at 6-foot-3 to be a force in that area of the field.  
After re-watching his tape, there were multiple occasions where Carr looked in his direction while approaching the end zone. But more often than not, Carr ended up checking it down to Darren Waller.  
The same goes for Edwards winning downfield. He frequently created separation on deep downfield routes, but Carr would often opt to check the ball down. However, when Edwards did get chances, he made the most of them.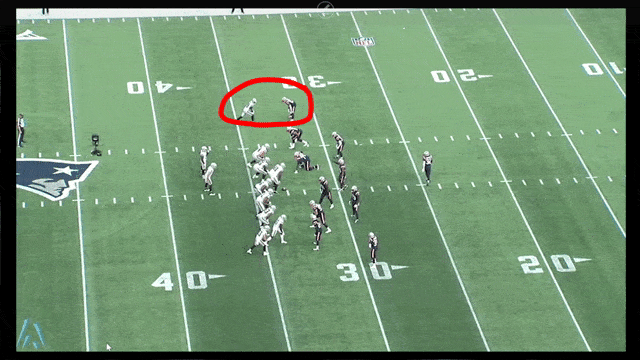 Edwards only saw 14 targets last season but was uber-efficient, posting a 100% catch rate on his catchable targets and generating a 142.6 passer rating (fifth-best). It's an extremely small sample size but encouraging enough to justify him as a late-round sleeper.
The offseason hype train was all about Jalen Reagor, but the former first-round pick failed to deliver. He finished the season with 31 receptions for 396 yards and graded out as PFF's 11th-best rookie wide receiver (64.0). Still, there wasn't much chance for success inside a Philadelphia Eagles offense that graded 30th in PFF passing grade last season.
What's more important to recognize is Reagor's high target volume. Inside the 10-yard line, Reagor earned a 45% target rate per route run, which ranked second among all wide receivers. During the final four weeks with Jalen Hurts under center, Reagor commanded a team-leading 26% target rate per route run. 
That 26% target rate isn't likely sustainable with the addition of first-round pick DeVonta Smith, but operating as a No. 2 option from the slot suits Reagor's skill set better.
Despite a lesser target share, Reagor should still deliver multiple splash weeks with his explosiveness, deep threat expertise and YAC upside.
Last season, 46% of Hurts' passing attempts were thrown 10-plus yards, the highest rate in the NFL. Reagor commanded a 14.2 aDOT — 17th highest among WRs — so expect him to see plenty of action downfield in addition to manufactured touches that take advantage of his elusiveness.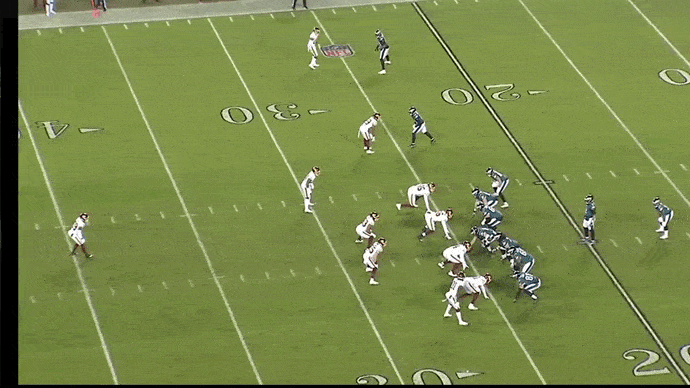 Reagor also finished first on the team in yards after the catch per reception (5.6, 16th overall). Feeding playmakers in space was a huge part of new head coach Nick Sirianni's offense in Indianapolis, where rookie wide receiver Michael Pittman Jr. finished third in the NFL in yards after the catch per reception (7.4) last season. 
In the Eagles' newly revamped offense, Reagor has a real opportunity for a do-over on what was a disappointing rookie season.