• Javonte Williams and Brock Purdy return: Both players ended last season injured but saw their first action in the preseason in this game.
• Marvin Mims is already third on the Broncos: Mims has already won the third wide receiver job in Denver playing on the outside in three receiver sets.
• Greg Dulcich remains the second tight end: He continues to not play in 11 personnel on first and second downs like in the first preseason game.
Estimated Reading Time: 4 minutes
---
PFF's fantasy football recap focuses on player usage and stats, breaking down all the vital information you need to achieve fantasy success in 2023. You can find more information on why it's essential to pay attention to the preseason here.
Check out PFF's 2023 Fantasy Draft Kit for even more content to help you dominate your league.
---
Preseason Recaps: Friday Week 2 | Thursday Week 2 | Week 1 | Hall of Fame Game
Player Profiles | Depth Charts
Rankings: PPR | Half-PPR | Standard | Superflex | Best Ball
Dynasty Rankings: PPR | Rookie | Superflex | Superflex Rookie
Position Rankings: QB | RB | WR | TE
Sleepers: Top-10 | QB | RB | WR | TE
League Winners: Top-5 | QB | RB | WR | TE
Breakouts: QB | RB | WR | TE
Position Draft Strategy: QB | RB | TE
14-Team Draft Strategy: Overall strategy
12-Team Draft Strategy: Overall strategy | Picks 1-3 | Picks 4-6 | Picks 7-9 | Picks 10-12
10-Team Draft Strategy: Overall strategy | Picks 1-3 | Picks 4-7 | Picks 8-10
---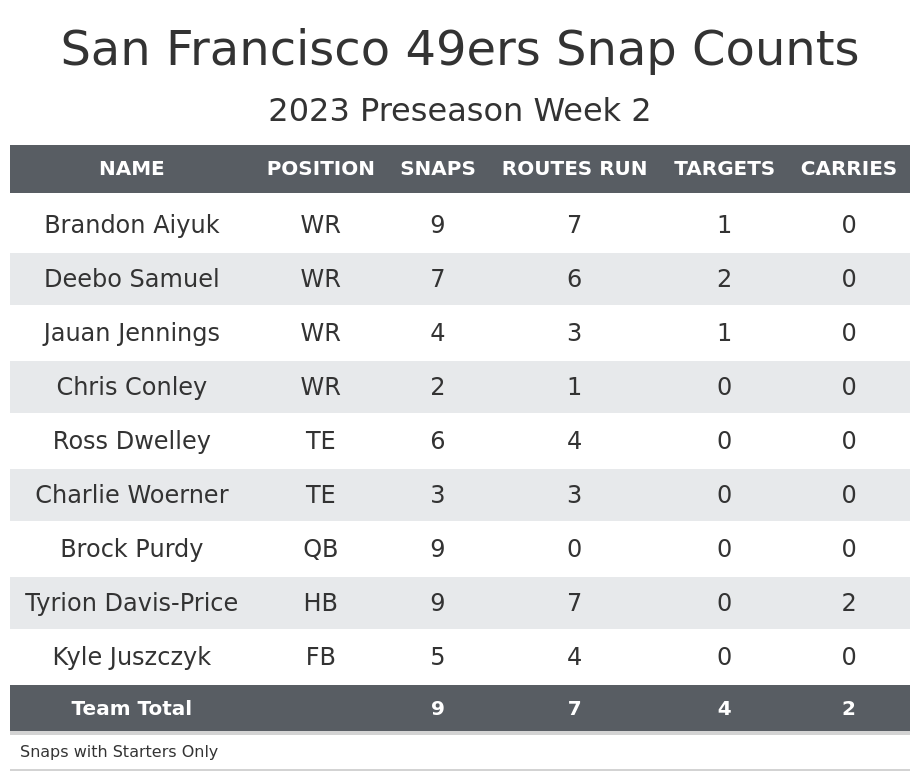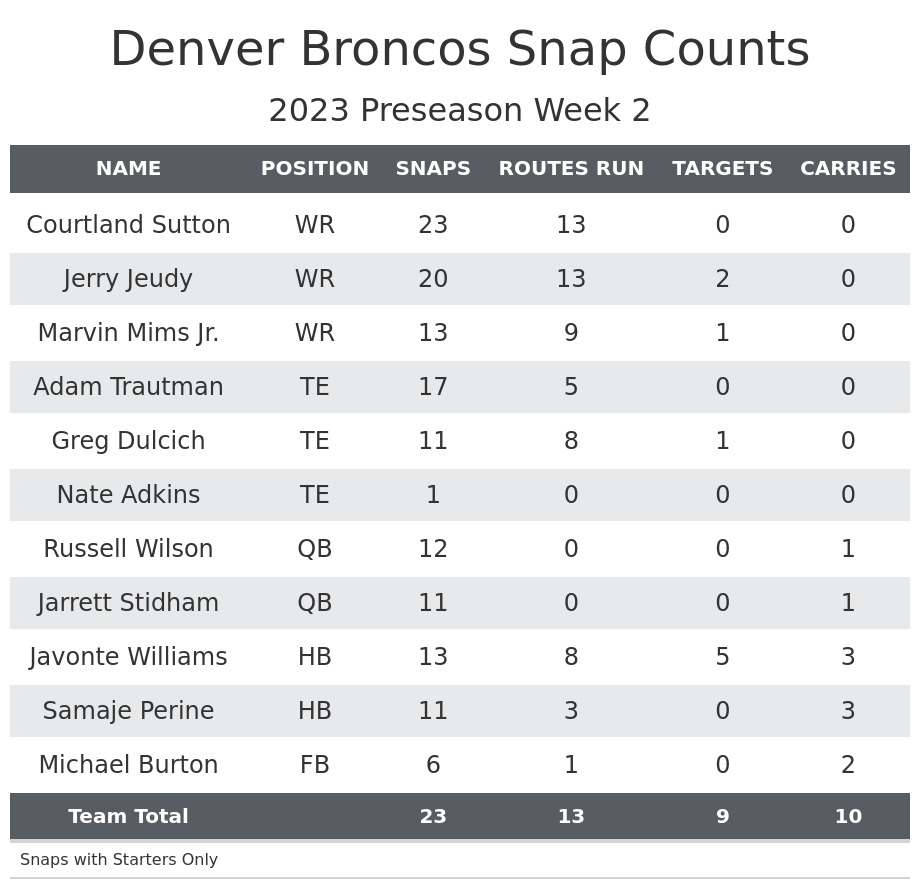 Javonte Williams returns to the Broncos: Williams played his first game after tearing his ACL early last season.
Williams started the game and split time with

Samaje Perine

.

Williams played 12 snaps to Perine's five on first and second downs while Perine played six of the seven third-down snaps.

Despite Perine taking the receiving back role, Williams was targeted five times. He caught four for 18 yards.

First off, it is great news that Williams is back and a good sign he will be able to play in Week 1.

Williams could certainly see more playing time as things progress, but it is at least a little concerning that the two running backs' roles were clearly defined.

This suggests Perine might keep the passing down role long term. That would put a cap on Williams' ceiling, as those third-down targets are a big part of some running backs' production.

Christian McCaffrey

and

Austin Ekeler

both had 20-plus receptions on third downs last season, which is part of why they are the top two running backs.

Typically, the third-down back also gets to play during the two-minute drill, where both McCaffrey and Ekeler had over 150 yards and two touchdowns each in those situations.

This will be a situation to monitor, as Williams is certainly capable of being a receiving back as well as a rusher.
Marvin Mims debuts at third on the Broncos depth chart: Mims was one of three Broncos wide receivers to play on the team's' first two drives.
He only played in three-receiver sets, joining

Courtland Sutton

and

Jerry Jeudy

. Sutton and Jeudy played in every two receiver sets while Sutton took the snaps in one receiver set.

Mims was expected to be a slot receiver, but

 Jeudy

took 10 snaps from the slot in 11 personnel compared to Sutton's three by and Mims' one. It appears Mims will be an outside receiver this season.

Mims saw some additional playing time with the backups on the fourth drive, but he continued to play on the outside even with the backups.

The third-round rookie is worth a late-round draft pick in case he breaks out in his first season and becomes the Broncos' top outside receiver.
Greg Dulcich's snaps remain limited: Adam Trautman and Dulcich continued a similar tight end rotation to last week. 
Trautman played on first and second downs while Dulcich took third downs and they would share two tight end sets. 

Trautman took a 3rd-and-short and Dulcich took a 2nd-and-10. 

Both players stopped playing after the second drive when other starters exited the game.

Chris Manhertz

still isn't playing, and he will likely impact the rotation and hurt Dulcich's fantasy value even more.
The 49ers third running back battle continues: Jordan Mason appeared ahead of Tyrion Davis-Price last week, but Davis-Price started this week.
Davis-Price played all of the offensive snaps with

Brock Purdy

.

He only ran the ball four times in the game but gained 22 yards on his carries.

Jordan Mason

took the second drive for San Francisco. He ran eight times over the game for 24 yards.

Neither was much of a factor in the passing game.

Christian McCaffrey

and

Elijah Mitchell

will be the top two backs once the regular season hits, making it unlikely either sees significant playing time outside of blowouts.

It is possible that both players end up making the 53-man roster.
Miscellaneous Notes
49ers third-round rookie

Cameron Latu

didn't start playing until the 49ers' fifth drive and is currently fifth on the depth chart, but he did catch three passes for 46 yards and a late touchdown from

Trey Lance

.

Seventh-round rookie wide receiver Ronnie Bell played most of the 49ers' first preseason game and did so again this week despite not playing on the first drive. He joined Austin Watkins as the only wide receiver with 100-yard games this preseason.
---
Table Notes
• Snaps include plays called back due to penalties, including offensive holding or defensive pass interference. The other three stats have these plays removed.
• Targets may differ from official NFL sources. The most likely discrepancy would be from a clear thrown-away pass, where the NFL may give the target to the nearest receiver, while this data will not.
• Carries are only on designed plays. Quarterback scrambles won't count for the total number of carries in the game.