Football is back, and life is good. Let's attempt to predict the future.
What follows are my best guesses for every starting quarterback's defining Week 4 storyline. This will be accomplished through a superlative format, identifying who is most likely to accomplish whatever.
Please don't confuse this as an all-encompassing preview of the position; the goal is merely to get a solid preview on the game's most-important position and attempt to learn a thing or two along the way.
---
Click here for more PFF tools:
Rankings & Projections | WR/CB Matchup Chart | NFL & NCAA Betting Dashboards | NFL Player Props tool | NFL & NCAA Power Rankings
---
It's been a rough start to the career for Lawrence. Sure, there have been flashes of the rookie's tantalizing arm strength, but there's generally been far more bad than good. Overall, Lawrence owns league-worst marks in both turnover-worthy plays (9) as well as turnover-worthy play rate (7%).
The Jaguars rank 25th in passing yards after the catch per completion, 24th in screen rate, 19th in play-action rate and have posted the seventh-worst drop rate in the league. This has hardly been all Lawrence's fault, but the 2021 NFL Draft's No. 1 overall pick and (especially) first-year NFL head coach Urban Meyer also haven't been the solution through three weeks.
Burrow has largely been average when throwing this season; the difference between 2021 and 2020 has come down to volume. Last year, Burrow led the NFL in dropbacks prior to being injured — he ranks just 28th through three weeks of 2021 (pre-MNF). Overall, his average of 45.3 dropbacks per game in 2020 has fallen all the way to 28.3.
The strategy didn't stop Burrow from taking 10 sacks in Weeks 1-2, but at least the Steelers' lauded front-seven didn't manage to get Burrow down for a loss in Week 3. It'd make sense if head coach Zac Taylor increases Burrow's workload as the season goes on; just don't be surprised if that doesn't happen in a home matchup that features the Bengals as sturdy 7-point favorites over the lowly Jaguars. 
Credit to the artist known as TanneThrill for chucking three scores in a Week 3 win over the Colts despite not having A.J. Brown (hamstring) for the heavy majority of the afternoon.
Critics called Tannehill's initial 2019 campaign a fluke. 2020 was written off because of the superior play of his teammates. Then in 2021 there was a growing thought the absence of OC Arthur Smith would lead to regression.
Through it all, Tannehill has been nothing other than what the kids call an elite quarterback:
PFF passing grade: 93.0 (tied for No. 2 among 63 quarterbacks with 100 dropbacks since 2019)

Big-time throw rate: 5.3% (No. 12)

Turnover-worthy play rate: 2.9% (No. 16)

Yards per attempt: 8.4 (No. 1)

Adjusted completion rate: 76.9% (No. 17)

QB Rating: 107.9 (No. 2)
Potentially not having AJB objectively sucks, but don't be surprised if Tannehill continues to put up plenty of points on the scoreboard just like he's done week in and week out for the past three seasons.
Most likely to slightly improve because it can't get much worse: New York Jets QB Zach Wilson
The 2021 NFL Draft's No. 2 overall pick has been a bottom-five quarterback by just about any metric through three weeks. Of course, life hasn't exactly been easy for the rookie, facing off against the Panthers' pressure-heavy defense before facing Bill Belichick and Vic Fangio's ever well-coached Patriots and Broncos defenses in Weeks 2-3.
The Titans boast a bottom-10 defense in passer rating (No. 25), yards per attempt (No. 25) and yards after the catch per completion (No. 31); this could be the spot where Wilson gets something going.
As bad as things have been, Wilson has demonstrated the sort of borderline erotic arm talent that made many fall in love with his skill set during the last 12 months.
Don't mind me just ignoring all the bad with Zach Wilson and focusing on this singular throw pic.twitter.com/eq1gjQLqwH

— Ian Hartitz (@Ihartitz) September 25, 2021
Ultimately, the Jets haven't scored a touchdown since roughly 3:30 p.m. EST on September 12, 2021. Be cautiously optimistic that this time will need to be updated by next Sunday.
Most likely to not test the defense downfield: Detroit Lions QB Jared Goff
To say Goff has refrained from consistently forcing defenses to respect the deep ball would be an understatement:
Average target depth: 6.2 yards (No. 31 among 35 qualified quarterbacks)

Percentage of passing yards to come before the catch: 36% (No. 35)

Percentage of passing yards to come after the catch: 64% (No. 1)

Percentage of targets past the sticks: 33.3% (No. 32)

Percentage of passes thrown 20-plus yards downfield: 9.8% (No. 24)
Goff is just PFF's 27th-highest-graded passer when targeting receivers at least 20 yards downfield; things haven't gone all that swimmingly even when the ex-Rams signal-caller has gone outside his comfort zone. The Lions' general disregard for their wide receiver room throughout the offseason certainly didn't help matters; either way, this Lions passing game doesn't seem to be on the verge of becoming anything more than a dump-down show to the likes of D'Andre Swift, Jamaal Williams and T.J. Hockenson.
Most likely to throw for more yards than last week: Chicago Bears QB Justin Fields
Whew boy: That was rough. Fields and the Bears offense turned in the third-worst effort of the last 21 years in Week 3, mustering a putrid 47 total yards against Myles Garrett and company. The Bears' first-round quarterback didn't provide much reason for optimism throughout the afternoon, taking a whopping nine sacks and struggling to get pretty much anything going inside of an offense best described as broken.
Overall, Fields was pressured on an absurd 53.3% of his dropbacks in Week 3 despite posting a reasonable (for him) average release time of 2.84 seconds. He completed three of his four passes to receivers considered open or wide open by PFF; the problem is his 28.6% rate of passes to these targets ranks dead last among 35 qualified quarterbacks. No other quarterback is below even 40%.
The Bears didn't do a good job protecting Fields or getting open for him downfield. The first-year signal-caller isn't completely devoid of blame, either; just realize football is a team sport, and the entire Bears offense contributed to last Sunday's dismal performance. Look for the group to improve against the Lions simply because things can't get much worse.
The Colts' pressure problem seems to be more of a collective issue. On the one hand, they're surrendering a league-worst 33.3% pressure rate on passes when the ball is thrown in fewer than 2.5 seconds. On the other, Wentz's average time to throw of 2.8 seconds is tied for the 10th-highest mark in the league.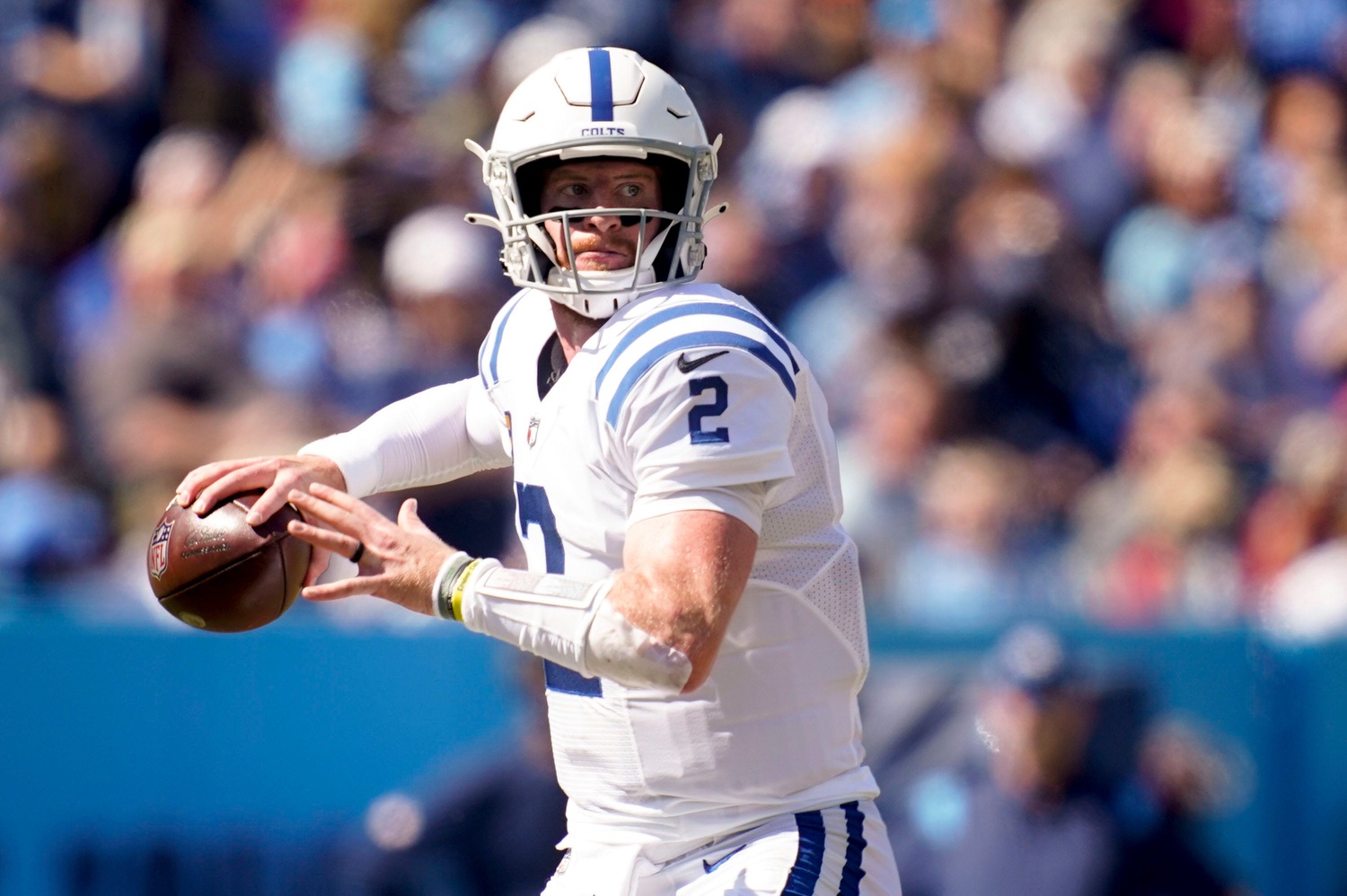 The latter variable sunk in Week 3 due to Wentz operating on not one but two sprained ankles; the problem was his efficiency took a nosedive as well. Once considered the elite of the NFL, the current edition of the Colts offensive line simply doesn't look up to the task with the likes of G Quenton Nelson (ankle), OT Braden Smith (foot) and OT Sam Tevi (knee, IR) either sidelined or operating at less than 100%.
The extended absence of Tua Tagovailoa (ribs, IR) will lead to at least another two starts for Brissett. The highs of his Week 3 loss to the Raiders were a game-tying touchdown run at the end of regulation as well as a 4th-and-20 conversion to Mike Gesicki in overtime. The lows included his 62 dropbacks amounting to just 233 yards and zero scores through the air, as the ex-Patriots/Colts signal-caller averaged an atrocious 4.3 yards per attempt against Maxx Crosby and company.
Brissett's ability to escape pressure has always been underrated; the problem is his tendency to hold the ball also puts his offense in a bind if things aren't open downfield. The latter outcome was usually the case in Week 3; don't be shocked if this Dolphins offense continues to flirt with mediocrity rather than greatness while Tua remains sidelined.
There aren't many quarterbacks more fun to watch than Mayfield when everything is clicking. The man has an absolute howitzer for a right arm: Special things happen when the ball goes exactly where the former No. 1 overall pick wants it.
Baker Mayfield slinging dimes pic.twitter.com/Nl3Y0iIh4Z

— Ian Hartitz (@Ihartitz) September 27, 2021
The Vikings rank 31st in both explosive pass play rate and yards per attempt allowed this season; don't be surprised when Mayfield adds to his growing 2021 highlight reel.
Most likely to continue to provide exceptional streamer value: Minnesota Vikings QB Kirk Cousins
 I barked for months about Trey Lance and Justin Fields fantasy investors streaming Cousins during his cozy opening stretch of the season. Week 1 started off well enough, as Cousins racked up 351 yards and a pair of scores against the Bengals' underwhelming secondary. Note the performance probably should've included a trio of scores; I remain confused how the refs decided Justin Jefferson didn't find his way into the end zone early in the fourth quarter. Week 2 again went well, as Cousins racked up three first-half touchdowns before the passing game largely took its collective foot off the gas. Week 3 produced another three-score performance with a more than solid 323 yards against the Seahawks' over-matched secondary.
Cousins will remain firmly in the top tier of the streaming discussion for his next four games:
Week 4: Browns

Week 5: Lions

Week 6: Panthers

Week 7: Bye

Week 8: Cowboys
Since the beginning of 2020, only Aaron Rodgers has more games with at least three passing scores than Cousins. Madness.
The next few matchups could certainly present their fair share of problems for the Vikings up front; just realize the biggest issue typically facing Cousins is passing volume, and matchups against these high-powered offenses should force Minnesota to refrain from featuring its ever-dangerous rushing attack quite as much as usual.
Heinicke threw for over 300 yards in two of his three extended appearances under center in tough matchups against the Buccaneers and Giants. Last week's matchup against the Bills produced just 212 yards through the air, but credit to the journeyman quarterback for totaling three scores on the afternoon.
It's great to see Washington finally have some level of competence under center, and a closer look at Heinicke's performance reveals he's truly provided more good than bad during his short time under center:
PFF passing grade: 75.9 (No. 20 among 45 quarterbacks with 100-plus dropbacks since 2020, including playoffs)

Big-time throw rate: 6.8% (No. 7)

Turnover-worthy play rate: 2.3% (No. 6)

Yards per attempt: 7.5 (tied for No. 21)

Adjusted completion rate: 77.3% (tied for No. 18)

QB Rating: 92.5 (No. 25)
Seriously: Top-seven marks in both big-time throw rate *and* turnover-worthy play rate is fantastic stuff. Heinicke could always fall back to Earth in a larger sample, but more of the same should leave little doubt as to who deserves to be under center if/when Ryan Fitzpatrick (hip) is healthy enough to return.
Most likely to feel the heat with another rough performance: Atlanta Falcons QB Matt Ryan
Credit to Ryan for eating the W last week; the Giants probably would've reversed the outcome had they not dropped an easy end-zone interception right before a short touchdown to Lee Smith evened the score at 14. Ryan's early-season struggles aren't particularly surprising; he's been awfully meh throughout his career without Julio Jones. Makes sense; the man is arguably the single-best wide receiver to put on a pair of cleats over the past decade.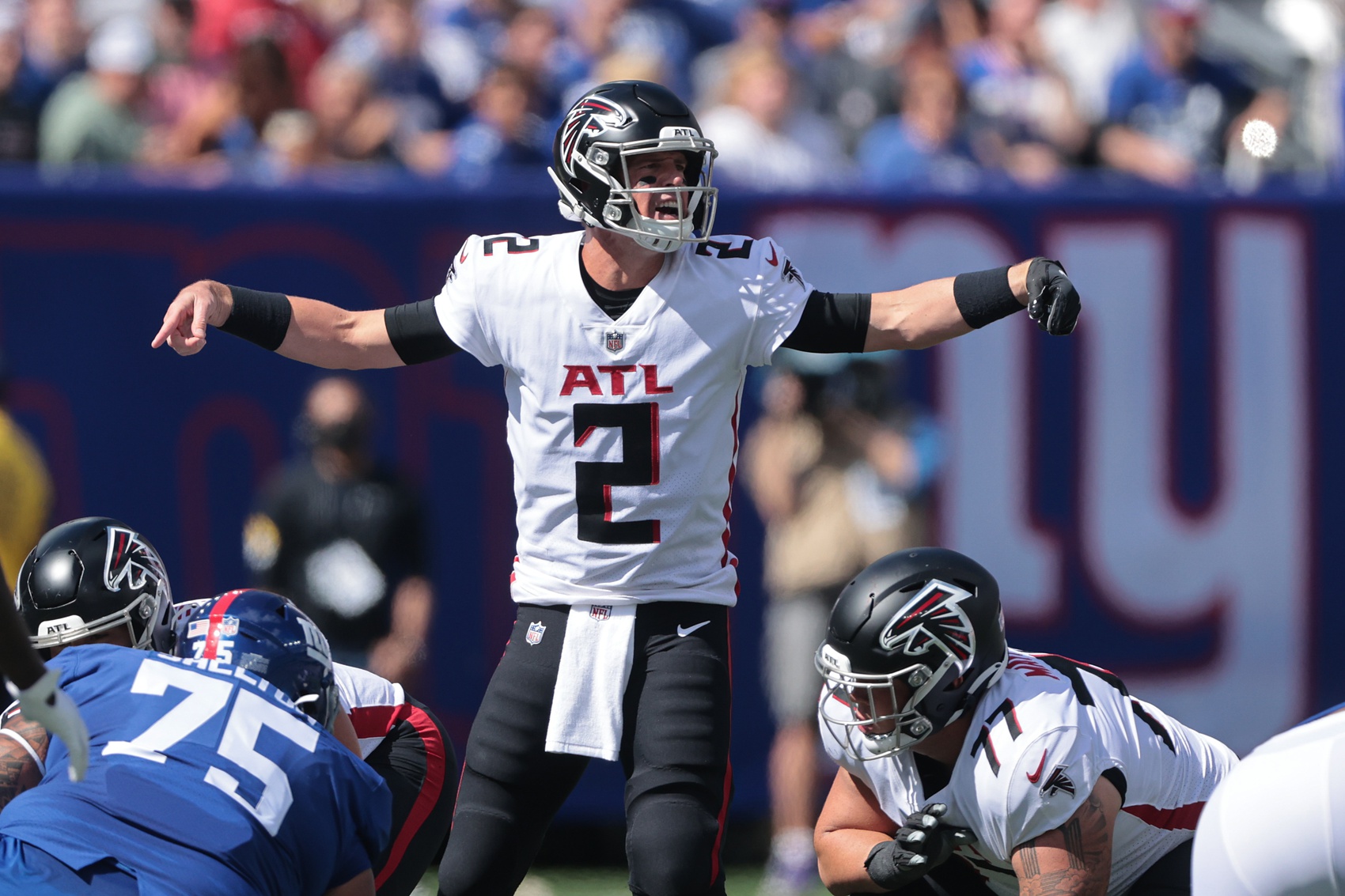 Still, 2021 has been particularly brutal for Ryan in terms of just about everything. He's currently set career-worst marks in PFF passing grade (59.3), big-time throw rate (0.8%) and yards per attempt (5.9).
This hasn't been all Ryan's fault: The Falcons have yielded the league's 10th-worst pressure rate. Unfortunately, it doesn't really matter whose fault the lack of production falls on in fantasy land; this Falcons offense should throw the ball enough to enable Calvin Ridley and Kyle Pitts to great heights, but it'd make sense if the best days of its 36-year-old signal-caller's career are in the rear-view mirror.
Most likely to be overwhelmed against a suddenly great defense: Houston Texans QB Davis Mills
Mills didn't have much of a chance to succeed in Week 3 against the Panthers' pressure-heavy defense; things aren't looking much better ahead of a Week 4 date against Tre'Davious White and company. Pick a stat, any stat: Buffalo has been one of the league's best secondaries through three weeks of action.
Yards per attempt allowed: 5.82 (No. 3 best mark in the NFL)

Explosive pass-play rate allowed: 9.2% (No. 4)

Passing TD rate allowed: 3% (No. 7)

Pressure rate: 43.7% (No. 4)

QB rating allowed: 75.7 (No. 4)

Contested target rate: 24.5% (No. 1)
Presently implied to score just 17 points, it's safe to say Houston has a problem this week (sorry).
Allen's first two games of the season looked more like his 2018-2019 self than the world-beater we witnessed in 2020. Five total scores later, and it's safe to say last season's MVP runner-up is back.
There simply isn't much a defense can do when everything is clicking for Allen; his combination of mobility and arm strength makes essentially anything possible on a per-down basis.
Good to see Josh Allen looking like his 2020 self again pic.twitter.com/gGYMWwCxbT

— Ian Hartitz (@Ihartitz) September 27, 2021
The Bills get the Texans, Chiefs, Dolphins, Jaguars and Jets in their next five games; it'd behoove the organization to make sure their scoreboard operator has all the coffee they need.
Most likely to keep playing better than anyone realizes: New York Giants QB Daniel Jones 
I don't blame anyone for failing to watch a good amount of Giants football this season; just realize Jones has hardly been the problem behind their 0-3 start. Overall, only Tom Brady (91.3), Kirk Cousins (89.4) and Ryan Tannehill (87.5) have graded out higher as a pure passer than Jones (87.1). Throw in the fact that only Lamar Jackson (251) has more rushing yards than Jones (161) pre-Monday Night Football, and one could argue the Giants' third-year quarterback is starting to look like a (very) poor man's version of Josh Allen.
The Giants boast PFF's single-worst team pass-blocking grade, and Jason Garrett never makes life easy for anyone; don't be so quick to simply pin this organization's struggles on their young quarterback, who continues to largely make the most out of what he's got. Things won't be easy if both Darius Slayton (hamstring) and Sterling Shepard (hamstring) remain sidelined, but a lack of high performing teammates hasn't slowed down Jones thus far.
Most likely to either be great or terrible but definitely not average: New Orleans Saints QB Jameis Winston
The Jameis experience has been in full swing through three weeks. In Week 1, his five-score masterpiece produced 2021's eighth-best single-game PFF passing grade. Unfortunately, Weeks 2 and 3 produced 2021's 86th- and 96th-highest graded passing game among 96 instances of a signal-caller having at least 10 dropbacks.
Even the good is sometimes enough to drive a head coach mad, just take a look at last Sunday's classic "No, NO, Yes!" score to Marquez Callaway.
The Jameis Winston experience in one play pic.twitter.com/0N43W8DWdO

— Ian Hartitz (@Ihartitz) September 27, 2021
The highs are high, and the lows are low: Gotta love Jameis. The problem in fantasy land is that Sean Payton's lack of a leash on his starting quarterback has resulted in a far more conservative offense than most are used to seeing Winston operate in. Overall, Winston averaged a league-high 319.3 passing yards on the back of 39 pass attempts per game in 2019 — he's gone for just 129 yards on an average of 21 pass attempts per game in 2021. Don't be surprised if a matchup vs. James Bradberry and Adoree' Jackson leads to more of the same from Payton in terms of not asking his erratic quarterback to be more than a game-manager.
The Chiefs failed to take down the Ravens in Week 2 due to a late-game fumble courtesy of Clyde Edwards-Helaire, while Mahomes suffered his second ever/straight September loss in his two-interception dud (for him) against the Chargers in Week 3.
Don't mistake this dropoff on the win sheet as a sign that the 2021 version of Mahomes is any less spectacular than usual. While the absolutely breathtaking throws haven't been quite as frequent with the exception of a Week 1 bomb to Tyreek Hill, Mahomes is presently posting a career-best 80.8% adjusted completion rate while simultaneously maintaining a higher average of yards per attempt (8.1) on a higher average target depth (9.4 yards) than he did in 2019 and 2020.
Last season's disappointing Super Bowl loss to the Buccaneers remains the only time Mahomes has lost by more than one score since 2016; look for the game's best quarterback to get back to the proper side of the win column more times than not during an upcoming stretch featuring matchups against the Eagles, Bills, Football Team, Titans and Giants. 
The second-year quarterback has six professional starts to his name (pre-MNF).
Week 14, 2020: 167 pass yards-1 TD-0 INT, 18 carries-106 rush yards-0 TD, fantasy QB11

Week 15, 2020: 338-3-0 passing, 11-63-1 rushing, fantasy QB1

Week 16, 2020: 342-1-2 passing, 9-69-0 rushing, fantasy QB12

Week 17, 2020: 72-0-1 passing, 8-34-2 rushing, fantasy QB20 (in three quarters)

Week 1, 2021: 264-3-0 passing, 7-62-0 rushing, fantasy QB5

Week 2, 2021: 190-0-0 passing, 10-82-1 rushing, fantasy QB10
Dual-threat players are a cheat code in fantasy land; it's simply tough for one-dimensional talents to equal the sort of production rushing quarterbacks and receiving running backs are able to maintain. Continue to fire up Hurts as a top-five fantasy signal-caller even in less than ideal matchups thanks to this rather absurd rushing floor.
Early-season matchups against the Jets, Saints (missing five defensive starters) and Texans haven't exactly put Darnold and the Panthers offense in the toughest of positions. Still, there's little doubt the man under center in Carolina doesn't come close to resembling the guy we saw lead the Jets from 2018 to 2020.
2021: 80.1 PFF passing grade, 8.1 yards per attempt, 77.6% adjusted completion rate

2020: 52.7 PFF passing grade, 5.8 yards per attempt, 69.7% adjusted completion rate

2019: 64.3 PFF passing grade, 6.9 yards per attempt, 73.5% adjusted completion rate

2018: 62.9 PFF passing grade, 6.9 yards per attempt, 69% adjusted completion rate
And guess what: Darnold and company aren't exactly set up to fail anytime soon. Upcoming spots against the Cowboys, Eagles, Vikings, Giants and Falcons add more credence to the idea that this passing game could continue to produce more good than bad.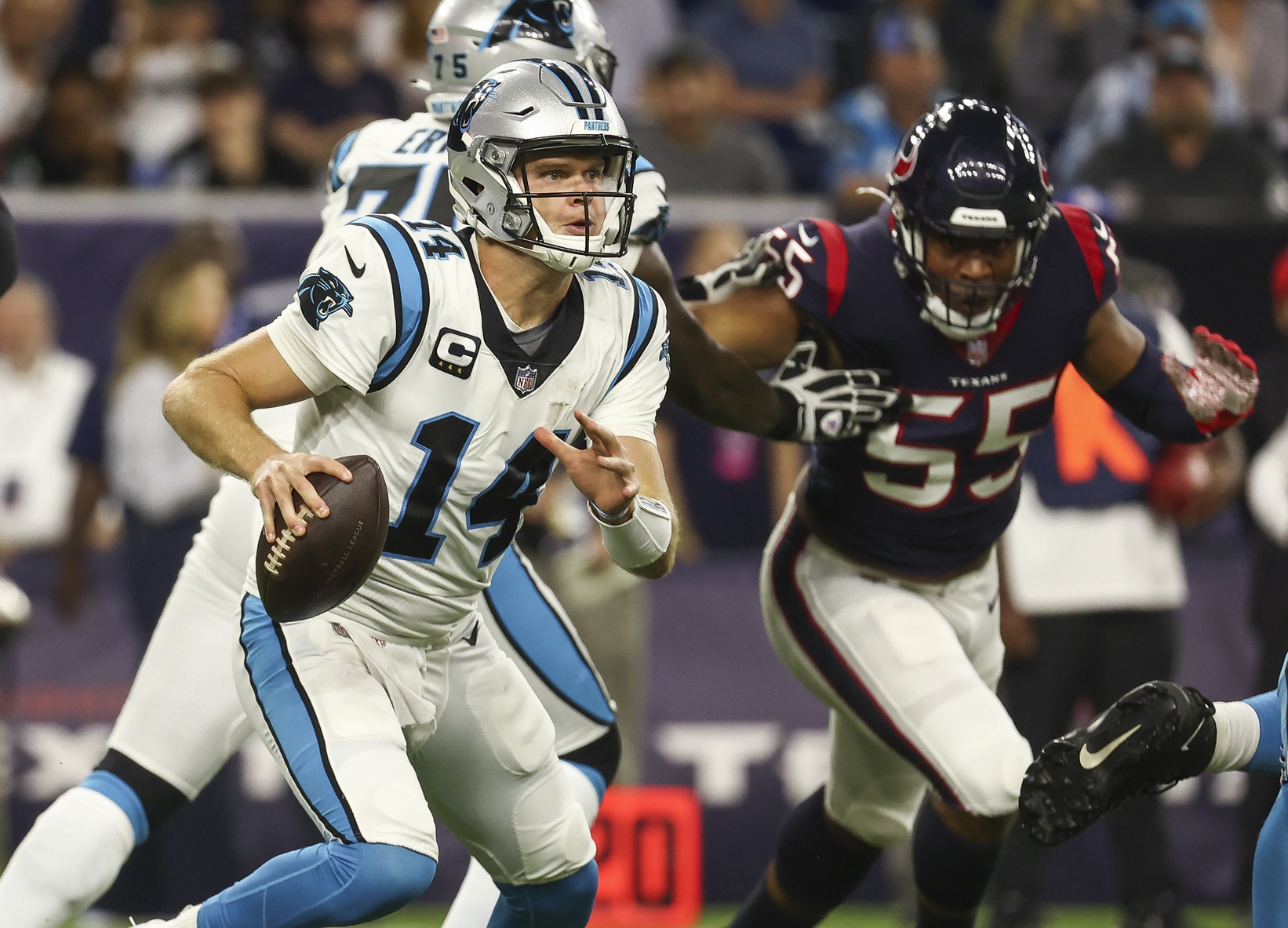 Don't crown Darnold as one of the league's better quarterbacks yet, but hats off to the much-maligned signal-caller for playing the best football of his professional career through three weeks of 2021.
Prescott has reached the 400-yard mark on four separate occasions since Week 1 of last season. Josh Allen (x2), Patrick Mahomes (x2) and Kyler Murray (x2) are the only other signal-callers to reach that threshold more than once. Madness, particularly after considering Prescott has achieved this in just eight games.
The Cowboys clearly want to keep Ezekiel Elliott and Tony Pollard plenty involved in the offense; just realize the floor is the roof for Prescott's passing totals in situations when the Cowboys' opponent is able to establish an early lead.
Most likely to feature his top two receivers more than anyone else: Seattle Seahawks QB Russell Wilson
Being able to launch moon balls to two stud receivers like D.K. Metcalf and Tyler Lockett must be nice. Russ certainly seems to think so; there truly isn't another pair of pass-catchers featured more often across the NFL:
Target share: Metcalf: 32% (No. 5 in the NFL); Lockett: 25% (No. 25)

Air yard share: Metcalf: 43% (No. 8); Lockett: 39% (No. 14)
Overall, Metcalf and Lockett boast the highest combined sum of target share (57%) and air yard share (82%) among any team's top two pass-game options.
Wilson hasn't been completely lights out this season, but it's tough to see his troubles becoming too glaring so long as his top two receivers stay healthy. Don't be surprised if a true blowup for everyone involved occurs this Sunday against the 49ers' shoddy secondary.
There's a case to be made that Jimmy G has been the NFL's worst quarterback through three weeks based on his combination of 1.) lack of ability to take care of the ball and 2.) non-existent big-play ability. The graph below is an attempt to quantify this: The x-axis represents big-time throw rate, and the y-axis shows turnover-worthy play rate. The league's best quarterbacks should be down and to the right, while the worst are up and to the left.
2021 big-time throw rate vs. turnover-worthy play rate (PFF)

Further to the right represents a higher big-time throw rate (good!), higher up shows quarterbacks with biggest turnover-worthy play rates (bad!).

Best case: bottom right
Worst case: top left pic.twitter.com/o5ayMkf3K9

— Ian Hartitz (@Ihartitz) September 27, 2021
Sheesh. Obviously, the 49ers are capable of winning football games with Garoppolo under center; the question is what their offensive ceiling might look like should they turn the offense over to their No. 3 overall pick known for his dual-threat ability. Hopefully, the world finds out sooner rather than later.
Murray has been on God mode for the better part of the last two seasons when healthy. He's largely turned in nothing except highly productive performances in his 11 fully healthy starts during this span:
Week 1, 2020: overall fantasy QB5

Week 2, 2020: QB5

Week 3, 2020: QB6

Week 4, 2020: QB7

Week 5, 2020: QB5

Week 6, 2020: QB4

Week 7, 2020: QB2

Week 9, 2020: QB1

Week 10, 2020: QB2

Week 1, 2021: QB1

Week 2, 2021: QB1

Week 3, 2021: QB12 (pre-MNF)
At this point, it's impossible to rank Murray as anything other than *THE* QB1 in fantasy land; he's got passing production on par with Patrick Mahomes while also being one of the only threats to Lamar Jackson's stranglehold on the position's rushing crown. A date with Aaron Donald and company isn't ideal for any quarterback to deal with, but at this point the inverse is true for any defense attempting to contain Murray.
Most likely to build upon his growing MVP bid with another win: Los Angeles Rams QB Matthew Stafford
This ex-Lions quarterback has been excellent through three weeks of action:
PFF passing grade: 84.8 (No. 6 among 35 qualified quarterbacks)

Big-time throw rate: 4.3% (No. 15)

Turnover-worthy play rate: 1% (No. 7)

Yards per attempt: 10 (No. 2)

Adjusted completion rate: 80% (No. 7)
There's always a chance Chandler Jones and the Cardinals' front seven make life rough for Stafford, but it's tough to bet against this offense as long as Stafford's bazooka for a right arm continues to mesh perfectly with Sean McVay's ever-perfect scheme. The Rams have a case as the NFL's single-best team at this point, and their franchise quarterback should only see his name continue to rise up the MVP charts.
It's been a rough start to the season for Big Ben, to say the least:
PFF passing grade: 59.7 (No. 29 among 35 qualified quarterbacks)

Yards per attempt: 6.2 (No. 26)

Adjusted completion rate: 75.4% (No. 24)
Roethlisberger's 7.5 yard average target depth is far below last year's previous career-low mark (8.1).
There were times in Week 3 when it looked like Roethlisberger was incapable of hitting a receiver even a few yards downfield. Chunk touchdowns to both Chase Claypool and James Washington were sailed, but that wasn't even the worst part.
Facing a 4th-and-10, down 14 points with just over three minutes remaining, Roethlisberger didn't even bother to look downfield before dumping the ball off to Najee Harris, who had no fewer than four defenders between him and the first-down marker after catching the pass five yards behind the line of scrimmage.
Look
If you had
One shot
Or one opportunity
To seize everything you ever wanted
In one moment
Would you capture it
Or just let it slip? pic.twitter.com/gYaSXBEChm

— Ian Hartitz (@Ihartitz) September 27, 2021
The 39-year-old veteran has never looked older with a pair of shoulder pads on. It's not a stretch at this point to wonder how Mason Rudolph or Dwayne Haskins might shake out; this passing game can't get any worse.
Most likely to continue to distance himself from an awful Week 1: Green Bay Packers QB Aaron Rodgers
A-aron has tossed six touchdowns against zero interceptions following the Packers' season-opening 38-3 beatdown loss to the Saints. Rodgers' performance down the stretch in Week 3 was truly special; the idea that "no lead is safe" has been more true for Packers' opponents than anybody else over the past decade.
The Steelers hardly represent a cake walk for Rodgers and company, but primetime Rodgers has been a real phenomenon in recent history. The Packers' hopeful quarterback of the future has been nothing short of excellent in his last eight nighttime performances since Week 1 of last season:
283 pass yards-3 TD-0 INT

327-4-0

305-4-0

211-4-0

143-1-0

231-4-1

255-4-0

261-2-0
Most likely to fill up the highlight reel as a rusher *and* passer: Baltimore Ravens QB Lamar Jackson 
Please don't mistake Jackson's lack of counting numbers in Week 3 as any sort of evidence that he was anything other than excellent.
Sheeshpic.twitter.com/8XfJ2t3JSu

— Ian Hartitz (@Ihartitz) September 27, 2021
The fact that Jackson is the NFL's leader in big-time throw rate (9.2%) while trailing only Derrick Henry, Joe Mixon and Nick Chubb in rushing yards is bonkers. Haters gonna hate, but all Jackson continues to do is function as one of the NFL's single-most exciting and best players at the position.
Credit to Bridgewater for leading the Broncos to a trio of wins to start the season. This achievement isn't all that unexpected; Denver was favored against the Giants, Jaguars and Jets alike. Still, the manner in which Bridgewater has gone about picking up his yards has been great to see.
Once (deservingly) mocked as "Teddy check-down," the Broncos' QB1 has emerged as one of the league's most-voluminous deep-ball passers. The following list displays the top five quarterbacks in highest average target depth through three weeks of 2021 (pre-MNF):
Bridgewater ranks eighth in adjusted completion rate and PFF passing grade: He hasn't forfeited his usual high-end accuracy while becoming more of a downfield passer. Here's to hoping this sort of entertaining play continues against a potentially overrated Jets secondary that hasn't faced a downfield-minded signal-caller yet this season.
Most likely to break the NFL's all-time record for passing yards: Tampa Bay Buccaneers QB Tom Brady
TB12 took his first L in a minute last week, but his 432-yard performance leaves him just 68 yards shy of passing Drew Brees as the all-time leading passer in NFL history. Naturally, this is set to come to fruition in a primetime game featuring Brady's first return home to Foxborough. And some people really think we aren't living in a simulation.
Jones has been the best rookie quarterback this season almost by default. The crop as a whole has been nothing short of brutal:
Ja'Marr Chase deserves to be the frontrunner for rookie of the year honors at this point; don't expect Jones to change that narrative in a rough primetime spot against the Buccaneers' ferocious front seven.
Carr has been nothing short of phenomenal this season, dicing up the Ravens, Steelers and most recently the Dolphins in style on his way to leading the Raiders to a 3-0 start. It's not exactly a new phenomenon: Carr has racked up 381, 316, 336, 371, 435, 382 and 386 yards through the air in his last seven fully healthy starts.
The Raiders' longtime franchise quarterback was largely great throughout 2020 as well; the main difference between this season and years past has been the performance of the defense.
2014: 32nd ranked scoring defense

2015: 22nd

2016: 20th

2017: 20th

2018: 32nd

2019: 24th

2020: 30th

2021: 14th
Don't get it twisted: Carr is the engine of this team; it just helps any quarterback to have a non-atrocious defense. This has largely been the difference in the veteran's career between his team being bad and competitive.
Most likely to throw for 300 yards and/or account for three total scores: Los Angeles Chargers QB Justin Herbert
Specific dominance calls for a specific stat: Herbert has surpassed 300 yards and/or accounted for a trio of scores in 15 of his 18 career starts.
Through two weeks, Herbert has improved upon his 2020 numbers in yards per attempt (7.9 vs. 7.1) and adjusted completion rate (79.1% vs. 73.8%) alike. He's accomplished this while pushing the ball downfield with a greater sense of urgency than before, as his percentage of passing yards to come from YAC has fallen from 49.7% to 45.5%.
Herbert's coming out party was his rather brilliant short-notice debut against the Chiefs in Week 2 of last season, and he followed that up in Week 3 of 2021 with an outright win over Patrick Mahomes and company. The future looks bright for Herbert; get your popcorn ready ahead of next Monday night's matchup between two quarterbacks who are each playing better than just about anybody these days.