• J.K. Dobbins scores twice: Dobbins was somewhat eased into action in his first game of the season last week, but the offense leaned on him more this week. He scored the first receiving touchdown of his career.
• Austin Ekeler's bounce back: Ekeler led the league in touchdowns last season, with 20, but was held without a touchdown the first three weeks. He scored his first, second and third touchdowns of the year against the Texans.
• T.J. Hockenson's career game: The Lions didn't have their top running back or top two receivers, which allowed Hockenson to be Goff's favorite target, leading to 179 yards and two touchdowns.
---
PFF's fantasy football recap focuses on player usage and stats, breaking down all the vital information you need to achieve fantasy success in 2022.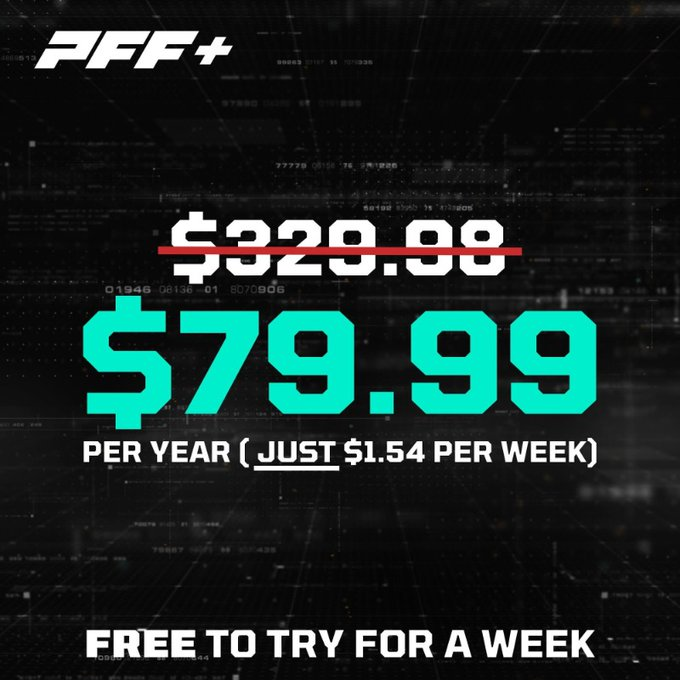 Click to jump to a fantasy football game recap:
[email protected] | [email protected] | [email protected] | [email protected] | [email protected]
[email protected] | [email protected] | [email protected] | [email protected] | [email protected] | [email protected]
[email protected] | [email protected] |
---
Justin Jefferson: 10 receptions, 147 yards, 1 carry, 3 rushing yards, 1 rushing touchdown
Chris Olave: 4 receptions, 67 yards, 1 touchdown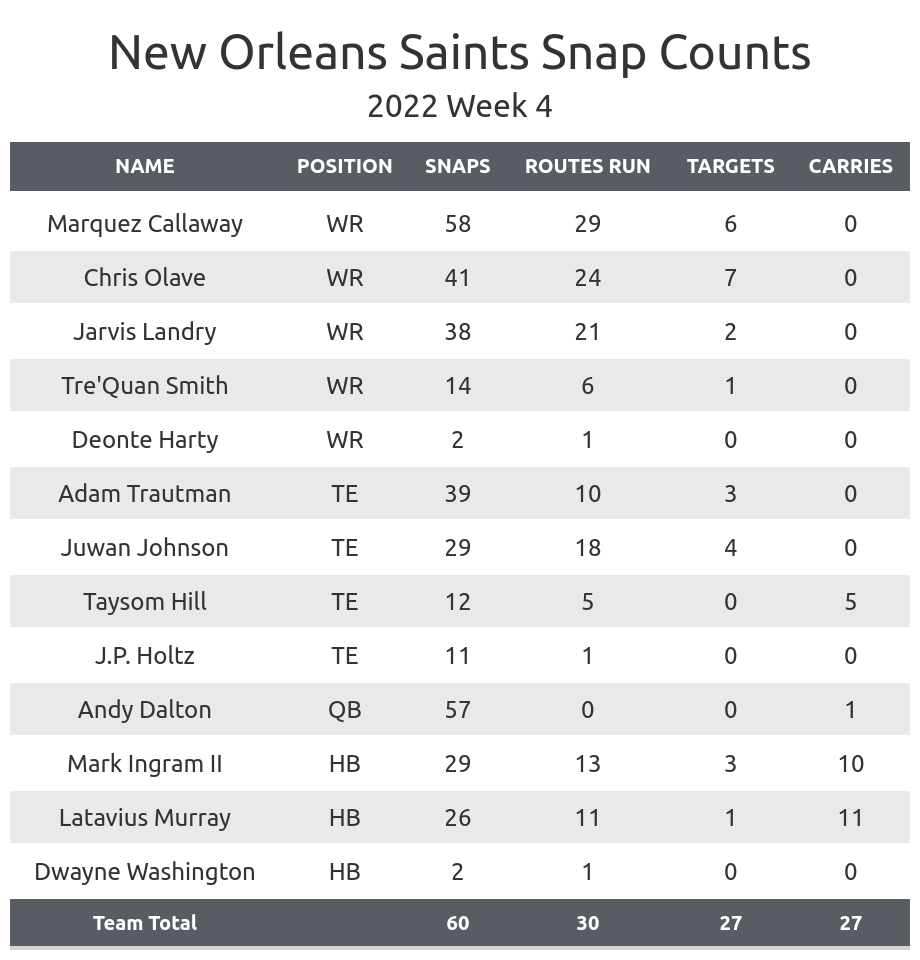 The Saints without Alvin Kamara: Kamara missed this game with the ribs injury that has left him either limited or out of practice for each of the past three weeks.
Mark Ingram II

took over as the lead back, as he's done previously this season.

Tony Jones Jr.

was the Saints' receiving back the last time Kamra missed a game, but he was a healthy inactive.

Latavius Murray

was the backup running back, giving New Orleans the oldest and second-oldest running backs to take an offensive snap this season.

The two backs were used interchangeably throughout the game.

Ingram suffered an injury early in the second half, which gave Murray even more snaps than usual.

Ingram was able to return to the game, but Murray took the majority of the carries in the second half.

Ingram won the snap battle in the first half, 15 to 5, while Murray won the second half, 21 to 14.

This remains a backfield to largely avoid whenever Kamara is out due to the split and limited upside.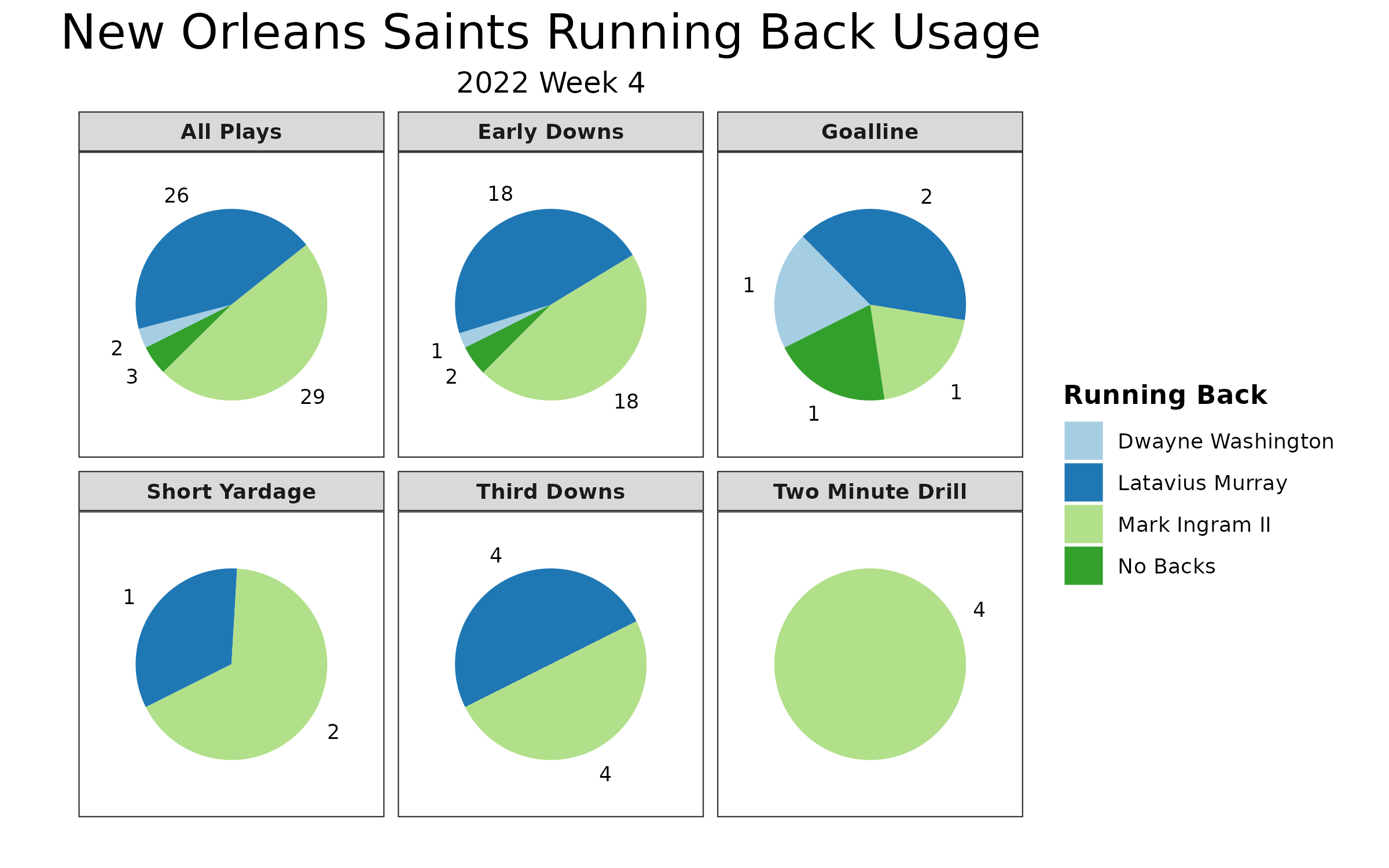 The Saints without Michael Thomas: The Saints didn't have Thomas due to a foot injury he suffered last week.
Marquez Callaway

was the biggest beneficiary in terms of playing time. He was fourth on the depth chart to start the season on pass plays but was one of the Saints' primary run-blocking wide receivers.

Jarvis Landry

,

Tre'Quan Smith

and

Deonte Harty

were all limited in practice at various points throughout the week, so none of them were in the best position to see an increased workload.

The Saints counteracted this in part with more multiple tight end sets, including a personnel grouping with all four tight ends on the field.

The passing game was also limited with

Andy Dalton

at quarterback instead of

Jameis Winston

.

There is not a waiver wire addition in the group even if Thomas misses more time.

Chris Olave

remains a must-start, while

Jarvis Landry

would have likely had a better game if healthy.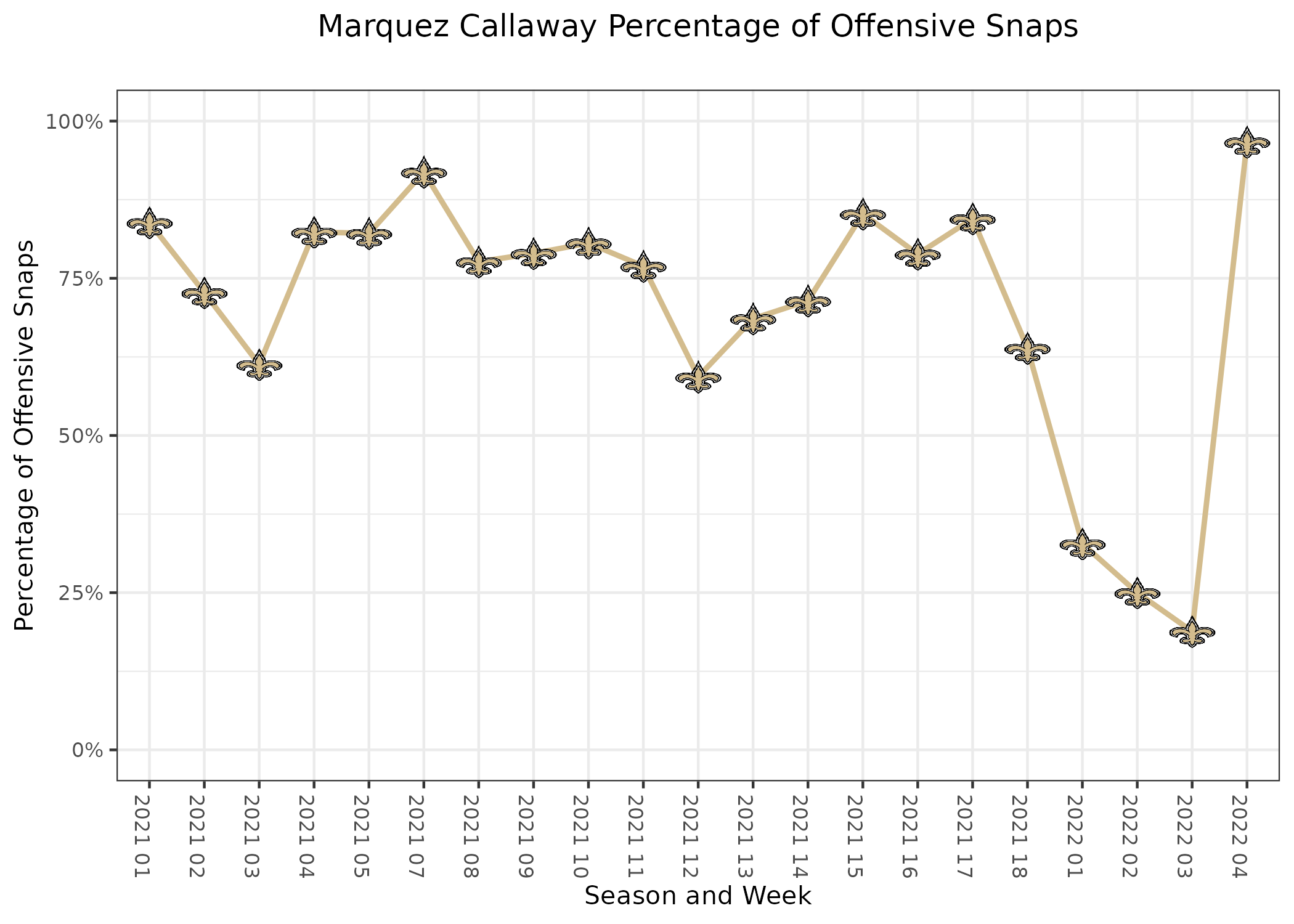 Irv Smith Jr.'s lower ceiling: Smith has only played in passing situations. He was still recovering from injury to start the season, but his role has remained unchanged.
The Vikings continue to use

Johnny Mundt

as their early-down tight end. 

Ben Ellefson

has also been used extensively as the third tight end, particularly in 21 and 22 personnel.

Smith still has touchdown potential in the Vikings' offense and is used at times on the outside, which also helps, but his volume will always be limited in this role.

He could still be a fantasy starter in the right matchup, but he won't be a consistent fantasy starter as long as he's in this role.
Monitor Dalvin Cook's health: Cook didn't practice earlier in the week with a shoulder injury. The Vikings limited his playing time accordingly.
He was typically taken out on third downs, but he also left the field for a few short stretches of plays.

Minnesota made sure to have Cook on the field most of the time when running the ball, so his touches weren't as limited as his snaps suggested.

It's worth keeping an eye on the injury report this week to see if Cook is on it and if he's limited in practice at all.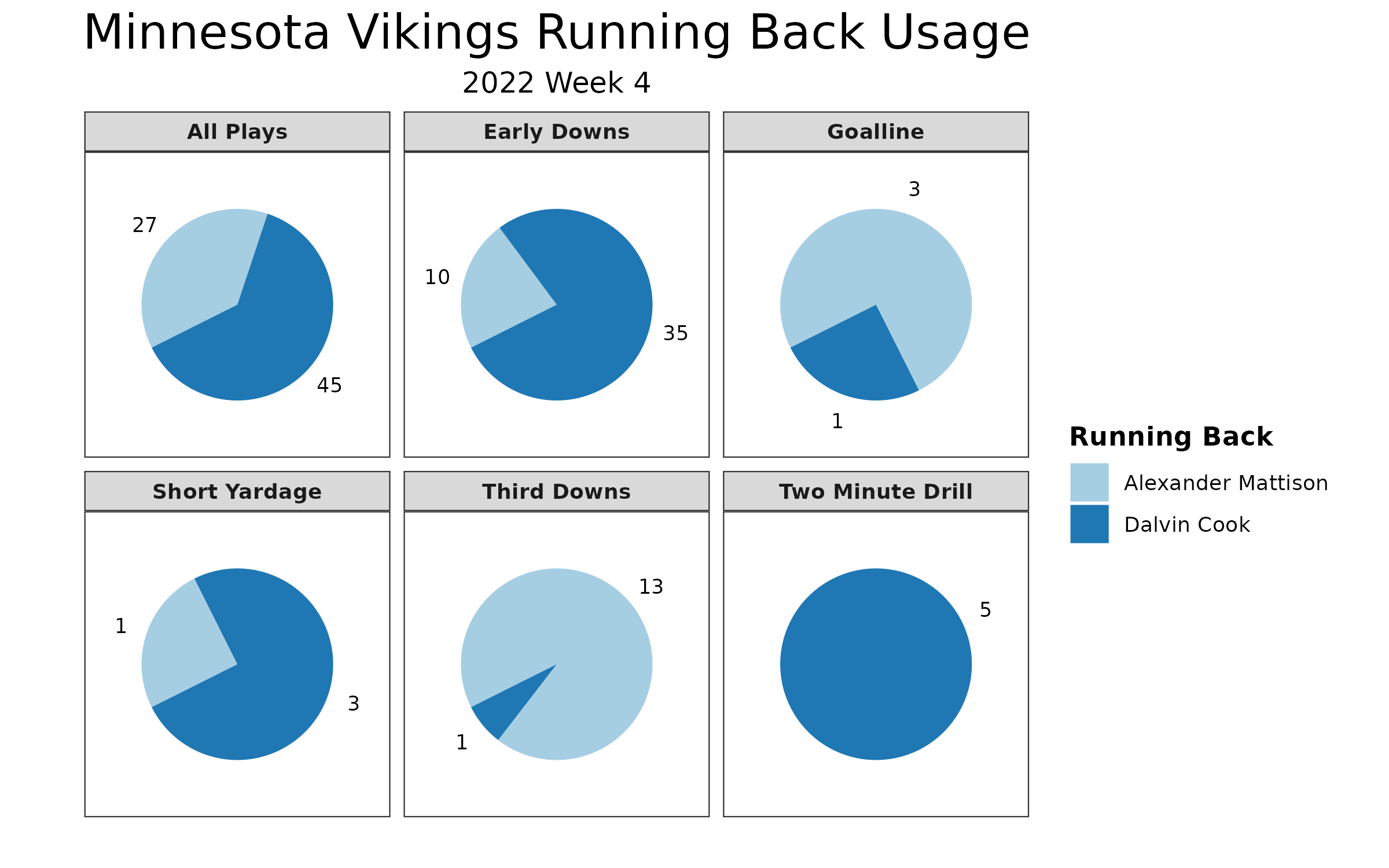 ---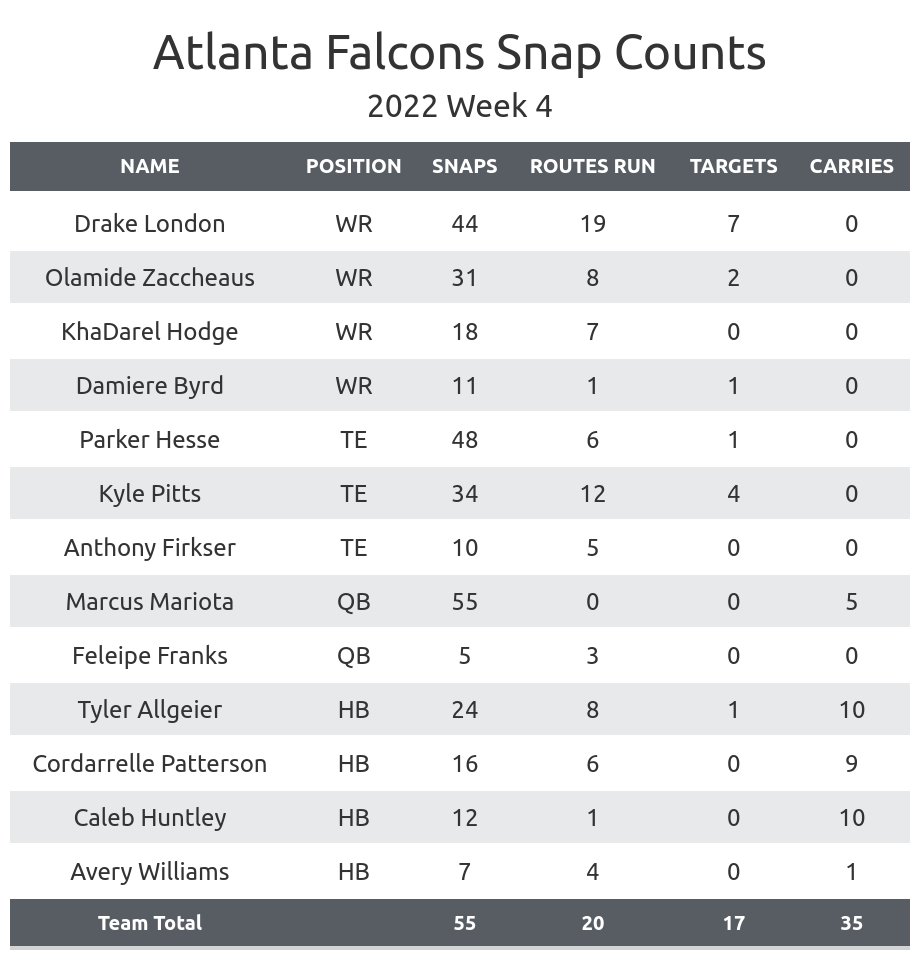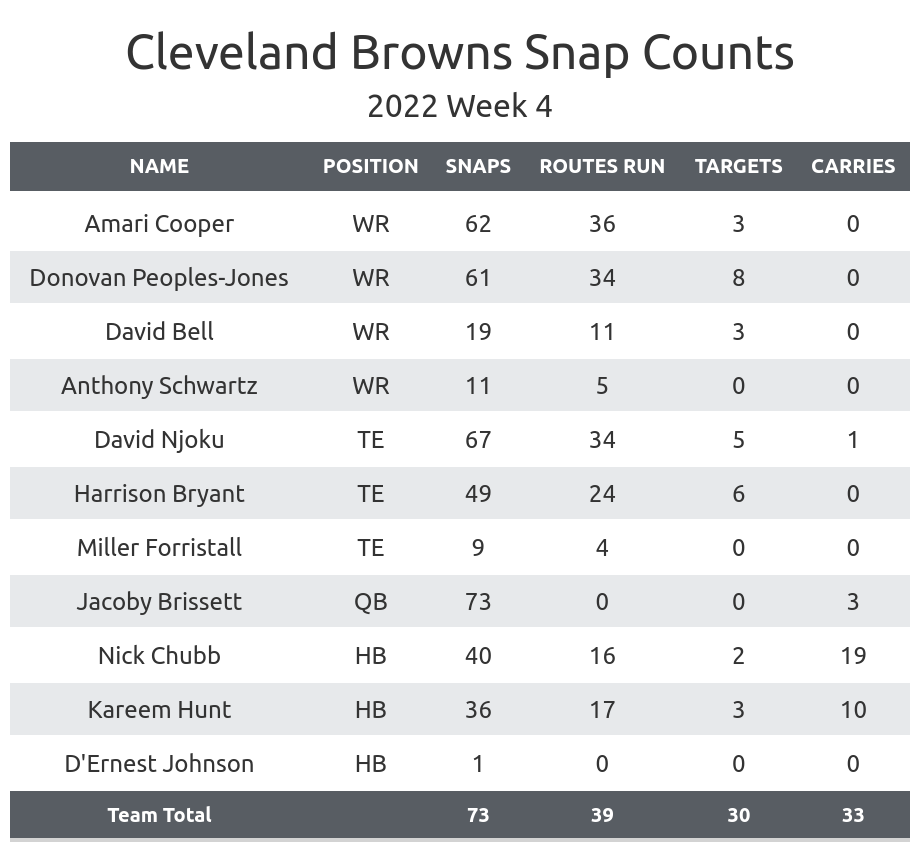 Monitor the health of Cordarrelle Patterson: Patterson was questionable coming into the game with a knee injury and was clearly limited in how he was used.
Patterson played 10 of 16 snaps in the first quarter and six of 39 over the rest of the game.

Luckily, he scored a touchdown on his nine carries to save fantasy managers who started him.

It is probably worth leaving him on your bench until we know he's closer to 100%.

Tyler Allgeier

had seemed like the clear other back to have on fantasy rosters, but

Caleb Huntley

took over as the early-down and goal-line back, leading to Huntley scoring a five-yard touchdown in the fourth quarter.

Atlanta ran the ball 35 times, which is something the team likely won't be able to do every game, so there will be fewer carries to go around.

Damien Williams

will miss at least one more game, but he could be back soon to take over the early-down work.

The Falcons have arguably the most chaotic backfield this season in terms of player usage, and that doesn't seem to be stopping anytime soon.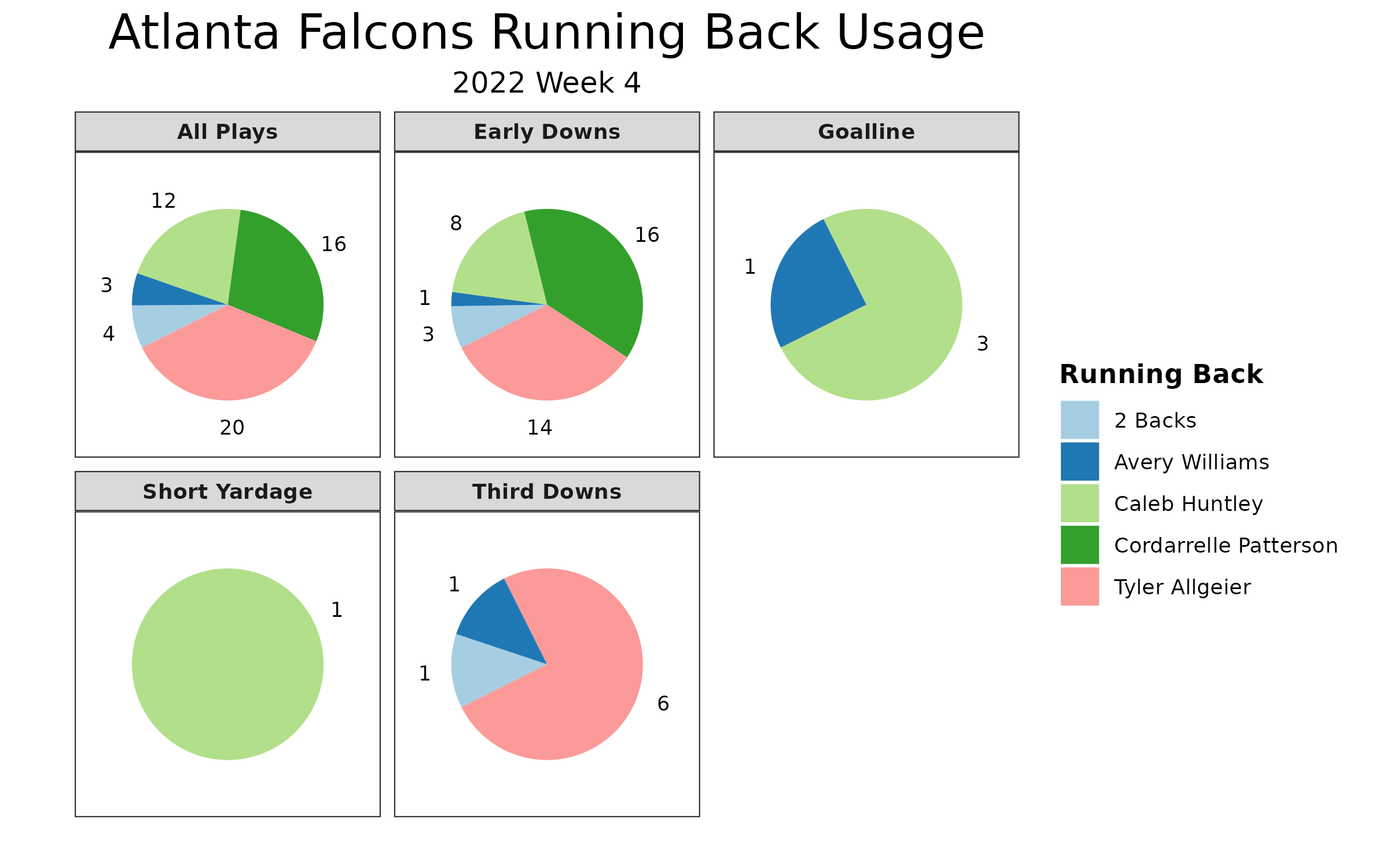 More bad news for Kyle Pitts: Pitts' playing time continues to trend in the wrong direction. He was able to overcome it last week, but it cost him several pass routes in Week 4.
Pitts was often on the field in two- or three-tight end sets but played just one of 10 snaps in 21 personnel and two of eight snaps in 11 personnel.

He was asked to stay in and pass block on only one play, meaning there were seven of 20 pass plays where Pitts wasn't on the field.

His threat rate was a high 33.3% on the bright side, but only two of his four targets were catchable.

Having a high target share on low snaps is not sustainable for a consistent fantasy starter at tight end.

He's caught 25 or fewer passing yards in three of his four games and has yet to score a touchdown.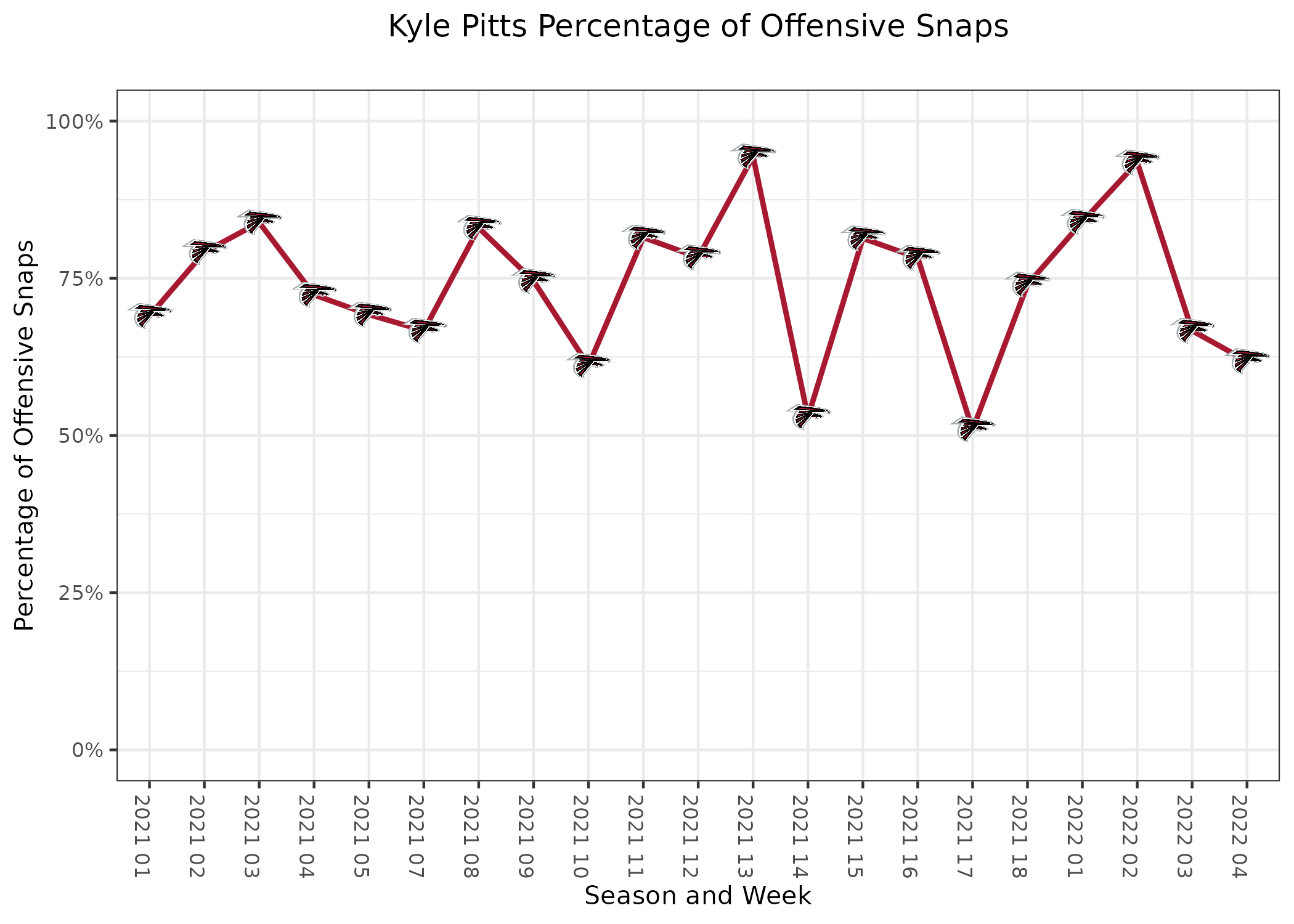 Start David Njoku: Njoku put up another solid performance, catching five passes for 73 yards.
Njoku has rarely left the field all season and is very often running routes whenever Cleveland runs a pass play.

His 1.78 yards per route run on the season ranks among the top half of tight ends with over 100 routes run this season.

This makes him one of the few tight ends in the league with both volume and above-average efficiency.

Every other tight end with over 100 routes and over 1.3 yards per route run is consistently in fantasy starting lineups this season.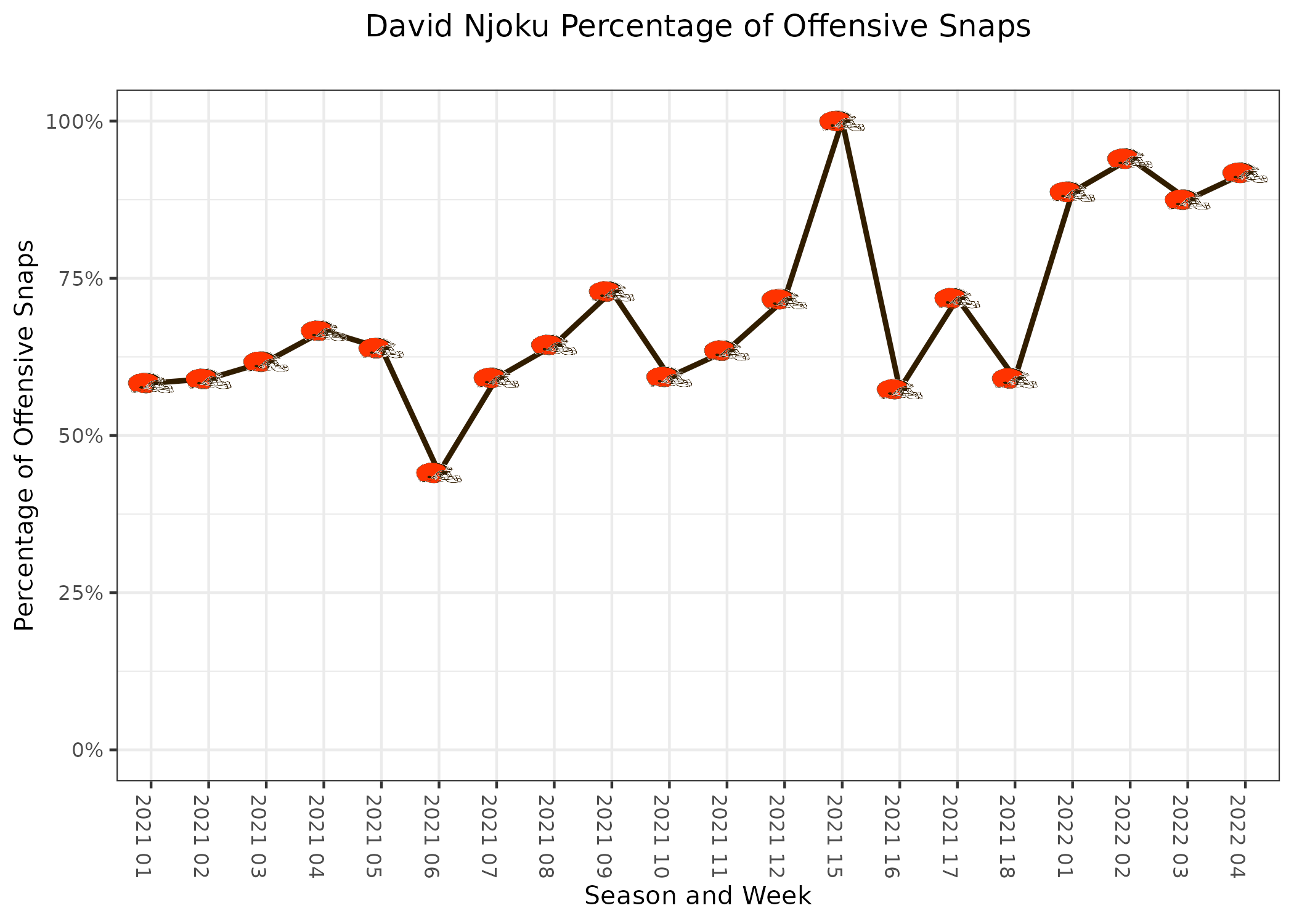 ---
J.K. Dobbins: 13 carries, 41 yards, 1 touchdown, 4 receptions, 22 receiving yards, 1 receiving touchdown
Isaiah McKenzie: 4 receptions, 21 yards, 1 touchdown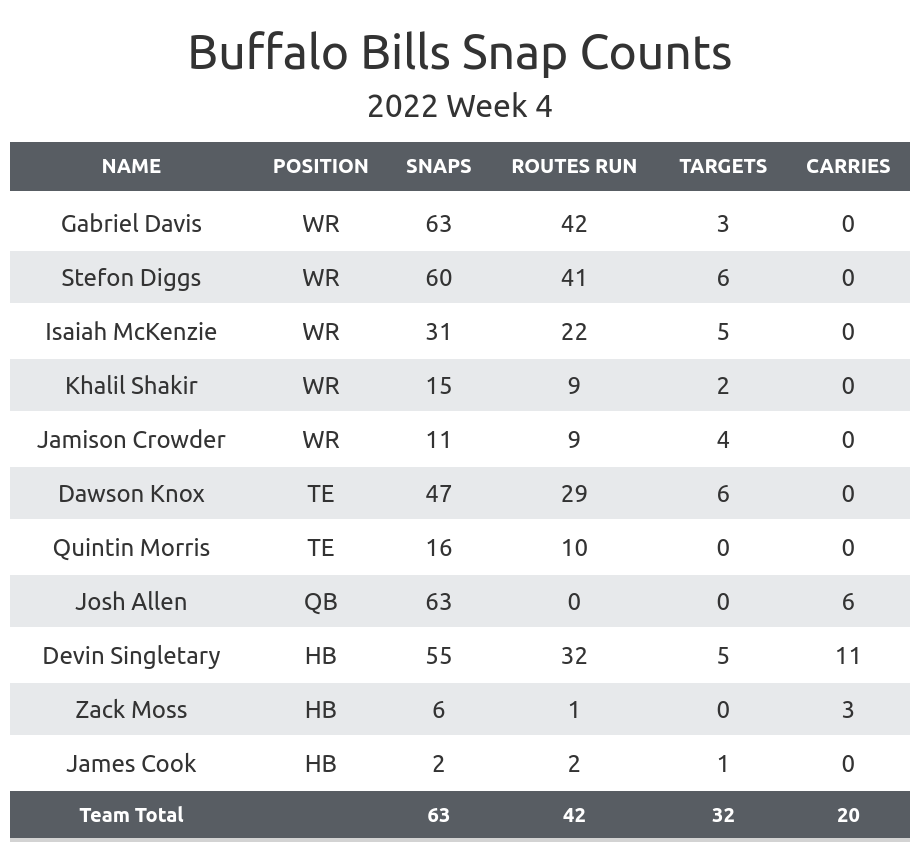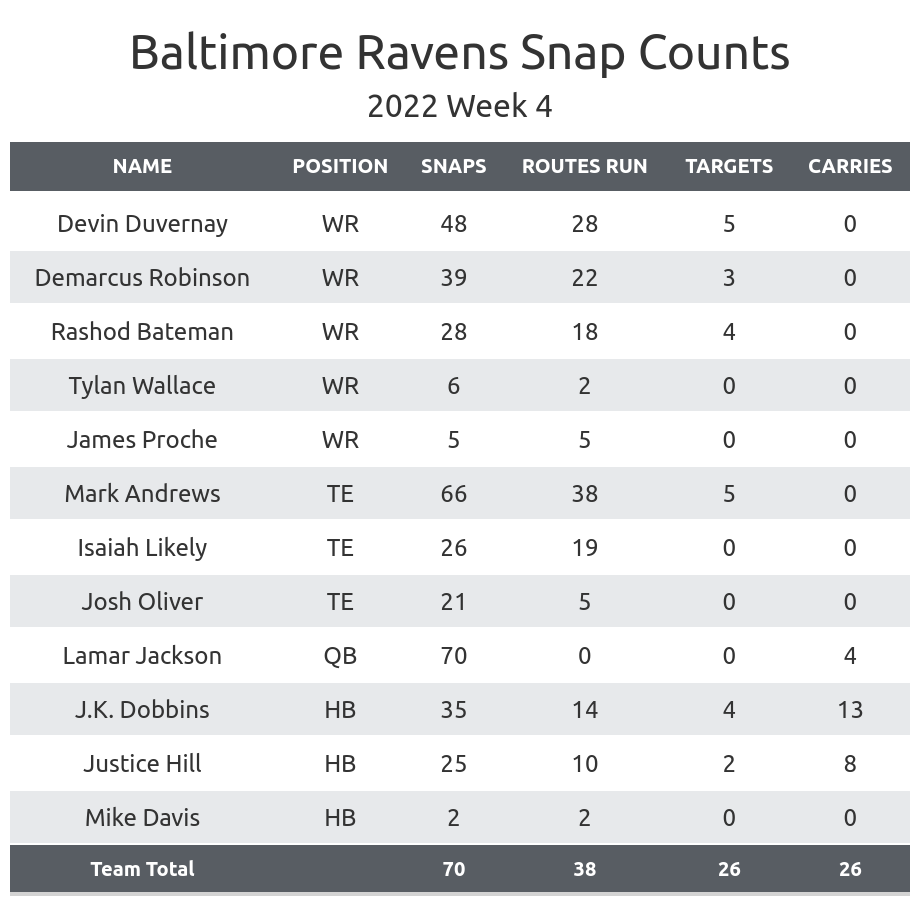 Monitor the health of the Bills' wide receivers: Jamison Crowder was carted to the locker room with an ankle injury, while Isaiah McKenzie left the game with a concussion. Neither returned to the game.
The Bills were already down one wide receiver in

Jake Kumerow

heading into the game. This allowed rookie

Khalil Shakir

to be active.

Buffalo used solely 11 personnel in the first half.

Crowder out-snapped McKenzie, 11 to 9, prior to Crowder's injury.

McKenzie played significantly in the two-minute drill in the second quarter, as well as in the third quarter. 

Shakir didn't start seeing playing time on offense until both wide receivers were injured. He took over as the slot receiver in three-receiver sets.

When everyone is healthy, this is a situation to avoid due to the split in snaps. If one or both of the top slot receivers misses time, whoever is left at the top of the depth chart is worth having on your fantasy roster due to their volume and the offense.
J.K. Dobbins trending up: Dobbins scored the two touchdowns for Baltimore, but there was even more reason to be excited about his usage.
The biggest concern for Dobbins after Week 3 was Justice Hill seeing most of the short-yardage and goal-line work.

This week, Dobbins received the majority of the goal-line work, and the short-yardage work was split.

Dobbins also received a snap on third down unlike last week. We've yet to see the Ravens run a two-minute drill since his return.

This all adds up to Dobbins being a relatively safe start at least until

Gus Edwards

is healthy.

Kenyan Drake

was inactive for a second straight week and can be released in any league he's still in.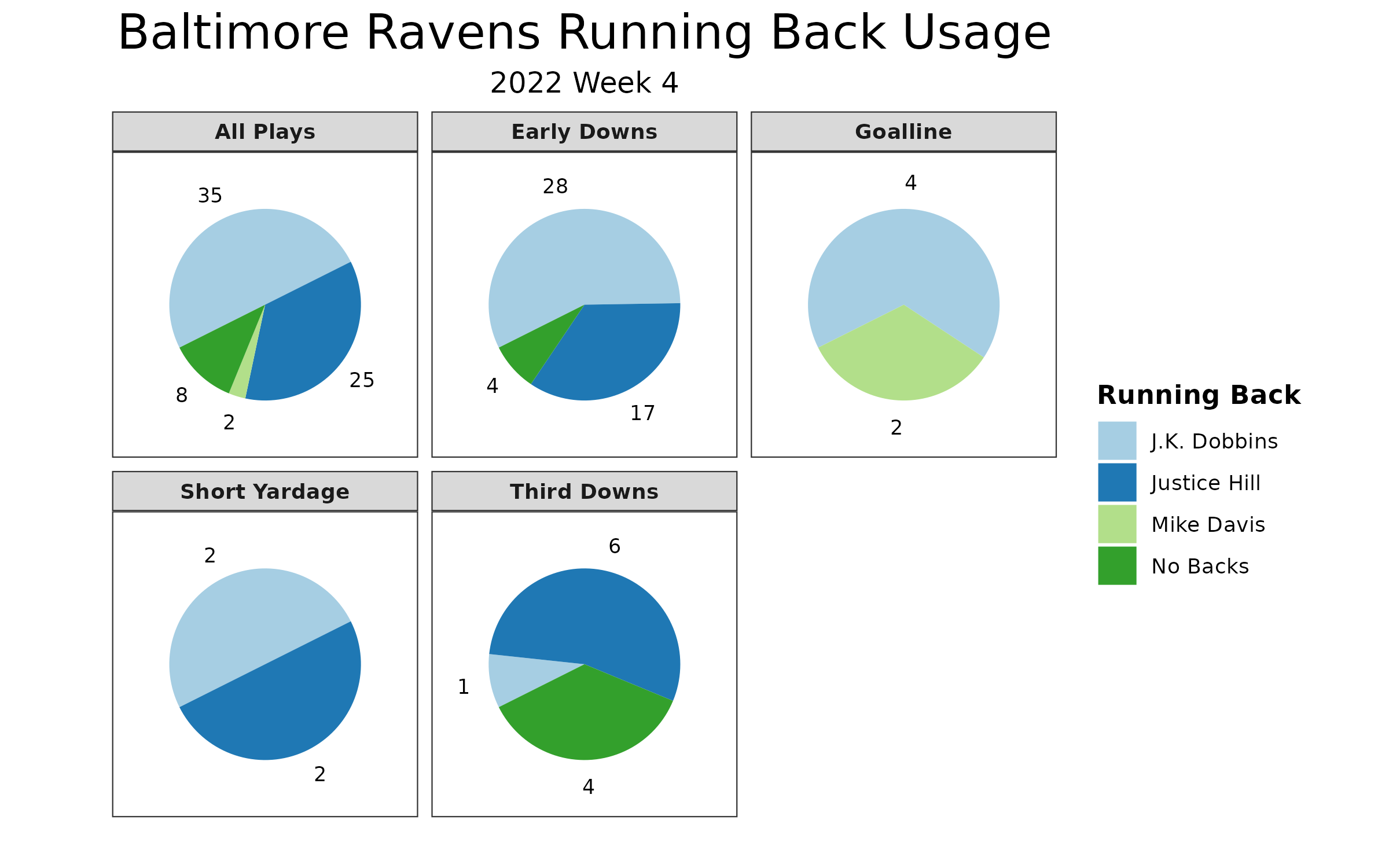 Monitor the Rashod Bateman injury: Bateman went to the medical tent after the first play of the second half. He had his helmet on and was on the sideline but didn't return to the game.
He saw his usual workload in the first half, including being on the field for 20 of 23 pass plays.

Demarcus Robinson

took his role in the second half, playing 17 of 20 pass plays.

Tylan Wallace

also moved up the depth chart. He didn't play on offense in the first half but played six snaps in the second half.

Devin Duvernay

's role was notably unchanged, and he played only  13 of 20 pass plays in the second half.

The fact that he remained on the sideline and had his helmet is a good sign the injury isn't serious.
---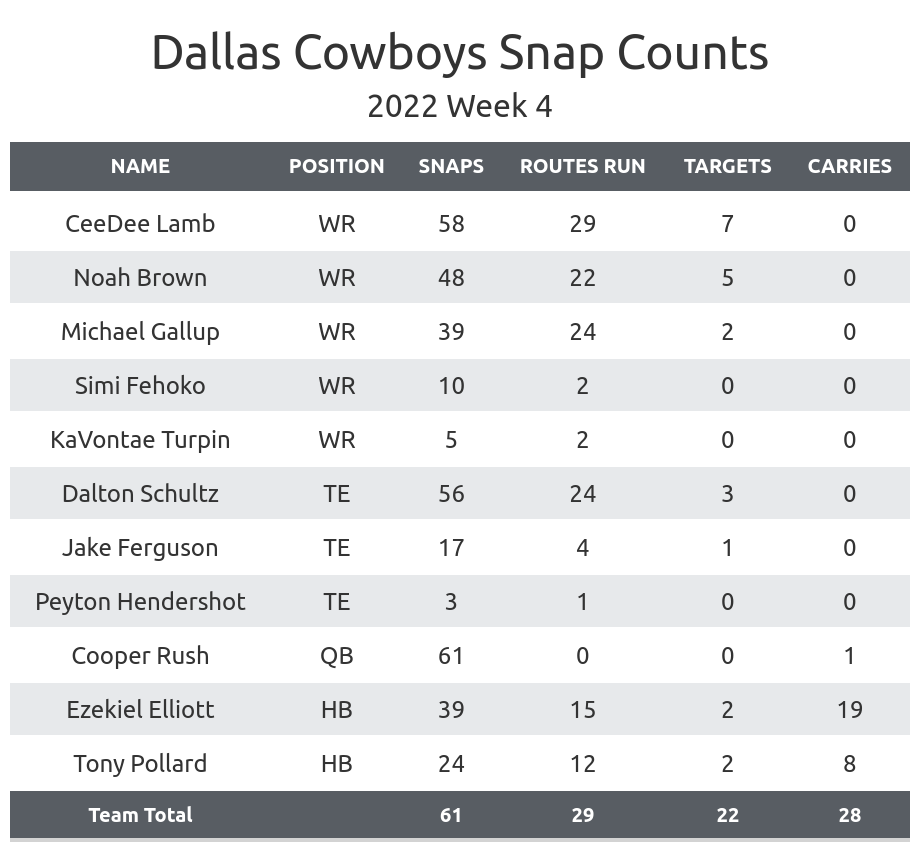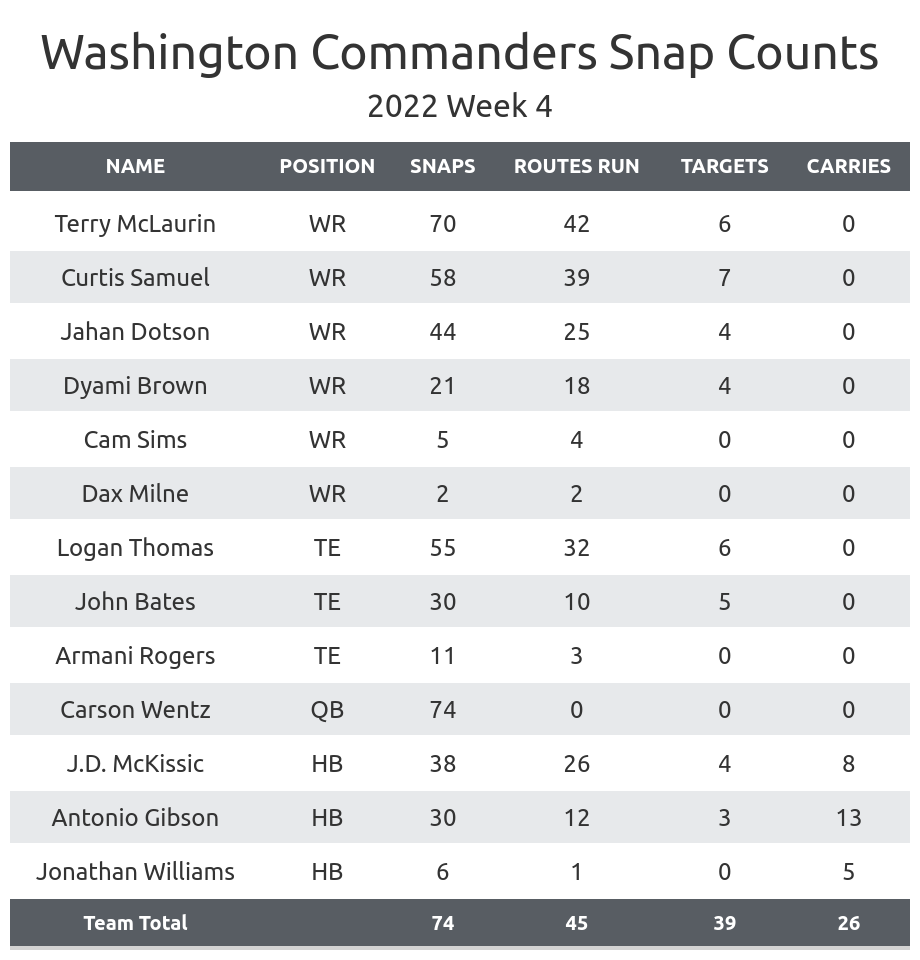 The return of Michael Gallup: Gallup played his first game of the season, moving up to third on the Cowboys' depth chart.
He was on the field for 37 of 47 plays in 11 personnel. Eight of the 10 plays he was off the field from that group were run plays.

He was on the field for only two of 11 plays in two-receiver sets, but again, seven of those nine plays were run plays.

That playing time will likely lead to more targets in the future.

Ideally, he surpasses

Noah Brown

on the depth chart in two-receiver sets so he can run even more routes, similar to last year when he was healthy.

Third-round rookie

Jalen Tolbert

was the third wide receiver for Dallas but was inactive, as the other backups are more involved on special teams.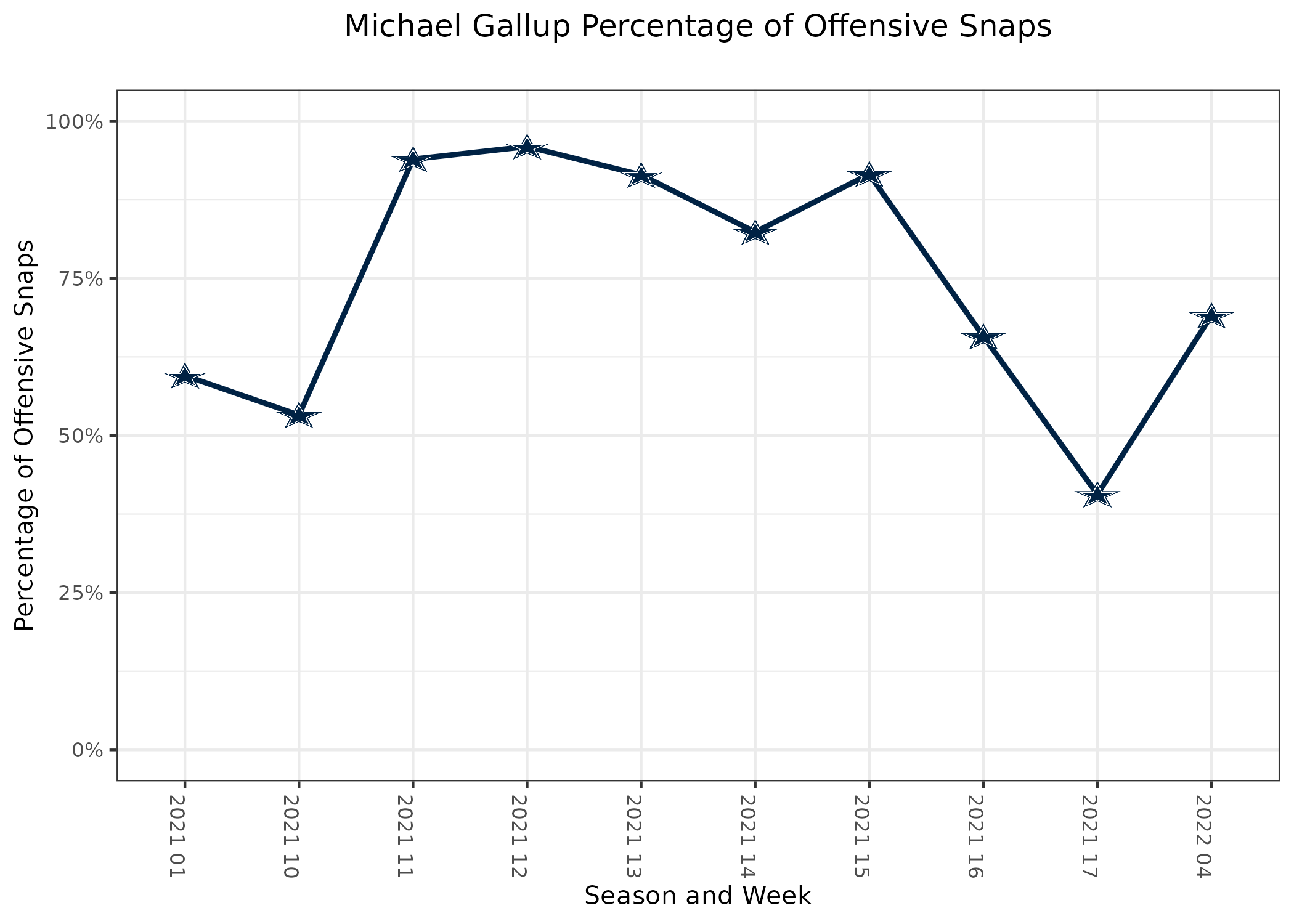 Monitor the Jahan Dotson injury: The rookie left in the fourth quarter with a hamstring injury and didn't play in the last 10 minutes of the game.
He saw his usual role in the first three quarters, running a route on 100% of the team's pass plays and leaving the field for just six run plays. The snap counts look worse because of how much Washington passed in the fourth quarter.

His 16.0% targets per route run was his highest rate in a game in his career. Similarly, his 1.72 yards per route run was much higher than any of the past three games.

2021 third-round pick

Dyami Brown

took Dotson's place in the offense.

Brown caught one of four targets in the game.

Dotson should be picked up in leagues where he is available, as he should only improve from here.

Brown doesn't need to be a waiver target, even if Dotson misses time.
Antonio Gibson trending down: Gibson had a quiet game on the ground, gaining 49 yards on 13 carries.
Jonathan Williams

was involved in the offense after just three offensive snaps over the first three weeks.

Williams gained 48 yards on five carries.

This meant Gibson handled a lower percentage of the early-down snaps compared to other games this season.

Brian Robinson Jr.

is eligible to return to the active roster this week, and it's expected he will do so. That will cut into Gibson's time even more going forward.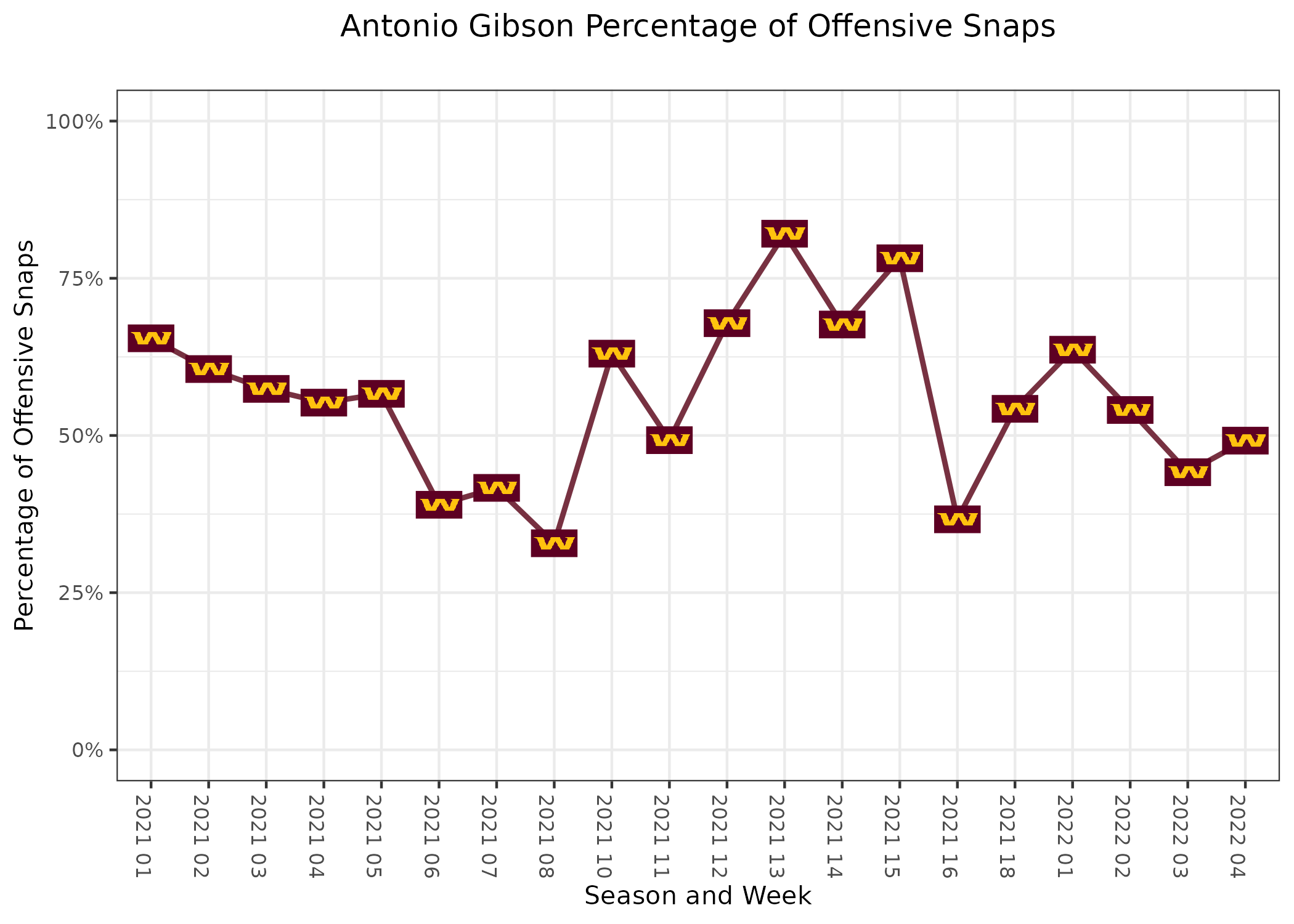 ---
T.J. Hockenson: 8 receptions, 179 yards, 2 touchdowns
Rashaad Penny: 17 carries, 151 yards, 2 touchdowns, 1 reception, 6 receiving yards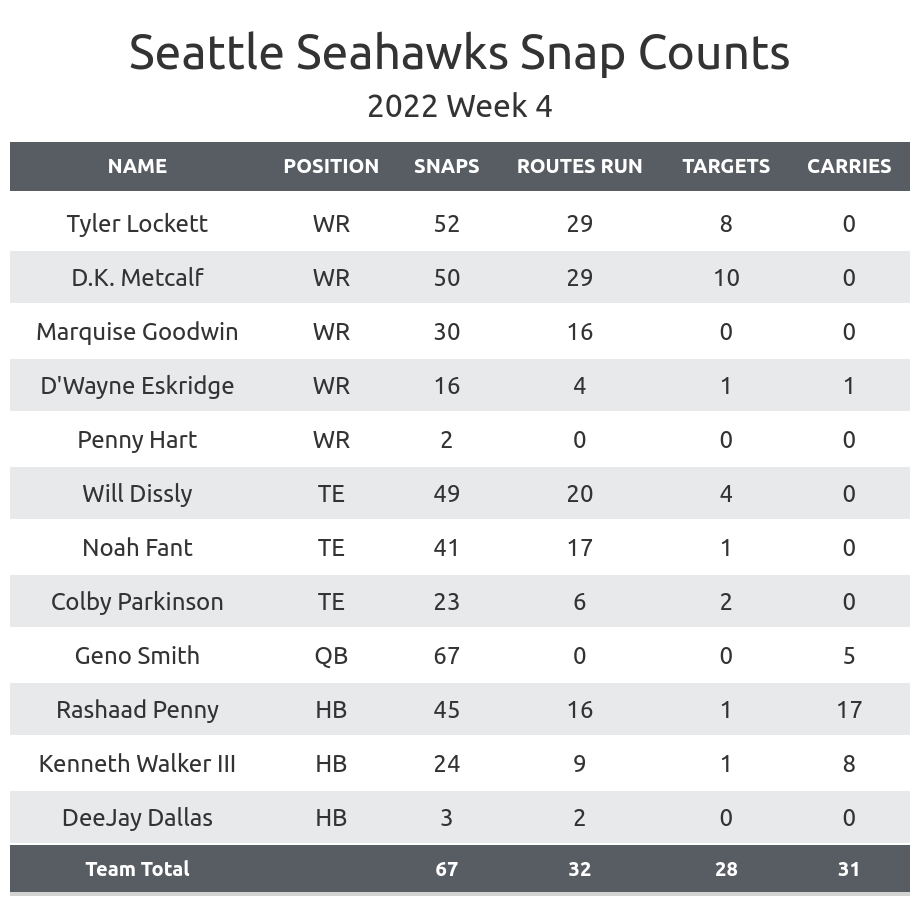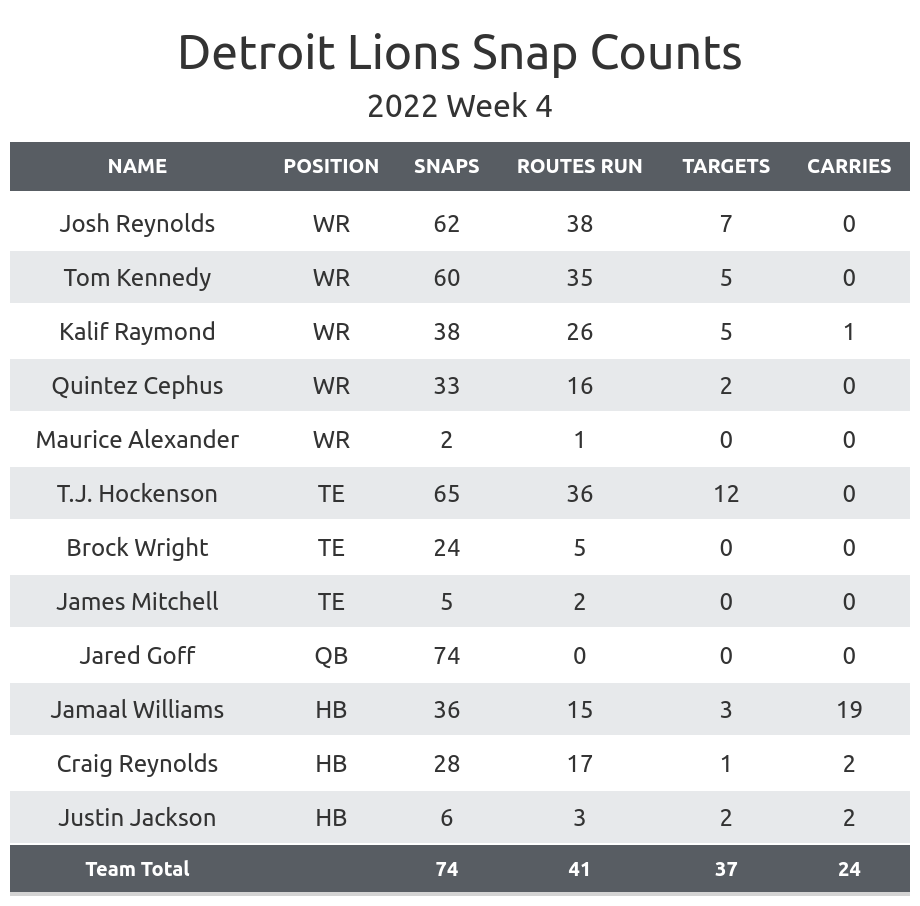 Monitor the Quintez Cephus injury: Cephus suffered a foot injury early in the second half and didn't return to the game, making a thin Lions wide receiver room even thinner.
The Lions didn't have

Amon-Ra St. Brown

or

D.J. Chark

due to injuries, leading several fantasy managers to pick up

Josh Reynolds

.

Reynolds delivered with a seven-catch, 81-yard, one-touchdown performance.

Tom Kennedy

took over as the primary slot receiver for this game, while Cephus played out wide across from Reynolds on most plays.

Cephus, Kennedy and Reynolds all played at least 17 of the Lions' 21 pass plays in the first half.

Kalif Raymond

took over as the slot receiver in the second half once Cephus went down, forcing Kennedy to move outside.

Most of these receivers can be left on the waiver wire, but hold on to Reynolds in case one of the other wide receivers takes more time to return to the field.
The Lions without D'Andre Swift: Jamaal Williams largely took over in the absence of Swift, leaving fantasy managers very happy with his performance.
He ran the ball 19 times for 108 yards and two touchdowns while also catching a one-yard pass.

Third-string running back

Craig Reynolds

took a lot of Swift's snaps in passing situations.

Reynolds also handled more goal-line work than Swift had in the first three games put together.

Justin Jackson

also moved up the depth chart, receiving a few snaps and taking a touchdown.

Williams should remain in fantasy starting lineups as long as Swift is out, while Reynolds is worth stashing in deeper leagues in case the injury lingers.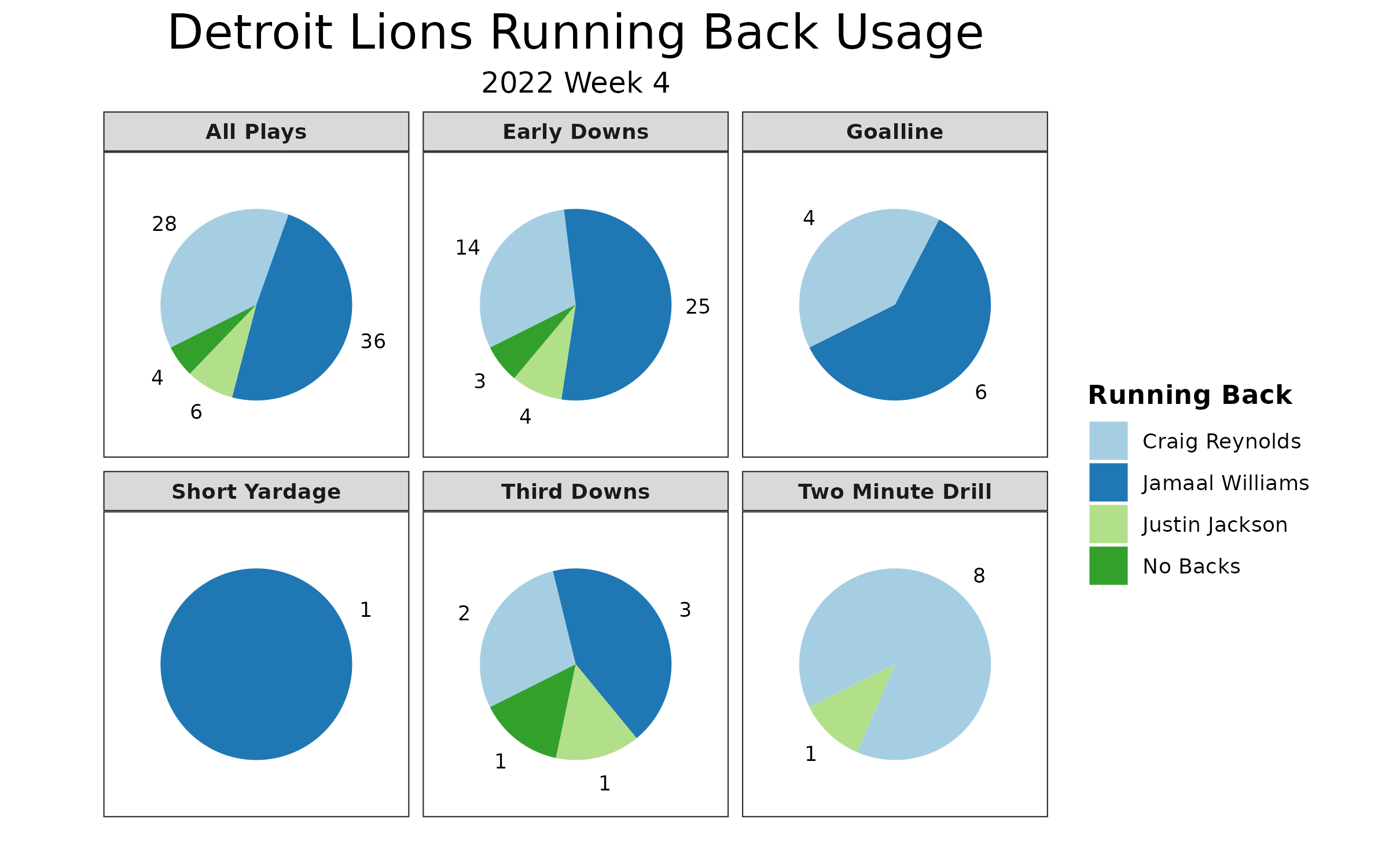 Rashaad Penny trending up: Penny had by far his best game of the season on the ground, but there is even more reason to be excited about him going forward.
Penny has remained the clear leader on early downs and in goal-line situations, holding off second-round rookie

Kenneth Walker III

by outplaying him.

Travis Homer

landed on injured reserve this past week with a rib injury, which will hold him out for at least three more games.

DeeJay Dallas

largely took Homer's role last week, but Penny received four snaps on third-and-three or longer, which was more than in any game in 2021 or 2022.

Penny's third-down usage continued to grow, playing five snaps on third-and-3 or longer for the fourth time in his career. He has never achieved that more than once in a season but could potentially pull it off as early as next week.

He's run 16 or more routes six times in his career, including in four of his past five games.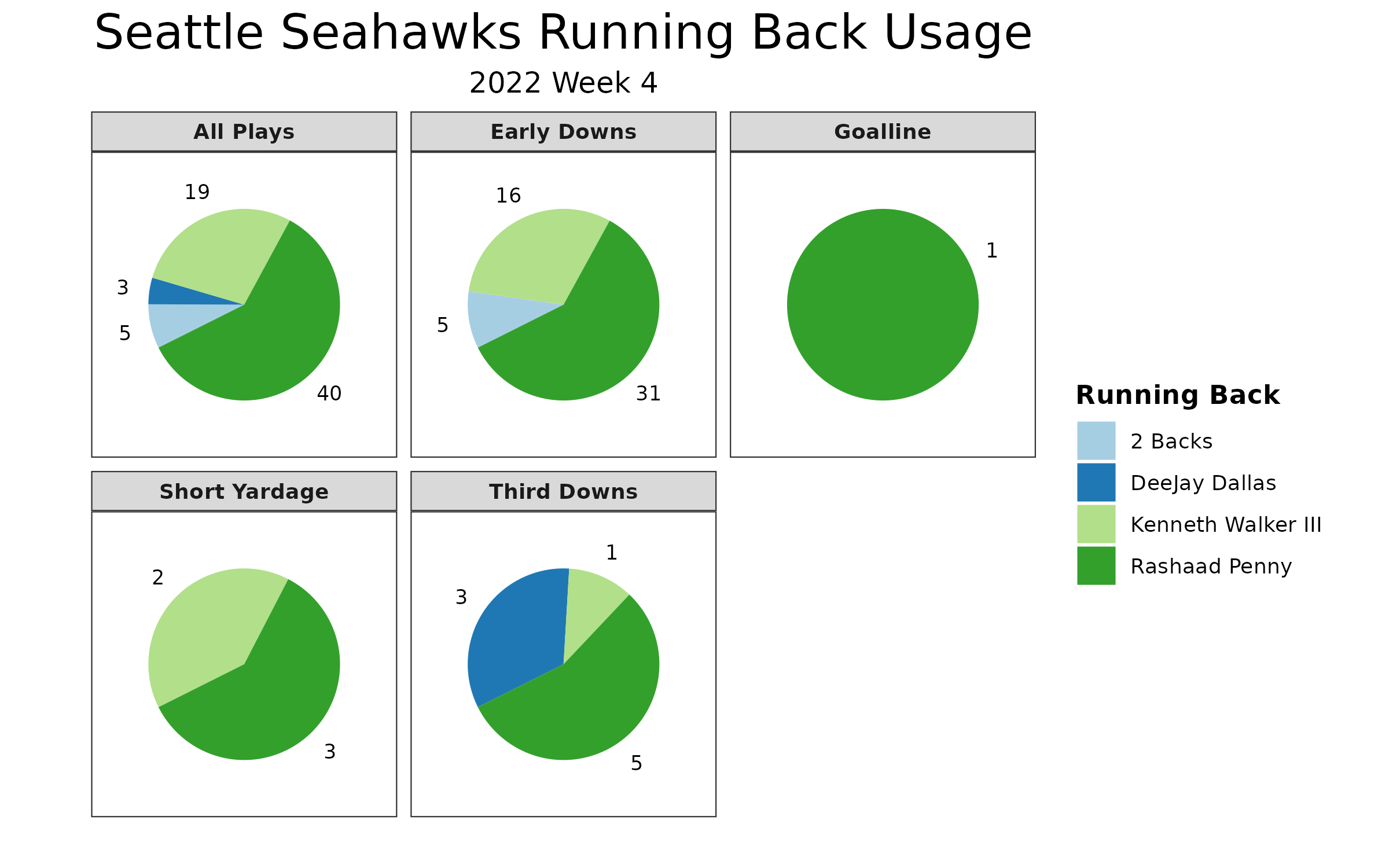 ---
Austin Ekeler: 13 carries, 60 yards, 2 touchdowns, 6 receptions, 49 receiving yards, 1 receiving touchdown
Dameon Pierce: 14 carries, 131 yards, 1 touchdown, 6 receptions, 8 receiving yards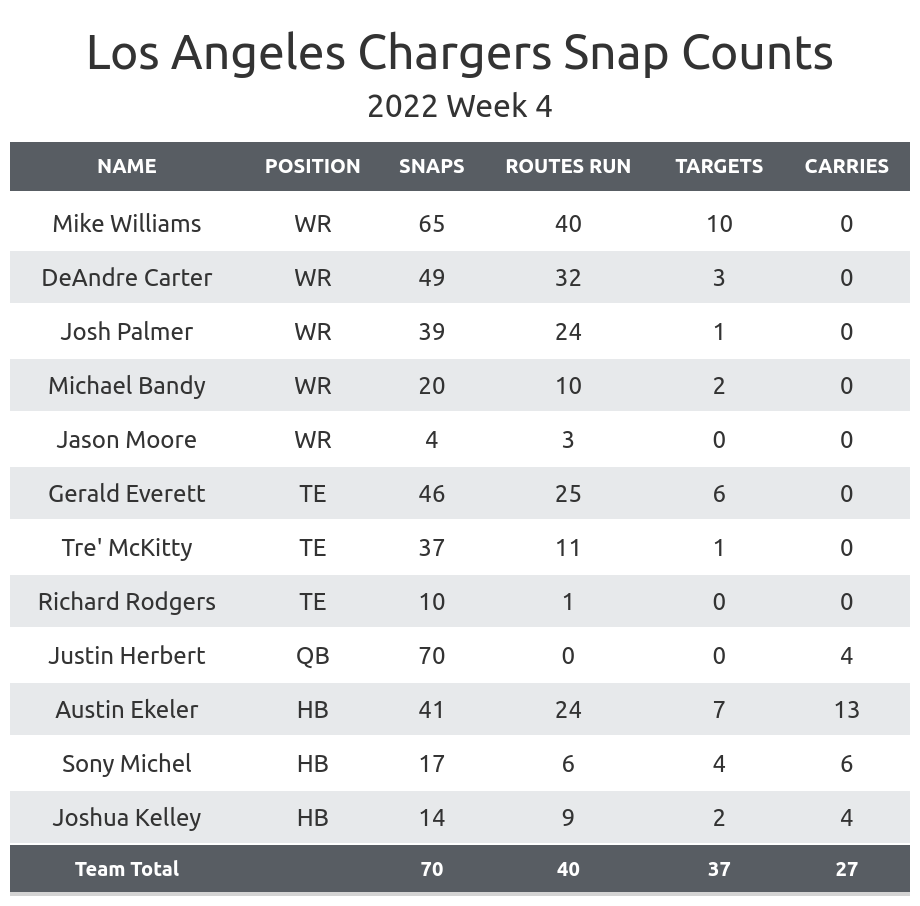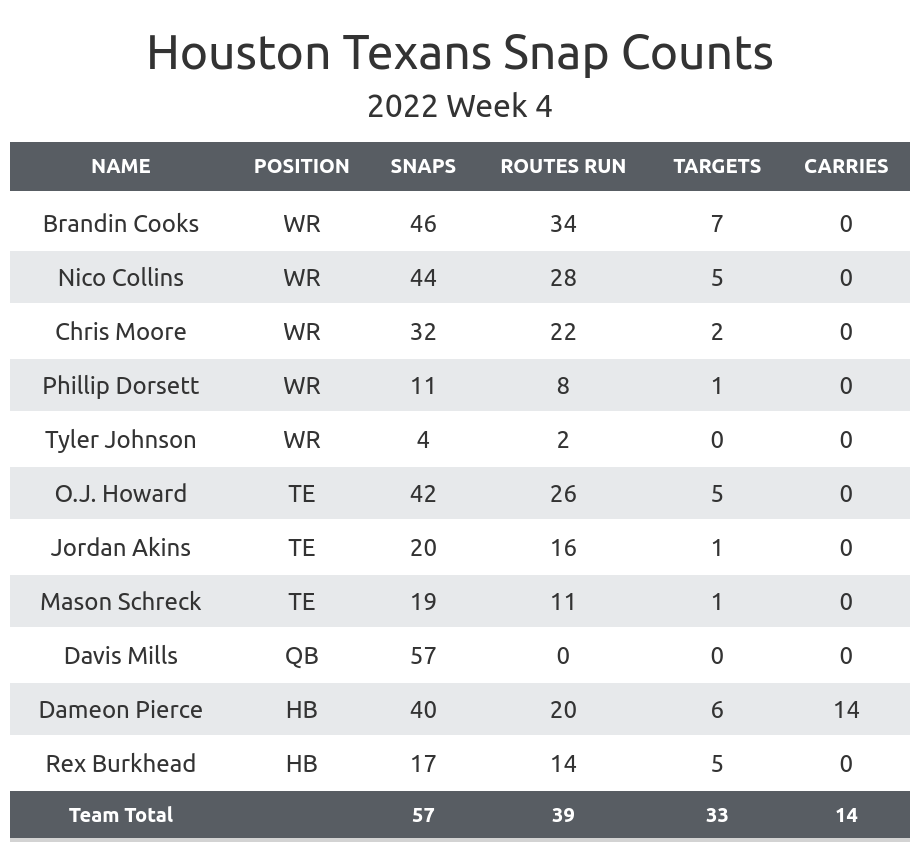 Sell high on Austin Ekeler: Ekeler put together by far his best game of the season, but he continues to not see the same usage he received last season.
All three of his touchdowns were for 10 or more yards.

Nine of his 20 touchdowns last year were for 10 or more yards. The other 11 were from six or fewer yards.

Los Angeles hasn't created a goal-line opportunity in the past two weeks, but Sony Michel was the primary goal-line back in Week 2. 

Ekeler received only a slight majority of snaps on early downs, which has been consistent this season, and was only in for a fraction of the third-down snaps. His only big advantage was taking most of the two-minute drill snaps.

He will still be a clear fantasy starter considering his talent, the offense and his OK playing time, but we're still not seeing the same usage as last season.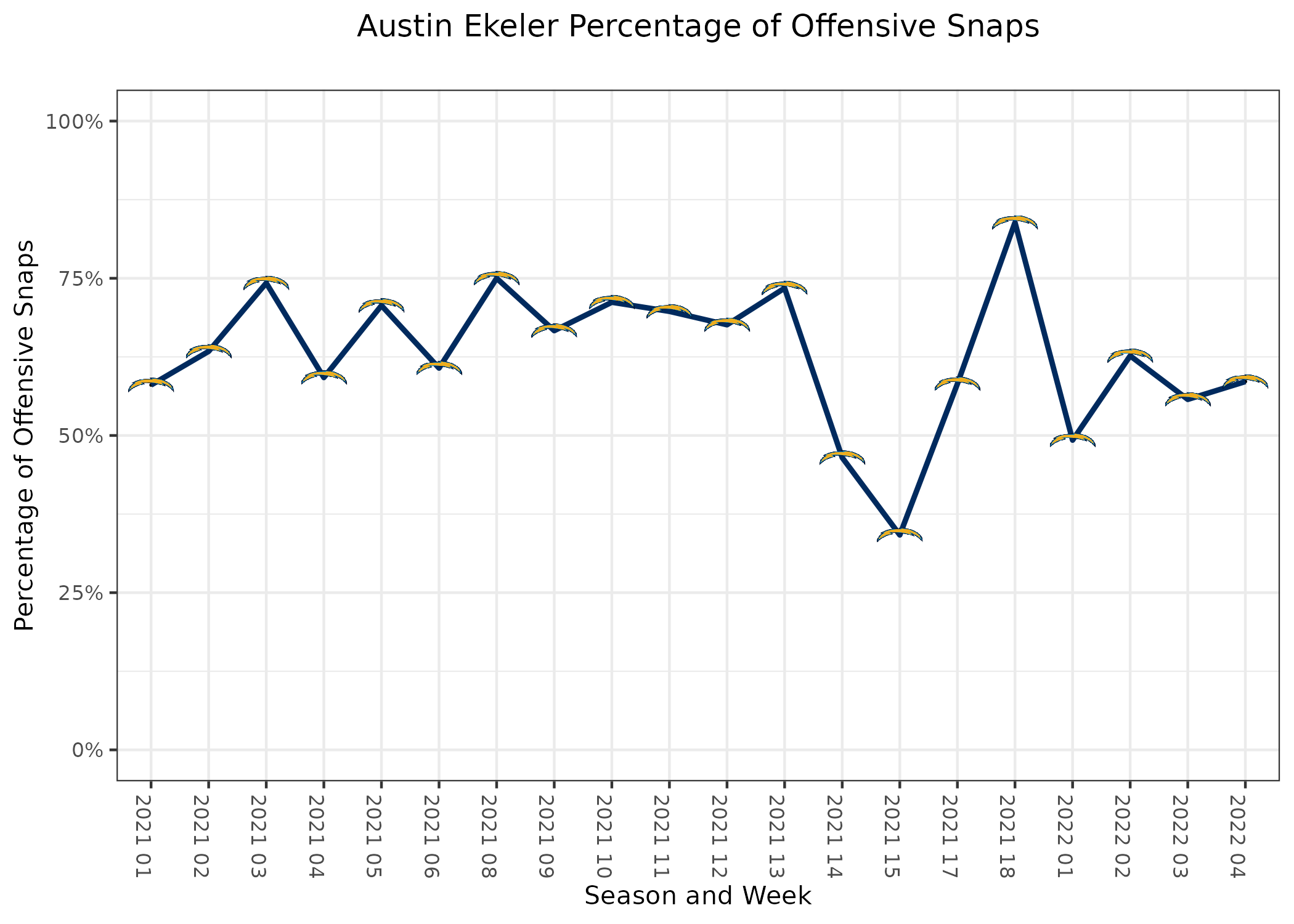 Sell high on Gerald Everett: Everett caught five passes for 61 yards and a touchdown, but his playing time remains somewhat limited, and the situation could get worse.
His playing time remains generally lower than what it was in Seattle due to sophomore tight end

Tre' McKitty

also seeing passing-game work.

Donald Parham

will likely be ready to return next week, according to head coach Brandon Staley.

He returned to practice for the first time this season a week ago, and on Friday he was a full participant in practice for the first time.

Parham is 6-foot-8, making him an interesting red-zone threat. Everett will still make a few catches each week, but those touchdowns might disappear.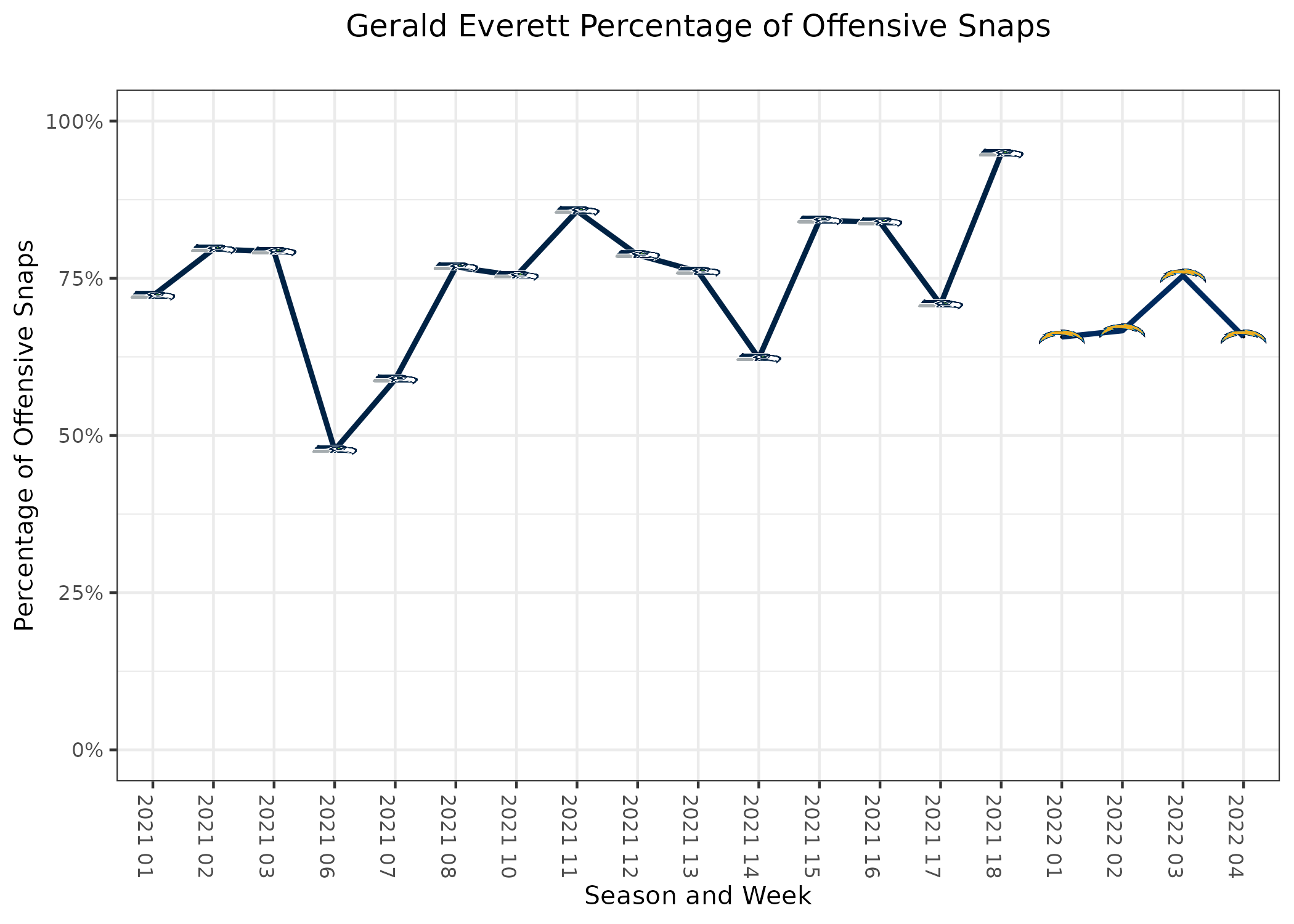 Dameon Pierce's career high in catches: Pierce put together another excellent game, in part thanks to a 75-yard run. He succeeded despite the negative game script.
Houston remains committed to getting the ball to Pierce early, which is making him more resistant to the game script.

They tried to get him involved in the passing game, leading to six receptions. He didn't do much with those catches, but it's a promising sign they could get him more involved in the passing game in the future.

He still wasn't used on third downs or two-minute drills, which could come back to bite fantasy managers if the Texans get blown out in worse games.

How the Texans are using him and relying on him is similar to the Titans and

Derrick Henry

.

He is worth starting regardless of the matchup at this point due to how much the offense relies on him.

He could be a consistent top-five fantasy back based on his usage if the Texans become a winning football team.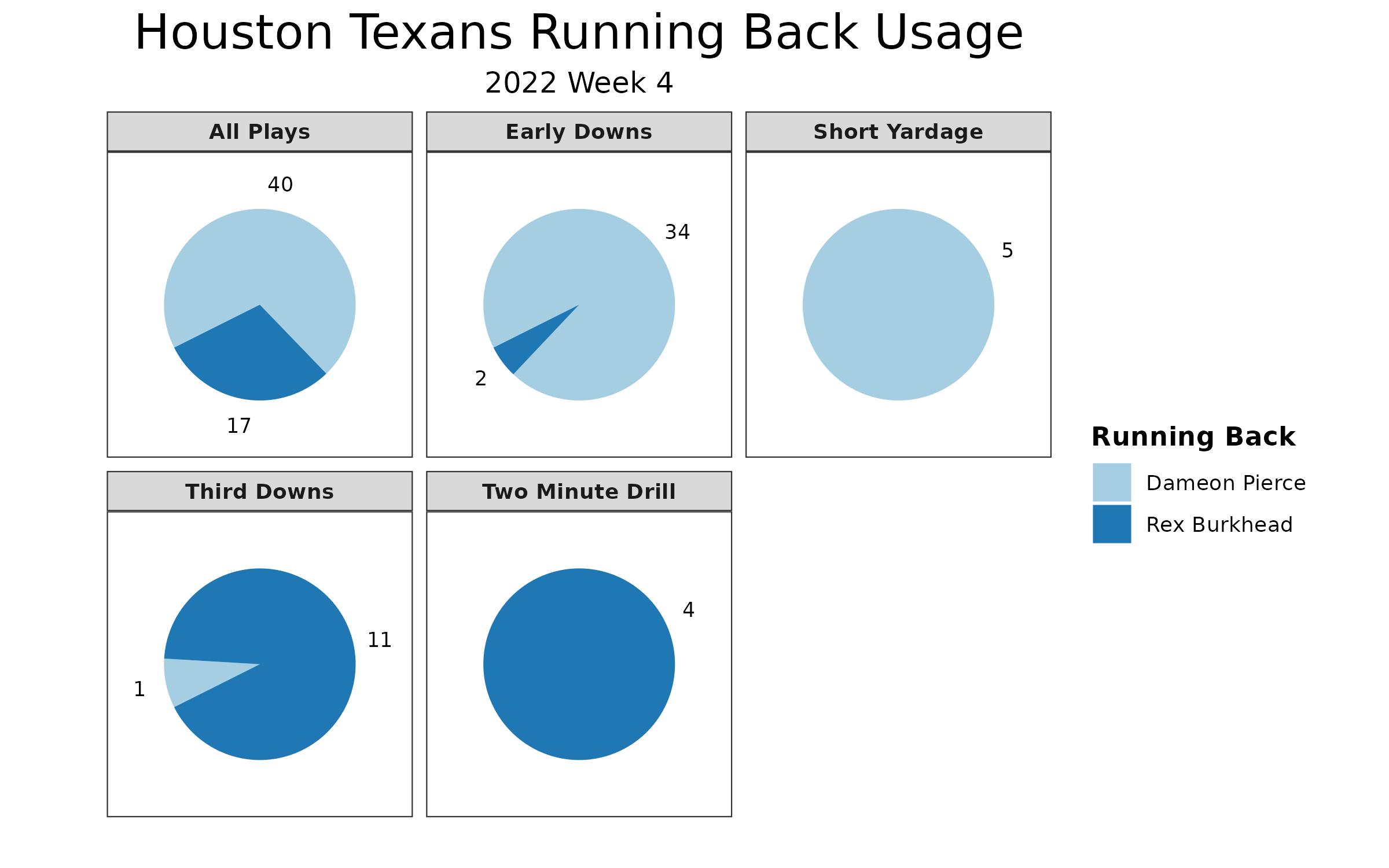 Ignore the Texans' tight ends: Houston didn't have Brevin Jordan or Pharaoh Brown, leading the team to rely on backups.
Jordan Akins

was the biggest beneficiary of the injuries last week, scoring a touchdown on three catches.

O.J. Howard

was the leader Sunday, but that resulted in only two catches for 27 yards.

Jordan and Brown remain the likely starters once they are healthy, but it will remain a two- or three-man rotation. The offense isn't good enough to support a consistent fantasy starter when there is a rotation.
---
Derrick Henry: 22 carries, 114 yards, 1 touchdown, 3 receptions, 33 receiving yards
Mo Alie-Cox: 6 receptions, 85 yards, 2 touchdowns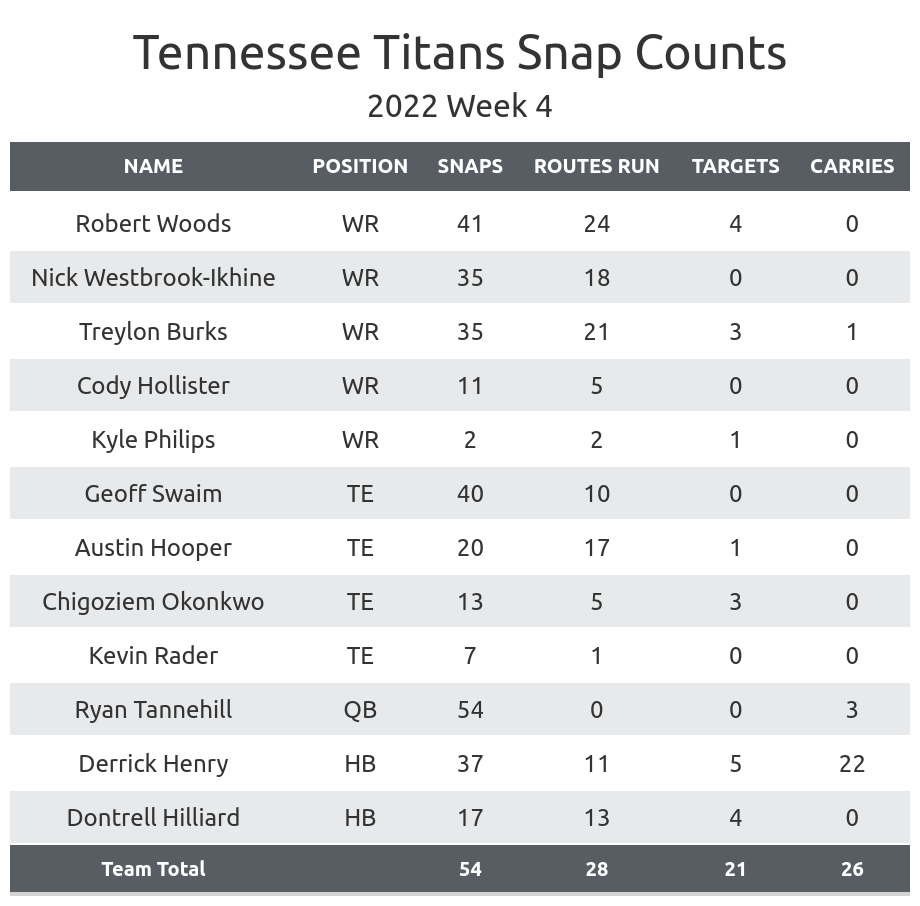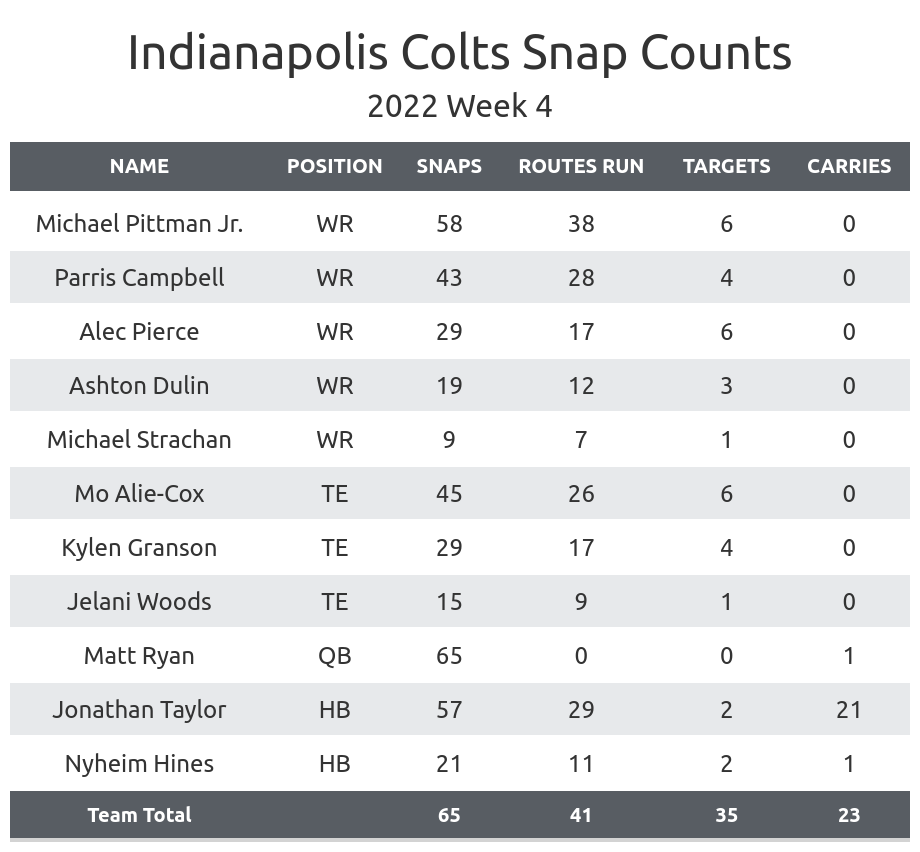 Monitor the Treylon Burks injury: Burks was carted to the locker room early in the fourth quarter with a foot injury and didn't return.
Burks received similar usage to past weeks, playing 32 of 39 offensive snaps in the first three quarters, including 19 of 23 pass plays.

Cody Hollister

took over as the third wide receiver in the fourth quarter.

The Titans were winning at the time of Burks' exit, so they largely went to more sets with multiple tight ends.

Kyle Philips

was active after playing limited snaps in Week 2 and missing Week 3, but he played only two snaps and didn't return any punts after assuming that role in Week 1.

Nick Westbrook-Ikhine

would play a slightly higher percentage of plays if Burks misses time, while the door would be more open for Philips to become the main slot receiver again.
Monitor the Jonathan Taylor injury: Taylor suffered an injury that is believed to be a high ankle sprain.
Taylor received his normal amount of usage before the injury, including 20 ineffective carries.

Nyheim Hines

took every snap after the injury, although this wasn't surprising, as they were in clear passing situations.

Taylor missed practice for the first time ever Wednesday with a toe injury.

The Colts play on Thursday Night Football, making it less likely Taylor will be able to play this upcoming week.

Hines ranked sixth in my

handcuff rankings this offseason

. The traditional pass-down back has some history playing on every down before Taylor became an All-Pro.

Hines would be a top waiver wire target in the leagues he's available this week, and he could go straight into starting lineups if Taylor misses next week.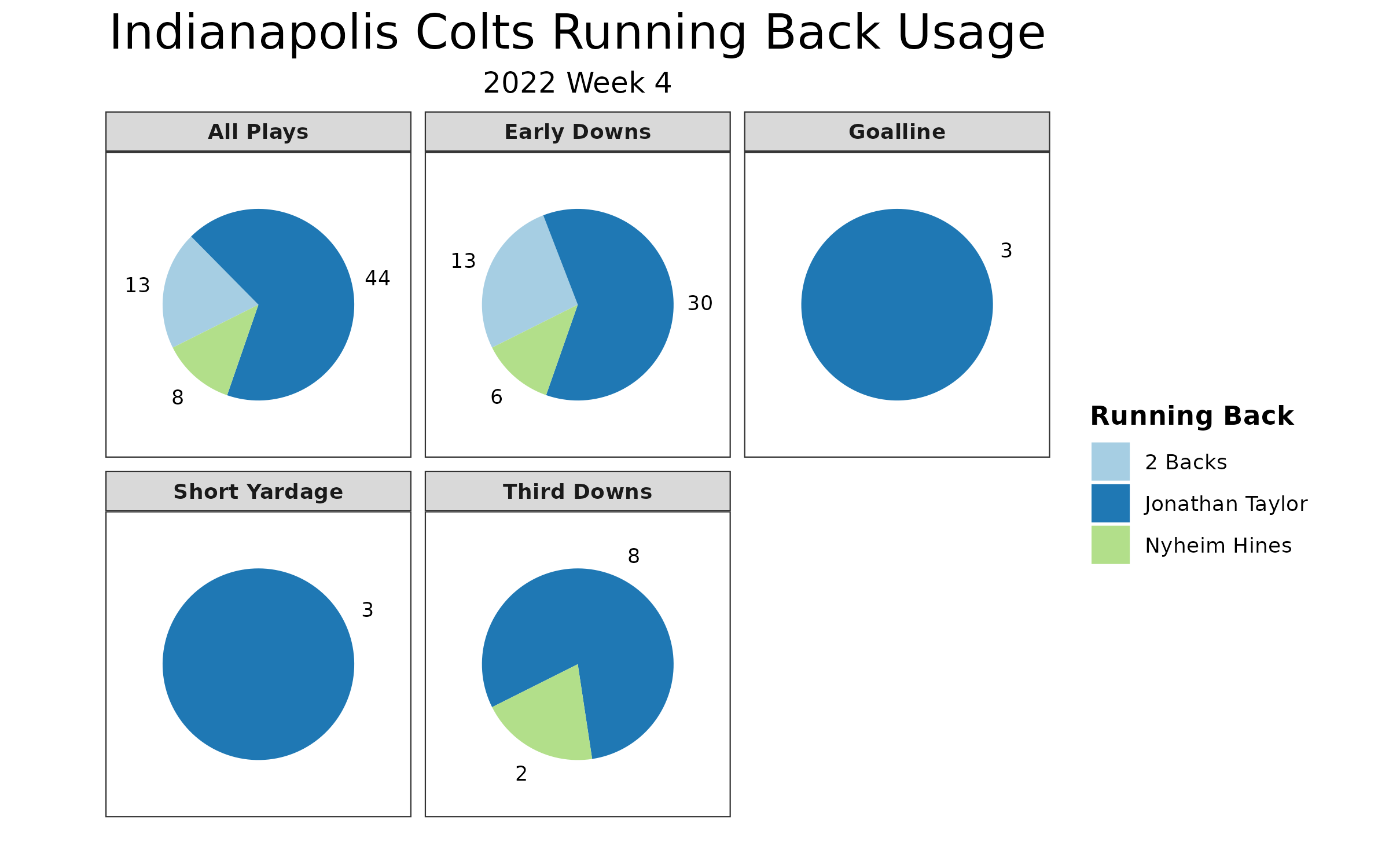 Don't add Mo Alie-Cox: The Colts' tight end caught two touchdowns but remains in a three-tight end rotation in Indianapolis.
He ran a route on only 26 of 41 pass plays.

Jelani Woods

was the Colts' tight end to score two touchdowns last week, and at another point,

Kylen Granson

was leading the team in pass routes.

All three tight ends have between 1.44 and 1.48 yards per route run this season.

It's fine to take dart throws on any of these three in daily fantasy, but none can be relied on in season-long leagues unless two get injured.
---
• Saquon Barkley: 31 carries, 146 yards, 2 receptions, 16 receiving yards
• Darnell Mooney: 4 receptions, 94 yards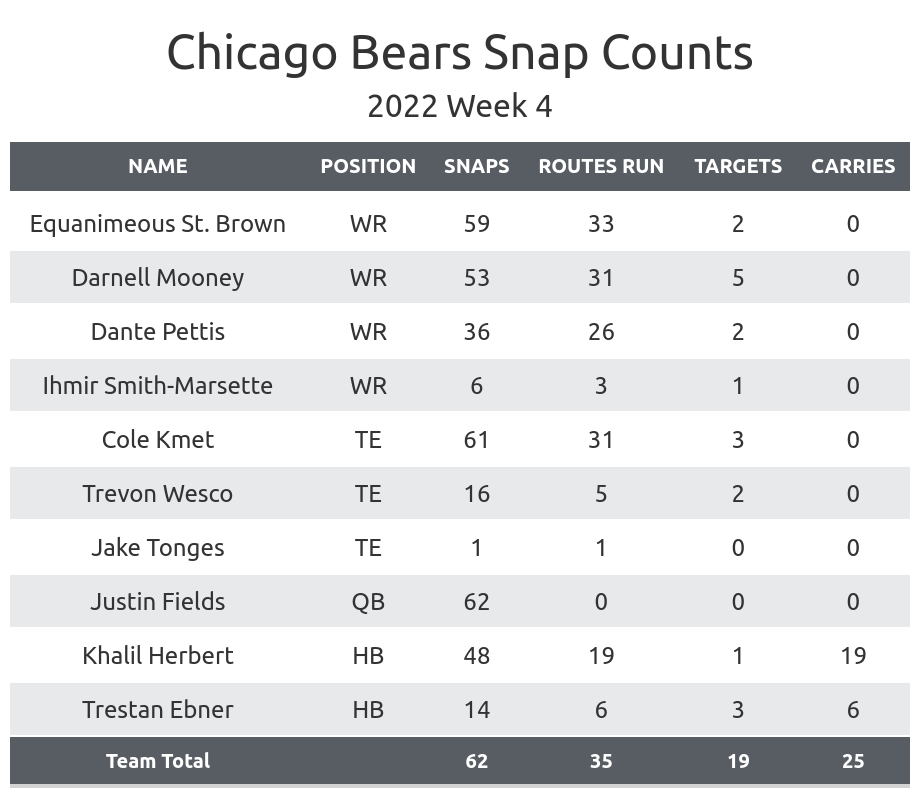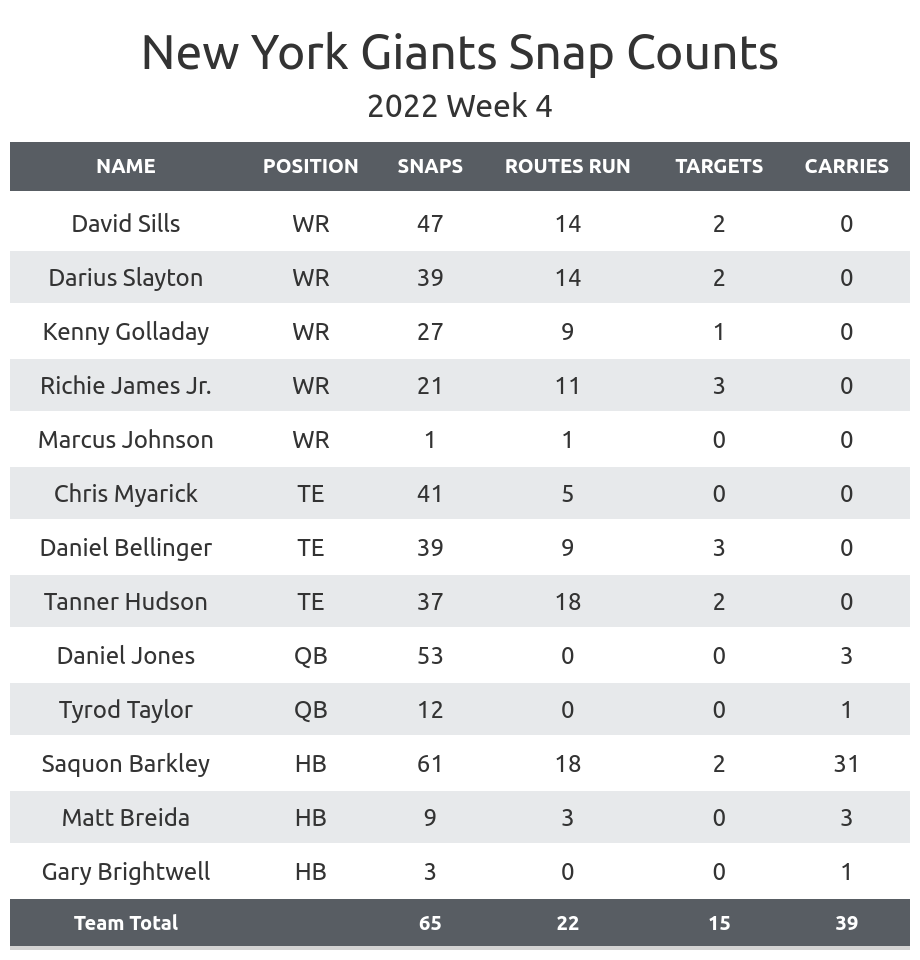 Monitor the Giants quarterbacks' health: Daniel Jones suffered a lower leg injury, and then his backup Tyrod Taylor was evaluated for a concussion shortly after coming into the game.
Jones was forced to return to the game while the Giants mixed in wildcat plays and handoffs by Jones.

The Giants don't have another quarterback on the active roster but do have

Davis Webb

on the practice squad. He would be the quarterback if either Jones or Taylor misses time.

The starting quarterback in New York has some potential due to their ability and willingness to run, but that would mostly be in superflex leagues.
Monitor the Kenny Golladay injury: Golladay seemed to have regained his starting role but suffered a knee injury in the third quarter and didn't return.
New York lost

Sterling Shepard

for the season with a torn ACL, opening a spot for Golladay.

Both

Kadarius Toney

and

Wan'Dale Robinson

were inactive for this game due to injury.

Golladay started the game opposite

David Sills

, with

Richie James Jr.

remaining the slot receiver.

Darius Slayton

took over for Golladay after the injury. He would likely remain the starter if all of the Giants' injured receivers remain out.

This opens the door even further for Toney to see significant playing time once he's healthy.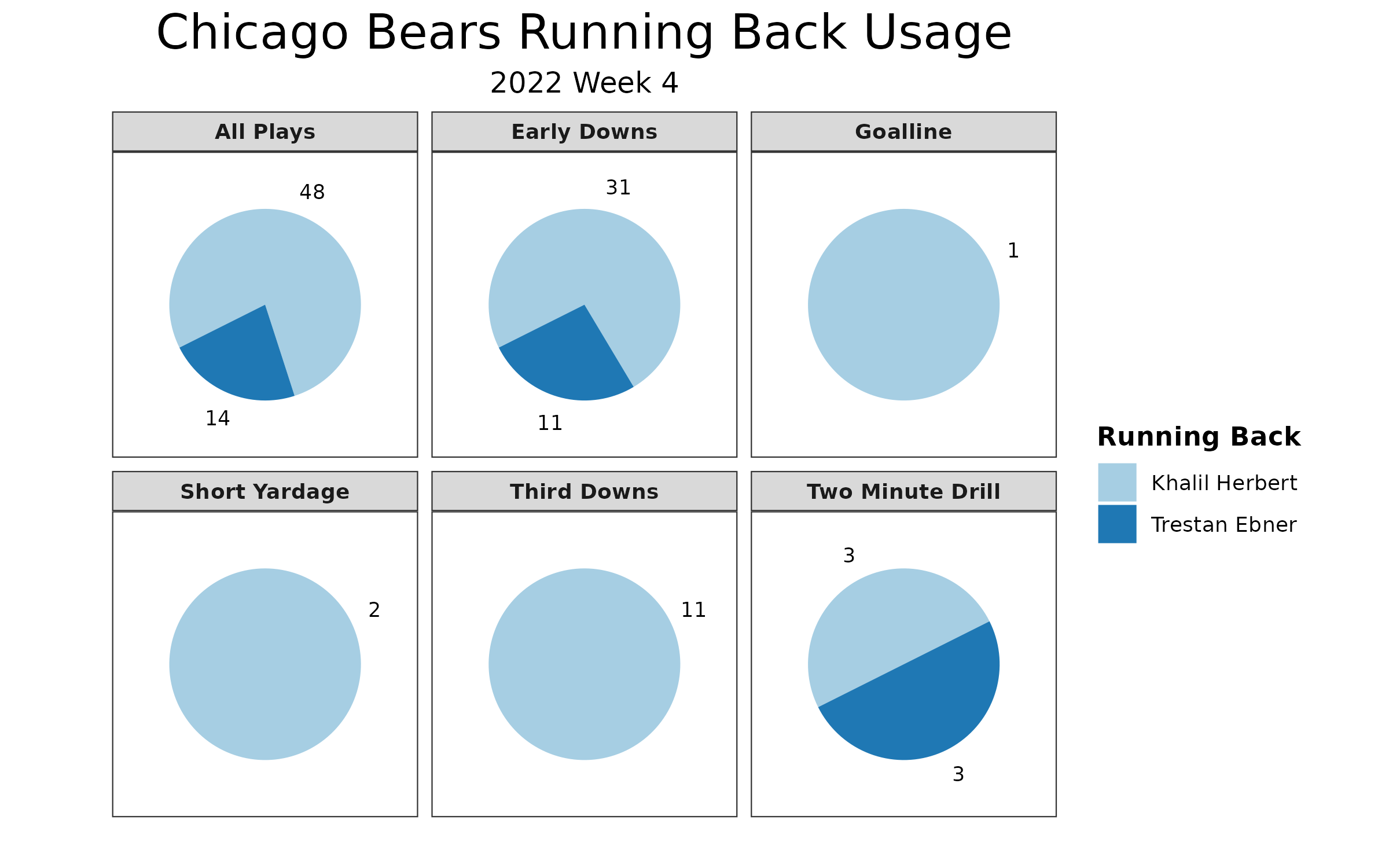 The Bears without David Montgomery: As was expected, the Bears used Khalil Herbert as their primary running back without Montgomery.
Herbert had a fine game, totaling 77 yards on 19 carries and a 24-yard catch. 

Trestan Ebner

served as the backup, but Herbert was clearly the preferred back in almost every situation.

Herbert is worth keeping in fantasy starting lineups for as long as Montgomery is out.

Even when Montgomery is healthy, Herbert should remain on fantasy rosters just in case he starts to see more playing time or Montgomery faces a setback.
---
Miles Sanders: 27 carries, 134 yards, 2 touchdowns, 2 receptions, 22 receiving yards
Jamal Agnew: 4 receptions, 50 yards, 2 touchdowns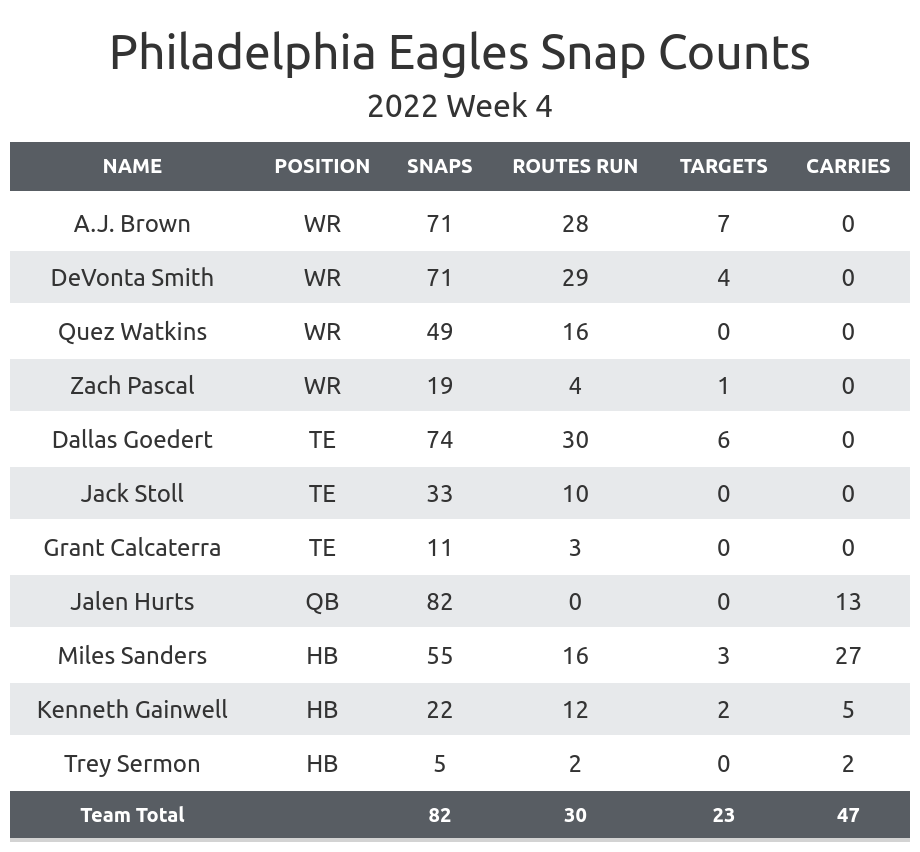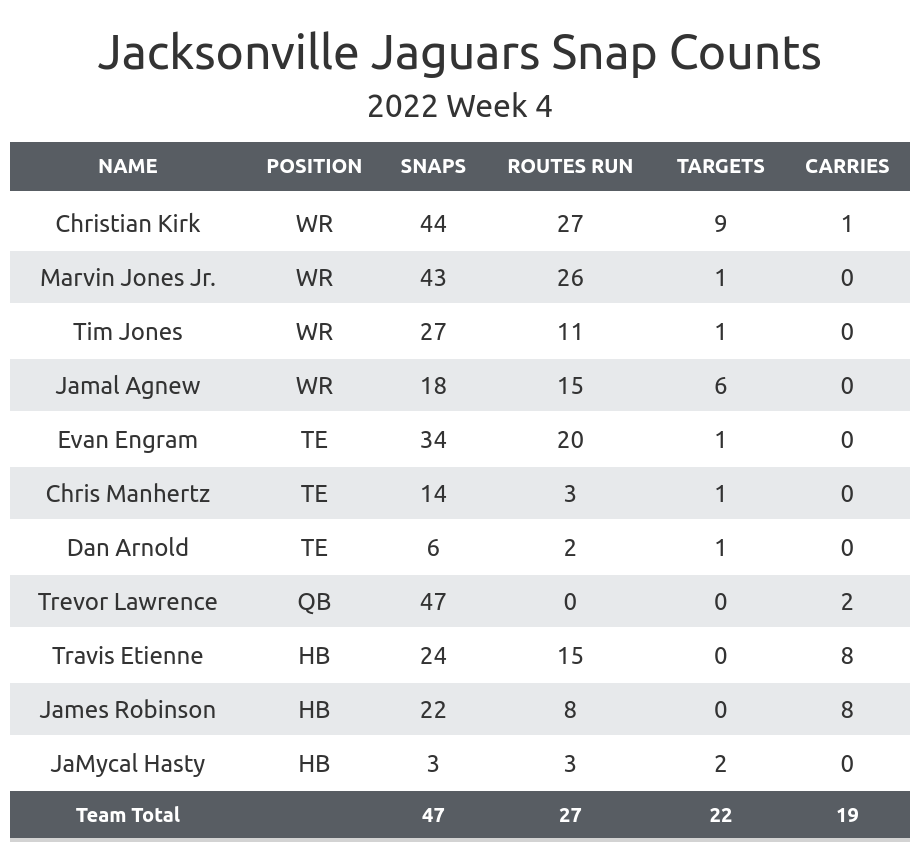 Jamal Agnew's big game: Zay Jones was inactive, leading to Agnew putting up his best numbers of the season.
Jones showed up on the injury report on Thursday with an ankle injury. He was questionable heading into the game but was made inactive.

Marvin Jones Jr.

moved up to second on the depth chart. Jacksonville has largely stayed in 11 personnel this season, so there wasn't a huge difference for his playing time.

Tim Jones

and Agnew split snaps in the third spot. Jones saw more playing time largely from run plays, while Agnew ran more routes and saw significantly more targets.

Agnew can be left on the waiver wire, as his playing time wasn't enough to make him a reliable fantasy starter, even if Zay Jones misses more time.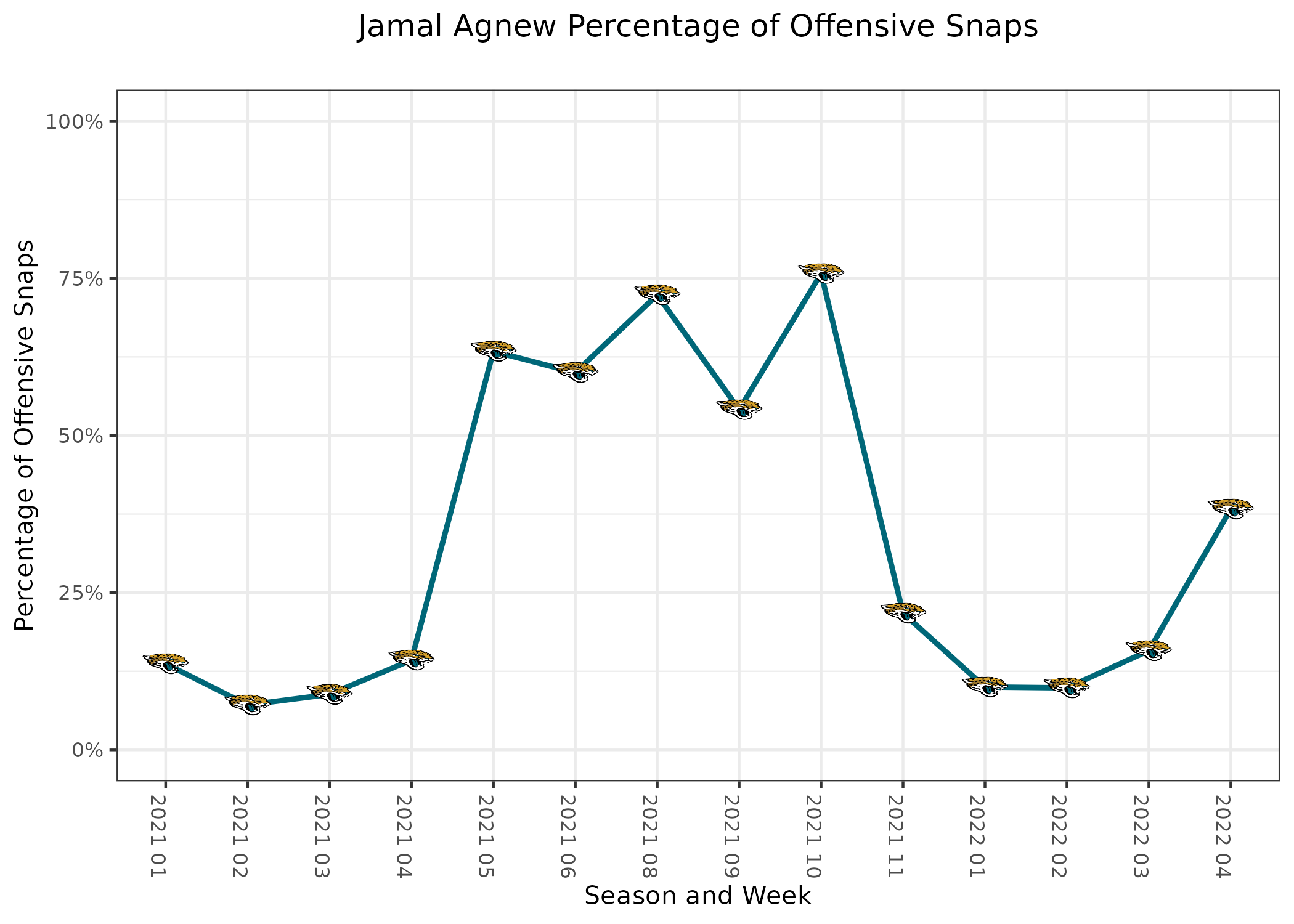 Drop Kenneth Gainwell: Gainwell may have scored a touchdown, but he wasn't used nearly enough despite Boston Scott missing this game.
Scott missed the game with a ribs injury. He didn't practice all week and could miss additional time.

Gainwell's playing time actually went down rather than up, partially because

Miles Sanders

was playing so well.

He only ran five times in a game where the Eagles ran 47 times, which isn't nearly enough considering another back was injured.

The Eagles opted to give

Trey Sermon

some plays on early downs rather than increase Gainwell's playing time in those situations. Scott had consistently played more on early downs than Gainwell.

He continued to be used on third downs and likely would have been their two-minute drill back had they been in that situation.

His playing time would likely increase if Sanders were to get hurt, but it seems like he would at best split early-down work unless both Sanders and Scott are injured.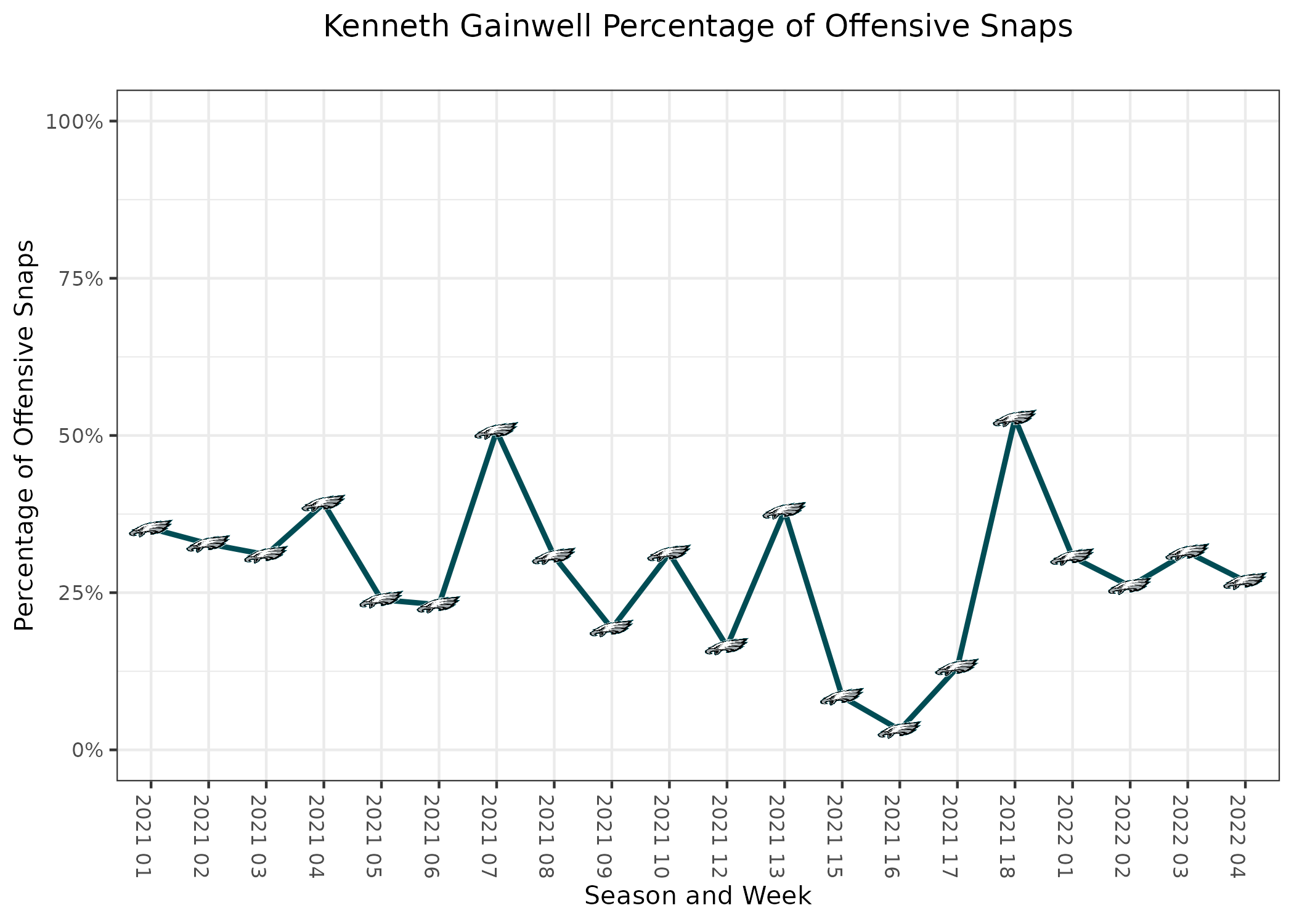 ---
Breece Hall: 17 carries, 66 yards, 1 touchdown, 2 receptions, 12 receiving yards
Corey Davis: 5 receptions, 74 yards, 1 touchdown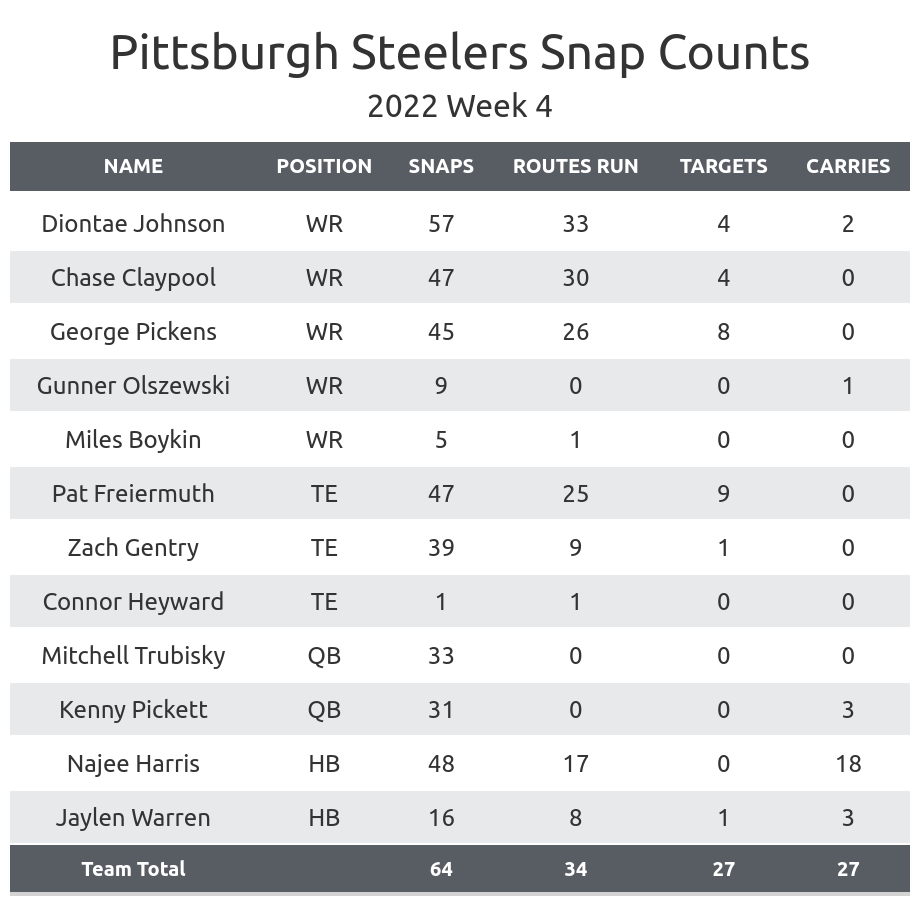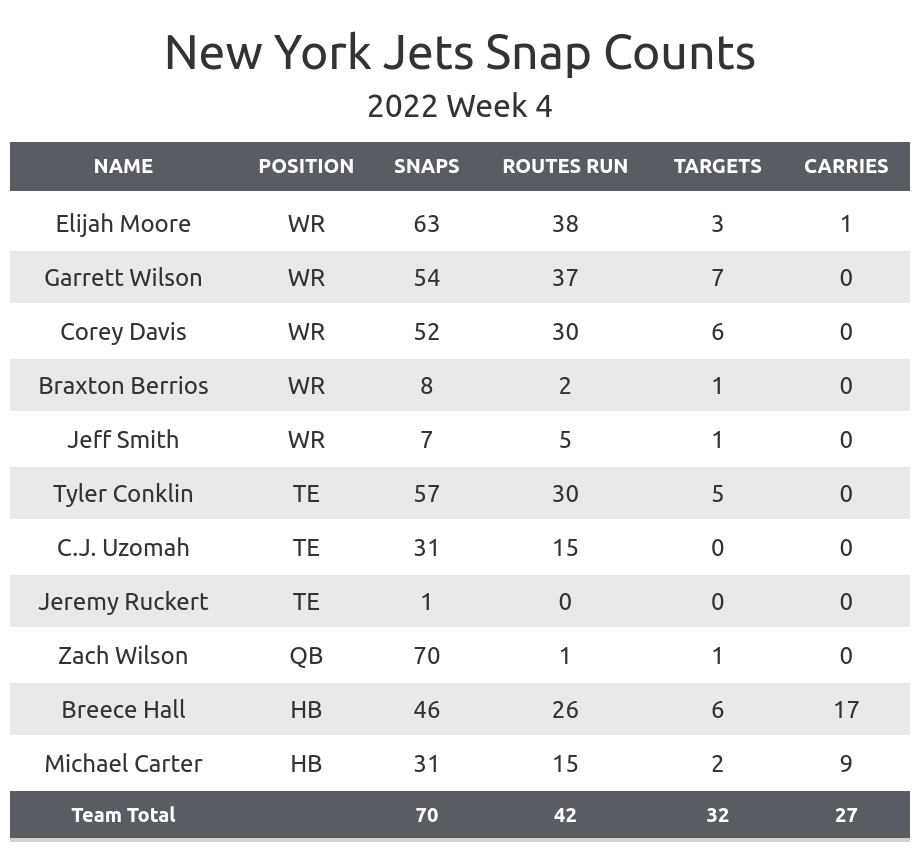 Add Kenny Pickett: The Steelers made a quarterback change at halftime, switching to Pickett. His play was promising enough for him to be worth picking up in fantasy leagues.
He ran the ball six times, leading to 15 yards and two touchdowns. His willingness to run is huge for his fantasy production.

His average depth of target of 13.2 yards is bound to regress, but the fact that he's willing to throw deeper passes is encouraging for his ability to make big plays.

For most quarterbacks who are either available or backups in fantasy football, we know their upside is limited. Pickett is one of the few unknowns in how high his ceiling can get, so it's worth taking a chance on in case he becomes a fantasy star.
Add George Pickens: The Steelers' rookie receiver has consistently received enough playing time to be relevant in fantasy football, but now he has a quarterback who could help him reach his potential.
Pickens saw a target on 33.3% of his routes in the second half today compared to 28.6% in the first half and 12.9% over the first three weeks.

He averaged 5.92 yards per route run in the half.

This is obviously a small sample size, but rookie wide receivers picked in the first two rounds should always be on fantasy rosters, and now there is more reason to believe Pickens can become a fantasy starter.
Start Breece Hall: The Jets continued to get Hall more involved in the offense, and the situation could be getting even better going forward.
New York already used Hall as the passing-down back last week, and he continued to take that role in this game.

His 26 targets this season are the second most for any running back.

This was the first week where he received the majority of early down snaps.

He received the clear majority of goalline work last week and 100% of those snaps this week.

His rushing production was much better than

Michael Carter

's this week, and he has graded better than Carter as a rusher on the season. This could lead to a larger majority in the future.

Carter should still be on fantasy benches as a handcuff, but he should no longer be considered for starting lineups.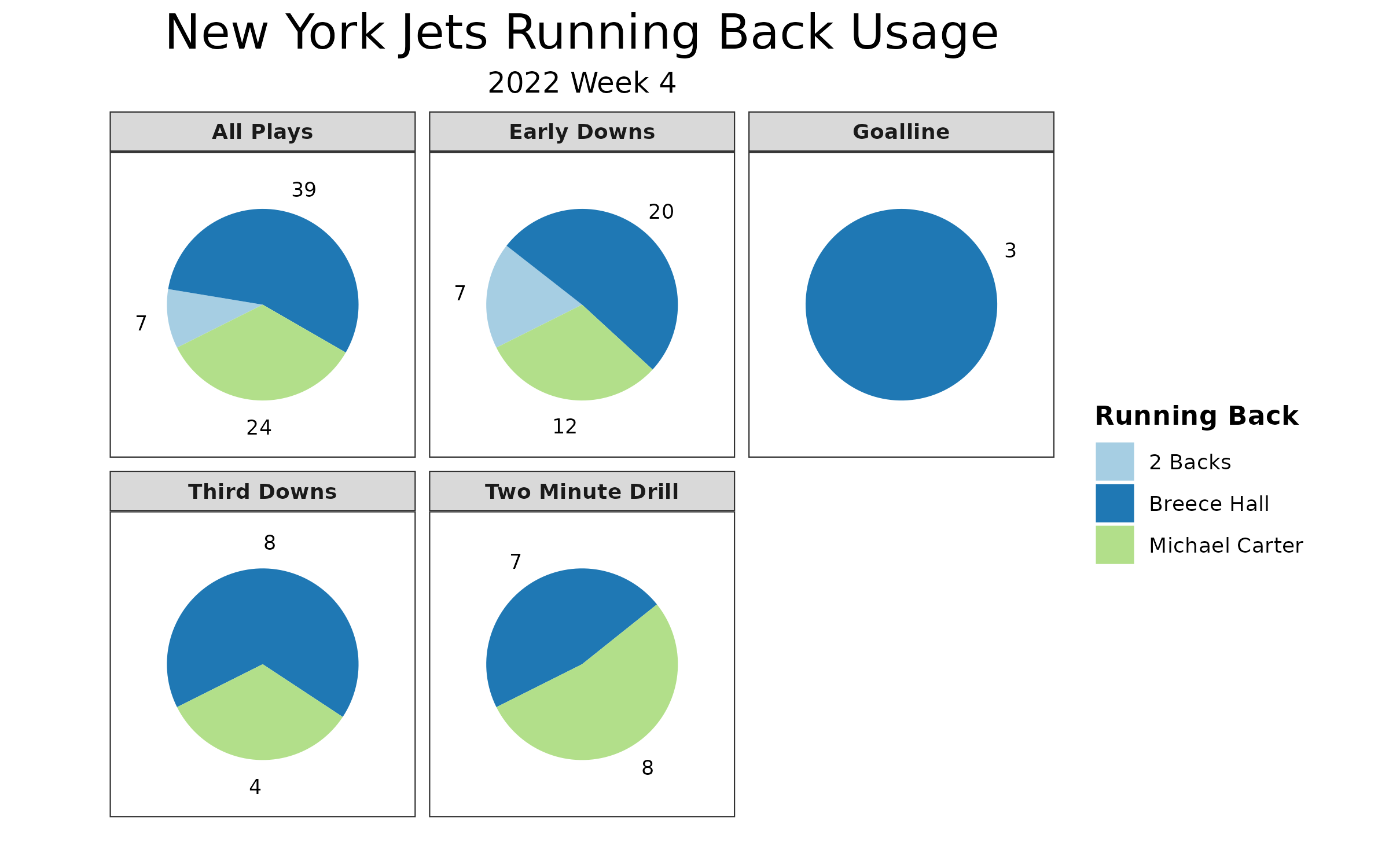 Buy low on Garrett Wilson: Wilson only caught two passes for 41 yards, but he continues to be very involved in the offense.
His percentage of offensive snaps has been on the rise each week.

He still received the majority of his snaps in the slot like he has the past two weeks, but he played 19 snaps out wide compared to just seven last week.

His 1.58 yards per route run from the slot were the most for him since he started to be used as a slot receiver.

His PFF receiving grade is the highest of all the Jets wide receivers.
---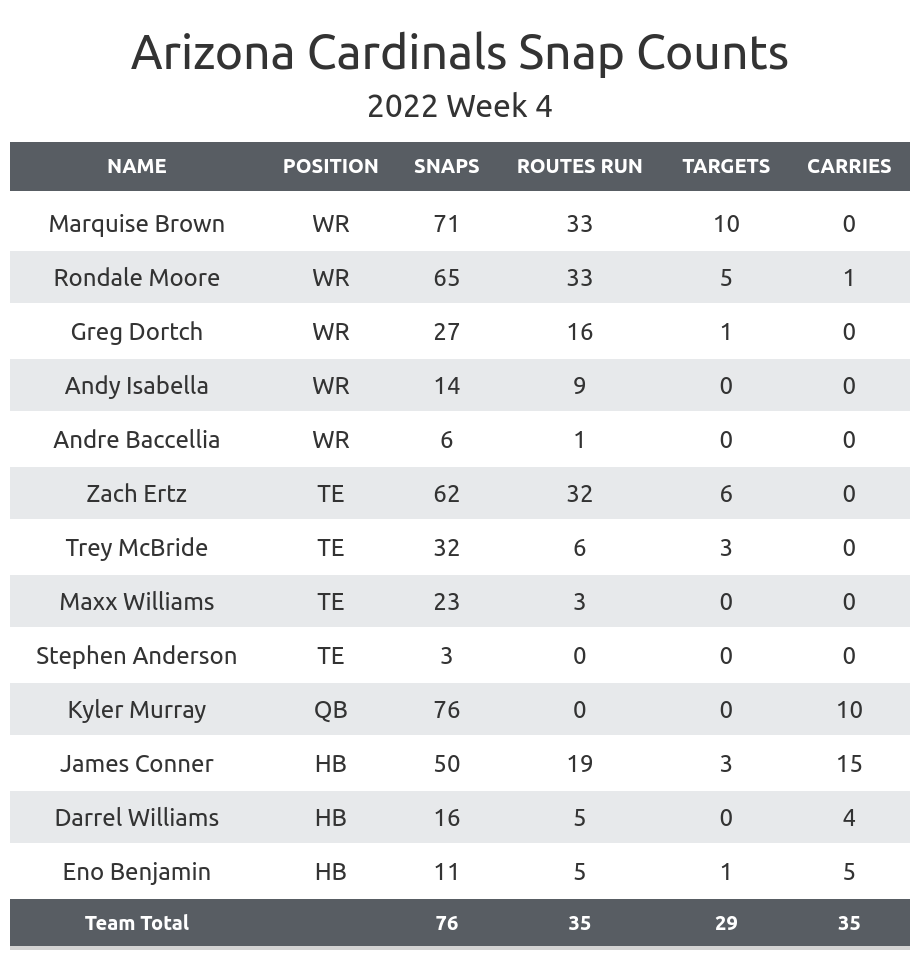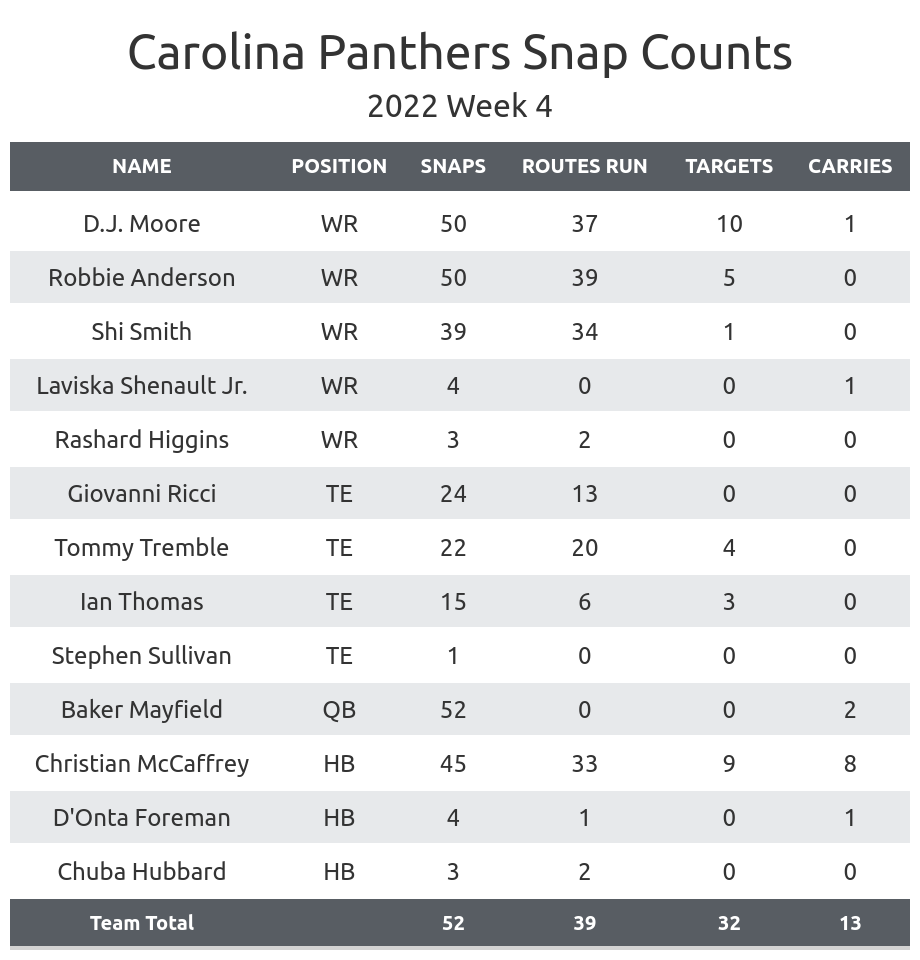 The return of Rondale Moore: Moore missed the first three games of the season but returned in Week 4 and was definitely not on a pitch count.
Moore was expected to be the team's slot receiver this season, but

A.J. Green

was inactive with a knee injury, often forcing Moore to play out wide.

Greg Dortch

led the team in snaps from the slot with 23, but 10 of those were run blocks.

Moore ran just as man routes from the slot (13) but lined up there just four times on run plays.

We'll learn more about how much time Moore will have to share with Dortch in the slot once Green and

DeAndre Hopkins

are back.

Moore caught three of five passes for 11 yards and lost four yards on his only run.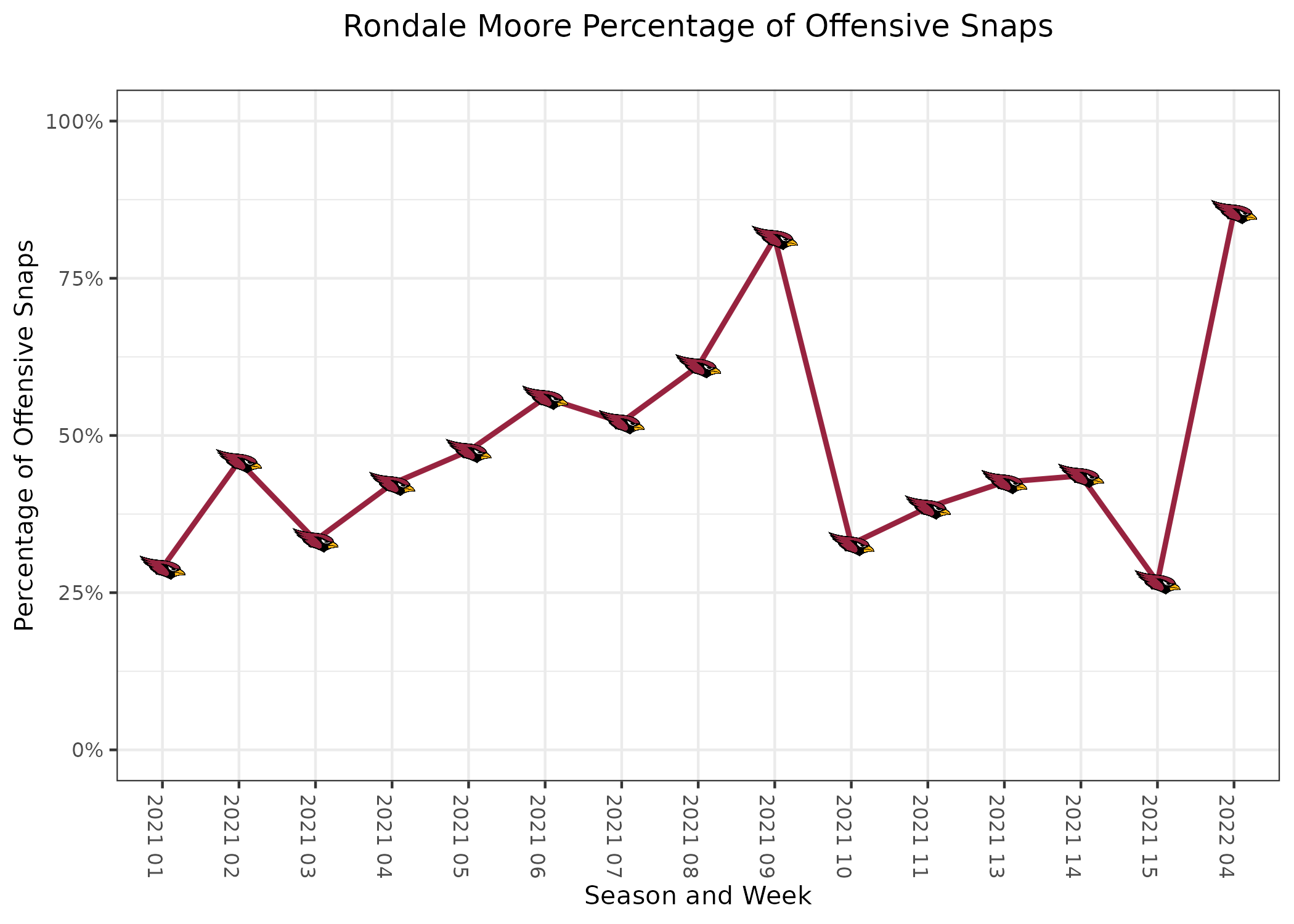 Monitor James Conner's usage: Conner was limited throughout the week with a knee injury. His playing time improved from last week, but it hasn't reached the heights some fantasy managers have hoped for.
Conner saw a slight uptick in snaps compared to last week but wasn't quite at his Week 1 heights and is still not close to his peak in 2021.

He was the primary back in every situation for Arizona, so he's limited only by how much Arizona wants him on the field rather than the situation.

He ran 15 times for 55 yards and caught three passes for 22 yards.

He could be considered a buy-low option.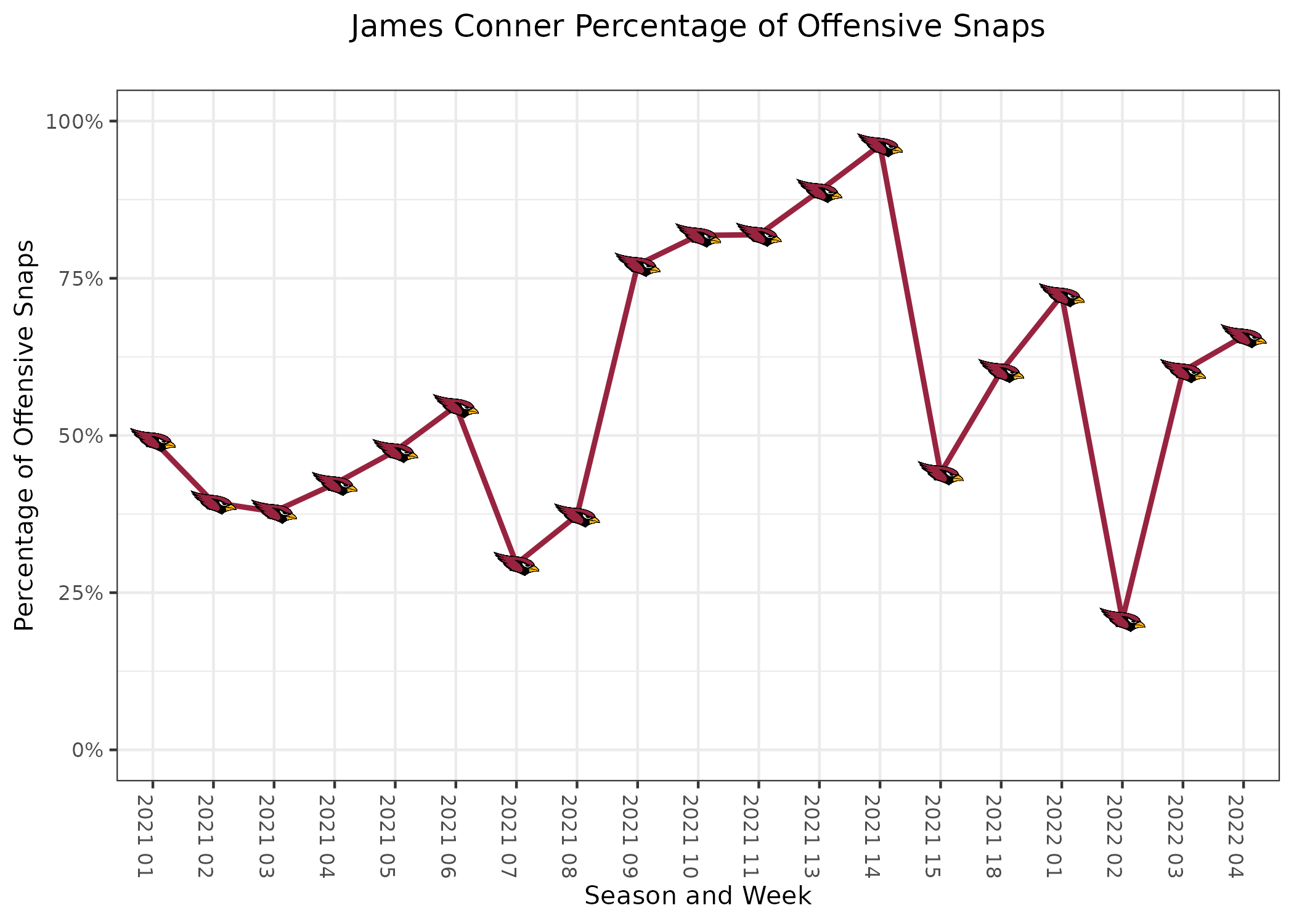 Monitor the Laviska Shenault injury: Shenault suffered a hamstring injury in the first quarter and didn't return.
Shi Smith

had been the Panthers' clear slot receiver the first two games, but Shenault started to cut into his playing time in Week 3.

Smith played six snaps to Shenault's four within the first 14 offensive snaps prior to the Shenault injury.

Smith played 33 of 38 snaps over the rest of the game.

The Panthers were dominated in time of possession, which has become a trend, making it hard to trust any of the wide receivers on the team, let alone the third one.
---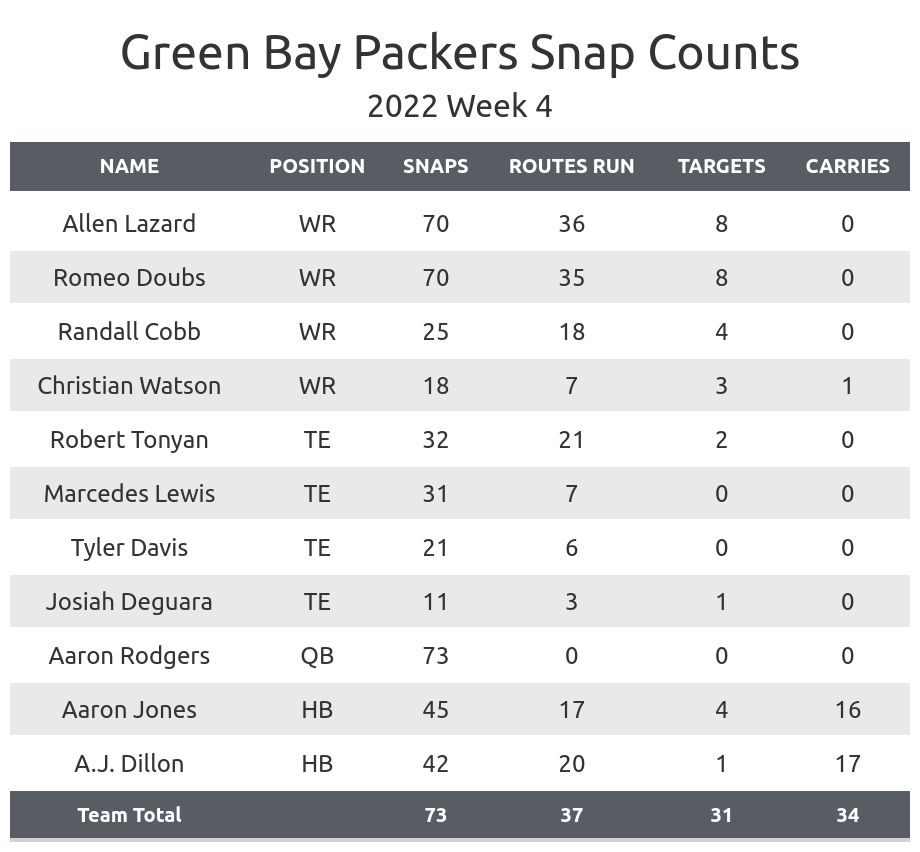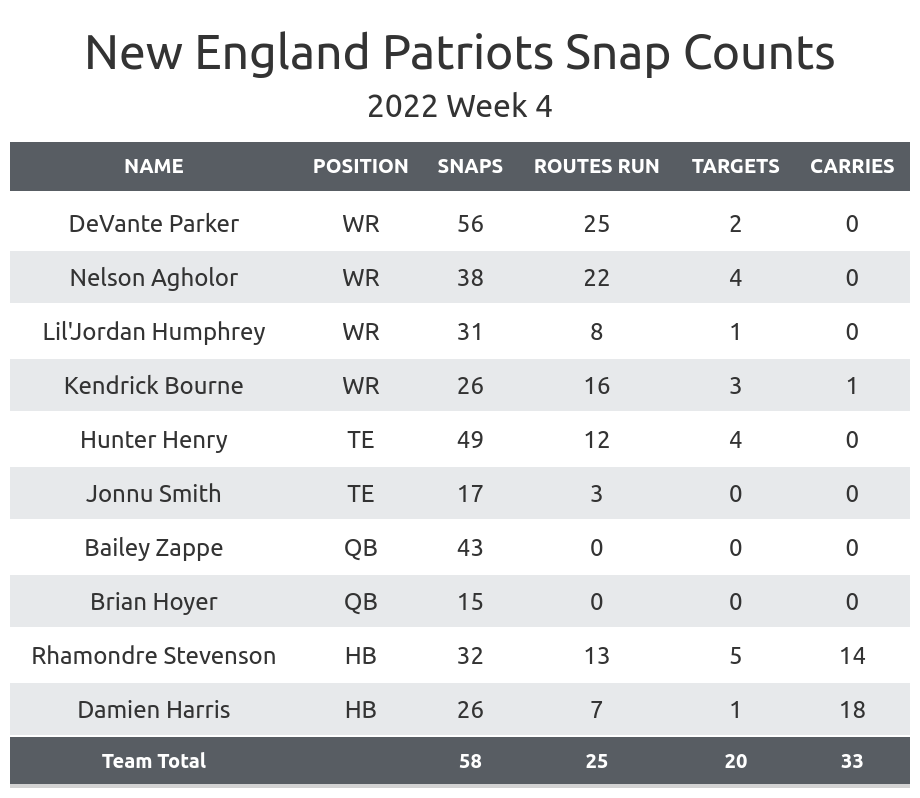 Monitor the Jonnu Smith ankle injury: Smith suffered an ankle injury in the second quarter and didn't return.
The Patriots stayed in 11 personnel for every snap during the rest of the game, with

Hunter Henry

never leaving the field.

Henry would be worth at least picking up again if the Smith injury is serious.

Part of Henry's problem has been not as much playing time the previous two weeks compared to most games last season.

He also hasn't seen as many targets per route run, but this would at least solve some of those problems.
Patriots mix up their RB usage: The Patriots remain a two-man backfield with Ty Montgomery on injured reserve but changed how they were using their two backs.
The Patriots had used a strict rotation by drive, with

Damien Harris

playing one drive and

Rhamondre Stevenson

the next.

The main exception had been Stevenson playing in two-minute drills.

New England rotated its backs much more frequently this week.

This allowed the Patriots to use Stevenson on every third down.

Stevenson has played six or more snaps on third downs just three times in his career, and those have been the past three weeks.

Both backs remain borderline fantasy starters depending on the matchup, but Stevenson is becoming more valuable in passing situations because of this.

Stevenson had graded out better as a rusher and receiver this season, so he could see an even larger majority of snaps over time.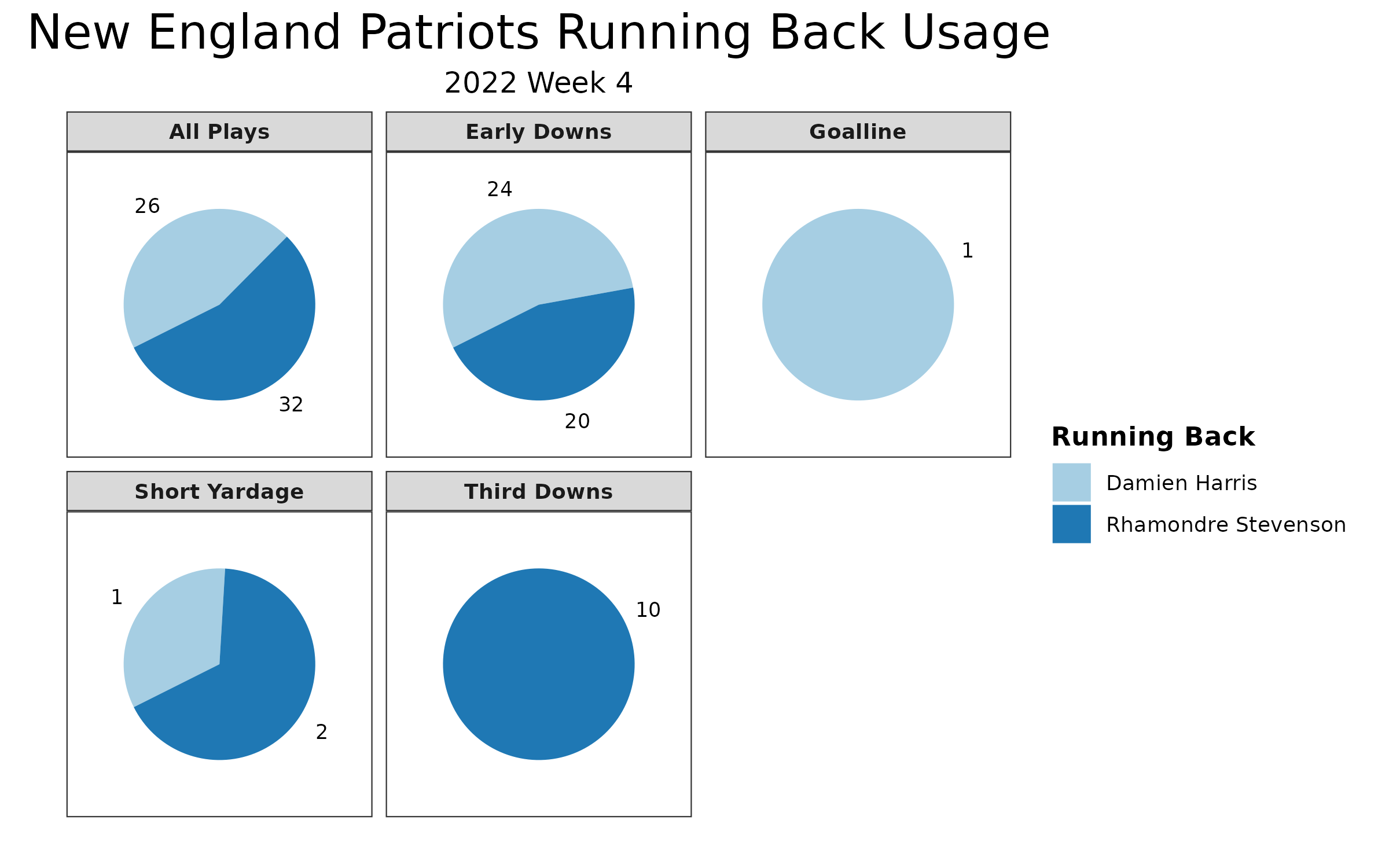 Add and consider starting Romeo Doubs: Doubs went from leading a rotation at wide receiver to being one of the two clear starters in Green Bay.
Both he and

Allen Lazard

were tied in both offensive snaps and targets. Lazard had more receiving yards, but Doubs had the touchdown.

His 24 targets are good for 30th-best on the season despite him having a rotational role earlier in the season.

His playing time doesn't have any higher to go, but he could become a clear leader in targets on the team sooner rather than later, catching passes from the former MVP.

Both Randall Cobb

and

Christian Watson

shared time in the slot when Green Bay ran three-receiver sets. Watson's percentage of offensive snaps has declined each week since he started playing.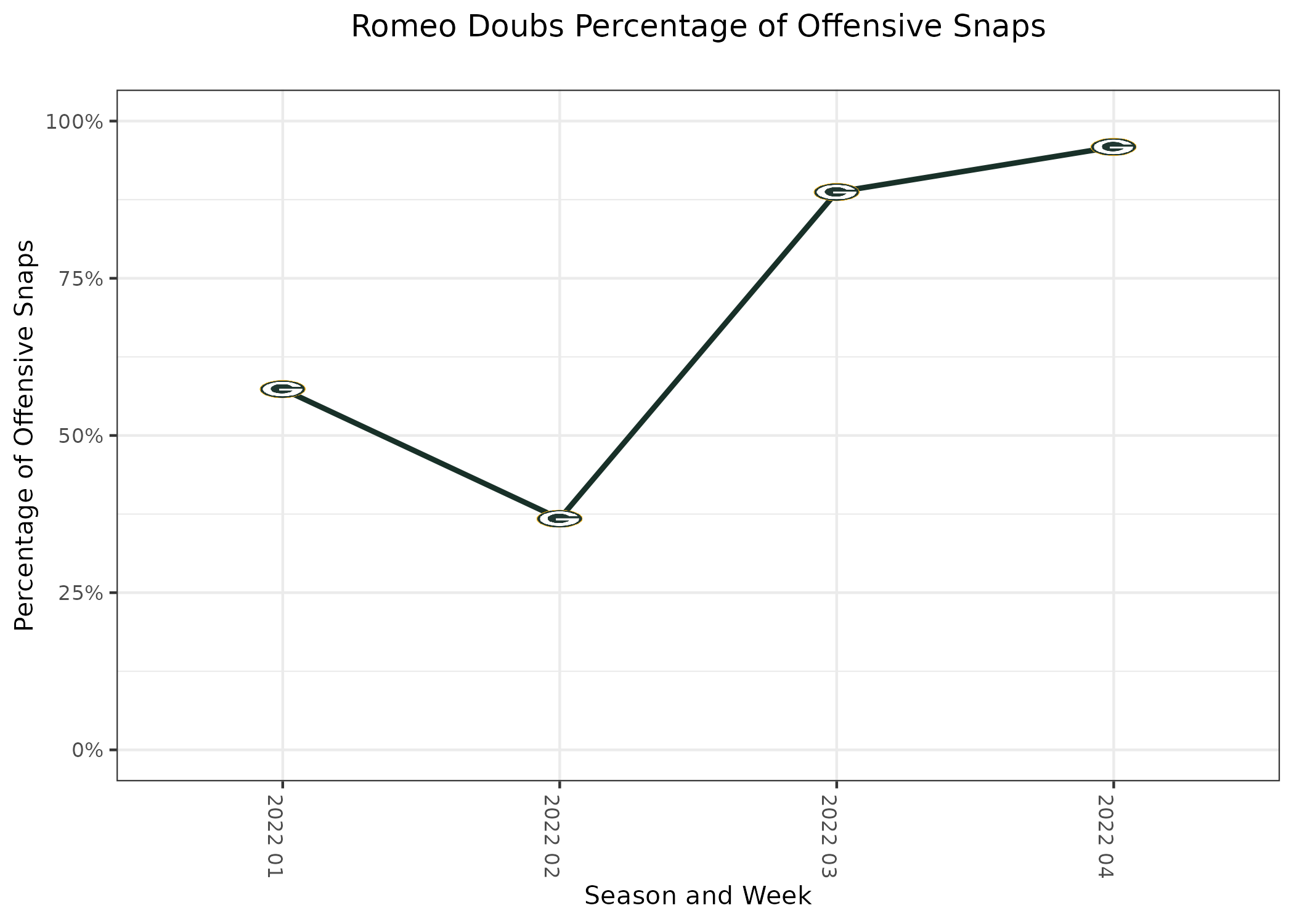 ---
Josh Jacobs: 28 carries, 144 yards, 2 touchdowns, 5 receptions, 31 receiving yards
• Davante Adams: 9 receptions, 101 yards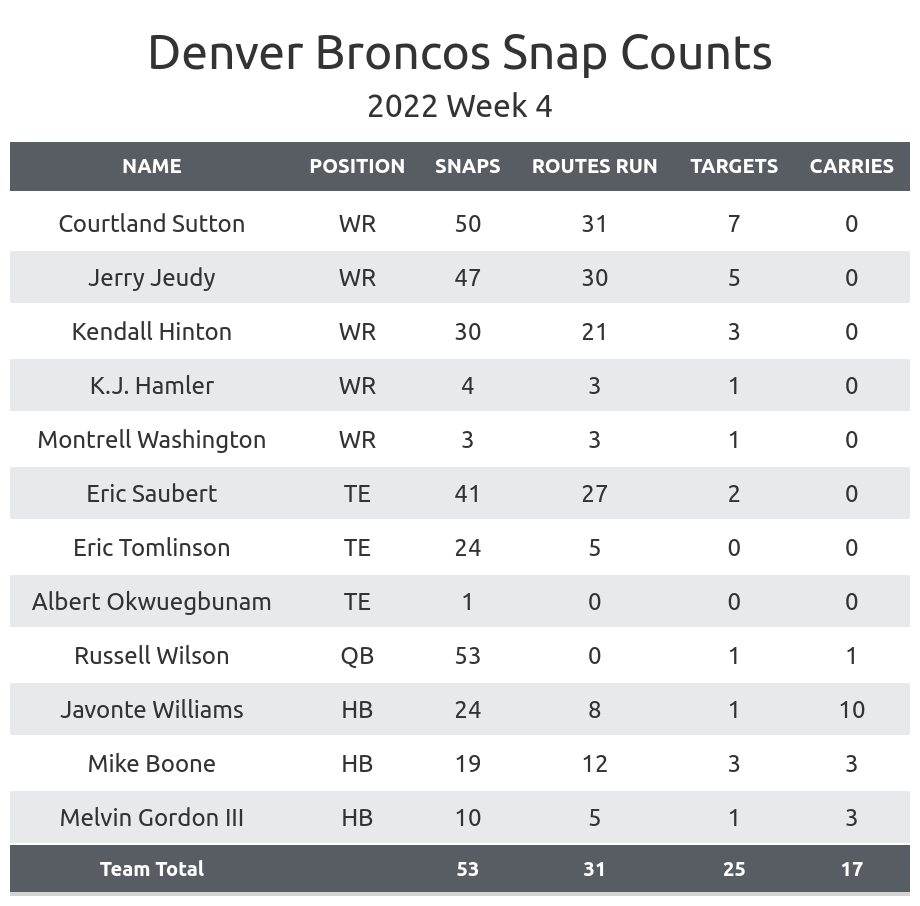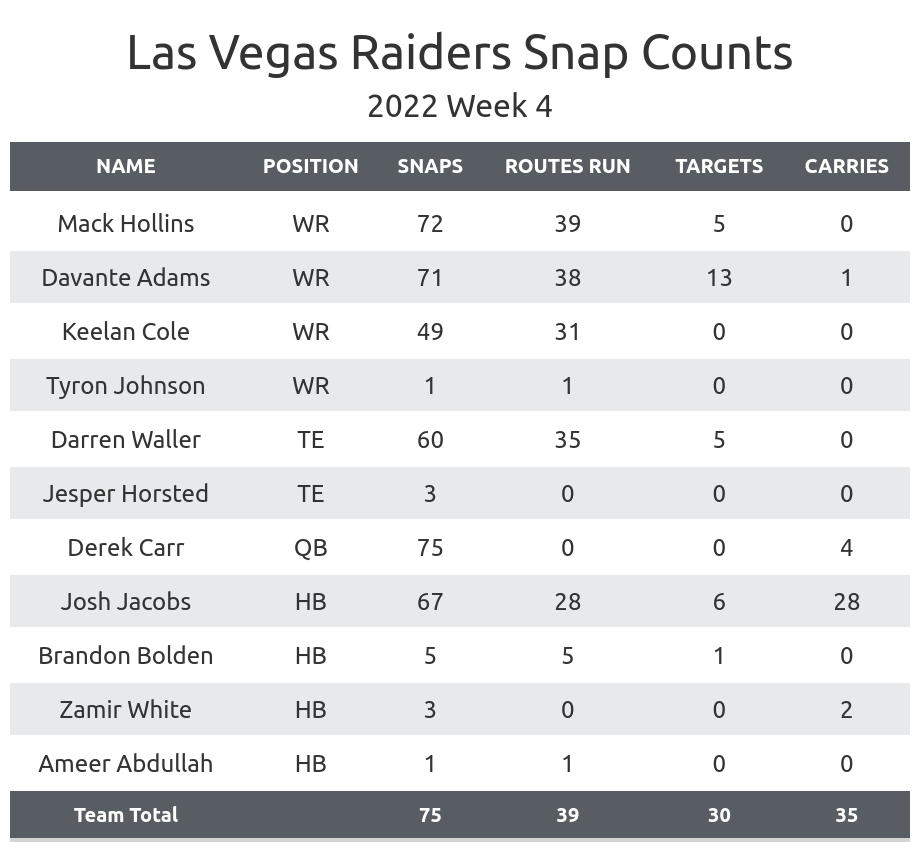 Monitor the Javonte Williams injury: Williams suffered a knee injury on the first play of the second half. He was carted to the locker room, quickly ruled out and was seen on crutches at the end of the game.
There are a variety of injuries this could be, but it wouldn't be surprising if Williams missed a few games — at least.

Williams played 23-of-25 snaps in the first half, finally seeing the usage all fantasy managers had been dreaming of.

Melvin Gordon

also took a trip to the medical tent but returned before the end of the game.

Mike Boone

took nine snaps in the fourth quarter to seven by Gordon.

Gordon was on the injury report heading into the game with a neck injury that kept him limited in practice.

Boone should be a popular waiver wire pickup, as he could see significant early-down work as well as the passing-down snaps.

Gordon should remain on fantasy rosters, but it's no sure thing that he will see over 50% of offensive snaps.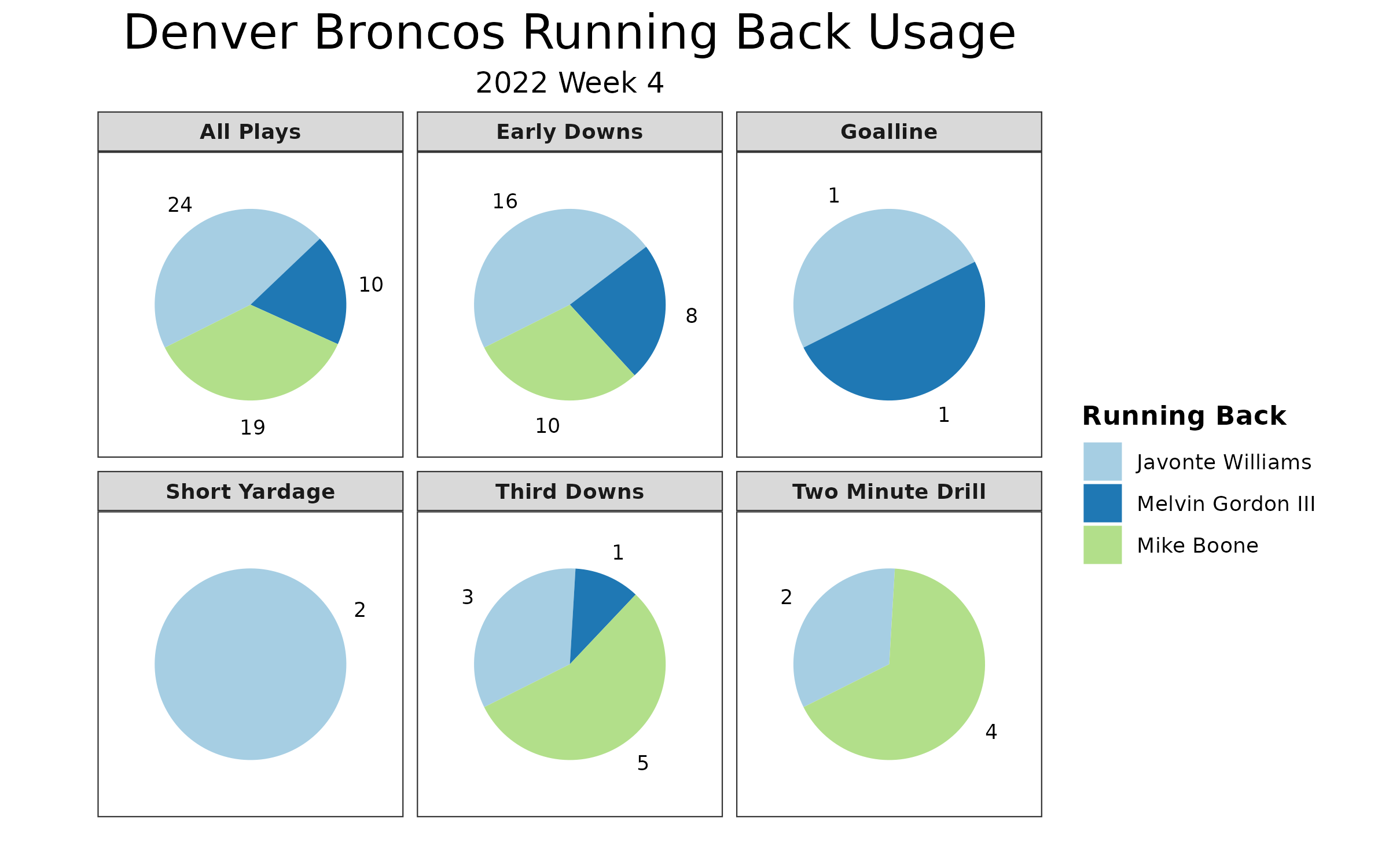 Drop Albert Okwuegbunam: The Broncos tight end received only one offensive snap, the only time Denver used a three-tight end set.
Rookie

Greg Dulcich

has been on injured reserve but has a very high chance of practicing this week and could join the active roster in the next week or two.

He will likely become the Broncos' receiving tight end by the end of the season, making it unlikely Okwuegbunam can carve out significant playing time again without an injury.

There is always a chance the Broncos trade Okwuegbunam, as it's unlikely Denver keeps four tight ends and one fullback on their active roster each week.

Dulcich would be a strong waiver wire target at tight end this week.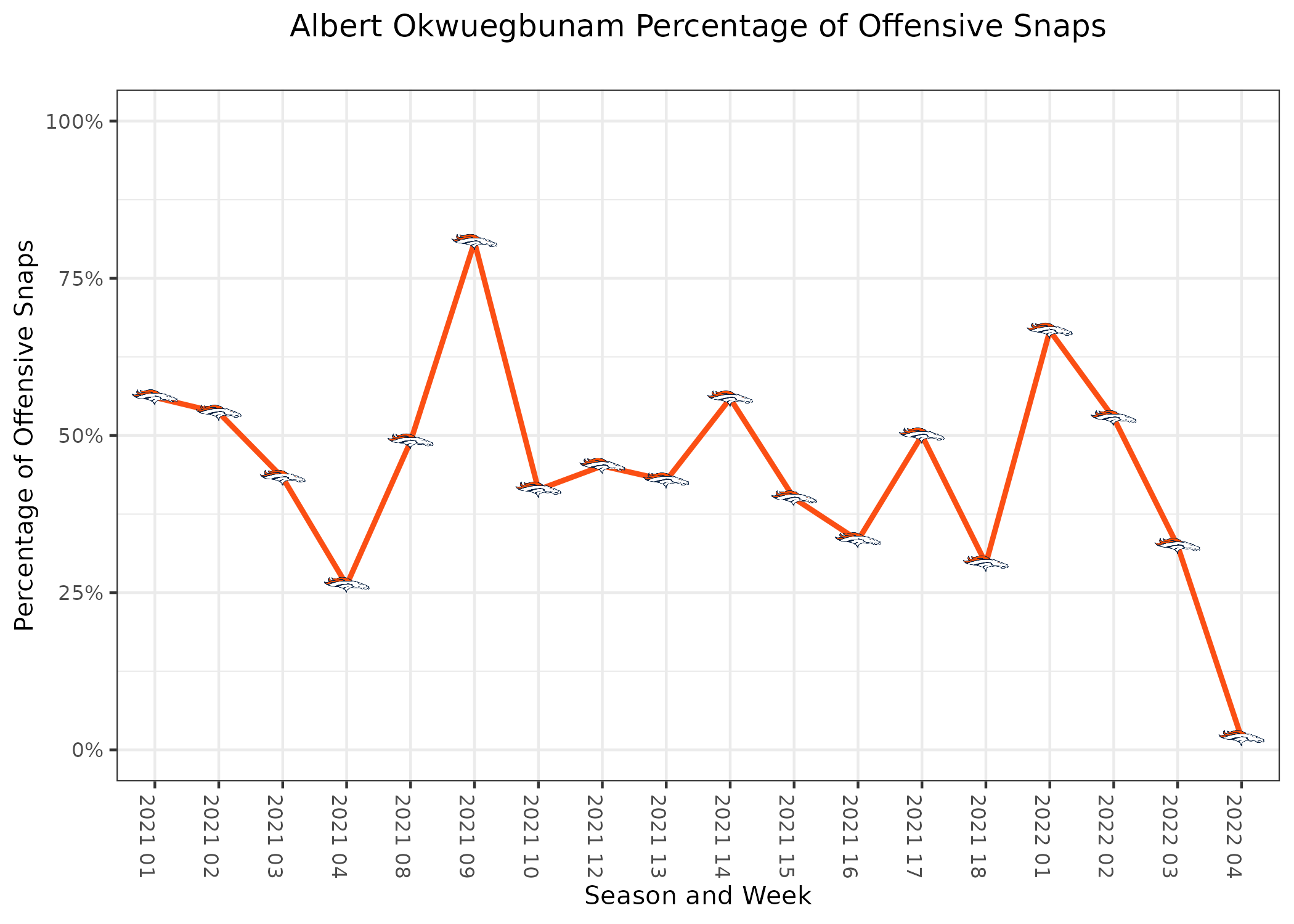 Keep Josh Jacobs: Jacobs had a career game but should not be a sell-high candidate.
The Raiders' use of Jacobs this week was similar to other weeks.

He's maintained a huge dominance of early-down snaps. He's received 86% of those snaps this season.

He's seen a clear majority of snaps in short yardage, at the goal line and in two-minute drills, both in this game and in the season as a whole.

He still plays in a minority of third downs, and that is unlikely to change.

The only difference in this game and other weeks was the game script, which meant they could rely on Jacobs late in the game rather than pass late.

He obviously won't have over 150 yards and two touchdowns every week, but there is no sign of him losing opportunities.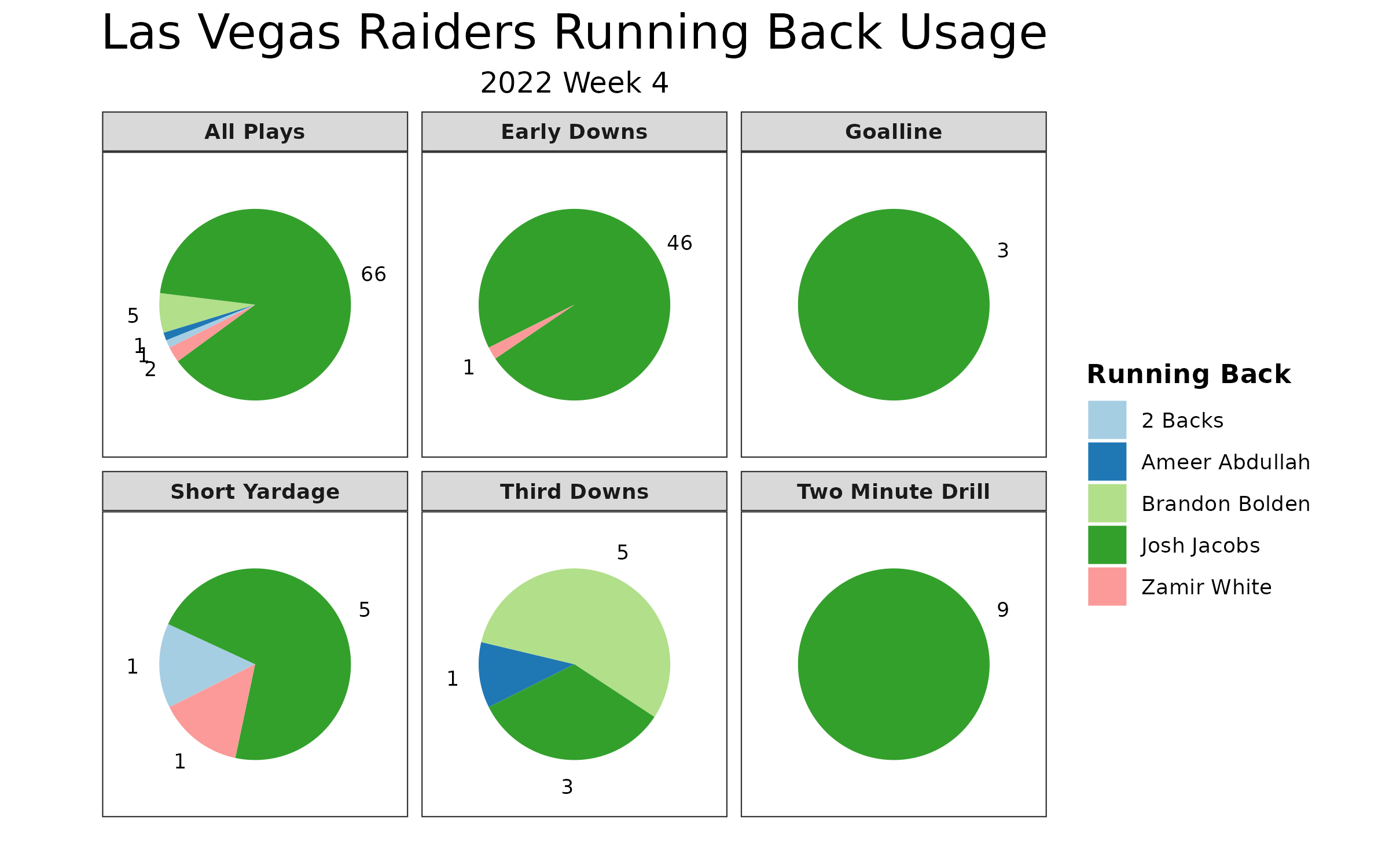 ---
• Mike Evans: 8 receptions, 103 yards, 2 touchdowns
• Travis Kelce: 9 receptions, 92 yards, 1 touchdown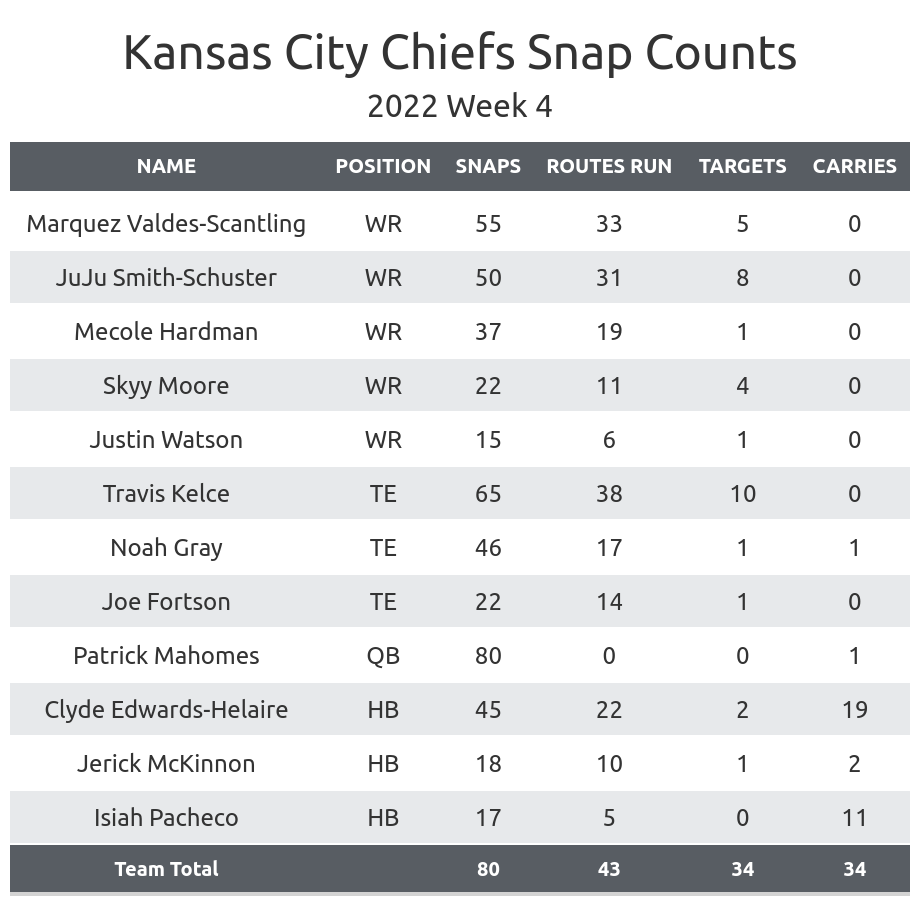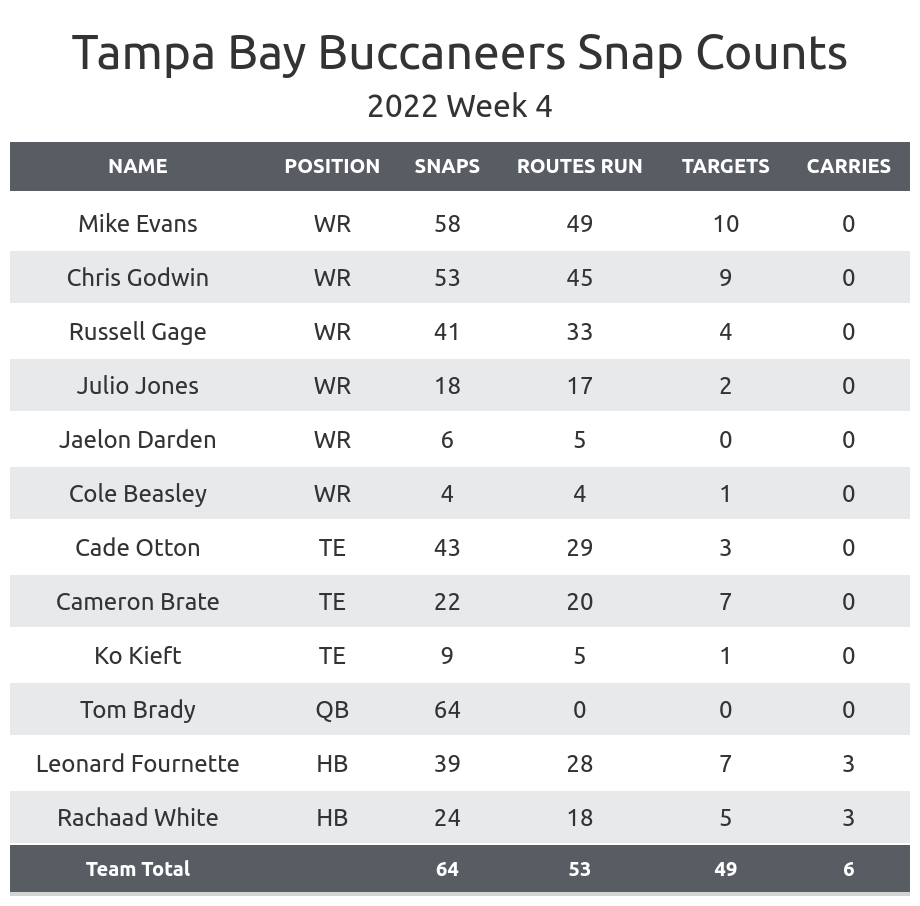 Add Rachaad White: Leonard Fournette managed an ineffective -3 yards on three carries, which contributed to the rookie seeing significant playing time.
Fournette hadn't played as well heading into this game, either.

His yards after contact per carry, first-down rate and avoided tackle rate are all down significantly from last season.

Fournette had appeared on the injury report in past weeks with a hamstring injury but wasn't listed this week.

His fantasy value was saved by a five-yard touchdown catch late in the fourth quarter tonight.

White took two full drives in the first half and second half, rather than the Buccaneers rotating by situation.

Because the backs are used interchangeably, Tampa Bay could give White significantly more playing time if desired.

He's worth a waiver wire addition just in case his playing time improves to that degree.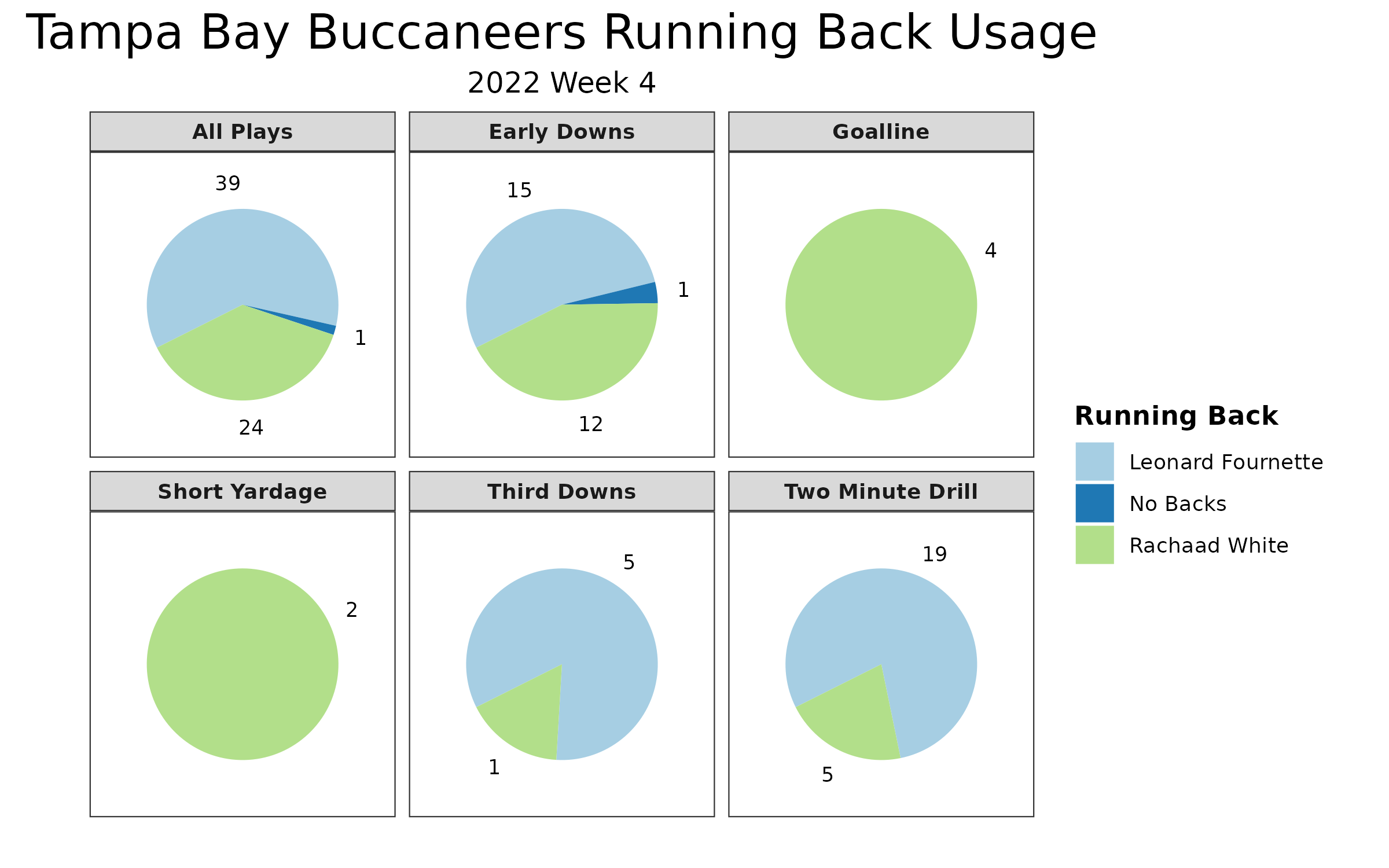 The Buccaneers' wide receivers are finally (relatively) healthy: The Buccaneers didn't have most of their tight ends a week ago but had the top four tight ends on their depth chart playing together for the first time.
Mike Evans

and

Chris Godwin

remained clear starters for Tampa Bay despite the new competition.

Russell Gage

and

Julio Jones

largely had to fight for playing time for the second spot.

It will be hard to trust Gage and Jones going forward if the Buccaneers follow this trend, as both players ran a route on less than 50% of the team's dropbacks.

Godwin was the clear leader in snaps out of the slot, while Evans ran the second-most snaps out of the slot. Gage had been the primary slot receiver in the first three games, but he was stuck running routes on the outside.

Breshad Perriman

missed this game, but he will likely be the fifth wide receiver when healthy. He could further complicate the situation.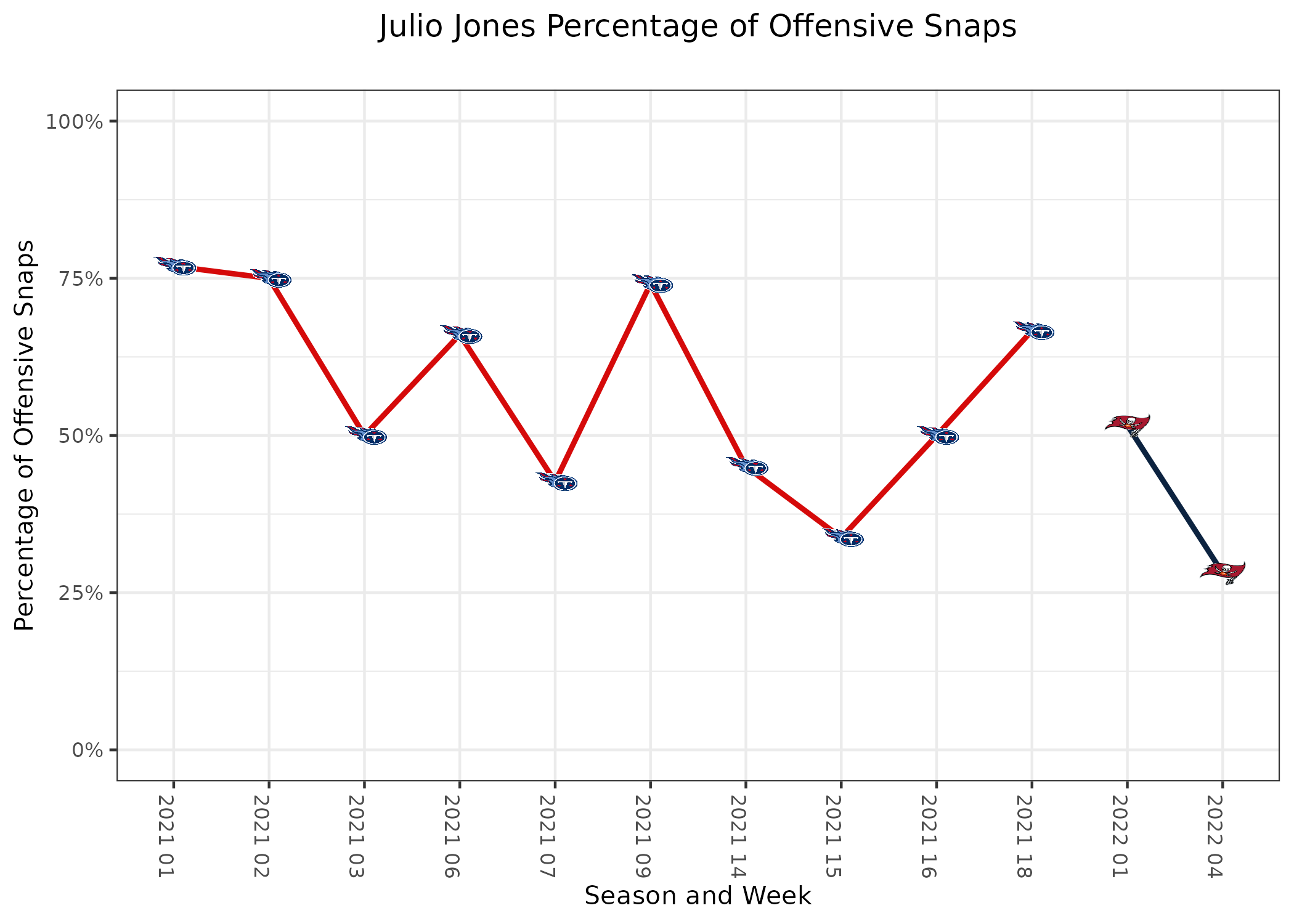 Monitor the Cameron Brate injury: Brate suffered a concussion near the end of the first half and missed the rest of the game.
Brate was off to a fine start, totaling four catches for 32 yards on seven targets.

Cade Otton

took over as the primary receiving tight end for the rest of the game.

Kyle Rudolph

was a healthy inactive for Tampa Bay.

This is probably a situation to avoid if Brate misses a game, but Otton would be the player to pick up in deep leagues.
Isiah Pacheco's increased usage: Pacheco garnered his most promising usage of the season, which is a trend that could continue.
Most of his snaps came at the expense of

Jerick McKinnon

rather than

Clyde Edwards-Helaire

.

Edwards-Helaire handled a larger majority of snaps on early downs compared to last week.

All three backs received noteworthy snaps in short-yardage and goal-line situations. This was also a situation dominated by McKinnon last week.

McKinnon maintained his role as the third down and two-minute drill back.

Edwards-Helaire remains a weekly fantasy starter.

It's OK to add Pacheco in deeper leagues, but it would be difficult for him to become a fantasy starter without an Edwards-Helaire injury.

It's OK to cut McKinnon in most leagues after him losing a lot of snaps.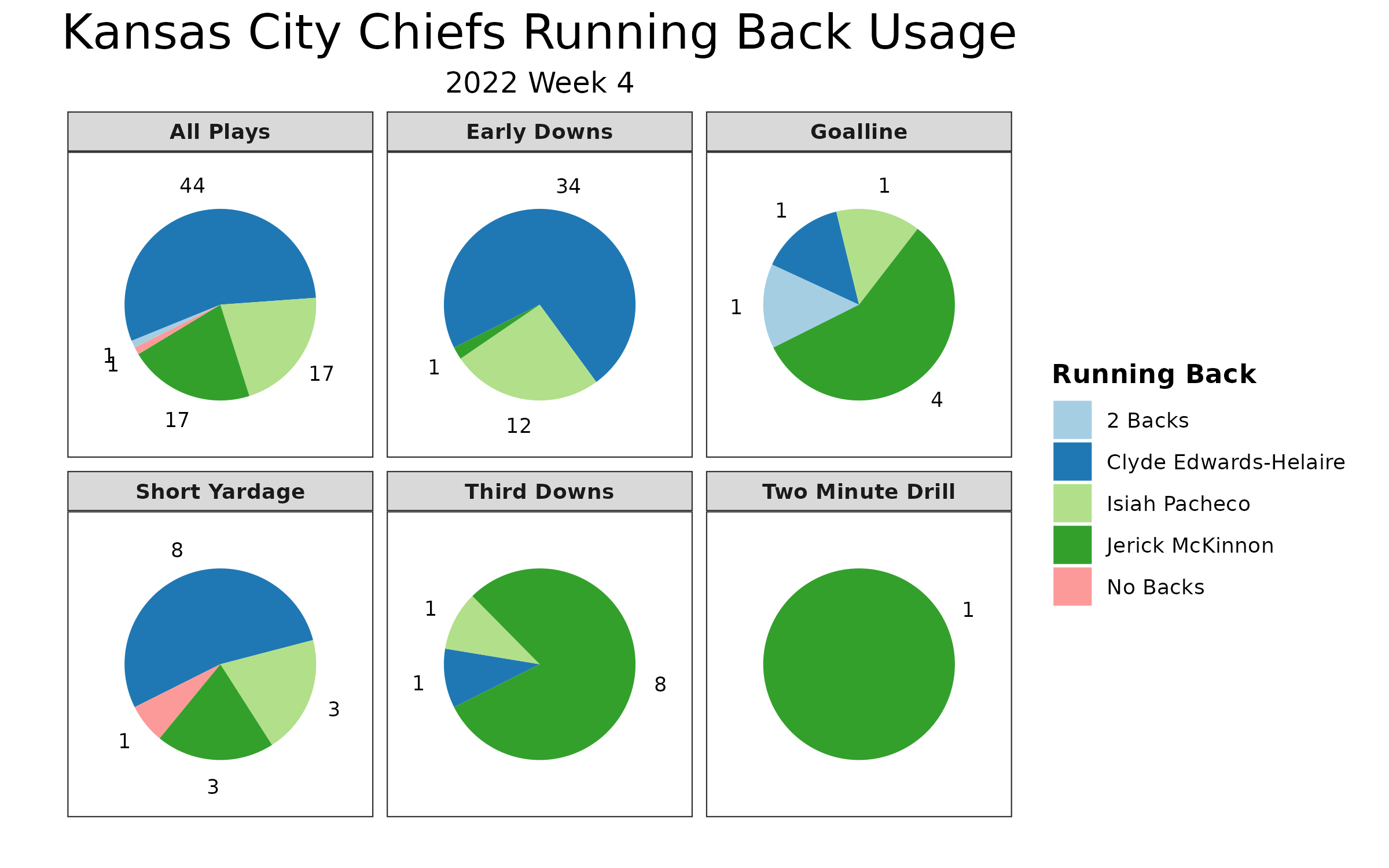 Skyy Moore sees increased usage: Moore is the other Kansas City rookie who was more involved in the offense tonight, running just as many routes as he did over his first three games combined.
Moore surpassed

Justin Watson

for fourth on the depth chart, while Watson still saw limited playing time.

This rotation hurt all of the Chiefs' wide receivers, as no receiver ran a route on over 80% of the team's pass routes.

Mecole Hardman

has seen his role reduced the most and can be dropped in most league formats.

Moore could see his snaps increase further as the season progresses, but it might not reach a point where he can be relied on in fantasy leagues this year.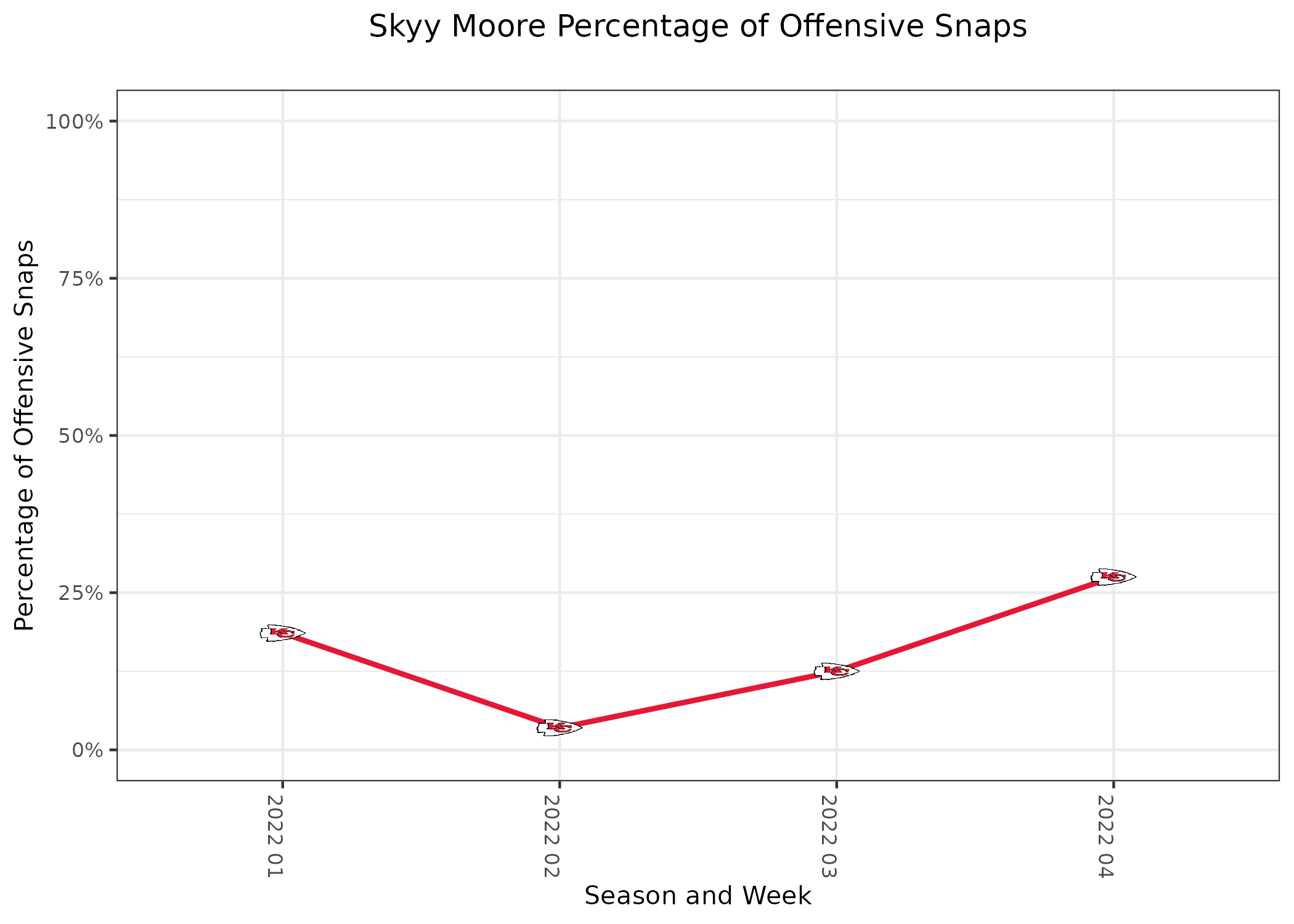 Table Notes
Snaps include plays called back due to penalties, including offensive holding or defensive pass interference. The other three stats have these plays removed.

Targets may differ from official NFL sources. The most likely discrepancy would be from a clear thrown-away pass, where the NFL may give the target to the nearest receiver, while this data will not.

Carries are only on designed plays. Quarterback scrambles won't count for the total number of carries in the game.