• Zay Jones nets hat trick: Jones had two touchdowns this season coming into Week 15 but now has five after a game to remember against the Cowboys.
• Tyler Allgeier hits 100 receiving yards for first time: Allgeier had a career high of 99 rushing yards coming into Week 15 and demolished that against the Saints.
• DeVonta Smith gains 100 yards again: The sophomore receiver had a quiet middle of the season amid A.J. Brown's consistent play, but Smith is heating up in December with his second 100-yard game of the month.
---
PFF's fantasy football recap focuses on player usage and stats, breaking down all the vital information you need to achieve fantasy success in 2022.

Jump to a game:
[email protected] | [email protected] | [email protected] | [email protected] | [email protected] | [email protected]
[email protected] | [email protected] | [email protected] | [email protected] | [email protected]
---
• C.J. Uzomah: 2 receptions, 41 yards, 2 touchdowns
• Amon-Ra St. Brown: 7 receptions, 76 yards, 1 carry, 6 rushing yards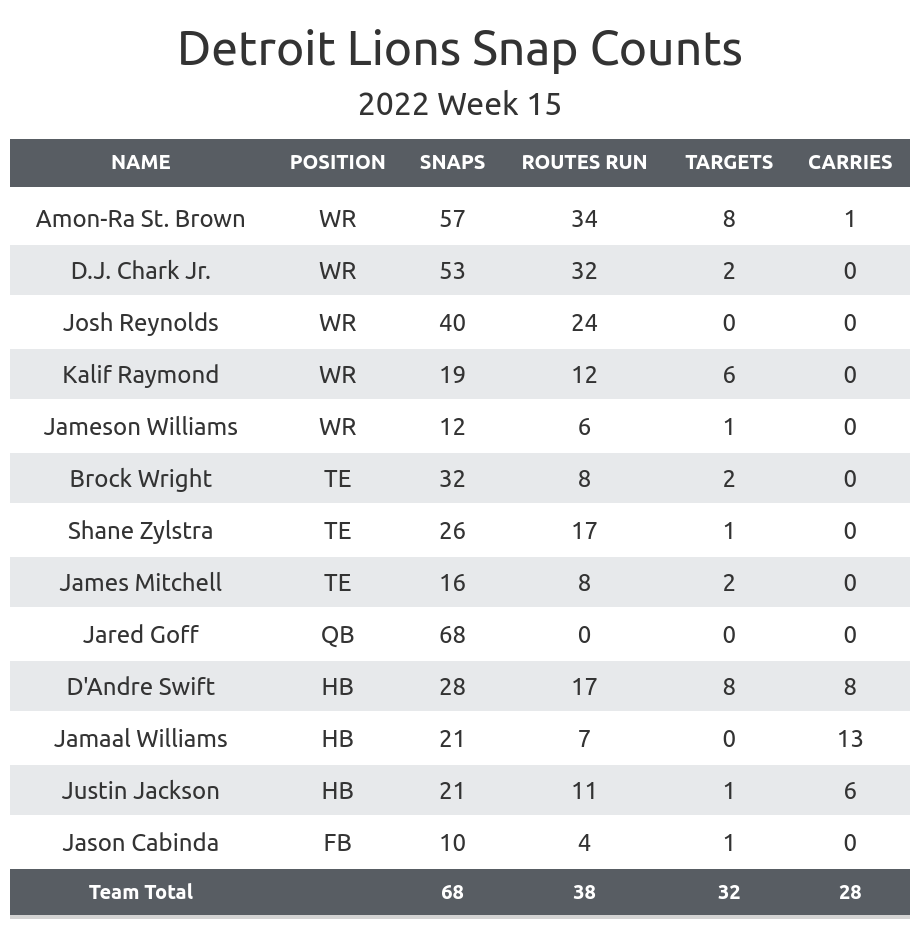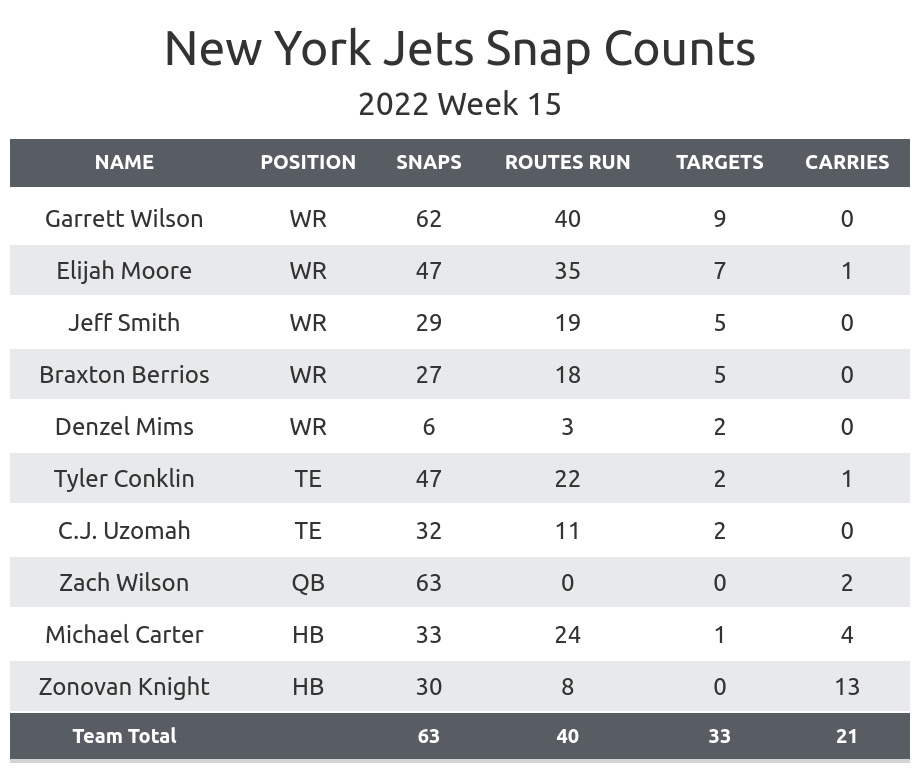 Monitor Denzel Mims' health: Mims went to the medical tent during the Jets' second drive and didn't return to the game after being placed in the concussion protocol.
Mims started the game in place of

Corey Davis

, who was out with a concussion.

Mims has four games with over 50% of offensive snaps in the past two months due to various Davis injuries.

The Jets decided to put

Jeff Smith

in at outside receiver rather than move

Elijah Moore

to the outside with

Braxton Berrios

in the slot.

Despite the multiple injuries, Moore still didn't see an increased role in two-receiver sets. His high snap total was from the Jets mostly staying in three-receiver sets.

Smith has been a backup Jets wide receiver for the past four seasons, which included seven starts over 2020-2021.

He ended up with the second-most receiving yards for the Jets, catching four passes for 77 yards.

Smith suffered an ankle injury at the start of the fourth quarter. He was replaced by Berrios, who played out of position on the outside.

New York has one more great matchup left for their wide receivers next week against the Jaguars

on Thursday Night Football. Davis might be a solid option playing in Smith's role if he's healthy, as

Zach Wilson

is expected to start again.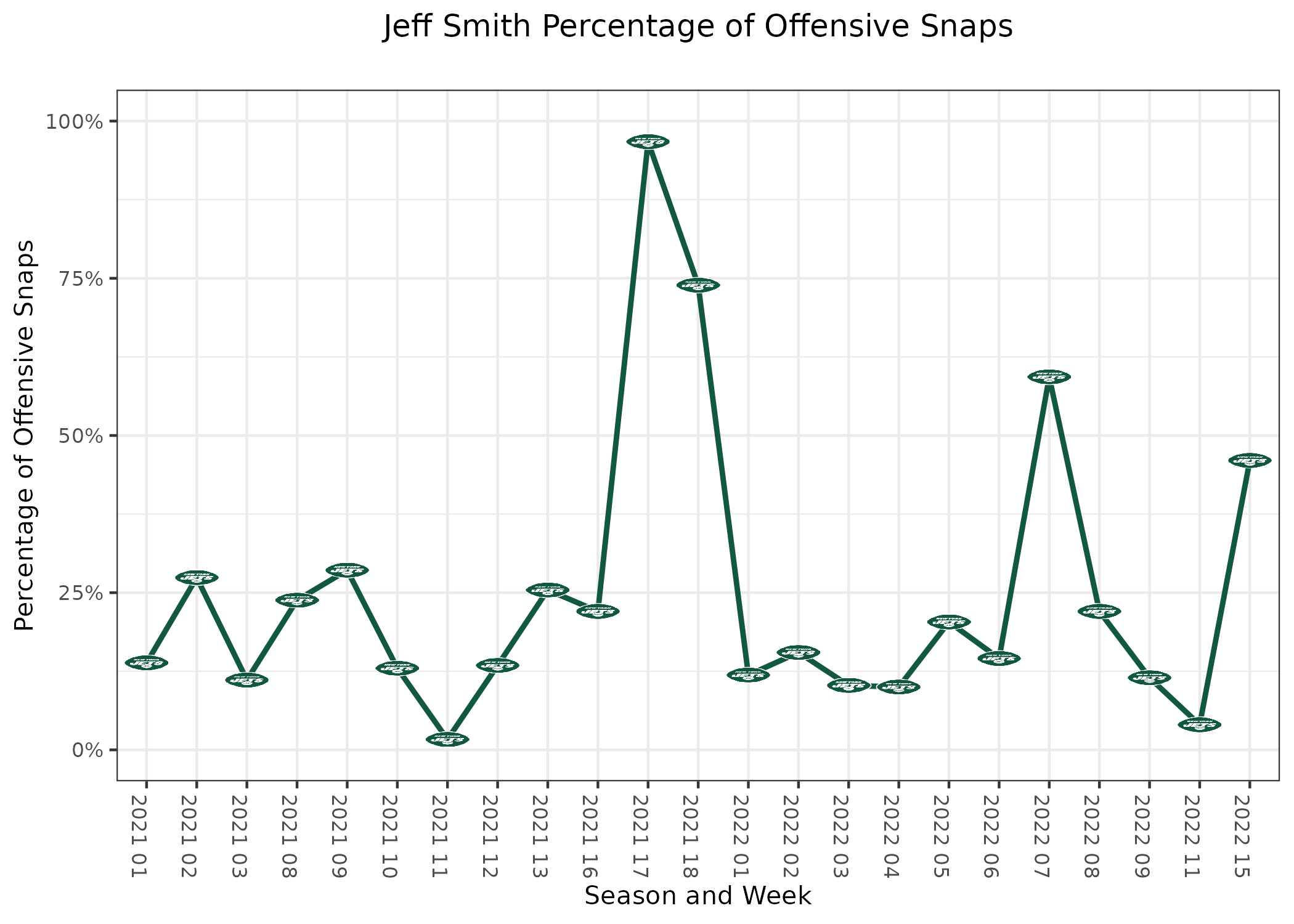 Don't add C.J. Uzomah: The backup tight end caught two touchdown passes, but his role didn't necessarily increase.
Uzomah has spent most of the season in two-tight end sets while also playing some snaps in 11 personnel in more running situations than passing.

The Jets have been using more 11 personnel and fewer two-tight end sets in recent weeks, which has left Uzomah with fewer snaps.

This role allows him to run between 10-20 routes each week. This week was on the lower end of that (11).

He hasn't seen more than three targets in a game all season.

This was his first game finding the end zone.

Chances are he will continue to see 10-20 routes a game with one or two targets. That isn't enough opportunities to be worth taking a chance on.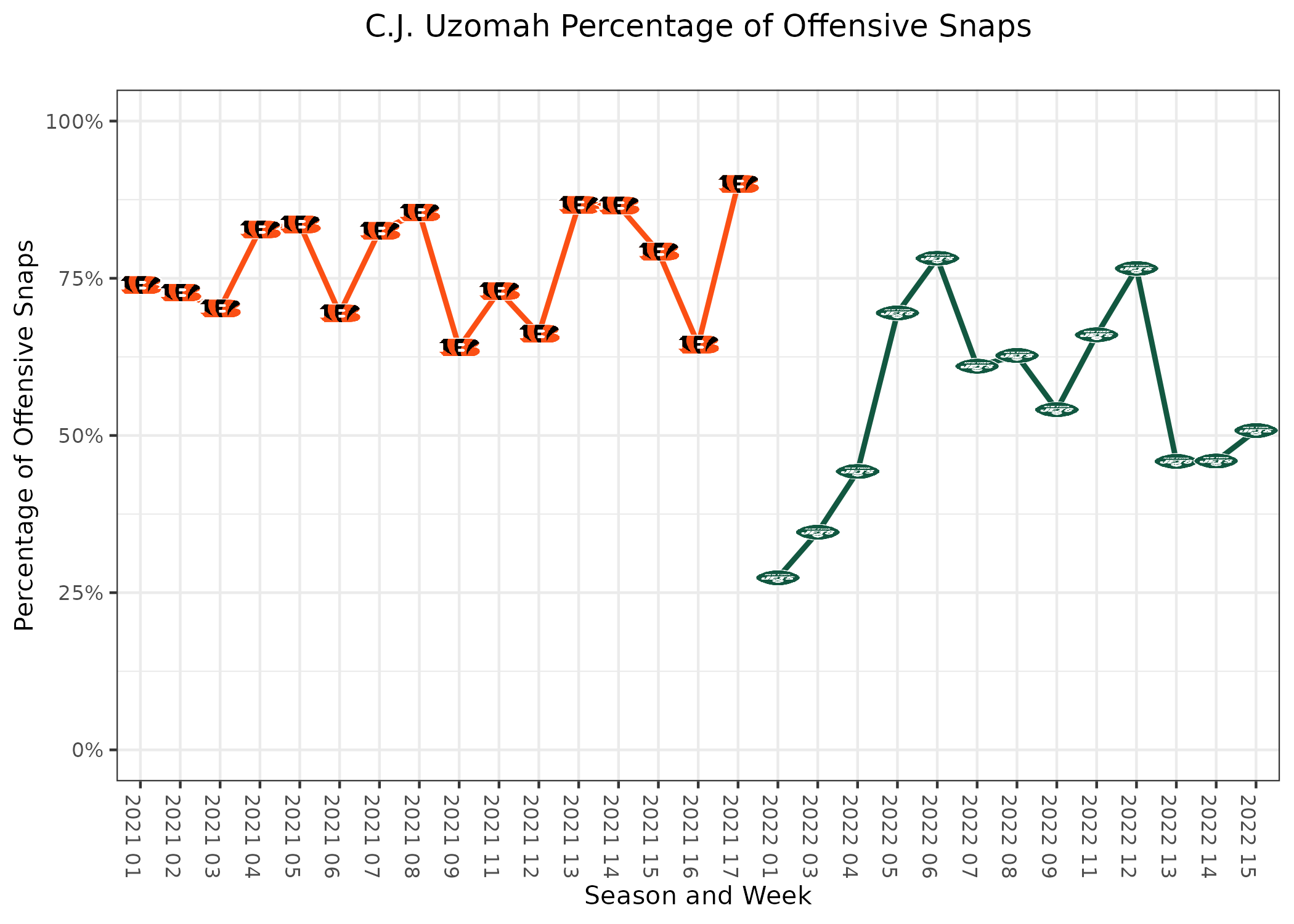 Drop Jameson Williams: Williams has now played three games for the Lions, but his role has barely increased.
Williams is being used in a variety of personnel groupings on offense but sees only a few snaps in each.

11 personnel is the most important group for a wide receiver to see playing time, and he played only four of a possible 38 snaps this week, making it impossible to start him next week.

The best-case scenario is he somehow becomes a full-time starter during next week's game, but even if that happens, the Lions play the

Bears

in Week 17, which isn't a favorable matchup.

It's still OK to take a chance on Williams in DFS in case he makes a big play or two.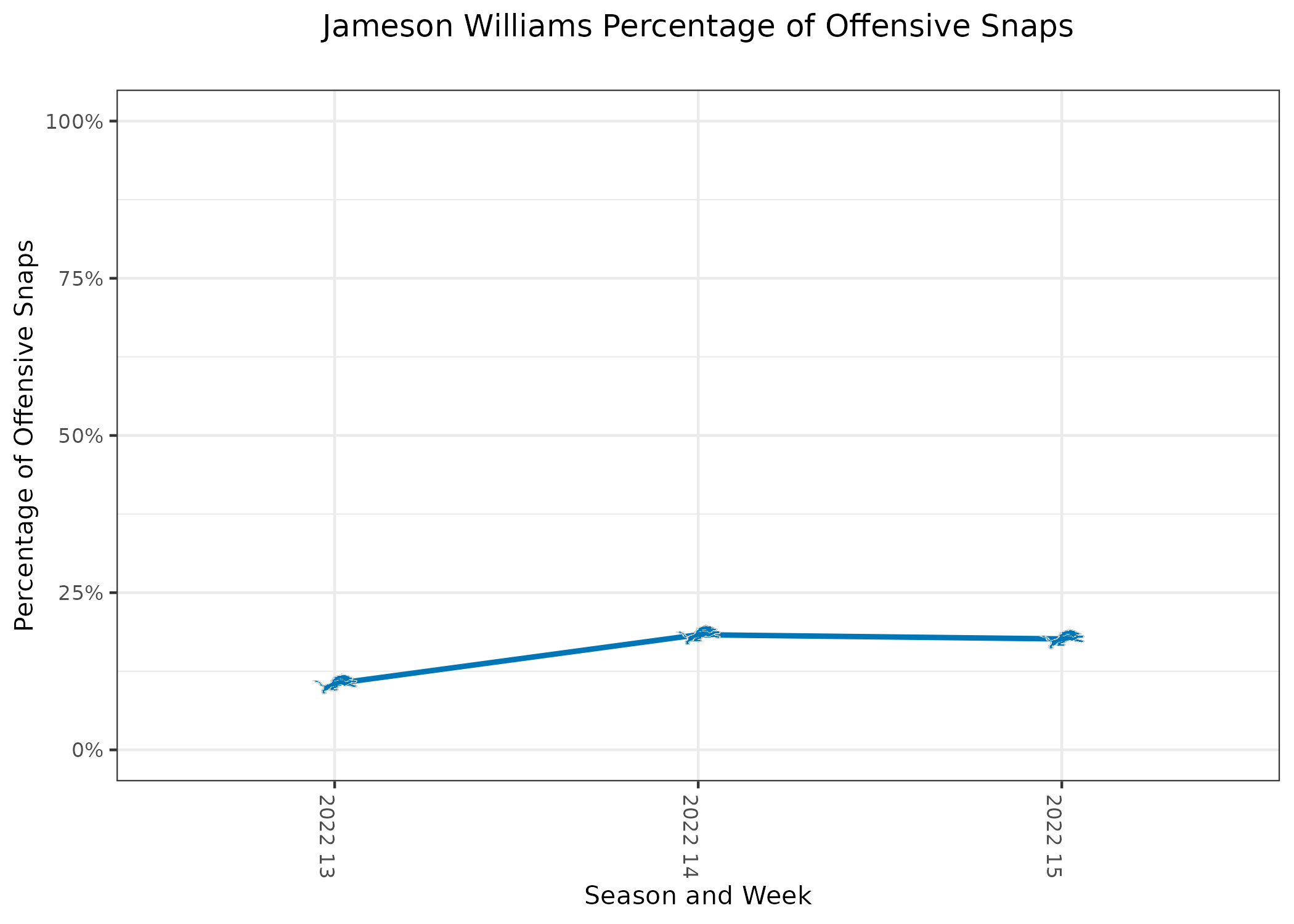 ---
• David Montgomery: 12 carries, 53 yards, 1 touchdown, 3 receptions, 38 receiving yards, 1 receiving touchdown
• A.J. Brown: 9 receptions, 181 yards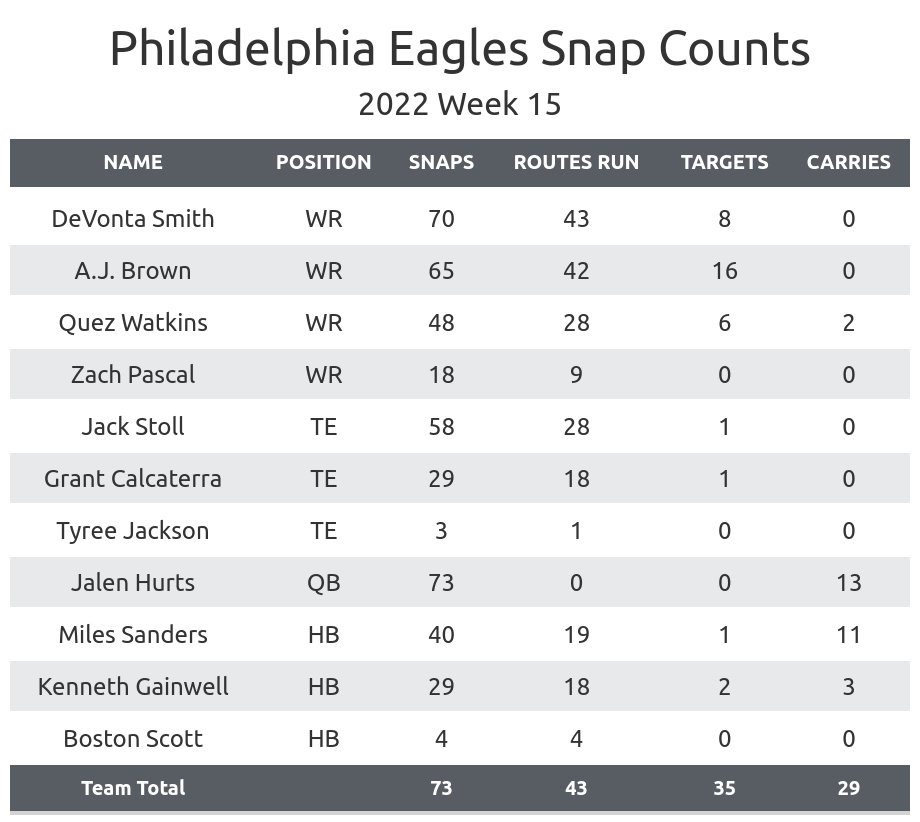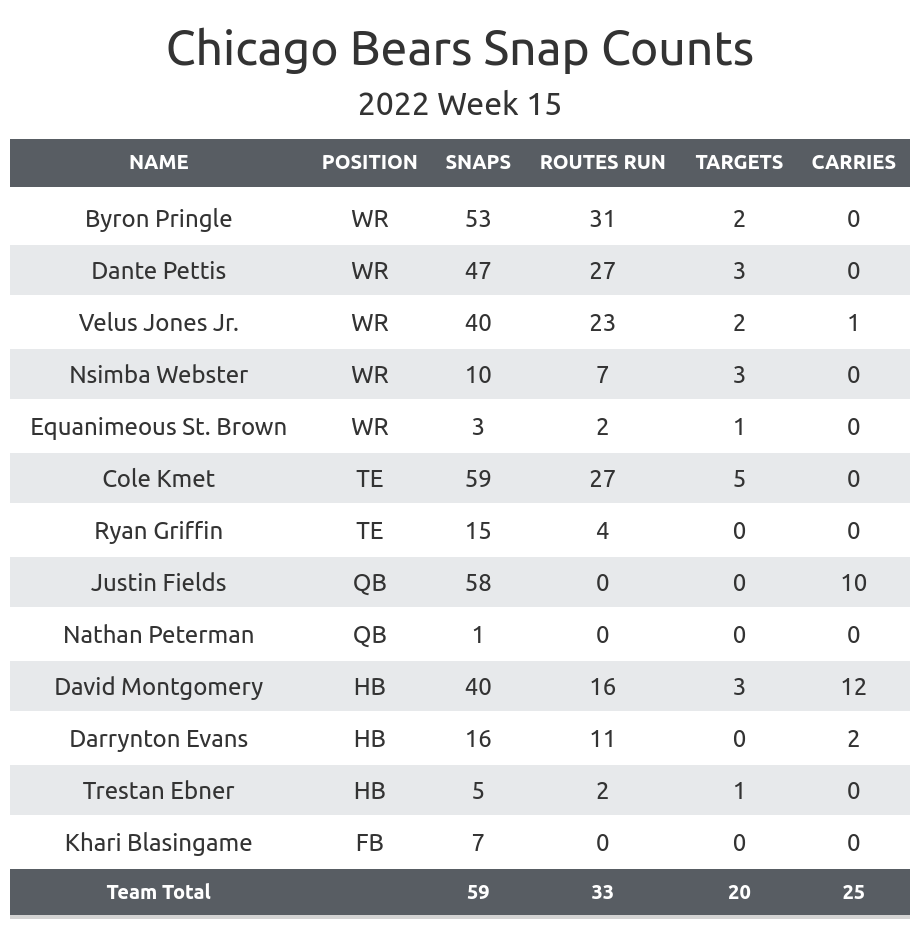 Monitor Equanimeous St. Brown's health: St. Brown went into the concussion protocol on the first drive of the game and didn't return.
The Bears were also without

Darnell Mooney

, who landed on injured reserve a few weeks ago, and

Chase Claypool

, who was inactive with a knee injury.

Those three receivers made up the Bears' starters as recently as Week 11.

Chicago began the game with

Byron Pringle

as the outside receiver opposite St. Brown, with

Dante Pettis

playing in the slot similar to recent weeks.

Rookie

Velus Jones Jr.

took over for St. Brown as the other outside receiver after his injury.

None of the Bears' wide receivers had more than two receptions.

The Bears play the

Lions

in Week 17. Detroit has allowed the third-most fantasy points to wide receivers. There is at least a chance someone in this group could have a big game in the fantasy championship week.
Don't worry about Miles Sanders: Sanders was held under 50 yards and didn't have a touchdown after scoring five touchdowns in the previous three weeks.
Sanders didn't have a touch in the first quarter, which was largely because of scripted pass plays and runs by

Jalen Hurts

. This led to two short drives, which were the Eagles' only plays of the quarter.

Philadelphia played more third downs and had more snaps during two-minute drills than usual. These are situations

Kenneth Gainwell

has played all season and continued to play in this game.

His other problem was Hurts ran the ball 17 times. It was the 25th time in NFL history a quarterback ran the ball 17 or more times.

Hurts has six of those 25 games, trailing only

Lamar Jackson

, who has eight. No other quarterback has more than two.

Sanders' role, in particular, didn't change and hasn't changed all season.

Sanders will continue to have some games like this with double-digit carries, ineffective play and no touchdowns. He will also have games like last week with over 100 yards and two touchdowns.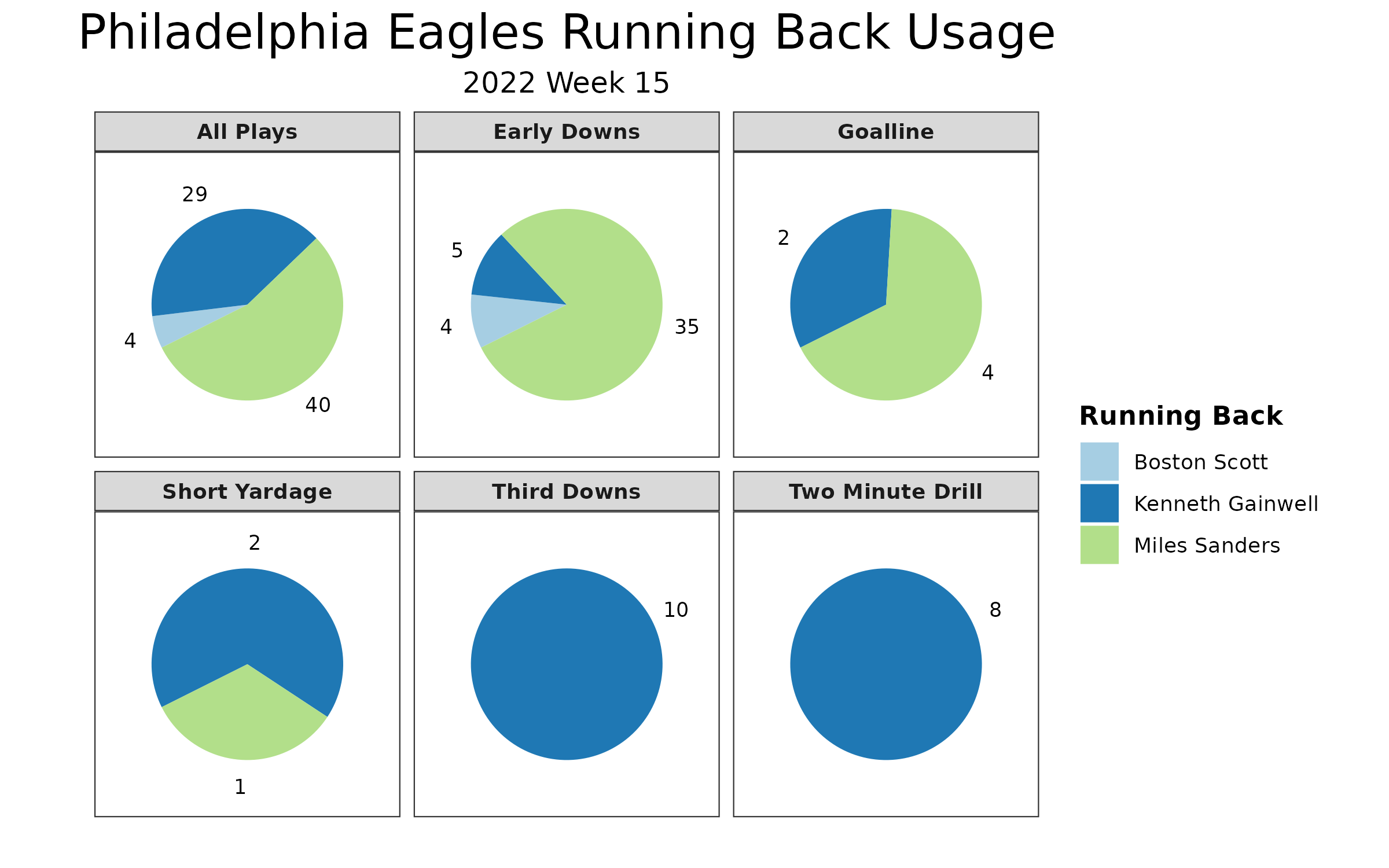 ---
• Najee Harris: 24 carries, 86 yards, 1 touchdown
• D.J. Moore: 5 receptions, 73 yards, 1 touchdown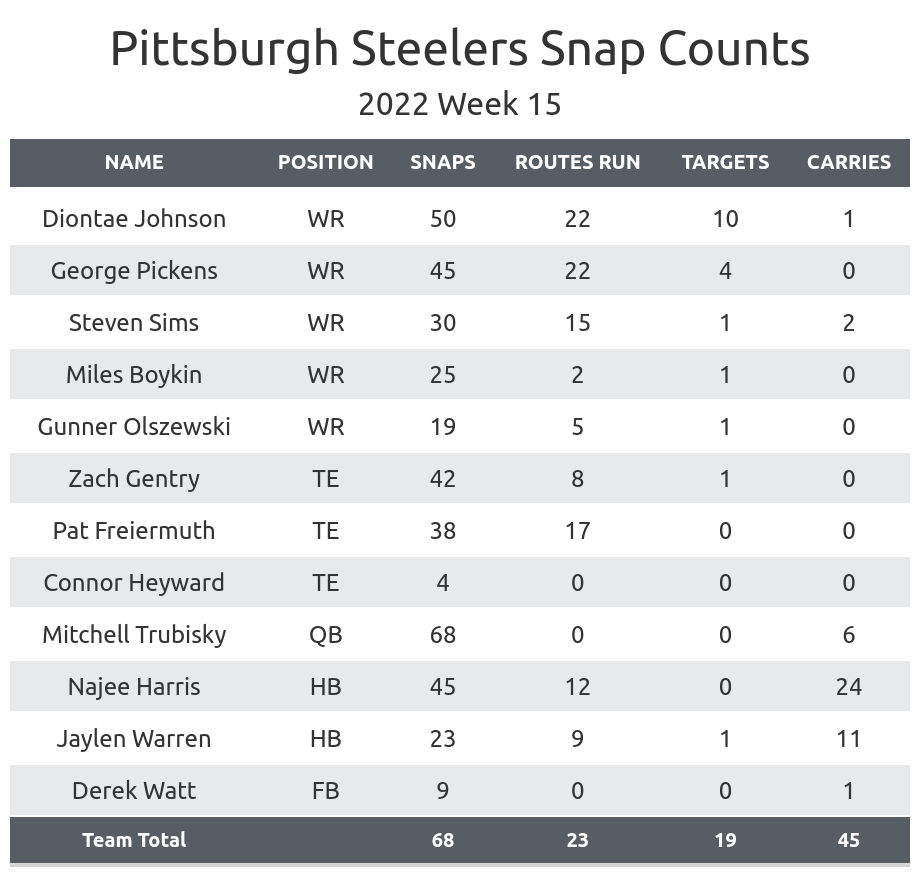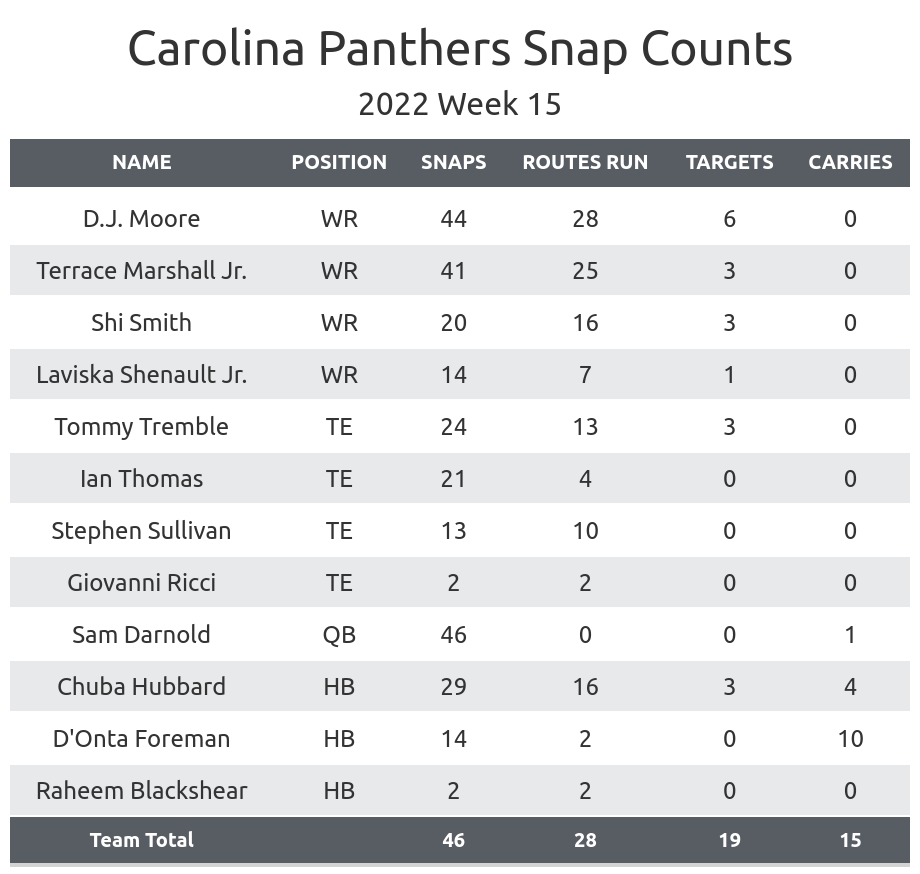 Add Chuba Hubbard: The sophomore running back handled his largest role of the season for the Panthers.
He gained only 10 yards on four carries but caught three passes for 57 yards.

D'Onta Foreman

was ineffective, gaining nine yards on 10 carries with no targets.

Foreman hasn't had a game averaging more than five yards per carry since Week 7. This was his fourth game in six weeks at 3.5 yards per carry or less.

Hubbard has typically played the majority of passing downs, but this was his first time playing 100% of those snaps. He also played a decent amount in short-yardage situations, as he has all season.

Most notably, he played the majority of snaps on early downs, which should mean more carries going forward.

Carolina has average matchups the next two weeks, but in general, it's good to have the top running back on any team rostered even if it's to prevent someone else from picking him up.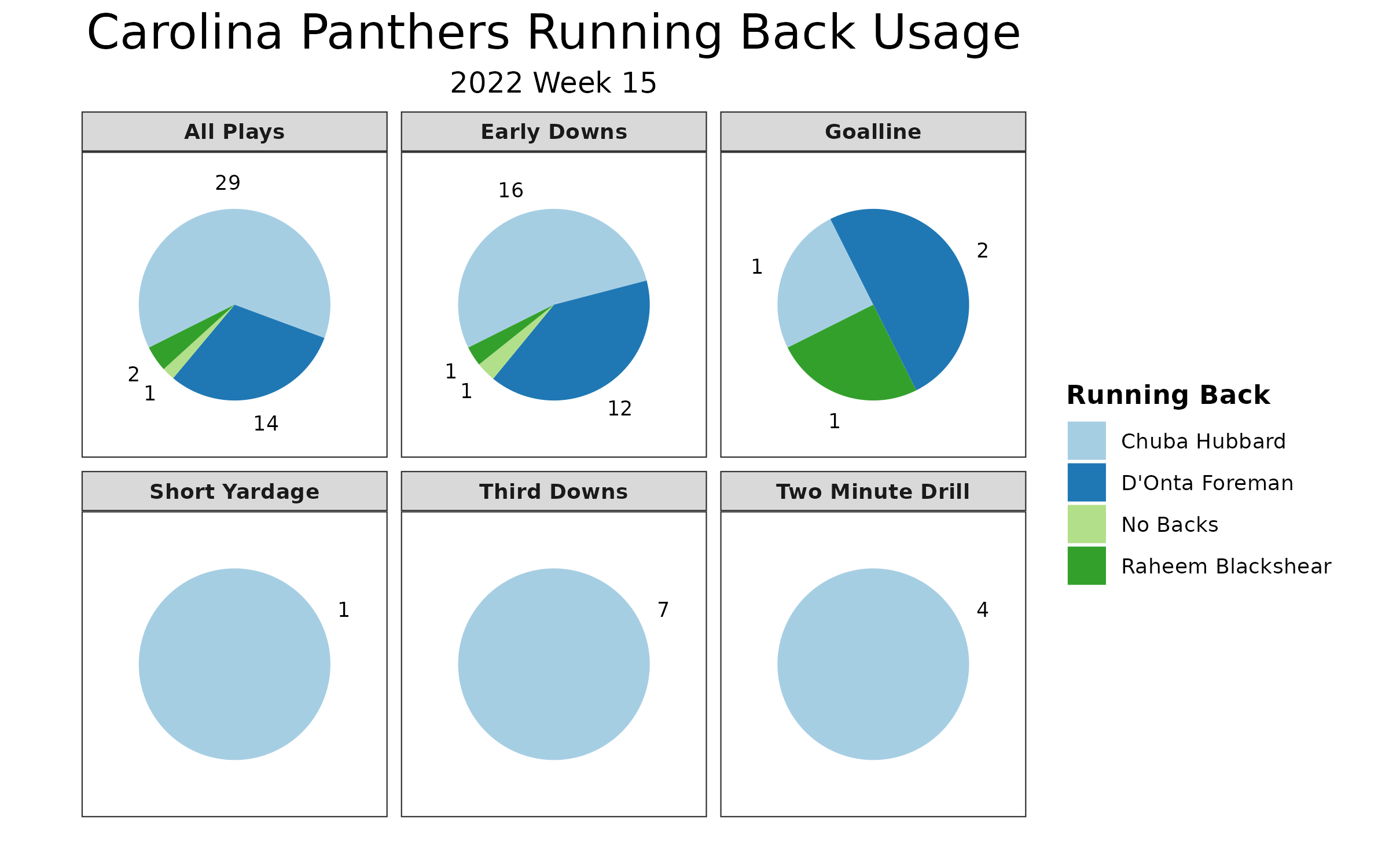 Pat Freiermuth's role continues to decline: Freiermuth was held without a catch for the first time in his NFL career.
He not only didn't catch a pass, but he was also held without a target — even including plays called back by penalty.

This was the third straight week Freiermuth played a reduced role on first and second downs in 11 personnel.

He played 15 of a possible 33 snaps from that personnel grouping on those downs this week.

Zach Gentry

played 15, while

Connor Heyward

handled three.

Freiermuth should remain in fantasy starting lineups over whatever is available on the waiver wire. He should get back to seeing targets next week. His ceiling isn't as high as it was earlier in the season, but it's still higher than most other tight ends.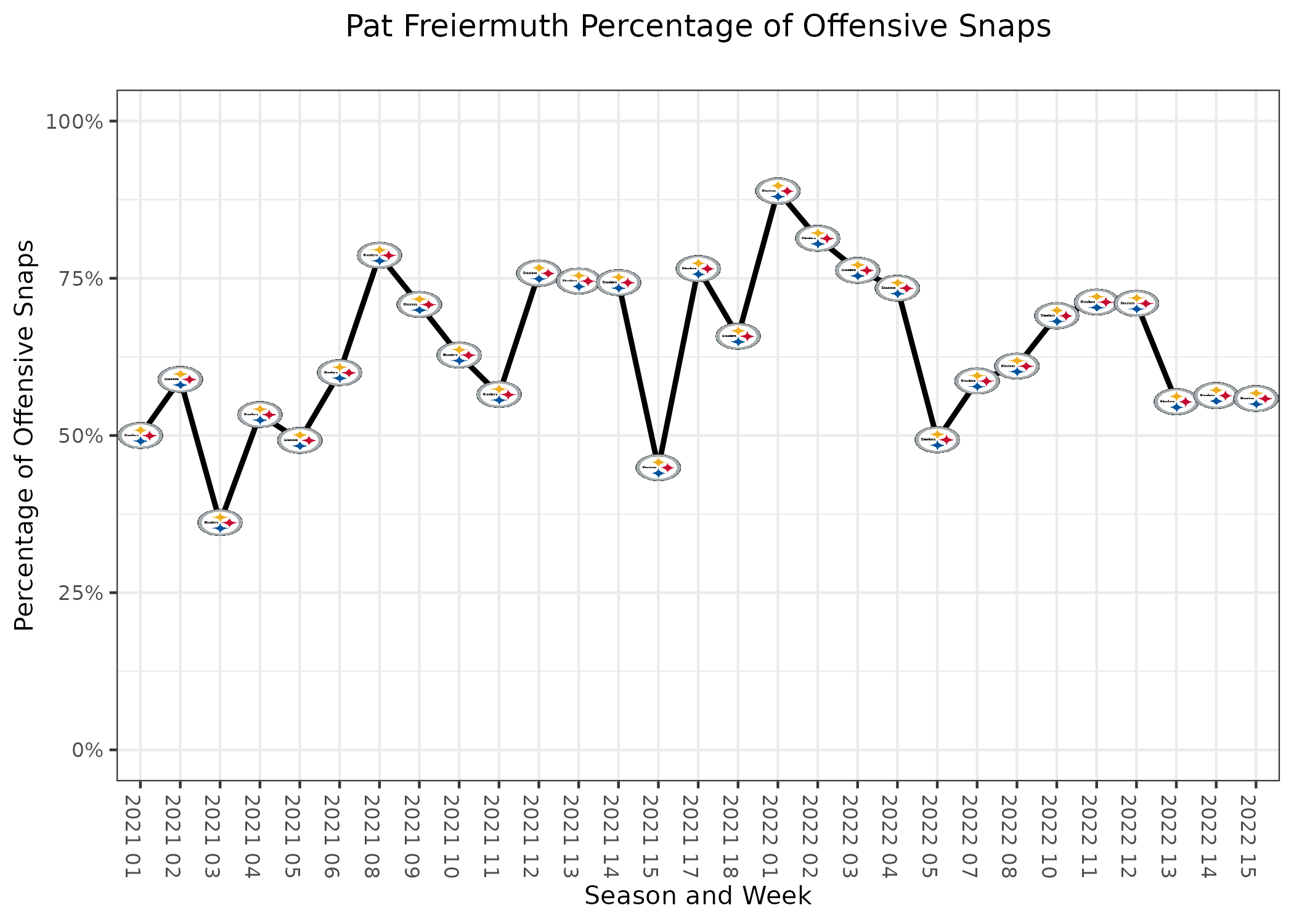 Miles Boykin gets more involved: Boykin has spent most of the season at the bottom of the Steelers' depth chart, but he's started to see more playing time.
He mostly played in running situations, but his role meant less playing time for both

Steven Sims

and

Gunner Olszewski

. 

This mostly indicates the Steelers haven't been happy with their wide receivers outside of the top two on the depth chart.

It is even more likely now than ever before that

Calvin Austin III

will be the Steelers' third wide receiver next season.

Austin had suffered a foot injury. He attempted to return to action in October, but a setback landed him on injured reserve for the rest of the season.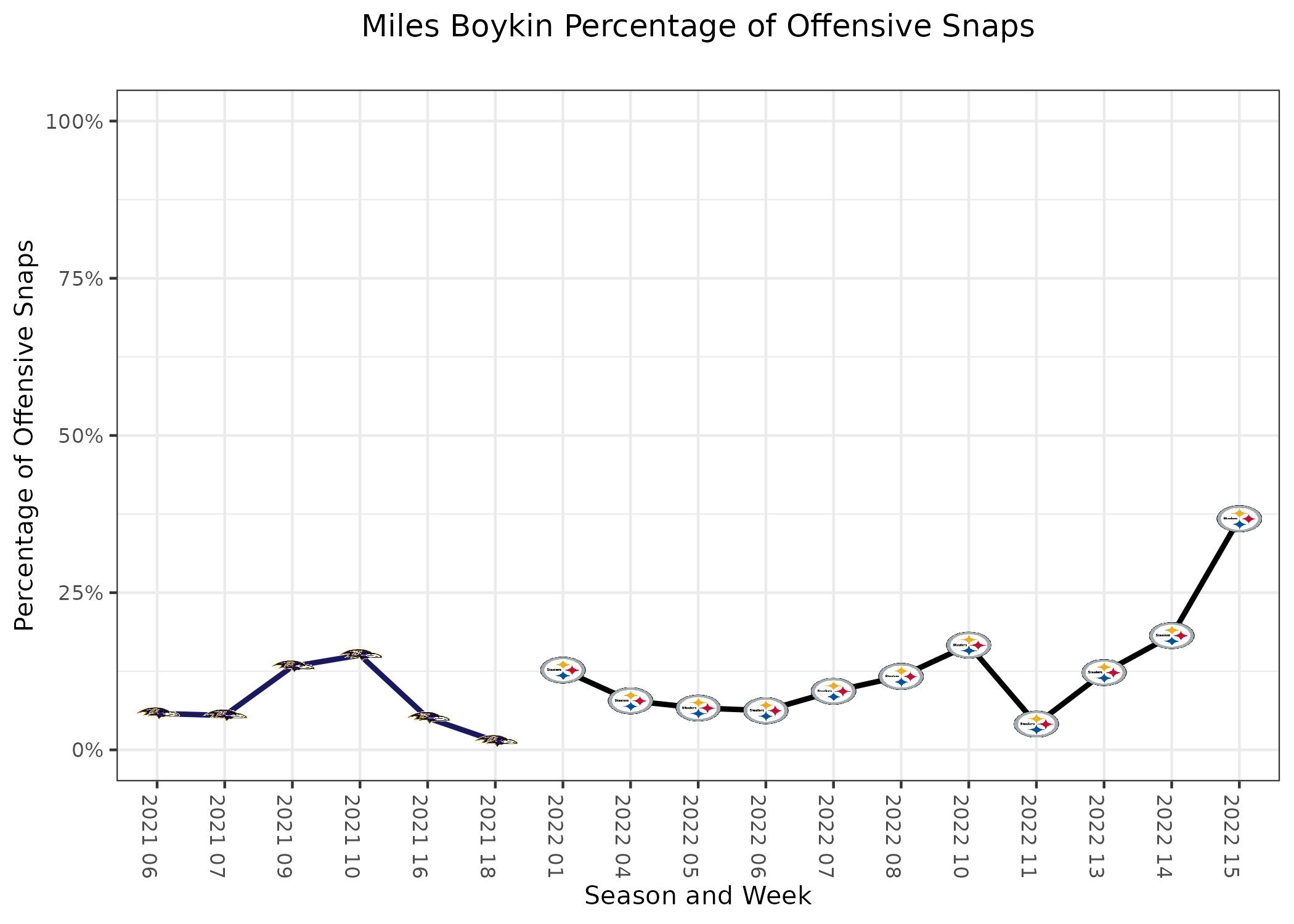 ---
• Jerick McKinnon: 10 carries, 52 yards, 1 touchdown, 8 receptions, 70 receiving yards, 1 receiving touchdown
• Travis Kelce: 10 receptions, 105 yards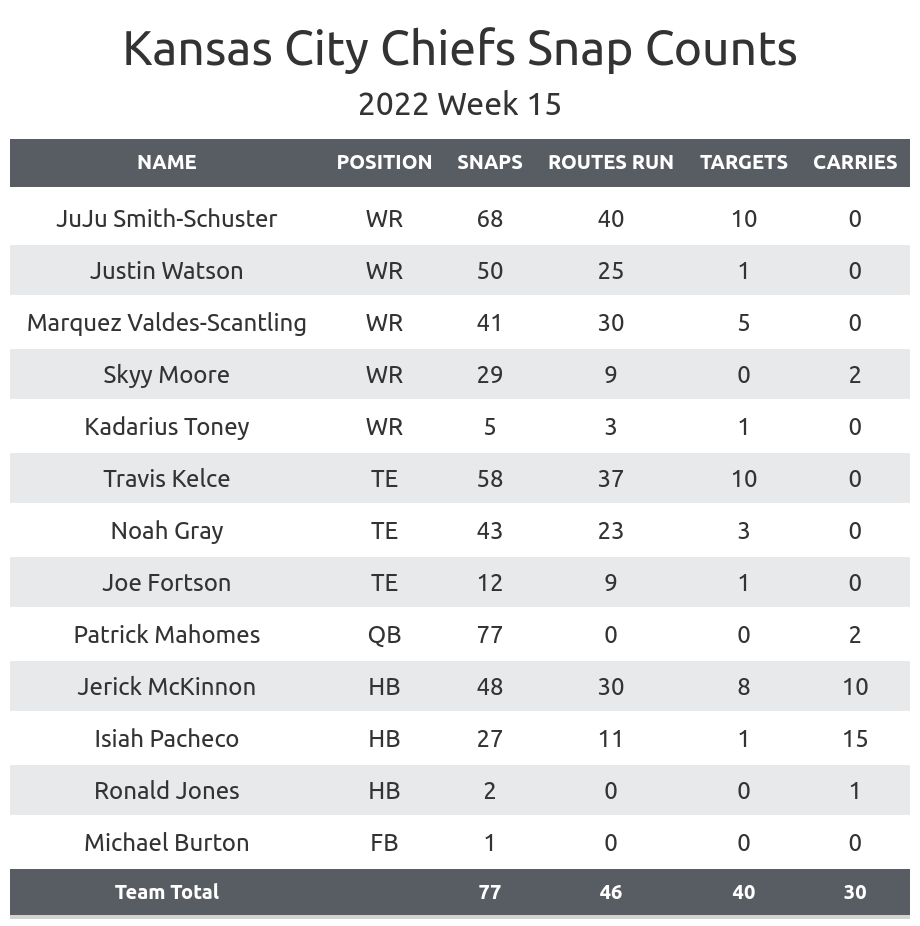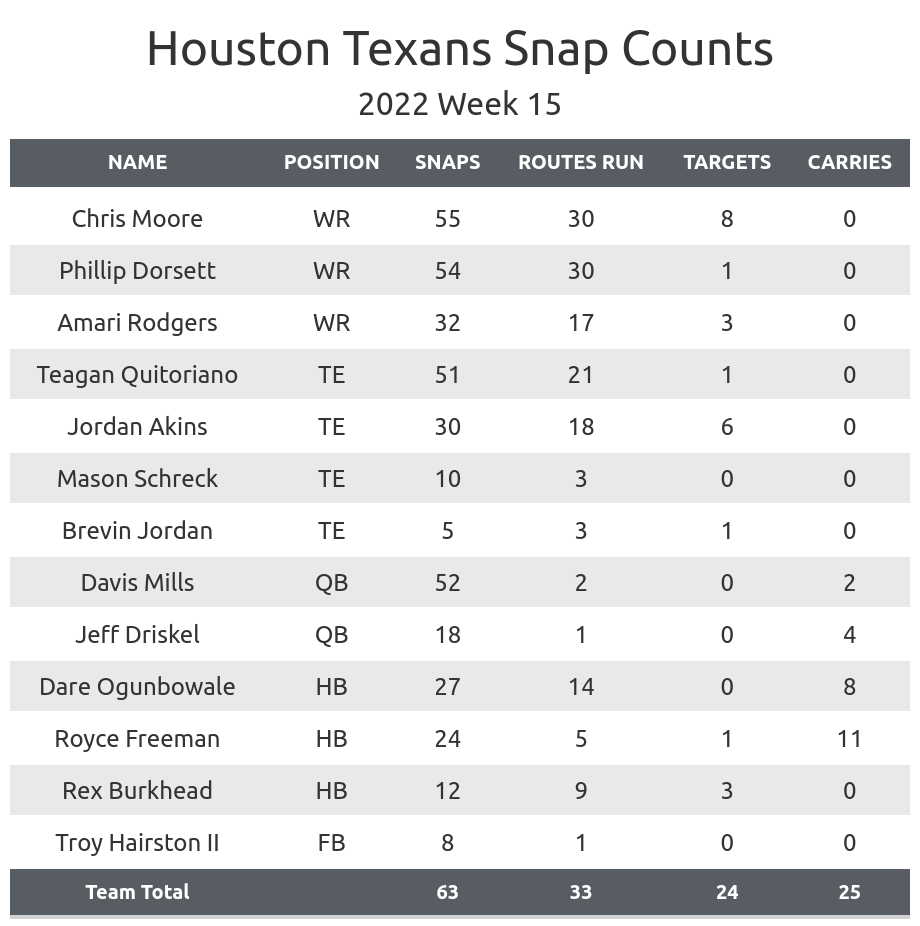 Start Jerick McKinnon: McKinnon continued to lead the Chiefs in offensive snaps en route to another dominant fantasy performance.
McKinnon played most of the third downs this week, as he has all season.

He also played on the majority of goal-line and short-yardage plays. He's been the primary back in these situations all season.

Isiah Pacheco

played every first- and second-down snap in the first quarter. McKinnon started to rotate in those situations at the start of the second quarter.

Pacheco lost a fumble early in the second quarter, which quickly led to a Texans touchdown.

Pacheco was benched for the rest of the quarter, which led to

Ronald Jones

seeing his few snaps. McKinnon was the primary early-down back in the second half with Pacheco still seeing plenty of playing time.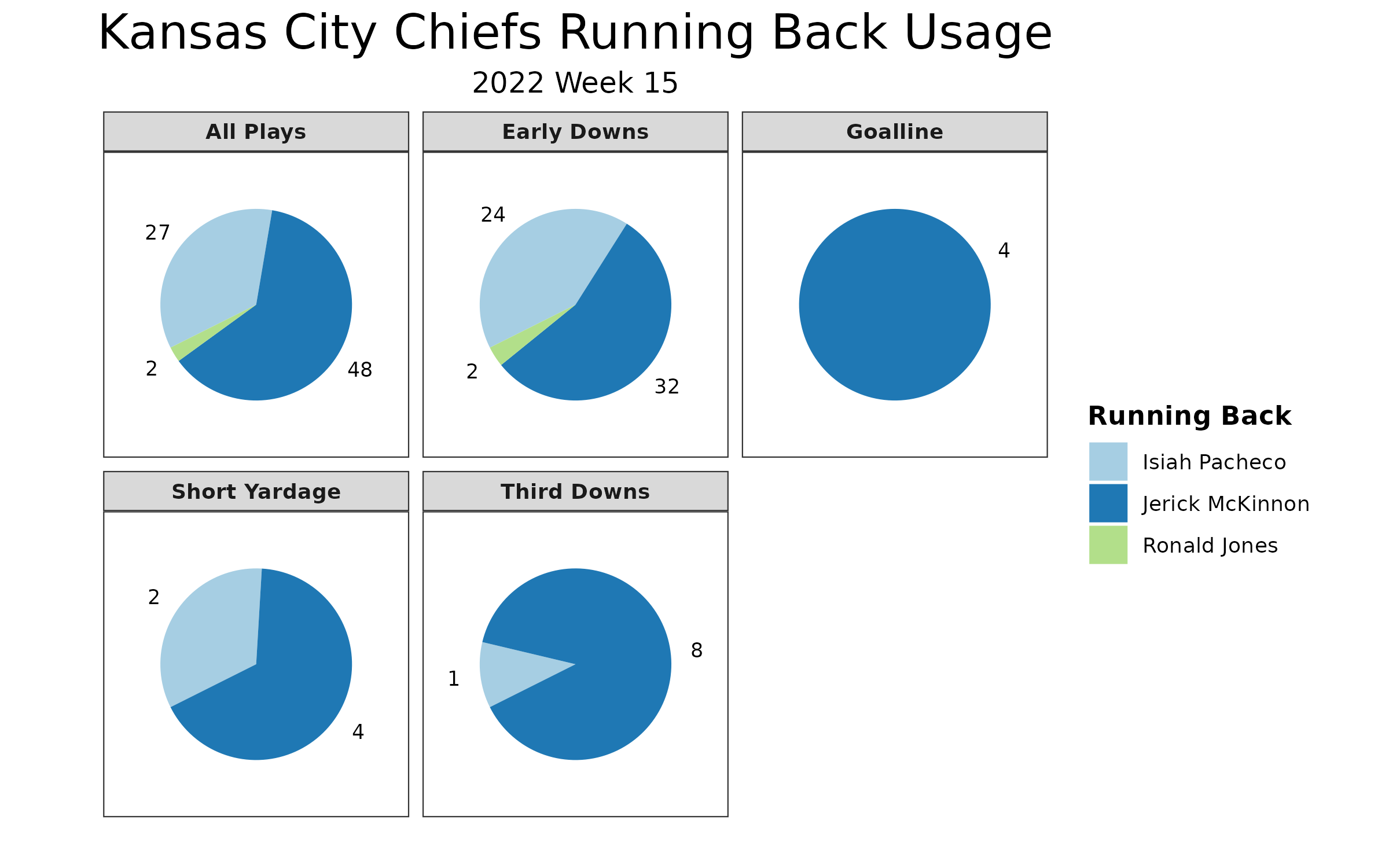 Kadarius Toney's return: Toney returned to the Chiefs' lineup after last playing in Week 11.
Toney was limited in practice all week with a hamstring injury and was questionable coming into the game.

All five of his snaps came in 13 personnel, which is typically a role

Justin Watson

plays.

Kansas City didn't use this grouping much late in the game, as the score was closer than anticipated.

Chances are Toney will see more snaps going forward in more personnel groupings, assuming he gets healthier. He will likely cut into the playing time of both Skyy Moore

and Watson.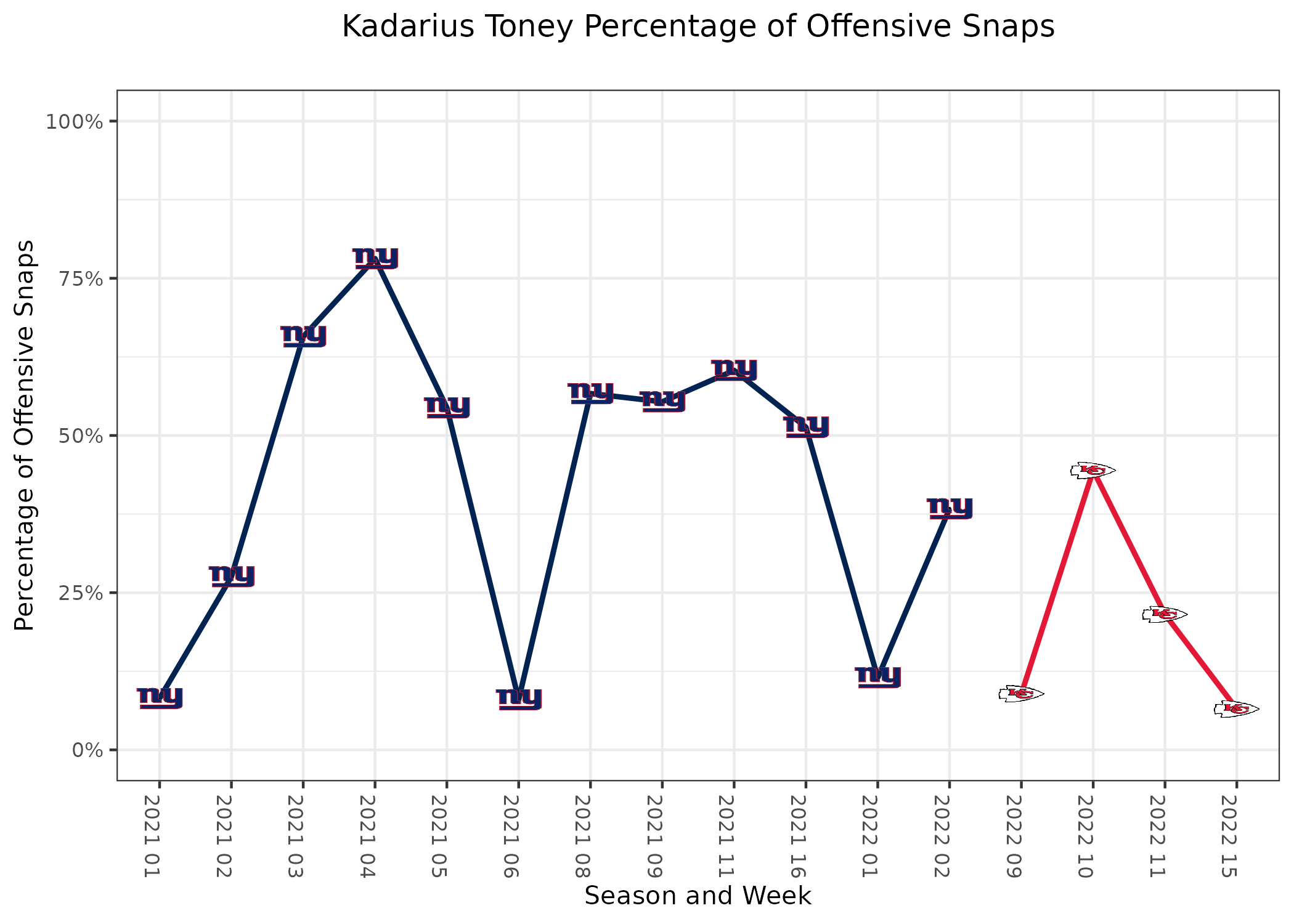 The Texans without Dameon Pierce: Pierce suffered an ankle injury last week that landed him on injured reserve. He won't return this season.
Dare Ogunbowale

started the game for Houston. He and

Royce Freeman

shared snaps on early down while

Rex Burkhead

served as the third-down back.

Ogunbowale dominated early-down snaps in the first quarter but gained just nine yards on six carries.

Freeman was the Texans' top back for the rest of the quarters, leading snaps 22-to-12 on first and second downs the rest of the way.

Freeman also had 11 carries over the last three quarters compared to two for Ogunbowale.

Freeman will likely start next week if this game is any indication. That could mean Ogunbowale overtakes Burkhead on third downs.

This is likely a situation to avoid, as it's a fluid three-back committee.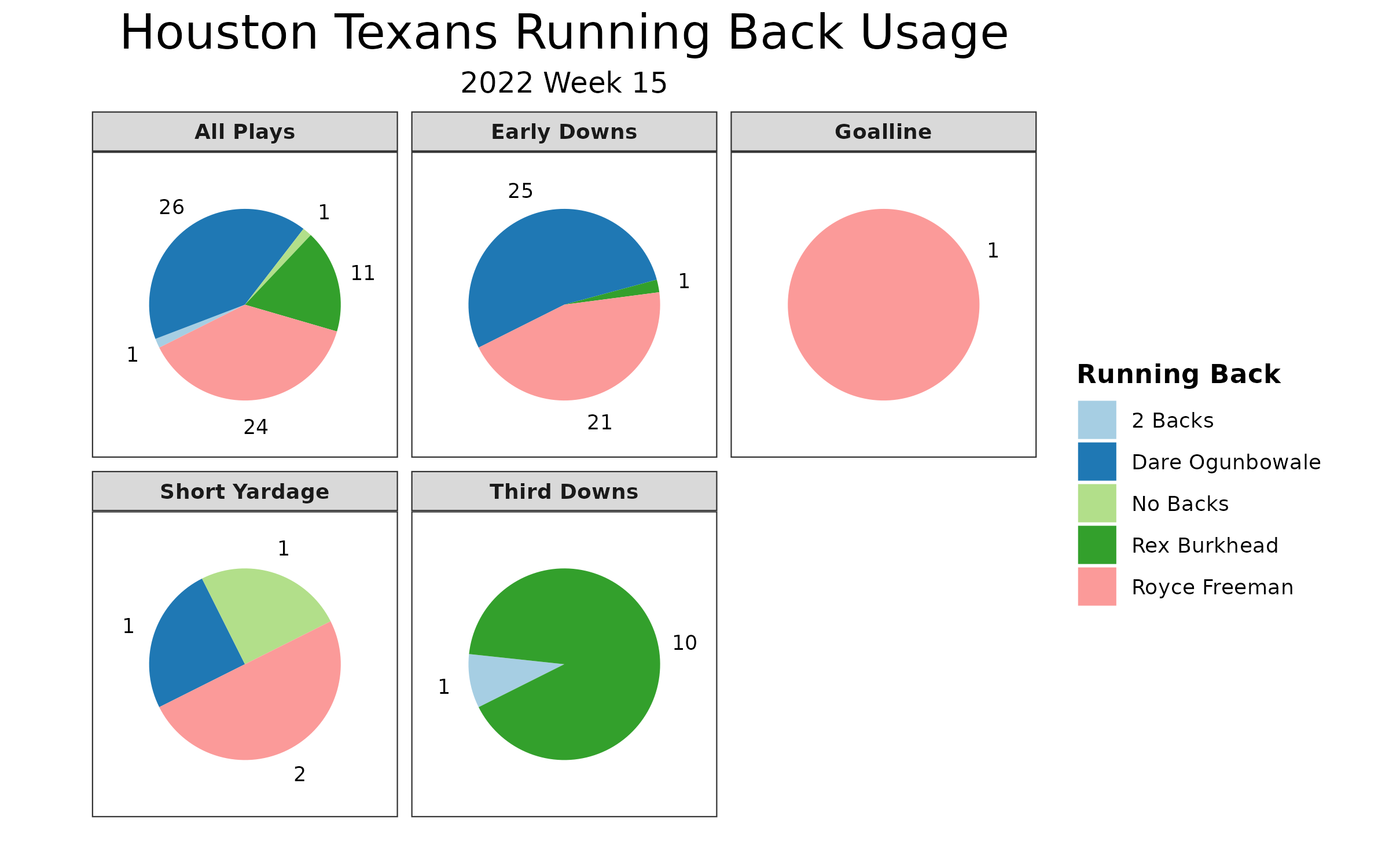 Add Jordan Akins: Akins caught his second touchdown in four weeks for the Texans.
Akins has been a rotational tight end on early downs but has very consistently been on the field for third downs.

The fact that Houston has stayed competitive in recent weeks has hurt Akins' playing time. He would be seeing more snaps if the Texans were down by a score or two.

Typically, a tight end in this role isn't worth starting most weeks, but Houston plays

Tennessee

next week.

The Titans have allowed the fifth-most receiving yards to tight ends this season, giving Houston one of the best matchups next week.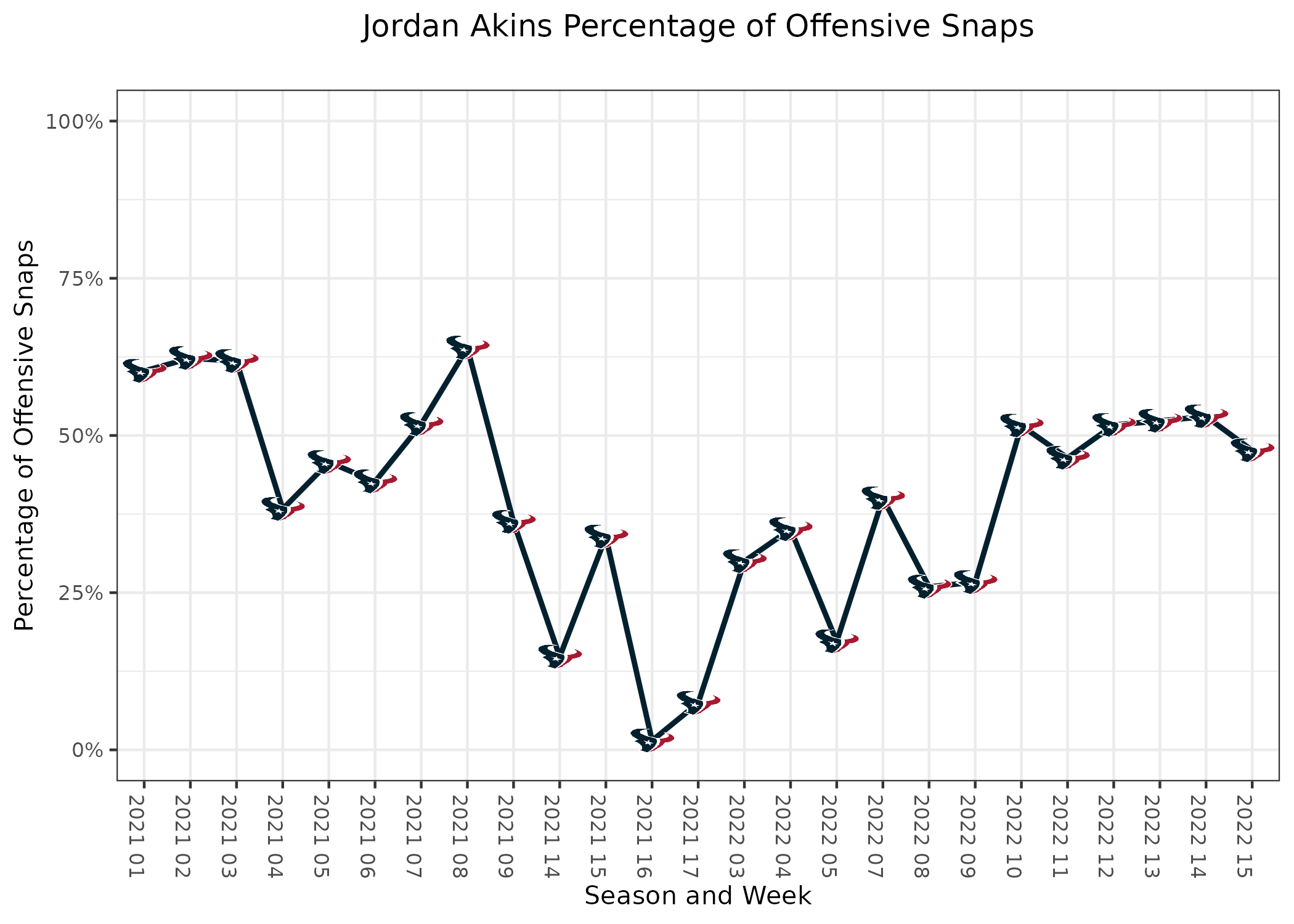 ---
• Tyler Allgeier: 17 carries, 139 yards, 1 touchdown, 1 reception, -3 receiving yards
• Juwan Johnson: 4 receptions, 67 yards, 2 touchdowns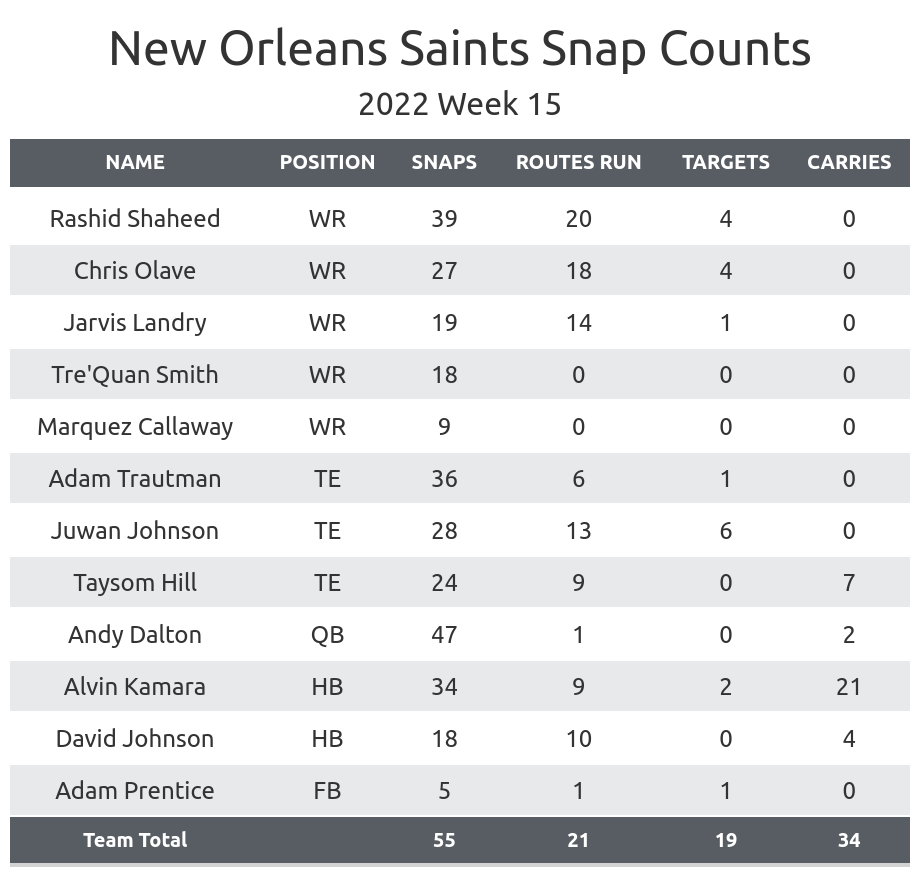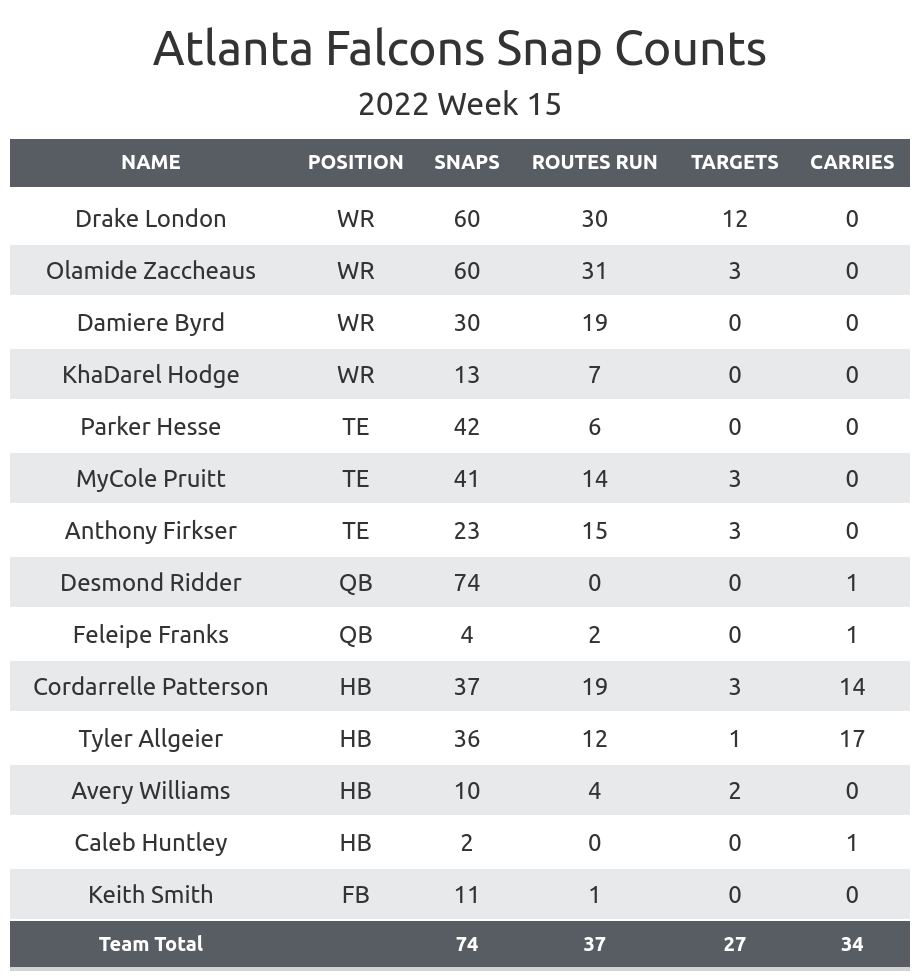 Monitor Caleb Huntley's health: Huntley suffered an ankle injury and was ruled out by the middle of the first quarter.
Huntley was seeing 20%-40% of offensive snaps early in the season when

Cordarrelle Patterson

was out with an injury but played a few snaps per game in November and December.

This meant

Tyler Allgeier

and Patterson saw a slight uptick in offensive snaps.

Allgeier had the best game of his career while continuing to split snaps with Patterson.

He's been one of the top waiver wire targets at running back for months as a quality player who is consistently seeing double-digit carries.

Allgeier has one of the highest floors you can find on the waiver wire, and this game shows he can have a high ceiling, too.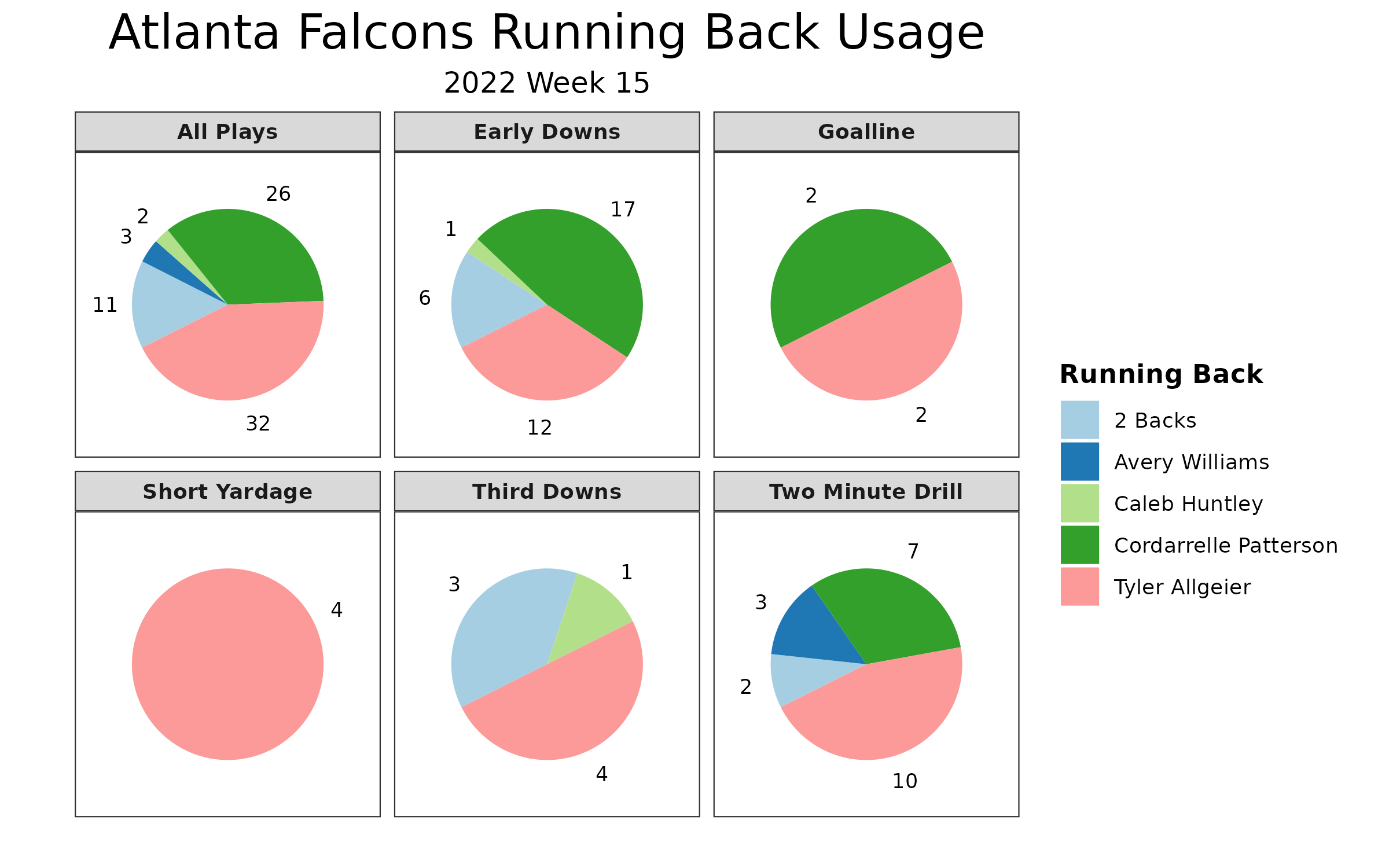 The Saints' new backup running back: New Orleans signed David Johnson to the active roster earlier in the week, and he and Alvin Kamara were the only active halfbacks.
Typically, Kamara gets more playing time than usual in games where

Mark Ingram II

isn't healthy.

Ingram landed on injured reserve this week, ending his regular season.

Kamara didn't see his normal snaps increase. Instead, Johnson took on Ingram's role.

Kamara played less than 60% of offensive snaps last week for the first time since 2020, when he wasn't fully healthy, and he just barely exceeded 60% of snaps on Sunday.

The former All-Pro's fantasy production was decent, with him tallying 21 carries for 91 yards and another 13 yards off receptions.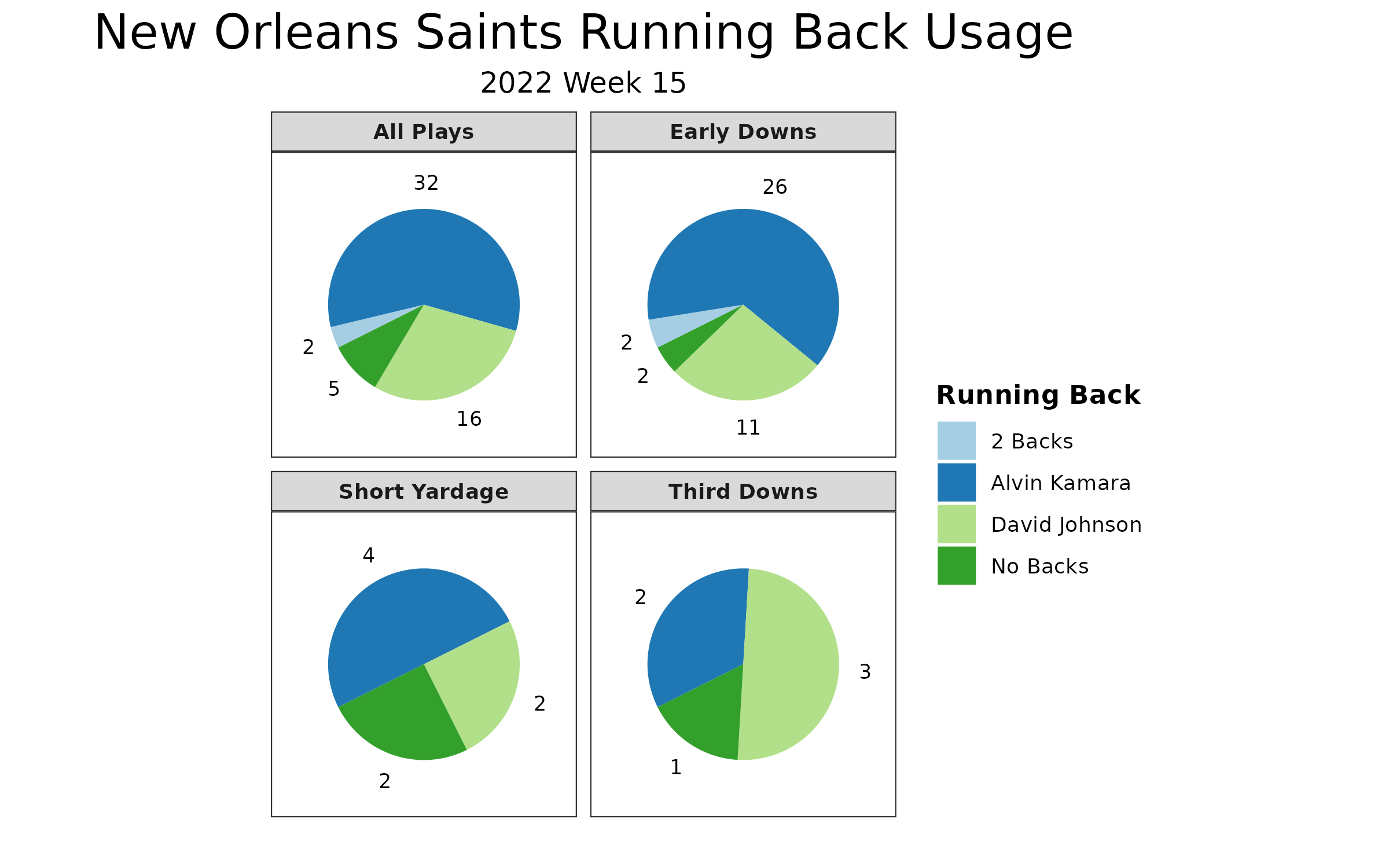 Juwan Johnson's two-touchdown return: Johnson returned to action after suffering an ankle injury in Week 12.
He was still a limited participant in practice all week and was questionable to play. It was not a sure thing he would be active until early Sunday.

The Saints limited his playing time compared to usual, giving both

Adam Trautman

and

Taysom Hill

more snaps.

This left Johnson running only 13 routes, but he was a target on six of them.

He should see a little more playing time these next two weeks, particularly if the Saints are playing from behind. This might not necessarily lead to more targets.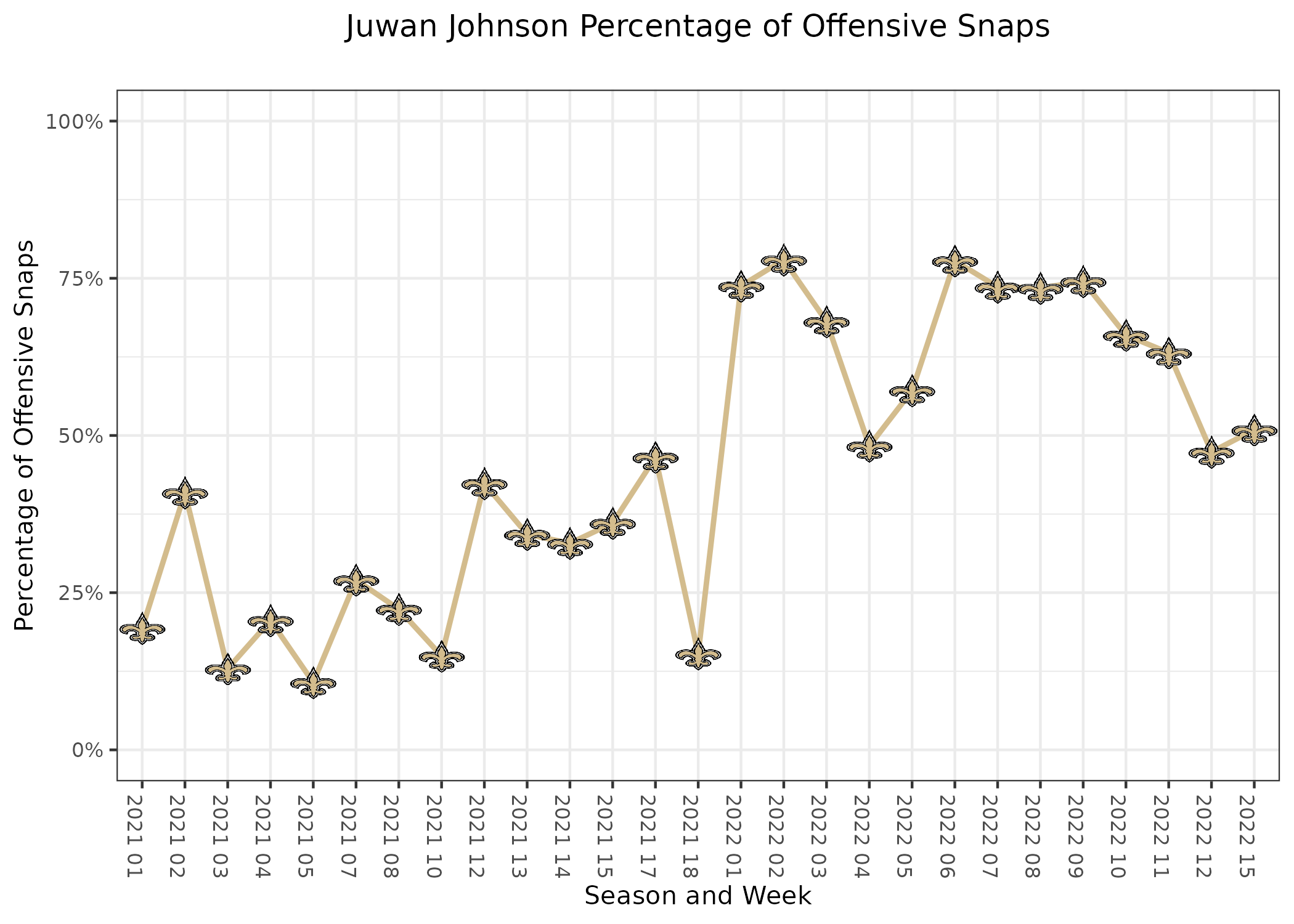 Rashid Shaheed's ascension continues: The undrafted rookie led the Saints' skill players in offensive snaps (39), routes run (20) and receiving yards (95).
His playing time has slowly but surely been on the rise in recent weeks.

This was his third straight game with more than 50 receiving yards.

His routes run and targets have been similar to that of

Chris Olave

and

Jarvis Landry

over the past three weeks, but this was the first time he was clearly ahead of Landry.

The matchups over the next two weeks aren't necessarily good enough to put him in fantasy starting lineups, but he could very well be a starter for New Orleans in 2023. If the Saints can upgrade at quarterback, there is a chance he becomes someone worth selecting in fantasy drafts in August.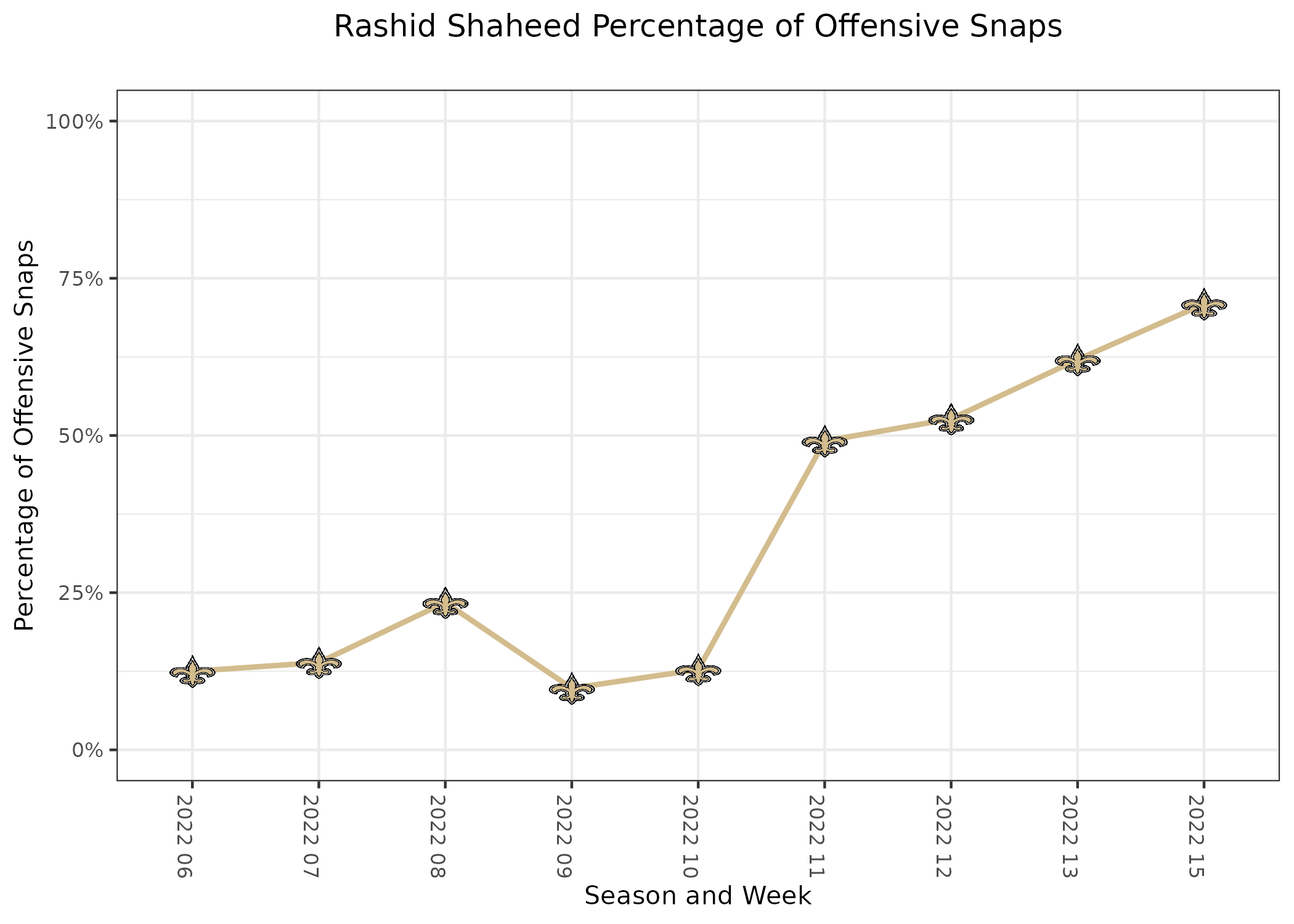 ---
• Zay Jones: 6 receptions, 109 yards, 3 touchdowns
• Noah Brown: 6 receptions, 49 yards, 2 touchdowns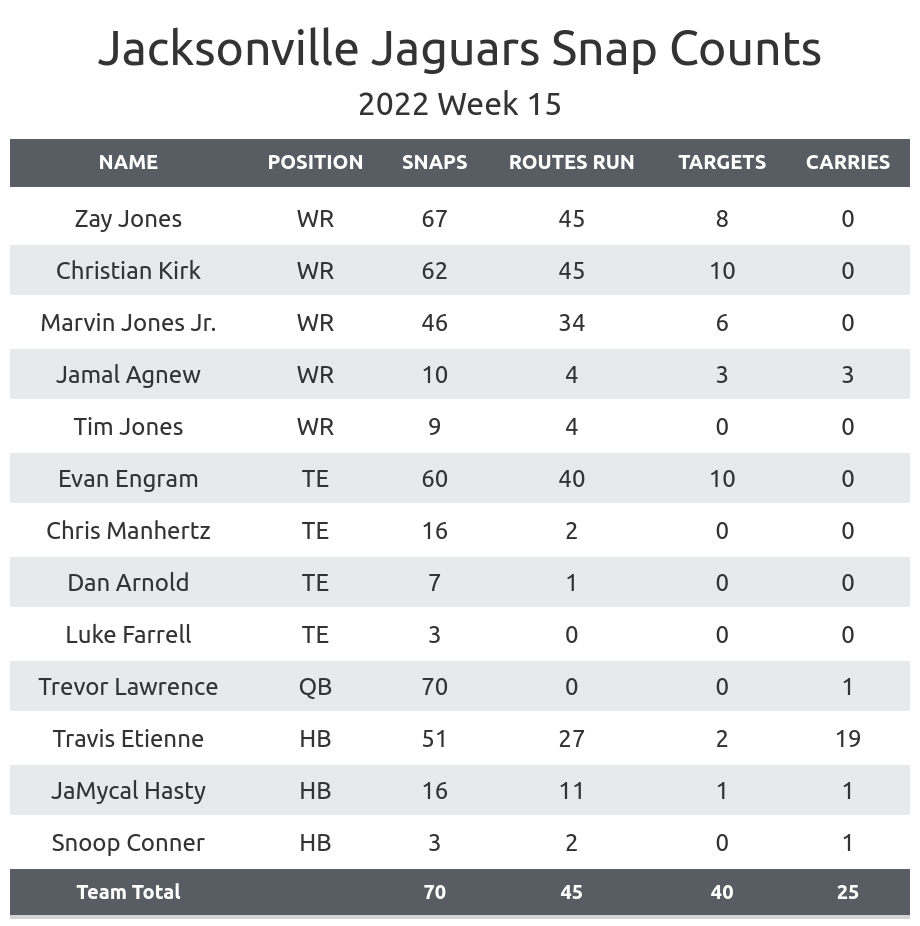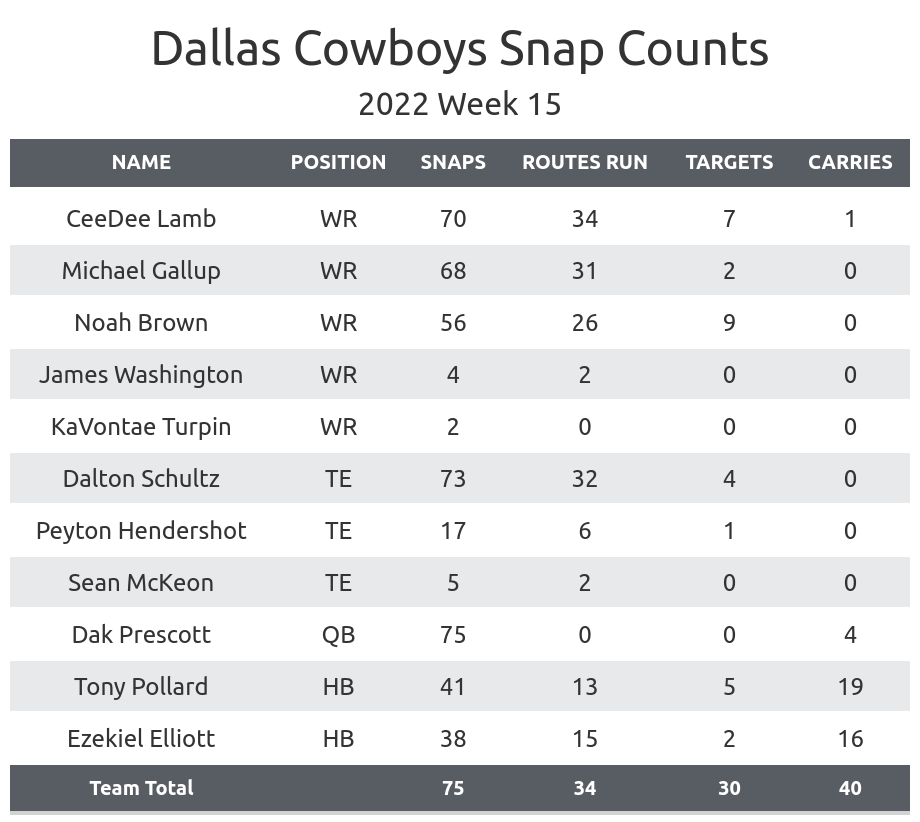 Monitor Travis Etienne's health: Etienne suffered an ankle injury in the fourth quarter and was ruled questionable to return. He was able to return to the game in overtime.
Etienne ran the ball 19 times for 103 yards. He had rushed for 55 yards or less in each of his past four games.

He left the game with 10 minutes left to go in the fourth quarter, which led to

JaMycal Hasty

taking over for the rest of the fourth quarter. Fourteen of Hasty's 16 snaps occurred during the fourth quarter.

Etienne played all three snaps of overtime.

The fact that Etienne returned hopefully means he is fine, but it wouldn't be the first time a player returned to a game and later found the injury was more serious than anticipated.

Hasty is the best waiver wire target for someone who has a free bench space and is looking for a high-upside option in Week 17.

Hasty played 78% of offensive snaps in Week 12 when Etienne was out with an injury. The Jaguars play the

Texans

in Week 17.

Houston has allowed the most fantasy points to running backs.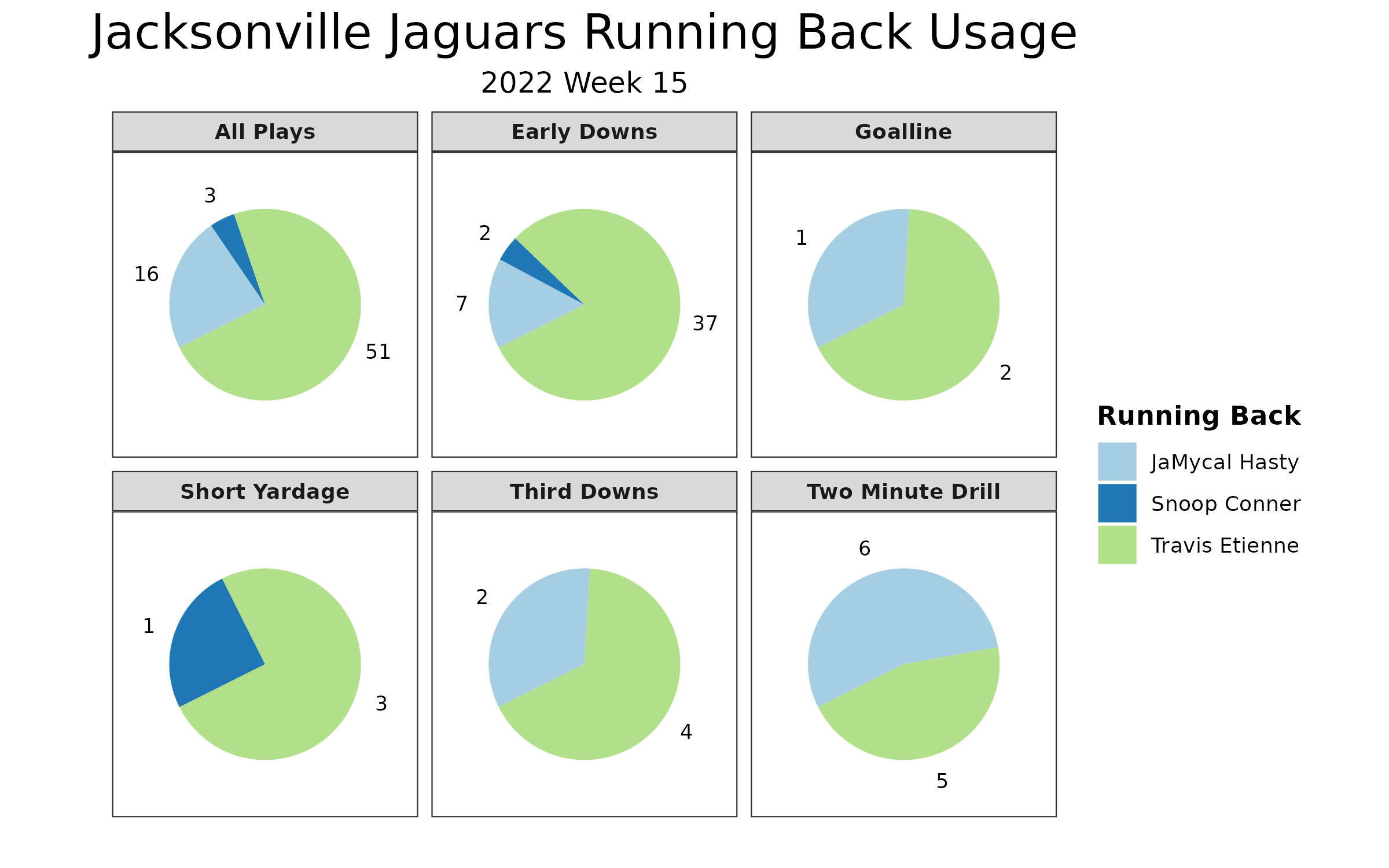 The Cowboys' evolving wide receiver room: Dallas surprisingly stuck with CeeDee Lamb, Michael Gallup and Noah Brown as their top three receivers for one more week.
The Cowboys notably signed former Pro Bowl receiver

T.Y. Hilton

earlier in the week, but he was inactive for this game.

Dallas has also made it clear they might still sign

Odell Beckham Jr.

, another sign they aren't happy at wide receiver.

James Washington

was elevated off injured reserve before last week's game. Surprisingly, Washington saw fewer snaps this week than last.

Gallup played ahead of Brown in two-wide receiver sets for the third time this season.

The fact that Hilton didn't play, Washington barely played and Gallup stayed ahead of Brown should have led to a big game from Gallup. Instead, he caught one pass for two yards.

It was Lamb and Brown who had the big games. Lamb gained over 100 yards for the third time this season, while Brown caught two touchdowns.

It's best not to trust any wide receiver on this team outside of Lamb, as we could see some big changes as soon as next week.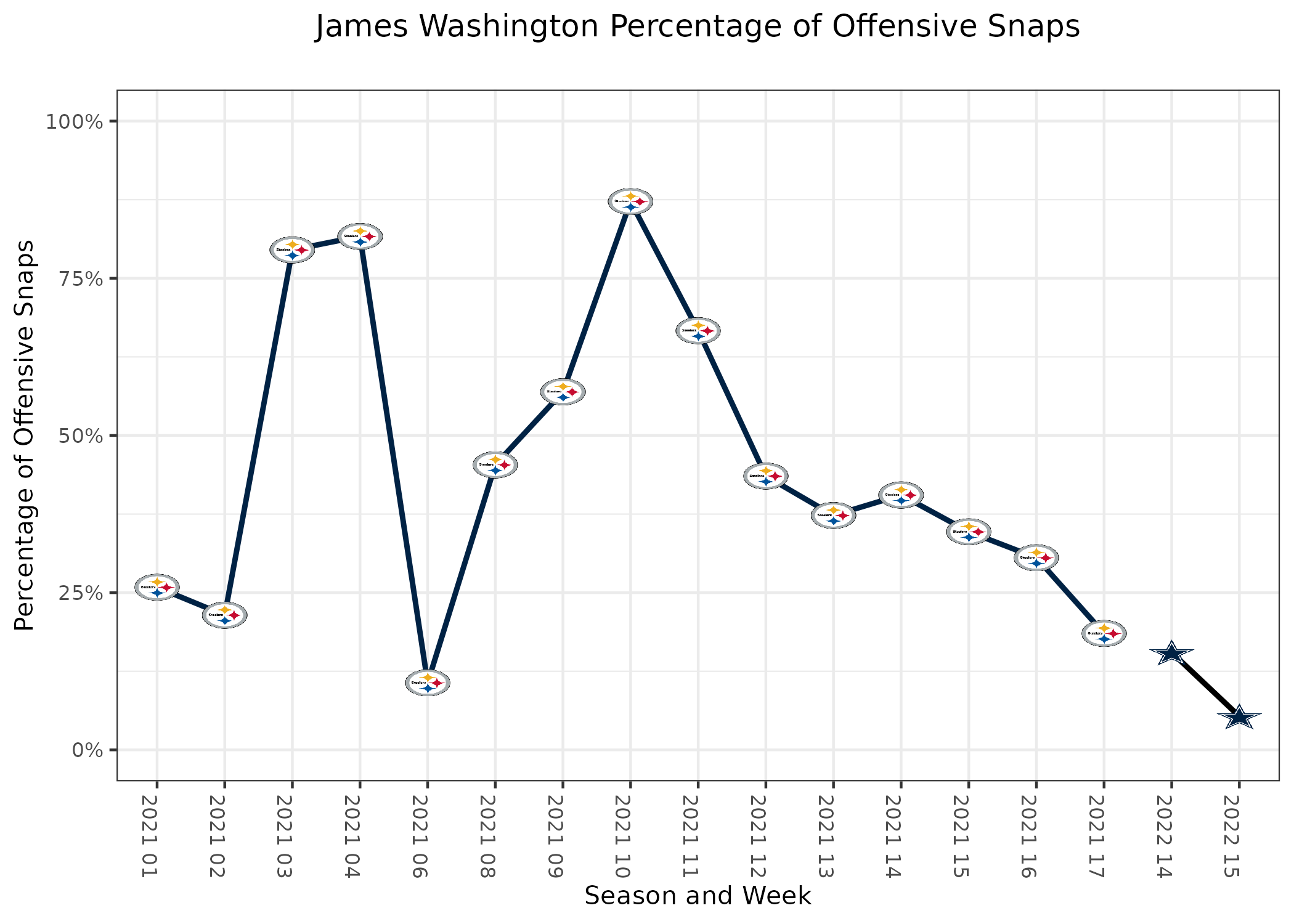 ---
• Latavius Murray: 24 carries, 130 yards, 1 touchdown, 1 reception, 12 receiving yards
• James Conner: 16 carries, 63 yards, 1 touchdown, 3 receptions, 28 receiving yards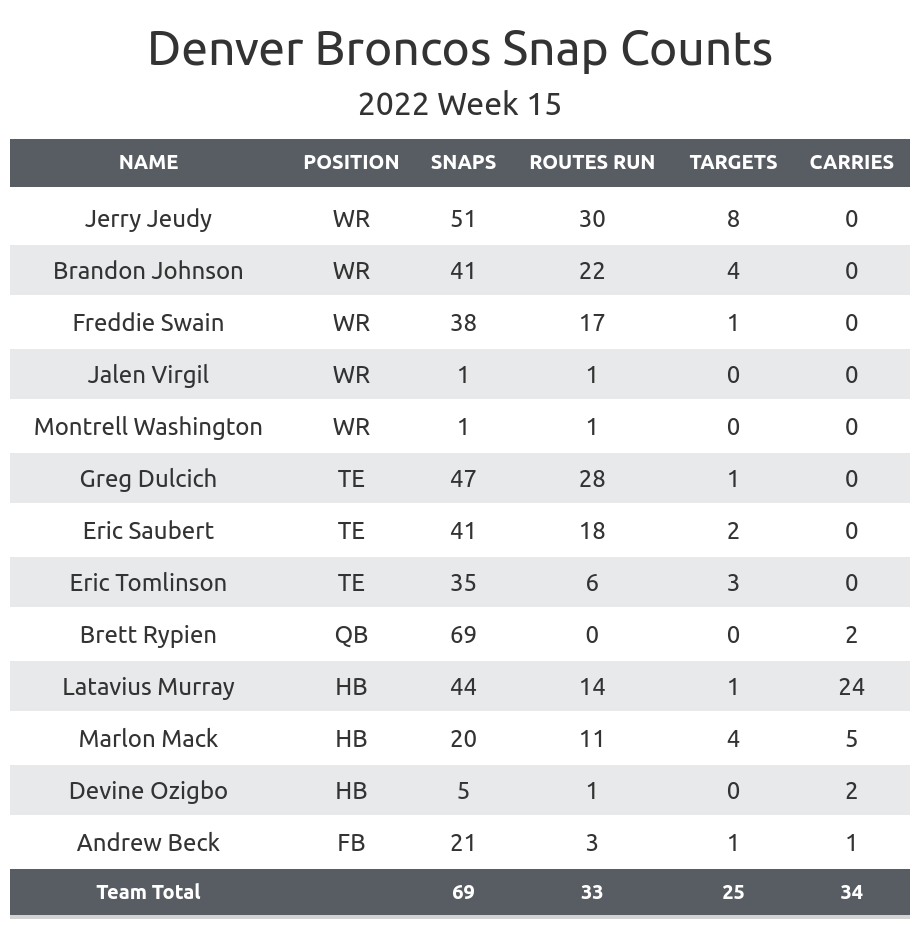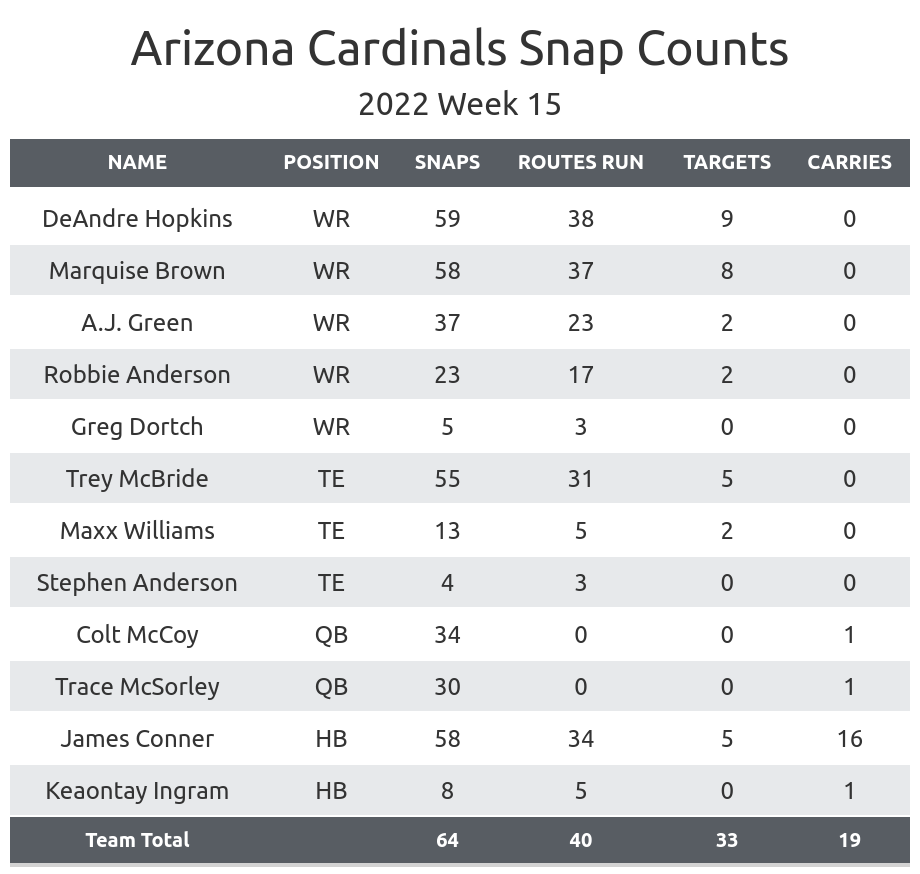 Monitor Colt McCoy's health: McCoy suffered a concussion at the start of the third quarter and didn't return.
Trace McSorley

took over as the Cardinals' quarterback for the rest of the game.

The dropoff from

Kyler Murray

to McCoy already hurt the fantasy value of the Cardinals' offensive players. The dropoff to McSorley hurt it further.

McSorley completed 7-of-15 passes and had two interceptions.

The Cardinals took

David Blough

from the

Vikings

' practice squad this past week. Blough will likely serve as the backup, assuming McCoy misses a game.

Arizona has a tough matchup against

Tampa Bay

next week. This will make it harder to rely on anyone from this offense.
The Cardinals continue to avoid Greg Dortch: Dortch caught nine passes for 103 yards in Week 11 and hasn't caught a pass since then.
He missed two weeks with an injury and returned last week, playing only four offensive snaps.

There was at least a chance they were easing him back due to injury, but he also barely played in this game.

A.J. Green

remained the team's primary third receiver. He was at times rotated out for

Robbie Anderson

.

The Cardinals also ran some four-wide receiver sets where both Green and Anderson were on the field.

Green and Anderson were also held without a catch.

Arizona will likely continue to use Green and Anderson these next few weeks, but they should be avoided over the rest of the season.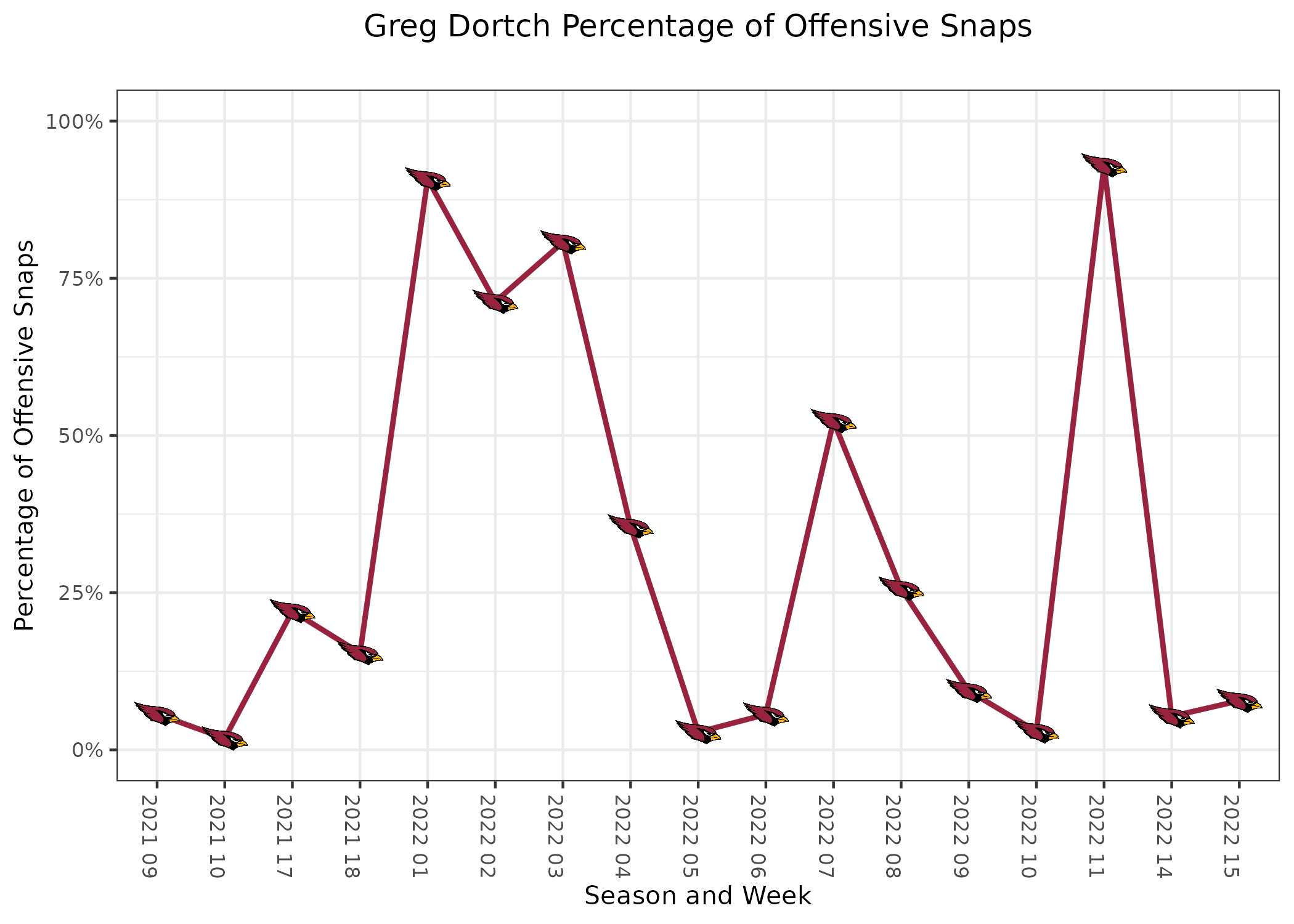 The Broncos continue to dig deep on the wide receiver depth chart: The Broncos were without Courtland Sutton and Kendall Hinton.
Neither wide receiver practiced all week with hamstring injuries and both were ruled out on Friday.

K.J. Hamler

was placed on injured reserve two weeks ago, leaving Denver without three of its top four wide receivers.

Undrafted rookie

Brandon Johnson

has seen significant playing time over the past five weeks. He had only three catches for 12 yards heading into this game. He put up a career-high three catches for 30 yards as the Broncos' No. 2 receiver.

Freddie Swain

was taken from the Dolphins' practice squad earlier in the week and was instantly elevated to the third receiver on the Broncos' depth chart. He caught his only target for nine yards.

The Broncos are eliminated from the playoffs, so they should be in no rush to bring back their injured receivers. We could see Johnson and Swain get more opportunities over the next few weeks.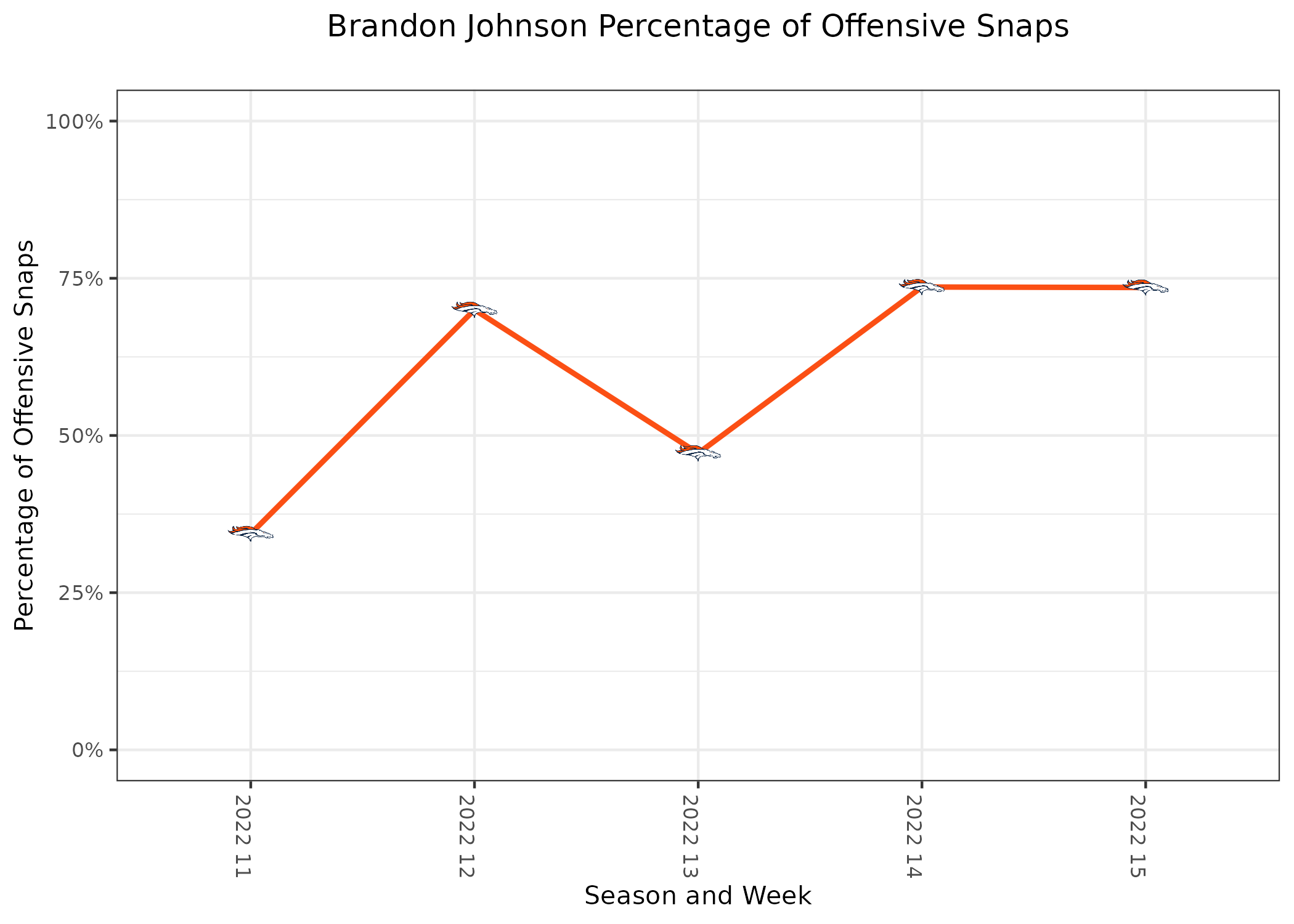 ---
• Rhamondre Stevenson: 19 carries, 172 yards, 1 touchdown, 2 receptions, -4 receiving yards
• Darren Waller: 3 receptions, 48 yards, 1 touchdown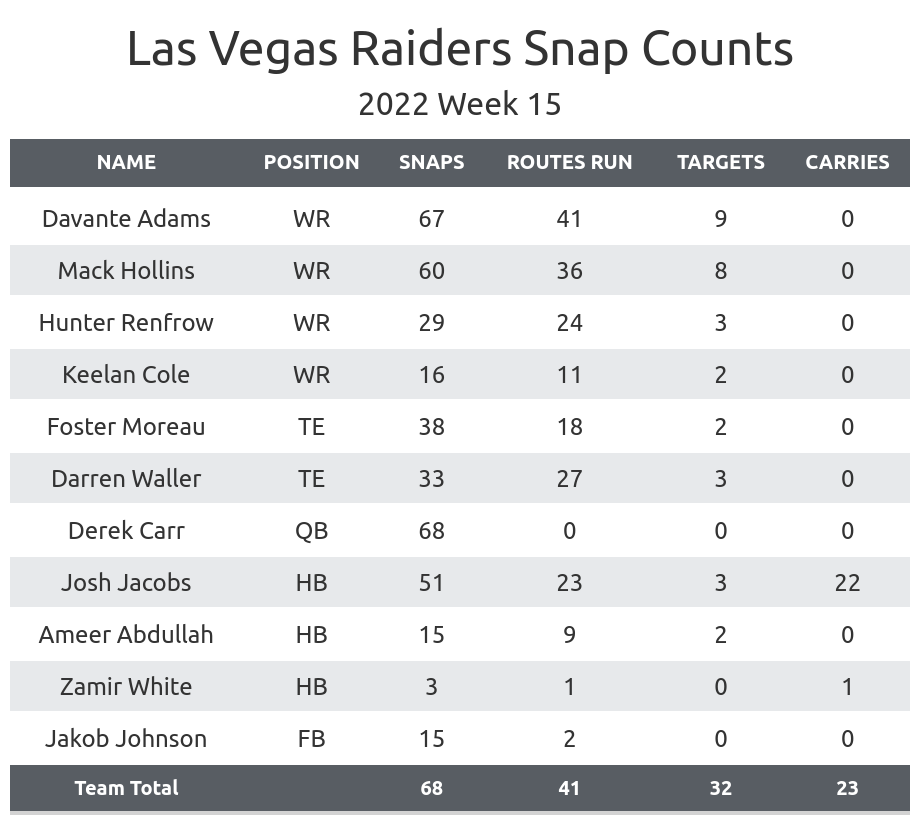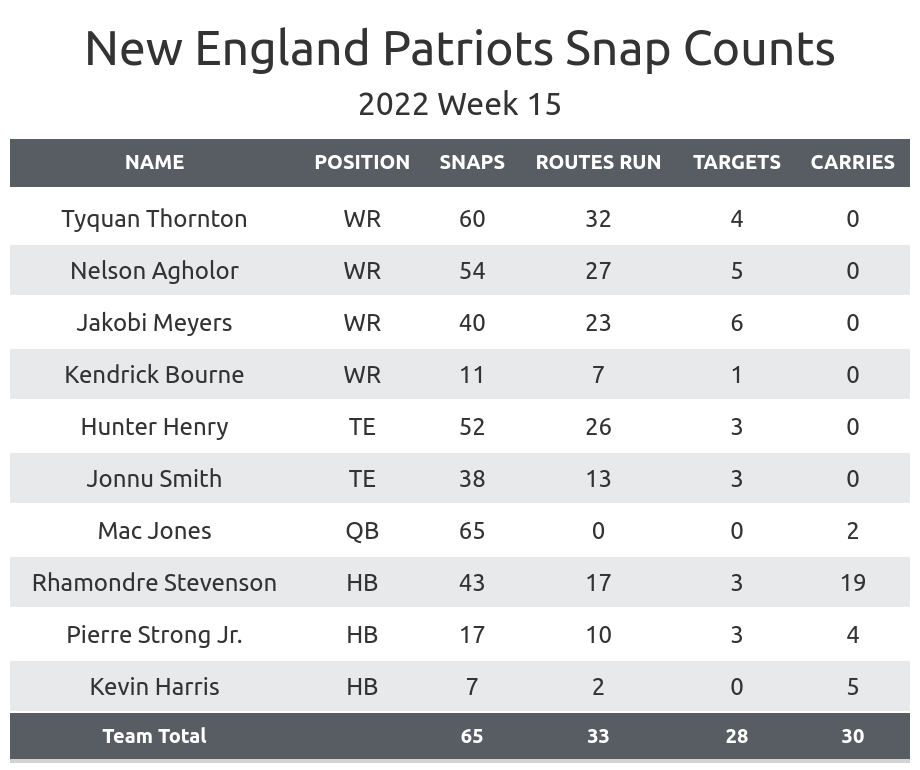 Rhamondre Stevenson's return: Stevenson suffered an ankle injury last week that put his status for this week in doubt. He not only played but thrived.
He didn't participate in practice Wednesday or Thursday and was limited Friday.

Damien Harris

was limited all week with a thigh injury but was ruled out on Friday.

Kevin Harris

got his first NFL start. Stevenson started the game with a similar role as past games, where he played third downs on every other drive.

As the game progressed, the Patriots seemed more comfortable with Stevenson's health, and he played more snaps later in the game.

Fantasy managers shouldn't need to worry going forward. If Damien Harris misses more time, we could see Stevenson with a higher percentage of snaps than he got Sunday.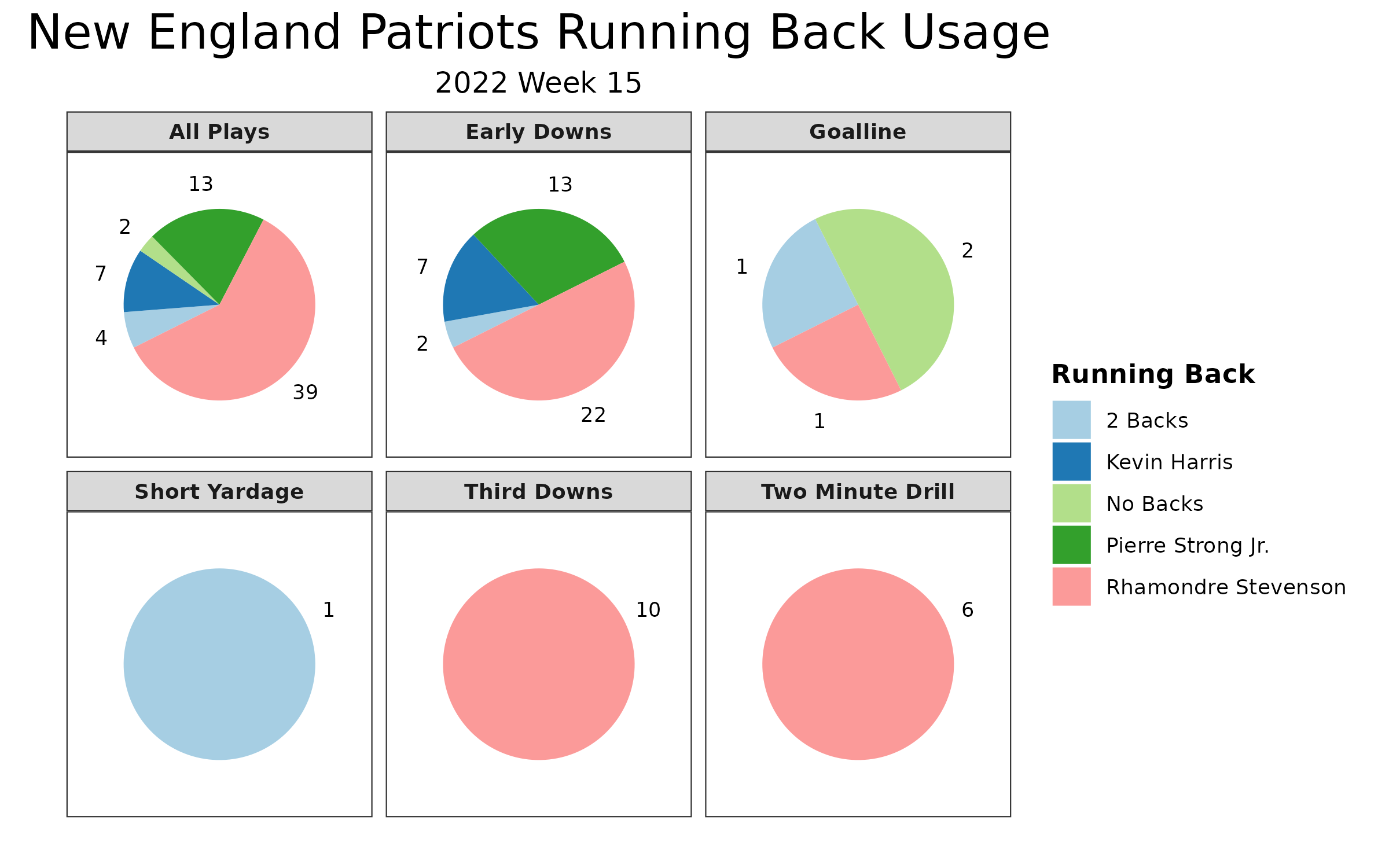 Jakobi Meyers' return: Meyers was limited in practice all week after suffering a concussion but was able to play in this game.
The Patriots didn't have

DeVante Parker

, who was held out of practice all week with a concussion.

Nelson Agholor

and

Tyquan Thornton

were the Patriots' starting outside receivers, while Meyers played in the slot in three-receiver sets.

Meyers typically plays in two-receiver sets, so this was a slight downgrade in snaps for him.

The decreased playing time didn't stop Meyers from leading the team in targets (six). He caught only two of them but led the team in receiving yards (47).

Meyers was also credited with -20 rushing yards from his lateral on the last play of the game, leading to the Patriots' loss.

Meyers remains the only Patriots wide receiver or tight end who should be trusted in fantasy lineups over the rest of the season.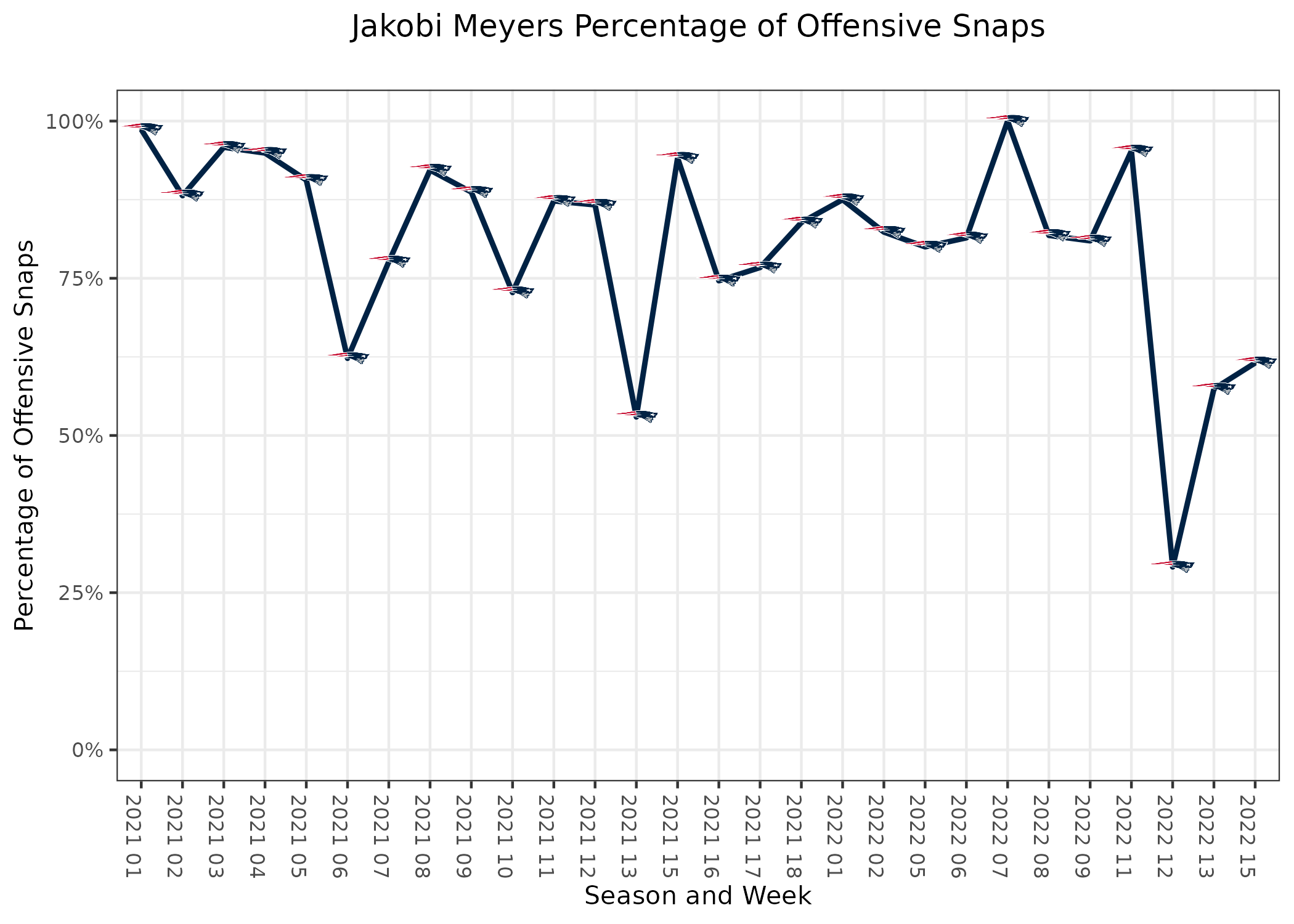 The return of Hunter Renfrow and Darren Waller: Both veterans returned from injured reserve earlier in the week and played part-time roles as the Raiders eased them back into action.
Waller split playing time with

Foster Moreau

. 

They shared the field for a rare two-tight-end set. Moreau typically played in 21 personnel, which gave him the snap lead, while the two were used interchangeably in 11 personnel.

Renfrow and

Keelan Cole

split playing time in three-receiver sets.

Renfrow saw a clear advantage in snaps, but they were also used interchangeably in the slot.

We can expect both Renfrow and Waller to see a higher percentage of offensive snaps next week, assuming they didn't suffer any setbacks.

Renfrow hasn't been a fantasy starter all season, so it's probably fine to avoid him. Waller can likely return to the ranks of fantasy starters.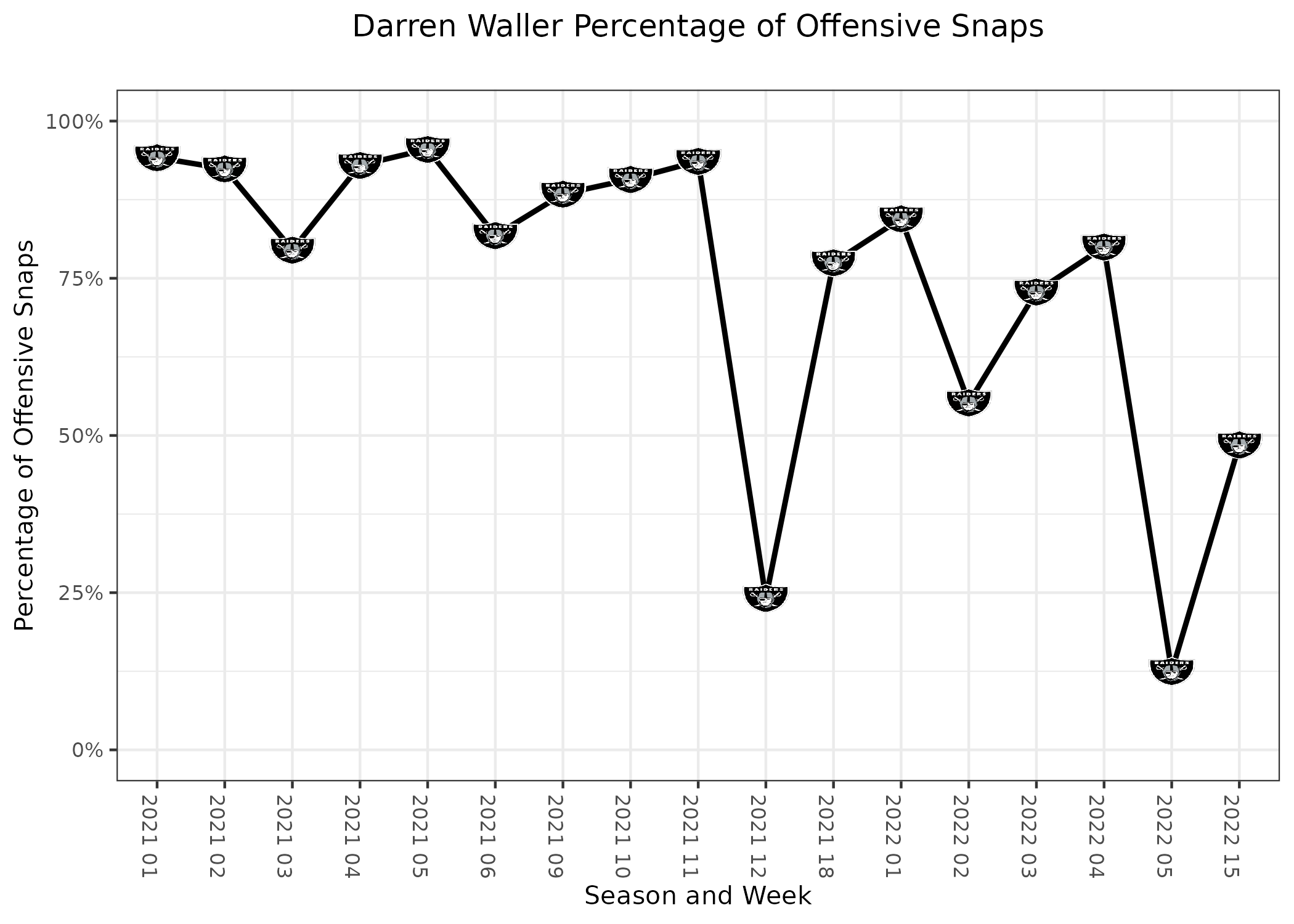 ---
• Derrick Henry: 21 carries, 104 yards, 1 touchdown, 4 receptions, 59 receiving yards
• Austin Ekeler: 12 carries, 58 yards, 1 touchdown, 2 receptions, 12 receiving yards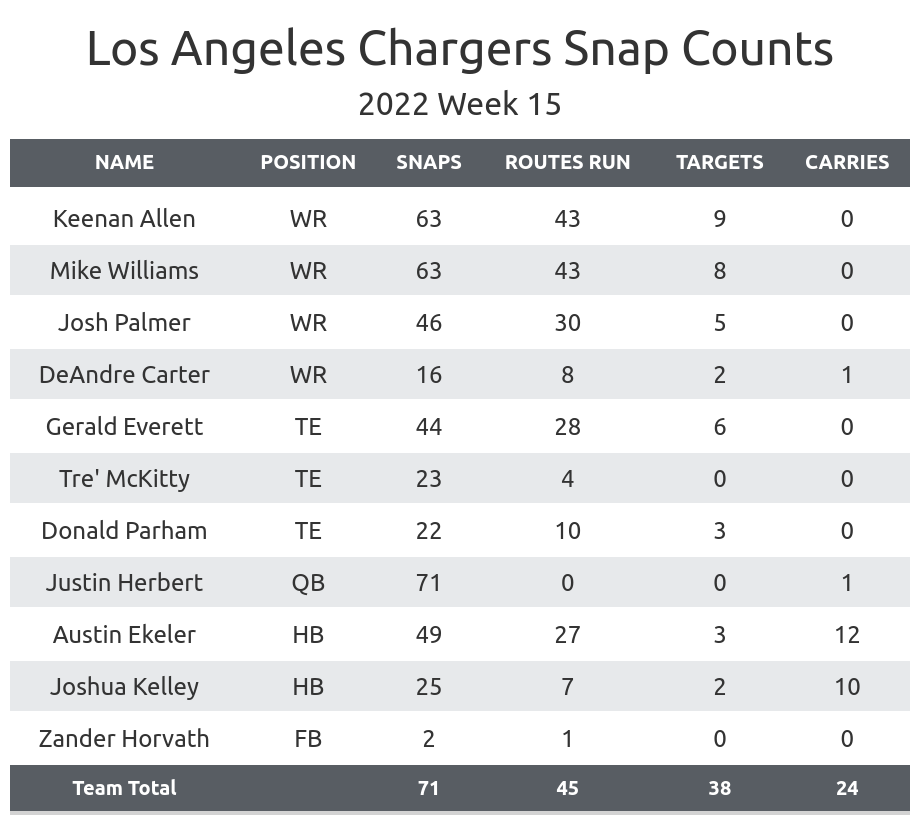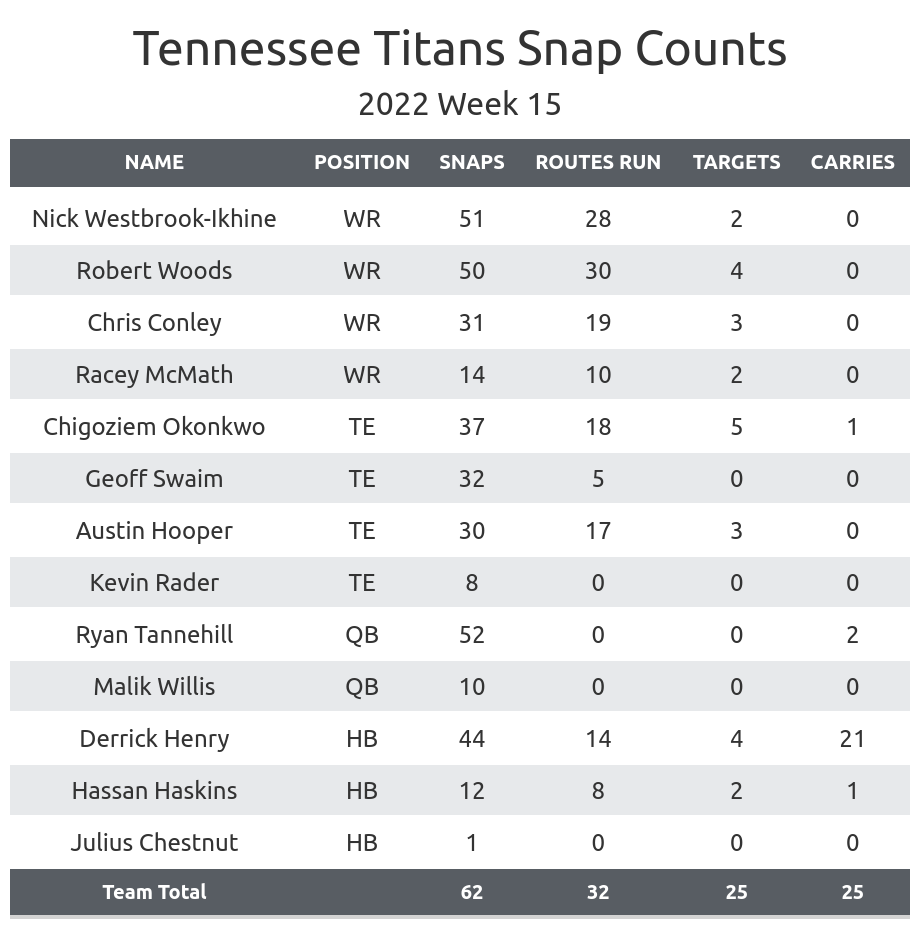 Donald Parham's return: Parham was elevated off injured reserve Saturday and joined the Chargers' tight end rotation.
He was placed on injured reserve in early November with a hamstring injury. He had played only two games this season.

The tight ends were largely used interchangeably by formation.

Gerald Everett

played the majority of snaps in 11 personnel, but Parham took several snaps from that group, including some snaps on third downs.

All three of them took significant snaps in two-tight end sets. Typically, if only one of them ran a pass route, it was Everett.

Parham mostly ended up taking snaps from

Tre' McKitty

, but he also cut into Everett's snaps and routes.

Three of Everett's six worst games in terms of offensive snap percentage have come in Parham's three outings this season.

Everett is still likely good enough to be a fantasy starter these last two weeks, but his ceiling is lower now.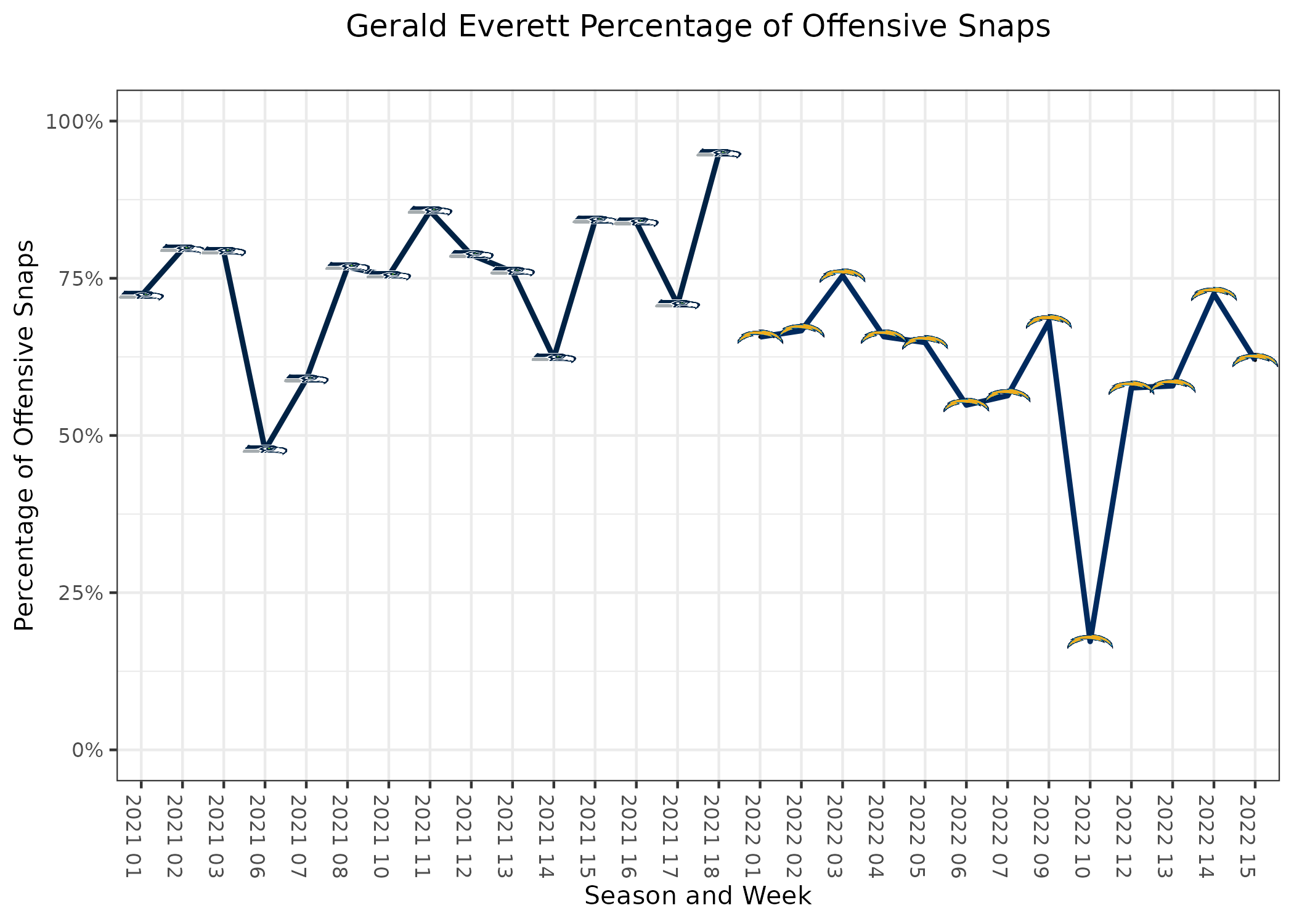 Chigoziem Okonkwo's fantasy value continues to rise: Okonkwo led the Titans in targets and ran more pass routes than Austin Hooper.
He caught four of his five targets for 54 yards. He finished second on the team in receiving yards.

He's played 32 snaps in 11 personnel over the past two weeks after playing 40 snaps from 11 personnel over the first 13 weeks.

The Titans even gave him a carry, from which he gained six yards.

He remains the top tight end in terms of yards per route run (2.63) among those with at least 50 routes. The next closest player is

Travis Kelce

at 2.26. 

Tennessee has a favorable matchup against Houston next week. There is plenty of room for Okonkwo to grow in terms of playing time and routes run, but he's been the clear top target in Tennessee recently and he can be in fantasy starting lineups.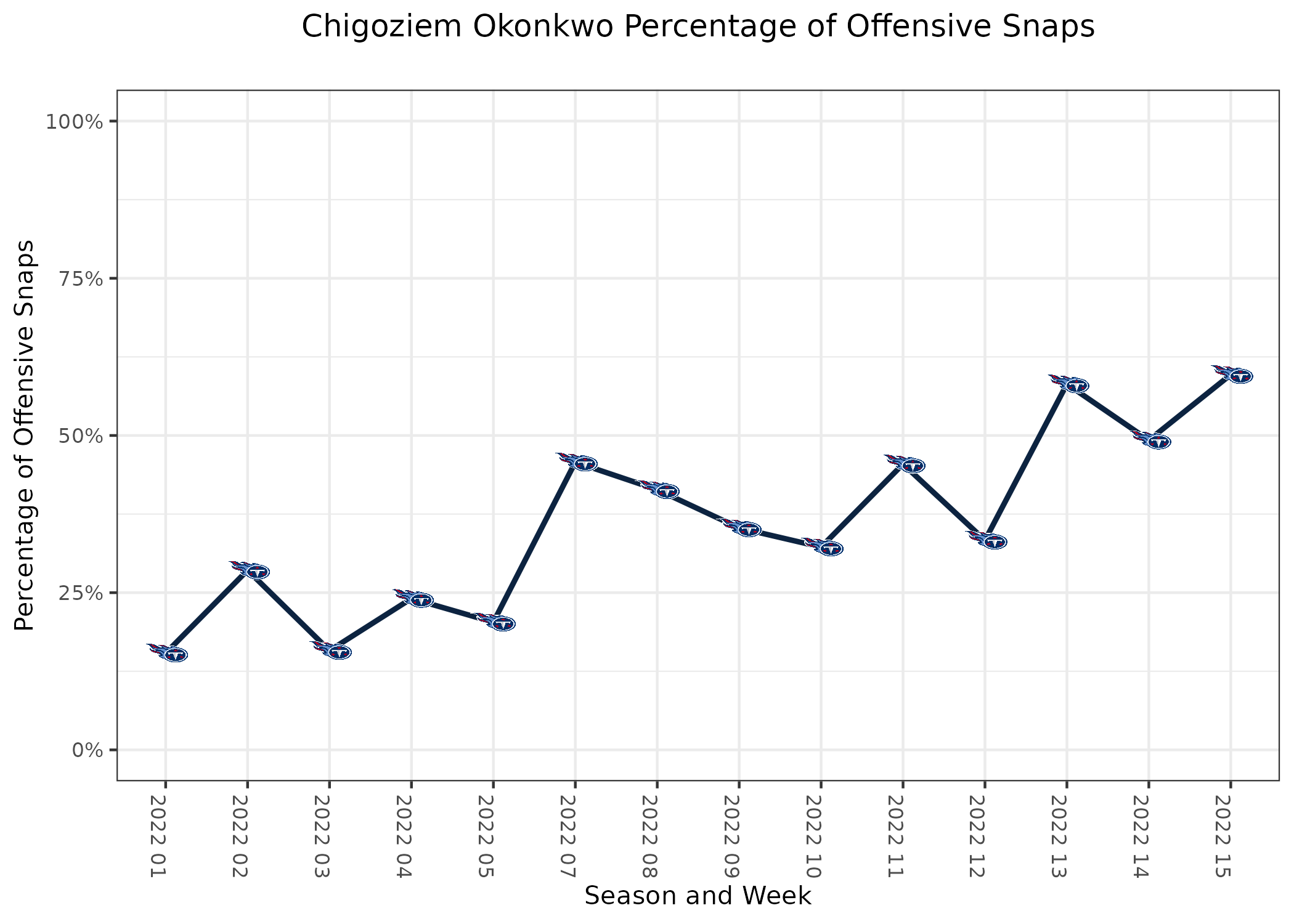 ---
• Russell Gage: 8 receptions, 59 yards, 2 touchdowns
• Chris Godwin: 8 receptions, 83 yards, 1 touchdown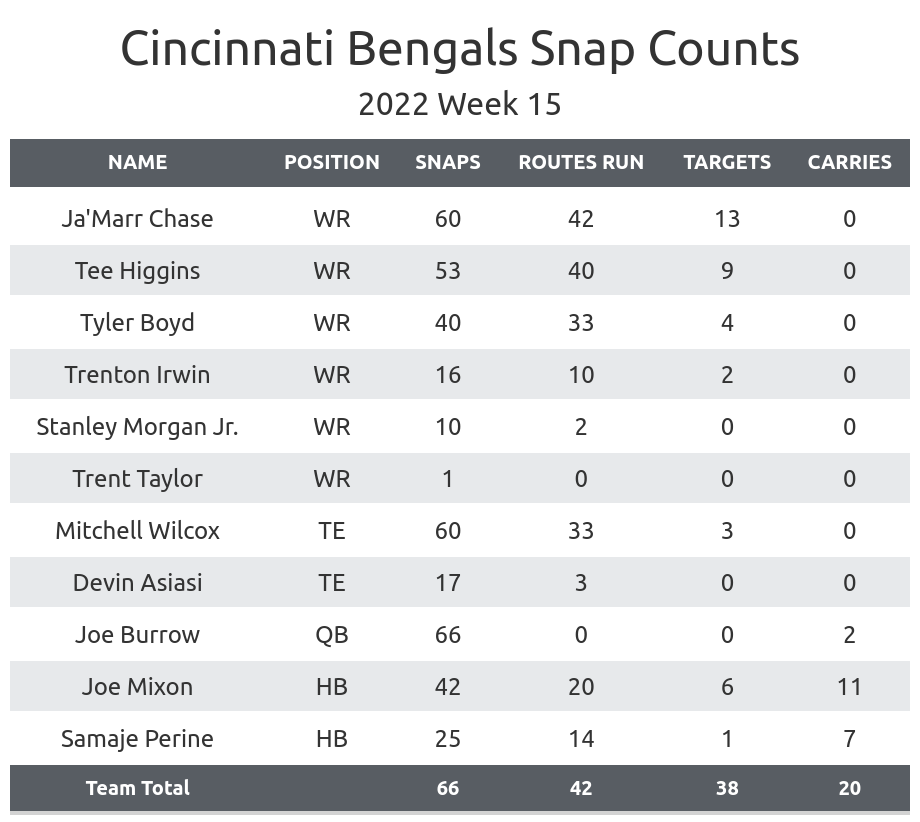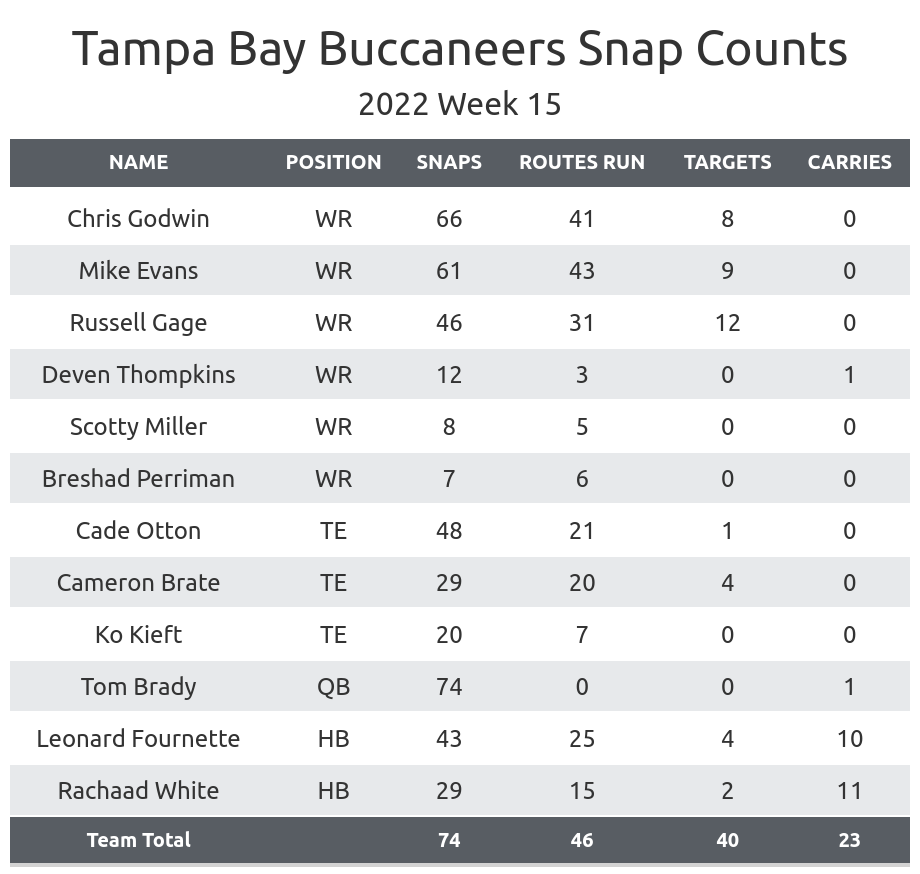 The return of Tee Higgins and Tyler Boyd: The two receivers combined for three offensive snaps last week due to injury, but both were available for this game.
Both players were on the field for the majority of plays, but neither saw as much playing time as usual.

Whenever Higgins was off the field, it was a clear indication the Bengals were about to run the ball.

Trenton Irwin

was the fourth wide receiver, often coming in for Boyd.

The injuries didn't stop the receivers from seeing targets or scoring touchdowns, but Cincinnati was very restricted in terms of yards per pass. They averaged just over five yards per pass attempt.

The Bengals' receivers can safely be put in starting lineups next week.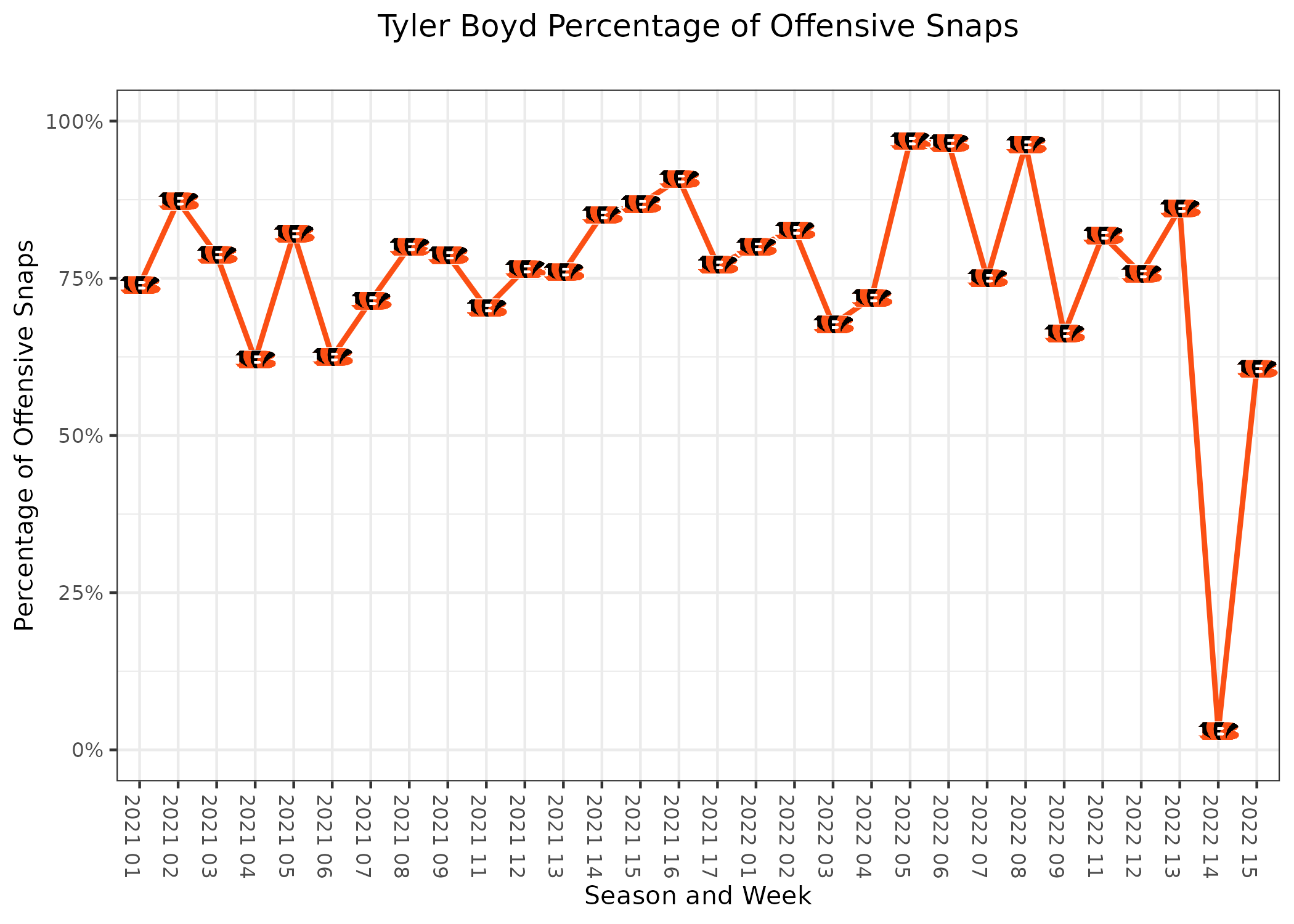 The Buccaneers without Julio Jones: Jones didn't practice most of the week with a knee injury and was ultimately inactive.
This allowed

Russell Gage

to be the Buccaneers' clear third receiver.

Gage was rotated out a little more often than usual, with six total receivers seeing at least some playing time.

This was only Gage's second game with more than five receptions or more than 40 receiving yards.

The Buccaneers will likely be favorites the next two weeks despite losing three of their past four games. This means Tampa Bay probably won't need as many three-receiver sets.

Gage will also see a decrease in playing time if Jones is able to return by next week.

This means Gage can likely be left on the waiver wire despite the good game.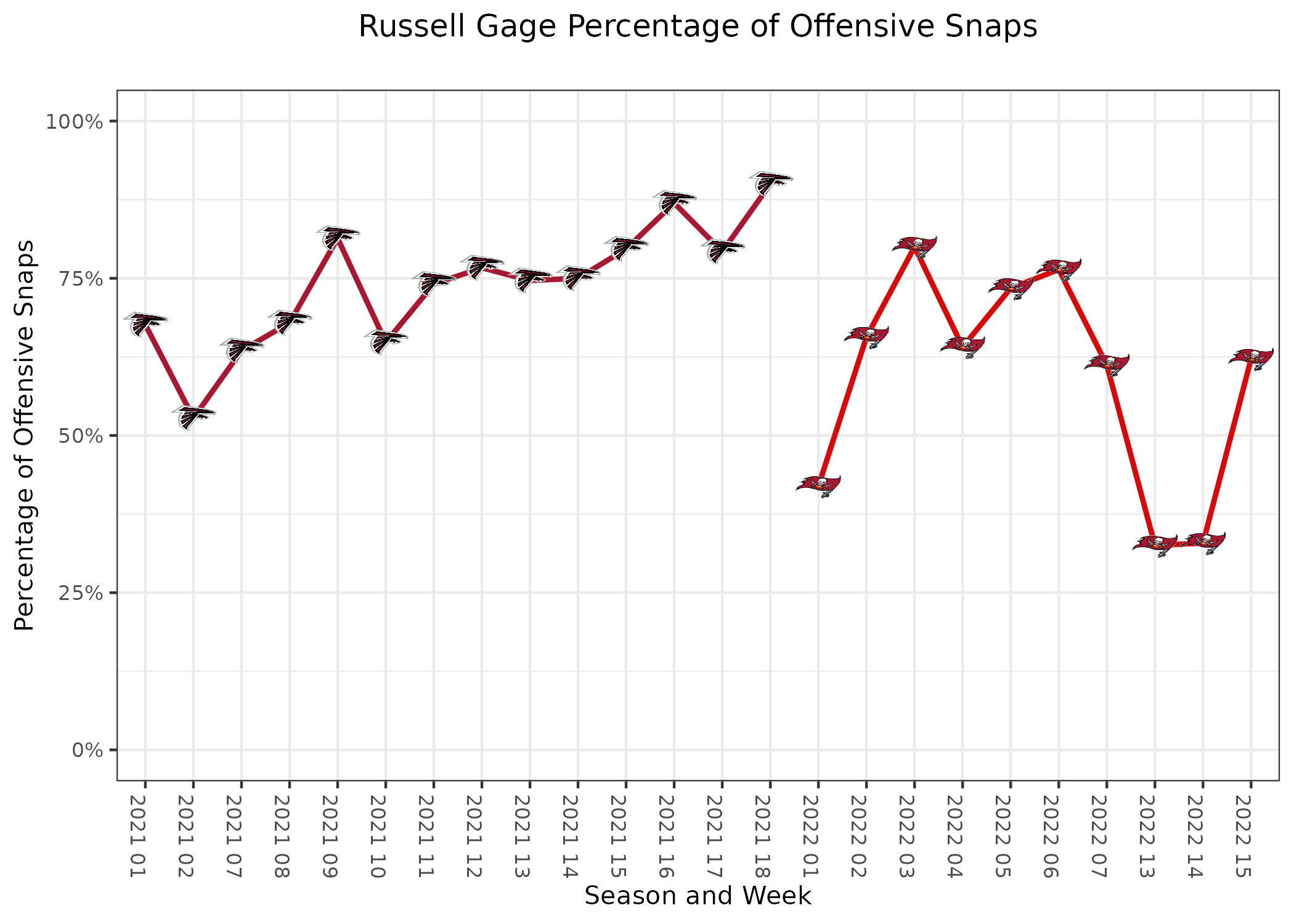 Leonard Fournette leads the Buccaneers' backfield: Fournette led the backfield in snaps, rushing yards and receiving yards.
The Buccaneers largely followed their usual running back rotation throughout the game.

Rachaad White

started the game and took odd-numbered drives, while Fournette played on even-numbered drives.

Fournette had a 29-to-26 snap lead over the first eight drives of the game and was evenly matched with White in terms of carries and routes at that point.

Fournette stayed on the field for the Buccaneers' ninth drive, likely because the Buccaneers like him more in late-game passing situations when they are trying to come back. 

White returned to the field for drive 10, but Fournette took a clear snap lead on the Buccaneers' final nine-play drive.

White should still be considered the better fantasy option of the two despite the opposite being true for this game.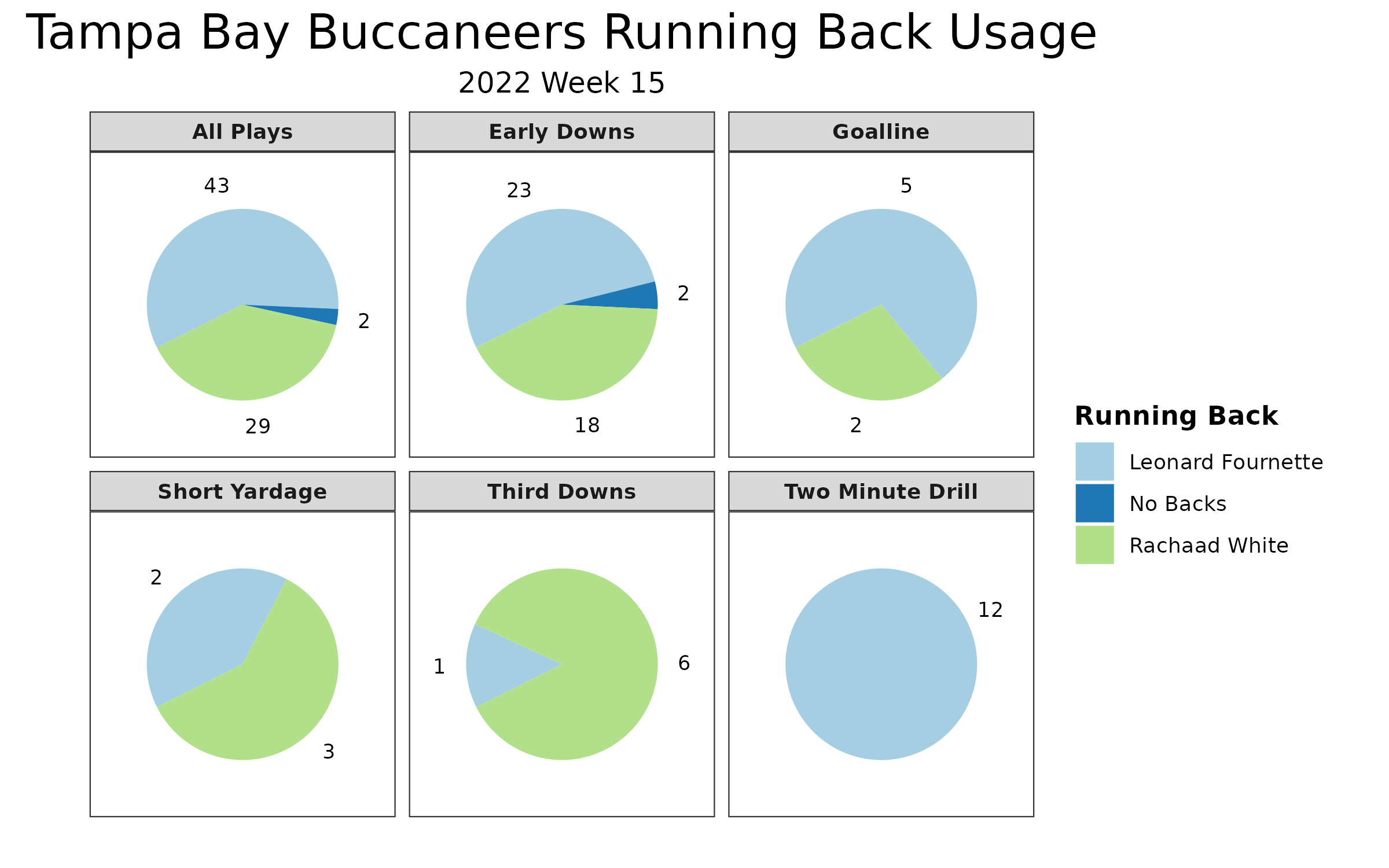 ---
• Jahan Dotson: 4 receptions, 105 yards, 1 touchdown
• Saquon Barkley: 18 carries, 87 yards, 1 touchdown; 5 receptions, 33 receiving yards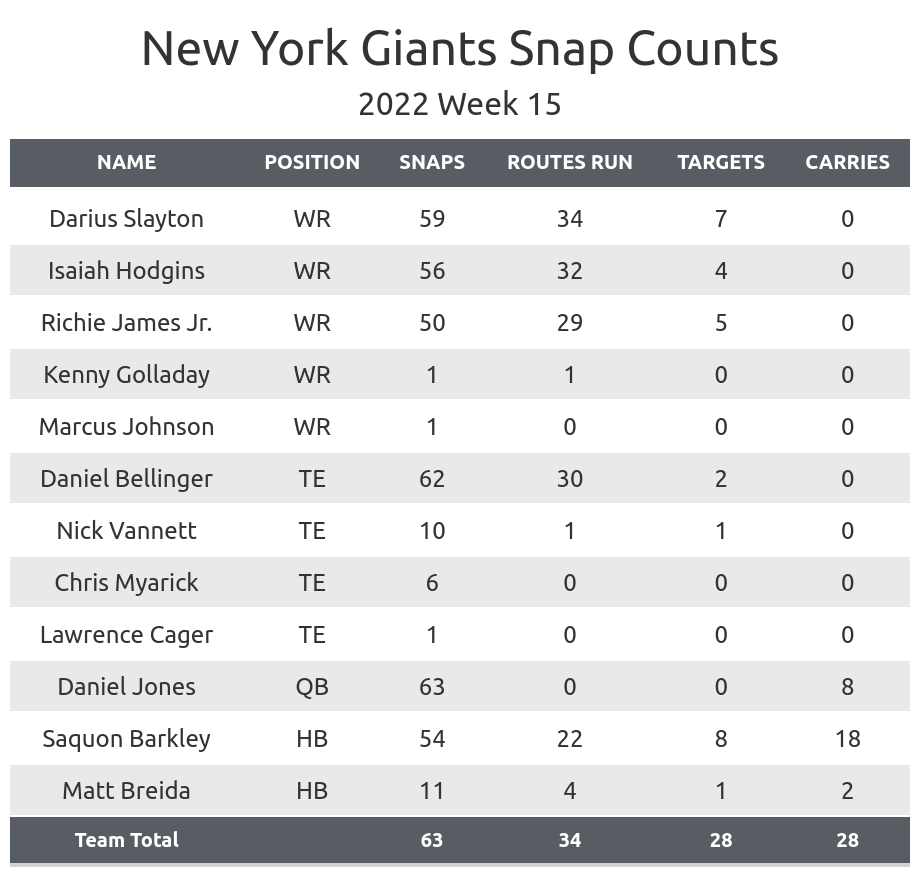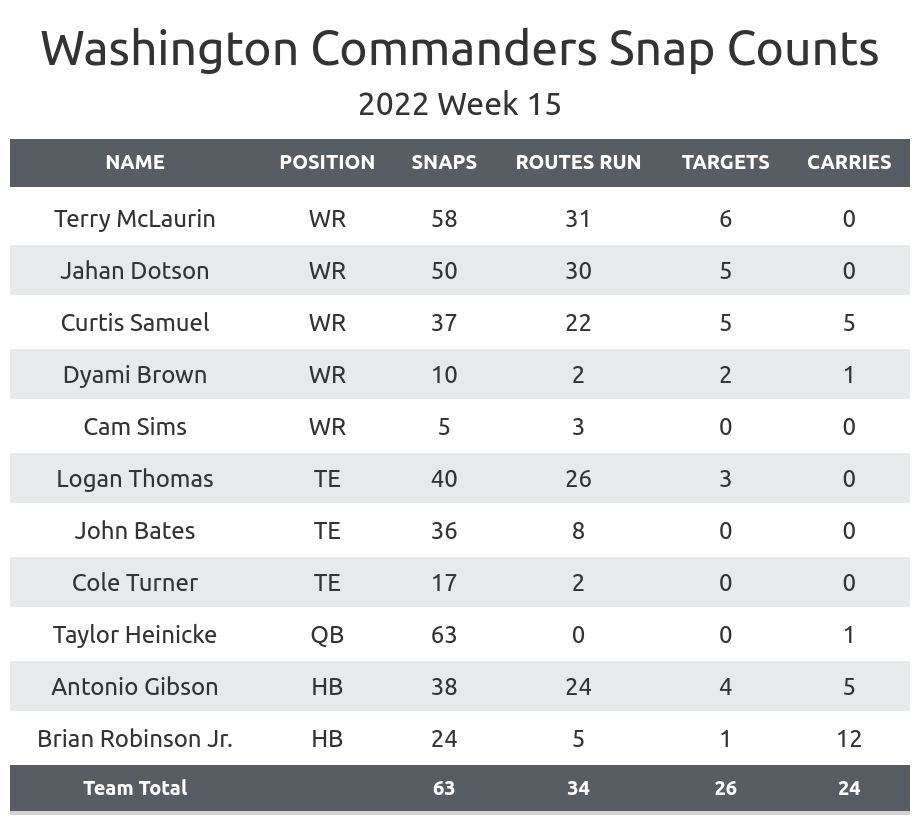 Kenny Golladay's role deteriorates with the Giants: Golladay returned to the Giants lineup in Week 10 but lost the battle with Isaiah Hodgins for a receiver spot.
Golladay and Hodgins have shared one outside receiver spot opposite

Darius Slayton

, but Hodgins has played a higher percentage of those snaps in each of the last four games both players played.

Golladay missed Week 13 with an illness.

The Giants have been unable to move on from Golladay this season due to cap issues, but it is a safe bet New York will find a way to get him off the roster in 2023.

Hodgins has played very well for a wide receiver who was picked up from another team in the middle of the season, but it's likely New York will look to upgrade at the position this offseason. Hodgins should remain on the Giants roster but probably as a rotational player or backup rather than a full-time starter.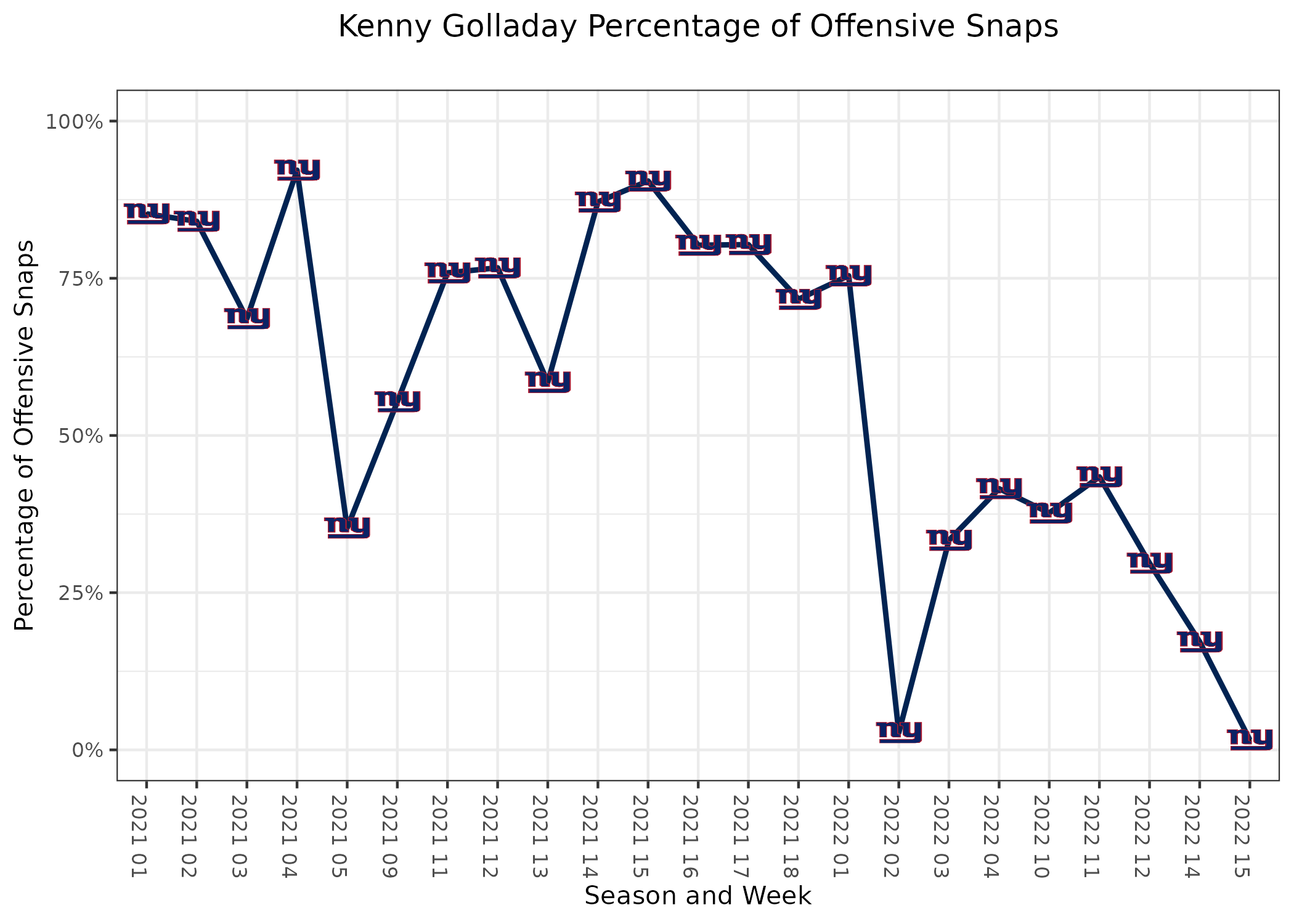 Curtis Samuel's role in the Commanders' offense continues to decline: His playing time has slowly but surely declined over the season.
He was targeted only

four times, bringing in three passes for 44 yards.

He's been held under

45

yards in four of his last five games.

Washington tried to get him involved in the run game, but that only resulted in one yard off five carries.

His problem has largely been an increase in two-tight end sets, along with Washington playing better — it hasn't been a particular wide receiver taking playing time from him.

He typically only plays in three-receiver sets, and they use those a lot more when playing from behind.

He is the kind of player who can be cut in fantasy leagues unless you plan on having him in your starting lineup this upcoming week.

He's under contract for 2023, but it would take a bit of dead cap to release him. His playing time could decline further if Washington drafts another wide receiver to add depth at the position.
---
Table Notes
• Snaps include plays called back due to penalties, including offensive holding or defensive pass interference. The other three stats have these plays removed.
• Targets may differ from official NFL sources. The most likely discrepancy would be from a clear thrown-away pass, where the NFL may give the target to the nearest receiver, while this data will not.
• Carries are only on designed plays. Quarterback scrambles won't count for the total number of carries in the game.