In 2016, David Johnson totaled 407.8 PPR points for fantasy football, the ninth-most by any running back all-time — a number no other active running back has ever eclipsed.
In 2017, Johnson played in just one game before suffering a season-ending injury.
In 2018, he ranked just 11th in fantasy points per game (15.4), averaging 10.1 fewer fantasy points per game than in his historic 2016 season (25.5).
What went wrong?
There were a number of factors playing in to Johnson's down year, and most of them were outside of his control.
Despite playing in all 16 games in both seasons, Johnson saw 35 fewer carries and 44 fewer targets than in his 2016 season. Based on weighted opportunity, this was worth a loss of about 5.6 fantasy points per game. The loss in receiving volume was especially costly, but fortunately, new head coach Kliff Kingsbury has a strong history of keeping running backs heavily involved in the passing game. Last season, Texas Tech was one of only 10 teams to target running backs more than 75 times.
This loss in volume wasn't really related to an increase in competition. Johnson played on 77% of the team's snaps in 2018, while drawing 81% of the team's carries and 70% of the team's targets out of the backfield. That wasn't far off his 2016 averages of 79%, 78%, and 85%, respectively.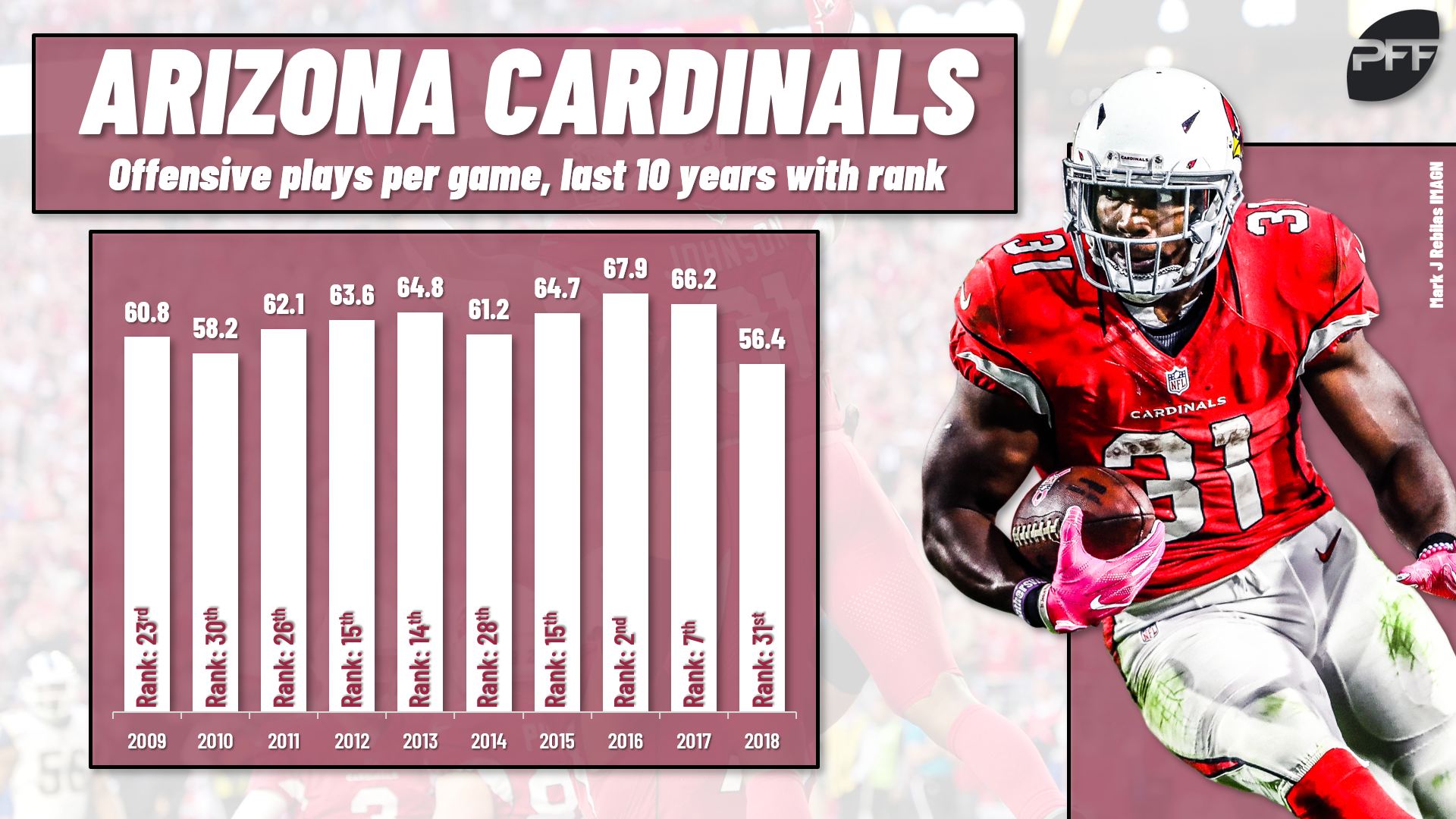 Mostly, the loss in volume was related to a massive decline in play-volume and pace of play. In 2016, Arizona ran 67.9 plays per game (second-most). In 2018, Arizona ran only 56.4 plays per game (second-fewest), despite spending the most time of any offense trailing by a touchdown or more. Last season, Kingsbury's Red Raiders offense ran the third-most offensive snaps in the NCAA.
Not only was Johnson hurt by a decline in receiving volume, but he was also improperly utilized as a receiver. In 2016, we called Johnson the league's best receiver that year (at all positions). That's an amazing accomplishment for a running back. In 2018, the Cardinals made little use of what's probably Johnson's best skillset.
In 2016, Johnson saw 43% of his targets and scored 43% of his fantasy points when lined up as a wide receiver. That year, Johnson ran 35% of his routes lined up as a wide receiver. In 2018, that number dropped to just 11.5%.
Air yards don't really matter for running backs. Over the past four seasons, Le'Veon Bell has seen 217 targets but totals just 21 total air yards (0.1-yard aDOT). However, if there were any running back air yards did matter for, it'd be Johnson. He had 487 air yards in 2016, while the previous all-decade high for a running back was 287. In 2018, he ranked just 30th among running backs in air yards, totaling just 31 yards in air.
Last week, Kingsbury seemed to imply he won't make the same mistake the last regime did. He said of Johnson, "He's a big back and when you split him out and put him in space like that he looks like a true receiver, so that's a unique combination. You get a linebacker on him, you should feel comfortable he's going to win that one."
Johnson was also hurt by a wholly anemic offense. Just on touchdowns alone, Johnson lost 3.0 fantasy points per game from his 2016 season. In 2016, Arizona ranked sixth in points per game (26.1), ninth in yards per game (366.8), fourth in first downs per game (20.6), and 14th in red zone drives per game (3.2). In 2018, they ranked last in points per game (14.1), yards per game (241.6), first downs per game (14.9), and in red-zone drives per game (1.7). Although it's hard to imagine Arizona being as bad as they were last year, it's also hard to see them being as good as they were in 2016, given the state of their current roster.
On top of all the things working against Johnson, he also didn't exactly play very well (though this may be partly related to his poor usage, or "rust" after sitting out for much of the 2017 season). In 2016, he was our second-highest-graded running back (of 42 qualifying. Last year, he ranked 39th (of 47). He also saw massive declines in yards per carry average (by 15.1%), yards per target average (by 22.1%), and by fantasy points per snap (by 26.3%).
Conclusion
What went wrong for Johnson last year? A lot.
However, his situation this year looks a lot more promising than last year. With the arrival of Kingsbury, we should expect more volume and better usage. The offense should also improve, as it's hard to imagine the team being as bad as they were last year.
The conclusion here should be an obvious one. Johnson is a top post-breakout value poised to explode. I think his 2018 season was his absolute floor and his 2019 season should fall somewhere in the middle but closer overall to his 2016 season.
By current best ball ADP (Round 2, RB9), he's a tremendous value.