The NFL is a matchup-driven league. Offensive coordinators are always looking to scheme their playmakers into one-on-one situations against a defender, while defensive coordinators will attempt to do anything in their power to upset the timing and rhythm of the opposing QB.
Click here for more PFF tools:
Rankings & Projections | WR/CB Matchup Chart | NFL & NCAA Betting Dashboards | NFL Player Props tool | NFL & NCAA Power Rankings
---
Despite the obvious impact that defenses have on opposing offenses, fantasy players and fans alike are often left with one-way metrics to describe offenses and defenses that they are then forced to compare against each other in an attempt to identify mismatches.
The goal here is to provide easy-to-decipher charts and notes to define each week's key matchups and advantages on both sides of the ball in:
Explosive Plays

Pace

Pressure

Yards Before Contact

Passing Game

EPA
The following charts display matchup-specific information meant to highlight the largest mismatches in these ever-important facets of football to ultimately gain actionable betting and fantasy takeaways. And, of course, to have fun.
Note: Data is from Week 1-8, 2021. There are obviously plenty of limitations to this due to the small sample size at hand; key discrepancies will be highlighted in the ensuing paragraphs and the metrics will get stronger as the season continues.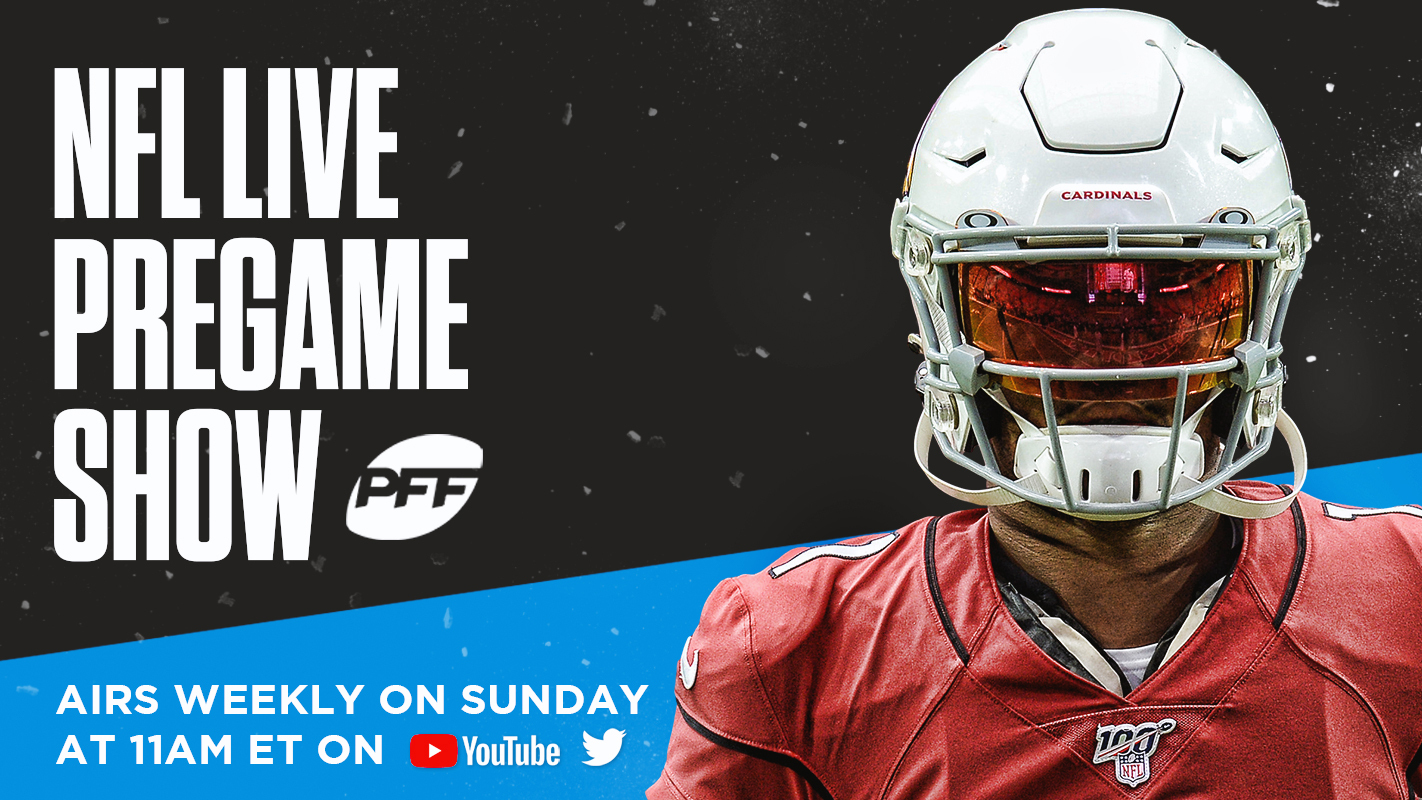 Explosive Plays
Big plays make the football world go round. Matchups between explosive offenses and leaky defenses are exactly what we're looking for when compiling game stacks in DFS, or when betting an over.
Explosive Pass Rate

: The sum of an offense's rate of 20-plus yard completions per pass attempt and the opposing defense's rate of 20-plus yard completions allowed per pass attempt. A higher percentage is better for offenses (blue is good, red is bad).

Explosive Run Rate

: The sum of an offense's rate of 15-plus yard gains per rush attempt and the opposing defense's rate of 15-plus yard runs allowed per rush attempt. A higher percentage is better for offenses (blue is good, red is bad).
Mismatch Manifesto Week 9: combined explosive play rate.

Higher or lower % = large or small combined sum of the pass/rush big-play rate from the matchup's offense and defense (blue = good, red = bad)

Big pass play: 20+ yds
Big run play: 15+

All data from 2021, PFF pic.twitter.com/N3l31G70S4

— Ian Hartitz (@Ihartitz) November 3, 2021
These offenses breed explosive plays: There are only five offenses averaging an explosive pass play on at least 11% of their dropbacks: Raiders (12.7%), Bengals (12.4%), Rams (12.1%), Ravens (11.1%) and Cardinals (11%). Much of the credit for the former team's status as the league's 11th-ranked scoring offense should go to their veteran quarterback.
Derek Carr is your most-underrated quarterback's most-underrated quarterback: 
Carr has largely played excellent football all season long. It's hard to watch a Raiders game for 60 minutes without seeing multiple great throws.
101 seconds of Derek Carr making some good fooking throws pic.twitter.com/fFxYPsQZpb

— Ian Hartitz (@Ihartitz) October 18, 2021
Through eight weeks, Carr joins Kyler Murray and Tom Brady as the only quarterbacks with at least 20 big-time throws. This hasn't been a volume thing: Carr's 8.6% big-time throw rate trails only Murray (9%) and Russell Wilson (8.8%) among 34 qualified quarterbacks.
Losing field-stretching WR Henry Ruggs hurts the upside of everyone involved; just realize Carr has had about as good of a first half to the season as Raiders fans could hope for.
Good offense beats good defense in today's NFL: Each of Josh Allen, Kirk Cousins and Joe Burrow stand out as quarterbacks set up best to create big plays through the air. Credit to the latter signal-caller on playing some truly great football halfway through his second season.
Don't play man vs. Joey Football: Burrow has shredded defenses in man coverage this season, grading out as PFF's third-best quarterback vs. single coverage among 33 qualified signal-callers. Overall, he's racked up 12 scores against just three interceptions when defenses have taken their chances in man coverage, averaging a league-high 11.1 yards per attempt along the way.
The Bengals' disappointing loss to the Jets certainly wasn't ideal for any Cincinnati party involved, but it did mark the eighth-consecutive game that Burrow threw multiple touchdowns. Only Aaron Rodgers (7) and Josh Allen (6) presently have an active streak longer than five.
A date with Myles Garrett and the Browns' third-ranked pass rush in pressure rate isn't ideal, although betting against Burrow putting up some solid counting numbers has been a losing proposition for most of 2021 at this point.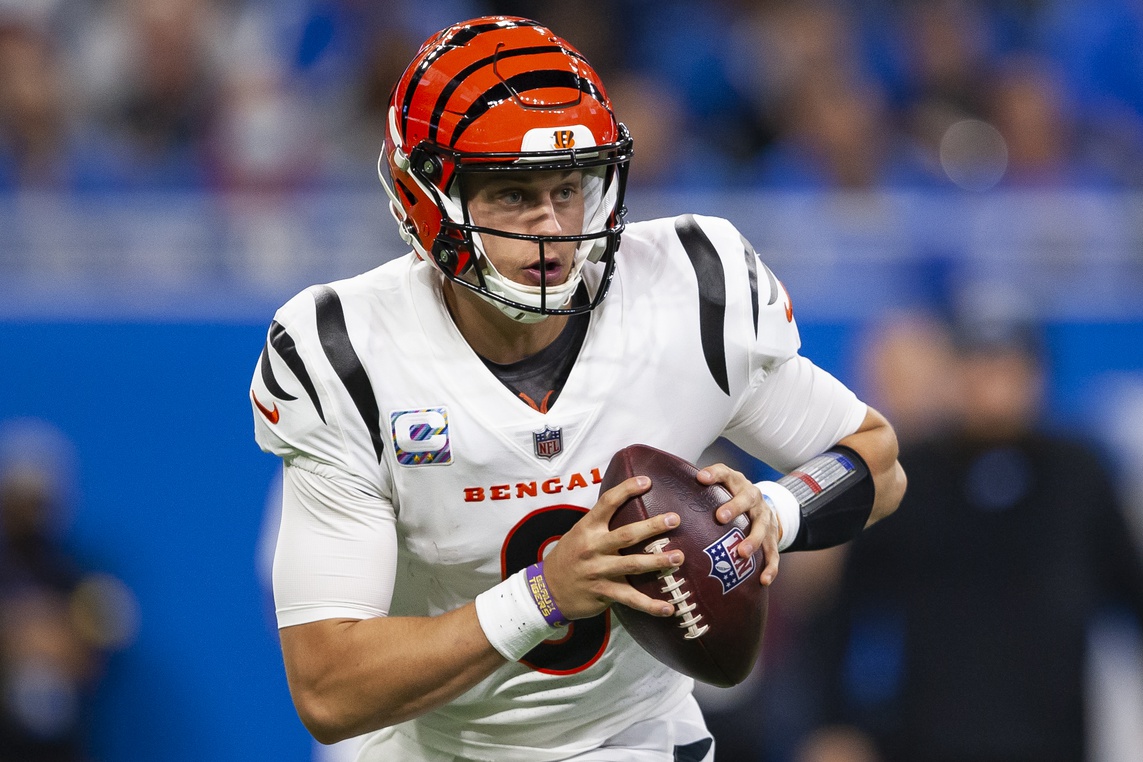 Offense is easier when the defense sucks: Additional quarterbacks that are expected to find all sorts of success through the air include Carson Wentz, Carr, Dak Prescott, Lamar Jackson and Matthew Stafford. Things could seriously get ugly for the Vikings secondary if Jackson manages to find an early groove on Sunday.
Jackson has fed the following players at least three targets in two games with first-round receiver Rashod Bateman active:
In Week 7, Brown had an astronomical 330 air yards. The 250 unrealized air yards shattered the previous 2021 high. He remains the offense's clear-cut No. 1 receiver even with the rookie in action; fire him up as a legit fantasy WR1 against the Ravens' slow-footed corners — neither Cameron Dantzler (4.64) nor Bashaud Breeland (4.62) should be able to hang with Hollywood  deep. Throw in the huge loss of Danielle Hunter (pec, IR), and it's safe to say this Vikings defense is vulnerable in this spot.
Bateman is a solid enough borderline WR3 with the Ravens ranking 20th in pass-play rate in non-garbage time situations this season. This isn't the same sort of 2018-2020 run-heavy Ravens offense; don't be surprised if Jackson puts up all kinds of production through the air over the next three weeks against the Vikings, Dolphins and Bears. 
Not every passing attack is meant to fly: The bottom five quarterbacks in expected big-play success through the air feature: Daniel Jones, Taysom Hill (concussion), Trevor Lawrence, Justin Fields and Patrick Mahomes. This Chiefs offense has been awfully sheesh-worthy in recent weeks.
Life was so much easier in 2019: Mahomes and company are at their best when big plays seem inevitable nearly every single time a pass play is called. Obviously, the going has been tough in recent weeks, and the Packers might not yield the sort of bounce-back spot they need if this defense remains capable of limiting the deep passing game despite the absence of all-world cornerback Jaire Alexander (AC joint, IR).
Yards per attempt allowed on balls thrown 20-plus yards downfield: 13.2 (No. 13)

Explosive pass-play rate allowed: 33.3% (No. 7)

Pass touchdown rate allowed: 12.1% (No. 22)

QB rating allowed: 81.9 (No. 11)
Despite struggling through seven weeks (for him), Mahomes still grades out as PFF's 10th-best passer when chucking the rock at least 20 yards downfield. Don't get carried away and fire up the ever-rotating complementary receivers, but Tyreek Hill sure looks like a potential eruption option that should be prioritized in DFS tournaments against the Packers' rather slow-footed corners. Hill leads the league with 88 targets through eight weeks of action.
Good thing rushing quarterbacks are a cheat code in fantasy land: The presence of Teddy Bridgewater halted Hill's chance at finding the field for any sort of prolonged length of time in 2019, but that changed in 2020. Despite having just 13 regular season pass attempts in 2018 and 2019 combined, Hill at least put up some numbers resembling that of a solid quarterback during his four starts last season.
PFF passing grade: 68.9 (No. 29 among 44 qualified quarterbacks)

Big-time throw rate: 2.5% (tied for No. 40)

Turnover-worthy throw rate: 4.5% (tied for No. 34)

Yards per attempt: 7.7 (tied for No. 11)

Adjusted completion rate: 82.6% (No. 1)
Let's be clear: Hill didn't accomplish any of this in style.
Taysom Hill downfield accuracy is uncanny pic.twitter.com/J6Snzi5hPZ

— Ian Hartitz (@Ihartitz) August 1, 2021
Still, Hill's penchant for taking off and running on his own made him a fantasy darling of sorts during his 3-1 stint as the Saints' starter. Overall, Hill peeled off overall QB3, QB11, QB7 and QB9 fantasy performances in his four weeks under center on a full-time basis. His 16-game rushing pace extrapolated from those four games: 156 carries. Madness. He's my QB10 on the week ahead of guys like Derek Carr, Kirk Cousins and Tua Tagovailoa
Don't let these run games get hot: Each of the Vikings, Ravens and Rams stand out as top rushing attacks that could have an easier time than usual busting off some big runs. Fantasy investors of the former squad shouldn't feel too bad about the relatively slow start from their stud running back.
Get ready for quite the second half of the season from Dalvin Cook: Cook has at least 20 combined carries and targets in all four of his fully healthy games this season. The problem is that the Vikings' fifth-year talent hasn't managed to live up to his previous high-end efficiency:
2021: 61.1 PFF rushing grade, 4.5 yards per carry, 2.9 yards after contact per carry

2020: 90.2 PFF rushing grade, 5.0 yards per carry, 3.3 yards after contact per carry

2019: 83.5 PFF rushing grade, 4.6 yards per carry, 3.1 yards after contact per carry

2018: 70.4 PFF rushing grade, 4.7 yards per carry, 3.0 yards after contact per carry

2017: 76.6 PFF rushing grade, 4.9 yards per carry, 2.7 yards after contact per carry
Luckily the next five weeks sure look like the sort of get-right stretch that fantasy's consensus preseason RB2 could use:
Week 9 at Ravens: No. 24 in PPR points per game allowed to opposing backfields

Week 10 at Chargers: No. 28

Week 11 vs. Packers: No. 16

Week 12 at 49ers: No. 10

Week 13 at Lions: No. 30
Continue to fire up Cook as a matchup-proof RB1, while Alexander Mattison is nothing more than a high-end handcuff at the moment.
These offenses might just want to pass the ball: Run games that aren't set up for much success on the ground this week include the Saints, Raiders, Falcons, Giants and Dolphins. There aren't many good things to say about the Texans these days, but they have fielded the league's second-best defense in limiting explosive run plays. Luckily in Miami, there might just be some clarity in this backfield (for once).
I've got a fever, and the only prescription is more Myles Gaskin:.The absence of Malcolm Brown (quad, IR) gives this backfield some much-needed clarity. Gaskin still doesn't quite have the sort of three-down role that he had on a near-weekly basis in 2021, but only having to deal with basically one other party certainly helps matters.
This week's matchup against the Texans could feasibly offer the sort of positive game script that this Dolphins offense hasn't been able to obtain virtually all season. It certainly worked out that way for Jonathan Taylor (RB3 in Week 6) and Darrell Henderson (RB5 in Week 8) when they squared off against Houston's 27th-ranked defense in fewest rush yards before contact allowed per attempt.
Gaskin is PFF's 10th-highest-projected back ahead of Week 8; he should be in the heavy majority of starting lineups ahead of this smashable spot. Of course, a random ascension from Salvon Ahmed or Patrick Laird would hardly be surprising given the general volatility of this backfield throughout the season; just realize Gaskin finally seems to be shaping up as the weekly top dog in this underwhelming Dolphins offense. 
Pace
Fast-paced games lead to more plays, which lead to more points. Every week usually consists of at least a few games that could resemble a track meet based on their combined situation-neutral pace (Football Outsiders).
Combined Situation-Neutral Pace

: Represents the combined situation-neutral pace between each matchup's two offenses. A lower number indicates fewer average seconds per play (blue = fast-paced game), while a higher number indicates more average seconds per play (red = slow-paced game).
Mismatch Manifesto Week 9: combined situation-neutral pace.

Low combined numbers (blue) = two fast-paced offenses
High combined numbers (red) = two slow-paced offenses

Data from 2021, Football Outsiders pic.twitter.com/5tBGhcgy2w

— Ian Hartitz (@Ihartitz) November 3, 2021
Get ready to see a track meet: This week's sponsored Ricky Bobby "I want to go fast" highest-projected matchup features the Chargers (No. 2 in situation neutral pace) against the Eagles (No. 5). Two top-five quick-moving offenses. What's better than this — guys being dudes.
We'll be moving plenty fast elsewhere too: Additional matchups not expected to dwindle down the play clock feature the Bills at the Jaguars, the Raiders at the Giants as well as the Titans at the Rams. Sunday night football gets it; Thursday night not so much.
Unfortunately some offenses are slow and lame: Easily the two slowest matchups of the week are the Jets (No. 26) at the Colts (No. 31) as well as the Browns (No. 29) at the Bengals (No. 30). Spoiler alert: Monday night football isn't looking much better.
Seriously, what are you waiting for: The next two slowest-paced matchups are courtesy of the Texans-Dolphins and Bears-Steelers. Justin Fields vs. Ben Roethlisberger. Sheesh.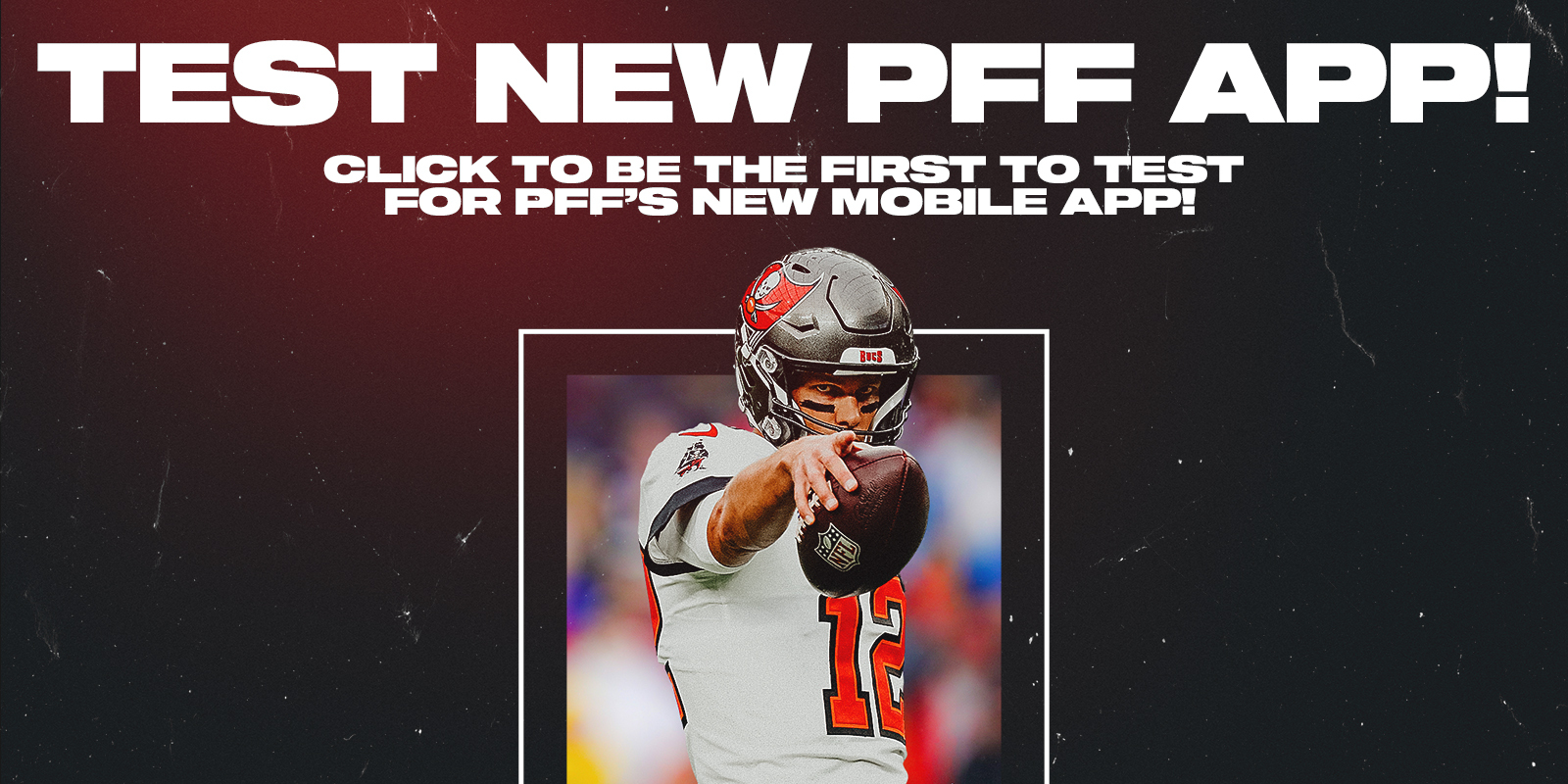 Pressure
An overmatched offensive line can result in poor fantasy days for all skill-position players involved. Meanwhile, QBs with all day to throw can help generate points in bunches. We can determine which offensive lines might be especially better (or worse) this week with help from PFF's offensive and defensive pressure statistics.
Combined Pressure Rate

: The sum of the offensive line's rate of pressures allowed per dropback and the opposing defense's total pressures generated per dropback. A higher percentage (red) is better for defenses and indicates that quarterback could be under fire, while a lower percentage (blue) indicates that matchup's quarterback could face reduced pressure.
Mismatch Manifesto Week 9: combined pressure rate

Sum of pressure rates between opposing offenses and defenses.

Higher percentage: that offensive line could be in trouble (red)
Lower percentage: not expecting much pressure on QB (blue)

Data from 2021, PFF pic.twitter.com/mSCOuRAARs

— Ian Hartitz (@Ihartitz) November 3, 2021
Under pressure: good song, bad for fantasy football: Carson Wentz and Ryan Tannehill stand out as the top two quarterbacks most likely to be overwhelmed by pressure this week. At least both signal-callers have the presence of at least one great receiver on the outside.
It's always AJB WR1 szn: Derrick Henry (foot, IR) is expected to miss roughly eight weeks. Perhaps the Titans simply turn the offense over to recently signed Adrian Peterson, but one would like to think they'll take this chance to elevate their pass-game volume.
Historically, throwing the ball to A.J. Brown as much as possible has been good for business. He's only produced a single dud in 10 career games with more than eight targets:
10 receptions-155 yards-1 TD

10-151-1

8-133-1

8-114-1

7-112-1

7-82-1

7-91-0

6-83-1

4-101-1

3-43-0
A date with Aaron Donald, Jalen Ramsey and recently acquired Von Miller is hardly the sort of spot to expect this passing game to have their best day; hopefully we'll find out in the coming weeks if Ryan Tannehill and company are truly in the upper class of the league, or if enhanced opportunity will lead to depressed efficiency.
The health of Julio Jones is more crucial than ever this week. Jalen Ramsey could very well shadow Brown if not, although he's only tracked Mike Evans, D.K. Metcalf and Davante Adams since Week 1 of last season. Please start AJB in fantasy land either way; it's just a difference of him ranking as a top-five option at the position as opposed to the top-12.
Second-year breakout szn: All Michael Pittman has done over the past two months is ball the hell out:
Week 2: PPR WR13

Week 3: WR32

Week 4: WR38

Week 5: WR14

Week 6: WR66

Week 7: WR8

Week 8: WR2
The numbers could be even bigger if Carson Wentz didn't account for a league-high 252 yards gained from defensive pass interference penalties. The WR18 in PPR points per game, Pittman has earned weekly WR2 treatment as Carson Wentz's No. 1 target. This is especially true with the likes of T.Y. Hilton (concussion) and Parris Campbell (foot, IR) not available.
Some offensive lines and quarterbacks are just more prone to pressure: There are just five offenses that have been pressured on at least 35% of their dropbacks this season: Dolphins (39.5%), Colts (37.4%), Panthers (36.6%), Lions (35.2%) and Titans (35%). Hopefully Sam Darnold (concussion) or Phillip Walker are at least able to get the ball to their baller No. 1 receiver.
Go DJ, that's my DJ: Both Robby Anderson (concussion) and Terrace Marshall (concussion) should be considered questionable for Sunday. The same goes for Sam Darnold (concussion), who is expected to see plenty of ghosts if healthy enough to suit up against Bill Belichick's evil empire.
D.J. Moore is the only recommended start from this passing game. He's struggled with PPR WR49, WR28, WR21 and WR40 finishes over the past four weeks after ripping off WR31, WR11, WR12 and WR3 production to start the year. Note that last week's 4-59-0 performance would have been quite a bit better had Moore held on to a perfectly thrown potential 11-yard score in the first quarter of the Panthers' Week 9 win over the Falcons.

We've seen enough greatness from Moore over the years to deal with an untimely drop here and there; the more important piece of the puzzle as always is volume. Overall, Moore joins Davante Adams and Brandin Cooks as the league's only three receivers with at least 40% of their team's air yards and 30% of the targets. Continue to fire up Moore as a WR1 in fantasy land despite a potential shadow date with J.C. Jackson, who deserves credit for limiting each of DeVante Parker (4-81-0), Mike Evans (7-75-0) and Brandin Cooks (3-23-0) in their respective one-on-one battles.
Sundial joke about having a ton of time to throw: The Mount Rushmore of quarterbacks expected to have all day to throw this week includes Ben Roethlisberger, Matthew Stafford, Jimmy Garoppolo and Kyler Murray. Seriously: This Rams offense looks good.
Sean McVay might just know something about this whole offense thing: Nobody has completed more passes thrown at least 40 yards downfield than Stafford (5) this season. It's been a treat to see Stafford's limitless arm talent deployed under a mind like Sean McVay; the results through eight weeks have been nothing short of spectacular:
PFF passing grade: 81.7 (No. 2 highest mark of Stafford's career)

Big-time throw rate: 5.3% (No. 5)

Turnover-worthy play rate: 2% (No. 1)

Yards per attempt: 8.7 (No. 1)

Adjusted completion rate: 74.2% (No. 2)
Stafford has largely been more accurate and efficient than ever while still posting a robust 9.4 yard average target depth.
One could argue the biggest issue facing the Rams offense has been the lack of consistent rushing attack. Darrell Henderson has put up plenty of fantasy points, but the offense stands out as one of the league's more one-sided attacks from an efficiency perspective.
EPA per pass play vs. run play in 2021 (PFF)

Further up: Efficient run offense
Further down: Inefficient run offense
Further right: Efficient passing game
Further left: Inefficient passing game pic.twitter.com/YPuOcTJnq7

— Ian Hartitz (@Ihartitz) November 1, 2021
It's scary to think about the heights the Rams' fifth-ranked scoring offense can reach if their run game can catch up to Stafford and the passing attack.
Pass rushes that haunt the dreams of your favorite quarterback: The game's top-five defense in pressuring the opposing quarterback feature the Browns, Bills, Raiders, Jaguars and Football Team. The Bills have truly been spectacular at creating negative plays for opposing offenses; nobody has a higher havoc rate through eight weeks.
The league's finest individual rushers of the passer: Nine defenders have already racked up at least 35 pressures this season: Maxx Crosby (47 pressures), Myles Garrett (44), Harold Landry (42), Trey Hendrickson (41), Shaquil Barrett (40), Matthew Judon (38), Aaron Donald (38), Rashan Gary (37) and Denico Autry (36). Shoutout to Judon for always rocking the long red sleeves. It'd be pretty hard to miss him on the field either way, but this ensures it.
Trench Battles
RBs receive most of the praise for an offense's rushing output, but an overmatched offensive line can thwart a team's run game before it even has a chance to get started. We can determine the offensive lines that might be especially better (or worse) off this week by looking at yards before contact.
Combined Yards Before Contact Per Rush

: The sum of an offensive line's adjusted line yards per rush and the opposing defense's adjusted line yards allowed per rush. A higher number (blue) is good for running backs, while a lower number (red) indicates that matchup's offense could have some trouble consistently running the ball.
Mismatch Manifesto Week 9: combined yards before contact per rush

Sum of each offense and defense's YBC/carry.

High number: Good run-blocking o-line vs. bad run-defending D (blue)
Low number: Bad run blocking o-line vs. stout D against the run (red)

Data from 2021, PFF pic.twitter.com/Cg6hFq8P5p

— Ian Hartitz (@Ihartitz) November 3, 2021
Great day to be a great running back: Week 9's Mount Rushmore of backfields set up well to pick up copious yards before contact feature the Vikings, Ravens, Eagles and Chiefs. *Sarcastic voice* good thing these last two backfields are super clear-cut situations.
Seriously what the hell Philly: Kenneth Gainwell worked as the undisputed No. 2 running back behind Miles Sanders (ankle, IR) for the entire season before "naturally" functioning as the team's RB3 in Week 8. Don't let the close carry numbers fool you: Gainwell's usage was non-existent before the fourth quarter of the Eagles' blowout win over the Lions:
Snaps in quarters 1-3:

Boston Scott

(27),

Jordan Howard

(15), Gainwell (6)

Carries: Scott (12), Howard (12), Gainwell (1)

Targets: Scott (1), Howard (0), Gainwell (0)
It's not a given that this exact usage continues; either way, this is a three-headed committee in an offense that usually doesn't enable much more than Jalen Hurts anyway when it comes to high-end fantasy options. Try to avoid starting any running back involved in this mess of a backfield, even against a Chargers defense that typically refrains from even pretending to care about stopping the run. Scott probably deserves to be the preferred fantasy option; even then he's tough to rank higher than a low-end RB3.
Seriously this Kansas City offense is getting annoying: Derrick Gore dominated usage in the first half of the Chiefs' Monday night win over the Giants, leading many to panic and assume that he suddenly took over the backfield. Ultimately, Darrel Williams (30 second half snaps) worked well ahead of both Gore (3) and Jerick McKinnon (3) down the stretch, making him the continued favorite to function as the backfield's top fantasy option for however long Clyde Edwards-Helaire (knee, IR) remains sidelined.
Ultimately, Gore played five offensive NFL snaps before last Monday night. Expecting him to consistently see double-digit carries moving forward seems like wishful thinking, particularly with upcoming matchups against the Packers, Raiders and Cowboys likely leading to more of a shootout-friendly game script than what the Chiefs saw Monday night. Fire up Williams as a volume-based low-end RB2 if Edwards-Helaire is once again out, while it'd be tough to trust CEH as anything more than that himself if active due to the possibility that he's eased back into action.
Despite the Chiefs' offensive struggles, only the Bills, Rams, Cowboys and Colts are implied to score more points this week. Continue to prioritize a roster spot in fantasy leagues of all shapes and sizes for whoever is Andy Reid's top running back.
Personal note: Check out my Week 9 Backfield Report for more specific information on the league's ever-evolving running back stables.
More running backs expected to have a little thing called success: Additional backfields that look to be set up pretty well include the Cowboys, Dolphins, Packers and Rams. How bout dem Cowboys!

Ya'll must have forgot: Ezekiel Elliott's importance to the Cowboys offense was highlighted when a Tony Pollard miscue in pass protection gave the Vikings a chance to take the lead with fewer than 10 minutes remaining in Week 8. The Cowboys ultimately prevailed, but at this point everyone can chill out on the chatter about Pollard being "by far" the better option at running back.
Credit to Elliott on one of the best plays of the week, if not the season, when he picked up a crucial third down by running over seemingly the entire state of Minnesota. His PPR RB27 finish on the week wasn't ideal, but top-12 treatment persists with Dak Prescott (calf) tentatively expected to return to action this week against the Broncos.
Fire up Zeke as an upside RB1 as the bell-cow back inside of the league's third-ranked scoring offense. Pollard isn't more than a low-floor FLEX play as long as Elliott is healthy. Of course, the Cowboys' overqualified backup would vault into top-five territory should Zeke ever miss any action.
Darrell HendeRB1son (I know it doesn't really work, but still): Only seven running backs are averaging at least 18 expected PPR points per game this season:
Michel's enhanced involvement last week was largely just a factor of the Rams blowing out the Texans; Henderson out-snapped Michel 33 to eight in the first 30 minutes of the game and only saw two carries in the second half.
Sunday night's matchup against the Titans' top-10 defense in fewest PPR points per game allowed to opposing backfields isn't a smash spot, but Henderson has earned weekly RB1 treatment regardless of the matchup thanks to his elite usage and status as the undisputed lead back inside of the league's fifth-ranked scoring offense. Sony Michel remains a top-tier handcuff, albeit not a recommended start as long as Henderson stays healthy.
Gotta love a good run game scheme: The Chiefs (2.14 yards before contact per carry), Ravens (1.97), Eagles (1.9), Bills (1.89) and Cowboys (1.68) stand out as the top five offenses in expected success on the ground. Of course, some special talents are capable of overcoming their offense's liabilities on their own.
Running back ranks in missed tackles forced per carry and yards after contact per rush.

Up: Better at picking up yards after contact
Down: Worse at picking up yards after contact
Right: Better at forcing missed tackles
Left: Worse at forcing missed tackles pic.twitter.com/NGtWM0wEQ4

— Ian Hartitz (@Ihartitz) November 2, 2021
Best Steven Tyler voice: Run away, run away from the pain yeah, yeah, yeah, yeah, yeah: The bottom-three offenses in expected success on the ground before contact feature the Bengals, Falcons and Texans. Luckily Joe Mixon and Cordarrelle Patterson have enough fantasy-friendly usage to be auto-starts regardless.
Passing Game
Some pass offenses are obviously more efficient than others, while certain secondaries are seemingly capable of shutting down any aerial attack. We can determine the week's biggest mismatches in the passing game using each offense and defense's pass yards per dropback.
Combined Passing Yards Per Dropback

: The sum of an offense's passing yards per dropback and the opposing defense's passing yards allowed per dropback. A higher number (blue) is good for quarterbacks and receivers, while a lower number (red) indicates that matchup's pass offense could be in trouble.
Mismatch Manifesto Week 9: combined pass yards per dropback

Sum of offense's pass yards/dropback with defensive rate.

Higher number: efficient pass offense vs. bad pass defense (blue)
Lower number: inefficient pass offense vs. good pass defense (red)

Data from 2021, PFF pic.twitter.com/M7WzpwQKFP

— Ian Hartitz (@Ihartitz) November 3, 2021
I love football, and football is more fun when points are scored: Matthew Stafford, Joe Burrow and Josh Allen are the week's top three quarterbacks in expected aerial success through the air. Man, Allen is fun to watch play football.
Bills Mafia is pretty, pretty, pretty cool: Allen might be the only quarterback capable of nearly 1.) sacking himself by running into his teammate, and 2.) completing a downfield off-balance pass with his body horizontal to the ground, on the same damn play.
Mainstream media would be going nuts if Mahomes did this pic.twitter.com/APQKQR4Bnd

— Ian Hartitz (@Ihartitz) November 1, 2021
The 2018-2019 version of Allen featured far more playground-style football than the 2020-2021 version; just realize it's always an entertaining afternoon watching when he's under center.
It's fair to wonder if the national guard should be called ahead of this one: Jacksonville stands out as arguably the league's single-worst pass defense through eight weeks:
Yards per attempt allowed: 8.94 (No. 31)

Explosive pass-play rate allowed: 18.4% (No. 30)

QB rating allowed: 118.4 (No. 31)

Contested target rate allowed: 11.6% (No. 32)

Fantasy points allowed per game to QBs: 22.7 (tied for No. 28)
Allen might be No. 17 in your programs, but this week he should be No. 1 in your fantasy football rankings (and in your heart).
The government calls it a passing league for a reason: More quarterbacks set up for success include Derek Carr, Dak Prescott (calf) and Kirk Cousins. Apparently the Cowboys aren't screwed if Prescott fails to suit up and Cooper Rush starts. Madness.
60% of the time, this Cowboys offense works every time: Good luck covering these Cowboys receivers. Both CeeDee Lamb and Amari Cooper have largely done nothing other than ball out all year. The second-year talent in particular already looks the part as one of the league's next big things at the position:
Lamb PFF receiving grade: 84.0 (No. 6 among 71 qualified receivers)

Yards per reception: 15.6 (No. 12)

Yards after the catch per reception: 5.7 (No. 14)

Yards per route run: 2.43 (No. 9)
However, Lamb's excellence shouldn't distract from the reality that Cooper has functioned as one of the position's most productive players since having a star put on his helmet back in Week 9, 2018. Overall, Cooper ranks among the league's top-eight receivers in receptions (262, No. 5), receiving yards (3,523, No. 5) and receiving scores (24, tied for No. 8) during his time with the Cowboys.
This week's matchup against the Broncos' top-10 defense in fewest PPR points per game allowed to receivers isn't a cake walk by any stretch, but Lamb and Cooper have earned WR2 treatment at worst regardless of the matchup at this point. Fire up both with confidence inside of a Cowboys offense implied to score the third-most points of Week 9.

These passing games might be a bit rough n' rowdy: The Eagles, Jaguars, Bears and Giants sure look like they could have some problems constantly moving the ball through the air. At least the latter passing game has one player who can make the most out of nothing.
Throw Kadarius Toney the football and good things happen: The Giants' receiver room continues to be crippled by injuries. Sterling Shepard (quad) is expected to be out this week, while Dante Pettis (shoulder), Kenny Golladay (knee) and Kadarius Toney (thumb) might not be operating at 100% this week.
Ultimately, Toney has looked like the team's best receiver all year long. His ability to explode in and out of cuts is truly rare.
Kadarius Toney 10 targets per game who says nopic.twitter.com/SgrsmKfhpc

— Ian Hartitz (@Ihartitz) November 3, 2021
Toney saw 22 targets in Weeks 4-5 with Shepard sidelined compared to just eight over their past two games together. This is influenced by Toney playing just six total snaps in Week 6; just realize a potentially more fantasy-friendly slot-heavy role could be more consistently in play for the electric rookie as long as Shepard is sidelined.
The Raiders have allowed the fourth-fewest PPR points per game to opposing wide receiver rooms this season; Toney is the only member of this passing game I'm willing to start in this spot with any level of confidence. Kenny G appears to be on track to returning after managing to get at least some work done off to the side of practice to start the week, but he ultimately registered a DNP. Either way: This probably isn't the week to expect much from him against the Raiders' second-ranked defense in fewest yards per attempt allowed to targets aligned out wide.
It Hurts being this good: All Hurts has done in his 12 career starts is put forward one fantasy-friendly performance after another:
Week 14, 2020: 167 pass yards-1 TD-0 INT, 18 carries-106 rush yards-0 TD, fantasy QB11

Week 15, 2020: 338-3-0 passing, 11-63-1 rushing, fantasy QB1

Week 16, 2020: 342-1-2 passing, 9-69-0 rushing, fantasy QB12

Week 17, 2020: 72-0-1 passing, 8-34-2 rushing, fantasy QB20 (in three quarters)

Week 1, 2021: 264-3-0 passing, 7-62-0 rushing, fantasy QB5

Week 2, 2021: 190-0-0 passing, 10-82-1 rushing, fantasy QB10

Week 3, 2021: 326-2-2 passing, 9-35-0 rushing, fantasy QB10

Week 4, 2021: 387-2-0 passing, 8-47-0 rushing, fantasy QB4

Week 5, 2021: 198-0-1 passing, 9-30-2 rushing, fantasy QB11

Week 6, 2021: 115-1-1 passing, 10-44-2 rushing, fantasy QB7

Week 7, 2021: 236-2-0 passing, 13-61-0 rushing, fantasy QB6

Week 8, 2021: 103-0-0 passing, 7-71-0 rushing, fantasy QB24
Too often people focus on what Hurts can't do as opposed to the possibilities he opens up thanks to his exceptional athletic ability. How many quarterbacks could even dream of pulling this play off?
A date with Derwin James and the Chargers' fourth-ranked defense in fewest fantasy points per game allowed to opposing quarterbacks might not bring out the best in Hurts as a passer, but don't be surprised if/when he again finishes among the week's top-12 fantasy signal-callers thanks to good old fashioned rushing volume.
Dope secondaries always have the best nicknames: Just seven defenses have allowed fewer than six pass yards per dropback: Bills (4.9), Raiders (5.5), Cardinals (5.5), Panthers (5.8), 49ers (5.8), Chargers (5.9) and Buccaneers (5.9). Allowing fewer than six pass yards per dropback in the year 2021. Great job everyone.
EPA
Points are ultimately what wins football games. We can measure the expected points of every play on offense and defense by considering the down, distance and field position before factoring in the result. Estimated points added (EPA) is thus the value of a play that takes context into account and thereby better measures efficiency at the play level.
Combined EPA

: The sum of an offense's EPA/play and their opposing defense's EPA/play allowed. A higher number (green) is good for offenses, while a lower number (red) indicates that offense could be in trouble.
Mismatch Manifesto Week 9: combined EPA per play

Sum of EPA/play of matchup's offense and defense to see biggest potential overall mismatches

High numbers indicate efficient offense vs. inefficient defense (blue), lower numbers are bad for o (red)

Data from 2021, PFF pic.twitter.com/zy88OAxLH2

— Ian Hartitz (@Ihartitz) November 3, 2021
Blowout alert: The Bills, Colts and Saints stand out as the top three teams set up the best relative to their opponent's offense. Losing Jameis Winston (ACL, IR) certainly won't help matters; here's to hoping Taysom Hill can steady the ship. Or Trevor Siemian. People forget that Siemian *declined* a Pro Bowl invitation back in January 2017.
Over alert: The two matchups this week expected to produce the most fireworks on both offenses feature Packers-Chiefs and Titans-Rams. Obviously Green Bay has newfound issues with Aaron Rodgers (covid, IR) sidelined. Either way: Packers-Chiefs (54.5) and Titans-Rams (53.5) boast the two highest game totals of Week 9. 
Under alert: Patriots-Panthers, Bears-Steelers and Jets-Colts stand out as the big-three matchups that could show up awfully small on the scoreboard. The former two matchups represent the two lowest game totals of the week, while Jets-Colts has fallen to 46 after opening at 47.
Upset alert: The Panthers (+4), Vikings (+5.5) and Packers (+1) are the week's only three teams expected to have the relative offensive advantage, yet are underdogs. Clearly life with Jordan Love under center might not be as fun in Green Bay, but, hey, that Chiefs defense isn't exactly looking too hot, either.