The NFL is a matchup-driven league. Offensive coordinators are always looking to scheme their playmakers into one-on-one situations against a defender, while defensive coordinators will attempt to do anything in their power to upset the timing and rhythm of the opposing QB.
Click here for more PFF tools:
Rankings & Projections | WR/CB Matchup Chart | NFL & NCAA Betting Dashboards | NFL Player Props tool | NFL & NCAA Power Rankings
---
Despite the obvious impact that defenses have on opposing offenses, fantasy players and fans alike are often left with one-way metrics to describe offenses and defenses that they are then forced to compare against each other in an attempt to identify mismatches.
The goal here is to provide easy-to-decipher charts and notes to define each week's key matchups and advantages on both sides of the ball in:
Explosive Plays

Pace

Pressure

Yards Before Contact

Passing Game

EPA
The following charts display matchup-specific information meant to highlight the largest mismatches in these ever-important facets of football to ultimately gain actionable betting and fantasy takeaways. And, of course, to have fun.
Note: Data is from Weeks 1-6, 2021. There are obviously plenty of limitations to this due to the small sample size at hand; key discrepancies will be highlighted in the ensuing paragraphs and the metrics will get stronger as the season continues.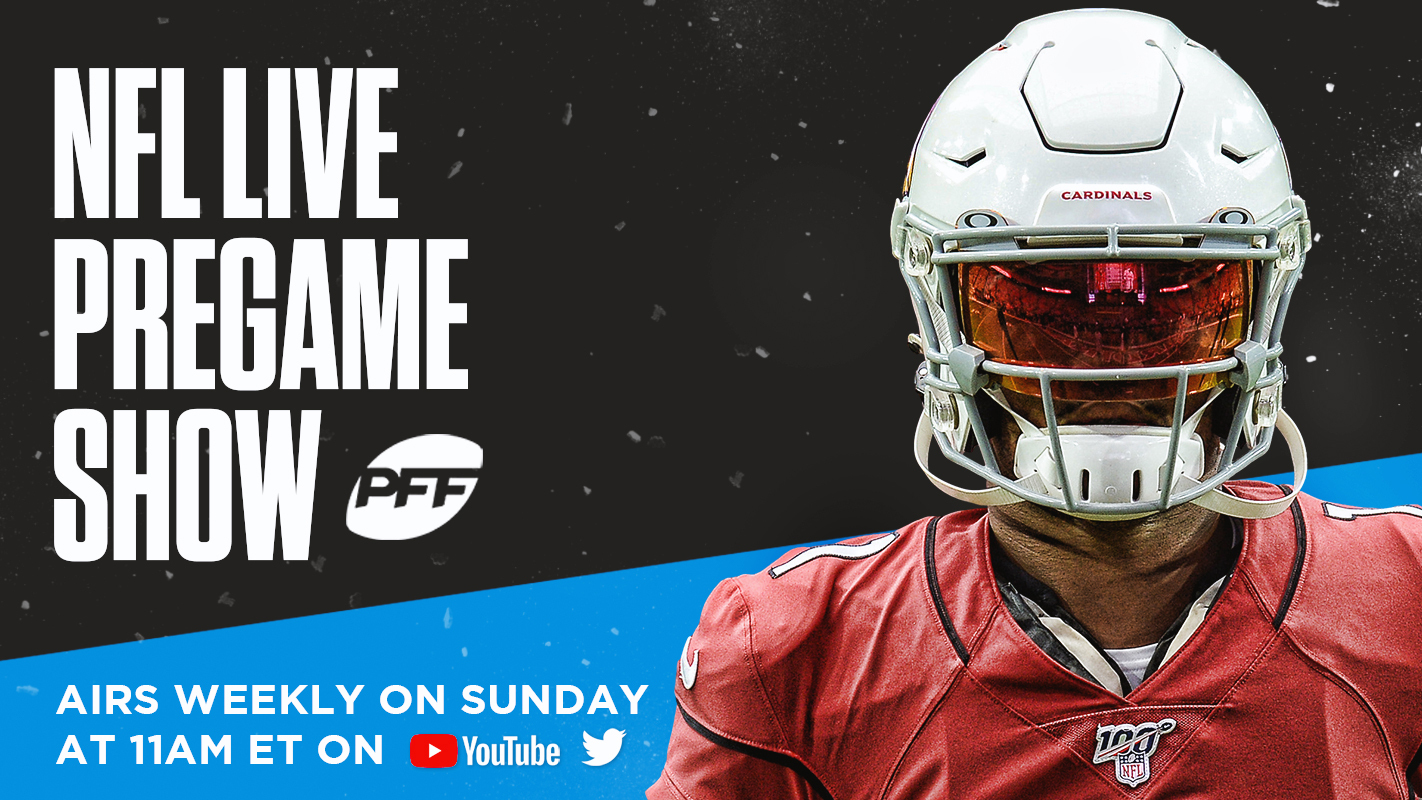 Explosive Plays
Big plays make the football world go round. Matchups between explosive offenses and leaky defenses are exactly what we're looking for when compiling game stacks in DFS, or when betting an over.
Explosive Pass Rate

: The sum of an offense's rate of 20-plus yard completions per pass attempt and the opposing defense's rate of 20-plus yard completions allowed per pass attempt. A higher percentage is better for offenses (blue is good, red is bad).

Explosive Run Rate

: The sum of an offense's rate of 15-plus yard gains per rush attempt and the opposing defense's rate of 15-plus yard runs allowed per rush attempt. A higher percentage is better for offenses (blue is good, red is bad).
Mismatch Manifesto Week 7: combined explosive play rate.

Higher or lower % = large or small combined sum of the pass/rush big-play rate from the matchup's offense and defense (blue = good, red = bad)

Big pass play: 20+ yds
Big run play: 15+

All data from 2021, PFF pic.twitter.com/OV3M1ZKKJp

— Ian Hartitz (@Ihartitz) October 20, 2021
These offenses breed explosive plays: The top five offenses in explosive pass-play rate through six weeks are the Raiders, Rams, Cardinals, Ravens and Seahawks. Things aren't looking too hot for the latter team at the moment as long as Russell Wilson (finger, IR) remains sidelined. Meanwhile, the former squad has received excellent play from their fellow veteran signal-caller more weeks than not this season.
Derek Carr is your most-underrated quarterback's most-underrated quarterback: This Raiders passing game is tough to stop when everything is clicking. Carr rebounded from back-to-back meh performances in Weeks 4-5 with a truly great effort against the Broncos. Nobody has more big-time throws (23) than Carr this season. Not a fan of analytics? Watch the film.
101 seconds of Derek Carr making some good fooking throws pic.twitter.com/fFxYPsQZpb

— Ian Hartitz (@Ihartitz) October 18, 2021
It's hard to see an Eagles defense that has allowed at least 28 points in three of their last four games truly containing Carr and company if they're able to operate at their highest level.
Hopefully that includes getting field-stretching talent Henry Ruggs more consistent opportunities. Nobody has averaged more yards per target than Ruggs (12) over the past two seasons (min. 50 targets), while only Marquez Valdes-Scantling (19.6) has averaged more yards per reception (19.5). Speed kills.
Good offense beats good defense in today's NFL: Offenses with the biggest mismatches in their favor in attempting to create explosive plays feature the Rams, Cardinals, Bengals and Saints. Of course, the Jameis Winston experience tends to lend itself to some extreme lows as well.
Football is simply more fun when Jameis is a starter: The Jameis experience has been in full swing through six weeks. In Week 1, his five-score masterpiece produced 2021's 21st-best single-game PFF passing grade. Unfortunately, Weeks 2 and 3 produced 2021's 191st- and 172nd-highest-graded passing game among 130 instances of a signal-caller having at least 10 dropbacks, but not so fast my friend: Winston's Week 4 performance was good for the 16th-best single-game performance of the season. Finally, Week 5 saw Winston slip back down to a 132nd-place finish
It'd make sense if Winston is far more good than bad against a Seahawks secondary that hasn't exactly slowed down anybody this season, although at this point it's anyone's guess as to which version of the ex-Buccaneers quarterback will show up next Monday night. Here's to hoping coach Sean Payton at least takes the training wheels off following the team's Week 6 bye. Winston's 30 pass attempts in Week 5 marked the first time all season he cleared even 23 throws in a single game.
Houston, we have a problem: Few things have been prettier to watch this season than Kyler Murray uncorking a deep ball down the field. Time and time again, the football seems to find its intended target, as no offense has a higher catchable deep ball rate than the Cardinals (70%) through six weeks. Hell, the Colts (61%) and Seahawks (60%) are the only other offenses above 60%.
The Texans are a bottom-two defense in both explosive pass-play rate and yards per attempt allowed on passes thrown at least 20 yards downfield; don't count on Murray needing many dropbacks in order to add to this season's growing highlight reel.
Not every passing attack is meant to fly: Quarterbacks who could have a bit of a rough go in creating big plays through the air this week include Taylor Heinicke, Jalen Hurts and Davis Mills. Thankfully, the former two quarterbacks possess some rushing upside on the ground AKA the closest thing our lovely pastime known as fantasy football has to a cheat code.
Sheesh this Washington offense is banged up though: Heinicke flashed some high-end ability during his first few starts with the Football Team, but it's been more bad than good in recent weeks. Still, one can't help but look at the injury report before judging the 28-year-old journeyman too harshly:
Washington has PFF's second-lowest grade from a pure passing standpoint but also ranks just 25th in team receiving grade. Heinicke isn't blameless in this equation; just realize the generally mediocre offensive display from the Football Team has been a team effort. A date with the Packers' fourth-best defense in yards per attempt allowed doesn't seem like the sort of get-right spot that Heinicke and company could use.
Death, taxes, Hurts fantasy QB1: All Hurts has done in his 10 career starts is put forward one fantasy-friendly performance after another:
Week 14, 2020: 167 pass yards-1 TD-0 INT, 18 carries-106 rush yards-0 TD, fantasy QB11

Week 15, 2020: 338-3-0 passing, 11-63-1 rushing, fantasy QB1

Week 16, 2020: 342-1-2 passing, 9-69-0 rushing, fantasy QB12

Week 17, 2020: 72-0-1 passing, 8-34-2 rushing, fantasy QB20 (in three quarters)

Week 1, 2021: 264-3-0 passing, 7-62-0 rushing, fantasy QB5

Week 2, 2021: 190-0-0 passing, 10-82-1 rushing, fantasy QB10

Week 3, 2021: 326-2-2 passing, 9-35-0 rushing, fantasy QB10

Week 4, 2021: 387-2-0 passing, 8-47-0 rushing, fantasy QB4

Week 5, 2021: 198-0-1 passing, 9-30-2 rushing, fantasy QB11

Week 6, 2021: 115-1-1 passing, 10-44-2 rushing, fantasy QB6
Just how ridiculous has Hurts' rushing upside been? Only Derrick Henry, Jonathan Taylor, David Montgomery, Alvin Kamara and Ezekiel Elliott have more total fantasy points from rushing production than Hurts since Week 14 of last season. Hurts is even ahead of Lamar Jackson. Madness.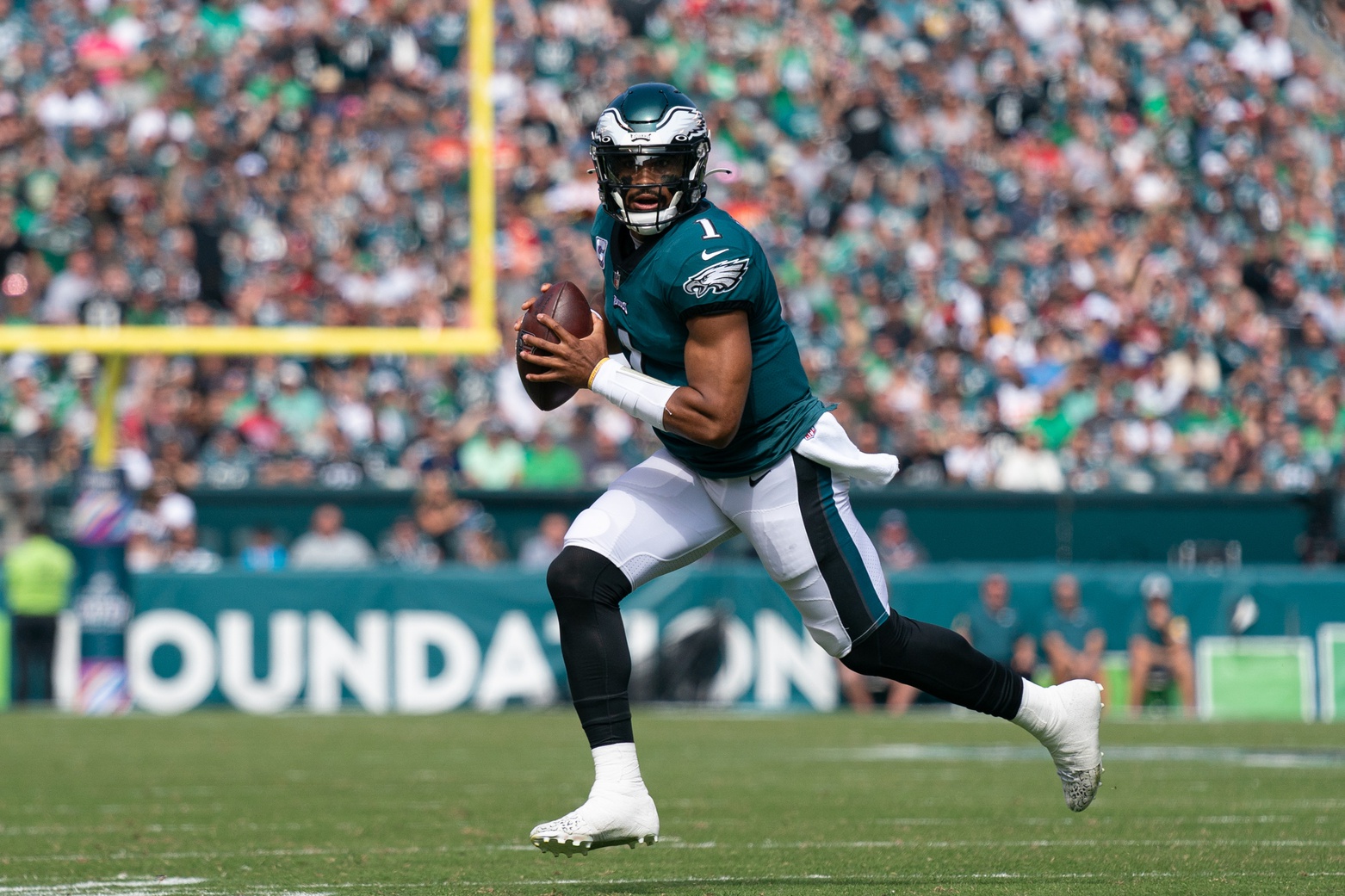 Hurts has also put up fairly prolific passing numbers despite plenty of the production not always looking the prettiest or coming in the most important of game settings. Overall, he's cleared 300 passing yards in four of his 10 career starts, joining Patrick Mahomes, Dak Prescott, Justin Herbert, Josh Allen, Tom Brady and Derek Carr as the only active starting quarterbacks to clear 300 passing yards in at least 40 percent of their starts since the beginning of last season. Good thing style points don't matter in fantasy land.
Continue to fire up the epitome of a great fantasy, meh real life, quarterback as a top-five player at the position regardless of the matchup.
Don't let these run games get hot: The Eagles, Titans, Ravens, Giants and Patriots stand out as the top-five rushing attacks set up for success this week. Of course, Derrick Henry is pretty much set up well every week. Because, you know, he's Derrick Henry.
Seriously what in the hell is Henry going to be achieving once winter rolls around: Henry has racked up a league-high 783 rushing yards through six weeks. In second place is… Henry if you count his 587 yards after contact as a separate person. Madness.
The lack of a consistent pass-down role hasn't stopped Henry from balling the hell out this season; he's ripped off 35-182-3, 28-113-0, 33-157-1, 29-130-3 and 20-143-3 rushing lines over the past five weeks. Poised to become the first three-time triple-crown rushing leader in NFL history, Henry is anyone's idea of fantasy's top-ranked overall player ahead of yet another potential smash spot against a Chiefs defense that ranks 30th in average depth of tackle.
Kings stay kings; never had this been more true than when describing the artist known as King Henry.
These offenses might just want to pass the ball: Run games that could struggle to make too much happen in the big play department are headlined by the Saints and Panthers. Good thing both starting running backs possess a cool little thing called elite volume.
It'd still be a lot cooler if the Saints threw Alvin Kamara the ball more: Kamara's big Week 5 performance featured a season-high eight targets. This still doesn't change the fact that his receiving usage this year pales in comparison to the past. The following target totals reflect Kamara's usage in Weeks 1-5 during his career:
2017: 31 targets

2018: 51

2019: 31

2020: 45

2021: 22
Hopefully the Saints used their Week 6 bye to better scheme up opportunities for Kamara in the passing game. He'll remain an every-week RB1 even without high-end pass-game volume thanks to his stranglehold on this backfield's carries and snaps; just realize these targets are the difference between the NFL's all-swag RB1 functioning as just another fantasy RB1 as opposed to THE RB1.
No CMC, no problem we'll live: Chuba Hubbard has put up the following production in three games without Christian McCaffrey (hamstring, IR):
Week 4: 13-57-0 rushing, 2-14-0 receiving, 47% snaps, PPR RB36

Week 5: 24-101-0 rushing, 5-33-0 receiving, 65% snaps, RB16

Week 6: 16-61-1 rushing, 1-4-0 receiving, 66% snaps, RB22
Note that Hubbard's Week 4 pass-game work was severely impacted by Rodney Smith, who was released last week.
The Panthers' rookie back isn't CMC; nobody is. Still, he's a safe bet for 15-plus touches per game with the ceiling for much more depending on how the game goes. Head coach Matt Rhule wants to redefine the Panthers offense by establishing the run; it'd make sense if Hubbard starts to flirt with the 20-touch mark more weeks than not.
This backfield's schedule prior to their Week 13 bye is borderline erotic:
Week 7: Giants (No. 26 in PPR points per game allowed to running backs)

Week 8: Falcons (No. 23)

Week 9: Patriots (No. 12)

Week 10: Cardinals (No. 7)

Week 11: Football Team (No. 19)

Week 12: Dolphins (No. 30)
Fire up Hubbard as an upside RB2 for however long McCaffrey remains sidelined. Freeman is nothing more than a bottom of the bench stash in the deepest of leagues.
Pace
Fast-paced games lead to more plays, which lead to more points. Every week usually consists of at least a few games that could resemble a track meet based on their combined situation-neutral pace (Football Outsiders).
Combined Situation-Neutral Pace

: Represents the combined situation-neutral pace between each matchup's two offenses. A lower number indicates fewer average seconds per play (blue = fast-paced game), while a higher number indicates more average seconds per play (red = slow-paced game).
Mismatch Manifesto Week 7: combined situation-neutral pace.

Low combined numbers (blue) = two fast-paced offenses
High combined numbers (red) = two slow-paced offenses

Data from 2021, Football Outsiders pic.twitter.com/uaHfGQFwa2

— Ian Hartitz (@Ihartitz) October 20, 2021
Get ready to see a track meet: The clear-cut fastest-paced matchup of the week features the Eagles (No. 4 in situation neutral pace) against the Raiders (No. 14). Who doesn't love more plays? It makes sense that the game total has risen to 49.5 after opening at 47.5.
We'll be moving plenty fast elsewhere too: Panthers vs. Giants and Falcons vs. Dolphins are the next-two projected fastest moving matchups of Week 7. Keep an eye on the weather in the latter game; intensive forecast projections (google) indicates there's a greater than 50% chance of rain at kickoff.
Unfortunately some offenses are slow and lame: Thursday Night Football features the slowest projected matchup of the week between the Broncos (No. 29) and Browns (No. 30). Both offenses might move even slower than usual with Teddy Bridgewater (foot) banged up and Case Keenum starting in place of Baker Mayfield (labrum).
Seriously, what are you waiting for: Bengals vs. Ravens and Colts vs. 49ers also stand out as matchups looking more like the turtle than the hare on paper. I know the turtle wins in the story, but you have to think over a 1,000-race sample the turtle is losing at something around a 90% clip. Just something to think about.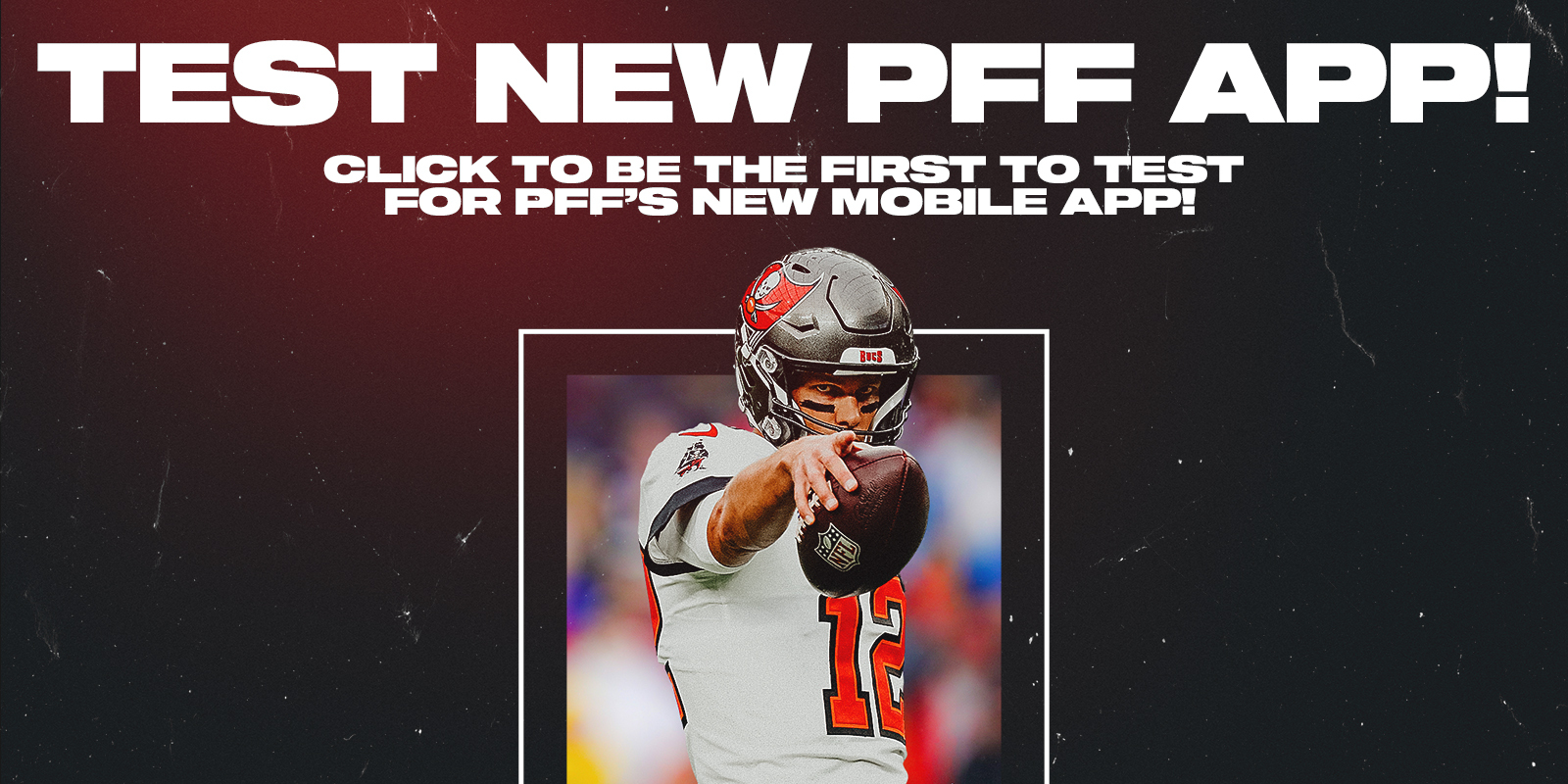 Pressure
An overmatched offensive line can result in poor fantasy days for all skill-position players involved. Meanwhile, QBs with all day to throw can help generate points in bunches. We can determine which offensive lines might be especially better (or worse) this week with help from PFF's offensive and defensive pressure statistics.
Combined Pressure Rate

: The sum of the offensive line's rate of pressures allowed per dropback and the opposing defense's total pressures generated per dropback. A higher percentage (red) is better for defenses and indicates that quarterback could be under fire, while a lower percentage (blue) indicates that matchup's quarterback could face reduced pressure.
Mismatch Manifesto Week 7: combined pressure rate

Sum of pressure rates between opposing offenses and defenses.

Higher percentage: that offensive line could be in trouble (red)
Lower percentage: not expecting much pressure on QB (blue)

Data from 2021, PFF pic.twitter.com/TBvU7HSYnm

— Ian Hartitz (@Ihartitz) October 20, 2021
Under pressure: good song, bad for fantasy football: The Broncos, Saints, Lions and Colts are this week's Mount Rushmore of offenses that could struggle to protect their quarterback. At least Teddy Bridgewater doesn't have a tombstone in Myles Garrett's front yard (yet).
Seriously, things might get ugly Thursday night: Sometimes pressure is more of an indictment on the offensive line, other times it's more of an issue with the quarterback.
In the case of PFF's 16th-ranked offensive line in pass blocking grade: Teddy is mostly at fault. Overall, the Broncos rank 29th in pressure rate, but this drops to 19th when accounting for throws in which the ball is out in fewer than 2.5 seconds. Only six teams have a longer average time to pressure than the Broncos.
Unfortunately, Bridgewater hasn't made a habit of getting the ball out of his hands with a sense of urgency: His average time of release rests at 2.88 seconds through six weeks — the ninth-slowest mark among 38 qualified quarterbacks. This could be especially problematic against Myles Garrett and the Browns' league-best defense in pressure rate; don't be surprised if Bridgewater's early-season kryptonite really comes back to bite him on Thursday night.
At least Indy fans might have something to cheer about: Carson Wentz continues to play some of his best ball in years. Wentz turned in PFF's single-highest-graded game of the season as a passer (and best of his career) in Week 6, showing off some borderline erotic deep-ball ability.
Carson Wentz hit two b-e-a-utiful deep balls in Week 6 pic.twitter.com/D5Ad4eEOrd

— Ian Hartitz (@Ihartitz) October 18, 2021
Only the Cardinals have posted a higher catchable ball rate on passes thrown at least 20 yards downfield this season. Wentz has managed to combine this deep-ball goodness with the ability to limit turnovers; his only interception of the season came back in Week 2 on a rather fluky mis-timed shovel pass.
Potential problem: Parris Campbell (foot, IR) is out indefinitely and T.Y. Hilton (quad) wasn't able to practice Wednesday. The latter receiver is considered day-to-day and seems to have a chance to suit up Sunday night; either way, Michael Pittman is back to being this passing game's only viable fantasy option.
Some offensive lines and quarterbacks are just more prone to pressure: The five worst offenses in pressure rate allowed this season feature the Saints, Colts, Dolphins, Jets and Lions. The latter team's inclusion here is particularly disappointing considering Jared Goff's favorite hobby of not throwing deep.
Goff dreams of checking down: To say Goff has refrained from consistently forcing defenses to respect the deep ball would be an understatement:
Average target depth: 6.9 yards (No. 34 among 38 qualified quarterbacks)

Percentage of passing yards to come before the catch: 40.8% (No. 37)

Percentage of passing yards to come after the catch: 59.2% (No. 2)

Percentage of targets past the sticks: 34.9% (No. 35)
Note that Goff is just PFF's second-worst-graded passer when targeting receivers at least 20 yards downfield; things haven't gone all that swimmingly even when the ex-Rams signal-caller has gone outside his comfort zone. The Lions' general disregard for their wide receiver room throughout the offseason certainly didn't help matters; either way, this Lions passing game doesn't seem to be on the verge of becoming anything more than a dump-down show to the likes of D'Andre Swift, Jamaal Williams and T.J. Hockenson.
Sundial joke about having a ton of time to throw: Kyler Murray, Jimmy Garoppolo (calf) and Tom Brady look to have the best matchups in pass protection in their favor this week. The middle signal-caller could feasibly play behind Trey Lance (knee), but ultimately none of us even know if we'll be alive by Sunday so what's the point in speculating.

At least there's been one consistent source of satisfaction in this 49ers offense: Deebo Samuel has posted the following weekly fantasy finishes in nine games not impacted by injuries dating back to 2020:
PPR WR76

WR14

WR7

WR37

WR3

WR27

WR45

WR2

WR22
This season Samuel has 48 targets in five games; no other 49ers wide receiver has more than 15 pass-game opportunities. Fire up Kyle Shanahan's clear-cut No. 1 pass-game option as a top-10 option at the position against the league's 10th-worst defense in PPR points per game allowed to wide receivers.
Pass rushes that haunt the dreams of your favorite quarterback: The top six defenses in pressure rate feature the Browns, Football Team, Vikings, Panthers, Buccaneers and Chargers. Checks out; those defensive lines each include at least one terrifying individual. Especially Washington; now if only they could cover anybody.
The league's finest individual rushers of the passer: 10 defenders have surpassed 25 pressures through six weeks: Maxx Crosby (43 pressures), Myles Garrett (35), Harold Landry (34), Aaron Donald (32), Danielle Hunter (31), Shaquil Barrett (31), Trey Hendrickson (29), Matthew Judon (27) and J.J. Watt (26). Perhaps the latter member's inclusion is partially due to offensive lines spending a bit more time concerned with Chandler Jones, who hasn't taken down the quarterback since his five-sack masterpiece to open the season.
Trench Battles
RBs receive most of the praise for an offense's rushing output, but an overmatched offensive line can thwart a team's run game before it even has a chance to get started. We can determine the offensive lines that might be especially better (or worse) off this week by looking at yards before contact.
Combined Yards Before Contact Per Rush

: The sum of an offensive line's adjusted line yards per rush and the opposing defense's adjusted line yards allowed per rush. A higher number (blue) is good for running backs, while a lower number (red) indicates that matchup's offense could have some trouble consistently running the ball.
Mismatch Manifesto Week 7: combined yards before contact per rush

Sum of each offense and defense's YBC/carry.

High number: Good run-blocking o-line vs. bad run-defending D (blue)
Low number: Bad run blocking o-line vs. stout D against the run (red)

Data from 2021, PFF pic.twitter.com/eSpuNE8H9e

— Ian Hartitz (@Ihartitz) October 20, 2021
Great day to be a great running back: The Titans, Chiefs and Eagles sure look like the top-three rushing attacks set up to thrive this week. It truly is mind-boggling to think what Derrick Henry might be capable of with 30 carries. Only the Chargers (5.09 yard average tackle depth) and Texans (5.07) have been worse than the Chiefs (4.93) when it comes to getting opposing running backs to the ground with a sense of urgency. Of course, volume isn't such a guarantee for the other two offenses set up to find the most success on the ground.
Andy Reid is pretty good at this whole offense thing, but sheesh man: Darrel Williams had the sort of role in Week 6 that many were hoping Clyde Edwards-Helaire (knee, IR) would have in the first place. Note that CEH was just the RB30 in expected points in Weeks 1-5 largely due to his lack of overall pass-game opportunities. Overall, Williams has racked up nine combined targets over the past two weeks; CEH has just 10 all year and hasn't had more than three in a game since Week 14 of last season.
Of course, the Chiefs' 31-13 thumping over the Football Team presented the sort of best-case game script for Williams in terms of run-game opportunity. It'd make sense to see him closer to 12-15 carries in more of a neutral setting; don't get too carried away after last week's RB7 performance.
Ultimately, Williams is the lead back inside of anyone's idea of a top-five offense; he's a weekly upside RB2 at worst that should be in starting lineups of all shapes and sizes. McKinnon is still an injury away from having anything resembling standalone value, even against the Titans' 24th-ranked scoring defense.
More running backs expected to have a little thing called success: Look for the Ravens, Giants, Dolphins, Cardinals and Football Team to also find wider rushing lanes than usual this week. Here's to hoping all parties involved can get healthy.
This damn Football Team (see what I did there): Antonio Gibson (shin) was in and out of the lineup in Week 6, ending the game on the sideline with his helmet off with the result already determined. The second-year back underwent an MRI on his injured shin this week; a trip to the injured reserve isn't out of the question at this point, particularly if Washington's already meh playoff chances continue to dwindle.
It's not like Gibson is incapable of putting up numbers while playing through the pain; he posted PPR RB17, RB20 and RB13 production in Weeks 3-6. The problem is that a true three-down workload couldn't be a more distant possibility at this point, leaving Gibson as a borderline RB1 at best inside of the league's 21st-ranked scoring offense.
And then there's J.D. McKissic, who simply doesn't know how to bust during even-numbered weeks:
Week 1: PPR RB77

Week 2: RB7

Week 3: RB46

Week 4: RB14

Week 5: RB68

Week 6: RB13
Jokes aside, Week 7 does shape up as another game script-friendly contest for McKissic considering the Packers are favored by 9.5 points at the time of this writing.
Gibson will remain a top-15 option at the position if healthy enough to suit up against the Packers' 25th-ranked defense in explosive run-play rate allowed this season, while Jaret Patterson would be more of a low-end RB2 if the Football Team decides to give their starter a break. Don't expect McKissic's role to change all that much either way; he's locked in as the pass-down back and should be considered a borderline RB2 himself ahead of potential extreme negative game scripts such as this week.

Volume is a helluva drug: Devontae Booker had 12 carries and four targets on a more than solid 71% snap rate in the Giants' Week 6 loss to the Rams. It's unfortunate Elijhaa Penny stole the group's goal line touchdown late in the blowout, but Booker remains a weekly volume-based RB2 as long as Saquon Barkley (ankle) remains sidelined.
This week's matchup against the Panthers' league-best defense in fewest PPR points per game allowed to opposing running backs is hardly ideal, although it's fair to wonder if this metric is more so due to Carolina's fairly soft opening stretch of opposing backfields. None of the Jets, Saints or Texans managed to crack even 50 yards on the ground against this defense, but Ezekiel Elliott (PPR RB11) and Dalvin Cook (RB8) proved over the past two weeks that this is hardly an insurmountable matchup with the help of some good old fashioned volume.
Obviously Barkley will be back in starting lineups of all shapes and sizes once healthy enough to suit up again, while Booker is essentially a lower middle class man's version of the Giants' starting back for however long he remains sidelined.
Personal note: Check out my Week 7 Backfield Report for more specific information on the league's ever-evolving running back stables.
Gotta love a good run game scheme: The five offenses averaging more than 1.75 yards before contact per carry: Chiefs, Ravens, Eagles, Bills and Cowboys. It's almost like having dual-threat quarterbacks helps the cause.
Best Steven Tyler voice: Run away, run away from the pain yeah, yeah, yeah, yeah, yeah: The Bengals, Bears and Falcons are the only rushing attacks with less than 2.0 combined yards before contact per carry. Joe Mixon and the Falcons' pair of running backs (particularly Cordarrelle Patterson) should be able to overcome this with their respective fantasy-friendly volume, but things could get tricky for Khalil Herbert.
You hear that? Bears. Now you're putting the whole station in jeopardy: The rookie impressed in his first game as the Bears' featured back, tying Derrick Henry, Mark Ingram and Devin Singletary for the most total forced missed tackles (6) in Week 6. Herbert's performance could have been even bigger had the refs not called an awfully questionable hold on his nullified touchdown run. Through six weeks, only Tony Pollard has a higher percentage of carries with at least 3.0 yards after contact than Herbert.
Still, Damien Williams (covid, IR) could return as early as this week, which would likely split this backfield back down the middle. Tarik Cohen (knee, PUP) is also eligible to return, although the reality that the Bears' pint-sized gadget hasn't returned to practice yet makes a return this Sunday seem iffy.
Further complicating matters is this week's matchup against the Buccaneers' ferocious front seven. Teams have gained just 89 rush yards before contact on 98 carries against this group; they've allowed league-low marks in rush attempts (75), rush yards (254) and rush touchdowns (1) by opposing running backs through six weeks.
The best way to attack this defense is by throwing the ball, something that Justin Fields could struggle with this week if the Buccaneers are able to pressure him even a little bit. Herbert would be a volume-induced RB2 if neither Williams nor Cohen return, while the presence of either would leave him as more of a high-end RB3 option. Williams would also be a high-ish end RB3 if active, while it's best to wait at least a week after Cohen comes back to get an idea of what his 2021 role looks like.
Passing Game
Some pass offenses are obviously more efficient than others, while certain secondaries are seemingly capable of shutting down any aerial attack. We can determine the week's biggest mismatches in the passing game using each offense and defense's pass yards per dropback.
Combined Passing Yards Per Dropback

: The sum of an offense's passing yards per dropback and the opposing defense's passing yards allowed per dropback. A higher number (blue) is good for quarterbacks and receivers, while a lower number (red) indicates that matchup's pass offense could be in trouble.
Mismatch Manifesto Week 7: combined pass yards per dropback

Sum of offense's pass yards/dropback with defensive rate.

Higher number: efficient pass offense vs. bad pass defense (blue)
Lower number: inefficient pass offense vs. good pass defense (red)

Data from 2021, PFF pic.twitter.com/ikghFAi7dJ

— Ian Hartitz (@Ihartitz) October 20, 2021
That NFC West is something, man: The Rams and Cardinals stand out as the clear-cut top-two passing games setup for success this week. Here's to hoping the Lions and Texans can stay somewhat competitive for volume purposes, but their status as 16- and 17.5-point underdogs makes this hope more of a pipe dream.
California love: The Rams' sixth-ranked scoring offense is capable of putting up numbers against just about any secondary when everything is clicking. This is especially true for Cooper Kupp, who stands as the overall WR1 in fantasy land through six weeks. Even Robert Woods has settled into a groove of sorts lately, posting PPR WR27, WR8 and WR37 finishes over the past three weeks after failing to rank above 45th in Weeks 1-3.
There's a chance both Kupp and Woods blow the hell up this week; the Lions rank dead least in both yards per attempt and explosive pass play rate allowed to wide receivers this season. Kupp is my WR3 on the week, and Woods my WR15; find a way to squeeze both players into your starting lineup with the Rams implied to score a week-high 33 points.
DeSean Jackson continues to work well behind Van Jefferson in terms of snaps, but the veteran field-stretcher GOAT is always just one play away from adding another 50-yard score to his highlight reel. Neither is more than a boom-or-bust WR5 in season-long formats, but don't be afraid to throw some darts at either player in DFS this week. The Lions are one of just four defenses to allow over 20 yards per attempt on passes thrown at least 20 yards downfield this season.
The government calls it a passing league for a reason: The Bengals, Buccaneers and Packers also stand out as passing games that should see more success than not this week. What's wild about the latter team is that they largely haven't even reached their real potential just yet.
A-aron hasn't quite been the same world-beater we saw in 2020: Through six weeks nobody has a worse catchable deep ball rate than the Packers (31%). Overall, Rodgers has completed just nine of his 30 passes thrown at least 20 yards downfield for 354 scoreless yards and a pair of interceptions. Want to see some bad company to be in? Rodgers joins Tua Tagovailoa and Jared Goff as the league's only quarterbacks with an adjusted completion rate of 30% or worse on deep balls this season. Sheesh.
Of course, it's a bit too early to sound the alarm for Rodgers and company. Rodgers has completed six of his 13 deep balls to Davante Adams, but just four of 17 opportunities to everyone else. Not having field-stretching specialist Marquez Valdes-Scantling (hamstring, IR) certainly hasn't helped; perhaps the Packers will have a bit more luck in creating explosive plays this week against a Football Team defense that is tied with the Dolphins for the most completions of 15-plus yards allowed this season.
60% of the time, this Bengals offense works every time against the Ravens: It's honestly scary just how good Ja'Marr Chase has been this season.
Ja'Marr Chase needs 5 deep ball targets per game pic.twitter.com/SoHTevaUk2

— Ian Hartitz (@Ihartitz) October 18, 2021
Only Davante Adams, Deebo Samuel and Cooper Kupp have averaged more yards per route run than Chase this season. This isn't just a great rookie season; Chase is having an exceptional year independent of his experience.
The "problem" with Chase's excellence has been the lack of leftover opportunities for Tee Higgins and Tyler Boyd. Nobody has a higher percentage of their team's air yards than Chase (51%) this season; neither Boyd nor Higgins have had enough fantasy-friendly targets to provide consistent high-end value. Overall, each of Chase (WR34 in expected fantasy points, WR6 overall), Boyd (WR46, WR42) and Higgins (WR59, WR55) have exceeded their expected production; the problem is only the former receiver has provided more good than bad.
Credit to the Ravens for shutting down Justin Herbert and company last week, although they did allow Carson Wentz to throw for 402 yards all the way back in Week 5. Joe Burrow could look more like the latter than the former if his fantastic performance against the blitz persists. Overall, Burrow has completed 34-of-47 attempts with six touchdowns and just a single interception when defenses have attempted to manufacture some additional pressure; he's one of just seven signal-callers to average double-digit yards per attempt in these situations. Only the Buccaneers and Dolphins have blitzed more than the Ravens this season.
These passing games might be a bit rough n' rowdy: The Bears, Eagles, Football Team and Lions stand out as the four offenses that could be awfully screwed when trying to throw the ball this week. Remember all the way back like a month ago when everyone thought Justin Fields would unlock Allen Robinson? I miss that.
But seriously, maybe this is the week for A-Rob: The Bears lost to the Packers by 10 points and somehow Justin Fields totaled just 27 pass attempts.
The only potential good news for Allen Robinson is the fact that he led the league in unrealized air yards. In fact, Robinson's 166 yard difference in receiving yards vs. air yards is good for the largest disparity in a single week all year.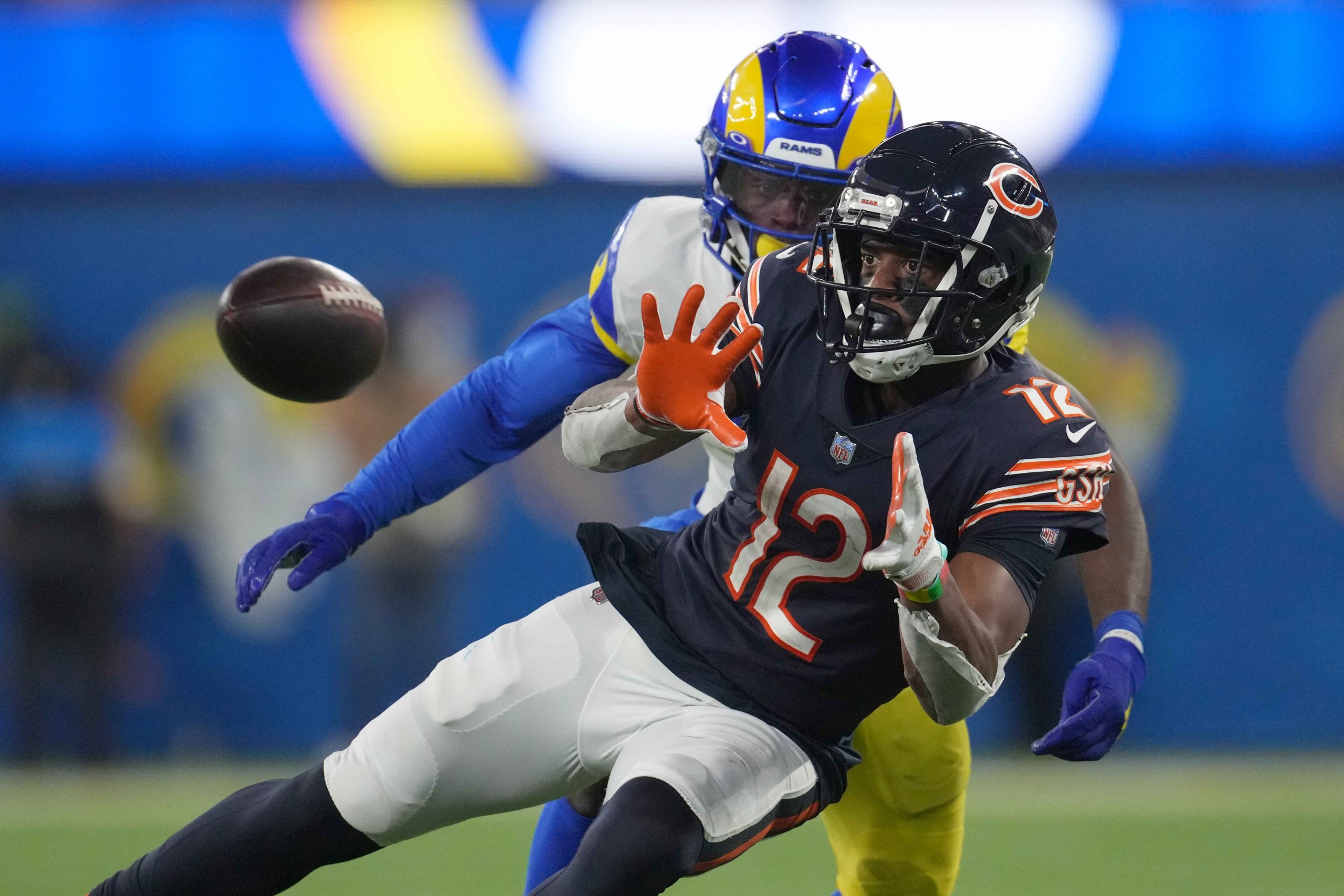 Typically we would expect this sort of outlier performance to correct itself quickly, although the NFL's weekly leaders in unrealized air yards haven't exactly shown off a strong bounce-back trend through six weeks:
Still, it'd make sense if the Bears are forced to up their pass-game volume against a Buccaneers defense that has faced a league-high 77.3% pass-play rate in non-garbage time situations this season. Throw in injuries to starting corners Carlton Davis (quad, IR), Sean Murphy-Bunting (elbow, IR) and Richard Sherman (hamstring, out), and this week is shaping up as a now-or-never spot for Robinson.
Not so fast my friend: More passing games that aren't looking so hot on paper include the Giants, Dolphins, Jets and Texans. At least one of them has a fully healthy stud rookie receiver seeing ample targets.
I could use a weekend in Miami: The Dolphins traded their No. 3 overall pick to the 49ers before the 2021 draft, but found a way to get back into the top-10 by sending the Eagles their 2021 No. 12 and No. 123 picks in addition to a 2022 first-round selection in return for Philly's No. 6 and No. 156 picks.
The reason: Jaylen Waddle, who at his best combined electric YAC ability with field-stretching goodness at Alabama. It's been a slow-ish start for Waddle, but having Tua under center has coincided with the 2021 NFL Draft's No. 6 overall pick having more of a traditional receiving role:
Week 1: 10.2 yard average target depth

<Tua out>

Week 2: 0.7

Week 3: 2.8

Week 4: 4.3

Week 5: 7.1

<Tua in>

Week 6: 9.8
The PPR WR26 through six weeks, Waddle finds himself inside my top-24 options at the position for the first time this season ahead of a date with the league's eighth-worst defense in passer rating allowed to targets out of the slot.
Side note: Mike Gesicki still being called a tight end is honestly perplexing. Taysom Hill (27 snaps as an inline tight end) has seen more usage at the position than Gesicki (16). Hell, Chris Godwin has nine run-blocking snaps as an inline tight end; Gesicki only has four. Alas, fantasy football is weird sometimes. Continue to treat Gesicki as a top-10 "tight end" for however long DeVante Parker (shoulder, hamstring) and Will Fuller (finger, IR) remain sidelined.
EPA
Points are ultimately what wins football games. We can measure the expected points of every play on offense and defense by considering the down, distance and field position before factoring in the result. Estimated points added (EPA) is thus the value of a play that takes context into account and thereby better measures efficiency at the play level.
Combined EPA

: The sum of an offense's EPA/play and their opposing defense's EPA/play allowed. A higher number (blue) is good for offenses, while a lower number (red) indicates that offense could be in trouble.
Mismatch Manifesto Week 7: combined EPA per play

Sum of EPA/play of matchup's offense and defense to see biggest potential overall mismatches

High numbers indicate efficient offense vs. inefficient defense (blue), lower numbers are bad for o (red)

Data from 2021, PFF pic.twitter.com/rJyOlWo6eV

— Ian Hartitz (@Ihartitz) October 20, 2021
Blowout alert: The three largest differences in combined EPA favor the Cardinals over the Texans, Rams over the Lions and Buccaneers over the Bears. Unsurprisingly, the only three double-digit favorites of the week. And that's the way the cookie crumbles.
Over alert: Chiefs-Titans stands out as the single-best matchup in terms of expected offensive explosion. The game total opened as a week-high 56.5 points and has risen to 57.5. Rams-Lions (50) is the only other game total starting with a five, and they just so happen to be our second-ranked matchup here as well.
Under alert: Jets-Patriots and to a lesser extent Panthers-Giants stand out as the two matchups that could feature two very inept offenses. Both games totals rest at just 43 points — tied for the second-lowest mark of the week behind only Broncos-Browns (41), which makes sense given the quarterback situation in Cleveland.
Upset alert: Teams that are expected to have a larger offensive advantage, but are underdogs, feature the Broncos (+2) and Titans (+5.5). One is facing a backup quarterback, the other has the world-beater that is Derrick Henry. Those moneylines aren't going to bet themselves, people.