The NFL is a matchup-driven league. Offensive coordinators are always looking to scheme their playmakers into one-on-one situations against a defender, while defensive coordinators will attempt to do anything in their power to upset the timing and rhythm of the opposing QB.
Click here for more PFF tools:
Rankings & Projections | WR/CB Matchup Chart | NFL & NCAA Betting Dashboards | NFL Player Props tool | NFL & NCAA Power Rankings
---
Despite the obvious impact that defenses have on opposing offenses, fantasy players and fans alike are often left with one-way metrics to describe offenses and defenses that they are then forced to compare against each other in an attempt to identify mismatches.
The goal here is to provide easy-to-decipher charts and notes to define each week's key matchups and advantages on both sides of the ball in:
Explosive Plays

Pace

Pressure

Yards Before Contact

Passing Game

EPA
The following charts display matchup-specific information meant to highlight the largest mismatches in these ever-important facets of football to ultimately gain actionable betting and fantasy takeaways. And, of course, to have fun.
Note: Data is from Week 1-9, 2021. There are obviously plenty of limitations to this due to the small sample size at hand; key discrepancies will be highlighted in the ensuing paragraphs and the metrics will get stronger as the season continues.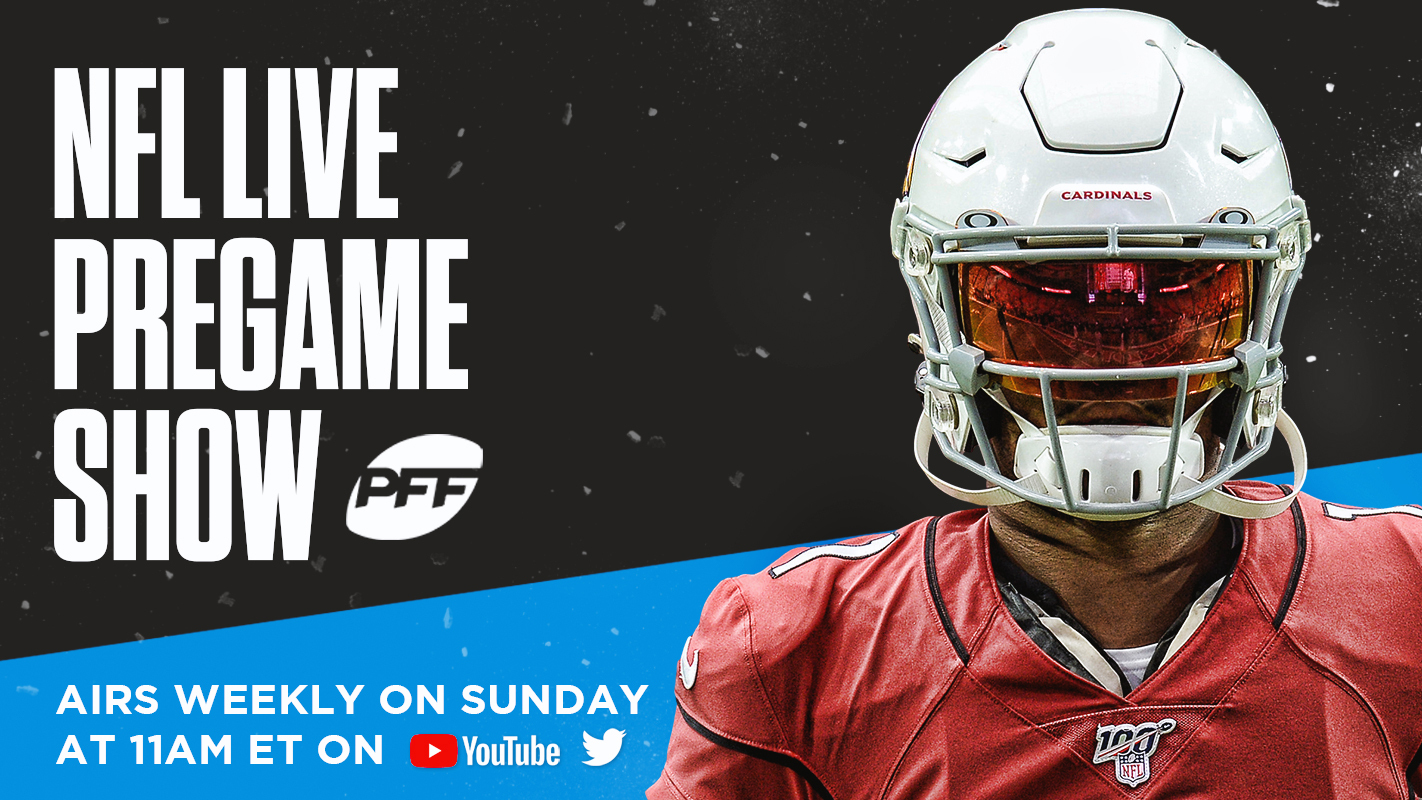 Explosive Plays
Big plays make the football world go round. Matchups between explosive offenses and leaky defenses are exactly what we're looking for when compiling game stacks in DFS, or when betting an over.
Explosive Pass Rate

: The sum of an offense's rate of 20-plus yard completions per pass attempt and the opposing defense's rate of 20-plus yard completions allowed per pass attempt. A higher percentage is better for offenses (blue is good, red is bad).

Explosive Run Rate

: The sum of an offense's rate of 15-plus yard gains per rush attempt and the opposing defense's rate of 15-plus yard runs allowed per rush attempt. A higher percentage is better for offenses (blue is good, red is bad).
Mismatch Manifesto Week 10: combined explosive play rate.

Higher or lower % = large or small combined sum of the pass/rush big-play rate from the matchup's offense and defense (blue = good, red = bad)

Big pass play: 20+ yds
Big run play: 15+

All data from 2021, PFF pic.twitter.com/wom2BCEvpa

— Ian Hartitz (@Ihartitz) November 10, 2021
These offenses breed explosive plays: Three offenses are averaging an explosive pass play on at least 11% of their dropbacks: Raiders (12.4%), Cardinals (11.6%) and Rams (11%). There's something about that West Coast weather.
Bounce-back szn in Vegas: Week 9 wasn't pretty for Derek Carr, but that doesn't change the fact that he's largely played the best ball of his career in 2021:
PFF passing grade: 83.1 (No. 3 best mark of Carr's career)

Big-time throw rate: 7.9% (No. 1)

Turnover-worthy play rate: 2.5% (No. 2)

Yards per attempt: 8.0 (No. 1)

Adjusted completion rate: 76.4% (No. 3)
Carr reserved his best football for the Chiefs in 2021, throwing for 622 yards and six scores against just a single interception in eight combined quarters against the Raiders' AFC West rival. The Chiefs allowed at least 29 points in each of the first five weeks before "fixing" their defense with solid performances against Taylor Heinicke (13 points), Daniel Jones (17) and Jordan Love (7). It's safe to say Carr doesn't belong in the conversation with those quarterbacks; things could get surprisingly ugly in this one if Patrick Mahomes and company can't keep up on the scoreboard.
Good offense beats good defense in today's NFL: Offenses set up to thrive in their quest to create some explosive pass plays: Ravens, Bills, Rams, Raiders, Colts and Steelers. The latter two teams each boast the sort of No. 1 receiver capable of making the absolute most out of these cake matchups.
A Steeler probably loses to a Lion in a fight; good thing this is football: Ben Roethlisberger has fed the following players at least five targets since losing JuJu Smith-Schuster (shoulder, IR) for the season in Week 5:
Johnson is the WR11 in PPR points per game this season and trails only Cooper Kupp, Tyreek Hill, Davante Adams and Keenan Allen in receptions per game. It sure seems like this could be the week he truly booms considering the Lions' absolutely horrendous pass defense:
Pass yards per attempt: 9.33 (No. 32)

Explosive pass play rate allowed: 20.4% (No. 32)

QB rating: 121.2 (No. 32)
You'd better have an absolutely loaded roster to even consider benching Johnson in this spot.
Every American loves a good second-year breakout: It remains unclear when T.Y. Hilton will be back in action. Either way: Michael Pittman has established himself as a consistent upside WR2:
Week 1: PPR WR76

Week 2: WR13

Week 3: WR32

Week 4: WR38

Week 5: WR14

Week 6: WR66

Week 7: WR8

Week 8: WR2

Week 9: WR12
Note that the WR66 performance was the only time all season that each of Pittman, Hilton and Parris Campbell (foot, IR) were healthy. The talented second-year receiver has undoubtedly been aided by his target competition failing to stay healthy; either way, that's the reality of the situation so continue to treat him as a weekly top-24 option at the position that should be in far more starting lineups than not. The Jaguars are a bottom-five defense in yards per attempt (9.62), QB rating (110.7) and contested-target rate (15.6%) to wide receivers; Pittman is my WR16 this week and that feels too low.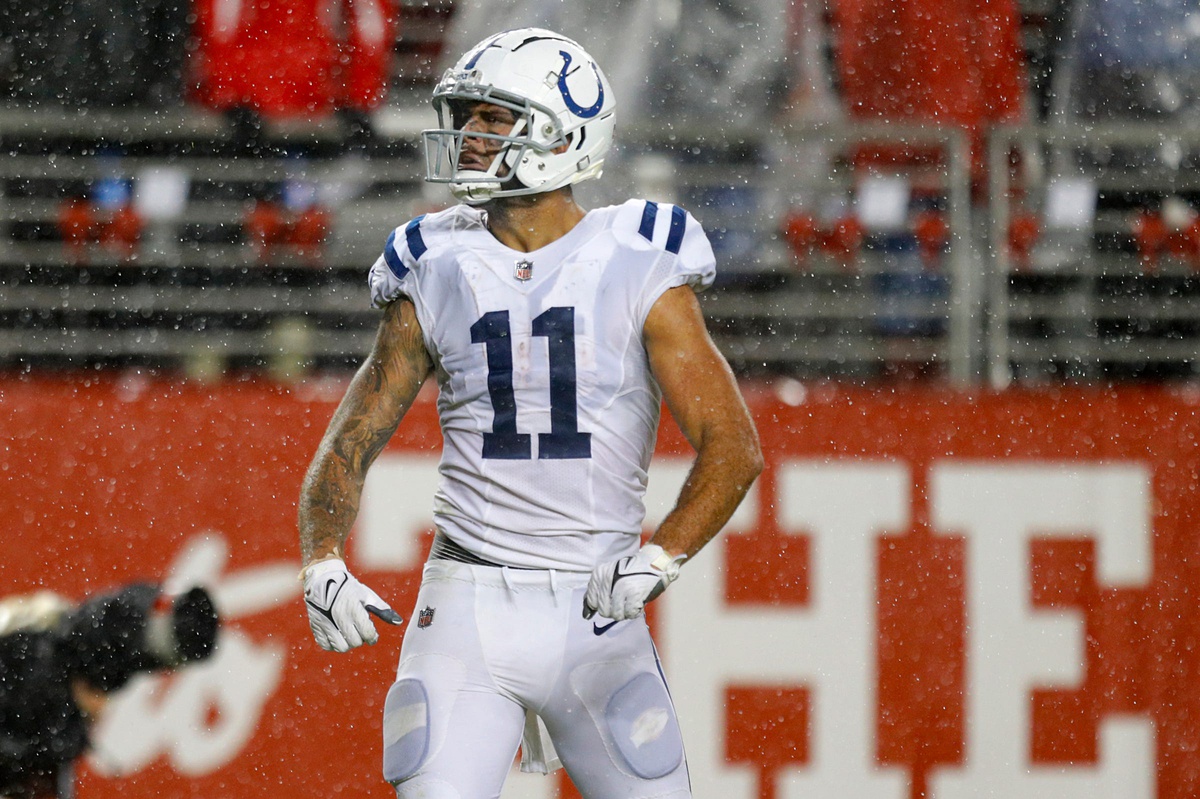 Offense is easier when the defense sucks: The only four defenses allowing an explosive pass play on at least 11% of their opponent's dropbacks: Lions (13.3%), Jaguars (12.6%), Jets (12%) and Ravens (11%). That's right: This year's Baltimore defense hasn't quite been the same monster the world is used to seeing.
Then he waddled away, waddle, waddle: Yes, Jaylen Waddle's absurdly low marks in average target depth (6.5) and yards per reception (8.9) aren't exactly what most had in mind for the electric speedster. Also yes, the constant dose of easy completions has helped Waddle become a PPR godsend of sorts. The rookie is in some great company when it comes to most receptions per game in 2021:
Cooper Kupp

(8.2 receptions per game)

Tyreek Hill

(7.6)

Davante Adams

(7.3)

Keenan Allen

(7.1)

Diontae Johnson

(6.4)

Sterling Shepard

(6.4)

Cole Beasley

(6.4)

Brandin Cooks

(6.3)

Chris Godwin

(6.3)

Waddle (6.2)
Waddle has turned in PPR WR4, WR16, WR60 and WR16 performances over the past four weeks; fire him up as a low-ceiling WR2 even if the Ravens go out of their way to get Marlon Humphrey lined up against him. This sort of receiving floor is rare in fantasy land; Waddle is my WR24 on the week.
Not every passing attack is meant to fly: The clear-cut bottom-five offenses in terms of expected failure in creating big plays through the air: Saints, Jets, Panthers, Broncos and Chiefs. C'mon AFC West, you're better than that!
Seriously what the hell Kansas City: One of the larger problems for Patrick Mahomes this season has been the absence of his typical off-script goodness. It makes sense that throwing in rhythm to Tyreek Hill and Travis Kelce is good for business, but Mahomes' ability to create something out of nothing was what typically separated him from the pack during past seasons. The following PFF passing grades are from Mahomes when he's not targeted his first read:
2021: 48.9 (No. 36 among 40 qualified quarterbacks)

2020: 84.8 (No. 4 among 41)

2019: 73.2 (No. 8 among 44)

2018: 90.4 (No. 1 among 42)
And yet, nobody had more air yards than Hill (198) last week; it still seems like a matter of when, not if, this offense gets back to hitting big plays at something resembling at least a league-average rate. The problems with the offense fall on more than just one party; that doesn't mean Hill and Kelce will cease to function as high-end fantasy assets.
This is especially true for the latter talent. Kelce has posted 8-127-1, 8-108-1, 5-90-0, 7-107-1, 5-62-0, and 12-168-2 receiving lines in six career matchups against this defense with Mahomes under center; expect more of the same Sunday night against the Raiders' fourth-worst defense in PPR points per game allowed to the position.
Spreading the ball around is cool in real life, but in fantasy? Meh: Teddy Bridgewater fed the following players at least five targets in the Broncos' three games with a healthy Jerry Jeudy:
Jeudy (my WR29) deserves to be ranked ahead of Sutton (WR31) at this point. Expect the latter receiver to displace the tight ends and Patrick sooner rather than later; either way, the days of Sutton regularly vying for the week's lead in air yards seem to be consistently over.
The larger problem for everyone involved could be this Eagles defense. The Eagles have been a top-10 defense in zone coverage usage all season, and Bridgewater has functioned as a below-average quarterback against zone coverage in terms of PFF passing grade (68.6, No. 26 among 40 qualified signal-callers), big-time throw rate: 1.2% (No. 37), turnover-worthy play rate (3.7%, No. 28) and yards per attempt (6.5, No. 34) alike.
Jeudy is getting the sort of consistent target share to warrant weekly WR3 consideration, while I'll probably be answering most close start/sit questions involving Sutton and Patrick with the other guy.
Don't let these run games get hot: The Mount Rushmore of rushing attacks expected to find all sorts of success in creating chunk plays: Bills, Browns, Vikings and Dolphins. Yes, the Dolphins, who finally have a usable running back in fantasy land.
Everyone loves a three-down running back: Myles Gaskin has garnered 19, 16 and 26 combined carries and targets over the past three weeks on more than solid 63%, 58% and 72% snap rates. He'll continue to warrant weekly RB2 treatment as long as Malcolm Brown (quad, IR) remains sidelined, particularly given the fantasy-friendly pass-down role at hand. Overall, only Cordarrelle Patterson, D'Andre Swift, Alvin Kamara, Austin Ekeler, Najee Harris and Aaron Jones have gained more PPR points from purely receiving production than Gaskin this season.
Don't expect too many touchdowns inside of the Dolphins' 28th-ranked scoring offense, but Gaskin is set up moderately well for his Thursday night date against the Ravens' 24th-ranked defense in fewest PPR points per game allowed to the position. I'll be answering most close start/sit questions with Gaskin this week.
Isn't it crazy that the first plate of buffalo wings were served in 1964?: Moss (concussion) should be considered questionable for the Bills' brilliant Week 10 matchup against the Jets' league-worst defense in fantasy points per game allowed to opposing backfields. He'd be a low-end RB2 if active, while Singletary would be ranked in a similar spot if Moss is sidelined.
The Bills deployed the following backfield usage in Week 1 without Moss (hamstring):
Singletary: 75% snaps, 11 carries, 5 targets

Matt Breida

: 12% snaps, 4 carries, 0 targets
There's also a chance 2020 Week 17 superstar Antonio Williams could be active without Moss in the picture.
The problem with overly trusting Singletary is that we've seen the Bills switch up his usage on the fly in the past: He posted dominant 89% snap rates in each of his first two games without Moss in 2020 before going for just 63% of the offense's reps and losing all the pass-down work to T.J. Yeldon the following week. The matchup is too good to consider benching Singletary in most fantasy leagues if Moss is inactive; just realize Breida and potentially Williams will make this a committee of some sort. 
These offenses might just want to pass the ball: The four offenses that look pretty screwed in creating big plays on the ground this week: Saints, Seahawks, Jaguars, Patriots, Chargers and 49ers. At least the latter squad has seemingly decided on a lead back.
Things are looking good in the San Fran backfield (matchup with Aaron Donald aside): All Elijah Mitchell has done with his opportunities this season is work as one of the game's most efficient backs:
PFF rushing grade: 76.0 (No. 17 among 48 qualified backs)

Missed tackles forced per carry: 0.17 (tied for No. 26)

Yards per carry: 5.3 (No. 6)

Yards after contact per carry: 4.2 (No. 2)
The latter metric is even more impressive considering Mitchell hasn't simply benefited from a long run or two skewing the average. Overall, Mitchell has gained at least 2.0 yards after contact on 73% of his rush attempts — the sixth-highest mark in the league.
His five targets didn't signal a true role change; JaMycal Hasty remains the team's long-down-and-distance option. Still, the eight carries were a result of the 49ers trailing the Cardinals for most of Week 9. It's far from a given that Mitchell will have a more fantasy-friendly positive game script as a 4-point underdog against the Rams this week, but he's still a rock-solid RB2 after proving to be this backfield's clear-cut leader even in a game that featured everyone other than Raheem Mostert (knee, IR) healthy for the first time all season.
Pace
Fast-paced games lead to more plays, which lead to more points. Every week usually consists of at least a few games that could resemble a track meet based on their combined situation-neutral pace (Football Outsiders).
Combined Situation-Neutral Pace

: Represents the combined situation-neutral pace between each matchup's two offenses. A lower number indicates fewer average seconds per play (blue  = fast-paced game), while a higher number indicates more average seconds per play (red = slow-paced game).
Mismatch Manifesto Week 10: combined situation-neutral pace.

Low combined numbers (blue) = two fast-paced offenses
High combined numbers (red) = two slow-paced offenses

Data from 2021, Football Outsiders pic.twitter.com/CeEcEg6z3F

— Ian Hartitz (@Ihartitz) November 10, 2021
Get ready to see a track meet: This week's sponsored Ricky Bobby "I want to go fast" highest-projected matchup features the Rams (No. 1 in situation neutral pace) at the 49ers (No. 13). Honorable mention goes to the Falcons (No. 9) at the Cowboys (No. 3). The latter matchup is responsible for the week's highest over/under (54.5).
We'll be moving plenty fast elsewhere too: More matchups expected to feature plenty of total plays include Buccaneers-Football Team, Vikings-Chargers and Chiefs-Raiders. Thank you NFL for giving us some quality Sunday and Monday night matchups this week. Don't sweat the potential blowout to start the week; Thursday night football is better when it's bad.
Unfortunately some offenses are slow and lame: The single-slowest matchup of the week pits the Jaguars (No. 15) at the Colts (No. 32). Remember in the preseason when Urban Meyer's big initial takeaway was he wanted to play with more tempo? At least he's kept Carlos Hyde involved.
Seriously, what are you waiting for: More matchups that might not supply the sort of volume fantasy managers are hoping for include Browns-Patriots, Seahawks-Packers and Lions-Steelers. There isn't a matchup with a lower over/under than Lions-Steelers (42.5). Hopefully Red Zone just ignores it.

Pressure
An overmatched offensive line can result in poor fantasy days for all skill-position players involved. Meanwhile, QBs with all day to throw can help generate points in bunches. We can determine which offensive lines might be especially better (or worse) this week with help from PFF's offensive and defensive pressure statistics.
Combined Pressure Rate

: The sum of the offensive line's rate of pressures allowed per dropback and the opposing defense's total pressures generated per dropback. A higher percentage (red) is better for defenses and indicates that quarterback could be under fire, while a lower percentage (blue) indicates that matchup's quarterback could face reduced pressure.
Mismatch Manifesto Week 10: combined pressure rate

Sum of pressure rates between opposing offenses and defenses.

Higher percentage: that offensive line could be in trouble (red)
Lower percentage: not expecting much pressure on QB (blue)

Data from 2021, PFF pic.twitter.com/ksPmCFenNh

— Ian Hartitz (@Ihartitz) November 10, 2021
Under pressure: good song, bad for fantasy football: Quarterbacks who could feel the heat this week include: Carson Wentz, Mike White and whoever is under center for the Dolphins. At least the former two signal-callers have done some cool stuff this year.
Thank god Wentz doesn't wear that stupid camouflage sleeve anymore: Credit to the Jaguars for limiting Josh Allen and company to just 6 points in Week 9; we're still looking at one of the league's single-worst secondaries:
Yards per attempt allowed: 8.4 (No. 31)

Explosive pass play rate: 16.8% (No. 26)

QB rating allowed: 110.2 (No. 28)

Contested target rate: 11.6% (No. 32)
The Jaguars' pass rush has posted the league's third-best pressure rate (37.5%), but this all comes despite the Jaguars ranking seventh in touchdown rate allowed; there's a chance things get worse before they get better.
The 2021 version of Wentz (69.6 PFF passing grade) hasn't exactly come close to replicating his efforts in 2017 (84.7), 2019 (78.5) or 2019 (75.4), but at least it's been a helluva lot better than what we saw in 2020 (60.0).
Good luck to the Jets against a pissed off Bills Mafia: The Jets will have Mike White (forearm) under center this Sunday. It's not exactly great news for Elijah Moore's chances of replicating his huge Week 9; White stands out as possibly the league's single-most risk-averse quarterback this season. Overall, White's 6.0 yard average target depth is the second-lowest mark among 40 quarterbacks with at least 50 dropbacks this season. Only Trey Lance (56.8%) and Jared Goff (59.9%) have had more of their passing yards come courtesy of production after the catch than White (55.6%).
The return of Corey Davis would further muddle a receiver room that is already too crowded given their need to keep guys like Keelan Cole, Braxton Berrios and Jeff Smith involved as well. The Jets are implied to score a pathetic 17.25 points and are facing the league's single-best defense in EPA allowed per play. Sheesh.
Some offensive lines and quarterbacks are just more prone to pressure: The Dolphins, Panthers, Titans, Colts and Lions are the league's only five offenses that have been pressured on at least 35% of their dropbacks this season. This has been especially unfortunate for the *checks notes* best team in the NFL?
Are you from Tennessee? Because you're the only 10-I-see: Ryan Tannehill played some wide receiver in college (haven't you heard?!) and always offers a solid rushing floor, but he hasn't made a habit of creating off-script goodness during his time with the Titans. Luckily, the artist known as TanneThrill has been nothing short of spectacular this season when given the benefit of a clean pocket. Overall, only Kirk Cousins (93.9) has posted a higher PFF passing grade than Tannehill (93.7), but the Titans' signal-caller falls to 17th when under pressure.
The Saints have been awfully mediocre at getting after the quarterback this season; their 40.8% pressure rate ranks just 23rd after nine weeks of action. Things get even worse when compensating for quarterbacks holding the ball too long, as the Saints (14.7%) rank dead last in terms of quick pressure rate (2.5 or fewer seconds). Failure to improve in this facet of the game could be devastating when forced to match up with the likes of A.J. Brown and Julio Jones.
Sundial joke about having a ton of time to throw: Ben Roethlisberger, Matthew Stafford and Dak Prescott are set up the best to work from consistently clean pockets this week. Good for them, man. Hopefully this can help fix the latter passing game after their rather brutal Week 9 showing.
The man should still be running: Nobody had more unrealized air yards than CeeDee Lamb in Week 9. The performance truly could have been huge with a better game from Dak Prescott.
CeeDee Lamb had the most unrealized air yards in Week 9 (PFF, pre-MNF) pic.twitter.com/xbTJqJIRTe

— Ian Hartitz (@Ihartitz) November 8, 2021
It's pretty clear who the Cowboys should focus on targeting between Falcons corners A.J. Terrell (PFF's second-highest graded cornerback in coverage) and Fabian Moreau (98th). Note that the Cowboys regularly move all of their receivers around the formation; it's not worth dinging Cooper any more than Lamb because of expected coverage from Terrell.
Lamb is my WR8 on the week ahead of this seemingly inevitable bounce-back spot, while Cooper (WR19) is only as low as he is due to the reality that he continues to play through all kinds of pain and posted his second-lowest snap rate of the season in Week 9 (58%). 
The return of Michael Gallup could potentially reduce Cooper's and Lamb's respective target shares, but the league's third-ranked scoring offense is (usually) explosive enough to enable multiple high-end fantasy receivers on a weekly basis anyway. Don't discount Gallup providing some consistent WR3 goodness moving forward; he'd be a top-two option in most of the league's passing games.
Pass rushes that haunt the dreams of your favorite quarterback: The league's best pass rushes feature the Dolphins, Raiders, Browns, Jaguars, Bills and Football Team above all else.
The league's finest individual rushers of the passer: Just 10 defenders have racked up at least 40 pressures this season: Maxx Crosby (50 pressures), Myles Garrett (48), Harold Landry (47), Matthew Judon (43), Jeffery SImmons (42), Raashan Gary, Trey Hendrickson (42), Denico Autry (42), Aaron Donald (41) and Shaquil Barrett (40).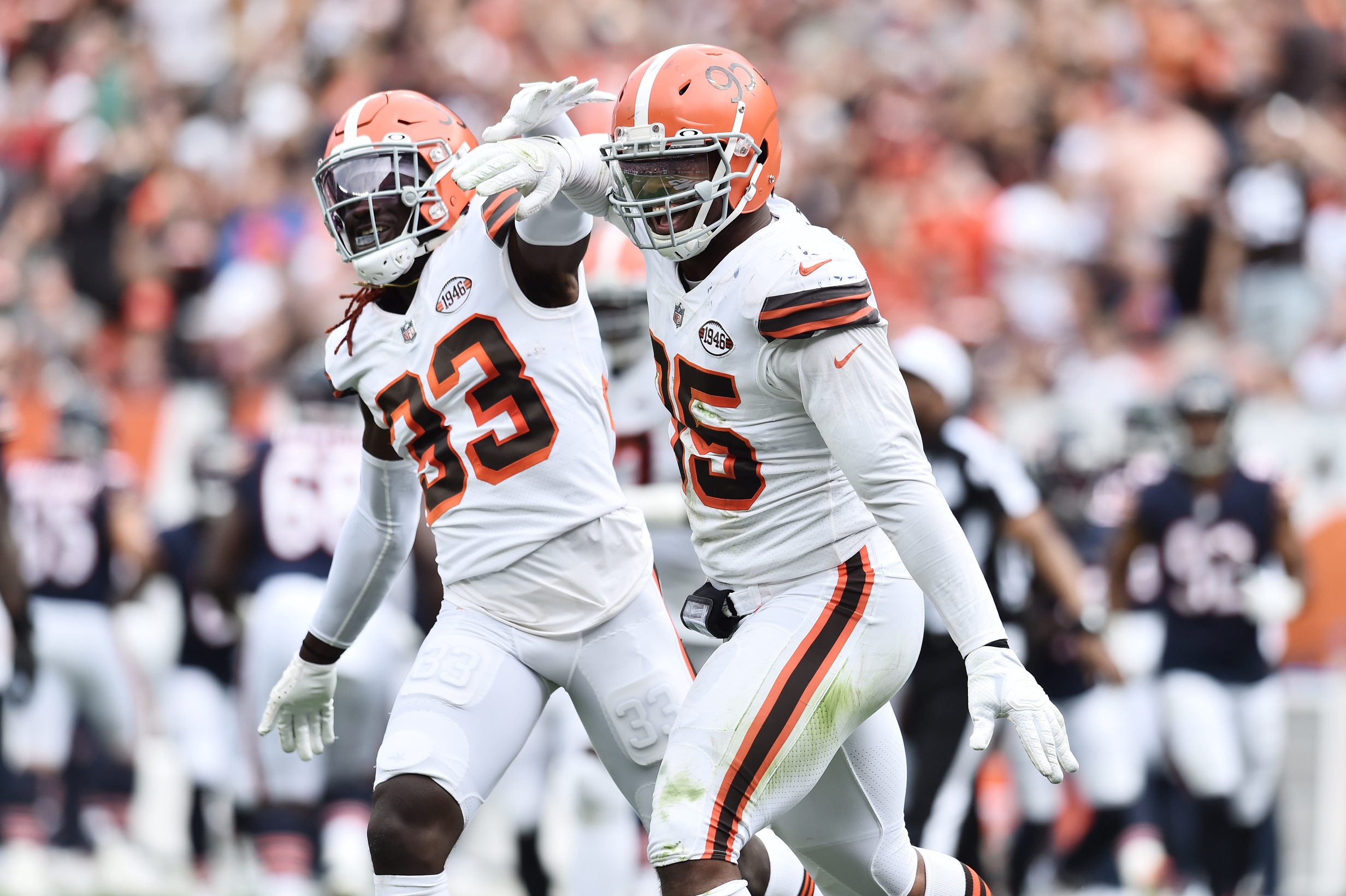 Trench Battles
RBs receive most of the praise for an offense's rushing output, but an overmatched offensive line can thwart a team's run game before it even has a chance to get started. We can determine the offensive lines that might be especially better (or worse) off this week by looking at yards before contact.
Combined Yards Before Contact Per Rush

: The sum of an offensive line's adjusted line yards per rush and the opposing defense's adjusted line yards allowed per rush. A higher number (blue) is good for running backs, while a lower number (red) indicates that matchup's offense could have some trouble consistently running the ball.
Mismatch Manifesto Week 10: combined yards before contact per rush

Sum of each offense and defense's YBC/carry.

High number: Good run-blocking o-line vs. bad run-defending D (blue)
Low number: Bad run blocking o-line vs. stout D against the run (red)

Data from 2021, PFF pic.twitter.com/lLxwYgwq4N

— Ian Hartitz (@Ihartitz) November 10, 2021
Great day to be a great running back: The Mount Rushmore of backfields set up well to run the ball this week: Ravens, Bills, Vikings and Chiefs. Of course, the former team tends to flow most-heavily through the signal-caller involved.
Haters should at least say he's a *GREAT* running back: Just six players have at least 600 rushing yards this season: Derrick Henry (937), Jonathan Taylor (821), Nick Chubb (721), Joe Mixon (636), Ezekiel Elliott (622) and Lamar Jackson (600). Madness, but albeit not surprising at this point. Jackson's numbers on the ground since taking over as the Ravens' full-time starting quarterback in Week 11, 2018 are borderline erotic:
PFF rushing grade: 86.1 (tied for No. 16 among 113 qualified players)

Rushing yards: 3,370 (No. 5)

Rushing touchdowns: 20 (No. 15)

Rushing first downs: 191 (No. 4)

Missed tackles forced on carries: 116 (tied for No. 9)

Missed tackles forced per carry: 0.21 (tied for No. 13)

Yards per carry: 6.1 (No. 2)
Jackson is averaging career-high marks in big-time throw rate (6.1%) and yards per attempt (8.1); this blurb isn't meant to discredit anything he's done through the air this season. Rather, we've almost taken the extraterrestrial rushing production for granted at this point; Jackson is truly unlike anything we've ever seen at the quarterback position.
Up next is a Thursday night date against the Dolphins' fifth-worst defense in fantasy points per game allowed to opposing quarterbacks. Get your popcorn ready.

Personal note: Check out my Week 10 Quarterback Predictions for more fun facts and a forecast on every squad's starting quarterback.
Find something you don't care about the way the Chargers ignore stopping the run: Obviously there's a ton of uncertainty surrounding this Vikings backfield at the moment.
For whoever is starting at running back for the rest of the season: The next four weeks sure look like a smashable stretch:
Week 10 at Chargers: No. 26 in PPR points per game allowed to running backs

Week 11 vs. Packers: No. 14

Week 12 at 49ers: No. 21

Week 13 at Lions: No. 31
Fire up either Dalvin Cook as a matchup-proof RB1 if active. If not, Alexander Mattison will likewise be a consensus top-10 option regardless of the fantasy format. In a vacuum, Cook sure seems like the superior talent, but the sort of volume at hand is enough to enable either player to weekly RB1 status.
Just one more personal note: Check out my Week 10 Backfield Report for more specific information on the league's ever-evolving running back stables.
More running backs expected to have a little thing called success: The Lions, Cowboys, Seahawks and Eagles also stand out as groups that should see more open lanes than usual this week. Of course, it helps when teams throw these dudes the ball as well.
Receiving running backs are fantasy cheat codes: Credit to D'Andre Swift for making more than a few defenders look silly in the open field this season, but he's in the running for the league's single-worst rusher in terms of yards after contact per carry and missed tackles forced per rush. Luckily fantasy football rewards dual-threat players, and no running back has more fantasy points from purely receiving production than Swift.
The Lions exit their Week 9 bye with a road spot in Pittsburgh; continue to fire up Swift as a top-12 option at the position in full PPR formats thanks to his ever-high receiving floor. Treat Jamaal Williams as more of a touchdown-dependent RB3 in this tough spot against the league's second-best defense in fantasy points per game allowed to opposing backfields. Nobody is implied to score fewer points than the Lions (17) in Week 10.
It's legal to have more than one awesome running back: Ezekiel Elliott has largely been great this season, posting rather robust marks in yards per carry (4.8) and yards after contact per carry (3.1) alike. The "problem" is that Tony Pollard has truly posted efficiency that is on par with the league's very best running backs.
Running back ranks in missed tackles forced per carry and yards after contact per rush (rushing only, PFF)

Up: Better at picking up yards after contact
Down: Worse at picking up yards after contact
Right: Better at forcing missed tackles
Left: Worse at forcing missed tackles pic.twitter.com/CsFU39rkEK

— Ian Hartitz (@Ihartitz) November 9, 2021
Alas, in fantasy land we chase volume, not necessarily talent. Zeke remains a weekly RB1 regardless of the matchup, although the latter factor isn't an issue ahead of Week 10's matchup against the Falcons' eighth-worst defense in PPR points per game allowed to the position. Pollard isn't anything more than a low-end RB3 while Zeke is healthy, but he remains the single-most valuable handcuff in the league thanks to legit overall RB1 upside if Elliott missed any time.
Gotta love a good run game scheme: Only five offenses are averaging at least 1.8 yards before contact per carry: Ravens (2.09), Chiefs (2.02), Colts (1.91), Bills (1.81) and Eagles (1.81). Call me crazy, but having a mobile quarterback might just help matters.
Best Steven Tyler voice: Run away, run away from the pain yeah, yeah, yeah, yeah, yeah: The Titans, Jets and Patriots look like the most screwed offenses in terms of expected success on the ground before contact. The latter backfield is more unclear than ever with both Damien Harris and Rhamondre Stevenson in the concussion protocol.
Passing Game
Some pass offenses are obviously more efficient than others, while certain secondaries are seemingly capable of shutting down any aerial attack. We can determine the week's biggest mismatches in the passing game using each offense and defense's pass yards per dropback.
Combined Passing Yards Per Dropback

: The sum of an offense's passing yards per dropback and the opposing defense's passing yards allowed per dropback. A higher number (blue) is good for quarterbacks and receivers, while a lower number (red) indicates that matchup's pass offense could be in trouble.
Mismatch Manifesto Week 10: combined pass yards per dropback

Sum of offense's pass yards/dropback with defensive rate.

Higher number: efficient pass offense vs. bad pass defense (blue)
Lower number: inefficient pass offense vs. good pass defense (red)

Data from 2021, PFF pic.twitter.com/CKrNKfJztM

— Ian Hartitz (@Ihartitz) November 10, 2021
Sometimes it just looks so easy: Tom Brady, Derek Carr and Matthew Stafford stand out as the week's top-three quarterbacks in expected success through the air. Good to see someone giving Father Time a real run for his money for once.
Goat stuff: Through eight games, Brady is somehow performing even better than he did last year. Overall, TB12 has improved upon his marks in yards per attempt (7.7 vs. 7.2), adjusted completion rate (74.6% vs. 72.3%) and QB rating (106.8 vs. 96.6) alike compared to his debut campaign in Tampa Bay.
Credit to the Football Team for boasting PFF's second-best team pressure grade, but they rank just 30th in coverage. The Buccaneers rank third in team pass blocking grade, and Brady boasts the league's second-quickest average release time at 2.36 seconds; this one could get ugly in a hurry if Chase Young and company don't play out of their minds.
60% of the time, Darren Waller works every time against the Chiefs: Waller's 11 targets last week were his most since his famous 19-target workload back in Week 1. He's posted 7-88-1, 5-48-1, 7-100-0 and 6-63-0 receiving lines against this Chiefs defense over the past two seasons and is the weekly favorite to lead this passing game in targets. Imagine the possibilities if the Chiefs decide to ask Daniel Sorenson to cover Waller for even a few plays. Only Travis Kelce should be ranked higher this week in fantasy land.
The government calls it a passing league for a reason: The Cowboys, Cardinals, Steelers and Colts also stand out as passing attacks that should have plenty of success through the air. Here's to hoping Kyler Murray (ankle) is healthy enough to suit up.
These passing games might be a bit rough n' rowdy: The Panthers, Jets and Chiefs look like the bottom-three offenses this week in terms of expected aerial success. The Saints, Eagles and Vikings don't look to be in especially great spots, either, but sometimes wide receivers are good enough to just win anyway.
The Heisman, ever heard of it?: DeVonta Smith went for 5-116-1 in Week 9, boasting some borderline erotic route-running ability along the way.
DeVonta Smith had himself a pretty, pretty, pretty good Week 9 pic.twitter.com/TQeQEC3OIV

— Ian Hartitz (@Ihartitz) November 8, 2021
The problem is that the overall pass-game volume in Philadelphia is lower than just about anywhere else these days. Jalen Hurts has thrown the ball just 31 total times over the past two weeks; Smith's gaudy target share (28%) and air yard share (45%) numbers would mean so much more in a different passing game.
Alas, this is the situation we're dealing with. Hurts has fed the following players at least five targets since Zach Ertz was traded to the Cardinals:
Yikes. Clearly Smith (my WR25) is the only viable fantasy option this week against the Broncos' top-12 defense in both yards per attempt and PPR points per game allowed to opposing wide receivers.
Vikings must have been terrifying back in the day: Kirk Cousins is PFF's highest-graded quarterback when kept clean this season. Unfortunately, things have gone south rather quickly when under pressure: No starting quarterback has a larger difference in yards per attempt when kept clean (8.6) vs. when under pressure (3.7) than Cousins this season.
The Chargers rank just 24th in pressure rate (40.8%) and 21st in quick pressure rate (22%); this matchup shouldn't bring out the worst in Cousins. Still, a big game from Joey Bosa and company could make it tough for Justin Jefferson and Adam Thielen to provide their usual top-tier production.
There's also the whole volume problem. Jefferson has 10 targets *total* since the Vikings' Week 7 bye; somehow both Thielen (13) and Tyler Conklin (13) have been more involved than the NFL's fifth-ranked receiver in yards per route run since the beginning of last season (among 108 receivers with at least 50 targets).
Ultimately, Jefferson's targets will get back to an elite level sooner rather than later. What better time than now against a Chargers defense potentially without two of their starting cornerbacks in Asante Samuel Jr. (concussion) and Michael Davis (hamstring).

Not so fast my friend: Offenses that haven't averaged even 6.0 pass yards per dropback this season: Football Team, Saints, Lions, Jaguars, Panthers, Dolphins and Bears. The former squad has even reduced their one diamond into far more of a hit-or-miss asset than anyone would like to see.
F1: Terry McLaurin has unfortunately been reduced to more of a boom-or-bust WR2 due to the erratic nature of Taylor Heinicke. Overall, he's posted three top-five fantasy finishes this season but failed to finish higher than 45th at the position during his other five games.
The Buccaneers' ferocious front seven usually dissuades opponents from even attempting to run the ball; McLaurin should have a target total starting with a one by the time Sunday is over. Overall, McLaurin is projected to be the league's ninth-most targeted player in Week 10. Still, the defense largely shut down the Dolphins (262 pass yards), Eagles (113), Bears (168) and Saints (209) through the air before their Week 9 bye; there's a chance the Football Team's 25th-ranked scoring offense simply fizzles out entirely in this one.
Dope secondaries always have the best nicknames: The Buccaneers, Packers, Panthers, Cardinals, Raiders and Bills are the only six defenses to allow fewer than six pass yards per dropback. The latter team has actually posted a 4.9 yard mark. Madness.
EPA
Points are ultimately what wins football games. We can measure the expected points of every play on offense and defense by considering the down, distance and field position before factoring in the result. Estimated points added (EPA) is thus the value of a play that takes context into account and thereby better measures efficiency at the play level.
Combined EPA

: The sum of an offense's EPA/play and their opposing defense's EPA/play allowed. A higher number (blue) is good for offenses, while a lower number (red) indicates that offense could be in trouble.
Mismatch Manifesto Week 10: combined EPA per play

Sum of EPA/play of matchup's offense and defense to see biggest potential overall mismatches

High numbers indicate efficient offense vs. inefficient defense (blue), lower numbers are bad for o (red)

Data from 2021, PFF pic.twitter.com/BeE9SZj28i

— Ian Hartitz (@Ihartitz) November 10, 2021
Blowout alert: The clear top-five matchups in terms of one offense likely having a huge relative advantage over their opponent: Bills over Jets, Buccaneers over Football Team, Cardinals over Panthers, Colts over Jaguars and Cowboys over Falcons. The Jets (+13), Jaguars (+10.5), Panthers (+10.5), Football Team (+9.5) and Falcons (+9) literally represent the five biggest underdogs of the week. Sheesh.
Over alert: The highest combined matchups in expected offensive success: Chiefs-Raiders, Vikings-Chargers and Jaguars-Colts. I can't take another Kansas City dud in primetime. Can't do it. Please Andy Reid, figure it out. We're begging you.
Under alert: Bills-Jets and Panthers-Cardinals stand out as the week's two matchups that could feature the most overall offensive futility. Maybe moving from Sam Darnold (shoulder) to XFL hall of famer Phillip Walker will be a positive. It can't get much worse.
Upset alert: Teams expected to have a relative offensive advantage, yet are underdogs, feature the Browns (+1.5), Vikings (+3) and Raiders (+2.5). Did somebody say moneyline parlay?