We're halfway through the 2021 NFL season, and life is good. Let's attempt to predict the future.
---
Click here for more PFF tools:
Rankings & Projections | WR/CB Matchup Chart | NFL & NCAA Betting Dashboards | NFL Player Props tool | NFL & NCAA Power Rankings
---
What follows are my best guesses for every starting quarterback's defining Week 10 storyline. This will be accomplished through a superlative format, identifying who is most likely to accomplish whatever.
Please don't confuse this as an all-encompassing preview of the position; the goal is merely to get a solid preview on the game's most important position and attempt to learn a thing or two along the way.
Related content for you: NFL Week 10 Fantasy Football Waiver Wire Targets: All league sizes & scoring types via Andrew Erickson
Just six players have at least 600 rushing yards this season: Derrick Henry (937), Jonathan Taylor (821), Nick Chubb (721), Joe Mixon (636), Ezekiel Elliott (622) and Jackson (600). Madness but not surprising at this point. Jackson's numbers on the ground since taking over as the Ravens' full-time starting quarterback in Week 11, 2018 are borderline erotic:
PFF rushing grade: 86.1 (tied for No. 16 among 113 qualified players)
Rushing yards: 3,370 (No. 5)
Rushing touchdowns: 20 (No. 15)
Rushing first downs: 191 (No. 4)
Missed tackles forced on carries: 116 (tied for No. 9)
Missed tackles forced per carry: 0.21 (tied for No. 13)
Yards per carry: 6.1 (No. 2)
Jackson is averaging career-high marks in big-time throw rate (6.1%) and yards per attempt (8.1). This blurb isn't meant to discredit anything he's done through the air this season. Rather, we've almost taken the extraterrestrial rushing production for granted at this point, as Jackson is truly unlike anything we've ever seen at the quarterback position.
Up next is a Thursday night date against the Dolphins' fifth-worst defense in fantasy points per game allowed to opposing quarterbacks. Get your popcorn ready.
Tua Tagovailoa is shaping up as a true game-time decision as he continues to recover from a fractured middle finger. Brissett will be back under center if Tagovailoa isn't able to suit up.
Brissett's tendency to hold the ball too long could be incredibly problematic against the Ravens' blitz-happy defense but just realize the ex-Patriots/Colts signal-caller will inevitably make at least one awesome throw.
I appreciate Jacoby Brissett making at least one v cool throw per spot start pic.twitter.com/O1m1dF2jNx

— Ian Hartitz (@Ihartitz) November 8, 2021
Note that Brissett's box score would have looked far better last week had the Dolphins not dropped a week-high five balls.
Brissett might not ever be a top-20 quarterback, but his ability to function as a top-40 player at his position should keep the backup checks coming in for quite some time. Perhaps he'll outperform expectations on Thursday night, but it won't be easy as long as DeVante Parker (hamstring, IR) and Will Fuller (finger, IR) remain sidelined.
The Siemian experience largely hasn't gone too well: He ranks 28th in PFF passing grade (66.6) and 42nd in yards per attempt (5.8) among 45 qualified signal-callers this season.
And yet, Siemian knocked off the Buccaneers in Week 8, as he rallied the Saints back to a 25-24 lead after trailing 24-6 early in the fourth quarter. This has all come to fruition despite the Saints continuing to not boast anything resembling a high-end offense.
PFF team pass-blocking grade: 65.4 (No. 14)
PFF team receiving grade: 71.4 (No. 20)
PFF team rushing grade: 82.5 (No. 6)
PFF team run-blocking grade: 69.3 (No. 14)
It'd make sense if Taysom Hill gets more work under center moving forward, although rationalizing his reduced role in Week 9 as a safety measure in his first game coming off a concussion is absurd. If there was even a minute amount of concern regarding Hill's health, why was he being used on special teams and as a lead blocker?
Either way, the Saints enter Week 10 facing an uphill battle against a Titans defense that has shut down the Chiefs (three points) and Rams (16) in two of their last three games. Siemian and/or Hill will need to bring their respective A-games this week if they want to continue to stay competitive.
Tannehill played some wide receiver in college (haven't you heard?!) and always offers a solid rushing floor, but he hasn't made a habit of creating off-script goodness during his time with the Titans. Luckily, the artist known as TanneThrill has been nothing short of spectacular this season when given the benefit of a clean pocket. Overall, only Kirk Cousins (93.9) has posted a higher PFF passing grade than Tannehill (93.7), but the Titans' signal-caller falls to 17th when under pressure.
The Saints have been awfully mediocre at getting after the quarterback this season, as their 40.8% pressure rate ranks just 23rd. Things get even worse when compensating for quarterbacks holding the ball too long, as the Saints (14.7%) rank dead last in terms of quick pressure rate (2.5 or fewer seconds). Failure to improve in this facet of the game could be devastating when forced to match up with A.J. Brown and Julio Jones.

Nobody is saying the Bills shouldn't have agreed to pay Allen all sorts of money to be their franchise quarterback for years to come, but that doesn't mean his erratic performance through the first eight games of 2021 is any less concerning:
Week 1: 72.6 PFF passing grade (No. 16 among quarterbacks with 10-plus dropbacks)
Week 2: 45.4 (No. 30)
Week 3: 85.5 (No. 3)
Week 4: 62.5 (No. 24)
Week 5: 92.8 (No. 1)
Week 6: 81.3 (No. 7)
Week 7: Bye
Week 8: 72.3 (No. 10)
Week 9: 50.8 (No. 22, pre-MNF)
The Bills' success in terms of wins and losses has made Allen's up-and-down first half of the season less of a talking point compared to Patrick Mahomes but just realize the Bills will need their franchise quarterback to be at his best if they hope to achieve their goal of representing the AFC come February.
Don't be surprised if Allen looks closer to the best version of himself this Sunday against a Jets defense that has allowed the fourth-most completions of at least 15 yards this season.
It's unclear if either White (forearm) or Zach Wilson (knee) will be healthy enough to suit up next Sunday. Josh Johnson will be under center if not.
Don't be surprised if there are copious amounts of underneath passes if White is once again under center. Overall, White's six-yard average target depth is the second-lowest mark among 40 quarterbacks with at least 50 dropbacks this season. Only Trey Lance (56.8%) and Jared Goff (59.9%) have had more of their passing yards come courtesy of production after the catch than White (55.6%).
A date with the Bills' league-best defense in expected points added (EPA) allowed per play isn't likely to bring out the best from whoever winds up under center for the Jets.
Most likely to look like one of the league's single-worst starting quarterbacks: Detroit Lions QB Jared Goff at Pittsburgh Steelers
The closest comps to Goff this season in terms of big-time throw rate and turnover-worthy play rate are Daniel Jones and Jacoby Brissett:
Big-time throw rate vs. turnover-worthy play rate in Weeks 1-9 (PFF, pre MNF)

Up: Not doing a good job taking care of the ball
Down: Doing a good job taking care of the ball
Left: Not making "elite" throws very often
Right: Making "elite" throws very often pic.twitter.com/rJmQpdfwVW

— Ian Hartitz (@Ihartitz) November 8, 2021
Goff has generally struggled to make elite throws while simultaneously supplying far too many miscues than the Lions would hope for. Obviously, life might be smoother with an actual high-level receiving core, but either way, it's tough to be anything other than pessimistic about the first half of the Goff in Detroit "era."
Don't expect a road trip against T.J. Watt and company to help matters.
Roethlisberger is posting decade-long lows in just about any passing metric one can find. Whether it's PFF passing grade (55.9), average target depth (7.5) or QB rating (83.2), 2020 is basically the only comparable down year to what Roethlisberger has gone through to start 2021. He's been playing through various ailments but ultimately ranks outside of the league's top-30 quarterbacks in both PFF passing grade and yards per attempt through eight weeks.
Before Week 9, the Steelers joined the Browns and Football Team as the only three passing games to post a catchable deep ball rate of 35% or lower. Sheesh.
Things have managed to go even more south when Roethlisberger has been pressured: Only Justin Fields (25.5) and Jimmy Garoppolo (28.5) have worse PFF passing grades when under duress than Big Ben (28.8). It'd make sense if Big Ben is slightly better than usual against the Lions' 31st-ranked scoring defense but just realize the floor and ceiling alike are lower than ever for the 39-year-old veteran.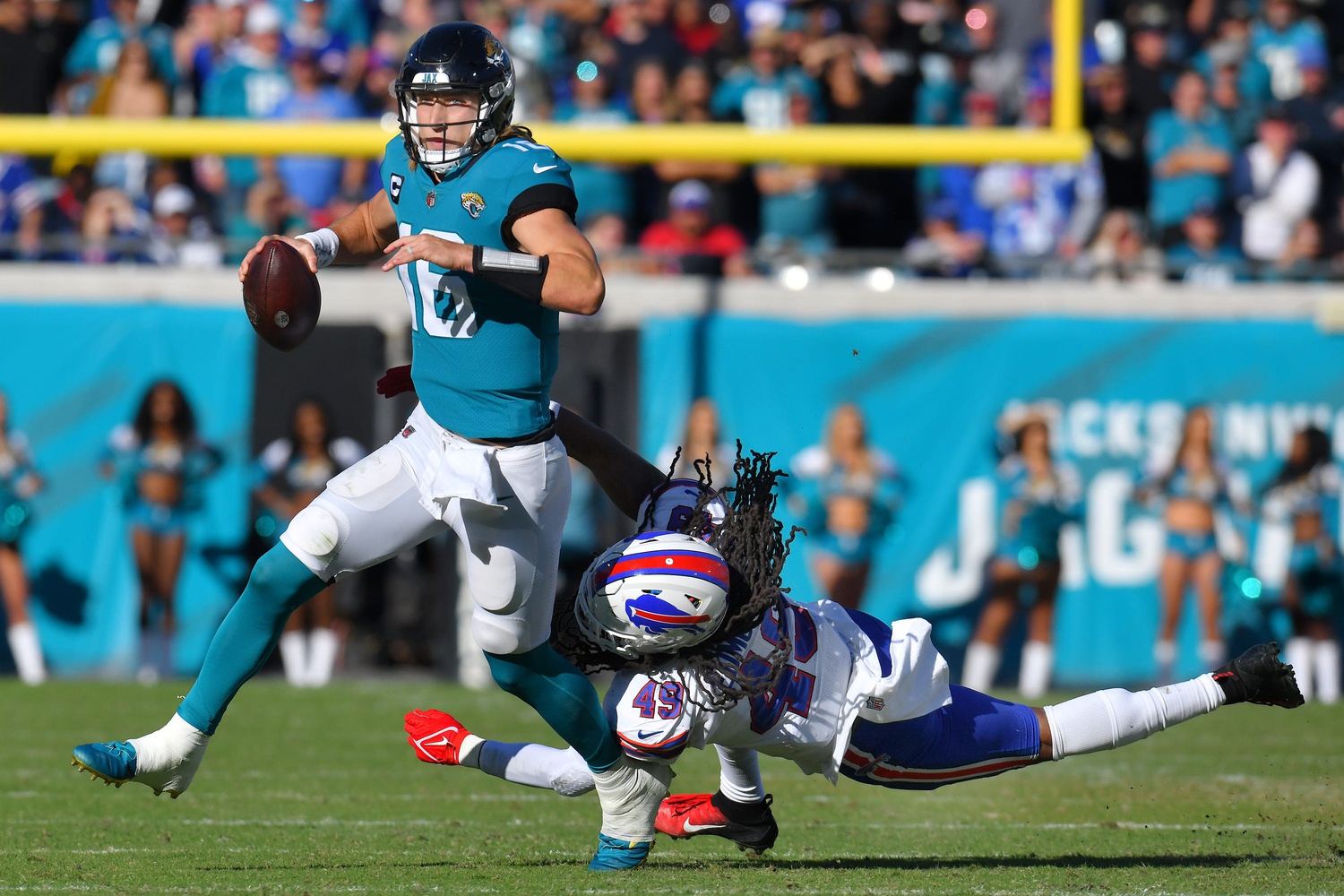 The Jaguars have truly been one of the league's worst passing games all season long. Overall, they rank 27th in PFF passing grade (58.4) and dead last in receiving grade (62.2), producing just the 27th ranked offense in EPA per pass play (-0.127).
I'm a believer that Jim's and Joe's matter more than X's and O's, but Lawrence simply hasn't received enough help from the offensive line, receivers and play-caller:
Pressure rate: 34.2% (No. 19)
Play-action rate: 25.9% (No. 20)
Shift/motion rate: 40.8% (No. 28)
Drop rate: 5.6% (No. 24)
Lawrence obviously isn't devoid of blame, as he missed Marvin Jones on a potential 50-yard dagger late in the Jaguars' upset Week 9 win over the Bills. Still, this largely miserable environment hasn't helped matters all year long, and it's tough to see that immediately changing without extreme personnel and coaching turnover.
Credit to the Jaguars for limiting Josh Allen and company to just six points in Week 9, but we're still looking at one of the league's single-worst secondaries:
Yards per attempt allowed: 8.4 (No. 31)
Explosive pass play rate: 16.8% (No. 26)
QB rating allowed: 110.2 (No. 28)
Contested target rate: 11.6% (No. 32)
Credit to the pass rush for posting the league's third-best pressure rate (37.5%), but this all comes despite the Jaguars ranking seventh in touchdown rate allowed, and there's a chance things get worse before they get better.
The 2021 version of Wentz (69.6 PFF passing grade) hasn't exactly come close to replicating his efforts in 2017 (84.7), 2018 (78.5) or 2019 (75.4), but at least it's been better than what we saw in 2020 (60.0). Don't be surprised if he flirts with an upper-end outcome in this week's smash spot.
Through eight games, Brady is somehow performing even better than he did last year. Overall, TB12 has improved upon his marks in yards per attempt (7.7 vs. 7.2), adjusted completion rate (74.6% vs. 72.3%) and QB rating (106.8 vs. 96.6) alike compared to his debut campaign in Tampa Bay.
Credit to the Football Team for boasting PFF's second-best team pressure grade, but they rank just 30th in coverage. The Buccaneers rank third in team pass blocking grade, and Brady boasts the league's second-quickest average release time at 2.36 seconds. This one could get ugly in a hurry if Chase Young and company don't play out of their minds.
Heinicke has flashed on occasion this year, but generally, the lows have outweighed the highs. He joins a rather brutal list of quarterbacks with at least three more turnover-worthy plays than big-time throws through nine weeks of action:
Nobody has a lower rate of catchable deep balls (20-plus yards) than the Football Team (33%) this season. Sheesh.
The Buccaneers rank 10th in pressure rate (45.5%) and quick pressure rate (24.2%) alike. This defense could get back to looking awfully scary once its secondary heals up. Here's to hoping Heinicke can at least function adequately enough to get Terry McLaurin some fantasy-friendly production.
Mayfield is at his best when he's able to throw in rhythm and get the ball out in a hurry. The following metrics are from when Mayfield releases the ball in fewer than 2.5 seconds:
PFF passing grade: 85.0 (No. 6 among 40 qualified quarterbacks)
Yards per attempt: 7.8 (No. 3)
Adjusted completion rate: 85.6% (No. 4)
However, things get ugly rather quickly when Mayfield starts holding the ball too long. The following metrics are from when Mayfield releases the ball in more than 2.5 seconds:
PFF passing grade: 65.5 (No. 24)
Yards per attempt: 9.6 (No. 7)
Adjusted completion rate: 64.7% (No. 28)

Perhaps this explains why the Baker to Odell Beckham (14.3-yard average target depth) just didn't work out. Either way, look for Mayfield to continue to thrive as long as he can comfortably execute the Browns' scheme in a rather quick manner, although the Patriots do rank among the league's top-10 defenses in both yards per attempt and explosive pass play rate allowed on passes released in fewer than 2.5 seconds.
Bush-league ankle twists aside, Jones has had an impressive rookie season. The bar hasn't been high for Jones to clear relative to the 2021 NFL Draft's other quarterbacks but either way, the former Alabama signal-caller has operated as the best rookie at his position through nine weeks:
Jones' 18 total pass attempts in Week 9 demonstrate the reality that he hasn't always been asked to do a ton but either way, the 15th overall pick of the 2021 NFL Draft has exceeded his Year 1 expectations in a major way so far in 2021.
He has a tough matchup this week against Myles Garrett and the Browns' second-ranked defense in quick pressure rate (28%), but it's still tough to be anything other than pleased about Jones' performance thus far.
Much of the allure of Falcons head coach Arthur Smith came down to his ability to get the most out of his Titans offense with play-action passes. This has certainly been a successful element of this Atlanta offense through eight weeks, as Ryan ranks among the league's top signal-callers in most metrics when utilizing play-action:
PFF passing grade: 93.1 (No. 2 among 43 qualified quarterbacks)
Passing yards: 773 (No. 7)
Passing touchdowns: 7 (tied for No. 4)
Interceptions: 0 (tied for No. 1)
Yards per attempt: 8.8 (No. 22)
Adjusted completion rate: 85.2% (No. 5)
QB rating: 129.6 (No. 6)
The Cowboys have been one of the league's more-opportunistic defenses this season but failure to rack up turnovers or at least upset timing could be bad news against Ryan and company. 
Week 9 was absolutely brutal for essentially the entire Cowboys offense. Prescott simply wasn't making the throws that we're used to seeing him complete with ease. This was especially true when targeting CeeDee Lamb.
CeeDee Lamb had the most unrealized air yards in Week 9 (PFF, pre-MNF) pic.twitter.com/xbTJqJIRTe

— Ian Hartitz (@Ihartitz) November 8, 2021
Perhaps Prescott's calf was still giving him problems, although his mobility didn't seem to be an issue based on the eye test. Ultimately, the Cowboys had a bad week after functioning as the league's single-most prolific offense for the first eight weeks of the season. Bet on Prescott and this passing attack getting back on track against the league's eighth-worst defense in fewest fantasy points per game allowed to opposing quarterbacks.
At this point, the Panthers version of Darnold is arguably worse than the one with the Jets. Overall, Darnold has posted a career-low 71.3 QB rating through nine weeks while his yards per attempt (6.5) and PFF passing grade (62.2) are the second-lowest single-season marks of his career.
Nobody has a lower catchable pass rate than the Panthers when the intended target has been deemed open or wide open. Sheesh.
Darnold (shoulder) is playing through the pain but either way, don't expect things to improve ahead of a matchup against the Cardinals' fourth-ranked defense in fewest PPR points per game allowed to opposing quarterbacks.
Entering Week 9, Murray and the Cardinals had a league-high 67% catchable deep ball rate this season. Only the Seahawks (61%) were also over 60%. Nobody has a better PFF passing grade than Murray (99.2) when throwing at least 20 yards downfield, and his 47.2% big-time throw rate in these situations is truly absurd.
The going might not be as easy downfield if DeAndre Hopkins (hamstring) is again unable to suit up, but at this point, it's tough to expect anything other than greatness from Murray. This is particularly true in fantasy land: Murray joins Justin Herbert, Deshaun Watson and Patrick Mahomes as the only quarterbacks to average more than 21 fantasy points per game in NFL history.
Credit to Colt McCoy for performing admirably in Murray's absence in Week 9, but it'd sure be a lot cooler if the 2019 NFL Draft's No. 1 overall pick is able to suit up against a Panthers defense that ranks sixth in fewest fantasy points per game allowed to opposing quarterbacks. Of course, tough matchups mean a lot less against someone like Murray, who is capable of functioning as the best player on the field for 60 minutes straight when everything is clicking.
Cousins is PFF's highest-graded quarterback when kept clean this season. Unfortunately, things have gone south rather quickly when under pressure, as no starting quarterback has a larger difference in yards per attempt when kept clean (8.6) vs. when under pressure (3.7) than Cousins this season.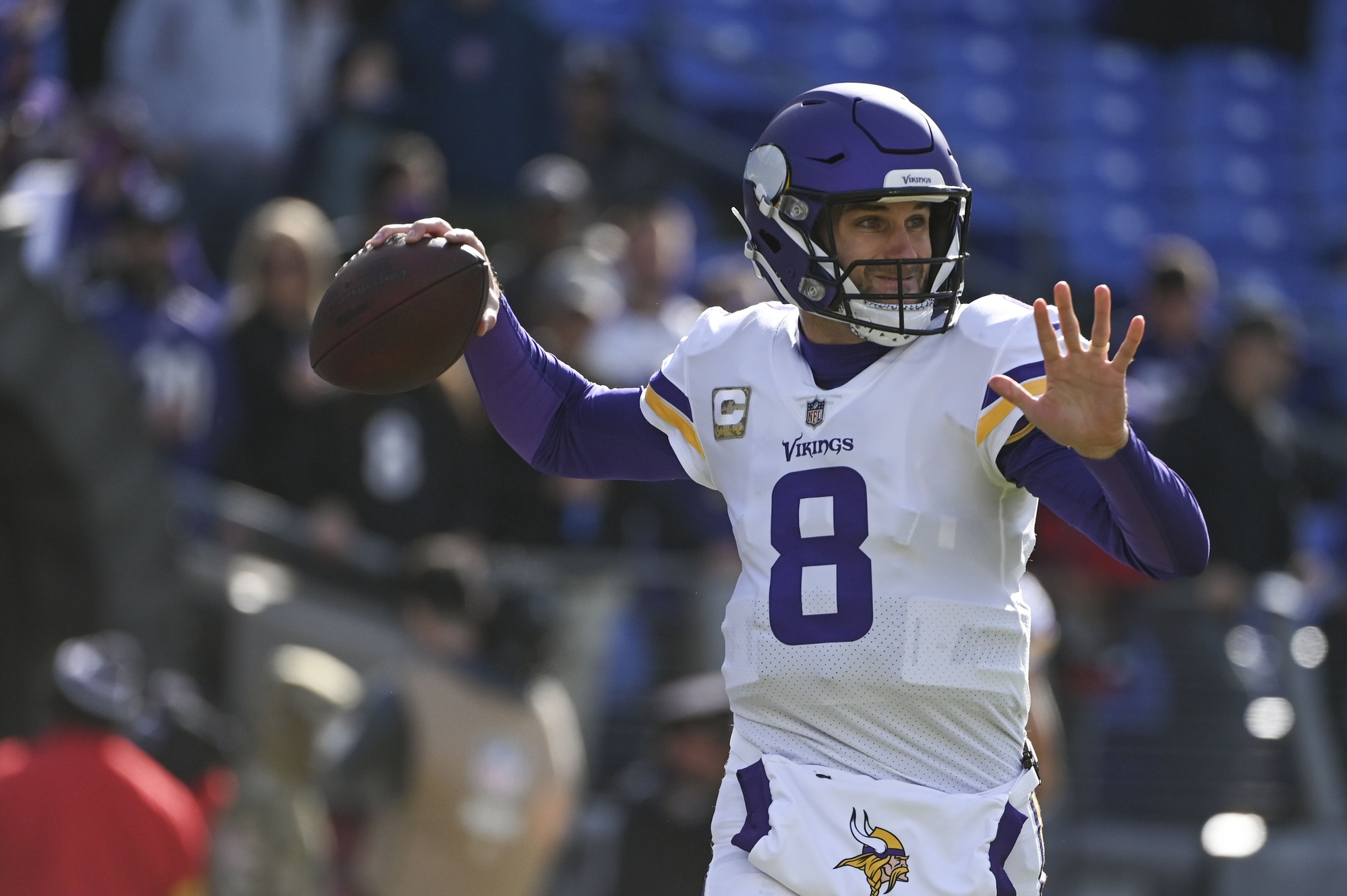 The Chargers rank just 24th in pressure rate (40.8%) and 21st in quick pressure rate (22%), so this matchup shouldn't bring out the worst in Cousins. Still, a big game from Joey Bosa and company could make it tough for Justin Jefferson and Adam Thielen to provide their usual top-tier production.
Herbert has started 23 career games. In those contests, he's cleared 300 yards and/or racked up at least three total scores on 18 occasions — good for a rather absurd 78% hit rate.
Up next is a Vikings defense that could see more bad than good days moving forward without stud edge rusher Danielle Hunter's (pec, IR) services. The only Viking ranked among the league's top-80 cornerbacks in terms of PFF coverage grade is Patrick Peterson, who is also on the injured reserve list due to a hamstring injury.
The Chargers have been a bit up and down after a hot first five weeks of the season so look for Herbert and company to chalk up more highlights than lowlights in Week 10.
Wilson is back under center for the Seahawks after Geno Smith filled in admirably during Weeks 5-8. Small sample size be damned, Wilson has functioned as arguably the NFL's single-most efficient quarterback in 2021:
PFF passing grade: 88.8 (No. 5 among 35 qualified quarterbacks)
Big-time throw rate: 8.8% (No. 2)
Turnover-worthy play rate: 0.0% (No. 1)
Yards per attempt: 9.6 (No. 1)
Adjusted completion rate: 80.0% (No. 4)
Credit to the Packers for largely shutting down Patrick Mahomes and company in Week 9 but just realize it's tough for anybody to limit Wilson and this passing game when they're clicking.
From last week:
"The top-five most efficient wide receivers in terms of yards per route run over the past two seasons have been as follows:
Things have been particularly unfair between the pair during the clutch: Adams has caught 32 of his 49 targets for 502 yards and a trio of scores in the fourth quarter or in overtime since 2020. He's averaged 3.59 yards per route run in these situations; no other wide receiver has topped 3.05."
Coach Matt LaFleur has already confirmed that Rodgers (COVID, IR) will be back under center next Sunday as long as he's eligible to return. Nobody should be happier than Adams, who converted a whopping 14 targets into a rather brutal 6-42-0 receiving line with Jordan Love under center last week.
No quarterback has a lower PFF passing grade than Love (28.6) in Week 9 but look for Rodgers and this passing game to rebound in a major way against a Seahawks secondary that doesn't have a single cornerback graded among PFF's top-50 in coverage grade this season.
All Hurts has done in his 12 career starts is put forward one fantasy-friendly performance after another:
Week 14, 2020: 167 pass yards-1 TD-0 INT, 18 carries-106 rush yards-0 TD, fantasy QB11
Week 15, 2020: 338-3-0 passing, 11-63-1 rushing, fantasy QB1
Week 16, 2020: 342-1-2 passing, 9-69-0 rushing, fantasy QB12
Week 17, 2020: 72-0-1 passing, 8-34-2 rushing, fantasy QB20 (in three quarters)
Week 1, 2021: 264-3-0 passing, 7-62-0 rushing, fantasy QB5
Week 2, 2021: 190-0-0 passing, 10-82-1 rushing, fantasy QB10
Week 3, 2021: 326-2-2 passing, 9-35-0 rushing, fantasy QB10
Week 4, 2021: 387-2-0 passing, 8-47-0 rushing, fantasy QB4
Week 5, 2021: 198-0-1 passing, 9-30-2 rushing, fantasy QB11
Week 6, 2021: 115-1-1 passing, 10-44-2 rushing, fantasy QB7
Week 7, 2021: 236-2-0 passing, 13-61-0 rushing, fantasy QB6
Week 8, 2021: 103-0-0 passing, 7-71-0 rushing, fantasy QB24 (in three quarters)
Week 9, 2021: 162-1-0 passing, 10-62-0 rushing, fantasy QB11 (pre-MNF)
He has a tough matchup on the horizon against Vic Fangio and a Broncos defense that just did a better job against the Cowboys than anybody else in 2021 but just realize Hurts' dual-threat talents give him a higher weekly fantasy floor than almost any other quarterback in the league.
Related content for you: NFL Week 10 fantasy football rankings, waiver targets & drop candidates via Sosa Kremenjas
The Eagles have been a top-10 defense in zone coverage usage all season, something that could be fairly problematic for Bridgewater. Overall, Bridgewater has functioned as a below-average quarterback against zone coverage in terms of PFF passing grade (68.6, No. 26 among 40 qualified signal-callers), big-time throw rate (1.2%, No. 37), turnover-worthy play rate (3.7%, No. 28) and yards per attempt (6.5, No. 34) alike.
Having Courtland Sutton, Jerry Jeudy and Tim Patrick at receiver should help matters but just don't expect Bridgewater to look quite as great as he did against the Cowboys' man-heavy defensive scheme.
One of the larger problems for Mahomes this season has been the absence of his typical off-script goodness. It makes sense that throwing in rhythm to Tyreek Hill and Travis Kelce is good for business, but Mahomes' ability to create something out of nothing was what typically separated him from the pack during past seasons. The following PFF passing grades are from Mahomes when he's not targeted his first read:
2021: 48.9 (No. 36 among 40 qualified quarterbacks)
2020: 84.8 (No. 4 among 41)
2019: 73.2 (No. 8 among 44)
2018: 90.4 (No. 1 among 42)
Virtually nobody can stop the Chiefs when they're operating at their best, but that simply hasn't been the case for most of 2021. Next Sunday night's date against Maxx Crosby and the Raiders' league-best defense in PFF pressure grade sure doesn't look like the sort of get-right spot this passing game desperately needs.
Week 9 wasn't pretty for Carr, but that doesn't change the fact that he's largely played the best ball of his career in 2021:
PFF passing grade: 83.1 (No. 3 best mark of Carr's career)
Big-time throw rate: 7.9% (No. 1)
Turnover-worthy play rate: 2.5% (No. 2)
Yards per attempt: 8.0 (No. 1)
Adjusted completion rate: 76.4% (No. 3)
Carr reserved his best football for the Chiefs in 2021, throwing for 622 yards and six scores against just a single interception in eight combined quarters against the Raiders' AFC West rival. The Chiefs allowed at least 29 points in each of the first five weeks before "fixing" their defense with solid performances against Taylor Heinicke (13 points), Daniel Jones (17) and Jordan Love (7). It's safe to say Carr doesn't belong in the conversation with those quarterbacks. Things could get surprisingly ugly in this one if Mahomes and company can't keep up on the scoreboard.
Stafford put forward his worst performance of the season during the Rams' Sunday night loss to the Titans. And yet, his ridiculous arm talent was still fully on display on a bomb to Van Jefferson that was unfortunately dropped.

Nobody has more completions on balls thrown at least 40 yards downfield than the Rams (five) this season, although the 49ers defense has posted the league's fifth-best explosive pass-play rate (11.8%) after nine weeks of action. Everything is easier when opponents have to respect the deep ball. Look for coach Sean McVay to get his franchise quarterback back on track with a couple of shot plays to break the ice.
Garoppolo wasn't horrendous in Week 9, but he was also bailed out on more than a few occasions by both George Kittle and Brandon Aiyuk. Through nine weeks, Garoppolo ranks dead last among 35 qualified quarterbacks in both big-time throw rate (1.9%) and turnover-worthy play rate (5.2%).
Basically, Garoppolo has simultaneously functioned as the league's worst quarterback in making "elite" throws and limiting mistakes. He's failed to provide any sort of upside while not taking care of the ball. Good luck against Aaron Donald, Jalen Ramsey and a potentially debuting Von Miller.
Free Trey Lance.
[/am4show]