The Fantasy Focus is a weekly column that breaks down everything you need to know to set your fantasy football lineups. Make your start and sit decisions with fantasy facts, injury information, matchups stats, predictions for the week and more.
Patience is a virtue, especially in fantasy football. It's easy to get caught up in the rapid pace of an NFL week and forget the big picture, but don't fall prey to that line of thinking. If a player has a bad game, oh well. It's happens. One game can be a fluke, and we shouldn't hold that against a player who we did seven months of evaluation on before the season started.
Davante Adams is a classic example. Fantasy owners were selling him for pennies on the dollar heading into this week. And then Thursday night happened, and we saw what we thought we'd see out of Adams. Patient owners reaped the rewards of Adams, who was likely their first-round pick. Impatient owners sold him off at a loss.
Of course, part of the process of being patient is knowing what the stats are telling us, and what we should expect each week. So let's dive in to what you need to know for all of the remain games on the Week 4 NFL slate.
Greenline: ATL -4.3, O/U 47
Fantasy facts: Matt Ryan leads the league with 12 end-zone throws through the first three weeks. He's converted six of these throws for scores. Typically, we see elite quarterbacks in this stat average three per game over the course of the season. While that likely means regression is coming for Ryan, the overall production of the Falcons' offense in the red zone is encouraging for Ryan's fantasy outlook along with those of Julio Jones, Calvin Ridley, and Austin Hooper.
Matchup upgrade: Speaking of Jones, the Falcons wideout is set up with another favorable matchup this week. We don't expect a shadow situation, but Jones should see plenty of primary coverage from Malcolm Butler. The veteran corner has already surrendered three touchdowns in his coverage this season.
Matchup downgrade: The matchups are fairly neutral in this contest, but we could give a slight downgrade to Ryan. The Titans enter the week as the No. 23 matchup for quarterbacks, and allow just net 6.6 yards per attempt. Only seven defenses rank better in that metric so far this year. While that information is enough to warrant fading Ryan in DFS, those in season-long leagues should continue to start him.
Key injuries: Ridley has been limited in practice this week with a hip, but he should be good to go. Ridley is coming off a down week where he caught just one ball against the Colts. Fantasy owners shouldn't panic. Ridley is still a WR2. … Keep an eye on Delanie Walker's status. The Titans tight end is dealing with a knee injury and missed practice on Wednesday and Thursday.
Greenline: NE -7.2, O/U 42.5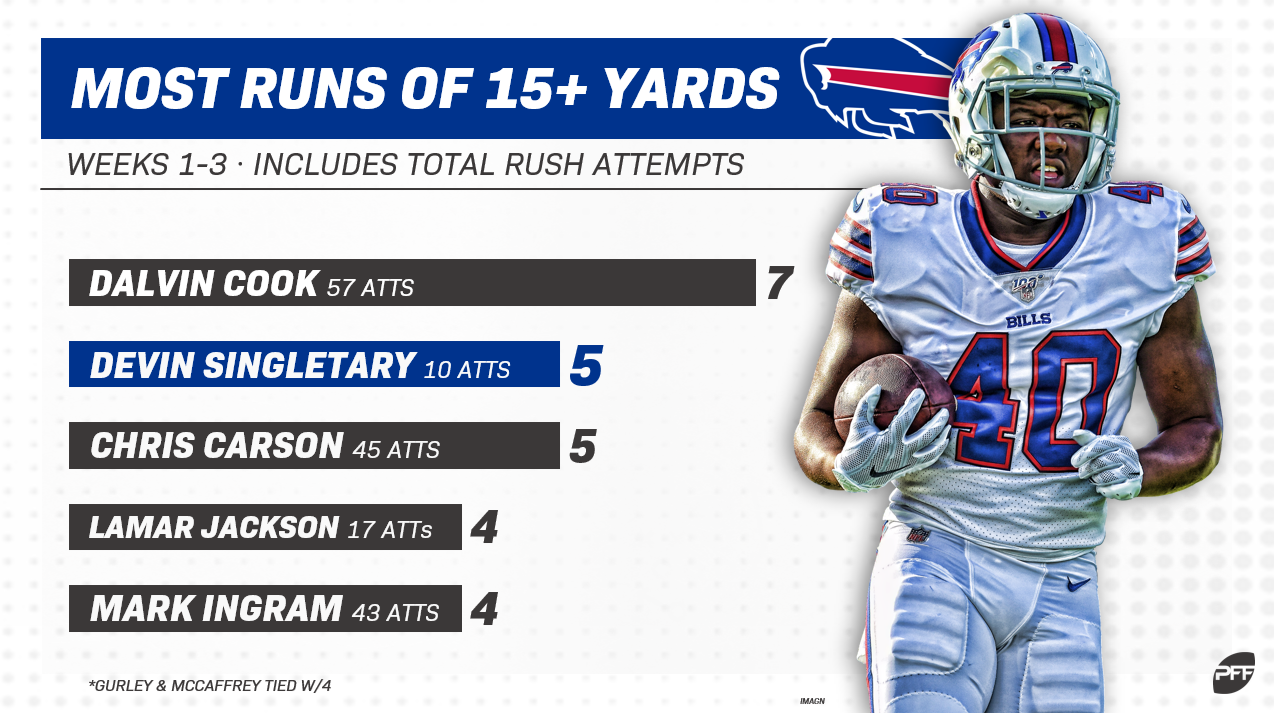 Fantasy facts: Dalvin Cook leads the NFL with seven runs of 15-plus yards on 57 carries this season. Devin Singletary has five on 10 carries. That certainly isn't a sustainable rate, but this stat does speak to just how dynamic Singletary has been this season. The rookie back isn't likely to assume lead duties at this point in the season, but his upside makes him an ideal roster stash for when he inevitably takes over as the starter later this season.
Singletary's teammate, Josh Allen, is currently leading the league with 13 scrambles. While Allen isn't the most productive passer in the league, his propensity to scramble helps his fantasy value. Last year, only Deshaun Watson had more scrambles than Allen.
Matchup upgrade: Believe it or not, there really isn't a good matchup to be had in this contest. The Patriots enter the week as one of the league's tough fantasy matchups, ranking 32nd for quarterbacks, and 31st for running backs, wide receivers and tight ends. The Bills aren't much better, coming in at 31st for quarterback, 19th for running back, 18th for wide receiver, and 27th for tight end. We're starting the usual suspects in this game, but don't get cute.
Matchup downgrade: The Bills found a strong weapon for Allen in John Brown. The veteran receiver has a skill set that meshes well with Allen's big arm. However, fantasy owners may want to fade Brown this week. He's likely to draw a shadow from Stephon Gilmore, who has been fantastic yet again this season. Through the first three weeks, Gilmore has held opposing wideouts to just 10.8 yards per catch.
Key injuries: A chest injury forced Julian Edelman from last week's win over the Jets. Edelman looks like he's on track to play this week after getting limited work in on Wednesday and Thursday. … Singletary managed to get a limited session in on Thursday, but his status is still up in the air for this week.
Greenline: KC -5.7, O/U 57.2
Fantasy facts: Kerryon Johnson tied with Mark Ingram for the league high with three goal-line carries in Week 3. While Johnson only converted one of the three for a score, that usage in the red zone is extremely encouraging. With C.J. Anderson out of the mix, the Lions fed Johnson 21 touches last week. Look for the volume to continue in this favorable matchup.
We all know Patrick Mahomes is good, but it's how he's good that has made him such an off-the-charts fantasy option. Mahomes has completed an astonishing 13-of-20 deep-ball throws for 526 yards and seven touchdowns. Only 12 quarterbacks have more than seven passing scores on deep-ball all of last season. Expect the video game numbers to continue for Mahomes.
Matchup upgrade: Kenny Golladay is coming off a fantasy dud in what should have been a favorable matchup against the fantasy-friendly Eagles secondary. If you own Golladay, don't panic. He's poised to bounce back in what should be a high-scoring affair. Golladay should see his share of Charvarius Ward and Kendall Fuller in coverage. Ward is currently allowing 15.5 yards per catch in his coverage, and Fuller has yielded 11 catches on 13 targets this season.
Matchup downgrade: There's a good chance Darius Slay travels with Sammy Watkins in this matchup. The Lions used Slay to shadow Keenan Allen in Week 2. While Allen did have six catches for 81 yards, that production was largely the product of heavy volume. Watkins doesn't have Allen's target ceiling, so a shadow from Slay could put a damper on his overall fantasy upside.
Key injuries: Damien Williams remains sidelined with a knee injury. He's trending toward not playing again this week, so look for LeSean McCoy and Darrel Williams to carry the load in the Chiefs backfield.
Greenline: IND -6.9, O/U 45.6
Fantasy facts: So far this season, end-zone throws have been hard to come by for the Raiders' offense. Last week, Derek Carr attempted zero throws to the end zone and he only has three on the season. While it's unlikely that Carr is being considered as a fantasy option outside of 2QB and superflex leagues, his lack of shots to the end zone puts a cap on the upside of Tyrell Williams and Darren Waller.
Matchup upgrade: T.Y. Hilton is still very much up in the air for Week 4, but his fantasy owners certainly want him to take the field in this favorable matchup. The Raiders cornerback duo of Daryl Worley and Gareon Conley have given up a combined 17 catches on 27 targets this season. A healthy Hilton should no problem shredding this matchup, but his health is far from guaranteed at this point.
Matchup downgrade: This one is the exact opposite of the Bills/Patriots game, as the matchups are generally good across the board. Oakland ranks as the ninth-best matchup for quarterbacks, ninth for running backs, eighth for wideouts, and 13th for tight ends. On the other side of this matchup, the Colts rank 11th for quarterbacks, and sixth for both running backs and tight ends.
Key injuries: Hilton did not practice on Wednesday and Thursday and is looking iffy for Week 4.
Greenline: LAC -13.9, O/U 43.8
Fantasy facts: So far this season, only three receivers has seen double-digit targets in the red zone: Keenan Allen (12), Mike Evans (11), and Preston Williams (10). One of these things is not like the others. Williams may be the lone fantasy bright spot in Miami right now. He saw 10 targets last week, including one in the end zone. Williams isn't a startable option outside of deep leagues, but he is someone worth stashing.
Matchup upgrade: What do you get when the league's most heavily targeted wide receiver faces one of the worst pass defenses? We'll find out with Allen against the Dolphins this weekend. Miami has gotten roasted by opposing receivers in 2019. Allen could see a shadow from Xavien Howard in this contest, but fantasy players shouldn't be worried. Amari Cooper had no problem in that matchup coverage last week, finding the end zone twice in Howard's coverage. Allen is poised to go off again. Likewise, don't throw the towel in on Mike Williams just yet. He saw seven targets last week and gets just as good of a matchup as Allen this week.
Matchup downgrade: DeAndre Hopkins saw a shadow from Casey Hayward on 75% of his routes in Week 3. He had zero catches on one target in Hayward's coverage. If Hopkins struggled against Hayward, there's no hope for DeVante Parker this week.
Key injuries: The oft-injured Albert Wilson has a chance of getting back on the field this week after getting limited work in at practice on Wednesday and Thursday. Wilson certainly has upside, but he's just a player to monitor at this point.
Greenline: NYG -2.1, O/U 48.5
Fantasy facts: There's a seven-way tie for the league lead in end-zone targets with four. Terry McLaurin is one of those seven receivers. The rookie is off to a strong start to the season, ranking 11th among wideouts in fantasy scoring. Of course, it should be noted that McLaurin did pop up on the injury report on Thursday. Keep a close eye on his practice status on Friday. A "DNP" would put him at risk of not playing this weekend.
Matchup upgrade: If McLaurin does suit up, he'll draw a favorable WR/CB matchup along with Paul Richardson. The Giants outside corner duo of Janoris Jenkins and DeAndre Baker have struggled mightily this season, combining for a massive 30 catches surrendered for 578 yards and five scores. The Redskins passing game is a good bet to go off this week.
Matchup downgrade: With Saquon Barkley out for 4-8 weeks, the Giants will turn to Wayne Gallman as their lead back. If you picked up Gallman, don't expect him to produce even remotely close to what you got out of Barkley for fantasy. Gallman is more of a low-upside RB2. And this week it's tough to trust him as anything more than a flex. While the Redskins haven't performed well against the pass, they are the No. 23 fantasy football matchup for running backs so far.
Key injuries: Keep an eye on McLaurin's status.
Greenline: BLT -5.9, O/U 45.3
Fantasy facts: Fantasy owners are down on Baker Mayfield after a sluggish start to the season, but the numbers suggest this might be an overreaction. In a tough matchup last week, Mayfield attempted six end-zone throws. Sure, he only converted on one for a score, but this number is encouraging for Mayfield, as we should see positive regression going forward. The buy-low window on Mayfield is open.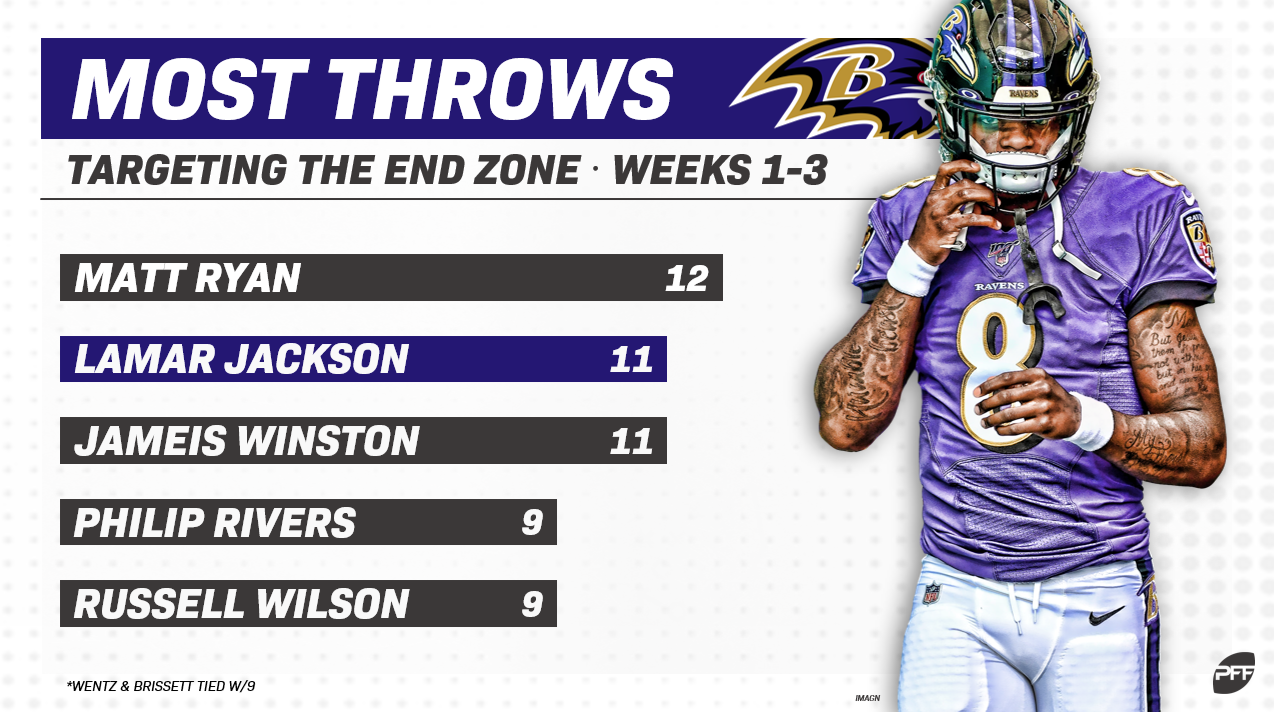 Speaking of throws to the end zone, Lamar Jackson is one of three QBs to have more than 10 end-zone throws this season with 11 of them. Jackson attempted seven throws to the end zone in Week 3 but didn't convert any for scores. So while his fantasy numbers weren't especially good, Jackson still offers massive weekly upside.
Matchup upgrade: Good matchups are going to be tough to come by in this contest. The Ravens has been especially stingy against the run, and Cleveland has done a good job of holding opposing passing games in check.
Matchup downgrade: Of course, the matchups could be a lot better on the Ravens side if Greedy Williams and Denzel Ward aren't able to suit up. Both corners missed practice on Wednesday and Thursday. If they are able to play, it'll be a downgrade for Marquise Brown's fantasy outlook.
Key injuries: Mark Andrews managed to gut it out and play last week, but his foot injury has kept him off the practice field this week. It's wise to have a fallback plan in place in case Andrews sits this week.
Greenline: HST -4.8, O/U 47.6
Fantasy facts: Over the first two weeks of the season, Cam Newton attempted zero end-zone throws. Last week, Kyle Allen had three of them, converting two for scores. To be fair, this production did come against a shaky Cardinals secondary, but Allen's presence in the offense seems to be a good thing for the Panther's passing game.
Matchup upgrade: Not only that, but D.J. Moore also draws a favorable WR/CB matchup this week. Moore will draw primary coverage from rookie Lonnie Johnson Jr. The second-round pick in April's draft has struggled to start the season, grading out a lowly 95th out of 100 qualifying cornerbacks. Look for Moore to have his way in this matchup.
Matchup downgrade: The Panthers have been no joke against the pass this season, allowing just 5.3 net yards per attempt and holding opposing quarterbacks to the eighth-fewest fantasy points per game. While that certainly doesn't sound good, Deshaun Watson owners in season-long leagues shouldn't overthink it. He's an every-week starter. However, this matchup is enough to move the needle off Watson in DFS.
Key injuries: The Panthers are going to be without Newton for a while, as the quarterback is dealing with a Lisfranc injury.
Greenline: LA -9.6, O/U 49.8
Fantasy facts: Fantasy football players love to hate Jameis Winston, but the Bucs quarterback is showing signs that a breakout is still on the table this season. Sure, last week's numbers were the product of matchup, but Winston is one of just three quarterbacks to have more than 10 end-zone throws through the first three weeks of the season. He has 11 and has scored on three of them. Winston owners should be aware that this is a rough matchup, but better days will be ahead.
Matchup upgrade: The secondary has been a soft spot for the Bucs defense in recent seasons, and that means good things if you have any piece of the Rams' wide receiver corps. Cooper Kupp is coming off a big Week 3 performance and draws a favorable WR/CB matchup against M.J. Stewart. The slot corner has allowed 10 of his 16 targets to be caught this season.
Matchup downgrade: While the Bucs struggle against the pass, they've been excellent against the run. Tampa currently allows the fewest fantasy points per game to running backs. That isn't what you want to hear if you own Todd Gurley, as it could be tough sledding this week. Gurley still has a favorable outlook for the rest of the season, though, so this could be an optimal time to buy low.
Key injuries: Keep an eye on Chris Godwin's status. The Bucs wideout missed practice on Wednesday and Thursday with a hip injury. He got back on the field on Friday but is far from a lock to play.
Greenline: SEA -6, O/U 47.4
Fantasy facts: David Johnson has yet to face base defense on any of his rushing attempts this season. This isn't a huge surprise, given how Kliff Kingsbury's offense spreads things out. However, for fantasy purposes, this means that Johnson is at an advantage nearly every time he touches the ball as a runner. It may not come this week, but expect a blow-up performance from Johnson in the near future.
Matchup upgrade: D.K. Metcalf has been targeted at least 20 yards downfield on 44% of his targets this season. That's a high rate that means good things for big play upside. Better yet, he gets a fantastic matchup against the shaky Cardinals secondary. Both Metcalf and Tyler Lockett get an upgrade this week.
But it isn't just the Arizona receivers. Christian Kirk and Larry Fitzgerald also get a bump on the other side of this contest. The Seattle cornerback trio of Shaquill Griffin and Tre Flowers on outside and Jamar Taylor in the slot has allowed three passing scores and a combined 23 catches already this season.
Matchup downgrade: Chris Carson is coming off a down game in Week 3 and could struggle again in this contest. Arizona is another one of the many defenses in the league that struggles against the pass but holds opposing running backs in check. The Cardinals enter this week as the No. 26 fantasy matchup for running backs, so downgrade your expectations for Carson this week.
Key injuries: Rashaad Penny missed last week's contest with a hamstring injury. The Seahawks back was able to get to limited on Wednesday after missing Wednesday's session, but his status is still up in the air.
Greenline: CHI -2.3, O/U 38.5
Fantasy facts: Only one player has three 100-yard rushing games this season. His name is Dalvin Cook. But let's be clear that this isn't just a one-man show in Minnesota. Rookie Alexander Mattison has made the most of his opportunities and currently averages 0.49 fantasy points per snap. That number equals Alvin Kamara's efficiency and ties for 11th-best in the league. If Cook were to go down with injury, Mattison would be an instant RB1.
Matchup upgrade: It isn't easy to find a good matchup in this contest, but we may actually be able to find some value at tight end. The Vikings are allowing 7.7 receptions per game to the position. Only the Chiefs have allowed more catches per game to tight ends this season. Trey Burton hasn't done much this season, but he did post four catches on four targets in Week 3. He's in play as a sneaky streamer option.
Matchup downgrade: We're downgrading the wideouts on both sides of this contest. Expect Allen Robinson to see a shadow from Xavier Rhodes. The Vikings corner held Robinson to one catch on two targets for 17 yards in a shadow situation back in Week 11 last season. We don't expect shadow coverage on the other side, but the play of Kyle Fuller and Prince Amukamara puts a damper on the already lackluster outlooks for Adam Thielen and Stefon Diggs.
Key injuries: Taylor Gabriel was a hot waiver commodity this week following his three-touchdown outburst on Monday night, but Gabriel also landed in the concussion protocol and has yet to practice this week. It could be tough for Gabriel to get on the field this week given the quick turnaround.
Greenline: DEN -3.9, O/U 38.7
Fantasy facts: The Jaguars may have found themselves something in Gardner Minshew. The rookie has played well on the field and has posted encouraging numbers for fantasy purposes. Last week, he tossed four end-zone throws against the Titans. That's more than Jared Goff has thrown on the season. While this week's matchup is a tough one, Minshew remains squarely on the backend QB2 radar.
Matchup upgrade: Though it isn't a fantastic matchup, Leonard Fournette is in a favorable position to produce this week with the Broncos currently allowing the 12th-most fantasy points per game to running backs. Denver has surrendered a league-high five rushing touchdowns to opposing running backs this season.
Matchup downgrade: The Broncos used Chris Harris as a shadow for the second straight game last week. Harris was on Davante Adams on 68% of his routes. Adams caught both of his targets for 36 yards in Harris' coverage. While we don't think he's going to shadow again this week, Harris' presence doesn't bode well for D.J. Chark. Look for the young receiver to come back to earth this week.
Key injuries: None
Greenline: DAL -1.5, O/U 47.9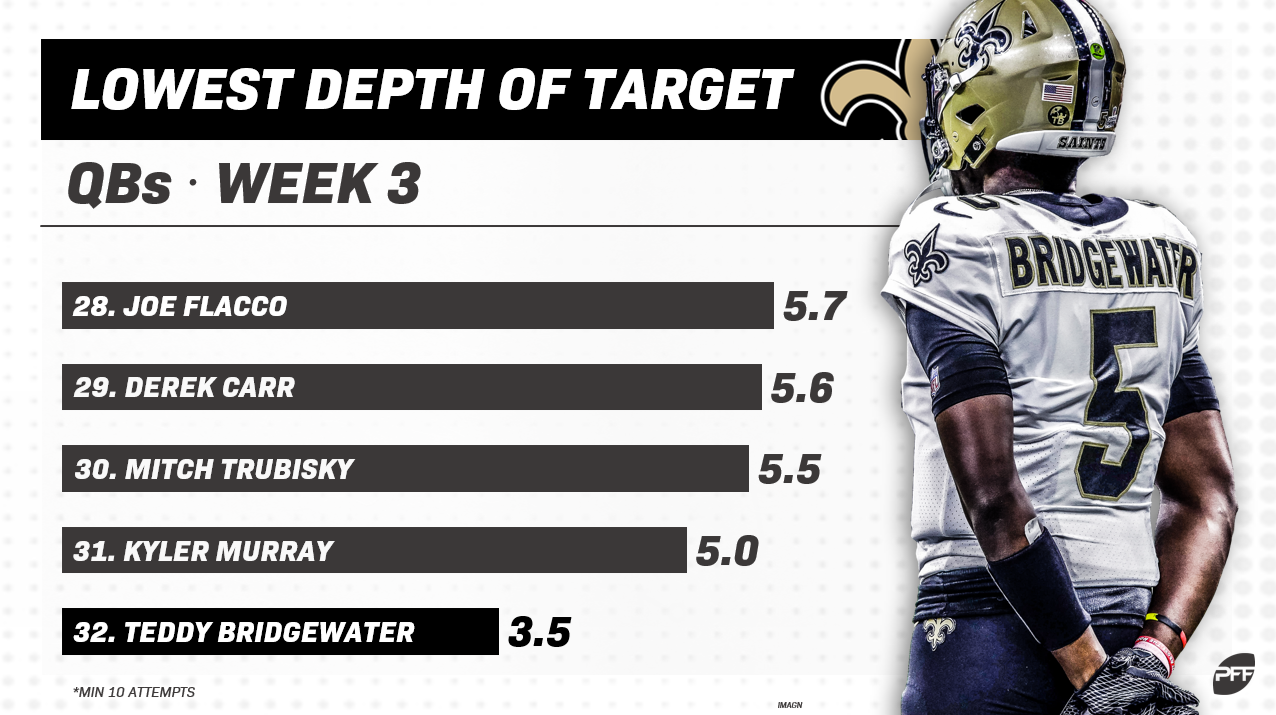 Fantasy facts: Teddy Bridgewater posted a respectable 177 yards and two scores as the starter for the Saints last week. Those numbers don't jump off the page, but there's nothing wrong with them. However, a closer look does show one alarming number. Bridgewater threw the ball downfield an average of 3.5 yards. That's such a low average depth of target that he was essentially handing the ball off. If we don't see Bridgewater start to push the ball downfield more, we aren't going to get any upside out of the Saints passing game with the one notable exception of Alvin Kamara. He was incredible yet again last week, forcing a massive 12 missed tackles as a runner and receiver. He's currently second in the league with 22 forced missed tackles. Kamara is an elite fantasy option regardless of who's under center.
Matchup upgrade: Amari Cooper draws another tasty WR/CB matchup this week against the Saints. Marshon Lattimore was once talked about as one of the league's budding stars at cornerback, but he's struggled mightily this year. Lattimore currently leads the league in both catches allowed (20) and yards allowed (341) in his coverage. Eli Apple isn't faring much better, with a massive 28.5 yards per catch in his coverage. Fire up Cooper with confidence and look for a reason to get Randall Cobb in DFS lineups. He'll see P.J. Williams out of the slot, which has been one of the league's best matchups over the last two seasons.
Matchup downgrade: The Saints have allowed just one rushing score to opposing running backs this season. That isn't a reason to be concerned about Ezekiel Elliott in season-long leagues, but fading the Dallas back in DFS isn't the worst idea.
Key injuries: Cooper had a precautionary MRI on his ankle this week, but the results came back negative. Cooper should be good to go this week. … The same can't be said for Tre'Quan Smith. The Saints receiver did not play last week and has yet to get back on the practice field.
Greenline: PIT -3.2, O/U 43.1
Fantasy facts: Andy Dalton only has two end-zone throws on the season. This has been a theme in today's column, so you likely already know what's coming next. With so few shots to the end zone, Dalton is not only limited his own fantasy upside, but he's also limiting the rest of the Bengals' passing game.
Matchup upgrade: That being said, Tyler Boyd doesn't necessarily have to find the end zone to be a good PPR option. He's in play with an upgrade this week out of the slot versus Mike Hilton. The Steelers cornerback has allowed seven catches on eight targets for an average of 14.9 yards per reception this season.
If James Conner doesn't get it done this week, it's okay to start panicking. This is a crazy-good matchup for Conner, with the Bengals entering the week as the No. 1 matchup for running backs. Opposing backs average a massive 5.2 yards per carry and have found the end zone four times against Cincinnati this season.
Matchup downgrade: The Bengals have struggled against the run, but have held opposing passing games in check. Mason Rudolph struggled last week, and we could see more of the same from the young signal-caller in this contest. While you're starting JuJu Smith-Schuster no matter what, it's tough to trust any other piece of the Pittsburgh passing game.
Key injuries: Vance McDonald suffered a shoulder injury last week, but all reports suggest he's going to play this week.