Welcome to the Week 7 edition of the fantasy football facts and stats to know for DFS. In this column, we leverage PFF's extensive football data to uncover player and team matchup-specific situations with important fantasy football and DFS implications.
Last week's column featured a barrage of fantasy goodness: Stefon Diggs, Curtis Samuel, Chris Carson, Lamar Jackson, George Kittle, Austin Hooper, and Kenny Golladay. In fact, three players that we highlighted (Diggs, Carson, and Hooper) were in the winning DraftKings Millionaire Maker lineup. Let's see if we can do even better this week.
Here are the facts and stats to know for Week 7: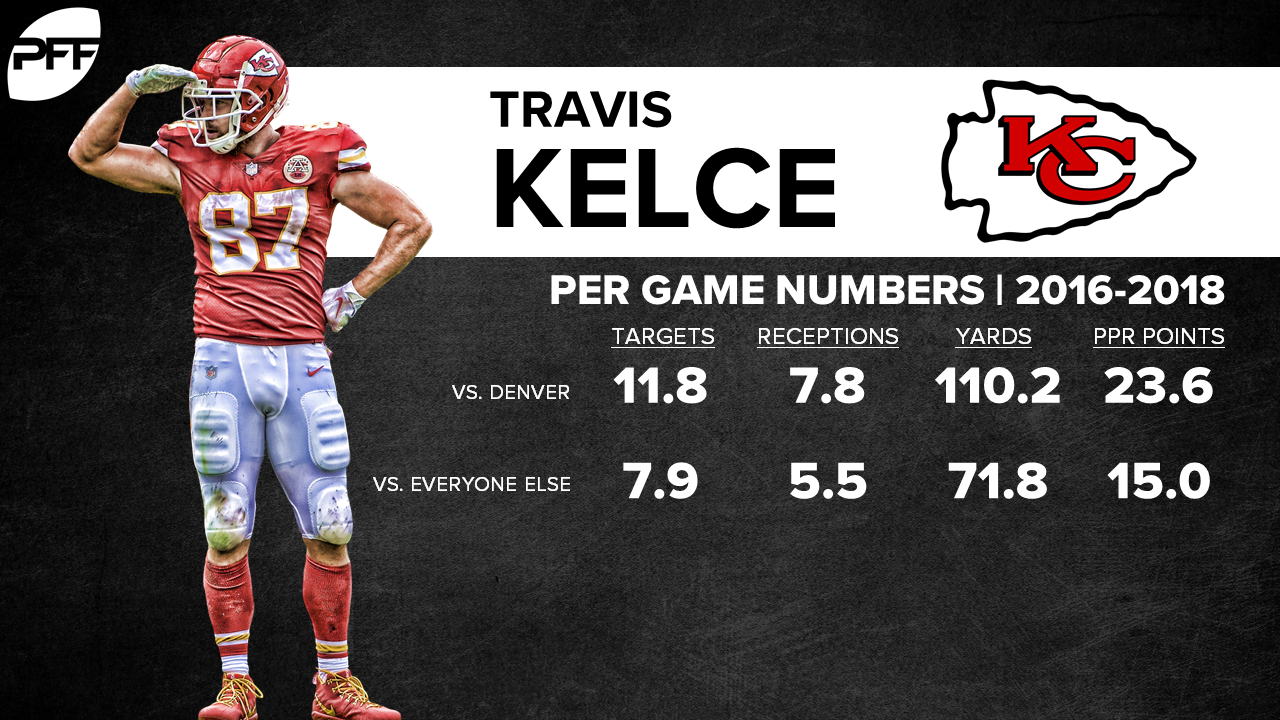 Happy Travis Kelce week! Kelce has owned the Broncos in four straight games:
2018: 7-78-1 on 12 targets
2018: 6-79-1 on 10 targets
2017: 7-133-1 on 10 targets
2016: 8-101-0 on 15 targets
Positive touchdown regression is long overdue for Kelce as he has 12 red-zone targets (most among tight ends), yet somehow only one touchdown. A matchup against Broncos safety Justin Simmons is not daunting — PFF charts Kelce with a 25% advantage there.
An emerging Broncos pass funnel tilts this matchup even further toward the air. While the Broncos rush defense has a poor reputation and middling overall seasonal numbers, their recent splits tell a different story. Over the last two games, the Broncos rush defense has been top-notch in bottling up Derrick Henry and Austin Ekeler/Melvin Gordon — only 0.3 rushing yards before contact (second-best) and 1.7 rushing yards after contact (fourth). If the Broncos are indeed a pass-funnel unit, Patrick Mahomes will happily oblige.
The Josh Allen-to-John Brown connection has been quiet since their Week 1 party against the Jets, but a matchup against a Dolphins secondary bleeding explosive plays should reignite the fun. The Dolphins are allowing big plays of 15-plus yards on 25% of pass attempts, the highest rate in the league, while getting torched on deep throws beyond 20 yards — 57% completion rate (third-most), six touchdowns (second), and a 121.5 passer rating (fourth). Further, PFF's WR/CB matchup chart has Brown with the No. 12 ranked cornerback matchup against Miami's Ken Webster.
The latest #FishTank development is the return of Ryan Fitzpatrick at quarterback, which should have the Bills defense salivating. Since 2016, PFF has charted Fitzpatrick with a turnover-worthy play every 19.1 pass attempts, the second-highest rate among all quarterbacks, behind only serial interception thrower Jameis Winston.
The Bengals defense gets steamrolled by the running game seemingly every single week, with Lamar Jackson being the most recent beneficiary. They have faced a league-high 209 rushing attempts (21 more than any other team) and are getting trucked both before contact with 443 rushing yards (most) and after contact with 621 rushing yards (most). They also allow runs of 10-plus yards on 17% of rushing attempts, the second-highest rate in the league. Of course, this sets up beautifully for Leonard Fournette to see a boatload of carries and run rampant through the Cincinnati defense. Fournette currently leads all running backs with 458 rushing yards after contact and has 15 rushes of 10-plus yards (third-most). PFF's consensus rankings have Fournette as the No. 2 running back for this week.
This column was on both Adam Thielen in Week 5 and Stefon Diggs in Week 6 for their respective eruptions, courtesy of the dream combination of squeaky wheel and plus matchup. Now that Thielen and Diggs have been properly greased, the Vikings can go back to doing what Mike Zimmer loves most — running the football with Dalvin Cook, where his 371 rushing yards after contact are fourth-most. Minnesota's favorite rush concept is outside zone, which they use on 47% of rushing attempts, more than any other team in the league. The Lions have big Damon Harrison plugging up the middle, but they struggle containing outside zone in allowing 5.5 yards per carry (fourth-most). Cook is PFF's top-ranked running back this week.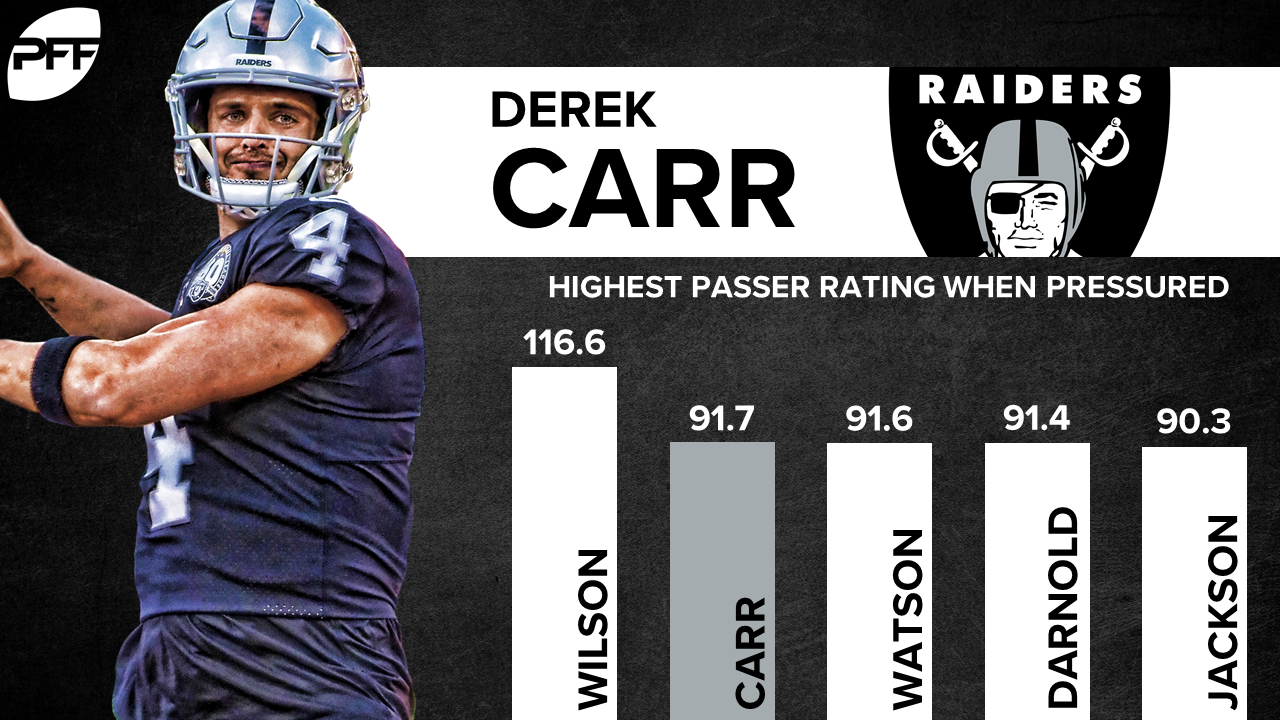 The vastly improved Packers defense pressures opposing quarterbacks on 42% of pass plays, the second highest rate in the NFL. Surprisingly, Derek Carr has handled pressure well this year — tossing two touchdowns with a 91.7 passer rating (second-best among all QBs). Oakland's offensive line has actually held up in pass protection — Carr's 25% pressure rate is the lowest among all 32 starting QBs. Whether clean or pressured, Carr will look Darren Waller's way, as his 42 targets are nearly double the next-closest Raiders player. PFF's projections have Waller approaching a 6-60 line, which feels like his floor, and there is certainly upside for more. Waller could be a play that goes overlooked (check out DFS ownership projections here) despite an affordable $4,700 DraftKings price tag.
Jared Goff threw for an embarrassing 78 yards in last week's meltdown vs. the 49ers, but a matchup against the fantasy-friendly Falcons should wash out the sour taste from Rams fans and fantasy owners alike. The Rams wide receiver trio has plus matchups across the board: Cooper Kupp (sixth-best), Robert Woods (11th), and Brandin Cooks (18th) all have top-20 WR/CB matchups. While we can't go wrong with any of these three options, Kupp undoubtedly has been Goff's favorite receiver — his 30% slot target share ranking first among all slot receivers. Kupp is PFF's No. 2-ranked wide receiver this week for a reason.
T.Y. Hilton goes to sleep at night dreaming of his ceiling games against the Houston Texans:
2018: 9-199-0
2018: 4-115-0
2017: 5-175-2
2016: 9-115-1
PFF projects Hilton with the top WR/CB matchup against Johnathan Joseph, who was toasted last week by a similarly speedy receiver in Tyreek Hill (5-77-1 line). Hilton's $5,900 price tag on DraftKings sticks out like a sore thumb — if ownership projections rise too high, a tournament fade may be warranted. Hilton is a boom/bust receiver — here are his duds vs. the Texans:
2018 (AFC Wild Card): 5-85-0
2017: 3-14-0
2016: 3-49-0
We should also keep Marlon Mack in mind, with the Colts being a 1.5-point home favorite as of this writing. PFF's offensive line/defensive line matchup chart projects the Colts O-Line with the week's second-biggest mismatch over the Texans D-Line, en-route to a 43% chance of a rushing touchdown. Mack has 11 runs of 10-plus yards (ninth-most), with five going for 15-plus yards (eighth). The Texans defense allows 10-plus yards on 14% of rushing attempts, the fourth-highest rate in the league.
Dante Pettis is finally being integrated into the 49ers offense and his snap rate reached a season-high of 71% last week, where he also had a season-high six targets and dropped a should-have-been touchdown — Pettis feels like a breakout waiting to happen. He lines up all over the field (42% outside left, 31% slot, 27% outside right) and will take his turn matched up against a Washington cornerback carousel that has allowed 157 catches (third-most) and 14 touchdowns (third). Josh Norman has been Washington's biggest liability in coverage, allowing a whopping five touchdowns (most) and 134.2 passer rating (seventh). Priced at just $4,100 on DraftKings, Pettis could be a cheap and low-owned piece for tournament lineups.
We are entering Week 7 and the Giants secondary has still not figured out how to cover opposing wide receivers — 1,822 yards (second-most), 13.5 yards per catch (second), and 10 touchdowns (10th). Their pass rush is not helping matters with a miserable 29% pressure rate (27th) — PFF charts Arizona's offensive line with a 24% advantage in this matchup. Rather than guess on a specific pass catcher in Arizona's spread-the-wealth passing attack, let's focus on Kyler Murray and capture the entire offense. Murray thrives on the short passes with a depth of target below 10 yards — 145 attempts (second-most), 858 yards (third), and five touchdowns (fifth). Conveniently, the Giants are allowing a generous 7.0 yards per play on throws with a depth of target below 10 yards (third-most).
Arizona's struggles with tight ends is well documented, but let's rehash their production surrendered thus far — 56 targets (fourth-most), 46 catches (most), 82% catch rate (second), 599 yards (102 more than anyone else), and seven touchdowns (three more than anyone else). PFF analysts Scott Barrett and Daniel Kelley rank Evan Engram as this week's No. 1 tight end. Keep an eye on ownership, but fade Engram at your own peril.
The squeaky wheel narrative is back for a third straight week, so let's see if we can go 3-for-3. The Chargers were blasted by the Steelers in front of the entire country and nobody was more upset about their pitiful performance than Keenan Allen. Opposing offenses are attacking the Titans via the slot, where Logan Ryan has seen 35 targets (second-most) for 22 catches (second), at a rate of 4.7 cover snaps per target (fifth). PFF fantasy consensus ranks agree — Allen is this week's No. 5 wide receiver.
Teddy Bridgewater is very comfortable in a clean pocket with a 115.1 passer rating (seventh among all QBs) and 7:1 touchdown:interception ratio. Compare this to his stats under pressure, where Bridgewater's rating drops to 56.4 (28th) and he has yet to throw a touchdown pass. We can all agree that going into Chicago against an extremely stout Bears defense is a tough spot for the entire Saints offense. And yet, the Bears defense is priced all the way down to $3,000 (eighth-highest defense) on DraftKings and $4,500 on Fanduel (sixth). Khalil Mack is up to his usual QB terrorizing ways with PFF's No. 1 pass-rushing grade and 28 total pressures (11th among edge defenders). The Bears defense could be a sneaky tournament pivot (check out ownership projections) off the extremely expensive and popular Bills and 49ers defenses.
Mark Andrews has been a revelation this season, with his 2.59 yards per route run ranking second among tight ends, trailing only George Kittle. Seattle's coverage unit is handing out tight end production like candy — 44 targets (fifth-most), 405 yards (fourth), three touchdowns (fifth), and a 118.1 passer rating (seventh). PFF's tight end natchup chart ranks Andrews with this week's top matchup at a preposterous 56% advantage (next-highest is 32%).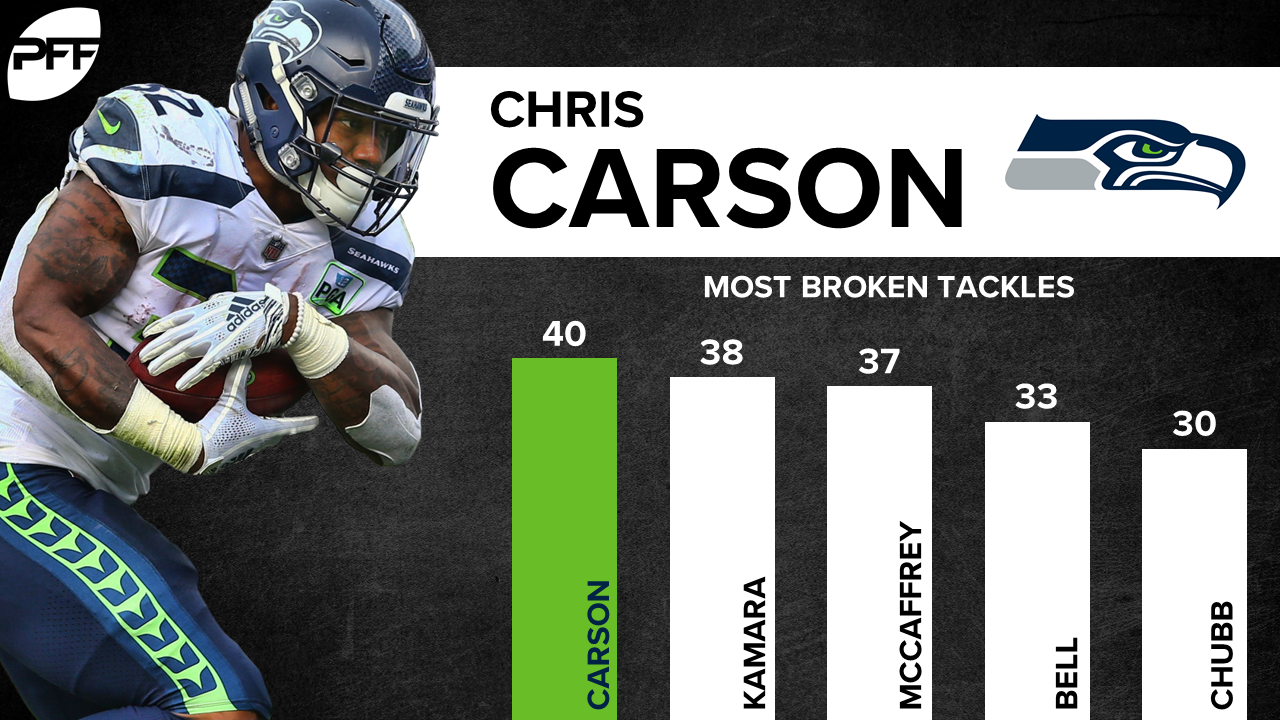 We were all over Chris Carson for his smash performance last week and with Rashaad Penny banged up, Carson still has the backfield all to himself. We will go right back to the well in a matchup against a vulnerable Baltimore defense that is living on reputation more than production, allowing 2.2 rushing yards before contact per attempt (third-most). Defenses are having major issues tackling Carson as he leads the league with 40 forced missed tackles and ranks second with 449 rushing yards after contact.
The Eagles continue to be one of the league's premier pass-funnel units, and Kirk Cousins/Stefon Diggs were the latest to join in on the parade. Specifically, the Eagles secondary gets thrashed by outside wide receivers — 111 targets (most), 1,024 yards (most), and 9 touchdowns (most). With Amari Cooper highly questionable, Michael Gallup (85% wide snap rate) will have an opportunity to join in on the festivities. Despite busting last week vs. the Jets, Gallup is averaging 2.80 yards per route run (fifth among all WRs). PFF's WR/CB matchup chart ranks Gallup as the 17th-best wide receiver this week.
For all the glory that has been the Patriots defense thus far, New England has shown cracks in run defense, allowing 3.4 rushing yards after contact per attempt (second-most) and missing a tackle every 5.7 attempts (14th). However, the Patriots cupcake schedule has been so easy that their opponents fall too far behind to capitalize — New England has faced a league-low 28% of rushing attempts. With the return of Sam Darnold, the Jets are no longer a pushover and they are likely to treat this divisional island game at the Meadowlands as their Super Bowl. Expect the Jets to force feed Le'Veon Bell, which has the dual benefit of keeping Tom Brady off the field and avoiding the Patriots lockdown coverage unit. Bell's 33 missed tackles forced are fourth most among all running backs.