Free agency is right around the corner. PFF didn't rank a running back higher than 69th in its 2022 free agent rankings, but obviously the position is a bit more important in fantasy land than in real life.
What follows is a look at 13 key situations to monitor in both free agency and the draft over the next few months based on expected backfield turnover that could lead to some early buy opportunities in both best ball and dynasty land. Obviously, surprise releases, trades and draft picks can overhaul any backfield in a hurry; this is just an early look at situations that appear poised to have a decent amount of carryover in some way, shape or form.
---
Click here for more PFF tools:
Rankings & Projections | WR/CB Matchup Chart | NFL & NCAA Betting Dashboards | NFL Player Props Tool | NFL & NCAA Power Rankings
Best Bets Tool
---
Teams are listed alphabetically. Salary cap information is courtesy of the fine folks at Over The Cap. Great day to be great.
Situation: Both James Conner and Chase Edmonds are unrestricted free agents.
Why you should care: Say what you will about Kliff Kingsbury: The man enables fantasy-friendly running backs like clockwork. Each of David Johnson, Kenyan Drake, Conner and Edmonds have posted RB1 production when trusted as this backfield's workhorse over the past three years; the question is whether or not the Cardinals are comfortable leaning on either of the latter two backs as *THE* running back ahead of 2022.
Historically, dual-threat quarterbacks aren't great for enabling fantasy-friendly running backs due to their tendency to 1.) scramble instead of checking down, and 2.) siphon away goal line touches. Still, the Cardinals have been a bit of an exception to the rule, as their running backs have collectively ranked 17th in targets and fourth in carries inside the 5-yard line over the past three seasons. Not necessarily world-beating marks, but this has produced one high-end fantasy back after another when coupled with the sort of 80%-plus snap shares Kingsbury has regularly handed out.
Both Conner and Edmonds have proven capable of returning legit RB1 production when entrusted with the offense's three-down role, while each were solid-enough low-end RB2 types when both were healthy in 2021. It remains to be seen who, if either, will be given the lead nod in 2022; just realize the Cardinals' RB1 figures to keep on keeping on as a high-end fantasy asset as long as Kyler Murray and Kingsbury continue to lead this offense.
Situation: Cordarrelle Patterson is an unrestricted free agent.
Why you should care: Fantasy football's 2021 most-improved player, Patterson posted 153-618-6 rushing and 52-548-5 receiving lines on his way to working as essentially the Falcons' only source of consistent offense.
Of course, this season was a bit of an outlier for C-Patt; his 11 total touchdowns were as many as he registered on offense from 2014-2020 combined. It's not like the Falcons' 26th-ranked scoring offense had many redeemable traits worthy of replicating; it'd make sense if Atlanta doesn't match any semi-lofty bids for the soon to be 31-year-old playmaker.
Losing Patterson would leave Mike Davis as the next man up, but the Falcons' reluctance with featuring him in 2021 makes it unlikely they do so in 2022. Atlanta is one of just nine teams with fewer than $3.5 million devoted to their backfield ahead of next season; whoever winds up being tasked as the next lead back could be looking at a floor of 200 touches, while the ceiling resembles something close to the monstrous workload head coach Arthur Smith handed Derrick Henry during his record-breaking 2019-2020 seasons.
Situation: Melvin Gordon is an unrestricted free agent.
Why you should care: It's easy to be infatuated with Javonte Williams' Year 2 blowup potential. The rookie trailed only college teammate Michael Carter in most forced missed tackles per touch among all running backs with at least 50 touches last season; attempting to tackle Williams in the open field was largely a waste of time for defenders of most shapes and sizes in 2021.
Free Javonte Williams pic.twitter.com/Pa4ZMhuenY

— Ian Hartitz (@Ihartitz) November 30, 2021
Gordon was far from washed in 2021, but Williams will go from an upside RB2 to potential top-five option at the position if the ex-Chargers veteran takes his talents elsewhere. There's some potential for Mike Boone to make some noise in the absence of Gordon, although our one-game sample without MGIII from Week 13 was certainly a far cry from this backfield's typical 50/50 split:
Williams: 78% snaps, 23-102-0 rushing, 6-76-1 receiving

Boone: 22% snaps, 4-35-0 rushing, 1-19-0 receiving
Williams turned in the overall RB1 performance that week — something that is truly in play for him in 2022 should the Broncos refrain from 1.) bringing back Gordon and 2.) adding a realistic high-end replacement.
Situation: Both David Johnson and Royce Freeman are unrestricted free agents.
Why you should care: Departures by Johnson and Freeman would leave Rex Burkhead as the team's only returning running back with double-digit touches in 2022. Burkhead turns 32 in July and has never handled 150 touches in a season.
The Texans' 30th-ranked scoring offense certainly doesn't look like the sort of situation we should make a habit out of targeting in fantasy, although playing in a generally dismal offensive environment can be overcome through sheer volume in fantasy land. Just ask 2020 James Robinson and 2021 Najee Harris.
The available touches in Houston are tough to ignore regardless of the running back, and it's hard for this general offensive environment to go anywhere but up — particularly if by some miracle Deshaun Watson returns to action. Throw in the potential for a new offensive coordinator who has a history of leaning on a single back, and the Texans stand out as one of the league's few backfields with a true workhorse role ready to go for whoever winds up being chosen to lead the way.
Related content for you:
2022 Fantasy Football Running Back Rankings via Andrew Erickson
Situation: Both Darrel Williams and Jerick McKinnon are free agents. Derrick Gore is an exclusive rights free agent.
Why you should care: The Clyde Edwards-Helaire investment hasn't exactly paid off, but it'll be tough to bet against the soon-to-be 23-year-old LSU product if he has the entire backfield to himself. CEH returned two top-12 finishes in his first five games of 2021 before getting injured, and that was without the sort of pass-down role regularly handed out to Williams. Overall, Edwards-Helaire had more than three targets in just one game this season, a mark which Williams managed to reach on seven separate occasions.
The decision to draft CEH in the first round largely seemed to center around his plus ability as a pass-catcher. The Chiefs might be forced to (finally) utilize this skill if they're unable to retain their backups.
Year-1 concerns about Edwards-Helaire's inability to score near the goal line were always a bit ridiculous and calmed by the second-year back converting four of his seven carries inside the 10-yard line into scores this season. I'm not here to say CEH is the world's best goal line back, but it's not some sort of crippling issue we need to spend months fussing over.
Okay CEH okay pic.twitter.com/KBcoXd7OiR

— Ian Hartitz (@Ihartitz) December 27, 2021
Re-signing Williams and/or McKinnon would make it tough to rank CEH as more than a low-end RB2 due to the likelihood he continues to lose fantasy-friendly pass-down reps; just realize anybody, including Edwards-Helaire, would be awfully tough to fade as a legit RB1 as the Chiefs' clear-cut featured back.
Situation: Sony Michel is an unrestricted free agent.
Why you should care: I touched on this situation in my top-10 offseason storylines to monitor.
The Rams' starting running back has been a borderline fantasy cheat code during the Sean McVay era:
2017

:

Todd Gurley

finishes as the overall PPR RB1.

2018

: Gurley finishes as the overall RB3 despite missing the final two games of the season. Don't worry:

C.J. Anderson

exploded for 20-167-1 and 23-132-1 rushing lines during Gurley's two-week sabbatical.

2019

: Gurley posts RB14 production despite looking like a shell of his former self for most of the season. That's what 14 total touchdowns — none of which were longer than 13 yards — can do for a man.

2020

: Finally McVay utilizes a somewhat consistent committee between

Malcolm Brown

,

Darrell Henderson

and

Cam Akers

, although the latter back broke out enough to post PPR RB16, RB13 and RB10 finishes in three non-injury-induced starts from Weeks 12-14.

2021

: Henderson seized the starting job with Akers (Achilles, IR) sidelined for the season, ultimately working as the PPR RB12 in Weeks 1-10 before the Rams' bye. Late-season injury woes prevented Henderson from keeping on, but that did open up the door for ex-Patriots talent

Sony Michel

to work as the RB10 in Weeks 12-17.
The primary reason for this consistent high-end production is simple: volume. Gurley surpassed the 300-touch mark with ease in 2017 and 2018 while regularly posting snap rates north of 90%. The latter point is something that also came to fruition for each of Anderson, Akers, Henderson and Michel at one point or another over the years; Sean McVay loves himself a true three-down back during an era in which most offenses are trending toward multiplayer committees.
Akers' speedy recovery from his Achilles injury has him once again sitting atop the Rams' depth chart. McVay said last offseason there are no "limitations" on how the Rams can use Akers; we'll see if that attitude holds with the 22-year-old talent coming off arguably the single-most debilitating injury a running back can suffer.
Volume is king in fantasy land. Each of Akers, Michel and Henderson have proven capable of providing RB1 production when leaned on as this offense's starter, but a committee of sorts could render each as non-viable fantasy options more weeks than not. It sure seems likely McVay will decide on a featured back at some point — that's his thing, after all — and that player will undoubtedly skyrocket up fantasy draft boards of all shapes and sizes.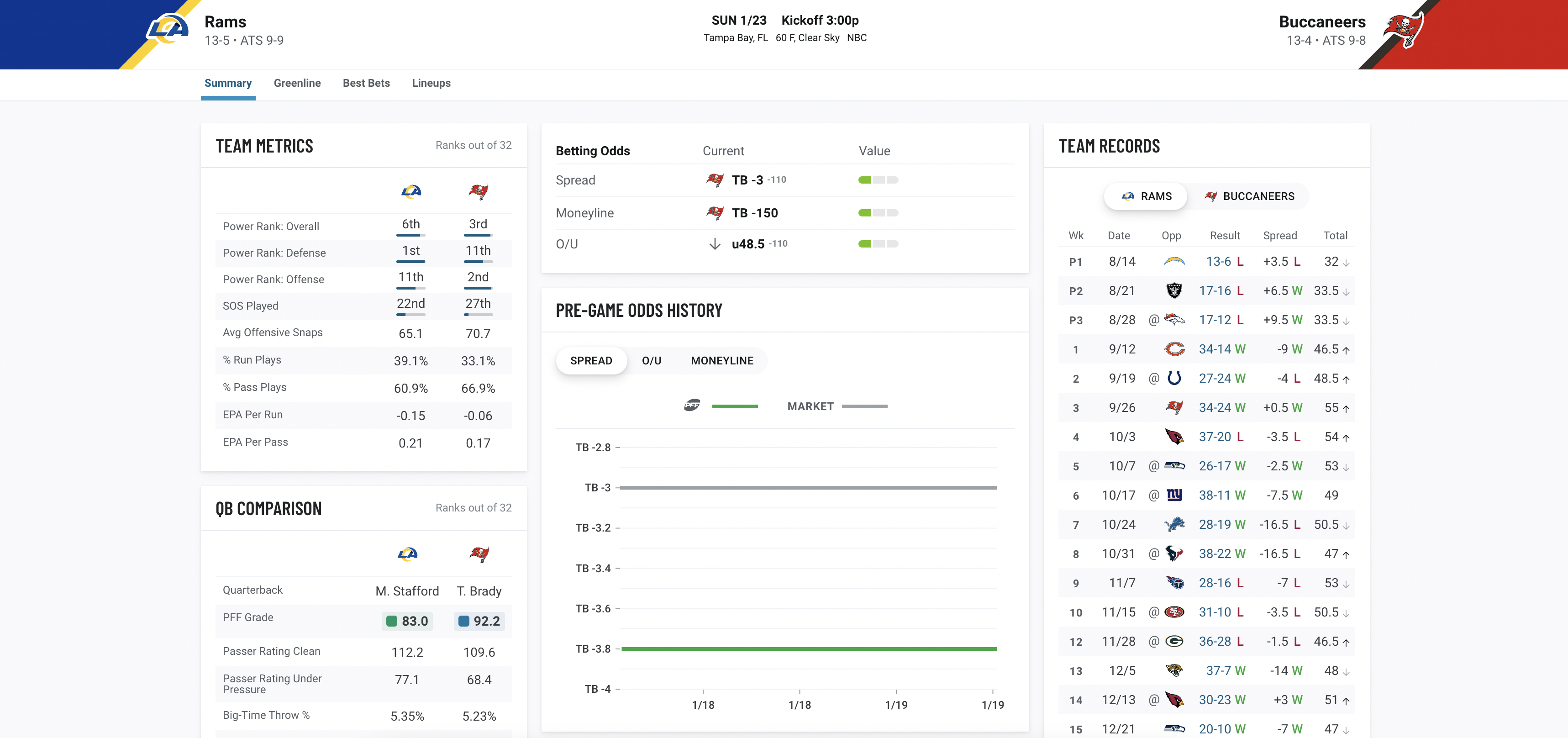 Situation: Both Phillip Lindsay and Malcolm Brown are unrestricted free agents. Salvon Ahmed is an exclusive rights free agent.
Why you should care: Nothing was easy behind PFF's single-worst offensive line from 2021. Still, both Myles Gaskin and (at least toward the end of the season) Duke Johnson managed to supply some RB1 goodness in 2021 thanks to some of that sweet, sweet volume.
A new coaching staff makes it awfully tough to trust either Gaskin or Johnson with any level of confidence entering 2021; look for the Dolphins' money and/or draft capital devoted to the position to do most of the talking. This doesn't mean they need to spend a first-round pick on the position; from 2010-2020 there wasn't a discernible difference in Year-1 production from the position between the first three rounds of the draft.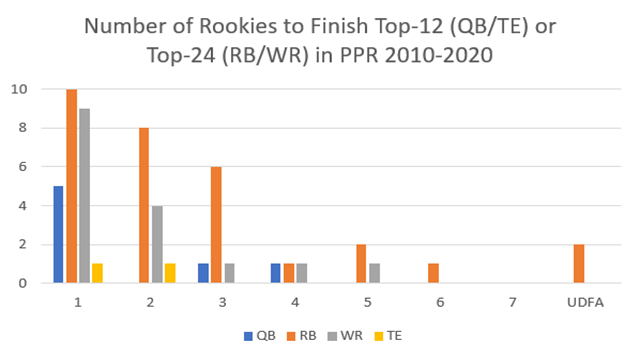 Like most of these backfields, there's still plenty to hash out from both a depth chart and coaching perspective. Still, it's that uncertainty that could make a special someone a major value in fantasy land once we're able to get a grip on what the Dolphins plan on doing.
Situation: Both James White and Brandon Bolden are unrestricted free agents.
Why you should care: The Patriots have kept multiple running backs involved in their offense to an annoying extent over the years. White has been with the team since 2014 and Bolden since 2012 save for a one-year sabbatical with the Dolphins in 2018. Gun to my head, I'd expect both players to be back in New England and continue to siphon away fantasy-friendly pass-down work from both Damien Harris and Rhamondre Stevenson.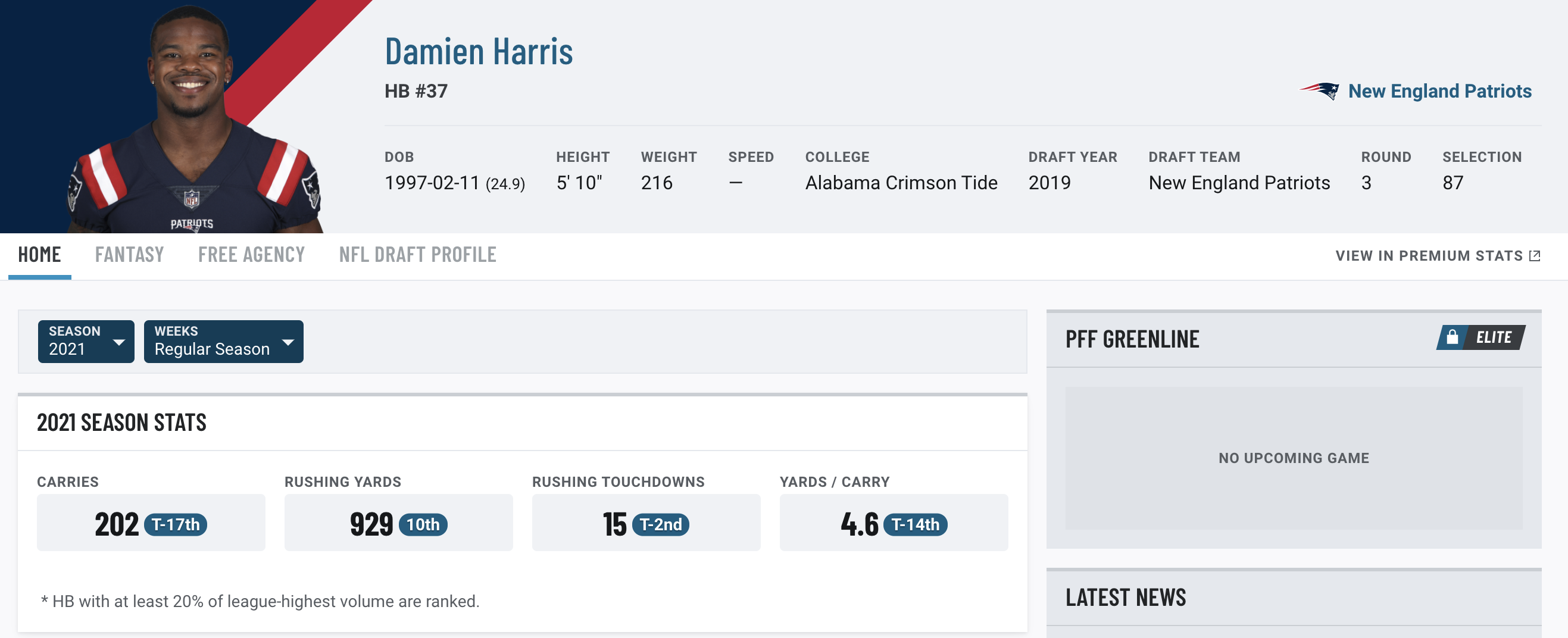 However, both Harris and Stevenson would be weekly top-24 options if able to get some consistent pass-game involvement. Each would have (wait for it) league-winning value should an injury occur. Us fantasy footballers can live with two-back committees in today's day and age; just four running backs racked up 300 touches in 2021 compared to *19* in 2000. Things get complicated when three-plus players start to get involved; keep an eye on whether or not Bill Belichick finds a way to bring back his veteran pass-catching running backs.
Situation: Tevin Coleman is an unrestricted free agent.
Why you should care: Coleman regularly stole away early-down work from rookie Michael Carter despite the latter back truly emerging as one of the league's best talents in terms of yards after contact and missed tackles forced per carry.
Running back yards after contact per carry and missed tackles forced per carry (min. 100 carries, PFF) pic.twitter.com/RoPO5zcEOM

— Ian Hartitz (@Ihartitz) January 10, 2022
The Jets' 28th-ranked scoring offense doesn't have much room to go but up. Potential improvements from Zach Wilson and this offensive line should lead to a more fantasy-friendly offensive environment, while the absence of Coleman and/or a high-end addition would slot in Carter as the rather undisputed lead back.
We can live with running backs on bad offenses if they have elite volume, something that could be on the horizon for Carter should the Jets move on from their often-injured 28-year-old veteran and not choose to invest any sort of meaningful resources to replace him.
Situation: Both Rashaad Penny and Alex Collins are unrestricted free agents.
Why you should care: Penny was nothing short of fantastic during his five weeks as the offense's featured back down the stretch:
Week 14: 16 carries-137 rush yards-2 TD, PPR RB3

Week 15: 11-39-0, RB42

Week 16: 17-135-1, RB9

Week 17: 25-170-2, RB1

Week 18: 23-190-1, RB4
Of course, this came with Chris Carson (neck) sidelined, and the rest of the backfield was usually banged up as well. Penny has played in 37 of a potential 65 games since entering the league. Talent and performance has really never been the problem; the man is averaging 5.6 yards per carry on his career. Usually the Seahawks are content to let one man lead their rushing attack; the size of the contract (if there is one) afforded to Penny this offseason could be a good hint as to whether or not he'll open up 2022 as the team's starter.
Situation: Both Raheem Mostert and Jeff Wilson are unrestricted free agents. JaMycal Hasty is an exclusive rights free agent.
Why you should care: Mostert received the same rest schedule as George Kittle throughout the preseason and earned the start in Week 1 before his year was unfortunately cut short after just four plays. This opened the door for Elijah Mitchell to take over and average a robust 87.5 rushing yards per game on his way to working as the RB16 in PPR points per game.
Death, taxes, Kyle Shanahan enabling a high-end fantasy football running back; it's just usually a struggle to figure out who that man will be. It'd make sense if Mitchell did enough to earn the starting role again in 2022. After all, the rookie handled 207 carries and 20 targets without a single drop or fumble — by far the most in the league.
Still, the return of Mostert and/or Wilson could feasibly lead to more of a committee than what we saw this year, while Hasty has continued to siphon away some pass-down work throughout the year. It'd make sense if 2021 third-round pick Trey Sermon is at least somewhat involved in the offense should he ever find his way out of Shanahan's doghouse.
Who knows, maybe the 49ers go ahead and do something like give Jerick McKinnon a four-year, $30 million contract. The Shanahan family has proven time and time again running backs don't matter, but Kyle certainly has made a habit of rotating his lead guy during his time with the 49ers. Being able to cross out some of incumbent veterans from the equation would go a long way toward being able to trust Mitchell with an early-round pick in 2022.

Situation: Leonard Fournette, Ronald Jones, Giovani Bernard and Le'Veon Bell are all unrestricted free agents.
Why you should care: Maybe the plan moving forward is to trust 2020 third-round pick Ke'Shawn Vaughn as the lead back. The artist known as Lombardi Lenny has certainly earned the right to start somewhere, but it remains to be seen if Tampa Bay will be willing to fork over enough dollars to keep him in town. RoJo and Gio could potentially be brought back on the cheap, while Bell's NFL future remains murkier than ever.
Moral of the story: Tom Brady and company figure to keep on putting up asinine point totals on a near-weekly basis, making whoever winds up as their No. 1 running back an awfully fantasy-friendly asset. The highest-upside decision would be bringing back Fournette, who was one of just four running backs to average more than 19 expected PPR points per game in 2021:
Situation: J.D. McKissic is an unrestricted free agent.
Why you should care: McKissic has regularly stolen pass-down work from Antonio Gibson over the past two seasons. It's not like Gibson has been ignored; the 23-year-old converted wide receiver has totaled 506 touches over the past two seasons.
Still, lingering injuries combined with life inside of the 23rd-ranked scoring offense made consistency tough to come by for Gibson in 2021 until McKissic was lost for the season.
All Gibson did in his final five weeks as the offense's undisputed featured back was largely ball the hell out despite battling continued injuries and negative game script throughout the ordeal:
Week 13: 23-88-0 rushing, 5-23-1 receiving, PPR RB6

Week 14: 10-36-0 rushing, 2-5-0 receiving, RB36

Week 15: 15-29-1 rushing, 6-39-0 receiving, RB4

Week 16: 6-29-0 rushing, 2-29-1 receiving, RB18

Week 18: 21-146-1 rushing, 1-5-0 receiving, RB6
Fading any running back with the potential to see 20-plus touches on a weekly basis is near impossible to rationalize in fantasy land. This is especially true for a proven pass-catching talent like Gibson; he'll have a chance to truly become something in the ballpark of "DC CMC" should the Football Team refrain from bringing back McKissic.