The NFL most valuable player award is always a hotly contested topic, and this year's award appears to be down to two finalists: Green Bay Packers quarterback Aaron Rodgers and Tampa Bay Buccaneers QB Tom Brady. 
There have been rumblings that Los Angeles Rams wide receiver Cooper Kupp or Indianapolis Colts running back Jonathan Taylor could make a push, but MVP is a quarterback-driven award, as football is a quarterback-driven game. Cincinnati Bengals QB Joe Burrow has made a late push over the last few weeks, and he's the one other name that could be considered in the Brady/Rodgers debate. 
While Rodgers is the betting favorite at this point, using PFF grades and advanced numbers, it's Brady who has been the league's most valuable player — and he should be atop the ballot for MVP and All-Pro voters.
---
Click here for more PFF tools:
Rankings & Projections | WR/CB Matchup Chart | NFL & NCAA Betting Dashboards | NFL Player Props Tool | NFL & NCAA Power Rankings
Best Bets Tool
---
PFF Advanced Numbers
PFF WAR
After years of grading every player on every play in the NFL, PFF developed a WAR (wins above replacement) metric in order to better assess the value of a player with an eye toward winning football games. WAR allows us to better compare contributions to team success both within a position group and across different positions. PFF's Eric Eager developed the metric — here's how he breaks it down:
"Broadly, the PFF WAR model does these things, in order:

Determine how good a given player was during a period of time (generally a season) using PFF grades;

Map a player's production to a "wins" value for his team using the relative importance of each facet of play;

Simulate a team's expected performance with a player of interest and with an average player participating identically in his place. Take the difference in expected wins (e.g., Wins Above Average);

Determine the average player with a given participation profile's wins above replacement player, assuming a team of replacement-level players is a 3-13 team;

Add the terms in the last two calculations to get that player's WAR."
Using PFF WAR, Brady is far and away the most valuable player in the NFL this season.
He has accounted for 4.70 wins above a replacement player, by far the highest mark in the NFL. Brady is followed by Burrow at 4.05 with Rodgers coming in at No. 6 in WAR at 3.11, 1.59 WAR lower than Brady. Due to the importance of the quarterback position, they will always be among the league leaders, so the non-QBs don't have much of a chance if the MVP award is staying true to its name.
PFF Grade and Volume
While Brady ranks second in PFF grade, edged out by the Burrow, 91.7 to 91.4, Brady has dropped back to pass more than any quarterback in the NFL. Essentially, Brady is playing as well as any quarterback on a snap-by-snap basis and he's being asked to do more than any quarterback in the league. Elite play at a high volume is what puts Brady so far above his peers when it comes to adding wins to his team.
The Bucs offense flows through Brady, and his high volume is more a testament to what they put on his plate to carry the team. While Burrow has the higher PFF grade, he also has four games in which he dropped back fewer than 30 times, and it really took until the second half of the season for the Bengals to ask him to carry the team. Burrow has certainly delivered once the offense started flowing through him rather than the run game, but the entire season counts in this MVP discussion.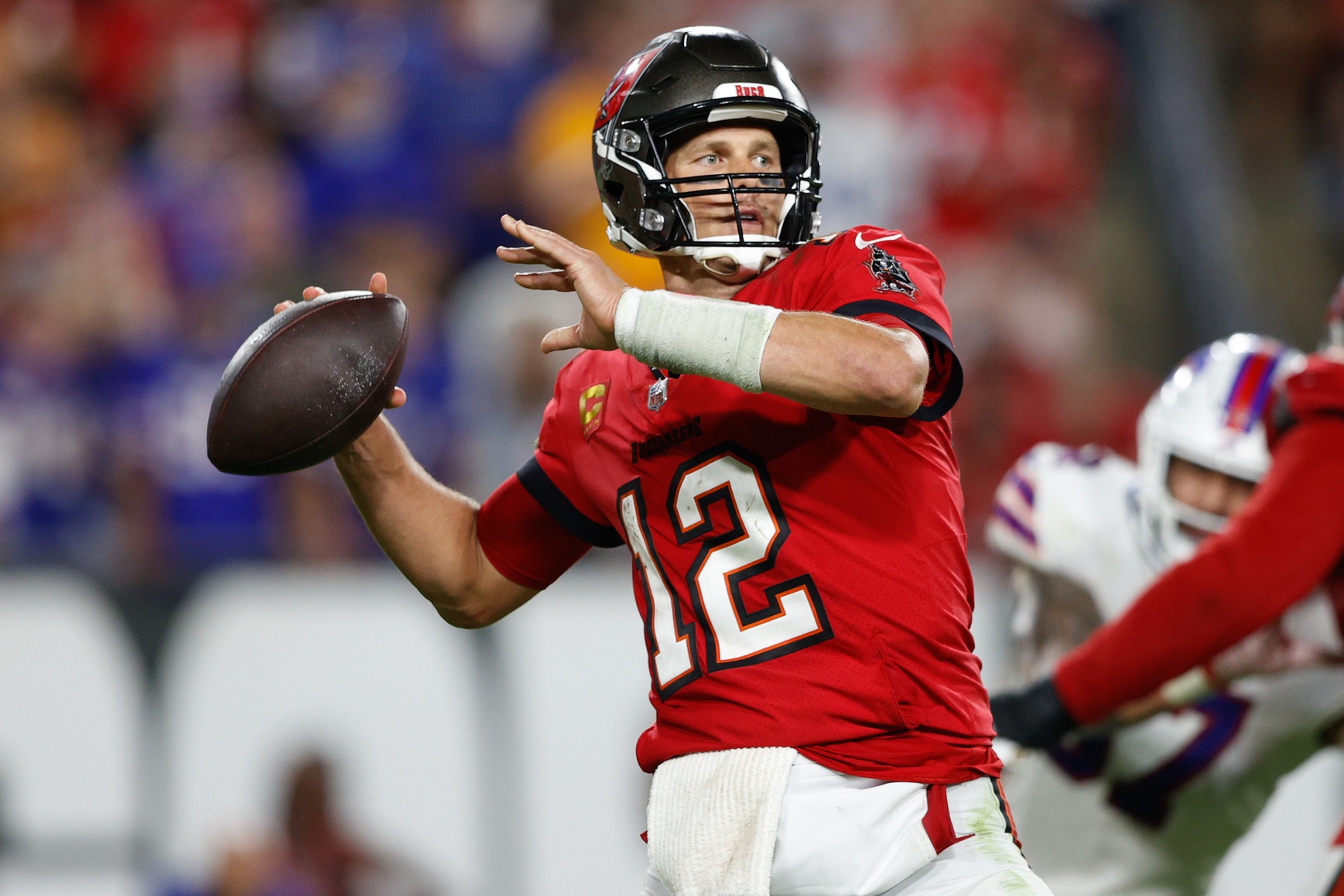 As for Rodgers, he also has three games with fewer than 30 dropbacks and only six games with more than 40. He also has one week with zero, as he missed a game against the Kansas City Chiefs. If we are truly factoring in value in the MVP discussion, then missing a game in a tightly contested race should also matter.
PFF Grade separates player from team output
While there are several advanced metrics that have come to the forefront and improved our understanding of football in recent years, PFF grade remains the best at isolating individual performance, particularly at quarterback. 
Stats like EPA (expected points added), ESPN's Total QBR, or CPOE (completion percentage over expectation) all have their value, but they also rely heavily upon the quarterback's supporting cast. From a receiver catching the ball to the defense dropping turnover-worthy plays, not every play receives the proper context, as the PFF grade seeks to isolate the quarterback from his supporting cast and the opposing defense.
With that in mind, Brady's PFF grade has trumped that of Rodgers this season, though we see how the supporting cast has factored into the differences that give Rodgers the edge in some raw and advanced stats. 
Voters will certainly look at Rodgers' gaudy TD-INT ratio of 35-4 and give him the edge as far as "taking care of the ball" this season, but the film tells a different story. Brady has a slightly better turnover-worthy play percentage at 1.9%, as Rodgers has had much better turnover luck and a turnover-worth play percentage of 2.0%.
Of Brady's 12 interceptions this season, three came on wide receiver drops and another came on a Hail Mary, meaning four interceptions came on non-turnover-worthy plays. He has only 14 turnover-worthy plays on the year on 743 dropbacks. Rodgers has 12 turnover-worthy plays on 587 dropbacks and he does not have an interception on non-turnover-worthy plays this season.
In the Brady vs. Rodgers MVP debate, TD/INT will be cited, as will "advanced" metrics like EPA.

Here are four of Brady's 12 INTs that greatly affect both numbers pic.twitter.com/4nJnh04ijn

— Steve Palazzolo (@PFF_Steve) January 5, 2022
Brady's receivers also have a much higher drop rate than Rodgers' pass catchers. Brady has the 19th-lowest mark at 6.9% while Rodgers has the fourth-lowest drop rate at 4.1%. Using just air yards as a gauge, Brady has lost 548 yards due to drops compared to 190 yards for Rodgers.
DOMINATE FANTASY FOOTBALL & BETTING WITH AI-POWERED DATA & TOOLS TRUSTED BY ALL 32
Unlimited Fantasy League Sync
Fantasy Start/Sit Line-Up Optimizer & Waiver Wire
WR-CB & OL-DL Matchups, PFF Player Grades, & Premium Stats 2.0 Tools
Nathan Jahnkes Rankings - #1 Most Accurate Last 70 Weeks
PFF Best Bets, Player Props, & Power Ranking Tools
NFL Mock Draft Sim with Trades & Draft Grades
Already have a subscription? Log In