And just like that, the 2021 fantasy football season is essentially over. Maybe some of you monsters out there have a league that plays into Week 18; otherwise, it's going to be eight long months until any of us play good ole-fashioned redraft season-long fantasy football again.
---
Click here for more PFF tools:
Rankings & Projections | WR/CB Matchup Chart | NFL & NCAA Betting Dashboards | NFL Player Props Tool | NFL & NCAA Power Rankings
Best Bets Tool
---
Of course, what's gone shouldn't be forgotten, as we have had plenty of memorable moments from this season that shouldn't be lost in translation anytime soon. What follows are my 2021 fantasy football awards listed in no particular order:
Most valuable fantasy player
Best fantasy championship game performance
Most improved fantasy player
Best fantasy comeback
Rookie of the year
Note that all stats referenced have a minimum eight games played threshold. After all, the best ability is availability.
Most Valuable Fantasy Player
This one is always tricky. Valuable doesn't mean best, but that has a lot to do with the equation. We'll define valuable as the player that provided the biggest advantage over the rest at their position.
From this perspective we see one man clearly rise above the rest:
Last season, Adams won this award; this year, he's the runner-up due to one of the most special single-season efforts the position has ever seen. On pace to join only 1992 Jerry Rice, 1992 Sterling Sharpe and 2005 Steve Smith as the league's only triple-crown winners (receptions, yards, touchdowns) over the past 50 years, Kupp put forward one ridiculously productive effort after another virtually all season long.
Overall, Kupp finished with fewer than 90 receiving yards on just one occasion in 2021. That 15-game record (and counting) shouldn't be touched for a long time, as the only players in NFL history to achieve this threshold in even 13 games are 2014 Antonio Brown and 1995 Michael Irvin.
One more big game could give Kupp the chance at true immortality: the position's highest-scoring PPR season ever. The current top-five looks like this:
1995 Jerry Rice (414 PPR points)

2021 Kupp (412.9)

2015

Antonio Brown

(388.2)

2014 Brown (386.9)

2007 Randy Moss (385.3)
Yes, Kupp will have accomplished this feat in more games than Rice but either way, Kupp's production this year has been historic and deserves to be viewed as one of the best receiver seasons of all time. 
Kupp's numbers rest at 138 receptions, 1,829 receiving yards and 15 scores after 17 weeks of action. Hopefully, the Rams do everything in their power to get their stud No. 1 receiver to the 2,000-yard club, but if not, let me speak for the entire fantasy community by saying thank you, Mr. Kupp.
Winner: Cooper Kupp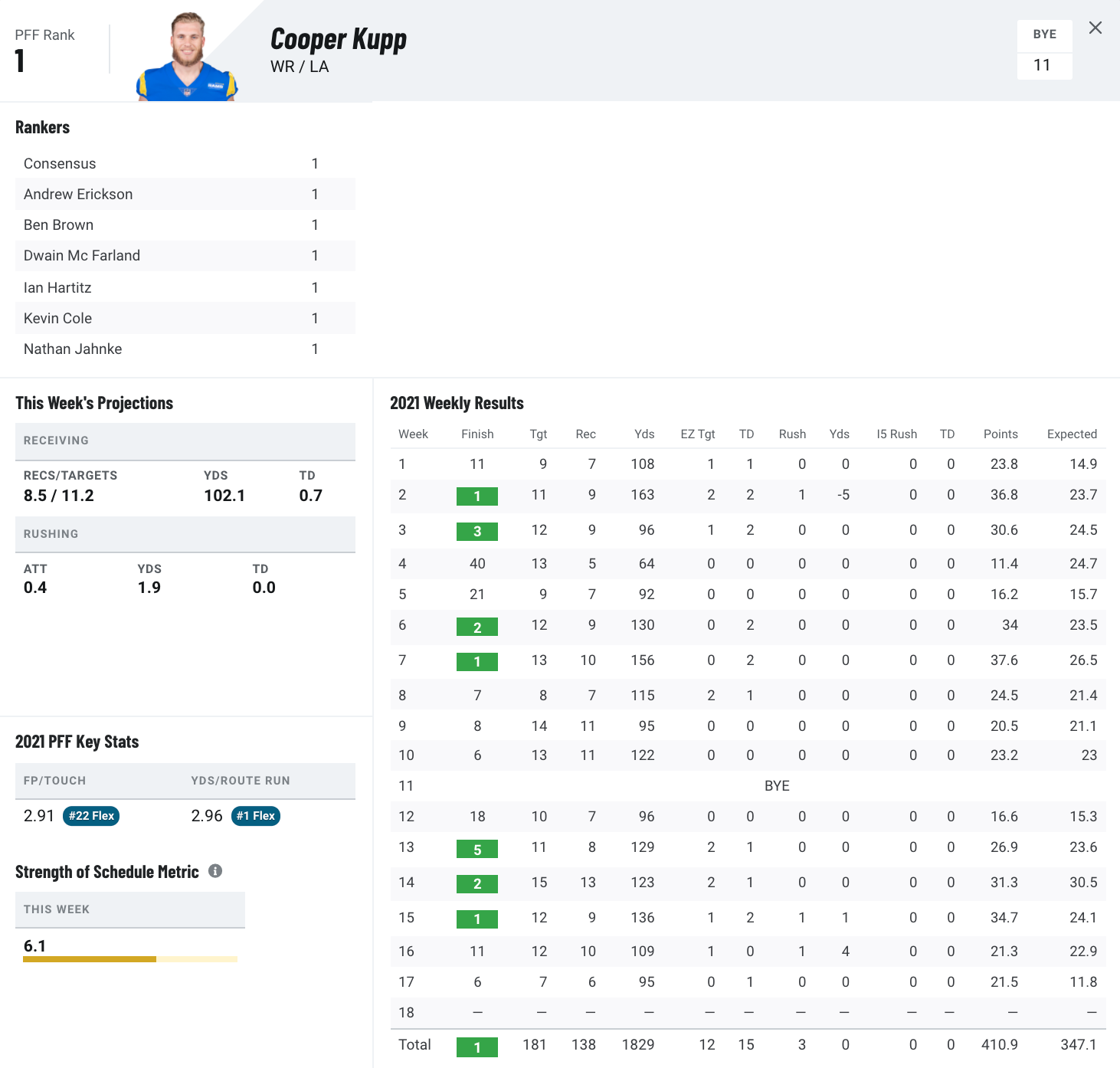 Honorable mention: Credit to the rest of the year's top dogs for finishing as the top-scoring player at their position on both an overall and per-game basis, as Allen, Taylor and Andrews each proved to be world-beating fantasy assets and deserve to, respectively, wear the quarterback, running back and tight end crown into the offseason.
---
Best Fantasy Championship Game Performance
What Ja'Marr Chase did to the Kansas City Chiefs on Sunday is considered illegal in nine countries. All in all, the rookie caught 11 of his 14 targets for 266 yards and not one, not two, but three touchdowns on his way to carrying the Cincinnati Bengals to the AFC North title.
???????????? pic.twitter.com/flXBTHiBz4

— Ian Hartitz (@Ihartitz) January 3, 2022
Chase managed to surpass his already-gaudy preseason expectations by finishing as the WR5 on an overall and per-game basis — only Kupp, Adams, Deebo Samuel and Justin Jefferson racked up more total PPR points among all wide receivers. Of course, this did include a down stretch during the second half of the season, as Chase finished outside the position's top-24 performers in all but one game between Weeks 8-15.
Luckily, it's not about how you start, it's about how you finish, and nobody put a larger exclamation on this point than the 2021 NFL Draft's No. 5 overall pick. Overall, only 1995 Jerry Rice (59.9 PPR points in Week 16) and 2020 Alvin Kamara (56.2) have put forward bigger fantasy championship performances than Chase (55.6) managed to just pull off, as his fantasy managers should consider buying a jersey shirt or something to honor the truly incredible display that we just witnessed.
Winner: Ja'Mar Chase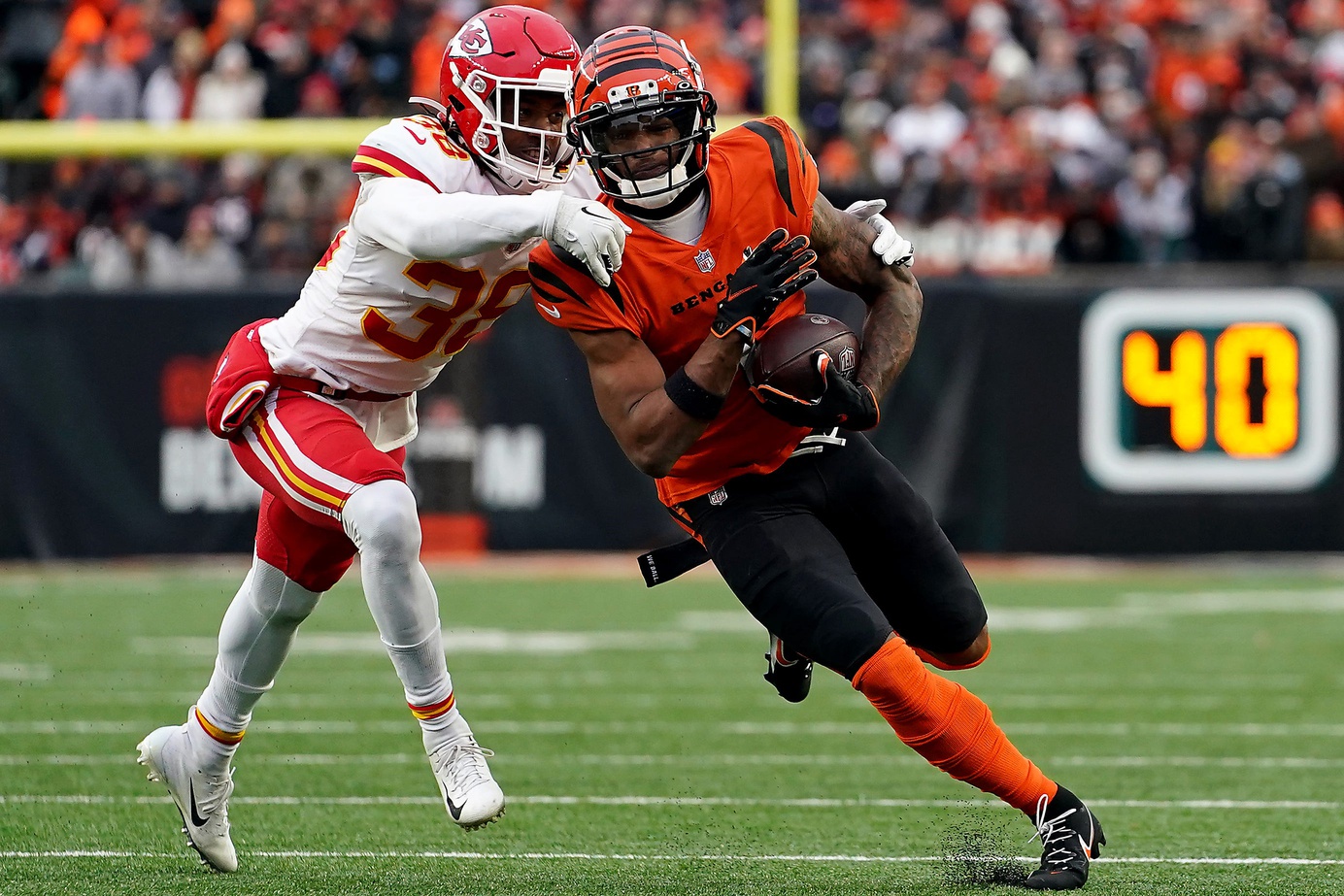 Honorable mention: Joe Burrow (34.8 fantasy points) was the only quarterback to break the 30-point threshold in Week 17, as his 446-yard performance featured four scores without a single interception in a riveting victory over the Chiefs.
Amon-Ra St. Brown (33.4 PPR points) also deserves plenty of credit for continuing his late-season hot streak despite a heavy dose of Tim Boyle under center.
A pair of Seattle Seahawks also turned in rather huge performances for their fantasy managers, as both Rahaad Penny (32.5) and D.K. Metcalf (30.9) went off against a rather helpless Detroit Lions defense.
Davante Adams (30.6) continues to put up bonkers numbers despite the entire stadium being fully aware that the ball is likely going his direction double-digit times per game, as he's finished with over 100 yards in five of his last six games while combining to score a rather impressive eight touchdowns during the hot streak.
---
Most Improved Fantasy Player
We'll approach this category by looking at the biggest differences in PPR points per game in 2019 compared to 2020. Respect to each of the position's finalists, but there are clearly two top contenders for this honor:
QB:

Matthew Stafford

(16.8 fantasy points per game in 2020, 20.4 in 2021: +3.6 improvement)

RB:

Cordarrelle Patterson

(4.2 PPR points per game in 2020, 15.4 in 2021: +11.2 improvement)

WR:

Cooper Kupp

(14 PPR points per game in 2020, 25.7 in 2021: +11.7 improvement)

TE:

Tyler Conklin

(2.8 PPR points per game in 2020, 8.5 in 2021: +5.7 improvement)
The easy two finalists are Patterson and Kupp. The former offensive weapon largely never found his footing as anything other than, you know, the best kick returner of all time while playing on the Minnesota Vikings, New England Patriots and Chicago Bears over the years, but Patterson exploded in his ninth season for 149-607-6 rushing and 51-547-5 receiving lines. We've already discussed the latter's achievements enough in this column but just realize Kupp was just the WR28 in PPR points per game last season. He never once finished inside the position's top-five performers, something he managed to accomplish on seven separate occasions in 2021.
Ultimately I lean toward Patterson for the following two reasons:
I'm the

proud president

of the

Cordarrelle Patterson

fan club and have been calling for him to be

deployed as a true running back for the better part of the last four years

.

This man just went for 1,154 total yards after finishing with just 1,025 combined receiving and rushing yards in the previous three seasons combined. Patterson scored 11 touchdowns this season, which is how many he scored in 2014-2020

.
This wasn't just a 2020 to 2021 improvement; it was a "where did you come from" type of performance. Go ahead and give Patterson the year's top waiver wire claim award as well, as he stands as the overall PPR RB7 or WR15 depending on what floats your boat. He was a much-needed bright spot on an otherwise depressing and forgettable 2021 Atlanta Falcons team.
Winner: Cordarrelle Patterson
Honorable mention: Shoutout to Stafford, Kupp and Conklin for winning their respective positions. 
Jalen Hurts didn't quite qualify since he only started four games last year but deserves all sorts of credit for working as the QB7 in fantasy points per game and providing a more consistent floor than just about anyone at the position.
Burrow (+1.9 fantasy points per game difference) and Brady (+1) demonstrated that mobility isn't a necessity in putting up monster fantasy numbers.
Leonard Fournette (+8.1) kept his good playoff times rolling in a major way throughout 2021 and wound up emerging as the premiere late-ish round running back who we all wish we had targeted back in August. 
The same sentiment is true to a lesser extent for Week 17 heroes Darrel Williams (+8.5), A.J. Dillon (+6.7) and Damien Harris (+5), who each largely made the most out of their opportunities all season long.
Taylor (+5.8) has largely been nothing short of incredible for the last 14 months, and I'm mad that he won't out-right win an award in this column. 
Van Jefferson (+7.1), Hunter Renfrow (+7) and Michael Pittman (+6) join Kupp (+11.7) as the only wide receivers to improve on their 2020 per game average by at least six points.
Andrews (+5.3) and Dawson Knox (+5.1) each made significant improvements from 2020 to 2021 while Rob Gronkowski (+4.4) and Zach Ertz (+3.4) each proved that they certainly don't qualify as washed despite (at least) one of them consistently attempting to illegally and annoyingly qualify for USAA insurance.
---

Best Fantasy Comeback
It's amazing the difference an increase in workload and/or efficiency can make for a fantasy footballer. Each year provides a few players that were left for dead in October before getting things going again in a big way down the stretch.
There were just three players to post a double-digit difference in PPR points per game in Weeks 1-8 compared to Weeks 9-17. Note that each player had to have played at least four games during each stretch to qualify:
James Conner: 11.5 PPR points per game in Weeks 1-8; 23.1 in Weeks 9-17 (+11.6 difference)
Elijah Moore: 6.3 PPR points per game in Weeks 1-8; 20.1 in Weeks 9-17 (+13.8 difference)
Amon-Ra St. Brown:

(6.5 PPR points per game in Weeks 1-8, 18.1 in Weeks 9-17 (+11.6 difference)
Credit to both Conner and Moore for recording many productive weeks during the second half of the season, but unfortunately, neither was healthy enough to suit up during the majority of the fantasy playoffs.
The same can't be said for St. Brown, who was nothing short of masterful during his final five games of the season despite being forced to catch passes from Jared Goff and Tim Boyle:
Week 13: 8 receptions-86 yards-1 TD, PPR WR6
Week 14: 8-73-0, WR26
Week 15: 8-90-1, WR6
Week 16: 9-91-1, WR6
Week 17: 8-111-1, WR2
St. Brown (43) had more receptions than anybody other than Kupp (46) during this span. The Lions' rookie slot maven proved that PPR scoring can be great for managers that identify true target hogs, even if they happen to be operating inside anybody's idea of a true bottom-five real life offense.
Winner: Amon-Ra St. Brown
Honorable mention: Conner and Moore both proved more than capable of functioning as their offense's respective RB1 and WR1 during their productive second half stints. Hopefully, these performances were enough to earn the former a shiny new contract and the latter a featured role in 2022.
Justin Fields (+6.4 difference) joined Zach Wilson (+6.4) and Aaron Rodgers (+3.9) as the only three signal-callers with an improvement of at least 2.5 points from the first half to the second half of the year.
The only three running backs, other than Conner, to post at least a 7.5-point improvement: Dillon (+8.5), Sony Michel (+7.6) and Justin Jackson (+7.6).
Brandon Aiyuk (+8.3) and Russell Gage (+6.7) stand out-beyond Moore and St. Brown while Jimmy Garoppolo and the San Francisco 49ers also managed to enable George Kittle (+6.2) to one heck of a second-half performance.
---
Rookie of the Year
The top-performing rookie at each position in terms of best PPR per game finish.
QB:

Mac Jones

(14.1 fantasy points per game, No. 32)

RB:

Najee Harris

(17.3 PPR points per game, No. 8)

WR:

C

hase

(18.9 PPR points per game, No. 5)

TE:

Kyle Pitts

(10.9 PPR points per game, No. 9)
It's tempting to give the honor to Harris, but so much of his production was driven by volume. Fantasy managers shouldn't complain about the RB1 finish but just realize he left more fantasy production on the table than just about anybody. Overall, Harris (-52.4) led all skill-position players in PPR points under expectation.
Meanwhile, Chase (+75.8) was the league's second-biggest outlier behind only Deebo Samuel (+88.7) in fantasy points above expectation. The Bengals' stud rookie receiver put up elite numbers and did so in style, so here's to PFF's fantasy football rookie of the year.
Winner: Ja'Marr Chase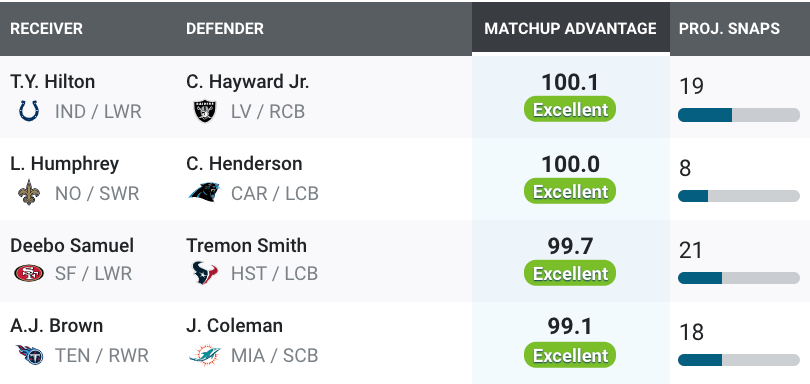 Honorable mention: Jones was the best rookie signal-caller basically by default, as he finished as just the overall QB19 in fantasy land. The only rookie quarterbacks to finish as a top-12 fantasy producer since 2010: Cam Newton, Andrew Luck, Robert Griffin III, Russell Wilson, Dak Prescott, Kyler Murray and Justin Herbert.
Elijah Mitchell (RB14) was the only other rookie running back to finish as top-24 producers on a per-game basis, although Javonte Williams (RB25) wasn't too far behind while Michael Carter (RB29) had more than a few solid weeks along the way.
Jaylen Waddle (WR14) was easily the second-most productive rookie receiver while Elijah Moore (WR30), St. Brown (WR33) and DeVonta Smith (WR38) were also first-year assets who impressed despite their respective less-than-ideal offensive environments.
Kyle Pitts (TE9) finished with more raw fantasy points than any tight end other than Andrews, Travis Kelce, Kittle and Dalton Schultz but just realize Pitts is essentially a wide receiver (67% of snaps in slot or out wide) and finished behind each of the aforementioned rookie wide-outs in PPR points per game.