We are staring down the barrel of what could be one of the greatest quarterback classes of all time, as no less than five signal-callers could be selected within the top 15 picks in April's draft.
With so many quarterbacks going that early, we might have a "rising tide lifts all boats" type of scenario — the rest of the 2021 QB class might see their stock rise, and some players might be picked a round or two ahead of where they usually would.
With the draft now just over two months away, I've put together a list of second-tier quarterbacks who could draw interest in the later rounds of the 2021 NFL Draft.
Subscribe to
If you are looking for the quarterback with the highest ceiling, there is no question that Mond is the guy. He flashes so much with incredible arm talent and ability with his legs, but he just hasn't been able to put it together on a game-by-game — or even a throw-for-throw — basis.
Some blame has to go to Jimbo Fisher, who dropped Mond into his pseudo-pro-style offense and asked him to operate a passing game that was not particularly quarterback-friendly. The Texas A&M quarterback was tasked with a lot of throws over the middle of the field where he would have to read linebackers and layer throws around bodies to find completions. So, for his sake, we can hope that training in this offense will bode well for his NFL prospects because he certainly has the requisite athleticism to fit at the professional level.
He's never had the elite, put-the-team-on-his-back type of season that we would have expected from a former four-star quarterback who ended up appearing in 46 games over his college career. He only has two 90.0-plus single-game passing grades against SEC competition — one came in 2020 against Arkansas, the other in 2018 against Ole Miss. He also never really performed against the toughest teams on the Aggie schedule, finishing his career with a 66.9 grade against Clemson, LSU, Alabama and Georgia.
Mond did improve his passing grade in his final season, finishing at 81.3 after earning a mark of 72.1 in 2018 and 73.2 in 2019. There's a lot to like about this kid; he is a future Pro Bowler if it ever clicks. Of all the players on this list, Mond would be my pick to actually have an impact in the NFL.
---
2. The Great College QB who Might Struggle as a Pro: Kyle Trask, Florida
I think that Kyle Trask is probably maxed out as a college player, but that shouldn't take away from his incredible and improbable run over the last two years.
Trask's box score stats are remarkable. He replaced Feleipe Franks as Florida's starting signal-caller early in the 2019 season and threw for 8.8 adjusted yards per attempt with 25 touchdowns to only seven interceptions, grading above 60.0 in nine of his 10 starts. This was his first season starting since D'eriq King pipped him in high school, and given that he was already a junior in 2019, it was quite a big leap between starts.
However, the box score didn't show exactly how Trask played in 2019, as he recorded 22 turnover-worthy plays in total, tied for 10th-most in the country and the most in the SEC.
Ahead of 2020, there was concern that those turnover-worthy plays would turn into actual turnovers and that Florida's offense would stagnate as a result. The opposite happened. Across 470 dropbacks, 81 more than he logged in 2019, Trask cut his turnover-worthy plays from 22 to only 13. His passing grade skyrocketed from 66.4 in 2019 to 92.4 in 2020.
The Florida quarterback kept the same accuracy he showed in 2019 but just stopped making bone-headed decisions, and the results were stunning: 43 touchdowns to only eight interceptions and 10.9 adjusted yards per attempt. He ranked second among FBS quarterbacks in passer rating on deep throws (139.6), ninth in passer rating from a clean pocket (132.4) and 11th in passer rating under pressure (99.8). I can't say enough about the incredible leap he took with a full offseason as a starter under his belt.
The issue is that he doesn't have the physical gifts that are almost universally found in NFL quarterbacks. He doesn't even have average levels of athleticism, whether that comes with his legs or his arm. The ball just travels at such a slow speed when it leaves his hand that it's going to be hard to fit balls into closing windows with NFL athletes playing defense, and he's going to have to throw with immaculate anticipation.
He could figure it out, but it's not something you'd want to bet on. It's going to be a hard transition for Trask and whichever team selects him.
---
3. The Prospect who already plays like 2020 Drew Brees: Davis Mills, Stanford
Mills makes all the right decisions and is arguably the best quarterback on the planet on routes that travel no further than six yards downfield. Stanford has a lot of quick-game passing concepts in its dropback passing offense, and Mills excels in those situations, a good sign for his NFL prospects. Quick game is dying in college football, but it still has some use in the NFL.
That's where the Brees comparison comes in. Mills can get the ball out of his hands quickly and accurately to the right receiver on underneath throws — he was the fourth-most-accurate quarterback in the 1-9 yard range last season — but it does feel like he will struggle down the field. There are some rough games in that regard sprinkled throughout his career.
Davis does have interesting arm strength and scrambling ability, but one of the problems is that we just haven't seen much of him. He has only taken 520 dropbacks in his college career. That's not his fault, but we would still like to see more.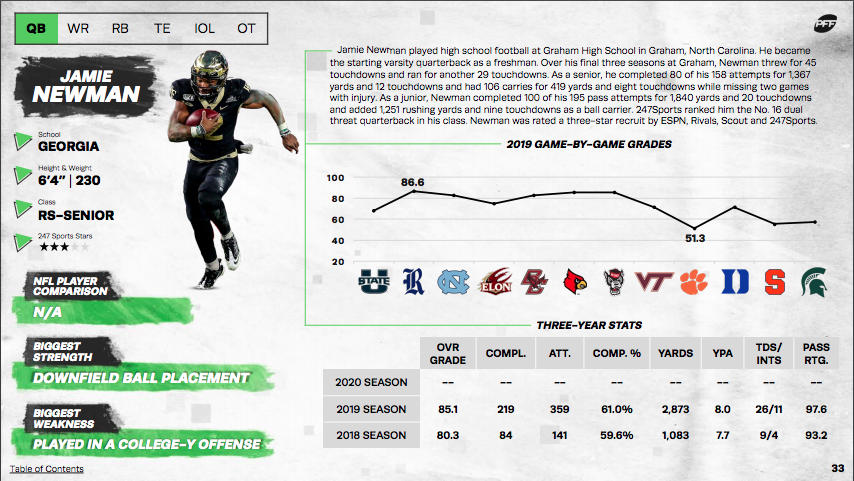 Newman has the skill set to fit the modern NFL game, and that's why he's so intriguing. He boasts an excellent production profile despite playing in the rather unique Wake Forest offense, which ran a heavy RPO and long-winded mesh. However, Newman still performed exceedingly well on true dropback passes in 2019. Eliminating the RPOs, screens and designed rollouts from the data set, Newman actually earned the 10th-best PFF passing grade in the FBS in 2019 at 88.4.
The offense probably has to fit Newman's skills rather than the other way around. If you can put him in an offense where he can use his legs, use his quick decision-making on RPOs and not have to drop back so much, there might be a good quarterback there. We would have loved to see him play a season at Georgia, but Newman is still an intriguing prospect even without it.
---
5. The Parallel-Universe Heisman Winner: Sam Ehlinger, Texas
The "Texas is back" truthers took another blow in 2020 as their hopes and dreams for a national title run ended before they really started.
They entered the year with such promise: Oklahoma was breaking in a new quarterback, Iowa State's Brock Purdy had regressed as a sophomore and Texas returned a starting quarterback who had a terrific grading profile. Ultimately, the season did not go according to plan for both Texas and Ehlinger.
Ehlinger had improved his grade every year at Texas. He graded at 66.4 overall across limited snaps in 2017 and earned marks of 85.7 and 90.1 in 2018 and 2019, respectively. The 2020 campaign ended up being just OK, as he regressed to 79.9.
Few thought of him as one of the better pro prospects, but if everything had gone according to plan and he had posted another elite season, he could have fallen forward like a Kyle Trask or Mac Jones. That didn't happen.
An unfortunate feature of Ehlinger's 2020 season was Texas' change of offensive coordinators in the offseason — the offense went away from the "use Sam as a bowling ball in the running game and then chuck it deep" offense from 2019. Sam struggled mightily on the new, more "professional" concepts, and that's not good for his future in the NFL.
---
Courtesy of PFF's 2021 NFL Draft Guide, find PFF's top draft prospect, biggest riser and wild card to watch at each position here: