The NFL has long been a passing league. Whether it was the clamping down of rules for defensive backs, the growing understanding of how inefficient running the ball is or a lucky string of franchise quarterbacks fulfilling their promise, the league is one of multiple wide receivers, mismatch tight ends and a heightened appreciation for running backs that can catch the football. In the most recent episode of the PFF Forecast we continue our discussion of a major passing game inefficiency, the slot.
#Colts #Jets #Lions and #Packers fans: something for all of you on episode 11 of the @PFF Forecast https://t.co/OsgQ6RslDx

— Eric Eager ????????‍???????? (@PFF_EricEager) March 22, 2018
Last week, we discussed the importance of the slot cornerback position, and used as one of our arguments the Expected Points Added as a function of position the targeted player lined up as. Throwing to the tight end position (with an average of 0.255 EPA) or to the slot (0.243) not only have been worth more EPA to their respective offenses than throwing to outside receivers (0.228) or running backs (0.079), but had the higher medians as well. As we dug deeper into the distribution of EPA with respect to targeted positions, we found that targeting the slot had a similar "upside" as targeting outside receivers, but came with a far higher completion rate (65.8 percent versus 59.0). There were fewer big EPA plays when targeting tight ends and (especially) running backs, but throws to the positions were completed 68.7 percent and 80.2 percent of the time, respectively.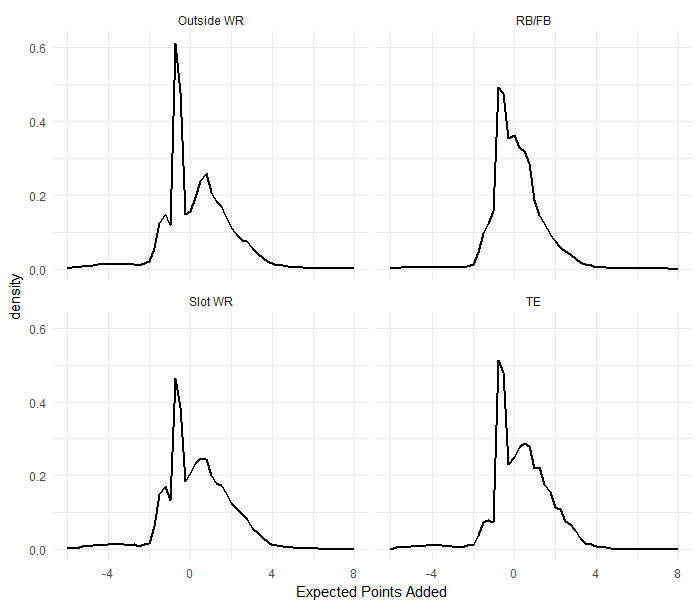 Using our new quarterback charting data, we can look at separation when targeting each position (for more charting data get an Edge subscription and check out the QB Annual Update). This past season, quarterbacks targeting wide receivers threw into "tight" coverage (less than a step of separation) 37.2 percent of the time while targeting receivers who were "open" on 29.6 percent of throws (33.1 percent had a "step" or two of separation). However, targeting slot receivers allowed quarterbacks to throw into "tight" coverage 10.9 percent less (26.3 percent of the time) and to "open" receivers 8.4 percent more frequently (37.7 percent, "step" also increased by 3.0 percent). This supports the the idea that slot coverage isn't getting the attention it deserves while explaining the higher completion rate.
With this slot boon in mind, let's take a look at the quarterbacks/offenses that  generated the most value targeting each of these different positions in 2017.
Top-five quarterbacks by EPA per pass targeting player's lined up out wide: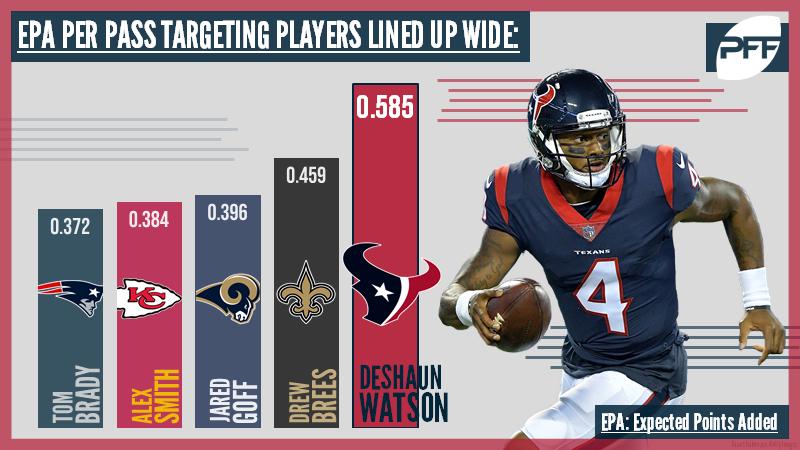 1. Deshaun Watson — 0.585
2. Drew Brees — 0.459
3. Jared Goff — 0.396
4. Alex Smith — 0.384
5., Tom Brady — 0.372
Brady earned the highest grade per throw on these targets while Brees came in third. Watson earned the 10th-highest grade on outside targets (out of 45).