PFF has collected millions of data points over the years, including for the 2021 NFL Draft class.
Some of those data points are more meaningful than others. And today, we'll highlight one to know for each of the top 32 prospects in the 2021 NFL Draft class, whether it be good or bad.
View PFF's 2021 NFL Draft position rankings:
QB | RB | WR | TE | T | iOL | DI | EDGE | LB | CB | S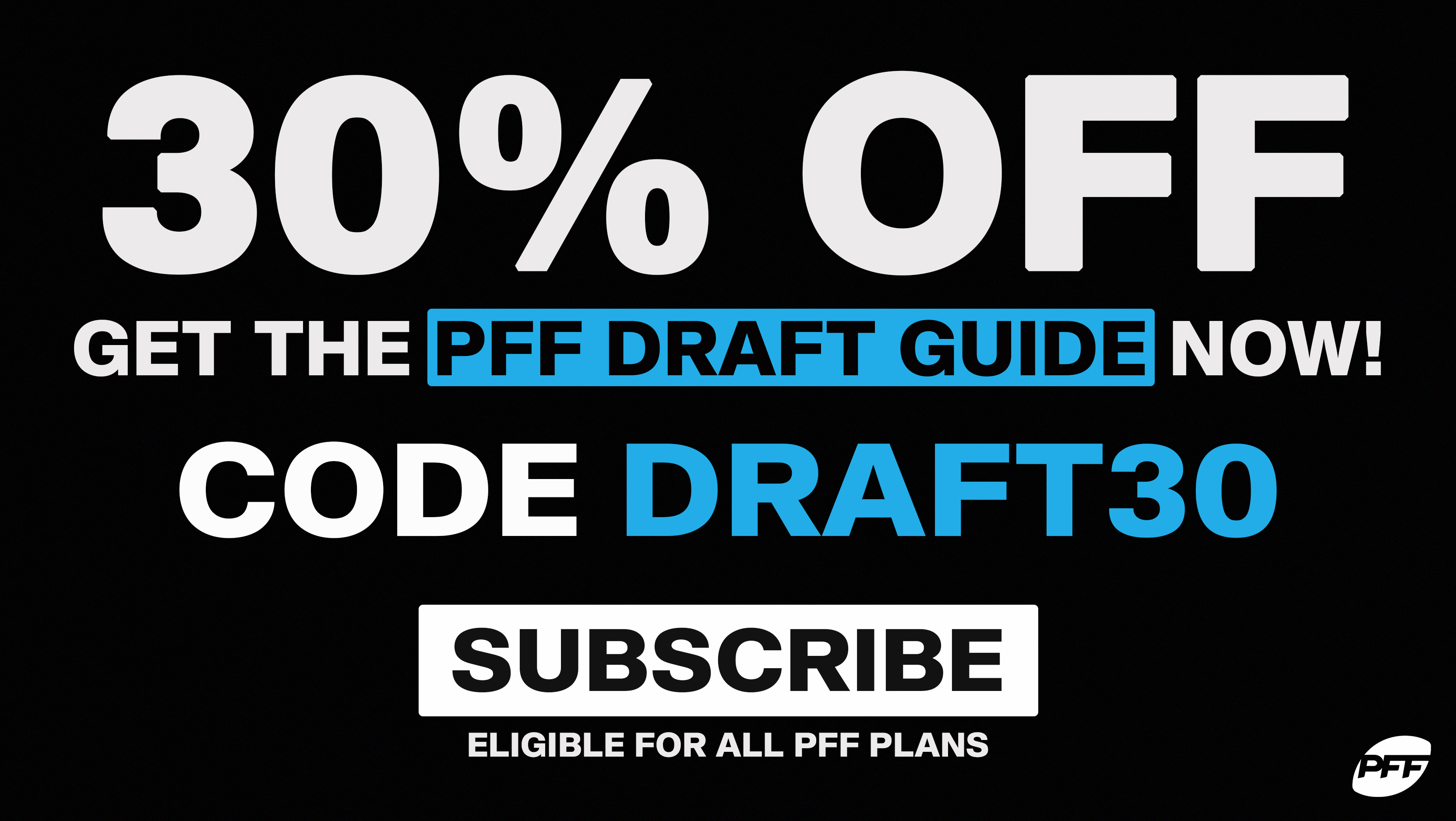 Stat: Earned an "elite" (90.0-plus) PFF grade in each of his true freshman, sophomore and junior seasons — only QB in the PFF College era to accomplish that feat
Don't overthink this — Trevor Lawrence is and should be the No. 1 overall pick in the 2021 NFL Draft. We have never seen a college football player dominate from the start as a true freshman to the finish like the way Lawrence did. There are few bones to pick with his play; he has all the tools to be a long-term franchise quarterback for the Jacksonville Jaguars.
Related: Trevor Lawrence continued to improve, and that's what separates him from the pack via Seth Galina
Stat: An 90.0-plus passing grade in over half of his games in 2020
Yes, BYU played a cupcake schedule and Wilson was hardly tested by pressure, but we have never seen a quarterback shred their opposition in the manner he did in 2020. He recorded a passing grade above 90.0 in eight of his 12 starts in 2020. That tops the previous best mark in the PFF College era, set by Baker Mayfield in both the 2016 and 2017 seasons and Kyler Murray in 2018. When it comes to non-Power Five quarterbacks, Wilson's eight such games were twice that of the previous high. He's as good as advertised.
Related: 2021 NFL Draft: A look Into PFF's projections for BYU quarterback Zach Wilson via Eric Eager
Stat: 2.45 Wins Above Average (WAA) since 2019 — most in college football (only players to play in 2020 were included)
The argument that Fields is just another successful Ohio State quarterback set to flame out in the NFL is inherently false. Fields' production was far superior to past Buckeye signal-callers, finishing among the best in the country over the past two years. Dwayne Haskins had an 84.9 passing grade when coming out of Ohio State and generated 0.90 WAA, which didn't even rank inside the top 10 in the FBS. Fields is one of the five best prospects we have ever seen and should be the No. 3 overall pick.
Related: Projecting Ohio State QB Justin Fields' impact as an NFL player via Eric Eager
Stat: 95.8 PFF grade in 2019 — highest single-season mark by a Power Five OT since 2014
Sewell produced this record mark after turning 19 years old in the middle of the season. That speaks volumes about the kind of talent we are talking about here. He looked like a man amongst boys on the field from the start. Sewell has one of the highest floors in the entire 2021 class, regardless of position.
Stat: Ran 41 routes versus press coverage from an outside alignment in 2020 and had seven catches of 15-plus yards. No other FBS TE has recorded more than two in one year since 2014
We have never seen a tight end like Pitts in our seven years of grading college football. From his ability to beat press-man coverage on the outside to his movement skills to his catch radius to his production at just 20 years old, Pitts is simply a rare breed.
Related — 2021 NFL Draft: Florida TE Kyle Pitts is the best receiving prospect in the draft, regardless of position via Sam Monson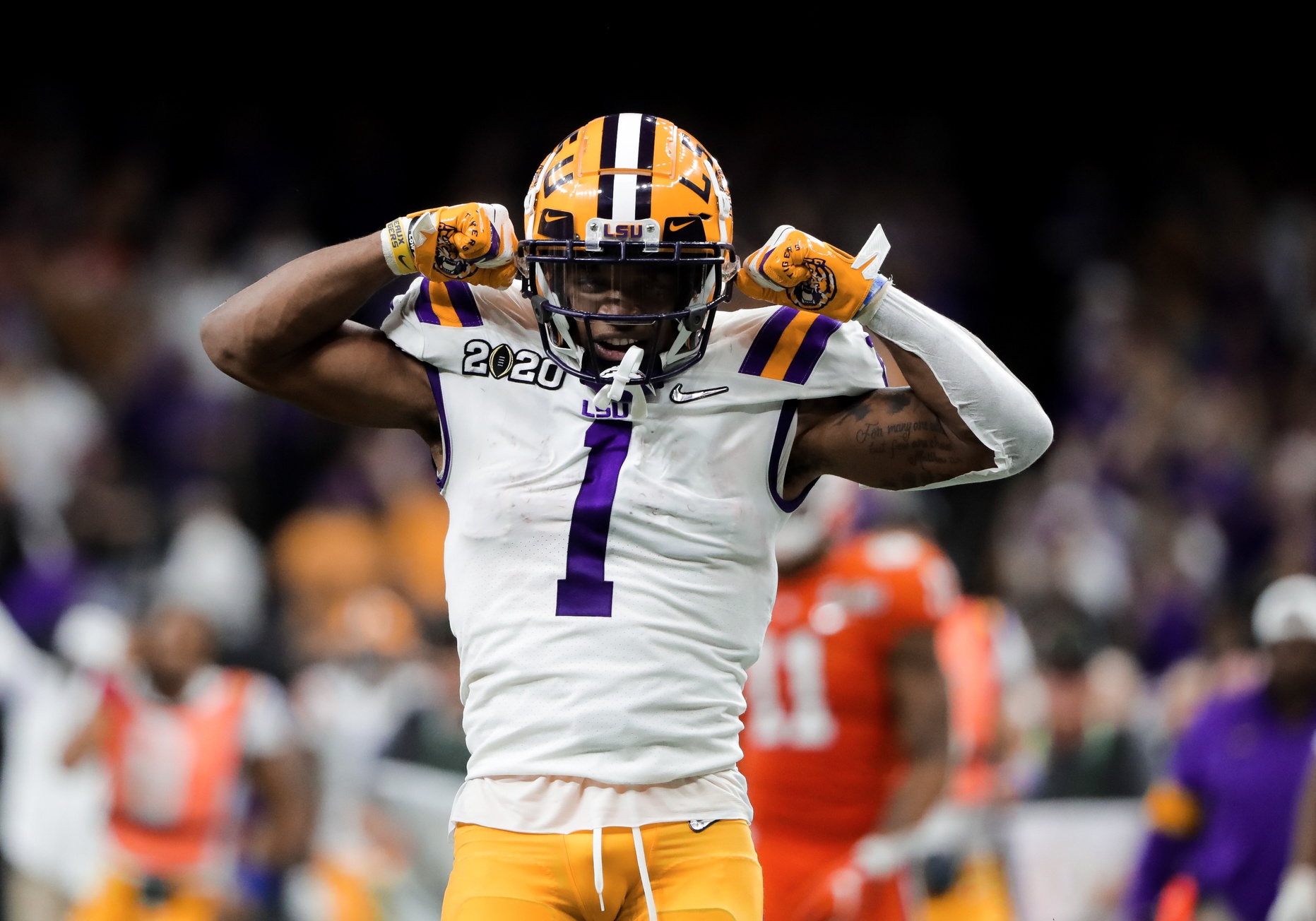 Stat: 14 deep (20-plus-yard target) touchdowns with Joe Burrow in 2019 — three more than any other receiver in a single season since 2014
Chase bullied some of the best corners in college football at just 19 years old during LSU's historic championship run. It's reasonable to say that he and Burrow formed the best QB-WR tandem college football has ever seen. Cincinnati, you know what to do with that fifth pick.
Related: Don't forget about Ja'Marr Chase — PFF's WR1 via Mike Renner
Stat: 95.6 receiving grade in 2020, highest by a WR in the PFF College era
Concerned about Smith's thin frame? Don't be. The 2020 Heisman winner shattered the previous single-season receiving grade record at the position for good reason: He's as complete a receiver as they come. The ball skills, the route-running chops, the release package, the body control — everything. Smith is NFL-ready.
Related: 2021 NFL Draft Film Study — Alabama WR DeVonta Smith via Sam Monson
Stat: 36% of career targets resulted in a 15-plus-yard gain — highest in the FBS by over four percentage points in that span (since 2018)
Any time Waddle has the ball in his hands, he's a threat to take it to the house. His explosiveness and top-end speed are truly special. While we weren't able to see him run at his Pro Day, Waddle did race former teammate Henry Ruggs III — who clocked a 4.27-second 40-yard dash time at last year's combine — a couple of years ago and pretty much tied with him.
Related: 2021 NFL Draft Profile — Alabama WR Jaylen Waddle via Sam Monson
Stat: 94.8 run-defense grade in 2019 — the second-best single-season mark in the PFF College era by an off-ball linebacker (Alabama's Reuben Foster in 2016, 94.9)
Parsons was one-tenth of a point away from breaking the PFF College record for highest run-defense grade by an off-ball linebacker as a true sophomore. He is a true monster attacking downhill and can blow up blocks with ease. Even with a limited coverage role and middling ball production, there's not much to like with the Penn State off-ball linebacker on the field.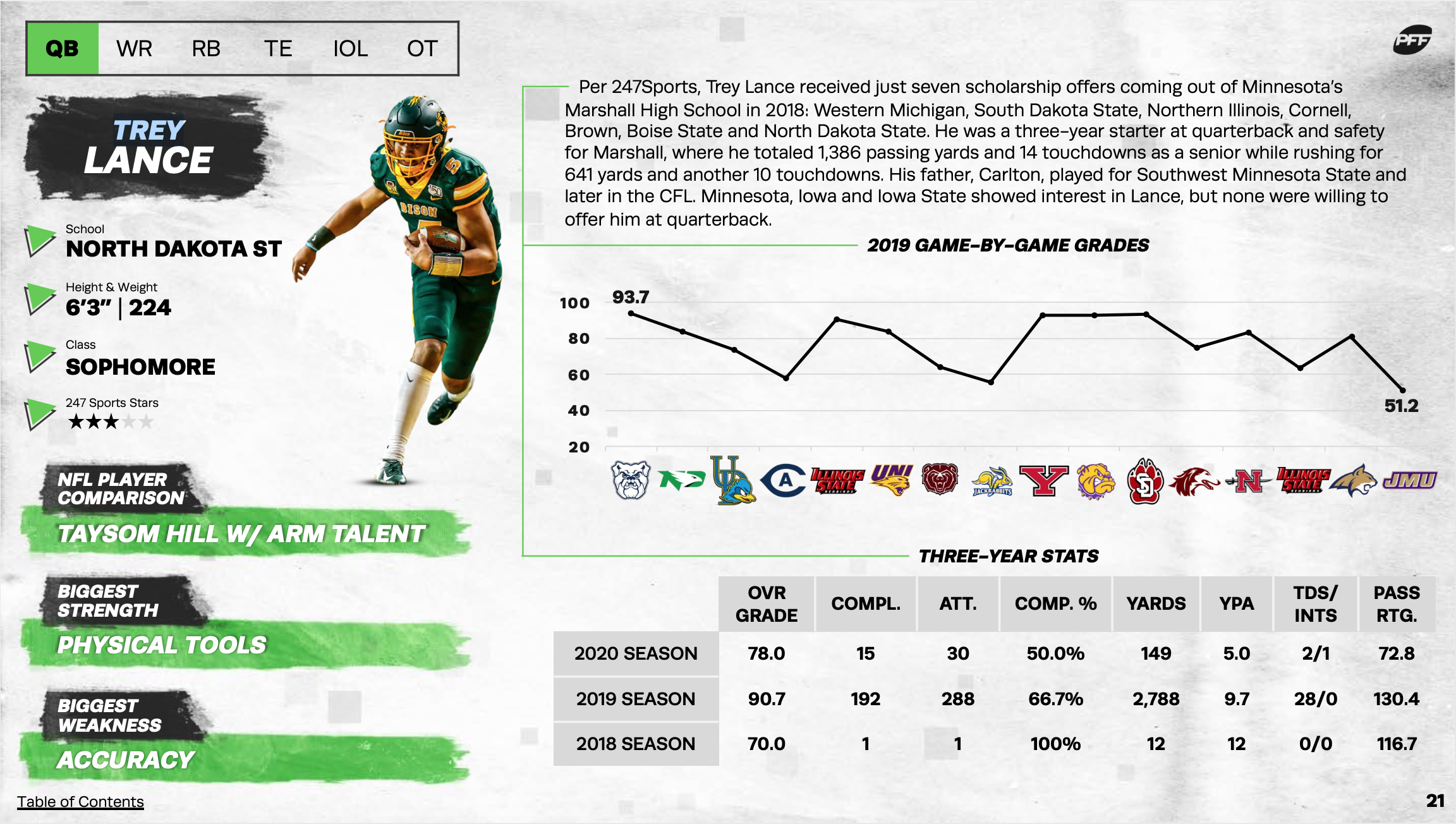 Stat: 44.1% accurate pass rate beyond the line of scrimmage in 2019 and in lone 2020 contest — worst by a first-round quarterback since 2017 by over four percentage points 
Lance is the biggest wild card in the 2021 NFL Draft, in my opinion. He attempted just over 300 passes in his college career and averaged 17.7 pass attempts across his 18 starts. Lance undoubtedly flashed NFL-caliber physical tools, but when it came to accuracy, he was anything but pinpoint. Considering accuracy is the most important aspect of the quarterback position — and a skill that rarely improves from college to the NFL — that is a major concern.
Related: College-to-pro projections for North Dakota State QB Trey Lance via Eric Eager
Stat: 1.5% pressure rate allowed in 2019 — tied for seventh-lowest single-season mark by a Power Five left tackle in the PFF College era
Slater may not have prototypical size and length for an NFL offensive tackle, but he sure possesses the athleticism, technical prowess and proven production to make up for it. Five pressures allowed across 11 starts in the Big Ten isn't too shabby.
Stat: 91.3 pass-rush grade, 23.2% pass-rush win rate and 12 pressures in the 2021 College Football Playoff versus Notre Dame and Ohio State
Barmore suffered an injury prior to the start of the 2020 season and got off to a slower start than expected when he returned. Whether those instances are connected is unknown, but one would have to assume that was the case given how Barmore started to heat up when it mattered most: in the College Football Playoff against two of the top offensive lines in the country. 
Stat: 978 snaps in press coverage since 2018 — 266 more than any other FBS cornerback
Surtain is just a well-oiled machine at this point when it comes to playing press coverage. He's a true press technician, and that should remain the same in the NFL ranks. What's most impressive is how he played on an island more than anyone in the country in 2020 and still ranked No. 1 in PFF grade. It'd be a surprise if Surtain didn't go in the top 10 at this rate.
Related: 2021 NFL Draft Profile — Alabama CB Patrick Surtain II via Sam Monson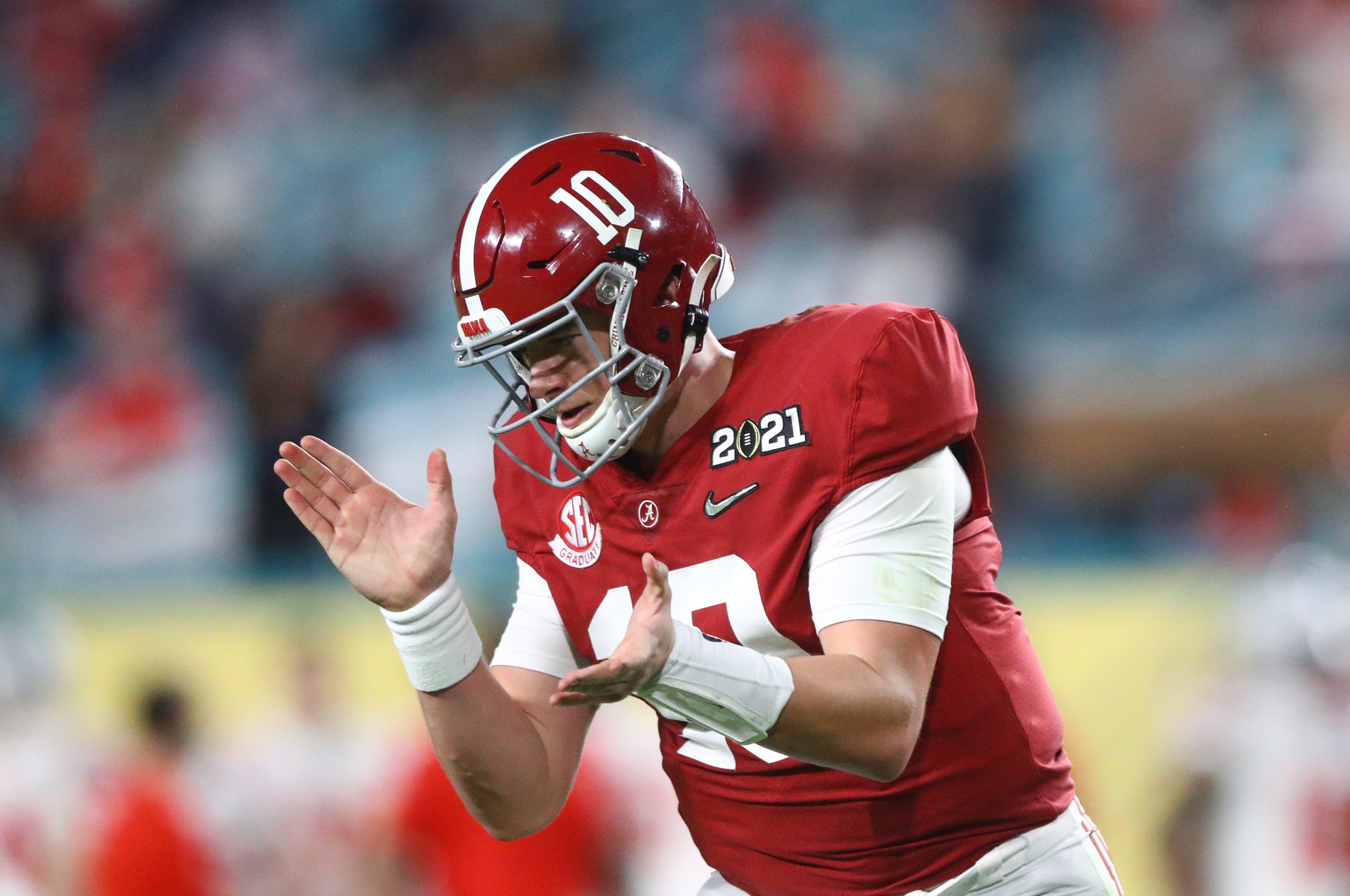 Stat: Lowest negatively graded throw rate in a single season by an FBS quarterback in the PFF College era in 2020
Last year's No. 1 overall pick, Joe Burrow, broke this record in 2019, and it seemed highly unlikely we'd see someone top his mark anytime soon. Then, Mr. Jones came around and put together a nearly flawless 2020 season, leading Alabama to a national championship. This metric is a testament to Jones' accuracy and decision-making. 
Related: Mac Jones is just as good an NFL prospect as Tua Tagovailoa was, if not better via Seth Galina
Stat: 95.6 PFF grade in 2020 — second-highest by a Power Five OT since 2014
Remember Sewell's record-setting mark in 2019? Darrisaw was close to snatching that honor in 2020, but he fell just short. He carries immense power in his 6-foot-5, 322-pound frame, which showed in his punch and in Virginia Tech's zone-heavy rushing attack.
Stat: 28 plays on the ball since 2019 — five more than any other Power Five safety
NFL teams get excited about this kind of ball production. Moehrig played the catch point exceptionally well for the Horned Frogs and was never an easy man to outmuscle with the physicality he brought. He's the best and most NFL-ready safety in the 2021 NFL Draft class — and he just might be the lone player at the position to go in Round 1.
Stat: 3.60 yards per route run when lined up out wide in 2019 — fifth-highest mark by a Power Five WR in the PFF College era
While Bateman was still very much a good and productive receiver in 2020 working mostly from the slot, his 2019 season, when he lined up primarily out wide, was far better. He may not be an elite athlete like other wide receivers in this class, but his route-running ability and release package give him a high floor in the NFL. We also shouldn't forget that Bateman dealt with COVID-19 prior to the 2020 season and lost 10 pounds.
Related: 2021 NFL Draft Profile — Minnesota WR Rashod Bateman via Sam Monson
Stat: 27.4 coverage snaps played per catch allowed in 2020 — most among FBS cornerbacks
Horn is a genuine animal in press-man coverage. He'll give NFL receivers a battle right from the get-go with the physicality he plays with. He was a true lockdown cornerback in 2020. Horn may struggle with penalties early on in his career, but I wouldn't expect that to be a long-term issue. 
Related: 2021 NFL Draft Profile — South Carolina CB Jaycee Horn via Sam Monson
Stat: Second-highest slot coverage grade in the FBS in 2020
Owusu-Koramoah is the versatile weapon the NFL is trending toward at the linebacker position. Serving as the rover in Notre Dame's defense, Owusu-Koramoah essentially covered the slot and was one of the best in all of college football at doing so. Some may consider his size and lack of reps between the tackles as a concern, but he has the short-area quicks to hold up there. And he proved he can cover small and shifty slot receivers in college. Look beyond his lack of a true position and join the movement.
Stat: 0.44 yards allowed per coverage snap in 2020 — lowest in the 2021 NFL Draft class
It's a shame we didn't get to see a full-length college season out of Newsome because he was nothing short of remarkable in his six games. He accomplished the above stat while seeing a whopping 34 targets through his first four games. He has the skill set to thrive in any defensive scheme at the next level.
Stat: 87.9 pass-block grade at guard in 2019 — second-best in the Power Five
Vera-Tucker went from a guard in 2019 to a tackle in 2020. That versatility is a pro on his scouting report, but his long-term, normal position in the NFL is at guard. Oregon's Kayvon Thibodeaux, a likely 2022 top-five pick, proved this in his last outing of 2020, beating Vera-Tucker soundly on numerous snaps. This isn't a bad thing, though; Vera-Tucker's pass sets are as clean as anyone's in the class.
Stat: Caught 96.7% of catchable targets beyond the line of scrimmage in 2020 — highest among FBS wide receivers
Moore is a scrappy, 5-foot-9, 178-pound receiver who is completely unafraid to make plays over the middle of the field. He took several major hits at the catch point in his time at Ole Miss. Moore's toughness showed after the catch, as well. He has elite quicks for a receiver and shouldn't be pigeonholed to the slot at the next level, as he flashed some impressive wins against single coverage this past season.
Related — 2021 NFL Draft Comps: Ole Miss WR Elijah Moore draws comps to Tyler Lockett via Kevin Cole
Stat: Averaged 1.5 catches allowed and 1.5 plays made on the ball against eight Power Five teams in 2019 — both of which ranked top five among Power Five corners
Medical red flags have dropped Farley down draft boards. If NFL teams could guarantee his back issue won't be a continuing problem, he'd probably be drafted inside the top 10. He has the ideal frame of an NFL corner, at 6-foot-2, 207 pounds with 33 ⅜-inch arms, and he sure has the speed (clocked a sub-4.3-second 40-yard dash prior to a back operation in March). Farley's 2019 tape and production also hold up, as his 90.5 coverage grade and those two lockdown stats mentioned above show.
Stat: Only three Power Five OLs he recorded a pass-rush grade above 71.0 against were against Rutgers in 2019, and Minnesota and Indiana in 2020
Paye reigns supreme among the many the class' many edge rushers with absurd tools and a lack of polish. He's a rocked-up 6-foot-2 and 261 pounds and has been on record running a sub-6.5-second three-cone. For those who aren't familiar, only 11 players at any position have run a sub-6.5-second three-cone at the NFL scouting combine this century. At the same time, though, Paye's pass-rush plans are reckless and his pass-rush move arsenal is barren. He also struggled to beat up any quality tackles in his college career, just as this stat suggests.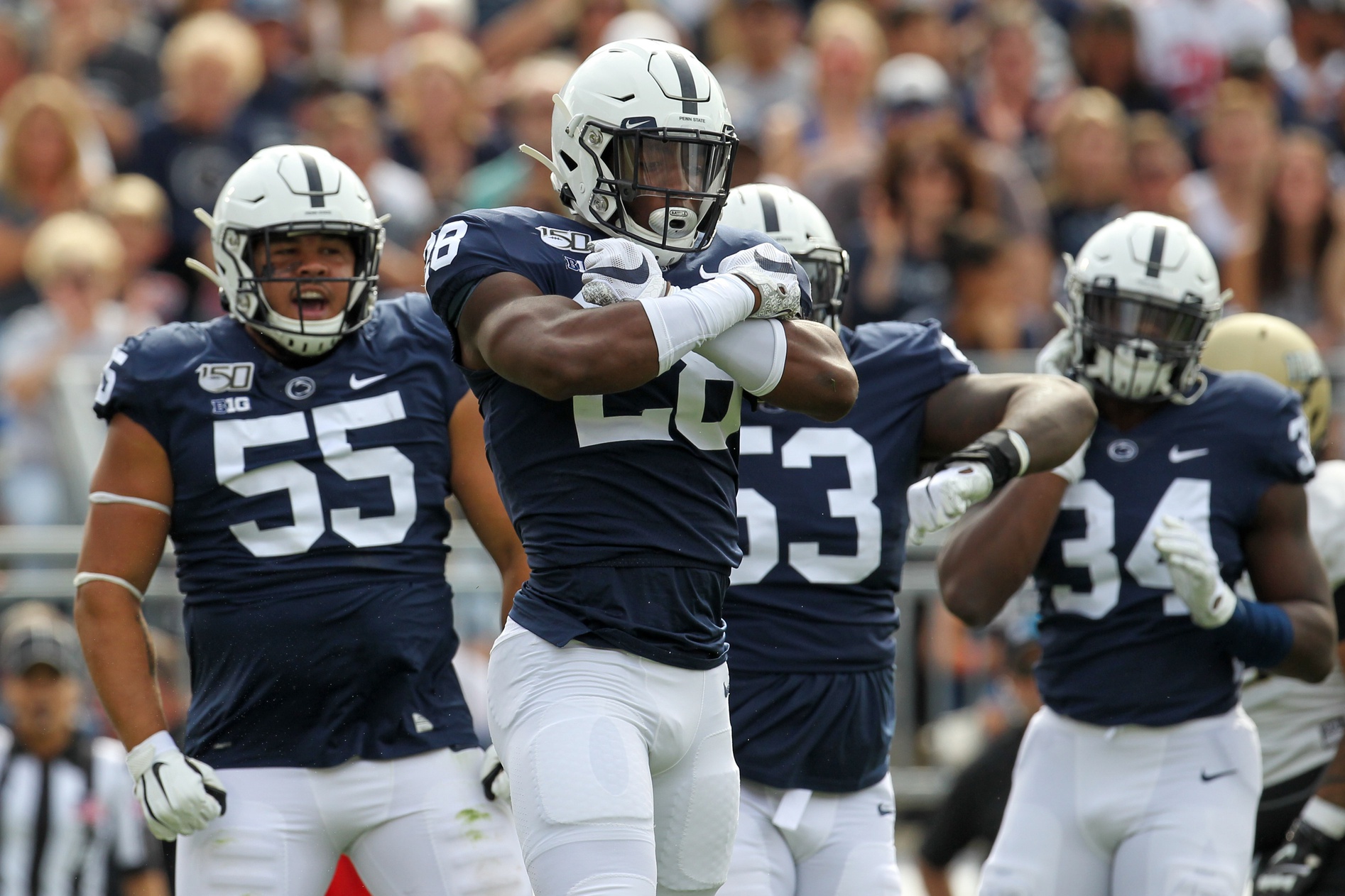 Stat: 10 pressures in 2020 opener versus Indiana, and 10 pressures in his next six games combined
Oweh was virtually a non-factor as a pass-rusher after looking like an unblockable monster against Indiana's low-ranked tackles. He'll probably be a first-round selection due to his athletic ability, and understandably so. Oweh recorded a 40-inch vertical, 134-inch broad jump, 4.39-second 40-yard dash, 4.15-second pro agility and 6.84-second three-cone at his Pro Day. The tools are there for him to become an unblockable pass-rusher, but he's a long way away from getting there. His rushes die on contact, there's no violence in his hands and his pass-rush move arsenal is sorely lacking. 
Stat: 72 snaps in the past two years
It's going to be really interesting to see where Little lands during the 2021 NFL Draft. He is the prospect PFF disagrees about the most compared to other outlets, according to The Athletic's Consensus Big Board; we have him here at No. 26, while he's at No. 94 in the consensus board.
Little has hardly played in the past two years. He was once viewed as a possible top-10 pick in the 2020 class before suffering a season-ending injury in Week 1. Then he decided to opt out of the 2020 season. It's worth noting that in the last seven games we saw from Little, he looked like the player many were expecting him to become (93.3 pass-block grade and 0.4% pressure rate allowed in that stretch).
Stat: 89.2 PFF grade from Week 6 on in 2020 — fifth-best among FBS edge defenders
Similar to Caleb Farley, Phillips would be going about 15 picks higher than currently projected if it weren't for a brutal medical history. He was the No. 1 overall recruit in the 2017 class, originally signing with UCLA, but suffered a string of injuries within his first two years that forced him to medically retire for a short time. He then made a return and transferred to Miami, where he finally got to play and showcase his talent in 2020. After a rusty first three games, Phillips broke out in a big way in Week 6 against Clemson. He has the production and tools, but can he stay healthy?
Stat: Caught 20 of 32 contested targets since 2019 forming a 62.5% catch rate (second-highest rate among FBS wide receivers)
Marshall's physical profile is driving up his draft stock. He's 6-foot-3 with a massive catch radius and impressive speed. He can snag off-target throws with those long limbs and impressed in contested scenarios throughout his time at LSU. He's not nearly as polished a product as former teammates Ja'Marr Chase and Justin Jefferson, but the tools are there.
Stat: 30 forced incompletions since 2018 — second-most in the Power Five
PFF is a bit higher on Samuel than most. Many can't see him as a first-round selection due to how undersized he is for the position. He stands at 5-foot-10, placing him in the 26th percentile among corners historically. His 180-pound frame puts him in the eighth percentile, and his 30 ⅛-inch arms sit at the 11th percentile.
Still, Samuel was able to overcome that in college because of his quicks and instincts. While he's not going to be a press-man corner in the NFL, he has all the tools to be a quality corner with slot/outside versatility for a zone-heavy team (such as the Los Angeles Chargers or Green Bay Packers).
Related — 2021 NFL Draft Profile: Florida State CB Asante Samuel Jr. via Sam Monson
Stat: 91.7 pass-rush grade in 2020 leads the 2021 NFL Draft edge defender class and is the fourth-best mark from an SEC edge defender in the PFF College era
No edge rusher in the 2021 NFL Draft class has better college production than Ojulari. He's a speed rusher in its purest form, possessing arguably the best cornering ability, and is the most technically advanced edge rusher in the class. However, he isn't No. 1 at the position because of being undersized. The length is certainly there, but his strength needs to improve for the NFL level.
Stat: Lowest negatively graded run-block rate among FBS OTs in 2020
I'm sure there are many offensive line coaches who love to sit back and turn on Jenkins' tape because of the nastiness he plays with. It showed up routinely in the run game, where he hardly lost a rep. He'll be able to handle NFL play strength from Day 1.
Stat: 32-inch vertical (87th percentile among OTs historically), 113-inch broad jump (92nd) and 7.27-second three-cone (97th) at NDSU Pro Day
With Radunz going up against FCS competition, it's not really fair to highlight some of his college data — it was purely dominant, as one would expect. So, I highlight his Pro Day because his athleticism is a key reason that he could come off the board in Round 1. What might keep him out, though, is his slight build.
---
More of PFF's 2021 NFL Draft tools here: 
2021 NFL Draft Big Board | 2021 NFL Draft Guide | 2021 NFL Draft Stats Export | NFL Mock Drafts | NFL Mock Draft Simulator