Completion percentage is an interesting statistic in and of itself, but it can be badly flawed and as much about the supporting cast as it is about the quarterback putting the ball in the air.
At Pro Football Focus, we have long sought to adjust the statistic in an effort to get a more true representation of a quarterback's ability to put the ball where they want it to go.
PFF's adjusted completion percentage credits passers for on-target throws that are dropped by receivers, but also removes passes that are thrown away (i.e. not targeting any receiver), batted at the line of scrimmage, spiked or even passes thrown when the quarterback was hit as he threw.
The full breakdown of this statistic is available in the first QB Annual or for PFF Edge and Elite subscribers, but here is a snapshot of what that metric showed for 2017:
Adjusted completion percentage: 78.8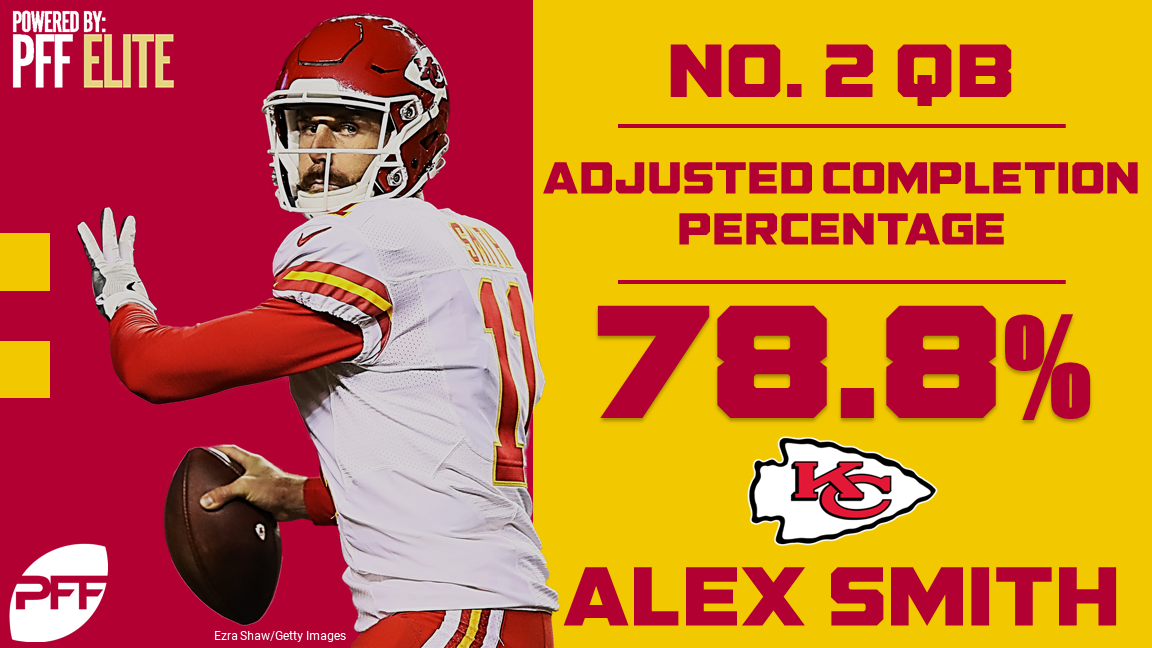 Alex Smith is consistently one of the league's most accurate quarterbacks, but he kicked that up a gear in 2017 despite becoming a more aggressive down-field passer. Smith was second in the NFL in adjusted completion percentage, putting 78.8 percent of his 'aimed' passes on target while suffering from 27 drops over the course of the regular season. That poor drop luck continued into the postseason, as Smith saw four of his 33 pass attempts hit the ground after finding their way to his receiver's hands in the playoffs.
Adjusted completion percentage: 73.1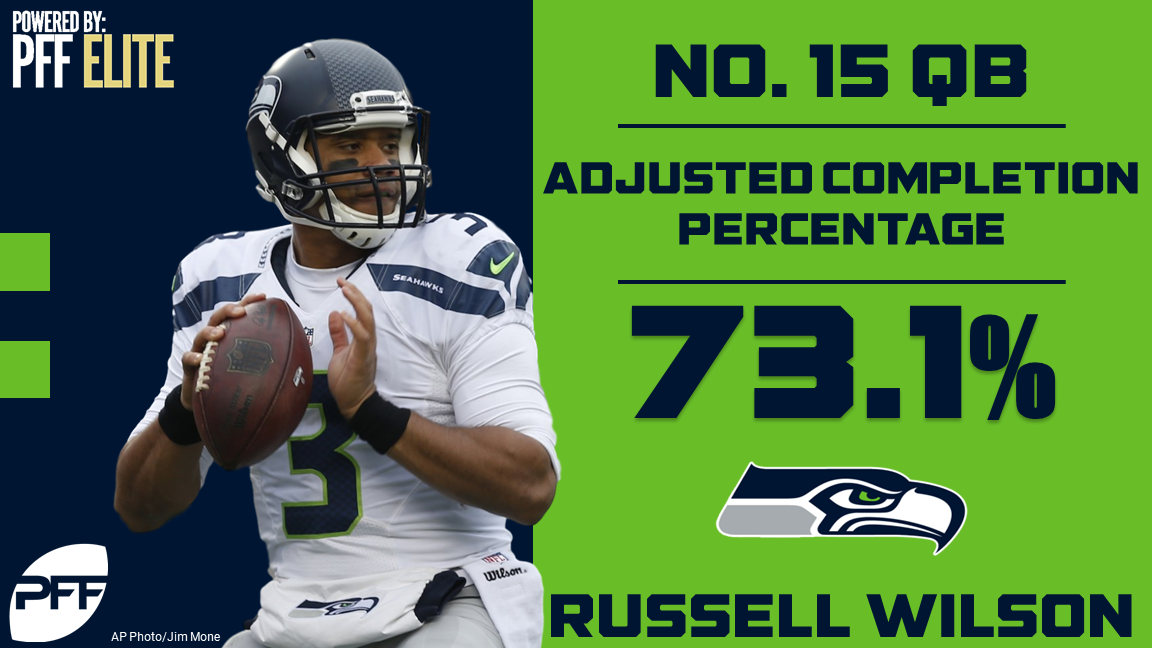 Russell Wilson saw 31 passes dropped by his receivers this year, giving him a huge boost to his overall raw completion percentage. Only four passers saw a greater number of their passes dropped, but despite his short stature, Wilson had just six passes batted at the line, one of the lowest marks in the game. His adjusted completion rate was 73.1 percent, good enough for a tie for 15th in the league with Jacoby Brissett. Wilson often put the ball in harm's way with his ad-libbed play, but he also safely threw 33 passes away, the second-highest figure in the league behind only Philip Rivers.
Adjusted completion percentage: 70.8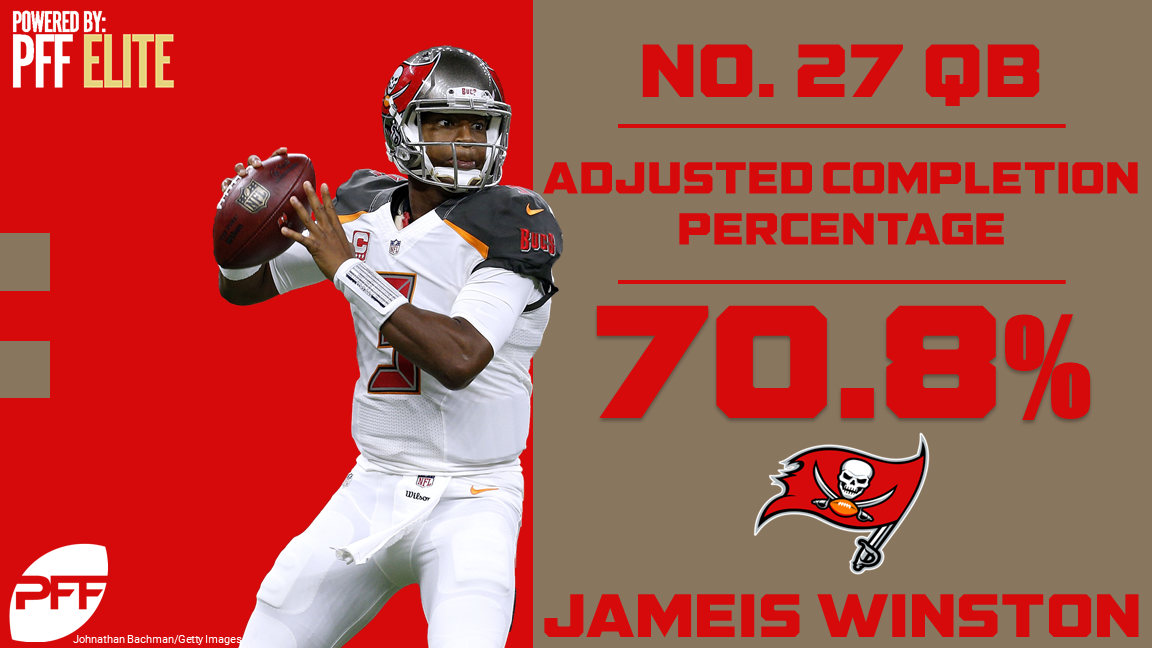 Jameis Winston is one of the league's most inconsistent passers and that trait seems to permeate all facets of his play, including accuracy. His adjusted completion percentage was 70.8 and ranked 27th in the league. With an improved receiving corps this year in Tampa Bay, he suffered from just 16 drops all season, meaning his receivers dropped 3.6 percent of his pass attempts, the fifth-best mark in the league. Winston had just two passes batted at the line and with his never-say-die attitude, he threw away only nine passes, less than a third as many as Wilson.
Adjusted completion percentage: 65.6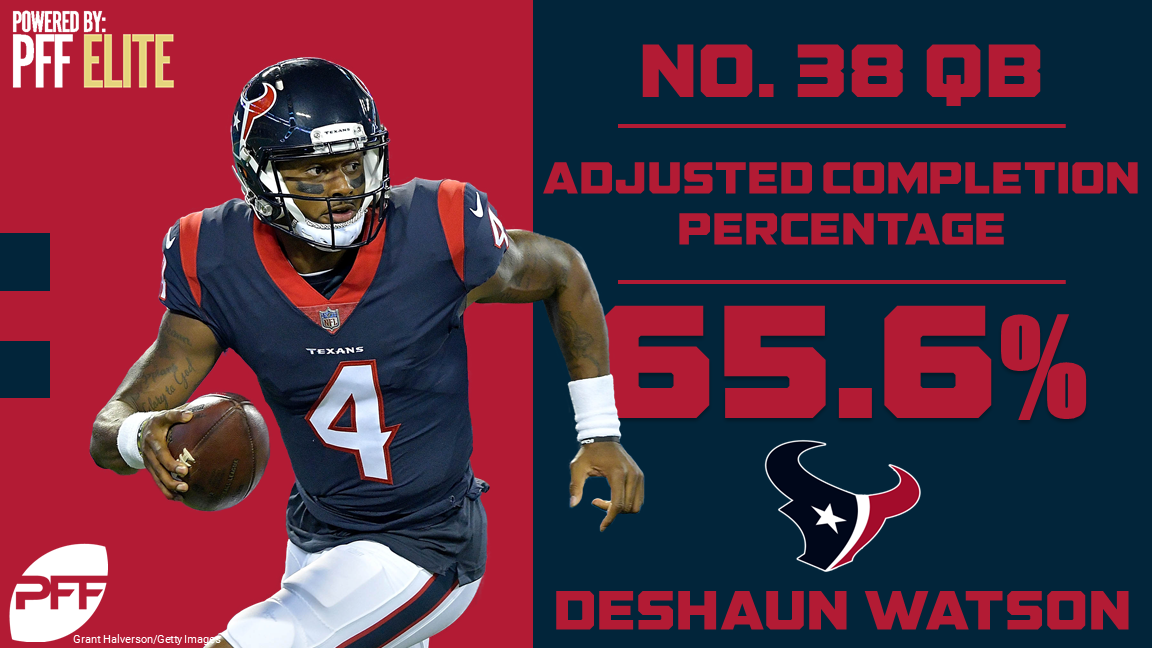 Deshaun Watson's rookie season was enigmatic and remarkable while it lasted. He led the league in big-time throw percentage, but one cause for concern was how inaccurate he was with the ball in general. Watson posted an adjusted completion percentage of just 65.6, a figure so low that it was exceeded by the traditional completion percentage of seven quarterbacks. As suspect as the supporting cast was in Houston over the year, Watson also saw just two passes dropped, giving him the best drop rate in the league by a considerable margin. His numbers seemed primed for regression, but we never saw them get the opportunity to do so because of his injury.