In a surprise move, the Kansas City Chiefs agreed to trade quarterback Alex Smith to Washington on Tuesday for a third-round pick and cornerback Kendall Fuller. The trade answered a question Chiefs' fans have been asking since the team drafted Patrick Mahomes out of Texas Tech back in April, and finally put to rest the idea that Washington was willing to commit long-term to a quarterback in Kirk Cousins that has thrown for the fourth-most yards in the history of their franchise.
Early reactions appear to favor Kansas City in this move, and our numbers appear to back this up. Let's discuss what this trade means for both sides.
Washington
Quarterback
The trade for Smith, and the subsequent four-year contract extension, ends the question of who will be Washington's long-term answer at the position but opens up a few other lines of discussion. While Cousins struggled a season ago (he was a third-tier quarterback according to our clustering algorithm, which can be found in the PFF QB Annual), one could argue that a dip in his supporting cast was the most likely cause of his grade falling from 85.4 to 78.9. With DeSean Jackson and Pierre Garcon departing via free agency last offseason, Trent Williams, Chris Thompson and Jordan Reed limited to 615, 338 and 234 snaps, respectively, due to injury, Cousins was not playing with a full deck in 2017. Washington's receivers dropped 30 of his passes on the year, which was tied for the seventh-most in the league, and none averaged more than 1.74 yards per route run. Washington's offensive line fell to 24th in pass-blocking efficiency in 2017, after being 12th in 2016.
What does this mean for Smith? Since he joined Kansas City in 2013, the Chiefs have steadily increased his weapons in the passing game. After enduring an entire season without throwing a touchdown pass to a wide receiver in 2014, second-year speedster Tyreek Hill led the NFL in deep receiving yards this past season with 628, while tight end Travis Kelce led all tight ends in deep receiving yards (266) and yards after the catch (420). Throw in rookie Kareem Hunt's rushing title, and it's likely Smith played with what is going to be the best supporting cast of his NFL career (and he responded with a career season).
While Washington has a pair of tight ends in Reed and Vernon Davis (eighth in yards per route run) that can approximate some of the dynamic things Kelce can do in the passing game, they do not have the field-stretching player on the outside like Hill. Second-year player Josh Doctson flashed some big-play ability, scoring six touchdowns and averaging 14.3 yards per catch, but Smith has never really had success throwing to similar, bigger-bodied receivers in Kansas City (e.g. Dwayne Bowe, Chris Conley), leaving the question as to whether Doctson can live up to his draft position an open one.
In sum, however, it's very difficult to see Washington falling out of contention in the NFC East with Smith. His floor in Kansas City, with good surrounding talent or bad, was 9-7, giving his new team a floor with which to work with as they head into the draft and free agency, where they have (even after Smith's new deal) a nontrivial amount of cap room and a pick in the top 15.
The Secondary
The trade of Fuller leaves a big hole in what has become one of the league's most important positions. Along with the play of quarterbacks and players that catch the ball, the efficacy of players in pass coverage correlate with winning as much as anything in today's NFL, and Washington gave up a young, cheap player that graded at a 90.0 in just his second season.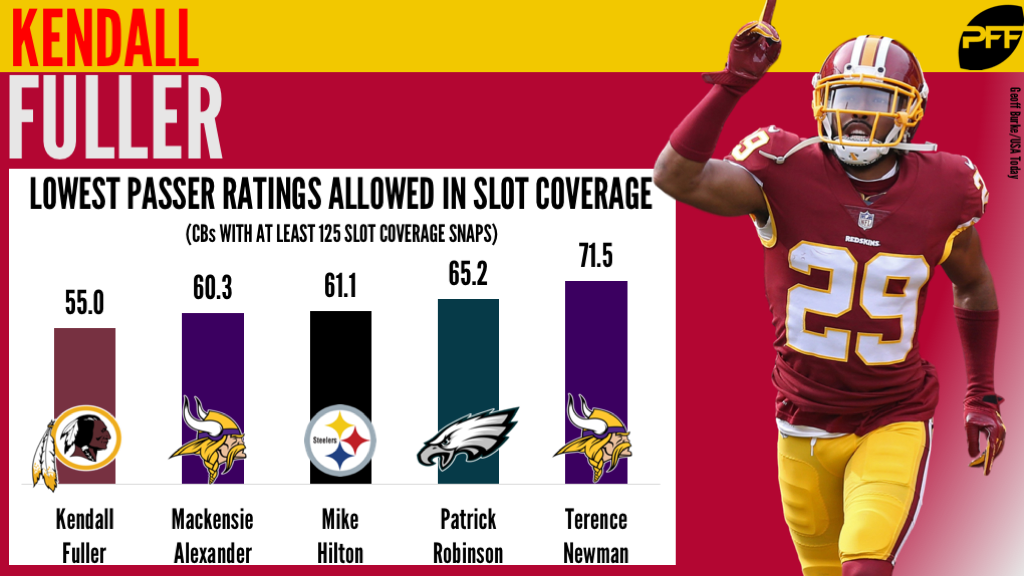 Fuller can play both on the outside and in the slot (where his 0.74 yards per route run allowed were better than anyone targeted more than 40 times), and was a fulcrum of what was the makings of a great, upcoming secondary with Josh Norman (79.1), D.J. Swearinger (83.6) and Bashaud Breeland (79.0). Without him, there's no one with substantial experience in the slot remaining on the roster, meaning they'll have to use some of their cap space to go after someone like Malcolm Butler, Prince Amukamara, Nickell Robey-Coleman, Patrick Robinson or Aaron Colvin in free agency or hope that an upcoming draft pick is ready to assume the role. Throw in the fact that Breeland and is a free agent, and the trade generates a ton of unanswered questions on the back end of the defense moving forward.
Kansas City
Quarterback
The only thing making Tuesday's trade possible was another trade by Kansas City, with Buffalo, to move up to pick 10 in last April's draft to pick Mahomes as the heir apparent to Smith.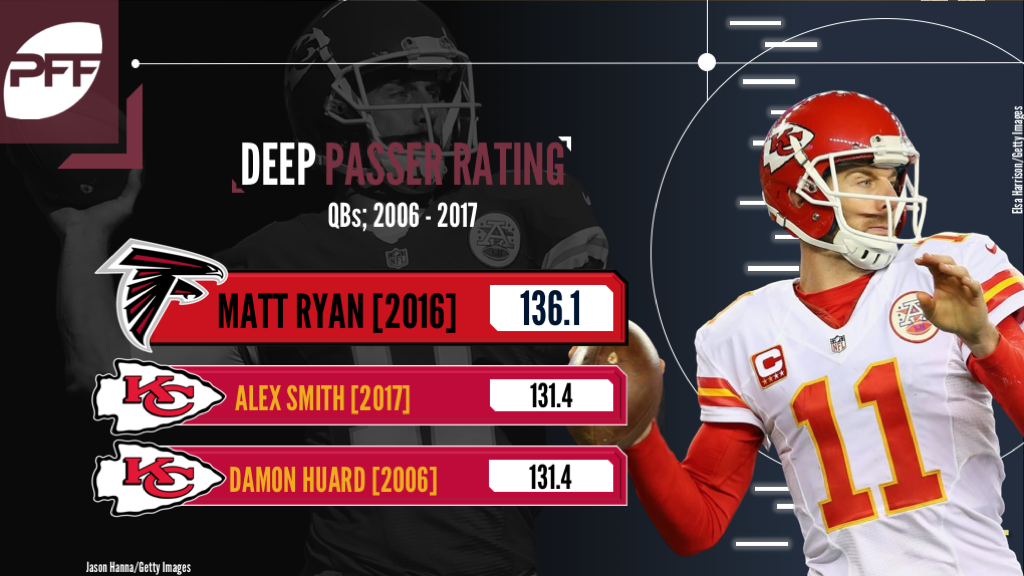 Before Smith's crazy outlier season (leading the league in most deep-passing categories), Mahomes was the antithesis of Kansas City's long-time signal caller. Lauded for his big arm and borderline-reckless style in college, Mahomes was thought to be the means by which Andy Reid really opened up his playbook and let the likes of Hill, Kelce and Hunt shine.
With 2017 now in the rearview mirror, though, it's already clear that the Kansas City offense, under Reid, is capable of such explosiveness (ranking ninth in our rating system, you would know this if you listened to the PFF Forecast). Now the question is whether Mahomes is ready to take over where Smith left off.
All initial signs appear encouraging. Mahomes made our 2017 All-Preseason Team, with a passer rating of 128.3 on the ever-important and uber-stable set of dropbacks when he was kept clean. He also generated a passer rating of 129.5 on deep passes during exhibition play.
In his only regular-season test, Mahomes led a Chiefs team resting most of its starters into Denver and was fantastic, averaging over eight yards per pass attempt (despite being hampered by three drops) and leading his team to a game-winning drive by completing passes of 13, 12, 13 and 14 yards in the cold Denver air.
While there were some concerns about his ability to transition from the Texas Tech system to the pros, he was lucky enough to watch a successful veteran quarterback for almost an entire 17-game season. Additionally, despite his scheme asking him to throw a substantial number (59.1 percent) of what we've mathematically deemed as "non-NFL Throws" during his final college season, he graded well above average when asked to throw NFL Throws, making his transition a bit less of a concern than initially feared.
The Secondary
Once a strength of the Kansas City defense, the Chiefs secondary was a big reason why the Chiefs were the lowest-rated team in terms of our rating system defensively. Losing Eric Berry, one of the league's best and most-versatile safeties, was a huge blow, as the combination of Ron Parker (40.1), Daniel Sorenson (40.7) and Eric Murray (44.4) was unable to hold up in Kansas City's preferred three-safety dime packages (used 43 percent of the time in 2017). While Berry returns in 2018, safety hasn't been the only issue in the Chiefs secondary in recent seasons. Since losing Sean Smith to the Oakland Raiders after the 2015 campaign, there has been a revolving door at right cornerback opposite Marcus Peters (85.7), with the likes of Terrance Mitchell (fourth-worst in the league in yards per coverage snap allowed in 2017), Phillip Gaines (105.8 passer rating allowed), Kenneth Acker (57.1 overall grade), Steven Nelson (103.2 passer rating allowed from the slot), and eventually Darrelle Revis (57.2 overall grade) all taking turns and struggling to various degrees.
Want to know where Kendall Fuller lined up last year?

It's below and you can get every player's snaps broken down in PFF ELITE:https://t.co/N7immA6sm6 pic.twitter.com/yU3U7WBxJB

— Neil Hornsby (@PFF_Neil) January 31, 2018
With Fuller, who has experience both on the outside and in the slot, the Chiefs have one of the better, and more inexpensive, cornerback tandems in the league, a combination that combined for nine interceptions a season ago. Production and quality in pass coverage are statistically less stable season-to-season than it is for pass-rushers and run-defenders, so it could very well be the case that Fuller isn't the savior the Chiefs need to turn around their entire defense. It's more than fair to conclude, however, that they are far ahead of where they were at this time last year (when they spent zero free agent dollars or draft capital at the position). With veterans like Kyle Fuller (84.3), Brent Grimes (82.0) and Trumaine Johnson (74.3) on the market as outside options, as well as the number of inside-outside players flooding the market (and driving prices down), the Chiefs will be in a good position to reload should they use that avenue.
Cap Room
Prior to the trade of Smith, the Chiefs were in one of the more precarious situations in terms of future roster development. Without a first-round pick in the upcoming draft (traded to the Bills for Mahomes), and with veterans like Smith ($20.6 cap number), linebackers Justin Houston ($20.6), Derrick Johnson ($10.25) and Tamba Hali ($9.40) on the books, the Chiefs had one of the least-flexible cap situations in the league. In moving Smith, though, they pick up $17 million in cap space and add a third-round pick to the mix, in addition to the inexpensive Fuller ($0.83 2018 cap hit) to address a glaring need. Furthermore, the late preseason acquisition of linebacker Reggie Ragland (78.9) means that it will be easier for them to take Johnson's number down to something more manageable or let him go altogether. Safeties Parker ($6.98M) and Sorenson ($4.80M) are players that would be inexpensive to cut after June 1, with Parker a possible candidate for a trade should they want to move on from him.
In Summation
The Alex Smith trade to Washington for a third-round pick and Kendall Fuller addressed several offseason questions (albeit more quickly than many of us anticipated). After paying Kirk Cousins $19.95 and $23.94 million the last two seasons as a stop-gap measure, Washington now has committed to a long-term answer in Smith. In jettisoning Smith, the Chiefs have answered the question as to whether they are committed to using resources rebuilding a defense that was once one of the league's better units and, in so doing, have expressed their confidence in young Patrick Mahomes as their quarterback of the future. The data suggests the Chiefs got the better end of this deal, but it will be interesting to see how this opinion evolves once the results start coming in.