What you need to know
The Minnesota Vikings' offseason endeavors will all be tied to the decisions general manager Rick Spielman & Co. make to solidify the quarterback position, as all three of the team's signal-callers are slated to test free agency come March. Of course, veteran Case Keenum stands out as the bell of the ball for his efforts in Minnesota's deep playoff run this past season, but that isn't saying much given the numerous question marks circling both Sam Bradford and Teddy Bridgewater. And even though he stands at the forefront, Keenum's résumé isn't without its fair share of concerns.
In addition to the pressing quarterback conundrum, Speilman will have his hands full in addressing other positions of need with outside talent and keeping in-house talent from leaving the building. Minnesota enters the offseason with 13 impending unrestricted free agents, including running back Jerick McKinnon, guard Joe Berger and cornerback Terence Newman.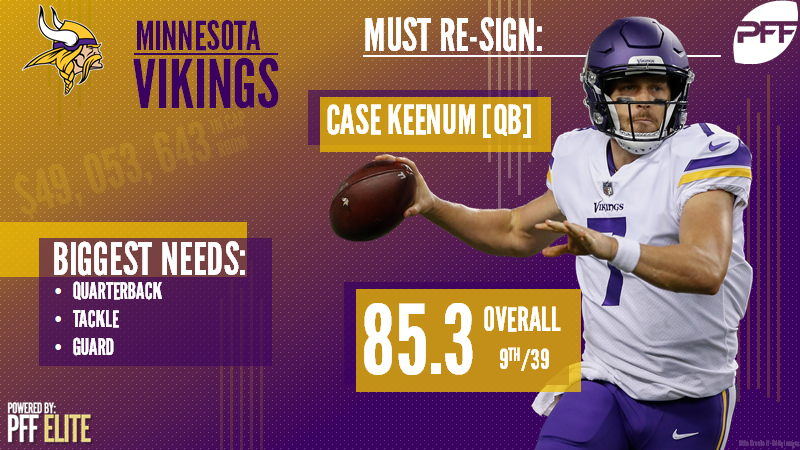 Salary cap room
$49,053,643 (8th in the NFL, as of 02/17/2018)
Biggest Needs
Quarterback
Tackle
Guard
Interior defender
Notable free agents
Must re-sign
Case Keenum, QB, 85.3 overall grade
Working within a league where strong quarterback play more often coveted than captured, Minnesota simply can't afford to let Keenum walk after watching him pull the team within arm's reach of Super Bowl LII. Fitted with weapons like Stefon Diggs, Adam Thielen, Dalvin Cook and a star-studded defense, Keenum has enough of a supporting cast to mirror similar successes under center in 2018. Also, having the franchise tag as a card to play, the Vikings can retain Keenum without succumbing to the obvious long-term financial risk at hand.
Keenum's breakout performance in 2017 is a notable outlier compared to previous seasons, as his career-high 85.3 overall grade is at least 10.8 grade points above any of his four previous season grades. However, he exceeded expectations with his ability to balance aggressive and conservative decisions and perform well under pressure. The 30-year-old signal-caller ranked inside the top-20 (among 41 qualifiers) in big-time throw percentage (4.22) and snuck into the top-10 in adjusted completion percentage under pressure (53.6) and turnover-worthy play percentage (2.44) in 2017.
Dream splash signing
Andrew Norwell, G, 88.8 overall grade
Inefficient guard play is a common concern across the league entering free agency, which will undoubtedly inflate the market for Carolina Panthers guard Andrew Norwell if he indeed tests the free agent waters. The former Ohio State product has put together an outstanding four-year start to his career since joining Carolina as an undrafted free agent in 2014, earning 82.0-plus overall grades in all four years of his career (54 starts).
Berger, the team's 2017 starter at right guard, is mulling retirement as he approaches his 36th birthday, while teammate and fellow guard Nick Easton has earned sub-46.0 overall grades in each of his two years in the league. An upgrade at the guard position is paramount, especially if Cook is to hit the ground running in 2018.
[Editor's note: Read more about the free agency class of 2018 with the first ever PFF Free Agency Guide, which dropped for all PFF Edge & Elite subscribers. Not a subscriber? Sign up today and receive your copy with detailed profiles, exclusive PFF stats and much more.]
2018 free agent prospects
Justin Pugh, G/T, New York Giants
New York Giants' Justin Pugh, who has quality, starter-level experience at guard and tackle in his five-year career, could suit the Vikings' needs along the offensive line at a much cheaper price than Norwell this offseason. The former first-round pick earned 78.0-plus overall grades in each of his first four years in the league before his injury-plagued 2017 campaign resulted in a career-low 52.4 mark.
If Pugh can return to his former self, he is more than capable of stepping in to replace Berger or Easton. Also, with his experience at right tackle, Minnesota could benefit from replacing second-year tackle Rashod Hill with Pugh.
Nate Solder, T, New England Patriots
Similarly to Pugh, New England Patriots tackle Nate Solder could serve as an upgrade over either of the Vikings' two offensive tackles in Hill and six-year veteran Riley Reiff. Both Hill and Reiff earned sub-50.0 overall grades and ranked outside of the top-30 qualifying offensive tackles in PFF's pass-blocking efficiency at 95.2 and 94.5, respectively.
Solder had a bit of an up-and-down season in terms of pass protection last season, but when he was firing on all cylinders, he looked the part of a stalwart blindside protector at left tackle. His run blocking, on the other hand, remains a consistent part of his game, as he earned the 12th-highest run-block grade (83.2) among qualifying offensive tackles last season.
2018 Free Agency
---
Free Agent Tracker / 2017 free agent hits
2018 Free Agency Rankings
---
2018 Free Agent Previews
---
Arizona Cardinals / Atlanta Falcons / Baltimore Ravens / Buffalo Bills /
Carolina Panthers / Chicago Bears / Cincinnati Bengals / Cleveland Browns /
Dallas Cowboys / Denver Broncos / Detroit Lions / Green Bay Packers /
Houston Texans / Indianapolis Colts / Jacksonville Jaguars / Kansas City
Chiefs / Los Angeles Chargers / Los Angeles Rams / Miami Dolphins /
Minnesota Vikings / New England Patriots / New Orleans Saints /
New York Giants / New York Jets / Oakland Raiders / Philadelphia Eagles /
Pittsburgh Steelers / San Francisco 49ers / Seattle Seahawks /
Tampa Bay Buccaneers / Tennessee Titans / Washington Redskins