What you need to know
The Houston Texans' 2017 season fell into disarray when rookie quarterback Deshaun Watson suffered a season-ending ACL tear in the practice prior to his seventh NFL start, as backups Tom Savage and T.J. Yates collectively failed to mirror Watson's success under center in his absence. Fortunately for Houston, Watson is expected to return to full health in time to pick up where he left off as a starter in 2018, giving the Texans' brass the freedom to allocate their offseason resources to areas of need and surround Watson with talent for him to succeed.
Salary cap room
$56,642,308 (6th in the NFL, as of 02/09/18)
Biggest needs
Offensive tackle
Cornerback
Guard/Center
Tight end
Notable free agents
Must re-sign
N/A
Of course, Houston will opt to bring back some of their players to maintain proper depth, but arguably none of their soon-to-be free agents qualify for the 'must re-sign' label.
Offensive linemen Breno Giacomini, Chris Clark and Xavier Su'a-Filo will leave the Texans with few returning starters in the trenches if they aren't re-signed, but after looking at the data, Watson may be safer without the three in Houston next season. Among the 83 offensive tackles to play at least 350 offensive snaps this past season, Clark (37.7 overall grade) and Giacomini (32.7 overall grade) ranked T-76th and 82nd, respectively. Su'a-Filo followed suit, ranking 77th among qualifying guards with his overall grade of 35.8.
In the secondary, cornerback Johnathan Joseph and safeties Eddie Pleasant and Marcus Gilchrest all put together solid performances in 2017, as none of the three earned an overall grade below 75.0. However, the trio will be playing in their 30s by the end of next season – with Joseph leading the pack at 34 – and have seemed to plateau near the middle of the pack in terms of production and impact.
Dream splash signing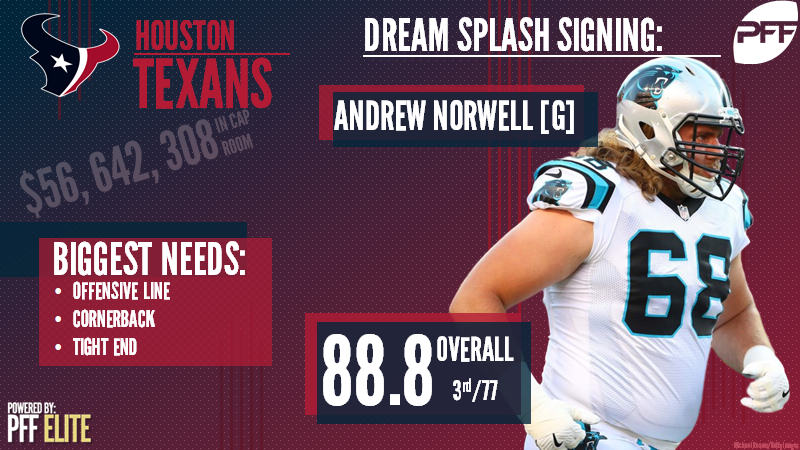 Andrew Norwell, G, 88.8 overall grade
A former undrafted free agent coming out of Ohio State, Norwell has quietly become one of the league's top guards, earning 82.0-plus overall grades in each of his four years as a starter. And in his contract year in 2017, he earned a career-high 88.8 overall grade to rank third among qualifying guards, all but guaranteeing him a lucrative deal this offseason.
With Su'a-Filo likely on his way out and fellow guard Jeff Allen (38.4 overall grade) doing no one any favors, Norwell would be an instant game-changer for the Texans' offense. He not only would step in as an impact starter, but he'd also be the team's best offensive lineman.
[Editor's note: Read more about the free agency class of 2018 with the first ever PFF Free Agency Guide, which dropped for all PFF Edge & Elite subscribers. Not a subscriber? Sign up today and receive your copy with detailed profiles, exclusive PFF stats and much more.]
2018 free agent prospects
Justin Pugh, G/T, 52.4 overall grade 
Whether Houston wins the Norwell sweepstakes or not, the team's offensive line issues would still be far from solved. As previously mentioned, the Texans could clean house up front, which would leave the door open for multiple offensive linemen to enter the mix this offseason.
The New York Giants' Justin Pugh, a former first-round pick in 2013, has put forth strong play at both tackle and guard in his five-year career, which should be music to the Texans' ears with their woes at both positions. Pugh earned 78.0-plus overall grades in his first four years in the league before injuries struck in 2017 and pulled his overall grade down to a career-low 52.4.
Jimmy Graham, TE, 53.8 overall grade
While it has now become quite the cliché, giving a young quarterback a reliable pass-catcher at the tight end position can ease youthful signal-caller's growing pains, and Watson is no different.
Seattle's Jimmy Graham may not be the game-breaker he used to be, but he still can provide a strong presence in the middle of the field on as a go-to target on critical downs and in the red zone. Graham 76.0-plus overall grades in each of his first seven seasons in the league before falling to his 53.8 mark in 2017, but if history is any indicator, he's due for a rebound next season.
2018 Free Agency
---
Free Agent Tracker / 2017 free agent hits
2018 Free Agency Rankings
---
2018 Free Agent Previews
---
Arizona Cardinals / Atlanta Falcons / Baltimore Ravens / Buffalo Bills /
Carolina Panthers / Chicago Bears / Cincinnati Bengals / Cleveland Browns /
Dallas Cowboys / Denver Broncos / Detroit Lions / Green Bay Packers /
Houston Texans / Indianapolis Colts / Jacksonville Jaguars / Kansas City
Chiefs / Los Angeles Chargers / Los Angeles Rams / Miami Dolphins /
Minnesota Vikings / New England Patriots / New Orleans Saints /
New York Giants / New York Jets / Oakland Raiders / Philadelphia Eagles /
Pittsburgh Steelers / San Francisco 49ers / Seattle Seahawks /
Tampa Bay Buccaneers / Tennessee Titans / Washington Redskins