What you need to know
The Baltimore Ravens were the team a lot of people described as "the team you don't want to face" in the postseason, but they ultimately fell short of even getting there, with a fourth-down conversion giving the Cincinnati Bengals a late touchdown in the final week of the regular season to keep them out of the playoffs.
The Ravens have a bunch of talent on defense and added key pieces to their secondary in the draft and free agency in recent years (see Marlon Humphrey, Tavon Young, Eric Weddle and Tony Jefferson), but their offense is in need of some attention this offseason. Despite his struggles, the team is tied to quarterback Joe Flacco based on his current contract, so they are going to have to set the offense up around him again in 2018. The difficulty, however, is that they don't have a lot of cap room to work with.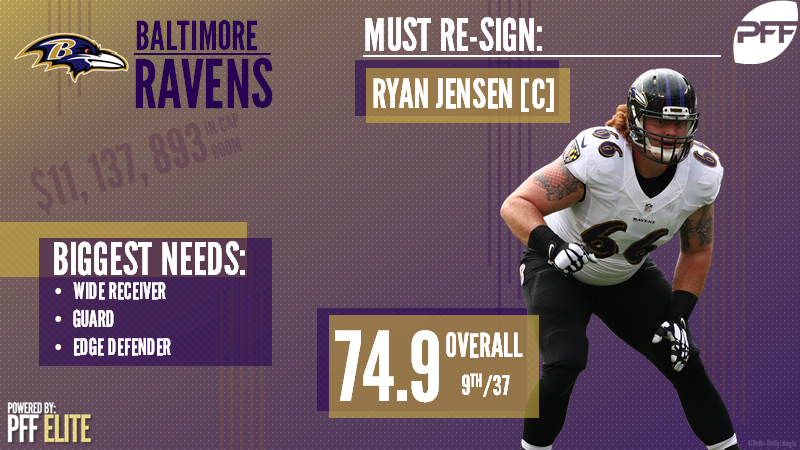 Salary cap room
$11,137, 893 (27th in the NFL, as of 1/30/2018)
Biggest Needs
Wide Receiver
Guard
Edge Defender
Notable free agents
Must re-sign
Ryan Jensen, C, 74.9 overall grade
The Ravens lost right guard Marshal Yanda to a season-ending injury early in 2017, and the interior offensive line would have been in even worse shape if not for the emergence of center Ryan Jensen. Posting a modest 74.9, the highest grade of his career so far, Jensen had played just 704 snaps in his career heading into the 2017 season but was on the field for 1,052 snaps in 2017. With his grade improving in each of the past three seasons (from 48.9, to 72.2, to 74.9), and his sixth-ranked pass-blocking efficiency rating (98.4), Jensen is the most important of all the Ravens impending free agents. With the added uncertainty of who will start at left guard in 2018, and if Yanda will be back to his best in time for the start of the season, bringing Jensen back would be a smart move at the right price.
Dream splash signing
Allen Robinson, WR, Jacksonville Jaguars
The Ravens need a wide receiver who can help Flacco out by winning at the catch point and Allen Robinson would fit the bill perfectly. Robinson has shown a history of making his quarterbacks look better both in Jacksonville and at Penn State in college, and delivered a PFF grade of 87.5 in 2015. His production dipped in 2016, as he ranked tied for 65th with an average of 1.33 yards per route run and his drop rate of 10.98 ranked 75th among wide receivers. Coupled with the fact that his 2017 season ended after just three snaps, there is some trepidation to be had when it comes to Robinson. Still, 24-year old wide receivers with the upside of Robinson don't hit the market very often, and if he does he could be the perfect medicine for the Ravens offensive struggles.
[Editor's note: Read more about the free agency class of 2018 with the first ever PFF Free Agency Guide, which dropped for all PFF Edge & Elite subscribers. Not a subscriber? Sign up today and receive your copy with detailed profiles, exclusive PFF stats and much more.]
2018 free agent prospects
Danny Amendola, WR, New England Patriots
Salary cap restrictions may force the Ravens to need to target veterans who could be added at a lower price, and for that reason, Amendola could be a sensible target. He could step right in as the Ravens slot receiver in 2018, as he had 54 receptions from the slot during the 2017 season and an average of 1.78 yards per route run from the slot, which ranked ninth in the NFL among wide receivers who saw at least 220 passing snaps from the slot.
Taylor Gabriel, WR, Atlanta Falcons
The Ravens need an influx of talent at wide receiver, so don't be surprised to see them add multiple players to the position via free agency. While Amendola would represent a safe pair of hands underneath, Gabriel can create separation downfield and stretch defenses in a way no current player on the Ravens roster truly can. His 2.9 drop rate ranked 12th in the NFL in 2017, and his 83.2 PFF grade in 2016 shows the type of player he can be in the right situation.
2018 Free Agency
---
Free Agent Tracker / 2017 free agent hits
2018 Free Agency Rankings
---
2018 Free Agent Previews
---
Arizona Cardinals / Atlanta Falcons / Baltimore Ravens / Buffalo Bills /
Carolina Panthers / Chicago Bears / Cincinnati Bengals / Cleveland Browns /
Dallas Cowboys / Denver Broncos / Detroit Lions / Green Bay Packers /
Houston Texans / Indianapolis Colts / Jacksonville Jaguars / Kansas City
Chiefs / Los Angeles Chargers / Los Angeles Rams / Miami Dolphins /
Minnesota Vikings / New England Patriots / New Orleans Saints /
New York Giants / New York Jets / Oakland Raiders / Philadelphia Eagles /
Pittsburgh Steelers / San Francisco 49ers / Seattle Seahawks /
Tampa Bay Buccaneers / Tennessee Titans / Washington Redskins