Quarterback play is the ultimate driving force behind team success. This year it will be more important than ever for starting signal-callers to play to the best of their abilities, improve on their flaws and live up to expectations now that there exists the potential of COVID-19 taking out star players for an extended period.
This begs the question, what exactly do all 32 NFL teams need from their quarterback in 2020, especially now there's the chance of a game-wrecking receiver or defensive back having to miss time?
Subscribe to
Murray, No. 1 overall pick in the 2019 NFL Draft, may have taken home the Offensive Rookie of the Year award by a good margin, but he was far from perfect in his first NFL campaign. He showed some promise over a mid-year stretch, posting a 78.8 PFF grade from Weeks 5-11, but then came back from his Week 12 bye and had two performances that were among the worst at the position all year long (sub-30.0 PFF grades in each).
With the 2020 season on the horizon, Murray is being deemed as a legitimate MVP candidate. This, in our opinion, is a bit of a reach. Clean-pocket passing grade is stable year to year, and Murray ranked second-to-last in passing grade from a clean pocket in 2019. It's not that I don't believe in Murray long term — in fact, it's quite the opposite. He did show the arm talent we all grew to love when he was at Oklahoma (ranked fifth in deep passing grade) as well as athleticism on the ground. After all, he was our top prospect in the 2019 draft class by a considerable margin.
We just have to be patient with Murray. While we aren't expecting an MVP campaign from him in 2020, we are confident he can get there eventually and expect improvement in Year 2. For Arizona's sake this year, though, he needs to prove us wrong.
ATLANTA FALCONS: DOING A BETTER JOB OF HANDLING A SUBPAR OFFENSIVE LINE
Matt Ryan played behind the worst offensive line of his career in 2019. The Falcons failed to crack the 25th percentile in team pass-block grade and allowed Ryan to be pressured on 39.2% of his dropbacks, the fifth-highest rate in the league. The unit has a top-10 tackle in Jake Matthews and the fourth-best interior offensive lineman in center Alex Mack, but the rest of the line is very reliant on younger players. In our eyes, the Atlanta offensive line won't be much better than it was in 2019, as the unit rang in at just 24th in our offensive line rankings.
Ryan is one of the most underappreciated quarterbacks in the NFL, and he performed exceptionally well in 2019 when the offensive line did its job. He ranked fifth in the NFL in clean-pocket passing grade. Under pressure, however, things went south. He had the third-most turnover-worthy plays, with 18, and ranked 23rd in passing grade. The good news is that pressure performance isn't stable year to year as opposed to clean-pocket passing. Ryan will face a significant amount of pressure in 2020 — it's just about preventing those uncharacteristically bad decisions he so often made in 2019.
BALTIMORE RAVENS: LAMAR JACKSON WINNING WITH HIS ARM IN COME-FROM-BEHIND SCENARIOS
Lamar Jackson had one of the biggest sophomore breakouts we have ever seen. He raised his 58.6 PFF grade as a rookie in 2018 to 91.1 in 2019, tying for the third-best mark in the NFL. We saw a big improvement in both facets of play, but particularly with his passing. That said, there was one area in which Jackson significantly struggled last year — one that could be the team's Achilles' heel in 2020, as PFF's Sam Monson highlighted: Playing from behind.
Jackson didn't have to do it often last year, but when he did, he performed poorly. His passing grade on such instances ranked just 26th in the NFL. Of course, he does damage on the ground, but Jackson has yet to prove he can deliver when teams know he has to pass to make up a deficit.
BUFFALO BILLS: KNOWING LIMITATIONS, SPECIFICALLY WITH THE DEEP BALL
Josh Allen took a baby step forward in 2019 — he continued making a few big plays here and there with his legs and got significantly better when passing to the short and intermediate depths. On throws up to 19 yards downfield, Allen ranked 10th in the NFL in passing grade. His deep ball, however, was not good. His grade rank dropped to last when throwing 20-plus yards downfield, and he led the NFL in quarterback-fault incompletions.
Accuracy was our biggest concern with Allen when he was coming out of Wyoming, and so far, he has unfortunately proved us right. He might have an absolute rocket-launcher for an arm, but the accuracy just isn't there for him to consistently hit receivers deep downfield. Allen produced a high rate of positively graded throws last year, but that was heavily influenced by his supporting cast. Buffalo can have some success with Allen as he enters Year 3, but the team has to scheme it up for him and limit the inconsistent downfield shots.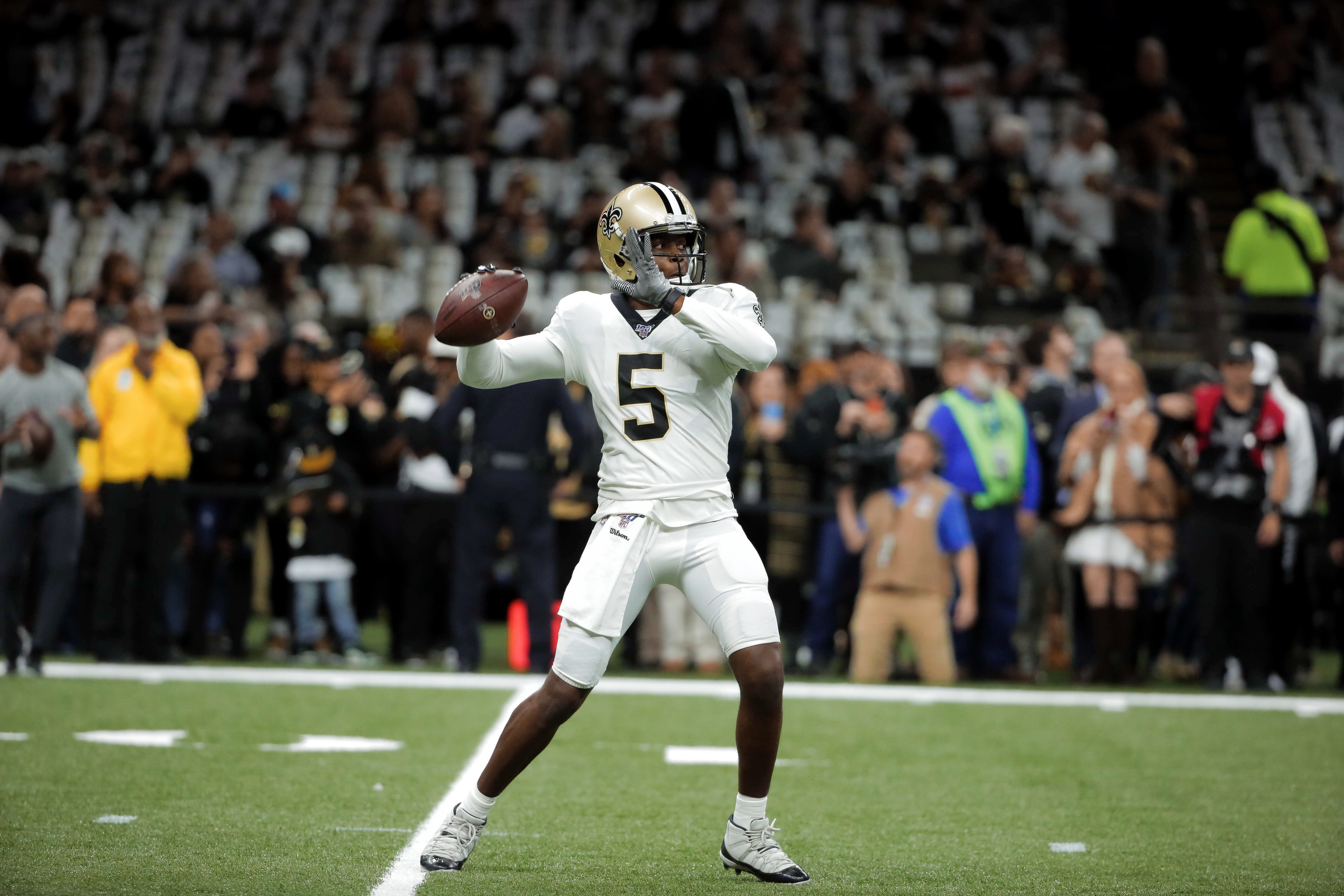 CAROLINA PANTHERS: BE MORE AGGRESSIVE THAN IN NEW ORLEANS LAST SEASON
Teddy Bridgewater finally got his opportunity in 2019 that most weren't sure would ever come. After a horrific knee injury prior to 2016, Bridgewater got the chance to take a mere 30 dropbacks from 2016 to 2018. Once Drew Brees unexpectedly went down earlier in 2019, Bridgewater was called into action and started for the Saints from Weeks 3-7. In that span, Bridgewater's 78.9 passing grade was great considering the lack of meaningful reps since his injury. Plus, it helped him sign a decent contract with the Panthers this offseason. The way he obtained that passing grade when filling in, however, isn't something Panthers fans should get excited about.
He owned the lowest average depth of target (6.1), had the lowest rate of pass attempts to travel 10 or more yards (21%, lowest by 4 percentage points) and generated the highest percentage of completions coming from underneath targets (49%). Bridgewater also completed only seven passes of 20-plus yards, and all but one was to an open receiver. There were several instances in which he wasn't aggressive enough to take more than the defense gave him. As of now, he very much has the game manager label — he'll get a chance to shed that reputation in 2020.
It's no secret at this point that Mitchell Trubisky has completely underwhelmed in his time in the Windy City. He has had a couple of impressive performances, with his most memorable being against the Buccaneers in Week 4 of 2018, but he has more often produced at a below-average level. In fact, Trubisky has 14 games since 2018 in which he has failed to produce a passing grade of at least 60.0. That's two more instances than any other quarterback in the NFL over that span. For perspective, Patrick Mahomes and Deshaun Watson combined for only 11 such games.
Week in and week out, Chicago is home to some of the worst quarterback play in the entire NFL. Nick Foles offers the most upside and has a shot at giving the Bears at least average play at the position, something the team desperately needs. He has two of the best games we have ever seen in the postseason at the position — in 2017 in the conference title game and in the Super Bowl (PFF grades of 93.8 and 92.3) — and failed to produce a 60.0 passing grade in only two of his 10 games with at least 15 pass attempts over the past two years (including postseason).
As PFF's Ben Linsey said when detailing what all 32 NFL teams need to see from their rookie classes, Cincinnati will look for Joe Burrow to maneuver in messy pockets with ease like he did at LSU. He'll have to do that routinely in 2020 to lead the Bengals to success, considering how bad of shape the offensive line is in (31st in our preseason rankings).
While it's lofty to expect him to handle the pressure with ease right out of the gate — especially in a season heavily impacted by COVID-19 — if anyone can do it, it's Burrow. He maneuvers the pocket exceptionally well — as well as any quarterback prospect PFF lead draft analyst Mike Renner has ever seen — and is completely unfazed in the pocket despite behemoth defensive linemen throwing their bodies at him. Burrow is the best prospect we have ever seen here at PFF, after all.
CLEVELAND BROWNS: THE 2018 VERSION OF BAKER MAYFIELD
After producing an 83.2 PFF grade in 2018 that was 10th-best in the NFL and the best mark we saw from a rookie quarterback since Russell Wilson and Robert Griffin III in 2012, we expected Baker Mayfield to take that next step in 2019 and establish himself as a top-10 quarterback in the league. Then, about the worst possible scenario occurred, outside of an injury, in 2019. Mayfield's PFF grade dipped to 73.5, failing to rank in the top half of the league. The entire Browns offense looked out of sync under Freddie Kitchens. But, fortunately for Mayfield, things are trending up with Kevin Stefanski now running the show. The new head coach was one of the league's top playcallers a year ago for the Vikings.
Mayfield's dip in play last year shouldn't be pinned completely on the scheme — he made his fair share of mistakes, too — from routinely abandoning clean pockets and overall poor pocket presence to forcing too many throws to Odell Beckham Jr. and Jarvis Landry early on. It was an uncharacteristic year from Mayfield compared to what we saw from him as a rookie and throughout his time at Oklahoma. It's no guarantee, but we are confident in him bouncing back to form in Stefanski's system this season.
DALLAS COWBOYS: SUCCEEDING IN UNFAVORABLE SITUATIONS WITHOUT THE HELP OF THE SUPPORTING CAST
With the right mix of his own play, a great supporting cast and playcaller/scheme, Dak Prescott had an impressive season in 2019 and was the second-most valuable quarterback in the NFL. And that'll be no different in 2020.
While he was the second-most valuable quarterback in 2019, he was only 11th in PFF grade. Don't get me wrong — that is still solid and better than most teams. But when you consider that and the fact Prescott was in the bottom half of the league in 2017 and 2018 after ranking seventh in grade as a rookie in 2016, it's fair to say that he is heavily influenced by his supporting cast and system. To justify his high contract demand and finally end the "should Dak get paid saga," Prescott has to start making some plays in unfavorable situations. Last year, he ranked third-to-last in passing grade when not throwing to his first read and led the league in turnover-worthy plays (11) on such throws. Prescott can produce at a top-10 level in any given year — he just needs to show he can do so without relying so heavily on others.
DENVER BRONCOS: A COMPLETE 180 IN DOWNFIELD PASSING
The NFL world has lofty expectations for Drew Lock ahead of his 2020 sophomore campaign, with some even throwing out extremely far-fetched MVP takes. Lock is fresh off a rookie year in which he earned just a 57.6 PFF grade. He didn't have enough reps to qualify for the 32 ranks, but that mark would have placed him at 30th if he had. If Lock is going to get anywhere near an above-average level in 2020, he has to vastly improve his downfield passing.
Lock was an alluring prospect coming out of Mizzou due to his downfield touch and arm strength, but those special college throws failed to translate to the NFL in his first season. His grade rank on throws 10-plus yards downfield was the worst in the league last year. Lock has a great slew of receivers at his disposal now with the additions of Jerry Jeudy and K.J. Hamler, and if those two and Courtland Sutton stay healthy this season, there's no excuse for Lock to underperform.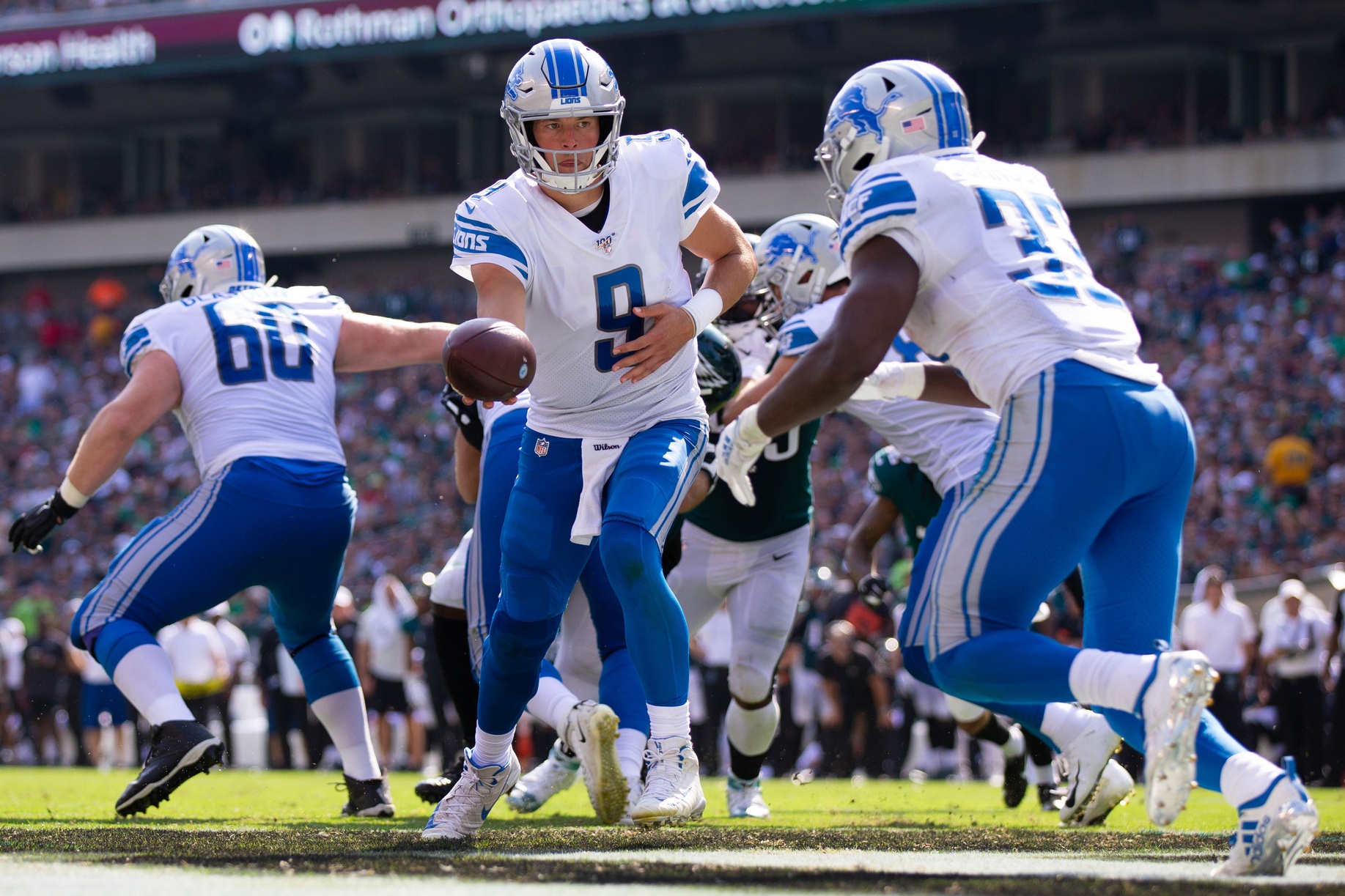 Stafford was having a career year in 2019 before suffering a season-ending injury midseason. Through Weeks 1-9, Stafford produced an 82.6 PFF grade, which stands as the best of his career and ranked eighth in the NFL at the time.
A big reason why he was in the MVP conversation before his injury is because he was finally given the green light to air it out and push the ball deep. Stafford's average depth of target jumped over 4 yards from 2018 to 2019 (11.4) and was 2.5 yards more than any other single season of his career. That aggressive playstyle clearly paid off for Detroit's offense, leading to 25 big-time throws from Stafford through Week 9, which placed him among the league leaders at the time (in second, behind Russell Wilson). Detroit's offense is high-risk, high-reward, but it will lead Stafford to success in 2020 assuming no injuries get in the way.
GREEN BAY PACKERS: GET BACK TO HITTING EASY THROWS AT THE SHORT AND INTERMEDIATE LEVELS
Aaron Rodgers was still a top-10 quarterback in 2019 in regard to passing grade, but it's no secret that he isn't the same player of the past. He's still producing a high rate of big-time throws and avoiding turnover-worthy plays, but as PFF's Steve Palazzolo outlined in our quarterback rankings article, Rodgers has been such a great quarterback because of his ability to routinely hit the easy throws. And he is slipping in that regard.
Last year, Rodgers produced a below-average negatively graded throw rate on passes targeted between 1-19 yards downfield that ranked 18th of 32 qualifying quarterbacks. Among that same group, he tied for 20th in percentage of accurate passes thrown. While he is slowly declining, Rodgers is still very much one of the top quarterbacks in the league. If he can get back to hitting those easy throws, Rodgers will reclaim his top-tier status.
Deshaun Watson is capable of playing at an MVP level. He's proven it on numerous occasions over the past two years, with 12 games in which he recorded a passing grade above 80.0. That total trailed only Patrick Mahomes and Drew Brees, who both sat at 13, for the most in the NFL.
At the same time, however, Watson has also had several abysmal outings. He's had four regular-season games since 2018 that resulted in a sub-50.0 passing grade, which is tied for the fifth-most among quarterbacks who enter 2020 as starters. And that doesn't even include his 2018 playoff performance against Indianapolis, when he earned a 44.8 passing grade. Watson can make special plays outside the structure, but he sometimes sticks around too long, waiting for that big play. Taking throws that the defense gives him at times will help him find some consistency and, perhaps, get to that MVP level.
The Jacoby Brissett experiment has come and gone, and former Charger Philip Rivers is set to take the reins. It shouldn't have been much of a surprise to see Brissett struggle as much as he did to push the ball downfield last year, given what we saw from him when he replaced an injured Andrew Luck in 2017. When throwing 10-plus yards downfield in 2019, Brissett tossed an uncatchable ball on 47.8% of his passes — nearly 5 percentage points higher than any other quarterback in the NFL. That paved the way to the second-lowest big-time throw rate on such throws.
While there was an apparent decline in Rivers' game last year, we shouldn't forget that he is only two years removed from being the third highest-graded passer in the NFL, which was higher than Andrew Luck. Rivers dropped to an average grade in 2019 and had some pretty head-scratching decisions at times that led him to produce the third-most turnover-worthy plays. However, he was still accurate on a throw-for-throw basis downfield. On throws of 10-plus yards, Rivers ranked eighth in the NFL in the percentage of accurate passes thrown and did so behind a poor offensive line, which won't be the case in Indy.
Gardner Minshew was certainly the surprise of the 2019 season. No one expected the sixth-round rookie to play a down in his rookie campaign, but an injury to Nick Foles thrust him into the starting role, and he shattered expectations. He posted a respectable 70.0 passing grade and made up his subpar tools and arm strength with tremendous touch and overall accuracy downfield. That helped him produce the third-best deep passing grade in the NFL, helped by a perfect big-time throw to turnover-worthy play ratio of 16 to 0.
However, Minshew's plethora of fumbles kept his grade from being even better. He had 11 turnover-worthy throws — not great, but not bad, either. His eight turnover-worthy plays that were fumbles, however, tied for the fourth-most in the NFL. Minshew often played with fire on later downs, but this aspect of his game should get better with more reps.
There's really nothing to critique about Patrick Mahomes without being nitpicky. And, like you, I'd roll my eyes at anyone who tries to argue with that. Mahomes has firmly made himself known as the best quarterback in the NFL with what he has done in the past two seasons. Including postseason play, Mahomes has produced a 92.5 passing grade since 2018 as well as a whopping 87 big-time throws — both of which ranked second in the NFL. He leads the most explosive offense in the NFL, ranking first in deep, 20-plus yard completions over that span (87, eight more than second; Only three other quarterbacks have over 60).
Injuries got to him some early on in 2019, but that didn't stop him from ending the year as one of the league's top quarterbacks and securing the title of Super Bowl MVP. As long as he maintains that play, the Chiefs are contenders for the Lombardi Trophy.
Derek Carr has been under fire of late, though some of that criticism might not be entirely justified. Overall, Carr was pretty solid in 2019. He earned an 81.2 passing grade on the year, eighth at the position; he was also accurate and limited negatively graded passes on a throw-for-throw basis.
However, Carr also recorded the league's highest checkdown rate, while his 6.9 average depth of target tied for the second-lowest mark league-wide. The only quarterbacks to not have a single big-time throw when out of rhythm in 2019 were Mason Rudolph, Joe Flacco, Case Keenum and Carr — he simply has to fix that in order to get the respect he wants.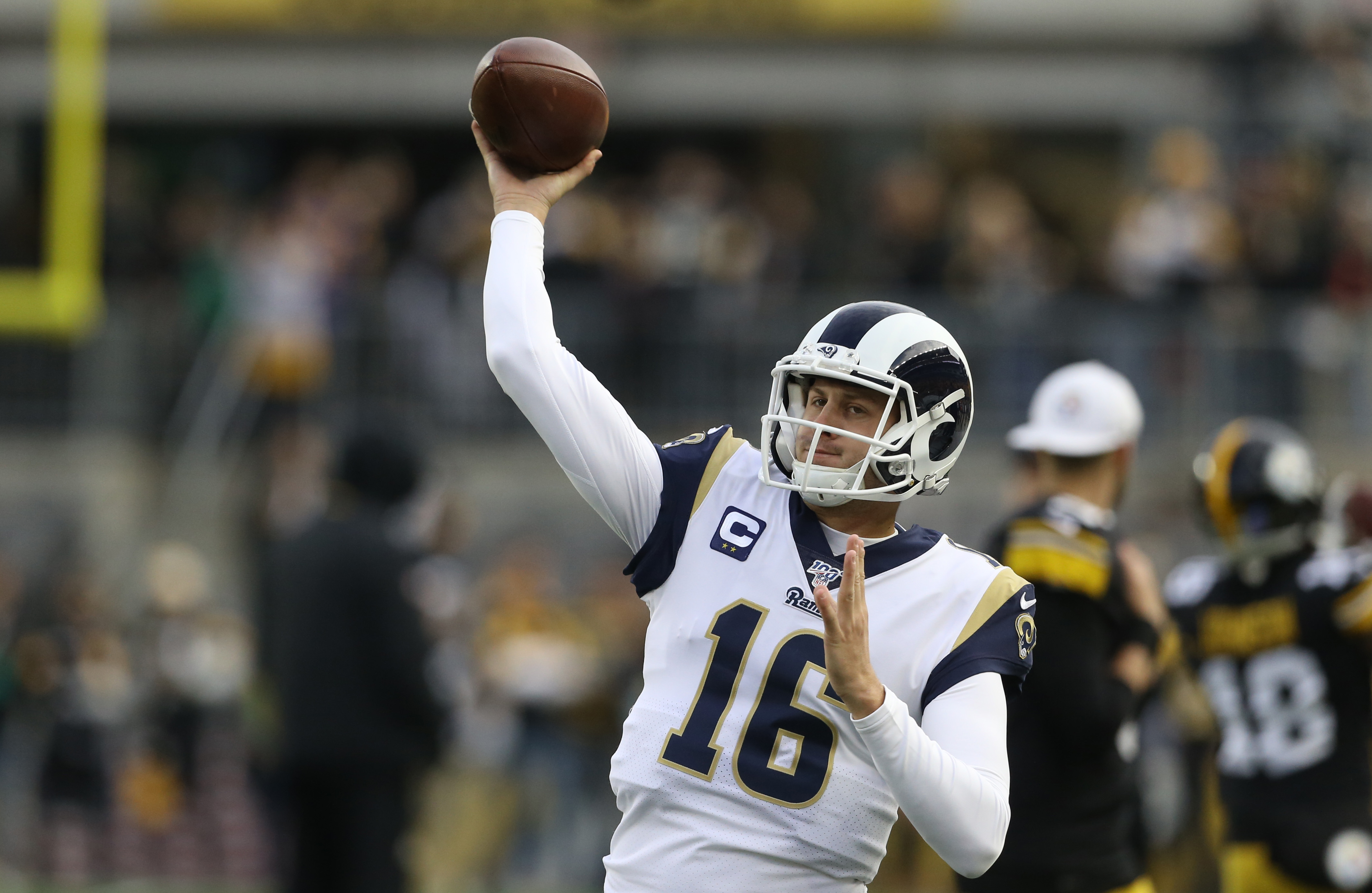 LOS ANGELES RAMS: CRACKING DOWN ON THE FORCED THROWS
Jared Goff took a big step back in 2019, just one season after leading his team to the Super Bowl. His grade rank dropped from 7th down to 18th, and he went from above-average in both positively and negatively graded throw rate to below-average in both.
There is one area, in particular, the Rams need Goff to improve on — they need him to stop forcing throws into tight coverage when he doesn't have to. Goff did this far too often in 2019. In fact, his 12 turnover-worthy throws to a tight window when kept clean were the second-most behind only Jameis Winston. The lowly offensive line certainly played a part in his regression in 2019, but this is one of the reasons why Goff is also to blame.
Tyrod Taylor is penciled in as the starter for now, but Herbert is the quarterback of the future for the Chargers after being selected sixth overall in the 2020 NFL Draft. And he is bound to see game action at some point this season.
We here at PFF had our fair share of reservations with Herbert as a prospect, and we weren't too keen on him being selected as early as he was. One of the many reasons why was the panicky play we saw from him on a routine basis in Oregon.
First, Herbert didn't quite show up when the Ducks needed him most. Three of his four lowest-graded games of the year came in Oregon's three biggest games of the year (Week 1 vs. Auburn, PAC 12 Championship vs. Utah and Rose Bowl vs. Wisconsin). The ability to show poise and avoid mistakes when under duress is vital, but in Herbert's case, you could see panic when any type of pressure was coming his way — and this led to a lot of errant throws. Herbert posted the fourth-worst negatively graded throw rate when under pressure in the FBS in 2019, and that is a big concern when projecting him to the NFL. He may have a cannon, but Herbert has to show more calmness under duress for us to believe that he is the long-term solution for L.A.
Considering Tua Tagovailoa's injury, the shortened offseason due to the pandemic and the fact the offensive line is perhaps the worst in the league, it would be hard to imagine the fifth overall pick getting considerable reps over Ryan Fitzpatrick in 2020. Miami spent a boatload in free agency, secured one of the top cornerbacks in the NFL in Byron Jones and is set to field a plethora of young, talented rookies, but they are still very much a work in progress. They can, however, perhaps cause some chaos in this COVID season if Ryan Fitzmagic is here to stay.
Fitzpatrick is coming off the two highest-graded seasons of his career. The veteran signal-caller had to deal with a subpar supporting cast and also faced an incredible amount of pressure in 2019, but he still managed to rank eighth in the NFL in positively graded throw rate. Again, considering the situation he was in, it was an impressive year by the 37-year-old gunslinger.
Kevin Stefanski and Gary Kubiak put together the perfect offense for Kirk Cousins in 2019. He may not be one to elevate the play of those around him or be able to make up for the shortcomings of his teammates, but the play-action passes and designed rollouts served Cousins well — he posted a career year in 2019, and the Vikings ended the season with the fourth-most efficient passing attack in regard to EPA per pass play.
Cousins produced an 85.9 passing grade last season, fourth in the NFL. However, that grade rank jumped to second on just play-action passes, and it ranked first on designed rollouts. Stefanski is now with Cleveland as their head coach, but the offense will remain relatively similar under Kubiak. Cousins doesn't need to be superman. He can win with this offense, as he proved last season.
The last time we saw Cam Newton (TNF Week 2 vs. Tampa Bay), it was nothing short of atrocious. It was quite apparent that Newton's injury was hindering him from being an effective passer, and it made us all wonder if he would ever regain his 2015 MVP form.
After being cut from Carolina, Newton spent a few months in free agency before Bill Belichick gave him a shot in New England. And while Cam's 2015 year might be an outlier, we could well see him get back to above-average play if he is as healthy as he says he is — and that is a significantly better prospect than what the Patriots were facing with Jarrett Stidham under center.
In 2015, Newton produced an 85.0 PFF grade (including postseason) that ranked fifth in the NFL. The injuries started to pile up shortly after that, but we still saw a healthy Cam to start 2018 when he was putting up numbers in the Panthers' play-action-heavy attack. Through Week 9 of the 2018 season — before his shoulder started bothering him — Newton was 11th in the NFL in PFF passing grade. New England can extract an above-average year out of Newton if he's healthy, but that is a big if.
The 40-year-old Drew Brees may have ranked second to only league MVP Lamar Jackson in PFF grade last year, but many forget Brees' noticeable drop-off in play to close out the year.
His three lowest-graded games of the season came in his final three games of the year. Up until that string of games, Brees was actually the highest-graded quarterback in the league — he was even above Jackson. Over those final three weeks, however, his passing grade rank fell to 23rd. That was actually just the second time in the PFF era (since 2006) that Brees had three consecutive games in which his PFF grade failed to crack 65.0 — the last time that happened was 2008. For an aging quarterback, that's something to monitor.
NEW YORK GIANTS: TO STOP PUTTING THE BALL IN HARM'S WAY
Daniel Jones' rookie campaign certainly could have been worse. Rookie quarterbacks typically struggle with their first taste of NFL pressure, but in Jones' case, he did have some fearless reps on tape and made some nice throws under duress, finishing the year with 11 big-time throws under pressure, tying for the fifth-most in the NFL. At the same time, though, he also made a lot of bad decisions and routinely put the ball in harm's way.
Jones recorded a 5.5% turnover-worthy play rate in 2019, which was significantly worse than any rookie quarterback in recent memory. In fact, in the PFF era, only Vince Young, Brandon Weeden, Geno Smith and Christian Ponder produced a higher turnover-worthy play rate than Jones in their respective rookie seasons. From forced throws to fumbles, Jones has to take better care of the ball in Year 2.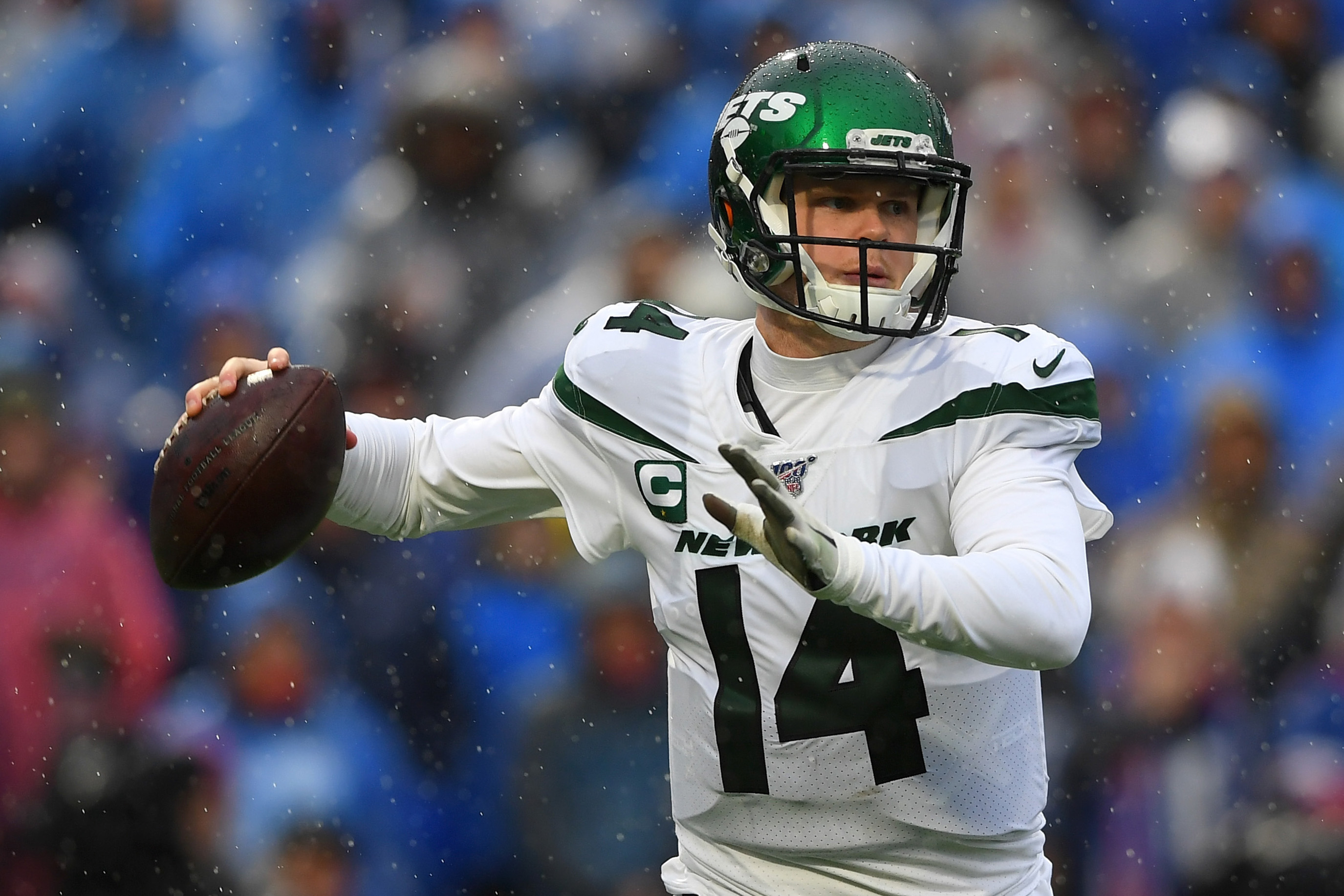 It is do-or-die time for 2018 third overall pick Sam Darnold. In his first two years in the NFL, Darnold has produced passing grades of 62.9 (28th) and 64.1 (25th). And while he's put together a couple of stretches when he looks like he is finally piecing it together, he always seems to revert right back to the same struggling quarterback.
Yes, you could make the case that Darnold's supporting cast has done little to help him, but it's still not the sole reason — Darnold himself deserves the fair share of the blame. Over the last two seasons, the USC product ranks 22nd of 32 quarterbacks in passing grade from a clean pocket, and he has the sixth-most quarterback-fault incompletions on targets to a receiver with separation 10-plus yards downfield.
The biggest thing to worry about is his decision-making at this point. Darnold has produced the fifth-worst turnover-worthy play rate over the last two years, so if he wants to avoid the bust label, he has to show signs of development in Year 3 or else the Jets could be looking at the loaded 2021 class.
Carson Wentz is coming off quite a streaky year. He started the year well — significantly better than the box score suggested — earning the highest PFF grade in the NFL through the first six weeks of the season. After that, though, his grade rank fell to 25th. The story of Wentz's career is that he thrives in the unstable areas and is relatively average in the stable ones, but an improvement in accuracy will serve him well in the long run — and the good news is that he's still young enough to develop in this critical area.
He has been well subpar when it has come to hitting open receivers with an accurate ball. Over the last two years, Wentz ranks 29th in the NFL in the percentage of accurate-plus passes thrown to a receiver with a step or more of separation.
Back in 2017, Ben Roethlisberger was the third-highest-graded quarterback in the NFL. In 2018, however, it started to look like Big Ben was nearing the end of his high-end play — his PFF grade dipped nearly 10 grading points down to a grade rank of 15th among 32 qualifying quarterbacks, and his accuracy took a significant hit.
When throwing at or beyond the sticks in 2018, Roethlisberger produced the NFL's fourth-worst rate of uncatchable passes thrown, ranking just above Josh Allen, Mitchell Trubisky and Josh Rosen. Then, in the small sample we saw from him in 2019, Big Ben looked even worse as he stumbled to a PFF grade of just 49.0.
Roethlisberger's 2018 season was the second-lowest-graded season since 2008. He showed signs of decline then and looked to be continuing that trend in 2019 before suffering a significant elbow injury. The Steelers will need their quarterback to reverse course and head back toward his 2017 form if they are to have any chance of staying competitive in 2020.
Jimmy Garoppolo's overall production was undoubtedly helped by both Kyle Shanahan's offensive system and the supporting cast around him. In this particular offense — one that utilizes rollouts, short passes and schemes its receivers into open space so to maximize yards after the catch — Garoppolo simply has to limit uncatchable passes, and he does just that at every level of the field. Garoppolo posted the seventh-lowest rate of uncatchable throws in the NFL last season, which helped him produce the 13th-best passing grade in regular-season play.
That said, there is one thing bringing Garoppolo down — he struggles to see linebackers and often makes some bad decisions over the middle of the field. Garoppolo had eight turnover-worthy throws over the middle of the field at the short and intermediate levels, tying for the sixth-most in the NFL last year.
According to PFF WAR, the most valuable player in the NFL last year was none other than Russell Wilson. As it often has been, Wilson's deep ball was the best in the NFL last year; he ranked first in passing grade on such throws and had an absurd 34:1 big-time throw to turnover-worthy play ratio on passes throw at least 20 yards downfield. We saw his mobility come in clutch at times with some of the plays he made out of structure, such as the infamous throw he made to Tyler Lockett in the corner of the end zone against the Rams in primetime.
The difference the Buccaneers will see at the quarterback position this year is as large as it possibly can be after they traded in the Jameis-coaster for Tom Brady, arguably the greatest quarterback of all time.
Winston led the league in positively graded throw rate while playing for the Bucs over the last five years, but he also had the second-worst turnover-worthy play rate at the same time. And even though Brady is coming off the lowest-graded season of his career in the PFF era (regular season only), he'll still bring a stability to the offense that it hasn't seen for a long, long time.
Brady produced "just" a 77.4 passing grade in 2019, but that was still good enough to rank 10th in the NFL. The accuracy is still there, too, as his rate of accurate passes thrown ranked ninth among NFL starters in 2019. More importantly, Brady had 22 fewer turnover-worthy plays to his name than Winston.
Ryan Tannehill was fresh off one of the lowest-graded seasons we have ever recorded at the position (42.4 passing grade) when he arrived in Tennessee, but he still went on to post a PFF grade of 91.0 after replacing Marcus Mariota as the team's starter in 2019.
That 48.6 grading-point differential is the biggest year-to-year improvement we have ever seen from a quarterback. Tannehill earned a fat contract extension as a result, but will we really see that same Tannehill again, or was his 2019 a one-hit-wonder?
It's very likely that we see Tannehill regress in 2019, but he can still have another successful year in Arthur Smith's offense. The play-action-heavy offense suited him well, and the offensive line up front actually gave him time to throw, which is something he hadn't had with Miami. Again, there will be regression, but it's unlikely that he sinks back down to the bottom of the league.
There were quite a few promising aspects to Dwayne Haskins' rookie campaign, not the least of which was how well he took care of the ball — the rookie signal-caller had just a 1.9% turnover-worthy play rate in 2019, fourth-best in the NFL — but there are still several things to work on.
As you would expect, most rookie quarterbacks struggle with the NFL pass rush in Year 1, and Haskins was no different. He simply has to improve his pocket presence from here on out, though, as he took a sack on 33% of his pressured dropbacks, the highest rate in the NFL by two percentage points (seven percentage points higher than third). He also invited in nine sacks himself, tying for the 12th-most at the position (keep in mind everyone ahead of him played twice as many snaps).