This NFL offseason will feature one of the most compelling quarterback carousels for many years. And one of the most intriguing free agent options will be Teddy Bridgewater, whose five-start stint with the New Orleans Saints in 2019 may have resuscitated his starting prospects in 2020 and beyond.
Bridgewater was drafted to be the quarterback of the future for the Minnesota Vikings back in 2014, and he started the first two seasons there before a devastating freak knee injury in the 2016 offseason almost ended his career.
Since then, he has played just 480 snaps across four years and three seasons, but he is still only 27 years old, and 2019 saw his first extended action as a starter since that injury.
Even putting the injury to one side for a moment, Bridgewater has always been a difficult quarterback to evaluate. He has stylistically fallen on the checkdown/game-managing end of the spectrum, even dating back to his time with the Vikings, but there have always been layers of context, often ignored, to that tendency.
In his two seasons starting in Minnesota, he had an average depth of target of just 7.7 yards, which was 29th of 33 quarterbacks. Over the same period, however, the Vikings had an offensive gameplan that almost encouraged checkdowns and an offensive line that ranked 25th in the league when it came to PFF pass-blocking grades.
How much of that end result was Bridgewater being too conservative as a passer, and how much was he being boxed into that kind of output by the situation he was surrounded with? While some looked at that tendency and some of his stats and wrote him off as a substandard passer, his overall PFF grades in those two years were 75.6 and 71.5, which is respectable for a young quarterback in less than ideal circumstances.
Bridgewater signed with the Jets after he had recovered from injury, and after a very brief stint in New York, he was then traded to the Saints to back up Drew Brees. So, as we may have anticipated, there has been precious little evidence of what kind of player he now is. Less dramatic injuries than his have fundamentally changed quarterbacks in the past, but it's tough to get a concrete read from mop-up duty, meaningless games when starters are rested and preseason outings with second- and third-string players. 
Brees injuring his thumb early last season presented an opportunity for Bridgewater to start a run of games and show what kind of player he was post-injury. The opportunity was also there for him to catapult himself back into the "starter-caliber" tier of quarterbacks and not just settle as a backup waiting for a chance.
The initial signs weren't great. The Saints won every game he started, though in the beginning, it was more in spite of him than because of him, and the same reluctance to push the ball down the field that he was criticized for as a Viking was still conspicuous.
After two starts (with 30 additional attempts in the game in which Brees was injured), Bridgwater had attempted just two passes of 20-plus air yards, and he completed neither of them. His average depth of target was only 5.4 yards downfield (4.8 in the two starts), by far the lowest in the NFL and less than half of the leading five players in that category.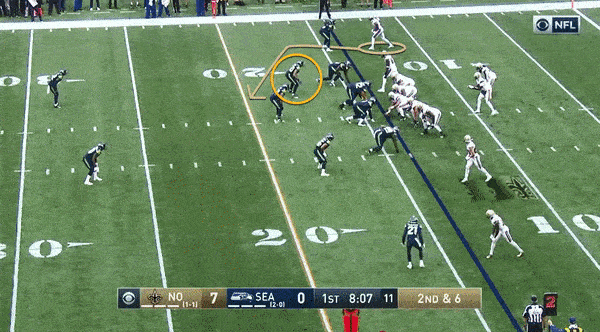 It wasn't just an aversion to deep shots, either. Bridgewater was routinely passing up deeper options in his progression in favor of the safest pass he had available. It's impossible to determine how much of this was him and how much he was under instruction to take this approach by a coaching staff expecting a backup quarterback just to steer the ship, but this was the kind of conservatism at quarterback that consigns a player to life as a career backup.
Subscribe to PFF Edge to continue reading
Already have a subscription? Sign In