The 2021 NFL Draft is shaping up to give us a truly special quarterback class, the likes of which we haven't seen in quite some time. Any other year, the top three quarterbacks on this list would have more than enough tools to earn the No. 1 overall pick. The interesting thing is that the talent doesn't stop there, as we're about to see another influx of serious quarterbacks in next year's draft.
Subscribe to PFF's EDGE or ELITE subscriptions get access to the following tools, charts, etc. 
– All Premium Article Content
– Fantasy Football Rankings & Projections
– Fantasy Football Draft Guide, Cheat Sheets & Advanced Stats
– Fantasy Football Mock Draft Tool (DraftMaster)
– Fantasy Football Strength of Schedule Matrix
– NFL Player Grades
– NFL Premium Stats
[Editors Note: PFF's customizable NFL Mock Draft Simulator gives you the opportunity to be the GM of any team and is now updated with a select group of 2021 prospects]
1. Trevor Lawrence, Clemson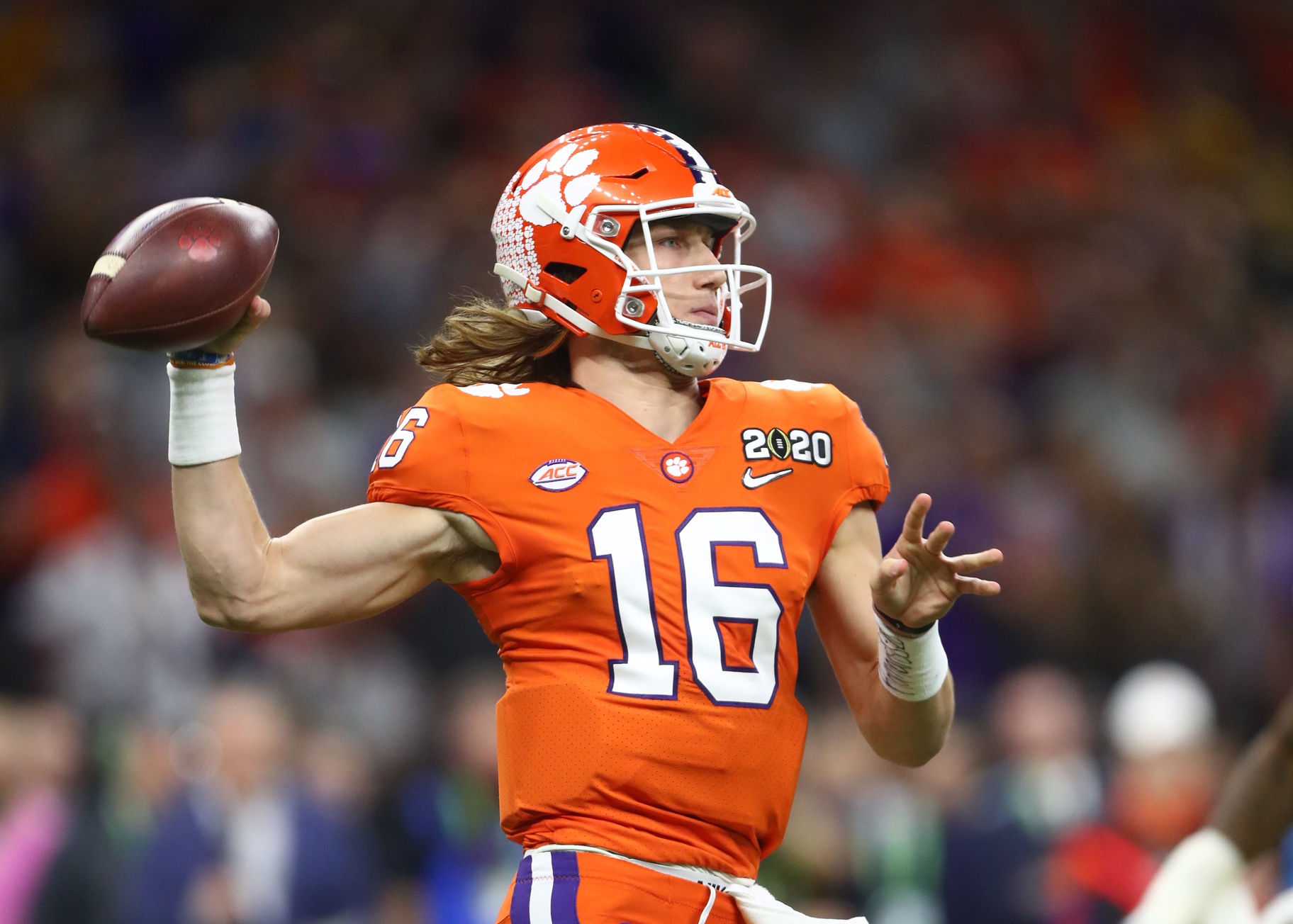 At this stage, Lawrence is about as household a name as it gets in college football. From the flowing locks to the laser he has for an arm, Lawrence is the current face of college football. He could have even been the first quarterback taken in the 2019 draft had he been eligible after a dominant freshman campaign that ended in a national championship victory over Alabama. 
Besides the cannon for an arm, Lawrence's biggest positives are his poise and ability to throw receivers open. Those are two very good places to win already because both are necessary for elite-level quarterback play at the NFL level. We've seen Lawrence repeatedly deal with tight pockets and still deliver strikes downfield, and while there were some concerns with Lawrence pressing early on last season and forcing the ball when he shouldn't have, that guy disappeared with some dominant play down the stretch.
 Lawrence's numbers certainly back up the claims above. He had the fifth-highest passing grade under pressure in all of college football last season (71.6) and the highest passing grade when blitzed (90.9). When asked to throw into tight windows, Lawrence also finished with the third-highest grade in college football (66.3) while throwing for the fifth-most yards (644) on tight-window attempts. As far as special throws down the field go, Lawrence finished tied for sixth with 30 big-time throws last season.  
The thing we still haven't even touched on is what Lawrence brings to the table with his legs. He ran for 682 yards last season — at 7.8 yards per pop — and broke 22 tackles on 62 attempts. Against Ohio State, Lawrence more than showed that his running ability could be used as a game-planning weapon, as he went for 120 yards with a score in the semifinal matchup. 
Outlook for 2020
There's really not much more for Lawrence to prove. He could opt out of the 2020 season entirely, and he would still likely be the top pick in the draft. The biggest area we'd like to see him progress in this fall is overall accuracy. Far too often, he ran hot and cold in that regard last season, with his multitude of overthrows against LSU in the national championship game being a microcosm of that. His 74.4% adjusted completion percentage last season ranked only 30th in the FBS.
2. Justin Fields, Ohio State
Do you like accuracy and quality decision making? What about 4.5 speed at 228 pounds? If you answered yes to either of these questions, then Fields may be of interest to you. While he doesn't have the cannon quite like Trevor Lawrence or Trey Lance, Fields can more than hold his own in the arm strength department, as well. He buried opposing defenses with the second-highest passing grade behind only Joe Burrow last season. The crazy thing is that he threw only four picks all season (11 turnover-worthy plays) despite having the second-deepest average depth of target (13.6 yards) in the entire FBS.  
If there is one legitimate gripe with Fields' performance in 2019, it was his propensity to hold onto the ball. Even with a loaded receiving corps, Fields still had the second-longest time to throw in the FBS (2.89 seconds). No offensive line in the NFL will afford him that kind of time the way Ohio State did last season, and while he can make a lot of plays with his legs, it's not something you'd love to rely on.
Outlook for 2020
You can write in Fields as a top-five pick right now, but for him to boost his stock to the No. 1 spot, he can't afford to have many duds on his schedule in 2020. The first Wisconsin game saw him face more pressure than any other all season, and his numbers suffered accordingly. If he can rise above adversity more this fall, we could be talking about the No. 1 overall pick next spring.
3. Trey Lance, North Dakota State
Tools are meaningless in a vacuum unless they translate to a football field. With Lance, you have a loaded toolbox and an impressive resume in one lone season of college football, but there's still plenty of reason to be wary. His zero interceptions (five turnover-worthy plays) are eye-popping, but when you watch the tape, you realize that it's a byproduct of his hesitancy to ever throw into tight windows — more than 1 out of every 10 dropbacks turned into a scramble past the line of scrimmage for Lance last season.
While that's not necessarily a knock — his rushing prowess is similar to that of an elite tight end — it gives you pause when you think about how his game will translate from the FCS level to the pros.
These "downfalls" are nitpicky to a degree, though, as his weaknesses really are only that in comparison to the likes of prospects like Fields and Lawrence. Any other year, Lance's skills would be worthy of the No. 1 overall pick, but as far as a projection to the next level goes, he's a much riskier option. 
Outlook for 2020
Lance's draft projection is very much going to be in the eye of the beholder. Even if the Bison do have a season — which is very much up in the air this season — I'm not sure how much more he can prove in a run-heavy attack against FCS defenses. He was supposed to have the stiffest test of his career in Week 1 against Oregon this year, but that game has already been canceled. With all the tools in the world, Lance may be stuck as a third fiddle in the quarterback race, even though it's no fault of his own. 
4. Brock Purdy, Iowa State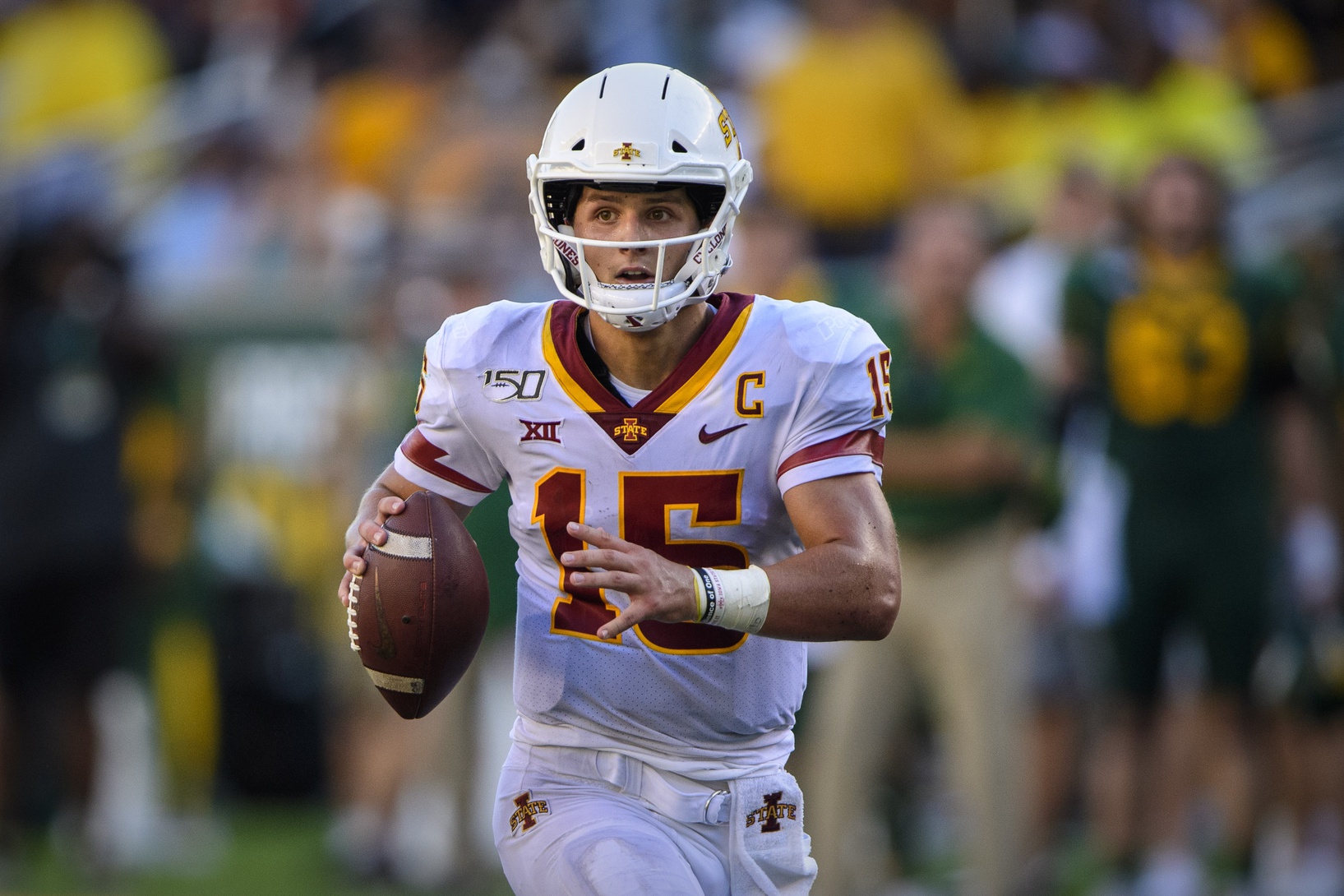 Purdy may not be as big or as fast or have as much arm talent as the guys above him on this list — although he's above any NFL threshold in each — but what he does have on his resume is something that bodes well for any quarterback making the leap to the NFL: adversity.
In the past two seasons, his offensive lines have ranked 36th (2019) and 54th (2018) in pass-blocking grade among 64 Power 5 schools. He lost fourth-round receiver Hakeem Butler after the 2018 season and is unlikely to have any wide receiver drafted from his 2019 or 2020 offense. His situation is far from ideal compared to the elites in college football, yet he still earned passing grades of 82.2 (2019) and 88.0 (2018) in the past two seasons. Elite tools be damned — Purdy does whatever it takes on a weekly basis to win football games.
That gamer element and elevation of surrounding talent is nearly impossible to quantify. We know Justin Fields and Trevor Lawrence obviously have easier jobs with their supporting casts, but it's difficult to say to what degree. It's clear that Purdy is a tier above your average college football "gamer," though. He throws with anticipation and fearlessness over the middle of the field, and that is rare to see at the college level. So while he may not fit the prototype of what the NFL has coveted historically, his on-field performance warrants early-round consideration. 
Outlook for 2020
For Purdy to warrant first-round consideration, he's going to have to take his game back to the level we saw from him as a freshman … and then some. We simply need to the special more consistently. He only racked up 21 big-time throws last season after having 20 as a freshman on nearly half as many dropbacks. A good portion of that is situation-based, though, and it may not turn around given that his most trusted receiving weapon in 2020 will likely be his tight end, Charlie Kolar. With him being only a true junior in 2020, I'd also bet good money that Purdy returns in 2021 if he puts up similar numbers to last season. 
5. Jamie Newman, Georgia
While J.T. Daniels was granted immediate eligibility at Georgia after transferring this year, nothing the former five-star quarterback recruit has done on a college football field so far suggests he's going to beat out Newman. The former Wake Forest quarterback posted passing grades of 78.8 in 2018 and 85.7 in 2019 and is a true dual-threat at the position. He broke 27 tackles on 128 carries last year and is listed at 6-foot-4, 230 pounds.
What Newman did the first 11 weeks of the season — before his top target Sage Surrat went down — was special. His ball placement on vertical throws downfield was as good as it got outside of Joe Burrow. Newman had a 90.6 passing grade over that span, with 18 big-time throws in eight games. The wheels fell off over the final four games, however, as the Demon Deacons had no one else who could separate downfield in any meaningful way. 
Outlook for 2020
You can pretty much throw out Newman's 2019 season for evaluation purposes. Watching him go against SEC competition with Todd Monken — a former NFL offensive coordinator — pulling the strings will tell us far more about Newman's pro prospects than watching him throw long RPOs at Wake Forest will. That makes him quite the wild card, as he can swing his draft stock anywhere from the first round to borderline draftable this season.
6. Sam Ehlinger, Texas
Ehlinger had a rocky start to his career back as a freshman in 2017. Since then, he's slowly but surely raised his draft stock and cleaned up concerns with each passing season. The 2019 campaign was all about proving he could sling it more consistently down the football field. His average depth of target soared by over half a yard to 10.5, and he went from 23 big-time throws in 2018 to 33 last season. He also improved mightily in his blitz recognition, as you could tell the game had slowed down for him in Year 3. Ehlinger earned a 90.9 passing grade to go along with a 131.3 passer rating when he was asked to work against the blitz last season.
There is one area that's still going to give any evaluator massive pause when it comes to Ehlinger's draft stock: The rising senior still hasn't been able to fix his uneasiness in the pocket. It's not only that he takes sacks at a high rate when pressured (21.3% of the time in 2019), but it's also that he breaks out of clean pockets and looks to run far too often — he scrambled past the line of scrimmage on 63 of his 556 dropbacks last season.
While the same criticism was levied to Trey Lance above, it holds far more weight for Ehlinger, as the Texas quarterback is not the type of athlete who can get away with that in the NFL. When you do that behind the 12th-highest-graded pass-protecting offensive line in the Power 5, it's scary to think what will happen behind even an average line in the NFL.
Outlook for 2020
With Ehlinger's distinct upward trajectory in his career, I wouldn't count him out of the early-round conversation just yet. Improved performance in 2020, even with the losses of his top two targets in Collin Johnson and Devin Duvernay, would be quite the feat. Even if we don't see his numbers make a leap, Ehlinger can still help his stock by being far more patient behind what figures to be one of the best offensive lines in college football. He'll never compete with the top three on this list, but the four-year pedigree still holds weight with some evaluators in the NFL.  
7. Kyle Trask, Florida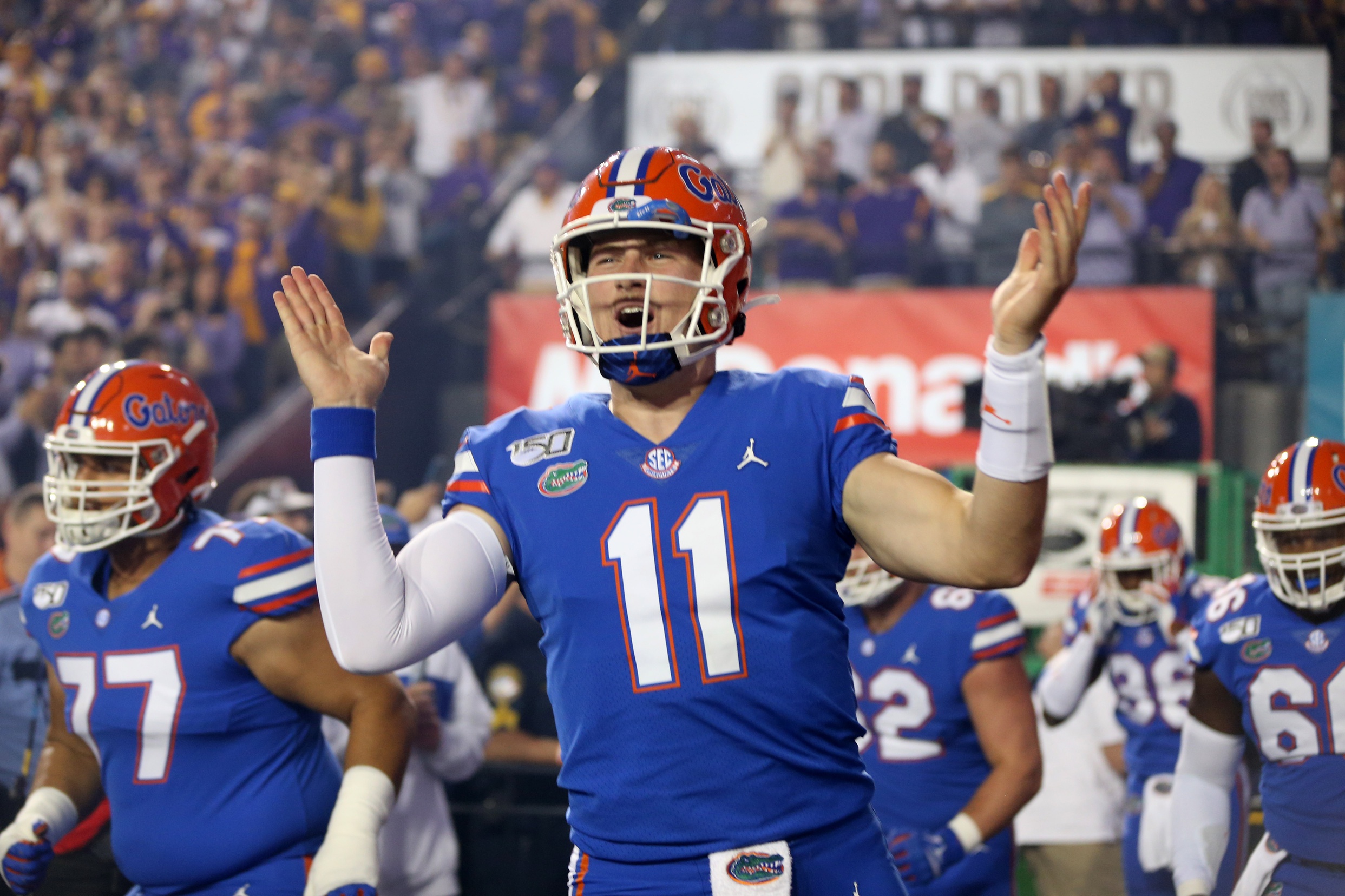 Arm talent is still priority No. 1 for many evaluators, and Trask is right up there with anyone in this class in terms of ability to launch the pigskin. There are easy ropes on his tape that hit Cover 2 holes along with many other throws of that nature that other quarterbacks simply can't hit. While I think that can get overrated, it certainly leaves more margin for error at the NFL level. Not only is Trask the prototype from an arm strength perspective, but he "looks the part" from a physical standpoint, as well. At 6-foot-5, 239 pounds, Trask is what the quarterback position has looked like for the better part of the last 50 years. 
The interesting thing about Trask is that for all his arm strength, his tape is oddly conservative — apparently, "if you got it, flaunt it" is not a saying the Florida quarterback believes in. Trask's average depth of target last season was only 8.6 yards downfield. Brock Purdy is the only other quarterback on this list who was below 10, and even his 8.8 aDoT was higher than Trask's. Trask also only had nine big-time throws.
These are head-scratching numbers for a quarterback who had three receivers drafted last April as well as arguably the most athletic tight end in the country. All that paints a picture of a quarterback whose solid numbers were aided far more by what his receivers did than by his own contributions.
Outlook for 2020
Some of the negatives above can be explained away by comfort level in the offense. That's not to say that's 100% the case with Trask, but one can see why a quarterback would be more conservative after only getting the starting nod a few games into the season. He has to shed that in 2020, though, and he must prove that his arm strength can lead to tangible results on the field.
8. Shane Buechele, SMU
It seems like a decade ago Buechele was the young hotshot slinging the rock as a true freshman for the Texas Longhorns. His loosey-goosey playstyle didn't last long in Austin, however, and he has taken some reeling in over the years before finally establishing himself at SMU.
Last season, Buechele's 32 big-time throws were the fourth-most in the FBS. More importantly, though, Buechele only made 13 turnover-worthy plays on 531 dropbacks, as his propensity to chuck it deep was finally relegated to opportunities where it was appropriate.
While his size (6-foot-1, 210 pounds) isn't going to do him any favors, the death knell for Buechele is going to continue to be his accuracy unless things change. Per PFF's QB charting process, only 54.0% of his targets last season were deemed to be accurately placed, and that figure was good enough for 59th among 94 qualifying starting quarterbacks. More importantly, 24.5% of his targets were deemed to be uncatchable altogether — a figure that ranked 69th among the same sample. So, while there's some uncoachable "razzle-dazzle" to his game, there's also a good deal of inaccuracy.
Outlook for 2020
Can you fix accuracy? It's rare, but Joe Burrow's 2019 season is having us rethink what's possible at the quarterback position. Buechele loses his top target in James Proche, though that shouldn't be any sort of excuse with the quality of defenses he'll face in the AAC this season. There's no sugar coating it: those accuracy numbers have to turn around in a big way if he wants to be taken seriously as a prospect. He possesses neither the arm strength nor the dynamism as a runner for evaluators to overlook his overall inaccuracy.