While it was an ugly game, Bruce Arians and Jameis Winston get to eat their first W together as a head coach/quarterback duo. The kickoff to NFL Week 2 was a weird one, starting with an out-of-the-norm rain delay with the game containing several penalties, inaccurate deep passes, odd usages of players, suspect officiating, one of the saddest attempts at a game-winning drive and just a sprinkle of the big-time throw. In the words of David Spade in the movie Tommy Boy, this game was like a bad Twilight Zone.

All jokes aside, we learned a lot about both the Tampa Bay Buccaneers and the Carolina Panthers in this strange matchup that ended in a Bucs victory. Using PFF's unique grades and advanced database, here are five takeaways from last night's Thursday Night Football shootout. 
[Editor's Note: All of PFF's advanced stats and grades for every NFL player are made available in PFF's ELITE subscription. Subscribe today to gain access!]
Jameis Winston: The most unpredictable QB in the world
After posting an NFL-worst 36.6 overall grade in Week 1 where we saw him throw zero big-time throws to three turnover-worthy plays, Buccaneers quarterback Jameis Winston bounced back in Week 2 with a solid 81.8 PFF grade and three big-time throws to one turnover-worthy play. Winston no doubt threw some dimes that turned some heads, but he also had a few moments that were just, well, mistakes. 
First and foremost, Jameis essentially collapsed when his first read wasn't there and was forced to try and create something outside of the structure. On throws to his first read, Winston had an 89.5 PFF grade, while on the few dropbacks he had when his first read wasn't there, he had a turnover-worthy play and terrible sack that was solely on him.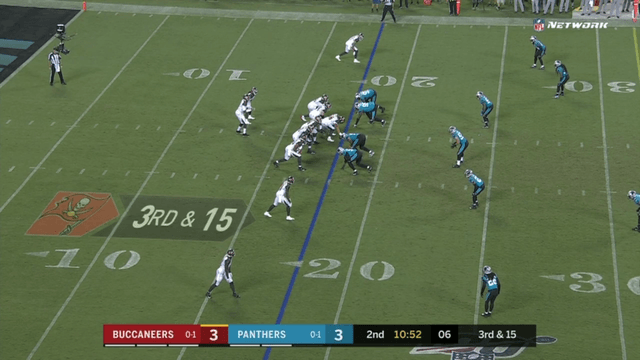 Jameis held on to the ball far too long and gave up a sack himself. He missed an open Chris Godwin in the middle of the field here.
Winston was a completely different player on the quick throws as opposed to the longer-developing throws. On throws that were 2.5 seconds or less from when the ball was snapped, Winston had a 71.9 grade and an average depth of target of 6.4 yards. On the plays when his time to throw eclipsed the 2.5-second mark, Jameis had an 83.3 grade, 23.7 average depth of target and 119.7 passer rating. In other words, the deep ball paid dividends, my friends.
Whether he was in a clean pocket or under pressure, Jameis was essentially the same quarterback with a 77.9 grade when clean and a 75.8 grade when under duress. Furthermore, Carolina's inability to finish when pressure was applied, allowed Jameis to escape in some cases when he really shouldn't have. With an average depth of target of 14.2 in those situations, Jameis wasn't afraid to risk it, and Carolina wasn't ready to defend it.
Jameis threw some absolute jawdropping dimes but threw a few wildly bad passes. According to PFF's advanced quarterback charting — currently led by former NFL quarterback Bruce Gradkowski — 17.4% of Jameis' passes were accurate-plus throws (perfectly placed throws to the receiver) while nearly 52.1% of his passes were inaccurate with some being completely uncatchable. This isn't surprising coming from Jameis considering he ranked second in positively graded play rate and second to last in negatively grade play rate last season. 
I've said it before, and I'll say it again — everything about this game was strange, and a prime example of that was Jameis throwing to an open receiver versus a receiver in tight separation. On throws to a receiver with a step or more of separation, Winston had a 68.0 grade and threw an inaccurate pass 53% of the time. On throws to a receiver with tight separation, he had a 92.2 grade — with 30% of passes being accurate-plus — and he didn't throw a single uncatchable pass.
Again, with an 81.8 grade overall on the day though, Jameis played far better than he did in Week 1. In fact, he may be a bit underrated in the eyes of the media at this point. If Arians, A.K.A. "The Quarterback Whisper," can eliminate the few costly mistakes, Jameis can be something special this year.
Another day, another game proving Cam Newton's 2015 season was a one-hit-wonder
It doesn't take an expert to notice that Cam Newton's accuracy last night was abysmal. Over 67.5% of his pass attempts were deemed inaccurate and only 2.5% were accurate-plus passes. Collectively, Newton had nine overthrows and underthrows, which happens to be the fourth-most in a single game since 2015. 
Moreover, Newton couldn't hit open receivers, and he sure as heck couldn't hit a receiver with tight separation. When his target had a step or more of separation, Newton threw just 37.0% of his passes accurately and had a 64.4 grade. When he threw into tight separation, 61.5% of Newton's passes were uncatchable, and he had just a 38.7 grade.
Newton and the Panthers had opportunity after opportunity to take the game away from the Buccaneers last night. However, when the time came for Newton to step up, he took multiple steps back. On third down, Newton had a 28.8 grade, averaged 2.8 yards per attempt and 70% of his throws were inaccurate.
Chris Godwin is a rising star
Mike Evans is clearly Tampa's number one receiver and has been since he came into the league. However, third-year standout Chris Godwin is making his mark as perhaps the best WR2 in the league, and we saw him make a solid argument last night. 
Catching eight of his nine targets on the night, Godwin generated a 155.8 passer rating when targeted. That one incompletion was this: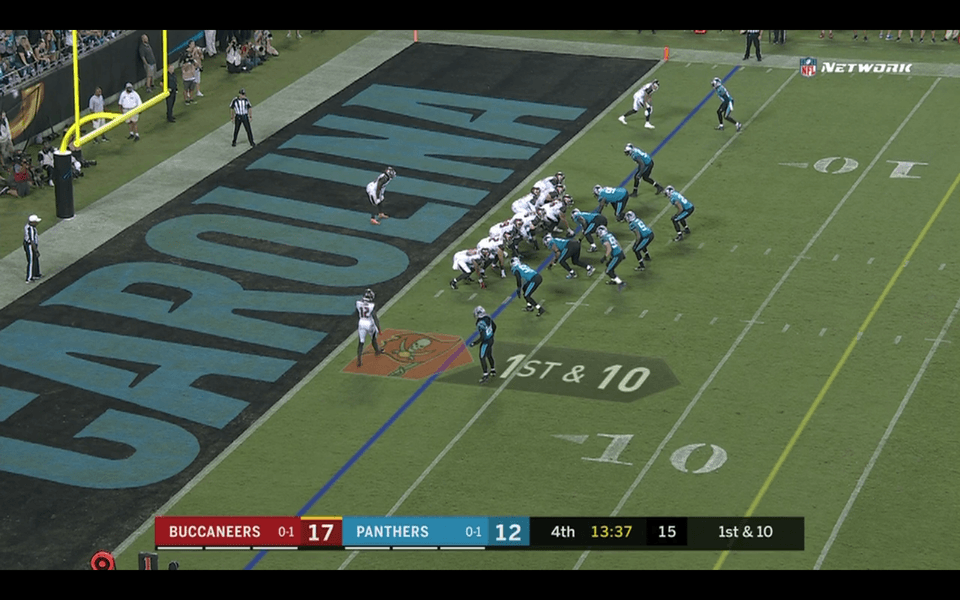 Not a bad snag for an incomplete pass, right? 
As for his production on a per route basis, Godwin did not disappoint with a superb 4.17 yards per route run. He also added one contested catch, one broken tackle and four total explosive plays (tied for most in a game in his career). 
Since coming into the league, Chris Godwin has been a top-10 contested-catch receiver but has never really shown great ability to separate consistently. Last night though, this was a different story. Out of his nine targets, five of them had a step or more of separation, and he caught all five for 84 yards, four first downs/touchdowns and a 91.6 receiving grade. 
The Bucs would've blown out the Panthers if it weren't for Byron Leftwich's conservative play-calling
Bruce Arians has been known for his aggressive play-calling and his love for doing it. In fact, he's been on record saying he wouldn't want to coach anymore if he didn't call plays. Upon Arians' return, however, he opted to give play-calling duties to his young offensive coordinator and former NFL quarterback, Byron Leftwich. One would've thought that Arians' deep pass-heavy offense would rub off on Leftwich who used to sling it himself. That is actually far from the case. 
On plays with seven or more yards to gain, Tampa ran the ball 52.9% of the time. That's the fourth-highest rate we have seen from a Jameis-led Tampa team and the highest since Week 7 of 2016. When Arians was with Arizona from 2013-2017, he ran the ball in those situations just 36.1% of the time. To no surprise, the Bucs' offense was far better off when they passed on those plays instead of ran. On those rush attempts, Tampa averaged 3.2 yards per carry and generated positive EPA on 42.9% of those plays. On the pass attempts, Jameis averaged 9.4 yards per attempt and generated positive EPA on 50% of those plays. Along with that, Jameis had an average depth of target of 13.3, with over 25% of those pass attempts being a deep pass of 20-plus yards. A good thing to note here is that Jameis threw an accurate-plus pass on 30.8% of his passes 10-plus yards downfield and had a passer rating of 113.1 on those throws.
Moral of the story: Bruce Arians may need to start calling plays again. 
McCaffrey staying in the pass-block as much as he did was egregious
The Carolina Panthers have one of the most valuable running backs in all of the NFL in Christian McCaffrey. His receiving ability is almost unmatched at his position and gives Carolina the opportunity to use him as a utility player all over the field. With how poorly Newton was throwing the ball downfield, one would've thought the Panthers would've utilized McCaffrey more on shorter, quicker throws to try and move the ball. Apparently, to Carolina, this wasn't in the gameplan, and nothing was going to change their mind regarding that. With that said, we saw McCaffrey used s a pass-blocker more than we ever have in a game — his 15 pass-block snaps were a career-high. Before that, the most pass-block snaps McCaffrey had in a game was 14 during their Week 13 matchup in 2018 against the Tampa Bay Buccaneers. Interesting, right?
Last night, McCaffrey ran just four routes when lined up in the slot or out wide. Overall, his 60.4 passer rating when targeted was the third-worst of his career, and his 0.40 yards per route run was second-worst. Last season, Tampa Bay gave up a passer rating of 108.5 to running backs (fifth-worst). Granted, a lot has changed with this Tampa team from last year to now, but they didn't suddenly become the '85 Bears overnight.