From a statistical standpoint, offensive linemen are among the most challenging players to evaluate. There are no receptions, yards, tackles or passes defensed to track, and many of the things they do well — with the exception of the occasional pancake block — go unheralded while mistakes get highlighted.
PFF's play-by-play grading and tracking of statistics like pressures allowed is our attempt at shining a light on and quantifying offensive line play. And we've used this data — which is pulled directly from the tape — to present PFF's top 25 interior offensive linemen heading into the 2020 NFL season. 
Note: Philadelphia Eagles G Brandon Brooks was left off this list after tearing his Achilles this offseason. He was listed as the 34th overall player and the second-highest interior offensive linemen on the PFF50 in early June.
Subscribe to PFF's EDGE or ELITE subscriptions to get access to the following tools, charts, etc. 
– All Premium Article Content
– Fantasy Football Rankings & Projections
– Fantasy Football Draft Guide, Cheat Sheets & Advanced Stats
– Fantasy Football Mock Draft Tool (DraftMaster)
– Fantasy Football Strength of Schedule Matrix
– NFL Player Grades
– NFL Premium Stats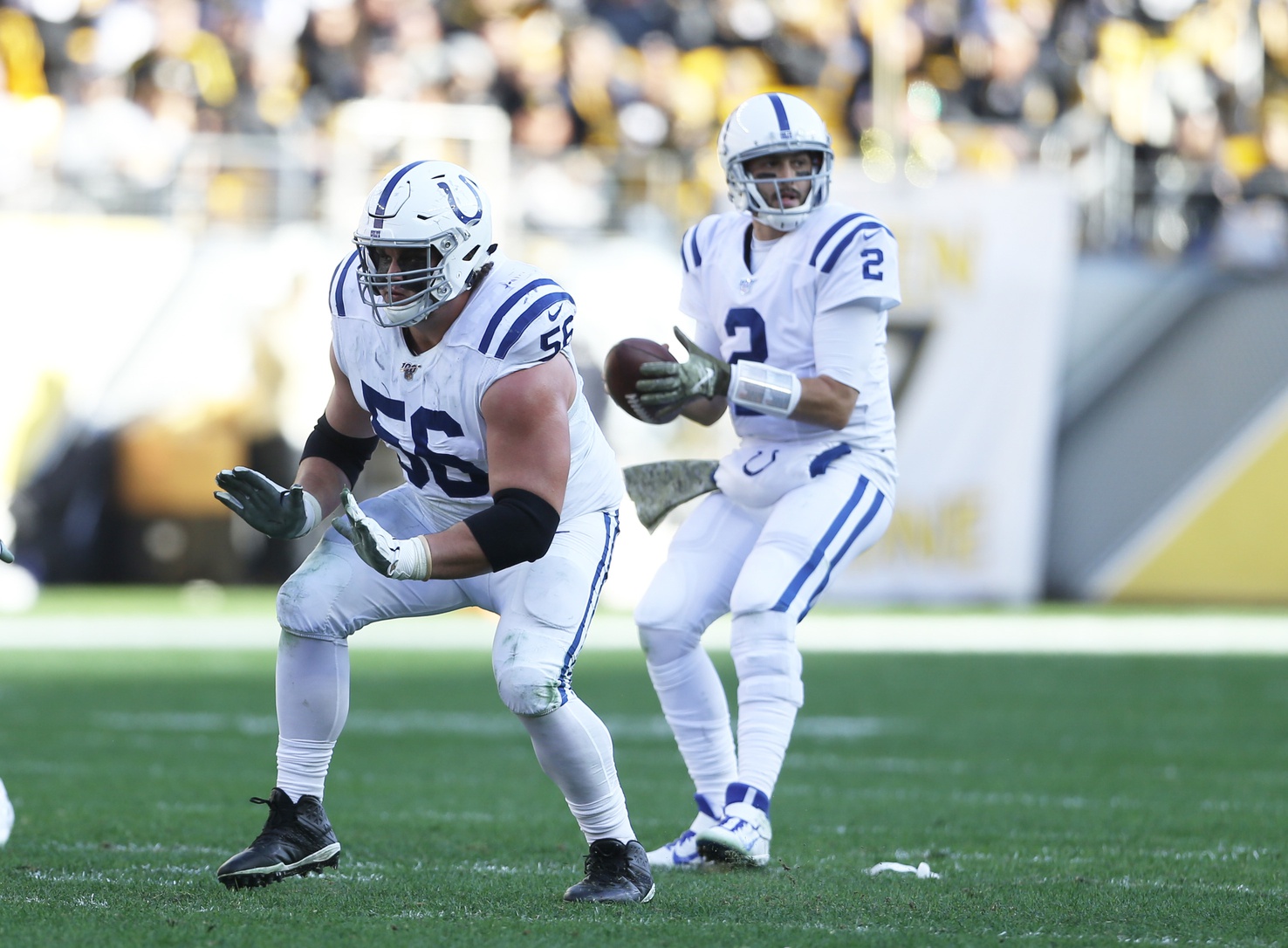 It's hard to overstate how impressive Nelson's career has been up to this point. Offensive linemen tend to have one of the biggest learning curves of any position from the collegiate ranks to the pros, but normal rules don't apply to Nelson. His 90.0 PFF grade over the first two seasons of his NFL career is higher than any other guard in the league, and he ranks among the best at the position as both a pass-protector and run-blocker. His dominance paving the way for the Colts' ground game has been particularly impressive. No guard has earned a higher positively graded run-block rate than Nelson since 2018.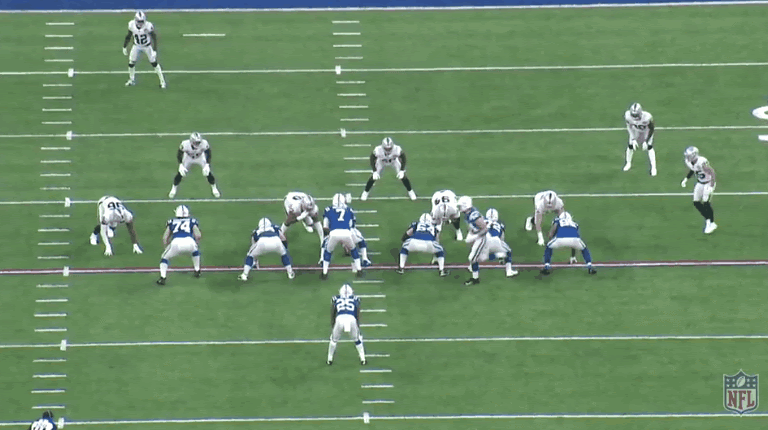 Las Vegas Raiders edge defender Josh Mauro found out on this Week 4 counter play that you don't want to be on the other end of Nelson once he has some momentum behind him. He's already one of the best players in the NFL, and he's only getting better. 
Like Nelson, his fellow Notre Dame alumnus, there has never been a time when Martin hasn't been a dominant NFL offensive lineman. As a rookie in 2014, his 86.2 PFF grade was fifth among all guards to play at least 250 offensive snaps, and he has finished among the five highest-graded guards in the league in every subsequent season.
Martin's second-place ranking here is more of a testament to just how dominant Nelson has been early in his career than a slight to Martin's play, because there aren't many of those if we're being honest. Over the last six seasons, his 93.8 pass-blocking grade trails only Josh Sitton among qualifying guards — leading all active players at the position. The loss of Travis Frederick at center introduces a question mark into Dallas' offensive line, but Dak Prescott will certainly be able to rely on No. 70 to keep him safe.
After coming into the league as a sixth-round selection out of Cincinnati, Kelce has turned into arguably the best center in the league — and that's exactly where he comes in on this list. He's not in the same league as someone like Rodney Hudson when it comes to pass protection, but Kelce does do a good job of keeping the quarterback upright. Where he really differentiates himself, though, is in his ability to get out in space and maintain blocks in the running game.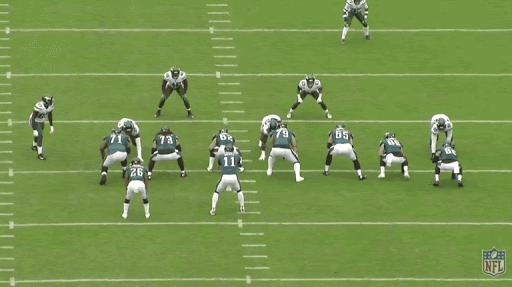 This play above gets derailed when Zach Ertz allows his man to quickly beat him inside, tripping up Brooks at right guard, but it's an excellent job by Kelce to pull from his center position and seal the linebacker to the inside. Kelce's 94.1 run-blocking grade over the past three seasons leads all centers by over four points.
It's always interesting to hear who some of the best players in the NFL point out as their toughest individual matchups, and run-stuffing extraordinaire Damon "Snacks" Harrison singled out Mack as one of his toughest matchups on PFF's 2 for 1 Drafts podcast this offseason. "To me, Alex Mack was the best offensive lineman I ever played against," Harrison said when prompted on who some of his toughest NFL assignments were.
Mack may be entering his age-35 season in 2020, but the guy is still getting the job done at a high level. Despite a slight dip in play on a struggling Falcons offensive line in 2019, Mack still put up a top-10 overall grade at the center position, and his body of work speaks for itself. Over the last decade, Mack put up top-five marks in pass-blocking grade and run-blocking grade at the center position, and he's been dominant in an Atlanta run game that has prioritized outside zone ever since he joined the team in 2016. There may be several question marks along that offensive line heading into 2020, but Mack isn't one of them.
DeCastro doesn't bring the same flash as some of the other guys near the top of this list, but he continues to go about his business as one of the game's best guards. Few can claim to be better in pass protection than DeCastro has been in recent seasons. Pretty much any subset of pass-blocking grade that highlights a player's true pass-protection ability — plays without play action, plays with five- or seven-step dropbacks, true pass sets, etc. — finds DeCastro's name near the top of the list over the last five seasons. He's also used pretty heavily as a pulling blocker on power and counter plays in Pittsburgh, something they had a lot of success with prior to this past season on an offense that was hit hard by injuries.
In the same way that Aaron Donald has dominated the leaderboards for numerous pass-rushing statistics in recent seasons, Hudson wears the crown when it comes to pass protection at the center position.
Highest single-season PFF pass-blocking grades for a center since 2015
| | | |
| --- | --- | --- |
| Player | Season | PFF pass-blocking grade |
| Rodney Hudson | 2017 | 91.7 |
| Rodney Hudson | 2019 | 90.9 |
| Rodney Hudson | 2018 | 90.7 |
| Rodney Hudson | 2016 | 89.8 |
| Rodney Hudson | 2015 | 88.8 |
Over the last five seasons, no center has recorded a single pass-blocking grade higher than Hudson's worst single-season mark over that stretch. His 1.0% pressure rate allowed over those five seasons is nearly a full percentage point lower than Brandon Linder (1.9%) in second place at the center position. The only thing keeping him at just sixth on this list is that both Kelce and Mack provide a good bit more than Hudson in the run game, but there are few teams out there that wouldn't love to have Hudson anchoring their offensive line.
This might be considered on the high side for Linder, but there is an argument to be made that he's one of the more underappreciated offensive linemen in the league right now. He has never made a Pro Bowl or All-Pro team in his six-year NFL career — a fact that does not line up with his grading profile since entering the league in 2014. Injuries have cut his season short on multiple occasions, but the only three centers to put up a higher PFF grade than Linder since 2014 are Mack, Kelce and Travis Frederick. This past season, he was one of the best pass-blocking and zone-run-blocking centers in the league. He may be out of the national eye out in Jacksonville, but Linder deserves some more recognition when talking about the league's best interior offensive linemen.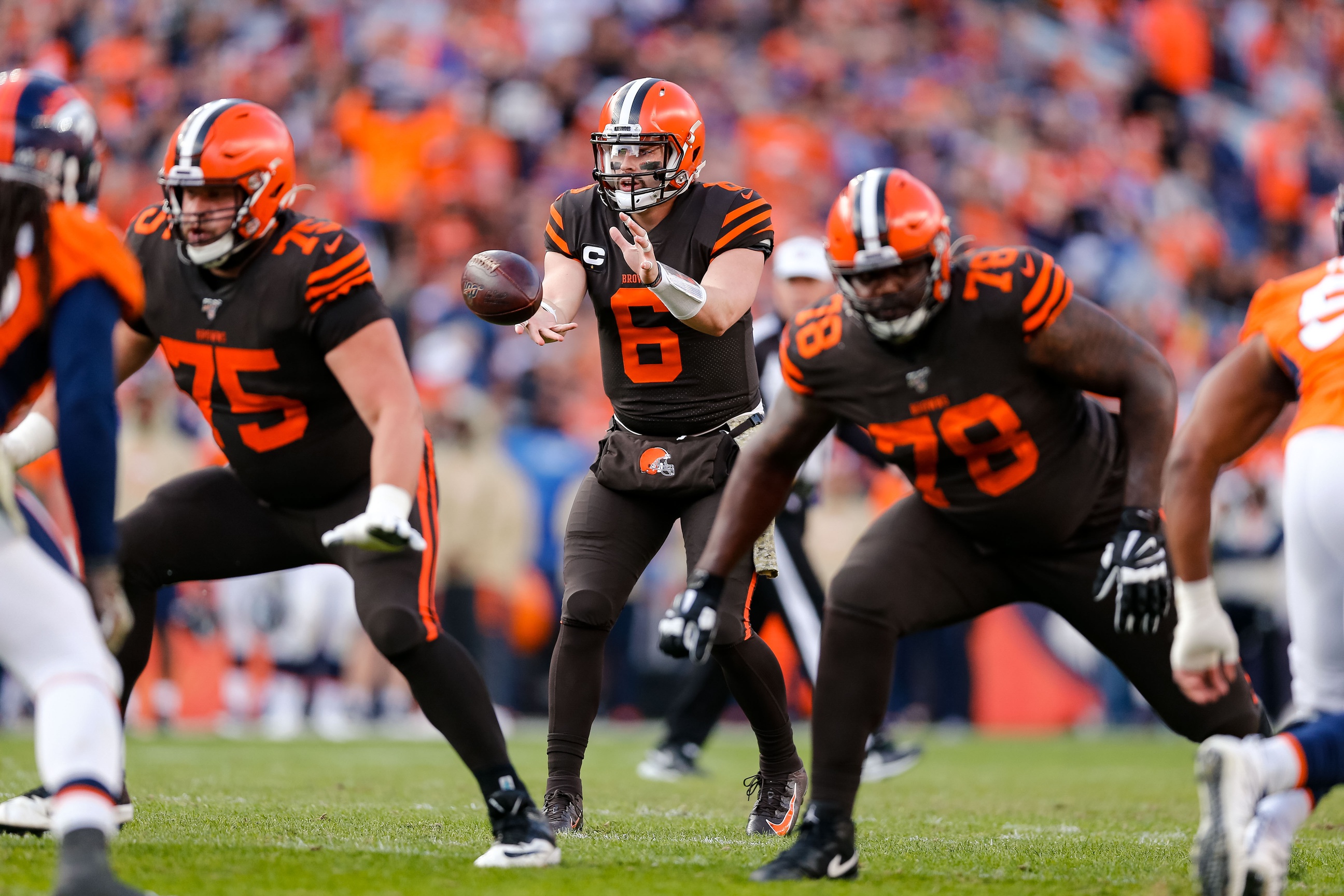 A lot of heat came down on the Browns' offensive line in 2019, but that was directed more so towards the tackle position than the guys along the interior. Bitonio certainly wasn't at fault for their offensive woes, as he put up an 86.0 pass-blocking grade on the season — his third straight year above 85.0, joining Martin and Brooks as one of just three guards that can claim that feat since 2017.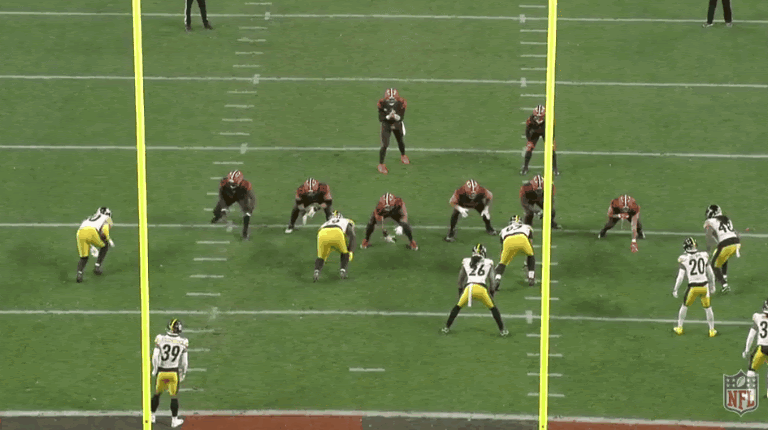 Consistently putting out reps like the one above is the reason why Bitonio is one of the best pass-blocking guards in the NFL. Though Baker Mayfield finds his way into pressure, it's a strong rep from Bitonio — widening Cameron Heyward's path to the quarterback before seamlessly picking up Bud Dupree on the stunt.
Scherff is someone who is difficult to place in lists like these because of the injuries that have limited him in recent seasons. When he's healthy and on the field, it's hard to argue with the results, though. This past season he was among the top five guards in the NFL in pressure rate allowed (2.7%), and he's been one of the top run-blocking guards in the league since being drafted fifth overall in the 2015 NFL Draft. Scherff ranks in at least the 90th percentile in run-blocking grade on both gap and zone runs across those five seasons. He has that combination of strength, technique and mindset that gives him a leg up in most matchups.
The 2020 season will be big for Scherff as he plays on the franchise tag in hopes of locking up a lucrative long-term deal heading into 2021. As long as he stays healthy, that contract should be on the way.
It's hard to say how long Incognito will remain an elite guard option — he is 37 years old now — but that's exactly where he fell in his return to the NFL with Raiders in 2019. Incognito's pass protection has improved as his NFL career has progressed, and he earned a single-season best 88.5 pass-blocking grade this past year. He allowed just nine pressures on 414 pass-blocking snaps all season, good for a pressure rate allowed of 2.2% that trailed only the Canton-bound Marshal Yanda among qualifying guards. With that kind of pass protection next to Hudson, Derek Carr isn't going to have to worry about facing pressure up the middle all that often.
There has been a lot of discussion around the decline we saw from the Los Angeles Rams' offensive line in 2019. Saffold's departure wasn't the sole domino to fall, but it was an important one. Excluding a 2015 season where he played just 233 offensive snaps, Saffold has recorded a PFF pass-blocking grade of at least 72.0 in every season since 2012 — he's a consistently strong performer at the guard position. His grading profile as a run-blocker has really picked up in the last several seasons, as well. Since 2017, the only two guards to record a positively graded run block on a higher percentage of their snaps than Saffold have been Nelson and Brooks. One could be in worse company.
Thuney gained some notoriety for his performance in Super Bowl LIII. There are few quicker ways to do that than by stonewalling a player like Aaron Donald on the game's biggest stage, which he did multiple times on the Patriots' game-winning drive.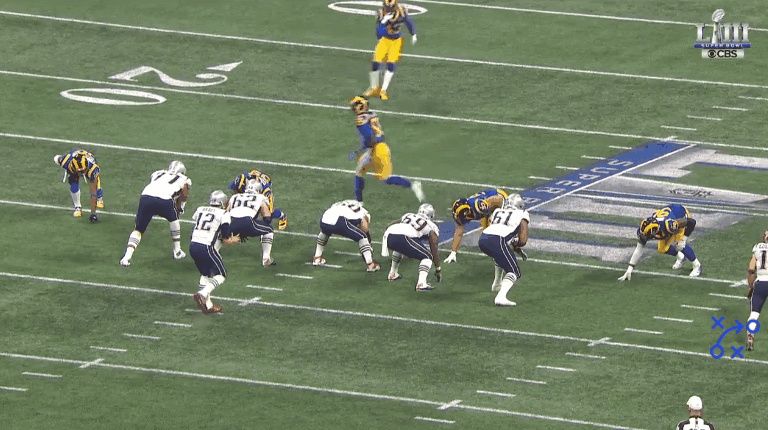 One game is not what makes Thuney one of the best pass-blocking guards in the NFL, though. He has improved as a pass-protector in each of his four NFL seasons, turning in elite years in each of 2018 and 2019. Only Martin and Bitonio have recorded higher PFF pass-blocking grades over that two-year stretch than Thuney has. There was talk this offseason about Thuney signing elsewhere or potentially being traded on the franchise tag, but Cam Newton will be happy to have him along the line in his first season in Foxboro.
Coming in one spot behind the man who will be to his left in 2020, Andrews was missed in New England this past season. Ted Karras — Andrews' replacement as he sat out the season due to blood clots in his lungs — didn't play poorly, but Andrews was turning into one of the best centers in the NFL before his injury. His 84.2 pass-blocking grade across the 2017 and 2018 seasons ranked fourth at the position, and his 79.2 run-blocking grade over the same two-year span came in at sixth. On a team that has lost a lot of talent through both free agency and player opt-outs, Andrews' return is one of the bigger additions to the 2020 Patriots. There's a strong argument to be made that they have the best interior offensive line in the NFL.
Marpet is one of the premier examples in the NFL right now of a small-school player rising to the top of his position. He went from dominating his competition at Hobart college to doing similar things in the NFL across multiple positions.
Ali Marpet: Snaps and grade by position since 2015
| | | | |
| --- | --- | --- | --- |
| Position | Snaps | Pass-blocking grade | Run-blocking grade |
| LG | 2,255 | 81.9 (9/42) | 68.7 (15/42) |
| C | 723 | 73.9 (N/A) | 86.3 (N/A) |
| RG | 1,957 | 73.8 (21/38) | 84.5 (4/38) |
Having an interior offensive lineman who can provide above-average play at all three positions, as Marpet can, can give you a lot of flexibility as a team if and when injuries come. His pass protection has improved over time — to the point that he's graded out as one of the best guards in the NFL on true pass sets over the last three seasons, and he's shown the athleticism and power needed to be a strong run-blocker since entering the league as a rookie. Marpet is the first Buccaneer on this list, but he's not the only one.
Mason makes it a trifecta as the third member of the Patriots' interior offensive line to come off the board in the top-15 slots. However, unlike Thuney and Andrews, who hang their hat more on pass protection, Mason is at his best when he's asked to move bodies in the run game — not exactly a surprising development given his years spent at Georgia Tech. Mason's 85.6 run-blocking grade since getting drafted in 2015 ranks third among 58 guards with at least 2,500 offensive snaps, trailing only Yanda and Martin. He took a step back this past season from a dominant 2018 campaign, but Mason still checks in as one of the best guards in the league.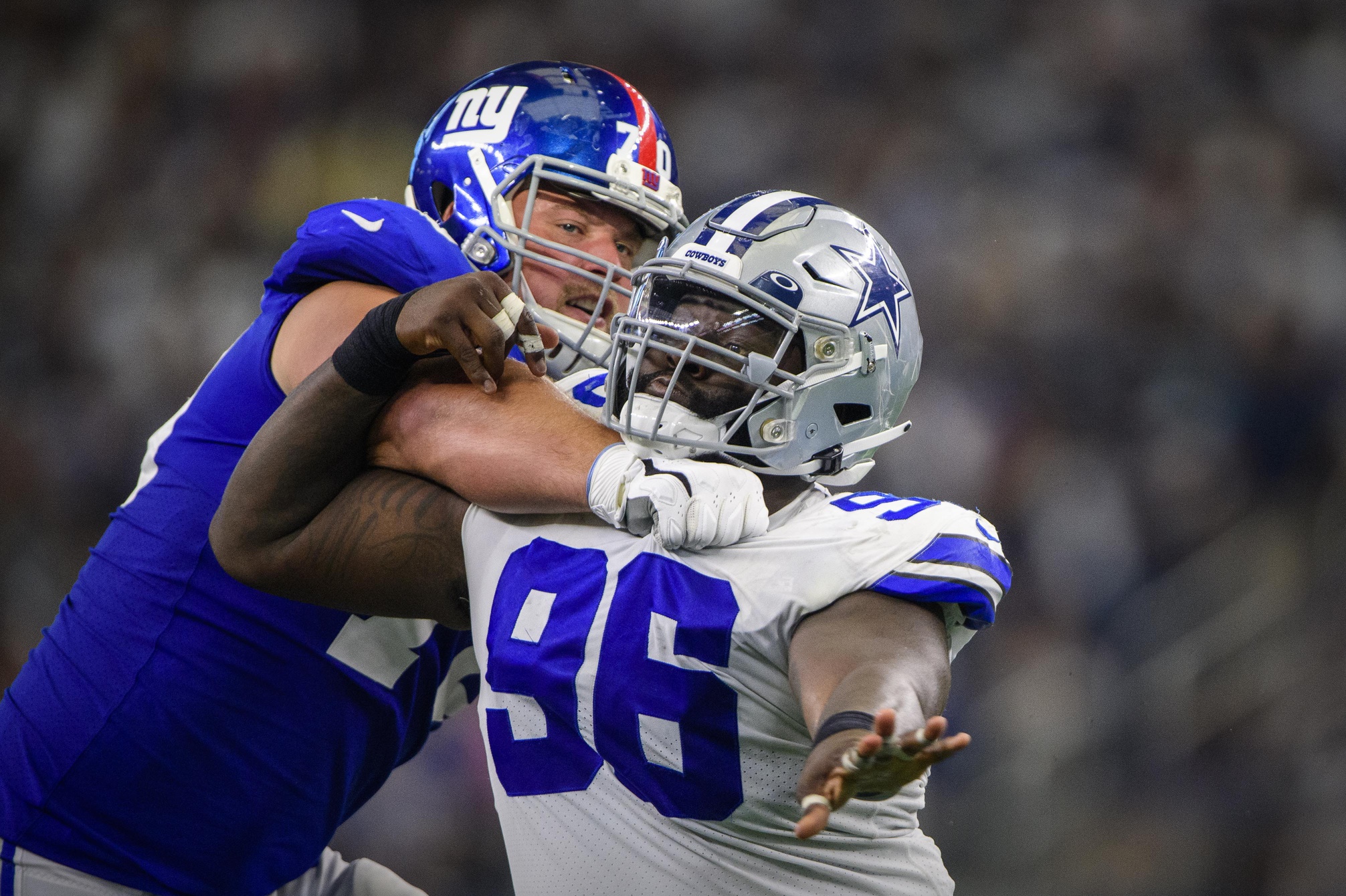 One year after the Olivier Vernon-for-Zeitler swap with the Browns, it appears as if the Giants got the better end of the deal. Vernon struggled to stay healthy yet again, and Zeitler was once more one of the best guards in the NFL. Stretching back to the start of his career in 2012, Zeitler has been one of the best pass-blocking guards in football. His 87.5 pass-blocking grade across those eight seasons ranks eighth at the position, just behind DeCastro among qualifying guards. This past season was no different, as Zeitler ranked seventh overall at the guard position with a PFF grade of 76.4. He's just about as reliable as they come, sticking out as a bright spot on a Giants' offensive line that has some questions heading into the 2020 season.
Few centers can claim to be a better, more consistent pass-protector than Tretter. In fact, over the last five seasons, the only center to record a higher PFF pass-blocking grade than Tretter is Hudson. The only thing keeping him down at 17th is that he lags behind some of the other top centers in the league when it comes to his work as a run-blocker.
Highest PFF pass-blocking grade among centers since 2015 | Min. 2,500 snaps
| | |
| --- | --- |
| Player | PFF pass-blocking grade |
| Rodney Hudson | 95.5 |
| J.C. Tretter | 90.2 |
| Brandon Linder | 88.2 |
| Alex Mack | 84.2 |
| Weston Richburg | 83.8 |
Now, just imagine if the Browns hadn't traded away Zeitler. The trio of Bitonio, Tretter and Zeitler that shared the field in 2017 and 2018 was easily one of the best in the NFL. Alas, the Browns will have to settle for having two-thirds of that trio still on the roster — certainly not the worst of outcomes as the offense looks to rebound in 2020.
After fitting the good-not-great mold for much of his NFL career, Jones really stepped up his play in 2019 — particularly in pass protection. His 1.8% pressure rate allowed at center for the Titans was a top-five mark at the position, and the only center with a higher PFF pass-blocking grade than Jones (86.8) was Rodney Hudson. He allowed multiple pressures in just one game all season. Even at a position like center, which limits the number of truly destructive pass-protecting performances that we see, that's an impressive season for Jones. He allowed just two pressures in the team's final seven games. Tennessee will be hoping that elite play carries over into next year as they look to compete in the AFC South.
McCoy is the one and only 2019 rookie on this list. That rookie season was so impressive, though, that it would have been difficult to keep him too far down the rankings. McCoy's 78.0 overall grade ranked fourth among all centers this past season, and he was actually the only player at the position to manage at least a 75.0 PFF grade as a pass-blocker and run-blocker.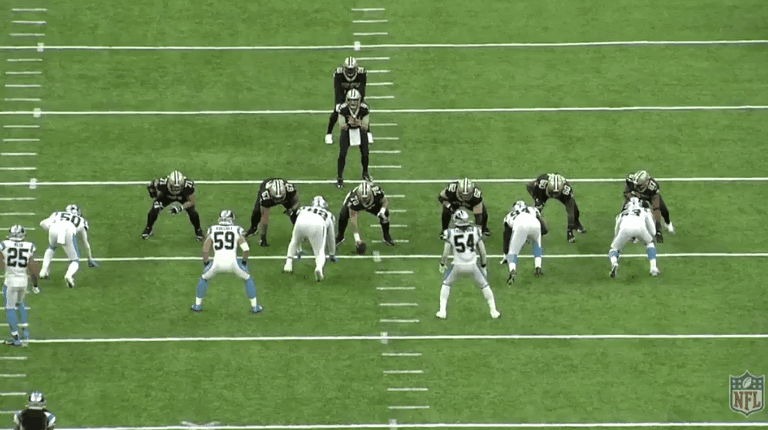 Plays like this one, where he is able to get the reach block and wall off the hole for Latavius Murray, give a lot of reason to be optimistic about McCoy's future in the NFL. If his rookie season is anything to go off, he'll be rising on this list in the coming years.
Similar to the versatility that I discussed with Marpet above, Glasgow has started at left guard, right guard and center over the past three seasons for the Detroit Lions. Playing all three positions is one thing. Playing them well is another entirely, but that's exactly what Glasgow did, earning PFF grades of 70.0 or higher in each of 2017, 2018 and 2019 — a well-balanced effort with above-average play as a pass-protector and run-blocker. Signing Glasgow was one of several under-the-radar offseason moves that have the Broncos primed to compete for a postseason spot once again next season with Drew Lock at the helm.
The fact that the recently cut Warford remains a free agent still baffles me. It's understandable that New Orleans wants to get their first-round draft pick (Cesar Ruiz) on the field, but Warford can still play. His 75.8 PFF grade in 2019 was eighth among all qualifying guards, sitting right between Kevin Zeitler and Brandon Scherff. Only Brooks, Nelson and Saffold recorded a higher percentage of positively graded run blocks than Warford did on the year. A luxury of riches for New Orleans is going to turn into one team out there getting a much-needed upgrade at the guard position.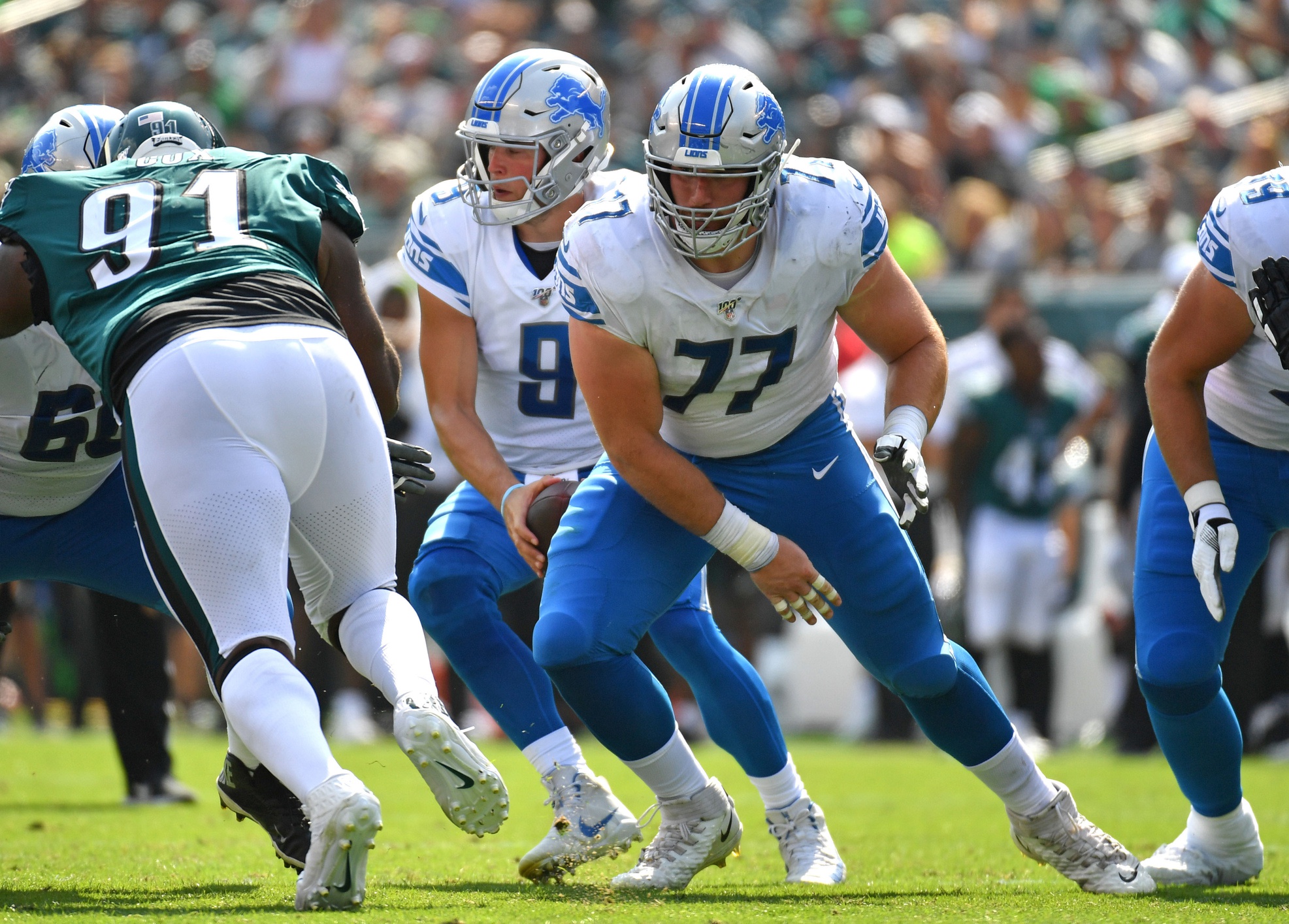 Ragnow is one of the brighter up-and-comers on the interior for the Lions, showing significant improvement from 2018 to 2019 after switching to the center position. He raised his PFF pass-blocking grade from 57.1 as a rookie to 70.2 this past season, but there is still plenty of room to grow there. Where Ragnow really excelled was his ability to open up holes on the ground in Detroit. His 78.2 run-blocking grade trailed only Jason Kelce among qualifying centers in 2019, and he was among the top five players at the position in both picking up positively graded run blocks and avoiding negatively graded run blocks.
Few players saw quite as big a jump in play from 2018 to 2019 as Jensen. The numbers speak for themselves.
Ryan Jensen's 2018 vs. 2019 season | Ranks among qualifying centers
| | | |
| --- | --- | --- |
| Category | 2018 | 2019 |
| PFF run-blocking grade | 53.8 (32/38) | 73.6 (6/34) |
| PFF pass-blocking grade | 70.1 (23/38) | 85.0 (4/34) |
| Penalties | 11 (most) | 3 (t-21st most) |
He improved his grade from a bottom-of-the-league mark in 2018 to become the third-highest-graded center overall in 2019, cutting down significantly on his penalties in the process. Considering that Jensen also played well in his final season with the Baltimore Ravens in 2017, we're comfortable saying 2018 was more likely than not a one-year speed bump in his career. With the addition of Tristan Wirfs in the 2020 NFL Draft and strong play from guys like Jensen and Marpet, the Buccaneers have a few nice pieces along their offensive line to build around.
The Packers' offensive line has consistently been one of the better pass-protecting units in the league in recent seasons — despite what the number of sacks Aaron Rodgers has taken might tell you — and Linsley has contributed in that effort from the center position. Since getting drafted in the fifth round out of Ohio State back in 2014, Linsley has graded out among the top pass-blocking centers in the NFL on true pass sets while getting the job done for the Packers' ground game, as well. His consistency and lack of any glaring weaknesses are what lands him on this list. Linsley is one of several key Packers upcoming free agents, joining the likes of Kenny Clark and David Bakhtiari.
The Bears have seemingly settled on keeping Whitehair at center heading into the 2020 season and moving James Daniels — a promising young player in his own right — back to guard. That appears to be the right move, as Whitehair has graded out better at center and Daniels better at guard throughout their careers to this point.
Split duties between left guard and center led to the lowest PFF grade of Whitehair's career in 2019 (64.9), but he had shown himself to be more than capable of holding down the center position in three prior seasons. From 2016 to 2018, Whitehair's 83.5 PFF grade when lined up at center ranked seventh among 42 players to play at least 1,000 snaps at the position. He'll look to pick things up there in 2020.