With all of our individual position rankings now released, it is officially time for us to unveil our offensive and defensive rankings.
The process of ranking all 32 NFL offenses and defenses brought about some hotly contested debates over at PFF HQ. And just as they were for the offensive side of the ball, a number of factors were considered when forming these rankings, such as PFF play-by-play grading, PFF WAR added and lost, playcaller and per-play efficiency in 2019.
Here is how all 32 NFL defenses stack up against each other in 2020. Be sure to keep in mind that coverage > pass rush.
The 49ers fielded the most improved defense of the 2019 season after going from 26th in EPA per play allowed in 2018 to second in 2019. And they deservedly lock up the No. 1 spot here ahead of the 2020 campaign.
For starters, they have arguably the best pass-rush unit in the league. Reigning Defensive Rookie of the Year Nick Bosa leads the way, and he will look to get his play to elite status in Year 2 after posting an 86.7 PFF grade in 2019 that ranked 11th at the position. Bosa's 80 total pressures over the regular season also smashed the PFF record for most total pressures by a first-year edge defender.
While we were hoping for the Niners to snag either Jerry Jeudy or CeeDee Lamb with the 13th overall pick, they did draft the top interior defensive lineman in the class in Javon Kinlaw. The South Carolina product has some incredible pop behind his hands and is an impressive athlete for a human of his size. And even with a relative lack of pass-rush moves, he still managed to produce a 90.7 pass-rush grade in 2019, third in the FBS.
The secondary is really where the big improvement took place last year, and Richard Sherman's play was a big reason why. At 31 years of age and just a couple of years removed from a torn Achilles, Sherman was the highest-graded cornerback in coverage last season. He allowed 35 yards or less in all but one regular-season game, routinely shutting down his side of the field.
And while Emmanuel Moseley played reasonably well when occupying the starting spot opposite Sherman, a healthy Jason Verrett might — and I emphasize might — make this secondary even better than it was in 2019.
There was only one glaring flaw with the 2019 Ravens: their pass-rush unit. As a whole, it ranked 27th in pass-rush grade and 30th in pressure rate on non-blitzes. Baltimore made a point of bolstering the line this offseason by trading for Calais Campbell, signing Derek Wolfe and drafting both Justin Madubuike and Broderick Washington Jr.
Campbell alone will vastly improve the Ravens' defensive front. He may not be an elite pass-rusher — he's primarily a run-stuffer, and a very effective one at that — but he is still productive in that facet. He's now had four straight years of 90.0-plus PFF grades, which is a clear upgrade over anything Michael Pierce did in Baltimore.
The Ravens also brought back Matthew Judon, who earned a 78.3 pass-rush grade as the team's most effective pass-rusher in 2019. While we feel the price tag is too high on the franchise tag, he'll still be a plus pass-rusher for the Ravens and could have an even better 2020 campaign with Campbell eating up blocks on the line.
Even without Earl Thomas III, Baltimore still fields a stellar secondary. DeShon Elliott is the favorite to replace him, but we view rookie Geno Stone as a guy who can step in and surprise if given the opportunity. Meanwhile, the outside cornerback duo of Marlon Humphrey and Marcus Peters comprise one of the top tandems in the NFL, as we view them both as top-10 players at their position. Humphrey has been among the best man-coverage cornerbacks in the NFL since joining the league, ranking sixth in forced incompletion rate on his man-coverage targets over that span. As for Peters, he had the best stretch of play of his career once he joined the Ravens in Week 7 last year. From that point on (including postseason), he tied for the second-best coverage grade at the position.
The Steelers have the best defensive line in football. Edge rusher T.J. Watt is coming off a big third-year breakout, as he finished the year as the highest-graded pass-rusher (91.7) in the league, while interior defensive lineman Cameron Heyward will try and match the career year that saw him finish second to only Aaron Donald in PFF grade (91.5). The other piece of the interior duo, Stephon Tuitt, will also hope to build off what was a career year. Before getting hurt in Week 6, Tuitt was the third-highest-graded pass-rusher at the position. The trio of Watt, Heyward and Tuitt is a force to be reckoned with and will be the toughest matchup of the year for any offensive line on the Steelers' schedule.
Safety Minkah Fitzpatrick may have had a few lucky turnovers last season, but that's not to say that he didn't play like one of the league's best safeties. Fitzpatrick produced an 87.6 coverage grade after being traded from the Dolphins, the sixth-best at the position. He certainly proved he could be one of the best deep safeties in the game for Pittsburgh.
In addition to Fitzpatrick, The Steelers have three of the NFL's top-25 cornerbacks in their secondary. Starting outside corner Joe Haden has consistently been a productive player for the Steelers and has allowed the eighth-fewest yards per coverage snap in his three years with the team. Opposite Haden is Steven Nelson, who just needed a change of scenery for a breakout year last year. After a few years of subpar play and one year flirting with success, Nelson thrived in the Steelers' defense last year, ending the season ranked seventh in coverage grade. The third member of the trio, Mike Hilton, is perhaps one of the most underrated players in the entire league, too. Since coming into the NFL in 2017, Hilton has earned the third-highest slot- coverage grade and generated the second-best forced incompletion rate from the slot, all while ranking fifth in total passing stops.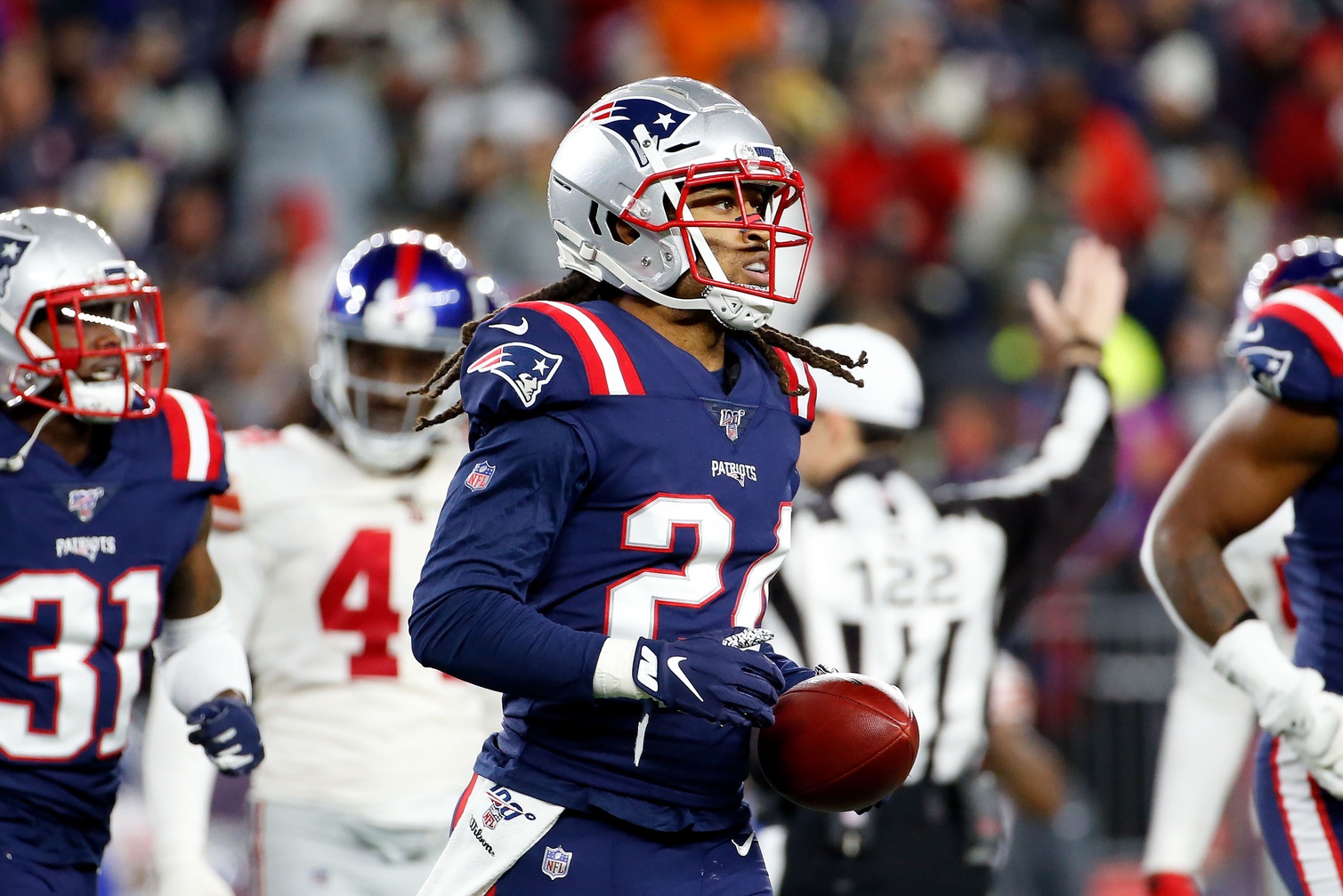 The Patriots aren't here at No. 4 because of their front seven, that's for sure. All told, New England will be without edge rusher Kyle Van Noy (Dolphins), linebackers Jamie Collins Sr. (Lions) and Dont'a Hightower (COVID opt-out), and safeties Duron Harmon (Lions) and Patrick Chung (COVID opt-out) — all key cogs from their 2019 defense. Luckily for them, though, the franchise still boasts one of the league's best secondaries.
As PFF's Sam Monson said when he ranked the league's best cornerbacks, Stephon Gilmore is as close to a Darrelle Revis as the league has right now. Since joining forces with Bill Belichick in 2017, Gilmore has tied for the highest coverage grade at the position and has produced the second-most combined total of pass breakups and interceptions (47). Jason McCourty occupies the starting spot opposite Gilmore, and he's been the NFL's eighth-highest-graded corner in coverage since he joined the Patriots back in 2018.
Jonathan Jones also took a big step forward with his slot coverage play in 2019, as he was the second-highest-graded defensive back at the alignment. And while J.C. Jackson is still a boom-or-bust player at this stage, he has proven to be one of the league's top backups. If there is any concern, it's the other starting safety spot opposite Devin McCourty — the team may need Lenoir-Rhyne product Kyle Dugger and his inane athleticism to step up right away.
Buffalo's defense, specifically their secondary, was the reason why they were able to clinch a playoff berth in 2019. They finished the regular season ranked fifth in EPA per pass play allowed and fourth in team coverage grade. It'll be a tall task to repeat that success in 2020, but we still believe the secondary makes Buffalo a top-five defense.
Tre'Davious White may have finished 15th in coverage grade in 2019, but make no mistake, we still think of him as a top-10 player at the position. Since coming into the league, he's been one of the stingiest outside cornerbacks, allowing just 0.87 yards per cover snap on the outside over that span, sixth-best in the NFL. White is more than capable of producing at an elite level, and he proved that as a rookie in 2017 (90.1 coverage grade).
The starting spot opposite him will either go to Levi Wallace or Josh Norman, but at this rate, it looks like it'll go to Wallace. The third-year corner has performed exceptionally well there in his first two years in the NFL as a former UDFA. His grade at outside cornerback over the last two years ranks 12th among qualifying players at the position.
Buffalo has fielded one of the league's top safety duos these last few years in Micah Hyde and Jordan Poyer. That will be no different in 2020. Among 61 safeties to play at least 1,500 snaps since 2017, Hyde ranks fifth in PFF grade while Poyer ranks 13th.
Regression was inevitable for Chicago's defense last year. The Bears' 2018 defense was one of the best we have ever seen; it forced an impressive number of turnovers and helped carry the team to the postseason. And while they were no longer in the conversation for best in the NFL in 2019, it was still a solid unit, as they finished the year seventh in EPA per play allowed. That should continue in 2020.
Firstly, the pass-rush unit is one of the best in the league. Khalil Mack has been a top-10 edge rusher for Chicago, ranking eighth in pass-rush grade since joining the team in 2018 (88.1) and maintaining his career-long streak of single-season PFF grades eclipsing 86.0.
And while the loss of Eddie Goldman to opt-out is a crushing one, the interior defensive line still returns Akiem Hicks, has proven to be one of the best players at the position when healthy. Since joining Chicago in 2016, he is tied for ninth at the position in PFF grade. The team also added edge rusher Robert Quinn this offseason, and he's a massive upgrade over Leonard Floyd. Even though he faced the most difficult schedule of opposing offensive tackles in 2019, Quinn still managed to produce a 78.3 pass-rush grade that tied for 18th league-wide.
It's the secondary that is really what's going to make or break the Bears' 2020 season, though. Cornerback Kyle Fuller is a top-25 player at the position but needs to show improvement in Pagano's diverse coverage scheme in 2020. After putting together a two-year coverage grade that ranked eighth at the position from 2017-18, Fuller saw a massive decrease in ball production and put together a below-average coverage grade of 58.7 last year.
Likely starting opposite him is second-round rookie Jaylon Johnson, who displayed physicality and great ball-tracking ability over his college career. When you combine all those exceptional traits, you get a big-time playmaker. On targets of 10 or more yards downfield the past two seasons, Johnson allowed just 14 catches on 58 targets with 16 plays made on the ball. And on those 58 targets, Johnson forced tight coverage on 48 of them — forming the second-highest rate in college football.
After those two, however, the depth at corner is a bit scary. Kevin Toliver would be the next man up in the event of injury and has been a poor performer thus far in his limited NFL career, putting together a 48.7 coverage grade on his limited reps. Slot corner Buster Skrine is also a concern after getting peppered there, once again, in 2020. He allowed 19 catches that resulted in a 10-plus-yard gain in the slot last year (fourth-most in the NFL), which paved the way to a below-average coverage grade at the alignment.
We are big fans of the outside cornerback duo of Fuller and Johnson and their marquee safety Eddie Jackson, who has been a playmaker in Chicago with 26 combined pass breakups plus interceptions. That said, the lack of depth across the board might be their Achilles' Heel.
Green Bay has three uber-productive pass-rushers on a defensive line set to wreak havoc on offensive lines again in 2020. The unit is led by Kenny Clark, who has been the league's best pass-rushing nose tackle as of late. He's produced a 92.3 pass-rush grade since 2018 when playing 0/1-technique, recording 47 pressures in the process (nine more than second, only one has over 30). The edge duo of Za'Darius Smith and Preston Smith also impressed in their first year with the team, combining for a whopping 148 pressures in regular-season play.
The secondary is led by cornerback Jaire Alexander, who has the potential to be one of the NFL's elite cornerbacks if he can be a bit more consistent. He still managed to produce a 12th-ranked 76.7 coverage grade and tied for second in pass breakups (13) in 2019, but he got eaten up by the Cowboys and Chargers. The promising young corner gave up 330 yards in those two games, accounting for over 41% of his total yards allowed in the regular season. Green Bay has a formidable safety tandem as well in Adrian Amos and Darnell Savage. The two ranked 22nd and 26th at the position in coverage grade last season.
Losing versatile safety Derwin James for the entire season is a huge blow for the Chargers. After producing an 87.8 PFF grade as a rookie, the Chargers were only able to get five games out of James in Year 2 due to another injury. But he was a clear difference-maker in that limited time on the field for them, helping take their EPA per play allowed rank from 26th (Weeks 1-12) to 17th (Weeks 13-17). Even without James, though, this Los Angeles Chargers team still fields a top-10 defense.
They have one of the top edge duos in the league in Joey Bosa and Melvin Ingram. Both were among the top-25 highest-graded pass-rushers at the position in 2019 (Bosa third, Ingram 25th). In the secondary, they have three of our top-15 cornerbacks in the entire league in Casey Hayward Jr., Chris Harris Jr. and Desmond King II.
Hayward has been the model of consistency throughout his NFL career, excelling in the slot in his early days for Green Bay before moving to the outside for the Chargers. In fact, he's been the NFL's highest-graded outside corner since joining the Chargers in 2016.
Meanwhile, Harris was a great free-agency signing for Los Angeles this past offseason. They aren't ruling out giving him some reps on the outside, but he's likely to see most of his action in the slot, where he made his name known as one of the top cornerbacks in the league. He predominantly resided there from 2011 to 2018 before kicking outside for the Broncos in 2019 and was the highest-graded at said alignment in that span.
King actually overtook Harris as the league's highest-graded slot cornerback over the last three years, but he will see more snaps at safety with Harris in town. Whether he's in the slot corner or playing safety, King will continue to make plays for Los Angeles. He has produced 55 passing stops over the last three years, six more than any other defensive back.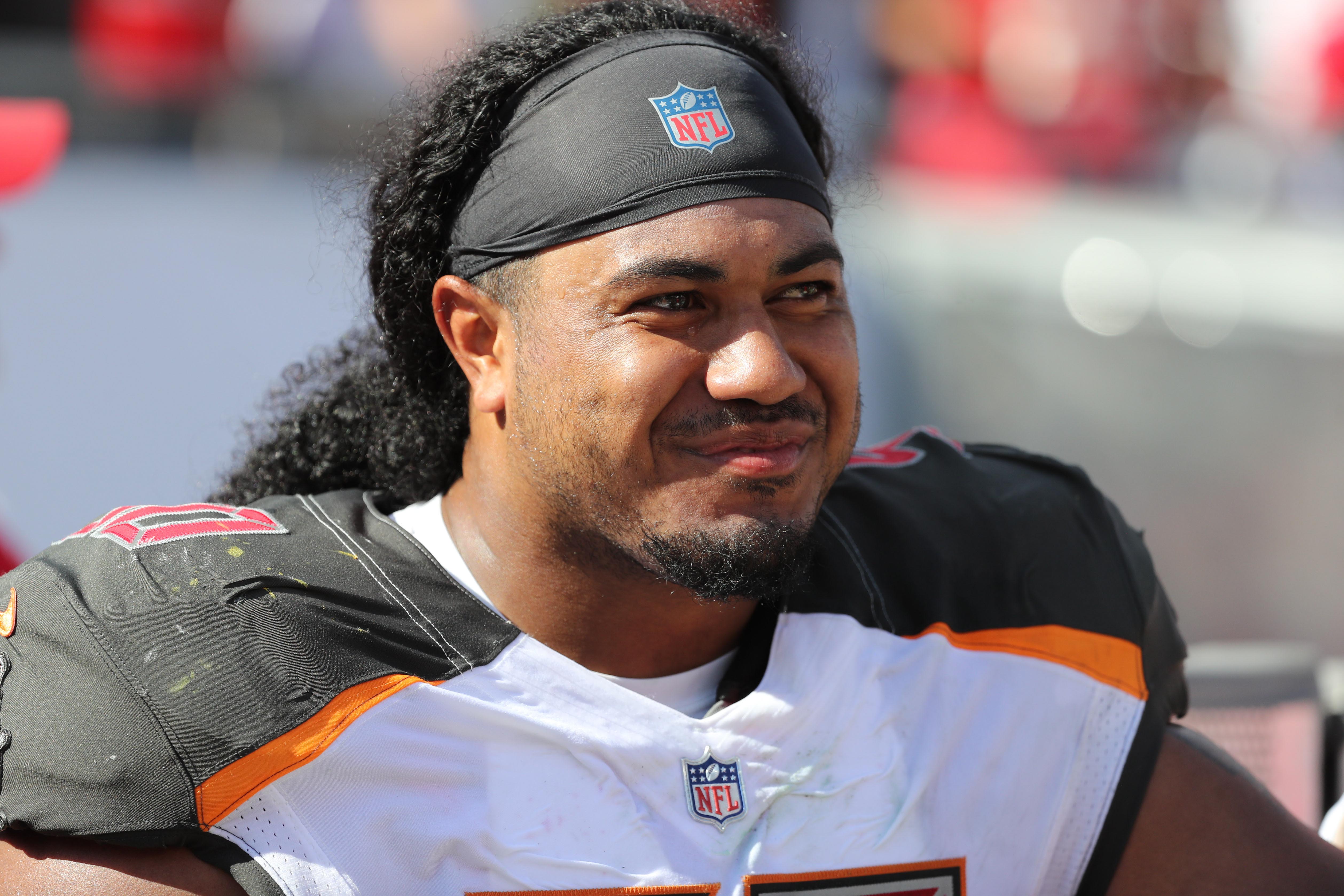 If I had to choose a darkhorse team that could finish the 2020 season with the best defense in the NFL, I would roll with the Buccaneers.
Led by interior defensive linemen Ndamukong Suh and Vita Vea, Tampa fielded an above-average run defense last year. When it came to their pass defense, though, there was a noticeable difference between the first half and the second half — right around when Jamel Dean made his NFL debut and when Jason Pierre-Paul returned from injury:
TAMPA BAY BUCCANEERS:  PASS DEFENSE IN 2019
| | | |
| --- | --- | --- |
| Weeks 1-9 | | Weeks 10-17 |
| 44.7 (27th) | Team coverage grade | 88.1 (3rd) |
| 0.12 (22nd) | EPA per pass allowed | -0.14 (3rd) |
| 56 (26th) | 15+ yard plays allowed | 41 (T12th) |
| 107.3 (23rd) | Passer rating allowed | 87.7 (10th) |
| 33 (T11th) | Forced incompletions | 44 (1st) |
| 33.5% (16th) | Pressure % | 40.7% (3rd) |
While the addition of Pierre-Paul certainly played a part in the rapid improvement, it was the addition of Dean to the secondary that really made the Bucs one of the league's best defenses.
Dean's 89.8 coverage grade trailed only Stephon Gilmore from Week 10 on, and he ranked second in forced incompletions (10) over that same span. And the player he trailed in forced incompletions was none other than Carlton Davis, the guy who will be starting opposite Dean in 2020.
The second-year corner had a strong 2019 from start to finish, posting the fourth-best forced incompletion rate, at 21%. If Davis can just clean up the penalties, he can take his play to new heights. With the emergence of Dean, Sean Murphy-Bunting kicked inside and manned the slot down the stretch and saw a rapid improvement in play — from Week 10 on, he was the fourth-highest-graded defensive back when manning the slot.
They also added an intriguing safety in Round 2 of the 2020 NFL Draft in Antoine Winfield Jr., who was a playmaker at Minnesota in 2019 and very reminiscent of his father with his tackling. Oh, and let's not forget they also have the second-best linebacker in the NFL in Lavonte David, who is fresh off a superb season in 2019 in which he earned a 91.1 coverage grade.
The Rams' pass-rush is subpar outside of Aaron Donald, but when you have a player as dominant as Donald, it really doesn't matter. Disregarding positional value, Donald is perhaps the best player in the entire league. No interior defensive lineman even sniffs what he has done as a pass-rusher over the last five years. Donald had produced the highest pass-rush grade at the position in each of those years, totaling 437 pressures in that span — 92 more than second.
Depth at cornerback is a minor concern, but the Rams have a solid starting group spearheaded by Jalen Ramsey. Ramsey enters his first full year as a Ram as an easy top-five cornerback, as he is one of few who can shut down some of the league's top wideouts. Ramsey has gone toe-to-toe with DeAndre Hopkins, T.Y. Hilton and Antonio Brown more than any receiver in his career and has still managed to allow just a 77.4 passer rating to those three while posting a ridiculous 24% forced incompletion rate. For perspective, only one cornerback produced a forced incompletion rate higher than 24% in 2019.
Opposite him is Troy Hill, one of the league's most underrated corners entering the 2020 season. He came in clutch for L.A. after being thrown into the starting role in Week 6 of last year. From that point on, Hill finished eighth in PFF grade and fifth in catch rate allowed (45.1%).
It's reasonable to say safety John Johnson III doesn't get his fair share of respect, either. He's looking for a bounce-back 2020 after being limited to only six games due to injury. Still, in his two years in the league before that, he posted the second-best coverage grade we have ever recorded by safety in their first two years in the NFL.
Vic Fangio helped maintain the Broncos' relatively stout pass defense in 2019, and that should remain in 2020 despite the loss of Chris Harris Jr.
Firstly, they have a strong defensive front with several impactful pass-rushers. Edge rusher Von Miller leads the way, and while he had the worst season of his career last year, he was still an effective pass-rusher. He produced the seventh-most pressures at the position, with 77, though It was the first time in his career that he failed to produce a PFF grade above 90.0. It could be a sign of decline or just a rare down year from Miller; either way, he's an intriguing player to keep an eye on. Bradley Chubb is too looking for a bounceback year after missing most of 2019 due to injury. Chubb was a well-above-average pass-rusher as a rookie in 2018, finishing the year 22nd in pass-rush grade.
On the interior, Denver also has a stout run-stuffer in Mike Purcell and talented pass-rushers in Shelby Harris and Dre' Mont Jones, who is looking for a Year 2 breakout after impressing as a rookie. And don't forget about the new veteran in the unit in Jurrell Casey. Casey undoubtedly has some gas left in the tank, as he has an active streak of seven straight years with 40-plus pressures (including postseason).
Playmaker Justin Simmons headlines the secondary after a breakout year in Fangio's system. He produced the third-best coverage grade at the position, recording more combined pass breakups and interceptions in the process (15). Meanwhile, slot cornerback Bryce Callahan is finally healthy and looks to replicate the strong 2018 season he had in Chicago after missing last year with an injury. That year, Callahan was the NFL's sixth-highest-graded slot corner and allowed the fewest yards per cover snap at the position (0.69). Cornerback A.J. Bouye joins guys like Miller and Chubb looking for a bounceback year after struggling for Jacksonville in 2019 following Ramsey's departure. He's proved that he can play at a high level; in fact, he was second in coverage grade at outside corner in the three years before 2019.
If Bouye and the edge duo of Miller and Chubb play as they have in the past, Denver will undoubtedly improve on their already solid ranking here.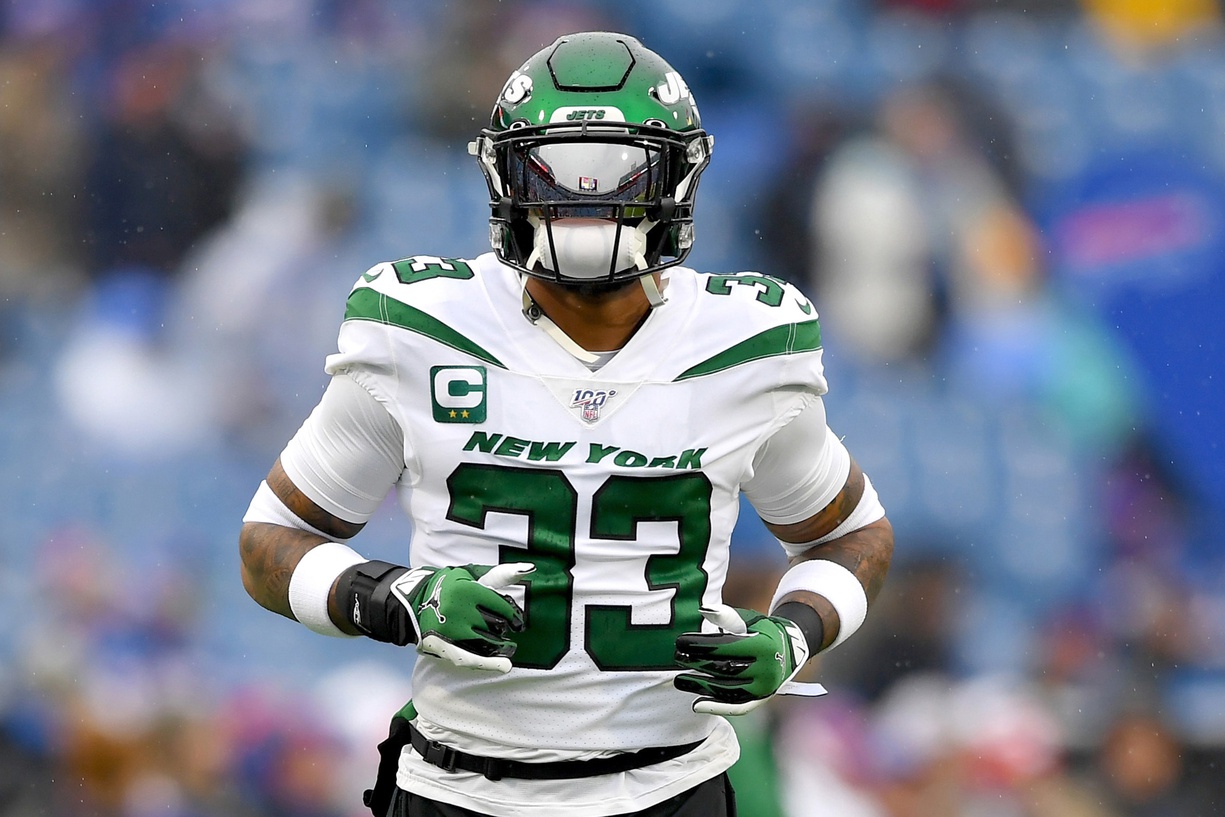 The Seahawks may have given up an arm and a leg for Jamal Adams, but he'll be a difference-maker right away for a pass defense that has been average, at best, the last couple of years. Seattle failed to rank in the top half of the league in EPA per pass allowed in both 2019 and 2018, but the addition of the NFL's most-valuable safety over the last two years in regard to PFF WAR will help flip the script.
Quinton Dunbar also figures to help this unit. Dunbar never saw significant time on the field in his four years before 2019. Still, he was able to put together an unexpected yet impressive year for Washington last season. His 89.5 coverage grade ranked second at the position, and he should excel in Seattle's scheme.
Just because Seattle had a middling coverage unit in 2019 doesn't mean they didn't have any solid players that you want on the field. Cornerback Shaquil Griffin had a nice breakout year and finished as one of the 10 highest-graded players at the position. He thrives in Seattle's press-zone defense and is strong at the catch point — he broke up the second-most passes last year with 13. And Seattle, of course, has the best linebacker in the NFL in Bobby Wagner. He is dominant in every facet and a true definition of a playmaker at the position. Since entering the league in 2012, he trails only Luke Kuechly in plays made on the ball in coverage and is third in total defensive stops.
While the pass-rush unit is perhaps the worst in the NFL, they have a plethora of coverage standouts, and as we all know, that's what matters most to defensive success.
Starting in the trenches, New Orleans has one of the best edge defenders in the NFL in Cameron Jordan and a rising talent in Marcus Davenport. Jordan has now had four straight years of top-10 play at the position in regard to PFF grade, making an impact both against the run and in the pass rush. As for Davenport, the 2018 first-round pick quietly had a really impressive season in Year 2, ranking 17th in PFF grade and 11th in pressure rate.
Elite play seemed to be out of reach for Demario Davis prior to 2019. He had subpar years in his first six seasons in the NFL before producing above-average — but not elite — seasons in 2017 and 2018. He took yet another step last season and played extraordinarily well, particularly after the first few weeks of the year. He finished the season overall second at the position in PFF grade but from Week 7 on was the highest-graded linebacker by a mile. He's developed into a top-five linebacker as a Saint.
New Orleans has a playmaker on the back end in Marcus Williams. In his three-year NFL career, Williams has made the third-most plays on the ball at deep safety with 16 and has multiple top-10 graded seasons in coverage at the position. Malcolm Jenkins will be the other starting safety for New Orleans after six-straight quality seasons for the Eagles. Ceedy Duce, formerly known as Chauncey Gardner-Johnson, excelled in the slot in his rookie campaign, securing a top-five coverage grade and making more plays on the ball (nine) than first downs allowed (eight). Last but certainly not least, the Saints have one of the top five cornerbacks in the league in Marshon Lattimore. He's gone toe-to-toe with some of the best receivers in the NFL and checks in as the league's seventh-most valuable corner in his first three years.
Philadelphia has had one of the best defensive fronts in the league for years with Fletcher Cox and Brandon Graham but managed to get even better this offseason by signing Javon Hargrave from Pittsburgh. Cox is in the next tier of elite pass-rushers at his position after Aaron Donald, producing a top-five grade in that facet for five years in a row now. Graham has been a top-20 graded player at the position for eight seasons (with most being in the top 10). As for Hargrave, he's been a secret superstar on the Steelers' loaded line the last couple years and performed at a top-10 level in Stephon Tuitt's absence (finished eighth in PFF grade).
The secondary got a much-needed boost this offseason with the additions of Darius Slay and Nickell Robey-Coleman. Philadelphia's cornerbacks and safeties combined to produce a coverage grade that ranked just 26th in 2019 and struggled significantly when the stout line didn't get pressure on the quarterback.
From 2014 to 2018, Slay was one of the NFL's best cornerbacks, ranking as the fourth-most-valuable corner over that span. His grade slipped some under Lions coach Matt Patricia, largely because of the scheme. Detroit plays a significant amount of man coverage, which resulted in Slay facing far more single-coverage targets than other NFL corners. That invited more opportunities for wideouts to beat him and subsequently lowered his grade. Still, he shadowed the NFL's best receivers fairly well and continued to display a knack for being around the ball.
Robey-Coleman has had an excellent career thus far as a former UDFA and had some of his best years with the Rams as of late. In his three years in Los Angeles, Robey-Coleman bolstered the Rams' slot coverage by producing the second-best slot coverage grade in that span.
The Cowboys brass will likely regret paying running back Ezekiel Elliott as opposed to cornerback Byron Jones in the long run. If they hadn't had to let him walk this offseason, Dallas would be a few spots higher on this list, but the defense is still slightly above average nonetheless. They have a great edge tandem in Demarcus Lawrence and Everson Griffen (both of whom are coming off top-25 graded seasons as pass-rushers) and arguably the best linebacker duo in Jaylon Smith and Leighton Vander Esch.
Smith is coming off a bit of a down year in coverage but has had a strong start to his career. He has produced top-25 graded seasons in each of his three years as a Cowboy. As for Vander Esch, he was one of the NFL's best off-ball linebackers as a rookie in 2018, producing the fifth-best PFF overall grade at the position (84.4). He then suffered a neck injury that hindered his sophomore campaign; his overall grade dropped to 58.5, 60th among 100 qualifiers, and his run-defense grade fell from 81.3 to 43.2. The two will look to bounce back to their 2018 selves, when they produced premier play at the position.
As mentioned, losing Jones is a big blow to the secondary, but they still field a respectable unit. If they want to be more than that, they'll need a standout rookie year from Trevon Diggs. The Cowboys got great value for Diggs in the back half of the second-round, as he was a first-round talent in PFF's eyes. Not to mention, he fits the scheme perfectly. At 6-foot-1, 205 pounds with near-33-inch arms, Diggs was a nightmare to face at Alabama in press coverage. He ranked second to only Derek Stingley Jr. in press coverage grade, allowing only nine catches on 33 targets with three interceptions and seven forced incompletions on such reps.
In my opinion, there isn't a more intriguing defense this year than that of the Minnesota Vikings. Recent acquisition of Yannick Ngakoue will team up with Danielle Hunter, who is coming off a career year in which he was the seventh-highest-graded player at the position at 89.4. Ngakoue offers very little in run-support, but he has shown to be an effective pass-rusher, which matters far more. He's had three-straight years of top-25 pass-rush grades and finished at an elite level in 2017.
The Vikings overhauled last year's cornerback unit and drafted both Jeff Gladney and Cameron Dantzler early in the 2020 NFL Draft to ensure this area doesn't become a liability, like it was last year. We don't know how the Vikings depth chart will shake out with their outside and slot coverage, but we are operating under the assumption that Gladney and Mike Hughes will occupy the slot, with Holton Hill and Dantzler manning the outside starting spots.
We didn't have Dantzler as a first-round talent by any means, but we did view him as a draft steal. He isn't a burner and is more slender than you'd like, but you can't deny his ridiculous production against some of college football's best wide receivers. In his three years at Mississippi State, Dantzler logged 697 cover snaps and allowed only 41 catches on 96 targets while combining for 20 pass breakups and interceptions and surrendering one score. In his matchups against NFL-caliber receivers at LSU and Alabama this past year, Dantzler played a combined 55 cover snaps and allowed only three catches for 21 yards (longest was 8 yards) with a pass breakup.
Having the best safety duo in the NFL in Anthony Harris and Harrison Smith as well as one of the best off-ball linebackers in Eric Kendricks won't make this Minnesota defense much worse than average. But if they want to be anything more than that, that need the young players manning the cornerback spots to step up.
The Chiefs have a couple superstars on their defense. Interior defensive lineman Chris Jones he has firmly established himself as the second-best 3-tech in the NFL behind Aaron Donald these last couple of seasons. He's produced a 93.2 pass-rush grade at the alignment in that span, well ahead of third at 90.7.
The "Honey Badger" — Tyrann Matheiu —  is a versatile piece and great wherever he is on the field, but his slot coverage came in huge for the Chiefs down the stretch in their Super Bowl run. Matheiu's usage there increased during the season and no one played better there in the second half. From Week 11 through their Super Bowl victory over the 'Niners, Matheiu produced the highest slot coverage grade in the NFL and led the league in plays made on ball with seven.
We weren't big fans of the move, but Indianapolis certainly beefed up its defensive line this offseason by acquiring DeForest Buckner for their 13th overall pick. The Colts are now paying him as an elite-level players although he's not quite reached that level. Since his second year in 2017, Buckner has been the 13th-most valuable interior defensive lineman. He joins edge rushers Justin Houston, who produced a top-10 year in PFF grade in his first year as a Colt, and Kemoko Turay, who hopes to continue his breakout that was cut short in 2019 due to injury.
The linebacker unit is strong as well with Darius Leonard leading the way. Leonard has made his name known as one of the top three players at the position, and he's joined by Bobby Okereke and Anthony Walker, who both had strong 2019 seasons in coverage. The three actually all ranked among the 20 highest-graded linebackers in coverage.
The big wild card with this Indy defense is at outside cornerback. Kenny Moore will retain his slot job and provide solid play there. Rock Ya-Sin, Xavier Rhodes and TJ Carrie are all candidates for the two starting jobs. Ya-Sin, Indy's 34th overall pick in last year's draft, performed fairly well in 2019 considering he was a rookie. In fact, there was really only one bad performance from him (Week 8 versus Denver) and he quickly cleaned that up the rest of the year. From Week 9 on, he produced the seventh-best PFF grade at the position. The Colts really need him to continue that trend in 2020 along with either one of Rhodes or Carrie forgetting their recent down years. Both Rhodes and Carrie are coming off career-low, sub-50.0 coverage grades from the 2019 season that left them ranking 110th and 114th of 121 qualifiers on the year.
As I stated yesterday, we here at PFF are high on Detroit's offense ahead of the 2020 season with a healthy Matthew Stafford. But if the team wants to actually make a run at the NFC North, they'll need the new look secondary to be significantly better than last year's unit. Detroit had the third-worst coverage unit in regard to EPA per play allowed and lost their marquee corner in Darius Slay. They have two new additions in particular who are the X-factors to this team and will dictate the improvement in 2020.
The Lions really could not have been in a better spot in the 2020 NFL Draft, as they were in prime position to grab cornerback Jeff Okudah. I've compared the former Buckeye to Michelangelo's David because his physical tools are precisely what you want in a cornerback. He's a lockdown player in press-man coverage — something he will be asked to do a lot of in Detroit. Okudah allowed under half a yard per coverage snap in press coverage in 2019 and didn't allow a single explosive play. That yards per coverage snap mark is a quarter of a yard better than anyone in the draft class, and no one other than Okudah allowed one or fewer explosive plays in press. It won't be easy to produce at a high level right away in Matt Patricia's scheme, but if any rookie can do it, it's Okudah.
They also brought in veteran Desmond Trufant to occupy a starting spot. In his seven years in Atlanta, Trufant really never had a bad year. We have yet to see him match his rookie and second-year seasons, but he's never ranked below the position average in PFF grade. He handled Atlanta's man-heavy scheme fairly well and should handle Detroit's.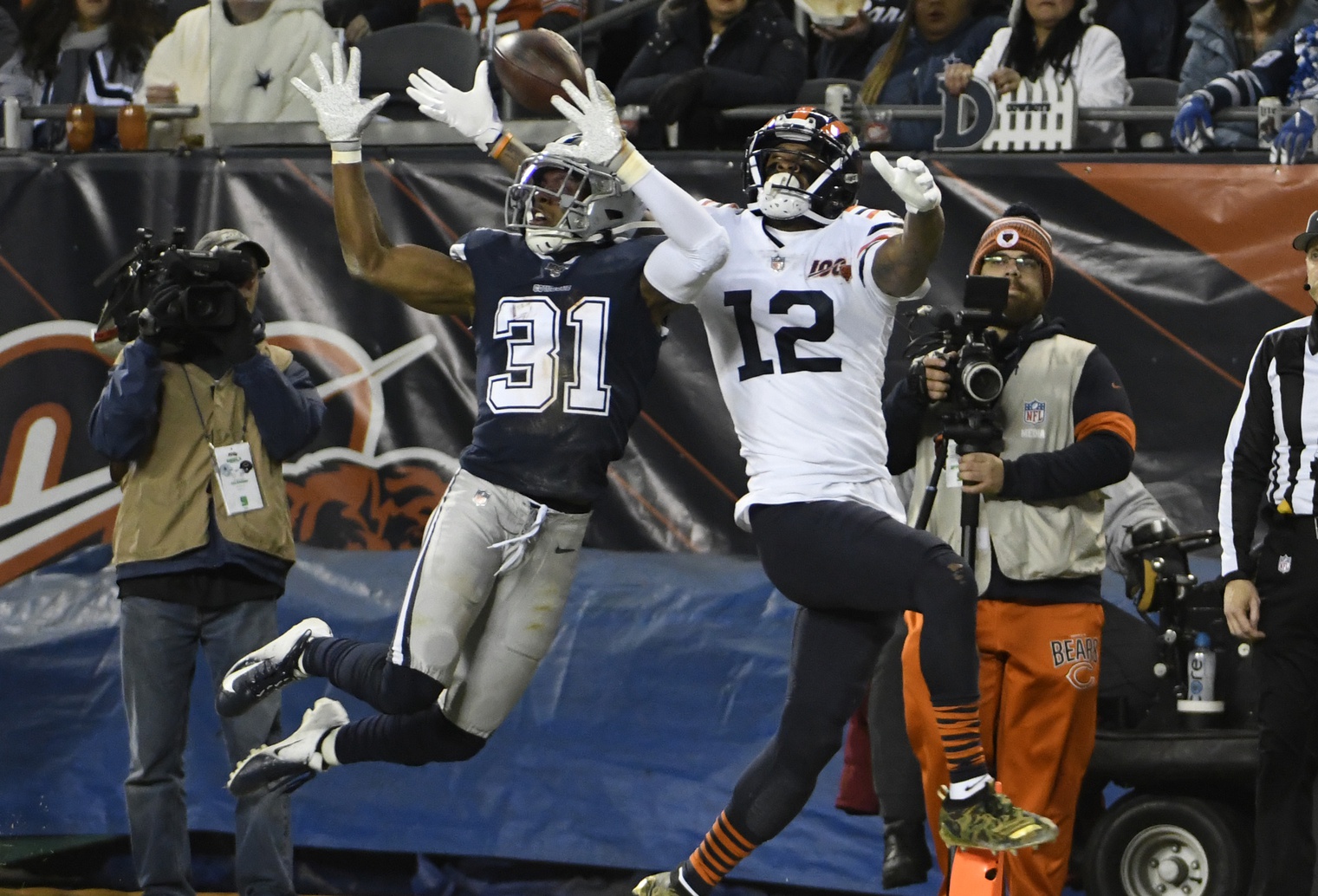 The Dolphins had quite easily the worst defense of the 2019 season. They ranked at or near the bottom in nearly every single statistical category in every facet of play. After spending a boatload of cash in free agency and investing heavy draft capital into their defense, Miami should have one of the most improved defenses this season.
They made a big-time splash signing in cornerback Byron Jones, and he will provide a huge impact to the secondary right away. Since pivoting to outside corner in 2018, Jones has been the third-highest-graded player at the alignment behind only Stephon Gilmore and Richard Sherman. His press-man performance has been flat-out elite. In 2019, he allowed just 0.39 yards per coverage snap in press, the second-lowest figure at the position — over eight-tenths of a yard lower than the average. Jones fits perfectly within Brian Flores' scheme and will keep the Dolphins from ranking dead last in team coverage grade once again in 2020.
The return of Xavien Howard will certainly help as well. Howard was unable to build off of his 2018 breakout campaign, as he was limited to only five games in 2019 due to injury. Back in 2018, Howard produced a solid 77.3 PFF grade and tied for third in combined pass breakups and interceptions (15) despite missing four games.
Rookie Noah Igbinoghene is the X-factor of the group; he might see substantial time in the slot in Year 1. He's still learning the position and has to play the catch point far better, but he has supreme athleticism and match-and-mirror ability as a result.
Looking solely at pass coverage, the Raiders were the only team in the running for worst in the NFL last year with the Dolphins. This has become an unfortunate common trend for the franchise. Since 2017, no team has allowed more EPA per pass play than the Raiders. To help address that, the team drafted cornerback Damon Arnette in Round 1.
The Arnette pick, in our eyes, was a bit of a reach. He was just 88th on our big board prior to the draft and CB14 in the class. He did have quite the impressive year in 2019, allowing under 50 yards in all but one game while combining for eight pass breakups and interceptions. And he did that with a cast on his hand. Arnette attacks the catch point well, but the fact he had a middling grading profile as well as subpar athleticism is a concern. He might be an upgrade in 2020 given how poor the unit was last year and the years prior, but I wouldn't expect anything really spectacular right away.
Fellow rookie Amik Robertson (fourth-round) was a steal in our eyes. In fact, we had him higher on our big board than Arnette. He could very well take Lamarcus Joyner's slot job with how poorly he has performed there. The best season of his career from a grading perspective came in 2017 when he primarily played deep safety for the Rams. In his first season as a Raider last year, Joyner played a career-high 608 slot-coverage snaps and produced the third-worst slot-coverage grade in the NFL. Robertson may only be 5-foot-9, but he plays far bigger than that — he's the definition of a "Gruden Grinder." His feisty play style helped him earn the highest grade of any college cornerback since 2018, and he held that No. 1 ranking on contested targets, allowing only nine of 38 such targets to be caught while forcing 24 incompletions. He played mostly on the outside for LA Tech, but he should thrive in the slot with his physical play style and short-area quickness.
Trayvon Mullen is a breakout candidate after his strong emergence as a rookie when he came in as starter in Week 8. From that point and on, Mullen ranked 31st of 64 qualifying outside cornerbacks in coverage grade.
The defensive line was and will continue to be subpar, but the linebacker unit got two rapid upgrades with the signings of Cory Littleton and Nick Kwiatkoski. Littleton has made his name known as one of the top coverage linebackers, as he has recorded an NFL-high 20 pass breakups plus interceptions since 2018. Kwiatkoski shined in every facet of play in a rotational role and filling in for injuries for Chicago, as he was one of six linebackers to produce a 70-plus grade as a run defender, a pass-rusher and in coverage since 2017.
The Jets have only had two player seasons on the defensive side of the ball to end a season with a PFF grade above 85.0 since 2016 (minimum 400 snaps), and both of them belong to Jamal Adams. Losing his versatility and dominance in every facet of play is a crushing blow to the defense. On the brightside, they still have a solid group of safeties. Marcus Maye leads the group and put together a great breakout year in 2019 after showing some promise in limited action in 2018. He was one of the best deep safeties last year, producing a coverage grade at the alignment that ranked seventh. They also added Ashtyn Davis in the draft; he has all the fixings to be a force at free safety as well. Davis was a track star and displayed tremendous range on the field at Cal, which helped him produce one of the top-10 coverage grades at free safety in the FBS since 2018.
While Brian Poole is an underrated slot corner, the Jets have a big red flag at both outside starting spots. Pierre Desir, Quincy Wilson, Arthur Maulet and Bless Austin are all candidates for the job for the short-term. Only Desir has played a full year at an at least average level, but we have only seen him do that once in his six year career and he could miss some time early in the year due to a hamstring injury in training camp. Austin, a 2019 sixth-round pick, saw the field for seven games at the end of 2019 and started strong, allowing 30 yards or less in his first four games. But he negated some of that with a few slip-ups, and that sample size isn't something to put much stock into.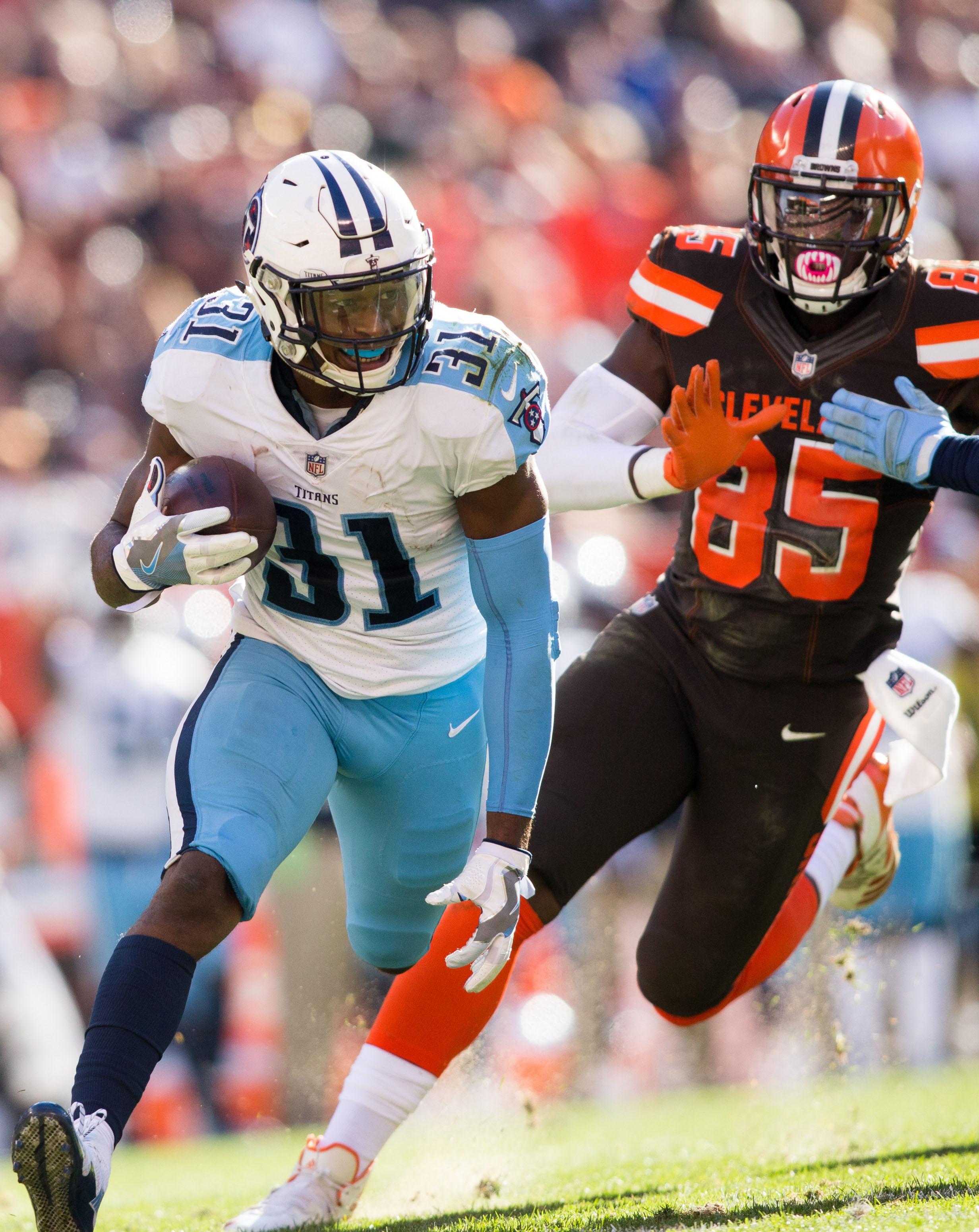 Tennessee has a promising young player along the defensive front in interior defensive lineman Jeffery Simmons, but the unit as a whole is uninspiring. The defensive line produced just the 25th-best pass-rush grade in 2019, and two of its top three pressure leaders from that team, Jurrell Casey and Cameron Wake, are no longer with the team.
On the back end, Tennessee does have a top-tier safety in Kevin Byard. He's been a playmaker over the past three years, intercepting 18 passes and breaking up another 13. That helped lead the way to the ninth-best coverage grade at the position in that span. Cornerback Adoree' Jackson is another standout player in the secondary. He's coming off his best season yet, as he produced an 82.5 coverage grade (including postseason) that ranked sixth in the NFL. He's a sticky corner who is hard to beat in tight coverage.
To rise up these ranks, Tennessee will need strong years from both Malcolm Butler and Kristian Fulton. Butler was limited to only nine games in 2019 due to injury, but it was his worst season since his rookie campaign from a grading perspective. He's always been an inconsistent player for both Tennessee and New England in his career, but he has been able to string together hot stretches of play — such as down the stretch in the Patriots' Super Bowl run.
Fulton was one of the steals of the draft, in our eyes, as he was our CB2 in the class. He stuck to some of the best receivers in college football and was a physical player at the catch point. Fulton was boom-or-bust at times, but he was still the highest-graded outside cornerback in all of college football over the past two years. He's been getting reps inside during camp and could perhaps see time on the field there. Whether he sees substantial action there or comes in and mans the outside when needed, Tennessee needs him to be the fringe top-10 prospect we pegged him to be.
Cleveland fields one of the top edge duos in the league in Myles Garrett and Olivier Vernon. Garrett had himself an elite year as a pass-rusher in 2019, producing a 91.6 pass-rush grade that led the position before he missed the final six games due to suspension. He's had a great career thus far and is a strong candidate to claim the title of best pass-rusher in the NFL next year.
Vernon was a top-25 finisher, recording a 75.7 pass-rush grade in his first season with the Browns. And don't sleep on rookie Jordan Elliott making an impact on the interior in Year 1, either. We viewed the third-round pick as an easy first-rounder after he was the highest-graded pass-rusher of the 2019 college season at Mizzou.
The Browns also got incredible value in the second-round in safety Grant Delpit, but he, unfortunately, suffered a torn Achilles in training camp. We viewed him as a Defensive Rookie of the Year candidate due to his NFL-ready coverage ability. Cleveland still has a rising talent at cornerback in Denzel Ward, who has produced the 10th-best coverage grade on the outside in his first two years in the NFL. It's everywhere else in the secondary that pushes Cleveland down to No. 24.
The team will need a big second year from cornerback Greedy Williams, assuming his camp injury is nothing that bleeds into the season long-term. Williams' rookie year could have gone worse, as he allowed a yard per coverage snap over the course of the year, but it certainly could have gone better. He lacked ball production, which was unlike what we saw from him in college at LSU. That played a part in him producing a lowly 53.6 coverage grade, ranking 99th of 121 qualifying cornerbacks.
J.J. Watt's ability to wreck a game certainly helps make the jobs easier for everyone on the Texans' defense. He was having a career year in 2019 before going down with an injury, ranking behind only Myles Garrett, his brother T.J. and Khalil Mack in pass-rush grade through Week 8. Watt posted double-digit pressures in three of those eight regular-season games played. For perspective, only four other defensive linemen had multiple double-digit regular season performances last year, and they all played most of the year.
While a lot of people are oddly pounding the table for the Texans to play Bradley Roby in the slot, he is — and always has been — significantly better at outside corner. Last season, he ranked 28th of 93 qualifying outside corners in grade and eighth in forced incompletion rate.
Gareon Conley was certainly a surprise for the team last year after they acquired him via trade from the Raiders, and he'll look to continue that into 2020. He was a relatively poor performer in Oakland and really turned things around in his second game with the Texans. From Week 9 through the postseason, Conley posted a solid 70.6 coverage grade and led the league in pass breakups (12). However, the depth behind the two, as well as their slot coverage abilities, is a concern this year.
Lonnie Johnson Jr. is the next man up at corner, and he is coming off a rough rookie campaign. His 31.7 coverage grade was the worst at the position in 2019. Manning the slot is Vernon Hargreaves, who showed few signs of improvement after being cut from Tampa Bay and picked up by Houston last year. Starting in Week 12, Hargreaves logged just under 200 slot coverage snaps for the Texans. From that point on, he produced the fifth-worst slot coverage grade. The best-case scenario is if rookie John Reid wins the job and exceeds expectations. We pegged him in the pre-draft process as a cornerback who could excel in the slot.
The Bengals already had a stout defensive line with Geno Atkins and Carlos Dunlap, but they beefed it up into a top-10 unit this offseason with the addition of D.J. Reader. The near-350-pounder is coming off a career year in which he was the sixth-highest graded player at his position.
As for the linebacker unit, the Bengals completely overhauled it in the 2020 NFL Draft, taking three such players. And they need at least one of them to step up after fielding some of the worst play at the position in 2019. Logan Wilson will likely get the first crack at doing so and should bolster the position, but the last of the three picks — Markus Bailey — has the most upside of the trio and could end up a draft surprise.
The secondary was set to see two new faces with former Minnesota Vikings Trae Waynes and Mackensie Alexander securing starting spots, but Waynes tore his pectoral and will miss a big part of the season. Alexander will be starting in the slot for Cincinnati and should provide average play after ranking 19th of 41 defensive backs in slot coverage grade over the past two years. The X-factor of the entire defense is Darius Phillips, who will likely start opposite of William Jackson III.
The 2018 fifth-round pick has played only 117 coverage snaps on the outside in his two-year career and has been a mixed bag. In 2018, Phillips allowed five explosive plays of 15-plus yards while recording only one play on the ball. Then, in his limited reps in 2019, he looked like a completely different player and was a playmaker. He intercepted four passes and forced three incompletions while allowing only six total catches. If we consistently see that in 2020, Phillips and the Bengals will skyrocket.
Arizona has the potential to raise its defensive ranking by a good amount, but the team needs a few things to go its way.
First and foremost, the Cardinals need a bounce-back year from Patrick Peterson. He missed the first six weeks of the 2019 season because of a suspension and then graded below 40.0 in coverage in two of his first four games. After that, however, he started to look like his usual self, allowing less than a yard per coverage snap and producing a 77.9 coverage grade that ranked 14th among qualifiers from Week 11 on. Peterson is a strong candidate to get back to top-10 status with a full 2020 season.
Secondly, they need a breakout year from the 33rd overall pick in 2019, Byron Murphy. He saw significant action in both the slot and outside, and struggled at both alignments (48.5 coverage grade on the year). He'll man the slot solely in 2020 and needs to display the same elite processing we saw from him in college at Washington.
Arizona can count on Budda Baker stuffing the run (but not really being a playmaker in coverage) and Chandler Jones being a force in the pass-rush (90.0 pass-rush grade in 2019). The team also now has the perfect modern-day linebacker in rookie Isaiah Simmons, but they need big years out of Peterson and Murphy.
Atlanta has one of the more underappreciated interior defensive linemen in the NFL in Grady Jarrett. He's produced back-to-back single-season PFF grades above 90.0, forming a two-year grade that is the fourth-best at the position. In addition to Jarrett, linebacker Deion Jones is a standout on this defense — he has proven year after year that he has some of the best coverage ability at the position. His coverage grade since entering the league in 2016 trails only Luke Kuechly and Lavonte David. As great as those two players are for Atlanta, they can't make up for the shortcomings of the secondary.
The Falcons' cornerbacks and safeties combined to produce the third-worst team coverage grade a season ago, and the one player who prevented them from being last is no longer on the team (Desmond Trufant). The Falcons did make a great late signing for minimal cost in slot corner Darqueze Dennard, but there's reasonable concern elsewhere. A (hopefully) healthy Keanu Neal will help matters some if he can get back to his rookie form when he was incredibly productive in coverage (sixth in 2016 in coverage grade).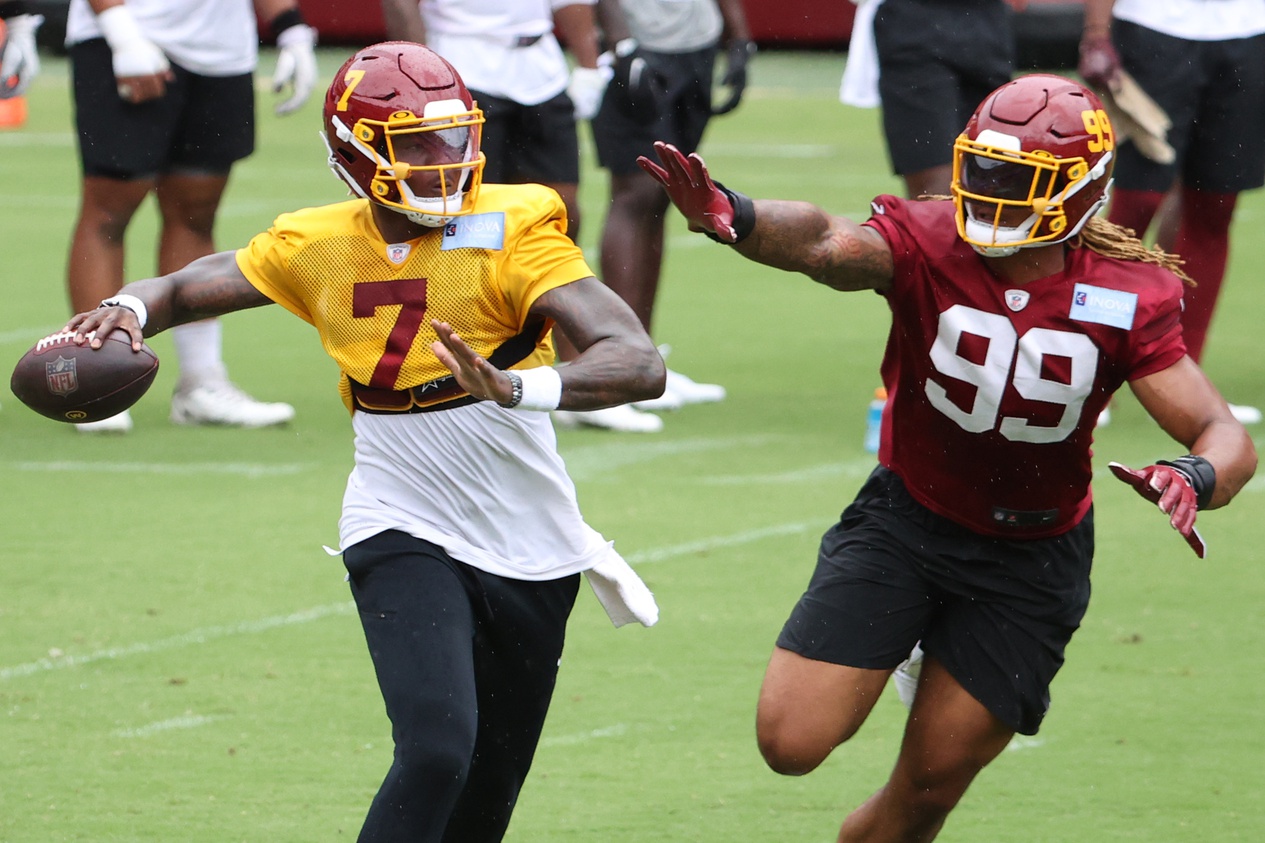 Led by second-overall pick Chase Young, Washington's defensive line is one of the best in the NFL. Young is easily the best pass-rusher we have ever seen in the PFF College era. He produced a 96.4 pass-rush grade in his final year as a Buckeye. The team returns Ryan Kerrigan and Matt Ioannidis, who both have been consistent pass-rushers in each of their respective careers.
Kerrigan is coming off a year in which he ranked 32nd among edge rushers in pass-rush grade, while Ioannidis ranked 12th among interior defensive linemen. However, former first-round picks Daron Payne, Jonathan Allen and Montez Sweat haven't quite shown the upside that made Washington take them as early as it did. Payne is a solid run-defender (75.1 run-defense grade in 2019), while both Allen and Sweat are still trying to find the consistency that Kerrigan and Ioannidis possess.
Outside of the trenches, things get a little ugly. The linebacker unit is underwhelming on paper and desperately needs long-time veteran Thomas Davis Sr. to get back to the top-tier play we routinely saw from him with Ron Rivera in Carolina as opposed to his average play in 2019 with the Chargers.
Reuben Foster is the big wildcard for the unit — and, perhaps, the entire team. He shined as a rookie in 2017, producing an 81.2 PFF grade, but performed poorly in the limited time on the field in 2018 by lowering that mark to 44.3. We know he can produce at a high level, it's just a matter of whether he can stay healthy.
The story of the coverage unit as a whole is: Can X player get back to form? Safety Landon Collins was his normal self in the box against the run in 2019, but he had a down year from a coverage perspective, producing his lowest coverage grade since his rookie year (60.6). Cornerback Ronald Darby comes to Washington after also having a down year in 2019. He produced a PFF grade above 68.0 in each of his first four years, but that dipped to 44.8 last season (third-worst in NFL).
Kendall Fuller comes back to the team after being a versatile piece for the Chiefs over the past two years. In 2017, he was one of the NFL's best slot defenders, finishing the season with a 91.2 coverage grade. At this point, though, it seems likely he will occupy one of the starting outside spots — a position in which he has played under 200 cover snaps over his career (most of which came in 2018, career coverage grade at the alignment of 90.9).
Overall, Washington's defense has the boom-or-bust tag ahead of the 2020 season.
The Giants' interior defensive line has a great set of run-stuffers with Leonard Williams, Dalvin Tomlinson, Dexter Lawrence and BJ Hill, but that has very little impact on total defensive success. None are true threats in the pass rush, and the team's fourth-worst pass-rush grade among tits unit of interior defenders and edge rushers will likely remain near the bottom in 2020. And that doesn't bode well for a lowly secondary.
We thought rookie safety Xavier McKinney would be an immediate impact player for the Giants with his Swiss Army Knife skill set, but a broken foot will cause him to miss at least the first half of the season. Outside of second-year defensive back Julian Love, who emerged down the stretch in 2019 and produced a respectable 70.5 PFF grade, there aren't many pieces in the secondary that we here at PFF think will make a considerable impact.
As for James Bradberry, he happened to be one of our more overrated signings in free agency. He has failed to crack a 65.0 coverage grade in each of the past three seasons, and none of those campaigns ended with him ranking among the 50 best cornerbacks in the league by PFF grade. Over that span, Bradberry gave up 53 explosive plays of 15-plus yards at outside corner, five more than anyone else in the NFL.
The Giants' recent signing of Logan Ryan is interesting and might end up a positive acquisition, depending on where they play him. Ryan was picked apart in the slot last year for an NFL-high 940 yards (regular-season only), paving the way to the second-worst season of his career from a grading perspective. Ryan has been significantly better when playing on the outside as opposed to the slot (78.0 career coverage grade on outside versus 61.7 in slot).
Jacksonville gutted their its and is seemingly tanking for Clemson quarterback Trevor Lawrence. We respect that and think it's the right thing to do, considering he might beat out Joe Burrow for the best college prospect since we began grading in 2014, but the Jaguars will suffer through some tough play in 2020 as a result.
They do have an undervalued defensive back in D.J. Hayden, as he finally emerged in Jacksonville in 2018 after years of poor play. Since coming to town in 2018, Hayden has produced the 10th-best slot coverage grade. In addition to him, safety Jarrod Wilson is a key cog after looking sharp in his first year starting (79.6 coverage grade, 14th). That's where the bright spots end, though.
Josh Allen is a promising young talent and impressed in the pass rush as a rookie, tying for 29th in total pressures (49). But the unit as a whole is bound to take a step back without Calais Campbell. And you can't expect K'Lavon Chaisson to come in and produce right away, given he couldn't even produce at LSU in 2019. He's a developmental piece at this point with his physical tools.
Jacksonville made a great pick with cornerback CJ Henderson, and the team will need him to showcase his elite physical tools and produce top-tier play right away to help prevent this defense from finishing at the bottom.
As promising as its defensive line might be with young players such as Derrick Brown, Brian Burns and Yetur Gross-Matos, this Carolina defense is very much still a work in progress.
The unit does bring back one of the league's best pure deep safeties in Tre Boston, who has been the sixth-most valuable safety since 2017 (played for three different teams), but that's one of the few positives.
Donte Jackson returns to man one of the outside corner starting spots, but he has been wildly inconsistent thus far in his NFL career. Among 51 qualifying outside cornerbacks since 2018, Jackson ranks 38th in coverage grade. Eli Apple, who comes in to occupy the other outside spot, has ranked just 44th among the same group.
If the Panthers want to dig themselves out of this last place spot, they'll need big, unexpected rookie years in the secondary from players such as Troy Pride Jr. and Jeremy Chinn.