Every NFL rookie's situation is unique. From the players taken early in the first round to those picked late into Day 3, each rookie has different expectations in Year 1.
Some will need to make an immediate impact for various reasons, such as an injury to the original starter, an opt-out by a player due to the ongoing pandemic or a glaring hole at a key position. Others, however, will see little playing time in their rookie campaigns and are more developmental pieces who are expected to make an impact down the road. 
This year, it'll be more difficult than ever for the rookies who will see significant game action right out of the gate, as they had a limited offseason program and zero preseason games. Here, we name the top 10 rookies who will see significant time immediately due to their teams needing them to perform at a high level early on.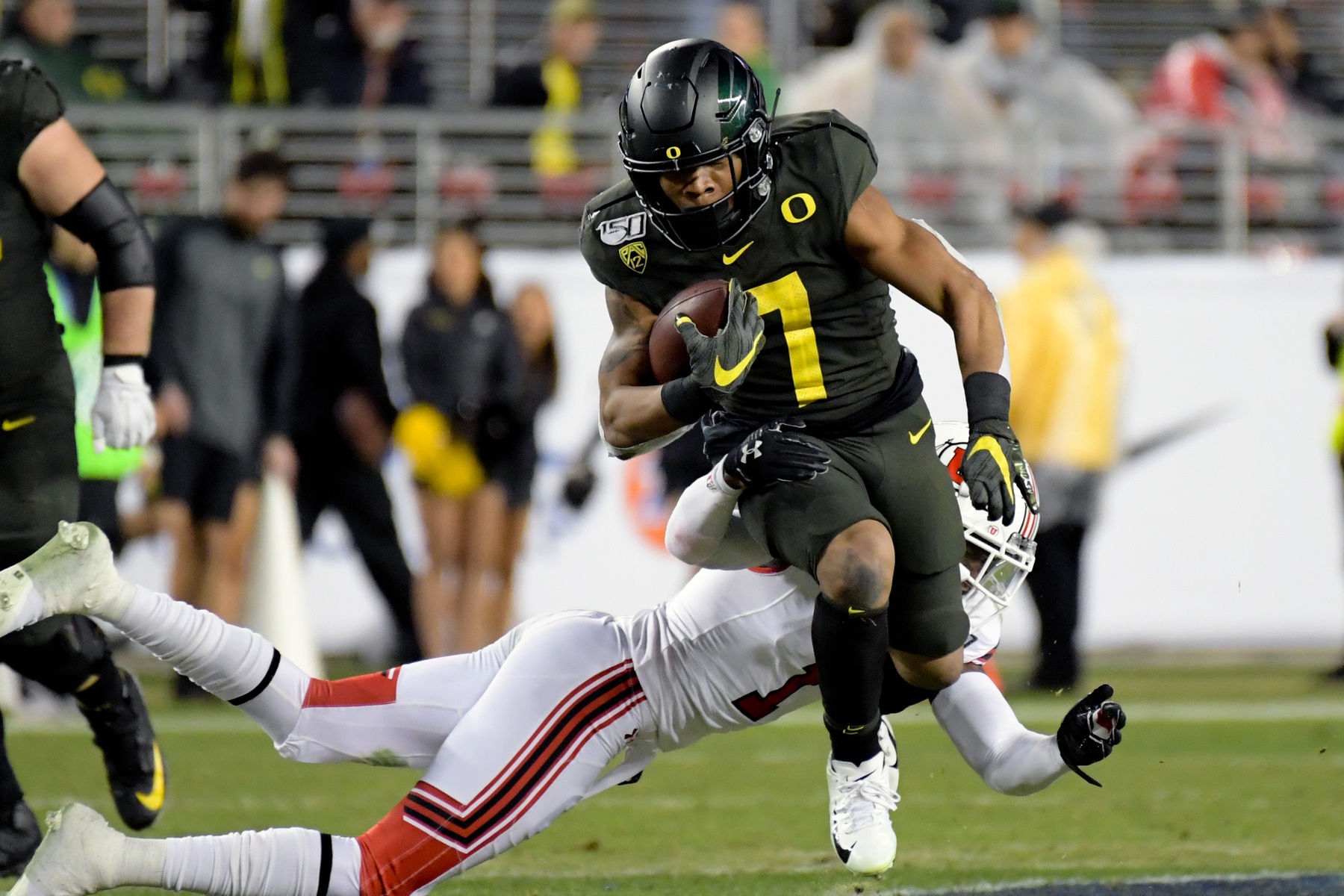 Why the Bears need Johnson to: Had I written this article a couple of months ago, Johnson still would have made this list. But now, there isn't a rookie who is needed to step up more and make an immediate impact for their team this year than him. 
Chicago has had a notoriously strong secondary over the past couple of seasons, which has helped offset their meek quarterback play. Only the New England Patriots have posted a higher coverage grade than the Bears since 2018. However, Chicago lost a few key cogs this past offseason, one of which was cornerback Prince Amukamara (cut), who started opposite of Kyle Fuller on the outside and was a truly underrated piece in the secondary. Since joining the Bears in 2017, Amukamara had produced an above-average coverage grade on the outside that ranked 26th among 70 corners to have at least 600 such cover snaps in that span.
Chicago signed former Steelers cornerback Artie Burns this offseason as the likely heir to Amukamara, but he tore his ACL in practice last week, leaving the job wide open for Johnson. Kevin Toliver and Buster Skrine are also competing for the role, but Johnson is seemingly the favorite given what we have seen from the two in their time on the field. If there is any hope of Chicago getting back to the postseason to redeem their crushing exit in 2018-19, it will need the secondary to once again make up for the offensive deficiencies. That means the Bears need Johnson to play great right away.

Our confidence in Johnson doing so: Johnson was one of our favorite picks of the entire 2020 NFL Draft — we had him 24th overall on our Big Board and he was our CB4 in the class, yet the Bears managed to snag him at 50th overall as the seventh corner off the board. 
Playing at Utah, Johnson was one of the most instinctive cornerbacks in all of college football. In addition to that, he brought physicality and great ball-tracking. When you combine all those exceptional traits, you get a playmaker.
On targets of 10 or more yards downfield the past two seasons, Johnson allowed just 14 catches on 58 targets with 16 plays made on the ball. And on those 58 targets, Johnson forced tight coverage on 48 of them — forming the second-highest rate in college football.
In our eyes, Johnson has always been the right choice for the Chicago starting job since he was selected in late April. He will get an opportunity to fill that void with the unfortunate injury to Burns, and we are confident that he'll be a difference-maker in the Windy City.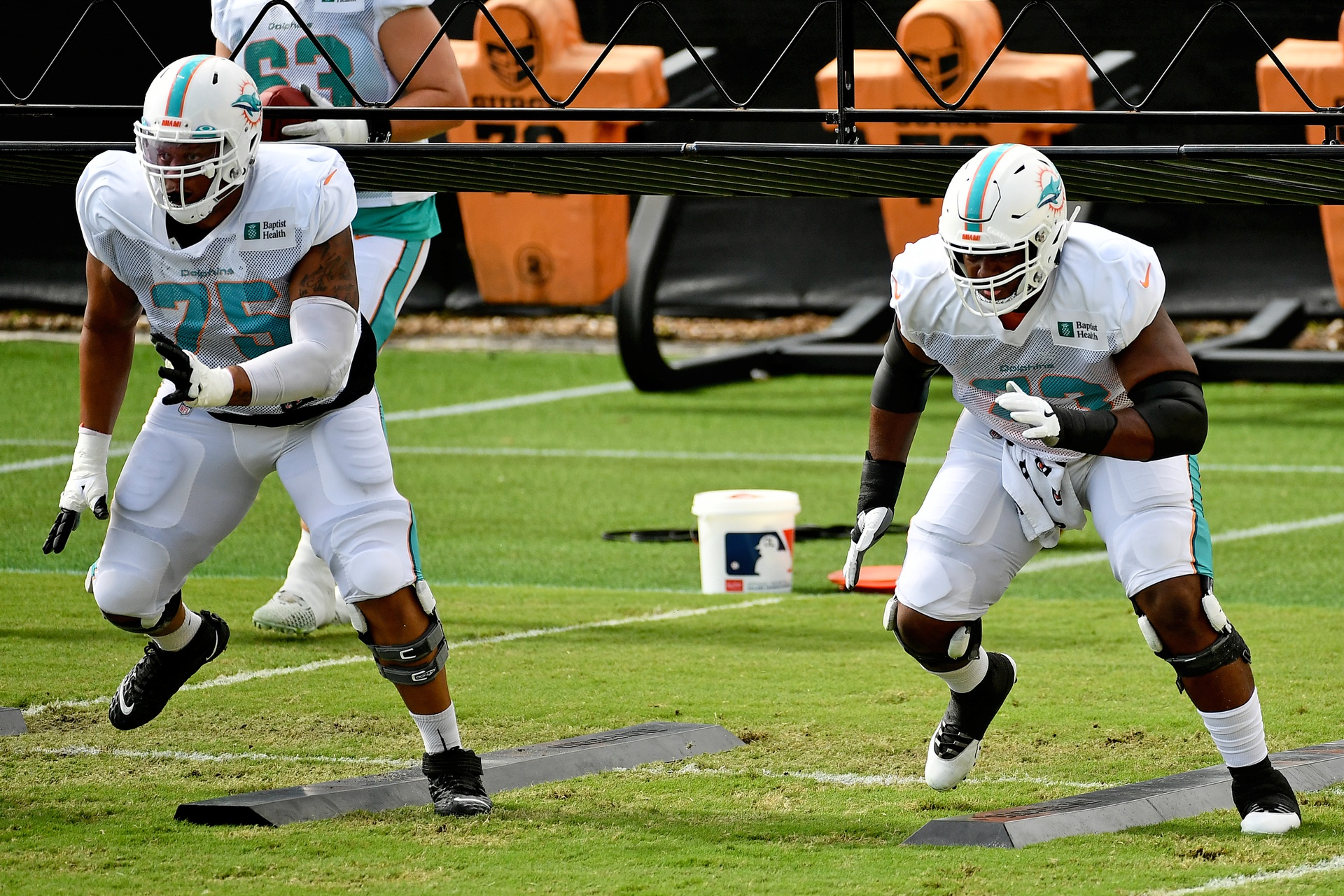 Why the Dolphins need Jackson to: Miami had the worst offensive line in the NFL last year by a country mile, and the team's play at tackle was a big reason for that. The Dolphins' tackles combined to produce a unit pass-block grade of 47.8, which was 10 grading points fewer than any of the other 31 tackle units in the NFL. On top of that, Miami's tackles combined to allow 124 pressures on the year — the most in the NFL by 13. 
Miami clearly needed to improve the offensive line across the board entering the 2020 offseason. In free agency, the Dolphins brought in Ereck Flowers to plug in at guard, which was a move we are suspect of, but they also signed center Ted Karras, who was a bit undervalued in our eyes. However, work still had to be done in the draft to rapidly improve at the tackle position.
Whether or not Miami fields a winning roster, it needs vastly better tackle play in 2020. The team made a move there in Round 1 after taking their franchise quarterback Tua Tagovailoa with the selection of USC tackle Austin Jackson 18th overall.

Our confidence in Jackson doing so: The Dolphins made the right move in looking to improve at offensive tackle early in the draft, but they didn't make the right pick from our perspective. This was one of the biggest reaches in the draft, as Jackson was 94th on our Big Board and OT10. 
As stated in the PFF Draft Guide, Jackson is a long-term project both technically and physically. And we are not confident that he'll play great right away. While he did produce an above-average pass-block grade on true pass sets in the past couple of years, it was not worth spending a first-round pick on — when he faced an NFL-caliber edge rusher, he was beaten at a concerning rate.
One example is when he gave up three sacks in his final collegiate game against AJ Epenesa and the Iowa Hawkeyes. The Dolphins offensive line can only get better, but in our eyes, Jackson won't be enough to dig them out of the last place spot they currently slot into. And that's a big concern if Tagovailoa sees any game-action early on.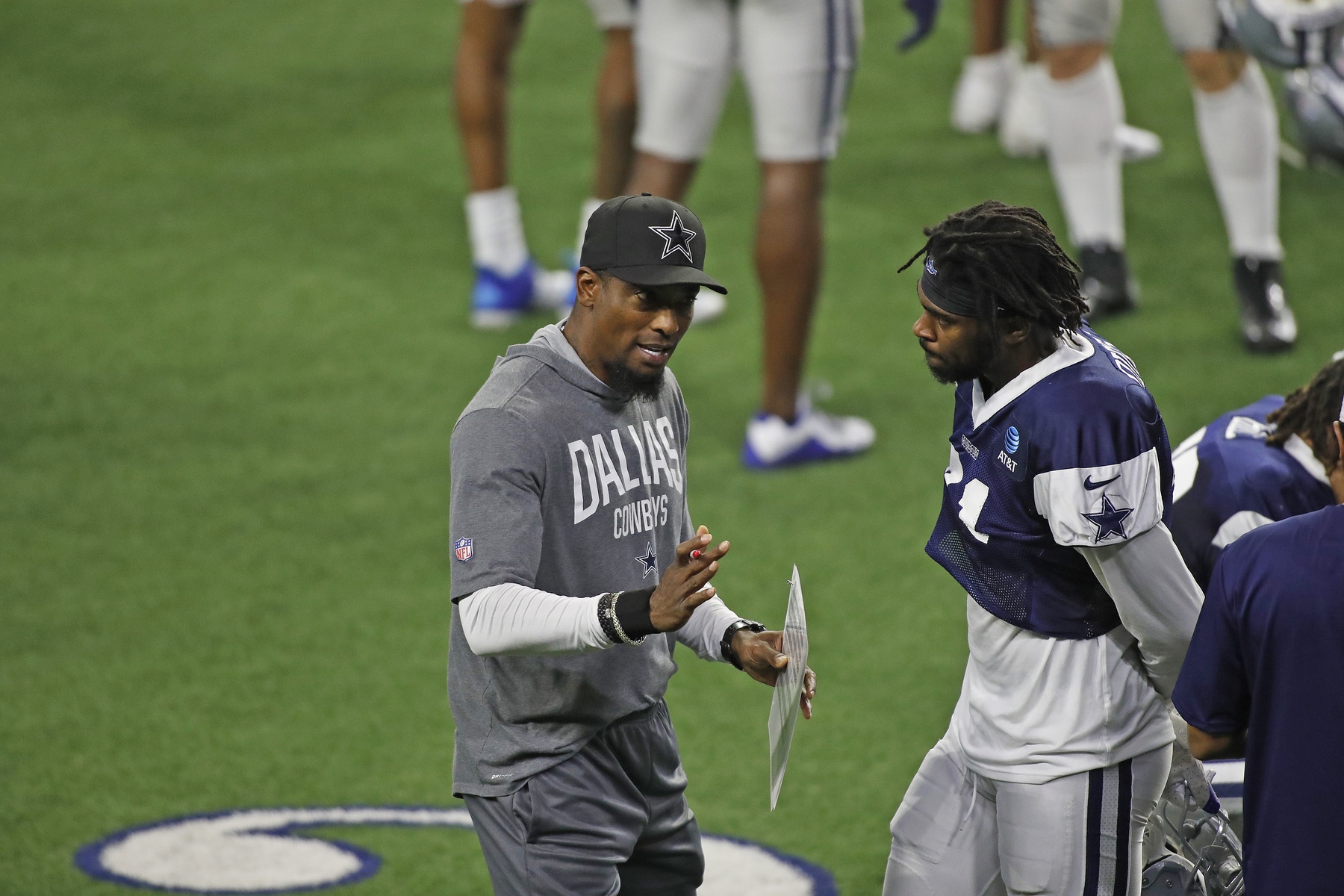 Why the Cowboys need Diggs to: Many have lauded the Cowboys' offseason as the best of any NFL team, and understandably so. However, Dallas did make one glaring mistake within the past year that could be the reason it doesn't make a postseason run: The team didn't have enough money to re-sign Byron Jones.
Since his transition to the outside, Jones has been one of the best outside cornerbacks in the league. He's produced a top-five grade at the alignment since 2018 and locked receivers up in press coverage. In replacement, the Cowboys drafted Diggs at No. 51 overall, and he'll clearly have big shoes to fill.

Our confidence in Diggs doing so: The Cowboys really couldn't have lucked out more here. They got a first-round cornerback in our eyes in the back half of the second round — and one who fits their scheme perfectly. At 6-foot-1, 205 pounds with near-33-inch arms, Diggs was a nightmare to face at Alabama in press coverage. He ranked second to only Derek Stingley Jr. in press coverage grade, allowing only nine catches on 33 targets with three interceptions and seven forced incompletions on such reps.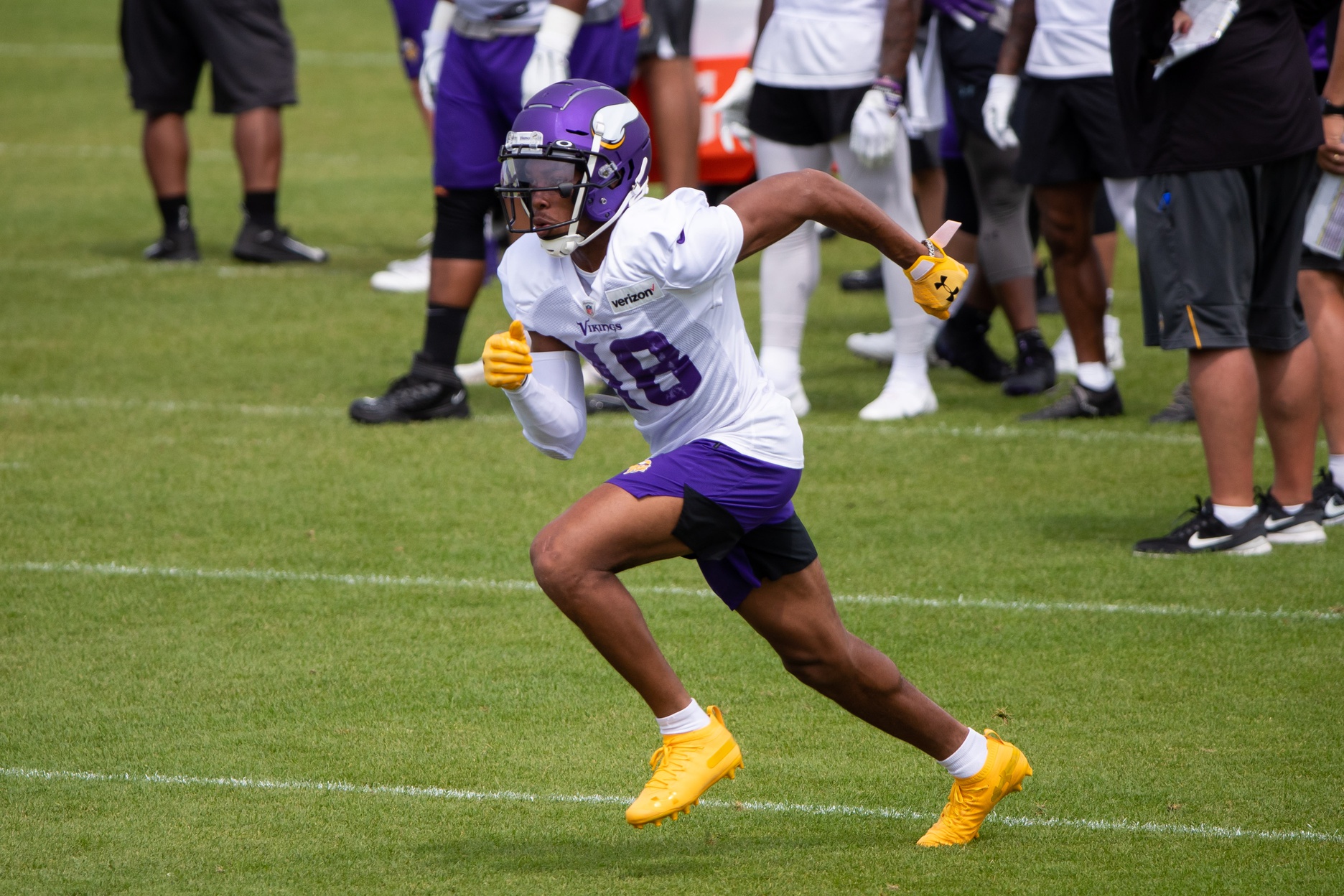 Why the Vikings need Jefferson to: The Vikings fielded one of the best wide receiver duos in the entire league over the past few years with Adam Thielen and Stefon Diggs. Since 2016, the two produced receiving grades that ranked 10th and 11th among NFL wide receivers. This past offseason, however, the duo's run together came to the end as the Vikings traded Diggs to the Buffalo Bills for a plethora of draft picks.
With his departure, the Vikings were left with an incredibly weak receiving unit after Thielen, which prompted them to use the first of their two first-round picks on Jefferson of LSU. And they desperately need him to step up with the lack of depth in the unit and make Diggs' departure a non-impactful one.

Our confidence in Jefferson doing so: Jefferson had always been a prospect who we thought to be slightly overhyped due to his outlier type of production with Joe Burrow and, perhaps, one of the best offenses college football has ever seen in the 2019 LSU Tigers. We don't hate the pick for the Vikings, but we just aren't as high on it as everyone else.
One of the biggest reasons for that is because he rarely created space on his own on the outside. Most of his 2019 production stemmed finding a hole against zone, and he hardly ever faced press coverage — most of his reps came in the slot. We did see Jefferson play mostly outside in 2018, and he struggled against single coverage, failing to produce a top-100 receiving grade on such reps.
Jefferson is a solid route-runner with tremendous ball skills, but I wouldn't expect Diggs-like production from him right away, given that he has yet to prove he can effectively win versus press on the outside. It might come down the road, though.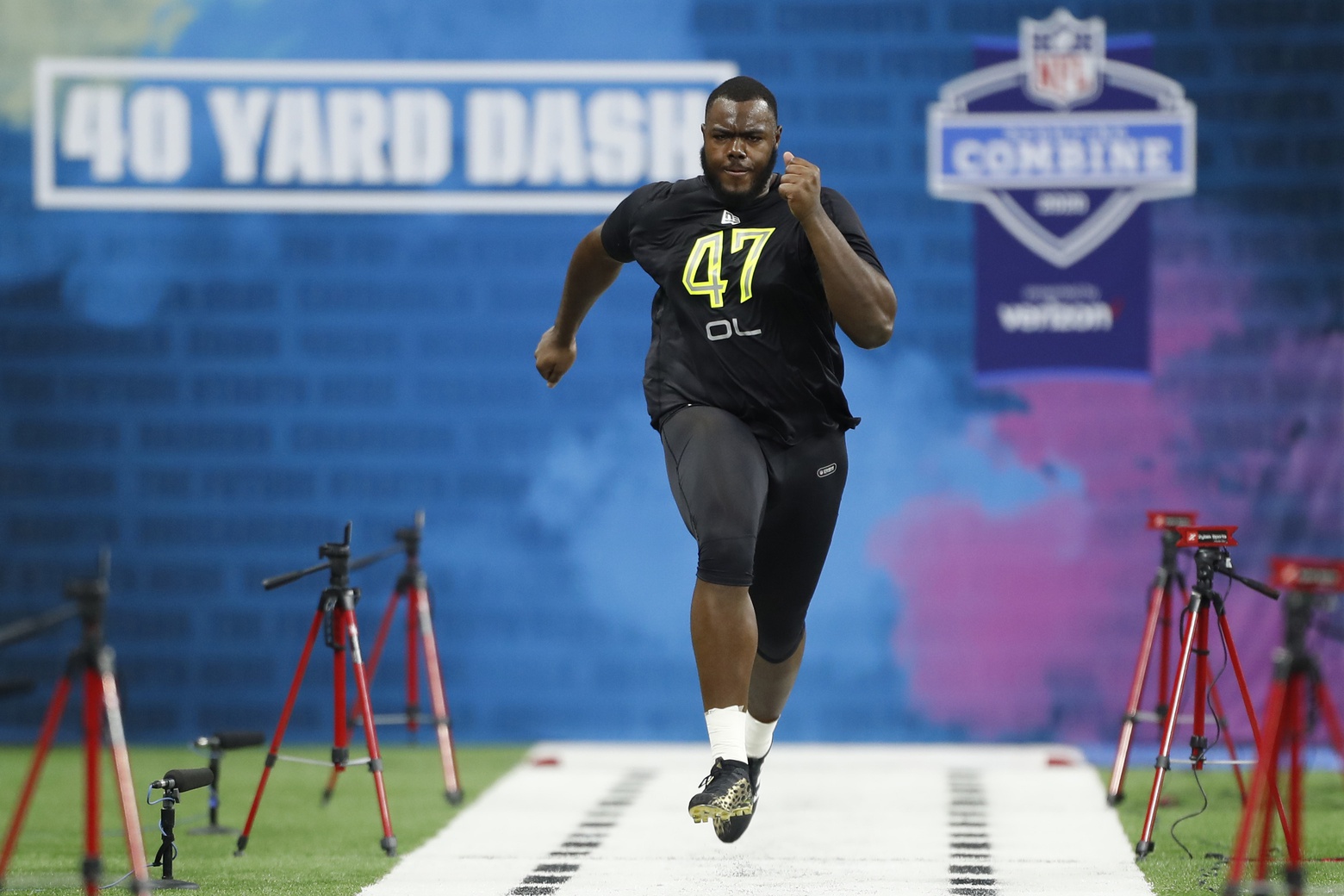 Why the Giants need Thomas to: The Giants were at the bottom of the barrel last season when it came to tackle play. Nate Solder and Mike Remmers ranked last and 10th-to-last among all NFL tackles last year in total pressures allowed, which played a big role in the Giants ranking ahead of only the Dolphins in pressures allowed among all 32 NFL teams' tackle units.
They needed help at tackle even if Remmers hadn't signed with the Kansas City Chiefs in March, and that prompted them to use their fourth overall pick on Thomas. There was originally some debate as to whether it'd be Thomas or Solder manning the left tackle starting spot, with the other playing on the opposite side, but that was answered after Solder opted out of the season due to COVID-19.
Just as PFF's Ben Linsey said in his piece projecting all 32 starting lineups this year, Solder deserves his fair share of criticism, but the line is worse-off without him. Now, the Giants need Thomas to step up and really anchor the line with strong play as a rookie. 
Our confidence in Thomas doing so: It was a close race with Tristan Wirfs and Jedrick Wills, but our top tackle of the 2020 class was none other than Thomas, who was also our eighth-best prospect overall. For perspective on how confident we are in Thomas, we named him the 22nd-best tackle in the NFL in our 2020 preseason rankings despite him not yet playing a down.
Thomas played against some of the stiffest competition in the country in the SEC and tied for the best single-season PFF grade (92.7) from an SEC tackle we have ever recorded. And he had that remarkable production at just 20 years old. The sky's the limit for Thomas.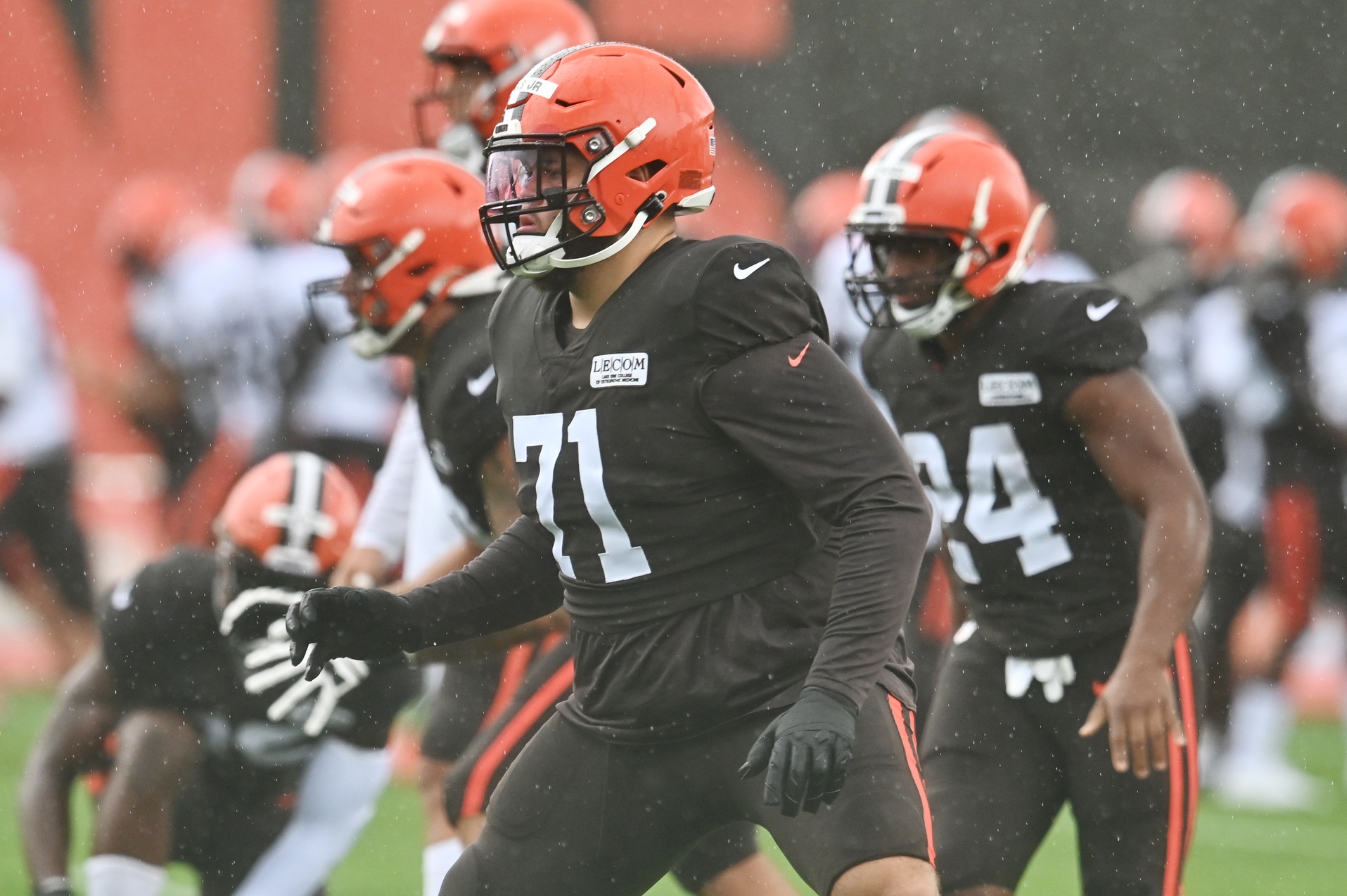 Why the Browns need Wills to: There was a lot wrong with the Cleveland Browns' offense in 2019 — it looked completely out of sync under Freddie Kitchens, and we saw Baker Mayfield and Odell Beckham Jr. have uncharacteristic years. 
Among the several issues with the Browns' performance in 2019 was the offensive tackle group, which caused Mayfield to routinely abandon the pocket (infamously to the right). Greg Robinson, Chris Hubbard and Justin McCray all saw considerable time at tackle last year, and all three produced below-average pass-blocking grades relative to the position.
Cleveland went out in free agency and paid big money for one of the premier tackles on the open market in Jack Conklin, who is a reliable top run-blocker at the position (fifth in run-block grade in 2019) and an above-average pass-protector. To fill the other spot, the Browns waited until the 2020 NFL Draft and snagged Alabama's Jedrick Wills at 10th overall.

Our confidence in Wills doing so: We are confident in Baker Mayfield and Odell Beckham Jr. fixing their glaring miscommunication errors from 2019 and getting back to form in 2020 under Kevin Stefanski. The tackles were the biggest question mark this offseason, but both Conklin and Wills should be huge upgrades at right and left tackle, respectively.
Wills' play is like Conklin's in that you can count on him to pave holes for the rushing attack — which Stefanski will love — but he isn't on that same near-elite level in pass protection, which still makes Wills a question mark entering 2020. He was the sixth-highest graded FBS tackle in run-block grade his final year at Alabama, but there is reason to believe his pass protection might take some time to develop, given that he had an 82.5 pass-block grade and allowed 13 pressures on the year.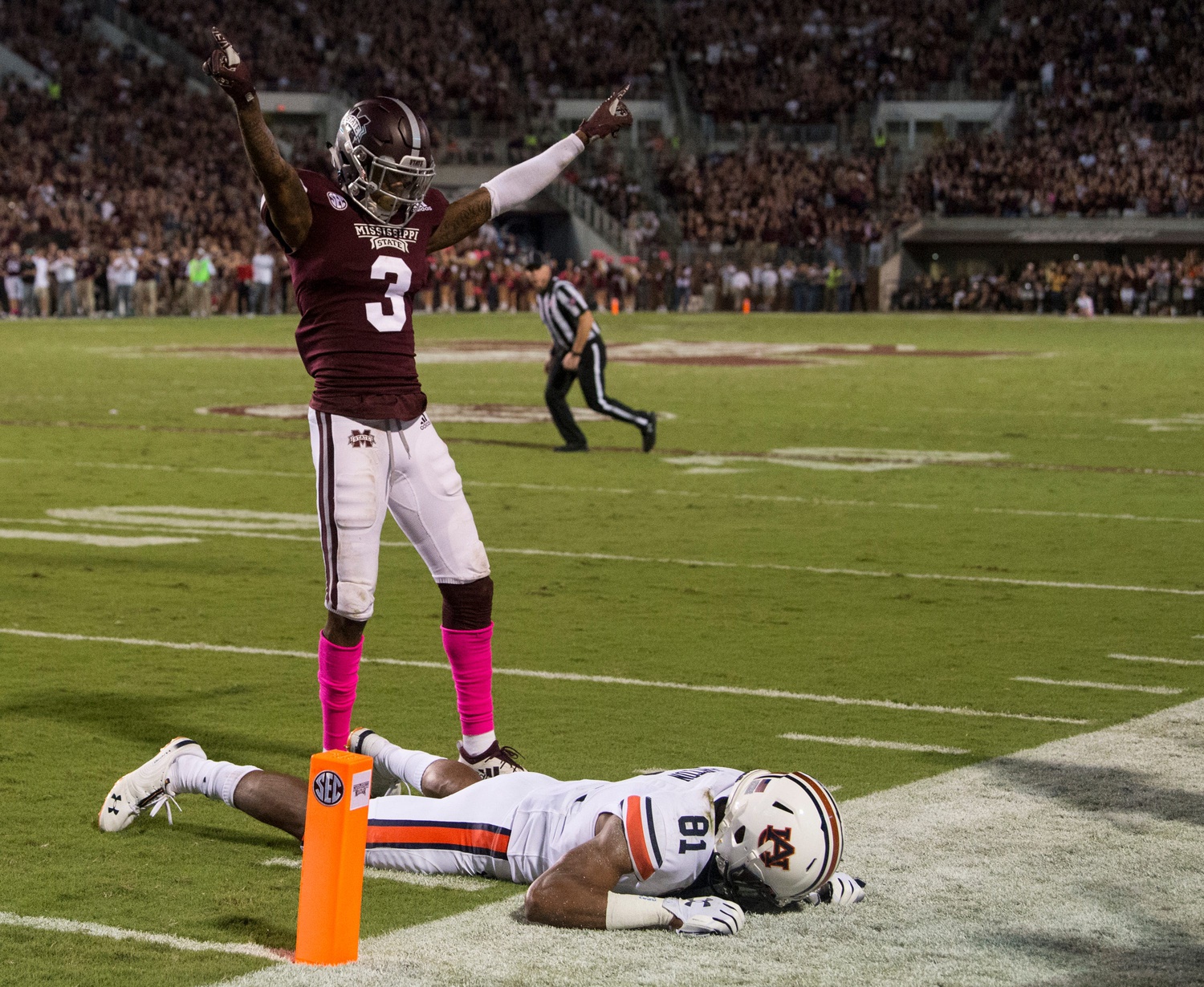 Why the Vikings need Dantzler to: Minnesota has the best safety tandem in the NFL in Anthony Harris and Harrison Smith. The two are coming off seasons in which they ranked first and second at the position in coverage grade. The Vikings' cornerback unit, however, was subpar and their team coverage grade on targets to the outside ranked 28th among the 32 NFL squads. Trae Waynes helped prevent them from being any worse than 28th with his relatively average play, but the Vikings saw him depart in free agency. 
Cornerback is one of the most important positions on the field, and Minnesota had to maneuver the draft at the position due to the losses they had and no moves made in free agency. They went on to draft Jeff Gladney 31st overall and Cameron Dantzler 89th overall.
Gladney is likely to see the brunt of his early action in the slot with Mike Hughes, meaning Holton Hill and Dantzler will occupy the outside starting spots. No team will get very far with one of the worst cornerback units in the NFL, which makes it vital that Dantzler outplays his draft position and prevents the Vikings' corners from being a liability.
Our confidence in Dantzler doing so: Like others on this list, Dantzler was a big-time draft steal in our eyes. He isn't a burner and is more slender than you'd like, which caused him to slip to 50th on our Big Board, but he shouldn't have dropped much further than that, given his ridiculous production against some of the best receiving units in college football last year.
In his three years at Mississippi State, Dantzler logged 697 cover snaps and allowed only 41 catches on 96 targets while combining for 20 pass breakups and interceptions and surrendering one score. In his matchups against NFL-caliber receivers at LSU and Alabama this past year, Dantzler played a combined 55 cover snaps and allowed only three catches for 21 yards (longest was 8 yards) with a pass breakup.
He's not going to be that stingy in the NFL, but Dantzler might just prevent the Vikings' cornerback unit from being any worse than what it was last year.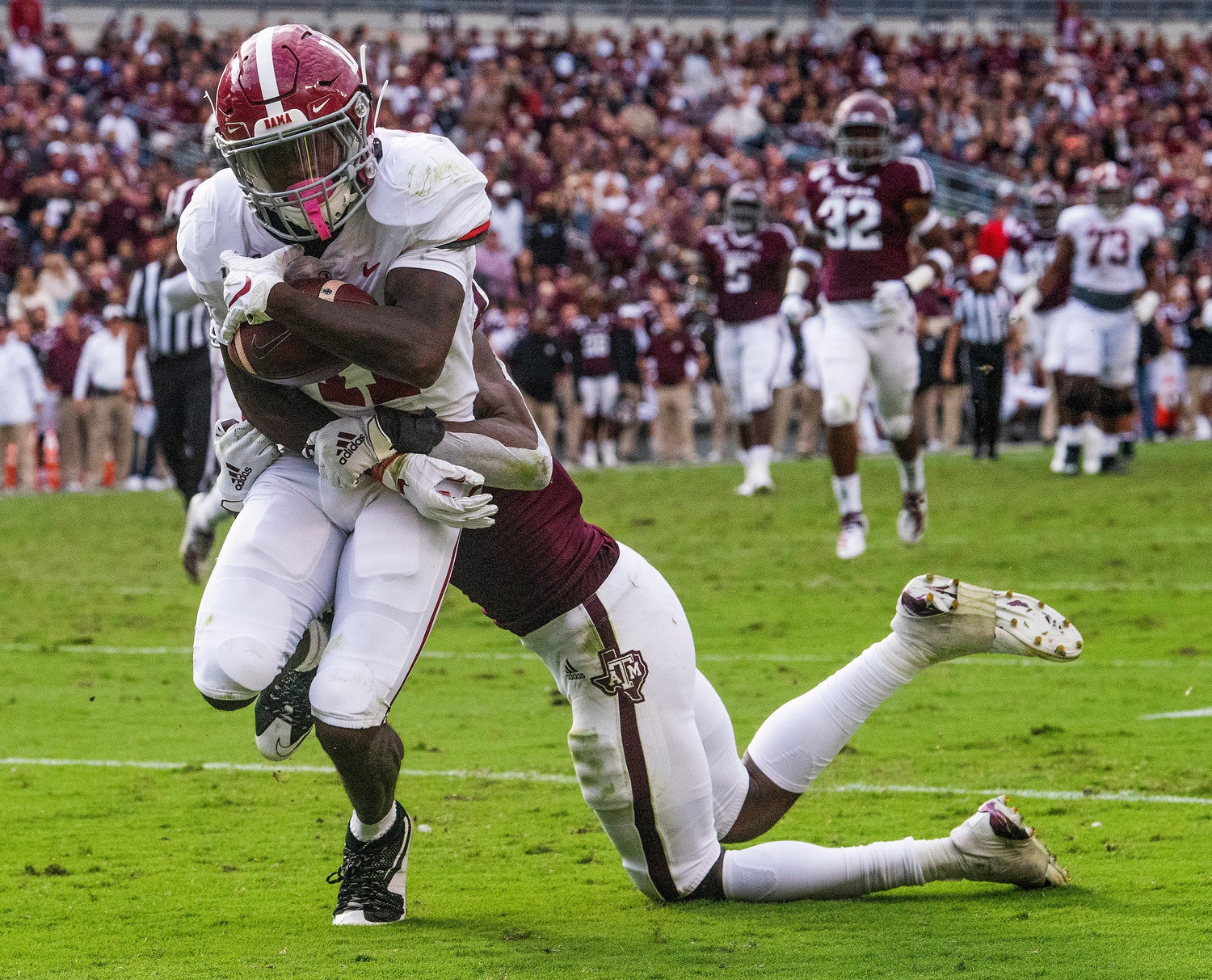 Why the Raiders need Ruggs to: The Raiders' wide receiver unit was the team's Achilles' heel in 2019. Of all the 32 wide receiver units last season, the Raiders ranked 31st in team receiving grade. They do have the dynamic Darren Waller at tight end and a slot weapon in Hunter Renfrow, but Tyrell Williams has yet to live up to the hype of his contract and just tore his labrum. 
As a result, Las Vegas will have to rely heavily on first-round speedster Ruggs and third-rounder Bryan Edwards. We, however, are not as confident in Edwards living up to lofty expectations or buying into the training camp hype. With Ruggs, it's a different story.

Our confidence in Ruggs doing so: While we would have gone with Jerry Jeudy or CeeDee Lamb over Ruggs, he was still a top-10 prospect in our eyes. Ruggs is a complete route-runner who can rack up explosive plays with his generational speed. Removing screens, Ruggs had open separation (more than a couple of steps) on 67.7% of his targets when lined up on the outside in 2019, which led all FBS receivers and was 30 percentage points above the average.
His releases and route-running are precisely what you want in a wide receiver prospect. And when combining that with his speed, you get an after-the-catch monster (averaged 10.5 yards after the catch per reception in 2019).
Ruggs has legit ball skills, can be a big-time deep threat when asked and is completely unafraid to make plays in traffic over the middle. We still have our reservations with the unit as a whole, but Ruggs is a huge upgrade at the position for the Raiders.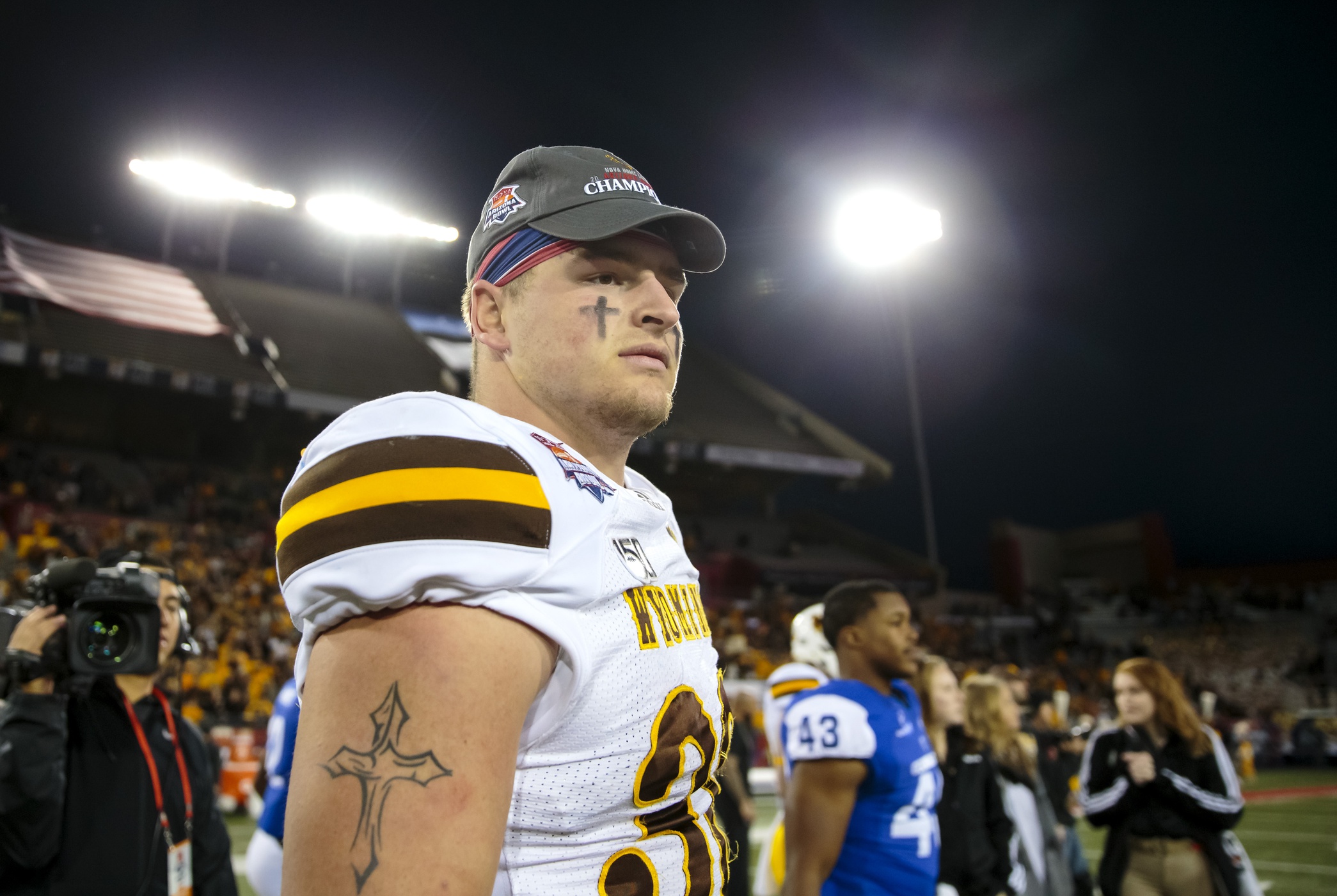 Why the Bengals need Wilson to: The Bengals had one of the worst off-ball linebacker units in the NFL last season. They had three linebackers to play at least 300 snaps for them in 2019 (Nick Vigil, Germaine Pratt and Preston Brown), and none cracked the top 60 at the position in PFF grade. As a whole, they ranked 28th of the 32 NFL teams in PFF grade.
Cincinnati let Vigil walk in free agency, and Brown didn't even finish out the year with the team. To help rapidly improve the group, the Bengals took three linebackers among their seven picks in this past draft in Logan Wilson (65th overall), Akeem Davis-Gaither (107th overall) and Markus Bailey (215th overall). Wilson is a projected starter in our eyes and will have a lot on his shoulders to prevent the unit from being a liability once again in 2020.

Our confidence in Wilson doing so: While we did have Davis-Gaither higher on our Big Board, Wilson should bolster the position some in 2020. The only question is: To what degree?
Wilson is not your modern linebacker with his size and athleticism, but he proved to be explosive, durable and productive throughout his time at Wyoming. We are confident that he'll be a blitz weapon for the Bengals (35 pressures on 99 pass rushes since 2018) and stout against the run (91.6 run-defense grade in 2019).
Wilson did have consistent ball production throughout his career (19 combined interceptions plus pass breakups), but he has some limitations in that facet, as stated in the PFF Draft Guide.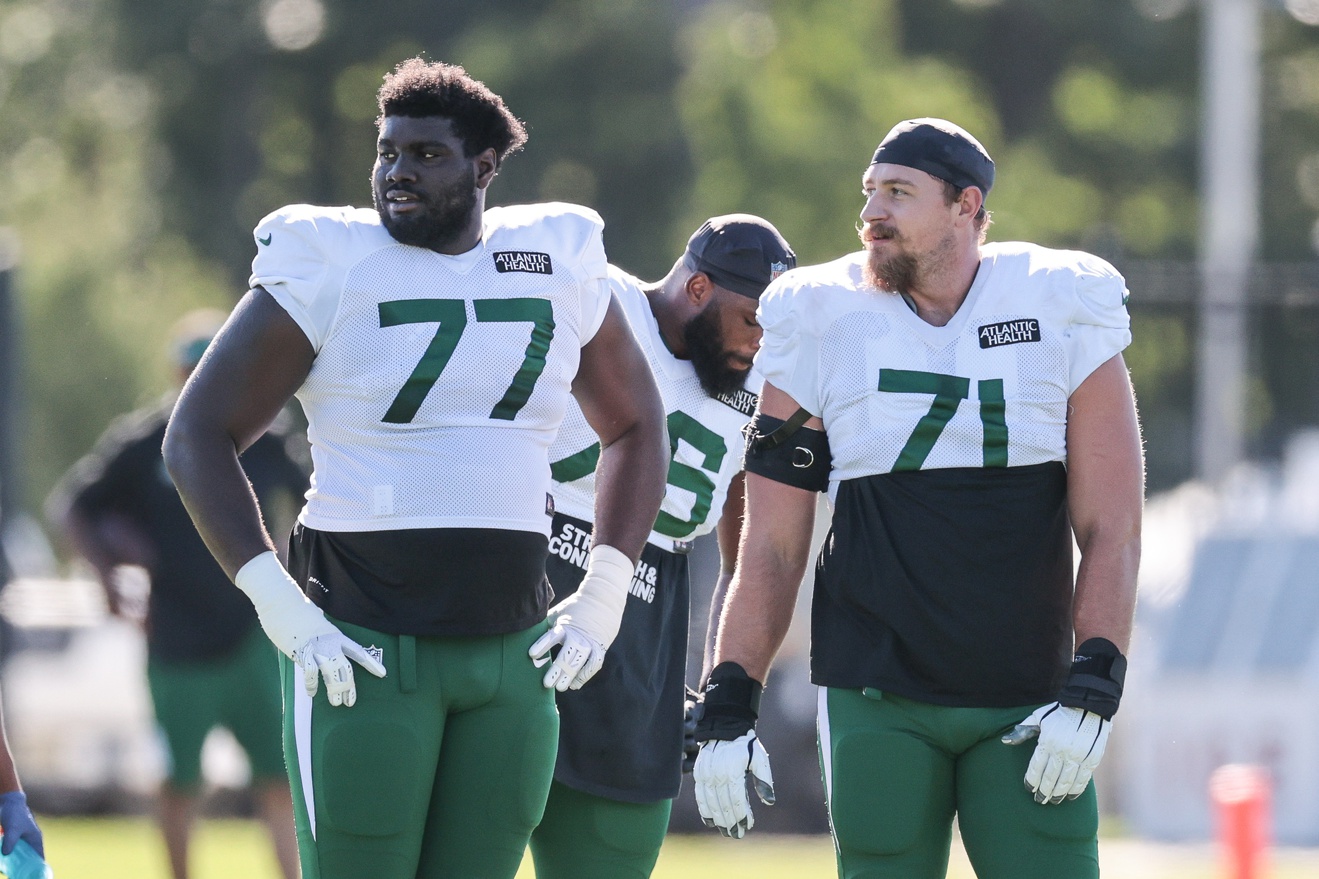 Why the Jets need Becton to: Ever since the Jets selected Sam Darnold third overall in the 2018 NFL Draft, they've been under fire for not giving him the supporting cast needed to succeed. Whether you believe the reason for Darnold not living up to expectations thus far is due to the supporting cast or to being overrated from the get-go, we can all agree on one thing: His offensive line has been bad, especially in 2019.
In the Darnold era the past two years, the Jets' offensive line has allowed the third-worst pressure rate (37.4%) in the NFL. In 2019, in particular, Darnold tied for the highest percentage of dropbacks where he faced pressure (42%). It was all but guaranteed that the Jets were going to dedicate their 11th overall pick to getting Darnold some help on either the offensive line or at wide receiver. They went with the former by taking Louisville tackle Mekhi Becton.

Our confidence in Becton doing so: It was widely known throughout the pre-draft process that we here at PFF weren't nearly as high as everyone else on Becton. It was seemingly a lock he wouldn't escape the Jets at the 11th pick, but we had him at just 45th overall on our Big Board. While he is a freak physically at 6-foot-7, 364 pounds with 35 5/8-inch arms and a 40 time of 5.1 seconds who moves differently for a human that size, Becton's true pass sets in college raised too many red flags. 
He was protected in Louisville's play-action and screen-heavy offense. Over the course of his 2019 season, Becton saw only 73 true pass sets (which is a concern in itself) and managed to allow a whopping eight pressures on that limited sample. He'll have those highlight-reel blocks that made scouts fall in love with his potential in college every once in a while this year, but we aren't confident that he'll be a rapid improvement at left tackle right away due to his ability in pass protection.