We're in the heart of rankings season here at PFF. And today, it's time for the linebackers.
This list will not include the likes of T.J. Watt, Khalil Mack or Von Miller — all of whom ranked highly in the edge defender rankings that came out earlier this week. Though their position may be listed as "outside linebacker," they don't play close to the same position as someone like Lavonte David. For that reason, we're only looking at off-ball linebackers here, whether that be outside or inside.
The linebacker position has been somewhat diminished in recent seasons as nickel and dime defenses have become base, but there is still a group of guys at the top that you want on the field every play as a defense. They can win as run defenders, pass-rushers and coverage defenders. It doesn't take long, though, before you get to players who excel against the run or against the pass but not against both. That means a lot of the ordering — particularly later on — comes down to preference on the type of linebacker that you're looking for.
Subscribe to
For years, the question at the top of the linebacker position has been a straightforward one: Who is the best linebacker in the NFL — Luke Kuechly or Wagner? Now that Kuechly has retired, it's Wagner's crown to take. Since entering the league in 2012, Wagner's 92.1 PFF grade ranks second out of 103 qualifying linebackers, behind only Kuechly. He comes in as the second most valuable linebacker, per PFF WAR, over that eight-year stretch, as well.
No matter what you ask Wagner to do, he does it at a high level, with 90.0-plus run-defense, pass-rush and coverage grades over the course of his career. He is coming off a "down" year by his standards, but even then, his 76.4 PFF grade ranked 11th at the position. He's earned this top spot with strong, well-rounded play throughout his career.
Coming into the NFL in the same 2012 draft class as Kuechly and Wagner has left David as the forgotten man at the position. When you look at his resume, the fact that his last Pro Bowl appearance came in 2015 is astounding. Over the last three seasons, David ranks seventh in PFF run-defense grade (85.9) and second in PFF coverage grade (92.1) among the 78 linebackers to see at least 1,000 defensive snaps. Perhaps with Kuechly out of the picture, this is the year that David gets his well-earned recognition. After all, he is playing some of the best football of his career — he ranked fourth at the position with an 88.2 PFF grade in 2019.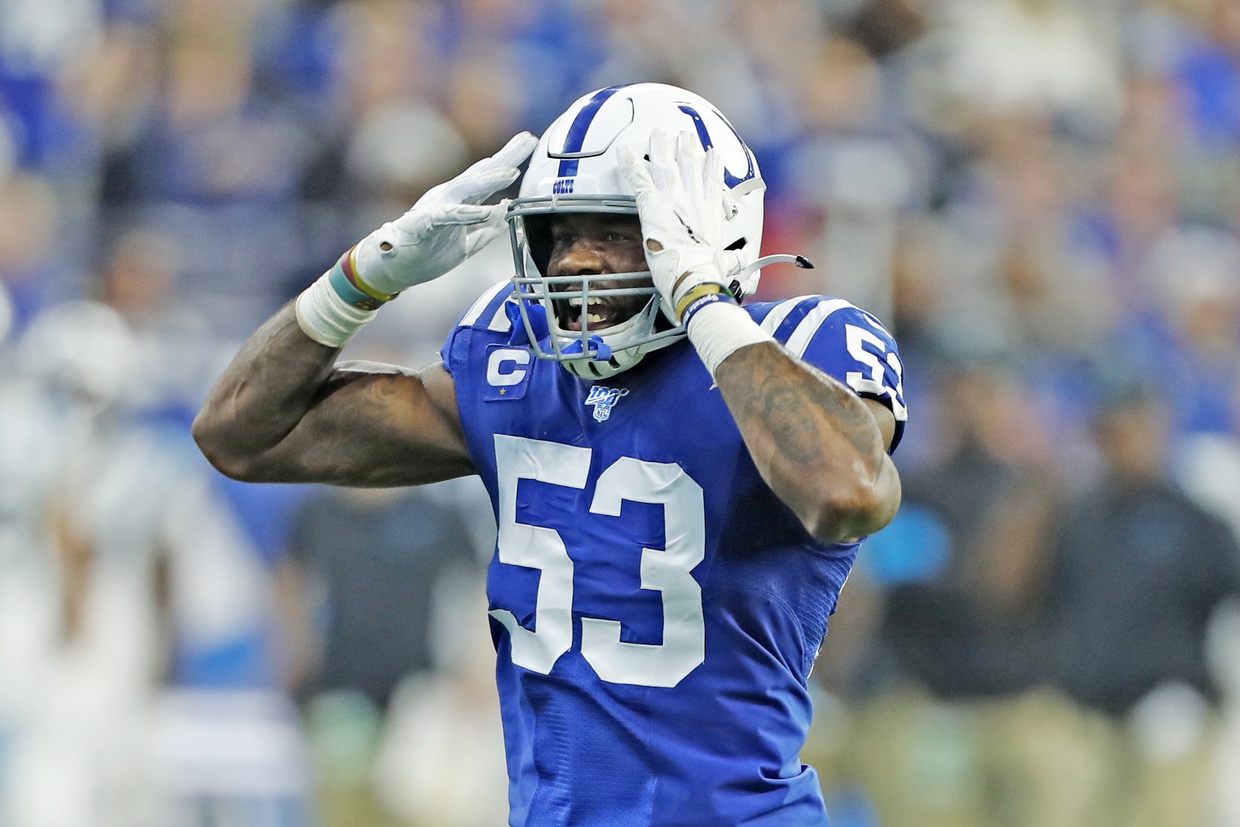 It hasn't taken long for Leonard to become a focal point of the Colts defense under defensive coordinator Matt Eberflus. He has the length to be disruptive in Indianapolis' zone-heavy defense and has shown himself to be well-rounded through his first two NFL seasons. Leonard has posted grades of 75.0 or higher as a run defender, pass-rusher and coverage defender since 2018 — joining Wagner and the next guy on this list (Demario Davis) as the only two linebackers to do so. Leonard is also a sure tackler, having missed just 5.6% of his tackles over the past two seasons (seventh-best at linebacker). It's not hard to see why he's referred to as "The Maniac" when you watch him flying around the field and making plays.
Davis hasn't always been considered one of the game's best linebackers. From 2012 to 2016 — Davis' first five seasons in the NFL — his highest single-season PFF grade came at just 62.6 in 2014 with the New York Jets. The last three years have yielded different results, however. This past season, in particular, Davis was excellent across the board for the Saints. He broke up eight passes after breaking up just 12 in his previous seven NFL seasons combined. He also missed just six tackles compared to 117 total tackles made,  his 28 pressures ranked third among linebackers and his 32 run stops were tied for sixth at the position. Oh, and his 90.3 overall grade led the way at the position. Davis should be an anchor in the middle of the Saints' defense once again in 2020.
There is an argument to be made that Jones is the best coverage linebacker in the NFL. His 92.1 coverage grade since getting drafted in 2016 trails only Kuechly and David among qualifying linebackers, and despite missing much of the 2018 season, Jones' 26 forced incompletions are tied for second-most at the position over that four-year stretch. Atlanta needs several of the young cornerbacks they've added to step up in order to see meaningful improvement in their team coverage, but the impact that Jones has over the middle of the field shouldn't be overlooked.
Kendricks is coming off the best season in his five-year NFL career. While his overall grade had hovered in the 60s from 2016 to 2018, it came in at 90.1 in 2019 (second at the position). The most noteworthy part of his game this past season was just how many plays he made on the football. Kendricks was credited with 14 forced incompletions, which led all linebackers and came in at fifth among all defenders. With some of the struggles at cornerback for Minnesota, play like that in coverage from Kendricks and the Vikings' safety duo of Harrison Smith and Anthony Harris maintained their spot as a top-10 pass defense in 2019. That may have to be the case again with three new (young) starters at cornerback.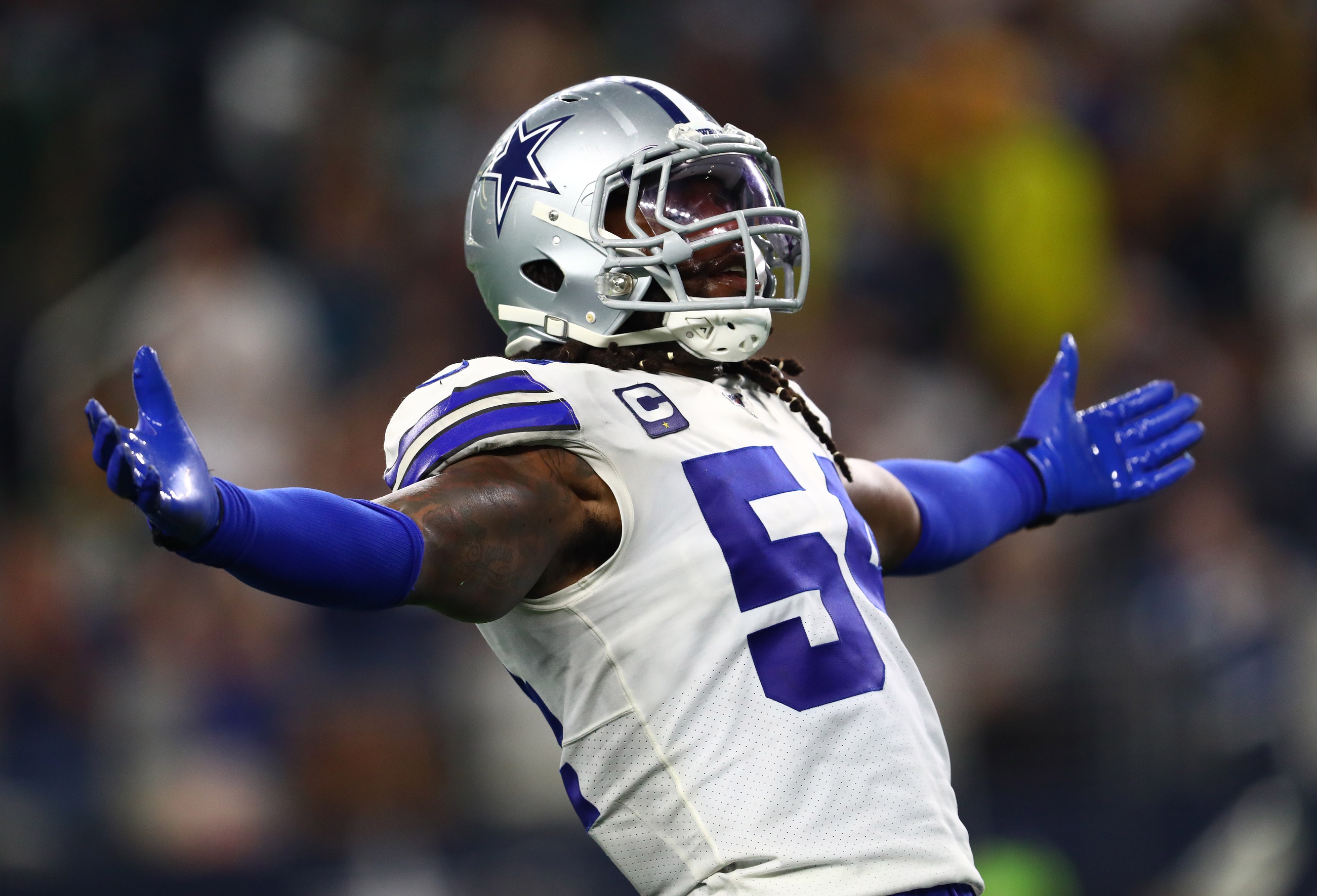 For as good as the Cowboys' linebacker duo of Leighton Vander Esch and Smith were in 2018, last season had to come as somewhat of a disappointment. For Vander Esch — who will be making an appearance later on — it was injury that led to the disappointing season. Smith, meanwhile, didn't play poorly by any means, earning a 70.2 PFF grade that ranked 18th among qualifying linebackers in 2019, but he didn't play up to the level that he showed the year before when he was a top-five player at the position. He still sticks out as a guy who can contribute wherever you need him to defensively, and he has put any doubts about the knee injury that dropped him in the draft behind him. Dallas will be hoping both Smith and Vander Esch get back to 2018 form next season.
If you're expecting Littleton to come down and make a difference in the run game, you are setting yourself up for disappointment. Littleton does do two things at an elite level, though — cover and tackle. Over the past two seasons, Littleton has a PFF coverage grade of 90.6 and has missed just nine of his 254 tackling opportunities. That's why the Raiders signed him this offseason. Over that same two-year stretch, the 37.9 coverage grade for Raiders' linebackers collectively came out ahead of only the Arizona Cardinals, Jacksonville Jaguars and New York Giants. Their 12% missed tackle rate as a unit also came in as a bottom-10 mark across all defenses. Littleton should help correct both those areas.
Johnson was on precisely no one's radar heading into last season. As a 27-year-old undrafted free agent who hadn't yet taken an NFL snap on defense, why would he have been? His performance last season certainly changed that. He made his first appearance in Week 5 against the Los Angeles Chargers and turned in a 91.9 PFF grade for the game — a sign of things to come.
Johnson is a bigger linebacker by today's NFL standards at nearly 250 pounds, and he used that size to his advantage in the run game where he posted a 91.4 run-defense grade for the season. He wasn't exactly a playmaker in coverage, with just one combined interception and pass breakup, but he was far from a liability. Johnson's 76.3 coverage grade ranked 10th among qualifiers at the position. He'll look to show that 2019 was no one-year fluke as a key part of the Broncos defense in 2020.
Brown is not a player who comes up all that often when discussing the league's best linebackers, but he deserves a spot in the conversation. That comes down largely to the ability he has shown in coverage. He has sported a top-20 coverage grade at the position in each of the past two years — reaching as high as sixth in 2018. No linebacker who has seen at least 50 targets in coverage since 2018 has allowed a lower yards-per-target mark than Brown's 5.6. It's a number that highlights both his ability to limit the big play and his ability to make plays on the ball when the opportunity presents itself. He'll continue to man the position with teammate Rashaan Evans heading into next season.
Warner's PFF grade this past season was brought down by a 46.8 run-defense grade and over 20 missed tackles, but he was better in both areas as a rookie in 2018 and is developing into one of the better coverage linebackers in the NFL. He has the combination of awareness in the middle of the field to read plays in zone and the athleticism to react and be in position to make plays that all great coverage linebackers need. To a lesser extent, both Kwon Alexander and Dre Greenlaw give the 49ers above-average play in coverage from the linebacker position, as well. While many point to the San Francisco pass rush as the catalyst for their defensive revival in 2019, we shouldn't overlook how good their coverage was as a team. Warner was a big part of that
Vander Esch turned in a terrific rookie season in 2018 — he graded out as one of the top five linebackers in the NFL, with an 85.4 overall grade — but he wasn't able to build on that this past season thanks to a neck injury that limited him to just six healthy games at the start of the year. Vander Esch has said this offseason that the injury is behind him and that he's better now than he was before the injury last season, and if taken at his word, that's great news for Dallas. Recording grades of 80.0 or higher as both a run defender and in coverage, as Vander Esch did in 2018, is impressive stuff. If he returns in 2020 and puts up a similar effort, he should find himself comfortably in the top 10 of this list at this time next year.
Cunningham is perhaps most well known for how he uses his length to impact the passing game in coverage, but he's starting to become one of the league's better run defenders at the position. His 47 run stops in 2019 were nine more than the second-place Kuechly at linebacker, driving a career-high run-defense grade of 84.8.
His coverage grade in the 50s wasn't nearly as impressive, but you have to factor in that his situation plays a role in that grade. Cunningham played more man-coverage snaps than any other linebacker last season (239), and players like Alvin Kamara, Christian McCaffrey and Mark Andrews were able to produce several big plays against Cunningham in man coverage. Covering receivers who are that talented one-on-one is a tough ask for any linebacker. His consistency, run defense and versatility still makes him one of the top linebackers in the NFL.
McKinney comes in one spot below his teammate Cunningham on the list, profiling more as a traditional run-stopper at nearly 260 pounds. He wasn't quite as good this past season as he has been in years past, but when looking at the past five seasons as a whole, McKinney's 86.8 run-defense grade ranks fifth among the 66 linebackers with 2,000 or more defensive snaps.
He's not as versatile as Cunningham in coverage, but he isn't a big negative there, either. McKinney has picked up PFF coverage grades of 70.0 or higher in three of the past five seasons. Houston has one of the best linebacker duos in the league heading into 2020.
There have been two versions of Jamie Collins over his seven-year career —  the New England Patriots player who looked like one of the best linebackers in the NFL and the Cleveland Browns player who looked far removed from that status. In Matt Patricia's defense, the Lions are hoping they get the former.
In each of his four full seasons with the Patriots (2013, 2014, 2015 and 2019), Collins has delivered PFF coverage grades of 69.0 or higher and PFF pass-rushing grades of 75.0 or higher as one of the better blitzing linebackers in the league. The pass game reigns king in today's NFL, so that kind of skill set is the most valuable to a defense. Collins will be one of several former Patriots defenders looking for success in his first season in Detroit.
It may be a surprise to see Milano come in above his teammate — 2019 Pro Bowl linebacker Tremaine Edmunds — on this list, but the coverage ability he has shown over the past two seasons is hard to ignore. His 86.8 coverage grade over those two years is lower than only Lavonte David, Cory Littleton and Luke Kuechly at the position.
Milano still has work to do to improve as a run defender and tackler, but that kind of coverage ability is valuable and rare among linebackers. It's what slots him into the top 20 on this list.
Like Milano, Schobert is going to produce more against the pass than he is against the run. His 83.6 coverage grade over the past two seasons is a top-10 mark at the position, while his 46.8 run-defense grade over that same time frame comes in as one of the worst marks among linebackers. Schobert has shown that he can play the run in the past — recording a 77.2 run-defense grade in 2017 — so it's not as if his play there is a lost cause.
If he gets back to that level as a run defender in the middle of Jacksonville's defense and maintains his play in coverage, he'll push himself closer to the top tier of NFL linebackers.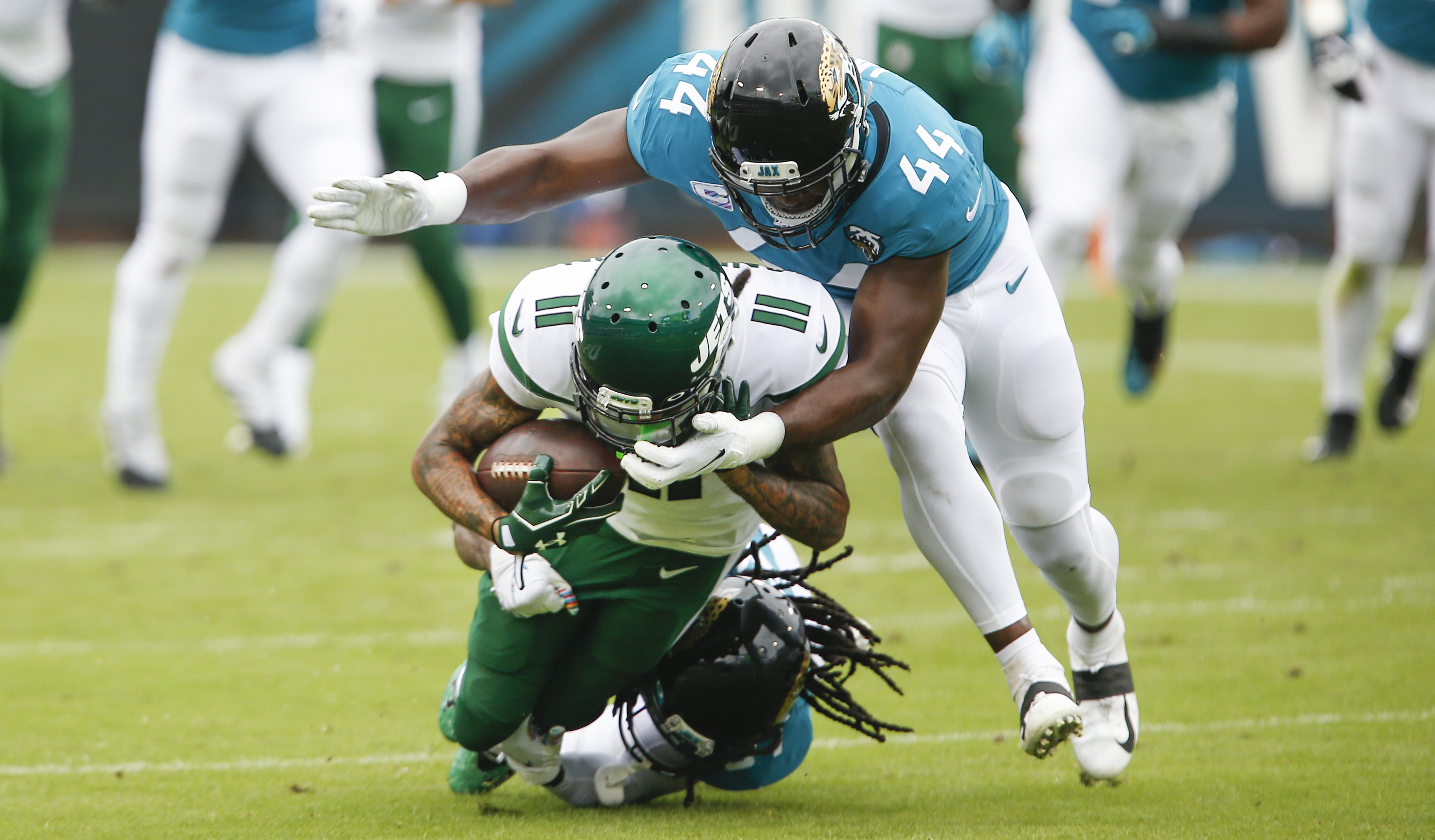 Jack's 2019 season was not what Jaguars' fans were expecting, and you can say that for a lot of Jacksonville's defense. His 45.9 PFF grade was easily the lowest of his career. Struggles in coverage and penalties can both be pointed to as contributing factors, but neither area proved problematic for Jack in prior years.
Jack was flagged eight times in a partial 2019 season compared to five times across the 2017 and 2018 seasons combined. His 80.4 coverage grade across those the 2017 and 2018 campaigns ranked ninth among 59 linebackers who saw 500 or more coverage snaps, coming alongside solid play against the run. Jack is a good candidate to bounce back next season with Schobert coming in to take middle linebacker duties next to him.
The losses of veterans Luke Kuechly and Thomas Davis in recent seasons mean that Thompson is going to be relied on to lead what projects to be one of the NFL's youngest defenses. The Panthers have put a lot of coverage responsibility on Thompson, and he's held up reasonably well through 546 coverage snaps in the slot since 2015 (nearly 100 more than the next closest linebacker).
In the run game, Thompson uses his quickness to be effective despite being on the smaller end for a linebacker. This past season was the first year where he didn't record a run-defense grade above 70.0, coming in at 66.7. It will be interesting to see how he fares without the Hall of Fame-bound Kuechly in the middle of that defense.
Trevathan is another player coming off a career-low overall grade in 2019 (61.9), but his track record gives him the benefit of the doubt and keeps him as one of the top 25 linebackers in the NFL heading into the 2020 season. He's consistently one of the better tackling linebackers in the league — missing just 6% of his tackles over the past five seasons — and he's been about as steady as they come in run defense with run-defense grades between 68.4 and 78.3 in all eight of his NFL seasons.
His success in 2020 hinges on him returning to form as the strong coverage linebacker he was in 2017 and 2018, and there's reason to believe he can achieve that.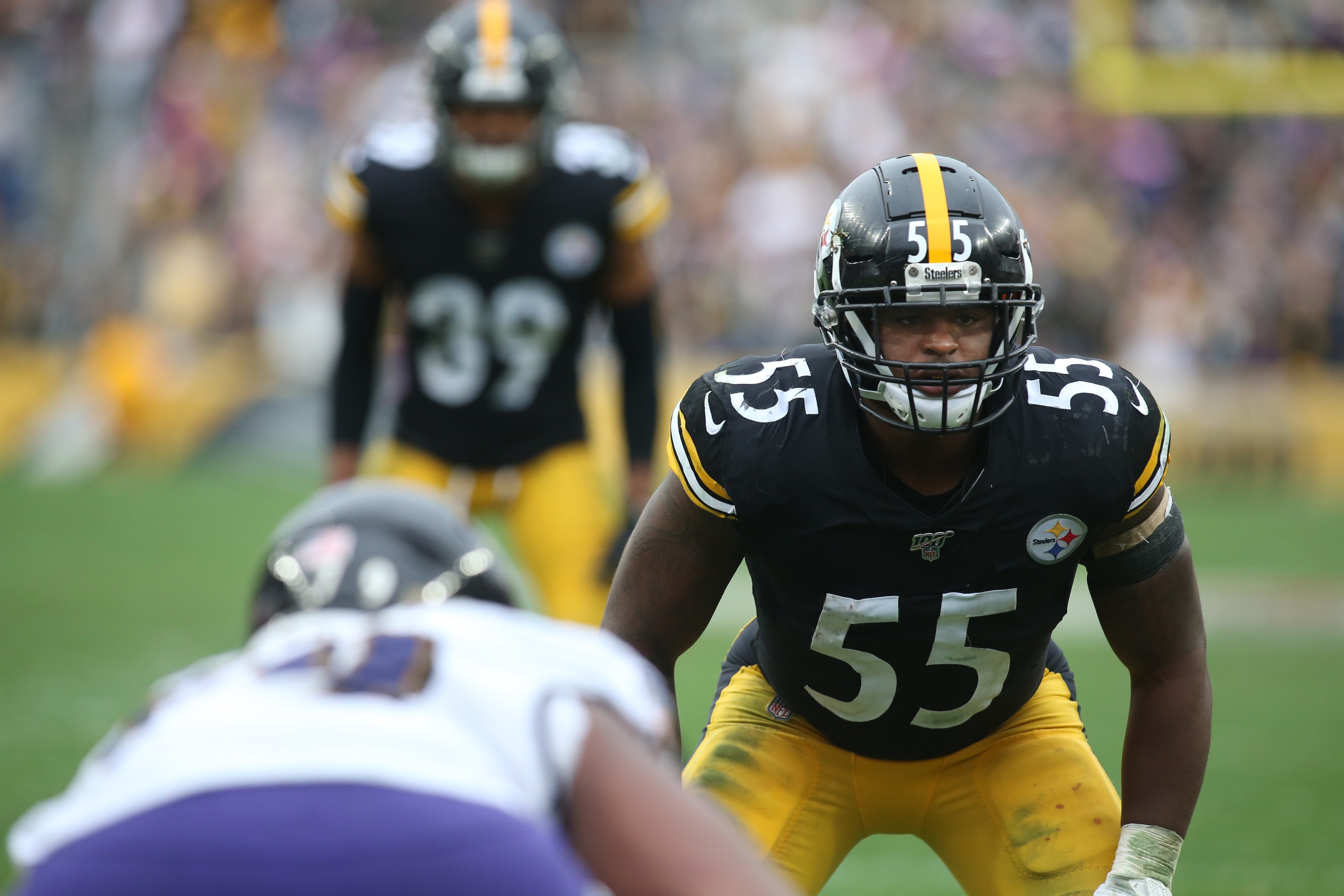 This ranking involves some projection for Bush because his 62.9 PFF grade as a rookie ranked 36th out of 91 qualifiers in 2019, but there is reason to believe he is primed for a significant second-year jump. Bush showed a nose for the football early with 100-plus tackles, two interceptions (to go along with a dropped pick) and four fumble recoveries, and it's clear he was getting more comfortable and consistent as the season progressed. Bush's overall grade jumped to 69.3 over the Steelers' final eight games — 23rd among 85 linebackers to play 150 or more snaps over that time frame.
He brings athleticism, speed and playmaking ability to the linebacker position that Pittsburgh has missed since Ryan Shazier's injury. The Steelers will be counting on him to play a big role in 2020 because the depth behind Bush and Vince Williams at linebacker is unproven at best.
If we were ranking how good players could become, Edmunds would comfortably be in the top five. He has the size. He has the explosiveness. He has truly impressive movement and change-of-direction skills for how big he is, and by all accounts, he's the kind of leader you want on your defense. However, his PFF grades of 57.0 and 59.4 in his first two NFL seasons speak to the idea that it hasn't all come together yet. Edmunds has performed well in stretches, but he has yet to put it all together for an entire season.
Having just turned 22 years old in May, this upcoming season could very well be the one where he does just that. Edmunds will have to clean up the missed tackles and improve in coverage to rise toward where most slot him currently — a top-10 linebacker — on this list next season.
Wright has been one of the most reliable linebackers in the NFL since entering the league as a fourth-round pick out of Mississippi State in 2011. He picked up overall grades of 65.0 or higher in each of the first eight seasons of his career, but that streak came to an end this past season. As he enters the 2020 campaign at 31 years old, there's a chance his play could be on the decline, but it's too early to say that's the case at this point.
Listed at 6-foot-4, Wright is a longer linebacker who can cause problems in coverage for opposing offenses in Seattle's zone defense. He's been impressive as a tackler for much of his career and turned in PFF run-defense grades of 70.0 or higher in each of the four seasons prior to last year. It's not difficult to get overshadowed by Wagner, but Wright is still one of the better linebackers in the league in his own right.
Greenlaw's play as a rookie came as a pleasant surprise for San Francisco, particularly with him needing to take on a larger role as Kwon Alexander missed time due to injury. You first think about the play that he made late in the 49ers' Week 17 matchup with the Seattle Seahawks to secure the No. 1 seed for San Francisco in the playoffs, but Greenlaw made plays like that in coverage throughout the year.
His 72.6 coverage grade ranked 15th among 91 qualifying linebackers on the season. A large part of that grade was that Greenlaw simply didn't allow big plays on his watch. He missed only four tackles all year and allowed fewer than seven yards per reception on passes that were deemed to be into his coverage. It was a promising debut.
Like several players later on this list, Smith is someone who we know has the tools to be a top-flight NFL linebacker. As PFF's Sam Monson pointed out in a piece highlighting players entering prove-it years in 2020, Smith came out of Georgia as a player who profiled to be a strong point in coverage with the athleticism, instincts and feel needed to be a difference-maker.
Things got off to a pretty good start as a rookie in 2018 with Smith putting up a 70.0-plus grade in coverage and a 66.6 grade overall, but both of those numbers dipped into the 50s this past season. Consistency will be key for Smith in 2020 as he looks to show why Chicago made him a top-10 pick in the 2018 NFL Draft.