According to ESPN's Adam Schefter, the Arizona Cardinals are signing two-time Pro Bowl safety Budda Baker to a four-year, $59 million extension that will make him the highest-paid safety in NFL history. 
There may not be an NFL agent with a larger influence on one position market than that of David Mulugheta on the safety position. In the 2019 offseason, Mulugheta first negotiated a monster six-year, $84 million contract for Landon Collins in Washington following Collins' departure from the division-rival New York Giants. He followed that up by (briefly) making Tennessee Titans star Kevin Byard the highest-paid safety in the NFL, at $14.1 million per year. And he didn't stop with the young bucks, as he was also able to secure a four-year, $55 million contract for the now-ousted Earl Thomas (portions of which will surely be battled over in arbitration). 
While all of these players are great, it's never easy to convince an organization to give a player tens of millions of dollars. And to that end, Thomas' offer from Baltimore was substantially larger than what was offered by any other team, per The Athletic's Jeff Zrebiec. Mulugheta very obviously did a great job repairing Thomas' image following the ugly breakup in Seattle that culminated with Thomas flipping head coach Pete Carroll the bird as he was carted off the field. The Baltimore Ravens are one of the best-run organizations in the NFL; they don't make miscalculations of this magnitude very often.
So, Mulugheta helped three of his clients become among the top five highest-paid players at their position in one offseason … how could he possibly follow that up? Well, how about by resetting the safety market with Baker's four-year, $59 million extension, which, at $14.75 million per year, makes him the highest-paid safety in the NFL (fellow 2017 draftee Eddie Jackson previously held the title at $14.6 million per year). The reported $33 million total guarantees is also very strong for a four-year deal at safety. 
The Cardinals selected Baker 36th overall in the second round of the 2017 NFL Draft, and he is coming off a Pro Bowl season at just 24 years old, giving plenty of reason for optimism moving forward. But after profiling as significantly stronger in run defense than in coverage through the first three years of his NFL career, there are questions as to whether Baker is the kind of playmaking coverage safety that warrants a record-setting contract. 
One other reason to question this deal, besides the fact the Cardinals paid a premier run-stuffing safety like a premier ballhawk, is that the 2021 free agency class is loaded at safety. And if any team in the NFL should know how to maneuver after letting an elite safety go and replacing him for cheap, it's the Cardinals. They did precisely that when they cut Tyrann Mathieu just one season into his record-setting contract extension from 2016 and drafted Baker in 2017 (so don't get too complacent, Budda). 
Baker was going to be the youngest safety to hit the market after 2020, which certainly boosts his value, but this group still includes Justin Simmons, Anthony Harris, Marcus Maye, Ha Ha Clinton Dix, Marcus Williams, Malik Hooker and several other solid players. To Arizona's credit, signing Baker now before a huge wave of top safety contracts comes crashing down will probably look smart soon. By this time next offseason, Baker may not even be among the top five highest-paid safeties in the NFL. After all, Mulugheta's other clients need their money too.
Baker is a player who people around the league are drawn to. He finished ninth in ESPN's recent safety rankings in which Jeremy Fowler polled 50-plus league executives, coaches, scouts and players to rank the NFL's best safeties. Baker even ranked as high as second on one ballot.
After the deal was announced on Tuesday morning, NFL Network's Ian Rapoport shared a prior conversation that he had with former Arizona Cardinals head coach Bruce Arians, in which he said of Baker, "That's a special player. Believe me." Even at just 24 years old, it's clear that Baker is well-respected across the league.
His versatility is a big reason why. Baker has filled multiple roles for the Cardinals defense across the first three years of his NFL career. As a rookie in 2017, his time was split almost evenly between a box role, a slot role and a deeper free safety role. In 2018, the focus shifted towards the slot, and this past season, Baker took on a larger role deep while still spending some time close to the line of scrimmage.
Budda Baker: Career snaps by alignment
| | |
| --- | --- |
| Edge | 197 |
| Box (LB/Strong Safety) | 647 |
| Slot Cornerback | 925 |
| Free Safety | 751 |
Baker has been a terrific downhill player no matter where he has been asked to line up, showing patience and taking good angles in the run game. It has already pushed him toward becoming one of the league's best run defenders at the safety position.
Only Jamal Adams and Landon Collins have been credited with more run stops than Baker's 68 at safety over that span. When he gets up close to the line of scrimmage, he does a good job of taking on and slipping blocks to make tackles. He does just that on the play below — one of five run stops he made in that Week 8 contest alone.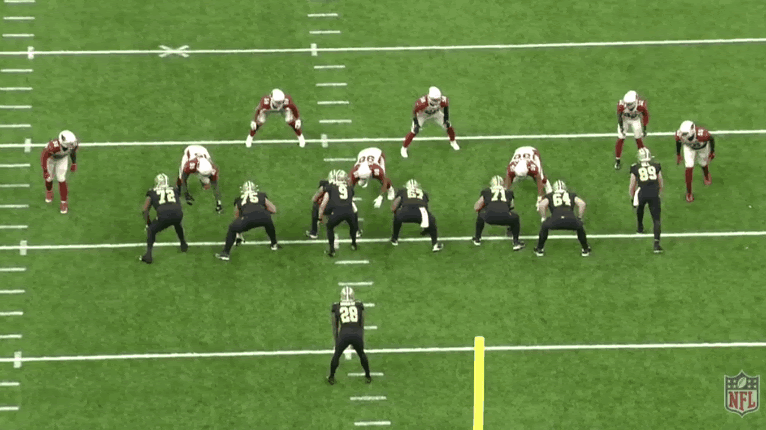 At least to this point, Baker's results in coverage have not been nearly as impressive. While his versatility is valuable, he hasn't yet shown that he can play at a high level in coverage all across the defense in the same way that Jamal Adams or Derwin James has. His PFF coverage grade has risen steadily in each of the past three seasons — from 57.0 as a rookie to 60.6 in 2018 to 64.8 this past season — and it appears as if the Cardinals are banking on that trajectory continuing upward as they move forward with this contract. 
Baker may have seen a slight improvement in coverage this past season at his new free safety home, but as a team, the Cardinals still struggled to prevent completions over the deep middle and seams. Our very own Timo Riske provided a coverage heat map that illustrates that point.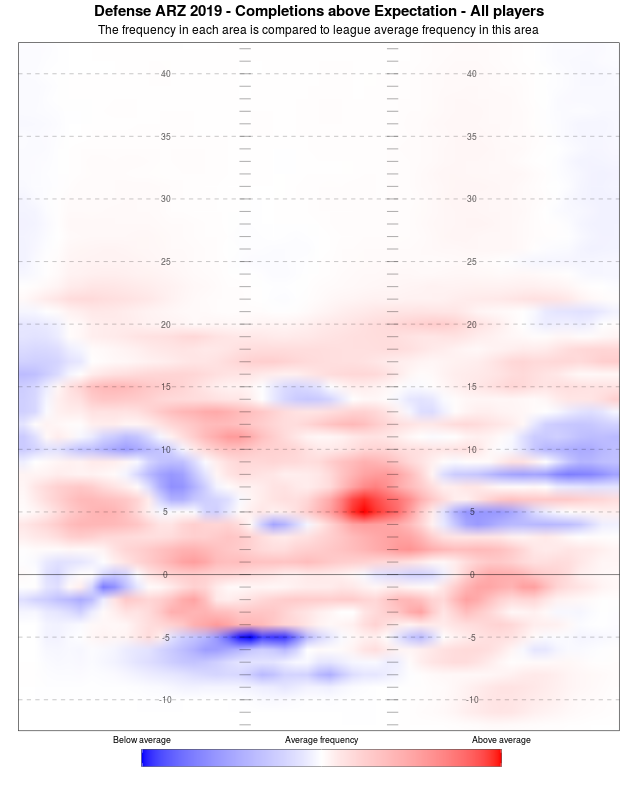 Baker does a lot of things well. He can fill multiple roles on defense — something we have seen to bring value with players like Baker's predecessor, Tyrann Mathieu — and he flies around the football field, bringing energy each play and excelling against the run. Per Darren Urban of the Cardinals' team website, cornerback Patrick Peterson said of Baker, "The tenacity he plays with, we feed off that. Him being the smallest guy on the defense, he plays like the biggest guy." Defensive coordinator Vance Joseph said in the same piece, "He is a great gauge for our defense. If everyone played like Budda, we wouldn't lose a game."
Despite all that, it's tough to view this as anything but an overpay given some of Baker's questions in coverage to this point. He just hasn't shown the playmaking, ballhawk skills that typically earn this kind of money at the safety position.
To his credit, he has taken on a demanding role in Arizona's defense, and he was solid at free safety this past season for the Cardinals. Making Baker the highest-paid safety in the NFL now is an investment in his continued improvement and an attempt to get in ahead of plenty of big-name safeties who are up for new contracts soon. If that improvement does come after another season in a similar role, this deal could end up looking better in hindsight than it does right now.