With the explosion of passing offenses this century, one position has quietly been under siege.
The linebacker position has evolved unlike any other over the past decade. In 2009, defenses had five or more defensive backs in on only 35.7% of plays. This season, that number is 58.0%, and it's only climbing. What was once a position with three starting slots available has dwindled to two, and in some defenses, to only one.
The skillset needed to play the position has similarly evolved. Gone is any semblance of the old downhill run-thumper, as elite sideline-to-sideline range has become priority number one for linebackers. Only four of the 43 linebackers who recorded at least 80 tackles this past season are listed at 250-plus pounds. Put simply: If you can't execute in a versatile coverage role, you won't see the field very often.
Of all the linebackers to come out in the last half-decade since we started grading college players at PFF, no one has displayed a more versatile skillset than Clemson's Isaiah Simmons. Standing 6-foot-4, 230 pounds, Simmons might as well have been created in a lab to play defense in today's NFL. He can go from rushing off the edge to off-ball to the slot and deep safety seamlessly from play to play. He is of the new Derwin James/Jamal Adams hybrid defender mold, only in a larger package.
The Clemson defense, which is coordinated by Brent Venables, has been a pioneer in the positionless football movement. The whole concept is predicated on being able to match up with the vast array of formations, shifts and personnel groupings an offense can throw at you while not having to sub or scrap certain calls. Because of that, players like safeties Nolan Turner, K'Von Wallace and Tanner Muse will all be on the field at the same time along with Isaiah Simmons, but they can all end up covering anywhere or anyone. 
On the play below, at the start of the fourth quarter against Ohio State, you can see exactly what that looks like. Before the snap, Simmons, Muse and Turner are all lined up amorphously over the middle of the field.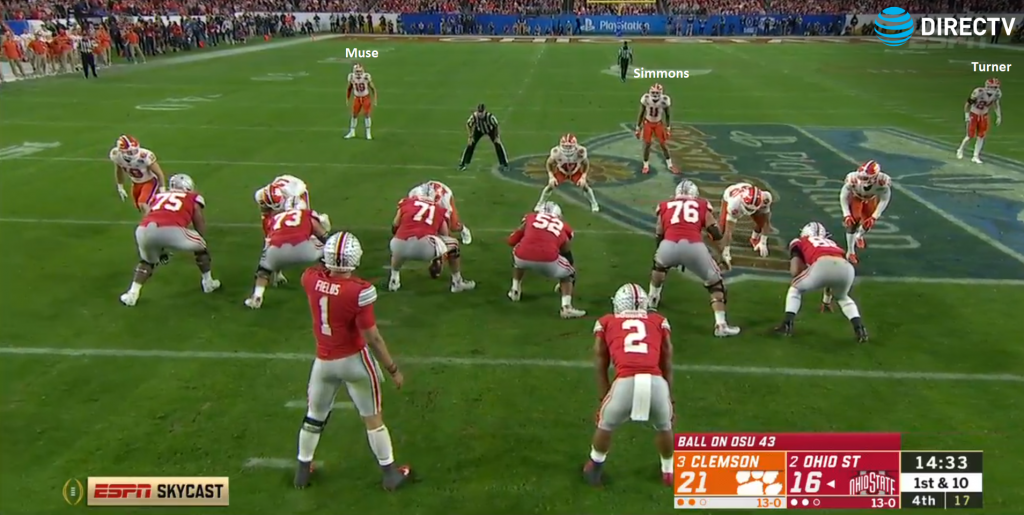 Ohio State then sends receiver K.J. Hill in motion from the right slot to the left, and all that does is take Simmons out of the middle and put him over the slot.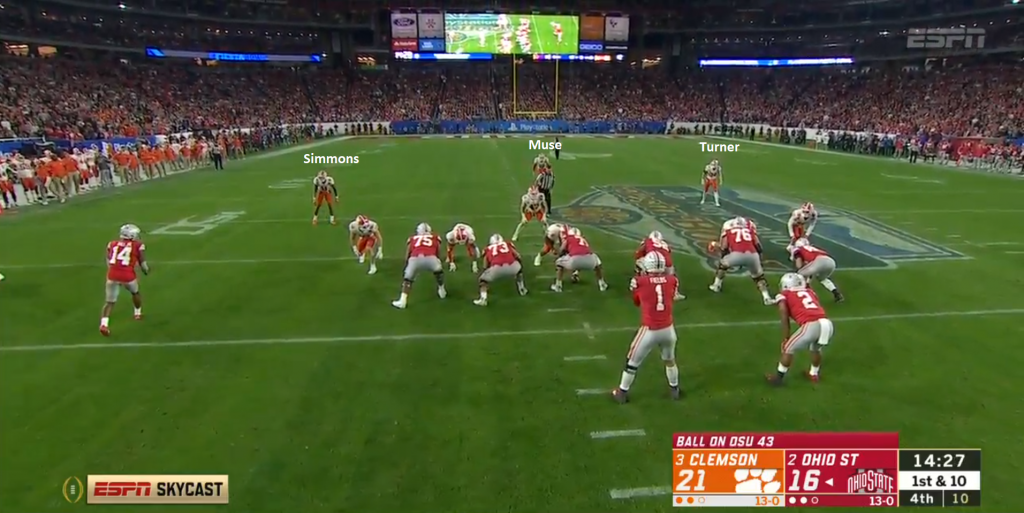 What Ohio State doesn't realize is that Clemson is playing man coverage. Usually, when that's the case, the player lined up over Wright initially would follow him across the formation, giving Fields a good indicator that they're in man. With a player like Isaiah Simmons, though, Clemson doesn't have to tip their hand. Simmons goes stride for stride with Wright on the slot fade, and quarterback Justin Fields doesn't find anywhere to go with the football.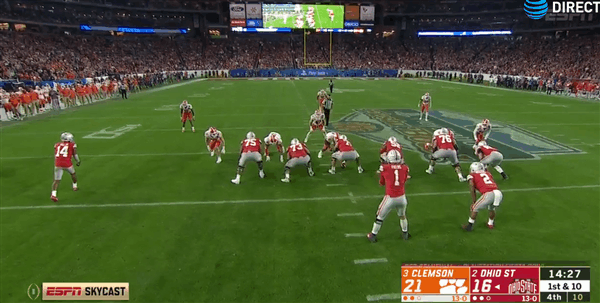 Usually, wide receiver vs. linebacker is a mismatch win for any offense, but that hasn't been the case with Simmons over the course of his career. Simmons was legitimately gaining ground on Ohio State running back J.K. Dobbins on his long touchdown run a few weeks back, and he went viral this past offseason for running neck and neck with running back Travis Etienne in a 40-yard dash.
It's about time for part 2 ???? @isaiahsimmons25 #ALLIN pic.twitter.com/xG9goAtj9d

— Travis Etienne Jr⁶???? (@swaggy_t1) May 1, 2019
Of his 738 snaps on the season, here's where Simmons has lined up: 
| | |
| --- | --- |
| Position | Snaps |
| Defensive line | 106 |
| In the box | 239 |
| Slot cornerback | 256 |
| Wide cornerback | 7 |
| Deep safety | 130 |
Those numbers are unlike anything we've ever seen. No other listed linebacker in college football has taken more than 24 coverage snaps lined up at safety.
It's one thing to throw a guy out in a bunch of different roles, but it's another thing to do it well. He's earned an above-average coverage grade from every single alignment so far this season. The junior has earned a career coverage grade of 92.5 and has allowed only 6.0 yards per target. His pick from the deep middle to the sideline against Ohio State would be an absurdly good play for any safety to make, let alone a linebacker.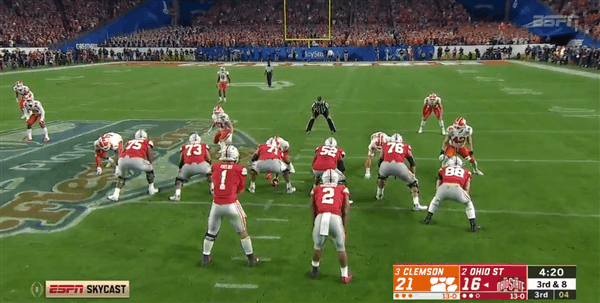 What Clemson has done defensively looks like the blueprint for the direction the NFL is trending, as well. Steve Palazzolo recently broke down the vaunted Baltimore Ravens defense this year and how they're changing the way we think about positional designations. They're not only blitzing opposing quarterbacks at a high rate, but they're doing so with defensive backs more than any other team.
Simmons' ability to blur the linebacker/safety positional designation is going to be a defensive coordinator's best friend at the next level. Simmons is the definition of what you want in a modern linebacker.