The 2021 NFL Draft will kick off in less than a week, so what better time to take stock of all 32 NFL rosters.
Below you will find every NFL roster ranked from No. 1 to No. 32. The list was heavily influenced by the two-year PFF WAR (wins above replacement) of the players who are currently on each roster, but it also had some subjective projection involved for those younger, emerging talents.
It's also important to note that this doesn't include anyone in the 2021 NFL Draft class, not even Trevor Lawrence on the Jacksonville Jaguars or Zach Wilson on the New York Jets. This is solely where each team stands entering Round 1, which will begin on April 29. We will revisit this ranking after the draft to see how much the NFL landscape changes.
View PFF's 2021 NFL Draft position rankings:
QB | RB | WR | TE | T | iOL | DI | EDGE | LB | CB | S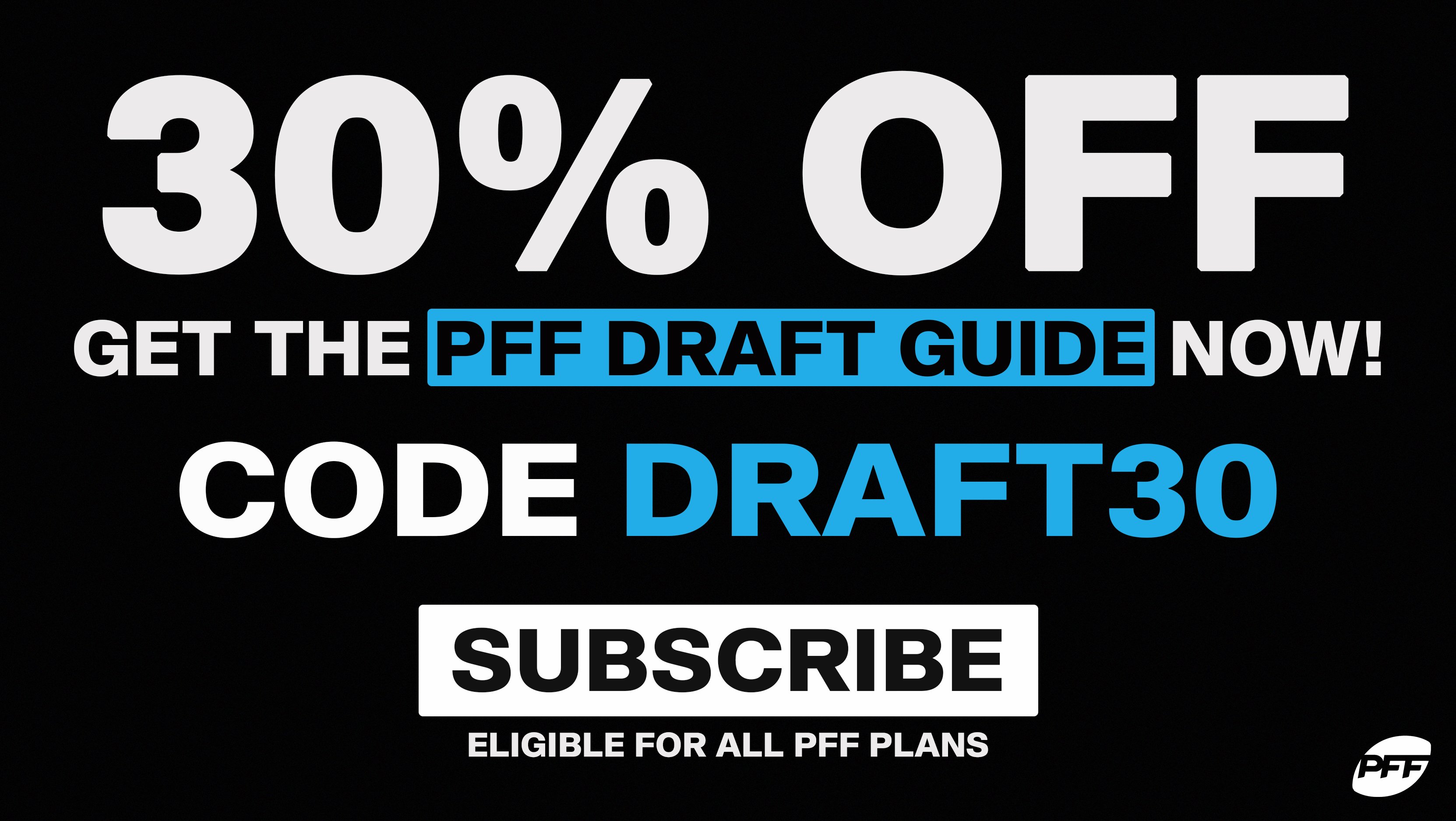 Draft capital rank: 27th
The reigning Super Bowl champions did the inevitable, maneuvering around their minimal cap space and ultimately returning every single starter on both sides of the ball.
The Bucs fielded the third-most-valuable roster of the PFF era (2006-present) last season, according to total PFF WAR generated, finishing behind only the 2016 and 2007 New England Patriots. The Bucs were also the only team that ranked inside the top five in both successful pass play rate generated and allowed last season.
With Tom Brady leading the way, Tampa Bay has a shot at becoming the first back-to-back champion since the 2003-04 New England Patriots.
---
Draft capital rank: 16th
The Browns put on a clinic in free agency this offseason, signing top-tier players at positions of need and for a great price, too.
Safety John Johnson III and slot corner Troy Hill, both of whom come over from the Rams, might have been the two best signings of the offseason. Johnson was one of the league's five most valuable players on the defensive side of the ball last year, while Hill has been the highest-graded slot corner since 2019.
Down in the trenches, the Browns have arguably the best offensive line in the NFL and one of the league's best edge tandems in the form of Myles Garrett and Jadeveon Clowney.
Looking solely at the PFF WAR generated by non-quarterbacks in 2020, the current Browns come in at No. 2 behind the Bucs. Cleveland has gone worst to almost first in just a few short years while building one of the best rosters in the league.
---
Draft capital rank: 22nd
The Chiefs' current outlook at offensive tackle and edge isn't all that appealing, but when you have the league's best quarterback, two of the most dynamic receiving threats in the NFL and a reliable secondary, it doesn't matter all that much.
Patrick Mahomes has been the most valuable quarterback in the league over the past three years. Tyreek Hill has been the fourth-most valuable wide receiver over that same span, while Travis Kelce has finished first among tight ends.
The secondary is really young outside of veteran Tyrann Mathieu, but they got the job done in 2020, earning the 10th-highest team defense grade in the league.
If they can select an offensive tackle at Pick No. 31, the Chiefs should be in a good spot to contend for the Lombardi once more.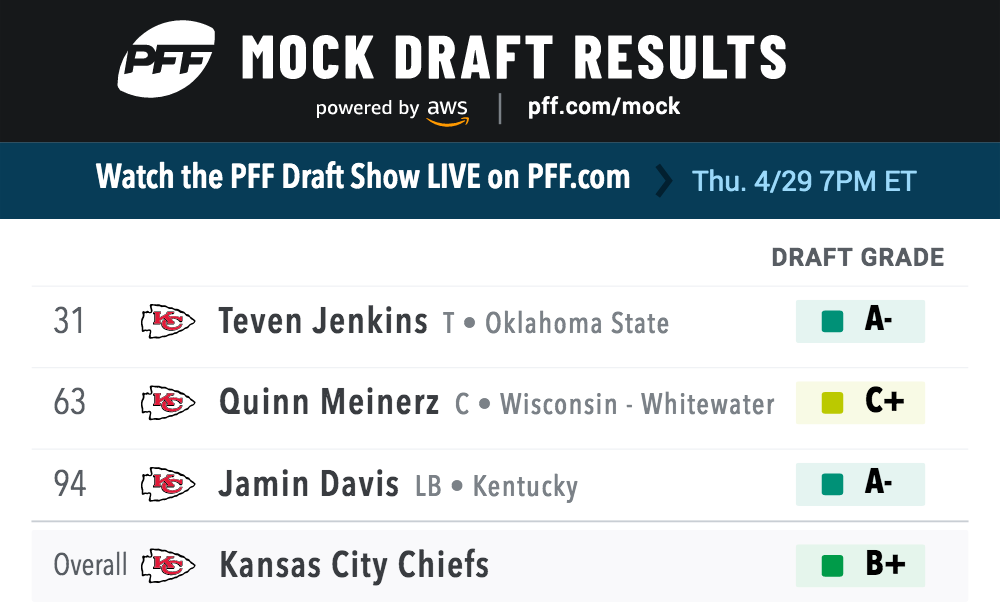 Draft capital rank: 19th
According to PFF WAR, last year's Packers fielded the NFL's most valuable quarterback, wide receiver and cornerback. They also boasted the highest-graded safety room in coverage with Adrian Amos and Darnell Savage Jr. leading the way, as well as the second-highest-graded tackle in the form of David Bakhtiari. So, all things considered, it's no surprise why Green Bay cemented a spot in the top five.
There are still a couple of gaping holes the Packers should look to address early in the 2021 NFL Draft: wide receiver and cornerback. The dream scenario for Green Bay is to secure prospects like Rondale Moore and Asante Samuel Jr. for those two positions.
---
Josh Allen's unbelievable turnaround in 2020 made Buffalo one of the most dangerous teams in the NFL. Both Allen and his top target, Stefon Diggs, were among the five highest-graded players at their respective positions and led the Bills to their highest successful pass play rate of the last decade.
On the other side of the ball, Buffalo brings back Tre'Davious White, who is one of the top cornerbacks in the game and ranks sixth in outside coverage grade since entering the league in 2017. Buffalo also possesses one of the best safety tandems in the NFL with Jordan Poyer and Micah Hyde.
It'll be interesting to monitor how much Allen regresses in 2021, but this team is again looking dangerous and should have no issues repeating as AFC East champions.
Denver would be even higher if we removed quarterbacks from the equation. The Broncos secondary might be the best in the NFL, with Kyle Fuller and Ronald Darby on the outside, Bryce Callahan in the slot and Justin Simmons and Kareem Jackson at the two safety spots.
Unfortunately, Drew Lock has yet to show much in the way of promise. He is one of the three-lowest-graded passers over the last couple of seasons, while no quarterback in the NFL has thrown uncatchable balls at a higher rate.
Will things change on draft day? Only time will tell, but it is worth noting that the three most likely Broncos picks at this moment, according to DraftKings Sportsbook, are North Dakota State quarterback Trey Lance (+200), Penn State linebacker Micah Parsons (+400) and Alabama quarterback Mac Jones (+600).
---
Draft capital rank: 24th
It currently lacks a No. 1 option at receiver, but there aren't many bones to pick with the current shape of the Ravens roster outside of that. Baltimore ranks ninth in total WAR generated from current offensive players (outside of the quarterback), which is quite incredible given their current crop of wide receivers. Meanwhile, the front seven isn't going to set the world on fire any time soon, but in Wink Martindale's defense, it doesn't matter because he's always going to scheme a way to get after the quarterback.
The defense ranked inside the top five in EPA allowed per pass play and will likely continue to lock down opposing receivers for as long as Marlon Humphrey and Marcus Peters lead the way.
---
Draft capital rank: 15th
The Football Team has a genuinely talented roster overall, but like the Denver Broncos, they have no long-term solution at quarterback. Old man Ryan Fitzpatrick is currently penciled in as the starter, and we know what we're getting with him at this point: a volatile yet average passer capable of "wow" plays over small stretches. Fitzpatrick ranks 18th among 32 qualifying quarterbacks in passing grade since 2019.
They will have to trade a haul of future draft capital to change that quarterback situation, but what's most likely is that they stand pat at No. 19 and take one of the premier tackle prospects, such as Virginia Tech's Christian Darrisaw.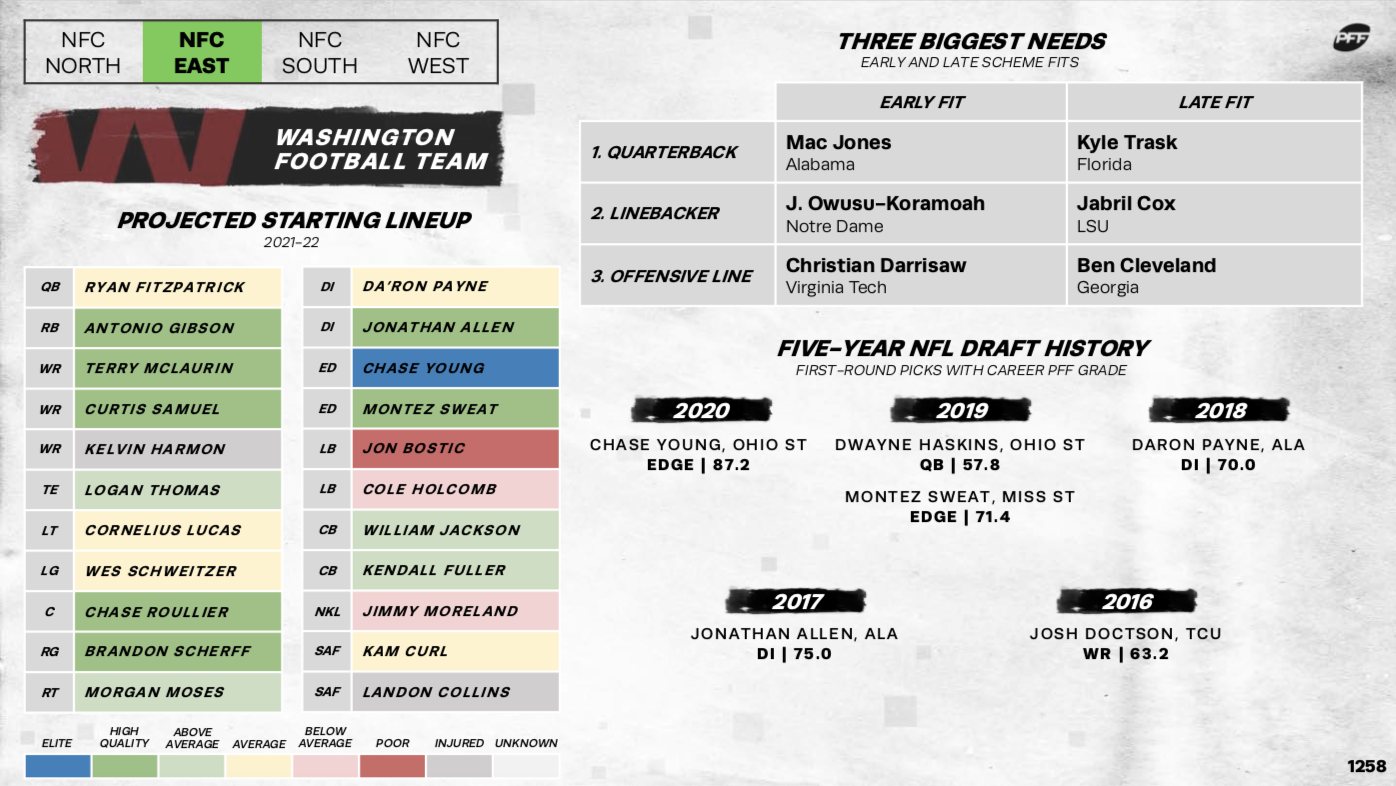 Dallas lands at No. 9 solely because of the offense. Dak Prescott will be back and healthy, which means we should see the offensive production we saw in 2019 when the Cowboys fielded the third-most-efficient passing offense in the league. And Prescott will have one of the top wide receiver trios in the NFL with Amari Cooper, Michael Gallup and CeeDee Lamb, who gave Dallas one of the five highest-graded receiving rooms when the quarterback was healthy in 2020.
Speaking of health, starting tackles Tyron Smith and La'el Collins, both of whom ranked among the top 15 players at their position in PFF grade last year, will also be back in 2021 after missing most of last season. The secondary has some concerns, but that should be addressed come Thursday when they are on the clock in Round 1.
---
Draft capital rank: 13th
Once San Francisco (hopefully) turns in that No. 3 overall pick for Ohio State quarterback Justin Fields, they'll hop up a spot or two on this list.
There's not much to complain about on offense other than quarterback. The offensive line is one of the better units in the league and is led by the highest-graded tackle of 2020, Trent Williams. Tight end George Kittle is in the conversation for best at his position, too, as he leads that group in receiving grade since 2018. The wide receiver room also has a couple of dynamic weapons with Deebo Samuel and Brandon Aiyuk.
The reason for concern emanates from the secondary. Jason Verrett was a top-10 player at the position in terms of PFF grade last year, but we all know about his injury history. The other spot on the outside is set to be manned by Emmanuel Moseley, but the former UDFA didn't play all that well on the job in 2020, earning a relatively poor 54.6 coverage grade.
---
Draft capital rank: 31st
Had the Rams re-signed safety John Johnson III and slot corner Troy Hill over edge defender Leonard Floyd, they'd be a few spots higher on this list. Defensive tackle Aaron Donald might just be the best player at his position the NFL has ever seen. He has generated 2.95 WAR since 2014, a full win more than any other interior defensive lineman and two wins more than all but seven players at the position.
In the secondary, the Rams still feature a quality outside cornerback duo in Jalen Ramsey and Darious Williams. They ranked third and sixth, respectively, in WAR generated in 2020. On offense, Los Angeles traded for quarterback Matthew Stafford, who will add a downfield passing element. He'll have Robert Woods and Cooper Kupp at his disposal, both of whom rank inside the top 30 in WAR generated since 2019. Los Angeles could still stand to add to its receiving unit, though.
---
Draft capital rank: 29th
Indianapolis is set to have another strong defense after the unit ranked 11th in EPA per play allowed and sixth in coverage grade in 2020. But the Colts' success, or lack thereof, will rest on the shoulders of Carson Wentz and the receiving unit. It's no secret that Wentz looked broken in 2020 with a 60.0 passing grade and league-leading 24 turnover-worthy plays.
As for the receiving unit, head coach Frank Reich will be counting on Parris Campbell to stay healthy and Michael Pittman Jr. to step up in his sophomore campaign. Campbell can be a slot weapon, but he has played in nine games over two years. Pittman posted a 62.3 receiving grade as a rookie. The Colts ranked inside the top 10 in 2020 WAR outside of the quarterback position but will need many players to step up to hold that spot.
---
Draft capital rank: 32nd
Seattle's roster is rather top-heavy. Quarterback Russell Wilson leads his position in WAR generated since 2019, tackle Duane Brown is still producing at a top-10 level in PFF grade and wide receivers DK Metcalf and Tyler Lockett ranked in the top 20 in WAR generated in 2020. On defense, linebacker Bobby Wagner and safety Jamal Adams are both among the six most valuable players at their respective positions since 2018. After those five, Seattle's talent drops considerably.
---
Draft capital rank: 25th
The Cardinals' strengths and weaknesses are clear. They have one of the best wide receivers in the NFL but lack another receiving threat. They have a strong safety duo on the backend, but their current cornerbacks are liabilities. They have a strong veteran edge duo in J.J. Watt and Chandler Jones, but the interior defensive line is weak.
In other words, there are a lot of options on the table for Arizona with their No. 16 overall pick. After Malcolm Butler, Robert Alford is the team's best cornerback, and he hasn't played a down of football since 2018 when he ranked 108th of 120 qualifying corners in coverage grade. That position might be the best bet for the Cardinals in the 2021 NFL Draft.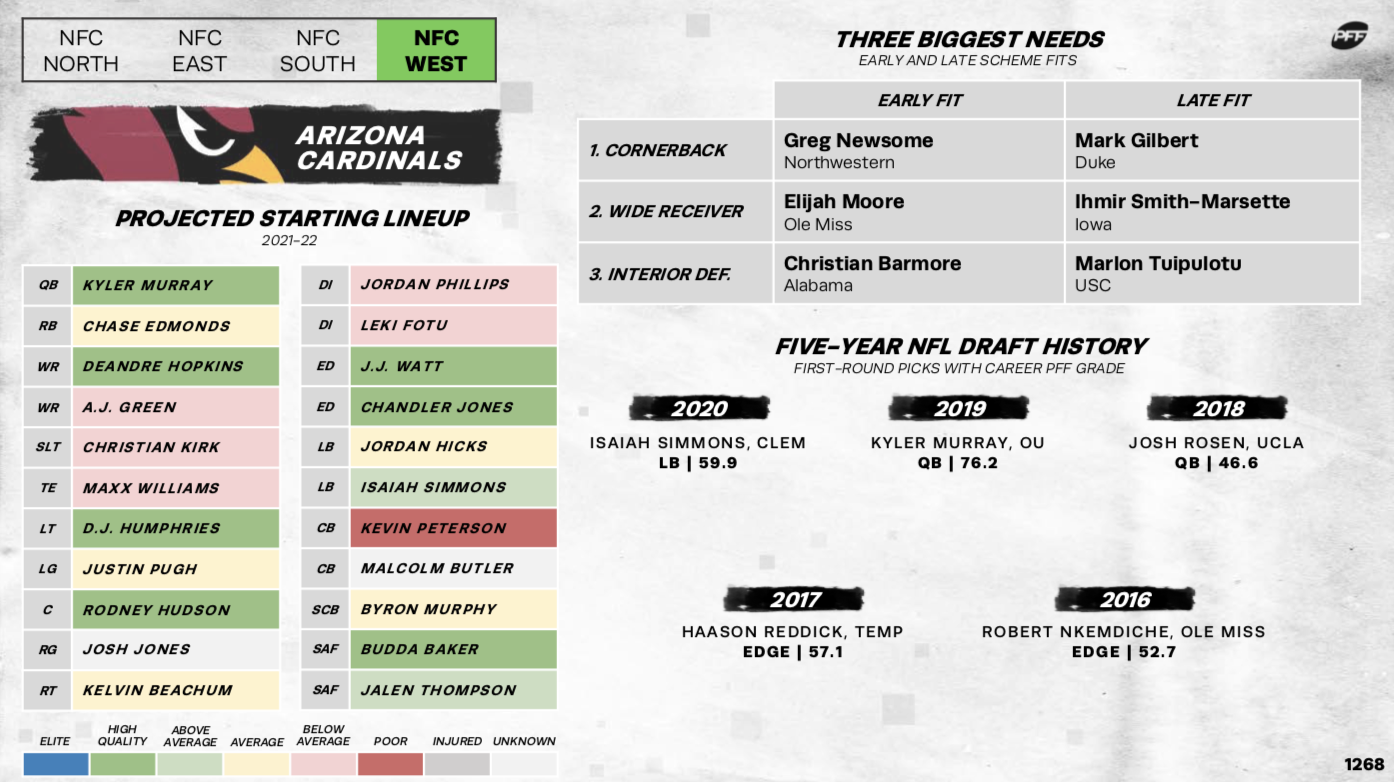 If quarterback Tua Tagovailoa, whose 63.9 passing grade ranked third among the three top-10 quarterbacks from the 2020 NFL Draft, can make a Year 2 leap, Miami should be cooking in 2021. He'll have a strong wide receiver unit at his disposal, including DeVante Parker and Will Fuller V, both of whom are among the 25 most valuable wide receivers since 2019.
The Dolphins' outside cornerback duo of Xavien Howard and Byron Jones is also solid, ranking seventh and sixth, respectively, among those at that position in coverage grade since 2018. After that, though, Miami's talent dips considerably. The team's offensive line is still in a shaky state after ranking sixth-to-last in PFF grade a year ago. The Dolphins signed Matt Skura, but he was the third-lowest-graded center of 2020.
---
Draft capital rank: 26th
The Saints will be one of the more interesting teams to watch in 2021 due to the roller coaster that is Jameis Winston taking over the offense following Drew Brees' retirement. He'll have one of the best receiving backs and wide receivers in the NFL to throw to in Alvin Kamara and Michael Thomas, respectively, but there is a glaring lack of depth otherwise.
New Orleans' next best receiver is perhaps Tre'Quan Smith, who owns a 64.1 receiving grade across his three NFL seasons. The Saints are also lacking in the cornerback department following Janoris Jenkins' release due to cap constraints. Patrick Robinson, who owns a 62.8 coverage grade across 342 coverage snaps over the past three years, is projected to start opposite Marshon Lattimore for now.
---
Draft capital rank: 18th
Placing 17th may seem average, but for the New York Giants, this is big news. Their roster was among the worst in the league in the three years following their 2016 playoff appearance, but it took a step forward last year and took another big leap this offseason after two additions: wide receiver Kenny Golladay and cornerback Adoree' Jackson.
Golladay established himself as one of the top deep threats in contested scenarios over the past few years in Detroit. His 53 contested catches and 1,072 deep receiving yards since 2018 are each a top-five mark at the position (keep in mind, he played in only five games in 2020).
Jackson was limited to four games due to injury in 2020, but he has still been one of the 15 most valuable cornerbacks since entering the league in 2017.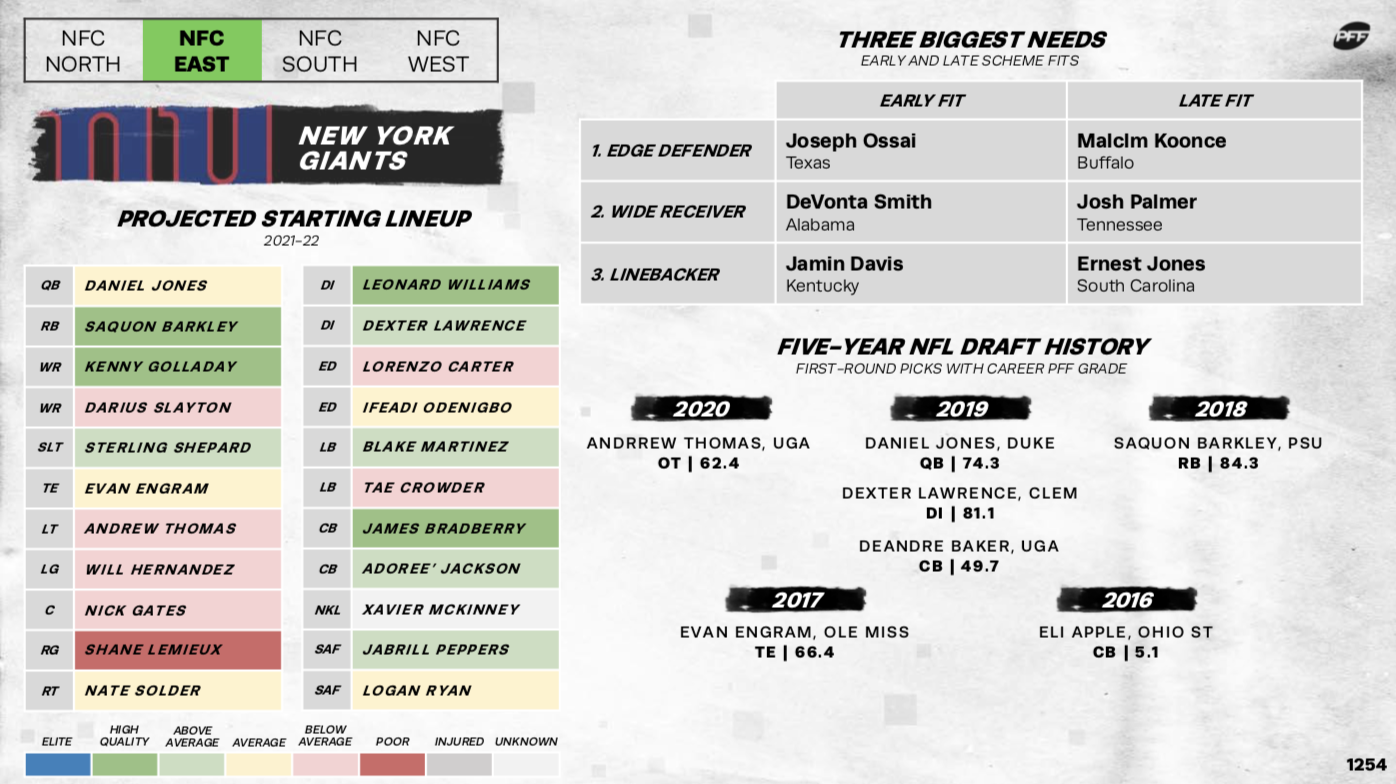 Draft capital rank: 21st
Pittsburgh's defensive line is easily the NFL's best. Bud Dupree's replacement, Alex Highsmith, might even be better than the new Tennessee Titan. Highsmith's pass-rush grade as a rookie in 2020 was over 10 grading points higher than Dupree's before he got hurt. The Steelers' defense as a whole should be soild, but the offense is on shaky ground, especially with Ben Roethlisberger at the helm.
Big Ben's decline in 2020 was apparent; his 68.3 passing grade marked his lowest-graded season since his 2006 campaign, and he relied on short, quick throws seemingly because of his waning arm strength.
---
Draft capital rank: 11th
The Vikings have one of the best, if not the best, wide receiver duos entering the 2021 NFL Draft. Justin Jefferson and Adam Thielen ranked second and sixth, respectively, in PFF grade at the position in 2020.
It's a different story down in the trenches and at cornerback. The latter position is likely to play a massive part in defining the team's 2021 season. Right now, Minnesota is set to trot out veteran Patrick Peterson and 2020 third-round pick Cameron Dantzler as its two starting outside corners.
Peterson's decline last season was evident, with him recording a 53.1 coverage grade — his lowest since his rookie campaign. Dantzler had two incredible outings in his rookie campaign that resulted in a coverage grade north of 90.0, but he fell flat otherwise. It was a promising season, but he still has a lot to prove.
---
Draft capital rank: 14th
Bill Belichick went all-in during free agency, handing out money left and right. Even after the heavy spending, the Patriots still have an average roster outside of their offensive line. Despite losing standout left guard Joe Thuney, they still have a top-10 unit.
The big concern with this team is at quarterback and wide receiver. Cam Newton ranked 24th in passing grade in his first season as a Patriot and struggled to push the ball downfield. His 2.8% big-time throw rate was a bottom-five mark among quarterbacks on the year. As it stands, New England's No. 1 wideout is Nelson Agholor, who is coming off a boom-or-bust campaign with Las Vegas where he was fed deep crossers and vertical routes. He ranked 45th of 99 qualifiers in receiving grade in what was his most productive year in the NFL. In the five years prior combined, he ranked second-to-last in receiving grade.
---
The Bengals' roster is on the rise and will only improve after the 2021 NFL Draft with the potential addition of wide receiver Ja'Marr Chase (remember, this ranking does not reflect that). If they do draft him fifth overall, he'd join a receiving unit that already boasts Tyler Boyd, who was one of the five highest-graded slot receivers in 2020, and Tee Higgins, who was one of the 20 highest-graded outside receivers as a rookie.
Joe Burrow, last year's No. 1 overall pick, was one of the cleanest passers in the league on non-deep passes in 2020, ranking sixth among all quarterbacks in passing grade on throws 20 yards or fewer downfield.
---
Draft capital rank: 17th
Tennessee has the quarterback, the running back and the WR1, but there are some big question marks outside of that. Three of their six most valuable players over the last couple of years — wide receiver Corey Davis and cornerbacks Malcolm Butler and Adoree' Jackson — are no longer on the roster. Neither is quarterback Ryan Tannehill's No. 3 target, tight end Jonnu Smith, the defense's second-highest-graded player, edge defender Jadeveon Clowney, and starting slot corner Desmond King II. They did make a good move by bringing in veteran corner Janoris Jenkins to help fill one of those outside starting spots, but the rest of the positions are likely to see a drop-off in production.
---
Draft capital rank: 23rd
Chicago no doubt has a ferocious defensive front with Khalil Mack — the highest-graded edge defender of 2020 — leading the way, but that can only get you so far. A potent passing offense is key, and Chicago still is no bueno in that department. Quarterback Andy Dalton is a modest improvement over Mitchell Trubisky and Nick Foles but still a below-average passer. He ranked 22nd in passing grade when filling in for Dak Prescott in Dallas last season and did that with a better supporting cast than Chicago's. I'm bullish on Jaylon Johnson's future in the NFL, but the secondary is likely to take a step back without Kyle Fuller. No team has more riding on the 2021 NFL Draft than the Bears.
---
The current construction of the Falcons' roster is fascinating. Just look at all of that "high-quality" green and "below-average" red in the image below from the 2021 PFF NFL Draft Guide. Even with one of the 10 highest-graded passers and two of the 15 highest-graded wide receivers, the Falcons still have a ton of below-average contributors on the current roster. Tight end Kyle Pitts may be alluring with the No. 4 overall pick, but trading down to gain more assets is the smarter move considering how many holes they have on the roster.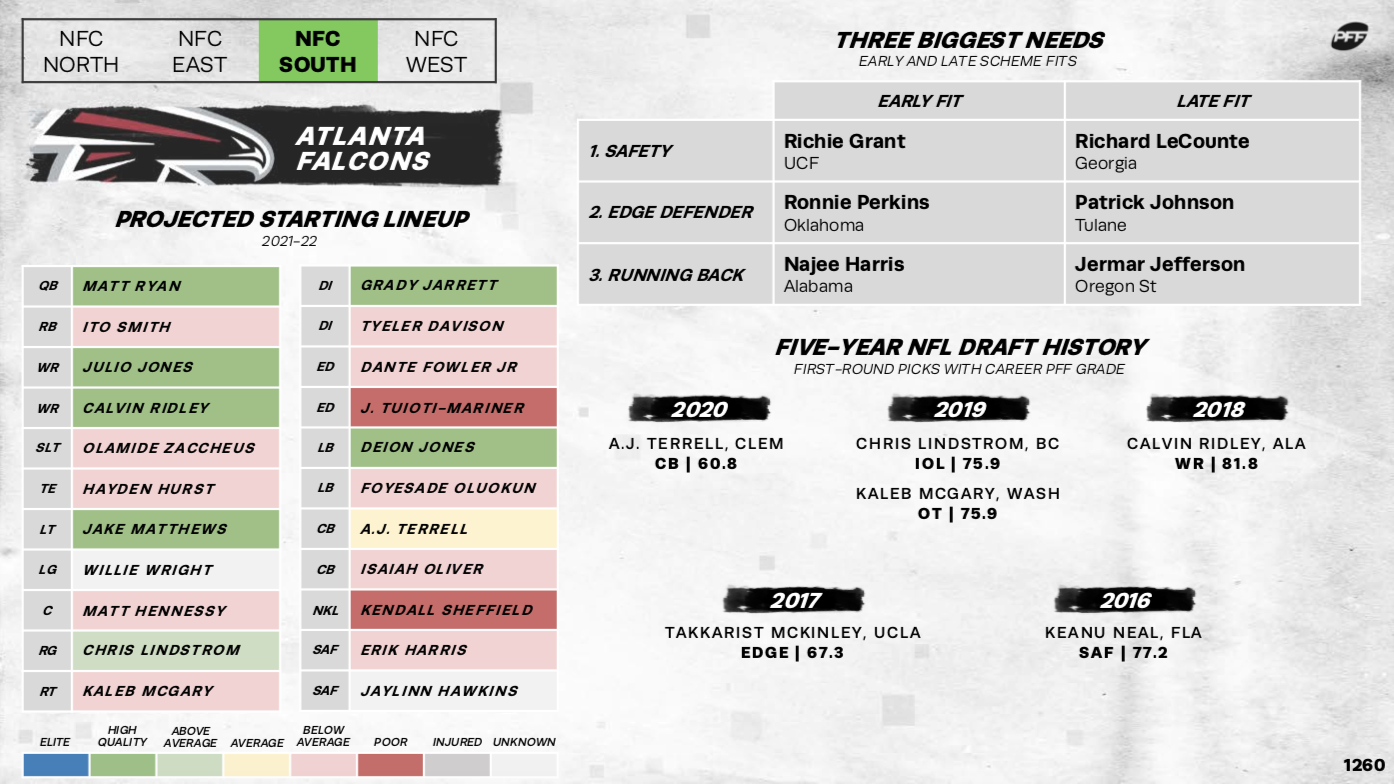 Draft capital rank: 12th
The Chargers' offensive line has undergone a complete makeover this offseason, and understandably so; the 2020 group was the second-lowest-graded of the last decade. New signees Corey Linsley and Matt Feiler, along with a healthy Bryan Bulaga, should move this group closer to average and help quarterback Justin Herbert avoid major regression in Year 2, as a lot of his rookie success came in unstable areas like pressured passing. The concerns really lie on the defensive side of the ball. Edge defender Joey Bosa and Derwin James are both clearly among the best at their respective positions when healthy, but things look rough outside of those two. The Chargers rank among the bottom five teams in the NFL when it comes to 2020 WAR on their current defense.
---
There's rightful concern with the current outlook of the Eagles roster at the most important positions on the field. They arguably have the worst offensive skill position group in the league, and their crop of cornerbacks outside of Darius Slay needs help. When looking at the three most important positions on the field — quarterback, wide receiver and cornerback — Philadelphia's 2020 WAR generated comes in at -0.2 WAR. That's the worst in the entire NFL by 0.7.
---
There was an argument to be made prior to the start of free agency that the Jets had the worst roster in the NFL. They did have a lot of money to spend, and they clearly seized the opportunity by bringing back safety Marcus Maye and signing wide receiver Corey Davis, edge defender Carl Lawson and safety Lamarcus Joyner. Maye, Davis and Lawson each were among the 15 most valuable players at their respective positions in 2020, and Joyner is being moved back to his natural position of safety. He last played there in 2017 and 2018 when he ranked 10th in PFF WAR at the position. Despite these massive additions, there is a lot of work to be done in the draft. The good news is the Jets have a boatload of capital to use.
---
Draft capital rank: 20th
The Raiders rank 31st in 2020 WAR currently on the roster outside of QB. There are two areas of weakness in particular: the secondary and the offensive line. The Raiders have had one of the worst secondaries in the NFL in each of the three years of the Jon Gruden era. During that time span, they rank dead last among the 32 teams in coverage grade. That's likely not changing in 2021 after they made no major improvements in free agency. The offensive line, which ranked 18th in pass-block grade in 2020, was gutted this offseason by trading away center Rodney Hudson, guard Gabe Jackson and tackle Trent Brown and now desperately needs an infusion of talent.
---
Draft capital rank: 10th
There are numerous areas of concern for Carolina, none more than the offensive line. Right tackle Taylor Moton is one of the better players at the position, but the rest of the group leaves a lot to be desired. That's why they are a prime candidate for generational tackle prospect Penei Sewell with their No. 8 pick. Also, newly acquired quarterback Sam Darnold really isn't much of an upgrade over Teddy Bridgewater. Darnold's passing grades as the Jets starter were 62.9, 64.3 and 52.7 — all lower than Bridgewater's 66.4 mark in 2020.
Jacksonville entered free agency with more money to spend than any other team, but they fell flat. The Jags franchise-tagged tackle Cam Robinson, who ranks dead last among left tackles in PFF grade since entering the league, and handed out a puzzling contract to safety Rayshawn Jenkins. Cornerback Shaquill Griffin is certainly an upgrade, but making him the 11th-highest-paid player at the position on a per-year basis was questionable considering he has just one season with a coverage grade above 65.0 in four years. The good news is that they are about to land the best prospect PFF has ever seen in quarterback Trevor Lawrence, but they have a lot of work to do with the rest of their draft capital.
---
Draft capital rank: 30th
Houston was one of the more interesting teams in free agency, handing out a plethora of cheap one- and two-year deals to veterans. They were essentially screaming "we are rebuilding," which is the correct route. Outside of left tackle Laremy Tunsil, there's nothing to get excited about down in the trenches. Wide receiver Brandin Cooks is fresh off ranking inside the top 25 in receiving grade, but he's the lone reliable receiving threat on the roster. In the secondary, they have an above-average outside corner in Bradley Roby (17th among outside corners in coverage grade in 2020) but a full-blown liability opposite him in Vernon Hargreaves III (sixth-to-last in coverage grade among that same group). There's not enough talent and far too many glaring holes.
---
Detroit comes in dead last in total non-QB WAR on the 2020 roster, and it really isn't close. The team's top two wide receivers — Breshad Perriman and Tyrell Williams — each have only one season with a PFF grade above 70.0 in six years in the NFL. The secondary has some potential but is young, and the early returns have been uninspiring. Their projected outside corners, 2019 fifth-round pick Amani Oruwariye and 2020 first-round pick Jeff Okudah, ranked 91st and 118th, respectively, among qualifying cornerbacks in coverage grade a season ago. There really isn't a position group of great strength, and I wouldn't be surprised if we see them claim the No. 1 overall pick in 2022. Don't be bummed, Detroit fans, this is a fantastic thing for the franchise long-term.
---
More of PFF's 2021 NFL Draft tools here: 
2021 NFL Draft Big Board | 2021 NFL Draft Guide | 2021 NFL Draft Stats Export | NFL Mock Drafts | NFL Mock Draft Simulator