This "dream mock" is something I like to do every year to try to really dig into the best-case scenario for every NFL team that will be picking in the first round. The premise is to find the absolute ideal player who could make a semi-realistic fall into every team's lap — think Derwin James falling all the way to the Los Angeles Chargers at No. 17 or CeeDee Lamb to the Dallas Cowboys at No. 17 last year.
So, with the 2021 NFL Draft just around the corner, here is the dream first-round selection for every team that will pick in the first round.
View PFF's 2021 NFL Draft position rankings:
QB | RB | WR | TE | T | iOL | DI | EDGE | LB | CB | S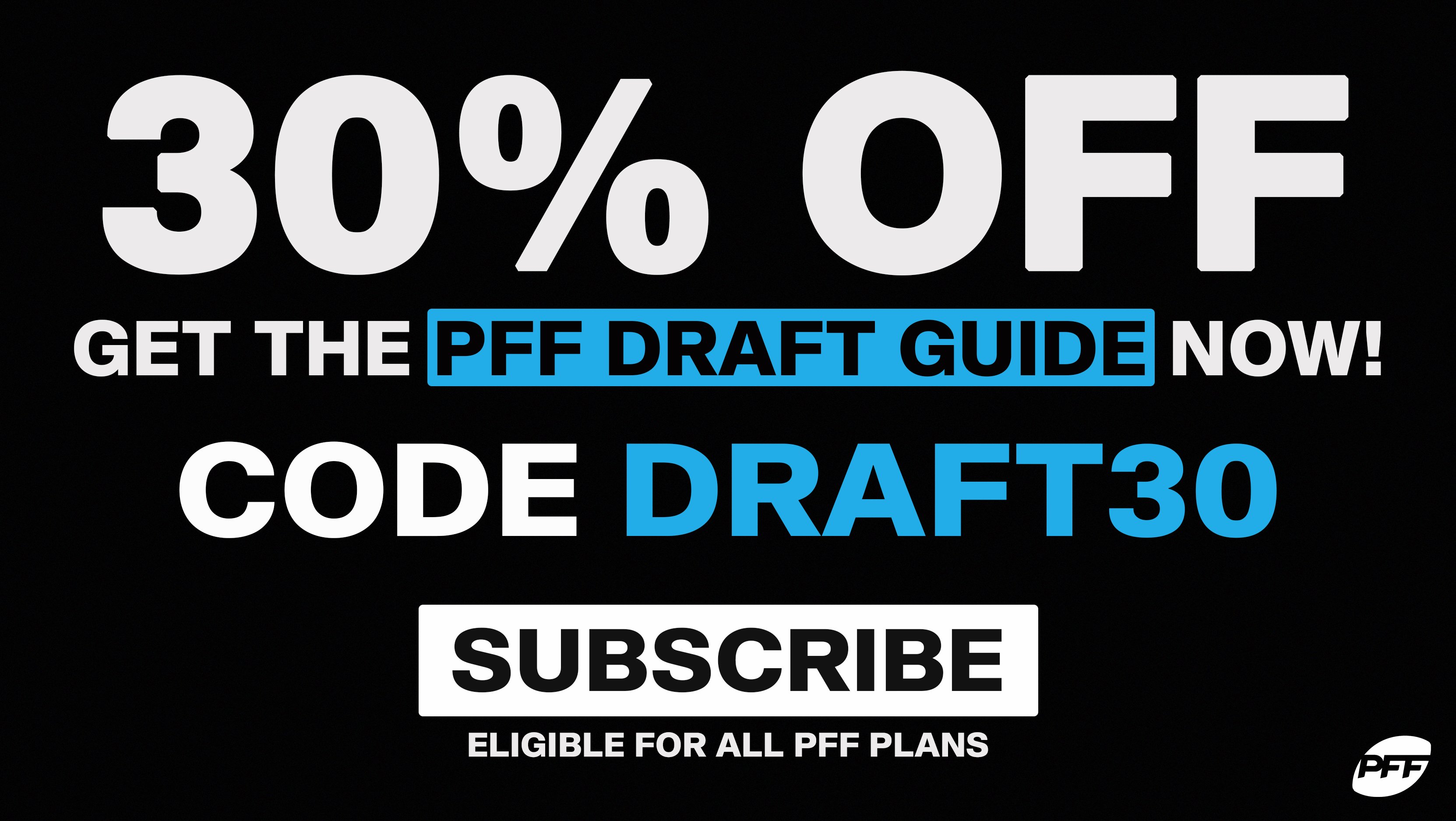 Note: This exercise ignored trade-up scenarios and assumed each team remained at their initial draft spot.
Lawrence is the only quarterback in the PFF College era to grade over 90.0 overall as a true freshman, and he followed that season with two more single-season grades of 90.0-plus. Jacksonville is quite literally in its own dream scenario at Pick 1. Enjoy it, Jags fans.
He's no Trevor Lawrence, but the sky most certainly isn't falling just because the Jets won a couple of games at the end of the 2020 campaign. Wilson earned the highest passing grade in the country last season.
Pick your poison here. Fields is the third-ranked player on the PFF 2021 NFL Draft Big Board, and we've made it no secret that he is who we'd pick at No. 3.
4. Atlanta Falcons: A trade haul to match Miami's
While we won't quite witness the same kind of bidding war that netted Miami two future first-rounders, Atlanta should receive a future first-round pick at the very least, given the quarterback desperation around the league.
After the 49ers at No. 3, this is quite easily the second-most-debated pick in the draft. And honestly, it doesn't even matter, as there's no wrong answer for the Bengals between these three. While there's certainly a choice overload at play that will have Bengals fans closely following the careers of the players they don't pick, Cincinnati is getting an outstanding player here regardless.
This is why the Dolphins flipped back up to No. 6 in the first place. They recognized the true blue-chippers in the draft class and knew one wasn't making it to Pick 12. They'll have whatever the Bengals aren't having.
This is a draft for building blocks. And while it remains a cliché, offensive tackle is 100% a cornerstone position in the NFL. The draft isn't a one-year decision; it can easily be a 10-plus-year decision — and tackles have the longest useful career span of any position after quarterback.
One can't take too many chances at the most valuable position on the football field. If Fields' rumored fall is for real, he'll become the target of yet another swing at a franchise quarterback for a team desperately in need of one.
The Broncos will likely have to move up if they're to come away with a quarterback. If Fields is on the board at No. 4, he's worth moving the draft capital for.
10. Dallas Cowboys: A QB is still on the board and teams want to trade for him
The draft board isn't shaking out all that cleanly for the Cowboys at No. 10 overall. While there should be a receiver worth selecting here, it would be difficult for anyone Dallas drafts to see the field with how strong its receiving corps is. If they're looking on the defensive side of the ball — which is likely, given how the unit played this past season — the difference between sitting at No. 10 and even moving all the way down to No. 20 is minimal in terms of value.
Darius Slayton and Sterling Shepard aren't stopping me from taking the reigning Heisman Trophy winner. Until I see one of those two run a full route tree even close to how well Smith does, I'm willing to make the upgrade to see what I have in quarterback Daniel Jones.
There's no clean fit here, unfortunately. Yes, the Eagles just drafted wide receiver Jalen Reagor in Round 1 last year, but they are also in the same boat as the Giants, where they need to properly evaluate the young quarterback they've committed to. Jaylen Waddle is similar to Reagor in many ways, but Smith would offer a different type of receiver for Jalen Hurts.
It's not sexy, but it fixes what has seemingly been the unfixable position on the Chargers offensive line. Slater's NFL readiness has the potential to take the Chargers from PFF's last-ranked offensive line to the top 10 over one offseason.
This is the absolute floor for Slater, but it would truly be a dream scenario for the Vikings. The Northwestern product would handle himself exceptionally well in the Vikings' outside-zone-heavy scheme and would be just what the doctor ordered in pass protection at any position.
Pats fans remain convinced that they can find a quarterback outside of the first round because they did it once 20 years ago, but after spending all the money they did in free agency this year, the reality is that the Patriots have to do whatever they can to find one via the draft. If Cam Newton balls out in 2021 and New England has to pay him, the team will be hard up against the cap in the coming years.
Waddle is what the Cardinals could only dream of Andy Isabella being. He's the kind of elite deep threat the Cardinals offense was sorely missing last season, and he'd pair nicely with one of the best deep-ball throwers in the NFL.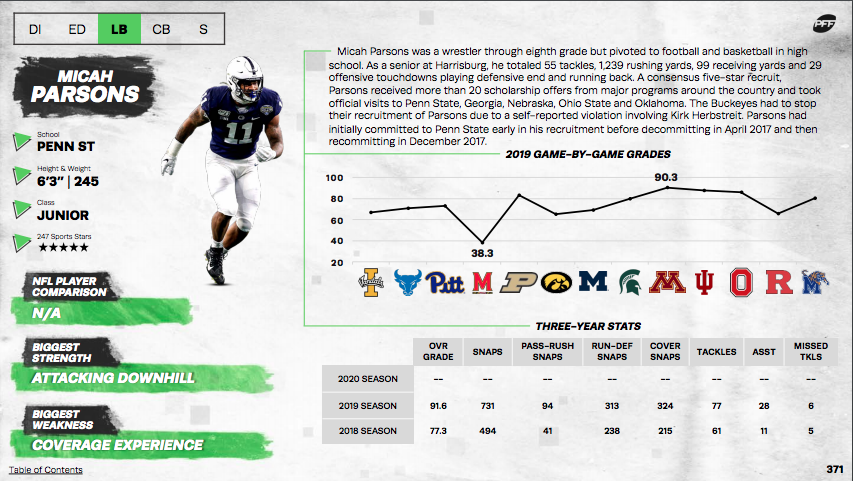 It's no secret that the Raiders need to get more physical on the defensive side of the ball, and you won't find a more physical linebacker in the draft class. Just go check out my linebacker draft class superlatives, an article that was basically just Micah Parsons on repeat.
They'll get their weapon for Tua at No. 6 overall, and now they'll get him some protection. Vera-Tucker has five-position versatility and is the highest-graded pass protector in college football on true pass sets over the past two seasons.
Parsons' documented off-field issues may very well cause him to fall out of the range that a player of his caliber would belong in, and the Football Team's already burgeoning front seven may be the beneficiaries. Add him to the mix with Chase Young, Montez Sweat, Jonathan Allen, Matt Ioannidis and Daron Payne, and opposing offenses would be in trouble.
Standing pat at 20 won't net them any of the top quarterbacks. At that point, they might as well take advantage of the deep tackle class after cutting right tackle Bobby Massie earlier this offseason. Darrisaw was the highest-graded tackle in the Power 5 this past season. He is OT3 on PFF's 2021 NFL Draft Big Board.
Newsome is the perfect zone corner for a zone-heavy team in Indy. He has the length (31 ⅛-inch arms) and speed (4.39-second 40) that the Colts covet for back-end players and the production we like, as well (he allowed 93 yards last season).
NFL Network's Daniel Jeremiah has been doing this much longer than I have, and he said this is the worst defensive tackle class he's seen since he started in 2003. There's one viable candidate in the class, Christian Barmore, and he'd pair nicely with Jeffery Simmons. Barmore graded higher as a pass-rusher this past season (91.5) than any defensive tackle in last year's class.
Newsome will be atop a lot of wishlists at this point in the draft, and I wouldn't be surprised to see someone make a move up for him. Newsome is fairly scheme independent, which means he can seamlessly work in Robert Saleh's Cover 3 defense.
This feels like the floor for Darrisaw, who is almost purpose-built to play on the Steelers' line. He moves people off the line of scrimmage with such ease on tape at 6-foot-5, 322 pounds, that it's hard not to see him being a value add in the run game early on.
There really isn't much in the way of a "dream" scenario for the Jaguars here. With where they are as a roster right now, they simply can't afford to be picky with positions or prospects. That means true B.V.A. (best value available).
The Browns have done extremely well in free agency to leave themselves need-less come draft day. That means they can prioritize scarce talents, which JOK certainly qualifies as. You won't find linebackers who can move and cover like him outside of Round 1.
No team in the NFL has a better track record of developing edge talent than the Ravens. Paye also possesses perfect developmental tools for their scheme, with his ability to corner and play with power on the edge. He's reportedly run a sub-6.5-second three-cone in the past and did 36 bench reps at his pro day.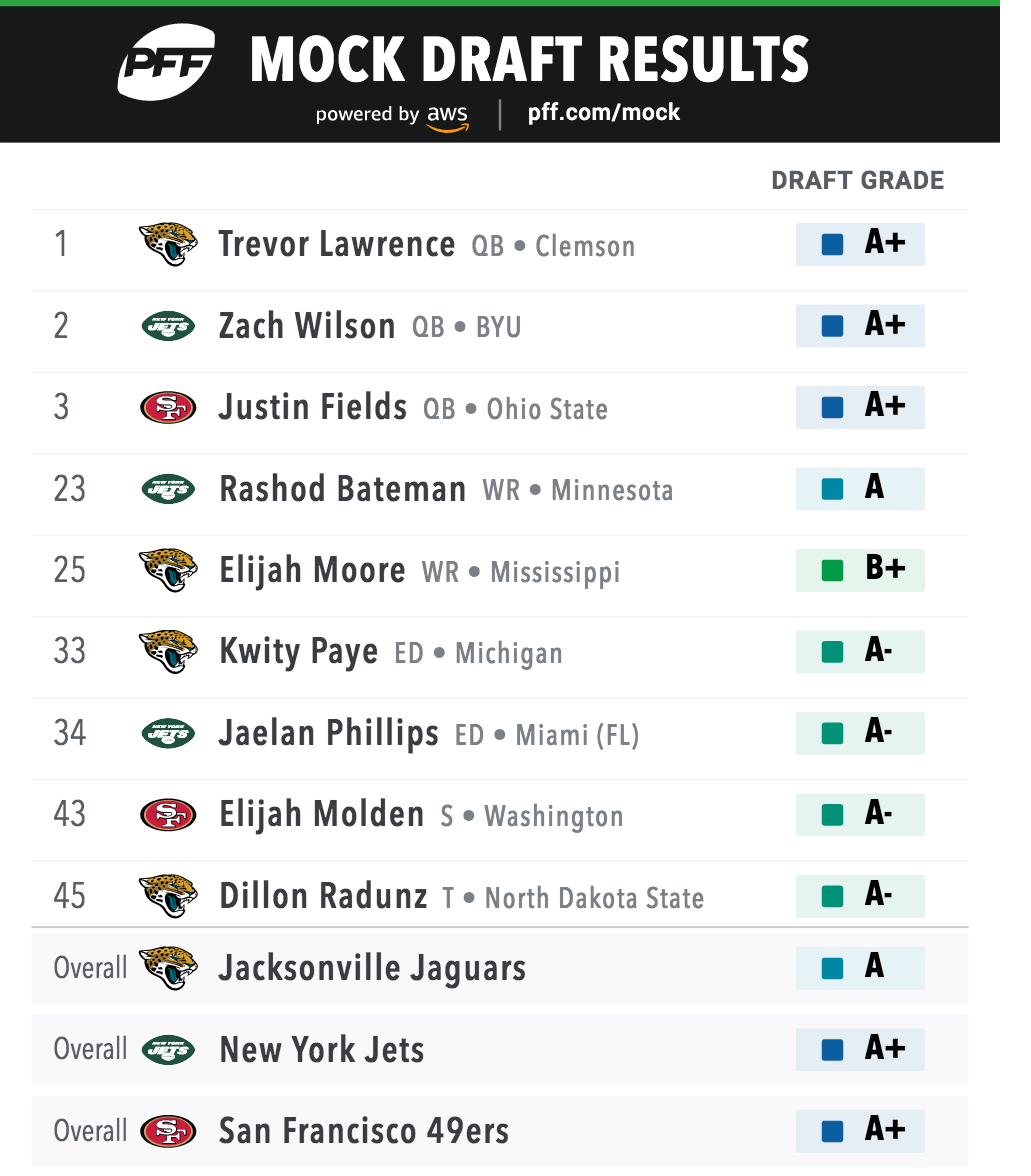 After standing as PFF's CB1 for much of draft season, Farley is likely to fall come draft day after undergoing his second back surgery just a few weeks ago. While that's not something many teams will be willing to take a chance on, the Saints are still living in win-now mode.
Bateman is an NFL-ready route-runner with high-level ball skills and YAC ability. Sign me up. Of course, that means it will never actually happen, given the Packers' recent philosophy toward the receiver position. Bateman fits the exact profile the Packers have coveted at the position over the Wolf-Thompson eras.
Jenkins is a road-grading right tackle who earned a 93.6 run-blocking grade this past year. That'll help their run game a heck of a lot more than any back they draft here. Jenkins can kick inside to guard to try to neutralize Chris Jones in the playoffs and then take on the role of tackle-in-waiting.
Same as the above, as both teams could use versatile, NFL-ready offensive linemen. Martinas Rankin, Lucas Niang, Mike Remmers and Prince Tega-Wanogho are the only tackles currently on the Chiefs roster, so they are pretty much pigeonholed into tackle here.
Phillips' career arc is well documented at this point. He was a former five-star recruit, was forced to retire by UCLA because of concussions, took a year away from football and then balled out with an 86.6 overall grade this past season. That medical history could have some teams shy away early on, but the Bucs are all-in for the next couple of years and could take a chance on a player with his background.
---
More of PFF's 2021 NFL Draft tools here: 
2021 NFL Draft Big Board | 2021 NFL Draft Guide | 2021 NFL Draft Stats Export | NFL Mock Drafts | NFL Mock Draft Simulator