The official drop of the NFL's Pro Bowl rosters for the 2021 season is right around the corner, so it's time for PFF to release its opinion on the hotly-contested debate.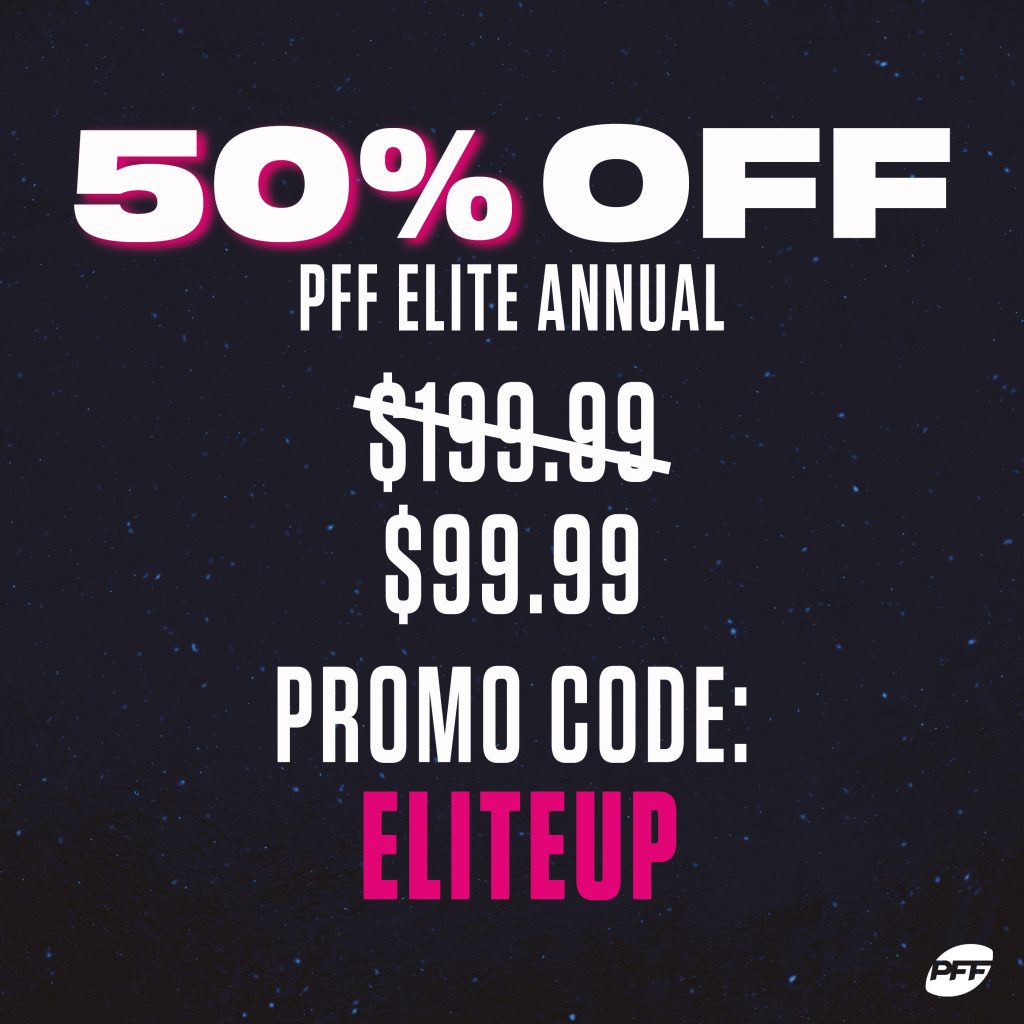 Click here for more PFF tools:
Rankings & Projections | WR/CB Matchup Chart | NFL & NCAA Betting Dashboards | NFL Player Props tool | NFL & NCAA Power Rankings
---
Below you will find PFF's selections for the NFC and AFC Pro Bowl rosters based on a bevy of metrics, including PFF grade, PFF WAR and many more (subscribe today for access). 
The actual Pro Bowl rosters use improper position designations on the ballot, so we went ahead and used the correct groupings by selecting from edge defenders, interior defensive linemen and off-ball linebackers to give credit where it's actually due. 
Enjoy!
NFC
Quarterback
Yes, Brady is coming off a poor performance in Week 15 on Sunday Night Football that ended in zero points and a 47.6 PFF grade, but it is just one of a few bad outings from his 2020 season. In fact, it was over 15 grading points lower than his next worst. His 90.0 PFF grade still ranks No. 2 in the NFL and when it comes to PFF WAR, Brady still holds the top spot. The "Brady for MVP" campaign took a big hit this past weekend, but it's still very much alive.
Running Back
One of the biggest breakout players of the 2021 season is none other than Patterson, who is in his ninth season in the NFL. Patterson has always been considered an elite kick returner but has struggled to consistently find a role on the offense. In his first year in Atlanta, Patterson has finally done so, as he has moved to the backfield. Over half of his snaps have come in the backfield this year, and he's earned an 86.0 PFF grade overall. Patterson's receiving grade is even better at 91.8.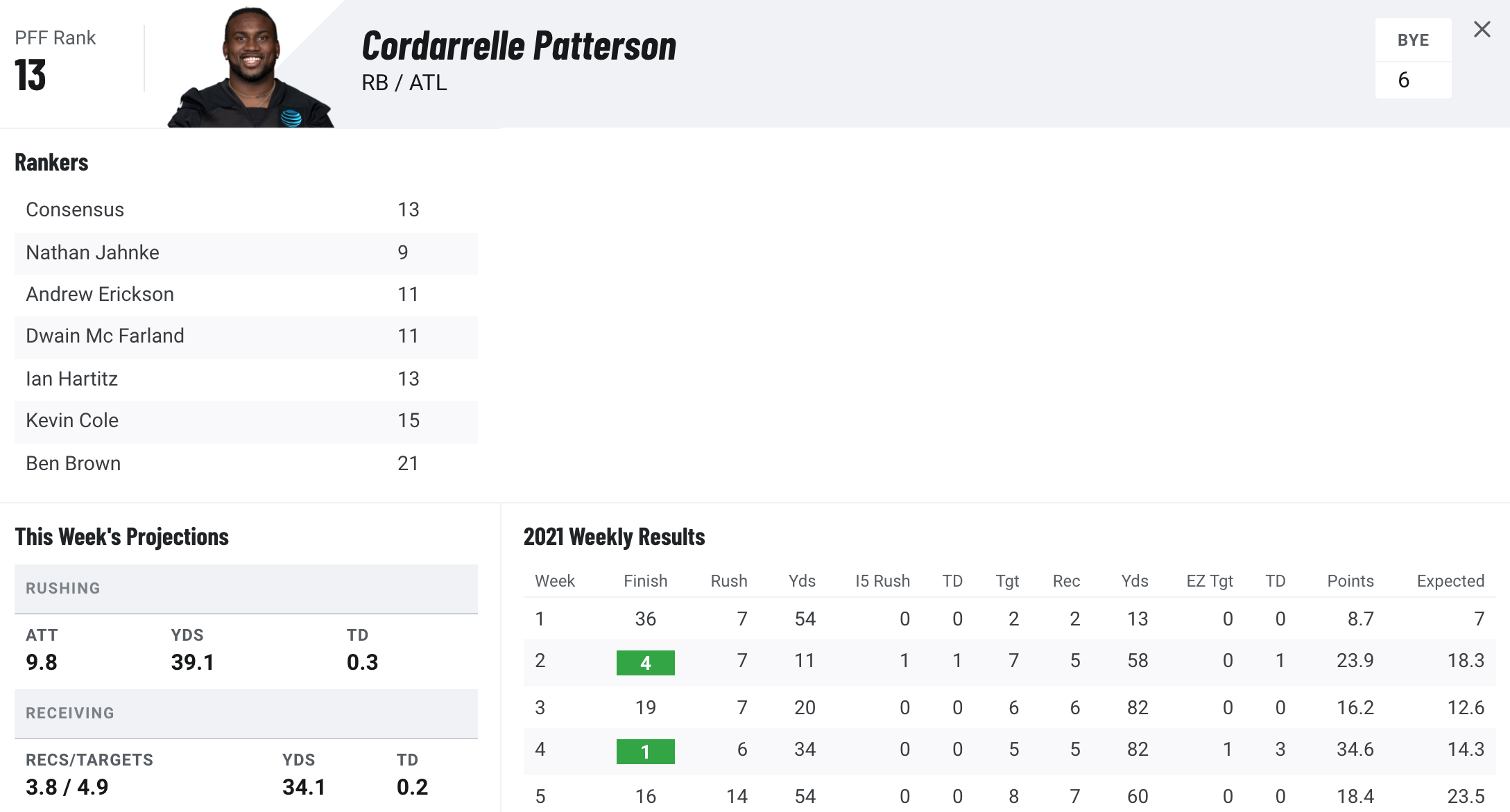 Fullback
Juszczyk has been a reliable blocker and the most productive receiving fullback in the NFL. His 14 first down receptions this season are tied for 14th among all running backs and nine more than the next fullback.
Wide Receiver
The NFC has dominated the wide receiver position this year with eight of the 10 highest-graded players at the position. These four were the most deserving of Pro Bowl honors in PFF's eyes. It shouldn't be a surprise to see arguably the two best wide receivers against single coverage in the NFL — Adams and Jefferson — on this list along with Kupp — the top slot receiver in the NFL and engine of the L.A. Rams offense.
Samuel, however, has been a big riser since the start of 2021. He is the biggest yards after the catch (YAC) threat in the NFL with a league-leading 9.5 yards after catch per reception and is an explosive play waiting to happen. Samuel ranks seventh in the NFL in the percentage of targets that result in a 15-plus yard gain (29%) and is tied for second in 20-plus yard touchdown runs with three.
Tight End
Kittle has been on fire over the last few weeks, skyrocketing to the No. 1 PFF grade among NFL tight ends. Just like always, Kittle has been a tough man to bring down in an open field. The 49ers tight end ranks top five in both yards after catch per reception (7.0) and broken tackles (18).
Offensive Tackle
Williams is currently having the best season PFF has ever seen, regardless of position. His 98.5 PFF grade through Week 15 is the highest in the database since grading began in 2006. Williams has produced 14 big-time run blocks this season — five more than any other tackle.
Offensive Guard
Martin battled a concussion and season-ending calf injury in 2020, but he has had no returning to his elite form in 2021. His 93.7 PFF grade is tied for first among guards this season and is on pace to be the highest of his career.
Center
Thirty-four-year-old Kelce is in the midst of a bounce-back season after a down year in 2020. His 84.7 PFF grade is the second-highest at the position through Week 15.
While Kelce is bouncing back, Allen is breaking out. He has grown his PFF grade year-over-year by nearly 20 points this season. He still isn't the best in pass protection, but his run-blocking has been some of the best at the position. His 85.6 run-blocking grade is third among NFL centers.
Interior Defensive Line
He may not win the NFL's Defensive Player of the Year award, but Donald has been the best defensive player of the 2021 season. Donald's 93.9 PFF grade is the highest for a defender in 2021. He has generated 0.83 WAR this season, which is 0.25 WAR more than any other defender in the league. The world has become numb to Donald's dominance but not PFF.
Edge Defender
Bosa has been on a warpath in 2021 after missing almost all of 2020 due to a torn ACL. Bosa has earned a 90.3 pass-rush grade this year while racking up 30 combined sacks and hits on opposing quarterbacks. The latter is tied for the most in the NFL.
Linebacker
Parsons has been a rookie sensation in 2021. The 12th overall pick in the 2021 NFL Draft has long been touted as a versatile defensive weapon, as he's seamlessly gone from off-ball linebacker to the edge defender and is playing both positions at a high level. Parsons has earned a 92.7 pass-rush grade this season — the second-highest regardless of position, behind only Myles Garrett — while ranking eighth among off-ball linebackers in yards per coverage snap allowed (0.73).
Cornerback
Terrell is in the conversation for most improved player in the NFL this season. The 2020 first-round pick has improved his PFF coverage grade over 33 points year-over-year from 57.0 (71st) in 2020 to 90.2 (first) in 2021. The most yards Terrell has allowed in a single game this season is 32. He's allowed the fewest yards per coverage snap in the NFL this season (0.33) while ranking third in forced incompletion rate (21.1%).
Safety
Winfield has quickly approached All-Pro play. The 2020 second-round pick is the second-highest-graded safety in the NFL this season, as he's been responsible for zero touchdowns in coverage this season while intercepting two passes and breaking up four others.
Special Teams

AFC
Quarterback
Any Burrow versus Herbert debate needs to be put to rest because it's looking like both teams hit home runs! Those two quarterbacks are among the three highest-graded quarterbacks in the NFL through Week 15. Burrow and Herbert are actually on their way to being the third and fourth highest-graded second-year quarterbacks in the PFF era (since 2006), behind only Patrick Mahomes in 2018 and Lamar Jackson in 2019.
Running Back
Taylor is the most valuable running back in the NFL, per PFF WAR, and it's not particularly close. He's been a workhorse back with an NFL-high 270 carries. Despite that, he still leads the league in percentage of carries that result in a first down or touchdown at 34.1%.
Fullback
Only four fullbacks have logged over 100 snaps thus far in the 2021 season, but Ricard is the highest-graded of the bunch. A big reason for that has been his blocking. Across 291 run-block snaps, Ricard has earned an 88.1 run-blocking grade.
Wide Receiver
Hill may not be putting up the kind of deep receiving numbers that we have grown accustomed to, but he's still been one of the top pass-catchers of the 2021 season, as evidenced by his 87.9 PFF grade that ranks fourth in the NFL. He's picked up the second-most first downs in the league with 69.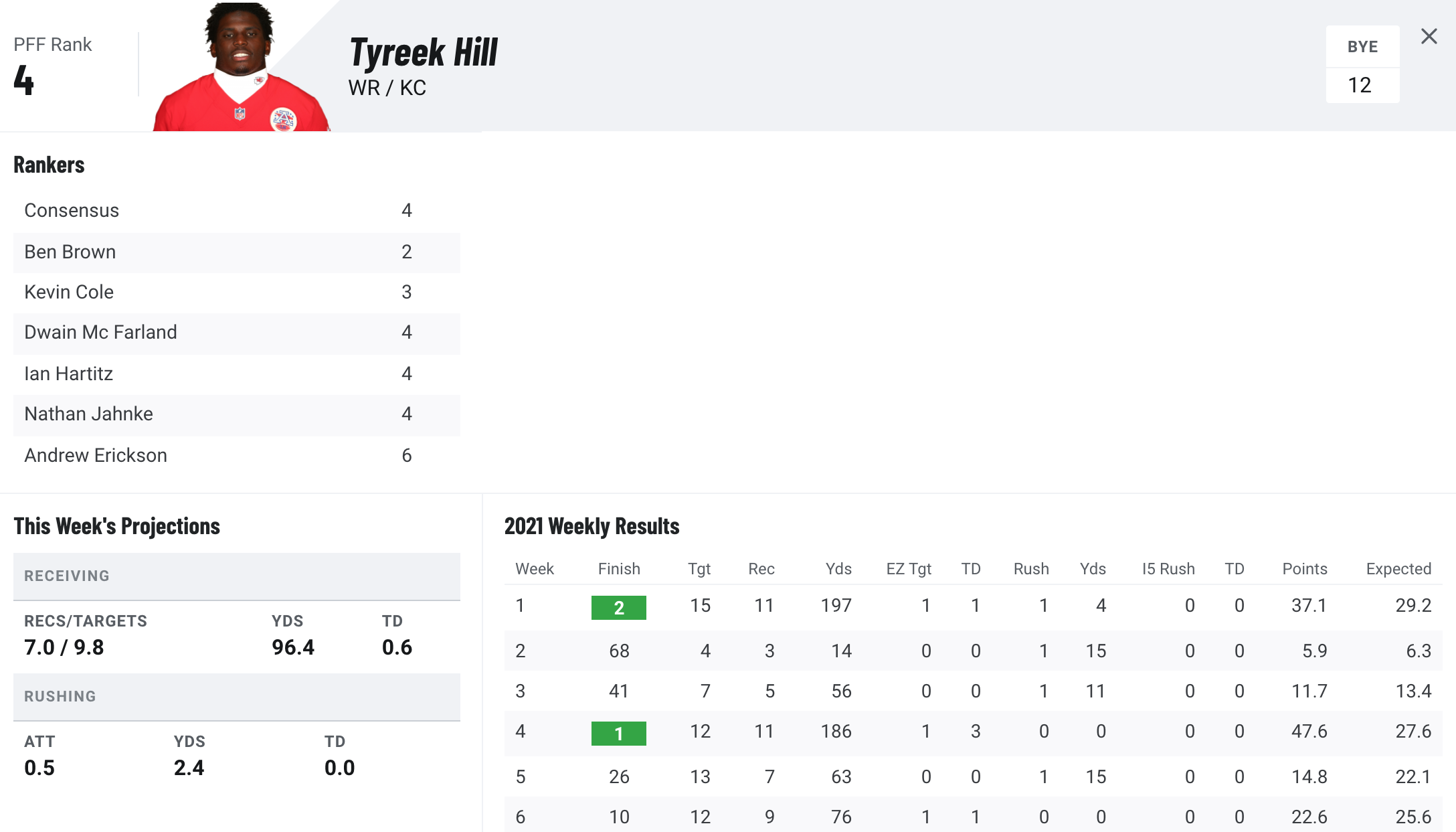 Tight End
Kelce has thrived this season despite working less downfield than in the past. He trails only Kittle for the highest receiving grade among NFL pass-catchers when targeted nine yards or less downfield. 
Offensive Tackle
Slater has been playing at a rare level for a rookie left tackle. He currently owns a 79.9 pass-block grade and 4% pressure rate for the 2021 season — both of which are on pace to be one of the five highest marks by a rookie left tackle in the last decade.
Offensive Guard
There hasn't been a better guard tandem in the NFL this season than Cleveland's Bitonio and Teller. Those two have given the Browns the highest-graded guard tandem in the league by over six grading points. Teller has been the nastiest run-blocking guard, recording a position-leading 14 big-time run-blocks, while Bitonio has been the cleanest, ranking top three in both pressure rate allowed and negatively graded run-block rate.
Center
Humphrey is making history in his rookie campaign. Not only does his 90.4 PFF grade lead all centers for 2021, but it also leads all rookie centers in the PFF era by multiple points. 
Linsley, meanwhile, is living up to expectations after being signed for a fat contract this last offseason. Linsley — who was 2020's highest-graded center — is one of 2021's three highest-graded centers.
Interior Defensive Line
Kansas City tried Jones out on the edge to start 2021, but his dominance declined, which prompted them to move Jones back to the inside mid-year. And Jones has returned to elite status, as he has earned a 90.1 PFF grade this season when lined up over or inside the tackle.
Edge Defender
These four edge defenders are the four best in the NFL when it comes to rushing the passer, as they rank first, second, third and fourth at the position in individual pass-rush grade through Week 15. The player who entered 2021 without a Pro Bowl-caliber season to their name was Crosby, who grew his PFF grade over 33 points year-over-year and is the second-most valuable defender in the league, behind only Donald.
---
Related content for you
Grading all 32 first-round picks after Week 15 of the 2021 NFL season
via Sam Monson
---
Linebacker
Owusu-Koramoah has certified himself as a draft steal. The second-round rookie has been a weapon against the pass this season, as he's allowed only six first downs or touchdowns in coverage while racking up seven passing stops and four forced incompletions. As a pass-rusher, JOK has produced 10 pressures from 43 pass-rush reps.
Cornerback
How about that Raiders cornerback duo? After multiple years of bottom-tier coverage play, the Raiders have vastly improved in that facet thanks to Hobbs and Hayward Jr.'s performance in Gus Bradley's single-high defense. Both Hobbs and Hayward rank among the eight most valuable cornerbacks in the NFL this year, according to PFF WAR.
Safety
Byard has been the league's best safety this year. He leads the position in PFF grade and has provided sound play against the run and pass while being one of the best tacklers. Byard has earned an 83.5 run-defense grade and 90.5 coverage grade. He's missed just four tackles on 75 attempts, forming a 5.3% missed tackle rate. 
Holland has been one of the top rookies of the 2021 season. He's actually the second-most valuable safety and fifth-most valuable rookie in the NFL this year, according to PFF WAR.
Special Teams