The PFF50 is finally here.
One of the benefits of watching and grading every player on every play of the NFL season is the unrivaled ability to compare players with the help of the largest football database on the planet. Rankings season has been underway for quite some time over at PFF.com, with everything from the best players at each position to the league's best position groups, but now it's time to throw some love at the best of the best. Today, we start presenting the top 50 players in the league heading into the 2021 season.
The ranking below is a projection of what we think will happen and not necessarily a reaction to a spectacular or underwhelming 2020 season. Additionally, positional value is not considered here, so safeties, guards and even running backs have just as good a chance to rank highly as quarterbacks, who would dominate the list if positional value was heavily factored.
No matter how good you think Donald is, you're probably underselling it. The Los Angeles Rams star is an outlier the likes of which we haven't seen in 15 years of grading at the NFL level. He is a unicorn in a league full of physical freaks and talented superstars.
Donald led the league in total pressures last season with 98, the third time in four seasons he has led the league in that category. He is the only full-time interior defender we have ever seen lead the league in pressure, since J.J. Watt played more snaps on the edge than the interior in the two seasons he led the league in pressure. Donald's biggest perceived weakness is the run game, but he has been the best-graded interior lineman against the run over the last three seasons.
Mahomes is just different. He attempts and completes passes that no other quarterback in the game can even think about, and he regularly adds even more freakish plays to that repertoire. Including the postseason, Mahomes has compiled the highest PFF passing grade of any quarterback since he became the starter in Kansas City, and nobody has more than the 137 big-time throws the Chiefs superstar has recorded over that span.
Mahomes is a great example of a player for whom the eye test really does match up with just how talented he is. It took a complete collapse by a backup offensive line in the Super Bowl to keep him from winning back-to-back championships by the age of 25.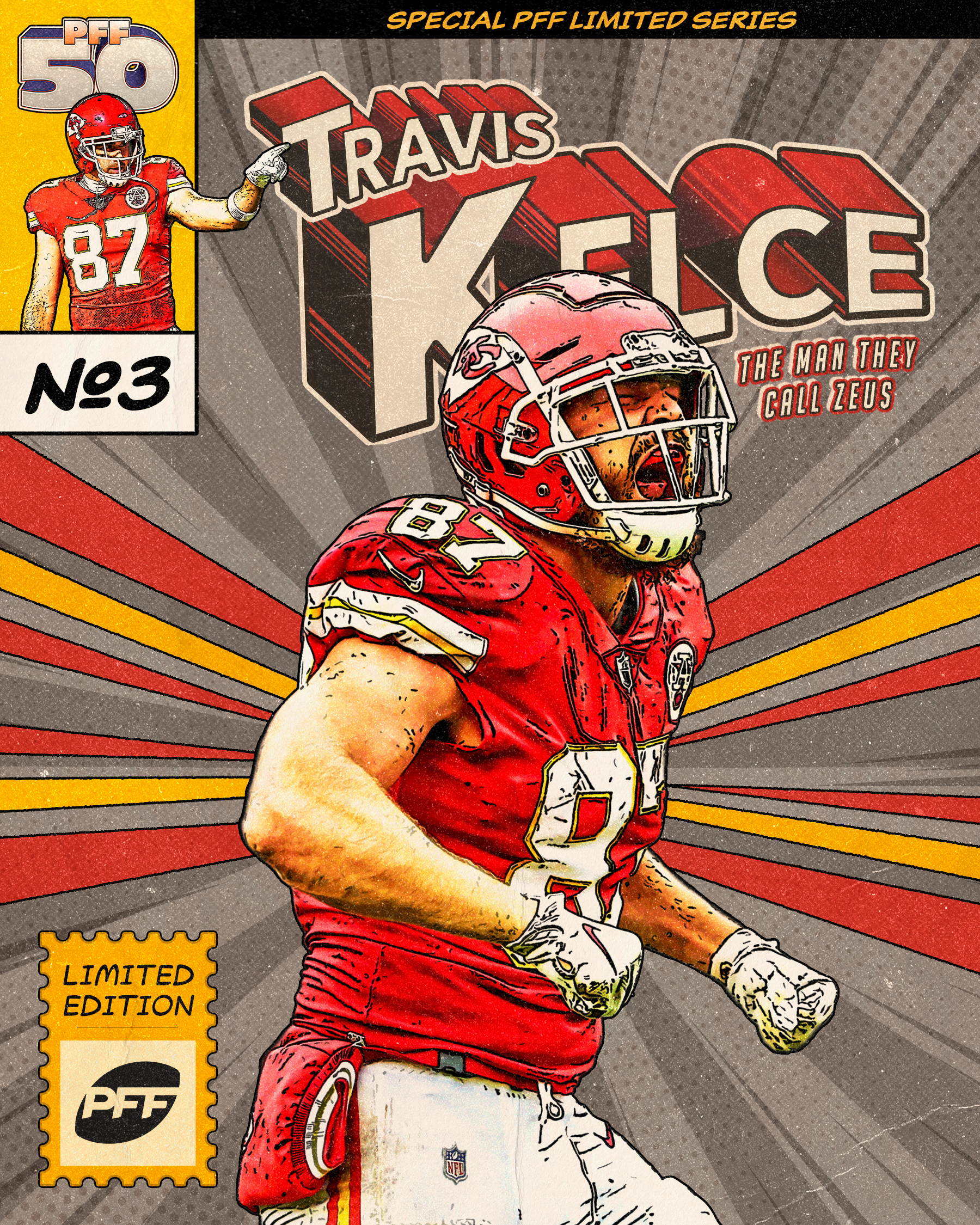 Kelce was nigh-on impossible to cover last season, finishing just short of the league lead in receiving yards regardless of position during the regular season.
The 6-foot-5, 260-pound tight end then set about laying waste to all in his path during a postseason where opposing defenses lined up every possible player to cover him, with even elite cover corners like Denzel Ward ending up on the turf as Kelce glided into the end zone for a touchdown. He is one of the most unguardable players in the game at any position, a true matchup nightmare for opposing defenses.
According to PFF WAR, Nelson was the most valuable offensive lineman in the NFL last season. And the season before that.
Nelson plays offensive guard, a significantly less valuable position than tackle, but that tells you just how good he is at his current position. Nelson has now allowed just three sacks in his three NFL seasons and finished 2020 with 15 total pressures allowed across the full regular season and wild-card game. If anything, Nelson is an even better run-blocker, making him one of the best players in the game, period.
No receiver was as productive on a per snap basis as Adams was in 2020. Very few were even particularly close, as his 2.96 yards per route run was 0.3 more than the next-best receiver.
Adams caught 78.8% of the passes thrown his way with just one drop all season — the other incompletions were off-target throws, pass breakups or other incompletions. Adams is one of the best route-runners in the game but showed last season that he could make the same claim about virtually all other aspects of the position.
Mack was once again the highest-graded edge defender in the NFL last season, finishing the campaign with an overall PFF grade of 92.3. Only Mack and T.J. Watt finished the year with PFF grades above 90.0 in run defense and as a pass-rusher.
For Mack, it was his fifth PFF grade above 90.0 in seven years at the NFL level, with the other two seeing him slip only to the level of 86.0. He recorded 59 total pressures, including the playoffs.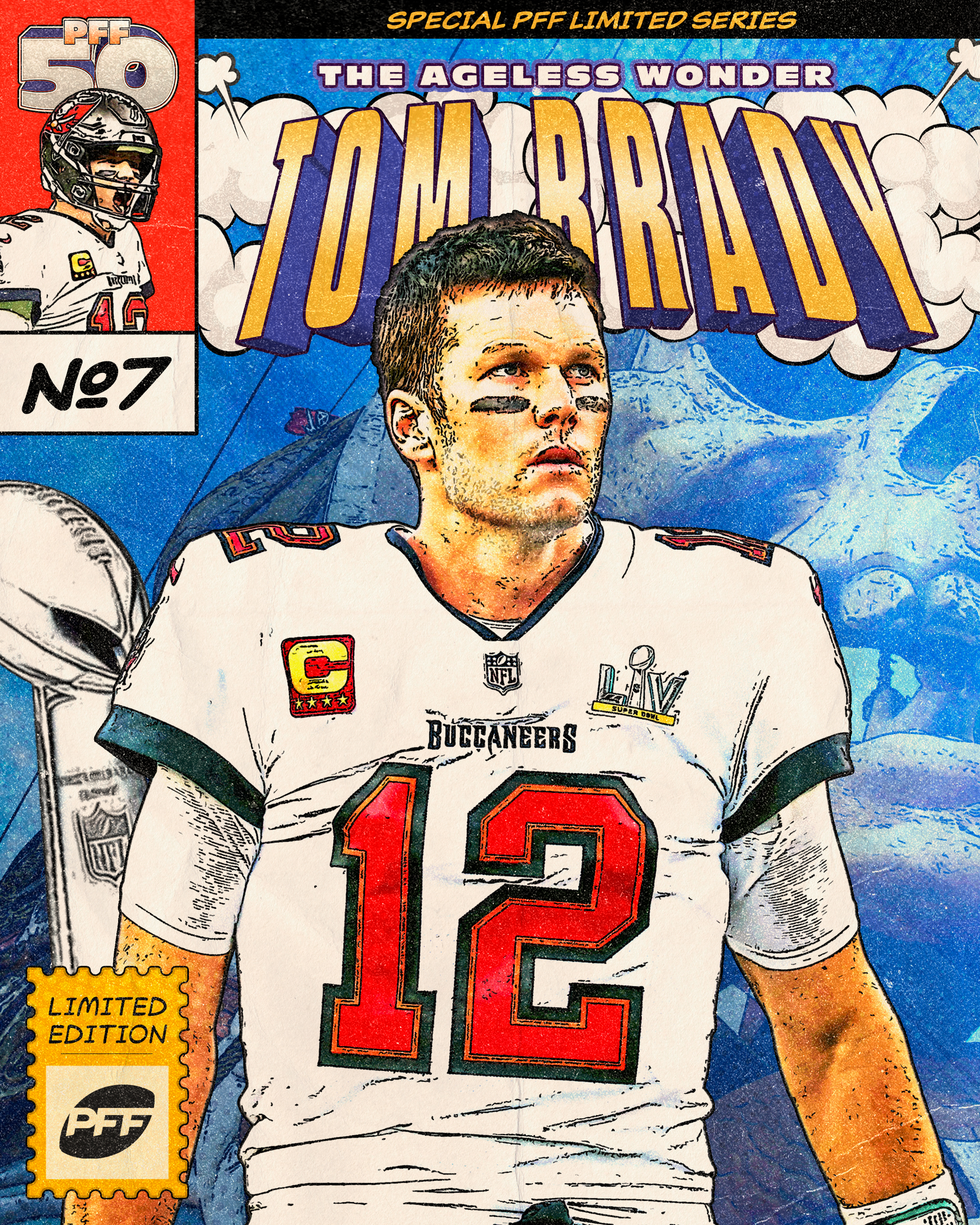 Brady and Jerry Rice are seemingly the only football players who have ever managed to thoroughly evade Father Time. At 43 years of age, Brady posted a PFF grade of 93.3 last season, including the playoffs.
The seven-time Super Bowl champion did this in his first season with a completely new team and brand new offensive scheme for the first time in two decades, with no preseason to work through the issues that would usually present. Brady is still as good as any quarterback in the game; the only question is how long he can keep defying time.
Seattle's defensive scheme has asked more and more of Bobby Wagner as the players around him get worse, but he continues to answer the call and excel in all areas of the position.
The veteran linebacker notched 23 total pressures on the blitz last year but also broke up seven passes in coverage and racked up a massive 61 defensive stops. Wagner has been the class of the linebacker position for years and will only look better if Seattle can reinject talent around him.
Injuries limited Kittle to just 443 snaps in 2020, but he posted the highest single-season PFF grade we have ever seen from a tight end (94.4 overall) the season before that.
PFF has captured the entirety of Rob Gronkowski's Hall of Fame career, but Kittle bettered every single season of Gronk's storied career on a play-by-play basis last year, according to that grading. He is one of the most dynamic receivers in the game, but like Gronk, he can also be an impact player as a run-blocker, which differentiates him from most tight ends in the league.
Rodgers would have been slipping down this list a season ago, but perhaps motivated by the team drafting his successor, he not only went out and had the best season of his career but put on one of the best single-season performances we have ever seen at the position.
Rodgers led the NFL with a PFF passing grade of 94.3. He came away with 48 touchdowns along with the highest big-time throw rate in the league (7.7%), with just five interceptions and the second-lowest turnover-worthy play rate (2.0%, behind only Tom Brady at 1.8%) working against him.
Watt has been right on the verge of Defensive Player of the Year levels over the last two seasons and may well have won one by now if not for the perennially absurd play of Aaron Donald. Over that same period, Watt has earned the highest overall PFF grade among all edge rushers (92.6) as well as the best pass-rushing grade (92.2). He leads all edge rushers with 12 batted passes and even has three interceptions to his name. Watt has become a dominant force on the edge for Pittsburgh and consistently looks to be one of the very best players in the league.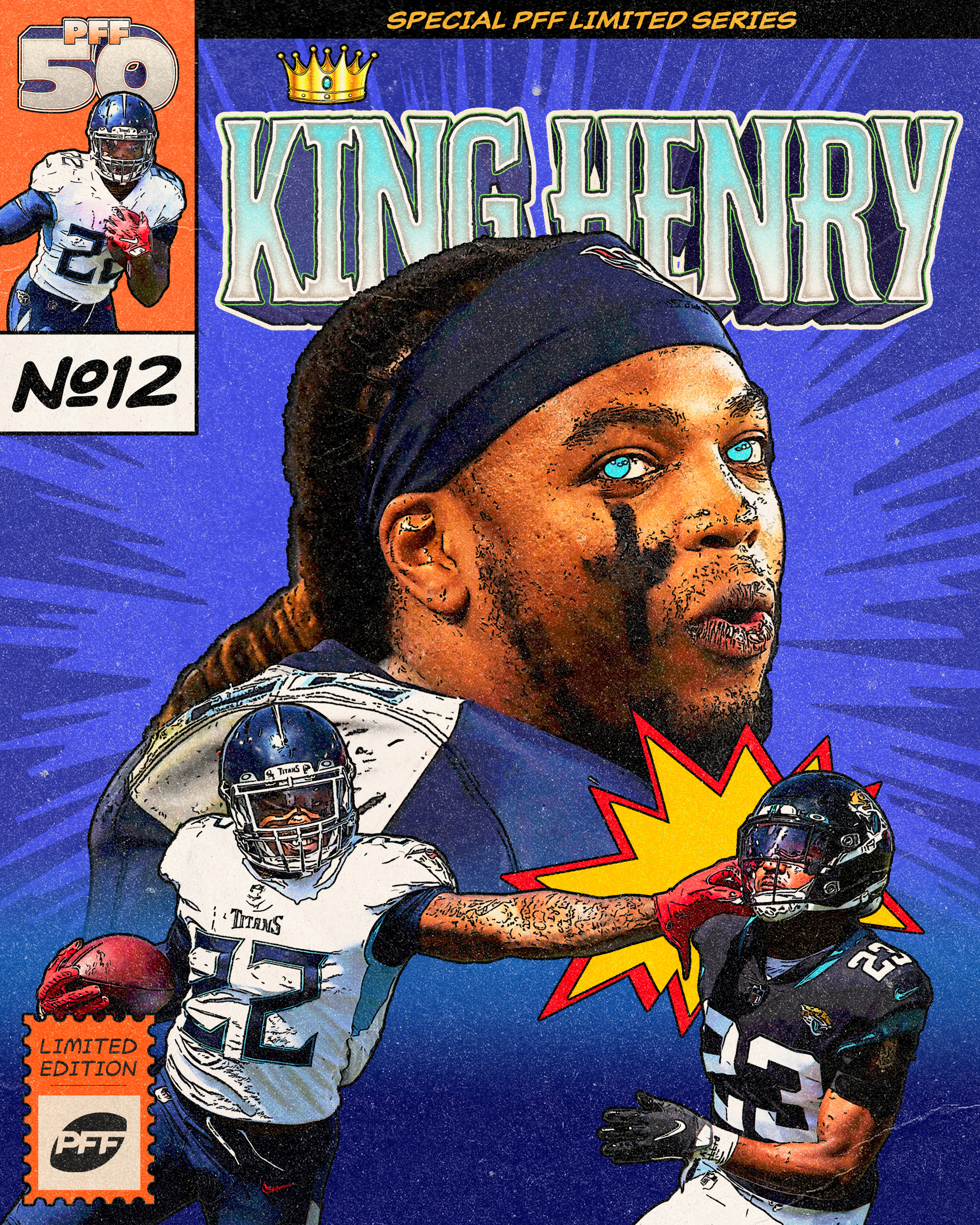 Over the last two seasons, Henry has been on a one-man mission to prove that running backs do matter, and it's tough to argue with what he's done. He has piled up more yards after contact over that time (2,758) than any other running back has in total rushing yards (Dalvin Cook has 2,692 total rushing yards). Henry also leads the league with 133 broken tackles since 2019 and has averaged 3.7 yards after contact per carry in the playoffs.
The Dallas offensive line fell apart last season, but Martin was still playing his best football right up until getting injured, even when he kicked out to right tackle. Martin earned a PFF overall grade of 91.3 at the time of his injury, allowing just 13 total pressures across 10 games. He has now allowed just one sack in two years for the Cowboys.
Alexander was the best cornerback in the NFL last season. He surrendered 20 or fewer yards in coverage 11 times during the season, including the playoffs, and he was beaten for a passer rating of just 54.3 on the year. Alexander also ran a gauntlet of some elite receivers and still earned the highest PFF coverage grade in the NFL. The only game in which he allowed more than four catches came against Chicago in Week 12, when Mitchell Trubisky dropped back to pass 50 times and Alexander was targeted 10 times, allowing five catches for just 47 yards.
The Packers left tackle has been the gold standard in pass blocking at the position since the retirement of future Hall of Famer Joe Thomas. Bakhtiari has generated PFF pass-blocking grades of at least 91.6 in four of the past five seasons despite blocking for a quarterback who typically holds the ball longer than most. This past year, he allowed just nine total pressures in the 12 games he played.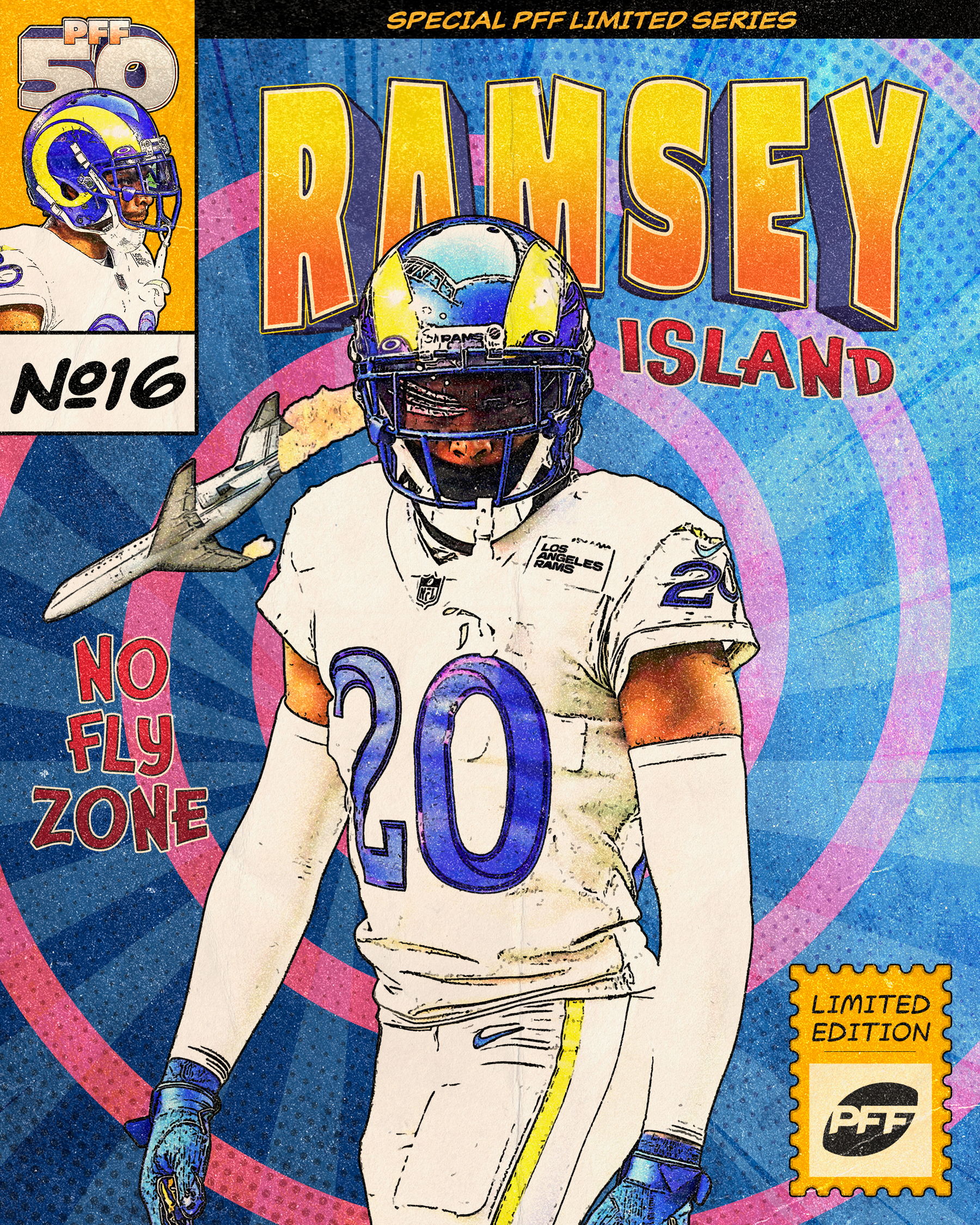 Ramsey allowed 11 or fewer receiving yards in eight games last season. In three more, he allowed just 22 yards over the game despite facing the opposing offense's No. 1 receiver more often than not and allowing the rest of the Rams secondary to concentrate on the lesser receiving threats. Ramsey is a game-changer in coverage who makes an entire secondary better because of the knock-on effect of the easier assignments he creates for others.
New team. New quarterback. Same old dominant performances from DeAndre Hopkins. His signature play was a phenomenal catch on a Hail Mary where he outjumped multiple defenders to come down with an improbable touchdown, but Hopkins was also the second-leading receiver in the league in terms of yardage and generated 2.25 yards per route run despite a very predictable alignment pattern and an average depth of target of just 9.0 yards.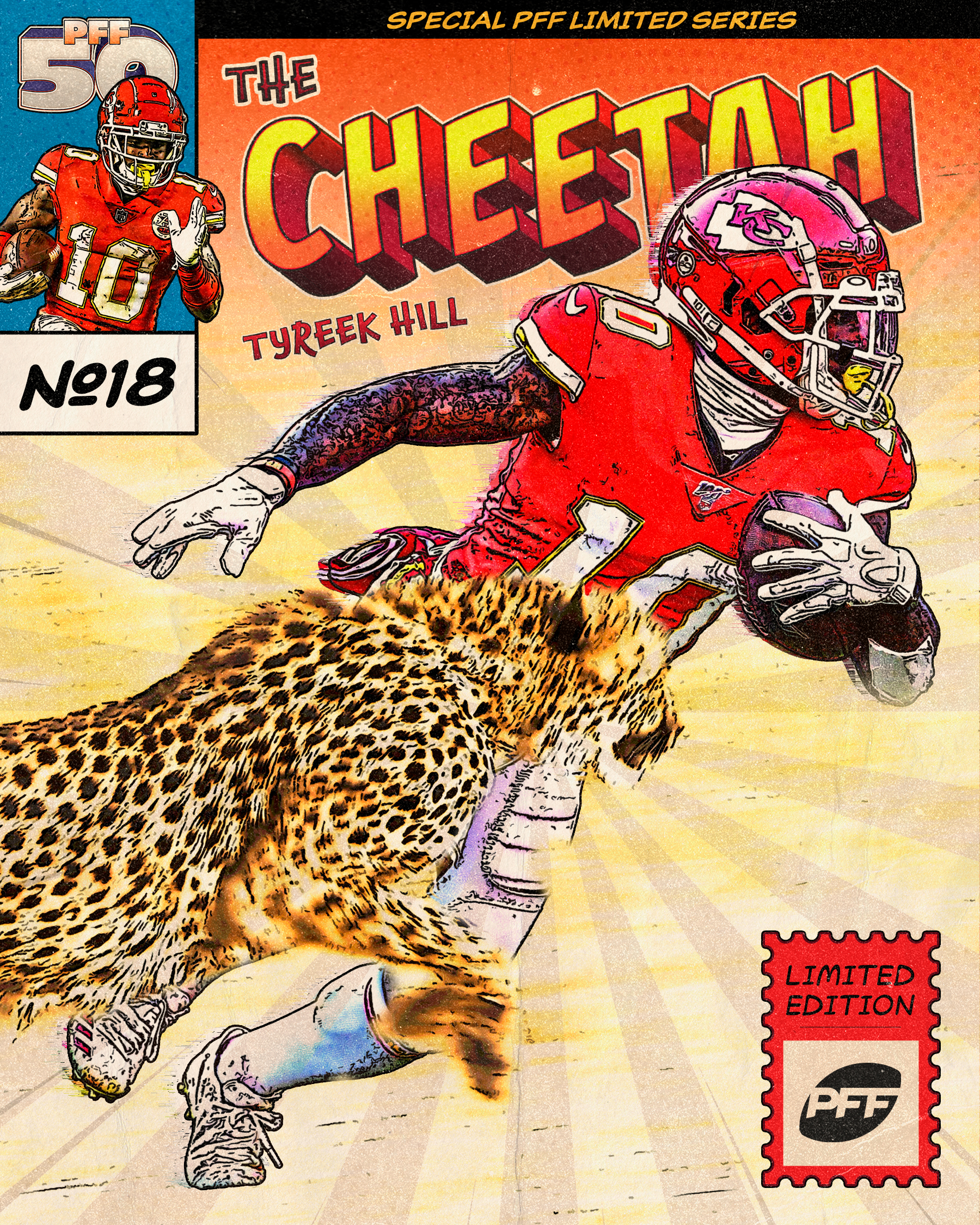 There may not be a more dangerous playmaker in football than Hill, a player with an unrivaled combination of speed and quickness. The Chiefs wideout is a threat to break off a big play and score a touchdown every single time he lines up on offense, and he changes games whether the ball comes his way on the play or not. Hill led all receivers last season with eight touchdown catches on deep (20-plus air yards) targets, two more than any other wideout.
Aaron Donald isn't just the best interior defensive lineman in the NFL. He is one of the best defenders the game has ever seen. The competition to be the next-best at that position is a fierce one, however, and Chris Jones has as good a case as anybody. Over the last three seasons, Jones has the second-best PFF pass-rushing grade at the position (trailing Donald, obviously) and is just two total pressures behind Fletcher Cox for second-best. Jones has also had some of his best games on the biggest stage, including the Super Bowl.
Fred Warner was the No. 1-graded linebacker in the NFL last season and topped the PFF list of the top 25 players under 25 thanks to his elite playmaking ability in coverage. Warner played the college "overhang" linebacker role at BYU, a kind of hybrid linebacker/slot corner, and has been a huge success in translating that experience into conventional NFL defenses, becoming one of the most complete linebackers around and anchoring that 49ers defense.
Bosa has earned a PFF pass-rushing grade above 90.0 in three of the past four seasons and enters a season in which he will be playing for one of the hottest defensive minds in the game in new Chargers head coach Brandon Staley. Staley developed the league's best defense with the Rams last year and will hope to replicate that with the Chargers in 2021. Bosa and his dominant play against run or pass, lined up inside or out, should be a big part of that.
Since the start of the 2018 season, the only active quarterback with a higher overall PFF grade than Wilson is Patrick Mahomes. Wilson's season unraveled pretty quickly down the stretch last year, but before that point, he was the front-runner for MVP and had been playing at an incredibly high level for a couple of years. Wilson has the highest big-time throw rate in the league over the last three years at 7.9%, and only Aaron Rodgers has a lower turnover-worthy play rate than Wilson's 2.3%.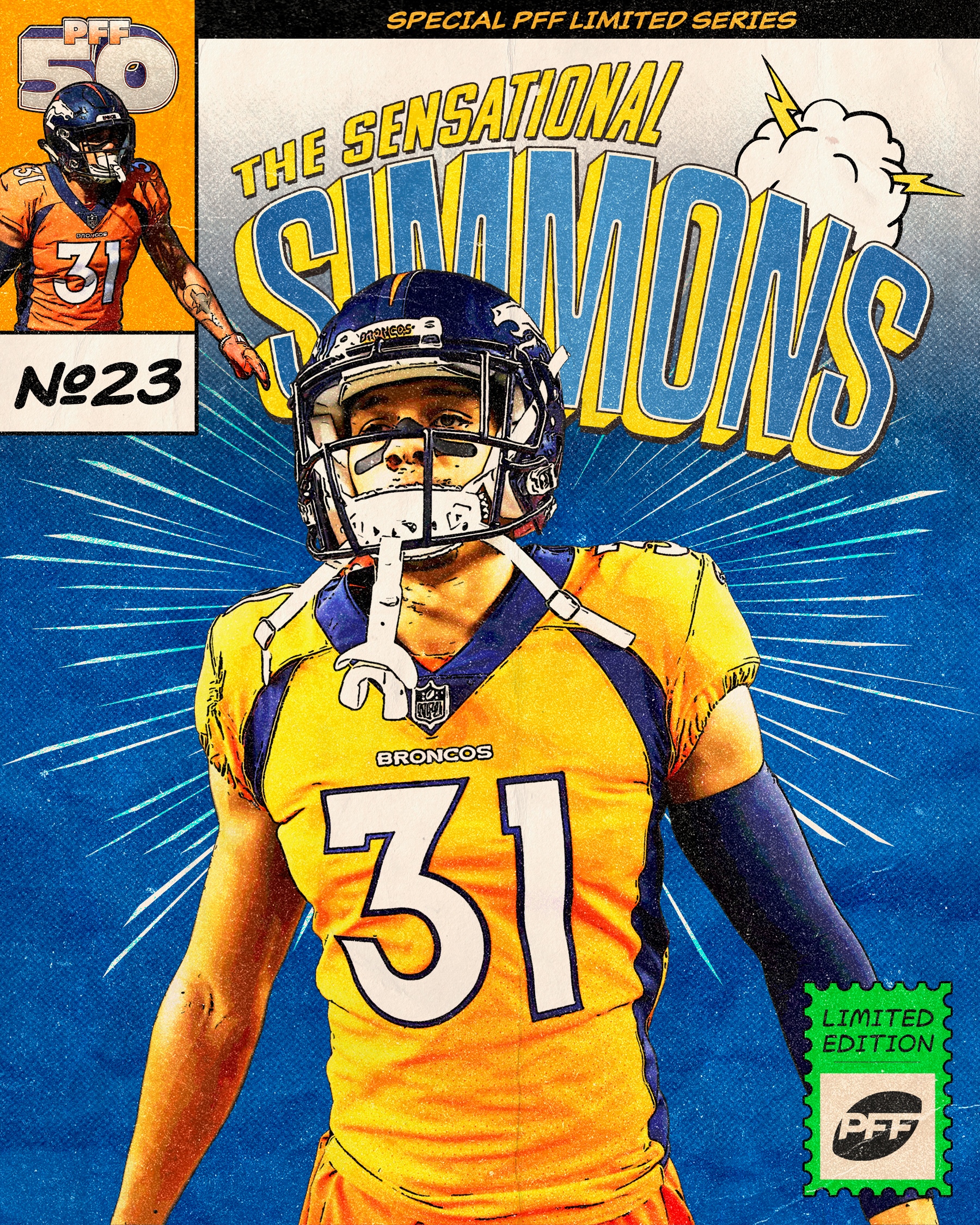 Simmons is a free safety for the Broncos, but he can impact far more plays than most free safeties throughout the NFL. He has notched 28 defensive stops over the past two seasons, a top-11 figure in each season, and almost every player ranked ahead of him is primarily a box safety by trade. Simmons is the highest-graded safety in the league since the start of the 2019 season.
No offensive lineman could match the blocking highlight reel that Williams crafted in 2020. The veteran tackle was one of the most dominant run-blockers we have ever seen, earning a 91.8 PFF grade in that facet of play; he routinely buried his assigned defender to spring big runs for the 49ers' backs and only allowed 19 total pressures in his first year back after missing the 2019 season.
I'm still not convinced that we've seen the very best Garrett has to offer over a full season. He now has back-to-back years with a PFF pass-rushing grade north of 90.0 — though his 2019 was cut in half due to a suspension — and his overall PFF grade has been at least 86.0 in each of the last three seasons. With Jadeveon Clowney now signed with Cleveland alongside other upgrades on the interior, Garrett could be about to set a new benchmark in 2021.
Cook continues to out-perform the blocking in front of him and just earned a 90.2 PFF rushing grade, the best of his NFL career. The Vikings back has averaged 3.1 yards after contact per carry over his NFL career, racking up 91 first down runs in 2020 alone.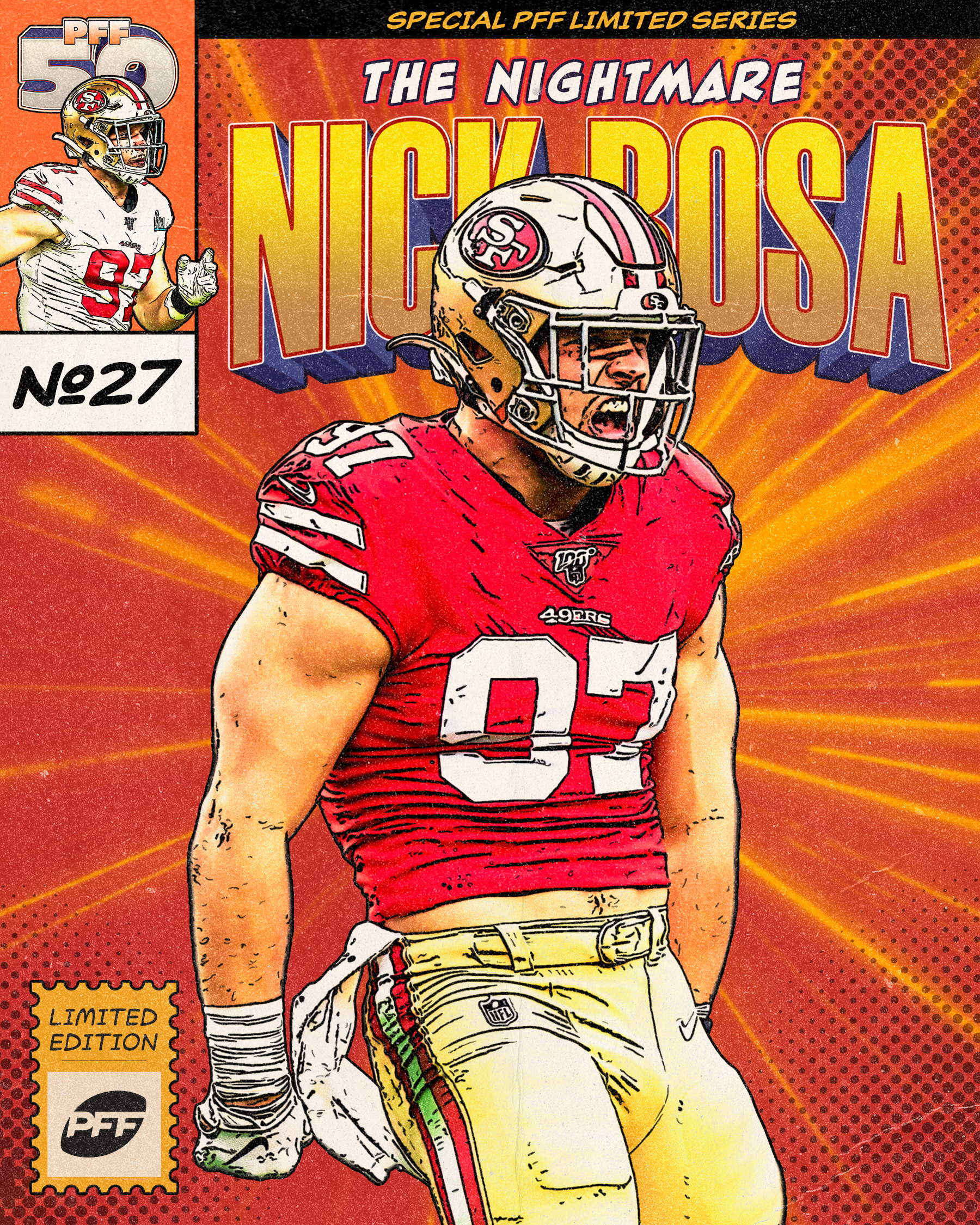 It's hard to believe that we've only seen the rookie version of Nick Bosa, and he was still dominant enough to rank this high on a list of the best players in the NFL. The former Ohio State Buckeye was one of the best pass-rushing prospects of the PFF College era, and he was good enough to break the PFF record for most pressures generated by a rookie with 80 — and he looked better and better as the playoffs wore on. Bosa came away with 12 total pressures in Super Bowl LIV.
A run-blocking man-mountain, Ramczyk hit the ground running in the NFL and has maintained his excellent standards every other season. He has yet to have a bad season in the NFL or even grade anything other than very well in any single facet of play, earning a career-best 90.9 overall PFF grade in 2019 before a slight downturn last year.
Humphrey doesn't get the recognition he deserves because of his role within the Baltimore defense and the things they ask him to do precisely because he is their best coverage player. Over the past two seasons, only Xavien Howard has a higher PFF coverage grade when in single coverage. Humphrey has achieved that despite lining up in the slot on 58.8% of his snaps in that time, a position that often leads to far more coverage losses.
Last season was an injury bust, but McCaffrey is still arguably the most complete running back in the NFL today. He is an elite receiver, but he has also carried a full workload from the backfield, unlike other elite receiving options like Alvin Kamara or Austin Ekeler. McCaffrey has dropped just nine of the 388 targets sent his way in the NFL (2.7% of catchable targets) and averaged 2.6 yards after contact per carry. With an improved scheme and talent group around him, the Panthers' fanbase can rightly hope for a big bounce-back season from their star back.
The later into his career he gets, the better Heyward seems to play. His best four seasons in terms of PFF grade have been his most recent four seasons, and Aaron Donald is the only interior lineman who has a higher overall PFF grade since 2019.
The longtime Steeler's 75 defensive stops lead all players at his position over the same period by seven, and he trails only Donald in terms of total pressures. The Los Angeles Rams star is in a world all by himself, but Heyward has a good case to be seen as the best interior defender not named Donald in the NFL — and that's an impressive achievement.
Smith remains one of the best and most consistent safeties in the league, and while he isn't coming off his best season, the same is true for most members of the Minnesota defense.
Smith has elite versatility to play any safety role within any coverage shell the Vikings dial up, giving them the ability to play a little bit of every type of coverage in the book. The Vikings didn't line up in any single coverage shell more than 17% of the time last season, and a huge part of that diversity is because of Smith's ability to move around and fill any missing piece of the jigsaw puzzle. He should bounce back in 2021, too, as the Vikings defense looks far stronger on paper.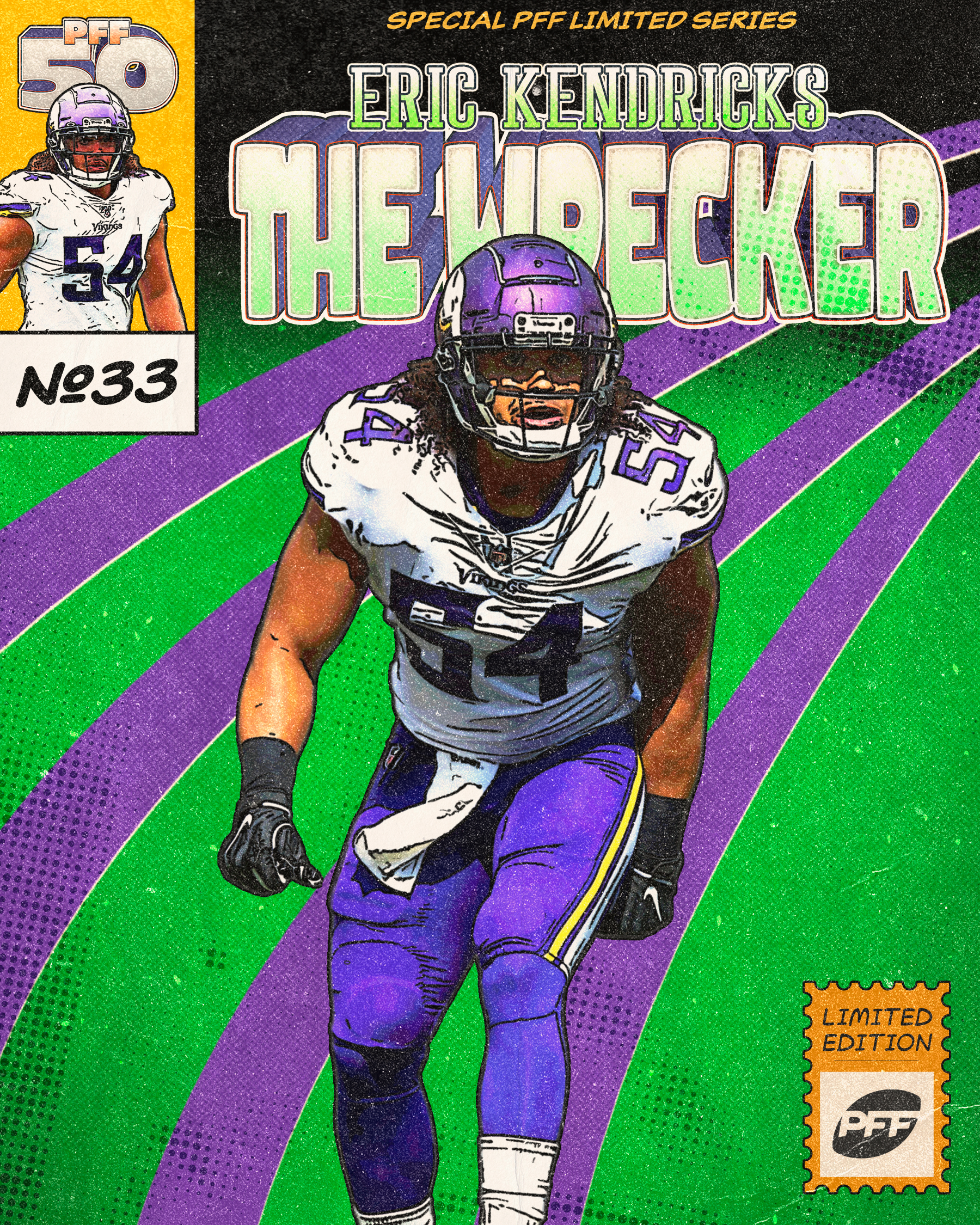 Kendricks has become arguably the best coverage linebacker in the NFL at a time when it has never been more difficult for linebackers to play in coverage. Over the last two seasons, Kendricks has not only forced more incompletions than any other linebacker, but he's also forced them at the highest rate in the league. He's allowed a passer rating of just 75.0 into his coverage over that same period, 30 points lower than the average passer rating when targeting linebackers.
Receivers were charted as "open," per PFF's accuracy data, on fewer than 50% of targets when targeted against Kendricks since 2019, making him one of the few linebackers who can claim that feat.
Robinson has never had an even vaguely competent quarterback throwing him the football, and that dates back to at least high school and perhaps even beyond that. The likes of Christian Hackenberg, Blake Bortles, Mitchell Trubisky and post-deal-with-the-devil Nick Foles have meant that the version of Robinson we have seen is only a fraction of what he could be with a real quarterback.
Maybe Justin Fields can provide that once he gets on the field, but even without that competent quarterback, Robinson was the No. 5-graded receiver in the league last season with a mark of 88.4 overall. He is a perennial top-10 receiver who has achieved all that without the benefit of having a quality passer that most other great receivers have.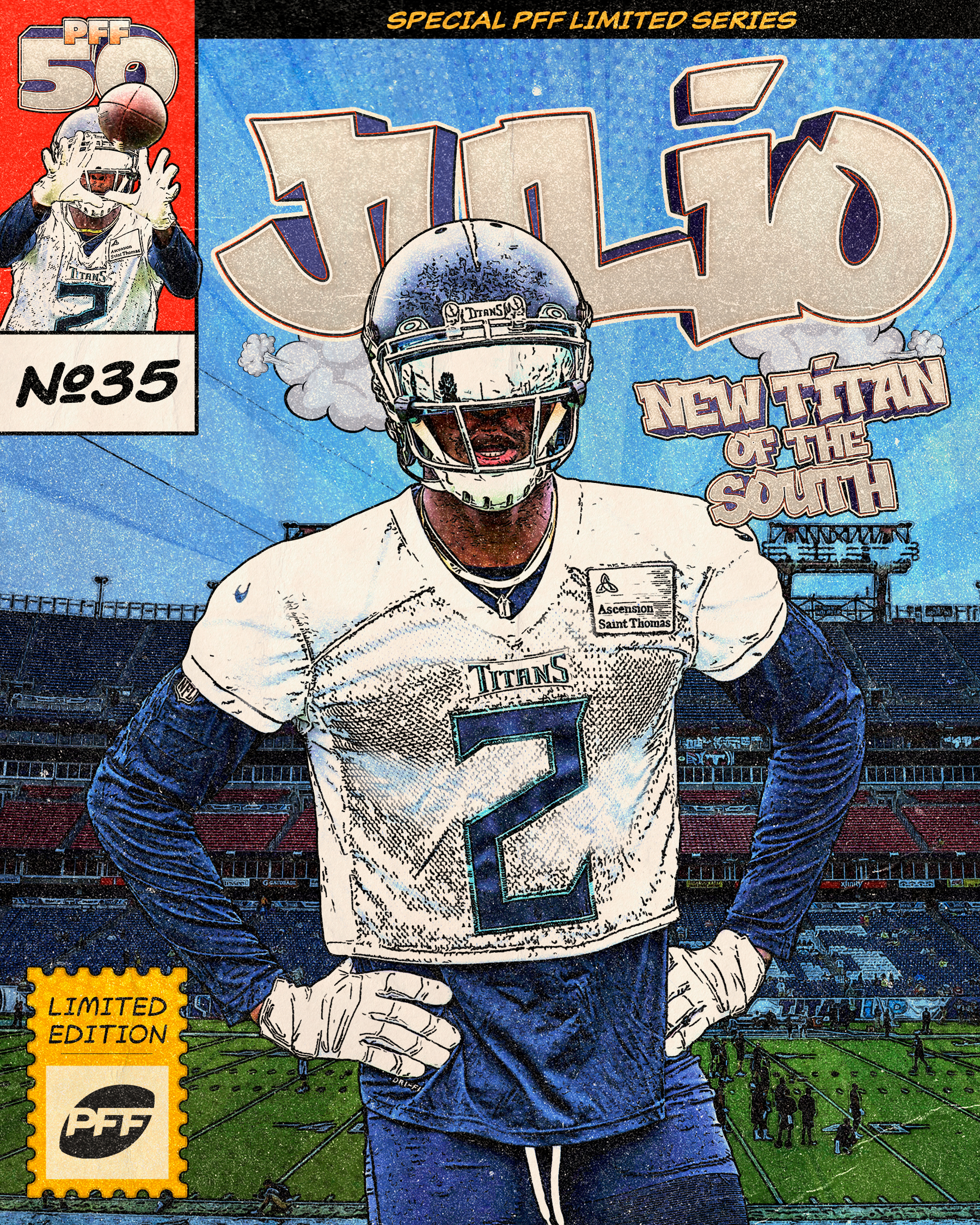 Injuries have become a bigger issue in recent years, but when Jones is on the field, he is still an elite receiver who could make a good argument that he is the match of anybody in the NFL at his position.
He may have come away with only 771 yards in 2020, but he was fourth in the NFL in yards per route run — 2.60, a fraction away from being ranked second — and he still generated a passer rating of 131.5 when targeted. The new Tennessee Titan is still the best blend of size, speed, athleticism and technique in the league, and the only question is whether he still has the durability to be ranked at the very top of the list.
Callahan may be the most underrated player in the NFL. An undersized slot corner by trade, he was asked to moonlight on the outside as a perimeter corner multiple times last season due to injuries in the Denver secondary. He didn't just hold up; he continued to thrive.
Callahan allowed a passer rating of 46.9 into his coverage in 2020, the best mark in the NFL. He didn't allow a touchdown or even a completion longer than 19 yards all season despite playing outside of his natural position for extended periods. If he can back up that kind of performance, he will remain one of the best players in the league — at any position.
There is no better pure ball carrier in the NFL than Nick Chubb. Since entering the league, the Browns back has earned a PFF rushing grade of 92.6, just behind Derrick Henry (92.7), though Chubb has a better broken tackle rate, having made 168 would-be tacklers miss on 680 carries.
The former Georgia standout has been phenomenal as a rushing threat, too,  breaking off 101 runs of 10 or more yards in his NFL career, just 19 fewer than Henry on 216 fewer rushing attempts. He would be ranked even higher on this list if he were more of a factor in the passing game.
Brown has already been a dominant force in his first two seasons in the NFL, but we may be about to witness him kicking it to another level now that Julio Jones is going to line up on the other side of the formation for the Titans.
The Ole Miss product has averaged an excellent 2.66 yards per route run since he entered the league, tied for second in the league, and has broken more tackles (33) than any other wide receiver. He has shown he is a complete No. 1 and has done so while opposing defenses have known he was the biggest receiving threat on his team.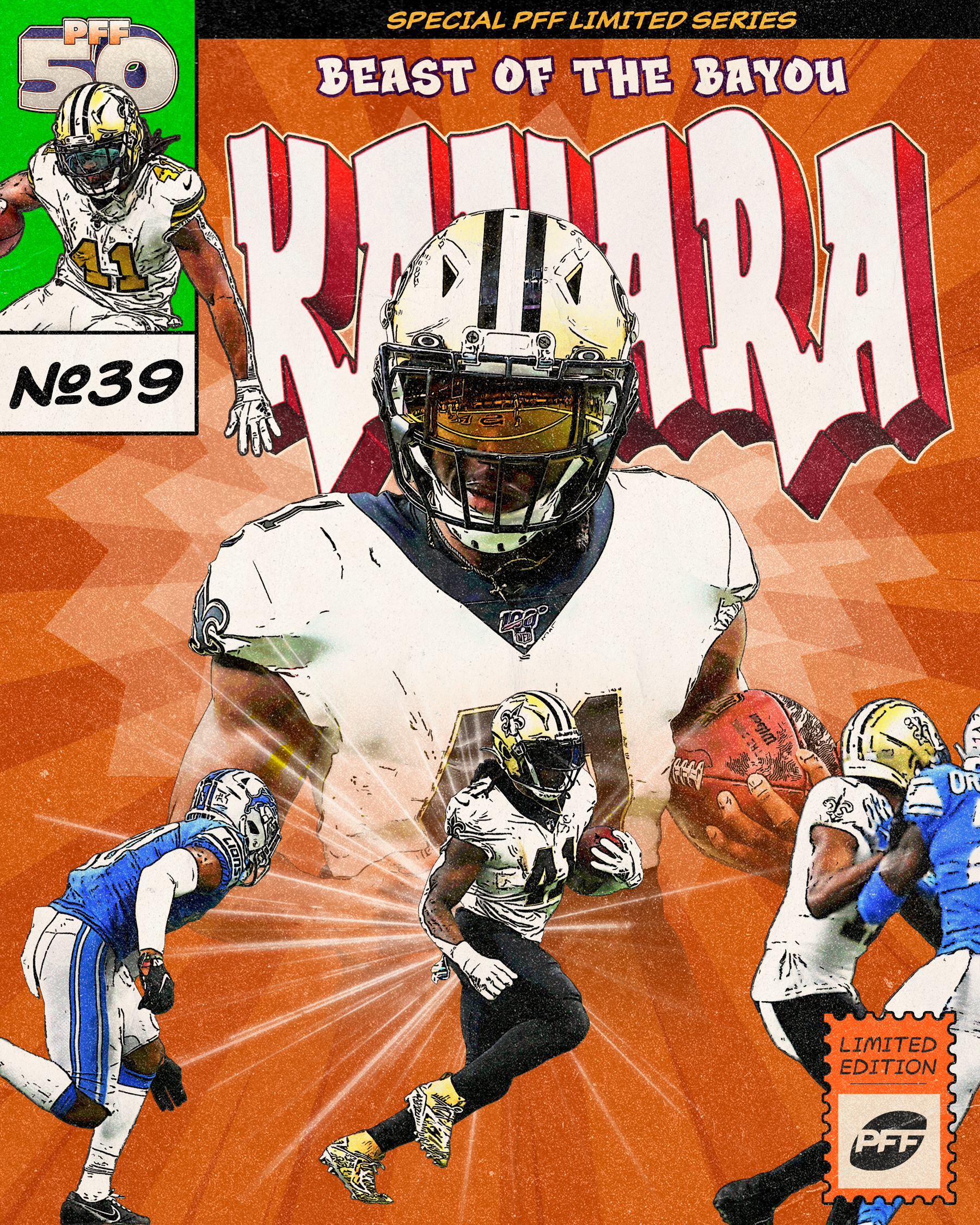 Kamara has arguably been the driving force behind the New Orleans Saints offense for a number of years now and may become an even more important player now that Drew Brees has retired.
Over the last five years, Kamara is one of only two running backs — Austin Ekeler being the other — who have averaged more than 2.0 yards per route run (2.15). He is an elite receiving threat who is also one of the hardest players to tackle with the ball in his hands — however it arrives there. The only vague criticism you could come up with for Kamara is that he has never topped 228 carries in a season, but he has offset that by recording over 100 targets every year of his career.
Allen was spectacular in 2020, but it was such a giant leap forward from his previous baseline — his overall PFF grade jumped from the mid-60s to 90.9 last year — that the smart analysis is to expect some degree of regression, given what we know about player development at this level.
It was certainly a breakout season, but players rarely maintain a development curve with a trajectory to the moon year over year. Allen's most impressive improvement came in terms of accuracy, where he went from a player with an adjusted completion rate dead last as a rookie to ranking fifth in the league in 2020.
The Browns acquired a player in free agency who should make a major impact on their secondary. Johnson has earned a PFF coverage grade of at least 80.0 in every healthy season he has played and has graded above 85.0 in the two healthy years since his rookie season.
Johnson consistently makes plays on the ball (averaging eight pass breakups in those three healthy years) but has also tallied 68 defensive stops against the run across his last two healthy seasons. There may be more spectacular safeties in the league, but very few are as consistently excellent as Johnson.
Very few players have done more with less help than Falcons interior lineman Grady Jarrett. It's not that Atlanta hasn't tried to find him some complementary pieces along the defensive line; they just haven't had much success when they have. Jarrett continues to dominate despite this.
The now seventh-year defensive lineman has averaged over 50 total pressures over the past three seasons, earning a PFF pass-rushing grade above 80.0 in each year. He is a fantastic success story as a former fifth-round draft pick turned into one of the game's best at a position that is currently stacked with elite talent.
Armstead doesn't have bad seasons. He rarely has bad games. He is one of the most consistent players in football. The Saints veteran has three straight PFF pass-blocking grades of at least 85.0, and he teams those elite pass-blocking grades with very good numbers in the run game more often than not.
Armstead is coming off a season with a PFF run-blocking grade of 77.5, 15th among all tackles in the league last year. He has been a huge part of Drew Brees' success down the years and will now be a rock for the new quarterbacks in New Orleans to lean on going forward.
Thomas is coming off a season in which he scored just one touchdown and recorded only 511 receiving yards. And that included two playoff games, one of which saw him held without a catch. Still, it would be an overreaction to drop him any further down the list than this.
Before last season, Thomas put up three straight elite overall PFF grades above 90.0. His rookie season generated a mark of 86.0 and featured over 1,100 yards and nine touchdowns. Thomas is one of the best receivers in the game coming off a season in which injuries painted a false picture of the player we know him to be. We should expect a bounce-back performance in 2021, even without Brees under center in New Orleans.
In his first year in Buffalo, Diggs teamed up with Josh Allen and the rest of the Bills offense to produce his finest season to date. He saw 21 more targets, hauled in 25 more receptions and tallied 403 yards more than he had in any single season to date, and he caught those passes at a higher rate (78.4%) than any other season of his career.
Diggs effectively justified the frustration he felt in Minnesota — he knew that he was capable of much more; all he needed was increased opportunity. He showed that in Buffalo in Year 1 as one of the best and most complete receivers in the game.
Stanley may be the best pass-protector in the entire NFL at any position. He has back-to-back PFF pass-blocking grades of at least 90.0 (albeit in an injury-shortened year in 2020). He has surrendered just 16 total pressures across his last 719 pass-blocking snaps, allowing his quarterback to be hit or sacked just three times in that period.
Stanley's run blocking has improved throughout his career, but it's his pass-blocking prowess that powers him to this ranking. What separates him from a player like David Bakhtiari is a combination of longevity at that level and the undoubted effect Lamar Jackson and the Baltimore offense has on the ease of his job as a pass protector by comparison.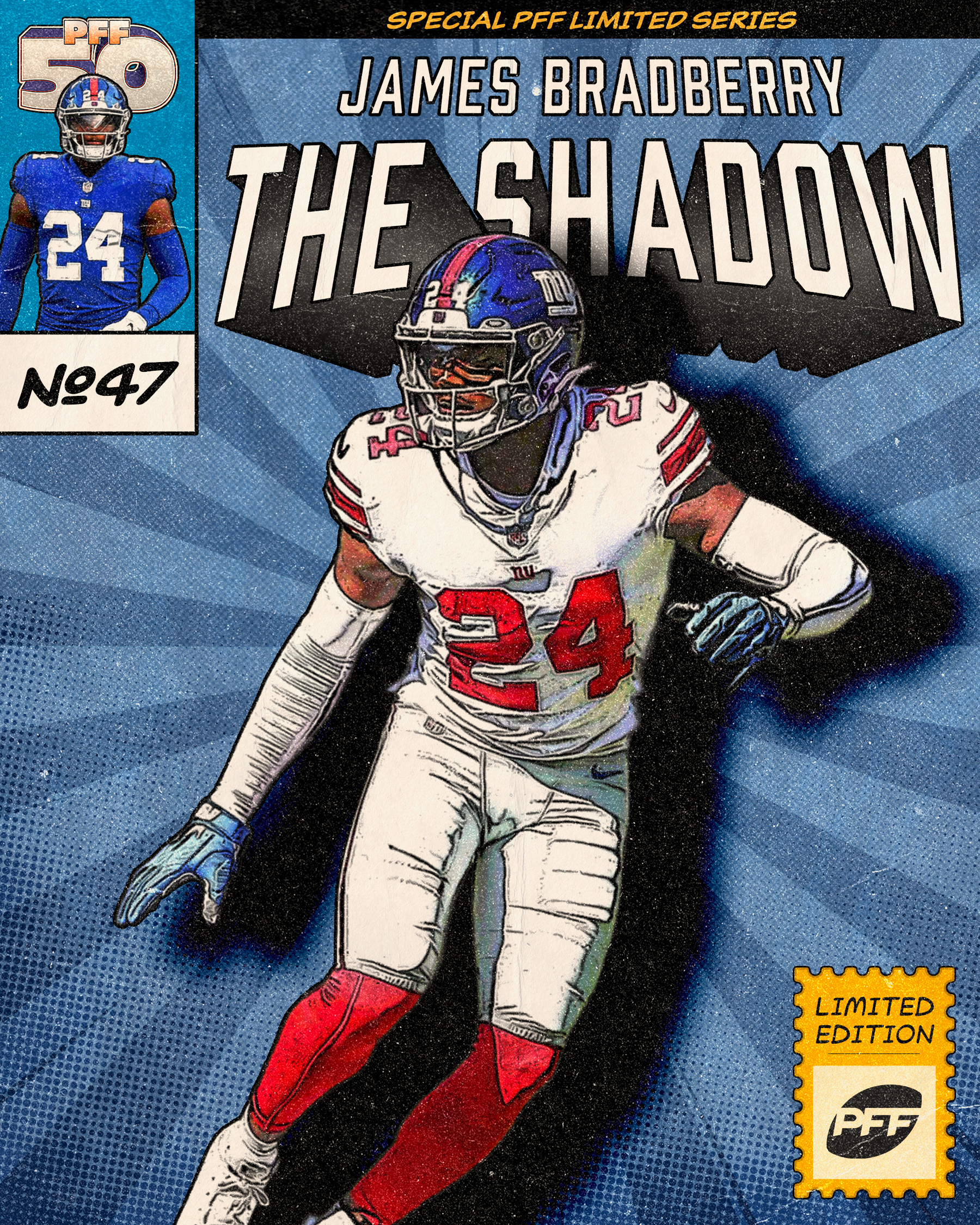 All Bradberry needed to realize his full potential was a chance of scenery. The former Carolina Panther earned career-best overall and coverage grades in his first season in the NFC East, recording a massive 14 pass breakups — one off the league lead –and allowing a passer rating of just 70.1 on throws into his coverage.
Bradberry still faced some pretty imposing wide receivers; he just showed that he is a match for them as a member of the Giants secondary.
Williams has four straight seasons of solid PFF grades, and two of those years were outstanding seasons with a mark of 88.2 or better. He is a complete safety who can defend the run as well as make an impact in coverage.
The fact that he could bounce back from being posterized by Stefon Diggs for the Minneapolis Miracle early in his career also shows the kind of mental strength he has, which can only be applauded. There are certainly safeties out there with bigger reputations, but there are few with better consistent play.
David is 31 years old, but he was still the only player capable of covering Travis Kelce throughout the playoffs last season. Kelce was taking the ankles of elite cover corners, but David managed two pass breakups on targets thrown his way in the Super Bowl and showed he can still hang with the best players in the league in the toughest part of his job.
David has been one of the very best linebackers in the game for years. He remains an elite playmaker.
Prescott was in the midst of a career year before a nasty injury took him off the field after just five weeks of action. In those five weeks (four full games and 22 dropbacks of Week 5), he passed for 1,856 yards and accounted for the same number of total touchdowns Daniel Jones recorded over the full season for the Giants.
Prescott put up a PFF grade of 85.2, and he had the Dallas offense looking like one of the best in the game. If he returns healthy in 2021, he should be one of the best players in the game once more.