One of the game's all-time greats called it a career this week during the heart of free agency madness, and while it's hard to overstate just how good Cleveland Browns left tackle Joe Thomas was over his NFL career, he is one of the longest-standing players that has a complete career of PFF grading, so let's see what the numbers say about his time with the Browns.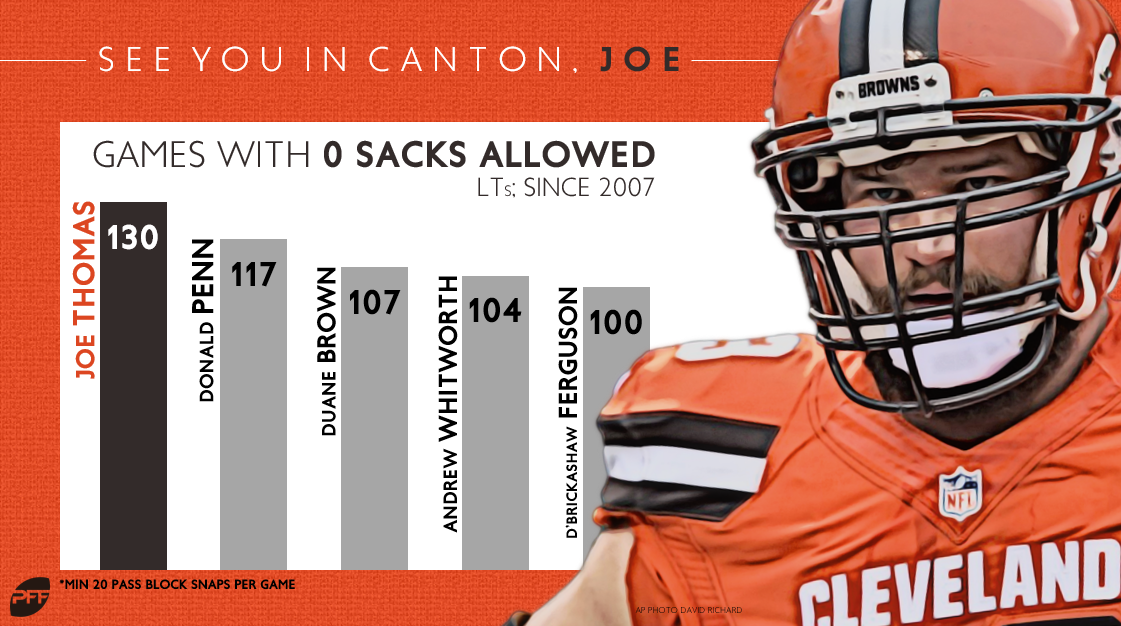 Thomas came into the league in 2007 as the No. 3 overall selection of that draft. He famously played over 10,000 consecutive snaps until an injury this past season took him off the field for the first time and started him down the road to retirement.
Over that span he was the benchmark for pass-blocking left tackles in the game.
His rookie year set the stage for a great career of pass-blocking, as he went the entire season without surrendering a sack. That season, he had the sixth-best PFF pass-blocking grade in the league at 88.4, just behind Jonathan Ogden, which in hindsight represented a fitting 'changing of the guard' at the position.
PFF has run our Top 101 list of the 101 best players in the league over a given season eight times. 2017 was the first year that Thomas did not feature on that list, and he is one of just four players across all of football to make the list seven or more times since the list's inception.
Thomas actually has a career pass-blocking efficiency score of 96.9, and surrendered 30 sacks over his entire career. Spencer Drango, the player that replaced him at left tackle when he went down hurt this season, surrendered 11 sacks in just 11 games.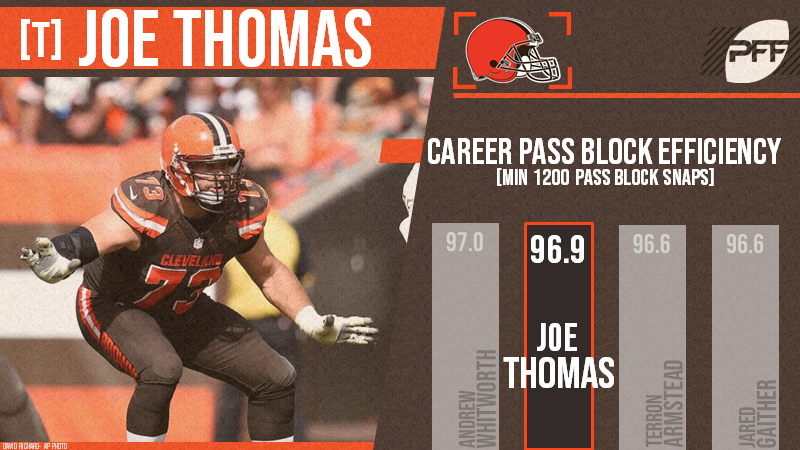 What's perhaps most impressive is that Thomas goes out at the peak of his powers. While his body may be starting to break down and his desire to suffer through the work needed to get in game shape diminishing, his overall PFF grade in seven games last season was good enough to tie for fourth in the league (86.4). There is no doubt that if Thomas did want to get on the field in 2018, he would remain one of the game's best players at the position.
He actually owns three of the best 10 single-season PFF grades we have ever given a tackle over the past 12 years of grading, and two of the top four. Thomas is the only player on that top-10 list whose name appears twice, and his is there three times.
Of course, Thomas retires as a one-team player – somebody who spent his entire career enduring the struggles of the Browns franchise in recent years. When you look at the list of quarterbacks he spent time pass-blocking for, it makes his numbers and grades all the more impressive. While Andrew Whitworth edges him in career pass-blocking efficiency (by 0.1), Whitworth spent much of his career in a system in Cincinnati that definitely aided his numbers. For a good stretch of years, the Bengals were among the quickest passing teams in the league, limiting the amount of time Whitworth had to pass-block. With Thomas, if anything the reverse is true, and he has blocked for quarterbacks that have done anything but make his life easier.
Despite that, Thomas had 130 games in his NFL career in which he didn't surrender a sack. That's 13 games more than any other player over that span, and represents more than eight full seasons of play in which he was not responsible for his quarterback being taken down in the arms of a defender for a sack.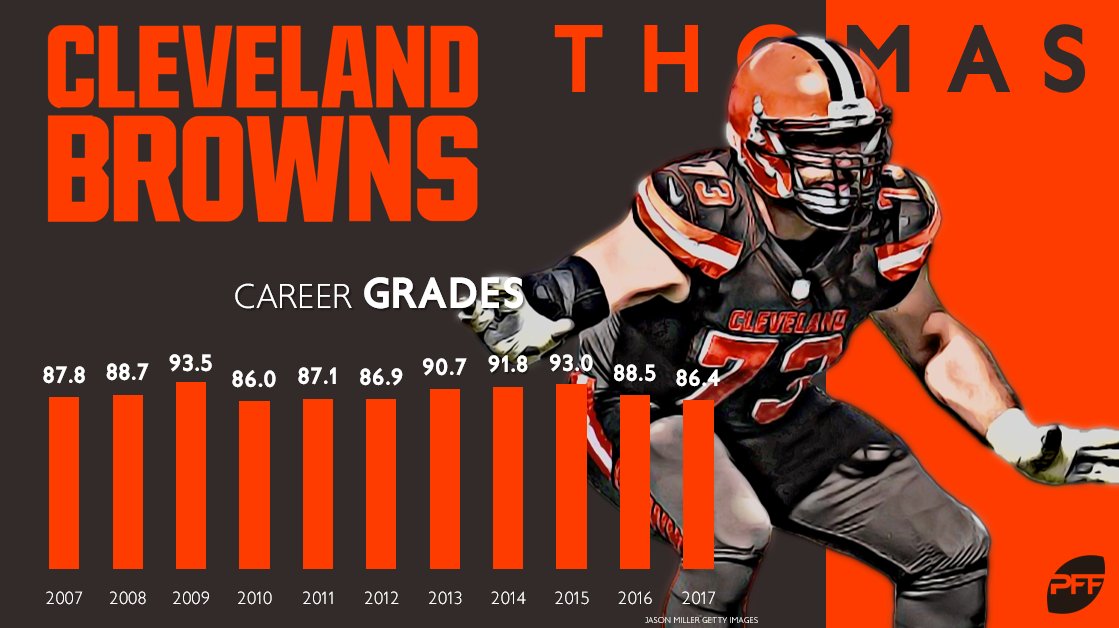 If there was a weaker area of his game, it was run-blocking, and yet Thomas was still a very good run-blocker over his career, and had multiple seasons grading among the league's best in that area too.
The term future Hall of Famer is thrown around all too easily in today's NFL, but if ever a player fit the bill, it is Thomas, and he is one of the first players whose entire career has been graded play-by-play at PFF.
In a week that is all-consumed with the frenzy of free-spending to add proven NFL talent, the game said goodbye to one of the greatest players ever to step on an NFL field, and a player that came in via the draft, never stepping away from the team that drafted him to test the waters of free agency. Thomas has been the prototypical pass-blocking left tackle of the PFF era, and now opens the door for the next generation to pick up the slack.