The favorites went 3-1 in the NFL playoff Divisional Round this weekend, but the team that was favored to win it all lost outright, with the Tennessee Titans going on the road for the second straight week to defeat an AFC power. The San Francisco 49ers took care of business and will host the NFC title game for the first time since January 2012, while the Kansas City Chiefs stormed from behind to overtake the Texans. The Green Bay Packers made it through the imposters bracket, outlasting Seattle at home.
As four teams advance, four go home. Each of these teams can contend in 2020, and here we talk about what they need to do to make it there next season:
[Editor's Note: All ELITE subscribers have access to PFF's advanced statistics and grades for every player and team in the NFL. Subscribe today to gain access.]
The Vikings rebounded from a disappointing 8-7-1 in 2018 with a 10-6 mark and their second playoff win in three playoff appearances in the Mike Zimmer era. Kirk Cousins, after earning only the 14th-highest passing grade among quarterbacks in 2018, finished fourth in 2019, guiding an offense without much of a threat in the passing game after Stefon Diggs, and an offensive line in the bottom half of the league. Kevin Stefanski — Saturday's game against the 49ers notwithstanding — did a far better job than his predecessor, John DeFilippo, at mitigating said deficiencies in personnel, helping them finish in the top 10 in yards per play and eighth in points per game. He's gone to coach Cleveland, giving the Vikings their fifth offensive coordinator in as many seasons in 2020.
As the Vikings look to the future, they have to address some concerns that have been percolating for some time, but thanks to Zimmer and the rest of his staff, have not been fatal with respect to contending in the NFC. We outline those here:
Offensive weapons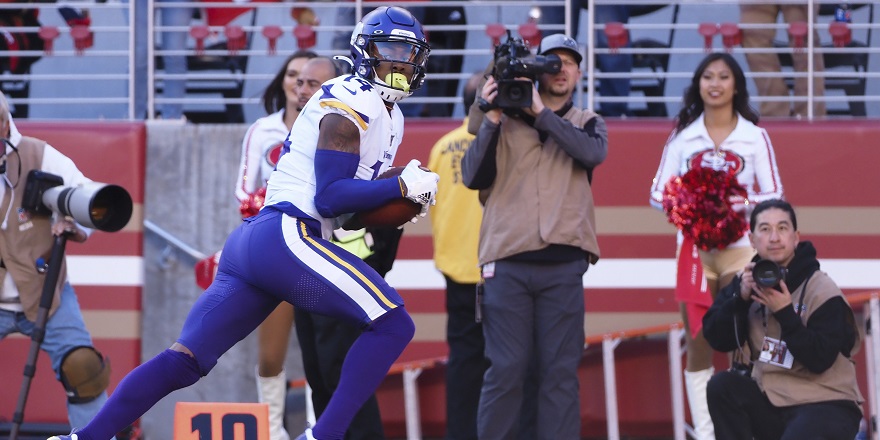 © Kelley L Cox-USA TODAY Sports
This would have seemed silly to say just a year ago, when Diggs and Adam Thielen were arguably the best receiving duo in the NFL. While it's very possible Thielen could return to health and bring the pair back to that stature, it's simply not sustainable to play offensive football in 2020 with only two NFL wide receivers on your roster. After trying out Washington castoff Josh Doctson and re-signing former first-round pick Laquon Treadwell, the Vikings simply resorted to using two or fewer wide receivers at a higher rate than every team in the PFF era except the 2006 San Diego Chargers. Irv Smith Jr. (about a fifth of a win above replacement) showed promise in year one, and there is some serious talent and depth at the receiver position in the upcoming draft, but the Vikings may have to go into the free agent market to get a player like Emmanuel Sanders, Randall Cobb, or Danny Amendola to be fairly certain they don't have a repeat of 2019.
Additionally, the Vikings were forced in many ways to run a sub-optimal offensive in terms of sequencing in 2019. The talent level of Dalvin Cook and his backup, third-round pick Alexander Mattison, led to a lot of running on first and second downs. This can be a good thing when those runs are efficient, but in the (more likely) case when they are not, it puts the offense in long-yardage situations and relatively few options to go to. This is what happened Saturday in Santa Clara, where they were successful on just one early-down run, and as a result were able to convert just two of 12 third downs. Whomever replaces Stefanski needs to be prepared to modernize the Vikings approach to early-down football.
Cornerback play
Just a few short years ago Xavier Rhodes was a first-team All Pro, Trae Waynes was an improving first-round pick, Captain Munnerlyn was one of the league's premier nickel corners, and Terence Newman was defying age curves in the Vikings secondary. Munnerlyn and Newman are long gone, replaced by 2018 first-round pick Mike Hughes, who has finished the last two seasons on IR. Mackensie Alexander has had his moments in the nickel, breaking up 12 passes, earning 33 stops and allowing under 10 yards per catch into his coverage the last two years, but he was unable to finish the season, either. Waynes has failed to earn a coverage grade over 70.0 in each of his five seasons, seeing his passer rating allowed increase each season, to 109.2 in 2019.
And then there's Rhodes. He has always been someone we're a little lower on than others, due in large part to his penchant for generating penalties (he earned 20 during his peak seasons of 2016 and 2017). He's still being called for a bunch of infractions (nine in 2019), but is now being victimized like never before, allowing a 128.4 passer rating into his coverage while getting his hands on only five passes (intercepting none). His coverage grade of 44.7 entering the weekend was 123rd among qualifying players at the position.
A complete overhaul is likely needed at the position. Hughes only 744 snaps under his belt and has failed to earn a coverage grade over 60.2 in either of his two seasons. Alexander and Waynes are free agents, and the Vikings currently are about $3 million over 2020 according to Over The Cap, and still have to sign superstar safety Anthony Harris. It's hard to see a situation where Rhodes returns, given his price tag ($12.9 million) and declining play. Don't be surprised to see Zimmer draft a corner in the first two rounds for the fourth time in his tenure come April.
The Ravens lost as 9.5-point favorites Saturday night at home, ending a 12-game winning streak and a season that saw them break ground on many fronts. Lamar Jackson emerged as the league's likely MVP, leading the league in touchdown passes and rushing for over 1,200 yards. Their running game, using Jackson's ability, was arguably the best in league history. Their defense, a liability early in the season, came together after a brilliant trade for former Chiefs and Rams cornerback Marcus Peters, providing a blueprint for teams to build their defense from back to front.
All that said, some flaws were exposed on Saturday, and addressing them should be a big part of this offseason for the AFC's top seed:
Wide receiver
Jackson was not as accurate in the Divisional Round as he had been during the season, throwing an on-target pass on just a little over two-thirds of his attempts against Tennessee. However, he needed to throw the ball away five times and had another five passes dropped. Marquise Brown had a nice game, hauling in seven of 11 targets for 126 yards, adding to an encouraging, but injury-hampered, season in which he averaged 1.81 yards per route run and offered a solid complement to Mark Andrews when healthy.
The Ravens had no other receiver with 20 or more targets who earned a yards per route run over 1.10, and their inability to get open and catch the football was very palpable against the Titans. In the offseason there are some solid options available. Would A.J. Green want to join a division rival that is primed for a Super Bowl as his career draws to a close? There are, as we've said, a number of very talented receivers in the upcoming draft. With wide receiver being the second-most valuable position on the offensive side of the ball, this should and probably will be the first place the Ravens look to improve in the offseason.
Pass rush
The Ravens brought the most rushers in the NFL this season, and were somehow middle of the pack in terms of opponents' time to throw. While this is a testament to their great coverage (forcing quarterbacks to hold on to the ball too long) it also sheds light on the Ravens issues with pass rush. They were our 28th-highest-graded group there, and only player earned more than 30 pressures and five sacks (Matthew Judon). After letting Terrell Suggs and Za'Darius Smith go last offseason, they were only able to get pressure on Ryan Tannehill six times in 17 dropbacks Saturday (he completed zero passes and was sacked once).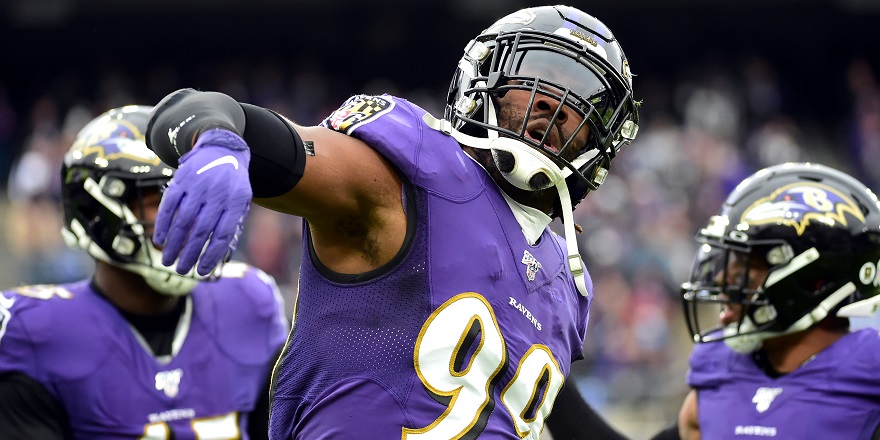 © Evan Habeeb-USA TODAY Sports
Judon is a pending free agent, but big free-agent splashes along the front-seven is something the Ravens have (smartly) shied away from, and wide receiver is probably a higher priority. Thus, to upgrade this unit they may have to come through the draft, trades, or (moderately) cheaply via free agency. They've shown an ability to take players that have fallen out of favor with other teams and acquire them relatively cheaply in the past (e.g. Peters). Could they do the same this offseason? Do they lean into their advantage in coverage, making pass rush easier for less-established players? The answers to these questions will be interesting to see play out for the league's best team over the next few months.
The Texans opened up a 24-point second-quarter lead against the Kansas City Chiefs Sunday at Arrowhead Stadium, but their lack of talent defensively and some special-teams blunders lead to 41 straight Chiefs points en route to a 51-31 Kansas City victory. The Texans won their fourth division title in five years and won their first playoff game since 2016. However, Bill O'Brien's tenure as general manager has gotten off to a shaky start, to say the least, with multiple draft picks leveraged to take on players like Laremy Tunsil, Kenny Stills, Gareon Conley, and Duke Johnson in trades.
Deshaun Watson remains one of the most compelling quarterbacks in all of football, and he had his moments against an improving Kansas City defense, generating 334 yards on over nine yards per pass attempt from a clean pocket. DeAndre Hopkins remains one of the premier pass-catchers in all of football, and protection improved enough for Watson to take pressure on just 38.4% of his 2019 dropbacks in the regular season (versus 44.9 in 2018). Defense was their biggest issue, and we talk about it below:
Coverage
The Texans were one of the worst pass defenses in the NFL in 2019, allowing the seventh-most net adjusted yards per pass attempt, and were victimized by everyone the Kansas City threw at them Sunday, chief among them Travis Kelce and his 10 catches and three touchdowns. The Texans, to their credit, did not sit on their hands all season while these things happened to them, acquiring former first-round picks in Conley and Vernon Hargreaves to work with free-agent acquisition Bradley Roby (also a former first-round pick). None of these players played terribly well for the Texans, earning a combined 0.4 wins above replacement in over 1,500 snaps. Justin Reid was a plus safety for the Texans this season, earning about as much WAR as the cornerbacks, with an 80.4 coverage grade to boot.
So what is the issue here? Well, it was coverage in the inside and underneath parts of the field. Linebacker Bernardrick McKinney allowed a 142.2 passer rating on his 44 targets in coverage, while Zach Cunningham wasn't much better on his 67 targets (120.8). Hargreaves allowed 125.6 on his 40, mostly playing inside in the nickel. Lonnie Johnson, a reserve who had to play 532 snaps over the season, was even worse on his 52 coverage snaps, allowing a 128.9 rating and earning a 31.7 coverage grade. While they did a good job acquiring talented players during the season in the secondary, they need to do even more in the offseason, and shore up the linebacker position as well. Cory Littleton of the Rams (0.20 WAR) would be a good addition for this Texans team should the Rams allow him to make it to free agency.
Someone to complement J.J. Watt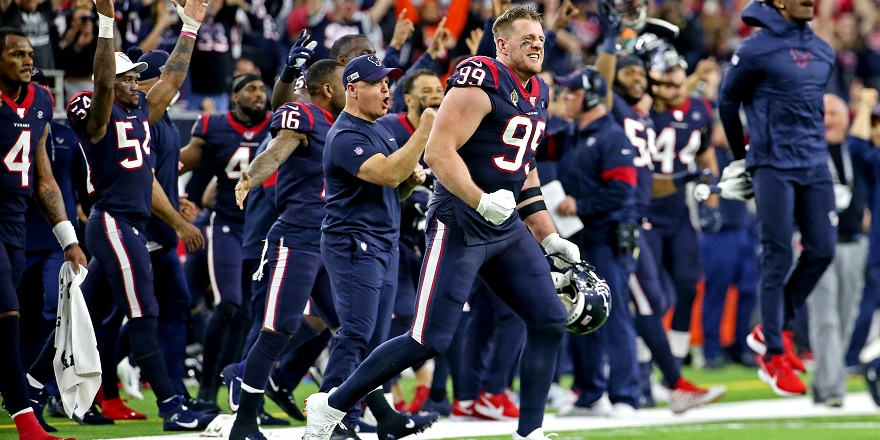 © Troy Taormina-USA TODAY Sports
A staggering truth about the Houston defense is that Watt led the team in pressures while missing half of the season with a pectoral injury. Long-time starter Whitney Mercilus was close, generating nine sacks, nine hits, and 36 hurries, but no other Texan was effective as a rusher for an extended amount of time this season, and was a big reason their new-look secondary was consistently victimized by opposing passing offenses. Pass-rushing talent is not cheap, though, and not as important as coverage, so the trick might be for Romeo Crennel to take a page from his former boss in New England and scheme pressure more effectively through the use of off-the-ball players.
That's easier said than done, though, as teams in similar scheme clusters (see Detroit, Houston and New England's proximity below) as the Pats have struggled to imitate them in how they approach pass rush (in the case of the Lions) or coverage (see the Texans above). The Texans were in the middle of the pack in terms of sending pass rushers in 2019, but quarterbacks were able (or forced) to hold the ball at an above-average rate. That teams were eventually able to have success on them throwing the ball means they have to hope that Watt returns fully to health in 2020, and that some talented players fall to their eventual draft slots in April.
Literally no Seattle game is normal, but their loss at the hands of the Green Bay Packers Sunday in Lambeau Field was normal for them. They ran the ball early and often in the first half, praying that Russell Wilson could bail them out on third downs. They struggled defensively, yielding Aaron Rodgers' best game in weeks. They missed a field goal. And they lost by only five points because Wilson played like the player who has generated the most WAR of any player in the entire league this season.
The Seahawks defied the odds a great deal in 2019, finishing 11-5 and winning a playoff game despite being largely an average team on paper. They were 11th in yards per play offensively, 29th in yards per play allowed, and outscored their opponents by seven total points in the regular season. In an NFC West where the Rams and 49ers have been Super Bowl contenders the last two seasons, and Arizona is on the rise, the Seahawks have to fundamentally improve simply to stay the same record-wise in 2020. Let's dig in a bit deeper:
Personnel
Since winning the Super Bowl in 2013, and coming within a Malcolm Butler interception of repeating in 2014, the Seahawks have bled talent on both offense and defense. Going into the week, Seattle was 20th in the NFL in WAR generated by non-quarterbacks, trailing teams like Jets, Bears, and Broncos. They've remained competitive because the players they've retained over the years include some major superstars in Wilson, Bobby Wagner, Tyler Lockett, and now D.K. Metcalf and Jadeveon Clowney. Wagner, however, declined a bit in 2019, allowing a career-high 681 yards into his coverage this season. The same could be said of Lockett, who battled through injuries in 2019 to the tune of only 1.87 yards per route run (versus 2.10 in 2018). Clowney is a pending free agent, and losing him would significantly reduce the Seahawks ability to field a competent defense next year.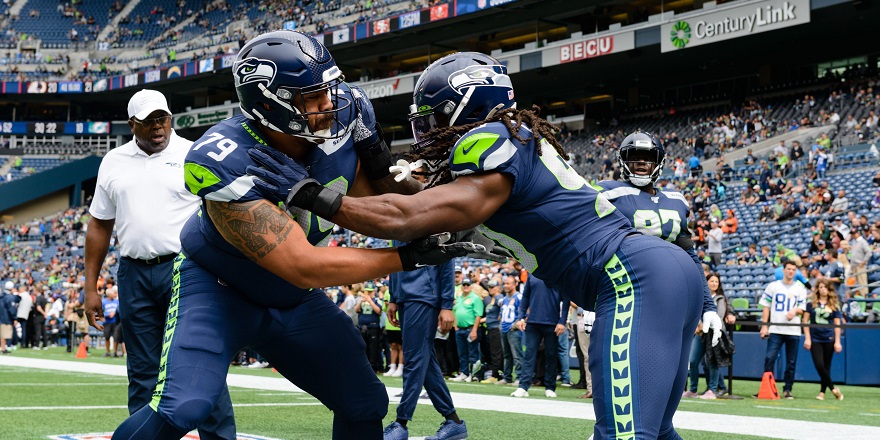 © Steven Bisig-USA TODAY Sports
While their first-round pick, L.J. Collier, barely registered in 2019 (playing only 152 snaps), and second pick Marquise Blair (238) wasn't much better, their approach to the draft changed drastically in 2019, as they repeatedly traded back to accumulate picks as opposed to trading picks for veterans. They will need a similar approach, as well as some shrewd moves in free agency, to keep pace in the NFC and the NFC West specifically.
Get with the times
Seattle needs to modernize on both sides of the ball. On offense, Seattle with only 25th in pass rate during the regular season, running the ball roughly 40% of the time. On early downs, though, they threw it roughly 55% of the time. When games were within one score, that fell to just under 52%. Now, there are some teams that ran the ball more than the Seahawks (the Ravens and the 49ers two such teams) that were successful, but Seattle was nowhere near successful enough to play this way. Only the Jets, Steelers, Dolphins, and Lions were less successful running on early downs in one-score games than the Seahawks were. This gave Wilson ample opportunity to generate wins above replacement, but ultimately put Seattle behind the eight ball too much for them to move past the Packers yesterday, where they generated 6 yards before contact on 15 running back plays.
On the defensive side of the ball, the Seahawks ran an extraordinary amount of base 4-3 defense. No other team in the NFL played their base defense more than 40% of the time, while the Seahawks were almost 70% during the regular season. Part of this was their lack of talent in the secondary (they cut nickel cornerback Jamar Taylor midseason), but it was certainly a philosophical shift that took place and persisted even when third linebacker Mychal Kendricks was lost for the season with an injury. Like with running the football, their philosophical change did not give rise to production, as they were the ninth-worst team in yards per rush allowed (4.6).