As the calendar turns to March, the NFL offseason ramps up. The conclusion of the NFL Scouting Combine in Indianapolis means NFL free agency is right around the corner — less than two weeks away to be exact.
With this in mind, let's take a look at the top free-agent options at each position, conveniently divided up into five different categories under every position.
Click here for more PFF tools:
Draft Guide & Big Board | Mock Draft Simulator
Dynasty Rankings & Projections | Free Agent Rankings | 2022 QB Annual
Player Grades
---
Quarterbacks
The days of viewing Bridgewater as a potential long-term starter are over, but he still has solid football left in him at 29 years old. Bridgewater's 2.9% turnover-worthy play percentage since 2014 is the 16th-best in the NFL among quarterbacks with at least 500 attempts since 2014. However, his 3.2% big-play percentage is the ninth-lowest among quarterbacks with the same qualifiers, ranking just behind C.J. Beathard and Blaine Gabbert. Teddy Two Gloves is the definition of a low-risk, low-reward signal-caller, but he will be a great bridge option for teams drafting a young quarterback in April. 
For every safe option like Bridgewater, there is a risky option like Winston. The first overall pick in 2015, Winston has had rollercoaster production his entire career — look no further than his legendary 30-touchdown, 30-interception 2019 campaign with the Tampa Bay Buccaneers. Since entering the league, the Florida State product ranks 15th in big-time throws (124) but is also first in interceptions (97) and turnover-worthy plays (122). Now, we did see a tamed-ish version of Winston during 2021 before he went down for the season in Week 8 against his former team. The quarterback posted a career-high 74.2 offensive grade and had two games over 89.5. He threw 14 touchdowns to just four interceptions and posted a 71.1% adjusted completion percentage of 71.1%. Whoever signs Winston this offseason will be banking on 2021 Jameis sticking around instead of his much more turnover-prone counterpart.
Despite his seemingly underlying nature to throw interceptions, Winston actually tosses a solid deep ball. He ranks top 30 in passing grade on throws 20 or more yards downfield since entering the league in 2015 (89.9) — ahead of quarterbacks such as Josh Allen. He's certainly not afraid to let it fly, sitting 11th in attempts more than 20 yards downfield despite only seeing 15 passing snaps in 2020. He's thrown 43 touchdowns and 88 big-time throws on these types of passes as well, ranking inside the top-15 in each category.
A quarterback's cardinal sin is throwing interceptions. Taylor would be deemed a saint if that was the only metric that mattered, as he has always been one of the best quarterbacks at avoiding mistakes since entering the league in 2011. His 2.2% turnover-worthy play percentage since being drafted in the sixth-round ranks fifth among quarterbacks with at least 500 attempts, trailing only Alex Smith, Aaron Rodgers, Justin Herbert and Tom Brady. Since starting for the Buffalo Bills in 2015, he has only had one season with double-digit turnover-worthy plays, which was his first year in Buffalo. 
The phrase high-end is key here. The safest bridge/backup options have already been discussed in Taylor and Bridgewater, but Mariota possesses something the other two don't: high-end potential. The Heisman winner posted a 71.3 passing grade since being drafted second overall by the Tennessee Titans in 2015, boasting a perfect 1-1 ratio of big-time throws to turnover-worthy plays (83 each). We have only seen Mariota as a starter in one game since joining the Raiders, where he starred in relief of the injured Derek Carr. In Week 15 of 2020 against the Los Angeles Chargers, the Oregon product went toe-to-toe with another Duck, Justin Herbert, and did much more than hang around. A solid day passing the ball (279 yards, one touchdown, one interception) was buoyed by his impressive rushing skill: Mariota carried the ball nine times for 88 yards and a touchdown in the 30-27 loss. His ability as a rusher sets him apart from the other potential backups, and Mariota could fight for a starting spot if he signs somewhere with a struggling QB1 in front of him.

---
Related content for you:
2022 NFL Free Agent Rankings: Top 200 players expected to enter free agency via PFF.com
---
Running Backs
While injuries derailed Mostert's 2021 campaign, the 49ers running back has more than proved his effectiveness inside Kyle Shanahan's zone run game. He posted strong 76.0 and 73.8 rushing grades on inside/outside zone runs in 2019 and 2020, respectively, and scored seven touchdowns on such runs. His speed and ability to get the edge should give him some suitors in the coming weeks.
Williams is the definition of a north-south runner. He's most dangerous in a man/gap scheme, but he showed some versatility in Kansas City's spread offense this past season. Williams only registered 14 attempts this season on man concepts, but he picked up seven first downs and 21 yards after contact. He can serve as a great depth piece for a team such as the Titans, who use man/gap schemes effectively.
Gordon split carries in Denver this season with rookie phenom Javonte Williams, but that doesn't mean he lost his effectiveness as a rusher. Gordon forced 46 missed tackles in 2021 on 210 attempts — good for 0.22 per attempt. While that wasn't as strong as his running mate Williams (64 MFTs, 0.31 MFT/ATT), both of Gordon's figures still ranked in the top 10 among NFL backs, where the names ahead of him included Jonathan Taylor, Nick Chubb and Dalvin Cook. Gordon is still an effective runner who will be a solid signing for the majority of teams.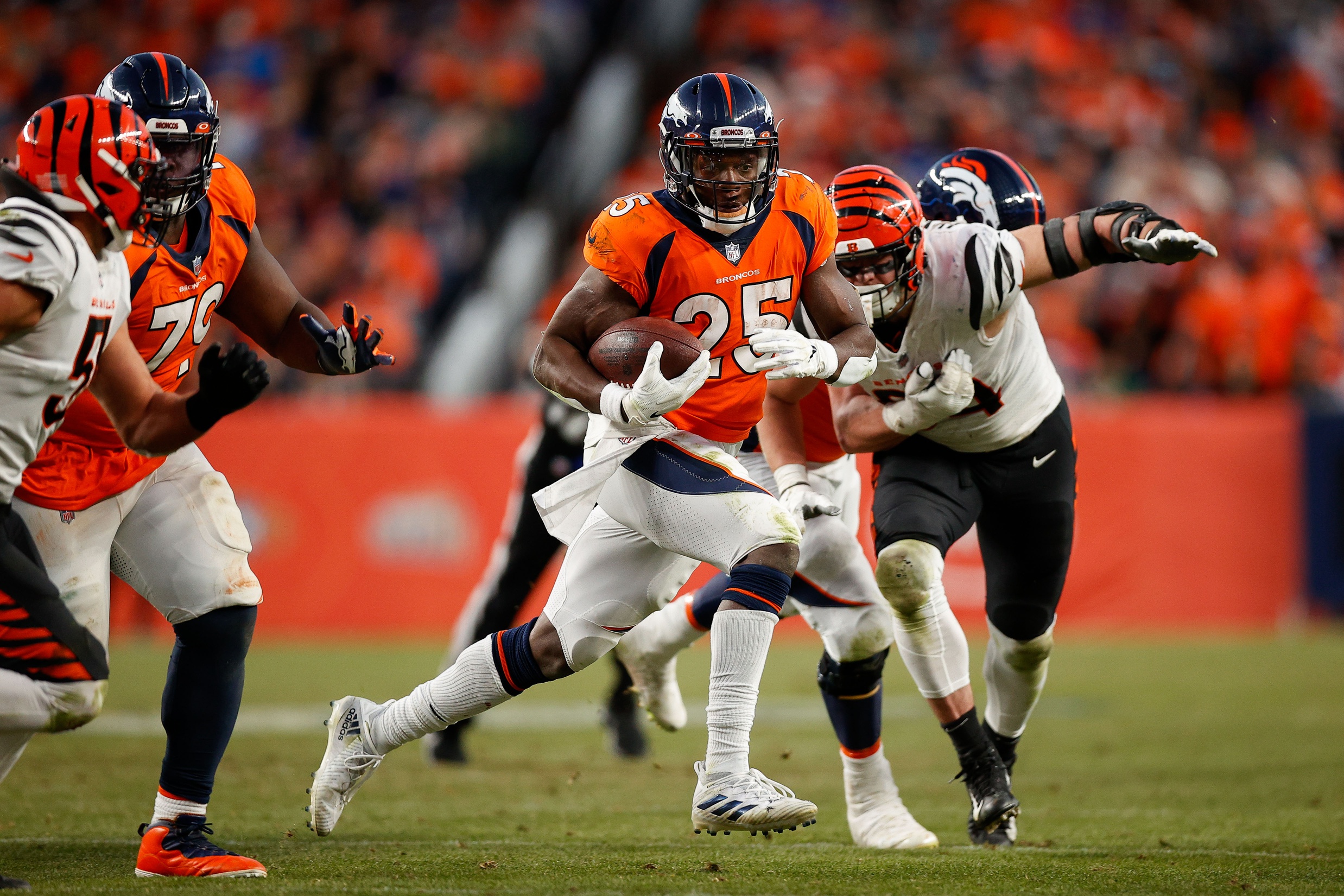 Patterson's career renaissance was one of the 2021 season's most shocking and heartwarming storylines. The former first-round pick turned special teams ace broke out in his ninth NFL season and first in Atlanta: He accumulated 556 yards through the air, second in the league only to Austin Ekeler, and his 91.4 receiving grade was second to only Christian McCaffrey. While an argument could be made for James White here, Patterson's ability to move around the formation gives him a slight edge. 
Conner enjoyed a mini-resurgence of his own after signing a one-year contract with the Cardinals. The ex-Pro Bowler scored 15 touchdowns and posted an 82.9 offensive grade, the highest of his career and 10 points higher than his 2018 Pro Bowl season with the Pittsburgh Steelers. Where Conner really excelled was as a blocker, as he racked up an elite 88.5 pass-block grade in 2021 — the second-highest among running backs with at least 25 pass-block snaps — and a league-best 81.3 run-block grade. Whoever signs Conner will be getting the complete package, as the former Pitt Panther also tallied 380 receiving yards and a strong 86.2 receiving grade.
---
Wide Receivers
**The Chargers gave Williams a three-year, $60 million extension on March 8**
Williams has been nothing short of elite downfield. Serving as Justin Herbert's go-to deep threat, the Chargers wideout ranked 18th in the NFL in yards per reception (18.1). He led Los Angeles in just about every receiving category related to the deep ball: deep target percentage (23.5%), average depth of target (12.5) and yards per route run (1.96). If Williams can stay on the field, he can serve as a game-breaking threat on just about any roster in the league.
**The Packers franchise tagged Adams on March 8**
There's an argument to be made for Adams in every category. The Packers' alpha wideout thrives all over the field, but he is especially effective in the red zone. Adams recorded the fifth-highest receiving grade in the red zone (78.4) in 2021, grabbing 10 touchdowns from 20 receptions. Adams isn't the biggest red-zone target in the world, standing at 6-foot-1, but he makes up for it with absurd ball skills and silky smooth route running (more on that later).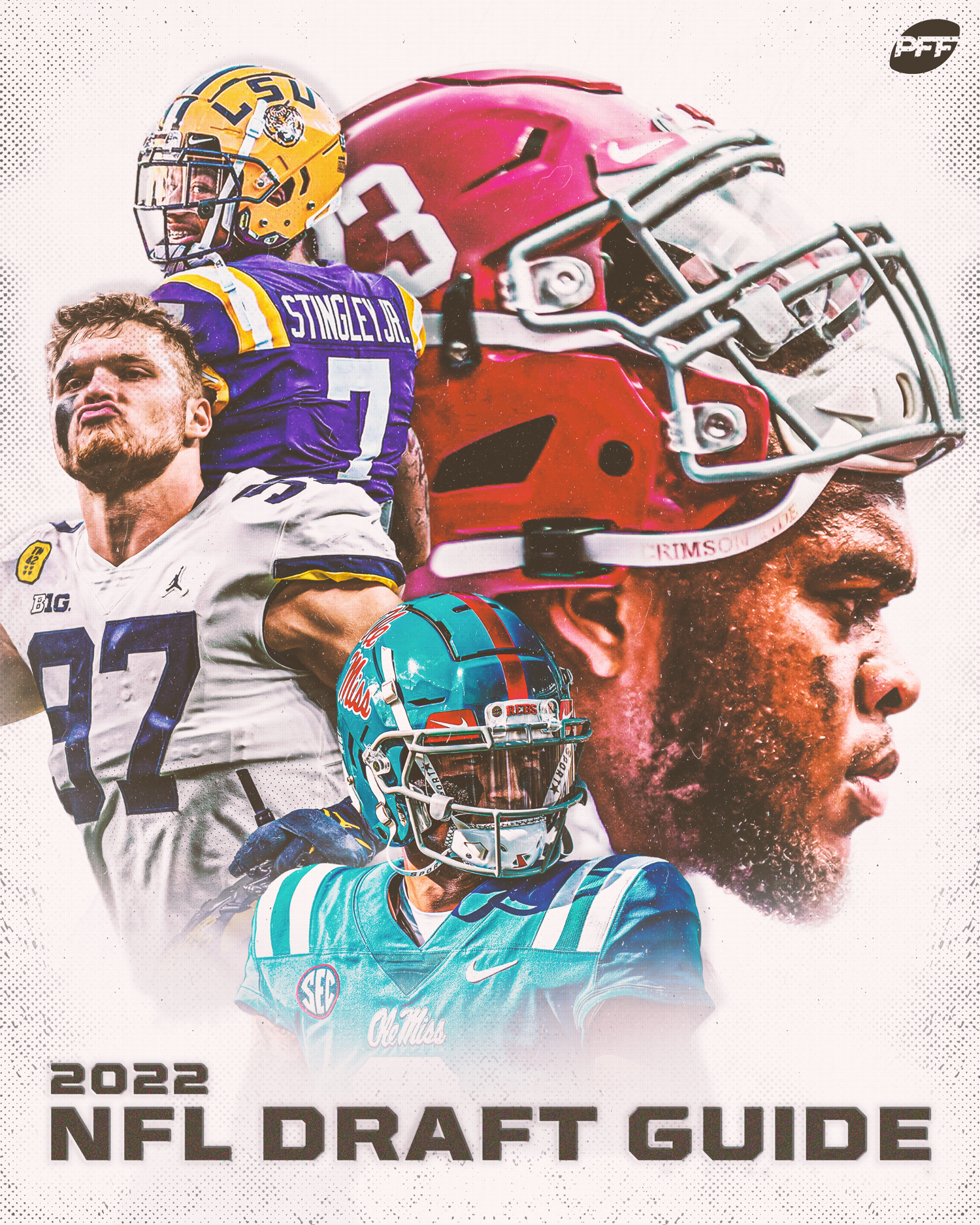 **The Chargers gave Williams a three-year, $60 million extension on March 8**
Herbert clearly trusted Williams in contested situations: The Clemson product saw 45 contested targets in 2021, tying Chase Claypool for the second-most in the NFL. Williams rewarded his quarterback's trust, hauling in 22 contested catches, trailing only Terry McLaurin for most in the league. He ranked top-10 in both contested target percentage (34.1%) and contested-catch percentage (48.9%).
**The Packers franchise tagged Adams on March 8**
As previously alluded to, Adams' route-running ability is nothing short of incredible. The Fresno State product led the league in receiving grade in 2021, posting a 92.7 grade. He feasts on single coverage looks, just like an elite route runner should. As PFF's Sam Monson pointed out, Adams accumulated a 97.4 receiving grade against single coverage. Overall, he has finished top three in PFF WAR (wins above replacement) among receivers each of the last two seasons, including the best figure in 2020 (.65). It might be best to just drool over Adams' highlights, as put together by PFF Fantasy Analyst Ian Hartitz:
90 seconds of Davante Adams looking like the best route runner in the world pic.twitter.com/VHorxz1e84

— Ian Hartitz (@Ihartitz) November 2, 2020
**The Buccaneers franchise tagged Godwin on March 8**
When healthy, Godwin is one of the most effective slot receivers in the game today. Since 2019, the Bucs wideout has run an average of 66.9% of his snaps from inside, where he posted an elite 90.4 receiving grade in 2019. The sure-handed weapon registered just 11 drops in his five seasons down in Tampa. His ACL tear late in the season is definitely a blow, but whatever team lands him will be getting a star in the slot for the second half of 2022 and beyond.
---
Tight Ends
**The Dolphins franchise tagged Gesicki on March 8**
While Gesicki's play as a "true" tight end may leave some to be desired — 36.6 pass-blocking grade and 46.1 run-blocking grade — there is no doubting his receiving prowess. The Penn State product saw the fourth-most receiving snaps by a tight end in the NFL and ran 62.1% of those snaps from the slot. He saw 112 targets and hauled in 76 receptions — both are top-five figures at the position. Gesicki's athleticism makes him a viable threat as a receiver, but he can't be trusted on run plays, which somewhat limits his ceiling.
Cox has been buried on Indianapolis' depth chart since signing with the Colts as an undrafted free agent in 2017, but he's made a name for himself in the blocking department. The 6-foot-5-inch behemoth allowed seven total pressures from 118 pass-blocking snaps over the last four seasons, leading to a 75.3 pass-blocking grade in that timeframe — the fifth-highest among tight ends with at least 100 pass-blocking snaps. He's an effective run blocker as well, posting a 70.8 grade across 964 run-block snaps since 2018.
There's not much to say about Gronk that hasn't already been said before: The ex-Patriot will go down as one of the greatest tight ends of all time. Gronkowski has never posted an offensive grade lower than 72.1 in his career and had an absurd stretch of seven straight seasons with 90-plus grades from 2011 to 2017. While his body has definitely worn down over the years, he appears to have something left in the tank — in 2021, the tight end posted his most receptions, yards, targets and his best receiving grade in the last three seasons. If Gronk were to come back for one more year sans-Tom Brady, a team will be getting a future Hall of Famer who has some gas still left in the tank.
**The Browns franchise tagged Njoku on March 7**
Njoku may have not lived up to his first-round pedigree thus far in his NFL career, but he is still an effective tight end, specifically in the red zone. The former Miami Hurricane saw nine red-zone targets in 2021, converting three of them into touchdowns. He didn't register a drop down by the goal line, posted two explosive plays and recorded a 70.9 receiving grade.
**The Cowboys franchise tagged Schultz on March 8**
A fourth-round pick in 2018, Schultz seems to get forgotten from time to time in a loaded Dallas passing attack. The lack of attention hasn't stopped him from being one of the most effective tight ends in football, however, specifically after the catch. Schultz forced 13 missed tackles in 2021 — the fourth most among tight ends — and gained 351 yards after the catch — seventh-most. He picked up 43 receiving first downs (fourth) and dropped just three of his 106 targets this past season.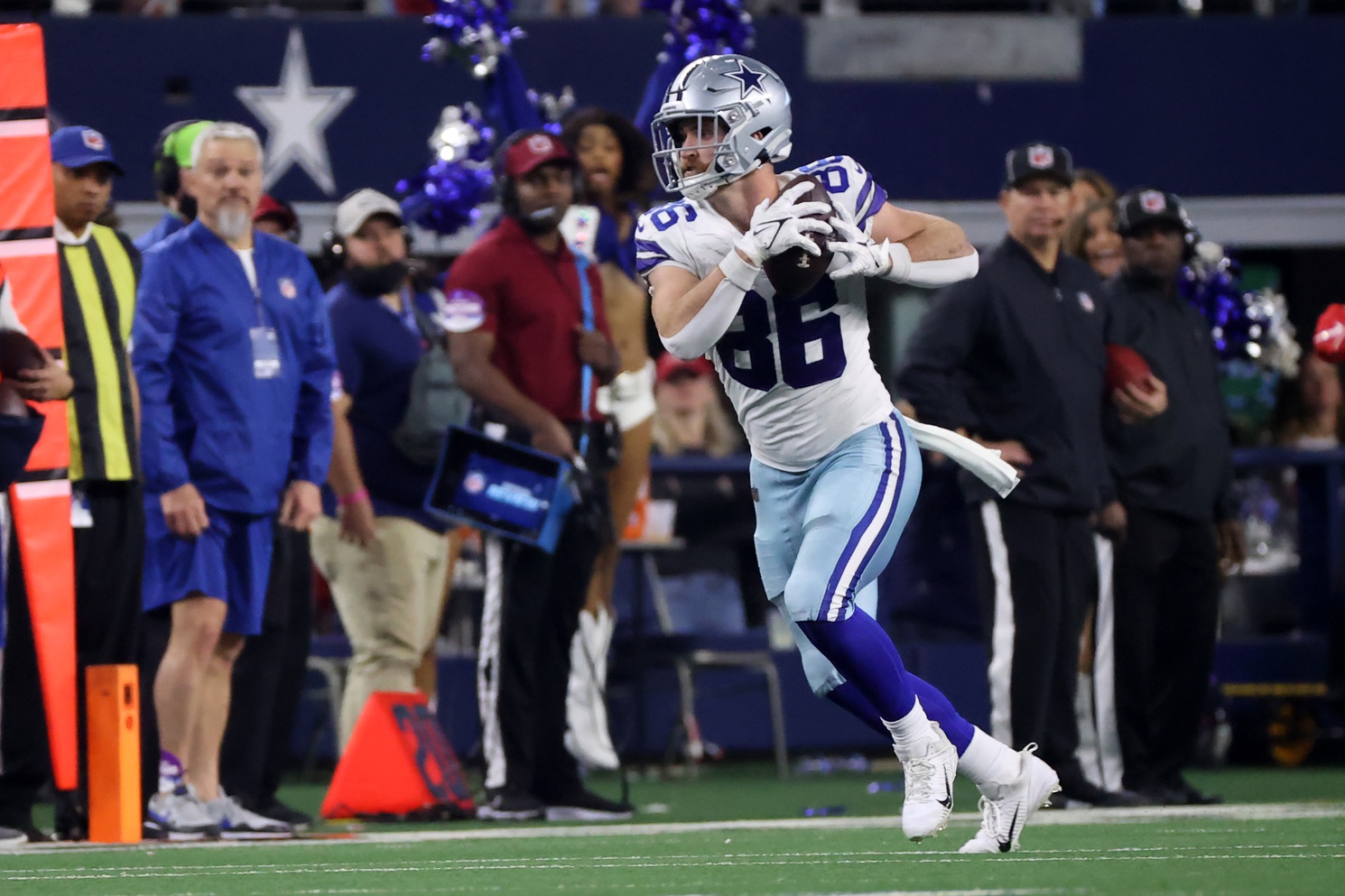 ---
Interior Offensive Linemen
The anchor of a Super Bowl offensive line, Allen finished 2021 top-12 among interior offensive linemen in both run-blocking grade (87.4, 11th) and percentage of positively graded plays (21.7%, seventh). The road-grader was especially effective blocking outside zone concepts, as he posted an elite 90.2 run-blocking grade on 175 run-block snaps.
Considered by many to be the best guard in the class, Scherff is strong in all aspects of his game, but he's specifically effective in pass protection. The Washington guard allowed zero sacks and just two QB hits on 398 pass-blocking snaps in 2021. Scherff has allowed just 11 QB hits since being drafted fifth overall in 2015, and he never graded lower than 68.2 — his rookie season.
Bozeman has played everywhere along the interior offensive line, but he played exclusively center this past season for the Ravens, where he posted his career-best pass-blocking grade (73.8). He played exclusively left guard in 2020 and 2019 after taking some snaps at right guard in 2018. Bozeman's play won't blow anyone away, but he is a reliable chess piece to move along the offensive line if needed.
Jensen is the definition of reliable. The center has not missed a game since becoming a starter in 2017 and has been incredibly consistent over the past three seasons. He's posted strong grades of 79.3, 65.8 and 70.3 over the last three years, including an elite 85.0 pass-block grade in 2019. Jensen has allowed just 14 sacks across 4,000 pass-block snaps.
One of the most important weapons a depth offensive lineman can have in his arsenal is flexibility, and Karras has that in spades, boasting experience at all three interior spots. He took snaps at all three in 2021 with New England but primarily played left guard (695 snaps at left guard, 15 at center, 117 at right guard). However, he played exclusively at center in 2019 and 202 with the Patriots and the Miami Dolphins. In 2021, he posted a 76.9 pass-blocking grade and a 67.8 run-blocking grade.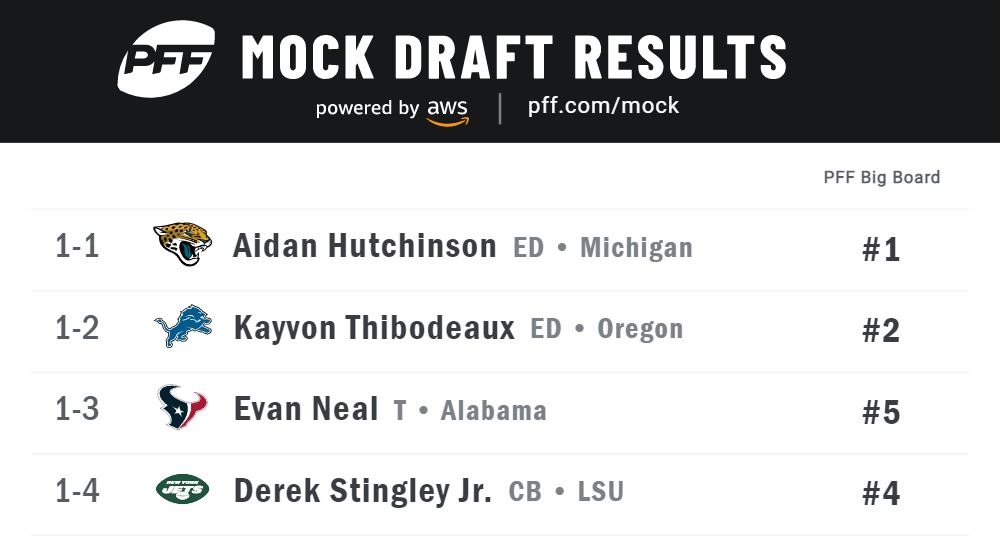 ---
Offensive Tackles
Quessenberry was nothing short of elite in the run game in 2021, posting an 89.1 run-block grade — good for fifth-best in the NFL. He had a lot of experience inside Tennessee's run-heavy attack, taking 549 run-block snaps — the most in the NFL by over 100 snaps. Quessenberry benefitted from the Titans' zone scheme and would be suited to sign somewhere with a similar offensive approach.
Armstead comes in as the second-ranked free agent overall in PFF's free agent rankings, and for good reason. He is a rock-solid run-blocker, but he truly excels in pass protection. The Saints' blindside protector boasted an 85.6 pass-blocking grade in 2021, ranking fifth in the league. Armstead has graded higher than 85.0 in pass blocking in all but three seasons since his rookie year in 2013, and he hasn't graded lower than 80 since his second year in 2014.
**The Chiefs franchise tagged Brown Jr. on March 7**
Brown Jr. can play at either end of the line and remain effective. He moved from exclusively right tackle with the Ravens in 2019 to a combination of right and left tackle in 2020 to exclusively left tackle with the Chiefs in 2021. He graded best in 2020 with a 76.5 offensive grade, but his 75.2 grade at left tackle this past season is nothing to scoff at. The former Oklahoma Sooner is still just 25 years old and ranks inside the top-10 of PFF's free agent rankings. 
Brown is now 36 years old, but he has proven that age is just a number. The former Houston Texan has missed just 22 games over the last 15 seasons, and he has never graded lower than 66.8, which was his rookie year. He did allow eight sacks this past season — the most he's allowed since 2008 — but Brown still has valuable football left in the tank.
Just like interior offensive line, versatility is key to being a depth tackle. The ability to plug in along the line cannot be overlooked, and Ifedi has played all over the right side of the line throughout his career. He played right guard to start his career before switching to right tackle in 2020, and he has posted his highest-graded seasons over the last two years — 65.0 and 61.8, respectively. Ifedi can be a solid starter on a team in need of tackle help or an excellent depth piece for any offensive line.
---
2022 NFL Draft position rankings:
Top 10 players at every position
QB | RB | WR | TE | iOL | OT | DI | EDGE | LB | CB | S
---
Interior Defensive Linemen
As the top-ranked interior defender, Hicks is most effective when he's lined up over the guard or tackle. He posted five straight seasons with run-defense grades greater than or equal to 79.5 before moving to nose tackle, where his grades took a dip into the 60s. He may be a while removed from his elite 2018 campaign (91.7 defensive grade, 92.8 run-defense grade), but Hicks still has strong play left in his career.
Campbell refuses to slow down. The 6-foot-8-inch monster has been incredibly consistent over his career (more on that later), and he has continued his success even into his mid-30s. The former Jaguar tallied 31 pressures from his interior defensive line spot in 2021 and posted a more than respectable 69.5 pass-rush grade. The days of Campbell being one of the most feared defensive linemen in the game may be over, but the ex-Miami Hurricane can still wreak havoc.
Simply put, Suh should not have as much energy as he does. The now 35-year-old defensive tackle played the least amount of snaps in his career in 2021, but he still played 718 snaps. He rarely comes off the field, so a team that signs him should expect 100% effort on every snap, especially if they are able to reel back his workload a bit. Suh will be a much more effective player at this stage in his career if he doesn't have to play every single snap.
Richardson has experience both on the inside and outside of the defensive line, primarily lining up inside as of late despite grading better along the edges over the last few seasons. Overall, the 2013 first-round pick boasts an 85.3 career run-defense grade — the 22nd-highest grade in that timespan. Richardson plays effective ball anywhere along the defensive line and will serve as an effective wildcard to play for his future defensive coordinator.
Campbell's streak of dominance is nothing short of historic. He has posted a 71.4-plus defensive grade every year since 2011 and had four straight years of 90-plus grades from 2016 to 2019. The ex-Cardinal may have lost a step over the last few years — he posted his two worst defensive grades since 2014 over the last two seasons — but he is still leaps and bounds better than the majority of interior defensive linemen out there.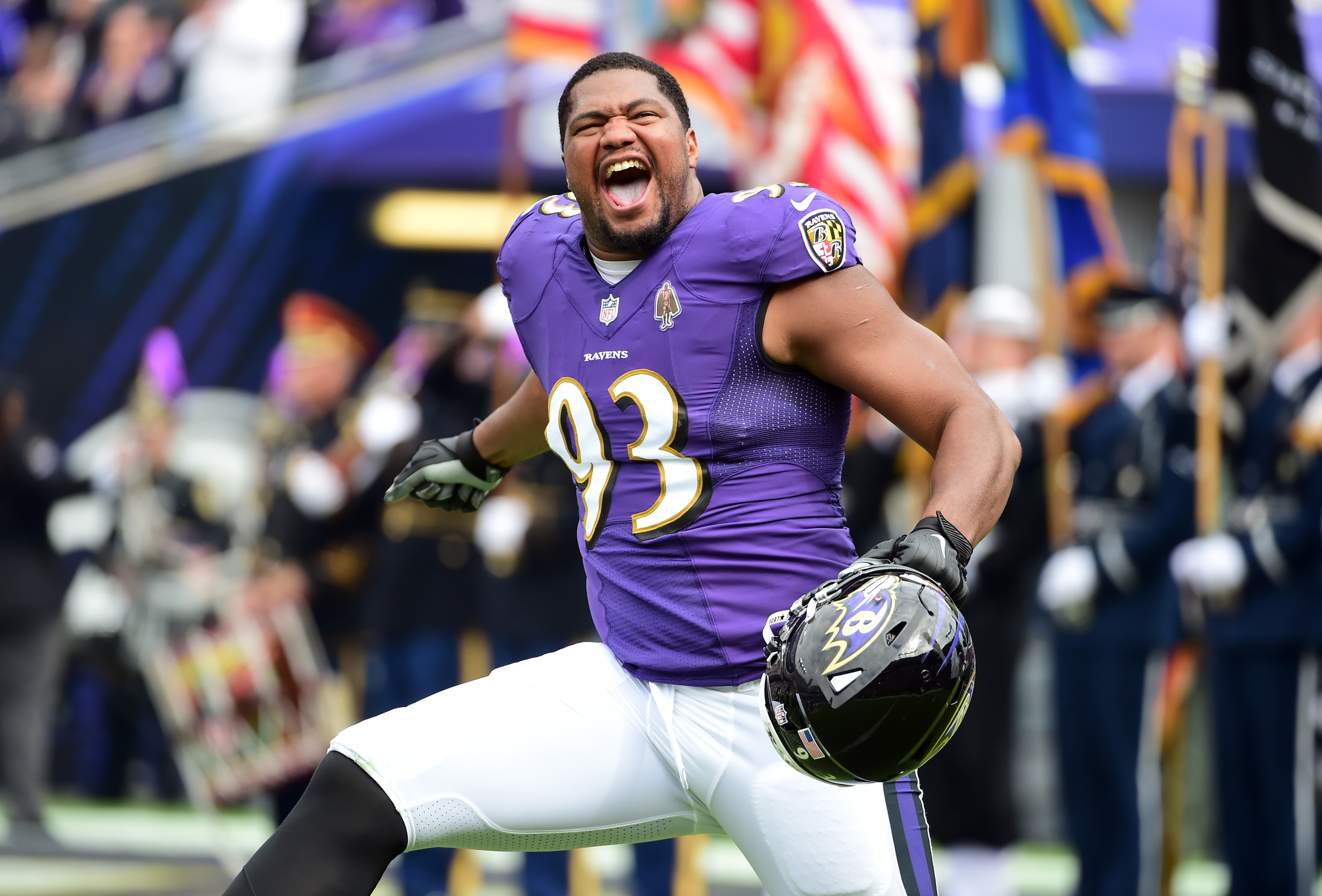 ---
Edge Rushers
Miller provided the spark the Rams defense needed to win the 2021 Super Bowl. While much is made about his ability to get after the quarterback, and rightfully so, the former Bronco's dominance in the run game shouldn't be overlooked. Miller finished the 2021 regular season with an 85.9 run-defense grade — the fourth-highest in the league. He followed that up with a 79.4 run-defense grade in the postseason, also the fourth highest. 
Jones has been one of the league's premier pass-rushers over the last few seasons, putting up double-digit sacks in every season since 2016 except for 2020, where he was limited to just five games. The edge-rusher just had his second-highest graded pass-rushing season in 2021, boasting an 89.8 grade on the back of 47 total pressures and 11 sacks. He's an instant upgrade to virtually any defensive line.
**The Titans gave Landry a five-year, $87.5 million extension on March 8**
Landry had a breakout season statistically, compiling a career-high 16 sacks. He played 981 defensive snaps — the most among edge rushers — 569 pass-rush snaps — the seventh-most among edge rushers — and 144 coverage snaps — third among edge rushers. Landry is rarely off the field and provides stability at the edge rusher position.
---
Related content for you:
Early extension candidates among NFL defenders in the 2022 offseason via Brad Spielberger and Timo Riske
---
**The Titans gave Landry a five-year, $87.5 million extension on March 8**
Speaking of Landry, his ability to play multiple spots makes him a unique Swiss Army knife for teams to employ. He had an even split of defensive end and outside linebacker snaps in 2021, frequently dropping into coverage. His 68.7 coverage grade finished ninth-highest among edge rushers that logged at least 50 coverage snaps, and he only allowed one play of 15-plus yards out of 18 plays lined up in primary coverage.
One of the best defensive linemen of the past decade, Miller posted a 90-plus defensive grade in every healthy season except 2019 since he entered the league in 2011. He's finished with double-digit sacks every year (except 2019 and 2013) and has recorded an 85.5-plus pass-rush grade in every season besides 2019. 
---
Linebackers
Despite being limited to just six games in 2021 due to injury, Johnson posted a 90.3 run-defense grade — the third-highest in the NFL behind only Darius Leonard and Pete Werner. He also posted a 91.4 run-defense grade in 2019 — the highest in the NFL among linebackers with at least 100 run-defense snaps — and graded negatively on just 9.1% of run plays — the eighth-lowest mark. Johnson needs to stay healthy, but he can provide stability against the run when on the field.
Bentley only played 61 pass-rush snaps this past season, but he posted the fourth-highest grade among pass-rushers who had at least 50 pass-rush snaps (78.8). His 13.1% win percentage ranked 15th. The sample size is small — 174 pass-rush snaps over the last four seasons — but Bentley's grade indicates he is ready to take on a larger defensive role.
Campbell's breakout season on a one-year, prove-it deal with Green Bay was a sight to behold, as his PFF defensive grade skyrocketed nearly 40 points from year-to-year (49.0 to 86.0). The ex-Cardinal boasted the second-highest overall defensive grade in 2021 and was elite in pass coverage. His 83.1 coverage grade ranked second among linebackers, trailing only Kyle Van Noy, and his 613 coverage snaps ranked third behind Bobby Wagner and Bobby Okereke. He allowed 22.4% of his targets to be first downs or touchdowns — the ninth-lowest percentage with the same qualifiers. Campbell is PFF's 27th-ranked free agent overall.
White is still developing and will only be 26 years old by the time next season rolls around, but he is already one of the better tacklers in the game today. He finished seventh in total tackles in 2021 (147) and boasted an 80.7 tackle grade and 66.5 overall defensive grade. He was especially effective against the run, finishing top-five in tackles on run plays (62).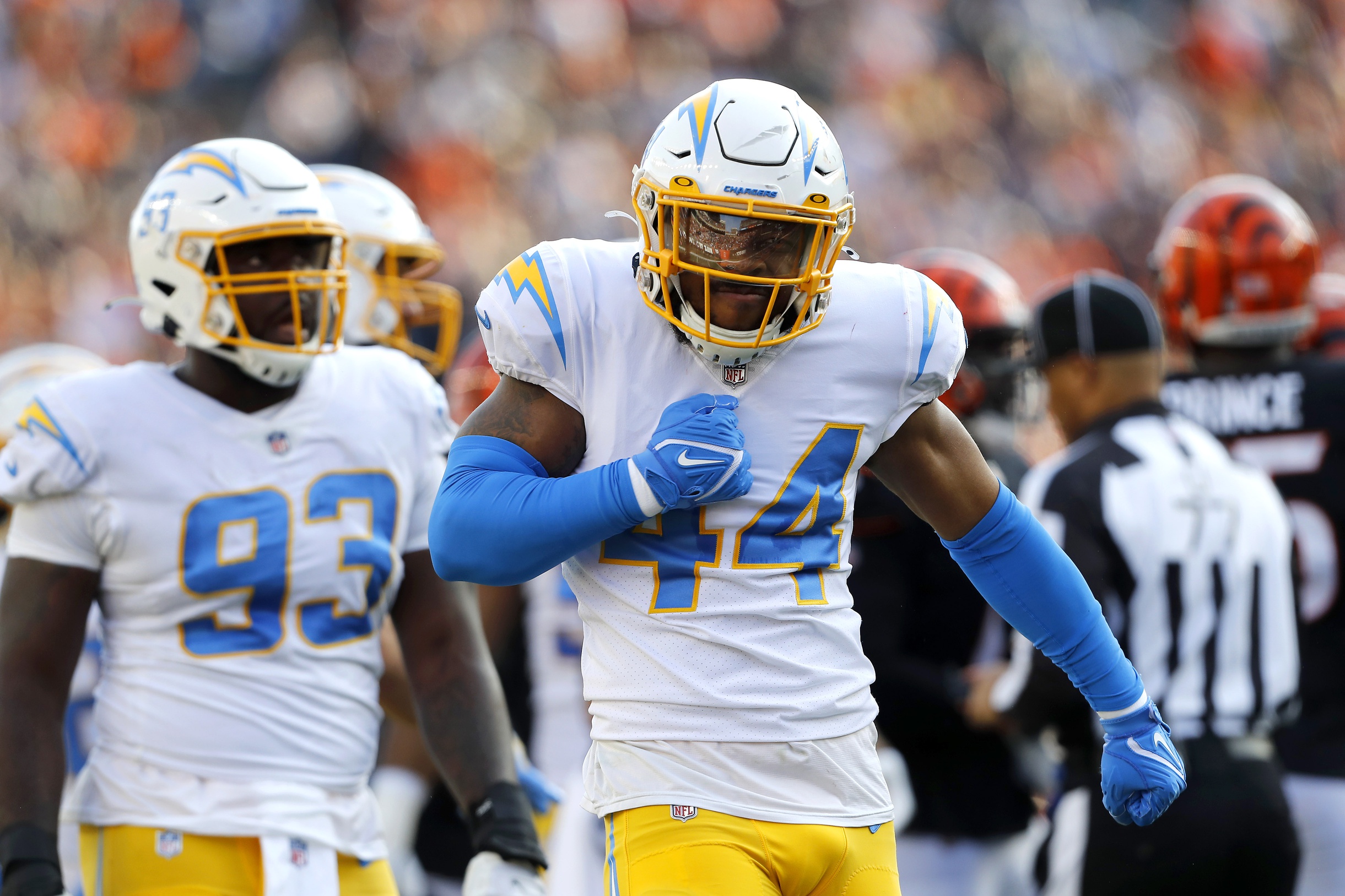 Oluokun actually led the position group in tackles and could have fit in the previous category, but his ability to line up all over the field gives him the edge here. The Falcons linebacker can start at either middle or weak-side linebacker, as he split time between both positions over the past four seasons. He posted his worst defensive grade in 2021 (45.8), but his speed and athleticism should be enough for a team to gamble on the 26-year-old's potential.
---
Cornerbacks
Jackson proved his worth as a No. 1, lockdown corner in his first season without Stephon Gilmore, as the Patriots corner boasted an 83.0 coverage grade — the fifth-highest grade by a corner with at least 250 snaps. His 50% completion percentage allowed ranked sixth, and his eight interceptions trailed only Trevon Diggs for the most in the league. Jackson lined up in press coverage on 242 of his 558 snaps — the 14th-most at the position. The Maryland product comes in at No. 6 on PFF's free-agent rankings.
Hayward had a down year in 2020, but he came back in a big way in 2021, posting the 12th-highest defensive grade among corners (76.6) and the fourth-best PFF WAR at the position (.56). There could be some age concerns with the 32-year-old corner, but Hayward played the third-most coverage snaps in the NFL last year and allowed just 1.5% of plays thrown his way to go for more than 15 yards. After playing in Gus Bradley's zone-heavy scheme since 2017, Hayward is best suited for another zone team.
As the best run defender in this cornerback class, Reed posted an 85.5 run-defense grade in 2021 on 396 run-defense snaps, the fifth-best grade among cornerbacks. Reed tied Bryce Hall of the New York Jets for the fourth-most tackles at the cornerback position in 2021 with 82. Despite being a measly 5-foot-9-inches, the Kansas State product posted the eighth-highest cornerback defensive grade last year (78.6) and had a 10% missed tackle percentage, including only a 3% rate in run defense.
Playing second fiddle to Jalen Ramsey allowed Williams to move all over the defense in 2021. He lined up outside the majority of the time (964 snaps), but he split that time pretty evenly among the left and right sides (411 and 553, respectively). The undrafted free agent from UAB also played 103 snaps from the box and 92 from the slot. He's produced quality numbers as well: Before a regression in 2021, Williams posted the fifth-best PFF WAR among cornerbacks in 2020 (.53). The question remains whether he can be a CB1, but Williams' versatility makes him a worthy No. 2 corner just about anywhere. 
Callahan has solidified himself as one of the best and most experienced slot corners in the game. Since entering the league in 2015, the former Bear has played 69.5% of his snaps from the slot, including 378 snaps from the position in 2021. His coverage grade took a dip in 2021 after a career-best 86.7 grade in 2020, falling to a mediocre 67.9 grade. Over his career, Callahan has tallied more interceptions (six) than touchdowns allowed (four). He would start inside for the majority of teams in the league.
Safety
Williams comes in at No. 8 in PFF's free-agent rankings and is the top-ranked safety, as the Saints free safety posted top-10 numbers in both coverage snaps (669, ninth) and coverage grade (84.3, eighth). He was targeted 16 times in primary coverage and allowed eight catches on the 2021 season — his 50% completion percentage was tied for seventh-lowest at the position. At just 25 years old, Williams is already one of the best free safeties in the game and should only continue to improve.
After posting average run-defense grades for four seasons in Dallas, Woods broke out as a run stopper in 2021 with Minnesota. He played the fifth-most run-defense snaps among safeties (449) and boasted the third-highest grade among safeties with at least 100 run-defense snaps (87.5).
Mathieu fits the bill as a jack-of-all-trades safety. Since signing with the Chiefs in 2019, the Honey Badger has taken at least 200 snaps from deep, slot and box alignments each season. After lining up mostly in the slot in 2019 and 2020 (561 and 414 snaps, respectively), he took the majority of his reps from box alignment in 2021 (504 snaps). Mathieu can line up all over the place and gives teams flexibility at their safety spot.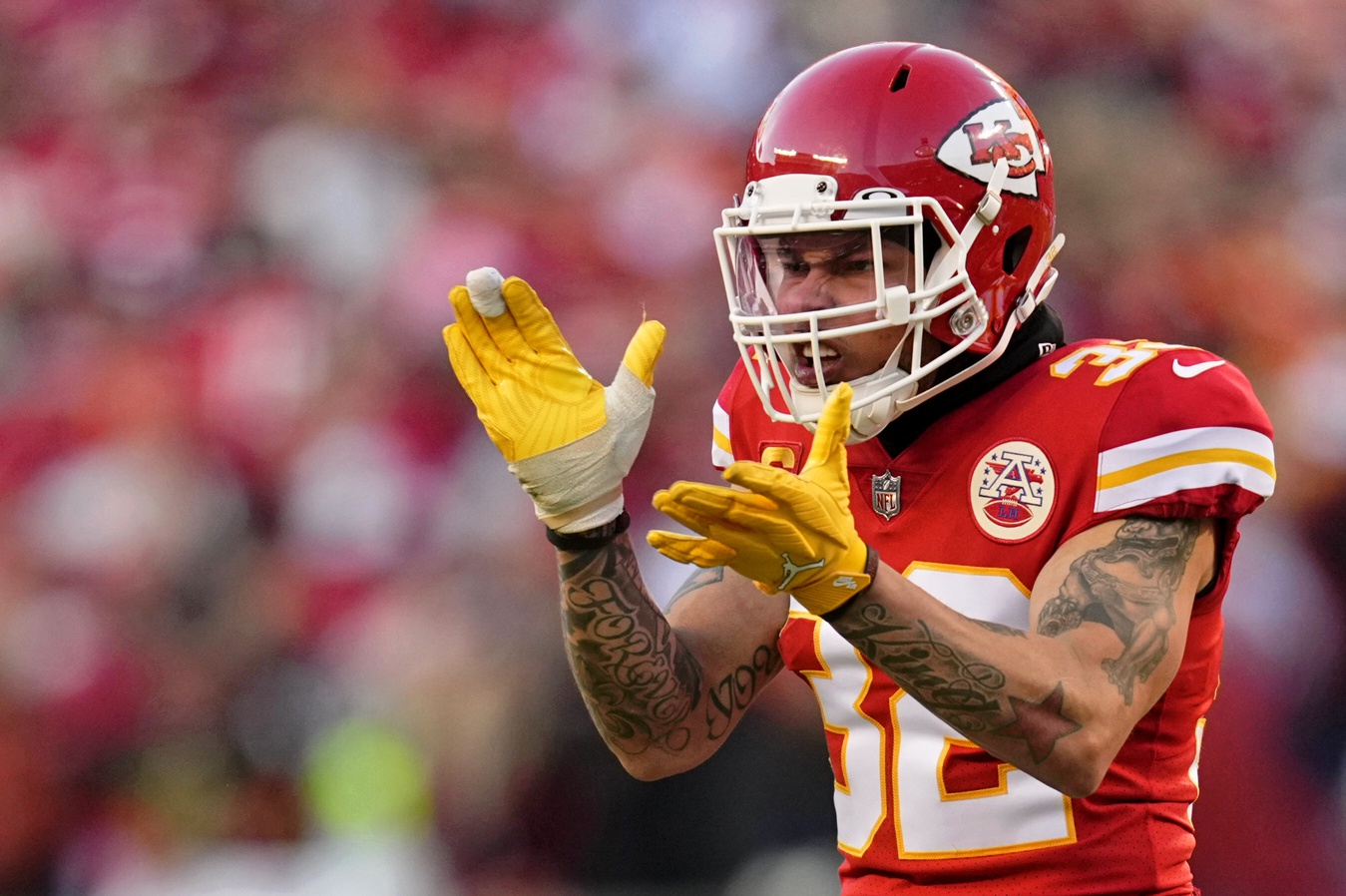 Kearse graded as a top-15 safety in 2021, posting a 75.2 defensive grade (14th) and a .39 PFF WAR figure (11th). He took the sixth-most snaps in the league from a box alignment (446) and recorded just a 3.9% missed-tackle percentage on 80 total tackles. At his size (6-foot-4-inches, 215 pounds), Kearse can body up and stick with modern-day NFL tight ends.
With his success in the run game, it makes sense Woods would have a successful tackling season. He did exactly that, tallying 112 tackles — sixth among safeties — to just seven missed tackles in 2021. His 6% missed-tackle percentage was lower than Derwin James (9%), Minkah Fitzpatrick (11%) and Budda Baker (15%), and was on par with his teammate Harrison Smith.