With the 2022 salary cap expected to bounce back up to $208.2 million, NFL teams can view this as a $10 million increase from the $198.2 million 2020 salary cap before it dropped to $182.5 million in 2021.
A $10 million increase (roughly 5%) is in line with the annual growth of the salary cap year-over-year from 2013-2020, so spending and position market growth should, in theory, return to normal. There is also the new reality of a 17th regular-season game and a new TV deal fully scheduled to kick in starting in 2023. 
---
Click here for more PFF tools:
Draft Guide & Big Board | Mock Draft Simulator
Dynasty Rankings & Projections | Free Agent Rankings | 2022 QB Annual
Player Grades
---
Early extension candidates from the 2019 NFL Draft will technically be signing new contracts that begin in 2023, a year many expect the salary cap to truly spike as new revenue streams kick in. While the majority of these extensions tend to occur after veteran free agency and the NFL draft, teams must earmark cash and cap dollars for the homegrown players they hope to keep around for the foreseeable future. 
Arizona Cardinals 2019 No. 1 overall pick quarterback Kyler Murray will almost certainly have his $28.6-million fifth-year option exercised this offseason — the elevated value is a result of Murray earning multiple Pro Bowl bids in his first three seasons — as will many of the difference-makers from the first round of the 2019 NFL Draft. Murray could be an exception to the rule, as just three of the 32 first-round picks from the 2018 NFL Draft signed extensions before the 2021 season began, though 22 of them had their fifth-year options exercised. 
A few notable defensive players taken in the first round of the 2019 draft — San Francisco 49ers edge defender Nick Bosa and Tennessee Titans interior defender Jeffery Simmons — may be candidates for early extensions even with the fourth rookie contract year and fifth-year option remaining on their deals. Other important young contributors on defense could cash in early and avoid entering a contract year in 2022. 
*Note that all ranks in key stats shown are among qualifying players of the respective position.
Def. grade since 2019: 81.1 (19th)
Pass rush win rate since 2019: 17.5% (13th)
WAR since 2019: 0.83 (ninth)
Def. grade in 2021: 91.7 (second)
Pass rush win rate in 2021: 27.0% (first)
WAR in 2021: 0.80 (first)
Contract Projection: Five years, $136.25 million ($27.25M per year), $105 million total guaranteed
Crosby's career trajectory is interesting: Despite gaudy sack numbers in Year 1, he wasn't necessarily on track to become an elite edge rusher through the first two years of his career. He sacked the opposing quarterback 12 times his rookie season, but his underlying performance metrics were more indicative of a mediocre season, as he registered a 67.3 pass-rush grade (38th among edge rushers with at least 300 pass rush snaps), a 11.6% pass-rush win rate (51st) and a 10.8% pressure rate (45th). These weren't bad numbers for a rookie (selected in the fourth round, no less) by any means, but it told us the sacks weren't telling the true story of his rookie season, as it was obvious he wouldn't be able to keep converting almost 25% of his pressures to sacks.
His second year went exactly as expected, as he racked up pass-rush wins (11.6%) and pressures (9.9%) at roughly the same rate as he did as a rookie, but his sack rate regressed to what we would expect given the pressures and pass-rush wins. Still, he posted a solid seven sacks in 2020.
Enter Year 3, and Crosby took a huge step forward. He picked up 11 sacks, falling short of the total from his rookie season, but as a player, he was much better. His 91.9 pass-rush grade ranked second in the league behind only Myles Garrett, and his 27.0% pass-rush win rate led the league among edge rushers that played at least 300 pass-rush snaps.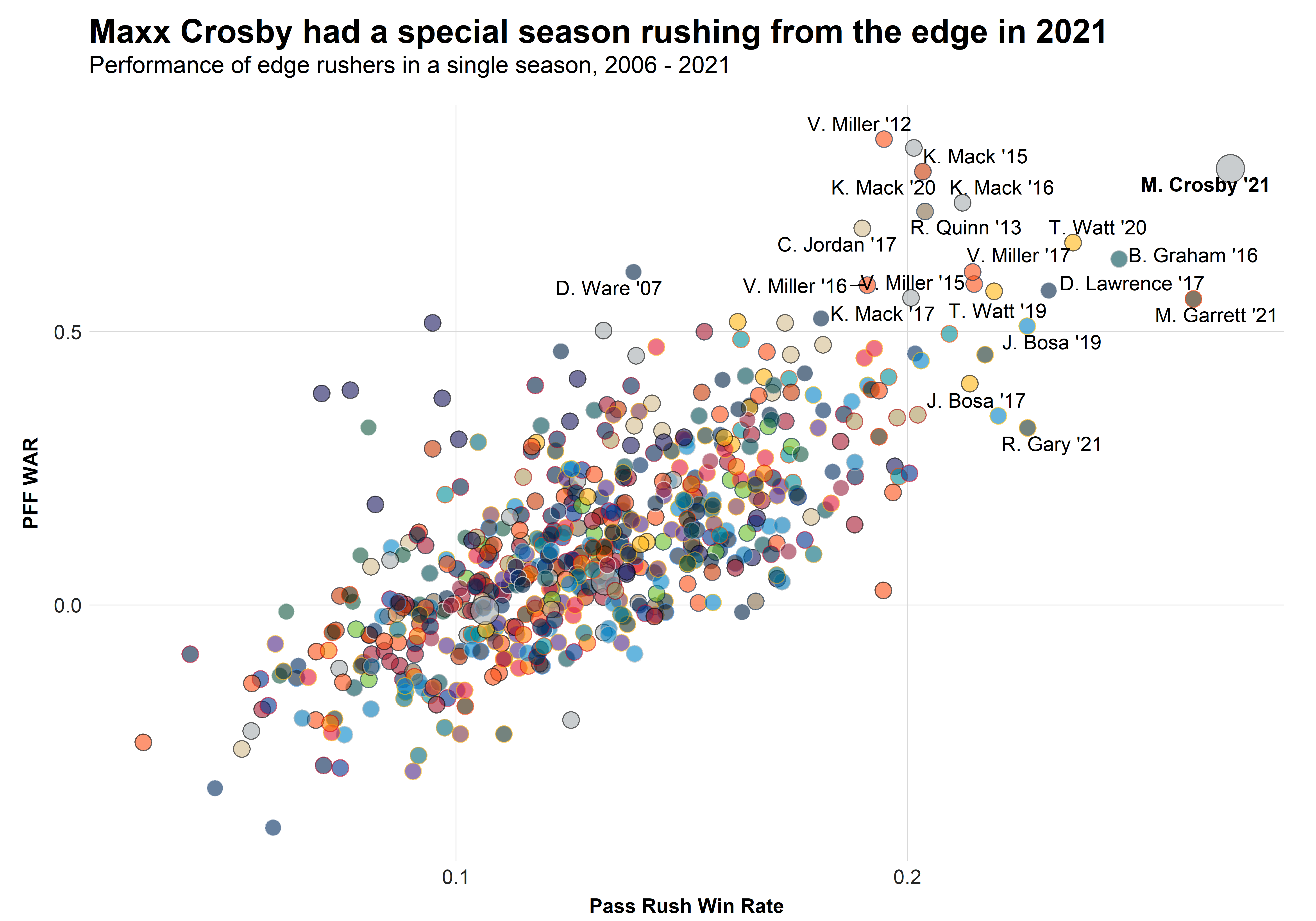 It's noteworthy because a Year 3 breakout is not uncommon for edge rushers, so while we should always be skeptical of single season excellency turning into perennial success, we can be a bit more confident that Crosby's 2021 season was more than just a fluke. While his pass-rush win rate will probably regress a bit in the future, turning 119 total pressures into only 11 sacks was extremely unlucky. With league-average pressure-to-sack conversion, he would've racked up a whopping 16 sacks given the amount of pressure he generated.
Consequently, even if his performance might have already peaked in 2021, he projects to be a perennial double-digit sacks edge rusher in the future, which is worth a lot in the NFL. The Raiders have a lot of reasons to act early and make sure Crosby won't test free agency one year from now.
---
Related content for you:
2022 NFL Free Agent Rankings: Top 200 players expected to enter free agency via PFF.com
---
Def. grade since 2019: 66.6 (151st)
Yards allowed per coverage snap 2019: 0.98 (65th)
WAR since 2019: 0.76 (32nd)
Def. grade in 2021: 62.2 (118th)
Yards allowed per coverage snap in 2021: 1.21 (137th)
WAR in 2021: 0.17 (64th)
Contract Projection: Three years, $24.75 million ($8.25M per year), $14 million total guaranteed
Gardner-Johnson started off as a safety for New Orleans but transitioned to nickel cornerback after Malcolm Jenkins signed with the Saints and took over the safety duties alongside Marcus Williams.
When lining up in the slot, Gardner-Johnson earned a respectable 69.1 coverage grade in 2021, which puts him in the upper half of starting slot cornerbacks. Nevertheless, it looks like he is best used as a versatile chess piece, changing between playing nickel corner, box safety or even lining up at the line of scrimmage. He played his best year so far in this role, earning a 70.9 defensive grade as a rookie. Given that Jenkins is about to be 35 years old next season, this could be how Gardner-Johnson is supposed to help the Saints in the midterm future if they decide to extend him.
Whether he plays predominantly nickel corner or act as a versatile box safety, both positions are currently probably undervalued by NFL teams. Add that Gardner-Johnson had a down year after suffering a few injuries, and the cap-stripped Saints have a chance to buy low on a player who is already familiar with their excellent defensive scheme.
---
Def. grade since 2019: 82.4 (Sixth)
Yards allowed per coverage snap 2019: 0.81 (Fifth)
WAR since 2019: 0.82 (26th)
Def. grade in 2021: 82.0 (Fifth)
Yards allowed per coverage snap in 2021: 0.77 (ninth)
WAR in 2021: 0.35 (18th)
Contract Projection: Three years, $25.5 million ($8.5M per year), $14.5 million total guaranteed
Fenton was a sixth-round pick in 2019, but he has vastly outperformed his late draft position, as his 86.3 career coverage grade ranks fourth in the league since 2019, trailing only Jaire Alexander, Jalen Ramsey and Jamel Dean. If compared historically, Richard Sherman is the only superior late-round pick since 2006.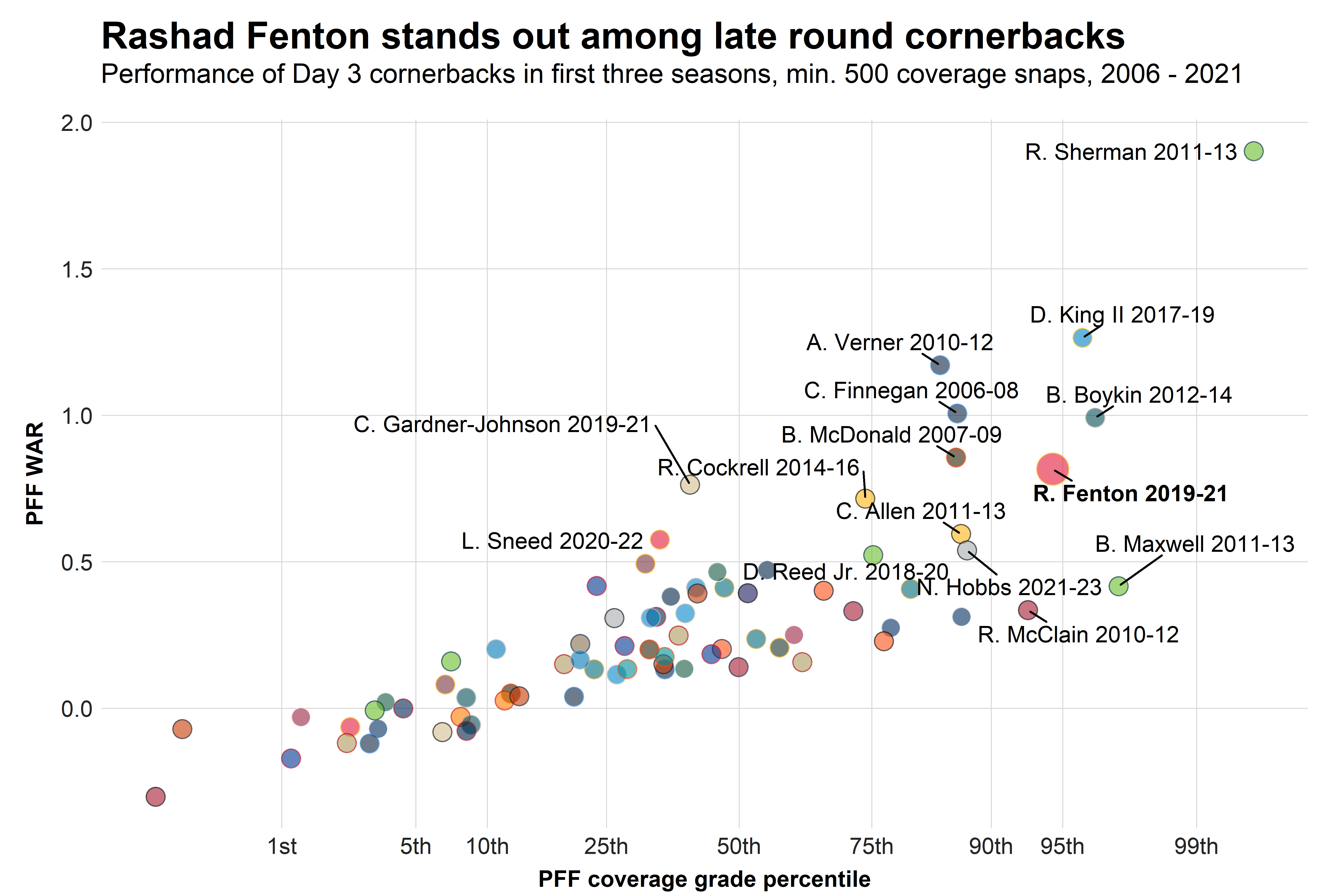 Given his usage over time, it looks like Fenton projects as an outside corner going forward. He played mostly in the slot as a rookie in 2019, split snaps between outside and the slot in 2020 and then played 80% of his snaps outside in 2021. He held his own in each of these different roles, making him a massively valuable player since he can capably play multiple positions in the secondary
Late-round picks are still underpaid compared to their peers when it comes to the second contract, hence why the Chiefs might be in for a bargain here. Fenton excelling in different roles and his fairly cheap projected contract eliminates almost any risk that usually comes with an early extension, and the upside is obvious. Fenton could be in for a payday soon.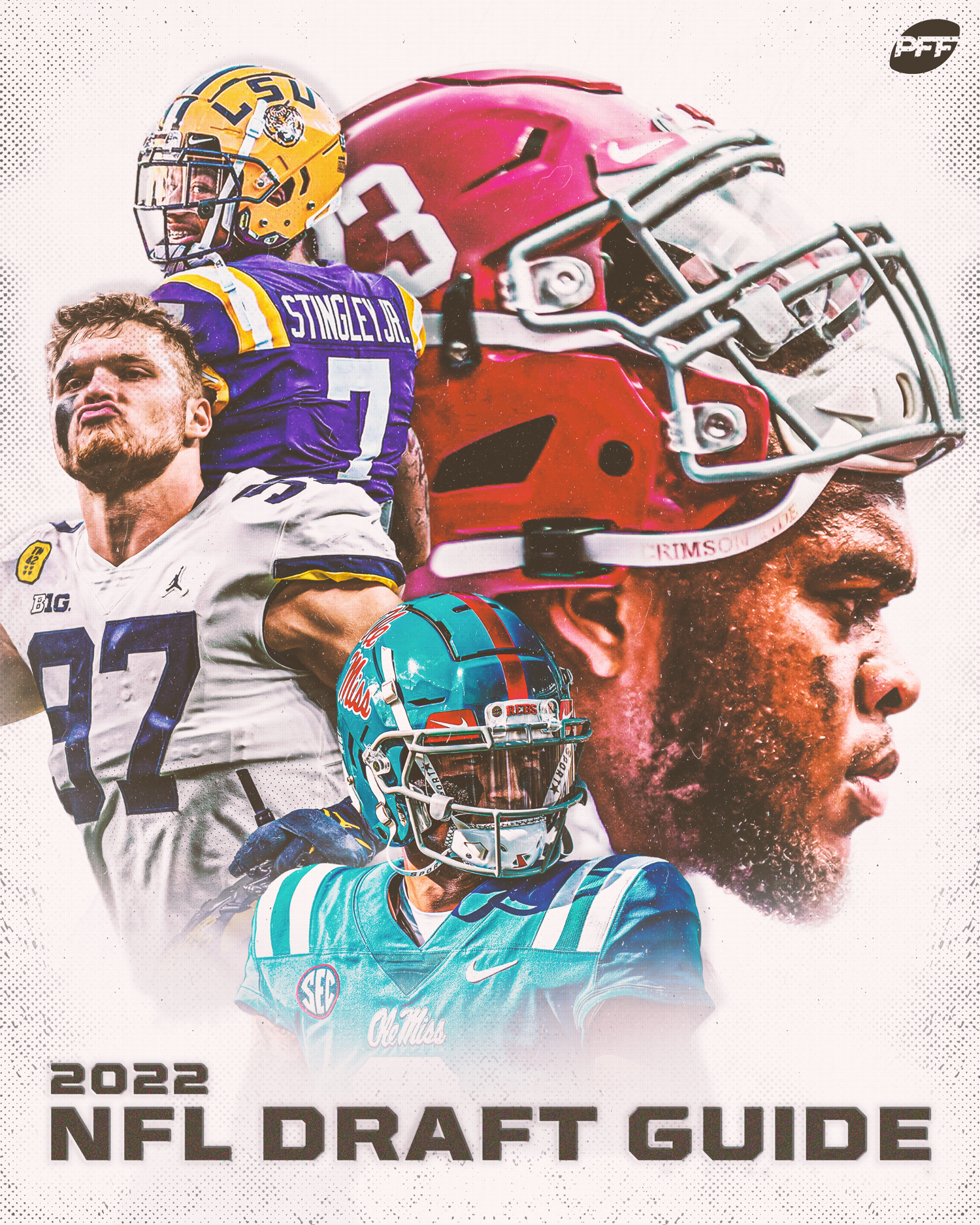 ---
Def. grade since 2019: 79.2 (19th)
Yards per coverage snap since 2019: 0.48 (t-40th)
WAR since 2019: 0.60 (33rd)
Def. grade in 2021: 83.3 (fifth)
Yards per coverage snap in 2021: 0.49 (27th)
WAR in 2021: 0.34 (20th)
Contract Projection: Three years, $21 million ($7M per year), $12.25 million total guaranteed
Hooker logged a career-high 705 snaps this past season, and his 83.4 coverage grade ranked ninth among safeties with at least 100 coverage snaps in 2021. Fellow Titans safety Kevin Byard — the highest-graded safety in the NFL in 2021 by almost five points with a 90.3 overall grade and one of the league's highest-paid safeties at $14.1 million per year — plays around 55% of his snaps lined up as a free safety with the other 45% is from the box or the slot. Hooker has similar versatility, lining up as a free safety roughly 60% of the time and making an impact when in the box as a run defender.
One lesson from recent NFL contracts at safety is that while the ability to play in a two-high structure is increasingly coveted, there has been more value placed on safeties that can come down into the box as well as line up in the slot as compared to pure, deep-third free safeties. 
Hooker only generated a negative grade on 2.3% of his run defense snaps in 2021, which ranked 13th among safeties, and his 5.43-yard average depth of tackle tied for 19th. For comparison, Saints safety Malcolm Jenkins, Seattle Seahawks safety Jamal Adams and Tampa Bay Buccaneers safety Jordan Whitehead rank top 10 in average depth of tackle. These safeties are physical difference-makers who log a lot of snaps down in the box and make plays at, or ideally behind, the line of scrimmage. This tandem of skills is coveted as the NFL continues to move toward more two-high-safety looks, but in turn, it requires safeties who make tackles against the run so that the defense won't get gashed on the ground or with quick-developing routes.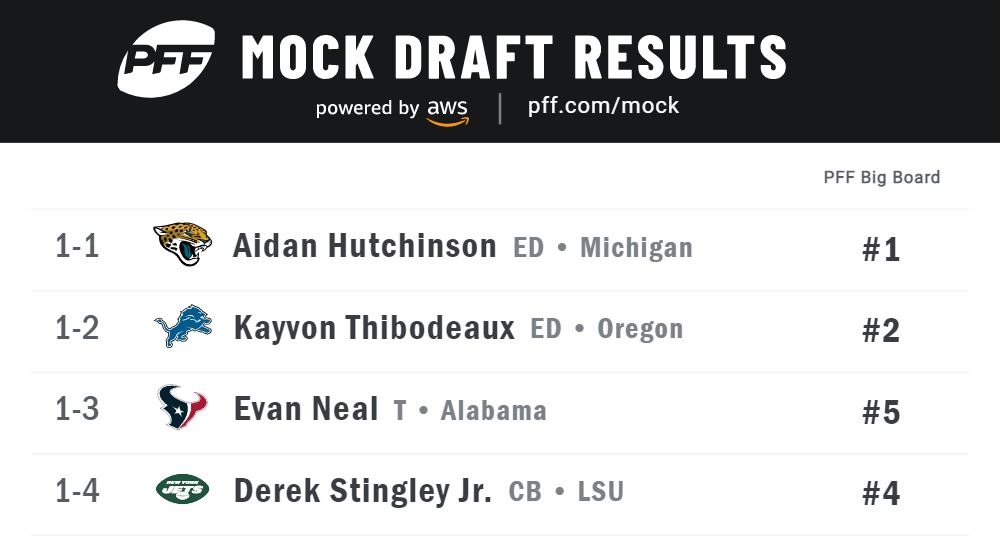 Another element to a potential Hooker extension is that the Titans could have one of the league's top-paid safety duos. The Buffalo Bills have gotten strong return on Micah Hyde and Jordan Poyer — both rank inside the top 15 in per-year average among safeties at just below $10 million — but are the only team currently slated to pay more than $5 million per year to two safeties in 2022. The Seahawks could re-join that list with a Quandre Diggs extension, and the Cincinnati Bengals and/or Saints could join the list with a new deal for safeties Jessie Bates III and Marcus Williams. 
Will the Titans be open to an early extension on the backend as they look to retain edge defender Harold Landry III in free agency?
---
Def. grade since 2019: 90.2 (sixth)
Pass rush win rate since 2019: 18.9% (seventh)
WAR since 2019: 0.74 (10th)
Def. grade in 2021: 88.3 (eighth)
Pass rush win rate in 2021: 20.7% (sixth)
WAR in 2021: 0.35 (sixth)
Contract Projection: Five years, $150 million ($30M per year), $105 million total guaranteed
Bosa has been among the league's best edge defenders since Week 1 of his rookie season, generating the 10th-most wins-above-replacement even while missing the majority of the 2020 season with a torn ACL. 
The former second overall pick was the 2019 AP Defensive Rookie of the Year, and — more importantly for contract purposes — made two Pro Bowls in his first three seasons. As a result, Bosa's 2023 fifth-year option, which the 49ers must choose to exercise or decline by May 3, 2022, carries an increased value of $20,186,000.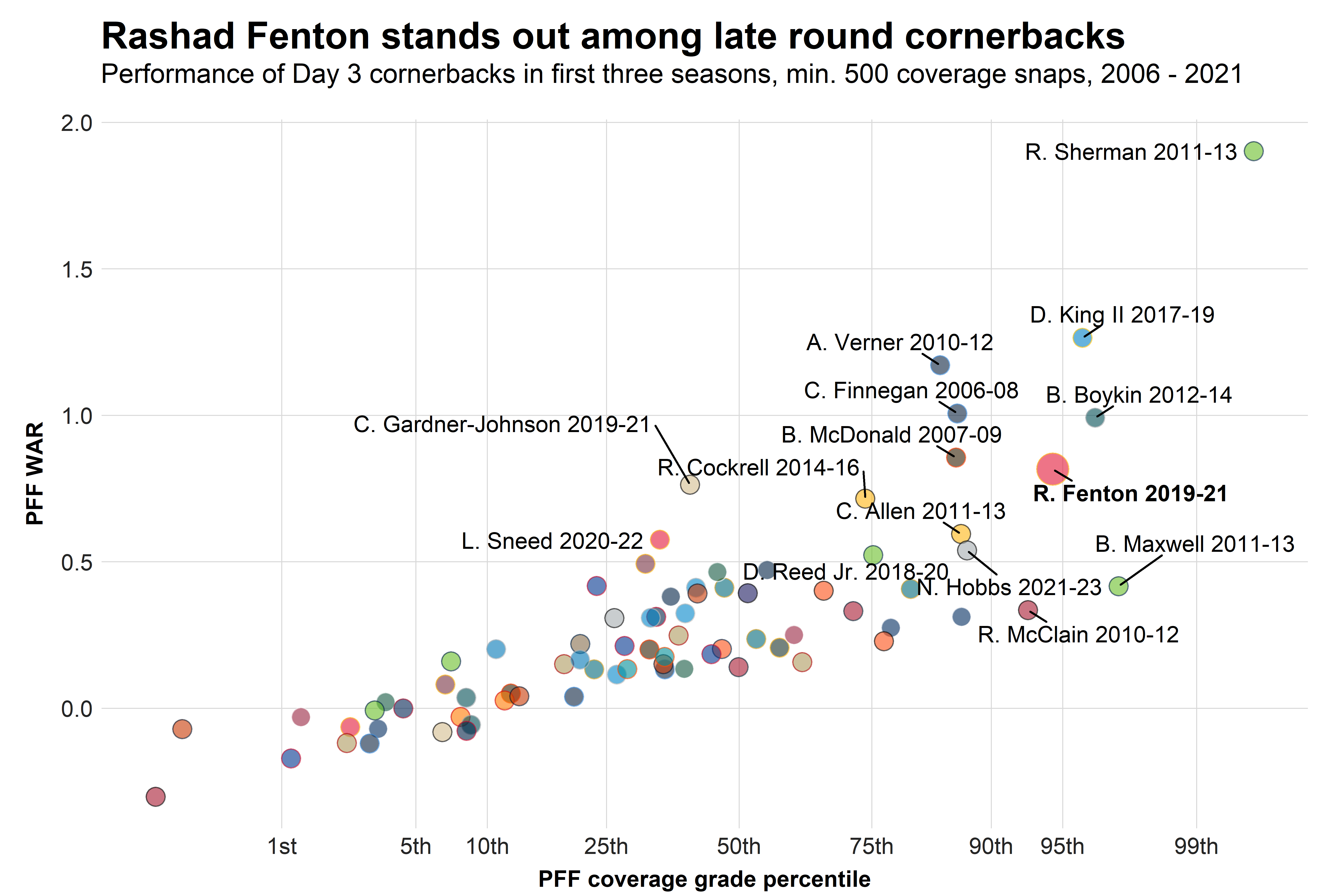 It's no accident that the only big outliers akin to Bosa on the above chart are Pittsburgh Steelers edge defender T.J. Watt, Los Angeles Chargers edge defender Joey Bosa and Cleveland Browns edge defender Myles Garrett. Coincidentally, these happen to be the three highest-paid defensive players in the NFL at $28.003 million per year, $27 million per year and $25 million per year, respectively. 
Bosa has a good shot to become the first non-quarterback to earn $30 million annually. His fifth-year option already has him earning over $20 million in cash for one season, and San Francisco would probably be smart to get this deal done as soon as possible.
---
Def. grade since 2019: 80.7 (t-14th)
Pass rush win rate since 2019: 12.1% (31st)
WAR since 2019: 0.43 (11th)
Def. grade in 2021: 71.9 (t-22nd)
Pass rush win rate in 2021: 13.6% (19th)
WAR in 2021: 0.20 (12th)
Contract Projection: Five years, $110 million ($22M per year), $70 million total guaranteed.
Simmons entered the league with a torn ACL that he suffered just two months before the NFL Draft in 2019, but he still went within the top 20 for a reason. Even with much of Simmons' 2019 season spent recovering, he's generated the 11th-most wins-above-replacement among interior defenders since 2019. 
The Mississippi State product is a disruptive presence and can take over games at times due to rare athleticism at his size. He recorded four quarterback pressures and three sacks against the Bengals in the divisional round of this year's playoffs, as he did everything in his power to will the AFC's No. 1 seed to victory. 
Simmons' 2023 fifth-year option — which the Titans must choose to exercise or decline by May 3, 2022 — carries a $10,069,000 value. Simmons should push to join the $20 million-plus per year group among interior defenders, though perhaps it could be a calculated move to wait until Los Angeles Rams interior defender Aaron Donald negotiates a huge, short-term extension to chase back-to-back rings. 
The Titans lineman is one of just seven interior defenders with 100-plus quarterback pressures over the last two seasons, ranking sixth with 103. The five highest-paid interior defenders in the NFL — along with the 10th-highest paid in Pittsburgh Steelers stalwart Cameron Heyward — round out the list. Simmons figures to be in the same company contractually with this group soon.
No interior defender has been able to surpass Donald's $22.5 million per year average on a six-year mega-deal, but that contract was signed in 2018, and the position market is due for a reset. Simmons could perhaps top that number if he waits for Donald to go first, but he should come close either way.