The NFL is a matchup-driven league. Offensive coordinators are always looking to scheme their playmakers into one-on-one situations against a defender, while defensive coordinators will attempt to do anything in their power to upset the timing and rhythm of the opposing QB.
Click here for more PFF tools:
Rankings & Projections | WR/CB Matchup Chart | NFL & NCAA Betting Dashboards | NFL Player Props tool | NFL & NCAA Power Rankings
---
Despite the obvious impact that defenses have on opposing offenses, fantasy players and fans alike are often left with one-way metrics to describe offenses and defenses that they are then forced to compare against each other in an attempt to identify mismatches.
The goal here is to provide easy-to-decipher charts and notes to define each week's key matchups and advantages on both sides of the ball in:
Explosive Plays

Pace

Pressure

Yards Before Contact

Passing Game

EPA
The following charts display matchup-specific information meant to highlight the largest mismatches in these ever-important facets of football to ultimately gain actionable betting and fantasy takeaways. And, of course, to have fun.
Note: Data is from Week 1-14, 2021. Key discrepancies will be highlighted in the ensuing paragraphs and the metrics will get stronger as the season continues.
Explosive Plays
Big plays make the football world go round. Matchups between explosive offenses and leaky defenses are exactly what we're looking for when compiling game stacks in DFS, or when betting an over.
Explosive Pass Rate

: The sum of an offense's rate of 20-plus yard completions per pass attempt and the opposing defense's rate of 20-plus yard completions allowed per pass attempt. A higher percentage is better for offenses (blue is good, red is bad).

Explosive Run Rate

: The sum of an offense's rate of 15-plus yard gains per rush attempt and the opposing defense's rate of 15-plus yard runs allowed per rush attempt. A higher percentage is better for offenses (blue is good, red is bad).
Mismatch Manifesto Week 14: combined explosive play rate.

Higher or lower % = large or small combined sum of the pass/rush big-play rate from the matchup's offense and defense (blue = good, red = bad)

Big pass play: 20+ yds
Big run play: 15+

All data from 2021, PFF pic.twitter.com/xR7wh1TCsW

— Ian Hartitz (@Ihartitz) December 8, 2021
These offenses breed explosive plays: Five offenses are averaging an explosive pass play on at least 11% of their dropbacks: Raiders (12.1%), Patriots (11%), Cardinals (10.9%), Rams (10.4%) and Vikings (10.2%). The latter squad will unfortunately be without the services of Adam Thielen (ankle) for their Thursday night matchup against the Steelers, but at least that means fans should see more of Justin Jefferson than ever.
"I know I said top five, but I'm top two and I'm not two": Jefferson quite literally leads the NFL in receiving yards since entering the league. Pick pretty much any receiving metric and you'll find him near the top of the leaderboard:
PFF receiving grade: 91.9 (No. 2 among 119 wide receivers with at least 50 targets since 2020)

Receptions: 166 (No. 6)

Receiving yards: 2,609 (No. 1)

Receiving touchdowns: 14 (tied for No. 7)

Yards per reception: 15.7 (No. 13)

Yards per route run: 2.67 (No. 3)

QB rating when targeted: 124.8 (No. 4)
The only guys I have ranked ahead of Jefferson this week: Davante Adams, Tyreek Hill and Cooper Kupp. It's also fair to be higher than usual on K.J. Osborn in this solid enough spot; he's my WR42 ahead of guys like Kenny Golladay and Marvin Jones. Check out the Tuesday edition of The PFF Fantasy Football Podcast for full thoughts on Osborn and the rest of the week's top potential waiver wire additions.
Good offense beats good defense in today's NFL: Offenses set up to thrive in their quest to create some explosive pass plays: Raiders, Browns, 49ers and the Saints. Unfortunately, Cleveland and New Orleans are forced to play with injured versions of their already limited quarterbacks. Hopefully these matchups help.
Cleveland rocks (you know, relative to a regular city. Don't need to compare it to Chicago or New York City all the time): Baker Mayfield is playing with seemingly dozens of injuries at the moment. It's hard to be too tough on the guy, although using the team's ex-WR1 as a scapegoat wasn't really a cool thing to do so f*ck it. Consider: Mayfield has thrown just a single touchdown pass to Browns wide receivers in four games since the team decided to cut Odell Beckham; OBJ has caught a touchdown in each of his last two contests.
Before their Week 13 bye, the Browns stood as the league's only team with 14 or fewer points in at least six games. This offense hasn't been bad — it's been terrible outside of the group's ever-dominant rushing attack. Only the Seahawks, Lions, Panthers and Texans have posted a worse EPA per pass play than Cleveland since September ended.
Maybe Mayfield can take advantage of the Ravens' ridiculously-banged up cornerback room, although his 18-for-37 performance (48.6% completion rate) against Baltimore in Week 12 sure didn't inspire much confidence. Things haven't gone too well this season even when Browns receivers have made life easy on Mayfield: Only the Bears, Panthers and Saints have a lower catchable pass rate than the Browns when targeting a receiver deemed open by PFF this season.
Taysom Hill legit plays like Lamar haters think Lamar plays: The Jets rank dead last in fantasy points per game allowed to opposing running backs, which is essentially how we should view Hill 1.) probably in general, and 2.) while he's playing through the pain of a mallet finger injury (the same one which Russell Wilson has dealt with). The good news is Hill doesn't require surgery, but it'd certainly make sense if his (already meh) passing ability is further reduced while dealing with this issue.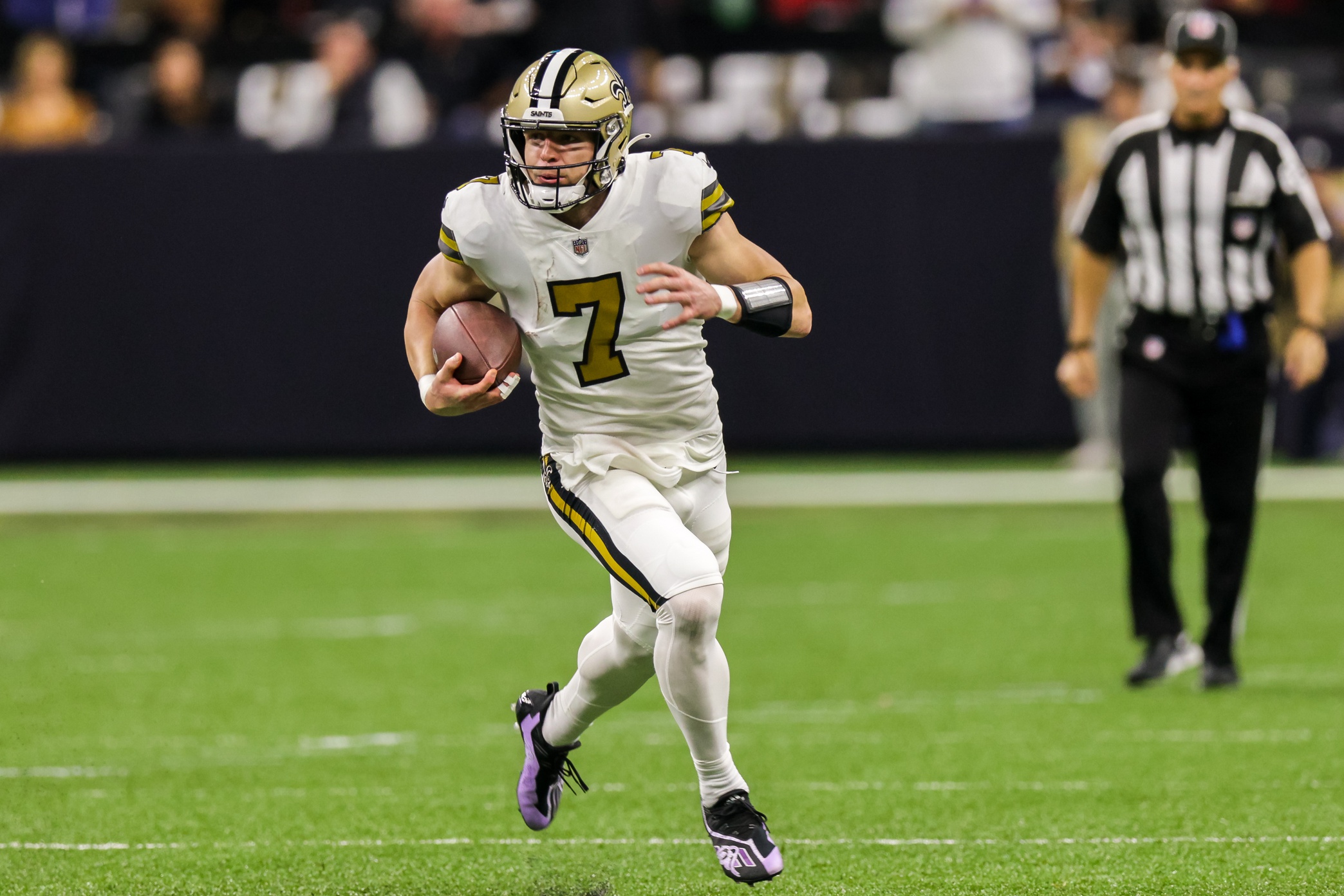 The good news is that Hill gets the majority of his production from the ground anyway. He's posted the following rushing lines in his five career starts under center:
Week 11, 2020: 10 carries-49 rush yards-2 TD

Week 12, 2020: 10-44-2

Week 13, 2020: 14-83-0

Week 14, 2020: 5-33-0

Week 13, 2021: 11-101-0
Hill has worked as a fantasy football QB1 each and every time. I don't blame anyone for dropping him in the ranks while playing through this finger injury, although this might just be the perfect matchup for Hill to put up steady numbers as a full-time wildcat of sorts.
Offense is easier when the defense sucks: The only four defenses allowing an explosive pass play on at least 10% of their opponent's dropbacks: Jets (12%), Ravens (11.5%), Cowboys (10.2%) and Lions (10%). Don't look now, but that Football Team from Washington has won four straight games.
Washington probably won't win the division, but you could imagine: Taylor Heinicke has flashed some high-end ability throughout his career, but it's only been over the last month that we've seen anything resembling sustained elite play.
Week 10: 71.5 PFF passing grade (No. 8 among qualified quarterbacks)

Week 11: 90.0 (No. 1)

Week 12: 69.4 (No. 7)

Week 13: 72.3 (No. 10, pre-MNF)
Washington hasn't asked its quarterback to throw the ball more than 35 times in a single game during this stretch; Heinicke hasn't completely carried this offense during the Football Team's four-game winning streak. Still, he's certainly helped a great deal in their success and will need to continue to do so against Micah Parsons and company if the Football Team wants to continue to play the spoiler in their ongoing attempt to make it back to the playoffs.
Not every passing attack is meant to fly: The clear-cut bottom-two offenses in terms of expected failure in creating big plays through the air: Giants and Texans. It's also safe to say the Falcons, Panthers, Chiefs, Chargers, Bears and Buccaneers also aren't set up particularly well. Of course, some offenses are so damn scary that it's pretty tough to give much of a rats ass about the perceived rough matchup.
This first stat here is going to blow your mind. Not saying the rest of the blurb isn't solid, but especially this first paragraph. Cool? Cool: TB12 has been nothing short of dominant inside the 20-yard line since joining the Buccaneers. Overall, he's thrown for 60 touchdowns in the red zone over the past two seasons including the playoffs. The best part? Zero interceptions. Madness.
Tampa Bay's league-best scoring offense has produced at least 30 points in seven games this season, a mark which only the Cardinals (8) have bested. Obviously teams love to rack up explosive plays whenever possible; just realize nobody has been better at both taking care of the ball *and* punching it into the end zone when forced to diligently drive the ball down the field.
The Bills' league-best defense in EPA allowed per play (pre-MNF) is no joke, but expecting anybody to shut down this version of the Buccaneers offense seems like wishful thinking. The ceiling continues to be the roof for Brady as a fantasy asset: Nobody has more finishes as a top-five fantasy quarterback than TB12 (7) through 13 weeks of action.
Patrick Mahomes hasn't been himself, but it's the Raiders: Mahomes has thrown for 275 or less yards without multiple scores in five of his last six games. Of course, the one exception occurred against this very defense that seemingly refused to embrace the sort of high-frequency two-high look game plan that has given this offense so many problems all season. It's safe to say Mahomes owns this Raiders defense:
Week 13, 2018: 295 pass yards-4 TD-0 INT

Week 17, 2018: 281-2-1

Week 2, 2019: 443-4-0

Week 13, 2019: 175-1-0

Week 5, 2020: 340-2-1

Week 11, 2020: 348-2-1

Week 10, 2021: 406-5-0
It's tough to see the Chiefs returning to the Super Bowl without this passing game getting its stuff together; perhaps they can parlay another dominant performance against a familiar divisional foe to more future prolonged success this time around.
Don't let these run games get hot: The top-five rushing attacks expected to find all sorts of success in creating chunk plays: Bills, Vikings, Browns, Chiefs and Cardinals. It remains to be seen if Dalvin Cook (shoulder, questionable) will be active on Thursday night, but the Minnesota rushing attack is in pretty good hands either way.
Everyone loves a three-down running back: Alexander Mattison has started five games in Cook's absence over the past two seasons:
Week 6, 2020: 10-26-0 rushing, 1-4-0 receiving, PPR RB47

Week 17, 2020: 21-95-1 rushing, 3-50-1 receiving, RB4

Week 3, 2021: 26-112-0 rushing, 6-59-0 receiving, RB7

Week 5, 2021: 25-113-0 rushing, 7-40-1 receiving, RB6

Week 13, 2021: 22-90-1 rushing, 3-34-0 receiving, RB8
The Vikings fell behind by three scores by the third quarter in the first performance and wound up turning the backfield over to Ameer Abdullah, who now plays for the Panthers. Credit to Nwangwu on his all-world ability as a kick returner this season, but Mattison's status as the backfield's true three-down workhorse is more clear than ever.
Up next is a Thursday night date against a Steelers defense that has been rather thrashed in four consecutive weeks by D'Andre Swift (PPR RB15), Austin Ekeler (RB2), Joe Mixon (RB2) and Devonta Freeman (RB10). I dare someone to show me a fantasy football lineup that shouldn't have Mattison starting in it. Hit me up on Twitter @ihartitz.
What are they putting in the water in that Cleveland running back room: The Browns truly have three of the game's best running backs in terms of the ability to break tackles and pick up yards after contact.
RB ranks in yards after contact and missed tackles forced per carry (PFF, min 60 carries)

-Further up better at forcing missed tackles, further right more yards after contact
-Did 60 carries to show how good all 3 Browns RBs have been
-Holy hell Javonte Williams
-Pollard is good pic.twitter.com/IqSLsH54A8

— Ian Hartitz (@Ihartitz) December 7, 2021
Here's to hoping Baker Mayfield be even somewhat decent down the stretch and elevate this offense to greater heights following the Browns' Week 13 bye. Fire up Chubb as a borderline RB1 and Hunt as an upside RB2. Both should be in the vast majority of fantasy lineups; just realize it's harder for both to eat as consistently when scoring opportunities are so scarce these days.
These offenses might just want to pass the ball: Offenses that look pretty screwed in creating big plays on the ground this week: Steelers, Jaguars, Broncos, Cardinals, Panthers and Bears. Remember to be thankful for a little thing called volume around the holidays if you happen to be a proud fantasy manager of Najee Harris.
All fantasy points are created equal whether we like it or not: Harris continues to inexplicably post meh production despite his league lead in expected PPR points per game. Beggars can't be choosers; Harris is the overall RB5 and RB10 in PPR points per game. Still, the rookie hasn't exactly proven to be a first-round talent in terms of what he's accomplished on a per-touch basis:
PFF rushing grade: 65.8 (No. 41 among 61 qualified backs)

Missed tackles forced per carry: 0.17 (tied for No. 28) 

Yards per carry: 3.5 (No. 54)

Yards after contact per carry: 2.6 (No. 40)

PFF receiving grade: 71.0 (No. 16 among 43 qualified backs)

Yards per route run: 1.14 (tied for No. 29)

Drop rate: 9.4% (tied for No. 33)
Obviously continue to fire up Harris as an RB1 each and every week thanks to his stupid-large workload; here's to hoping a matchup against the Vikings' 31st-ranked defense in yards before contact allowed per carry yields more consistent success.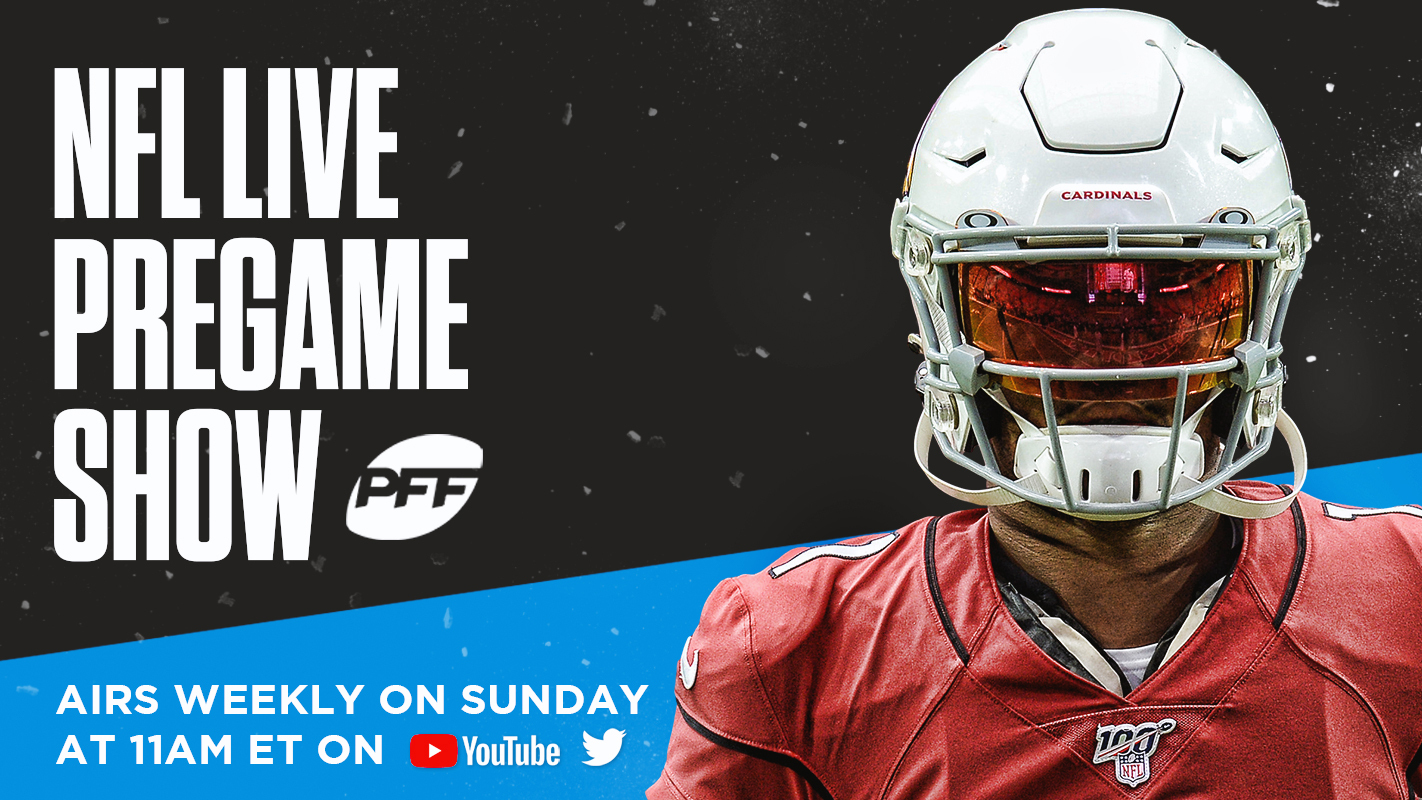 Pace
Fast-paced games lead to more plays, which lead to more points. Every week usually consists of at least a few games that could resemble a track meet based on their combined situation-neutral pace (Football Outsiders).
Combined Situation-Neutral Pace

: Represents the combined situation-neutral pace between each matchup's two offenses. A lower number indicates fewer average seconds per play (blue = fast-paced game), while a higher number indicates more average seconds per play (red = slow-paced game).
Mismatch Manifesto Week 14: combined situation-neutral pace.

Low combined numbers (blue) = two fast-paced offenses
High combined numbers (red) = two slow-paced offenses

Data from 2021, Football Outsiders pic.twitter.com/UftutOMwSE

— Ian Hartitz (@Ihartitz) December 8, 2021
Get ready to see a track meet: This week's sponsored Ricky Bobby "I want to go fast" highest-projected matchup features the Rams (No. 1 in situation neutral pace) at the Cardinals (No. 8). Honorable mention goes to the Bills (No. 9) at the Buccaneers (No. 3). What a great Monday night game. I wonder what could mess it up.
We'll be moving plenty fast elsewhere too: More matchups expected to feature plenty of total plays include Raiders-Chiefs, Cowboys-Football Team and Giants-Chargers. Of course, New York might take their sweet time if Jake Fromm winds up being under center in place of Daniel Jones (neck) and Mike Glennon (concussion). Sheesh.
Unfortunately some offenses are slow and lame: The single-slowest matchup of the week pits the Lions (No. 30) at the Broncos (No. 28). Normally I'd crack a joke about Jared Goff here, but give that man credit for truly firing off a number of great throws during the Lions' first win of the season.
Okay Jared! pic.twitter.com/219kJJKLjA

— Ian Hartitz (@Ihartitz) December 6, 2021
Seriously, what are you waiting for: More matchups that might not supply the sort of volume fantasy managers are hoping for include Ravens-Browns and Bears-Packers. Bedtime might be coming early on Sunday night. Probably not actually; I usually snooze at like 2:00 a.m. Might as well chill after working all day, ya know?

Pressure
An overmatched offensive line can result in poor fantasy days for all skill-position players involved. Meanwhile, QBs with all day to throw can help generate points in bunches. We can determine which offensive lines might be especially better (or worse) this week with help from PFF's offensive and defensive pressure statistics.
Combined Pressure Rate

: The sum of the offensive line's rate of pressures allowed per dropback and the opposing defense's total pressures generated per dropback. A higher percentage (red) is better for defenses and indicates that quarterback could be under fire, while a lower percentage (blue) indicates that matchup's quarterback could face reduced pressure.
Mismatch Manifesto Week 14: combined pressure rate

Sum of pressure rates between opposing offenses and defenses.

Higher percentage: that offensive line could be in trouble (red)
Lower percentage: not expecting much pressure on QB (blue)

Data from 2021, PFF pic.twitter.com/dxD4eZXPDy

— Ian Hartitz (@Ihartitz) December 8, 2021
Under pressure: good song, bad for fantasy football: Quarterbacks who could feel the heat this week include: Ryan Tannehill, Russell Wilson and whoever the hell is under center for the Giants. At least things in the Seattle offense were slightly less depressing than usual last week.
Russ isn't back to cooking, but he at least used the microwave in Week 13: Wilson is at his best when his patented moon balls soar off the television screen before inevitably falling softly into the waiting hands of either Tyler Lockett or D.K. Metcalf. Don't be surprised if Wilson and company get back to providing some borderline erotic downfield highlights against a Texans defense that has largely had zero answers this season when offenses have attacked them downfield. The following metrics all denote the Texans' performance when facing targets thrown at least 20 yards downfield:
Pass yards per attempt: 17.7 (No. 31)

Explosive pass play rate: 50% (No. 31)

QB rating: 98.3 (No. 23)

Contested target rate: 14.7% (No. 32)
Houston has exactly *one* cornerback graded within PFF's top-80 players at the position; they might just have a serious problem on their hands this Sunday if Russ can get back to cooking like it's the first half of 2020 again.
I'm drinking the Kool-Aid on these receivers being too good to go this long without a true explosion; Metcalf (my WR13) and Lockett (WR14) are both inside of my top-15 options at the position in this smash spot.
Can the Titans at least get Julio Jones back (by the way he caught a touchdown in Week 2 that the government tried to cover up): Hopefully Jones (hamstring, IR) is activated before Sunday. To say this offense has struggled since losing Derrick Henry in Week 8 is a massive understatement:
| | | |
| --- | --- | --- |
| EPA/Play | Weeks 1-8 | Weeks 9-12 |
| Overall | 0.037 (No. 8) | -0.186 (No. 26) |
| Pass | 0.071 (No. 15) | -0.181 (No. 24) |
| Run | -0.003 (No. 2) | -0.193 (No. 25) |
Nick Westbrook-Ikhine would be a borderline WR3 if Jones remains sidelined; he's put forward usable PPR WR18 and WR34 performances in his last two games. Even then: Don't be surprised if volume is a challenge for everyone involved. The Titans are 9-point favorites and figure to run the ball to their heart's desire if able to do so.
Jones would leap into my top-24 receivers if healthy enough to suit up. Volume has largely been the biggest issue for him this season. Obviously the days of Jones working as one of the league's very best receivers are probably over, but his per-route efficiency in Tennessee still places him among the league's top-15 players at the position:
2021: 2.18 yards per route run (No. 13 among all receivers with at least 25 targets)

2020: 2.6 (No. 4)

2019: 2.44 (No. 5).
Some offensive lines and quarterbacks are just more prone to pressure: The Dolphins, Seahawks, Panthers and Titans are the league's only five offenses that have been pressured on at least 35% of their dropbacks this season. Luckily the Panthers are facing the league's single-worst pressuring front in the Falcons. Lord knows Week 12 was a shit show behind this group.
Football is more fun when Cam Newton is starting somewhere: The Panthers' 30th-ranked offensive line in PFF pass-blocking grade has hardly afforded whoever has been under center many clean pockets this season. Overall, they rank as the fifth-worst group in overall pressure rate and 10th when it comes to quick pressures. Newton dropped back to pass 22 times in Week 12 and was pressured on nine (41%) of them. Things were even worse for poor P.J. Walker, who was pressured on nine of his 14 dropbacks (64%).
Luckily, the Falcons' sad excuse for a pass rush might just yield this passing game some time to throw. PFF's single-worst graded defense in team pass rushing grade ranks 32nd and 31st in overall and quick pressure rate. Making matters worse is the reality that they've struggled to provide any semblance of good pass defense during the frequent occasions in which an opposing quarterback has been able to work from a clean pocket:
QB rating allowed from a clean pocket: 111.5 (No. 28)

Pass touchdown rate: 5.6% (No. 28)

Explosive pass play rate allowed: 16.8% (No. 20)
The Panthers' brutal offensive line meeting the Falcons' potentially worse pass rush is like a stoppable object meeting a moveable force; here's to hoping the offense prevails because it's usually more fun to watch points than whatever the hell happened to Carolina the last time we saw them in action.
Sundial joke about having a ton of time to throw: Matthew Stafford, Kyler Murray, Tom Brady, Ben Roethlisberger, Aaron Rodgers and Justin Herbert are set up the best to work from consistently clean pockets this week. Of course, pressuring Murray and getting him to the ground are entirely different things.

What can't Kyler do? (other than get things from the top shelf): No quarterback has found the end zone more often as a rusher than Kyler Murray over the past two two seasons. In fact, he finds himself as one of just nine players with more than 15 scores on the ground during this stretch:
The Cardinals' third-year signal-caller ranks first in big-time throw rate (8.8%) and trails only Tom Brady (1.5% vs. 1.3%) in turnover-worthy play rate. Murray has consistently made "elite" throws while limiting mistakes better than any other quarterback in the league. Great day to be great.
This chart is especially good news for A-aron: Only seven quarterbacks have experienced a dropoff of at least two yards per attempt when under pressure vs. when kept clean this season — and Rodgers headlines the group with a league-high -4.0 yard difference.
The reigning league MVP has truly been nothing more than average at best when under duress this season. The following metrics denote Rodgers' rank when under pressure this season:
PFF passing grade: 51.5 (No. 21 among 40 qualified quarterbacks)

QB rating: 55.4 (No. 33)

Yards per attempt: 4.7 (No. 38)

Adjusted completion rate: 53.1% (No. 37)
Luckily, the Bears aren't quite as ferocious at the line of scrimmage without the services of Khalil Mack (foot, IR). Don't expect Rodgers to stop owning the Bears anytime soon, but improvement when pass protection breaks down is needed for the league's 15th-ranked scoring offense to reach its full potential.
Pass rushes that haunt the dreams of your favorite quarterback: The league's best pass rushes feature the Dolphins, Bills, Buccaneers, Packers, Cowboys, Chargers and Raiders above all else. The Cowboys and Packers figure to only be scarier once they respectively get back Randy Gregory (calf, IR) and Za'Darius Smith (back, IR). Gregory is on pace to return for Sunday, while Smith is hinting that a return could be close via social media. 2021, man.
The league's finest individual rushers of the passer: Just 10 defenders have racked up at least 50 pressures this season: Maxx Crosby (76 pressures), Shaquil Barrett (60), Myles Garrett (59), Matthew Judon (57), Trey Hendrickson (57), Aaron Donald (54), Harold Landry (51), Raashan Gary (50), Nick Bosa (50) and Joey Bosa (50). The Bosa brothers each have exactly 50 pressures? Never has there been a better time to deploy the Spiderman pointing at Spiderman meme.
Trench Battles
RBs receive most of the praise for an offense's rushing output, but an overmatched offensive line can thwart a team's run game before it even has a chance to get started. We can determine the offensive lines that might be especially better (or worse) off this week by looking at yards before contact.
Combined Yards Before Contact Per Rush

: The sum of an offensive line's adjusted line yards per rush and the opposing defense's adjusted line yards allowed per rush. A higher number (blue) is good for running backs, while a lower number (red) indicates that matchup's offense could have some trouble consistently running the ball.
Mismatch Manifesto Week 14: combined yards before contact per rush

Sum of each offense and defense's YBC/carry.

High number: Good run-blocking o-line vs. bad run-defending D (blue)
Low number: Bad run blocking o-line vs. stout D against the run (red)

Data from 2021, PFF pic.twitter.com/2nR0UwnH6o

— Ian Hartitz (@Ihartitz) December 8, 2021
Great day to be a great running back: The Mount Rushmore of backfields set up well to run the ball this week: Chiefs, Ravens, Lions and Rams. Of course, the lead rusher in Baltimore doesn't happen to play running back. Which is fine. It's 2021.
Friendly reminder that next Tuesday (12/14) is the anniversary of the Lamar Jackson poop game: Jackson hasn't been able to sustain any sort of success through the air in recent weeks, but that hasn't stopped him from posting top-12 fantasy finishes in four of his last five games thanks to that sweet, sweet rushing volume. It's honestly kind of wild we just accept a quarterback is one of the game's most-productive rushers regardless of position:
The 2019 league MVP already owns the top-three single-season records in terms of most rush attempts by a quarterback, and he's on pace for a career-high 190 carries after 13 weeks of action.
This Browns defense forced Jackson into four interceptions the last time they squared off in Week 12. It's unfortunate that Jackson hasn't been able to sustain his truly awesome first half success as a passer; don't expect his (I hate this word but it's true) generational rushing production to go anywhere anytime soon.
Personal note: Check out my Week 14 Quarterback Predictions for more fun facts and a forecast on every squad's starting quarterback.
It's sure be a lot cooler if the Chiefs threw the ball to that one guy they drafted in the first round back in 2020: Clyde Edwards-Helaire has posted PPR RB15 and RB23 finishes in his first two games since returning from the injured reserve list. Once again this has mostly been on the back of rushing production: CEH doesn't have more than three targets in a game all season. The complete disdain for using him in the passing game is surprising; the Chiefs' 2020 first-round pick had at least four targets in seven separate contests a season ago. This is the primary reason why Edwards-Helaire is just the RB35 in expected PPR points per game this season.
The Chiefs are fully expected to have their way with the Raiders this week; nobody is implied to score more points. And yet, CEH is more of a low-end RB2 as opposed to top-15 option at the position due to his continued lack of a high-end role in the passing game. The fact that Williams was as involved as he was on Sunday night after the Chiefs' Week 12 bye is more cause for concern.
Having the Chiefs' RB1 in your fantasy lineup isn't the worst thing in the world; just realize this is far from the same sort of role that enabled the likes of Brian Westbrook, LeSean McCoy, Jamaal Charles and Kareem Hunt to fantasy excellence back in the day..
Just one more personal note: Check out my Week 14 Backfield Report for more specific information on the league's ever-evolving running back stables.
More running backs expected to have a little thing called success: The Seahawks, Saints, Vikings, Giants and Football Team also stand out as groups that should see more open lanes than usual this week. Could you imagine if Saquon Barkley and Antonio Gibson somehow ball out in the same week? In this economy?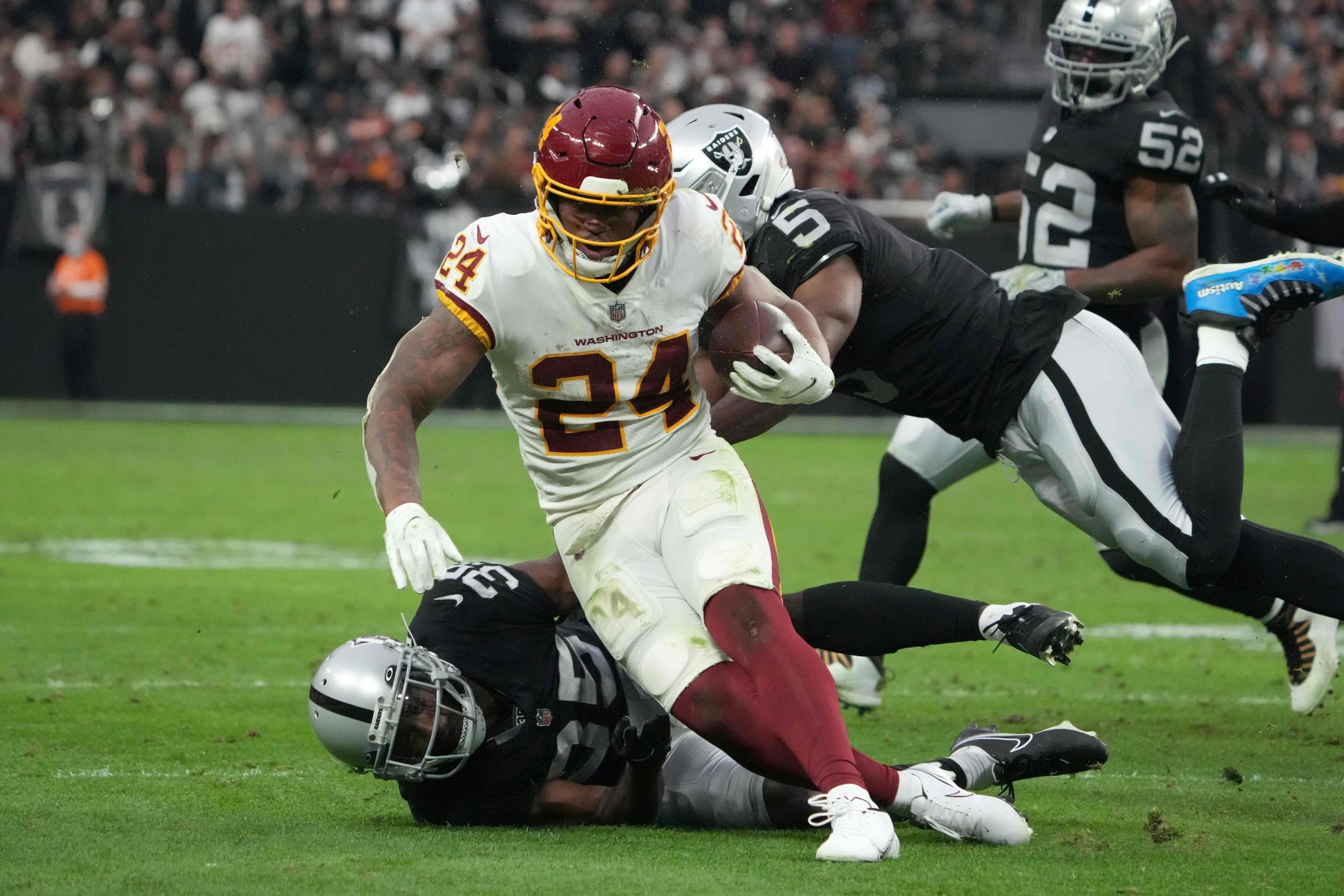 Saquon loosely translates to "the one who hurdles" in Latin: Or at least it should. I mean, how athletic do you have to be in order to even think about attempting a 360 hurdle in a live NFL game?
Everyone is just going about their business this week like Saquon Barkley didn't try to 360 hurdle a guy last Sundaypic.twitter.com/ZDrtXwFiaN

— Ian Hartitz (@Ihartitz) December 8, 2021
Barkley hasn't come close to reaching his ceiling this season, but his rather absurd pass-game volume has produced a decent enough fantasy floor that has helped him post PPR RB19, RB30 and RB20 finishes over the past three weeks inside of an offense that has somehow totaled just 32 points since their Week 10 bye.
It'd make sense if Barkley was featured more than ever in Week 14 with Jake Fromm potentially starting due to Daniel Jones (neck) and Mike Glennon (concussion) both being banged up. There's certainly a path to success on the ground against the Chargers' fifth-worst defense in average tackle depth against the run; just realize nothing is guaranteed these days inside the Giants' sad excuse for an offensive attack.
Don't call Gibson "DC-CMC" — instead go with AG-DC with the cool AC-DC lightning bolt thing: Gibson is somehow the overall fantasy RB11 on the season. Yes, he falls to the RB21 in PPR points per game. Also yes, his recent stretch of PPR RB7, RB23, RB7 and RB6 performances following the Football Team's Week 9 bye have been nothing short of awesome. Gibson has racked up 26, 19, 36 and 28 touches during this stretch; he's a legit RB1 ahead of the fantasy playoffs with this sort of weekly volume.
The return of J.D. McKissic (concussion) would cap Gibson's best-case scenario ceiling; just realize the current edition of this Washington offense has been able to play with far more fantasy-friendly game scripts during their four-game winning streak compared to what we usually witnessed in the first two months of the season.
Micah Parsons and the Cowboys have limited opposing running backs to the third-fewest PPR points per game this season, but Gibson has enough volume at the moment to warrant matchup-proof RB1 treatment. It's also helped matters that Gibson's shin has looked healthier than ever in recent weeks. Overall, Gibson averaged just 0.09 missed tackles and 2.8 yards after contact per carry in Weeks 1-8 compared to 0.24 and 2.9 marks since. Hopefully fantasy teams that used a top-two round pick to acquire his services back in August aren't dead yet, because Gibson is rolling ahead of the most important weeks of the season.
Gotta love a good run game scheme: Only five offenses are averaging at least 1.8 yards before contact per carry: Chiefs (2.05), Ravens (2.02), Eagles (1.92) and Lions (1.81). The Colts (1.74) and Bills (1.72) aren't too far behind. I never played or coached in the NFL, but Jonathan Taylor regularly having copious runway seems scary.
Seriously he doesn't even play this week but this dude is incredible: Taylor has scored a touchdown in an NFL-high 10 consecutive games. He's posted 305-1,758-21 rushing and 41-349-2 receiving lines in his last 16 regular season games. Nobody has more fantasy points above expectation this season:
Taylor (+68.9 PPR points above expectation)

Austin Ekeler

(+46.4)

Cordarrelle Patterson

(+44.6)
Pour one out for the poor souls that started their fantasy playoffs in Week 14 and have to deal with Taylor on a bye. Get back to treating fantasy's overall RB1 as such when the Colts return in Week 15 on Sunday night football against the Patriots.
Best Steven Tyler voice: Run away, run away from the pain yeah, yeah, yeah, yeah, yeah: The Texans, 49ers, Bengals and Jets look like the most screwed offenses in terms of expected success on the ground before contact. Of course, Elijah Mitchell (knee, concussion) if active, and Joe Mixon have the sort of high-end volume to negate bad matchups in fantasy land. Credit to Mitchell for being as sure-handed as any running back in the league this season. Overall, his 182 touches without a fumble or drop are the most in the league; only David Montgomery (154) and Devonta Freeman (112) also qualify among all backs with triple-digit combined carries and receptions.

Passing Game
Some pass offenses are obviously more efficient than others, while certain secondaries are seemingly capable of shutting down any aerial attack. We can determine the week's biggest mismatches in the passing game using each offense and defense's pass yards per dropback.
Combined Passing Yards Per Dropback

: The sum of an offense's passing yards per dropback and the opposing defense's passing yards allowed per dropback. A higher number (blue) is good for quarterbacks and receivers, while a lower number (red) indicates that matchup's pass offense could be in trouble.
Mismatch Manifesto Week 14: combined pass yards per dropback

Sum of offense's pass yards/dropback with defensive rate.

Higher number: efficient pass offense vs. bad pass defense (blue)
Lower number: inefficient pass offense vs. good pass defense (red)

Data from 2021, PFF pic.twitter.com/NHCwueIEW2

— Ian Hartitz (@Ihartitz) December 8, 2021
Sometimes it just looks so easy: Derek Carr, Dak Prescott and Jimmy Garoppolo stand out as the week's top-three quarterbacks in expected success through the air. All three of these offenses have some offensive weapons that have truly been balling recently. Seriously. All three. I swear!.
3rd and Renfrow: On the one hand, losing an explosive field-stretching receiver like Henry Ruggs makes life more difficult for Raiders receivers attempting to navigate the underneath and intermediate areas of the field; this offense has scored 16 or fewer points in four of their last five games.
On the other, Hunter Renfrow is more locked in than ever as this passing game's No. 1 option. This has been further enhanced with Darren Waller (knee) sidelined; either way, Renfrow has been a consistent WR1 in five games in the post-Ruggs era:
Week 9: PPR WR11

Week 10: WR11

Week 11: WR53

Week 12: WR5

Week 13: WR12
Renfrow had at least nine targets in each of his most recent top-12 performances; He's an auto-start at this point in full-PPR leagues, particularly against a Chiefs defense that hasn't exactly been dominant against receivers aligned out of the slot this season:
Yards per attempt allowed: 8.8 (No. 28)

Explosive pass play rate allowed: 19.6% (No. 25)

Contested target rate: 14.3% (No. 26)
60% of the time, CeeDee Lamb works every time against the Football team: Amari Cooper played just 24 total snaps in Week 13 after returning from the covid list. However, it was enough to move CeeDee Lamb into the slot for the heavy majority of his reps for the first time all season.
Don't be surprised if this alignment change leads to some quick fireworks: only the Titans and Dolphins have allowed more completions of 15-plus yards to receivers aligned from the slot. Overall, the Football Team has allowed the fifth-most receiving yards to the slot, giving up big performances to the likes of:
I get that Lamb was an auto-start before the alignment change, but at this point truly everything is working in his favor. The only wide receivers I have ranked higher than him this week: Davante Adams, Tyreek Hill, Cooper Kupp and Justin Jefferson.
Monitor the injury report, but it seems like that Cooper will be back to his usual allotment of snaps after having an extended week to get back to 100% conditioning. He's my PPR WR18 on the week, while Michael Gallup comes in as my WR32. A good rule of thumb for close start/sit questions is to pick the player in the better offense, and they don't come much better than the Cowboys' second-ranked scoring unit.

Not being in Kyle Shanahan's doghouse sure looks like fun: It remains to be seen if Deebo Samuel (groin) will be healthy enough to return. Snap count and overall receiver usage concerns would render him as more of an upside WR2 as opposed to a locked-in WR1 if he's able to play, but the WR2 in PPR points per game would obviously still be a recommended start in fantasy leagues of all shapes and sizes.
Don't overly sweat Aiyuk's 3-55-0 performance in Week 13; his near every-down role hasn't gone anywhere, and George Kittle (probably) won't go for 9-181-2 every week. Maybe Aiyuk still isn't quite locked in as a matchup-proof WR2 like many hoped back in August, but at least we've fully escaped the dreadful doghouse era that was all of September and October:
Weeks 1-7: 9 receptions-96 yards-1 TD, PPR WR94

Weeks 8-13: 26-391-2, WR17
The status of Awuzie (PFF's ninth-highest graded corner) is fairly crucial. Aiyuk will likely see shadow coverage from Eli Apple (PFF's 89th-highest graded cornerback) if not. Matchups are better used as a tiebreaker in fantasy land as opposed to a rule of thumb, just realize Aiyuk would go from a solid enough borderline WR2 against Aiyuk to a fully recommended start against Apple.
The government calls it a passing league for a reason: The Browns, Broncos, Vikings, Packers and Cardinals also stand out as passing attacks that should have plenty of success through the air. Of course, you never know what's going to happen in the Denver passing game these days.
Who wears two gloves and plays quarterback? What's your deal, man?: Teddy Bridgewater has put forward the following target distribution in the Broncos' six games with a healthy Jerry Jeudy:
Basically: Jeudy is leading the way, but only on an average of six targets per game, and the rest of the group is so muddled that any of Patrick, Fant, Sutton, Okwuegbunam, Williams and Gordon are capable of working as anywhere from the passing game's No. 2 to No. 7 option during any given week. The big-three receivers have combined for *two* finishes inside the position's top-35 players over their past five games. Not great, Teddy.
Jeudy (WR30), Sutton (WR37) and Patrick (WR38) all fall within my top-40 options this week against the Lions' bottom-four defense in yards per attempt, explosive pass play rate and contested target percentage allowed to opposing wide receivers. Each is more than capable of dominating this matchup, but target and Teddy concerns render each as nothing more than  low-ceiling WR3 plays as best.
These passing games might be a bit rough n' rowdy: The Jaguars, Bears, Giants and Lions look like the bottom-four offenses this week in terms of expected aerial success. Seriously, has Urban Meyer done anything right since taking over in Jacksonville? Back to the subject: The Falcons, Packers, Chiefs and Buccaneers also don't look to be in especially great spots. Of course, sometimes dope wide receivers are good enough to just win anyway.
"America is all about speed, hot nasty bad-ass speed" — Eleanor Roosevelt: Tyreek Hill's 2-22-0 dud last week obviously wasn't ideal; just realize he's still fully capable of turning in an overall WR1 performance against just about any secondary. His eight consecutive games without 100 receiving yards is his longest-such stretch since the beginning of 2020. Note that Hill peeled off 9-113-2, 11-102-1 and 13-269-3 performances in his next three games after that very same down stretch. Still the WR4 in PPR points per game on the season, continue to lock in Hill as a top-five option at the position that is well overdue for a patented blowup performance.
And then there's Travis Kelce, who remains the overall TE1, but Rob Gronkowski has actually bested him on a per-game basis. This has largely been due to the Chiefs' surprising standing as just the 13th-ranked scoring offense. It'd certainly make sense if Kelce, like Hill, gets back on track in a major way against a defense that he's absolutely owned over the years: He's posted 7-83-2, 11-102-1 and 3-78-0 receiving lines in his last three matchups against this defense; continue to fire up Kelce as the No. 1 player at the position and cross those fingers that the good times get back to rolling.
"Why be a king, when you can be a God" Eminem when asked about Cordarrelle Patterson: Patterson leads the NFL with a 92.9 PFF receiving grade. Only Deebo Samuel, Cooper Kupp and Christian McCaffrey have averaged more yards per route run. C-Patt has also posted a more than solid 105-481-4 rushing line, good for a rather robust 4.6 yards per carry with 3.4 yards of that coming after contact (No. 7 among 49 qualified players).
Even some of the league's finest rushing defenses have struggled to contain Patterson as a true running back this season.
Mama, there goes that man pic.twitter.com/grVbJt3m2v

— Ian Hartitz (@Ihartitz) December 6, 2021
Life might not be too fun for Matt Ryan this week behind PFF's 25th-ranked offensive line in pass blocking grade against Brian Burns and company; here's to hoping he can at least continue to feed Patterson copious opportunities in both the run and pass game. Continue to jam the RB9 in PPR points per game into starting lineups of all shapes and sizes.
Not so fast my friend: Offenses that haven't averaged even 6.0 pass yards per dropback this season: Jaguars, Bears, Texans, Panthers, Lions, Dolphins, Giants, Saints and Eagles. That is absolutely brutal. Luckily rushing quarterbacks are a bit of a cheat code in fantasy land. Here's to hoping Jalen Hurts (ankle) is feeling good after the Eagles' Week 14 bye.
Dope secondaries always have the best nicknames: The Bills, Patriots, Cardinals, Panthers, Raiders, Buccaneers and Packers are the only seven defenses to allow fewer than 6.0 pass yards per dropback. PSA: It's OK if you chose not to watch the Bills' windy and snowy loss to the Patriots on Monday night, but there's really no need to try and brag about it on Twitter. Cool? Cool.
EPA
Points are ultimately what wins football games. We can measure the expected points of every play on offense and defense by considering the down, distance and field position before factoring in the result. Estimated points added (EPA) is thus the value of a play that takes context into account and thereby better measures efficiency at the play level.
Combined EPA

: The sum of an offense's EPA/play and their opposing defense's EPA/play allowed. A higher number (blue) is good for offenses, while a lower number (red) indicates that offense could be in trouble.
Mismatch Manifesto Week 14: combined EPA per play

Sum of EPA/play of matchup's offense and defense to see biggest potential overall mismatches

High numbers indicate efficient offense vs. inefficient defense (blue), lower numbers are bad for o (red)

Data from 2021, PFF pic.twitter.com/KPFIQMdR6q

— Ian Hartitz (@Ihartitz) December 8, 2021
Blowout alert: The clear top-five matchups in terms of one offense likely having a huge relative advantage over their opponent: Cowboys over the Football Team, Titans over the Jaguars, Broncos over the Lions, Saints over the Jets and especially the Packers over the Bears. Still, the difference isn't as large as most weeks. Week 14's single-largest favorite: Packers (-12.5). But hey, at least the Bears are aware that Aaron Rodgers owns them.
Over alert: The highest combined matchups in expected offensive success: Raiders-Chiefs, Cowboys-Football Team and Steelers-Vikings. Rams-Cardinals isn't too far behind. The week's top-two game totals: Bills-Buccaneers (53.5) and Rams-Cardinals (51.5). Perhaps the Bills would have a better chance of matching this Tampa Bay offense with the services of Tre'Davious White (ACL, IR). Would be nice if NASA could figure out how to turn injuries off in between Moon trips. Just saying.
Under alert: Falcons-Panthers, Seahawks-Texans and Lions-Broncos stand out as the week's two matchups that could feature the most overall offensive futility. Each has a game total of 42.5 or lower. The Lions-Broncos game could wind up being truly unwatchable stuff — I got the under on 3.5 solo Red Zone views.
Upset alert: The Bills (+3.5) are the only team expected to have a relative offensive advantage, yet are underdogs. Betting against Tom Brady truly sucks, though. Do you people realize that a win this week will give the GOAT his 19th career season with double-digit wins as a starter? The only exceptions are his rookie season (wasn't the starter yet), 2002 (9-7, led the league with 28 passing touchdowns, lol at leading the league with 28 passing touchdowns in 2002) and 2008 (the knee injury in Week 1 season). Kings stay kings.