And with that, ladies and gentlemen, the 2020 NFL regular season is officially in the books. 
I'm not sure we could have asked for a better ending to the regular season than, with several players delivering awesome DFS performances. Derrick Henry became the eighth player in NFL history to rush for 2,000 yards, and Jonathan Taylor firmly cemented himself as a top-five fantasy selection in 2021. 
But that's enough reflection — let's dig into every game from Sunday's action to see who else stepped up as we look forward to DFS Wildcard Weekend and the 2021 redraft season. I'll hit on fantasy points, snap counts, routes run, goal-line usage, targets, target shares and major takeaways from every game on the massive Sunday slate.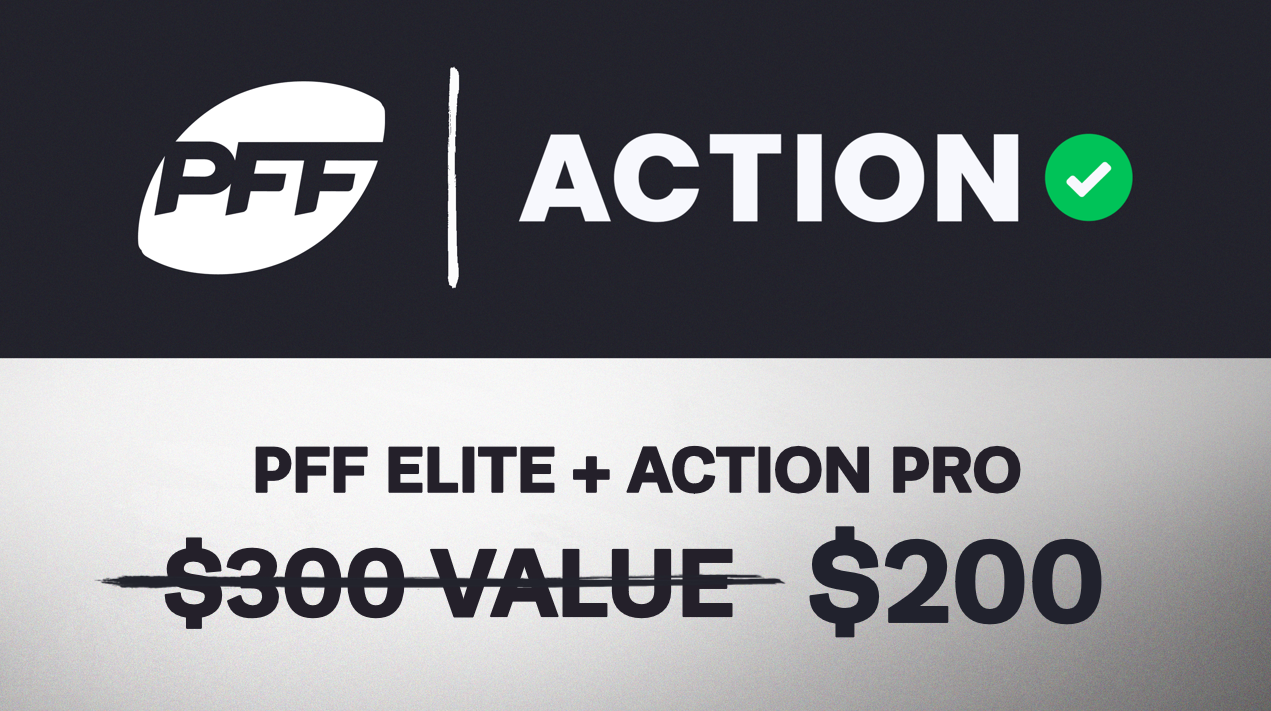 Mike Evans left this game early after becoming the first player in NFL history to start his career with seven-straight 1,000-yard seasons. But Evans' departure hardly held back the Buccaneers' passing game, with Chris Godwin (five catches for 133 yards and two touchdowns on five targets) and Antonio Brown (11 catches for 138 yards and two touchdowns on 11 targets) ripping the Falcons to shreds.
No other receiver had more than four targets. 
Should Evans miss a game next week, we might see more two-tight-end sets for the Bucs. Backup tight end Cameron Brate ran the third-most routes among all Bucs players on Sunday. 
Calvin Ridley led the Falcons in targets (12), but it was Russell Gage who led the team in receiving yards (91) on nine catches and 11 targets. Gage has filled in admirably for Julio Jones this season and could easily be the team's No. 2 option should Atlanta look to move on from Jones in 2021.  
The third-year wide receiver has evolved from just playing the slot early in the season and has worked more on the outside in recent weeks. 
Atlanta is bound to make major shake-ups across their roster this offseason, but Gage seems firmly in their plans at WR — and he is still cheap on his rookie contract. 
Maybe it's ironic, but it only seems right that the Dallas Cowboys' season ends at the feet of the New York Giants. They lost Dak Prescott in a matchup versus Big Blue this season, and we have finally come full circle.
Dallas struggled on offense for most of the game. Tight end Dalton Schultz was their leading receiver (seven catches for 70 yards). 
Ezekiel Elliott reverted back to RB2 status with 42 rushing yards on 14 attempts. Zeke played his second-straight game with a sub 60% snap share with Tony Pollard getting more action.
This offense figures to be much different with Prescott (presumably) under center next season, but a player I will be all over in 2021 is tight end Blake Jarwin. We saw Schultz become super involved in this offense despite three other pass-catchers.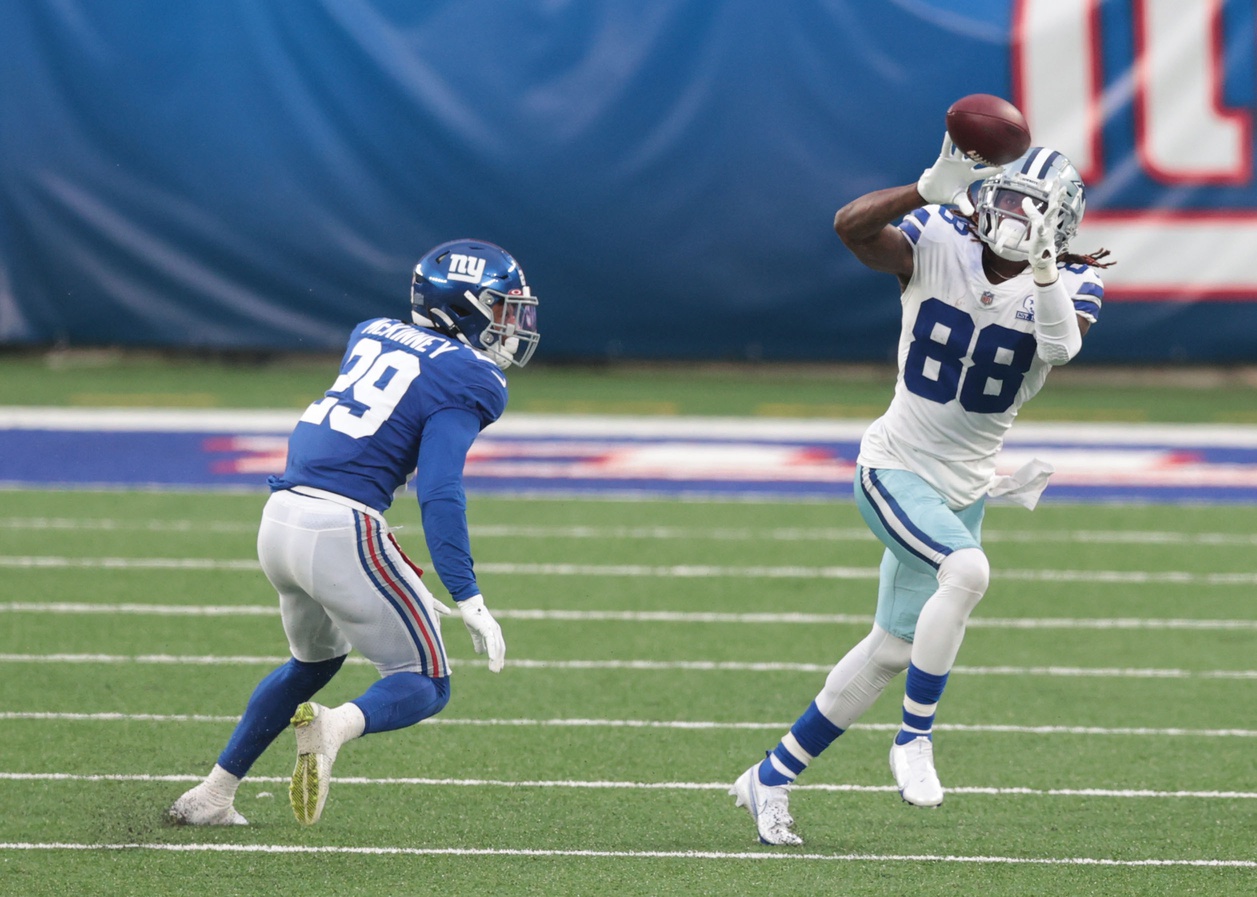 As for the wide receivers, I see CeeDee Lamb taking over as the WR1. His final stat line (74 catches for 935 yards and five touchdowns) and average yards per route (1.81) were quite impressive for a first-year player. 
I wrote about Darius Slayton just being flat-out bad last, week and he proved me right with another dud performance (two catches for 22 yards) despite leading the team in routes run. I am not hopeful for the former fifth-round pick in 2021. 
This offense overall needs a major makeover, and it starts with getting Saquon Barkley back on offense. Sterling Shepard has been the only reliable option on this offense throughout this season. 
He has benefited greatly from Golden Tate missing the past two weeks, and the veteran shouldn't be with the team next season. 
It's been a season to forget for quarterback Cam Newton, but man did he go out with a bang. The Patriots' quarterback threw for 242 yards and three touchdowns while also adding 79 rushing yards and one receiving touchdown. 
New England pulled out all the tricks in the playbook in what is likely Newton's last game as a Patriot. 
Sony Michel continued his streak of great play in 2020 and has put the Patriots in an awkward position on whether or not to pick up his fifth-year option. He ranked second in the NFL in yards per attempt this season (5.7) and eighth in yards after contact per attempt (3.5).
The 2021 hype train for Chris Herndon starts now. After failing to live up to his 15th round draft capital this season, the haters appeared to have won. But his final stat line in 2020 (seven catches for 63 yards and one touchdown) can't be ignored. 
It's a small sample size, but I like Herndon's fantasy prospects with a new QB and new head coach in 2021. 
I'm convinced that Matthew Stafford and Marvin Jones Jr. played in this game for one sole reason — to get paid this offseason. Both are likely on their way out of Detroit, so what better way to depart than in a blaze of fantasy points?
Jones went for 180 yards and two touchdowns (should have been three) and Stafford threw for nearly 300 yards and three touchdowns (should have been four). 
D'Andre Swift operated as the team's lead back (58% snap share, 15 opportunities), but ask anybody who played Swift in DFS (me) and there was way too much Adrian Peterson involved (25% snap share, seven opportunities). 
The true stars of this game were the Minnesota Vikings and their offense, which destroyed Detroit. Kirk Cousins totaled four touchdowns and 405 passing yards. To the dismay of those who faded him in DFS (me), Alexander Mattison was a smash filling in for Dalvin Cook — 24 touches for over 140 yards from scrimmage and two touchdowns.
Justin Jefferson also went over 100 yards and in the process set the record for the most receiving yards by a rookie in the Super Bowl era. If only the Eagles had followed all the mock drafts. 
We were so close to seeing an absolute smash week from Nick Chubb, but the team seemed reluctant to unleash him in the second half. He only had 14 carries to Kareem Hunt's 10. Chubb had over 100 rushing yards while Hunt finished with just 37.
David Njoku led the team in routes run (29) and tied Austin Hooper with five targets. The team used more 12 personnel after Donovan Peoples-Jones left with a concussion. 
Ben Roethlisberger didn't play in this game, but Mason Rudolph did enough to support his receivers and give the team a chance to win. 
Chase Claypool led the team in targets (11) and went over 100 receiving yards. But he also ran fewer routes (27) than both Diontae Johnson (41) and JuJu Smith-Schuster (42). The Steelers coaches need to take the training wheels off Claypool if they want to make some noise in the playoffs. 
J.K.Dobbins showed in Week 17 why he is the 1A to Gus Edwards' 1B in the Ravens' backfield. He toted the rock 13 times for 160 rushing yards and two touchdowns. Meanwhile, Edwards rushed for 60 yards on 12 carries.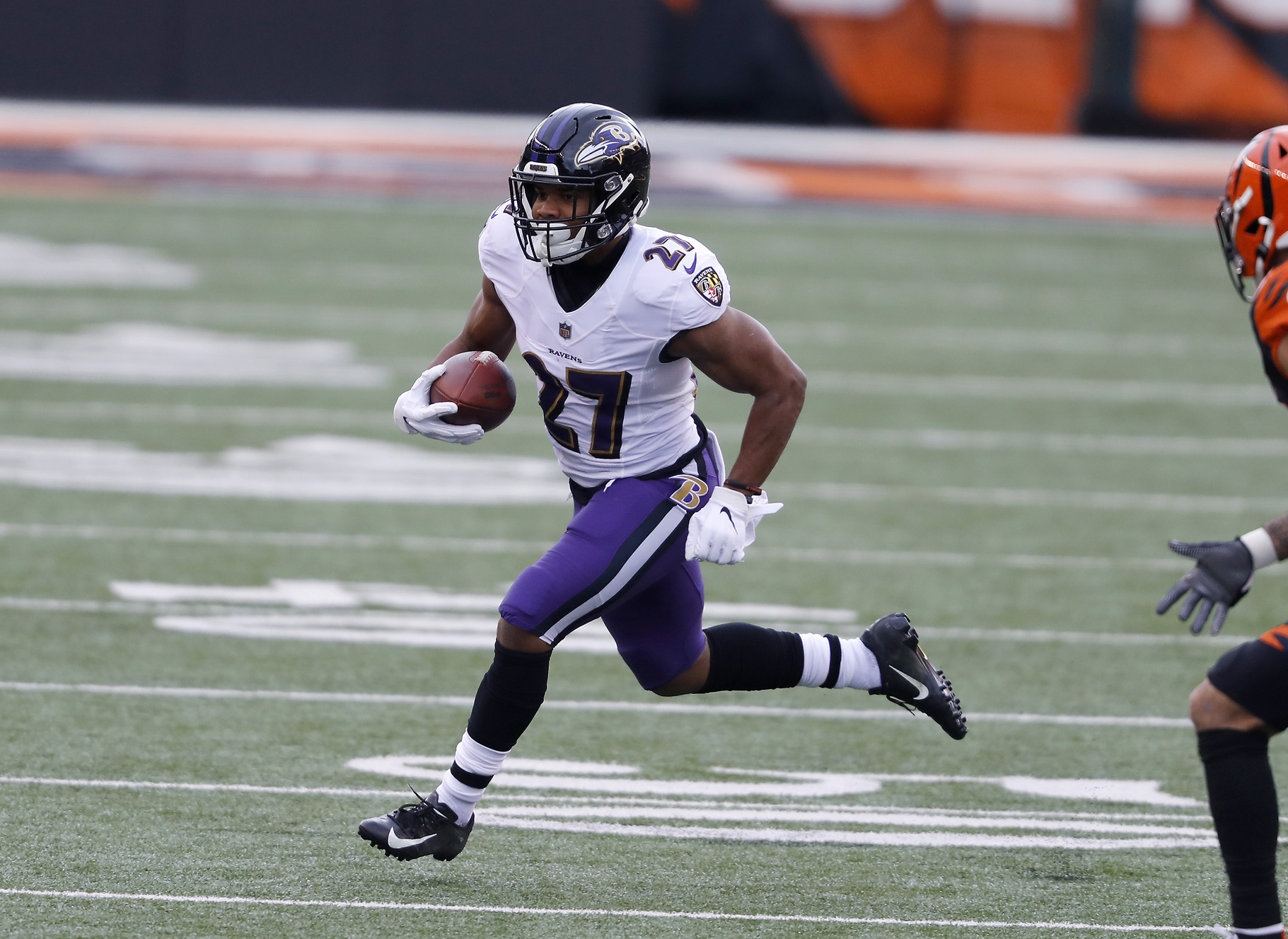 Marquise Brown led the team with eight targets and continued his streak of insane touchdown production. He has scored six times in his last six games. Brown's production always needs to come off efficiency in a run-heavy offense, so as long as L-Jax is an efficient passer, fantasy points will follow. 
It was an ugly day for the Bengals' offense. Brandon Allen threw for 48 yards on 21 attempts. Tee Higgins left the game with an injury. This team can't get back Joe Burrow and Joe Mixon soon enough. 
The Bills offense looked Super Bowl ready on Sunday. Josh Allen didn't even play the entire game and he still threw for 224 yards with three touchdowns.
Buffalo showed insane depth on their roster with guys like Isaiah McKenzie (36.5 fantasy points), Antonio Williams (21.3 fantasy points), Gabriel Davis (18.7) and John Brown (17.2) all having outstanding fantasy days. 
Williams' fantasy point total was the most scored by a Bills running back this season. 
Tua Tagovailoa threw for 316 passing yards on 58 passing attempts, but it was more or less due to the negative game script the team faced. The rookie passer struggled overall, throwing three interceptions.
In the team's loss, DeVante Parker commanded 14 targets, catching seven for 116 receiving yards.
Tyler Lockett regained his form versus the San Francisco 49ers, hauling in 12 of his 14 targets for 90 receiving yards and two touchdowns. He was clearly Russell Wilson's favorite target, as DK Metcalf saw only nine targets, catching three for 21 yards. He will have his work cut out for him next week versus the Los Angeles Rams, who have routinely shut him down this season.
Carlos Hyde didn't play in this game, but it hardly made a difference because the backfield was split between Chris Carson (30 snaps), Rashaad Penny (28 snaps) and Alex Collins (seven snaps). 
Collins ended up scoring the lone RB rushing touchdown.
Jeff Wilson Jr. carried the ball 20 times for 76 yards and one touchdown, adding three catches for 12 yards. At this point, it's hard to ignore how well Wilson has played in a starting role — 10 touchdowns on the year — so he's firmly going to be in the mix for the starting job next season. 
George Kittle finished the season strong with seven catches for 68 yards on nine targets. It's encouraging to see him come back from injury and be productive on limited snaps. He'll be back among the top three TEs ahead of 2021. 
Kyler Murray was forced out of action for the majority of this contest after re-injuring his leg. In his absence, Chris Streveler relieved him but was unable to provide spark to  the Cardinals' offense. 
Arizona couldn't move the ball down their No. 2 and No. 3 wide receivers without Murray. This team desperately needs to address depth at the WR position behind DeAndre Hopkins and devise an offense that is less reliant on Murray's rushing.
When he can't run effectively, this offense completely stalls.
It didn't help Arizona that they were facing one of the league's premier defenses in the Rams. 
John Wolford played OK in his first NFL start. He threw an interception on his first pass but settled down after that. He threw for 231 yards and added 56 yards on the ground.
Jared Goff is expected to return for the team's playoff game versus the Seahawks, so we likely won't be seeing Wolford next week.
Cam Akers was questionable heading into the week but ended up operating as the team's true workhorse — 21 rushing attempts for 34 yards and four catches for 52 yards. His lack of efficiency as rusher begs the question as to whether the team perhaps rushed him back too quickly from his ankle injury. 
Jonathan Taylor ARE U KIDDING ME!? The rookie running back rushed for over 250 yards on 30 carries in the team's must-win game. He played an 81% snap share, which was by far his highest on the season. 
The Colts unleashed their most talented player when they needed him the most, and that usage should continue into the playoffs in a plus-matchup versus the Bills. 
As for 2021 fantasy drafts, it will be hard to not view Taylor as a locked-and-loaded top-five pick.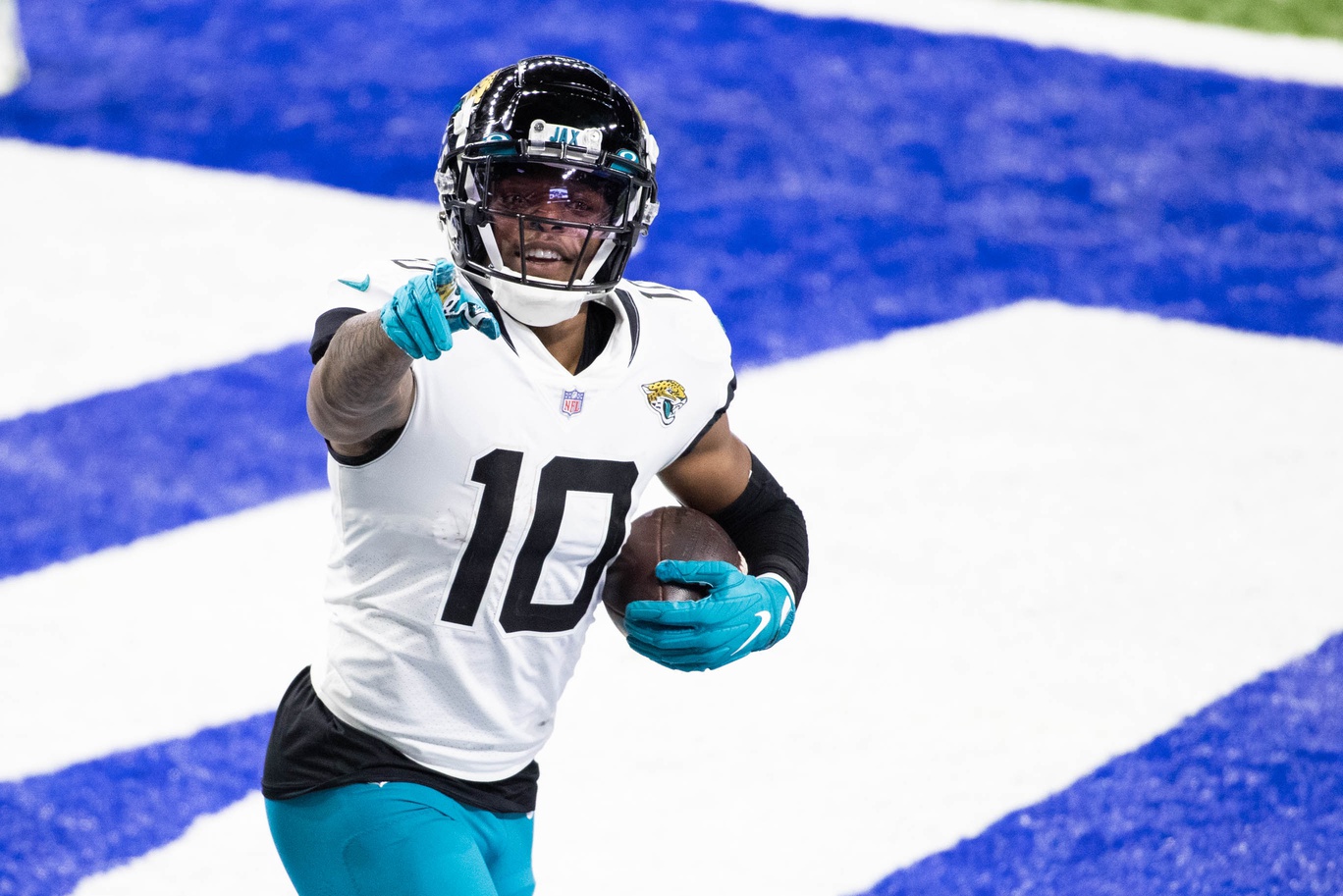 I wrote about my excitement for Laviska Shenault Jr. in my rookie standouts article from Week 16, and he delivered another solid performance in Week 17. His six catches for 68 yards and two touchdowns capped off an underrated season for the rookie wideout.
With an upgrade at QB, I will be all about grabbing as many Viska shares as possible several rounds after D.J. Chark Jr. is taken in 2021 drafts. 
Derrick Henry's 34 carries for 250 yards marks the third time in a row he has rushed for over 200 yards versus the Texans' defense. They simply cannot stop the Big Dog — they have allowed almost 25% of Henry's rushing production this season. 
A.J. Brown continued his run as a WR1, catching 10 of his 11 targets for 151 yards. He caught a long ball late from Ryan Tannehill that was the driving force behind the team's winning field goal.
Jonnu Smith was third in routes run but was targeted just twice. He's been inconsistent from a target perspective all season and is far behind in the targeting pecking order. 
No player scored more fantasy points in Week 17 than wide receiver Brandin Cooks. He and Deshaun Watson have been on another level since Cooks became the true No. 1 wide receiver.
Cooks caught 11 passes for 166 yards and two touchdowns. With Cooks and presumably Will Fuller back in 2021 for the Texans, watch out for Watson in fantasy. 
Tight end Jordan Akins fell behind fellow tight end Pharaoh Brown in snaps and targets in this game, which all but destroys any hope I had of Akins finally being a decent fantasy asset.
The win/loss splits remain strong for Josh Jacobs, who enjoyed a great fantasy day in the team's win over the Broncos. He rushed 15 times for 89 yards and two touchdowns but only saw one target in the passing game.
The hopes of Jacobs being used as a pass-catcher never came to fruition this season, so that needs to be considered when drafting him in 2021. 
Jerry Jeudy was my lock at WR in DFS this week and hit big on the back of a 92-yard touchdown from Drew Lock. For 2021, it's going to be Courtland Sutton and Jeudy operating as the team's top two wideouts.
Melvin Gordon III earned 32 opportunities and may have a bell-cow workload locked in for 2021 should the team allow restricted free agent Phillip Lindsay to depart. Just remember that MG3 may face a suspension to start the year because of his DUI charge in 2020. 
After a disappointing performance in Week 16, Mike Williams bounced back big with 108 yards and a touchdown on six catches. But the real man to highlight is XFL superstar Donald Parham Jr., who caught three of four targets for 37 yards and a touchdown at just $2.9K on DraftKings. 
The big tight end could have a legitimate future as the team's starting TE if the team doesn't bring back Hunter Henry, who is scheduled to be a free agent.
Darwin Thompson stepped in as the Chiefs' lead back with the team resting all of its starters and reminded us why we drafted him in the ninth rounds of 2019 Best Ball Drafts. The second-year player totaled 14 carries, seven catches, 110 yards and two touchdowns.
Mecole Hardman looked primed to see an uptick in usage with the potential to work as the K.C. No. 1 receiver, but that was hardly the case on Sunday. Instead of taking over the "Tyreek Hill" role, he was stuck in his usual role. 
Hardman finished Week 17 with two targets and ranked fifth on the team in routes run. He's the quintessential boom-or-bust WR because his weekly usage alone does not warrant starting him. 
Aaron Rodgers could have easily thrown for five touchdown passes in this game had it not been for another drop by Marquez Valdes-Scantling. MVS has already been demoted to WR3 duties behind Allen Lazard, so at least the coaching staff is doing its best to keep him off the field. 
For the time being, the soon-to-be MVP will have to be happy with his four touchdown passes and 240 passing yards heading into the team's bye week.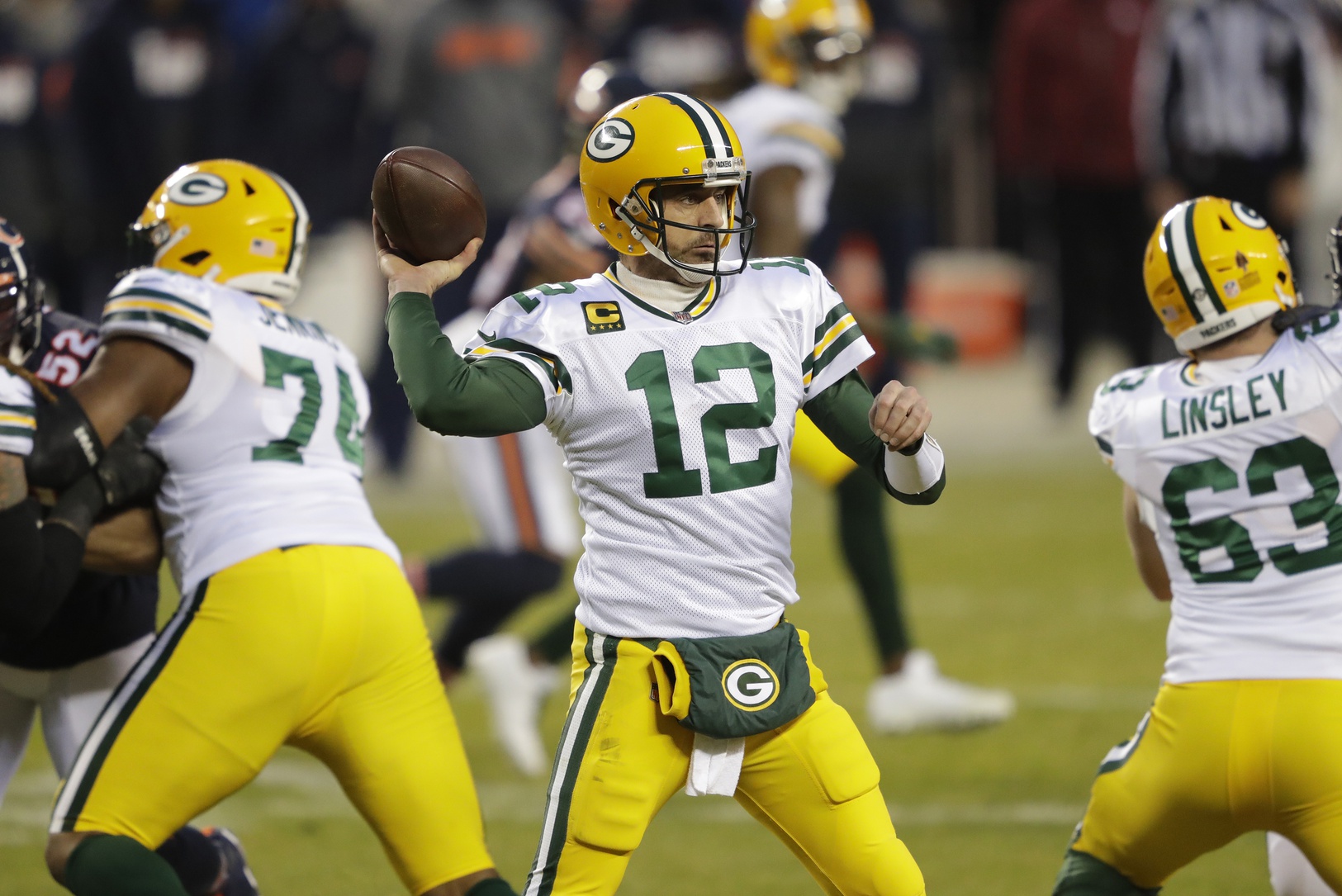 Davante Adams had a quiet game — six catches for 46 yards and one score — but he's never one to post-to-back duds. His six targets were a season-low in a game that he started and finished so I'd expect a boom from him once Green Bay sees playoff action.
Chicago didn't come away with a victory in Week 17, but they still managed to back their way into the playoffs. They will take on the Saints and will surely need all hands on deck.
Rookie Darnell Mooney commanded a team-leading 13 targets in Week 17 but was forced to leave with an ankle injury. The 13 targets stick out considering Allen Robinson is the one that usually sees that heavy volume. A-Rob saw just five targets. 
Tight end Cole Kmet finally saw his high snap share and routes turn into actual production with seven catches for 41 yards on eight targets. The team has devised touches for him near the end-zone in back-to-back weeks. With his recent usage, it's just a matter of time till he scores.
It's imperative that fantasy gamers do not overlook the recent Curtis Samuel surge in the Panthers offense. After being relegated to WR3 duties, he's gained steam on D.J. Moore and, dare I say, surpassed Robby Anderson in the Panthers' offense.
Samuel saw another 11 targets in Week 17, which he converted to seven catches for 118 yards. We are really starting to see a player blossom into a potential star. Since Week 5, Samuel has scored fewer than double-digit fantasy points just twice. 
No RBs? Have no fear! Ty Montgomery is here!
New Orleans' entire RB room was out this week due to a positive test and close-contact rules, leaving RB/WR hybrid Montgomery as the team's lead back. He delivered with 18 carries for 105 rushing yards, although he was not involved in the passing game (two targets).
We actually saw Emmanuel Sanders command the lead in targets (13), and I'm not so sure we see that connection go away even if Michael Thomas can return for the playoffs. If Thomas can't play, it will be another week of Marquez Callaway operating as the team's No. 2 option.
He led the team in routes run (29) and caught three of four targets for 51 yards. 
Well, this was hardly the NFC East Championship Game we deserved, but considering how bad the division has been all season maybe it was to be expected. Jalen Hurts went 7-for-20 for 71 yards and one interception through the air, and that pretty much sums up the Eagles passing game.
Hurts was eventually replaced by Nate Sudfeld for reasons unknown, but the QB swap resulted in equally terrible results. Sudfeld went 5-for-12 for 32 yards and an interception.
The major fantasy takeaway is that Hurts scored 16.3 fantasy points despite his poor performance as a passer, thanks to 34 rushing yards and two rushing touchdowns.
Continue to target QBs with rushing upside for fantasy football and only good things will happen. Hurts will still be a late-round QB darling in 2021.  
As for WFT, they have been crowned NFC East champions and have "earned" a home game against Tampa for Wildcard Weekend.
In Week 17, Terry McLaurin (eight targets), J.D. McKissic (eight targets) and Logan Thomas (six targets) sat atop the target leaderboard per usual. Antonio Gibson totaled 19 carries for 75 yards and played a higher snap share than last week, indicating he is coming back stronger from his turf toe injury.
Still, he will be facing a tall task versus the Buccaneers defense next week, so McKissic may be the better option in DFS with his pass-catching chops.