With the NFL regular season coming to a close, it's time to take a closer look at this year's rookie class to better understand how these young players will be utilized in the future. 
I've identified some of the key rookie performances from Week 16 — both good and bad — to help identify potential sleepers for both DFS this week and dynasty and redraft leagues that have turned the page to 2021.
I'll also include a few second-year players here — they may not technically be rookies but are inexperienced enough to be under-the-radar targets and are worth monitoring based on performance.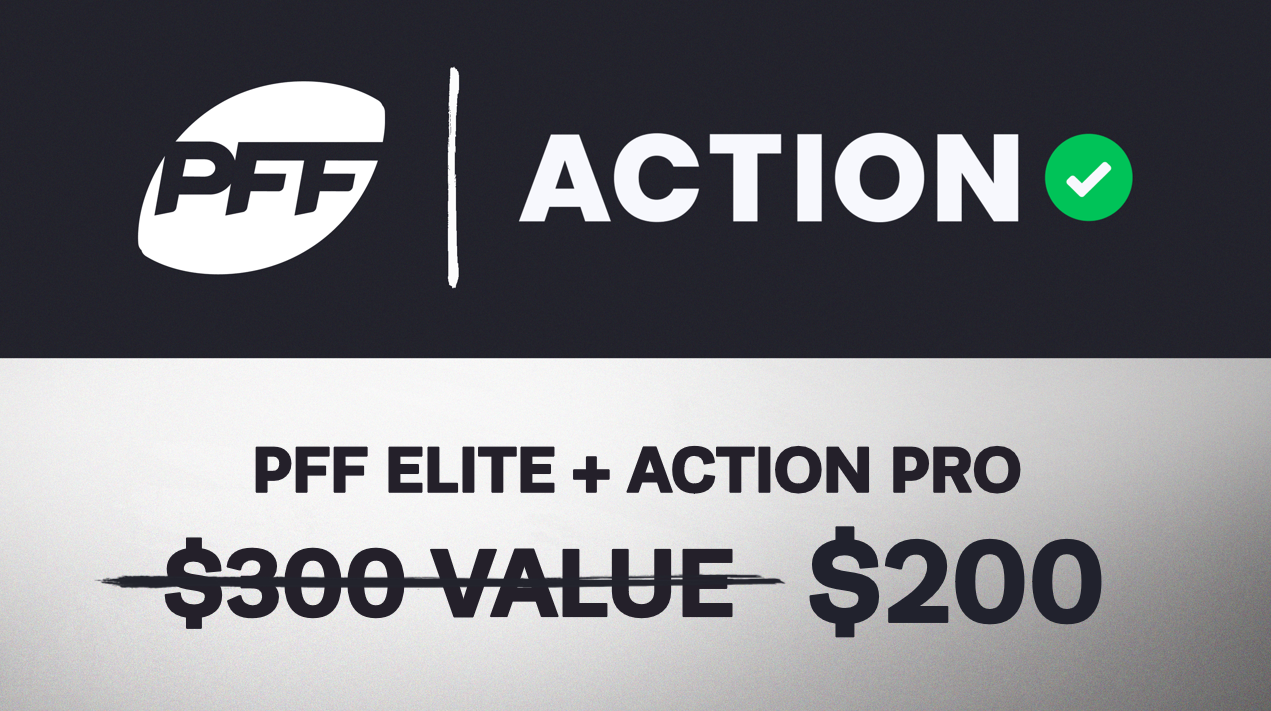 QUARTERBACKS
Jalen Hurts had his worst performance of the season in the Eagles' loss to the Dallas Cowboys, but from a fantasy perspective he was hardly a detriment to rosters.
He threw for a season-high 342 passing yards (8.8 yards per attempt) and rushed for over 60 yards for the third-consecutive game. 
But what was uncharacteristic of Hurts in this game was that he struggled to pass against zone coverage: 6.5 yards per attempt, two interceptions and a 47.3 PFF passing grade.
Hurts was much better versus man coverage in this game thanks to his 81-yard touchdown to DeSean Jackson versus man-to-man coverage. 
Entering this game, Hurts had been much better against zone than man, so give credit to Dallas' defense for confusing the rookie QB and forcing the less-than-stellar day.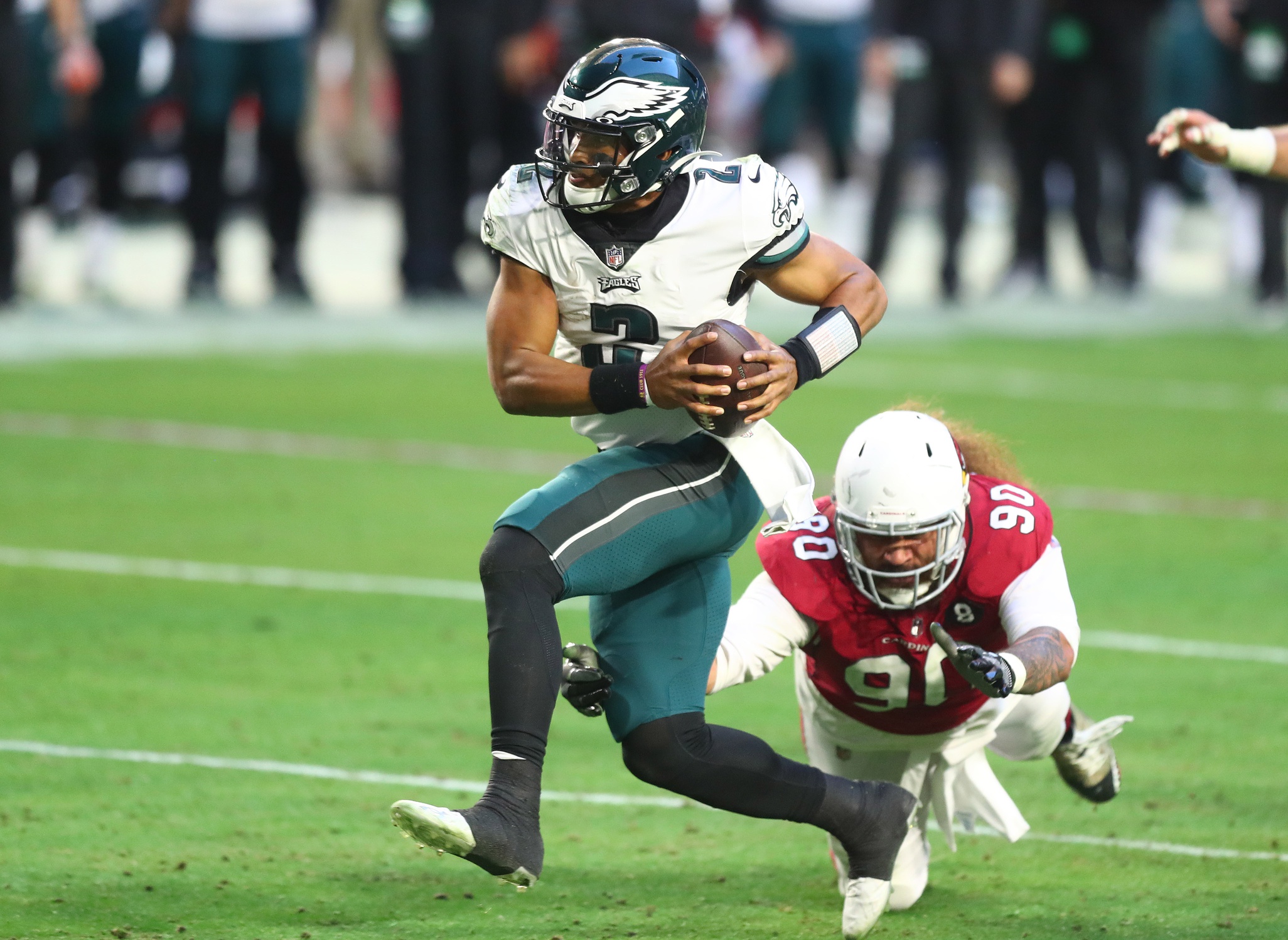 Let it be known as well that one of Hurts' interceptions came in desperation mode at the end of the game, and his lost fumble was an egregious call because his knee was clearly down.
The Eagles' quarterback was also under pressure on 40% of his dropbacks (eighth-highest) on the week, which is representative of the state of this offensive line. 
Despite all of this, he still finished with 20.6 fantasy points. 
All in all, this Week 16 performance should not sour anybody on drafting Hurts next year presuming he is the team's starting quarterback. He has shown more than enough fantasy upside to be a highly sought-after option who might fall into later rounds.
He will be in a tough spot in Week 17 versus the Washington Football Team, but his rushing upside will make him a strong QB1 option. Also, consider that the WFT has run predominantly zone coverage schemes since Week 12, so we should get a strong finish to the season for Hurts.
Tua falls into the category of "poor" rookie standouts after an abysmal performance Saturday night despite the plus-matchup against the Las Vegas Raiders. He scored just 8.9 fantasy points.
The narrative surrounding the rookie QB is that he doesn't throw the ball downfield like his counterpart Ryan Fitzpatrick, but that has hardly been the case. 
Their average depth of throw (8.2 versus 8.0) has been nearly identical. The biggest issue with Tagovailoa is his delayed-release getting the ball out. His average time to throw (2.57 seconds) ranks middle of the pack this season, whereas Fitzpatrick's average time to throw (2.37 seconds) is second-fastest in the league.
Tua is waiting for too long for his receivers to get as open as they did at Alabama, which is resulting in him taking too many sacks. The rookie's sack rate (23%) ranks inside the top-10 among QBs this season, whereas Fitzpatrick's ranks outside the top-28 (14%).
Tagovailoa has also failed to make plays when under pressure this season, posting the league's fourth-worst passer rating (39.6). This isn't too strange for rookie QBs — both Kyler Murray (55.3) and Lamar Jackson (55.7) hardly lit up the field when they felt pressure as rookies, so it's way too early to be out on the Dolphins' young QB.
Quarterback passing grades under pressure are notoriously unstable from year to year, so we are surely going to see his 33.7 passing grade under pressure regress positively in 2021.
Passing stats from a clean pocket are much more stable year to year. Tagovailoa owns a top-12 quarterback rating from a clean pocket (110.3) and is the only starting quarterback that didn't throw an interception from a clean pocket this season. 
That's a metric that we can much more confidently chase heading into next season, as opposed to another rookie QB who will surely be drafted high across all season-long leagues. Fellow rookie quarterback Justin Herbert owns PFF's highest passing grade (72.7) and highest QBR under pressure this season (96.1).
Herbert's numbers under pressure will almost certainly regress in 2021.  
RUNNING BACKS
Jonathan Taylor's price only increased by $100 on DraftKings this week, which doesn't add up considering the rookie scored 17-plus fantasy points and saw at least a 57% snap share for the third-consecutive week. 
He continues to split time with Nyehim Hines, but this RB split is being overstated — the Colts are so reliant on the ground game that Taylor still gets fed even with Hines working in.
JT has not played more than 70% of the offensive snaps since "taking over" the backfield in Week 11. Still, he ranks third in PFF rushing grade (90.1), fourth in fantasy points per game (21.5) and 13th in expected fantasy points per game (16.1) since that time.
The positive difference between his actual fantasy points scored versus expectation is fourth-highest among running backs. That's more of a testament to how productive Taylor has been despite a sub-70% snap share.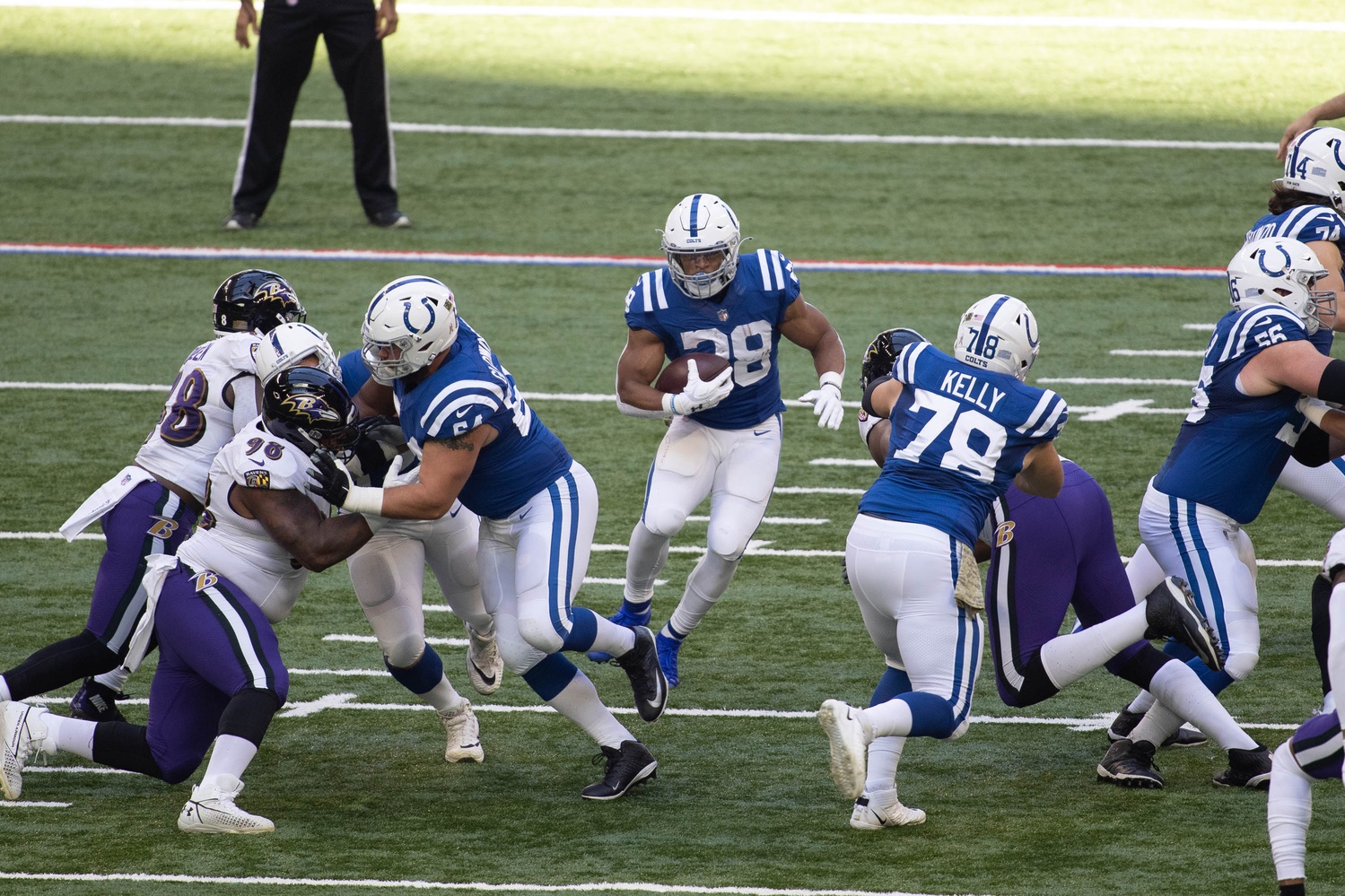 Taylor hasn't even hit his ceiling yet this year, but that could easily change in Week 17 as the Colts make a run at the playoffs. They have to win to have any chance of making the postseason, so they will have all the incentive in the world to feed their best player on offense in Taylor.
The Jaguars have allowed the most rushing yards since Week 12, so this is an absolute smash spot for Taylor and the Colts' run game. 
Jamaal Williams was inactive for Sunday night's game, creating an opportunity for second-round pick A.J. Dillon to make a name for himself in prime time. The rookie delivered for the Packers in the frozen tundra by turning 21 rushing attempts into 124 rushing yards. He also added two scores.
Aaron Jones limped off the field at one point, which may have been why he played only 38% of the team's snaps. But Jones' loss was surely Dillon's gain, as he made the most of his 58% snap share. 
Dillon forced nine missed tackles in Week 16's win, which was the most missed tackles forced by a running back for Green Bay all season. Those nine missed tackles tied Jonathan Taylor for the most missed tackles forced by a rookie RB this season. 
Dillon's fantasy stock is clearly on the rise after this performance because it all but ensures that one of Williams/Jones will not be re-signed after this season.
Both are due to be unrestricted free agents, so Dillon at worst will be in a two-man committee when 2021 comes around. 
Ke'Shawn Vaughn hasn't done much as a rookie this season with so many running backs playing in front of him, but he sure made the most of his opportunities in Week 16.
Vaughn rushed 15 times for 62 yards, which was much more impressive than Leonard Fournette's nine carries for 34 yards. 
Both Fournette and LeSean McCoy are free agents in 2021, so we could easily see this backfield turned into a two-way committee between Ronald Jones II and Vaughn. Jones would likely see the majority of early-down work, but Vaughn is probably a safe bet to take over the "nickel back" role that McCoy/Fournette has occupied this season.
Jones' efficiency as a receiver dropped off substantially in 2020 compared to the 2019 season. His PFF receiving grade (59.7) dropped all the way to 29.6, which ranks dead last among all RBs with at least 10 targets this season. 
The future looks bright for Vaughn. 
Myles Gaskin isn't a rookie, but the way he came out of nowhere this season makes him seem like one. The Dolphins' second-year runner slid right back into a starting role upon returning the lineup in Week 16, commanding a 75% snap share and 19 total touches.
The coaching staff seems to love Gaskin — he has been the featured back anytime he has been healthy and active this season.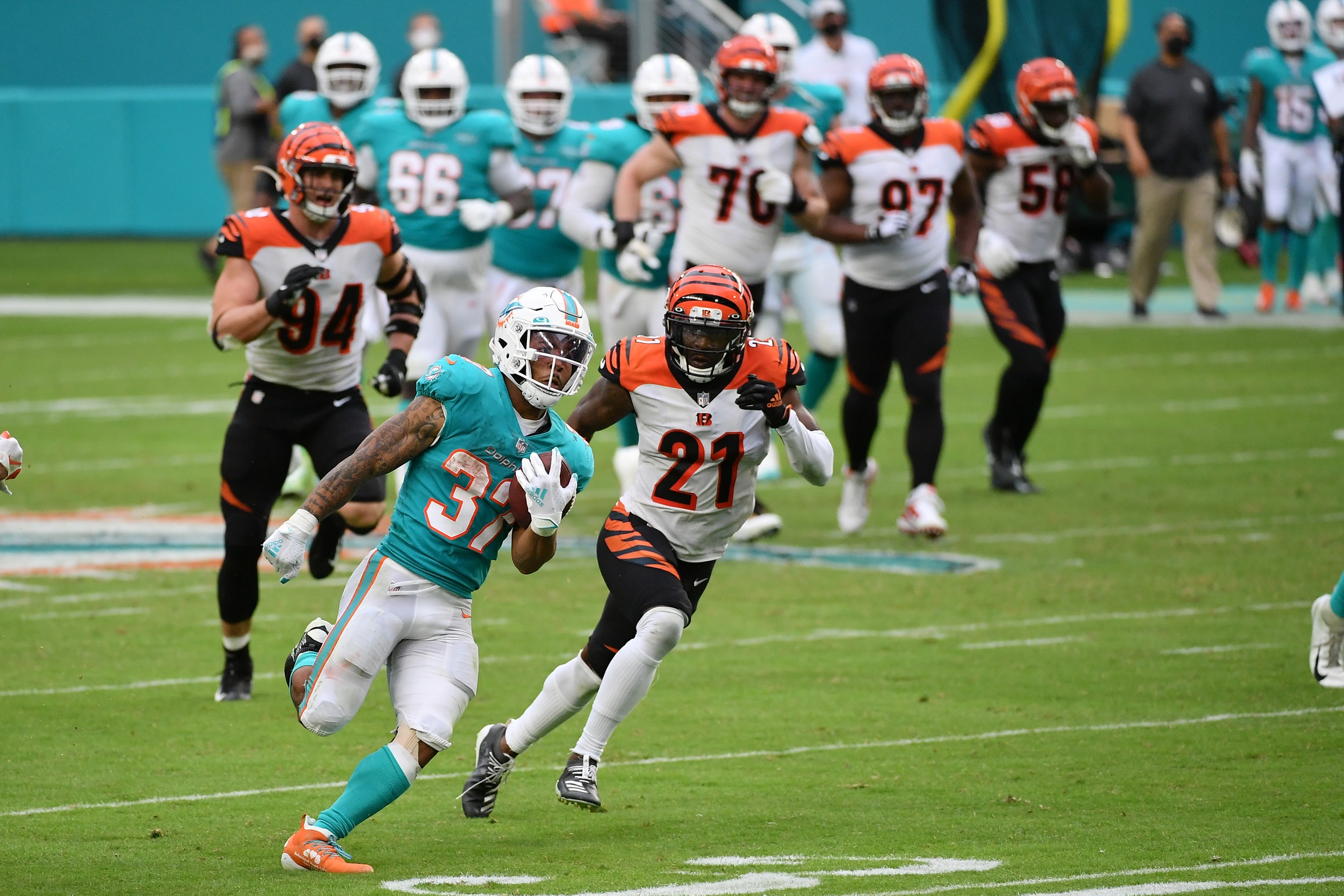 On the year, he ranks sixth in expected fantasy points per game (17.9) and 10th in fantasy points per game (16.7), but I guarantee nobody is going to rank him near the top-10 RBs heading into 2021. 
The best part is that fantasy managers don't have to wait until 2021 to hop on the Gaskin bandwagon because he's readily available to play in DFS for Week 17. 
The Bills have been one of the worst teams at defending the run all season (lowest PFF run-defense grade), so the stage should be set for Gaskin to see near 20 touches in plus-matchup with playoff implications on the line. 
WIDE RECEIVERS
The real star of this Bengals-Texans game was rookie wide receiver Tee Higgins, who stepped up big with Tyler Boyd sidelined with a concussion. Higgins caught six of nine targets for 99 yards and one touchdown. 
It's going to be fun to watch him grow alongside Joe Burrow. Higgins will no doubt be my highest-ranked Bengals wide receiver heading into next season.
The Bengals rookie ranks third in PFF receiving grade (78.5), third in receptions (67) and second in receiving yards (908) among rookie WRs this season. With another big game in Week 17, he could easily hit the 1,000-yard mark to wrap up his rookie year. 
Week 16 was one to forget for Jerry Jeudy, who recorded five drops on 15 targets. The rookie has gone through many growing pains this season but struggled the most in Week 16. 
Jeudy has shown some flashes throughout his rookie season but still has a lot to prove for 2021. He'll get the chance to bounce back this week versus the Las Vegas Raiders.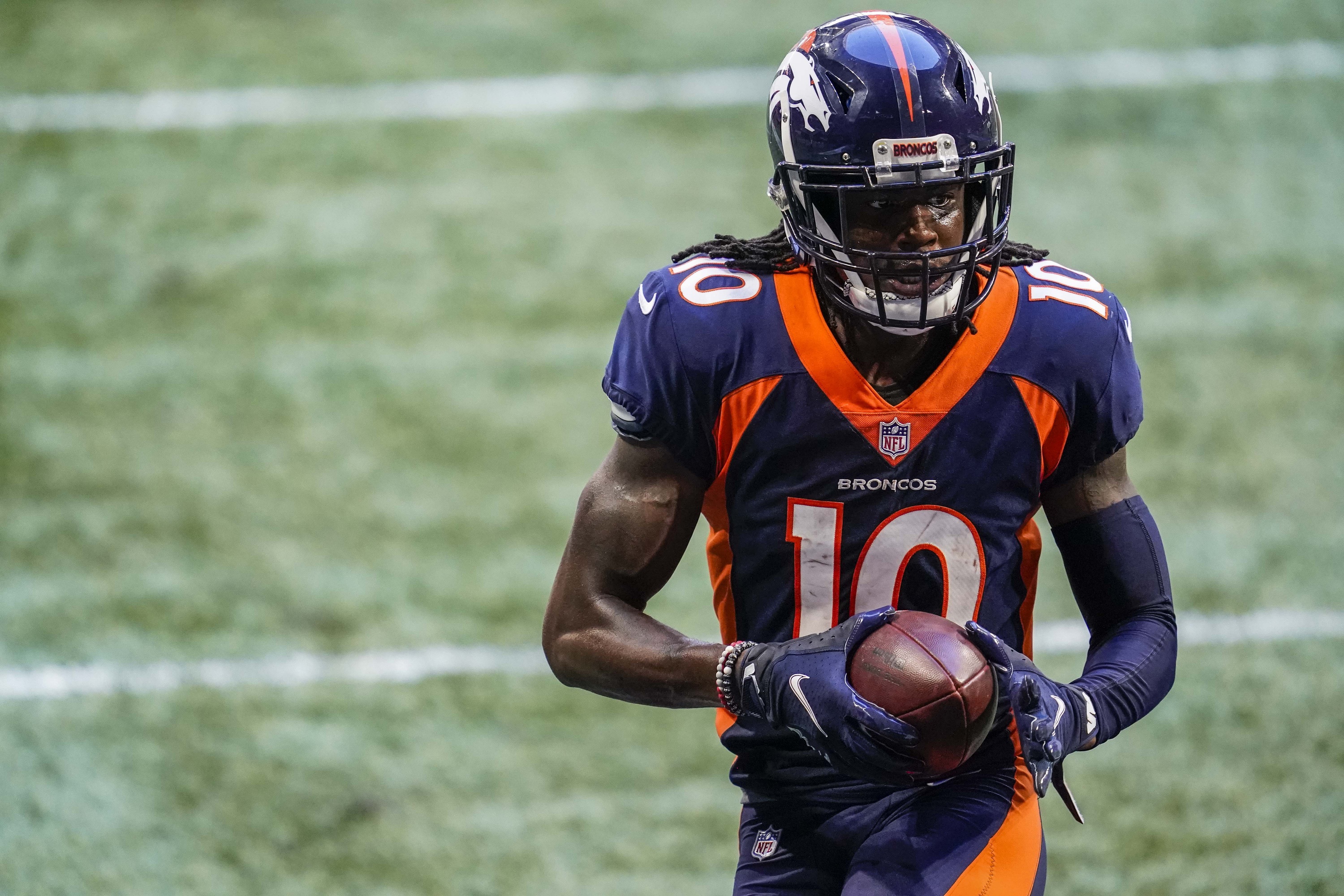 The Broncos' wide receiver leads the NFL in fewest fantasy points scored versus expectation this season, which means that he has had the opportunities to be productive but has been unable to turn them into actual fantasy points.
His total expected fantasy points in just Week 16 (26.3) was second to only Davante Adams. We only see that type of usage with the elite tier of wide receivers, so Jeudy should be a strong DFS play at just $4.2K on DraftKings this week. 
The Jaguars' season has all but come to a close, with their sights set on the No. 1 pick in the 2021 NFL Draft. But that doesn't mean they can't continue to try and develop some of their younger core players like rookie Laviska Shenault Jr.
D.J. Chark Jr. has failed to establish a dominant target share all season, which begs the question of how he should be viewed in 2021 alongside Shenault, who has arguably been just as productive as Chark.
From PFF receiving grade (71.2 to 70.5), average yards per route run (1.48 versus 1.49) to fantasy points per game (11.8 versus 10.2) these two Jags' receivers have been nearly identical in terms of efficiency and production this season.
It's early, but Shenault looks primed to be a screaming value as a late-round WR in 2021, especially if he is going several rounds after Chark. 
Let's also not forget that Shenault leads all rookie WRs in forced missed tackles (16), and his 17 rushing attempts rank third among all WRs.
The Bears' rookie wide receiver has gotten a ton of reps as the team's No. 2 wide receiver all season and has caught 50 balls on 81 targets. That's encouraging usage for Mooney, who could potentially be the team's No. 1 wide receiver next season with Allen Robinson likely on his way out. 
Robinson ranks third in the NFL in targets, so there will be vacated targets aplenty in Chicago next season. 
In Week 16, Mooney commanded seven targets for the fifth time this season and actually ran one more route than A-Rob. 
His season has been a pleasant surprise for Bears fans and fantasy managers alike, as he has easily exceeded expectations attached to his fifth-round draft pedigree. He has caught at least two passes in every single game he has played this year. 
Lately, the rookie has been running more routes closer to the line of scrimmage. During the first 11 weeks of the season, Mooney never saw his aDOT drop lower than 11.0. Over the last four weeks, it sits at 6.9. 
Cam Sims led all Washington receivers in routes run (55), but rookie Antonio Gandy-Golden (49) ran his most routes of the season. AGG also played an 83% snap share, which was a season-high. He also commanded four targets, but only one was deemed catchable.
He's a player to keep tabs on, as Dontrelle Inman was reportedly released from the team.
TIGHT ENDS
Cole Kmet has been the starting tight end for the Bears since Week 10, but he still can't seem to escape the shadow of Jimmy Graham, especially in the red zone. 
The veteran scored two touchdowns on Sunday despite the fact that Kmew ran more routes and played the most snaps of any offensive skill player in Chicago for the second straight week. 
Kmet did get a surprising goal-line carry on a sweep play, but it netted -3 yards.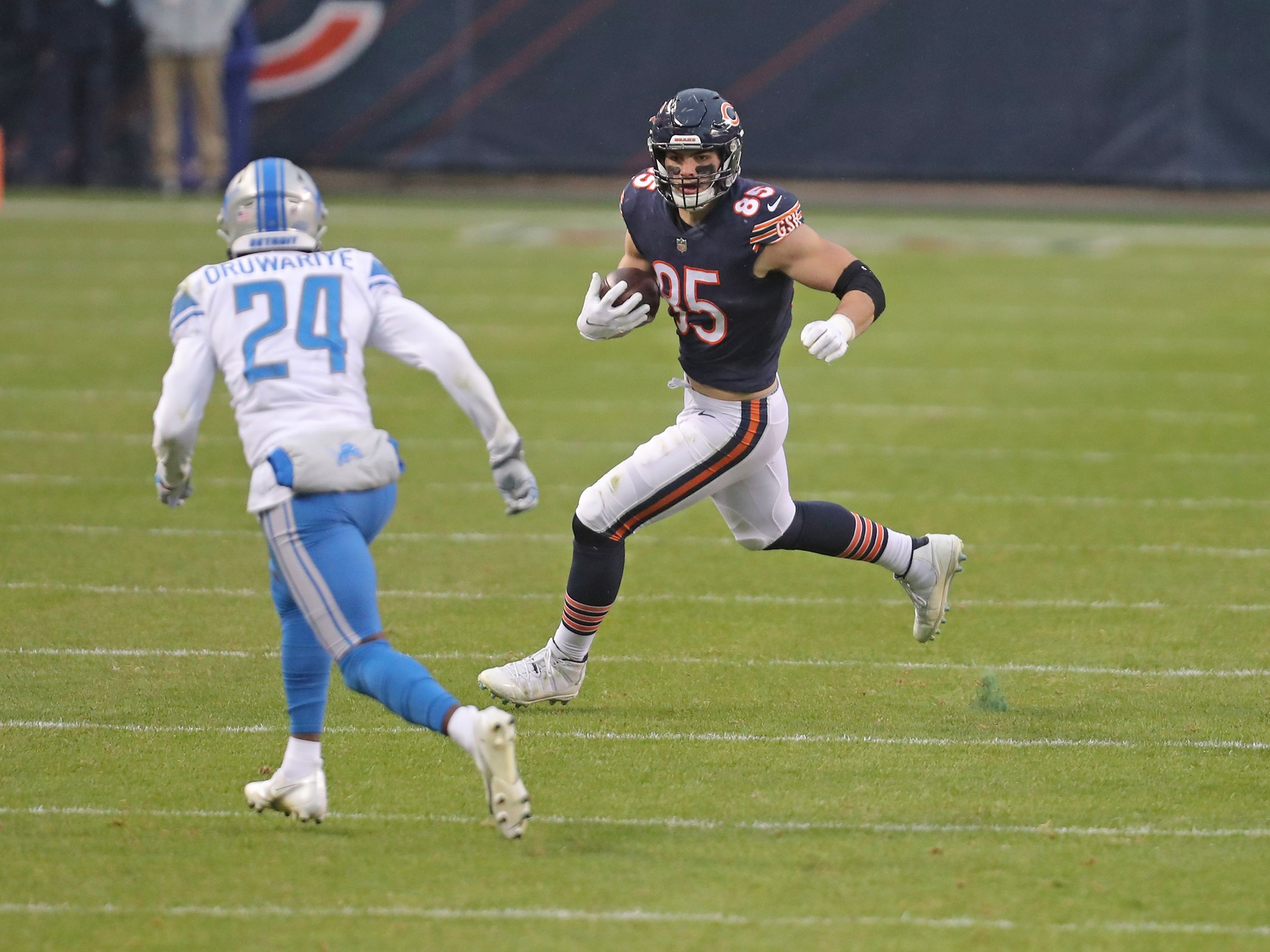 Tight ends hardly ever break out in their first seasons, so it's probably best to wait until 2021 until we deploy Kmet in fantasy lineups with Graham continuing to loom around the goal line. 
Still, we can't overlook that Kmet out-targeted Graham overall (six to five) and was close to scoring a long touchdown down the sideline on a throw that Mitchell Trubisky just barely missed.