Deshaun Watson made things look easy against the New England Patriots on Sunday, shredding the defense without his left tackle Laremy Tunsil. The Houston Texans' quarterback threw for 344 yards and two touchdowns while also adding 36 yards plus a score on the ground.
Let's dig into every game from Sunday's action to see who else stepped up as we trudge forward toward Week 12. I'll hit on snap counts, routes run, goal-line usage, targets and target shares from every game on the Sunday slate. 
Keep in mind that there are no bye weeks in Week 12, and NFL action returns quickly with a three-game slate of Thanksgiving Day games featuring the Detroit Lions, Houston Texans, Washington Football Team, Dallas Cowboys, Pittsburgh Steelers and Baltimore Ravens. Turkey day looks like its gonna be a fun one. 
We knew going in that Taysom Hill was going to be the starter, but nobody could pinpoint exactly how well the TE-eligible quarterback on ESPN would perform in Week 11. Well, he put the haters to rest and he delivered for all fantasy managers who had the faith to start him in their QB1 slot.
Hill completed 78% of his passes for 233 yards but was huge on the ground with 10 carries for 51 yards and two rushing touchdowns. Hill has the highly sought after "Konami code," and that rushing ability puts him in the QB1 conversation ahead of next week versus Denver. 
Hill scored more fantasy points (24.42) in Week 11 than Drew Brees scored in any game this season. 
The New Orleans Saints' defense held Matt Ryan and company in check, limiting the Falcons' quarterback to just 232 passing yards and just 5.28 fantasy points. Ryan's disappointing performance can be attributed to a banged-up Julio Jones, who missed periods of playing time dealing with a hamstring injury. 
Ryan's splits this season with and without Jones have been notoriously bad; he needs his No. 1 wide receiver to be a reliable fantasy option. In his absence, Russell Gage commanded 12 targets and Christian Blake ran 27 routes as his immediate replacement. 
Brian Hill (26) also played more snaps than Todd Gurley II (23) for the first time all season. 
The most devastating news of the day comes at the expense of rookie quarterback Joe Burrow, who will miss the remainder of the season with a knee injury. In relief, second-year quarterback Ryan Finley came in and was 3-of-10 for 30 passing yards. He also threw an interception.
With Finley under center, the targets were broken down as follows: Tee Higgins (four), Drew Sample (two), Tyler Boyd (two), A.J. Green (two).
Losing Burrow is a huge downgrade for this entire offense, so tread lightly with Bengals wide receivers moving forward. In limited action last season, Finley targeted Boyd, Alex Erickson and Auden Tate 22 times each. 
Giovani Bernard has also been trending down in recent weeks. He and Samaje Perine split snaps essentially 50/50, making Gio nothing more than an RB2 based on pass-game usage. 
Antonio Gibson out-touched J.D. McKissic (17 to nine) playing in a positive game script. This is to be expected as the rookie sees his most work in early downs. The two Washington backs still split snaps evenly, but looking ahead to their Thanksgiving game versus Dallas, it's hard to not salivate at Gibson's fantasy upside. 
Diontae Johnson is establishing himself as one of the best wide receivers in the league. In games where he has stayed fully healthy this season, he has averaged 12.5 targets, 7.8 catches, 89 receiving yards and 21.6 DraftKings PPR points. 
To put that in perspective, Antonio Brown in 2018 averaged 11.2 targets, seven catches, 86 receiving yards and 22.6 DraftKings PPR points. 
DJ is playing like an absolute stud and I will no longer be taking start/sit questions on him. He's an auto-start because he is so heavily involved in the offense. 
Rookie Chase Claypool was second on the team in targets (nine) behind Jonnson (16), but he was able to make his fantasy managers proud with a touchdown score. 
JuJu Smith-Schuster got banged up toward the end of the game, but his snap share (80%) indicates he didn't miss any action. Smith-Schuster will continue to rank third among the Steelers' trio for me because he just doesn't command the target share that Johnson sees and his low aDOT (6.7) prevents him from making big plays downfield. 
James Conner rushed for 89 yards on 13 carries (6.8 yards per attempt) but was vultured at the goal line by Benny Snell Jr. Since Week 6, Snell has more carries inside the 5-yard line (four) than Conner (three). 
The Jacksonville Jaguars didn't produce much offensive production, as they were suffocated by the Steelers' defense all game long. Jake Luton threw four interceptions and all of his receivers struggled as a result. 
James Robinson saw his usual heavy workload (19 touches) and, per usual, the volume alone salvaged a respectable fantasy outing. He also led all Jags running backs in routes run, further cementing his status as "set it and forget it. 
Cam Newton threw for 365 passing yards but only rushed three times for 6 yards. Newton's fantasy appeal is tied to his legs, but it's encouraging that in a plus-matchup he can post solid numbers with his arm. A huge chunk of it came on a Hail Mary attempt that tight end Ryan Izzo brought down short of the end zone, but fantasy managers will take it. 
Rex Burkhead suffered a torn ACL, which led to James White playing his highest snap total (39) since Week 4. The negative game script for the Patriots also forced them to abandon Damien Harris in the run game, despite his overall effectiveness (11 carries for 43 yards and one rushing touchdown).
White will be a waiver wire consideration ahead of Week 12 with New England likely chasing points in next week's game versus the Arizona Cardinals. 
Jakobi Meyers had his first bad game as a starter with just three catches for 38 yards. But he still played 99% of the snaps and led the team in routes run, so I wouldn't give up on the second-year wide receiver just yet. 
N'Keal Harry led the Patriots in targets (eight) while Damiere Byrd led the team in receptions (six) and receiving yards (132).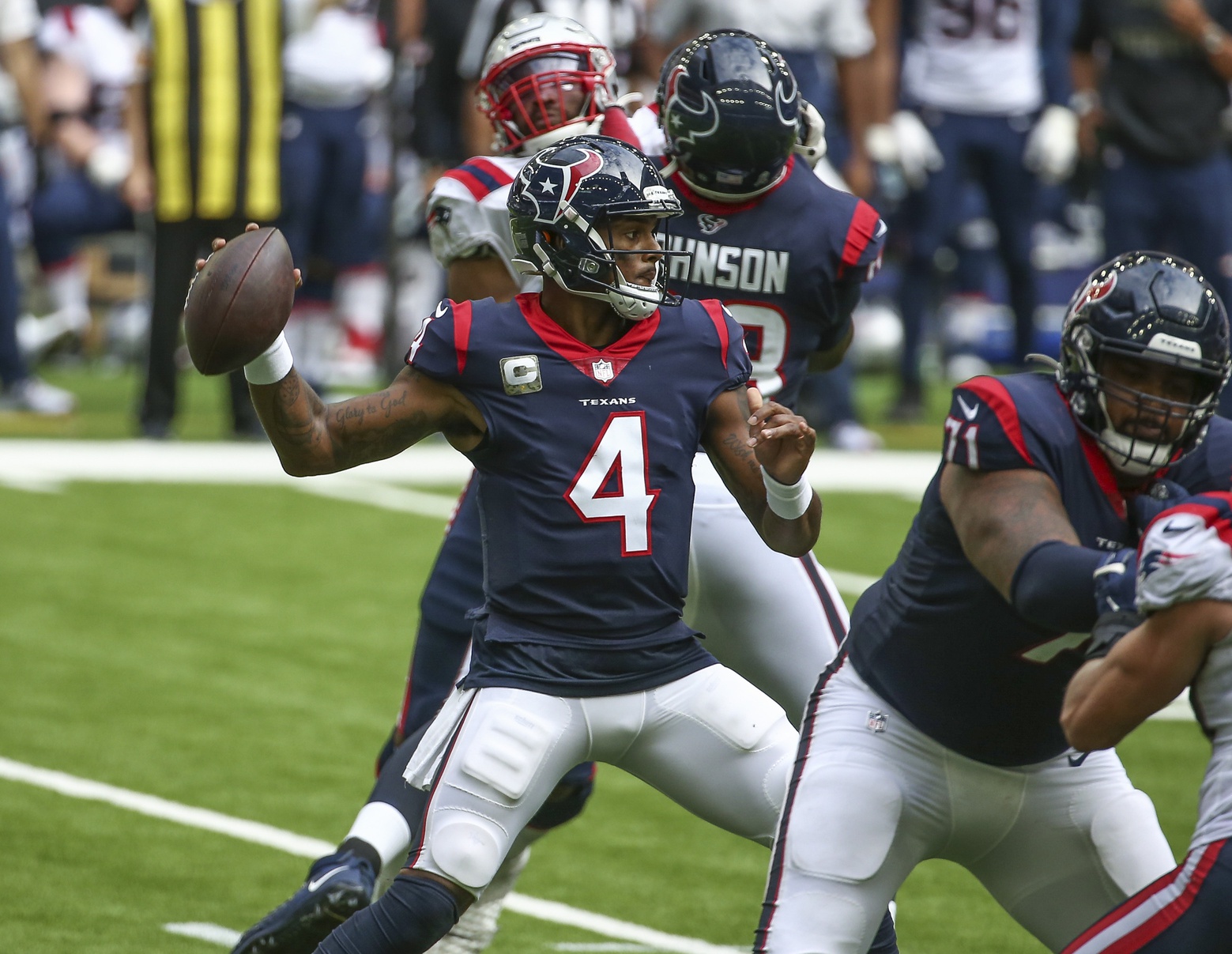 Duke Johnson Jr. played 77% of the team's snaps but managed just 13 touches for 35 total yards. It's now been back-to-back weeks of less-than-stellar performances from The U's all-time leading rusher, but fantasy managers must not give up. His next matchup against the Detroit Lions is exactly what the doctor ordered.
With both Randall Cobb and Kenny Stills sidelined by injuries, we saw increased roles for wide receiver Keke Coutee and tight end Jordan Akins. Coutee saw five targets and caught one for a touchdown. Akins played 50% of the team's snaps, commanded six targets and compiled 83 receiving yards. 
Akins will be a solid TE target on the waiver wire this week. 
The Philadelphia Eagles' offense struggled to move the ball in poor weather conditions, and that negatively influenced the team's wide receivers. Travis Fulgham (1-8-0) and Jalen Reagor (4-52-0) were both complete busts in fantasy. Still, Reagor's overall usage in the offense makes him a prime bounce-back candidate against the Seattle Seahawks' atrocious defense in Week 12.
Carson Wentz and Fulgham are not connecting as they did in games prior to the team's bye week, while tight end Dallas Goedert is starting to heat up. He commanded seven targets, hauling in five for 77 yards and a score. 
Wentz was under pressure on 48.8% of his dropbacks, but his PFF passing grade (81.5) was actually better under pressure than in a clean pocket (62.1). Usually, pressure can be used as a scapegoat to blame a QBs poor play, but that's not the case with Wentz. 
Kareem Hunt and Nick Chubb both played huge roles in the team's win. Hunt out-snapped Chubb (36 versus 30) and saw all of the carries inside the red zone. 
Although Hunt's final stat line of 14 carries for 11 yards looks terrible, more than half of his carries came inside the 20-yard line. Four of them came inside the 10-yard line, meaning they were in obvious run situations and there wasn't much yardage to be had for Hunt.
Hunt was the clear goal-line back in Week 11 with all three carries inside the 5-yard line. 
Browns wide receiver KhaDarel Hodge led the team in routes run, snaps and receiving yards — safe to say Rashard Higgins can go back to the waiver wire. 
Phillip Walker filled in admirably for the injured Teddy Bridgewater and helped elevate the Carolina Panthers' trio of wideouts to fantasy success. D.J. Moore went over 120 receiving yards and Curtis Samuel scored on one of his team-leading eight receptions. Robby Anderson had the quietest day with just seven catches for 46 yards, but he still saw nine targets. 
Over the past two weeks, each of these three wide receivers has exactly 11 receptions, with Moore narrowly leading in targets (17) compared to the other two (15). Each will need to be in lineups with the Minnesota Vikings next up on the schedule. 
The Lions' offense looked lost without Kenny Golladay, D'Andre Swift and Danny Amendola. Outside of T.J. Hockenson — four catches for 68 yards on seven targets — there wasn't much to offer from a fantasy football standpoint. 
Kerryon Johnson played 70% of the snaps compared to Adrian Peterson's 30% and saw five targets in the passing game. He'd be the waiver wire addition ahead of a matchup versus the Houston Texans' poor run defense. 
Jamal Agnew took over slot duties, seeing five of his six targets lined up inside. He would slide back into that role if Amendola can't play on Thursday.  
PFF's Dwain McFarland laid the situation out perfectly when it came to J.K. Dobbins' usage in Week 11. Sixty-four percent of snaps played, 75% of RB rush attempts, 67% of short down and distance snaps and 100% of two-minute offensive snaps. 
Dobbins' 17 touches were a career-high and he is trending in the right direction for fantasy managers to start buying into the dynamic rookie come playoff time. Dobbins had 14 carries, and neither Gus Edwards or Mark Ingram II had more than three. Baltimore's RB carries have never been that one-sided.
Marquise Brown can't be trusted at this point. His donut in Week 11 was the nail in the coffin for fantasy managers. Dez Bryant saw more targets (five) and caught more passes than Brown (four). 
The second-year wide receiver is only being used as a vertical threat (21.3 aDOT), and that part of Lamar Jackson's game is just not clicking. 
Jonnu Smith is living off touchdowns in recent weeks and the bubble is going to pop sooner rather than later. He has three touchdowns in the past three games despite a combined 67 yards from scrimmage. Backup Anthony Firkser is being used more as a receiving tight end. Smith only ran two more routes than Firkser (21 versus 19) but spent his other 22 snaps blocking. Firsker blocked on just seven of his 26 snaps played. 
Denzel Mims will for sure be in the high-value opportunities article this week because the rookie saw a whopping 241 air yards on nine targets in Week 10. That will surely be one of the highest marks of the week. 
La'Mical Perine left this game with an injury, leaving the backfield to a combination of Frank Gore and Ty Johnson. Gore led the way with 15 carries and a score while Johnson filled in as a receiver. The scatback commanded six targets and played 64% of his snaps on third down.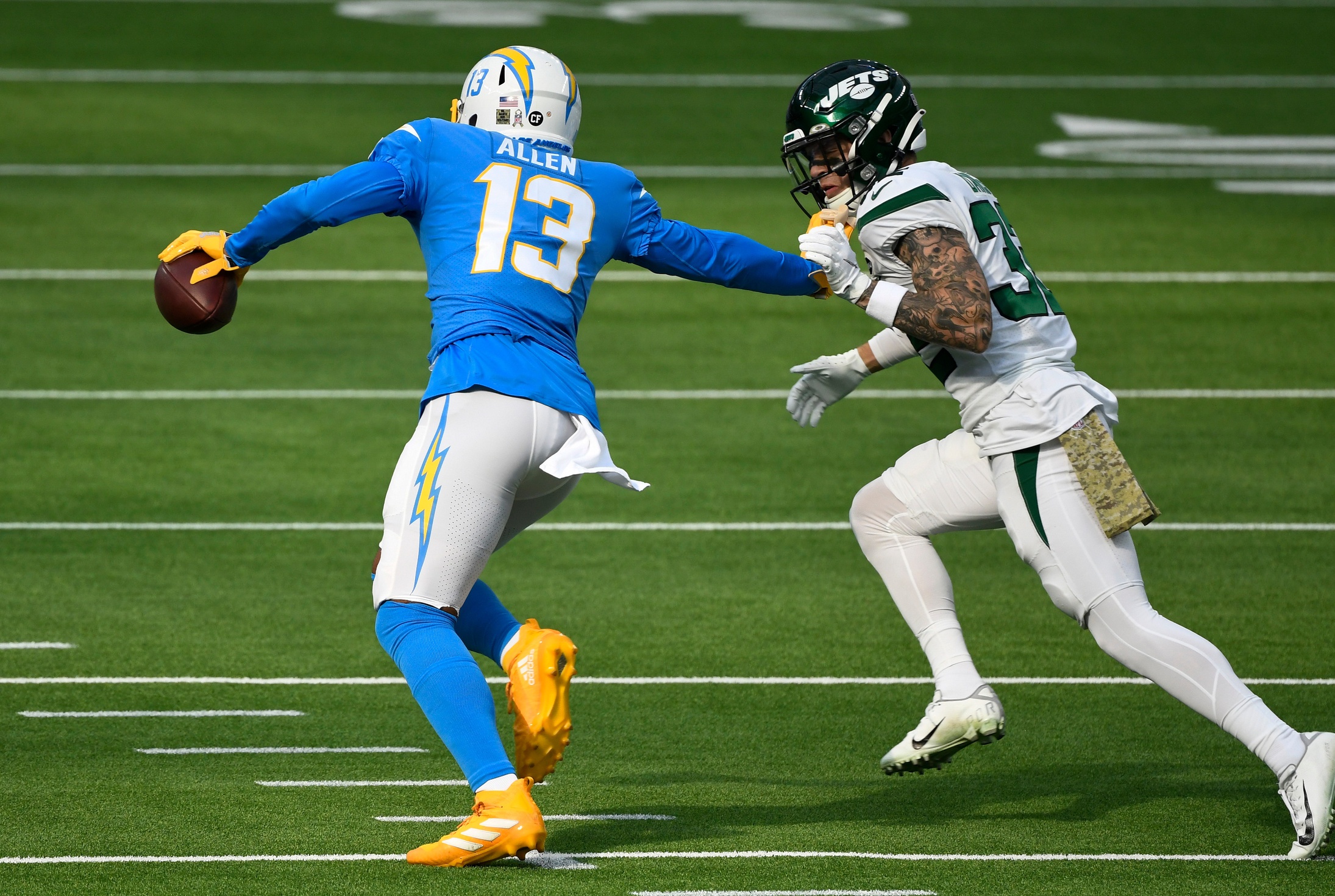 Justin Herbert had his way with the Jets' secondary, shredding it to the tune of 366 passing yards and three touchdowns. Keenan Allen saw 19 targets, converting 16 grabs into 145 yards and a score. 
The Chargers were also true to their word about feeding Kalen Ballage. The polarizing running back played 67% of the team's snaps and garnered 23 total touches — seven as a receiver and 16 as a rusher. He managed only 14.1 fantasy points — we'll take the usage, though it's hard to not be at least slightly concerned that Ballage is falling into David Montgomery territory: high volume and low efficiency. 
Both Denver Broncos running backs were able to run wild versus a surprisingly weak Miami run defense. The main issue for fantasy football is that they are still running a 50/50 committee split, so it's difficult to even consider Phillip Lindsay, who will always lose out on goal-line/pass-game work to Melvin Gordon III. 
Gordon's role as a pass-catcher has also dwindled in the last three weeks. He has just three targets and one catch over that time. He's falling into the touchdown-or-bust territory, and that is not where RBs want to be versus the New Orleans Saints.
Matt Breida made his return to the lineup and continued to be a non-factor. He had two touches all game, while Salvon Ahmed operated as the team's primary bell-cow. He was second on the team in targets (six) and commanded 12 carries. 
DeVante Parker's nine targets are a bit misleading, as almost half of them came after Ryan Fitzpatrick entered the game late. Tua Tagovailoa was benched for poor performance but will be the starter when the team plays the Jets in Week 12. 
In my weekly starts and trade candidates based on high-value opportunities column, I wrote about how I liked CeeDee Lamb and Adam Thielen to find paydirt this week. Low and behold, the two WRs scored in a game that shaped up to be a sneaky shootout. 
Andy Dalton helped Dallas get a win and, more importantly, injected fantasy life into Amari Cooper and Ezekiel Elliott. Elliott still didn't see the targets we would like from bell-cow backs, but it was great to see him finally rush for more than 100 yards.
At the same time, it's hard to ignore just how much more efficient Tony Pollard has been. He turned five carries in this game into 60 yards and a touchdown. On the year, Pollard has earned an 80.3 PFF rushing grade to go along with an average of 5.1 yards per attempt. 
Zeke's PFF rushing grade sits at 69.0 with 4.0 yards per attempt. 
The usual suspects met or exceeded their expectations for Minnesota. Most notably, Dalvin Cook racked up a season-high in receptions (five), ensuring his status as a game-dependent-proof top-three fantasy running back. 
A week after it all seemed hopeless for Jonathan Taylor in 2020, he finally got the hot hand in the Colts' backfield. He carried the ball 22 times for 90 yards. Had it not been for penalties, he would have been over 130 rushing yards on 25 rushes.
He finished the afternoon with a 50% snap share.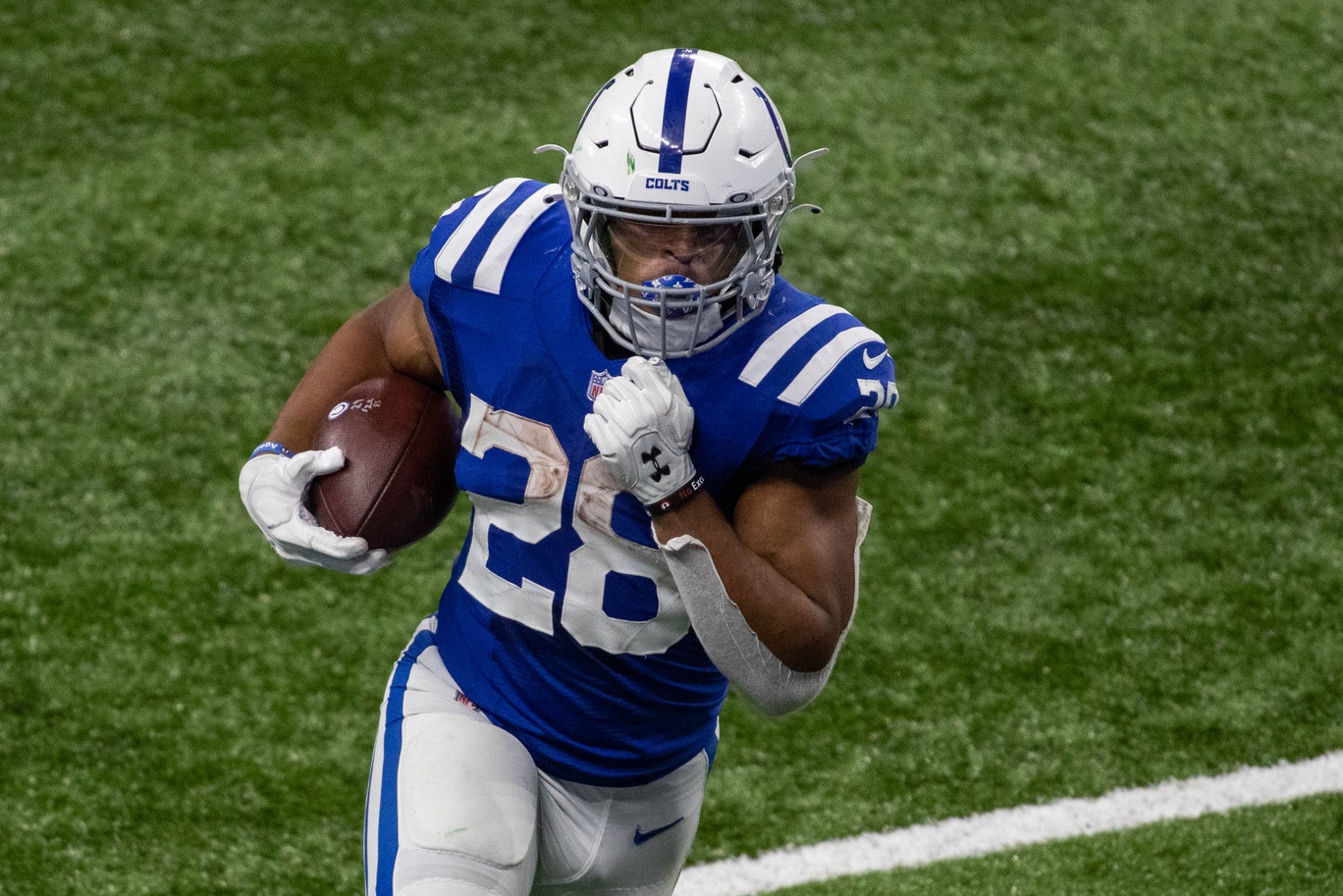 But he's not quite out of the woods yet. Nyheim Hines was still used as a receiver throughout with five targets and saw the two carries inside the 10-yard line. Still, Taylor managers can at least take a sigh of relief and have some semblance of optimism heading into Week 12. 
Dating back to Week 2, Taylor hadn't had 20-plus attempts and 90 rushing yards in a game.
Aaron Jones played fewer snaps (28) than Jamaal Williams (30) and was out-snapped six to one when the team was inside the 20. The past two weeks, Williams saw exactly zero snaps inside the red zone. 
In a back-and-forth game, we finally saw the Kansas City Chiefs' backfield used in full capacity. Clyde Edwards Helaire saw 67% of the RB attempts to Le'Veon Bell's 33% and both scored on their respective carries inside the 10-yard line. CEH was on the field for all three of KC's three plays inside the 5-yard line.
Darrell Williams played the same amount of snaps as Bell (20) but was the most used pass-catcher of all Kansas City running backs with three targets.
Nelson Agholor continues to be the WR1 for Derek Carr, as the often drop-happy receiver commanded 10 targets, hauling in six for 88 yards and a score. He also had two drops. 
Unfortunately, Henry Ruggs III remains an afterthought in the offense. He saw just one target, and it was behind the line of scrimmage. He can be dropped across all formats. 
Josh Jacobs out-carried Devontae Booker 17 to five, putting to rest the thought that we could see a committee form in Las Vegas.